Original Link: http://www.anandtech.com/show/2307


Introduction
Alienware is a company whose name is likely familiar to most gaming enthusiasts, often drawing both stares of lust as well as scorn - lust for the performance being offered, but scorn for the typically high price tags. Originally founded in 1996 and headquartered in Florida, Alienware has built their reputation on offering no-holds-barred performance levels, customized and unique looking computers, and of course gray headed creatures with almond shaped eyes. They made headlines in March of last year when they were purchased by Dell, but besides a redesigned web site it doesn't seem like much has changed. While they have grown quite a bit from their humble beginnings, they remain committed to building some of the fastest computers around. For people that don't want to spend the time and effort assembling and tweaking their own PC, companies like Alienware essentially provide a way to buy into the enthusiast level performance market.
A few months ago, Alienware asked us if we would like to take a look at their new top-end laptop, the Area-51 m9750. We were naturally interested to see what they might be able to offer, and we spent the past several weeks putting the laptop through its paces. Make no mistake: this laptop is blazing fast! It's also pretty large, and portability rather than mobility seems to be the focus. The base level m9750 starts out at around $2100, but purchasing an entry level Alienware m9750 would be a lot like picking up a sports car but only getting a four-cylinder engine, four speed automatic transmission, and basic Goodyear tires. Since we're enthusiasts at heart, we wanted a little bit extra and Alienware obliged.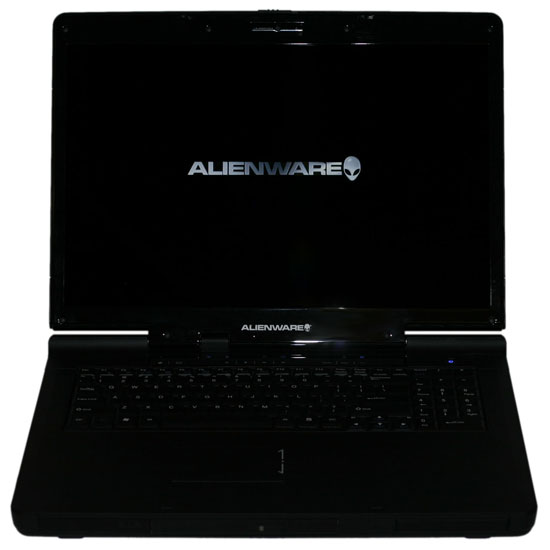 Flash back with us for a moment to one year ago, and imagine putting together a high-end gaming desktop computer. Core 2 Duo wasn't on the market yet, so you would have been looking at an Athlon X2 AM2 setup. As most gamers know, of course, graphics processing power is generally far more important to frame rates than getting the fastest CPU on the planet. GeForce 8800 cards weren't an option yet either, so your choices for top-end graphics consisted of two NVIDIA 7900 GTX cards running in SLI or a couple of ATI's X1950 XTX cards running in CrossFire, with an appropriate motherboard depending on your choice. Put in a couple Gigabytes of RAM, two hard drives in RAID 0, and a few other accessories and you're pretty much done. Pick up a basic display, speakers, and input devices and you'd probably be looking at spending somewhere in the vicinity of $3000 - though you could easily spend more - for such a computer. Fast forward to today, and while a few things have changed you can now get essentially the same type of system in laptop form.
Of course that's not the whole story. While it's more or less true that last year's top-end desktop hardware is now available in laptops, the price is quite a bit higher. You also miss out on some of the newest technologies that have become available - one year ago we were on the cusp of several technology updates. Quad core processors? Sorry, Intel doesn't offer those yet in their mobile line. DirectX 10 graphics? Sure, you can find laptops that have DirectX 10 hardware, but you're not going to find any 8800 GTS/GTX or HD 2900 XT GPUs in any laptops just yet. 10,000 RPM hard drives and 1TB storage capacities are also missing. So not only do you have to deal with a higher price than a comparable desktop system, but you're also giving up one year's worth of technological advances. Still, some people are willing to make such sacrifices.
The system we were sent for review sells for approximately $5,000, and that's going to be a pretty major hurdle for most people to get over. That's especially true when you consider that you can get a very good notebook for about $2000 and spend another $3000 on a quad core, DirectX 10 desktop system. You'd still have to figure out a way to carry around a large desktop if you want to get gaming performance on the go, but otherwise we would have to say that purchasing a separate desktop and laptop setup makes more sense for the majority of people with $5000 to spend on computers. If you're still willing to live on the bleeding edge of desktop replacement notebooks, though, read on as we take the Alienware Area-51 m9750 for a test ride.
Features and Options
The components listed in Alienware's online configurator are like a Who's Who list of high-performance laptop parts. While the test system we received is by no means a slouch in the performance department, there are quite a few upgrades that can still be made. The reverse is also true: anyone looking to save money can easily pare down the options on a few areas. Here's a quick overview of the current possibilities:
Alienware Area-51 m9750 System Configuration Options
Processor
Core 2 Duo T5500/T7200/T7400/T7600
Chipset
Intel 945PM + ICH7-M DH
FSB Speeds
667 MHz
Memory Speeds
DDR2-667
Memory Slots
(2) x SO-DIMM, 512MB up to 4GB, DDR2, Dual Channel supported
Graphics
NVIDIA GeForce Go 7950 GTX 512MB
One standard or two for SLI
Display
17" WXGA+ (1440x900)
17" WUXGA Clearview (1920x1200)
Expansion Slots
1 x ExpressCard/54
Hard Drive
80/160/250GB 5400RPM, 100/160/200GB 7200RPM
32GB Solid State
160GB with 256MB flash Hybrid
RAID 0 or 1 allows two hard drives
Optical Drive
24X Combo CD-RW/DVD-ROM, 8X DVD+/-RW DVD-RAM
Blu-ray DVDR
Networking/Communications
Integrated 10/100/1000 Ethernet and V.90 56K Modem
Intel 3945ABG (802.11A/B/G) or 4965AGN (802.11A/B/G/N) WiFi
Audio
24-bit High Definition Audio with 2.1 Speakers
Soundblaster X-Fi Xtreme (XP only)
Left Ports
Flash reader (SD, MS/Pro, MMC)
1 x Gigabit Ethernet
1 x ExpressCard/54
2 x USB 2.0
1 x mini-Firewire
Right Ports
1 x USB 2.0
Volume knob
Headphone, Mic, and 5.1 analog audio
S/PDIF optical out
Front Ports
Optical drive
Back Ports
Audio in
TV coaxial input (optional)
Component TV out
Modem jack (RJ-11)
Power Connector
1 x USB 2.0
S-Video
VGA
DVI (single link)
Keyboard
99 Key QWERTY (US)
Extras
1.3MP Webcam
9 quick access buttons
Optional NTSC TV tuner and remote
Battery Options
12-Cell 95WHr
Dimensions
15.65"x11.75"x1.5" (WxDxH)
8.5 lbs. (12-cell battery)
Power Adapter
180W
Operating System
Windows XP Media Center 2005
Windows XP Professional
Windows Vista Home Premium 32-bit
Windows Vista Ultimate 32-bit
Alienware is a gaming-centric company, and if you're looking for a high-performance gaming notebook by far the most important aspect is going to be the graphics card. NVIDIA's GeForce Go 7950 GTX continues to be the fastest mobile graphics card presently available. Still not fast enough? Upgrade to SLI and add a second GeForce Go 7950 GTX 512MB - the current upgrade price is $600.
Another extremely important aspect of any gaming notebook is going to be the display, unless you plan on connecting an external monitor. Alienware allows users to choose between a WXGA+ (1440x900) or WUXGA (1920x1200) LCD for the m9750. We can't speak as to the quality of the lower resolution display, but especially if you're looking at getting the m9750 with SLI graphics we see little point in getting anything other than WUXGA. The higher resolution display also comes with "Clearview Technology", which presumably refers to the glossy finish. Unfortunately, we did notice that selecting the higher resolution display currently delays the estimated ship date by about two weeks.
The m9750 is not based on Intel's latest Santa Rosa platform, and it uses an Intel 945PM + ICH7-M DH chipset. That means all of the Core 2 Duo processors are the slightly older models that use a 667 MHz front side bus (FSB). As we pointed out in our Santa Rosa article, clock for clock the faster FSB and other tweaks do help make the new processors slightly faster, but the difference certainly isn't worth losing any sleep over. If the primary concern is gaming and you like to run at higher resolutions, you can even downgrade the processor and still end up with perfectly acceptable gaming performance.
Memory options consist of the standard 1GB, 2GB, or 4GB of memory. All three options populate both SO-DIMM slots, and we would strongly encourage all buyers to upgrade to a minimum 2GB of memory. At the same time, upgrading to 4GB of RAM is currently incredibly expensive ($1000) and would also require the use of a 64-bit operating system (see below), so we wouldn't recommend that upgrade. In other words, take Alienware's - and our - recommendation and go with the 2GB memory configuration. Whichever RAM size you select, you will get DDR2-667 memory.
Deciding on which operating system you want on your shiny new Alienware laptop may be one of the more difficult choices to make. First, 64-bit operating systems are not an option, so if you haven't already just forget about using 4GB of RAM for now. Very likely, the reason 64-bit operating systems are not listed is that driver compatibility would be suspect at best. Consider the following statement regarding Windows Vista:
"Windows Vista does not currently support NVIDIA SLI functionality. If you choose Windows Vista with your SLI system, only a single graphics card will be enabled. Alienware will notify you once a Windows Vista SLI driver becomes available."
If you're not interested in the m9750 with SLI, that might not be a big deal, but if you're after maximum gaming performance in a notebook you will almost certainly want to stick with Windows XP. If you choose any operating system besides Windows XP Professional, the configurator also gives you the option to get a USB Media Center remote and a single channel ATSC TV tuner. Adding a TV tuner will currently delay processing, however.
The hard drive options are pretty unusual for a notebook, as the m9750 chassis is able to support two 2.5" SATA drives. Users can choose to have either single or dual hard drives, and if dual hard drives are desired three options are available: RAID 0, RAID 1, or dual drives without RAID. In the case of the latter, it's important to note that you only get one possibility: a 32GB Solid State Drive (SSD) combined with a 200GB 7200 RPM drive. Single drive options range from 80GB up to 250GB with 5400 or 7200 RPM spindle speeds - the fastest 7200 RPM Drive is 200GB while 250GB is available with a 5400 RPM spindle. A 32GB SSD is also an option, as is a 160GB Hybrid Hard Drive with 256MB of flash memory. (You would want to use Windows Vista as your operating system if you get the hybrid drive.) RAID options allow you to select two of any of the hard drives, other than the hybrid and SSD drives. For maximum performance at the cost of not having as much internal storage capacity, you can even select two SSD drives in RAID 0. The cost for such an upgrade is about $1000, which apparently means that Alienware is not using the MTRON 32GB SSD we've
looked
at
recently
. Optical drive options consist of the typical DVD-ROM/CD-RW combo drive or a DVD burner with optional LightScribe technology. A Blu-ray optical drive is also available if you're willing to delay shipping a bit.
The remaining options consist of a few accessories and your choice of software - 14 different games can be preinstalled, in addition to the usual security and office suite possibilities. You can also choose to upgrade to a Draft-N wireless networking card and if you select one of the Windows XP operating systems you can add Creative Sound Blaster X-Fi audio. The only other important option in the online configurator that we would pay attention to is the warranty. Alienware Area-51 m9750 notebooks come with a standard 1-year warranty, but you can add a 2-year warranty for $200 or a 3-year warranty for $300. We're not sure about the rest of you, but especially with notebooks we're inclined to purchase an extended warranty. Alienware does offer a pretty comprehensive warranty, including on-site service. If they deem it necessary to have your notebook sent in for repairs, they will cover the shipping costs both ways and they use FedEx 2-Day Priority Mail. Phone support is also available 24/7.
Design and Appearance
Alienware isn't just about performance; they're about making a statement as a computer owner. Walk into a room with an Alienware PC, and you will be hard-pressed not to notice it. The same can be said of the Alienware Area-51 m9750. If you're looking for a laptop that stands out from the crowd, in performance as well as appearance, there's no question that this laptop is eye-catching.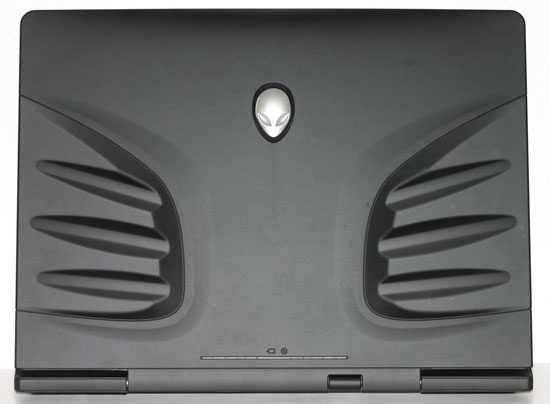 The exterior of the m9750 is a matte black finish - don't mind the picture, as the flash makes it look lighter in appearance; this is a dark black laptop that almost seems like it absorbs light. If the Men in Black carried around notebooks, they would probably look something like this. You also get Alienware's signature gray headed alien face centered in the top panel, and for added flair the eyes glow blue when the system is powered on. As a business notebook, this is almost certainly too over-the-top for most companies - unless of course you work for some gaming company in which case it would likely fit right in the surroundings. About the only complaint we have with the top of the notebook is that it's not perfectly flat, and you wouldn't want to set anything on top of the top panel - not that you really should do that anyway.

Because of the way the notebook is put together and the extra features on tap, the location of various features is somewhat different than what we're used to seeing on notebooks. The optical drive is located in the front center portion of the notebook. Speakers are located to the left and right, and they actually provide pretty good audio quality. In fact, these are probably the best sounding notebook speakers we've ever used - not that that's really saying a whole lot.
The back of the notebook has a variety of external connections as well, some typical and others less so. Alienware provides a full complement of video connections: DVI, VGA, S-Video, and component outputs are all present. On the left you also get the optional TV input, a modem jack, and an audio in port. In the center of the rear side is the power input along with a USB port. Two large exhaust ports take up the remainder of the rear side.
The left side has a couple USB ports, a mini FireWire port, the Ethernet jack, an ExpressCard/54 expansion slot, and a 4-in-1 flash memory reader (SD/MS/MSPRO/MMC). Towards the back of the notebook are a Kensington lock and a few air intake slots. The left side also houses the two 2.5" hard drive bays.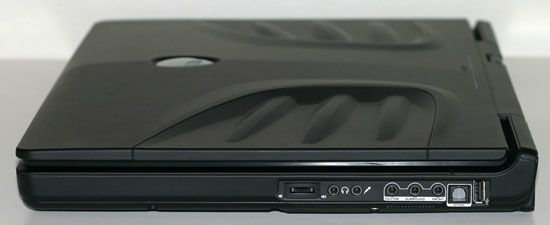 The right side of the notebook is primarily dedicated to audio functions, although there's also a USB port at the back. Alienware includes an S/PDIF optical out jack, along with five analog audio jacks (plus the one on the rear), enabling full surround sound. They also include a volume control that's an analog style "wheel", although the actual volume adjustment is still digital in nature. For quick adjustment of application volumes, we found this approach to be far more useful than some of the other volume controls we've seen on laptops. However, there were a few occasions (certain games) where the volume knob wouldn't work until we exited to the desktop. We've seen that with other laptops, and it appears to be an issue with certain games taking control of the Windows audio stack.
Design and Appearance (Cont'd)
Opening up the laptop, the black motif is continued throughout the design. The black coating has a slightly tacky/rubberized texture that we found to be pretty cool and unique. It can still hold a fingerprint, but it wipes clean pretty easily. A typical 1.3 MP webcam sits above the display; the webcam isn't particularly noteworthy but it does meet that feature requirement. As with most integrated web cams, however, the microphone pickup could be a lot better.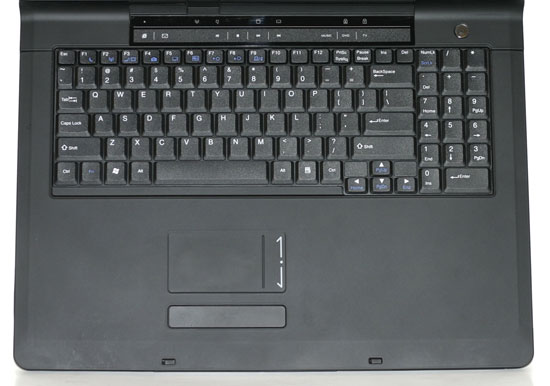 We commented in our PC Club ENP660 review that we personally liked having the number keypad on the right side, even if it did result in shifting the rest of the keyboard to the left slightly. With a larger chassis, Alienware is able to include the number keypad and still keep the rest of the keyboard more or less centered. The keys are also full-size, except for the function keys and cursor keys which are slightly smaller. In order to keep the number keypad as narrow as possible - and avoid pushing the keyboard to the left - the arrangement is slightly different than what you would find on a regular desktop keyboard. Specifically, the period key is shifted up to the top left and the plus and minus keys are placed next to it. The large enter key gets moved down to the bottom next to the zero. Unfortunately, for any 10-key typists this arrangement will definitely require some time spent adapting, and we never could get used to the positioning of the decimal point, plus, and minus keys.
The rest of the keyboard is all generally pleasing to use, and the control key is in the preferred bottom left location, with the Fn key next to it. A row of touch sensitive buttons just above the function keys provides quick access to Internet, email, and multimedia functions. Unfortunately, we're big fans of having dedicated home, end, page up, and page down keys, but in order to access those you will need to use the Fn key in combination with the cursor keys. If there were a way to include these four keys without changing anything else, i.e. by having an extra column in between the keyboard and the numpad, that would be better. Another option would be to use the blank spots just above the cursor keys and relegate the print screen and pause buttons to Fn access.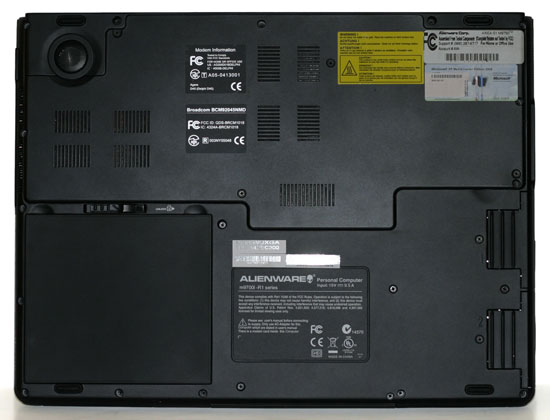 The bottom of the notebook has one large compartment secured by four screws that gives access to the memory slots and other internals. The hard drives are on separate sleds that can be inserted into the side of the notebook; each is secured by a screw on the bottom of the notebook.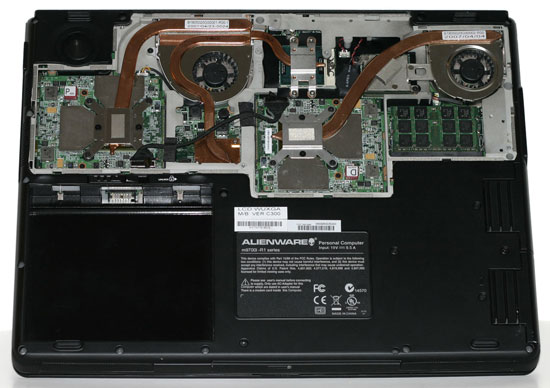 Removing the bottom cover, you can quickly see how much effort was spent in providing adequate cooling for all of the components. Heatpipes are used to help convey heat over to the radiators and fans, with the radiator on the left being slightly larger in order to deal with the extra components. The main silver blocks cover the two 7950 GTX graphics chips as well as the 512MB of memory for each chip. In the top center is the 945PM chipset, and below the left fan is the ICH7-M Southbridge. The right fan has a heatpipe leading from the second GPU and across the Core 2 Duo processor. It's almost a bit surprising that a single small fan and heatpipe are capable of cooling the GPU and CPU, but the right exhaust actually tended to be about 5°C cooler than the center exhaust.
Given all of the power-hungry components that are present, it's no surprise that the laptop comes with a rather large 95 WHr battery. Even with a battery that's twice as large in terms of capacity as many other notebooks, don't expect a lot of battery life from the m9750. Also note the size of the power brick; it's capable of delivering a whopping 180W of power, twice as much as many 17" notebook power bricks. It's also very large and heavy - below it is a Gateway power brick that's more typical of what you would find with a midrange Santa Rosa notebook; not only is it much smaller, but it can only deliver 65W of power. Just in case you're wondering, we can say without doubt that the large power brick is necessary. When running games, power draw routinely spiked at over 180W (not counting for power adapter inefficiencies).
Taking a look at the big picture, the Area-51 m9750 is really an elegant design considering all of the engineering obstacles that had to be overcome. All of the major components are easily accessed, and the system manages to run stable even while dissipating over 150W of power. The notebook also comes with Alienware's unique appearance that is certain to turn heads and draw stares of envy. This is definitely a luxury notebook - we can't think of many people that would actually
need
a gaming notebook - but if you can afford the price of entry you will definitely be pleased with the design and features it offers. Gaming performance however is a bit of a mixed bag that we'll explore more in a moment.
LCD Brightness, Contrast, and Viewing Angles
As always, we like to take a closer look at notebook displays to see how they measure up to the competition. We use ASTRA32 to probe for details about the LCD panel. However, ASTRA32 merely reads the information directly from the LCD panel using the VBE/DDC standard. Some LCD panels contain the wrong data, for example serial numbers, manufacturing date, etc. so we cannot guarantee all of the details are 100% accurate. Likewise, we cannot guarantee that the LCD panel used in our particular sample will be the same as that used in other notebooks of the same model.
ASTRA32 reports that the LCD panel in our test unit is an LG Philips LPL0B0A, manufactured in January 2005. Many of the notebook LCDs we've looked at have listed January 2005 as the manufacturing date, which seems a bit odd, so it may have been produced a bit more recently. However, looking at the
LG Philips website
, we could not find any details about this particular panel, which indicates that it was manufactured at least one if not two years ago. The overall display quality seems to be a bit better than some other 17" notebooks that we've seen, so Alienware may have purchased higher-quality LCD panels initially, but it's still safe to say that the LCD panel is a somewhat older model. Response times, color quality, and viewing angles are all pretty similar to what we've seen in other 1920x1200 17" notebooks.
Moving on to objective testing, we'll start with a look at brightness and contrast ratios along with viewing angles. We'll conclude on the following page with an examination of the color accuracy, before and after hardware calibration. For color accuracy, we are including results using ColorEyes Display Pro in addition to Monaco Optix XR Pro. Monaco Optix XR Pro uses the older ICCv2 profile specification and it may not be as accurate as software that uses the more recent ICCv4 specification. In testing we have discovered that there are certainly differences between the two software packages when it comes to color calibration, but neither one is universally better. We use a Monaco Optix XR Pro colorimeter (which is the same as the DTP-94) with both software packages.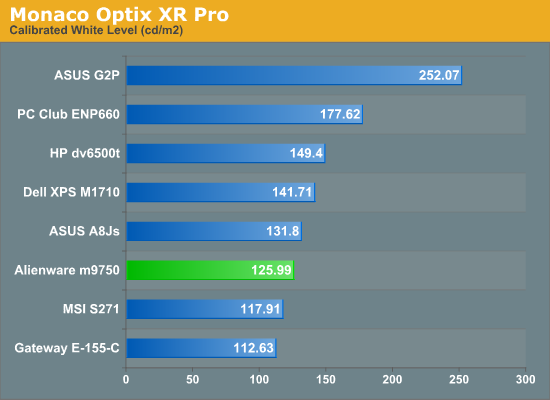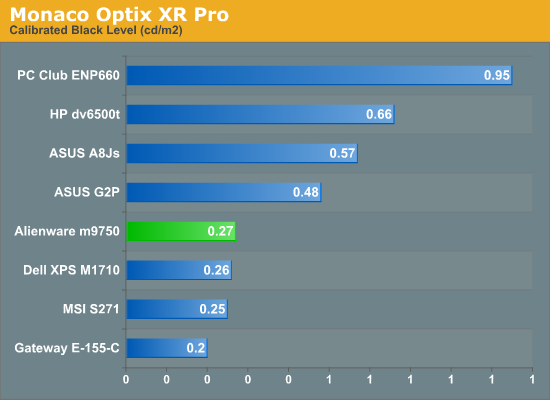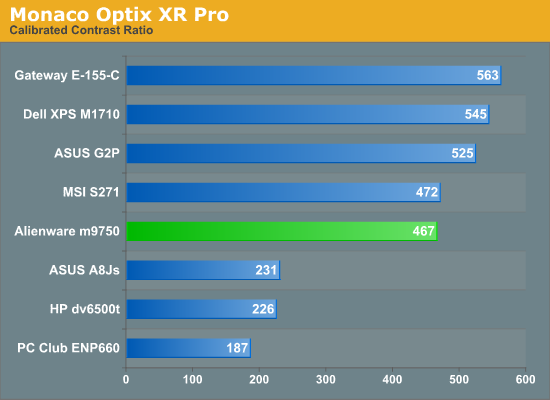 The calibrated white level is slightly lower than other LCDs, but maximum brightness prior to calibration was 146 nits, putting it on par with most other laptops. Black levels are also pretty good, and the result is a contrast ratio right around 500:1, give or take. (Without calibration, the black level was 0.28 resulting in a contrast ratio of 520:1.)
Turning down the brightness level rapidly reduces the display to the point where we wouldn't want to use it. Minimum brightness results in a white point of 6.65 nits and a black point of 0.01 nits, and while the measured contrast ratio actually goes up the quality certainly isn't better. There are eight total brightness settings available, but only the top four are really useful as the bottom four start with a white point of 50 nits and go down from there. The steps are also relatively coarse, changing the white level by 15-25 nits.
Brightness levels and contrast ratios aren't the only important aspects of a display, so here's a look at the viewing angles, taken at 30° from center. Images for the other laptops can be viewed using the links below.
ASUS A8Js
ASUS G2P
Dell M1710
HP dv6500t
Gateway E-155-C
MSI S271
PC Club ENP660
The viewing angles overall are pretty good for a laptop, ranking slightly ahead of most other laptops we've tested particularly in vertical viewing angles. In terms of overall quality we still prefer the ASUS G2P LCD, while the Gateway E-155-C has the best viewing angles.
Given that this is a gaming notebook, response times are going to be a bit more important. Using a 1/80s shutter speed, we can see remnants of at least four screen updates in the above image. Actual response times are thus similar to what we've seen in most other notebooks: somewhere between 25ms and 35ms. While that might seem slow for a modern LCD, consider that similar testing on "5 ms" LCDs indicates that they response times are also closer to 25ms in practical use. We weren't bothered by pixel smearing when using the notebook, but others may have more sensitive eyes. Test out some other laptops in person, and see if pixel smearing bothers you.
LCD Color Accuracy
While the manufacturing date for the LCD panel is the same as what we found for the PC Club ENP660 and HP dv6500t, it should already be clear that the overall display quality is still different. While those two laptops exhibited poor contrast ratios and poor viewing angles, the m9750 definitely fared better. However, we still need to look at color accuracy.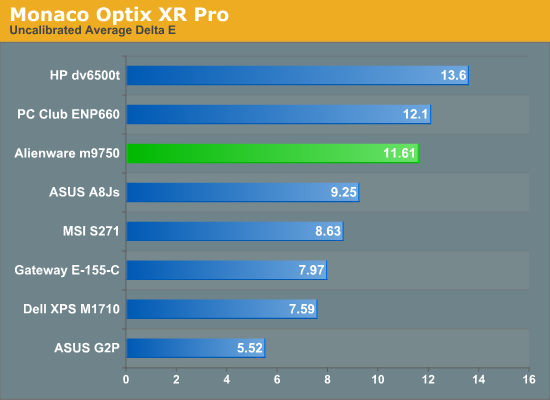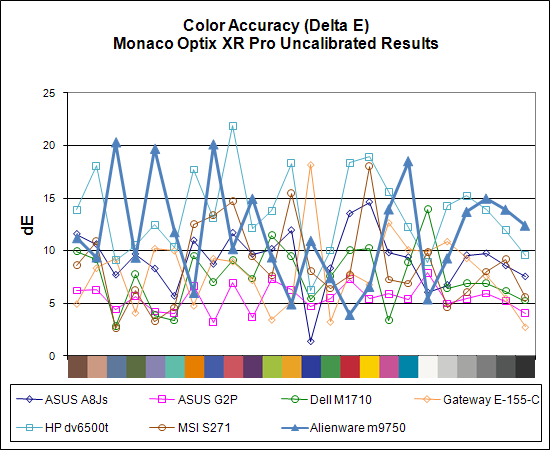 The Alienware m9750 is one of the worst performers when it comes to uncalibrated color accuracy. A Delta E of 11.6 only manages to best the two worst displays that we've looked at. Perhaps not coincidentally, all three of these low-scoring displays reported a manufacturing date of January 2005, though the Alienware has a different panel manufacturer. As bad as the Delta E results look, it is important to remember that our eyes are wonderfully adaptable when it comes to viewing colors, and in actual use the Alienware didn't seem all that bad. Trained professionals will certainly be able to spot the inaccuracies, and any multimedia enthusiasts viewing high-definition content will be disappointed, but unless you're really demanding in terms of color accuracy the contrast ratios and viewing angles probably take precedence.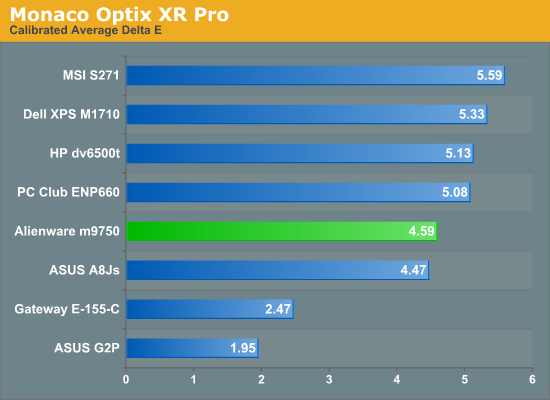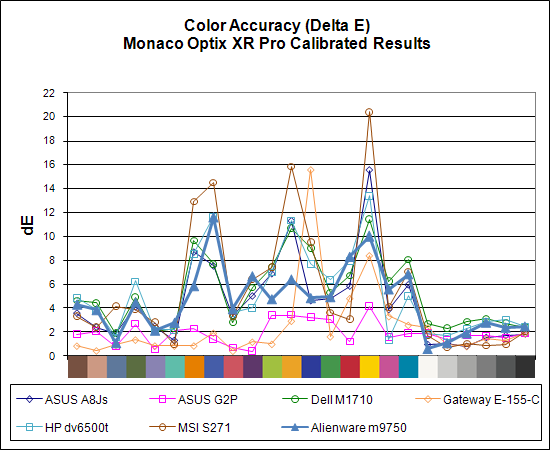 Calibration also helps out, naturally - although not with games or movies as they bypass the color correction profile. After using Monaco Optix XR Pro to calibrate the display, the Area-51 m9750 performs much better. Only the ASUS G2P and Gateway E-155-C are clearly better.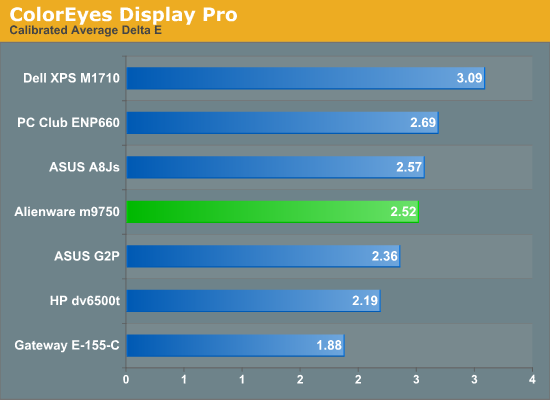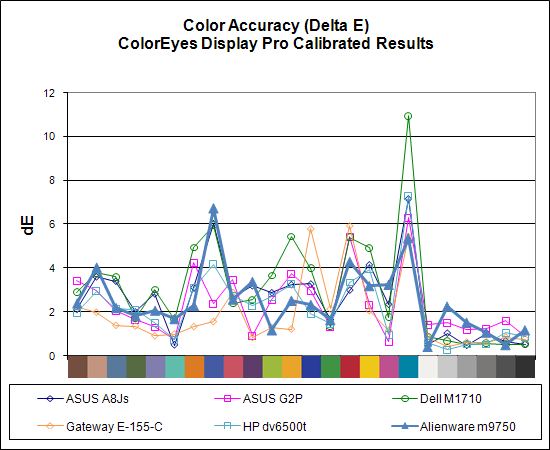 As we have pointed out previously, ColorEyes Display Pro often manages to provide better color accuracy on laptops. CED Pro is also being actively updated, and it runs better under Windows Vista, but that's beside the point. Using CED Pro, the average Delta E drops to 2.5, essentially falling in the middle of our table. Looking at its closest competitor, the Dell XPS M1710, the m9750 bests it in virtually every color accuracy test. While the differences are generally slight, our subjective evaluation supports the conclusion that Alienware uses a better LCD panel than Dell.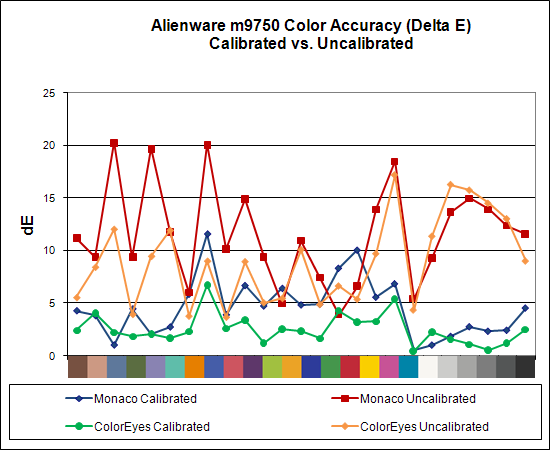 As a final look at the m9750 LCD panel, here's a chart showing calibrated versus uncalibrated Delta E with both Monaco Optix XR Pro and ColorEyes Display Pro. ColorEyes also reports a lower Delta E prior to calibration, although the graphs are otherwise similar. Either way, calibration can clearly help out a lot if you need more accurate colors, but even the best laptops are still unable to match the majority of the desktop LCDs we've looked at when it comes to color accuracy.
Test Setup
Alienware is currently shipping the m9750 with either Windows Vista or Windows XP installed. However, if you're looking at the SLI configuration there's basically no reason to consider Windows Vista just yet. We ran into a few issues trying to get Windows Vista installed and eventually abandoned the effort. While it would have allowed us to run a few other performance tests, the fact of the matter is that the system is plenty fast in any other area, but it's the gaming performance that really sets it apart.
Alienware Area-51 m9750 Tested Configuration
Processor
Core 2 Duo T7600 (2.33GHz 667FSB 4MB)
Chipset
Intel 945PM + ICH7-M DH
Memory
2x1024MB DDR2 SO-DIMMs (Qimonda 64T128021HDL3SB)
Tested at DDR2-667 5-5-5-15
Graphics
NVIDIA GeForce Go 7950 GTX 512MB SLI
Display
17" WUXGA (1920x1200) with Clearview
LG Philips LPL0B0A (Jan 2005)
Hard Drive
2 x 160GB 7200RPM 8MB SATA
(Sesagate Momentus 7200.2 ST9160823AS)
Optical Drive
8X DVD+/-RW (Optiarc AD-5540A)
Networking/Communications
Intel 3945ABG (802.11A/B/G) Mini PCI Wireless
Audio
Realtek ALC885 7.1 HD Audio
Battery
12-Cell 95WHr
Operating System
Windows XP Media Center 2005
In terms of pricing, the Alienware m9750 is actually pretty close to the
Dell XPS M1710
with an overclockable CPU that we tested a few months ago. The m9750 doesn't support overclocking, but considering the price of the T7600G processor users could instead pick up a second GPU. Not surprisingly, the overclocked XPS M1710 ends up providing more CPU performance while the m9750 is usually faster in games, but we'll let the graphs and benchmark results elaborate on this fact.
General Performance
We were unable to get any of the BAPCo benchmarks to run on the m9750. They all require clean installations of Windows XP SP2 (or Vista), and the RAID 0 disk array got in our way. A bit more effort likely could have allowed us to run the BAPCo tests, but considering general application performance really isn't a major concern, we decided to stick with PCMark05 and some of our own application benchmarks.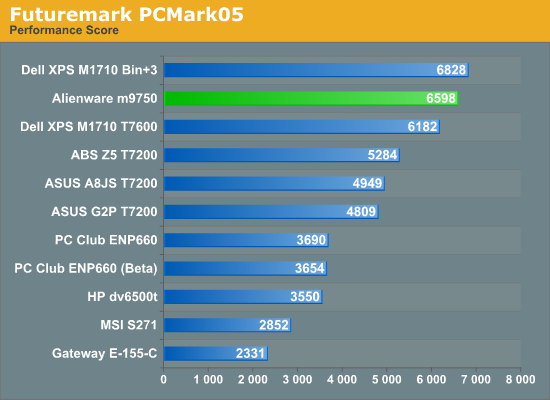 The Alienware m9750 places second in PCMark overall performance, at least if you include the overclocked XPS M1710 result. Without the additional CPU speed, Alienware would have placed first. Looking at the individual results, even without overclocking the XPS M1710 still manages to win several tests, albeit by a small margin. Most likely, the added overhead of SLI and older drivers is playing a role.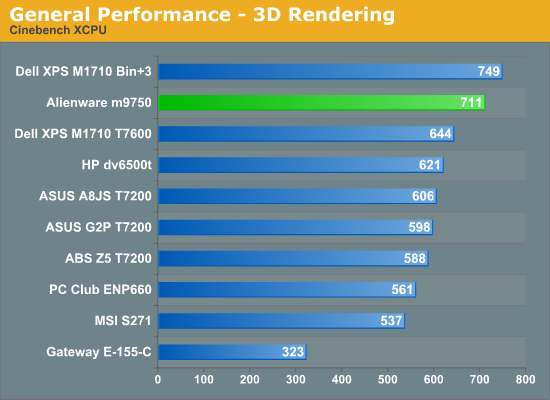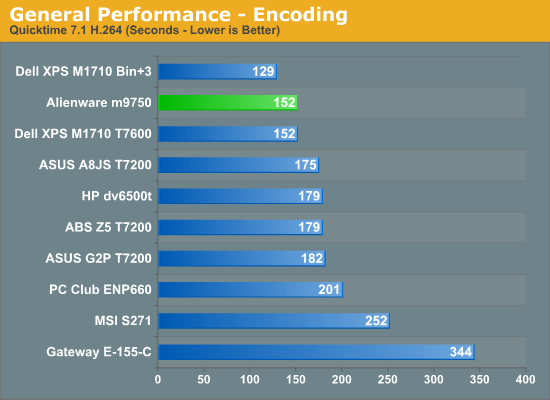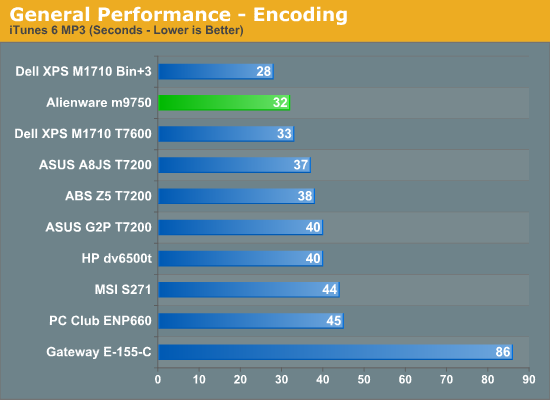 Moving on to our audio/video encoding and 3D rendering benchmarks, we see similar results. The m9750 typically is extremely close in performance to the stock XPS M1710, but with a faster processor the overclocked M1710 is out of reach in these applications. It's also interesting to see that the Santa Rosa platforms do quite well in DivX encoding.
Not shown here are results from later versions of DivX, Cinebench, and QuickTime. We're working on switching to the latest versions of these applications, but the standings and percentage differences right now remain essentially unchanged. QuickTime 7.2 is certainly worth using, however, as the H.264 export is now over twice as fast: 73 seconds compared to 152 seconds with QuickTime 7.1! We saw a similar speedup on all the other systems we've looked at so far, and we will likely move to QuickTime 7.2, DivX 6.6, and Cinebench R10 for our next laptop review.
Synthetic Gaming Performance
We don't place a lot of stock in the performance results generated by Futuremark's 3DMark applications, but many people like to see the numbers nonetheless. Here are the GPU and CPU scores from 3DMark03/05/06.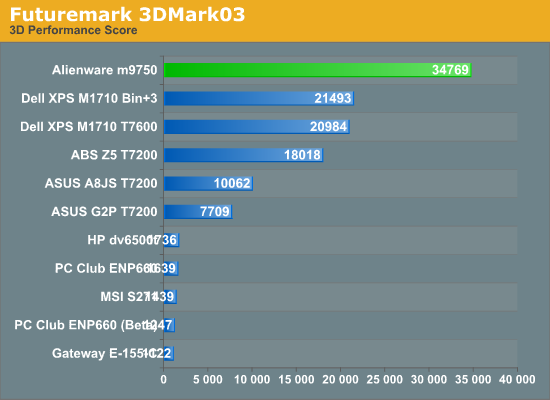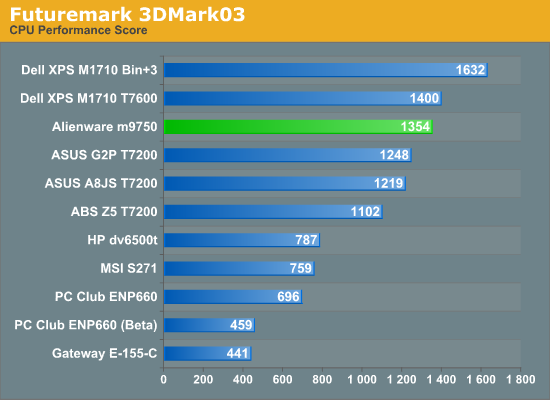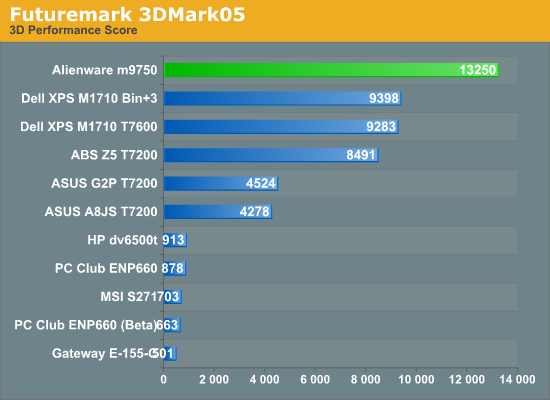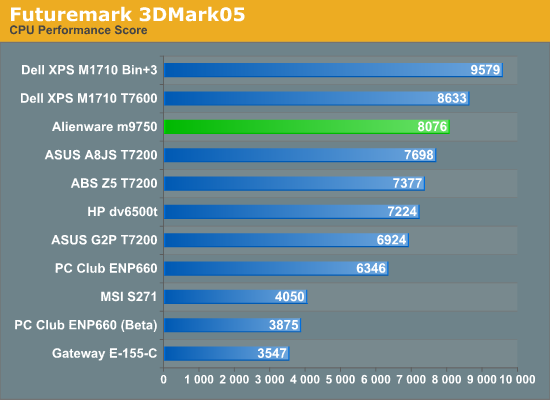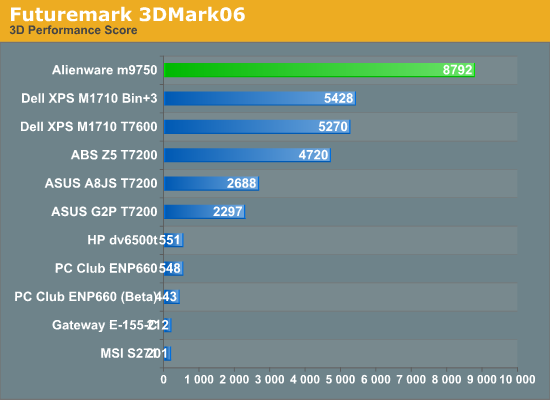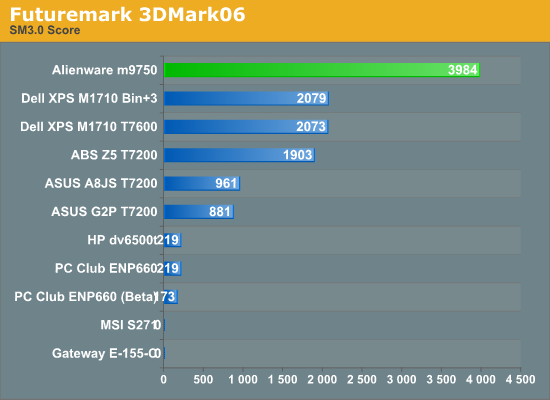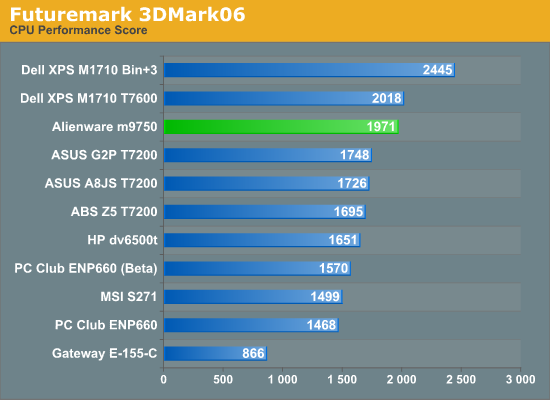 NVIDIA's SLI platform has always done very well in 3DMark results, and moving SLI into notebooks doesn't change anything. 3DMark03 is 62% faster than the nearest competitor, 3DMark05 is 41% faster, and 3DMark06 is also 62% faster. 3DMark06 also shows a 92% performance boost over a single GeForce Go 7950 GTX in the SM2.0/3.0 tests. The CPU results on the other hand have the Alienware placing just behind the stock M1710, likely due to the driver overhead SLI creates.
Outside of bragging rights, though, we find the above results only moderately interesting. If transportable gaming is really what you're after, a far more meaningful benchmark is actual game performance.
Actual Gaming Performance
We have selected a group of modern games for testing with our laptops - at least, those that can actually run games. We have dropped most of the 0xAA results for this article because the m9750 has more than enough power to run with antialiasing enabled. In a few charts we have multiple results at different settings from the m9750 as well, just to show how it performs when graphical settings are maxed out.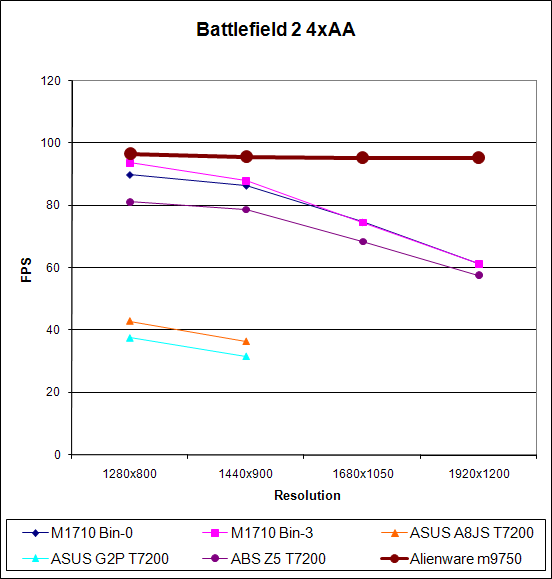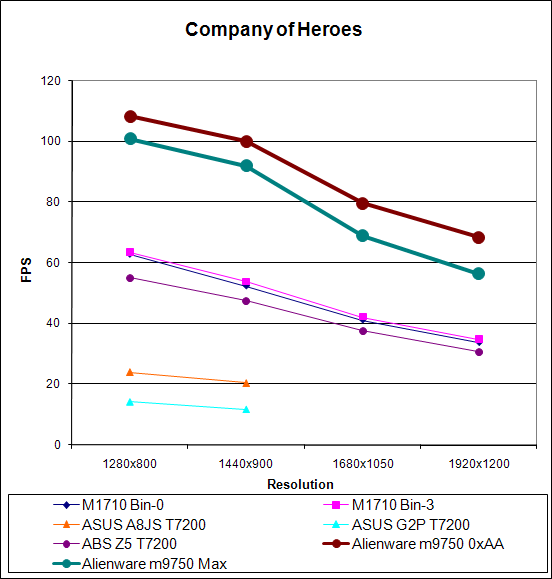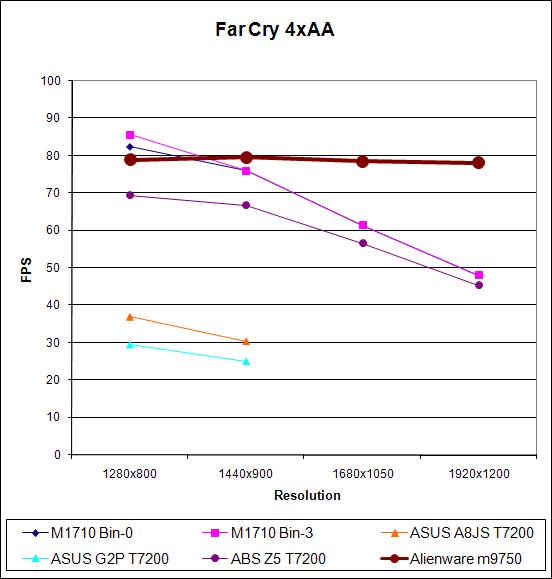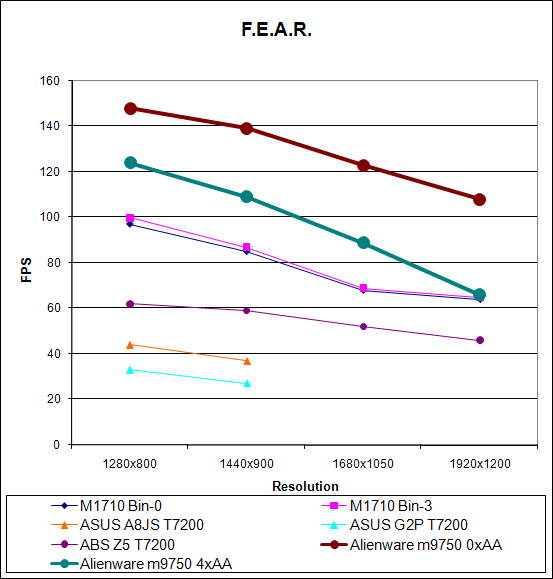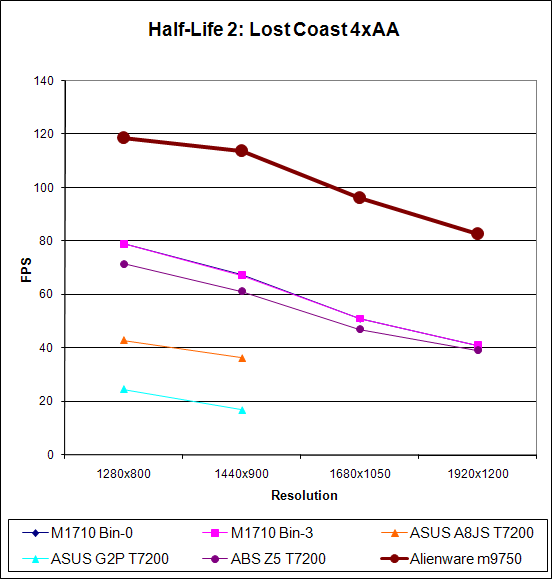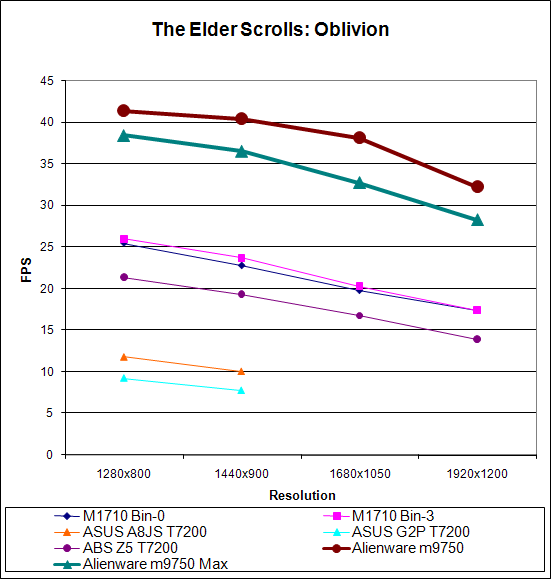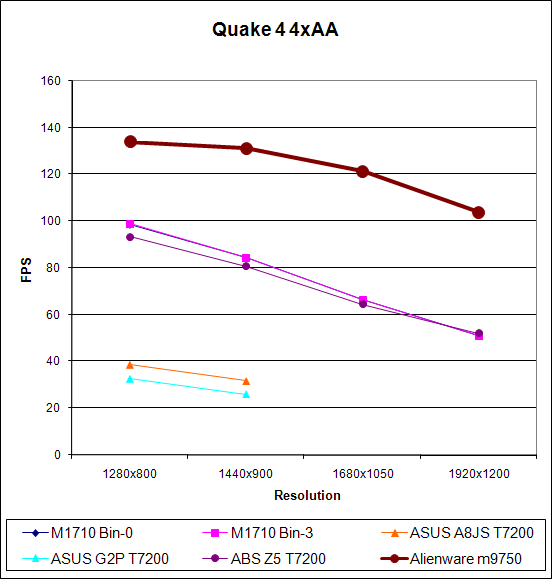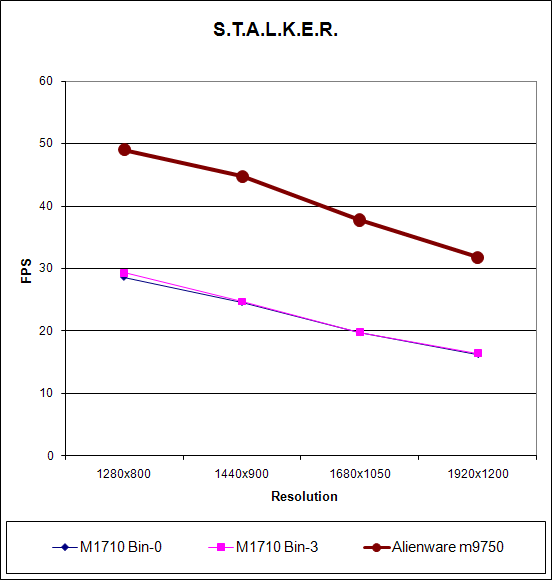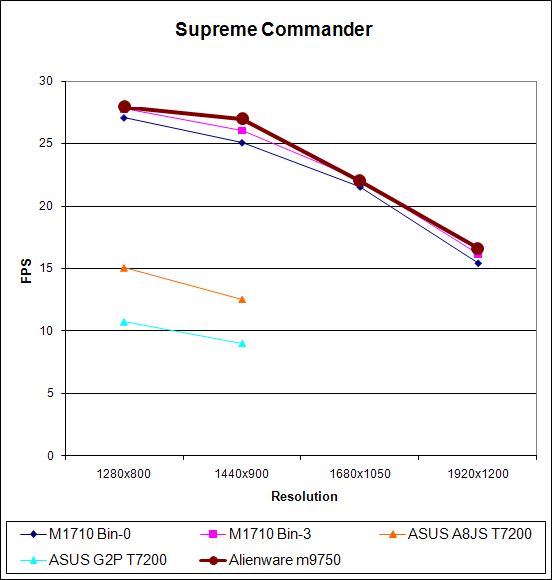 In a couple games (Battlefield 2 and Far Cry), the m9750 is clearly CPU limited even at the maximum 1920x1200 resolution. As these are older, less demanding titles that's not too surprising, and we will probably be dropping both from our testing in the near future. In the more demanding games like Company of Heroes, F.E.A.R., Oblivion, Quake 4, and S.T.A.L.K.E.R. the performance boost that SLI gives the m9750 can make a huge difference in terms of playable resolution. However, there's one game that clearly doesn't benefit from SLI, at least right now. Supreme Commander scores about the same on the M1710 and m9750, and the decreasing performance with increasing resolution clearly shows that we're not CPU limited above 1440x900. This brings us to what is arguably the biggest problem with the Alienware Area-51 m9750.
In a word, the difficulty is drivers, specifically SLI enabled drivers. If you recall earlier, we mentioned that the m9750 uses an Intel 945PM chipset. Alienware uses a custom motherboard that is able to run both graphics cards with x8 PCI-E connections, but the non-NVIDIA chipset still presents a problem. It's no secret that NVIDIA is able to run SLI on a variety of chipsets, but their drivers have normally locked support to their own solutions. NVIDIA created a special driver release for Alienware that enables SLI for the 945PM platform; unfortunately, that driver hasn't been updated since March.
SLI (and ATI's CrossFire) have often been in a chicken vs. egg race when it comes to supporting new games. Sometimes a custom profile in NVIDIA's drivers is all that's necessary, but frequently additional driver updates are needed in order to support the latest titles. In the case of Windows Vista, GeForce 7000 series cards are still waiting for proper SLI drivers. Needless to say, the GeForce Go 7950 GTX certainly doesn't have a higher priority for NVIDIA's driver team than all of the desktop SLI owners. Alienware currently has a beta Vista driver that's supposed to enable SLI support on some titles, and hopefully a full release driver will be available sometime in the near future. However, it's only a matter of time before the driver gets outdated again; how long and how frequently NVIDIA will continue to update the GeForce Go 7950 GTX SLI drivers is anyone's guess.
To drive the point home, consider the recently released Bioshock. Yes, we installed the game on the m9750 and gave it a whirl. Initially, performance was absolutely atrocious. We tried a hacked driver from
LaptopVideo2Go
that allowed us to install the v163.44 "Bioshock" driver on the m9750, but while it did technically work it appears to have broken SLI support in all titles and it didn't fix the Bioshock performance issues we were encountering. Then we decided to disable SLI in the driver control panel, and performance suddenly became perfectly acceptable. Unfortunately, we encountered graphical artifacts - black squares would appear frequently in place of textures - so we decided to go back to the "official" 94.23 drivers. Those drivers also exhibit the same problem with black squares appearing in place of certain polygons/textures, and SLI needs to be disabled to get Bioshock to run properly for the time being.
The bottom line is that video driver updates are a fact of life when it comes to gaming, and they are even more critical if you're running a multiple GPU configuration. Quite a few people have been disappointed of late with NVIDIA's driver release schedule, but at least we can be reasonably certain that SLI will eventually be supported in Windows Vista. Considering how many people are likely to own one of the GeForce Go 79x0 SLI laptops, we would imagine that driver updates will occur less frequently, so it might be months after the release of a new game before proper driver support becomes available. Remember, the last driver update is from March of this year - 5 months ago. So we're looking at a laptop that targets the gaming enthusiast but will only get new drivers perhaps twice a year.
None of this is really Alienware's fault; they just use NVIDIA hardware. And NVIDIA might actually prove us wrong and start releasing more frequent driver updates. We wouldn't be willing to place any bets on NVIDIA doing that, however, which makes it more than a little difficult for us to recommend the m9750 to gamers that want to play all of the latest and greatest games. Of course, for those that have their favorite older titles that they repeatedly play, the drivers are already fully functional and this isn't as much of a concern. Professional gamers might find just what they're looking for in the m9750, but we're not professional gamers so we can't say for sure.
Battery Life
As mentioned earlier, we had some difficulty getting a clean install of Windows XP onto the m9750, so we had to skip the BAPCo benchmarks, including MobileMark 2005. Obviously, we don't expect a lot in terms of battery life for this particular notebook, but we were curious to see exactly how fast we could run the battery dead. We turned to the battery scripts that we developed for Windows Vista along with our gaming battery benchmark where we loop 3DMark06. Let's see how the Area-51 manages to run without its tether.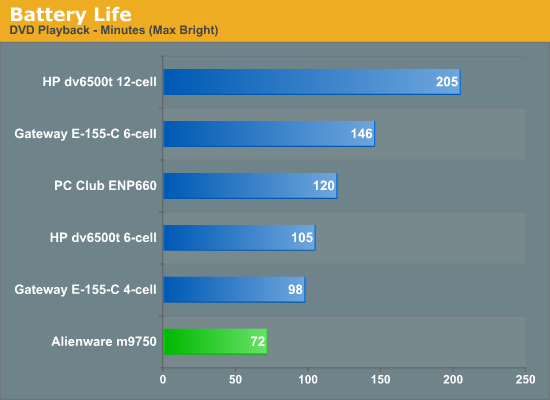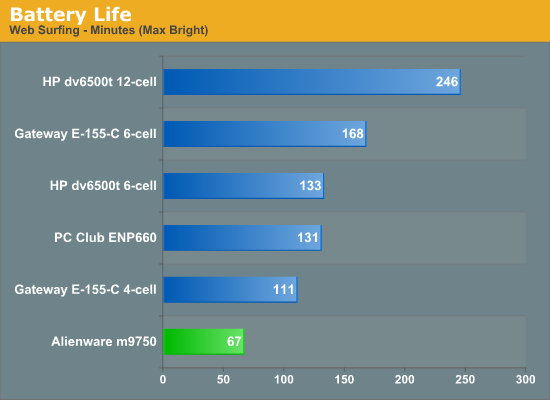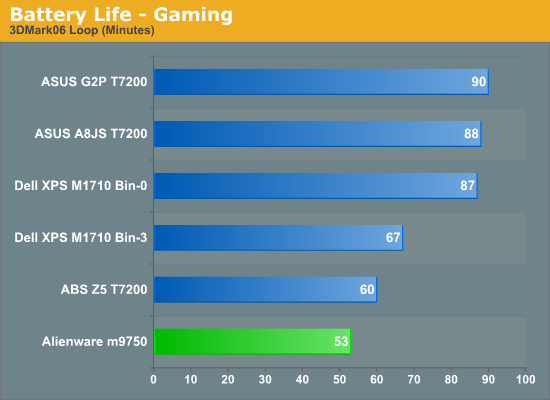 Despite having a rather large 12-cell battery, best case the m9750 provides just over an hour of battery life. That's with all of the power saving features turned on. Gaming performance can't even make it up to one hour, but it's also important to mention that NVIDIA's PowerMizer settings are in effect, reducing the GPU clock speeds and most likely disabling (or at least tampering) SLI performance. We did try to run 3DMark06 with PowerMizer disabled, but the laptop would shut down after a few minutes and it appears that clock speeds were still reduced. Not surprisingly, the only conclusion is that battery life certainly isn't a priority with the m9750.
Power Consumption
Related to the battery life discussions, we also have power results. To measure power requirements, we remove the battery from the laptop and measure system power draw at the wall outlet using a Kill-A-Watt device. We test several different scenarios to try to isolate the power draw of the various components. First, we have the baseline measurement when the system is idle and sitting at the desktop. No applications are running for 10 minutes or more but the screensaver and hard drive sleep mode are disabled. As a CPU load test, we run the SMP version of Folding@Home at 100%. Finally, for maximum power load we leave Folding@Home running and start 3DMark05. In this way, we can see roughly how much power the GPU is using in 3D mode versus 2D mode.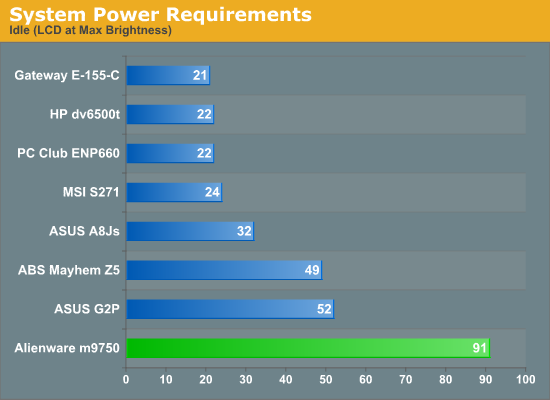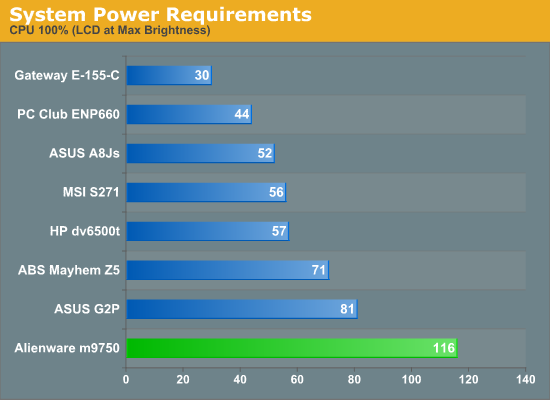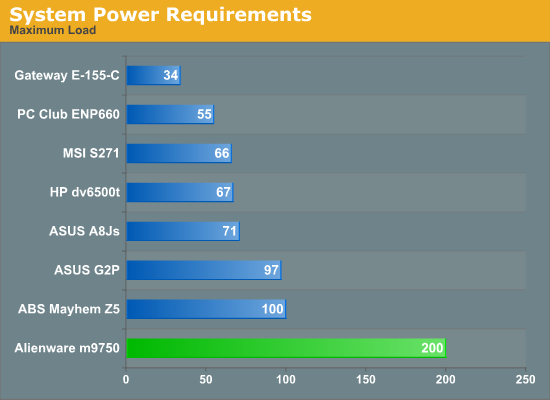 The power requirements are off the hizzy indeed! At maximum load, the m9750 consumes twice as much power as the nearest competitor. The 100% CPU test load however shows that the graphics cards are a major factor, as the m9750 "only" requires 45-75% more power under those situations. The good news is that even with such high power requirements, the large power brick is able to provide enough power that you can start gaming with a dead battery and still charge the battery. Then again, do you really need a battery for this type of notebook?
Temperatures
Given the amount of power that the m9750 can use, it's no surprise that the bottom can get pretty hot. While we tend to use the terms "laptop" and "notebook" interchangeably, the m9750 is definitely more at home sitting on the desk rather than in your lap - though it might come in handy during the winter months.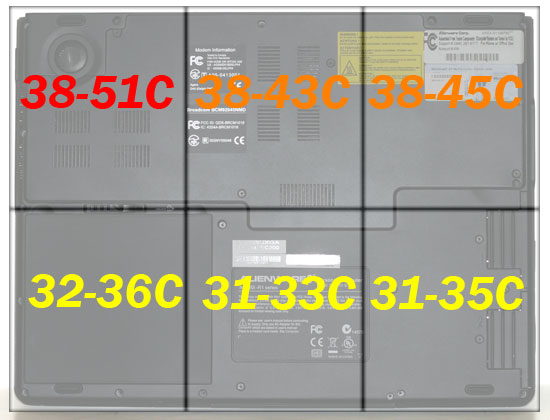 Here's another shot of the bottom of the notebook with temperatures superimposed (the rear of the notebook is at top and the front is at the bottom). Temperatures were measured after playing a game for 30 minutes. At idle, the laptop is cooler, but much of the bottom still gets above 35°C.
At the back of the notebook, the right exhaust port reaches 60°C at full load, and the left (center) exhaust reaches 55°C. Despite all that heat, however, the keyboard and palm rest remain generally cool. The palm rest stays a pretty consistent 31°C over the entire surface. The keyboard is a bit warmer, ranging from 33 to 36°C.
Conclusion
Anyone familiar with Alienware as a company could have probably guessed at the conclusion without even reading the article. This is one of the fastest notebooks currently available, with pretty much every high-performance option possible if you're willing to spend the money. If the primary concern is raw CPU performance, there are certainly faster notebooks out there, but if all you really want is the ultimate gaming notebook the Alienware Area-51 m9750 delivers the goods. Until NVIDIA or AMD comes out with a faster DirectX 10 mobile graphics chip, GeForce Go 7950 GTX SLI is as fast as notebook graphics come. However, there are some major snags that interested buyers will need to get past.
First, you need to be willing to spend this much money on a laptop. The version we tested costs about $5,000, although you could still keep the SLI graphics and make a few other compromises in order to get the price closer to $4000 if desired. That's still about twice as expensive as a good upper-midrange notebook, and a modern $2000 desktop PC should still be able to outperform the m9750. Let's just assume that money isn't a major concern, however. Is the notebook still worth a look?
SLI has always been on the bleeding edge of gaming performance; while things have become a little better on the desktop, SLI notebooks have a ways to go. The biggest problem is drivers. We didn't encounter any difficulties with any of the older games that we've tested on the notebook, and most recent titles work as well. However, Bioshock definitely has some graphical glitches and SLI pretty much doesn't work right at present. We're certain that there are other titles out there - or there will be in the near future - that will encounter similar problems. A driver update is probably all that will be necessary, but when that will actually come out is anyone's guess.
We're still not sure how big of a demand there is for high-powered gaming notebooks. Yes, Alienware and several other vendors make some very powerful notebooks, but is there really that much interest from consumers? For most people, spending this much money on a computer is more than just a little frivolous. Then again, there are certainly gaming enthusiasts that have money to spare.
One thing we're sure of is that we will continue to see a lot of growth in the notebook industry, and while notebooks likely will always remain a year or two behind their desktop siblings in terms of raw performance, we are fast reaching the point where more processing power really isn't necessary. We can still come up with situations where quad core processors are useful, but stretching that to octal cores requires a lot more imagination. When a decent notebook is more than fast enough for anything you might want to do with a computer, the choice becomes spending the same amount of money on a faster desktop or else getting a portable computer instead. With companies like Intel, NVIDIA, and AMD all working on creating faster parts, perhaps we're not far off from Alienware releasing an Ono-Sendai Cyberspace VII that we can all use to jack into the matrix. Just watch out for the ICE....