Original Link: http://www.anandtech.com/show/2300


Introduction
PC Club is one of the medium-sized computer resellers in the US, with 37 locations scattered across the western US (as well as a couple of stores in Oklahoma). We've looked at some of their
previous offerings
, and have found that they tend to target the middle ground. Their desktops may not be as exotic as some offerings, but the use of off-the-shelf components can put them one step ahead of the large OEMs when it comes to enthusiasts and those looking to squeeze just a little bit more power out of a system. They recently sent us their latest Enpower notebook offering, based on Intel's Santa Rosa platform. Their primary goal was to create a notebook that would be suitable for high school and college students - all while trying to stay affordable.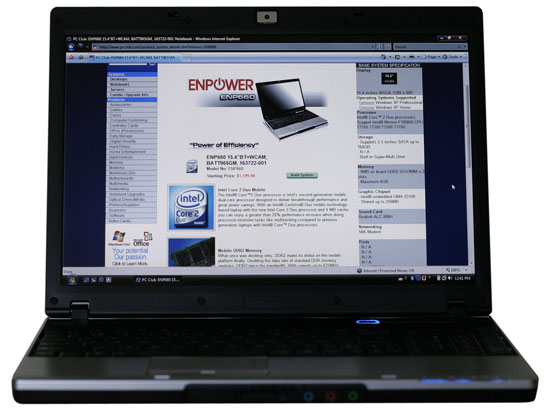 The PC Club Enpower ENP660 uses an MSI design with a few minor tweaks to the exterior. The system is based off of MSI's MS-1637 barebones notebook, and other than the Enpower logo on the cover we aren't aware of any differences between PC Club's offering and MSI branded models. Of course, by purchasing the computer from PC Club you get to deal with them when it comes to support and warranty issues, and particularly for those who live near a PC Club store that might be reason enough to choose the Enpower over a stock MS-1637. You also get to customize your laptop according to PC Club's components, which will generally make things easier when it comes to picking parts but it will also limit your choices somewhat. A quick look at prices indicates PC Club charges a modest fee to put the system together - $100 or so by our estimate.
With starting prices of $1200, some people might feel the notebook is a little bit more expensive than they would like. While it's true that there are cheaper notebooks out there, by the time you get the level of performance in this PC Club laptop you will almost certainly have to spend more than $1100. Let's take a closer look at the Enpower ENP660 and see what it has to offer.
PC Club ENP660 Features and Options
As with most system builders, PC Club gives customers the ability to customize various aspects of their notebooks. Here's a quick overview of the major configuration options available on the ENP660, not counting any external accessories or peripherals.
PC Club Enpower ENP660 Configuration Options
Processor
Core 2 Duo T7100/T7300
Chipset
Intel 965GM + ICH8M-E
FSB Speeds
800MHz
Memory Speeds
DDR2-533/667
Memory Slots
(2) x SO-DIMM, 512MB up to 4GB, DDR2, Dual Channel supported
Graphics
Intel GMA X3100
Display
15.4" WXGA (1280x800)
AUO Optronics Corp AUO B154EW01 V9 (Jan 2005)
Expansion Slots
1 x ExpressCard
3 x mini-PCI (internal) - occupied by WiFi, BlueTooth, and TurboMemory
Hard Drive
120/160GB 5400RPM
Optical Drive
8X DVD+/-RW DVD-RAM
Networking/Communications
Integrated 10/100/1000 Ethernet and V.90 56K Modem
Intel 4965AGN (802.11A/B/G/B) Mini PCI WiFi
Audio
24-bit High Definition Audio with 2.0 Speakers
5.1 audio jacks available
Left Ports
LAN (RJ-45)
Modem jack (RJ-11)
2 x USB2.0
Optical Drive
Right Ports
1 x ExpressCard/54
1 x 4-pin FireWire
2 x USB2.0
1 x S-VIDEO
1 x VGA
Power Connector
Front Ports
Line Out
Microphone
Headphones
Flash reader (SD, MS/Pro, MMC)
Back Ports
None
Keyboard
103 Key QWERTY (US) with Numpad
Extras
1.3 Megapixel webcam
1GB TurboMemory module
Battery Options
6-Cell 51.8WHr
Dimensions
14.1"x10.2"x1.1-1.3" (WxDxH)
5.85 lbs. (6-cell battery)
Power Adapter
90W
Operating System
Windows Vista Home Premium 32-bit
Windows Vista Business 32-bit
PC Club doesn't give a whole lot of different upgrade options, but they do cover alternative components that are most likely to be used in the midrange market. For example, users can choose between the T7100 (1.8GHz) and T7300 (2.0GHz) Core 2 Duo processors. The cost to upgrade to the faster processor is currently $60, and some people will certainly be interested in gaining a little extra CPU performance. The MSI notebook chassis does support the T7500 and T7700 processors, but those cost significantly more money and it is unlikely most people would bother with either upgrade.
You get similar options in the memory department. PC Club gives users the choice between 1GB, 2GB, and 4GB of memory. Something that we have to commend them on is their decision to omit any 512MB SO-DIMMs from the configurator. If you choose to go with 1GB of memory, it will come via a single 1GB SO-DIMM rather than using two 512MB SO-DIMMs. Users will then be able to upgrade to 2GB of memory in the future - although we would recommend that anyone considering a Vista laptop go straight to 2GB of RAM, as the OS can definitely make use of more than 1GB of memory. PC Club initially shipped us the ENP660 in a 1GB configuration, but we requested that they send us a second SO-DIMM. It's worth noting that the drop down to single channel memory did have a somewhat noticeable impact on performance, with some benchmarks running up to 20% faster after adding the second Gigabyte of memory - although without further testing we can't say how much of the improvement was caused by the extra memory versus the move to dual channel memory.
Operating system choices are rather limited as well, and this is a Vista-only laptop (at least from PC Club). PC Club does not offer any 64-bit operating systems at present, so the choices are narrowed down to Vista Home Premium and Vista Business. Considering home users and small business users (or home office users) are most likely to purchase this laptop, we can't really fault the selection. Vista Ultimate costs way too much to consider for most people, especially since it doesn't really add any particularly useful features. Having a 64-bit operating system might prove to be important at some point in the future, but it's generally considered a high-end option right now so again it's not yet necessary for this market segment.
Besides software options and accessories, the only other item left to configure is the storage subsystem. Users get two choices again: a 120GB hard drive or a 160GB hard drive. Both are 5400 RPM models, and while it might be nice to get a 7200 RPM drive instead the added storage capacity available with 5400 RPM drives is often more attractive to potential customers.
| | |
| --- | --- |
| | |
As mentioned already, the ENP660 uses an MSI barebones chassis, in this case the MS-1637. PC Club also tends to use Kingston memory in most of their systems, which is a safe bet. We didn't have any stability issues with the laptop (with one interesting exception we'll cover later). Connectivity options include Gigabit Ethernet, 802.11a/b/g/n WiFi, and a 56K modem. Wireless networking is provided by an Intel 4965ABN adapter. We can't say that 802.11n draft equipment is working great, but we're nevertheless glad that PC Club chose to include the better Intel wireless networking adapter. There are still definitely some kinks that need to be worked out in the 11n drivers (and hardware), but it's nice to have a potential performance boost and you can stick with 11g wireless networking for now.
As we saw with the HP dv6500t, the LCDs used on many of the midrange/entry level laptops leave a lot to be desired. Looking at the manufacturer (AU Optronics) and the date of manufacture should immediately set off some warning signals. The LCD will be sufficient for most people, but it certainly isn't better than what we see in other laptops.
The last two major features worth noting are the inclusion of a 1GB TurboMemory module and the keyboard. We've
discussed TurboMemory
in the past, and our experience with the ENP660 didn't really change our opinion: it's something that might be nice to have around just in case, but it doesn't really increase performance noticeably or improve battery life - at least not yet. If you have 2GB of memory, the impact of TurboMemory is nearly nonexistent, and while it might be more noticeable with a 1GB configuration users would be far better off adding more RAM rather than a TurboMemory module. We also got a warning message about our ReadyBoost drive being full after a few minutes of use - even after clearing the Prefetch directory. As for the keyboard, fans of number keypads will be very happy, and while it's not as roomy as a regular desktop keyboard we were pretty pleased with the keyboard overall. We'll have more to say on this in a moment.
Design and Appearance
Performance, features, size, and/or weight are usually the primary considerations for people out notebook shopping. Appearance is another factor that may or may not be important, and the overall design needs to be evaluated to see how it works in day-to-day use.
Considering that the ENP660 is based off an MSI barebones chassis, it's not too surprising that the overall appearance and design are pretty vanilla. The exterior is a black/charcoal color, and the palm rest inside is silver - nothing particularly noteworthy. How much that matters is going to vary by individual, but while we did find the notebook to be pretty plain-Jane we also found it to be perfectly serviceable. The most excitement you get from the design is the Enpower logo that lights up when the system is powered on. If you want something flashier, you'll have to look elsewhere.


Taking a quick look at the laptop from various angles, we can find most of the features mentioned on the previous page. On the front you get the flash memory reader along with the audio jacks. PC Club/MSI does include three audio jacks, and you can configure the sound system to output 5.1 audio to external speakers. Other than the release latch for the display on the front and the ventilation and Kensington lock on the back, there's nothing else to see on the front or rear of the laptop.
The left and right sides are home to the majority of the connections. The left side has the DVD drive, two USB ports, modem and LAN connections, and another Kensington lock socket. The right side has an ExpressCard slot, FireWire, two more USB ports, VGA and S-Video outputs, and the power socket.
Design and Appearance (Cont'd)
As stated, there's nothing particularly noteworthy about the design or appearance. This is your standard laptop, and it does exactly what you would expect a laptop to do. A 1.3 MP webcam sits above the display, which we found to be pretty much the same as any other laptop webcam that we've used. It will work for videoconferencing, low-quality YouTube videos, or if you're really desperate you might try to re-create the Blair Witch Project.
(Move along; nothing to see here....)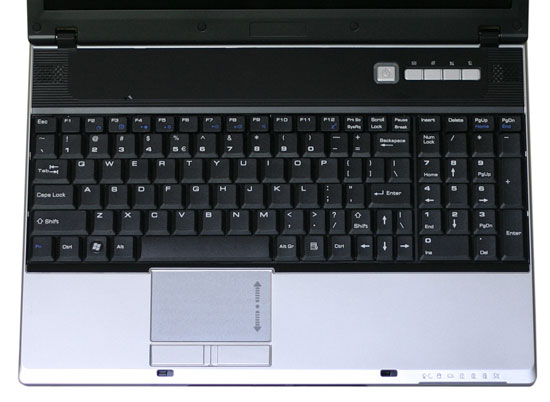 If there's one standout feature of this laptop, it would have to be the keyboard. You can find basically everything else in a dozen similar laptops that all have a similar price. A15.4" notebook with a full-size keyboard with a number keypad, on the other hand, is a bit more unusual. There is a drawback to the inclusion of the numpad, which you can easily see in this photo. Since the number keypad takes up the right portion of the keyboard space, the standard QWERTY keys get shifted over to the left, along with the touchpad. This is again one of those things that will come down to personal preference, but we had no problem adapting to the off-center location of the keyboard, and we were quite happy to have a numpad. Our only gripe with the keyboard layout is that you have to use the function (Fn) key to access the Home and End keys in the top right. We would prefer to have those keys swapped with the Scroll Lock and Pause/Break keys instead, as we almost never have need of the latter. And again, we personally would prefer to have the Fn key swap places with the Ctrl key.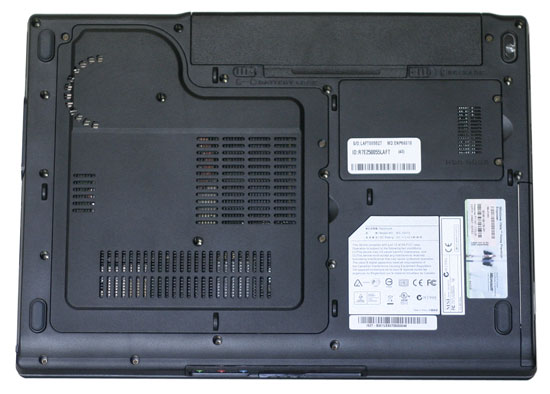 The bottom of the notebook has one large compartment that gives access to most of the insides, and the second compartment on the right is home to the hard drive.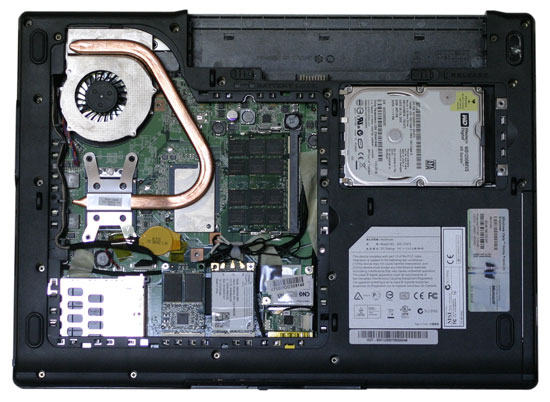 Removing the covers, we are greeted with easy access to most of the components we might want to upgrade. Looking at the CPU cooler area, it almost appears that you could change out CPUs without having to completely dismantle the case; alas, appearances are deceiving and you will need to remove the remaining 16 screws in order to remove the plastic shell if you want to perform that upgrade. Pretty much everything else can be changed out, though. Of particular note is that you get not one, not two, but three mini PCI slots. All of these are in use, but it's still interesting to see that many slots in a notebook. The left slot contains the TurboMemory module, the middle slot is the Intel WiFi adapter, and on the right is the Bluetooth module. The DDR2 SO-DIMM slots are located above the mini PCI slots, and the hard drive is all alone under separate cover in the top right. Note that the laptop does require a SATA hard drive.

At present there is only one battery size available, and it's a 6-cell 51.8 WHr battery. That's a pretty average battery size, and for most midrange notebooks that means you should get a maximum of about 2.5 hours of battery life. Since the battery slides out the back of the laptop, there's definitely potential for MSI to create a higher capacity battery in the future, which is something we hope they do. Not everyone needs long battery life, but for those that do it's nice to have the option of choosing between a lighter laptop and one that has more battery power.
As a whole, the ENP660/MS-1637 is a decent design. We only have two major complaints. First is the inclusion of a VGA port rather than a DVI port; almost everyone uses LCDs these days, and we would prefer a digital output rather than an analog output (plus DVI outputs can be made backwards compatible with a VGA adapter). For most people, this is only a minor gripe. The other complaint is the LCD resolution (and as we will cover momentarily, the quality). Some users might like the 1280x800 native resolution, but we would definitely appreciate the option to get a 1440x900 or 1680x1050 panel in a 15.4" chassis - and other people out there would actually go so far as to want 1920x1200. However, this is a moderately sized laptop that targets the entry level/midrange sector, and the design decisions (and our complaints) reflect this fact. Adding a few more features and a better LCD might be appreciated by some people, but it could also very likely push the price out of reach of many others.
LCD Brightness, Contrast, and Viewing Angles
In keeping with our tradition of striving to provide the most detailed hardware reviews around, we took a closer look at the LCD used in the ENP660. As usual, we cannot guarantee that the LCD panel used in our particular sample will be the same as that used in other notebooks, even if they have the same model number. However, as we will see in just a moment it is unlikely that other ENP660/MS-1637 notebooks could have a display that's any worse than the model we're testing. That's not to say that the display is absolutely terrible, but it definitely leaves room for improvement.
Using ASTRA32, a utility to that probes for various low-level details about computer hardware, the LCD panel in our test unit is listed as an AU Optronics B154EW01 V9. It is entirely possible for ASTRA32 to make mistakes, but short of tearing apart the notebooks we review - and potentially ruining the LCD panels - that's the best information we can provide. The manufacturing date is listed as January 2005, and it goes without saying that LCDs have improved quite a bit in the past 30 months. Our general impressions of the LCD panel are what you would expect: okay horizontal viewing angles, poor vertical viewing angles, and relatively poor color reproduction. The display seems to be bright enough, but the overall appearance is washed out. While it's by no means a good LCD, the display will work fine for most business and personal use; graphics artists and other image professionals will want better however.
For our objective tests, we'll start with a look at brightness and contrast ratios along with viewing angles. We'll conclude on the following page with an examination of the color accuracy, before and after hardware calibration. For color accuracy, we are including results using ColorEyes Display Pro in addition to Monaco Optix XR Pro. Monaco Optix XR Pro uses the older ICCv2 profile specification and it may not be as accurate as software that uses the more recent ICCv4 specification. In testing we have discovered that there are certainly differences between the two software packages when it comes to color calibration, but neither one is universally better. We use a Monaco Optix XR Pro colorimeter (which is the same as the DTP-94) with both software packages.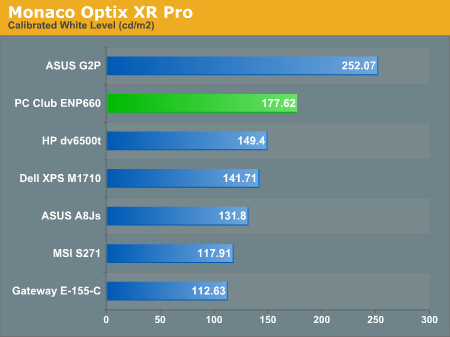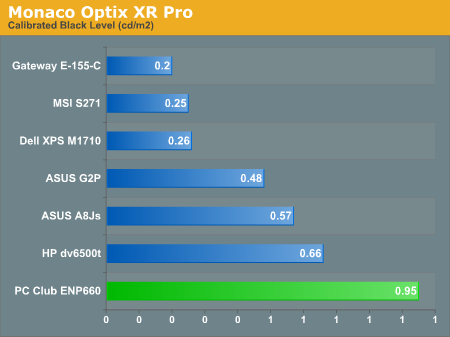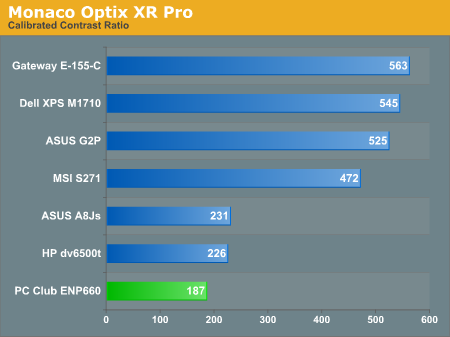 The white level is pretty good, coming in slightly higher than most other laptops that are around 150 nits. Black levels on the other hand are nowhere near black. The end result is a low contrast ratio that gives the display a washed out appearance.
Brightness levels and contrast ratios aren't the only important aspects of a display, so let's look at the viewing angles, taken at 30° from center. Images for the other laptops can be viewed at the following links:
ASUS A8Js
ASUS G2P
Dell M1710
HP dv6500t
Gateway E-155-C
MSI S271
This is one of the worse showings in terms of viewing angles of the laptops that we've reviewed - not too surprising considering the age of the LCD panel. The limited vertical viewing angle is definitely noticeable when using the laptop, especially if it's actually sitting in your lap. A slight shift or repositioning of your body and the image on the LCD can become seriously discolored. If you like clear, vibrant displays then you will definitely want to look around for a better notebook.
Looking at response times for such a notebook is almost meaningless, particularly as it relates to gaming. As the above image shows, even on relatively tame graphics the GMA X3100 has difficulty reaching high frame rates. Even at a low 640x400 resolution, we couldn't break 60 frames per second which means that we almost certainly captured one frame rendered twice. In other testing, response times appeared to be similar to what we've seen on most notebooks - somewhere between 25ms and 35ms. Watching movies worked well enough: assuming you can get past the viewing angles and low contrast ratio, response time is in going to be a problem.
LCD Color Accuracy
Two and half year-old notebook LCD technology fails to impress - nothing really surprising there. Let's take a look at how the LCD performs in regards to color accuracy. As stated, we will be looking at the uncalibrated performance as well as calibrated performance using both Monaco Optix XR Pro and ColorEyes Display Pro.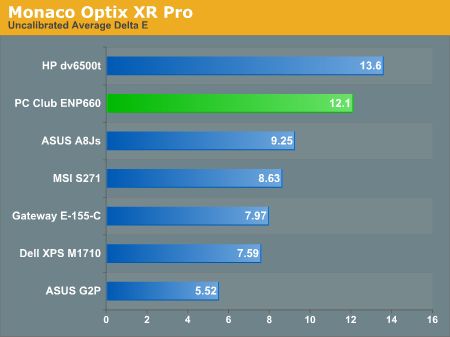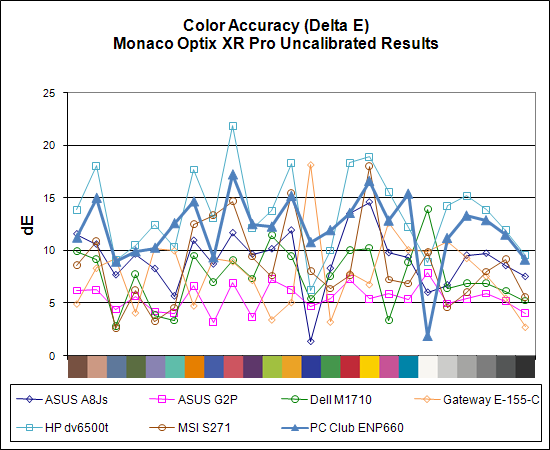 The uncalibrated results continue to be very poor for all of the laptops. Unfortunately, these results represent what the majority of people will see when they use any of these systems, and even if you're lucky enough to have appropriate calibration tools, video playback will still use the uncalibrated colors. The ENP660 ranks at the bottom of our charts along with the HP dv6500t (which also uses a two and half year-old panel), with an average Delta E of 12.1 prior to calibration.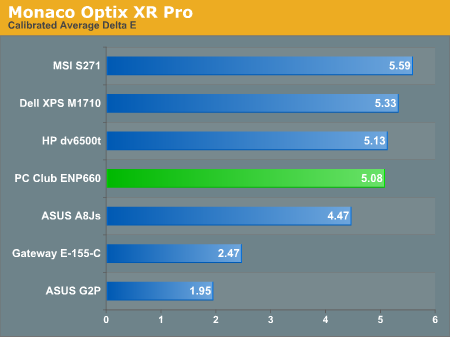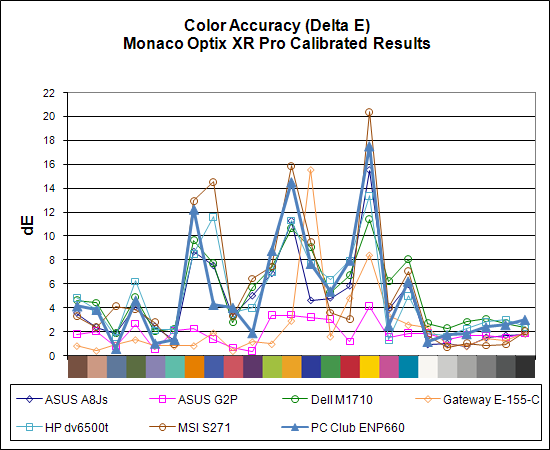 After calibration with Monaco Optix XR Pro, the situation for the ENP660 improves, but it still ranks as one of the lower end LCDs. What about after we calibrate the display using ColorEyes Display Pro?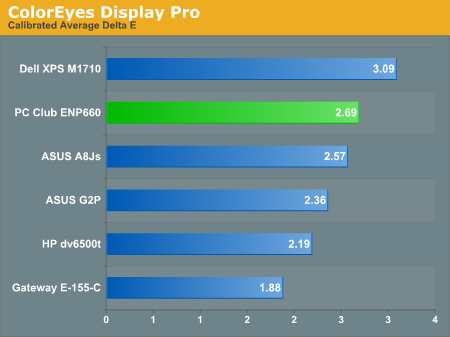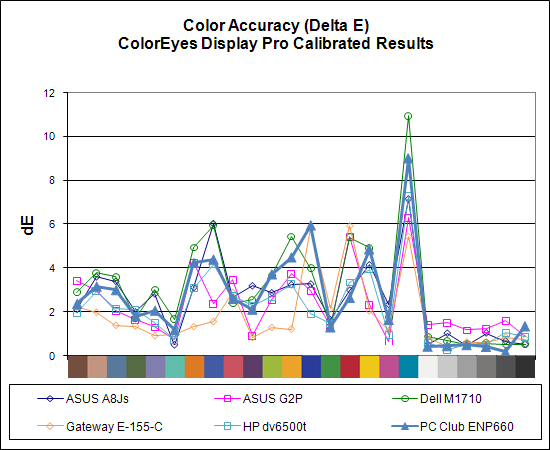 ColorEyes Display Pro manages to provide better color accuracy on most laptops and the ENP660 is no exception. The average Delta E is cut in half relative to calibration with Monaco Optix XR Pro, although in terms of ranking it still comes in second to last out of the reviewed notebooks.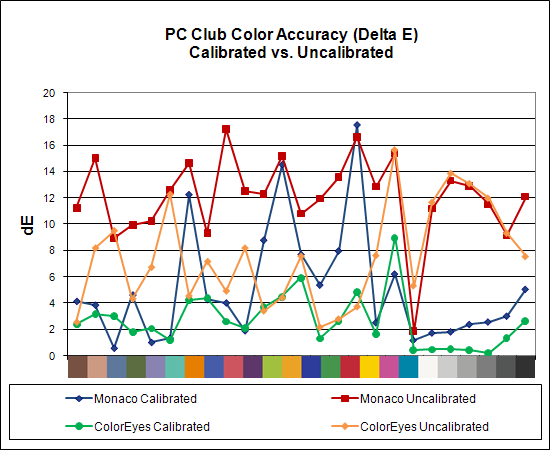 As a final look at the ENP660 LCD panel, here's a chart showing calibrated versus uncalibrated Delta E with both Monaco Optix XR Pro and ColorEyes Display Pro. ColorEyes also reports significantly lower Delta E prior to calibration, so it could be simply a matter of differing ways of measuring Delta E. Either way, this AU Optronics panel definitely falls on the low end of the quality spectrum.
One final note concerning LCDs is that Windows Vista continues to be a thorn in our sides when it comes to display calibration. Setting profiles is more involved, the result doesn't always seem to work, and we discovered during this article that installing ColorEyes Display Pro/Monaco Optix XR Pro apparently disables the ability to adjust LCD brightness in Windows Vista. We have not yet been able to determine if the problem is in drivers for the colorimeter, the setting of the color profile, or simply the installation of one of the software packages we use for display testing. Whatever the case, imaging professionals should definitely stick with Windows XP for the time being. ColorEyes is apparently working on a software update that will hopefully address Windows Vista compatibility, and Monaco Optix XR is no longer supported or in development. We are able to get calibration results with either package under Vista, but there are plenty of other issues that still need to be addressed.
Test Setup
Before we get to the benchmark results, we want to emphasize that several of the laptops are running Windows XP while the most recent laptop additions are running Windows Vista. We intend to benchmark most future laptops using Windows Vista, and over time we will remove the outdated scores. The configurations of the other laptops can be found in our
previous laptop articles
.
PC Club Enpower ENP660 Tested Configuration
Processor
Core 2 Duo T7100 (1.80GHz 2MB Cache 800FSB)
Chipset
Intel 965GM + ICH8M-E
Memory
2x1024MB DDR2 SO-DIMMs (Kingston B024403F)
DDR2-667 5-5-5-15
Graphics
Intel GMA X3100
Display
15.4" WXGA (1280x800)
AUO Optronics Corp AUO B154EW01 V9 (Jan 2005)
Hard Drive
120GB 5400RPM SATA (Western Digital WD1200BEVS-00LAT0)
Optical Drive
8X DVD+/-RW (HL-DT-ST DVDRAM GSA-T20N)
Networking/Communications
Intel 4965AGN (802.11A/B/G/B) Mini PCI Wireless
Audio
Realtek ALC883
Battery
6-Cell 51.8WHr
Operating System
Windows Vista Home Premium 32-bit
The PC Club ENP660 is very similar in specifications to the HP dv6500t. The main differences between the two laptops is that the HP we tested includes a T7300 (faster than the PC Club) but it also includes a 200GB 4200 RPM hard drive (slower than the PC Club). The PC Club is also using updated drivers, particularly the graphics drivers, which may impact some of the results. Really, though, if we were to use the same processor and hard drive in both laptops we would expect them to score about the same. The primary point of comparison for this review will be the HP dv6500t.
General Performance
To measure general performance, we're now using SYSmark 2007 as well as PCMark05. We don't have SYSmark 2007 results for most of the other laptops, but we will be adding additional notebooks over time. Here is a summary of the SYSmark 2007 results to date: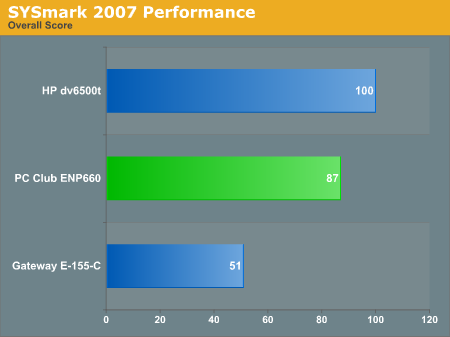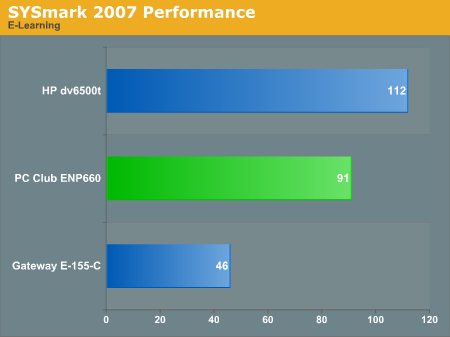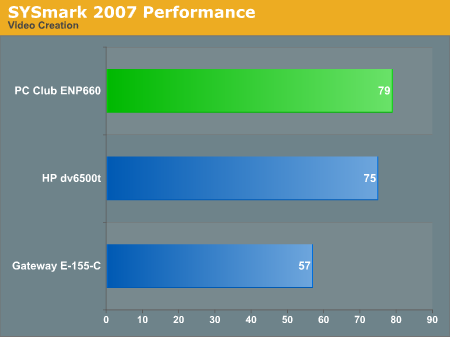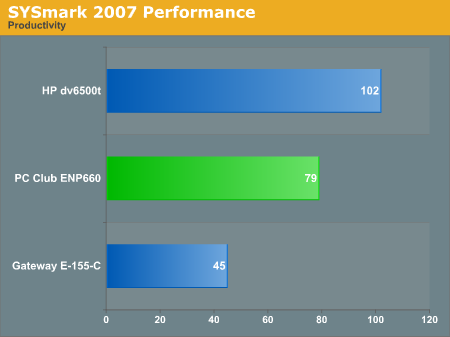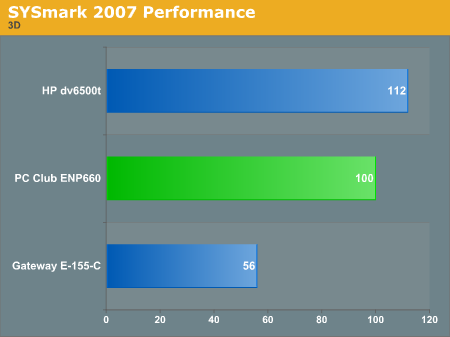 The faster processor in the HP dv6500t results in almost universally better performance. The one exception is the video creation test, where the faster hard drive apparently plays a role. We also found it odd that the ENP660 does so poorly in the productivity test suite. TurboMemory might be partly to blame (scores improved by one point when it was disabled), but there's definitely some other factor at play.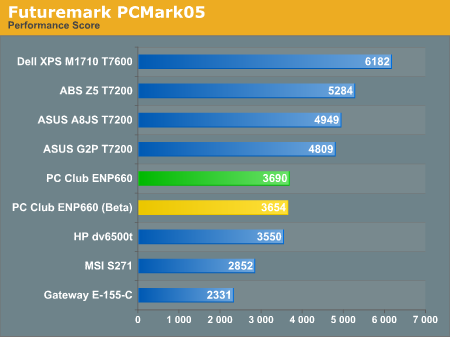 PCMark05 turns the tables and the ENP660 comes in slightly ahead of the HP dv6500t, at least in terms of overall scores. Here hard drive performance plays a more significant role, however, and looking at the scoring breakdown there are quite a few areas where the HP laptop is slightly faster. The updated graphics drivers also improve performance quite a bit in several of the graphics tests (especially 2D transparency). The main point to take away from all this, however, is not whether the HP or the PC Club is the better laptop, but rather that 4200 RPM notebook drives can definitely be a performance bottleneck.
A/V and Rendering Performance
To complement the SYSmark and PCMark results, we have some of our own benchmarks that test similar areas. Here's a quick look at how the laptops compare in audio/video encoding and 3D rendering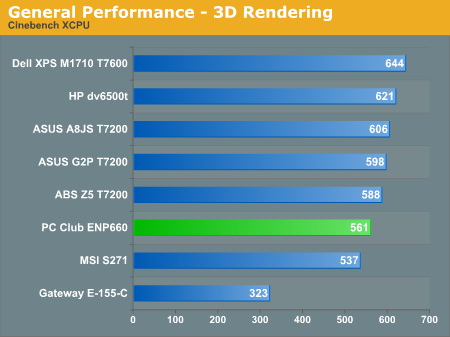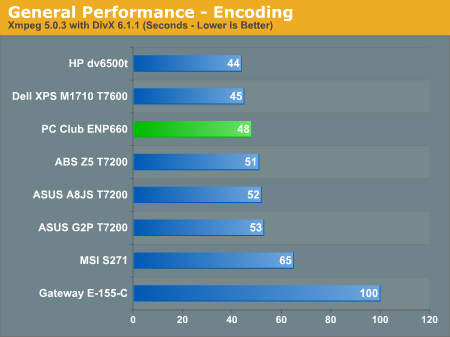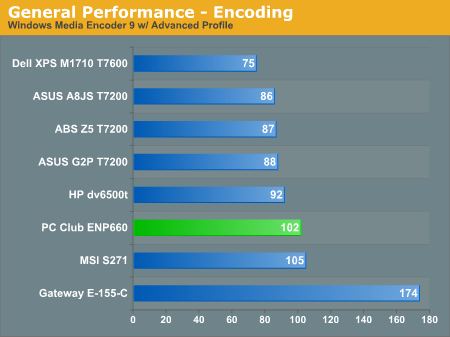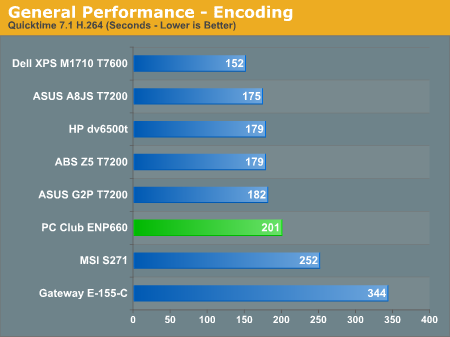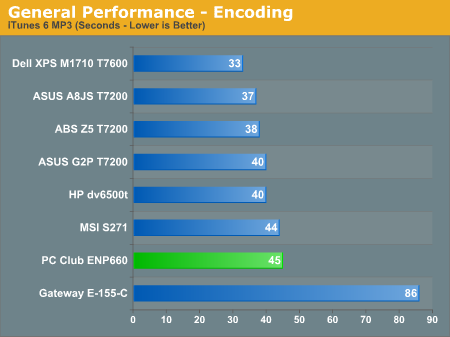 Looking at the two main competitors, the HP consistently bests the PC Club offering in these benchmarks that depend primarily on CPU speed. The performance difference in virtually every test matches the 11% clock speed differential, so swapping CPUs would close the gap.
Synthetic Graphics and Gaming Performance
We don't place a lot of stock in the performance results generated by Futuremark's 3DMark applications, and the PC Club ENP660 isn't designed with gaming performance in mind. The Intel GMA X3100 GPU does run Aero Glass without any noticeable problems and it scores a 3.5 on the Windows Experience Index. SM3.0 is technically supported, but the performance of most games or graphics benchmarks leaves a lot to be desired. Intel is still working on getting fully functional drivers out, but they do have a public beta available that now allows a few DirectX 9 games to actually run on the GMA X3100. As a rough estimate of gaming performance, we'll start with 3DMark results follow with a brief discussion of our actual gaming experiences.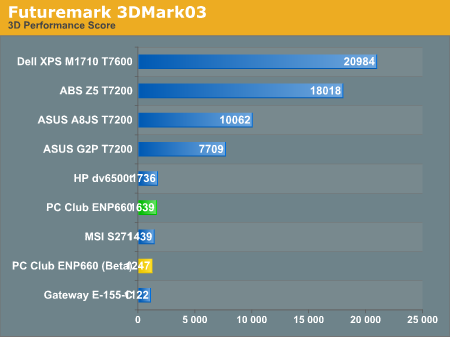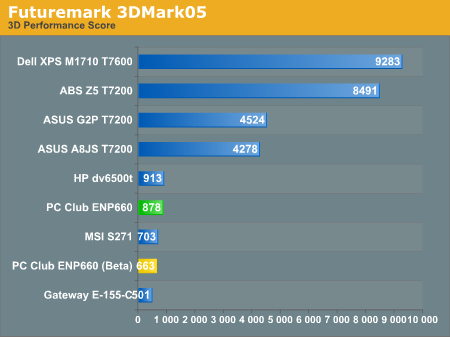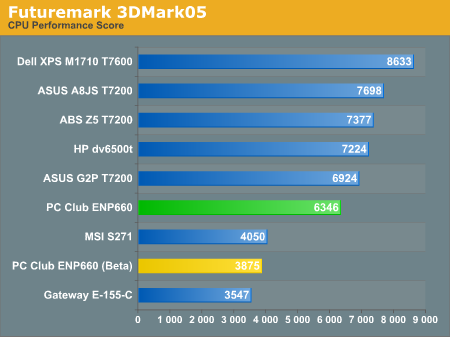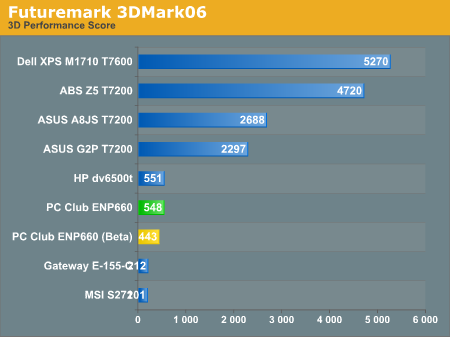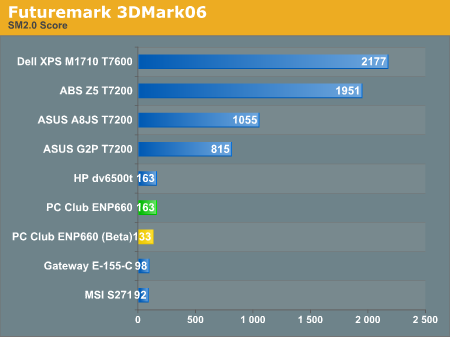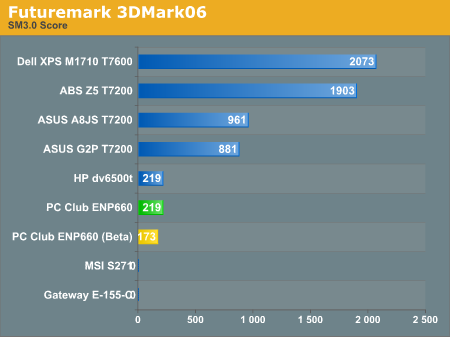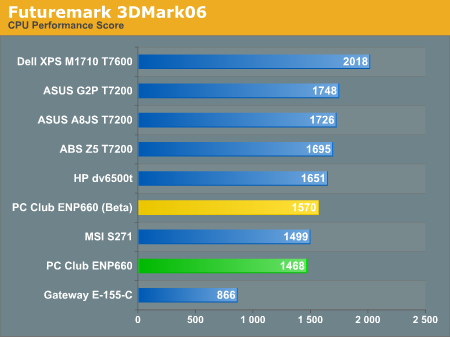 It's pretty interesting that the ENP660 with the latest Intel drivers loses in every 3DMark graphics benchmark to the older drivers on the HP dv6500t. Perhaps more telling is that the beta drivers actually make 3DMark performance drop even further! Last we checked, however, people don't "play" 3DMark; they play actual games. Did the latest beta driver from Intel help out with gaming performance?
Considering its beta status, we weren't too surprised that the results were hit and miss. Most games didn't run any faster, a few had performance drop, but there is a bright side to all this. There were a couple games that we couldn't load previously that would now actually load using the beta driver. (Note that the latest official driver (15.4.4) was released a couple weeks after the beta (15.6b) but does not include all of the beta features at present.) The beta specifically lists the following titles as being supported: Battlefield 2, Battlefield 2142, Call of Duty 2, Elder Scrolls IV: Oblivion, Vanguard: The Saga of Heroes, Rainbow Six: Vegas, Age of Empires 3, Final Fantasy XI Bench 3, and Unreal Tournament 2004. We did not test all of the titles, but we did confirm that Battlefield 2, Oblivion, and Age of Empires 3 could all run with the new driver. We still had to use more or less minimum quality settings in those three games along with lower resolutions, and there were still graphical artifacts. Frame rates generally hovered around 20 FPS. However, at least there is progress being made.
Before you get your hopes up too far, though, consider the theoretical level of performance on tap with the GMA X3100. The graphics core runs at somewhere around 400 MHz, with a maximum of two pixels processed per clock cycle. That means fill rate is at best ~800 megapixels. Memory bandwidth is shared with the system, and at maximum it gets 10.6GB/s (but more likely about half of that). The net result is that you have something which at best might perform as fast as a GeForce 3 - albeit with DirectX 9 features. Or if you prefer other terms, performance is relatively close to what you might get from the GeForce 6100. It's fast enough for office work, watching movies, and older/less demanding games. Sounds perfect for parents looking to get their college-bound student a new laptop!
(We certainly wouldn't want them to play a part in helping their child fail classes because they're at home playing Team Fortress Classic....)
Battery Life
In the past, our standard battery life test has been provided courtesy of MobileMark 2005. Since we're now moving towards testing with Windows Vista (which MobileMark 2005 doesn't support), we needed to come up with a new method to determine battery life. Generally speaking, we don't expect people to seriously tax their laptops when they are unplugged, so we tried to create benchmarks that will approximate normal use.
For the first battery test, we use Internet Explorer to simulate surfing the web. We have a script that starts Internet Explorer and loads our three homepages, all of which contain quite a few Flash-based advertisements. The script then sleeps for 60 seconds, simulating "reading" a web page(s), after which Internet Explorer is shut down and reloaded. Internet Explorer is set to delete all temp files on exit, in order to continue to generate hard drive activity. The other battery life test is simply DVD playback, and we use Star Wars Return of the Jedi as our test DVD. Basically, the Internet Explorer test corresponds to about the best case scenario you are likely to encounter, while the DVD test is more taxing. Scores for all Vista equipped laptops are below, with the LCD is set to maximum brightness - the way we expect many people will use their notebooks.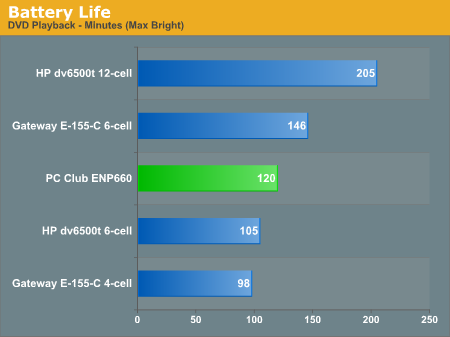 The performance is on par with the dv6500t with a 6-cell battery, but neither of those two laptops provides more than a couple hours of computing on a single charge. DVD playback tops out at two hours, so you will either need to get a larger battery, watch shorter movies, or else turn down the display brightness. We did run a second test of the web browsing script with the LCD at minimum brightness. That improved battery life to 164 minutes, or 25% more computing time. Using the LCD at the minimum brightness setting is not something we really cared for, however.
Power Consumption
Related to the battery life discussions we've just finished, we have power results. For power testing, we remove the battery from the laptops and measure system power draw at the wall outlet using a Kill-A-Watt device. We test several different scenarios to try to isolate the power draw of the various components. First, we have the baseline measurement when the system is idle and sitting at the desktop. No applications are running for 10 minutes or more but the screensaver and hard drive sleep mode are disabled. As a CPU load test, we run the SMP version of Folding@Home at 100%. Finally, for maximum power load we leave Folding@Home running and start 3DMark05. In this way, we can see roughly how much power the GPU is using in 3D mode versus 2D mode.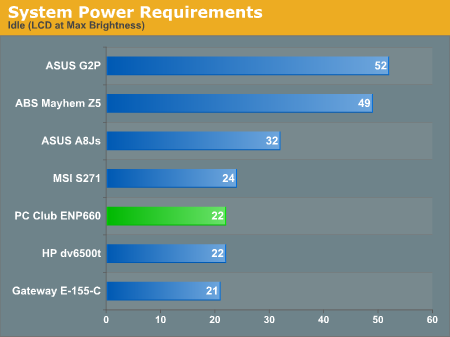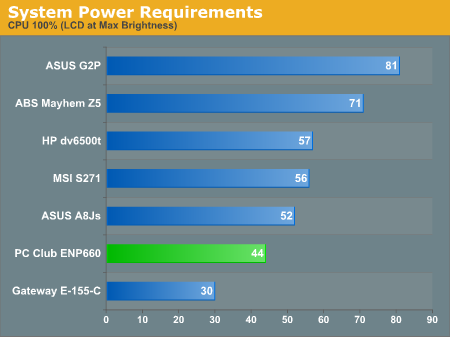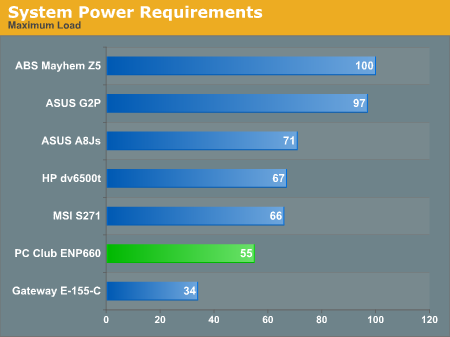 The power requirements are basically in line with the battery life results above. The faster processor in the HP dv6500t ends up using more power, but HP also comes with a slightly larger battery by default. Not shown in the above charts is the effect of reducing display brightness. That knocked off another 7W of power, so that at idle the ENP660 required only 15W while at maximum load it required 48W.
We find it interesting to consider some of the talk that's going around about reducing power requirements. Solid-state drives might help a bit, but those are only going to knock off at best 2W of power draw. We have heard it claimed that every watt of power saved can improve battery life by 30 minutes. That might be true if you're talking about a 15W notebook with a 100 WHr battery, but by our calculations a typical notebook (22W idle power draw with a 50 WHr battery) would need to cut 4W of power in order to improve battery life by 30 minutes.
The vast majority of battery life when a system is mostly idle is going to be consumed by the LCD backlight. We're hoping to take a look at some laptops that use LED backlighting in the near future, to see if those are able to offer significantly better battery life. That at least has a chance of reducing power requirements by several watts or more.
Power Saving Analysis
One aspect of Intel's Santa Rosa platform that we haven't specifically looked at is their new power saving features. Previous Intel mobile processors were able to reduce CPU clock speeds and voltages, but the Santa Rosa platform also allows the front side bus and memory to change speeds. This is particularly important considering the Santa Rosa platform also adds support for a faster front side bus. We used CPU-Z to highlight how this plays out in practice.
At idle, the PC Club ENP660 runs the CPU at 800 MHz using a 400 MHz FSB. The CPU also runs at 0.900V. Memory is run at DDR2-333. Compare this with what the system uses under load:
Besides the processor jumping up to 1.8GHz and voltage increasing to 1.175V, the FSB and memory speeds double. How much of the difference this makes overall is difficult to say, but maximum performance definitely goes up without seriously impacting battery life.
One of the interesting side effects of the changing multipliers, memory speeds, front side bus speeds, and ratios is that there's a bit more variance in bus and memory speeds. At idle the system will run in a minimum performance mode, while at load it will run at maximum performance. It's under light to moderate loads that we see unusual numbers. At times we even see the CPU exceed its normal 1.80GHz clock speed, and likewise the memory runs a little faster than DDR2-667. However, this only occurs for short periods of time and the system stability was never compromised by the changing frequencies.
The Santa Rosa platform does allow one CPU core to exceed the rated clock speed by one bin, which can be useful in single-threaded applications. We're not sure that's what we're seeing here, however, as the CPU multiplier never went above 9X. It's the FSB exceeding the rated 333 MHz base speed that's creating this overclock. These "speed bumps" were also short-lived, lasting less than one second and occurring infrequently.
Conclusion
The PC Club Enpower ENP660 (MSI MS-1637) turns out to be nearly identical in most ways to the HP dv6500t. The main difference is in the configuration options you find at either vendor. The result really isn't too surprising, but it does allow us to look at other aspects of the systems to determine which might be the better choice.
The first area most people are going to look at is price, and at present HP has a slight advantage. The dv6500t has a $100 instant rebate running right now, and the net result is that it ends up being $125 cheaper (give or take) than the ENP660. HP also offers more customization options, although all the important ones are covered by both companies. With HP being a larger company that has a worldwide presence, you can expect 24/7 technical support. PC Club's call center is open from 9 AM to 5 PM PST, Monday through Friday.
With pricing and support going to HP, what does PC Club really have to offer? For some, local brick-and-mortar stores; for most others, we can really only see one thing that would make us choose the ENP660 over the dv6500t: the keyboard. That might seem silly, but when you consider the amount of typing some people do, that might be enough to sway their decision - especially people who like number keypads. Sure, you can always go buy a cheap keyboard and plug it into your laptop, but that doesn't work very well if you're traveling in a plane, car, bus, etc. At present, that would be a pretty expensive keyboard upgrade, but prices fluctuate over time and if the difference is only $20 or even $50 we could see quite a few people preferring the PC Club notebook.
If you want a good display, you're going to need to look elsewhere - and judging by what we've seen, you might not be able to find a decent laptop LCD without spending at least $1500-$2000 these days. That's the only serious drawback to this particular laptop. We also mentioned earlier that we encountered some system instability during testing that was somewhat interesting, and we wanted to take a minute to cover that now.
We would really love to say that 802.11n wireless networking is the greatest thing ever, but so far the Draft-N equipment is living up to its "draft" name. We remain hopeful that most of the issues will get worked out over time, but as it stands the only crash we experienced while using the ENP660 appears to be networking related. We were testing with a NetGear WNR834M router, and we didn't encounter any notebook problems when running in 11g mode (though the router does still need to be reset a couple times per week). When running in the higher bandwidth 11n mode, not only did we lose network connectivity on occasion (which can most likely be attributed to the router) but we also had Windows Explorer stop responding while accessing a network computer. It didn't just stop responding either: we eventually had to force reboot the system. Besides the crash, network stability in general was not as good when running in 11n mode.
Raw transfer rates are roughly two to three times as fast as 11g when everything works properly (up to 7.6MB/s versus ~3.3MB/s), but if you actually need to transfer large amounts of data you're still far better off with a wired Ethernet connection. The jury is still out on whether or not 802.11n can actually provide consistently fast, reliable wireless access. At present all we can say for sure is that we had difficulties using a NetGear router with the Intel 4965abn adapter. We certainly wouldn't let Draft-N support be a deciding factor in our purchase of a laptop.
The ENP660 does end up meeting its goal of being a reasonable student or home office laptop. Is it substantially better than competing models? Not necessarily, but neither is it substantially worse. It's one of many garden-variety notebooks that you can find for sale these days, and for the less demanding users it will do a good job. And we like the keyboard - more 15" and larger notebooks should follow MSI's example. Perhaps it might even help a few accounting students with their financial homework.