Original Link: http://www.anandtech.com/show/2291


Introduction
Let's be honest: we like big displays. Given the choice between any two computer LCDs, we would almost invariably take the larger display - provided that price isn't an overriding concern, naturally. That being the case, and looking at the current prices of LCDs, we have a serious problem even considering anything smaller than a 20" LCD. The difference in price between a 17" LCD and a 22" LCD can be as little as $75, and by the time you're looking at reasonable quality displays, the price difference can narrow even more. Widescreen displays are the trend these days, which is all the more reason to get something a bit larger if possible - note that in terms of screen surface area, a 19" widescreen is actually slightly smaller than a standard 19" 5:4 aspect ratio LCD.
It wasn't all that long ago that a typical 20" LCD could cost well over $500. After watching 20-22" CRTs bottom out at around $500 for more than five years, you certainly won't find us complaining about LCD prices dropping by 30% or more per year! There is a point of diminishing returns, however, and it's quite difficult to find any size LCD for under $150. Should you go out and purchase the least expensive (and probably lowest quality) LCD you can find for $150, or is it better to spend a bit more money to get one of the larger displays? Considering that the display is what you're actually spending all of your time looking at when you use a computer, we continue to recommend that you spend more rather than less money on that particular component, and the fact that a good quality display can last through several computer upgrades is merely one more reason to do so.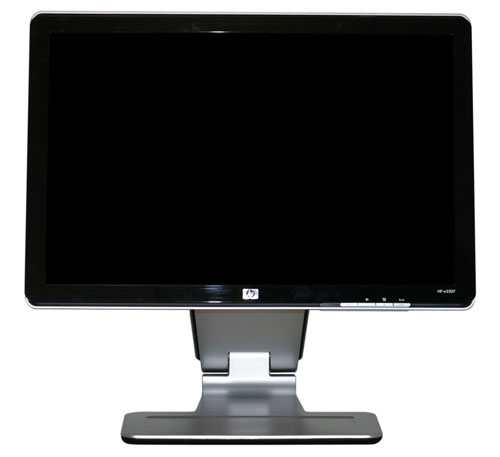 We're looking at HP's 22" w2207 display today, which at $360 costs quite a bit more than the entry level 22" LCDs on the market. We previously looked at one such monitor, the
Acer AL2216W
that currently sells for $230, so one of the first questions we need to answer is what exactly the w2207 provides that the Acer lacks. Other than a few extra features, we also need to look at performance, but for less demanding users we feel pretty confident in stating that you'll be hard-pressed to find an extra $130 of value in the HP offering. What about those of you who aren't so easy to please - is there a case to be made for the HP w2207? Let's find out....
Features and Specifications
For those who are unfamiliar with some of the jargon we'll be using, we put together
a short glossary
of terms that we use in our display reviews. Manufacturer specifications can sometimes overstate the importance of certain factors, while at the same time omitting other important information, but we will do our best to separate the reality from the hype in our reviews.
HP w2207 Specifications
Video Inputs
Analog (VGA)
DVI with HDCP support
Panel Type
LCD Active Matrix TFT TN+film
Pixel Pitch
0.282mm
Colors
16.2 million (6-bit)
Brightness
300 cd/m2
Contrast Ratio
1000:1 (typical)
Response Time
5ms Tr/Tf
Viewable Size
22" diagonal
Resolution
1680x1050
Viewing Angle
160 vertical/horizontal
Power Consumption
<52W max
Power Savings
<2W
Power Supply
Built-in
Screen Treatment
BrightView (Glossy)
Height-Adjustable
Yes - 4.25 inches
Tilt
Yes - 25 degrees back/5 degrees forward
Pivot
Yes
Swivel
No
VESA Wall Mounting
100mmx100mm
Dimensions w/ Base (WxHxD)
20.61"x14.60"x11.38" (lowered)
20.61"x18.95"x11.38" (raised)
Weight w/ Stand
19.8 lbs.
Additional Features
(2) USB 2.0 (USB connection to PC required)
Audio
Two 2W rear-facing speakers
Limited Warranty
1 year parts/labor warranty standard
3 year extended warranty optional ($110)
Pixel Defect Policy
0 bright dot standard
60 day 100% satisfaction guarantee
Two years ago, 22" LCDs didn't even exist on the market. Today, just about every major display manufacturer has one available. That should be a pretty clear indication of how important they consider this particular market, the $250-$350 midrange display. There's only one real problem with all of these 22" displays: the designs and appearance may be different, and certain features may be present or lacking depending on what model you're looking at, but invariably they all use TN panels. The TN (twisted nematic) LCD panel is one of the oldest and most common designs, and while that may be good for prices the reality is that other aspects of these panels tend to be behind the times. Viewing angles in particular are not as good as other LCD panel technologies, and TN panels only provide 6-bit (with dithering) rather than true 8-bit color.
Like many other 22" LCDs, HP uses an LG.Philips panel. The technologies used to approximate 16.2 million colors are quite good these days; nevertheless, there were times during testing where we noticed some minor artifacts that made the 6-bit nature apparent. This is not something that most people would notice during typically use, and we certainly don't consider this to be a problem limited to the HP w2207 - all 22" LCDs at present have similar difficulties. The bottom line, however, is that in terms of quality we feel most of the 24" LCD panels are superior to the 22" panels. That might also explain why they cost quite a bit more.
In the features department, HP does add a few things to put this particular LCD above most of the entry level 22" offerings on the market. One of the major differences between the HP w2207 and panels like the Acer AL2216W is that the HP has a glossy finish on the panel. This does tend to make colors look more vibrant and the contrast ratio is higher than other 22" models, but it has the drawback of making the panel more reflective as well. The other major feature is that the display supports portrait mode, something missing from many inexpensive LCDs. Going along with the pivot function, you also get a high-quality stand that provides over 4" of vertical travel. Compared to something like the Acer AL2216W, the stand makes a significant difference, though it also has a larger footprint than some competing LCDs. You also get two USB 2.0 connections that are easily accessed on the left side of the display.
We have previously covered HP's warranty and support options, and our experience when reviewing the w2207 was similar to what we encountered in our
review of the LP3065
. HP informed us that all of their products come with a 60 day satisfaction guarantee, so at least in terms of pixel defects customer should not have any difficulties. Beyond the first 60 days, you might need to make a bit more noise if you encounter any pixel defects and you want a new display, but it seems that if you squeak enough HP's customer service may be willing to lend you some oil. As one of the largest computer equipment manufacturers in the world, you also get the benefit of 24/7 technical support, although it can sometimes take a bit of effort to get to the right department if you don't buy the display as part of a computer package.
As one of HP's consumer/home office offerings, the w2207 comes with a standard one-year warranty. You can purchase a three-year extended warranty for an additional $110, although at that price we would seriously recommend looking at some of the 24" offerings on the market that come with three-year warranties. It will still be $100 more to move from a 22" w2207 with a three-year warranty to just about any of the 24" LCDs, but we think the use of S-PVA (Super Patterned Vertical Alignment) panels and additional features tips the scale in their favor.
Appearance and Design
The design and styling of the w2207 is clearly intended to make it stand out from the crowd. Whether or not that's a good thing depends on your own personal preference. For better or for worse, the w2207 comes with a glossy mirror-like finish that can serve as a magnet for fingerprints and dust. If you have grubby fingers - or others in your house that do - you may find yourself spending an inordinate amount of time wiping down the exterior of this display.
| | |
| --- | --- |
| | |
The front of the LCD is a combination of glossy black for the border around the panel, while the stand is silver with a rough texture. At the bottom right of the LCD, we get the usual buttons for accessing the on-screen display (OSD). The left button brings up the OSD, at which point all four buttons can be used to navigate the menus. Prior to entering the menu, the right button can be used to execute the auto adjustment function (for use with analog connections), the second button brings up volume control, and the third button cycles between five display modes (movie, photos, games, text, and user defined). The power button, incidentally, is located on the top of the chassis and glows a faint orange/blue depending on whether the display is powered on or in standby mode.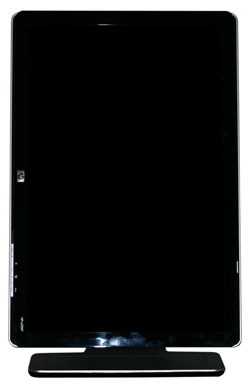 As mentioned already, you can pivot the display into portrait mode, which some people find useful for reading long web pages or documents. You will need to raise the LCD before pivoting as well as tilting the panel back a bit, and afterwards there were only be an inch or two of vertical travel available.
The back of the display is primarily composed of black plastic, again with a rough texture. Ventilation slots can be seen around the border, and you can also get a better view of the base stand. The main panel sits on a cantilevered arm that ends up making the display quite a bit deeper than it would otherwise need to be. The main panel can also be laid flat against the base stand, which is how the unit is shipped, though it doesn't seem practical to try using the LCD in that position.

The expected input ports are all present on the rear of the display, facing downwards. DVI and VGA inputs are available, a USB input is located at the far right, and in the center is an audio jack. Nearly all of the necessary cables are included, although it wasn't clear whether a DVI cable comes with the LCD or not. Our unit arrived without a DVI cable, and considering that's our preferred connection for LCDs we would certainly like to see a DVI cable rather than a VGA cable included - and ideally both of them. The included speakers, incidentally, are all but useless. Even in a quiet room, it is difficult to hear audio through them, and the quality of audio they can provide is lacking at best.
Looking at the profile of the LCD, we see the range of motion that the base stand offers. Two USB ports are located on the left side, while the right side is empty. You can also see how the base stand extends several inches behind the back of the display.
One of the features that HP advertises with the w2207 is their Easy Clip accessory kit that can be used to hold papers, pens, or other useful bits of information. We did not get the accessory kit with our review unit, but they did send us a webcam that attaches to the top of the display. The webcam we received is not the same model that we see shown on the online ordering pages, so we're not sure how much it actually costs. We can say that it functioned pretty much as you would expect from a webcam, and if you're the type of person that likes to use such a device the ability to easily connect it to the top of your display might make the addition worthwhile. If you don't plan on using the webcam, of course, save your pennies!
Subjective Evaluation
As usual, we spent some time using the display both before and after calibration. Many users don't have access to color calibration tools, while for imaging professionals some form of hardware calibration is pretty much required. We will start with our subjective evaluation before getting to the actual quantitative results.
A funny thing happened during our testing of the HP w2207. We hooked it up to a laptop, since that was most convenient - a laptop we hadn't used with previous LCDs. Our initial impressions of the w2207 were, frankly, horrible! Colors were off, text didn't appear as clear as it should, and even after calibration we felt that the display really had nothing good to offer compared to previous LCDs that we've used. Using a VGA connection from the laptop was even worse. However, we noticed some distortion that was being caused by the laptop at that point, so we decided to go back and retest using a different laptop.
We've always felt that DVI connections are all basically the same - they're digital, so there shouldn't be any concern of signal degradation, right? That's the theory anyway. In practice, all we can say for certain is that the display outputs on the ASUS G2P laptop we were initially using apparently have serious problems. The difference between what the display looked like with that laptop and what it looked like when attached to a different laptop was astonishing! So, if you have an LCD and image quality/clarity isn't what you would expect (particularly with a DVI connection), you might want to try hooking it up to a different graphics card or computer before determining that the problem lies with the LCD.
Once things were running properly, we were quite happy with the w2207. Brightness, colors, contrast, and response times were all what we would expect to see in a modern LCD - particularly in a 22" LCD that costs almost 50% more than competing 22" models. Black levels and contrast ratios in particular are better than what we've seen in other LCDs. Was the LCD significantly better overall? Not to the point that we would immediately recommend it over competing offerings, but the construction of the stand and main panel is clearly an order of magnitude better than the cheap plastic used on the Acer AL2216W. Unfortunately, the propensity for dust and fingerprints to collect on the surface of the monitor was definitely a strike against it.
Another potential concern we noticed is that the ability of the display to scale non-native resolutions up to 1680x1050 wasn't all that great. Lower resolutions fared a bit better, but 1440x900 in particular looked very poor. We of course recommend that anyone using an LCD try to run at the native resolution if at all possible; for certain content (gaming or movies) the poor scaling was not as noticeable, but surfing the web or working in office applications is not something we would want to do at anything other than 1680x1050. Luckily, that shouldn't be a problem for any computer built in the past five years.
Except where noted, the remaining tests were run after calibrating the displays using Monaco Optix XR, both the professional version of the software as well as an XR (DTP-94) colorimeter. In some of the tests calibration can have a dramatic impact on the result, but viewing angles and response times remain largely unchanged. We also performed testing with ColorEyes Display Pro, although the overall results were better when using Monaco Optix XR - more on this in a moment.
Viewing Angles
Viewing angles are one of those specifications that have become very inflated by the manufacturers. The basic requirement is that a display has to maintain a 10:1 contrast ratio in order to qualify as "viewable". The reality is that most LCDs are unfit for viewing beyond a 45° angle. The good news is we doubt that most people will view a display from anything more than a 45° angle, and typically a lot less. For that reason, we used our camera to take shots from head-on as well as from the left and right sides at ~30° angles, showing how brightness and contrast ratios are affected in off-angle viewing. We also took pictures from above and below at ~30° angles. Links to the viewing angle images of previously reviewed LCDs are available for comparison below:
Acer AL2216W
Dell 2405FPW
Dell 2407WFP
Dell 2707WFP
Dell 3007WFP
Gateway FPD2485W
HP LP3065
Before we get to comments on the w2207 viewing angles, we do need to make a note of the fact that we have adjusted the settings on our camera slightly in order to provide a more accurate rendition of what we see with our eyes when looking at the LCDs. The results are not exactly the same as in previous LCD reviews, but they are generally close. We recommend that you focus more on the LCD currently being reviewed, as the above images are not a strict apples-to-apples comparison.
Within our 60° viewing arc, the colors and image quality of the w2207 clearly betrays the use of a TN panel. There are differences between the Acer and HP, and we generally felt that the HP looked a bit better in vertical viewing while the Acer is better in the horizontal plane. Regardless, both are clearly behind any of the other LCDs that we've looked at so far. If you're concerned with viewing angles but you don't want to spend the money on a 24" or larger LCD, we would recommend dropping down to a 20" offering that uses an S-IPS or S-PVA panel. Both of those technologies provide much better viewing angles, as you can gather from the above images.
Response Times
A topic that almost always comes up as a problem with LCDs is their slower response times relative to CRTs. There's no doubt that even the best LCDs still exhibit some slight pixel smearing, but the vast majority of users are okay with the level of performance we have available now. Image retention on your retinas also occurs to some extent, so even if you can completely eliminate the smearing effect at the display level you won't necessarily "see" a perfectly crisp transition.
Besides lag at the pixel level, there's also potential for buffering lag within the LCD's image processor before anything is ever sent to the panel for output. This can be particularly noticeable on some HDTVs when connected to a computer, as HDTVs will often do a significant amount of image processing. Whether or not delays are caused by the internal circuitry or by the LCD crystal matrix taking a moment to align itself isn't really important; the end result is what matters, so a display that updates quicker is usually preferred, especially by gamers. However, taking a picture of a display using a high shutter speed still isn't the same as looking at the display in person. LCDs run at a refresh rate of 60 Hz, and we use a shutter speed of 1/60s, the net result being that we will capture an image of the display as it appears over a short period of time as opposed to an instantaneous look at the state of the various pixels.
We have compared previous LCDs to the Dell 2407WFP to determine if there was any additional buffering taking place. Unfortunately, we were unable to perform the same testing with the HP w2207 at this time, so we will have to stick with a picture only showing that display without a baseline comparison to the 2407WFP. Links to previous response time images can be found below.
Acer AL2216W #1
Acer AL2216W #2
Dell 2405FPW #1
Dell 2405FPW #2
Dell 2707WFP #1
Dell 2707WFP #2
Dell 3007WFP #1
Dell 3007WFP #2
Gateway FPD2485W #1
HP LP3065 #1
HP LP3065 #2
The advertised response time of the HP w2207 is "5ms on/off", or if you prefer 10ms TrTf (Time rising/Time falling). HP doesn't specifically list a gray to gray response time, but as the figure is more marketing than anything we might as well call it 5ms GTG. Judging by the pictures that we captured, we can see portions of at least three frames. Accounting for shutter lag and pixel lag, the actual pixel response time is somewhere in the neighborhood of 16-25ms. While that might sound like a lot, for the vast majority of people it won't present any problem, and when actually using the w2207 we felt it was about the same as most of the other LCDs we've reviewed. As always, if you're one of those the people who feel more susceptible to noticing image lag, you might want to check out the display in person at one of the larger retailers before making a purchase.
Brightness and Contrast Ratio
For the brightness, contrast, and color accuracy tests we depend on the hardware colorimeter and software to help calibrate the displays. As previously stated, we use a Monaco Optix XR (DTP-94) colorimeter and Monaco Optix XR Pro software. The software and hardware help users to get more accurate color from their displays. Before we get to the calibrated results, we took a quick look at the range of brightness and contrast without any color calibration.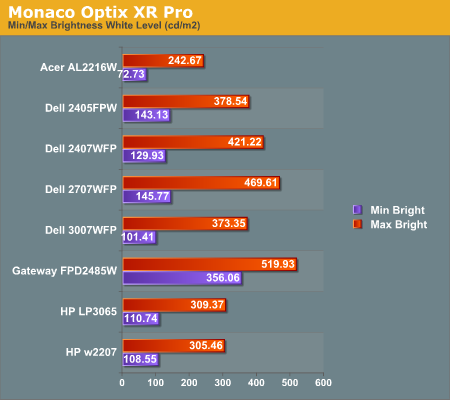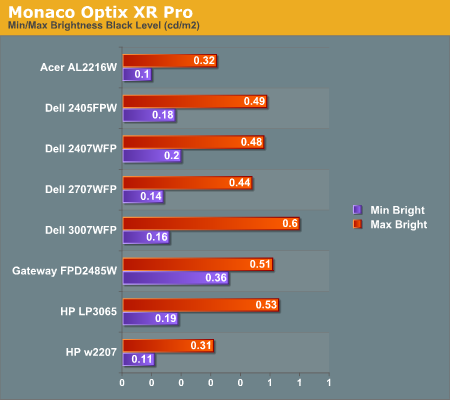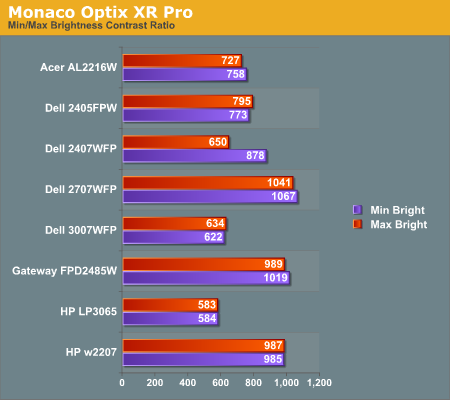 In the past we have seen LCDs that crank up the brightness level in order to increase the contrast ratio, but it's good to see that HP didn't go that route with the w2207. A maximum brightness level of 300 nits is pretty reasonable, and we don't see much reason to go beyond that. In practice, we tend to prefer a brightness level of around 200 nits, though others may prefer slightly brighter or darker. The HP w2207 can accommodate pretty much any desired brightness setting, and it does so while maintaining its exceptional ~1000:1 contrast ratio. That's one more item that sets it apart from the less-expensive Acer 22" LCD.
Color Accuracy
The problem with calibrating a display is that it doesn't help all applications. Specifically, the video overlay used when watching DVDs or other movies completely bypasses any color profiles, so you are stuck with the uncalibrated colors. Playing games and Windows Vista may also use the default color options - though in the case of the latter it's more a problem of determining how to set up your color profile properly. It is possible to tweak things somewhat on many LCDs using the OSD, but the amount of color correction that can be done via the OSD pales in comparison to color correction tables, and some LCDs (the Dell 3007WFP and HP LP3065 for example) are unable to adjust anything but brightness outside of software. Ideally, we would like to see video drivers begin to apply color profiles to all output - office applications, movies, games, or anything else.
For uncalibrated color accuracy, we adjusted the brightness as well as the contrast and colors (where applicable) using a "calibrate by eye" chart and the OSD controls. Also remember that color accuracy can vary from panel to panel even within the same model, and the results we are reporting are only from testing a single LCD. During testing, Monaco Optix XR Pro sends 24 color patches to the display with the colorimeter measuring the resulting values. The difference between what is requested and what the LCD actually shows is known as Delta E, with lower values being better. Any score less than one is basically "perfect" - the naked eye is not going to be able to tell the difference - and scores less than 2.0 are nearly perfect.
Ideally, you would want all of the tested colors to have a Delta E of less than 1.0, but almost no one is likely to have problems with anything scoring below 2.0. From 2.0 to 4.0, most people still won't notice the slight inaccuracies in the color palette, but when comparing displays side by side differences may be apparent - multimedia professionals in particular would prefer something better. Anything above 4.0 begins to represent a more significant deviance, and numerous scores above 6.0 will almost certainly be noticeable by just about anyone using the display. Consistency is also important, so a display that has very good scores overall but with high spikes on some colors may actually be less desirable than a display with a slightly higher but more consistent average Delta E. Note also that fluctuations of as much as one point in Delta E are possible during a short amount of time. It generally takes as much as 30 minutes for a display to warm up after it's first powered on, and all of our calibration and testing is performed after the displays have been running for at least one hour with the screensaver disabled.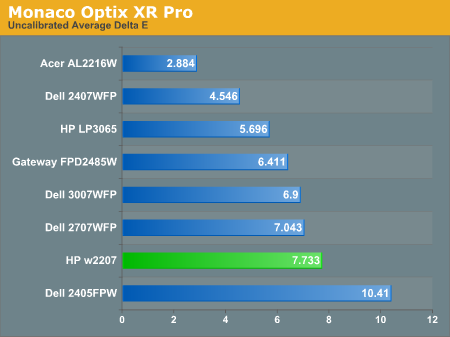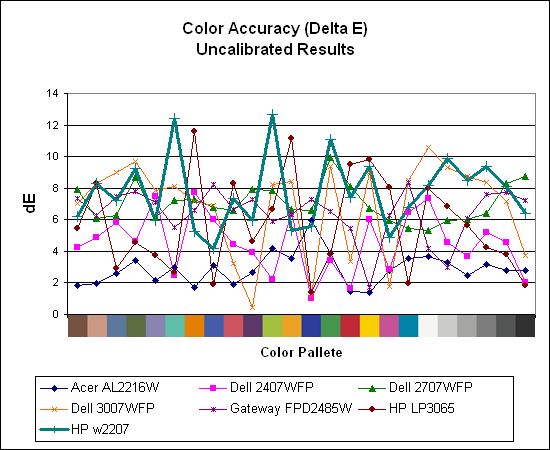 Without any form of color correction, the color accuracy of all of these displays is generally mediocre. The human eye will compensate quite a bit for differences between displays, so for most people even an average Delta E of 6.0 isn't going to be terrible. The HP w2207 rates a pretty poor 7.7 before calibration, besting only the two year old Dell 2405FPW. There are also quite a few spikes, with several colors having a Delta E of greater than 10.0. If you don't have color calibration equipment and you depend on accurate colors, the w2207 probably isn't the best choice. In fact, out of all of the LCDs we've tested so far, only the Acer AL2216W generates an uncalibrated Delta E result of less than 3.0. That particular display has other drawbacks, and we really wish that more of the displays could generate acceptable uncalibrated Delta E results.
Brightness and Contrast Ratio
For those that need accurate colors, hardware color calibration is basically a given. Here, we report scores for the same areas as we did on the previous page, only this time the results are taken after we have used Monaco Optix XR Pro to calibrate the display.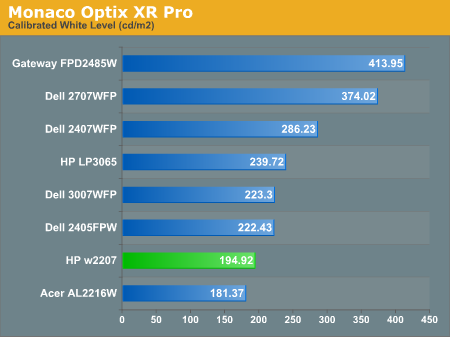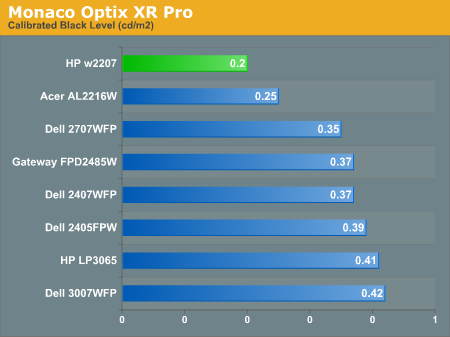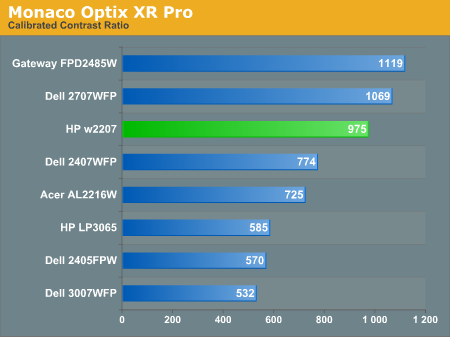 Calibration almost always results in the use of decreased brightness levels, and all of the displays end up running at less than their maximum brightness. You can of course choose to run a display at a higher than recommended brightness level, and the ambient lighting in a room will also determine what brightness setting is best. Our testing was performed indoors with a moderate amount of lighting, and the displays were adjusted according to directions. We also found that manually reducing the brightness level to something more reasonable (like 200-300 nits) did not significantly affect the results on any of these displays, so consider the above charts as more of a maximum recommended brightness for each particular LCD. The HP w2207 continues to generate very good contrast ratios, thanks to the very dark blacks it produces.
Color Accuracy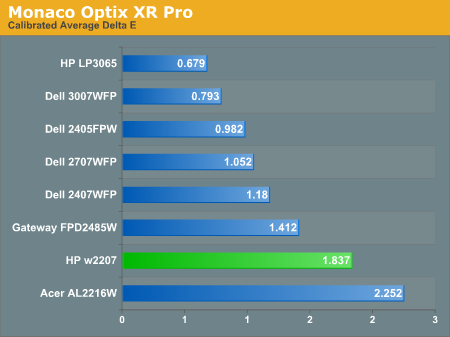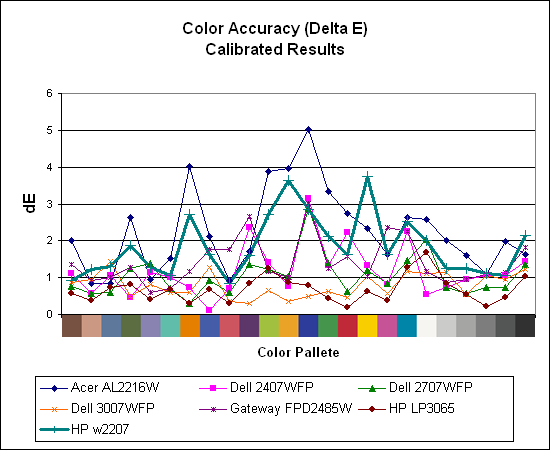 Calibration improves the color accuracy results significantly on all of the displays, although the HP w2207 remains in second to last place. Where the Acer was the best uncalibrated display, it becomes the worst scoring display after calibration. However, outside of professional image editing virtually any of the displays provide acceptable colors once calibrated.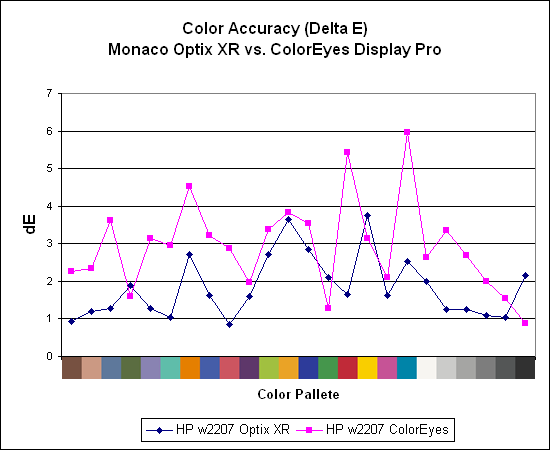 After discovering during our laptop display tests that certain displays appear to respond better to different calibration software, we decided to use ColorEyes Display Pro to test desktop LCDs as well. So far, we have yet to encounter a desktop LCD that scores better using ColorEyes Display Pro, which is actually surprising to us. Monaco Optix XR is an older software package that hasn't been updated since 2004, but it continues to work very well. Both packages also run under Windows Vista, though installation of the colorimeter drivers requires quite a bit more jumping through hoops and even after calibration we're still not entirely sure that Vista is using the color profiles properly. The testing and evaluation process works with the correct color profiles, but outside of the applications Vista seems to change color profiles at times.
Brightness and Contrast Ratio
For those who have a need to match colors between their computer displays, cameras, and printers, what works well for computing purposes often isn't the best suited for doing other image related work. To help people who work in such areas match their computer colors to their paper colors better, some standards were established. Generally speaking for print work the standard is a gamma of 2.2, a black point of 0.60 nits, and a white point of 100 nits. We attempted to calibrate all the monitors for these settings.
Finding the appropriate settings to reach these levels can be a time-consuming process for some of the displays. It may require numerous iterations through the calibration process to end up with the desired white point, and on some LCDs it might not even be possible to reach a satisfactory result (though that hasn't occurred yet). The nature of LCDs is such that we were unable to get both an accurate white point and an accurate black point according to printing requirements (our black levels always ended up darker than they are supposed to be), but we did manage to get near the desired 100 nits white point on all of the tested displays. For reference, we have included the target value in the following graphs, so the greater the deviance of a display from the targeted value, the less suitable (in theory) a display becomes for print work.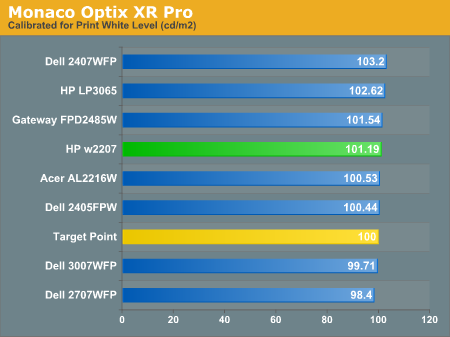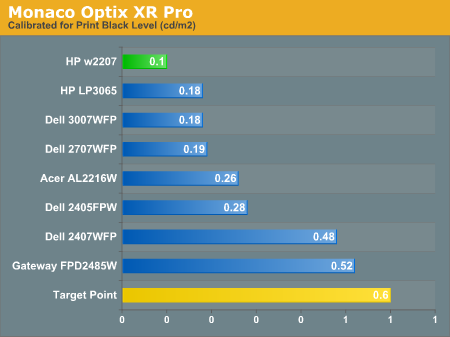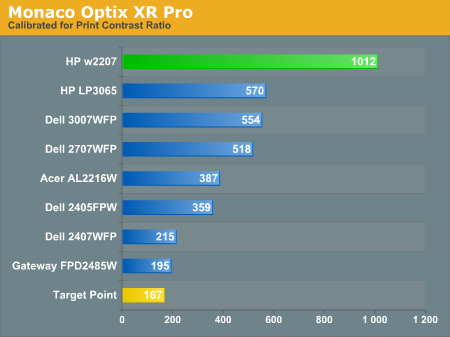 Since very slight differences in brightness are not a huge deal, we did not attempt to get 100% accuracy on the white point, but further tuning of the various displays would have made it possible to get closer to 100 nits. The primary goal was to get the white point near 100 nits. The target black point is nearly impossible to achieve once we have reached the target white point with any LCD that we have used. Due to the reduced brightness, contrast ratios are often lower, but that is expected with print material. The HP w2207 does maintain a very high contrast ratio of 1012:1 even at reduced intensities, which while not necessarily great for color matching with printers may be desirable for other users. Having calibrated the displays for printing, let's see how they actually fare.
Color Accuracy
Given the importance of accurate colors for printing work, the desired Delta E scale needs to be reevaluated. A Delta E of less than 1.0 is definitely the goal here, and 1.0 to 2.0 is merely acceptable. Scores above 2.0 basically mean that a display is not fit for printing professionals.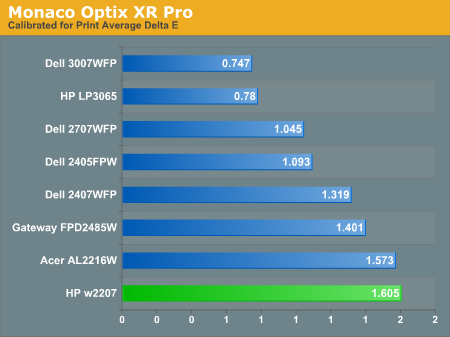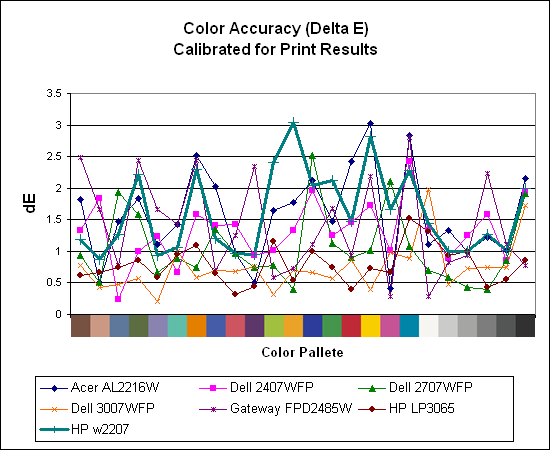 The two 30" displays clearly take the lead in this test, while both of the 22" displays rank at the bottom of the pack. It may be that the TN panels are to blame for the less than optimal results, but the conclusions are pretty clear. If the intended goal is to get all of the scores below 2.0 Delta E, only the 30" LCDs manage this. The HP w2207 ends up with a fully one third of the test colors falling into the 2.0 or higher Delta E range.
Closing Thoughts
When we first opened the box to unpack the HP w2207, we were pretty impressed by the outward appearance. Many of the less expensive LCDs end up with very cheap stands, but HP clearly didn't go that route. On the other hand, this 22" LCD is anything but cheap. We have been very impressed with all of the 24" and larger LCDs that we've tested, and with the higher price tag of the w2207 we were hopeful that we might find a 22" LCD that could separate itself from the crowd. Did it manage to do this in our opinion? Not really.
In terms of features, you do get all of the necessary options. The cheaper LCDs often cut corners in terms of construction and features, and HP didn't follow their example. You get an attractive, durable LCD with a stand that provides tilt, height, and pivot adjustments. The stand alone is worth at least $50 relative to what you get with entry level 22" LCDs. You also get a couple of USB ports, and to top it all off you get a mirror finish on the front of your display. Truthfully, we could do without the reflective surfaces, but that's open to personal opinion.
When it comes to actually using the HP w2207, there were some areas where it clearly surpassed other LCDs. It produces some of the best blacks that we've yet seen from an LCD, and this in turn helps it to achieve high contrast ratios. HP informed us that the glossy LCD panel helps in this regard, and we do have to agree that it helps to give more vibrancy to colors and images. If you can deal with the fingerprints that are sure to accumulate over time, you might find a lot to like with this display. However, there are drawbacks.
Color accuracy was at best average among LCDs. The w2207 placed near the bottom of the charts in all of our Delta E results, before or after calibration. We still feel most people could live with the color accuracy, but the real question is whether they're willing to pay this much for a 22" LCD that comes with a one-year warranty. Both Dell and Gateway offer 24" LCDs that come with three-year warranties for around $650 (give or take depending on any rebates or promotions that might be running). You can also find the 24" Samsung 245BW for under $500, although that would be without a three-year warranty. At a base price of $360 and $110 more to get a three-year warranty, we would be far more inclined to upgrade to one of the 24" offerings. You get a better LCD panel technology (S-PVA instead of TN+film), a larger display size, and an increased resolution. On some of the 24" LCDs like the Dell and Gateway offerings, you also get multiple inputs that would allow the display to function as an HDTV, or something that could be used with a gaming console.
If you're trying to keep the price below $400 and you don't care about the relatively short warranty, the HP w2207 might be worth a look. There aren't very many 22" LCDs that actually offer a good-quality stand, and the dark blacks are definitely attractive. For a lot of people, however, we would recommend either saving money and getting one of the more economical 22" LCDs or else spend more and get a 24" LCD. Among 22" LCDs, the Samsung 225BW as an example also offers pivot and height adjustment and costs about $100 less, though black levels on that particular model aren't as good as on the w2207.
There are pros and cons to any display, so as usual the individual will need to decide what features and qualities are most important and choose accordingly. The HP w2207 may very well be the best 22" LCD currently on the market, but despite their popularity 22" LCDs are not at present able to match the overall quality of other LCDs. In this case, you may end up paying more relative to a 20" LCD, only to get a lower quality TN panel. For some, the extra 2" in size may be enough to justify that tradeoff, but for once we're not going to recommend the larger size without some reservations.