Original Link: http://www.anandtech.com/show/2282


The memory industry of late has been amazing in its ability to launch impossible memory speeds at impossible timings. At the
technology launch of the P35 chipset
on May 21st all of the DDR3 memory available for testing was rated DDR3-1066. Interestingly all of the DDR3 also ran fine at the next milestone of DDR3-1333, albeit at timings of 9-9-9-25. These timings sound slow to DDR users accustomed to 2-2-2 timings at DDR400 or DDR2 users running at DDR2-800 3-3-3, but in fact at the increased speeds of DDR3 these timings were reasonably fast.
It took less than a week for low-latency DDDR3-1333 to appear with the launch of
Kingston's new DDR3-1333 7-7-7 memory
. This new memory dropped those 9-9-9 timings to 7-7-7 at 1333 and ran at 1066 at 6-6-6 timings - about as fast as the DDR3 BIOS would allow at that speed. It was interesting to see reader comments to the Kingston LL article, with some proclaiming they would not move to DDR3 until it could hit DDR3-1600. We believed, as did most readers, that DDR3-1600 would appear sometime next year, probably as 9-9-9 parts.
Less than 2 months after the launch of P35, and just a few days after launch of the processors that can officially use the new 1333 bus, we were notified by several vendors that they were ready to launch DDR3-1600! Some rated the new DIMMs at 9-9-9 timings, but others like Super Talent rated their retail DDR3-1600 at 7-7-7 timings at 1.8V.
Almost all memory makers buy raw memory chips available in the market, perform their magic binning or speed-grading, and assemble the finished DIMM using generic or proprietary circuit boards and SPD programming. There are always some variations on performance of different brand DIMMs, but we always see a cluster of memory performance based on the memory chip used in the memory. In the last couple of weeks Micron has finally introduced their new DDR3 memory chip, called Z9, and this memory chip is what is making DDR3-1600 and beyond a reality.
All of the major memory manufacturers have just announced or will soon announce DDR3-1600 parts. Many of the smaller makers have also developed DDR3-1600 parts. Of course you are interested in how these new memory rockets perform, and samples were requested whenever we received a new announcement. The first two kits to appear in our lab are from
Super Talent
and
TEAM
. Both kits are 2GB (2x1GB) based on a single-sided DIMM. This certainly means there will potentially be 4GB kits available with these new memory chips down the road, but the timings for a 4GB Z9 kit are still open for speculation. The Super Talent kit is rated DDR3-1600 7-7-7 at 1.8V, and the TEAM is rated DDR3-1600 at 9-9-9 at unspecified (default for DDR3 is 1.5V) voltage.
In this review we will take a closer look at the capabilities of these new DDR3-1600 DIMMs based on Micron Z9 memory chips. What are the best timings possible at DDR3-1600? Can these new parts reach DDR3-2000, which will be the next DDR3 speed, or even higher? What timings are possible at slower DDDR3 speeds? Does the faster DDR3 really improve performance compared to DDR2 and DDR?
Super Talent W1600UX2G7
Super Talent was all but invisible in the desktop memory market until Joe James moved from marketing at Corsair to Super Talent. Since that time Super Talent has been pushing for visibility in the enthusiast desktop memory market, and the brand is appearing at a number of online etailers. With the introduction of DDR3, Super Talent has been heavily sampling memory expert sites like the forums at xtremesystems.org. Of course this is an effort to strongly identify Super Talent as a player in the enthusiast memory market, and it is certainly having a positive impact among memory enthusiasts.
The Super Talent website has been gradually including more emphasis on enthusiast memory products, which were barely mentioned in the past due to the heavy emphasis on flash memory products. Despite being a relatively new name in the enthusiast memory market, you will find the company has been making memory products for about 20 years. The Super Talent design center is located in San Jose, California.
Today you will find an expanded line of flash memory products at Super Talent that range from flash cards for devices to Solid State Drives. The traditional memory offerings now include memory targeted at the desktop, laptop, and server markets, and a specialized line of high-performance overclocking memory. Manufacturing is in the US with 14 SMT assembly lines, which Super Talent claims is the largest and most modern memory manufacturing facility in North America. All memory products are 100% tested for compliance with specifications. Memory and flash products come with a lifetime warranty.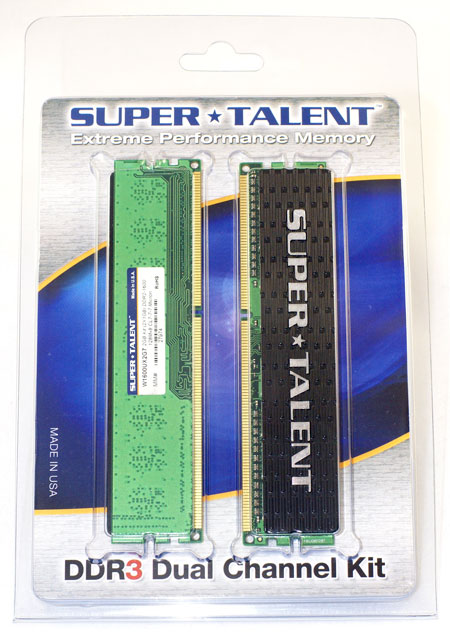 We complained in early Super Talent reviews about the somewhat amateurish packaging of Super Talent DIMMs. That has matured over time, and as you can see above, Super Talent uses the protective clamshell common in the memory industry and attractive high-gloss graphics that help communicate manufacturer identity.
The DIMMs themselves are typical Super Talent. The only feature that makes them stand out in appearance is the increasingly familiar "basketweave" design identifying the memory as Super Talent. This 2 GB kit is made up of two 1GB DIMMs that are populated on just one side. Super Talent chose to use just one heatsink on the populated side which works very well for keeping the DIMM cool. With the current density of Micron Z9 memory chips it would be a relatively easy task to make a 4 GB memory kit. However, performance and timings would likely be somewhat below current specs in a 4 GB kit (not to mention what such kits would cost given current Z9 memory chip pricing).
Super Talent W1600UX2G7
Memory Specifications
Number of DIMMs & Banks
2 SS
DIMM Size
1GB
Total Memory
2 GB (2 x 1GB)
Rated Timings
7-7-7-18 at DDR3-1600
Rated Voltage
1.8V (Standard 1.5V)
DDR3 is lower voltage, higher speed, and slower timings than DDR2. The chart below summarizes some of the differences in the official JEDEC DDR2 and DDR3 specifications.
JEDEC Memory Specifications
 
DDR2
DDR3
Rated Speed
400-800 Mbps
800-1600 Mbps
Vdd/Vddq
1.8V +/- 0.1V
1.5V +/- 0.075V
Internal Banks
4
8
Termination
Limited
All DQ signals
Topology
Conventional T
Fly-by
Driver Control
OCD Calibration
Self Calibration with ZQ
Thermal Sensor
No
Yes (Optional)
JEDEC specs a starting point for enthusiast memory companies. However, since there was never a JEDEC standard for memory faster than DDR-400 then DDR memory running at faster speeds is really overclocked DDR-400. Similarly DDR2 memory faster than DDR2-800 is actually overclocked DDR2-800 since there is currently no official JEDEC spec for DDR2-1066. DDR speeds ran to DDR-400, DDR2 has official specs from 400 to 800, and DDR3 will extend this from 800 to 1600 based on the current JEDEC specification.
The Super Talent is the first DDR3 we have tested with a rated 1600 or higher speed. It also offers lower latency at 1600, 7-7-7 timings, than many of the speed ratings of the first DDR3 DIMMs at 1066. Super Talent DDR3 is available in three configurations:
2GB (2 x 1GB) DDR3-1600 7-7-7-18 kit Street Price $648
2GB (2 x 1GB) DDR3-1600 9-9-9-21 kit Street Price $598
2GB (2 x 1GB) DDR3-1333 8-8-8-18 kit Street Price $417
Street prices are approximate selling prices at launch, since final prices for Super Talent memory are set by the resellers.
TEAM Xtreem DDRIII 1600MHz
TEAM Group, Inc. was established in Taiwan in 1994 as a manufacturer and wholesaler of computer components. TEAM is a company with a worldwide presence in memory modules, flash memory cards, and USB flash drives. All manufacturing is in Asia, but TEAM has US Sales and Marketing offices. Distribution is handled by centers in Taiwan, Hong Kong, and the USA, and TEAM plans additional distribution centers for the future. TEAM products have performed well in past memory reviews at AnandTech, and the TEAM DDR3-1600 memory caused quite a stir when it was demonstrated at Computex last month.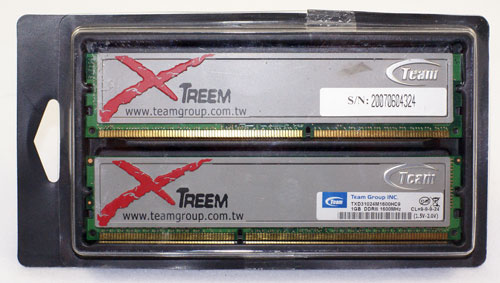 The form factor for the new TEAM DDR3-1666 is the now familiar Xtreem packaging. TEAM, like Kingston, continues to use the smaller two-piece memory box for their memory. The heatspreaders, however, are three-dimensional and loudly proclaim that the memory is Xtreem.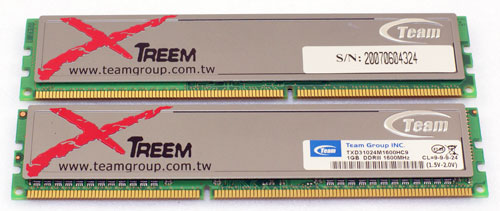 The DIMMs are single-sided, like the Super Talent DIMMs, but TEAM decided to mount memory heatsinks on both sides of the DIMM. The new DDR3-1600 is marketed as part of the top-of-the-line Xtreem series as you would expect from some of the fastest DDR3 memory you can currently buy.
TEAM TXD31924M1600HC9
Memory Specifications
Number of DIMMs & Banks
2 SS
DIMM Size
1GB
Total Memory
2 GB (2 x 1GB)
Rated Timings
9-9-9--24 at DDR3-1600
Rated Voltage
1.5V to 2.0V
Where Super Talent rates their Z9 Micron chip DIMMs at 7-7-7 timings, TEAM chooses the more conservative 9-9-9-24. If the specifications look a little strange, recall that DDR3 is generally lower voltage, higher speed, and slower timings than DDR2.
We do not yet have information on what configuration TEAM will market in DDR3 parts or the expected street prices for this memory. In the past TEAM has usually been one of the better values in each speed class where its memory competes. We would expect these DIMMs to be similarly priced.
Memory Test Configuration
The comparison of the two new DDR3-1600 memories used exactly the same components as our first reviews of DDR3 in
DDR3 vs. DDR2
,
Intel P35 Memory Performance: A Closer Look
, and
Kingston Launches Low-Latency DDR3
. The same test bed was used wherever possible. DDR2 memory performance baselines have been established and DDR2 memory performance will no longer be actively tested for our DDR3 reviews. With that in mind the bench processor has been changed to the Core 2 Duo E6420, which uses the same 4MB of unified cache as the top line C2D processors. With a ratio of 8 it is very easy to run 8x333 or our base 2.66 GHz with this CPU, merely by selecting the 333 strap and FSB on the test bed ASUS P5K3 Deluxe motherboard. This CPU can also handle FSB speeds to 500 and more (memory to DDR3-2000+) within the available 6 to 8x ratios at default voltage.
It is very difficult not to digress into a sidebar on Intel Core 2 overclocking when working with this CPU. The cost was just $183 and it will be replaced by the E6750 1333 FSB CPU at the same $183. Our 6420 runs 8x266 (2.13GHz), 8x333 (2.66 GHz), 8x417 (3.33 GHz) and 7x500 (3.5GHz)
all at the default voltage setting
. This covers up to DDR3-2000 at the 333 strap, and we hope the upcoming E6750 will perform just as well in our test bed as a replacement. This is a retail chip bought from an etailer and not an Intel-supplied processor.
Just six weeks after the introduction of P35 we already need a new chipset - or at least some serious work on DDR3 ratios. The ease of testing with the first DDR3 was the availability of a 1333 ratio on the P35-based ASUS P5K3 Deluxe. This meant we could select a stock speed like 2.66GHz and test various memory speeds at the same CPU speed. Unfortunately there is no 1600 (or 1666) ratio available on the P5K3 Deluxe or other P35 boards we have been testing. We need this ratio, since DDR3-1600, and DDR3-2000 are about to be common memory speeds. The only way you can test these memory speeds without a ratio is to overclock the CPU. Also the unfortunate reality of the 333 multiplier for a 1333 bus speed is that it is almost impossible to devise ratios and speeds that will allow realistic memory testing at the same processor speed.
As a result, until we get new chipsets and/or a BIOS with added ratios we are back to testing memory above 1333 speed at overclocked settings instead of the same processor speeds. This makes isolation of memory speed as the only test variable in memory reviews virtually impossible above the 1333 ratio. Motherboards need DDR3-1600 and DDR3-2000 ratios now that these memory speeds are on the market. We have a quick request/question for motherboard makers and Intel: if you can fix this ratio issue with BIOS updates please do so; if not, will this be one of the features of the upcoming X38 chipset?
Memory Performance Test Configuration
Processor
Intel Core 2 Duo E6420
(x2, 2.13GHz unlocked, 4MB Unified Cache)
8x266 - 2.13 GHz
8x333 - 2.66GHz
Intel Core 2 Duo X6800
(x2, 2.93GHz unlocked, 4MB Unified Cache)
10x266 - 2.66 GHz
8x333 - 2.66GHz
RAM
Super Talent W1600UX2G7
(2GB kit - 2x1GB, DDR3-1600 7-7-7)
Team TXD31924M1600HC9
(2GB kit - 2x1GB, DDR3-1600 9-9-9)
Kingston KHX11000D3LLK2
(2GB kit - 2x1GB, DDR3-1333 7-7-7)
Corsair CM3X1024-1066C7
(2GB Kit - 2x1GB- DDR3-1066 7-7-7)
Corsair Dominator CM2X1024-8888C4
(2GB Kit - 2x1GB - DDR2-1250 5-5-5)
Hard Drive
Samsung 250GB SATA2 enabled (8MB Buffer)
System Platform Drivers
Intel - 8.3.0.1013
Video Card
Leadtek WinFast 7950GT - 256MB
 
All Standard Tests
Video Drivers
NVIDIA 93.71
CPU Cooling
Intel Retail HSF
Power Supply
Corsair HX620W
Motherboards
ASUS P5K3 Deluxe (Intel P35 DDR3)
ASUS P5K Deluxe (Intel P35 DDR2)
ASUS P5B Deluxe (Intel P965 DDR2)
BIOS Revision
0604 (6/26/2007) 
Operating System
Windows XP Professional SP2
Past performance tests of DDR2 memory on the Intel P965 and P35-DDR2 platforms are included for comparison. All current memory tests use the Intel P35-DDR3 test bed (ASUS P5K3 Deluxe) with the DDR3 memory under evaluation. The CPUs listed above in our table are 1066 FSB processors, but all ran fine at 1333 FSB at default multiplier and default voltage. New 1333 bus processors with the same ratios will be substituted for these processors as soon as they are available.
Overclocking
The best way to illustrate the significance of these two new DDR3-1600 memories is to show how fast they can go and the aggressive timings each memory can run at these high speeds. The highest overclock that could be reached with stability with any tested DDR3 previously was with Kingston DDR3-1375 which reached DDR3-1520 at 9-8-8-22 timings at 1.8V. Perhaps more significant the Kingston ran DDR3-1500 at 7-7-7 timings with complete stability.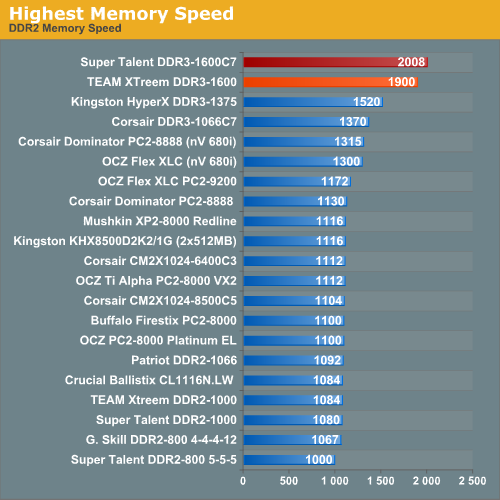 The TEAM DDRIII 1600 may be rated at 9-9-9-timings, but it reached DDR3-1600 at 7-6-5-15 timings and then went on to stable performance on our test bed at DDR3-1900. Even more impressive is the Super Talent DDR3-1600, which did the same 7-6-5-15 timings at DDR3-1600, but went even further at the top to a stable DDR3-2000 at 9-8-7 timings at 2.25V. The Super Talent topped out at DDR3-2008, but test results were all but identical to the DDR3-2000 results and are not reported.
Advances in memory technology are rarely as dramatic as the speed and timing improvements we are seeing here with Micron Z9 memory chips. For reference we included our ongoing overclocking chart results for DDR2 just so you can see how significant the new Micron Z9 memory really is. The highest DDR2 we have ever tested is an OCZ memory at 1315 in an EVGA 680i motherboard. Early DDR3-1066 reached a bit higher as in the typical 1370 achieved with the launch Corsair DDR3-1066. Timings, however, were somewhat slow. Then the Kingston HyperX pushed 7-7-7 timings all the way to DDR3-1500. Now, less than 2 months later state-of-the-art DDR3 is reaching DDR3-2000+ at aggressive timings. This kind of progress in memory technology makes the original JEDEC target of 800 to 1600 for DDR3 speeds now appear far too limited.
Super Pi
In
Kingston Launches Low-Latency DDR3
memory performance was compared at 800, 1066, 1333, and highest memory speed we could reach. With the introduction of higher speed DDR3 the 800 MHz memory speed will be dropped from comparisons. If you are interested in DDR2-800 or DDR3-800 performance for comparison please refer to the Kingston review. In
all
cases, P965 and P35-DDR2, the performance of the DDR2 Corsair Dominator was highest at DDR2-1066
For this and subsequent DDR3 reviews performance will be compared at 1066, 1333, 1600, 1666 (the next 1333 memory speed), 2000, and the highest memory speed for the tested memory. 1000 is the logical base for the 333 strap but 1066 is the more familiar reference speed. We will use 1066 as the base comparison with a possible change to 1000 base speed in the future.
To look at pure number crunching, Super Pi 1.5 was run in all memory test configurations. Super Pi is a very simple program as it merely calculates the value of Pi to a designated number of decimal positions. In this case we chose 2 million places.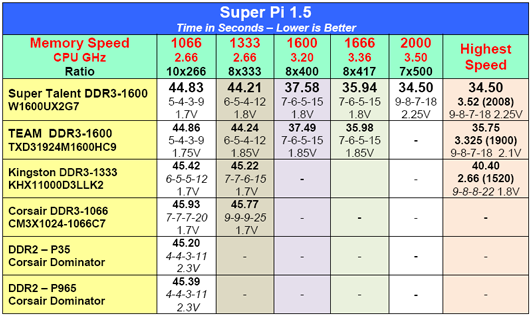 Click to enlarge
The lower latency of the new DDR3-1600 kits make it the clear performance leader in Super Pi results - from 1066 all the way to the fastest DDR3-2000. This is certainly a change from earlier DDR3 numberr crunching tests where Super Pi was fastest at 1066 on the P35 DDR2 platforms, with the P965 running the same memory close behind, and DDR3 further back in the performance pack. Lower Latency DDR3 now has DDR3 at the top in number crunching at all speeds. We speculated in our Kingston review that lower latency DDR3 would likely overtake DDR2 performance in the future - even at overlap speeds. It appears that DDR3-1066 at 5-4-3 timings is low enough to move DDR3 to the top in Super Pi.
It is interesting that the Kingston DDR3-1375 nearly closed the gap with the fastest 3-3-3 DDR2 memory available, and the DDR3-1600 kits finally pass the fastest DDR2. This clearly demonstrates you will not have to give up a thing with DDR3 in the overlap speeds and you will gain 1333 and higher speeds as well. The only current roadblock to DDR3 is the high price of admission. .
Bandwidth and Memory Scaling
As you saw in our overclocking test, the Super Talent kit reached DDR3-2000+ and the TEAM DDR3-1600 topped out at DDR3-1900. We compared standard or buffered bandwidth on the P965 running DDR2, the new P35 running DDR2, and the new P35 running Kingston DDR3-1375, Super Talent DDR3-1600, and TEAM DDR3-1600.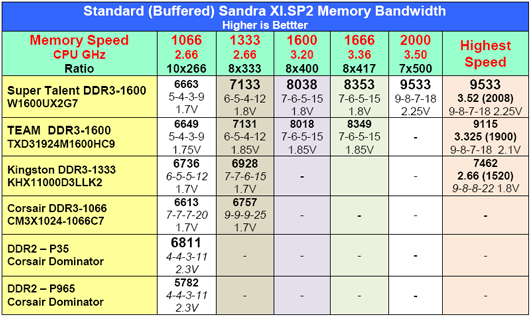 Click to enlarge
At DDR3-1066 the DDR2 Corsair Dominator running in the P35-DDR2 board holds a slight lead. This is a pattern you will see throughout many of these test results. If you intend to run only 1066 and nothing higher, the ASUS P5K Deluxe with fast DDR2 beats DDR3 and P965. This is likely due to the very aggressive 4-4-3 timings DDR2 can manage on the P35, but the lead is very small compared to these new Micron Z9 DDR3 memory modules.
The new Z9 DDR3 memory owns the rest of the benchmarks. From 1333 to the highest OC of 2000 nothing comes close to the bandwidth of the new Micron memory chips. The best modules in this roundup are from Super Talent. The TEAM DIMMs are close in every benchmark, but the Super Talent memory wins all the benchmarks at every speed from 1333 up.
The timings are also record-breaking. 5-4-3-9 at DDR3-1066 (1333 strap) are the best memory timings we have seen in DDR3 tests at that speed. Similarly 6-5-4-12 at 1333, 7-6-5-15 at 1600 and 1666, and 9-8-7-18 at DDR3-2000 are the tightest timings seen so far with DDR3 at any of those speeds. The Micron Z9 memory chips achieve speeds and tight timings that we really didn't expect until next year or later.
We also test memory with buffering schemes like MMX, SSE, SSE2, SSE3, etc, turned off. While these features do provide apparent improved bandwidth, the unbuffered bandwidth tends to correlate better with gaming performance. Unbuffered performance does not always follow the patterns of buffered memory performance.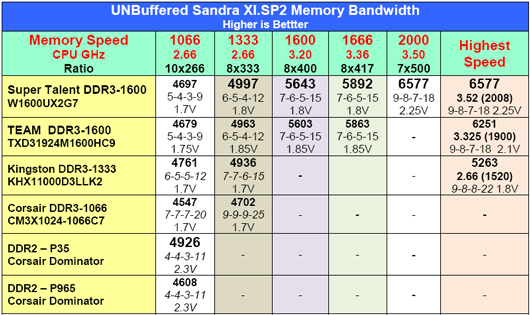 Click to enlarge
Unbuffered results show the same basic pattern as buffered results. At 1066 speed the best bandwidth is with fast DDR2 on the P35 chipset, and at all other speeds the Super Talent DDR3-1600 and TEAM DDR3-1600 top the results. DIMMs based on Micron Z9 memory chips are the fastest DDR3 you can buy. There will still be variations based on the memory makers' experience and expertise in binning, PCB construction, and SPD programming, but for the time being we expect all of the fastest DDR3 memory to use Z9 chips.
Of course DDR2 could not reach the 1333 speed, and with DDR3 now running up to 2000 MHz and higher DDR3 is looking like the logical choice for high-performance computing. DDR2 is slightly better on the P35 chipset only at the 1066 speed. Now with Z9 chips, DDR3 also outperforms the P965 chipset running fast DDR3 at 1066. Anything higher than 1066 is the domain of fast low-latency DDR3.
Gaming
Three DX9 games representing different gaming engines were used to test the performance of the Super Talent DDR3-1600C7 and the TEAM Xtreem DDR3-1600 in real world gaming. There are more recent gaming titles available, but they are also DX9. We will update games in the memory test suite as soon as a selection of DX10 games with reliable benchmarks is available. At that time the memory test OS will also be moved to Vista.
The Far Cry - River demo was run for 3 loops and results in FPS were averaged over the 3 runs.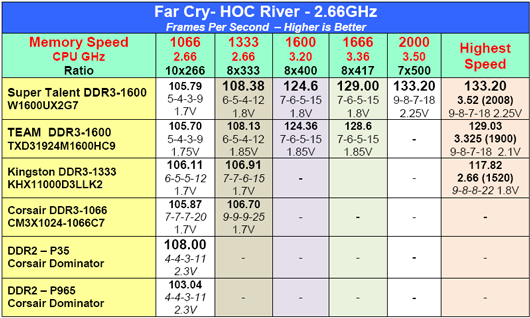 Click to enlarge
Super Talent and TEAM dominate overall gaming performance of Far Cry and top the charts from 1333 to 2000+ memory speeds. Far Cry performs slightly better at 1066 with fast DDR2 memory on the P35 chipset, much as we expected.
Click to enlarge
Quake 4 and the underlying engine have always proved to be very sensitive to improvements in memory bandwidth. This is amply demonstrated in these memory tests. Again in all cases DDR2 and DDR3 are faster on P35 than the fastest DDR2 on P965. The pattern is the same as in Far Cry but the differences are magnified in Q4. The lower latencies of the new Micron Z9 DIMMs move that DDR3 to the top at 1333, and at every speed above it. It would be very interesting here if the CPU speed could be held constant and only the memory speed varied, but available ratios and the 333 multiplier make that all but impossible. What we need are 1600, 1666, and 2000 ratios available on upcoming motherboards - in addition to the 1333, 1066, 1000, and 800 that are already available.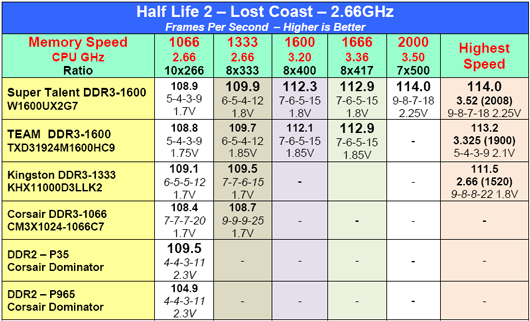 Click to enlarge
We include Half-Life 2: Lost Coast as a representative of games that are less sensitive to improvements in memory bandwidth. Lost Coast is played through the Steam engine, where there is the constant worry, for a reviewer, that each new update of Steam will break your test benchmarks. Though the differences are very subtle and HL2 performance is most influenced by the video card used in the benchmark, there are nonetheless patterns that are exactly the same as the other two games. All P35 results are faster than the same fast DDR2 results on P965. DDR2 on the P35 is slightly faster at 1066 and the new Z9 DDR3 is tops in results at DDR3-1333 and higher.
The Super Talent and TEAM results are very close at all speeds, but Super Talent manages to be ever so slightly faster at every speed in every benchmark. Since the base memory chips are the same, a slight alteration in binning or small changes to programming the SPD could bring the Super Talent and TEAM into parity or move TEAM to the lead.
Conclusion
In our review of the Kingston low-latency DDR3-1375 we expressed surprise that Kingston had managed to improve memory performance so soon after DDR3 was introduced to the market. Our DDR3 test DIMMs for the launch were rated DDR3-1066 7-7-7-21, and they would overclock to the new DDR3-1333 speed at 9-9-9-25 timings. We expected the quick introduction of DDR3-1333 modules at 9-9-9 timings, since one of the reasons for owning a P35 board is to use memory faster than the common DDR2-1066.
Instead a week later, Kingston introduced DDR3 memory that blew though DDR3-1333 to DDR3-1500 at fast 7-7-7 timings. We did not expect true lower latency DDR3 for several months or more. The Kingston memory changed the DDR3 rules and every memory vendor started contacting us with announcements of lower latency DDR3 that reached higher speeds.
Many enthusiasts were impressed with DDR3-1500 at 7-7-7 timings, as they should have been. However, some held out for the Holy Grail of DDR3-1600 or DDR3-1666 that could run at 7-7-7 timings. That, said the savviest computer enthusiasts on many forums, would be reason enough to move to DDR3 instead of DDR2 - even though it is currently the more expensive memory. We agreed with all this chatter, but we expected the requirement for DDR3-1600 7-7-7 might delay the movement to DDR3 until sometime later next year.
Fortunately for all of us, Micron did listen to what computer enthusiasts were hoping for, but they did not listen to our expected timetables. Here, about as fast as we could dream about it, Micron has introduced their new Z9 memory chips with breathtaking speeds and an almost never-ending ability to handle voltage. We don't know how Micron continues to do this memory after memory, but someone in that company certainly knows how to design enthusiast memory.
The first two new kits out of the gate are from Super Talent and TEAM Group. Comparing the two in this review showed both set new standards for speed and low latency for DDR3. Both broke the 1600 barrier at better than 7-7-7 timings, namely 7-6-5 at a moderate and easily tolerated 1.80V. Both continue on and break through DDR3-1666 at the same speed. The TEAM tops out at a new record DDR3-1900, but the Super Talent continues on to DDR3-2000 at still respectable 9-8-7-18 timings, but at a higher 2.25 volts, a voltage earlier DDR3 couldn't dream of handling. Fortunately the Micron Z9 chips seem to handle 2.25V and 2.3V just fine, as long as they are cooled a bit.
We were completely surprised by the Kingston low-latency just a few weeks ago; the Micron Z9 chips completely rewrite the enthusiast market. Unless memory companies quickly find ways to produce very fast DDR2 that runs very well on P35 boards DDR2 will quickly become second-rate memory. We hear from memory vendors that better DDR2 is on the way, but we have to wonder if these new DDR3 DIMMs that do DDR3-1600, 1666, and even DDR3-2000 with ease have not changed the memory game beyond recognition. If you are a full-blown computer enthusiast, once you see DDR3-1666 and DDR3-2000 running on the P35 you will want it, and you will not want to settle for DDR2 at 1066.
We can also think of one huge reason
not
to buy the new DDR3-1600 DIMMs. They are very expensive and difficult to justify strictly on a price basis. At two to three times (or even more) the price of excellent DDR2 parts they are a tough money pill to swallow. However, few computer parts offer the kind of breakthrough performance advantage we see in these new DDR3-1600 kits.
Expensive or not, the DIMMs based on the Z9 Micron chips will definitely have a profound impact on whatever memory you buy in your future. The entry price for decent but pedestrian DDR3 will drop. So will the prices of decent 1500 7-7-7 DDR3, which will be good news for new system builders or upgraders. Any memory that targets the enthusiast will have to compete effectively with the performance of these new DDR3-1600 or DDR3-2000 DIMMs or they will not sell in the market place. Every memory manufacturer trying to produce a new DDR3 memory chip has had their design requirements raised at least two-fold. If anyone else can approach the performance of Micron Z9 chips the prices will drop, and everyone will be trying to match or surpass these chips. If other chip makers can't appraoch what Micron has accomplished here, the Z9 prices will likely remain stubbornly high.
As an enthusiast you may love the performance leap the new DDR3-1600 kits have dropped on the market today, but hate the fact that you will have to lay out a lot more money for new memory to get the best. Best is so much better today that second best doesn't look that attractive. However whether you consider expensive DDR3-2000 the best thing since sliced-bread or the worst of wretched excess, your future memory purchases will be influenced by these new memory chips.
Real DDR3-1600, DDR3-1666, and DDR-2000 parts at low latencies are exciting news, but it is just the beginning. OCZ is already announcing even faster parts based on special binning of these new Micron Z9 chips. Corsair, Kingston, and every other maker of enthusiast memory will have kits based on these new chips almost instantly. Some will be better than others, and we will likely see even better performance as these new variations are introduced. The danger of course is if everyone wants these new DIMMs, the chips may be in short supply which would make them even more expensive.
Super Talent and TEAM Group did a great job getting these two new fast DDR3-1600 kits to market. You will now see a flood of memory announced that will feature memory performance specifications we only dreamed of a few short weeks ago. The real winner in this round, of course, is Micron ... and you!