Original Link: http://www.anandtech.com/show/2254


Introduction
2007 has been pretty exciting in the world of computers so far; we've seen new graphics cards, processors, and various platform launches -- and there's plenty more to come in those areas. Perhaps more significantly is that we've got a shiny new operating system from Microsoft, Windows Vista. Unfortunately, new doesn't necessarily mean better, and in the case of computer benchmarks this new operating system is proving to be particularly irksome. It's not that Windows Vista is slow, but rather that there are certain benchmark suites we've used in the past that simply refuse to run on Windows Vista. As such, we're going to have to rework some of our mobility performance tests and we are embarking on that journey today with our review of the Hewlett Packard dv6500t notebook.
As one of the largest computer manufacturers in the world, HP is able to offer an extensive line of desktop and notebook computers, as well as various peripherals. Their products generally don't cater to computer enthusiasts, but for your average home user and more importantly for many businesses, HP's offerings are going to be used by a huge number of people. Depending on your needs, their latest Santa Rosa-based notebook might be just what you're looking for.
Putting together product reviews often presents some difficulties. While we would love to be able to go out and review every product on the planet, the reality is that we often require help from manufacturers in order to get equipment to evaluate. The more expensive the product, the more difficult it can become to acquire review samples. In the end, we review what we can and even when we don't necessarily have directly competing products to compare for comparison we hope to at least provide an in-depth analysis of the hardware we are sent. Very few items are able to satisfy every user out there, so two of our primary considerations are: what is the intended market for a product, and how well does it do in meeting the needs of the target market?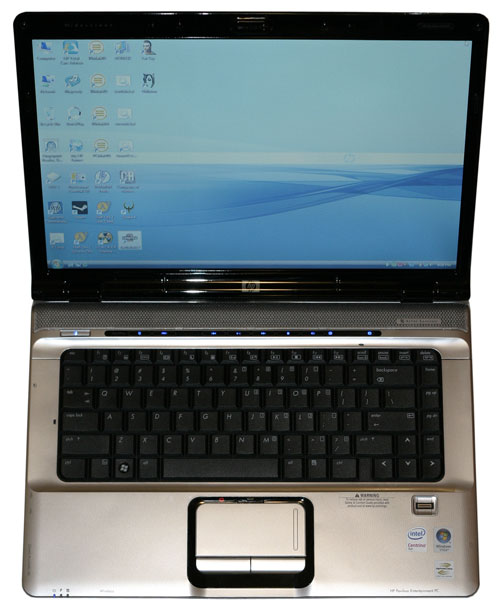 The HP dv6500t is only being offered with Windows Vista, so even if we were able to get Windows XP to run on the laptop such benchmarks would be largely meaningless. However, this is the first laptop we've tested using Windows Vista, so in some areas we will be unable to directly compare results to previous laptops. Also keep in mind that Windows Vista does impact performance differently than Windows XP, so even when we do have results from other laptops, at this point we're dealing in apples-to-oranges comparisons. That's okay, though, since in the world of mobile computers pure performance is rarely the most important factor people look at when shopping for a new notebook.
Many of the notebooks we have been sent in the past are definitely slanted a bit more towards the gaming market, and while that's fine for gamers there are drawbacks to such notebooks for other users. A gaming notebook typically requires a powerful graphics chip, and inevitably that increases power requirements and reduces battery life. Some people are okay with making that compromise, but for most mobile users one of the major reasons to get a notebook in the first place is so that you can use it away from your desk. More to the point, even the fastest notebook out there is still easily surpassed by a decent desktop system, and high-performance notebooks don't come cheap. Rather than picking up an ultra powerful $4000+ notebook, it's often better to purchase a decent laptop as well as a desktop system; spending about $2000 on each of those will usually result in a better overall computing experience. (If you still prefer an ultra high-end laptop, though, don't worry -- we'll be taking a look at just such an offering in the near future.)
That leads us to the star of today's review, the HP dv6500t. This is a generally no-frills notebook that is more than able to handle whatever computing task you might want to throw at it, short of gaming and perhaps a few high-performance applications. In that respect, it's a lot like driving a minivan. It will help you cart your kids around, but it's not quite as exciting to drive as the latest sports car. The dv6500t is part of HP's Entertainment notebook line for home and home-office users, though it would have no difficulty functioning in a business environment as well. Let's take a closer look.
HP dv6500t Specifications and Features
Like most large OEMs, HP gives customers the ability to customize their particular notebook. Here's a quick overview of the configuration options available on the dv6500t.
HP dv6500t Configuration Options and Features
Processor
Core 2 Duo T7300/T7100
Chipset
Intel GM965 + ICH8-ME
FSB Speeds
533/667/800 MHz
Memory Speeds
DDR2-400, DDR2-533, DDR2-667
Memory Slots
(2) x SO-DIMM, up to 4GB, DDR2, Dual Channel supported
Graphics
Intel GMA X3100
NVIDIA GeForce 8400M GS 383MB
Display
15.4" WXGA (1280x800)
Expansion Slots
One ExpressCard/54
Hard Drive
80/120/160GB 5400RPM, 200GB 4200RPM
Optical Drive
8X DVD+/-RW LightScribe
HD-DVD w/ 8X DVDR
Networking/Communications
Integrated 10/100 Ethernet and V.90 56K Modem
Intel 3945ABG (802.11A/B/G) Mini PCI Wireless or
Intel 4965AGN (802.11A/G/N) Mini PCI Wireless
Audio
24-bit High Definition Audio with 2.1 Speakers
Left Ports
2 x USB 2.0
1 x mini-Firewire
Flash reader (SD, MS/Pro, MMC, XD)
1 x VGA
TV-Out
Expansion Port 3 (for Docking/Port Replicator)
Right Ports
1 x USB2.0
Optical Drive<.br>ExpressCard/54
Power Connector
Front Ports
Infrared
Microphone
2 x Headphone
Back Ports
None
Keyboard
86 Key QWERTY (US)
Extras
Microphone
Webcam (Optional)
Fingerprint Reader (Optional)
ExpressCard TV Tuner (Optional)
Battery Options
6-Cell 47WHr
6-Cell "High Capacity"
12-Cell 95WHr Lithium Ion
Dimensions
14.05"x10.12"x1"-1.69" (LxWxH)
6.14 lbs. (6-cell battery)
Power Adapter
65W
Operating Systems
Windows Vista Home Basic 32-bit
Windows Vista Home Premium 32-bit
Windows Vista Business 32-bit
Windows Vista Ultimate 64-bit
Looking at the available features, it's pretty clear that this is not intended as a high-performance notebook, but rather it focuses on the entry level to midrange market. Processor options are limited to the T7100 and T7300, while the faster T7500 and T7700 are only available on higher end HP offerings. Considering the price increase and relatively small performance boost that comes with those faster CPUs, that's not a bad compromise. The platform is technically backwards compatible with earlier Core 2 Duo processors, but there's really no reason to use something other than one of the new 800FSB models.
Graphics options are similarly limited: you can stick with the standard integrated Intel GMA X3100 or you can spend $80 more to get NVIDIA's GeForce 8400M GS. While the X3100 is technically a fully featured DirectX 9 part with Shader Model 3.0 support, the 8400M GS offers DirectX 10 support and more importantly it has drivers that function properly with all DirectX 9 applications. The 8400M GS certainly isn't the fastest graphics chip on the planet, but it should still be able to run circles around the X3100. The laptop we were sent uses the X3100, but we should be getting some competing notebooks that use 8400M GPUs in the near future for comparison. We'll have a bit more to say about the graphics later, but if you're interested in even moderate gaming we feel the $80 upgrade is money well spent.
As with nearly all notebooks, the dv6500t comes with two SO-DIMM slots. Memory support tops out at 4GB, although you would want to install a 64-bit operating system in that case. HP does give you the option to install a 64-bit OS, but only if you choose to upgrade to Windows Vista Ultimate; at present, all of the other Windows Vista versions are 32-bit only.
Storage choices cover the usual gamut, with hard drive sizes ranging from 80GB all the way up to 200GB. As battery life is adversely affected by the faster 7200 RPM drives, only 5400 RPM models are available for selection, except for the 200 GB drive, which is a 4200 RPM model. Using the lower RPM drives also helps to keep prices down, which is again in keeping with the midrange target audience. We recently took a closer look at
Intel's Turbo Memory technology
, but HP doesn't bother supporting the feature on this particular notebook. An 8X SuperMulti DVD burner (with LightScribe support) comes standard, but HP does offer one high-end storage option with a $400 HD-DVD upgrade. The unit we were sent did not include an HD-DVD drive.
Standard 10/100 Ethernet and a 56K modem are included, but we wish they would have opted for a Gigabit Ethernet controller. Many people might not notice the omission, but we definitely missed the feature as during testing we routinely transfer more than 100GB of data over the network connection, and its inclusion certainly wouldn't have impacted price much at all. Wireless networking is provided courtesy of the typical Intel 3945ABG adapter, or you can choose to upgrade to the newer 4965AGN adapter with Draft-802.11n support.
Most of the remaining features are pretty typical and don't require further explanation, but there are a few noteworthy items. First, there are no display choices, so all users will get a standard 1280x800 LCD panel (more on that later). In the battery department, there are three different capacities available: a standard 6-cell, a high-capacity 6-cell, or an extended capacity 12-cell. We asked for and received both the standard 6-cell as well as the 12-cell. One of the more useful additions is a second headphone jack on the front of the laptop, so if you've ever sat with your significant other on a plane trip and tried to share a single set of headphones -- or even better tried to listen to the audio via the integrated speakers over the noise of an airplane -- HP has you covered.
An optional webcam and fingerprint scanner are also available, and our test unit included both. If you get tired of typing your password, the fingerprint scanner can be a very convenient and relatively secure way of locking/unlocking your computer. After a brief training session where you can scan multiple fingerprints, a quick swipe of your finger is all that's required to login to Windows. Once you're logged in, a second swipe will lock the computer.
(Just try not to lose your finger....)
The webcam is also a bit different from most of the webcams we've seen integrated into notebooks lately. It has a lower resolution, but it manages a much higher frame rate, and HP informed us that it's also tuned to work better in low-light situations. We did some basic testing of the webcam and found that most of their statements were true. In particular, the higher frame rate was definitely noticeable, and while the 640x480 resolution didn't provide as much detail as the 1.3 megapixel webcams, getting a lower resolution 30 FPS feed was much preferable in our opinion. As far as working better in low-light situations, it did appear that the camera managed this, but it came at the cost of drastically increased noise levels and a lovely green hue
(night vision goggles, anyone?)
. One other complaint about the webcam is that the integrated microphone doesn't pick up your voice well at all unless your face is about 6 inches away, or else you scream at your computer. That's not unusual with webcams, though.
Design and Appearance
A lot of people are far more concerned with performance, features, and weight when they're shopping for a new notebook, but appearance can also play a role.
HP is touting their "Radiance" design with the dv6500t. A lot of laptop manufacturers are now doing similar things, but the basic summary is that the pattern seen on the above picture is actually part of the plastic shell and won't wear off over time. Our picture doesn't show it very well, but the swirly lines theme continues on the palm rest below the keyboard when you open the lid. It may not win best of show at a beauty contest, but the dv6500t is still reasonably attractive and not something most people would be embarrassed to tote around.

Taking a look at the various sides of the laptop, this is the frontal view. Again, note that there are two headphone jacks so you and someone else can both listen to audio at the same time. The audio jacks cannot be configured to work in other modes, so for example it is not possible to output 5.1 audio. To the left of the audio jacks is the infrared receiver, and on the far left (and barely visible) is a switch to turn the wireless networking on or off.
The extended capacity 12-cell battery makes a pretty major difference in how the laptop rests on a flat surface, so we are including shots from the various angles with a standard 6-cell battery as well as the 12-cell battery. The left side of the laptop is home to the majority of the external connections, including two USB ports, a mini-FireWire port, a flash memory reader, network/modem jacks, VGA, TV out, and the proprietary Expansion Port 3. The latter is for use with docking stations/port replicators.
On the right side of the laptop, we find another USB port, and the power socket is that the rear of the laptop. The optical drive takes up the majority of the space, and that the front of the laptop is an ExpressCard/54 expansion slot.
Design and Appearance (Cont'd)
HP includes a small infrared remote that can be used to control their QuickPlay application, which is basically an alternative to Windows Media Center. The remote can be stored in the ExpressCard slot when not in use, which is sort of a cool feature even if it makes the shape of the remote somewhat awkward. If you make use of an ExpressCard device, however, you will need to find the remote a new home.


Looking at the rear of the laptop, there's not much to see besides the ventilation grille on the right. We also get a good shot of the extended capacity battery, and if its size seemed awkward from the other angles it's even more awkward when you realize that the battery isn't exactly centered. If you put the laptop on a hard surface, it's not much of a problem, but we found the extended capacity battery made the notebook less comfortable to have sitting on your lap during use. For those who need additional battery life, it's a sacrifice they're probably willing to make, but it really would have been better if HP had been able to come up with a slightly different battery design/location.
Here's another look at the notebook, this time from the bottom. Once again, you can see how the off-center location might make things awkward if you use the large 12-cell battery. The standard 6-cell battery sits flush with the bottom of the laptop, so it doesn't present any problem.
Here's a look at the basic 6-cell as well as the 12-cell battery. The difference in size isn't really visible from this angle, but you can see that the larger battery has twice the capacity of the standard 6-cell battery (95 WHr compared to 47 WHr). Twice the capacity will result in twice as much battery life, give or take a few minutes, so for lengthier trips the option to get a 12-cell battery could come in useful.
Other than removing the battery, there are only two hatches on the bottom for the laptop. The middle one provides access to the memory slots and mini-PCI card, and the other covers the hard drive. While it is possible to dismantle the laptop further, most users will not need to do so; the only other potential upgrade you could make would be to the processor, and at present there are only two officially supported processors anyway.
LCD Brightness, Contrast, and Viewing Angles
We recently
did an article
taking a closer look at the LCD panels on several laptops, and all of our future of laptop reviews will include coverage of this important feature. Our testing methodology is the same as we use in our desktop LCD reviews, although somewhat more limited in scope. The simple truth is that even the best laptop LCDs tend to pale in comparison to typical desktop LCDs. One of the reasons for this can be found by examining the panel used in the HP dv6500t notebook.
Using a utility called ASTRA32, we discovered that the LCD panel is an AU Optronics model AUO 2174 (though we admit that ASTRA32 could make mistakes). While that model number may not mean much to most people, perhaps more telling is the manufacture date of January 2005. This is a brand new notebook based on Intel's just-released Santa Rosa platform, and yet the LCD is apparently about 2.5 years old! Needless to say, LCD technology has advanced quite a bit in the past couple of years.
Our initial impression of the LCD panel prior to getting the above information was that it was pretty average at best. It's not particularly bright, viewing angles are limited (like most other TN panels), and colors seemed a bit off. All of these are characteristics that we would expect to find in LCDs from several years ago, but we ran through the rest of our tests regardless. Sadly, we would wager that HP isn't the only company using older LCDs on their laptops.
We'll start with a quick look at brightness and contrast ratios, then we'll look at viewing angles, and we'll conclude our examination of the LCD by looking at the color accuracy, before and after hardware calibration. For color accuracy, we are also including results using ColorEyes Display Pro in addition to Monaco Optix XR Pro. One of our readers pointed out that Monaco Optix XR Pro uses the older ICCv2 profile specification and that it might not be as accurate as software that uses the more recent ICCv4 specification. We still use the Monaco Optix XR Pro colorimeter (which is the same as the DTP-94) with both applications, and in general we did find that ColorEyes Display Pro produces better results on laptops. However, on at least a couple of displays we've tested, the results are better with Monaco Optix XR Pro, so we will continue to use both applications.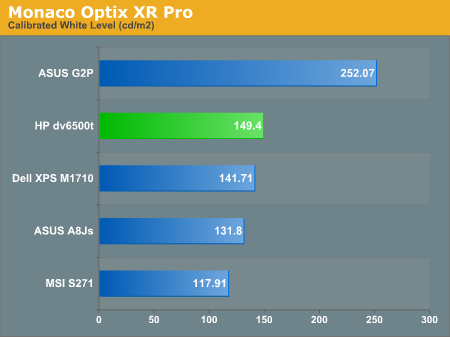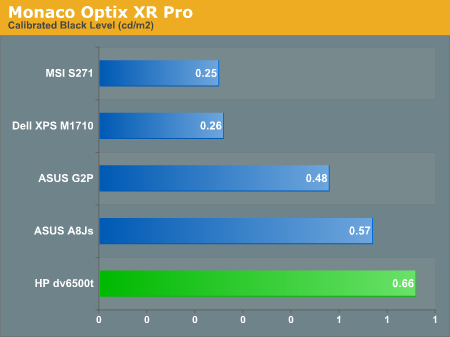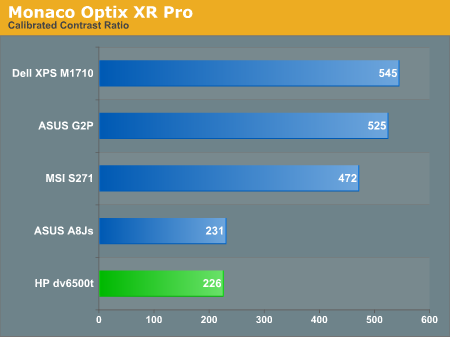 The white level is pretty typical of most laptop LCDs, maxing out at around 150 nits; black levels however are not very good, coming in at 0.66 nits -- the brightest "black" of any of the tested LCDs. The net result is one of the lowest contrast ratios we've measured. Subjectively, we would agree with the measurements: the overall quality of the LCD panel is slightly better than the panel on the ASUS A8Js, but we wouldn't rate it better than any of the other LCDs.
Brightness and contrast ratios aren't necessarily the most important aspect of a display, so let's move on to the other areas. Here's a look at the viewing angles, taken at 30° from center. Images for the other laptops can be viewed at the following links:
ASUS A8Js
ASUS G2P
Dell M1710
MSI S271
The lackluster LCD performance continues, with viewing angles that are no better -- and often worse -- than any of the other LCDs. During typical use of the notebook, it's not uncommon to find that you need to adjust the screen in order to properly see things. Even a small movement of your lap can mean the difference between an okay viewing angle and one that washes all of the colors out. Since all of these notebooks so far use TN panels, the somewhat limited viewing angles aren't too surprising. We are still trying to get some laptops in for testing that use IPS panels, as those are likely to perform better.
LCD Color Accuracy
So far the LCD hasn't been very impressive, but let's take a look at how it performs in regards to color accuracy. Not everyone wants a glaringly bright display, after all. As mentioned, we will be looking at the uncalibrated performance as well is calibrated performance using both Monaco Optix XR Pro and ColorEyes Display Pro.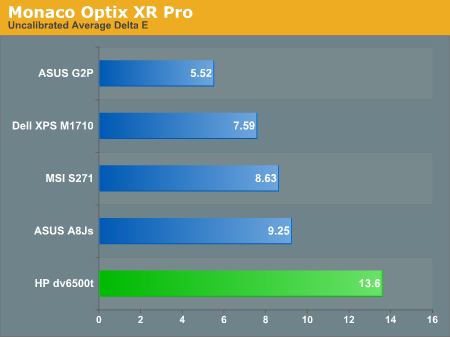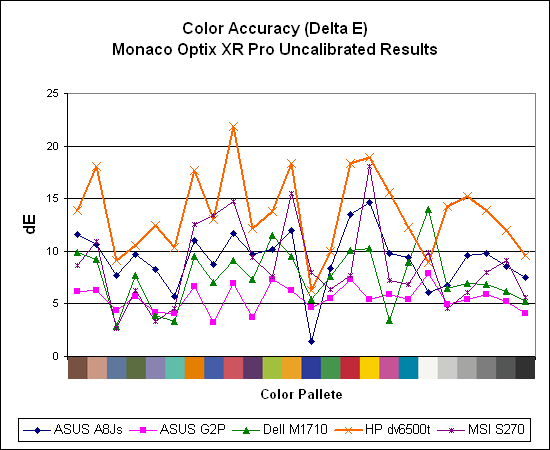 Without calibration, this is the worst LCD we've encountered so far. Only four out of 24 of the measured color values have a Delta E of less than 10 -- and remember that ideally Delta E should be less than one! Remember that when you're viewing movies, the display overlay mode will bypass any color profiles you may have selected, so basically you're going to get very poor color quality with this notebook. But what happens after calibration?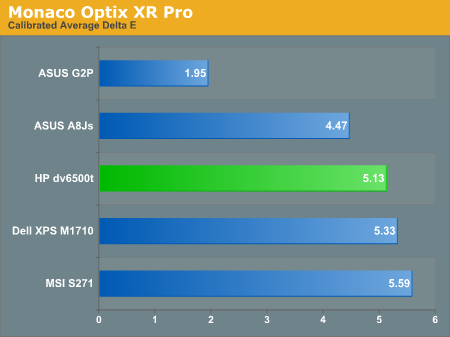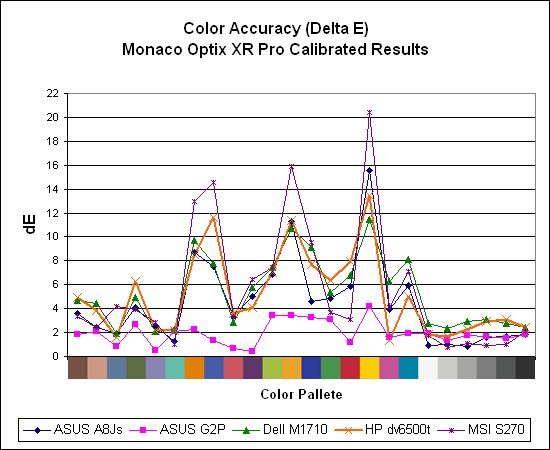 Using Monaco Optix XR, accuracy improves quite a lot and the LCD panel now basically matches the overall performance of the Dell XPS M1710 and the MSI S271. It's still not great, but it's not terrible either. We're not done yet, however, because we wanted to see if ColorEyes Display Pro managed to calibrate the colors any better.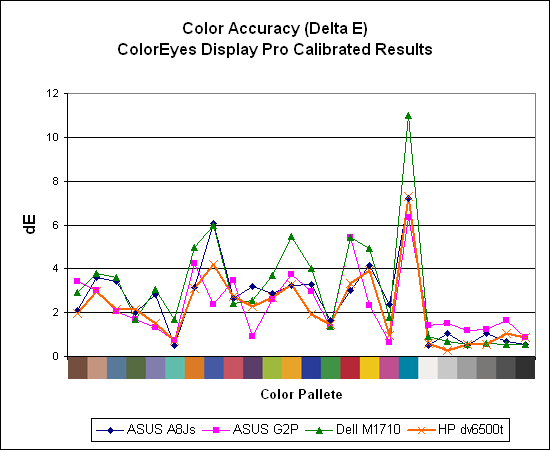 Where Monaco Optix XR Pro has a tendency to have inaccuracy spikes on yellow/orange colors, ColorEyes Display Pro has a pretty major spike on something close to teal. Overall, though, the average Delta E is much lower using ColorEyes Display Pro on all of the laptops... except one. It turns out that the best laptop LCD we've used so far -- the ASUS G2P -- gets better results when calibrated using Monaco Optix XR Pro. Also worth mentioning is that the MSI S271 appears to have some compatibility problems with ColorEyes Display Pro, as the software would hang whenever we tried to begin profiling. Even the dv6500t manages to top the ColorEyes Delta E chart, we would still much rather use the ASUS G2P (or any other laptop with a similarly bright display).
We should also note that the default Delta E reported by ColorEyes appears to be extremely good, but the selection of test colors is extremely limited. We validated color accuracy using a Gretag Macbeth chart, which is what Monaco Optix XR Pro uses. The default validation for color eyes uses 15 color swatches instead of 24, and actually the 15 swatches consist of 12 shades of gray and three colors. While that may be fine for people that work in black and white, actual color accuracy means more to us, even if the display can no longer score a "perfect" Delta E of less than 1.0.
One final comment on the displays before we move on: since HP is a large OEM, it is very likely that they source their LCD panels from more than one manufacturer. While the dv6500t that we tested has a relatively poor display, it's entirely possible that other HP laptops within the same family might have a better display. The same goes for other laptop manufacturers, of course, but for better or for worse we are only able to evaluate the LCDs on the laptops we receive. Then again, we would rather get a sample LCD that may be worse than average and evaluate it as such than to get a great LCD and praise it, only to find out that most LCDs in the same family perform much worse.
Test Setup
As we mentioned at the outset, the results we currently have for other laptops were gathered using Windows XP, and we're now in the process of switching over to Windows Vista benchmarking. We have not yet been able to evaluate any other laptops using Windows Vista, but we will add results similar results in future laptop reviews. Here's the test configuration of the HP dv6500t that we were sent. The configuration of the other laptops can be found in our
previous laptop article
.
HP dv6500t Test Setup
Processor
Core 2 Duo T7300 (2.0GHz 4MB Shared L2, 800FSB)
Chipset
Intel GM965 + ICH8-ME
Memory
2x1024MB DDR2-667 5-5-5-15
(Nanya NT1GT64U8HB0BN-3C)
Graphics
Intel GMA X3100
Display
15.4" WXGA (1280x800)
AU Optronics AUO 2174 (Jan 2005)
Hard Drive
200GB 4200RPM (Toshiba MK2035GSS)
Optical Drive
8X DVD+/-RW LightScribe
Networking
Intel 3945ABG (802.11A/B/G) Mini PCI Wireless
Audio
Realtek HDA
Battery
6-Cell 47WHr
12-Cell 95WHr
Operating System
Windows Vista Business 32-bit
Needless to say, while the Core 2 Duo T7300 may be slightly faster in terms of theoretical performance, we expect the 4200 RPM hard drive and integrated GMA X3100 graphics to result in performance that's lower than the other laptops. Don't even worry about gaming results -- though we will have a few words to say on that subject in a moment.
General Performance
To measure general performance, we're now using SYSmark 2007 as well as PCMark05. Unfortunately, we don't have SYSmark 2007 results for any of the other laptops. That said, we didn't find anything during testing that would give us any cause for concern. We'll start with the results of SYSmark 2007, presented in table form for now.
HP dv6500t SYSmark 2007 Performance
Overall Score
100
E-Learning
112
Video Creation
75
Productivity
102
3D
112
Results from PCMark05 are lower in almost all cases than the other laptops. The problem is that the overall score obfuscates things somewhat, so you don't actually know just by looking at the score whether the problem is your graphics, your hard drive, your processor, or something else. We will also provide a table of the individual results in order to better show this information.
PCMark05 Performance Breakdown
ABS Z5
ASUS A8JS
ASUS G2P
Dell M1710
HP dv6500t
HDD XP Startup
5.839
6.623
6.183
7.602
4.717
Physics and 3D
186.04
182.38
194
213.42
86.65
2D Transparency
1078.48
733.55
515.72
1263.64
685.63
3D Pixel Shaders
327.74
132.09
93.84
360.76
23.32
Web Page Rendering
3.267
3.27
3.18
3.467
1.625
Decryption
54.602
54.524
54.294
64.148
57.674
2D 64 Line Redraw
2111.47
1129.12
1326.54
2133.45
504.45
HDD General
4.019
4.332
4.127
4.453
3.548
Audio Compression
2133.98
2219.17
2142.88
2351.51
1935.72
Video Encoding
372.19
363.48
373.53
426.06
364.18
Text Editing
137.3
139.57
138.75
159.67
99.63
Image Decompression
28.143
28.277
27.981
32.392
27.208
File Compression
4.831
4.819
4.577
5.597
4.411
File Encryption
26.513
26.512
27.54
31.225
27.799
HDD Virus Scan
32.924
35.32
43.118
37.266
26.171
Memory Latency
8.011
8.207
8.207
8.011
8.797
Looking at the overall score, the dv6500t appears to be terribly slow. Once we drill down into the details, however, the reason for the low score becomes readily apparent. The hard drive certainly isn't as fast as any of the other tested laptops, but the graphics chip is also clearly slower -- in some tests the other laptops are more than twice as fast. Some of the other results appear to be impacted by the use of Windows Vista, for example web page rendering and text editing are both quite a bit slower. In practice, the laptop is plenty fast for any general computer tasks, and while Vista definitely does make things slower in some areas that occurs regardless of what kind of system you're running. Not surprisingly, the Dell M1710 sweeps all of the PCMark05 results, but then it also costs more than twice as much as most of the other laptops.
To complement the SYSmark and PCMark results, we have some of our own benchmarks that test similar areas. Here's a quick look at how the laptops fair in audio/video encoding and 3D rendering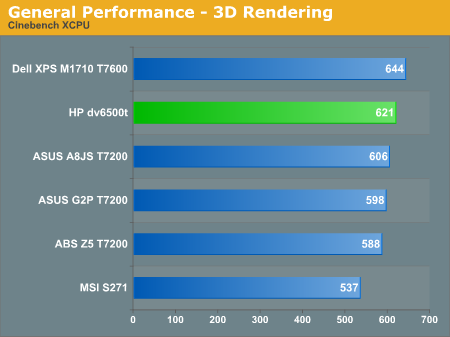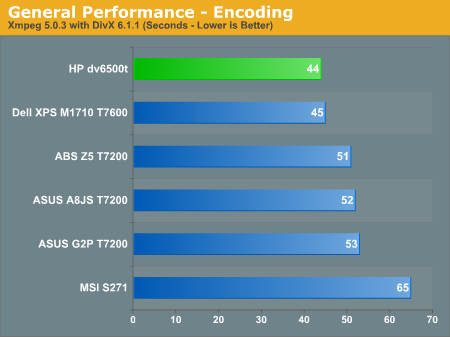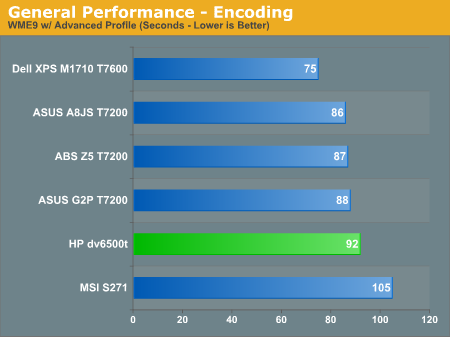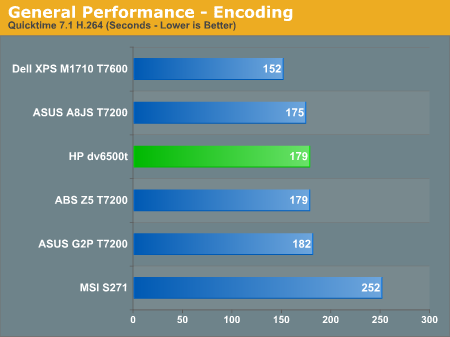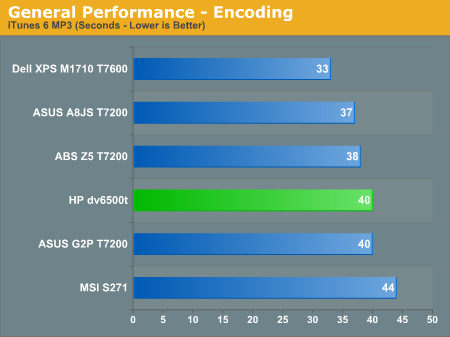 The increased FSB speed helps the T7300 equipped HP notebook outperform the T7200 systems in several of these tests, but also scores at the bottom of the pack on some of the other tests. We also benchmarked with updated versions of iTunes/QuickTime and DivX, and in all cases the performance results were slower with the new versions. Since we do not have results from the new versions for the other laptops, we won't list those, but in future reviews we will be updating our software.
Synthetic Graphics Performance
We don't place a lot of stock with the performance results generated by Futuremark's 3DMark applications, and really the HP laptop isn't designed with gaming in mind -- at least not if you go with the GMA X3100 integrated graphics. What we did find very interesting, however, was that the Intel graphics chip was able to complete
all
of the 3DMark benchmarks without any noticeable problems -- beyond the expected "seconds per frame" results in some of the more complex tests. There's still a lot of work to do on Intel's side of things with regards to drivers, however, and it appears that 3DMark06 is one of the few applications where SM3.0 support is working.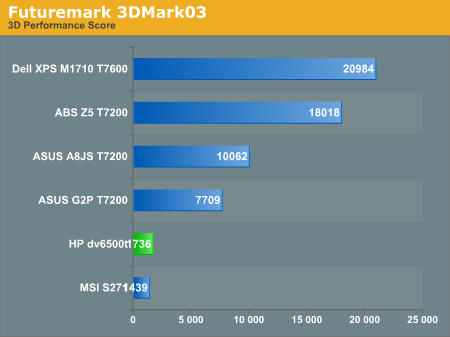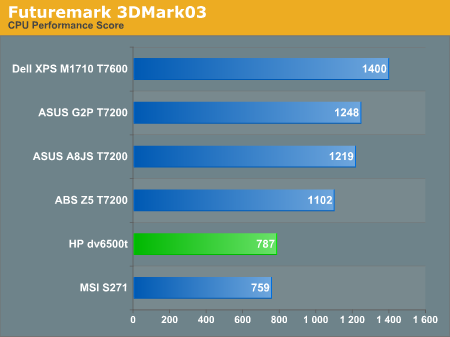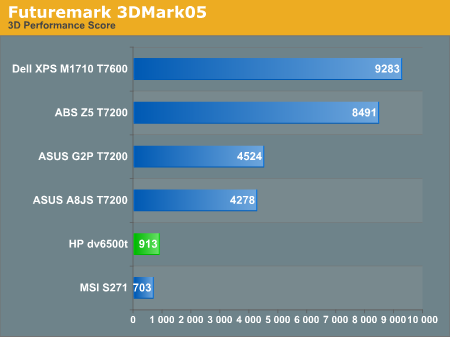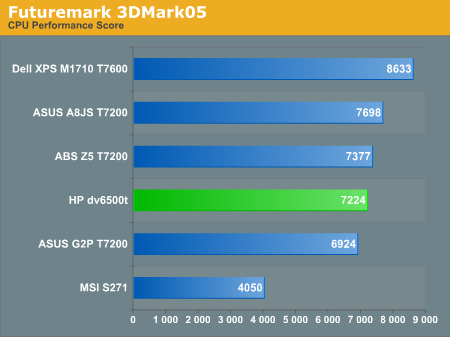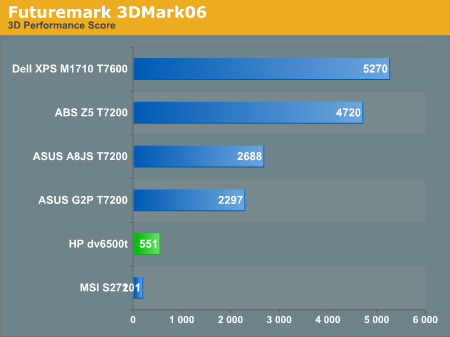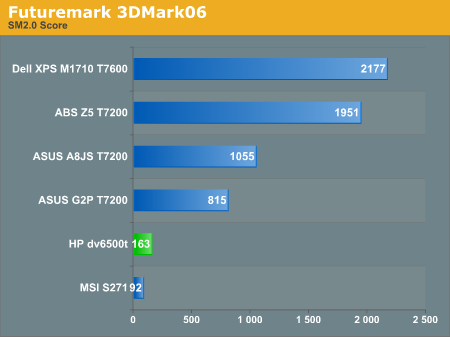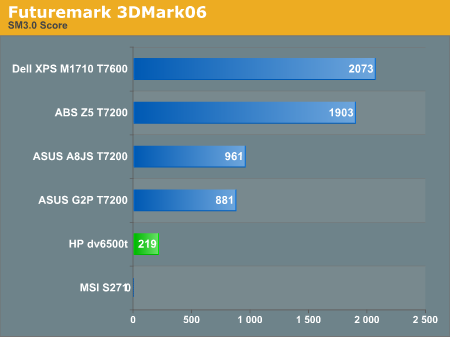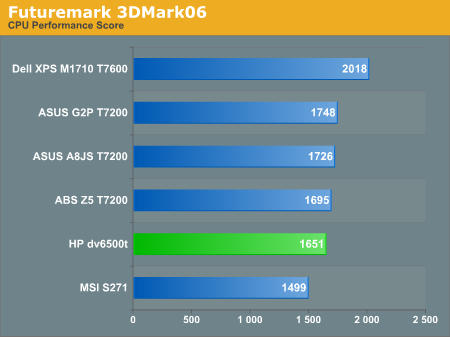 While graphics performance is obviously at the bottom of the Core 2 Duo pack, it is at least somewhat interesting to note that the GMA X3100 appears to be able to outperform the AMD Radeon Xpress 1150. Then again, considering the Radeon Xpress 1150 is slightly slower than a X300 SE discrete graphics card, the performance level we're talking about isn't much. 3DMark06 does require SM3.0 for a couple of the tests, and since the Radeon 1150 doesn't support that feature it is further penalized. Still, the ability for the X3100 to complete all of the 3DMark benchmarks give us some small measure of hope when it came to actually playing games....
Gaming Performance
...And after only a few moments of attempting to run games on the X3100, we were left very disappointed. So disappointed, in fact, that there will be no charts on this page -- and you know how much we love charts! Driver support is definitely lacking right now, and Intel is apparently only now reaching the beta level with their drivers, at least in terms of gaming support. The latest nonpublic drivers apparently support Battlefield 2 among other things, but with the public drivers on pretty much every game we loaded we had to reduce the detail levels to the absolute minimum in order to get acceptable performance. Once that was done, though, quite a few games became playable.
Company of Heroes was one of the surprises, as we could enable all of the graphics options and the game still worked. It averaged about 3 FPS at 1280x800 (and as much as 7 FPS at 800x600) but with many of the more recent titles refusing to run at all we were surprised we got that far. Dropping Company of Heroes to minimum details allowed barely acceptable performance at 1024x768 (24 FPS).
We also managed to run Quake 4, even at high detail settings... but with average frame rates hovering around 2 FPS. Setting all detail levels to the minimum and running at 640x480 resulted in the game almost being playable -- frame rates reached 15 FPS! The same goes for Far Cry: we could run it at all of the various detail settings, but performance was terrible unless we used minimum detail levels. At minimum details, however, frame rates reached almost 25 FPS (even at 1280x800) and you could at least struggle through the game that way if you were desperate.
The list of titles that didn't work properly is quite a bit longer. Oblivion, Supreme Commander, Battlefield 2, Battlefield 2142, F.E.A.R. all failed to run at all. S.T.A.L.K.E.R. actually worked, and at minimum details it could choke out frame rates in the low teens, but it didn't appear to be fully stable and it certainly wasn't what we would consider playable. The Half-Life 2 engine games had some strange behavior where they defaulted to software-based DX9 rendering and they wouldn't let us change the rendering mode.
Long story short, the drivers definitely need more work to even run many games at very low detail settings. Titles that don't leverage any pixel/vertex shaders generally fared better, and of course Windows Vista did manage to run the Aero Glass theme without any difficulties. The bottom line, however, is that the graphics are more suited to business work than anything else. And, honestly, there's nothing wrong with that; as long as people don't go into the purchase expecting GMA X3100 graphics to provide a great DirectX 9 experience, they should be okay. If you want even basic gaming support, you really should spend the extra money for the GeForce 8400M upgrade.
Battery Life
In the past, our standard battery life test has been provided courtesy of MobileMark 2005. Since the laptop isn't available with Windows XP (and we didn't have the necessary SATA drivers to even attempt installing XP), we decided to look elsewhere to determine battery life. Generally speaking, we don't expect people to seriously tax their laptops when they are unplugged, so we tried to come up with a benchmark that would simulate moderate office application use. The other most common battery life test is simply DVD playback, so we looked at that using Star Wars Return of the Jedi as our test DVD.
(Don't complain -- it's a 2.5 hour movie so we didn't have to loop it more than once
!)
For the other battery test, we ended up settling on Internet Explorer and simulated web surfing. We created a script that would start Internet Explorer and load our three home pages, all of which contained quite a few Flash-based advertisements. The script would then sleep for 60 seconds, simulating "reading" the web pages, and then it exits Internet Explorer and repeats the process. Internet Explorer was set to delete all temp files on exit, so it still creates a bit of hard drive activity. Basically, this test corresponds to about the best case scenario you are likely to encounter, while the DVD test is a bit more taxing.
Since we don't have similar results for the other laptops, we'll just report the two scores for each test in a table. It's not too surprising that the double capacity battery pretty much doubles battery life.
Batter Life (Minutes)
HP dv6500t 6-cell
HP dv6500t 12-cell
Internet Explorer
133
246
DVD Playback
105
205
HP also offers a high-capacity 6-cell battery that should improve performance without adding all of the extra bulk of the 12-cell battery, but we didn't receive that battery and we're not quite sure how much more power that battery holds relative to the standard 6-cell. As it stands, the laptop either offers a somewhat limited amount of battery life, or if you get the larger battery you can end up with a pretty good mobile experience. Ideally, we would like to see minimum two hours of battery life, and probably closer to 2.5 hours as that's enough to watch just about any full-length movie on a single charge. Considering the performance isn't particularly stellar, we were hoping that battery life would be better.
Power Consumption
Related to the battery life discussions we've just finished, we have power results. For power testing, we removed the battery from the laptops and measured system power draw at the wall outlet using a Kill-A-Watt device. All laptops were configured to run at maximum performance when plugged into AC power. We tested several different scenarios to try to isolate the power draw of the various components. First, we have the baseline measurement when the system is idle and sitting at the desktop. No applications are running for 10 minutes or more and the screensaver and hard drive sleep mode are disabled. As a CPU load test, we run two instances of Folding@Home at 100%. Finally, for maximum power load we leave the two folding instances running and start 3DMark05. In this way, we can see roughly how much power the GPU is using in 3D mode versus 2D mode.
System Power Draw (Watts)
ABS Mayhem Z5
ASUS A8JS
ASUS G2P
HP dv6500t
Idle
44-49
26-32
43-52
22
100% CPU
67-71
47-52
71-81
57
Maximum
100
71
97
67
Looking at the power requirements of the system, the somewhat disappointing battery life is at least partially explained. At idle, power requirements aren't bad at all, but when the CPU is under load the power of requirements are quite a bit higher. We also noticed that the CPU had a tendency to not kick into the lowest power states; we discovered this using CPU-Z and the processor almost always stayed in the 8x configuration at idle, only bouncing up to 10x when one of the cores was placed under load. Normally, at idle, we're used to seeing the CPU dropping to the minimum power state -- in this case 1.0 GHz. It could be that the slight load that CPU-Z put on the system was preventing this from happening, but it also seems that Windows Vista was impacting the situation. Compared to the ASUS A8Js, the larger screen, hard drive, and faster front side bus all seem to balance out and result in a system that consumes only a bit less power at idle and quite a bit more power at load.
Closing Thoughts
After playing with this notebook for the past several weeks, we end up with a few general impressions. First, you want to make sure you're getting an appropriate notebook for your intended use. As long as you're okay not playing games, you will generally be more than happy with the HP dv6500t. It performs pretty well and has a decent feature set. It doesn't top the performance charts in any of our tests, but it really doesn't need to. For the price, you get a relatively nice entry level/midrange notebook.
Price will likely be a major factor for a lot of people. The dv6500t can be had for as little as $950, but in the basic configuration you lose a lot of the features that make the laptop worthwhile. Memory gets cut down to 1GB, you don't get Microsoft Office, and you lose some of the extras like the webcam and fingerprint scanner. Most users will be better off spending $1400-$1500, which allows you to upgrade the memory, the operating system, the hard drive, and either the graphics card or the CPU. Unfortunately, you're still stuck with the display, and that's one of the areas we personally would really like to upgrade. We're not saying that it needs one of the best quality laptop LCDs available, but something a little better perhaps with a resolution of 1440x900 or 1680x1050 would definitely be appreciated as an option.
Even though the laptop isn't perfect, however, it still does a good job at providing everything most people are likely to want or need. By keeping out most of the high-performance options, temperatures are held in check and the laptop still manages to be somewhat lightweight. If that price is still too high, however, HP has plenty of other similar laptops. Their dv6000z for example is nearly identical but uses AMD Turion X2 processors instead of Core 2 Duo, and you can save about $200 while still getting adequate performance.
One of the items that we haven't mentioned yet is that the integrated speakers are actually quite good for a laptop. They're not going to rival a good set of earphones or any desktop speakers, but compared to most tinny sounding laptop speakers they can provide a decent listening experience and they are loud enough that they could work for doing presentations in smaller group meetings.
We've also had good experiences with HP support personnel. They answer the phone quickly and they are usually able to help us with any difficulties that we "encounter". Since HP is a large company, they provide both 24/7 support as well as on-call support without charging an arm and a leg.
At the beginning of the article, we stated that two of the more important questions in regards to a laptop are the intended market and whether or not the laptop is able to meet the needs of the target audience. For the dv6500t, HP classifies it as an entertainment notebook, and that's more or less a fair description. Depending on what sort of entertainment you want, you might need to make a few changes from the basic configuration that we reviewed -- movie buffs might want to add the HD-DVD drive option, while those who play the occasional game will probably want to upgrade the graphics.
It's obvious that HP did spend some effort trying to keep costs down, and inevitably some corners get cut. The LCD panel is definitely one of those corners in this case, and we would be inclined to do a bit more comparative shopping before spending any money on this particular notebook. Others may not be so demanding, however, and for your typical computer user the dv6500t is a good overall value. The dv6500t is like your basic minivan: it won't turn any heads and you won't set any land speed records, but it will get you where you need to go with a minimum of hassle and you might still have some lunch money left over. This may not be a laptop for enthusiasts, but their parents, friends, or other relatives will more likely than not be quite happy with it.