Original Link: http://www.anandtech.com/show/2251


We recently
reviewed
the ASUS P5K3-Deluxe in our P35 chipset introduction article that provided a first look at 1333 FSB and DDR3 support for current and upcoming Intel processors. We found the ASUS board provided a high level of performance, as did the
Gigabyte GA-P35T-DQ6 DDR3
motherboard in our follow up article. However, neither board offered any real tangible benefits over their DDR2 brethren in our opinion.
Our first look at
DDR3
technology provided a glimpse of where memory technology is headed for the next couple of years. We still do not expect widespread support for DDR3 until 2008 but with the right
DDR3 modules
we have seen performance equaling or bettering that of current DDR2 platforms in several instances.
Considering DDR3 memory is currently selling for a little over two times the cost of very good DDR2 memory, we have a situation where even the most die hard enthusiast would have trouble justifying a purchase even if DDR3 technology looks very promising in the near future. With that in mind we set out on a search to see where the manufacturers of DDR3 motherboards are headed with this new and still expensive technology during our
Computex 2007 visit
.
What we found out is that the board manufacturers are still excited and to some degree looking forward to the eventual switch over to DDR3, but they are still very apprehensive about the current cost factors and performance of early DDR3 memory. They have high hopes that as memory production ramps, costs start to drop, and modules offering enhanced speeds and latencies come onto the market later this summer that the enthusiast sector will start taking a serious look at DDR3 products.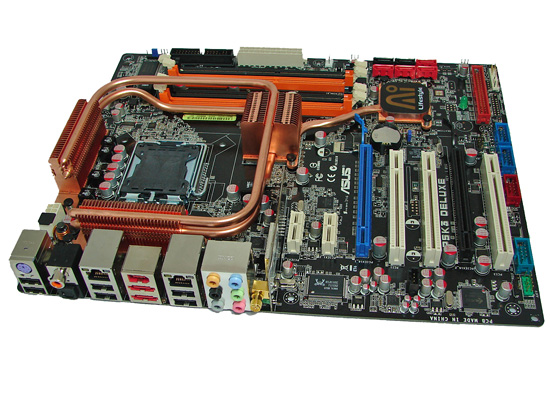 They foresee this technology starting to provide upper echelon performance for a small price premium late this year and expect the Intel X38 chipset to be the catalyst or at least provide the enthusiast sector a reason to take a second glance at DDR3. While we agree with them somewhat, we do not believe DDR2 will go away quietly, especially with AMD promoting DDR2-1066 heavily for their upcoming K10 series of processors and the continued improvements in speeds/latencies we are seeing. In fact, the manufacturers are hedging their bets to some degree by now offering DDR2 capable X38 boards, though in early previews this chipset seemed to really respond best to DDR3.
The question is: what type of DDR3? Based on what we have seen at the various motherboard and memory companies it appears from all indications that the new Micron DDR3-1066 8x128 1GB modules will be the hot product to have for the next few months if you invest in DDR3. We have already seen these Micron modules reach over DDR3-2200 in single channel mode and DDR3-2000 in dual channel mode. The various memory manufacturers who will provide products based upon the Micron IC expect to have it available by the time X38 launches in August.
We have an early production set and while it has at least partially changed our perception about DDR3 performance, until costs are competitive it is yet another impressive "niche" product to have around the labs. We will have a full review of this memory once retail product samples are received but will provide a glimpse of its performance in the ASUS P5K3-Deluxe today. Speaking of the P5K3, let's get to the topic of discussion now.
ASUS P5K3-Deluxe BIOS Changes
In truth, our article today is certainly not a review, and in fact it's not even a preview; let's just call it a quick first look at a couple of new BIOS features and improvements from ASUS. When we met with ASUS during Computex we discussed the new P35 chipset and their products based on it. While we have been very enthusiastic about their P5K series of products there were a few requests that we and in general the enthusiast community would like to see from ASUS and other board manufacturers.
The list was long and ASUS engineering listened intently to us. It was the first time we had unabridged access to some of the product engineers and the BIOS personnel that are typically locked away in the labs when we visit. Sure, we communicate via email or the occasional phone call, but this time we had them where we wanted them. They were out in public with nowhere to hide. As it turns out they were hungry and looking forward to a free meal in daylight even if it meant putting up with us.
One of the areas that we discussed
ad nauseam
was opening up the BIOS options on the upper end motherboards. The main thrust of our conversations centered on opening up the memory/chipset strap and latency settings on the P35 and upcoming X38 boards. ASUS and others have always manipulated these settings in the background while a few manufacturers have at least allowed the user to control the memory strap settings. It has generally fallen upon the
community
itself to provide certain tools and programs to tweak the performance of the boards well past what the manufacturers consider being safe.
Safe!? Well, yes, to a certain degree these types of settings are hidden due to customer support and warranty issues. In other cases, they are certainly hidden from competitors as any advantage that can be gained from the "black box" activities in the labs are usually met with monetary success from the enthusiast community with all other things being considered equal between the boards. This has certainly held true for the P35 products, but we are starting to see a movement now with the mainstream board suppliers in providing advanced BIOS options for the enthusiast.
The first beta BIOS we received after our return from Taiwan was from ASUS for the P5K3 Deluxe board that features improved 1T Command Rate performance and the ability to manipulate the memory strap. The current beta BIOS is 0504 and allows the memory strap to be set at 200/266/333 (Quad pumped 800/1066/1333). We have also been able to utilize 1T settings up to DDR3-1860 with this BIOS and the Micron Memory. In the meantime, we have received beta BIOS 0403 for the DDR2 P5K-Deluxe board and additional BIOS releases this weekend from Gigabyte and MSI. We will be doing in-depth testing of all of these BIOS releases and will provide formal results in our P35 roundup. For those who can't wait, we wanted to provide a few quick screenshots of some memory benchmark results with the 0504 BIOS.
Test Setup
Standard Test Bed
Vista Ultimate 64-Bit Configuration
Processor
Intel Core 2 Duo QX6700
(2.66GHz, 8MB Unified Cache)
RAM
Micron DDR3-1066 (2x1GB) 7-7-7-24
Hard Drive
Western Digital 150GB 10,000RPM SATA 16MB Buffer
System Platform Drivers
Intel - 8.3.0.1013
Video Cards
1 x MSI 8800GTX
Video Drivers
NV 158.45 (Beta Drivers)
CPU Cooling
Tuniq 120
Power Supply
OCZ ProXStream 1000W
Optical Drives
Plextor PX-760A, Plextor PX-B900A
Case
Cooler Master CM Stacker 830
Motherboards
ASUS P5K3 Deluxe (Intel P35) - BIOS 0504
Operating System
Windows Vista Ultimate 64-Bit
.
Our test setup is similar to the same one utilized on our earlier P35 articles with the exceptions being the Micron based DDR3 memory and a change to the MSI 8800GTX instead of Corsair DDR3-1333 and ATI HD 2900 XT video card. The Micron memory allows us to clock the memory higher than the DDR3-1500 range we were limited to previously.
We also found an issue with the 2900 XT card during our overclocking test that has been apparently fixed in preliminary testing with a new VBIOS from AMD. The issue we experienced occurred during a warm reboot sequence from Vista or after changes in the BIOS that led to a blank screen condition or a system that would not boot. We will switch back to the 2900 XT for our roundup article if these issues have truly been fixed.
Everest Memory Performance-
We are providing results with Everest 4.0 as this program is widely available and generates reliable results that can be replicated easily. Our results are based on the best possible memory timings and strap choices we could manage at each setting listed. Please remember, this is not a memory review or in-depth analysis of the memory and motherboard (those are coming along with application results). We are providing a few initial results with this new beta BIOS to show a glimpse of its current capabilities.
10x266FSB 2672MHz 5-5-5-15 1T 800 Strap DDR3-1066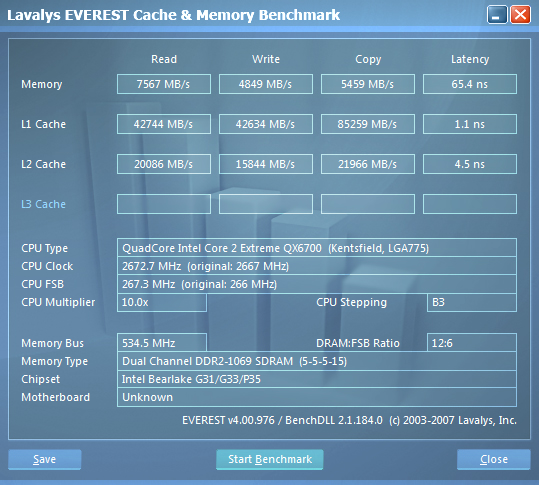 8x333FSB 2671MHz 6-6-6-18 1T 800 Strap DDR3-1333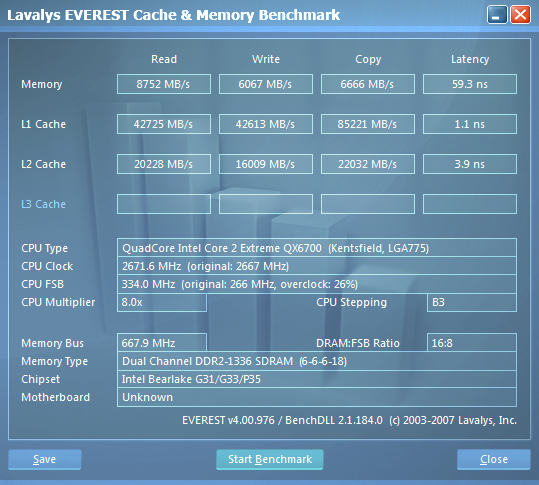 10x360FSB 3600MHz 7-7-7-18 1T 800 Strap DDR3-1440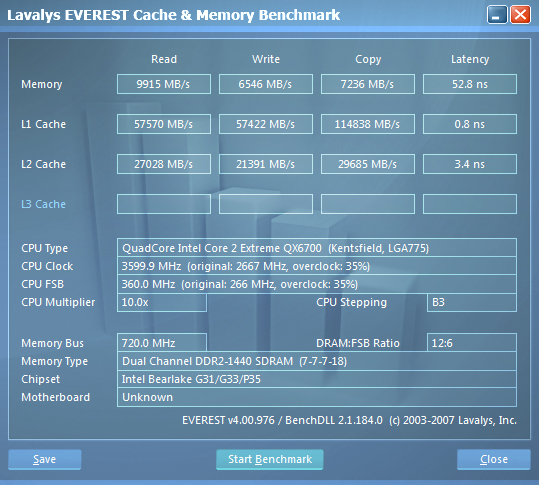 9x400FSB 3600MHz 7-7-7-24 1T 1066 Strap DDR3-1600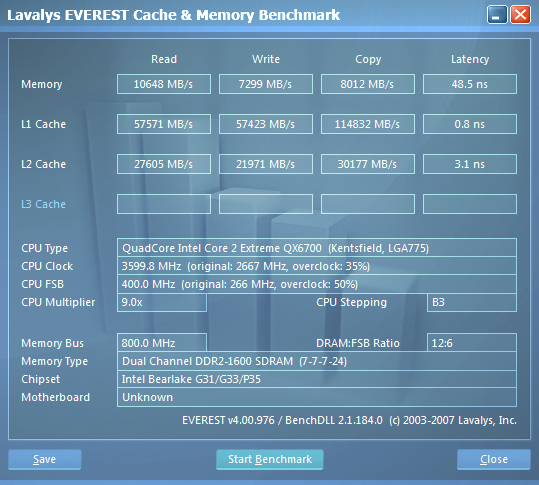 8x450FSB 3600MHz 8-8-8-24 2T 1066 Strap DDR3-1800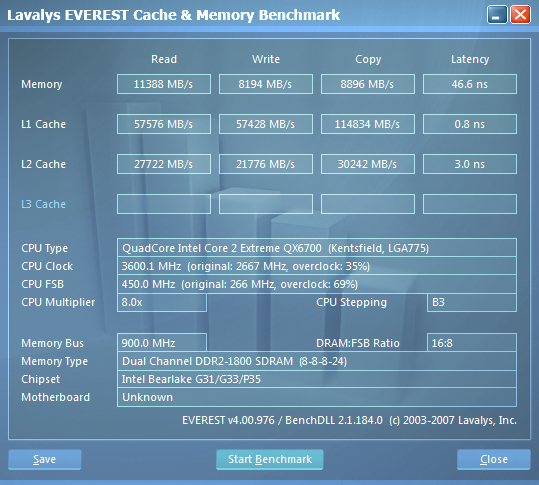 8x465FSB 3720MHz 8-8-8-24 1T 1066 Strap DDR3-1860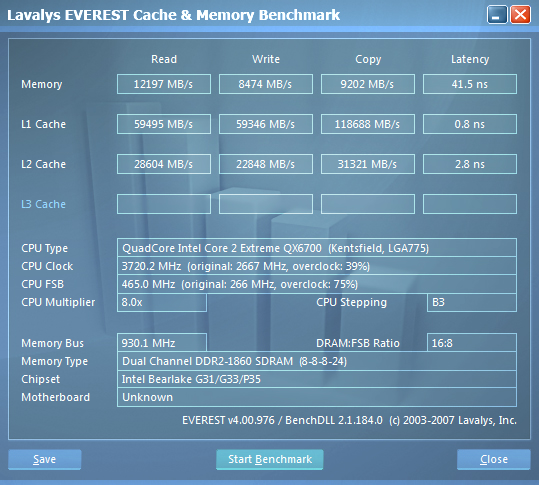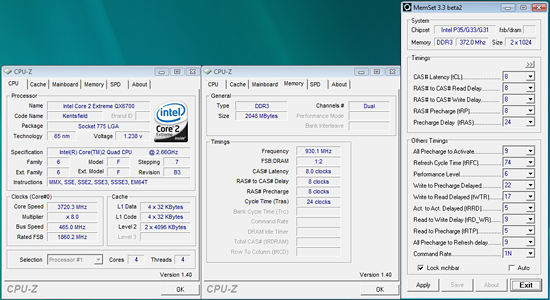 Our first two tests are with the processor set to its stock speed setting of 2660 although the final speed is at 2671+MHz due to a slight difference with the true FSB speeds. Read speeds improve by 15%, write speeds by 25%, and latency by 10% between our 1066 and 1333 memory speeds. We were able to run the system at the 800 memory strap easily up to the 333FSB setting which was impressive to us at first.
However, the actual difference between this and the 1066 strap was less than 2% in our initial comparison tests. The reason being that internal chipset latencies are really loosened up starting about 310FSB in order for the memory to run on the 800 strap. This is an area where ASUS is still fine tuning the BIOS for both performance enhancements and stability. We are also hoping they will allow us to eventually manipulate the chipset strap and latencies. Once the BIOS is finalized we will provide actual comparisons between each strap change but for now the differences between the 800, 1066, and 1333 straps average around 2% between each setting.
Our limit on the 800 strap was around the 360FSB mark with this particular processor. Our E6600 was unable to do more than 320FSB stable yet our E6420 was able to reach 380FSB on the 800 strap. Once we switched over to the 1066 strap for the 3600MHz settings things got interesting between the 400FSB and 450FSB results. We have a 12% increase in the FSB setting that results in read speeds increasing by 7%, latency improves by 4%, and write speeds improve linearly by 12%. We were running 1T settings at DDR3-1600 but had to fall back to 2T at DDR3-1800 as two of our game benchmarks would not run at 1T.
Our previous best overclock results with this board and processor combination was 7x485 and 8x453 at the 1333 strap, but the memory was regulated to DDR3-1500 or under at relaxed timings of 9-7-7-20. ASUS had promised us additional overclocking potential and 1T performance on the Micron memory up to 1900MHz in dual channel mode. We hit a final 8x465FSB setting on the 1066 strap at 1.4825V which is our limit on air cooling for this processor. This resulted in a memory setting at DDR3-1860 at 8-8-8-24 1T settings at 1.95V. Unlike our 450FSB settings, 1T stability was simply superb at this setting. Although we only had a 3% increase in CPU and FSB speeds, we see read speeds improving by 7%, write speeds linearly at 3%, and latency drops by an impressive 12%.
Sandra UnBuffered Memory Performance-
Our second set of results is generated by SiSoftware Sandra and is once again a program that is widely available and generates reliable results that can be replicated easily. Our UnBuffered results are based on the best possible memory timings and strap choices we could manage at each setting listed. We generally find that Sandra's UnBuffered scores translate to improved results in applications that are memory sensitive.
10x266FSB 2672MHz 5-5-5-15 1T 800 Strap DDR3-1066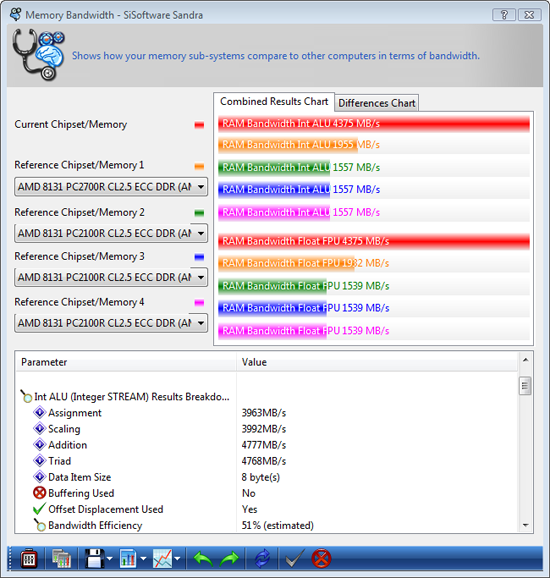 8x333FSB 2671MHz 6-6-6-18 1T 800 Strap DDR3-1333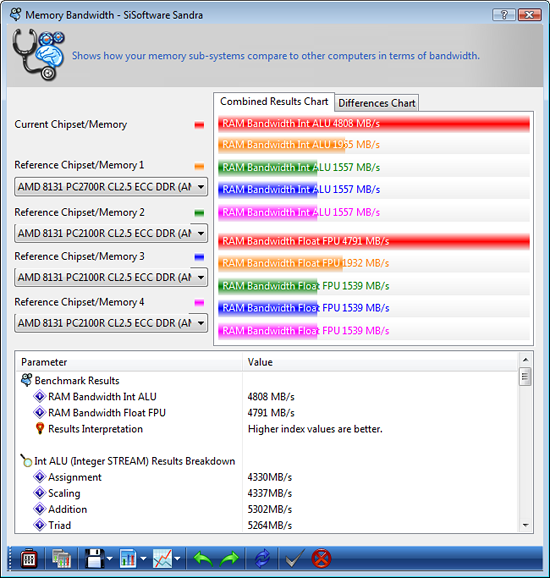 10x360FSB 3600MHz 7-7-7-18 1T 800 Strap DDR3-1440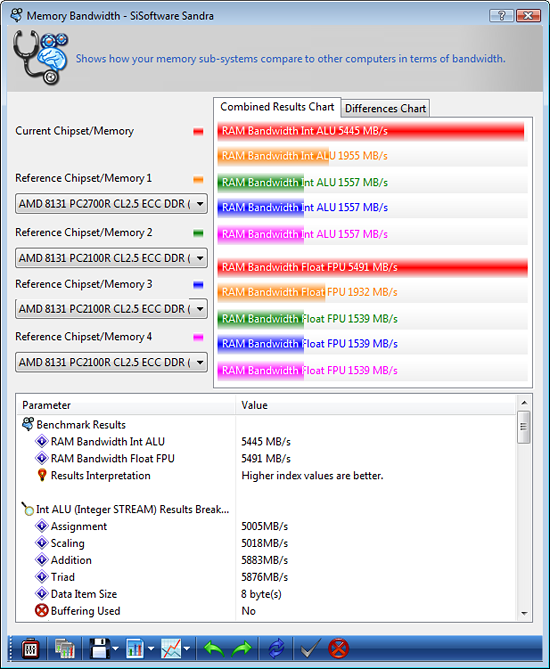 9x400FSB 3600MHz 7-7-7-24 1T 1066 Strap DDR3-1600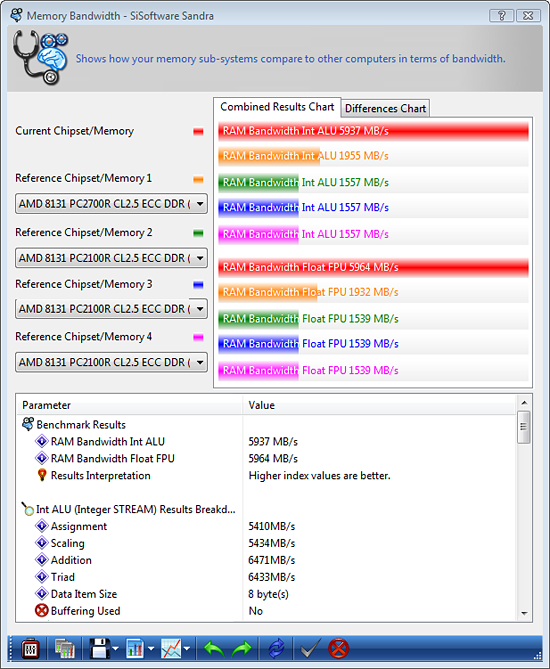 8x450FSB 3600MHz 8-8-8-24 2T 1066 Strap DDR3-1800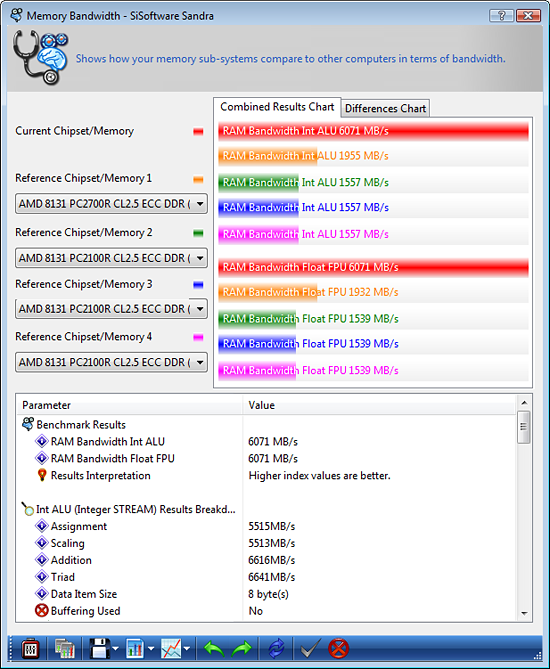 8x465FSB 3720MHz 8-8-8-24 1T 1066 Strap DDR3-1860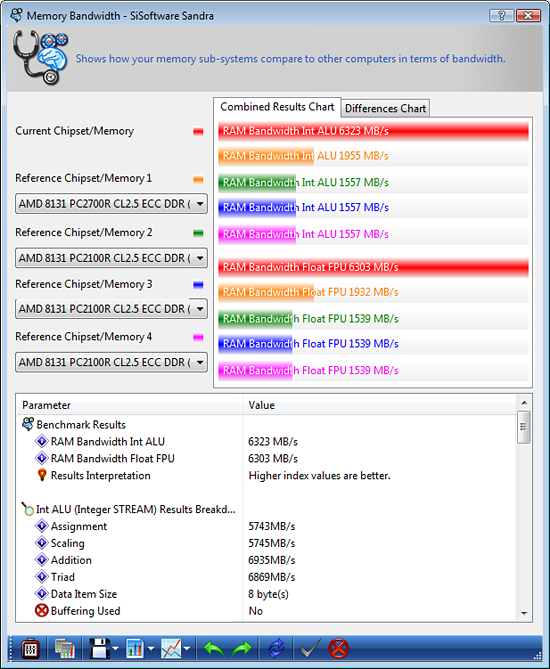 We notice a 9% improvement in our stock CPU results in the first two tests. The differences between our 8x450FSB and 8x465FSB results is right around 4%, just slightly above our 3% increase in CPU and FSB speeds. Overall, our Sandra results scale very well as we progress through each setting. In this particular test, we noticed the difference between the 10x360 800 and 1066 strap settings was right around the 1% mark.
SuperPi 1.5 8M Performance-
9x400FSB 3600MHz 7-7-7-24 1T 1066 Strap DDR3-1600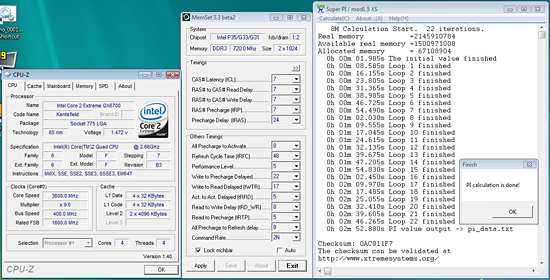 8x450FSB 3600MHz 8-8-8-24 2T 1066 Strap DDR3-1800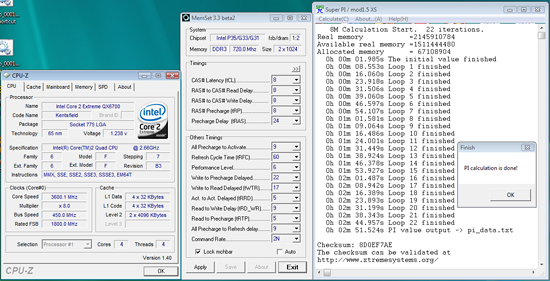 We decided to throw in a couple of SuperPi 8M results at 9x400 and 8x450 for those of you who utilize this program for performance tuning. We will have full 32M results shortly.
Ouick Thoughts
ASUS has provided us an early peek at some of their planned improvements for the P5K series of motherboards that include the ability to manipulate the memory straps and greatly increase the range of 1T performance with the proper memory choice on the DDR3 product. However, we are hesitant at this time to provide full application results with this beta BIOS. Since this is a beta BIOS we found a few quirks during testing such as the BIOS setting the PCIe link speed to x2 or x4 speeds at certain FSB and memory strap settings.
The main reason is that chipset latencies have not been tuned properly yet when changing the memory straps. The type of performance advantages we have seen on boards such as the Intel BadAxe 2 975X and DFI Infinity P965-S when pushing the memory straps at high FSB speeds is not present in this BIOS release yet. This does not mean there are not any performance advantages but at this time we only noticed a difference of around 2% between each strap setting when reaching the maximum FSB point when a strap change is required. As it stands now, setting the Transaction Booster option to enabled and 1 generally provides the biggest performance advantage on this board along with maximizing memory timings.
The most impressive aspect we have noticed is the ability to run 1T timings up to DDR3-1860 in dual channel mode with the Micron IC based modules. In internal testing we have noticed improvements of up to 4% in memory sensitive applications at this time. The average range being around 2% but every little bit helps when trying to maximize the performance on a $300 motherboard. Overall, we believe ASUS is taking a step in the right direction and we look forward to bringing you full test results on the DDR2 and DDR3 motherboards once the BIOS is ready for release.