Original Link: http://www.anandtech.com/show/2228


Centrino has been with us now for four years and for the fifth time since its introduction, we are seeing the platform updated. You've been hearing about this most recent Centrino upgrade for almost a full year; originally due out in Q1 2007, Intel's latest Centrino platform codenamed Santa Rosa has been a bit delayed.
The road to Santa Rosa has been a ridiculously successful one for Intel. The first Centrino platform was introduced in March of 2003 under the codename Carmel. The Carmel platform featured the very first Centrino CPU, codenamed Banias. Adding the first mobile Centrino chipset and an Intel 802.11b wireless solution completed the Centrino package. The first Centrino was honestly a success mainly because of its CPU; it was much better from a power efficiency standpoint than anything else in Intel's arsenal and competed favorable with the best AMD offered in notebooks at the time.
Almost 16 months later, in July 2004, Intel updated Carmel with support for its second generation Centrino CPU, codenamed Dothan. Dothan added a larger cache and introduced a number of architectural fixes that couldn't be included in time for Banias' launch the previous year. Dothan didn't shatter performance expectations as Banias did, but performance did go up thanks to the minor improvements here and there. The Centrino platform as a whole eventually got an update with Sonoma, which combined Dothan with a new chipset and 802.11g wireless.
Next up was Napa, which was the most revolutionary change to Centrino that we had seen since its introduction. The first dual core notebook platform from Intel, Napa amazingly enough offered better performance than its predecessor at no detriment to battery life. You got twice the cores, but under the same workload battery life didn't go down. Napa was eventually updated to support the latest Core 2 Duo processors, but it launched with the Yonah based Core Duo CPUs. As the first dual core Centrino, Napa introduced us to the Centrino Duo name.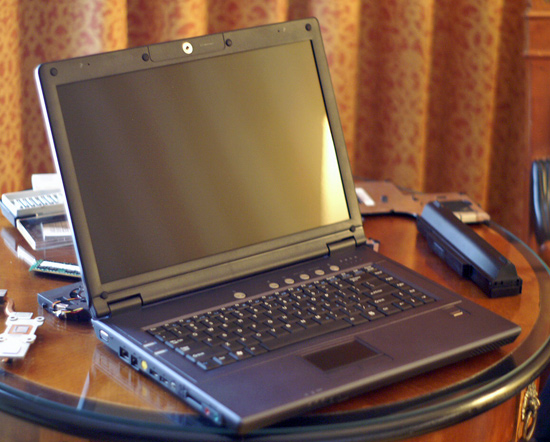 Today is the official launch of the new Centrino, and just by following history we can expect Santa Rosa to be an evolutionary improvement akin to what we saw with the Carmel -> Sonoma transition. We're also getting the impression that despite the delays, availability is still not up to par with previous Centrino platforms. We contacted all of the usual suspects for their new Santa Rosa based designs but have yet to see any in house. While we've been promised that many are coming, this article will have to serve as more of a preview than a review given that we've only been able to test a single Santa Rosa platform and as you will soon see, it was not without flaws.
As with previous Centrino platforms, if the OEM building the system buys all of the right components (CPU, chipset, wireless adapter) then it gets to call its notebook a Centrino system. More specifically, with the Core 2 Duo processors, the platform name OEMs get to use is Intel Centrino Duo. There's another moniker that can be used, which is Intel Centrino Pro, however this one is reserved for systems targeted at the business environment where Intel vPro technology is implemented. The hardware requirements for Centrino Duo and Centrino Pro are the same, the only difference being whether or not vPro is supported.
Later this year, Santa Rosa will be updated to support Penryn based mobile CPUs much like Napa was updated in the middle of its life cycle to support Merom, albeit launching with support only for Yonah. Santa Rosa will be replaced in about a year by Montevina, which will add WiMAX support among other things.
The Santa Rosa CPU:
As with all Centrino platforms, Santa Rosa is the codename given to a combination of Intel components: CPU, chipset and wireless Ethernet. With Santa Rosa there's a new optional fourth component, now called Intel Turbo Memory but at one point it was known as Robson.
The Santa Rosa CPU is the same 65nm Merom based Core 2 Duo processor that was introduced last year with a few minor changes. The most noticeable change is that Santa Rosa CPUs can support up to an 800MHz FSB, up from 667MHz. The Core 2 Duo is a data hungry CPU, and thus giving it a faster FSB should improve overall performance when plugged in. A faster FSB is also necessary as Intel increases clock speeds; the faster your CPU runs, the faster it needs data to work on in order to operate efficiently.
Along with the 800MHz FSB, Intel introduced SpeedStep technology for its FSB. In previous Centrino platforms, the CPU could throttle its clock speed based on demand by simply adjusting its clock multiplier on the fly. For example, a 2.33GHz mobile Core 2 Duo runs at a 14x multiplier of its 667MHz FSB (166MHz clock frequency x 14.0 multiplier). Under light load, the CPU can reduce its clock multiplier while keeping its FSB frequency the same to reduce power consumption.
With Santa Rosa, Intel can throttle both the CPU multiplier and the FSB frequency in order to conserve the most amount of power when necessary. The FSB frequency can run at a full 800MHz or at 50% of its frequency, 400MHz. The ability to scale back FSB frequency means that idle power of Santa Rosa could actually be much better than previous Centrino platforms.
The product lineup hasn't changed too much with Santa Rosa, there are simply 800MHz FSB mobile Core 2 Duos in the mix now:
Intel Core 2 Duo Processor Launch - Santa Rosa Merom
Processor
Core 2 Duo T7700
Core 2 Duo T7500
Core 2 Duo T7300
Core 2 Duo T7100
Core 2 Duo L7500
Core 2 Duo L7300
Process
Technology
65nm
65nm
65nm
65nm
65nm
65nm
Cache Size
4MB
4MB
4MB
2MB
4MB
4MB
Enhanced
Deeper Step
Technology
Yes
Yes
Yes
Yes
Yes
Yes
Processor
Speed
2.40 GHz/
800 MHz Battery
2.20 GHz/
800 MHz Battery
2.00 GHz/
800 MHz Battery
1.80 GHz/
800 MHz Battery
1.60 GHz/
800 MHz Battery
1.40 GHz/
800 MHz Battery
Voltages
1.0375 - 1.3V
1.0375 - 1.3V
1.0375 - 1.3V
1.0375 - 1.3V
.9 - 1.2V
.9 - 1.2V
Bus Speed
800MHz
800MHz
800MHz
800MHz
800MHz
800MHz
TDP
35W
35W
35W
35W
17W
17W
Median Average Power
<1.1W
<1.1W
<1.1W
<1.1W
<1.0W
<1.0W
Pricing 1Ku
$530
$316
$241
$209
$316
$284
.
Other than that, there are no more changes to the CPU. You already get a good idea that Santa Rosa is the most evolutionary of Centrino platforms we've seen introduced just based on the relatively few improvements made to the CPU. Despite the minor changes to the CPU, Intel has introduced a new socket pinout with Santa Rosa, meaning that these new Merom chips won't work in older platforms and vice versa.
A new, old Chipset:
In Intel's recent tradition, last year's mainstream desktop chipset is now this year's mobile chipset of choice. The Intel 965 Express chipset is now offered in mobile form for use with Santa Rosa, and with it comes updated integrated graphics. As we discovered on the desktop, Intel's G965 graphics performance left a lot to be desired but we are not sure if things have improved since our initial looks at the platform as the test notebook Intel shipped us used discrete graphics.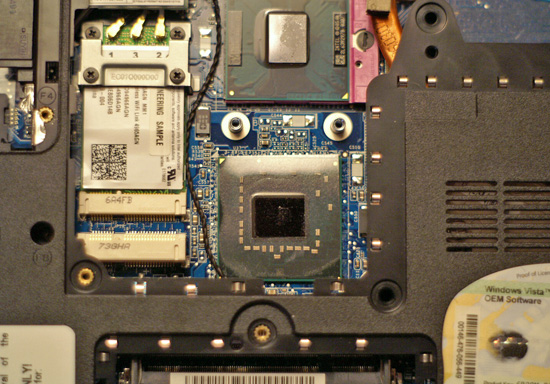 From a mobile standpoint, the major new feature that the 965 Express chipset brings Centrino is a helpful reduction in power consumption. We originally described the improvement in our IDF coverage last year:
"In the Core 2 Duo's lowest power state, often referred to as Enhanced Deeper Sleep, all data in its cache is flushed to main memory and the cache is powered down to conserve battery life. Otherwise, if the memory controller is still handling memory requests, it will continually wake the processor up looking for data in its cache, even though the cache is empty."
The new 965 chipset goes through a handshaking process with the CPU so it knows when the Core 2 processor's cache has been flushed, thus knowing not to wake it up until it absolutely needs to. It sounds like a simple fix but it should result in reduced power consumption."
Obviously support for the 800MHz FSB is a necessary part of Intel's mobile 965 chipset lineup, but that goes without saying, and DDR2-667 is still the memory of choice for Santa Rosa; we won't see a move to DDR3 until Montevina in 2008. There's nothing more to see here, let's talk about wireless and Robson.
N:
Wireless networking support has always been a key ingredient to the Centrino mix, dating back to its introduction four years ago. With Santa Rosa, Intel made its 4965AGN PCIe wireless solution a part of the Centrino platform. The 802.11n wireless solution isn't anything revolutionary as we've seen other N solutions used in notebooks, although Intel is confident that its solution has better range and sensitivity than its competitors. We're working on confirming Intel's claims but have not been able to do so given limited time with our Santa Rosa platform. There's a clear improvement compared to Intel's 802.11g solution used in the previous generation Centrino platform, but that is to be expected.
Intel has put marketing dollars behind its 802.11n wireless solution with the Connect with Centrino campaign. The idea is that if you see this logo on any 802.11n product, specifically wireless routers and access points, that they have been specifically tested with Intel's 802.11n solution and should work just fine. While the problems with 802.11n components aren't nearly as bad as they were when the first .n solutions arrived, the extra peace of mind never hurts.
Hello Mr. Robson:
Intel's Robson technology has been an integral part of Santa Rosa, but one we've been skeptical about for quite some time. Robson, which is known as Intel Turbo Memory, is 1GB of NAND Flash and a flash controller on a mini PCIe card bundled as an optional part of Intel's Santa Rosa Centrino platform.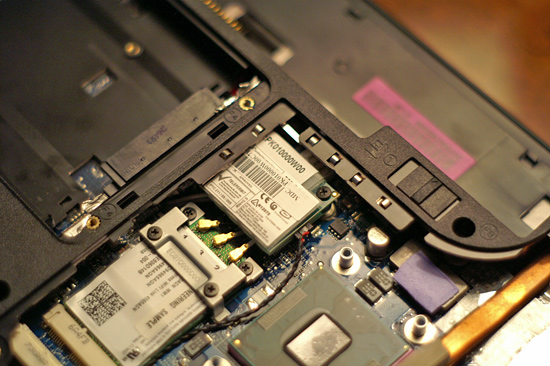 Intel Turbo Memory is designed for use with Windows Vista, in particular it is designed to accelerate disk operations through the use of Vista ReadyBoost, ReadyDrive and SuperFetch.
We covered ReadyBoost and SuperFetch in our Vista Performance Guide; ReadyBoost uses NAND Flash primarily in the form of USB flash drives to cache the system pagefile. The idea being that instead of swapping to/from disk when you run out of memory, you can use relatively quick to access NAND flash to hopefully improve performance. By nature, ReadyBoost makes the biggest difference on systems configured with less memory than they actually need. As we found in our tests, ReadyBoost made a difference in performance but only in very memory limited situations, and often times the performance improvement wasn't enough to make the system any more usable in those situations. With Intel Turbo Memory, 512MB of the 1GB of memory on the mini PCIe card is reserved for ReadyBoost - the remaining is used for ReadyDrive and SuperFetch.
While ReadyBoost is designed for systems that have less memory than they need, SuperFetch is useful if you have more memory than you need. SuperFetch is Vista's intelligent prefetching that looks at application usage and pulls frequently used data into main memory to improve things like application launch time.
ReadyDrive is the only element of Windows Vista that we have yet to test because it requires the use of either technology like Intel's Turbo Memory or Hybrid Hard Drives. ReadyDrive uses half of Intel's Turbo Memory (512MB) as a cache for disk I/O, much as a CPU's L2 cache works to cache frequently used data from main memory. With frequently used data stored in Intel's flash memory, the main hard drive can power down thus saving power, and performance could be improved given the relatively low latency access of flash memory.
Intel's Turbo Memory is enabled through BIOS and driver support. Once installed, the driver allows Intel's flash to interface directly with Vista's ReadyBoost, ReadyDrive and SuperFetch mechanisms - telling the OS to write directly to it instead of waiting for an external USB device. With tight BIOS and driver integration, Intel claims that prefetching can happen immediately upon power up which should in theory reduce system startup time from a completely off state.
Vista can also do some neat things with Turbo Memory thanks to the fact that the flash is internal to the system and stands no chance of being removed while the system is running. When a notebook goes into hibernate mode, data is written from main memory to disk and the system is eventually powered off. With Turbo Memory, the system can write the system state to Intel's flash and recover directly from it instead of waiting for the disk to spin up and pulling the data that way. In theory, Turbo Memory will not only reduce boot time but also the amount of time it takes to go into and come out of hibernate mode.
Testing Turbo Memory:
On paper, Intel's Turbo Memory appears to be a sure win and seemingly the type of thing you'd want on every system. The problem is that despite what you'd expect, we have yet to see any tangible performance increase from using Intel's Turbo Memory.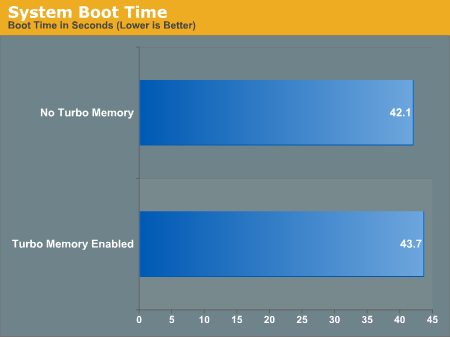 Not only did boot times not improve with our Santa Rosa test platform (sent to us by Intel), but enabling Intel Turbo Memory caused the system to take even longer to hibernate than with it disabled: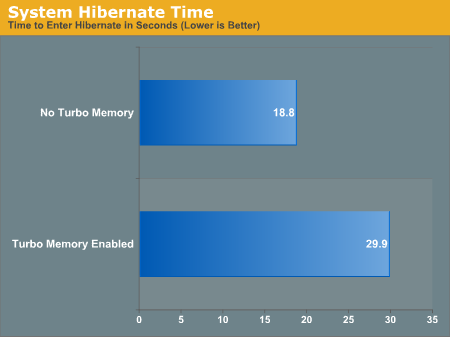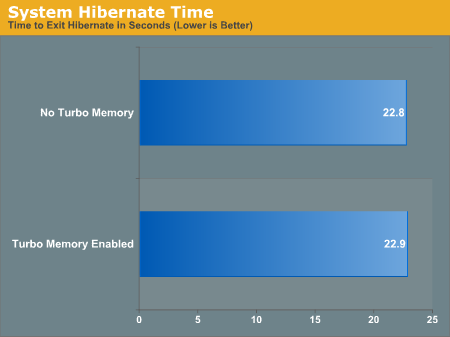 Intel confirmed that the system it sent us saw no improvement in system boot times, but the blame was placed on the manufacturer of the whitebook system. According to Intel, something in the BIOS was implemented incorrectly causing a lack of positive impact due to Turbo Memory. Intel couldn't get us an explanation as to why our hibernation results were what they were.
Intel did say that other reference designs and its customers products appear to show clear benefits with Turbo Memory enabled; why Intel did not choose to send one of these working products for review is beyond our scope of understanding.
We ran our entire benchmark suite with Turbo Memory enabled as well as disabled, hoping to find a situation where the additional flash memory would be useful but alas we were left with nothing. We even turned to PCMark '05 and its HDD test suite, once again hoping for something positive to look forward to: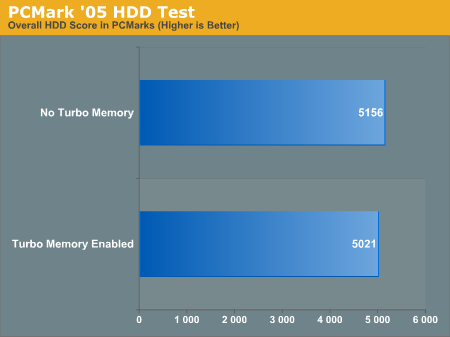 As you can see above, we were once again left with nothing. According to Intel, we should be seeing somewhere around a 15% improvement in the PCMark '05 HDD test but we simply couldn't find it. We tried reinstalling the drivers, OS, benchmarks, anything and everything to get good results out of Intel's Turbo Memory but were met with nothing but disappointment.
The Test:
Santa Rosa Test Bed
Performance Test Configuration
Processor
Intel Core 2 Duo T7700
(2.4GHz, 4MB Unified Cache)
Chipset
Intel PM965 (800MHz FSB)
RAM
DDR2-667 (2x1GB), 5-5-5-15
Networking
Intel 82566MM Gigabit, Intel 4965AGN WiFi (802.11n)
Hard Drive
Hitachi 7K100 80GB
System Platform Drivers
Intel - 8.2.0.1014
Video System
NVIDIA GeForce 8600M
Video Drivers
NVIDIA 158.18
Audio
Intel HD Audio
Operating System
Windows Vista Ultimate 32-bit
.
NAPA Test Bed
Performance Test Configuration
Processor
Intel Core 2 Duo T7600
(2.33GHz, 4MB Unified Cache)
Chipset
Intel 945PM (667MHz FSB)
RAM
DDR2-667 (2x1GB), 5-5-5-15
Networking
Integrated Gigabit LAN, Intel Pro Wireless 3945 (802.11g)
Hard Drive
Hitachi 7K100 80GB
System Platform Drivers
Intel - 8.2.0.1014
Video System
ATI Radeon X1600
Video Drivers
ATI V8.352.1
Audio
Intel HD Audio
Operating System
Windows Vista Ultimate 32-bit
.
For our test Intel sent us an unbranded OEM whitebook built around its new Santa Rosa platform. While serving as a fine platform to test Santa Rosa on, it didn't give us much opportunity for direct comparison to other Centrino designs. Given that the Santa Rosa Merom CPU and the Napa Merom CPU aren't interchangeable due to different pinouts, developing an apples to apples comparison became rather difficult.
We turned to our original Napa test platfrom from our first Merom article, the ASUS Z96j. Outfitted with a Core 2 Duo T7600 (2.33GHz), and the same DDR2-667 memory and hard drive from our Santa Rosa test bed, it was the closest competitor we could find. Of course the Z96j used a mobility Radeon X1600 while our Santa Rosa test platform used a GeForce 8600M, so we couldn't perform any 3D gaming tests comparing the two (there will be a follow-on article looking at the performance of the GeForce 8M series of GPUs).
Using two very different notebooks made battery life comparisons meaningless: they had different screens, different GPUs and different batteries. But we did look at average power consumption between the two notebooks to give us some indication of the battery life of this new Centrino platform compared to its predecessor.
Honestly there's much more testing that has to be done in order to give us a true verdict on the Santa Rosa Centrino platform, the majority of which will force us to wait for a better test platform. The verdict is still not out on Turbo Memory as you've already seen and we do need to look at the range and power consumption of Intel's 802.11n solution compared to its competition in the market. Once better Santa Rosa platforms become available for us to test, you can expect a follow-up to this article focusing on what we've left out.
Note that in our charts we have two Santa Rosa bars, one listed as w/ TM, indicating that Turbo Memory was enabled for that configuration.
General Performance - SYSMark 2007:
After years of waiting we can finally move away from SYSMark 2004 as BAPCo has just released SYSMark 2007, its latest benchmark suite that boasts full Vista compatibility (only 32-bit however). As always, SYSMark is divided into a number of individual performance categories, which together provide an overall performance score for the system.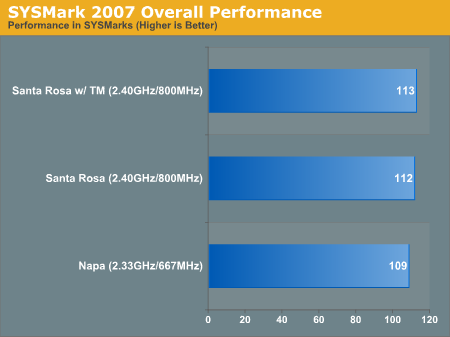 Remember that the Santa Rosa platform has a CPU that runs at a slightly higher clock speed (2.87% faster), so some of the performance advantage we're seeing here is simply due to the higher clock speed. Even if you don't take that into account, the new platform offers at best a less than 4% advantage over its predecessor. As we mentioned earlier, unlike previous Centrino updates, Santa Rosa isn't about an increase in CPU performance.
General Performance - WorldBench 6 Beta 2:
The latest version of WorldBench also boasts Vista support with a much needed update to the benchmark's application suite.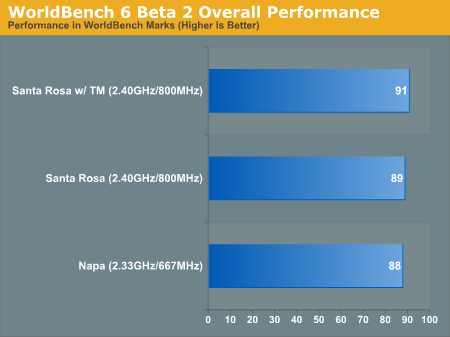 We see the same sort of performance advantage here as we did in SYSMark 2007, there's a slight edge to Santa Rosa but nothing tremendous as you'd expect.
Media Encoding - DivX & WME9:
We turned to our DivX and Windows Media Encoder tests to provide a quick look at whether the faster FSB changed media encoding performance all that much: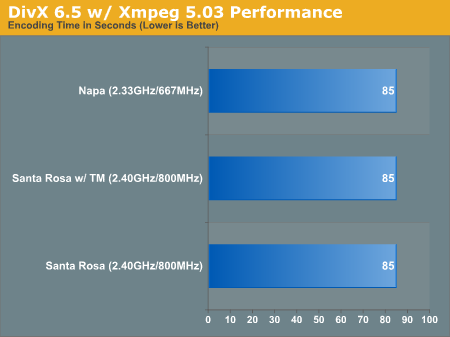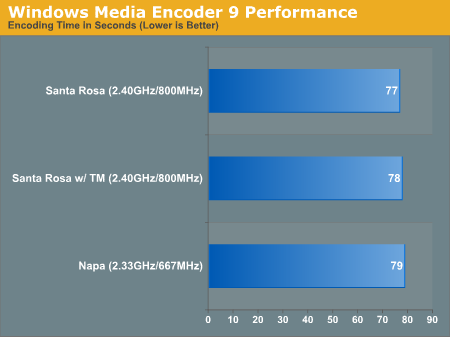 For the most part, it didn't. Performance remained relatively unchanged between platforms, it looks like the increase in FSB frequency was mostly to enable future higher clock speeds.
3D Rendering - 3ds max 9 & CineBench:
Our final two tests are our 3D rendering favorites: 3ds max 9 and Cinebench 9.5.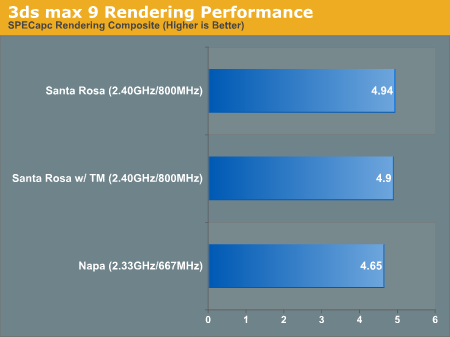 Under 3ds max 9 we actually see a decent performance increase due to the faster FSB, over 6%. While it's not huge, it is representative of a situation where the previous Centrino platform was FSB bandwidth limited at current CPU clock speeds.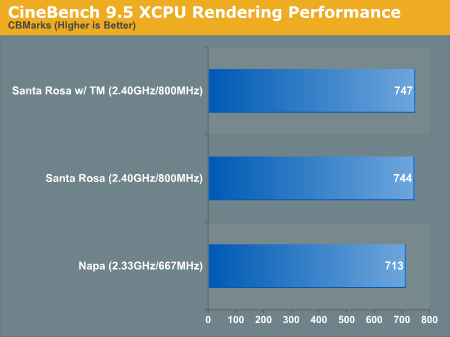 Cinebench 9.5 gives us a similar result, with an almost 5% performance improvement on the new platform. Once again it's not huge, but it's the biggest performance gain we've seen for the new platform.
Power Consumption:
As we mentioned on our test page, we couldn't do an apples to apples comparison of battery life between the old Centrino and the new Santa Rosa platform due to having two very different notebooks. That being said, we did want to look at power consumption to get a vague idea of how these systems compared in power draw.
We looked at power consumption at idle and under 100% load while running our WME9 test: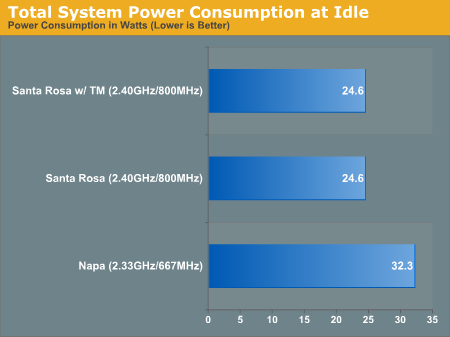 At idle, our new Santa Rosa platform actually uses less power than its predecessor. We wouldn't put too much weight in this number because it could be due to a number of factors unrelated to the new platform, although the ability to run at a lower FSB at idle could most definitely play a large part.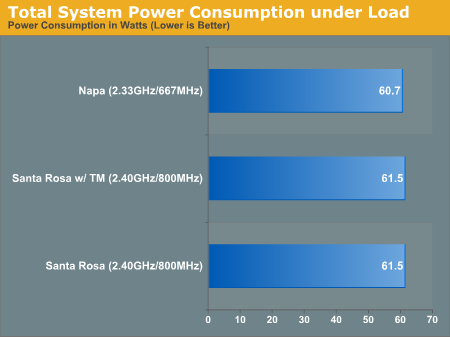 Under load, we have Santa Rosa consuming a bit more power than its predecessor, which is honestly what we'd expect. With a faster FSB and no real improvements to power management when the CPU is under load, Santa Rosa will eat up the minutes left on your battery quicker than its predecessor when you're actually getting work done. At idle, we'd honestly expect it to be a toss up between Santa Rosa and its predecessor, with the new platform possibly even coming in a bit lower on the power meter thanks to the enhancements made to the platform. Remembering that the two power management features Intel added to Santa Rosa (adjustable FSB frequency and chipset-CPU handshaking improvements) only work during idle periods, this generalization about battery life makes sense.
Adding Turbo Memory into the mix could change things as it is supposed to increase battery life, but we simply don't know at this point. We didn't see any change in power consumption with Intel's Turbo Memory enabled or disabled, but that could be the fault of our test platform.
Final Words:
Intel's Centrino platform has been the sum of a series of evolutionary steps, each building on a very solid foundation originally introduced in 2003. Each step along the way brought us new technologies, better performance, and longer battery life. Unfortunately, with such high expectations for constant improvements in performance and power efficiency, it's not too difficult to feel let down by Santa Rosa; there's simply no tangible performance improvement for the vast majority of applications. For the first Centrino platform with no major CPU enhancements, we have to look to the platform for the real attraction to Santa Rosa.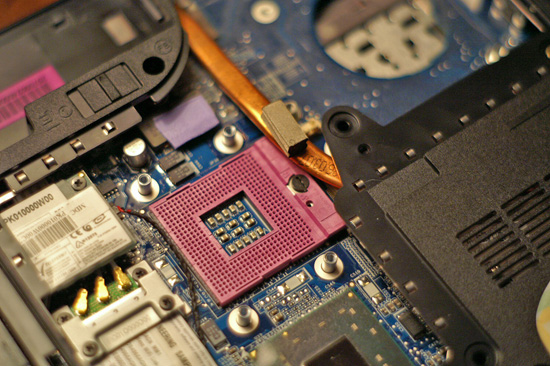 The inclusion of 802.11n is a nice feature, however later versions of Intel's Napa Centrino platform began shipping with 802.11n support, which steals some of Santa Rosa's thunder. Santa Rosa does bring improved integrated graphics, in theory, but without being able to test it we're unsure of its impact on notebook usability and battery life.
That leaves Intel's Turbo Memory as the saving grace for the platform. While we would love to give you the final verdict on Intel's Turbo Memory today, we simply can't. From what we've seen, it's unimpressive, however Intel does claim that we should be seeing more than what we are. When we find out why, you'll be the first to know, until then - we see no reason to upgrade.
If you're in the market for a new notebook anyway, Santa Rosa becomes a lot more attractive. It comes with all the latest features, and with NVIDIA's newly launched
GeForce 8M Series
you could get DirectX 10 support in the mix as well. Assuming relative price parity between Napa and Santa Rosa notebooks, there's quite a bit of new hardware available starting today. If you've been waiting for the right time to buy a new notebook, your wait may be drawing to a close. If you already have a decent laptop, however, we wouldn't rush out to replace it anytime soon.