Original Link: http://www.anandtech.com/show/2227


Introduction
One of the fastest-growing sectors in the world of computers is the notebook market, which has been experiencing double-digit annual growth for quite some time. If the current trend continues, notebook sales will eclipse desktop sales within the next five to ten years. That's not too surprising, considering personal computers have ingrained themselves into just about every part of our society, and being able to easily transport them serves to further their quest for world domination. All we need now is for greater proliferation of high-speed wireless networks and it's only a matter of time before SkyNet begins wiping us off the face of the earth....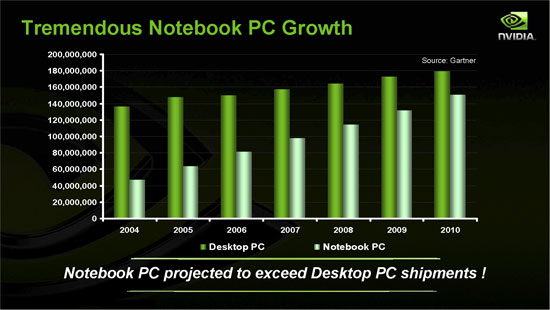 Terminator references aside, the reality is that computers have become a commodity item and performance requirements have begun to plateau. Not only does that mean less frequent upgrades for the less dedicated computer users, but it means the performance that the latest and greatest desktop solutions offer is often unnecessary for your typical computer user. The fastest desktop solutions continue to be well over twice as fast as the best mobile solutions, but there are plenty of people still running four or five year old computers without any complaints. Simply put, the convenience factor of being able to pick up a notebook and carry your work with you at a moment's notice makes them very attractive.
Of course, just because many people are able to use several year old computers without complaining doesn't mean that the various hardware manufacturers aren't looking for new ways to get us to upgrade. Windows Vista, new games sporting improved graphics, and the latest multimedia applications can all tax even the fastest computers, which means those of us who like to keep up with the Joneses will inevitably be faced with more upgrades.
Performance wise, NVIDIA has basically been dominating the mobile sector for quite some time. ATI managed to stay competitive on the desktop in the Radeon X1900 versus GeForce 7900 timeframe, but the Mobility Radeon X1800 has typically played second fiddle to NVIDIA's GeForce Go 7900/7950 solutions, and likewise for the Mobility Radeon X1600/X1700 versus the GeForce Go 7600. NVIDIA also opened up a huge performance and features lead on the desktop when they released the first DirectX 10 capable graphics chip, the GeForce 8800 (G80). We're still waiting for ATI/AMD's response more than six months later, but NVIDIA's big news of the day is the launch of their latest mobile graphics solutions that bring DirectX 10 feature support to notebooks everywhere. Or at least the newest notebooks that are being launched today and in the coming weeks....
We do have an early Santa Rosa notebook in-house for testing that's equipped with a GeForce Go 8600M GS, but unfortunately we've run into some difficulties during testing and won't be able to bring you actual performance results for a bit longer. For now, we will have to content ourselves with an overview of the new features and graphics products being launched and a discussion of how they will affect the mobile market. So without further ado, let's take a look at the GeForce 8M Series.
GeForce 8M Series Overview
Last month we took a look at NVIDIA's new midrange graphics offerings, the
GeForce 8500/8600 cards
. With 8800 series cards still costing well over $200, many users were hopeful that the new midrange products would hearken back to the days of the GeForce 6600 GT. The new cards offer decent performance and they definitely have some interesting new features, but in terms of providing a performance leap over the previous generation midrange hardware they seem to fall a bit short. That may change once we begin to see some DirectX 10 games on the market, but the reception so far has been generally ambivalent.
The GeForce 8M Series more or less follows in the footsteps of the desktop G84/G86 products. Here's a quick look at the specifications of the latest mobile NVIDIA hardware.
GeForce 8M Series Specifications
8400M G
8400M GS
8400M GT
8600M GS
8600M GT
Segment
Mainstream
Mainstream
Mainstream
Performance
Performance
Stream Processors
8
16
16
16
32
Core Clock
400 MHz
400 MHz
450 MHz
600 MHz
475 MHz
Shader Clock
800 MHz
800 MHz
900 MHz
1200 MHz
950 MHz
DDR RAM Clock
1200 MHz
1200 MHz
1200 MHz
1400 MHz
1400 MHz
Maximum RAM
256MB
256MB
512MB
512MB
512MB
RAM Interface
64-bit
64-bit
128-bit
128-bit
128-bit
RAM Bandwidth
9.6 GB/s
9.6 GB/s
19.2 GB/s
22.4 GB/s
22.4 GB/s
Texture Fill Rate
3.2 GT
3.2 GT
3.6 GT
4.8 GT
7.6 GT
Similar to previous mobile graphics solutions, the feature set is nearly identical to the desktop offerings but with slightly different clock speeds. Power requirements are a far larger consideration, so for now we don't have any equivalent of the desktop GeForce 8600 GTS, and the 8600M GT has a core clock speed that's quite a bit lower than the desktop 8600 GT. Still, the new chips should provide more performance than previous generation mobile hardware, and there are other benefits.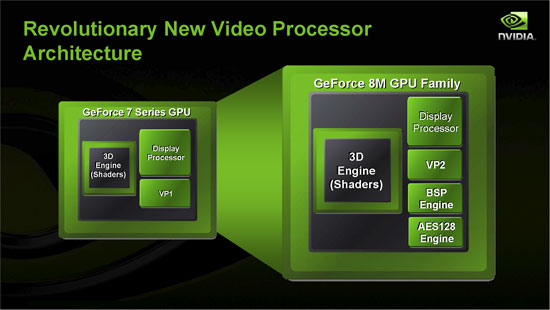 Besides the addition of DirectX 10 support, NVIDIA has overhauled their video processing engine. We discussed this in the desktop G84 article, but the short story is that H.264 decoding is now handled completely by the GeForce 8M processors. We actually think the feature is quite a bit more important in the notebook market, simply because we feel more people are likely to use portable computers to watch movies than regular desktop computers. Our reasoning is simple.
Most houses have a set-top DVD player that comes with a remote and probably costs less than $100, and adoption rates of Blu-ray and HD-DVD in the computer market have been relatively slow. The most likely owners of next-generation HD formats are the people that went out and bought PlayStation 3 consoles. On the other hand, anyone that owns a notebook computer and travels on a regular basis has probably watched a DVD at some point or another. Blu-ray and HD-DVD adoption is still in its infancy on laptops, but that will certainly change with time and the high system requirements for decoding such content can easily overload the processors on even the fastest notebooks. With NVIDIA's new VP2 hardware pretty much any new laptop will be able to handle playback of the latest high-definition H.264 video content.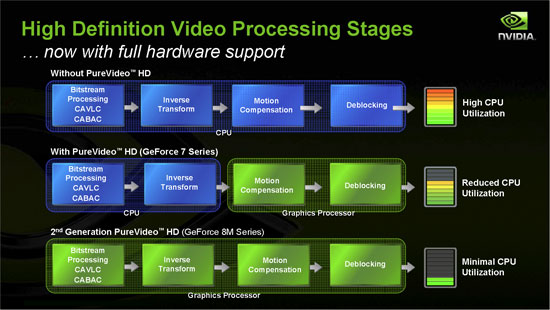 The decoding of CABAC and CAVLC bitstreams (the two types of entropy encoding supported by H.264) greatly reduces the CPU requirements for decoding Blu-ray and HD-DVD content. Not all content uses H.264, however, and the CPU is still required for handling certain aspects of video playback like AACS decryption. Still, anyone that hopes to watch next-generation video content on a laptop will almost certainly need something like one of the new NVIDIA mobile GPUs for the time being.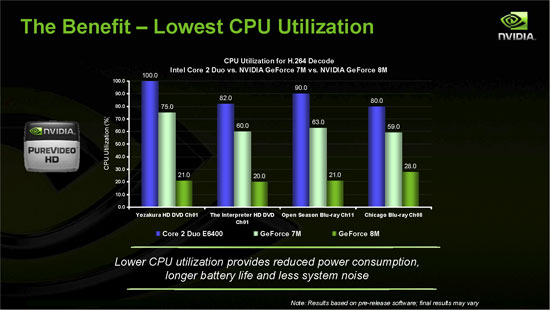 NVIDIA provided the above information on expected CPU utilization during H.264 decoding. Their results are similar to what we measured, though a bit lower in CPU use. You can read more about the performance NVIDIA's VP2 offers in our latest
PureVideo HD article
.
While we are unable to present any concrete benchmarks at this time, NVIDIA is claiming up to a twofold increase in 3D performance within the same power profile relative to their last generation hardware. Twice as much performance would definitely be welcome, especially if the price doesn't change much, but the charts in NVIDIA's presentation show 3DMark05 and 06 as delivering the highest performance gains over GeForce Go 7400 and 7600 hardware. We're hopeful that we will see large gains in other games like Oblivion and some of the latest DirectX 9 titles, but until we can investigate the situation more we would take any claims of twofold performance gains with a grain of salt.
Noticeably absent in our discussion so far is any mention of a new high-end mobile graphics chip. It appears that for the time being NVIDIA's GeForce Go 7950 GTX will remain their fastest mobile GPU. (Or if you really want to go nuts, you can get a notebook with GeForce Go 7950 GTX SLI.) NVIDIA hasn't given us any official word, but they're certainly not standing still and we would expect to see some higher performance DirectX 10 mobile solution in the future. Whether that will be in a couple months or a half year or more from now is currently anyone's guess, but the GeForce Go 7950 GTX is more than six months old as is the 8800 GTS/GTX, so we're hopeful that a more powerful GeForce 8 series part will make its way into notebooks in the not-too-distant future. We also hope that NVIDIA will manage to incorporate the VP2 hardware into whatever enthusiast solutions they might launch in the future. As we just finished explaining, we feel such hardware makes a lot more sense on notebooks than on desktop computers (though ideally we would see it in both locations).
Additional Features
The DirectX 10 unified architecture is common to all of NVIDIA's GeForce 8 series hardware. All of the midrange solutions incorporate the new PureVideo HD video processing engine. The mobile offerings do have one other technology that's not present on desktop hardware: PowerMizer. Similar to Intel's SpeedStep technology, PowerMizer allows an NVIDIA mobile graphics chips to reduce clock speeds and voltages in order to conserve battery life and reduce heat output.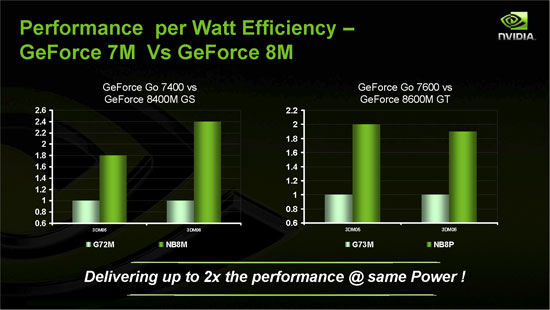 It wasn't clear from NVIDIA's presentation whether or not the latest GeForce 8M hardware makes any significant changes to the PowerMizer technology. However, here's a quick overview of the PowerMizer 7.0 technology. Again NVIDIA claims a twofold increase relative to last generation hardware (G72M vs. NB8M and G73M vs. NB8P), only this time the increase is in performance per watt efficiency. We would be very unimpressed if the new hardware wasn't at least better than the previous generation hardware, but we will hold off on saying more until we have had a bit more time to test NVIDIA's latest mobile GPUs.
PowerMizer 7.0
Starts with upfront power efficient architecture design
GPU-level and system-level power savings
GPU-level savings
Activity based switching between performance modes
Adaptive Clocking dynamically tunes power to match demand
Dynamic Clock Gating intelligently shuts down unused circuitry
Enhanced Analog Circuitry power savings - PLLs, TMDS, PCIE (ASPM and ASLM)
New low-power memory modes of operation -- dynamic drive and termination switching
System-level savings
CPU power savings -- maximum CPU offload for graphics and video applications
Power panel savings -- SmartDimmer 2.0 dynamically modulate backlight-lamp power
NVIDIA also likes to tout their MXM modular graphics subsystem as a feature of their mobile solutions. While the idea does make some sense, the reality is that notebooks typically require a lot more engineering and design effort than your typical desktop solution, so most notebook manufacturers still end up developing their own proprietary solutions. With size and weight being primary considerations on many laptops, it's difficult to come up with a solution that will please everyone. It would be nice if we could one day get the equivalent of the PCI-E X16 graphics slot in notebooks, with the ability to easily upgrade your graphics adapter. So far, we have seen a few halfhearted attempts in this area, but there's definitely no standard to which all manufacturers adhere.
Additional Notebook Solutions
The new GeForce 8M hardware isn't the only mobile product being launched today by an NVIDIA. They are also releasing some new integrated graphics chipsets as well as business and workstation solutions. Following is a table of all of the products being launched today.
NVIDIA Notebook Products Launching Today
Segment
Consumer
Business
Workstation
Enthusiast
Performance
GeForce 8600M GT
GeForce 8600M GS
Quadro NVS 320M
Quadro FX 1600M
Mainstream
GeForce 8400M GT
GeForce 8400M GS
GeForce 8400M G
Quadro NVS 140M
Quadro NVS 135M
Quadro NVS 130M
Quadro FX 570M
Quadro FX 360M
Value
GeForce 7190M + nForce 650M
GeForce 7150M + nForce 630M
GeForce 7000M + nForce 610M
We won't dwell much on the business and workstation products. The business solutions are based off the same GeForce 8M GPUs, with the primary difference being an effort to ensure better reliability, stability, and compatibility. For IT departments, that usually means that the manufacturers spend extra time testing and qualifying the hardware and drivers before releasing them to the public. The new chipset solutions deserve a bit more attention.
What Is a Motherboard GPU (mGPU
)?
NVIDIA calls the new chipsets "Motherboard GPUs" and defines that as the following:
Combines a true GPU with motherboard core logic
Support for DirectX 9.0 Shader Model 2.0 or higher
At least one digital connector (DVI/HDMI) with HDCP support
Multi-display support
A dedicated video processing engine for HD video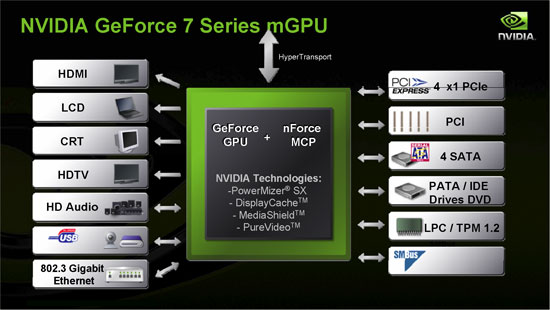 Put another way, it sounds like NVIDIA's latest IGP solutions now come with better performance and a few new features. These new IGP chipsets don't support DirectX 10, but they do support Shader Model 3.0 and they apparently also include the new VP2 hardware to handle H.264 decoding. They are supposed to be up to 40% faster than the last generation IGPs while consuming less power in order to increase battery life.
Better performance sounds nice in theory, but 40% faster than "really slow" still ends up being really slow, sort of like any number multiplied by zero ends up being zero. For gaming, we seriously doubt any of the new IGP solutions will offer acceptable performance -- even some of the midrange GPUs struggle after all -- but the inclusion of video processing engine and HDCP support is still a plus.
Another slide in the presentation states that these new mGPUs offer the "longest battery life for Turion class UMA notebooks." Unfortunately, we take that to mean that for the time being these new chipsets are for AMD platforms and not for Core 2 Duo, although that wasn't entirely clear.
Closing Thoughts
There's plenty of marketing hype in any new product launch, but while these latest NVIDIA products may not rid the world of hunger or ensure the continued survival of mankind, they do appear to offer some interesting benefits. Notebooks are undoubtedly becoming more and more popular, but anyone who has an interest in gaming has likely discovered that getting a laptop capable of keeping up with even a $1000 desktop in the latest games becomes a very expensive proposition. This latest product launch is just one more step towards improving mobile graphics performance.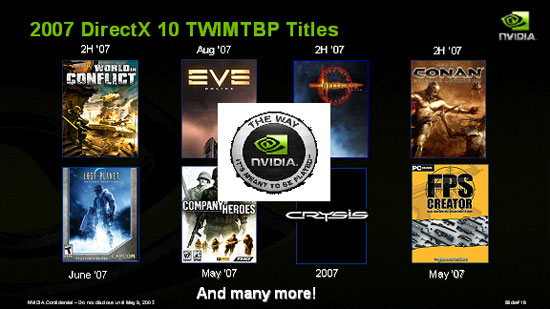 The smaller size and added engineering costs are sure to keep entrance fees for the mobile market higher than what you would expect to pay for equivalent performance on the desktop, but at the very least we should now have a few more options when it comes time to purchase a new notebook. Now all we need is more applications that can truly benefit from this next generation hardware, and thankfully we should get at least several DirectX 10 games by the end of this year.