Original Link: http://www.anandtech.com/show/2217


In our last article we took a second look at Hitachi's new
Deskstar 7K1000
and provided some RAID 0 performance results while proclaiming it to be the best 7200rpm SATA drive that has passed through our labs. We still think highly of this drive but our article seemed to have raised more questions than answers in our look at RAID 0 performance in general.
We are back today for a quick look at RAID 0 performance and hopefully our second round of results will answer more questions than it raises. However, we cannot guarantee this will happen based upon the numerous comments, suggestions, concerns, and heritage questioning emails we received on the subject matter. The vast majority of correspondence requested that we test additional RAID modes, stripe/allocation sizes, hardware RAID controllers, various chipsets, and different programs. We plan on providing the majority of this information over the coming weeks but for today's article we are going to concentrate on requests that seemed to resonate in the emails and comments we received.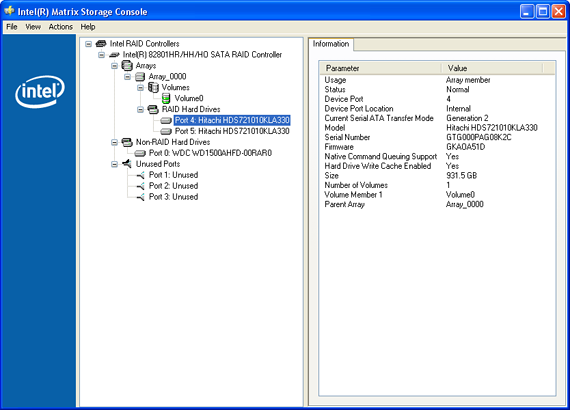 Outside of additional testing, the number one request was that we update our test platform. The thought process being that any true differences between RAID 0 and single drive performance were masked due to our test platform being both CPU and GPU limited. The other concern is the perceived lack of performance with the NVIDIA chipset in RAID operation due to what appears to be an artificial cap on sustained transfer and burst rates. Fortunately for us, as stated in the last couple of storage articles, we were already working on implementing a new test bed.
Our new test bed is based on the Intel QX6700 Quad Core CPU and the DFI Infinity 965-S motherboard featuring the Intel P965 and ICH8R chipsets. Along with one of the fastest motherboard/CPU combinations available we also added 2GB of PC2-9200 memory from OCZ and a liquid cooled 8800GTX from MSI. The balance of components utilized is available later on in the article. We found during testing over the past few weeks that this particular system should provide enough performance to ensure the majority of our tests are not CPU or GPU bound for the near future.
Our tests today are very limited in scope and only provide results from our Hitachi Deskstar 7K1000 and Western Digital WD1500 Raptor drives. The reason for this is that we are currently retesting our other drives on the new test platform and will fully roll out our expanded benchmark test suite in the upcoming 500GB+ roundup. However, the test results today should give a very good performance indication of RAID 0 without CPU or GPU limitations. There were a couple of surprises with the new test platform but overall you will find our opinion about RAID 0 did not change that much.
Our technical briefing on RAID 0 can be
located here
. Let's see how the Hitachi Deskstar 7K1000 drives perform in RAID 0 with a new test platform and a couple of revised benchmarks.
Hardware Setup
Intel Test Bed
Playback of iPEAK Trace Files and Test Application Results
Processor:
Intel QX6700 - 2.66GHz Quad Core
Motherboard:
DFI Infinity 965-S
RAM:
2 x 1GB OCZ Reaper PC2-9200
Settings - DDR800 - 3-4-3-9
OS Hard Drive:
1 x Western Digital WD1500 Raptor - 150GB
System Platform Drivers:
Intel 8.1.1.1010
Intel Matrix RAID 6.2.1.1002
Video Card:
1 x MSI 8800GTX
Video Drivers:
NVIDIA Forceware 158.19
Optical Drive:
Plextor PX-760A, Plextor PX-B900A
Cooling:
Tuniq 120
Power Supply:
OCZ GameXStream 850W
Case:
Cooler Master CM Stacker 830
Operating System:
Windows XP Professional SP2
We are utilizing an Intel QX6700 Quad Core CPU to ensure we are not CPU limited in our testing at this time. A 2GB memory configuration is standard in our XP test bed as most enthusiasts are currently purchasing this amount of memory. Our choice of high-range OCZ Flex XLC PC2-9200 memory offers a very wide range of memory settings with timings of 3-4-3-9 for our benchmark results.
Our test bed now includes the MSI 8800GTX video card to ensure our game tests are not completely GPU bound. Our video tests are run at 1280x1024 resolutions for this article at High Quality settings. All of our tests are run in an enclosed case with a dual optical/hard drive setup to reflect a moderately loaded system platform. Windows XP SP2 is fully updated and we load a clean drive image for each system to keep driver conflicts to a minimum.
The drive is formatted before each test run and five tests are completed on each drive in order to ensure consistency in the benchmark results. The high and low scores are removed with the remaining score representing our reported result. We utilize the Intel ICH8R SATA ports along with the latest Intel Matrix Storage driver to ensure consistency in our playback results when utilizing NCQ, TCQ, or RAID settings. We will test with AAM off and NCQ turned on with our Deskstar 7K1000 unit to ensure the highest possible test results.
The Hitachi 7K1000 drives we are reviewing today will be compared directly against the WD WD1500AHFD 150GB drives in RAID 0 with a limited benchmark test suite. Our stripe size is set to the recommended default in the Intel driver set, which in this case is 128KB. We fully understand that different stripe and allocation sizes may result in possible improvements in performance based upon the application being tested, but testing these aspects is beyond the scope of this article.
We have also included a subset of drive results from our previous articles and will provide additional RAID 0+1 and 5 results of the 7K1000 in our upcoming RAID performance overview that will feature additional motherboard chipsets and hardware controllers.
HD Tune 2.53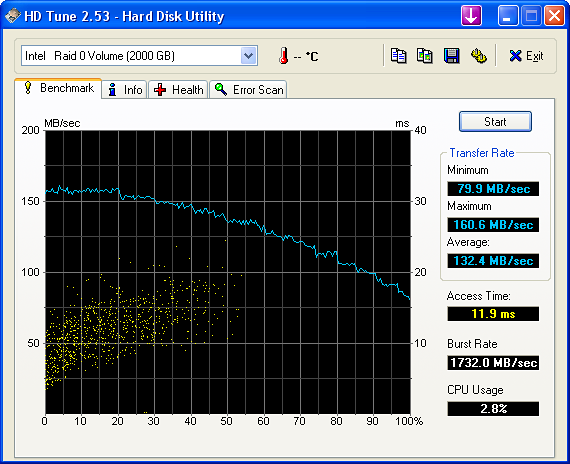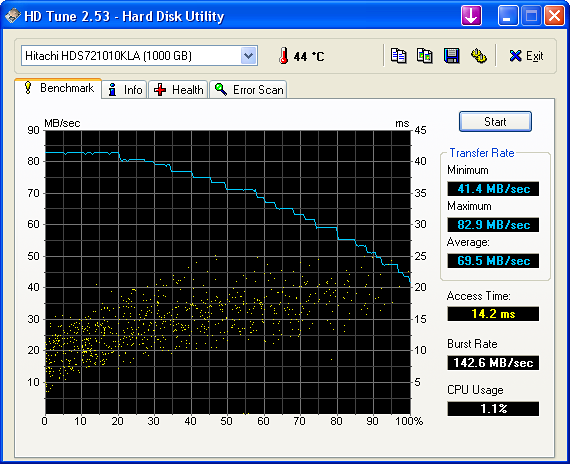 Our first screenshot is the Hitachi drive with Automatic Acoustic Management turned off, NCQ turned on, and Volume Write-Back cache enabled in RAID 0 operation with the second screenshot showing the same configuration with a single drive. The RAID 0 setup shows a 93% increase in the minimum transfer rate and a 91% increase in the average sustained transfer rate. The maximum transfer rate also increases 95% with the burst rates increasing significantly although in actual operation this number is not completely valid. Turning off the write-back cache setting lowers the burst rate to 144.8 MB/sec. The RAID 0 setup is also reporting improved access times which once again reads 14.4ms with the write-back cache setting turned off.
Hard Disk Performance: HD Tach 3.0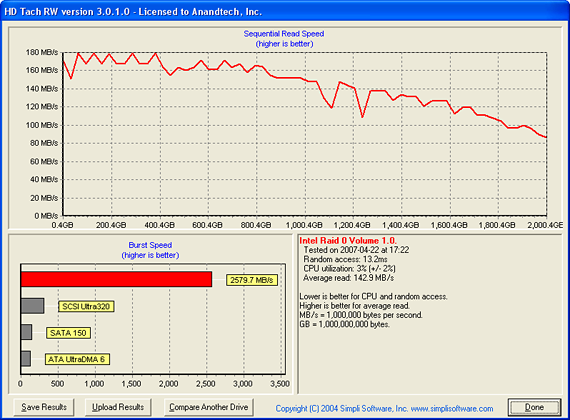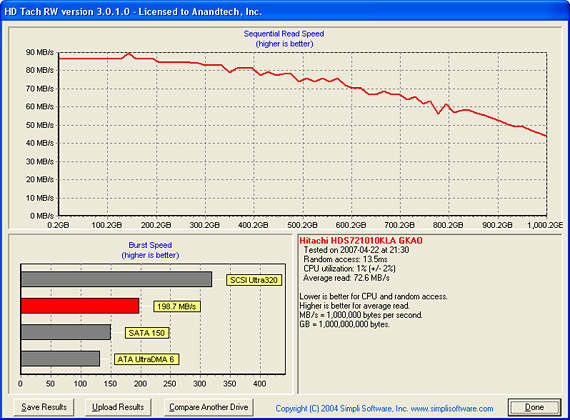 We are also including HD Tach results for review. Once again the order of the screen shots is the same as in our HD Tune results and are based on the same settings. In this benchmark we see a 97% increase in the average read rates and a significant increase in burst speeds over the single drive configuration. These scores basically mirror the HD Tune results with the burst speed dropping to 204 MB/sec with volume write-back cache disabled. While these numbers are impressive, we will have to see if they translate directly to application scores.
PCMark05 Performance
We are utilizing the HDD test suite within PCMark05 for further comparative hard disk scores as it provides a mixture of actual application results and specific read/write percentages utilized within these programs. The program utilizes the RankDisk application within the Intel IPEAK SPT suite of tools to record a trace of disk activity during usage of real world applications. The HDD test suite contains 53% read and 47% write operations with each trace section utilizing varied amounts of read or write operations. Further details on the PCMark05 HDD tests can be found in our
previous articles
in this series.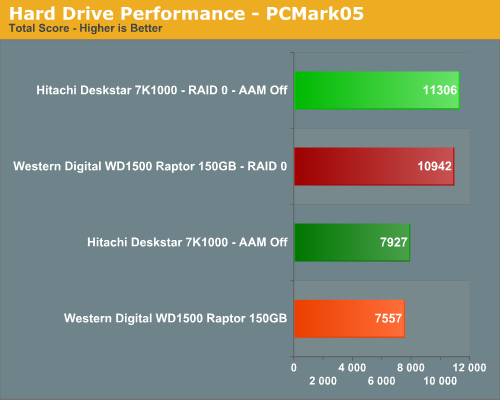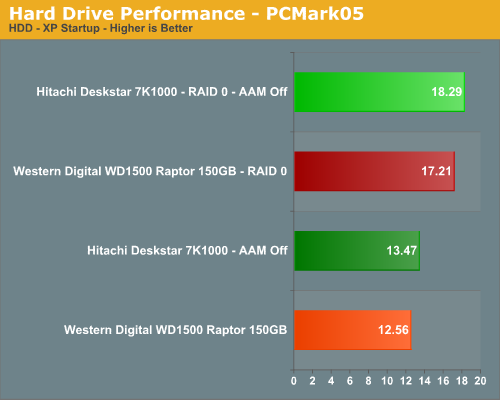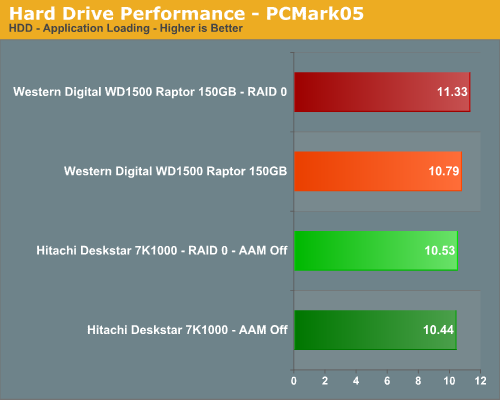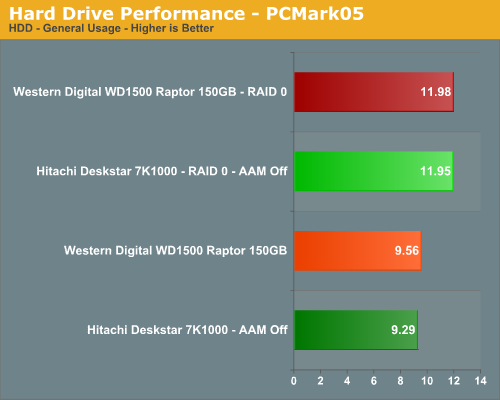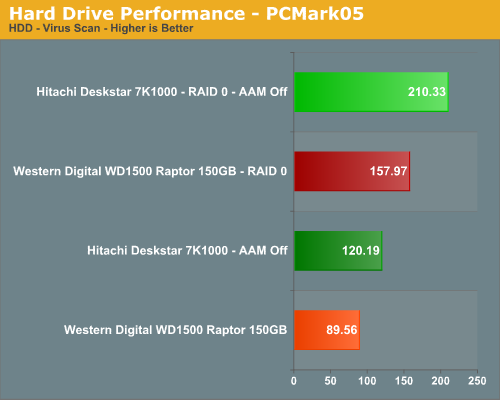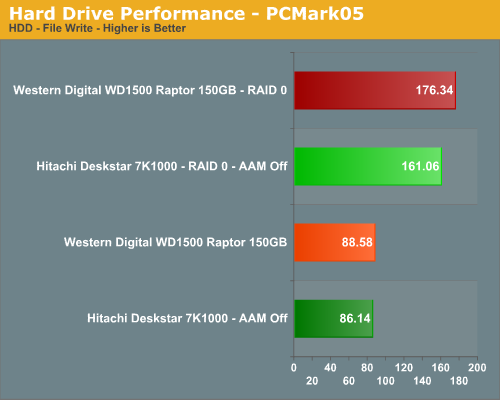 Our PCMark05 RAID 0 results show a 43% improvement over the single Hitachi drive results. Our previous test bed showed a 25% improvement with the RAID 0 setup. The 7K1000 combination scores better 3% in RAID 0 and 4% better in single drive testing than the WD 150GB Raptor setup. In previous testing the differences were withing a half percent between the two drives. We ran the test several times and also changed motherboards but had the same results with an Intel chipset.
The major performance delta between the 7K1000 single and RAID 0 configuration is in the Windows Startup, Anti-Virus, and File Write tests. We fully expected the File Write tests to show major improvements as this is an area where RAID 0 performance usually shines. We see minor differences occurring in the Application Loading test where read speeds are critical in a variety of applications. However, our General Usage test is showing a 28% improvement in a test that balances both read and write speeds. This indicates the strength of a RAID 0 setup in applications such as media encoding that can benefit from the improved speeds.
The Raptor's superior rotational/access speeds allow it to basically score slightly better than the 7K1000 except in the Virus Scan and Windows startup tests. Overall, if you need to greatly improve your PCMark05 benchmark scores then RAID 0 will certainly do that for you. In the Application results which utilize actual applications there is minimal impact but the General Usage result indicates a 25% improvement. The question still remains if these improvement percentages will correlate to improvements in actual applications.
Our application benchmarks are designed to show application performance results with times being reported in seconds, with lower scores being better. While these tests will show some differences between the drives it is important to understand we are no longer measuring the synthetic performance of the hard drive but how well our test platform performs with each individual drive or RAID 0 setup. The performance of a hard drive is an integral part of the computer platform but other factors such as memory, CPU, core logic, and even driver choice can play a major role in determining how well the hard drive performs in any given task.
Game Load Test
In our World of WarCraft test we measure the time it takes to enter the world with the application timer starting at the character screen when the enter world icon is initiated until the character appears.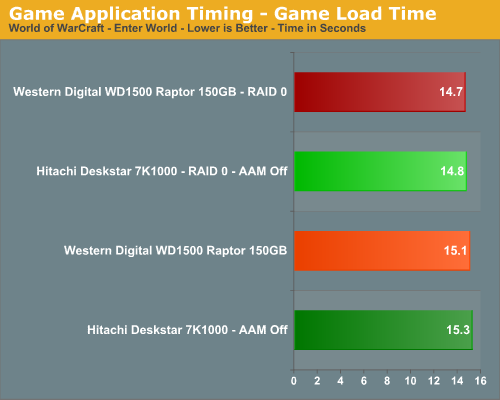 The results speak for themselves with the RAID 0 setups offering extremely minor performance improvements in actual game load testing. Our WoW testing occurred at several different points during the day in order to minimize the effects of any server issues. We consistently had a 2% to 3% range of improvement with the RAID 0 setup. However, we could not tell any differences during actual game play with a RAID 0 setup when compared to the singel drive setup.
Our Sims 2 - Open for Business test measures the time it takes to load the initial portion of the game. Our application timer starts when the game icon is initiated until the neighborhood menu appears.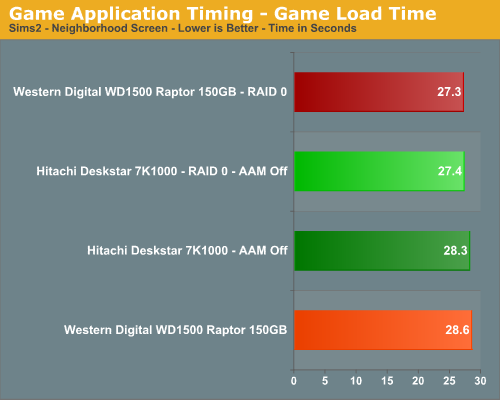 While we witnessed 38% to 50% improvements in our original IPEAK tests in this game but see less than a 3% difference in actual game times. Without a benchmark, these differences are impossible to witness during actual game play. Once again, we see the Raptor RAID 0 setup in front but the 7K1000 scores slightly better in single drive testing.
Game Level Load
Our tests center on the actual loading of a playable level within our game selections.
The Battlefield 2 test measures the time it takes to load the Daqing Oilfields level. Our application timer begins when the start single player icon is initiated and ends when the join game icon is visible.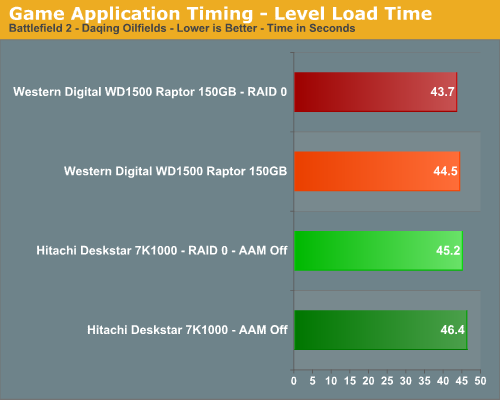 Once again we see a minimal difference between our RAID 0 and single drive configurations in this benchmark with only a 2% difference in load times between the RAID 0 and single drive systems. In repeated testing it was difficult to discern the differences between the RAID 0 and single drive setups. On a side note, this is one test where the Raptor just "felt" faster than the Hitachi drive although the numbers are very close.
The Company of Heroes test measures the time it takes to load the first Omaha Beach Campaign level. Our application timer begins when the play mission button is initiated and ends when the press any key button is visible.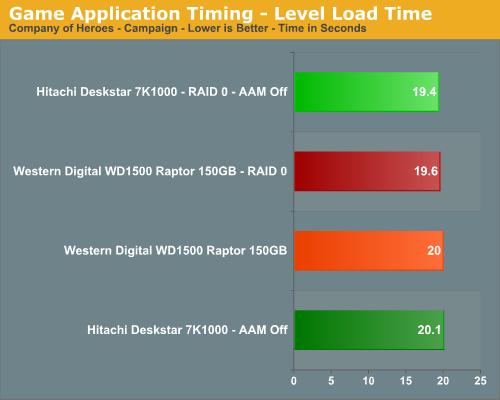 We see about 2% difference in this game on the initial load screen and throughout testing we could not tell the difference between RAID 0 and a single drive. Once again, a slight difference but nothing near the differences in our synthetic tests.
Our Supreme Commander test measures the time it takes to load the first Campaign level. Our application timer begins when the launch icon is initiated and ends when the commander is visible and stationary on the ground.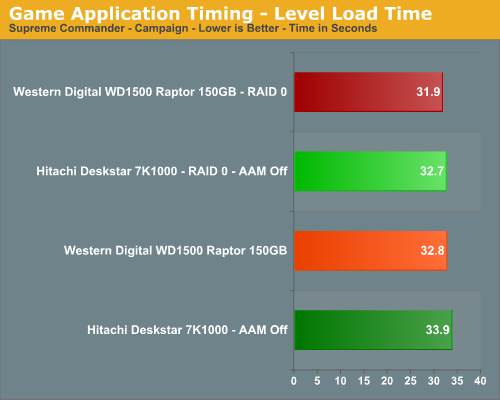 We see a 2%~3% difference between our RAID 0 and single drive configurations in this benchmark with no noticeable advantage being noticed during gameplay. Overall, our game testing revealed around a 2% advantage for the RAID 0 setup with the Raptor performing ever so slightly better than the Hitachi drive in most of the benchmarks.
Nero Recode
Our encoding test is quite easy - we take our original Office Space DVD and use AnyDVD Ripper to copy the full DVD to the hard drive without compression, thus providing an almost exact duplicate of the DVD. We then fire up Nero Recode 2, select our Office Space copy on the hard drive, and perform a shrink operation to allow the entire movie along with extras to fit on a single 4.5GB DVD disc. We leave all options on their defaults except we turn off the advanced analysis option. The scores reported include the full encoding process and are represented in seconds, with lower numbers indicating better performance.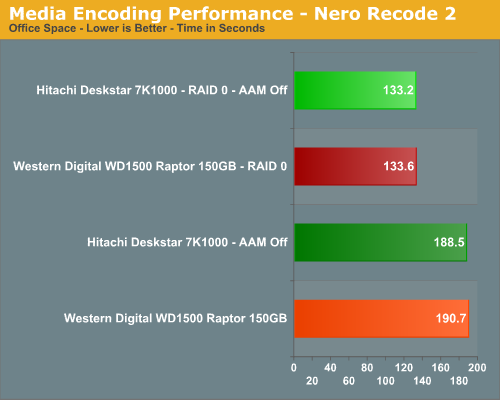 The IPEAK results in our last article showed a 93% improvement with RAID 0 and a 5% difference during application testing. Armed with an encoding friendly CPU we now see a 30% improvement during encoding with the Hitachi drive outperforming the Raptor in this demanding test. The differences in performance between the two setups are significant and one that might cause us to consider RAID 0 on the desktop if this was our only activity during the course of the day. Is it worth the cost for a typical home/office user? No, but for someone who encodes all day long then the time saved is probably worth the cost over the long run. However, we would then have to recommend a RAID 10 setup which could get very expensive with these drives.
Audio Encoding Performance
While the media encoding prowess of RAID 0 was superb in our media encoding testing, we wanted to see how it faired on the audio side. Our audio test suite consists of Exact Audio Copy v095.b4 and LAME 3.98a3. We utilize the INXS Greatest Hits CD that contains 16 tracks totaling 606MB of one time '80s hits. We set up EAC for variable bit rate encoding, burst mode for extraction, use external program for compression, and to start the external compressor upon extraction (EAC will read the next track while LAME is working on the previous track, thus removing a potential bottleneck with the optical drive). We also set the number of active threads to two to ensure both cores are active during testing. The results are presented in seconds for the encoding process, with lower numbers being better.
Our Plextor drive consistently took two minutes and nine seconds to read all sixteen tracks. This means our test systems are only utilizing one core during testing until the midway point of the extraction process where the drive speed begins exceeding the capability of the encoder and requires the use of a second thread.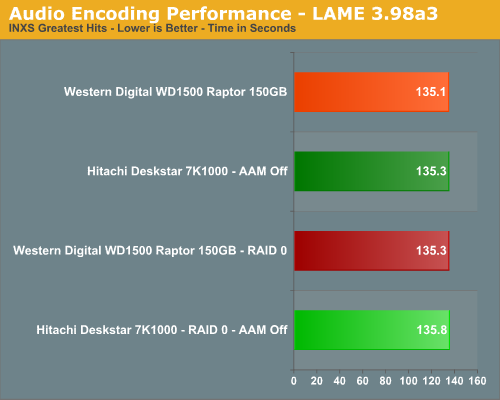 Our IPEAK results in off line testing showed a 39% improvement with RAID 0 and we wondered how our drives would fair considering this test is largely CPU dependent although a fast storage system was helpful in our previous test bed. In this test, there is no difference between the setups and a fast optical drive along with a decent CPU is more important than a top tier hard drive.
WinRAR 3.62
Our WinRAR tests measures the time it takes to compress our test folder that contains 444 files, 10 folders, and 602MB of data and then extract it on the same drive. This is same test folder utilized in our IPEAK test suite. While the benchmark is CPU intensive for the compression tests it still requires a fast storage system to keep pace with the CPU. A drive that offers excellent write performance can make a slight difference in this benchmark.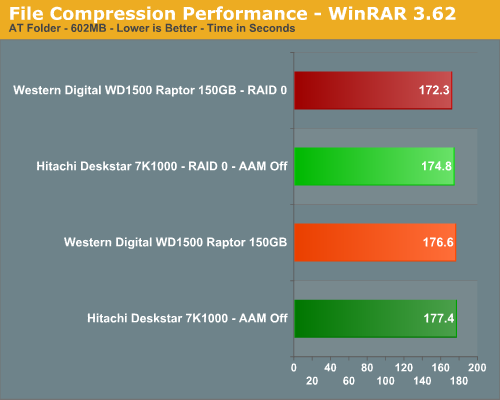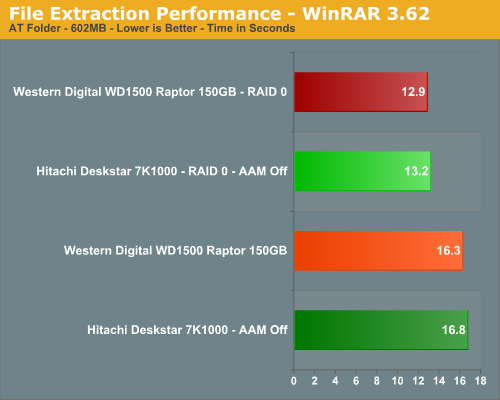 Our IPEAK test showed a 50% advantage for the RAID 0 setups but we only see a 2% difference in the compression test results. Our IPEAK tests showed a 54% difference in the extraction speed with an impressive 21% difference in the actual test. However, one must ask if the costs is worth the few seconds saved when extracting a file.
File Copy Performance
Our first file copy test measures the time it takes to transfer our test folder that contains 29 files, 1 folder, and has 7.55GB of data from our source drive to the target test drive. This benchmark is disk write intensive and requires a fast storage system. The second test does copies the same folder on the test drive to another folder on the same drive.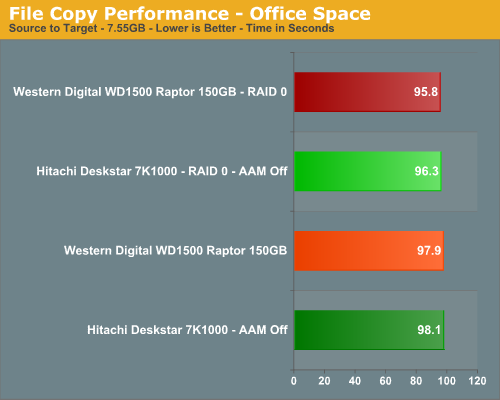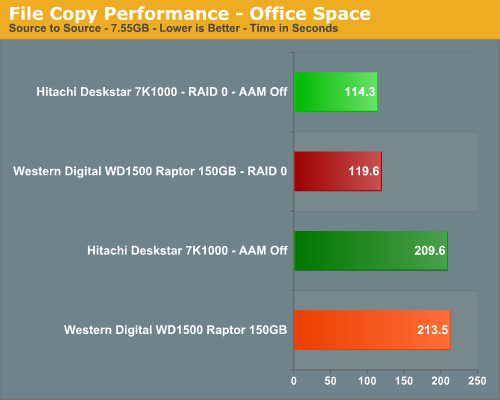 We finish our tests with benchmarks that should favor the RAID 0 setups in a pure write scenario. Unlike our IPEAK test and for that matter a similar test in PCMark05 where the largest differences in scores were generated, we see RAID 0 only making a 2% difference in the first test but a 45% difference in the second test. If you do a lot a copying or moving of information on a single drive then RAID 0 will help.
Final Thoughts
Equipped with a new test bed that should remove the vast majority of CPU and GPU bound situations we noticed further improvements in our quasi-synthetic PCMark05 tests. We measured an improvement of 43% in the final PCMark05 score with RAID 0 compared to a 25% improvement in our previous test bed. While we expected the File Write and Anti-Virus tests to improve significantly, we were slightly surprised with the General Usage scores that were up to 28% better. However, the Application loading score was still in the 5% range with the Raptors but the Hitachi 7K1000 showed almost zero differences. The most surprising result was the fact that the Deskstar 7K1000 scored 3%~5% better than the Raptors on the Intel platform.
In our last article the only meaningful application performance improvement with RAID 0 came in the Nero Recode tests where the improved write performance reduced our encoding process by about 5%. Now that we have basically removed the CPU from being a factor in these tests, we see a 30% difference with RAID 0 during encoding, a 21% difference in file extraction, and a 45% difference when doing file copy or move operations on the RAID volume.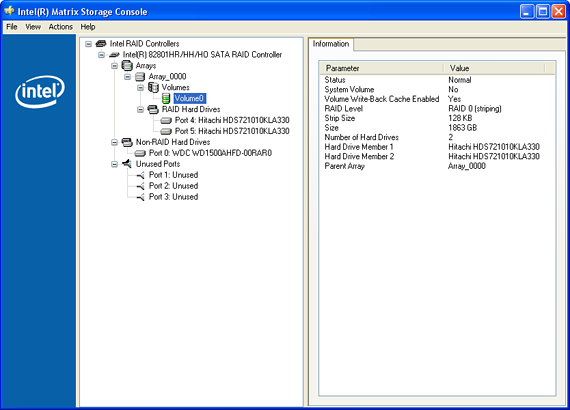 All of those results sound very impressive but in the balance of our application and game tests we only noticed a 2%~3% performance difference between RAID 0 and single drive configurations. Unless you extract files, copy or move them on the same drive, and encode all day long then the benefits of RAID 0 on the typical consumer desktop is not worth the price of admission. What is the price? In this case, $399 for a second 7K1000, a halving of the mean time between failure rates on each drive, a data backup nightmare, and increases in noise, thermals, and power consumption.
We really wanted to provide additional benchmarks for this article as we had developed and tested benchmarks for Photoshop CS3, AutoCAD 2008, Oblivion, S.T.A.L.K.E.R., and multi-tasking scenarios with BiTorrent clients but there was an issue during testing. We had a Western Digital WD1500 meet its maker during testing. The drive literally smoked its platters. Of course we lost the entire test image and a significant amount of test time. However, those are the perils of pushing hardware on a continuous basis. The fact that it happened during RAID 0 testing made it difficult to accept but it just as easily could have happened in single drive testing resulting in the same loss of data. A data loss that would not have occurred if we had been using RAID 1, 5, or 10.
RAID 0 can provide some impressive performance results in synthetic benchmarks and certain applications that are write speed starved as we have shown. In fact, with the new test bed the test results where RAID 0 shines are even more impressive now. However, we still do not think RAID 0 is worth the trouble or cost for the average desktop user or gamer, especially with the software RAID capabilities included on most motherboards. If you must run RAID on the desktop, then we highly recommend the use of RAID 1, 5, or 10 (0+1) in order to protect your data and probably a hardware controller if you can afford one. We are going to delve into the world of RAID in the coming weeks with additional tests, system configurations, and hardware controllers. At this time we still do not recommend RAID 0 for most desktop users due to the lack of widespread performance improvements and potential data integrity concerns with it.