Original Link: http://www.anandtech.com/show/2212


In our first look at Hitachi's new
Deskstar 7K1000
we thought it was the best 7200rpm drive that has passed through our labs. Throughout testing we found the performance of the drive to be very balanced across a broad spectrum of benchmarks that stressed write and read speeds, or a combination of both. This unique blend of performance and capacity also comes at a fairly reasonable price of 40 cents per-Gigabyte or approximately $399 for the drive although two 500GB drives can be had for around $250 now.
Hitachi Global Storage Technologies announced the drive right before CES 2007 and stated a shipping date in late Q1. The drive did start shipping last month but was only available in systems from Dell or Alienware. We expected retail shipments of this drive at the beginning of April but it appears the drives will not be widely available for another week or so now.
We were able to procure a retail unit directly from
Hitachi
and have been testing it thoroughly for the past few days. Our initial impressions about this drive have not changed as we did not notice any perceivable performance differences between the O.E.M. supplied unit from Dell or the retail drive. The only change we could identify between the two drives is the firmware being updated from GKA0A51C to GKA0A51D.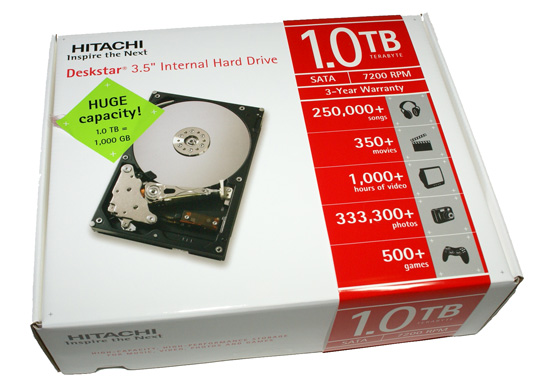 Our preliminary acoustic testing revealed minor differences between the drives with the retail unit having an increase in noise levels at idle from 26dBA to 27dBA and load results going from 35dBA to 36dBA with AAM enabled at the silent setting of 128. At an AAM setting of 254 we noticed an increase from 27dBA to 28dBA along with load results increasing from 36dBA to 38dBA. Our AAM disabled settings did not change. We also noticed a little more vibration in the retail drive but will temper our findings until we have additional retail drives to test. Our differences are more than likely caused by slight manufacturing variations between the two drives and not the firmware or retail configuration.
Our thermal results did not change although we are revising both our acoustic and thermal tests to reflect environmental conditions in an ATX and uATX case design along with vibration testing in a typical drive cage with rubber bushings or attached directly to the chassis. Our two configurations will simulate a typical gaming/enthusiast machine and one designed for quiet desktop or HTPC usage. We recommend a visit to
SPCR
if you are interested in pure acoustic test results of the drives without other system components being in the test mix.
In the meantime, we created a thirty minute script to simulate general home/office/gaming usage with the drive's temperature increasing from 31C at idle to 39C over the course of the test. We feel like this particular test gives a better indication of a drive's average operating temperature during typical usage. We will have complete test results with our other drives in the upcoming 500GB+ drive roundup.
With all that said, the purpose of today's second look is to provide some initial RAID results with this drive and convey our experiences with the 7K1000 after having additional test time with it. We had a deluge of reader requests asking for test results in RAID 0 based upon the overall performance of the drive being near, equal, or better than the Western Digital Raptors. We are not fans of RAID on the consumer desktop; especially motherboard based solutions, but nevertheless thought it might be an interesting exercise to see how two of the top performing drives in the consumer SATA market compare against each other.
Sure, RAID 0 will certainly provide some very impressive synthetic benchmark scores, PCMark05 being a prime example, but in actual applications we see it having more of a placebo effect than providing any real performance gains. Our technical briefing and commentary on RAID 0 can be located
here
. Let's see how the Hitachi Deskstar 7K1000 and Western Digital WD1500 drives perform in RAID 0 across a variety of benchmarks.
Features and Specifications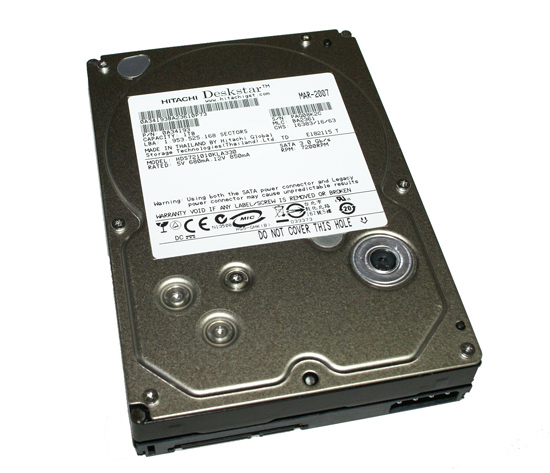 The external design of the Hitachi 7K1000 is the same as the majority of the TK or K series drives. The drive is based on the industry standard 3.5" form factor platform with the pertinent part number and warranty information embossed on a white sticker on the top of the casing. Our OEM sample was graciously provided by
Dell
and does not include this information, but looking at the retail label we did not miss anything of importance. The only other differences between the OEM and retail units is the inclusion of an accessory cable kit, HD Feature Tool software (that can be
downloaded
separately), and the obligatory retail box.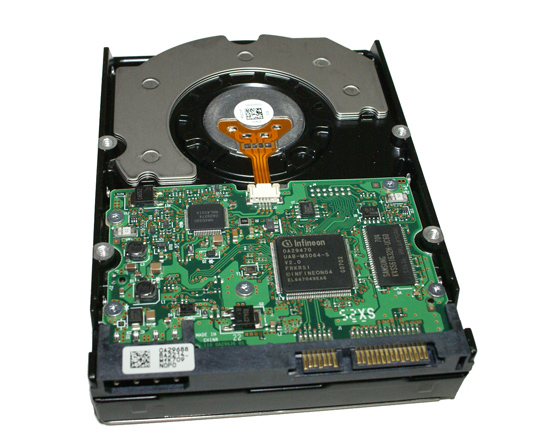 The Deskstar 7K1000 ships with Serial ATA data and power connectors along with a 4-pin Molex power connector designed for use with older ATX power supplies. Our OEM unit did not contain the 4-pin Molex power connector, but the retail model has it. The 32MB of cache memory and controller logic is located on the outer side of the PCB with the same components being utilized on each version of the drive. Our retail drive arrived with firmware revision GKA0A51D compared to GKA0A51C. We did not notice any measurable differences in performance between the two drives.
Hard Drive Specifications
Hitachi Deskstar 7K1000 1000GB HDS721010KLA330
Seagate Barracuda 7200.10 750GB ST3750640AS
Western Digital Raptor 150GB WD1500ADFD
Manufacturer's Stated Capacity:
1000.2GB
(1TB/Terabyte)
750GB
150GB
Operating System Stated Capacity:
931.5 GB
698.6 GB
139.73 GB
Interface:
SATA 3Gb/s
SATA 3Gb/s
SATA 1.5Gb/s
Rotational Speed:
7,200 RPM
7,200 RPM
10,000 RPM
Cache Size:
32 MB
16 MB
16 MB
Average Latency:
4.17 ms (nominal)
4.16 ms (nominal)
2.99 ms (nominal)
Read Seek Time:
8.5 ms / 14ms Silent
11 ms
4.6 ms
Number of Heads:
10
8
4
Number of Platters:
5
4
2
Power Draw Idle / Load:
8.1W / 12.8W
9.3W / 12.6W
9.19W / 10.02W
Power Draw Silent I / L:
4.3W / 9.9W
-
-
Command Queuing:
Native Command Queuing
Native Command Queuing
Native Command Queuing
Warranty:
3 Year - Retail or OEM
5 Year - Retail or OEM
5 Year - Retail or OEM
The Hitachi Deskstar 7K1000 is the first 1TB drive to ship based upon manufacturer's specifications with a 750GB offering scheduled for release in the upcoming weeks. Of course the actual capacity of the drive is 931.5GB, but due to the way manufacturers report capacity the drive is considered to be a 1TB offering. If we want to be technically accurate, 1TB = 1,000,000,000,000 bytes and 1TiB (Tebibyte) = 1,099,511,627,776, so the formatted capacity is 931.5GiB (Gibibytes). This drive is also Hitachi's first 3.5" hard drive to use PMR technology. Additional 1TB versions for the Enterprise and DVR/Set-Top markets will be released later this year.
The 7K1000 features a 5-platter/10-head perpendicular magnetic recording design with rotational speeds of 7200 RPM. The cache size has been increased to 32MB from the previous 16MB on the TK series. Hitachi includes their ramp load/unload, advanced low-power idle modes, and thermal-fly height control technologies. This drive series also supports Native Command Queuing and hot-swap capabilities. The Hitachi Deskstar 7K1000 drives ship with a three year warranty and additional specifications can be
found here
.
The Hitachi 7K1000 drives we are reviewing today will be compared directly against the WD WD1500AHFD 150GB drives in RAID 0 with a limited benchmark test suite. Our stripe size is set to the recommended default in the NVIDIA driver set, which in this case is 64KB. We fully understand that different stripe and allocation sizes may result in possible improvements in performance based upon the application being tested, but testing these aspects is beyond the scope of this article.
We have also included a subset of drive results from our previous articles and will provide additional RAID 0+1 and 5 results of the 7K1000 in our upcoming RAID performance overview that will also feature Intel chipsets and hardware controllers. Today's article also contains results in our iPeak and Application benchmarks with AAM on / NCQ on as the default score and AAM off / NCQ on as the alternate score for the 7K1000. In a couple of benchmarks we noticed results with AAM off / NCQ off provided additional performance increases of around 1% but our recommendation with the drive is to leave AAM and NCQ on for the best blend of performance and acoustics.
Hardware Setup
Standard Test Bed
Playback of iPeak Trace Files and Test Application Results
Processor:
AMD Opteron 175 utilized for all tests.
RAM:
2 x 1GB Corsair 3500LL PRO
Settings: DDR-400 at (2.5-3-3-7, 1T)
OS Hard Drive:
1 x Western Digital WD1500 - SATA - 16MB Buffer - 10,000RPM
System Platform Drivers:
NVIDIA Platform Driver - 6.85
Video Card:
1 x ASUS 7600GS (PCI Express) for all tests.
Video Drivers:
NVIDIA nForce 84.21 WHQL
Optical Drive:
BenQ DW1640
Cooling:
Zalman CNPS9500
Power Supply:
OCZ GameXStream 700W
Case:
Gigabyte 3D Aurora
Operating System:
Windows XP Professional SP2
Motherboard:
MSI K8N Diamond Plus
Our current test bed reflects a common level system that has been in use for a year now. Based upon the continuing proliferation of dual core processors and future roadmaps from AMD and Intel signifying new chipset and processor designs, we will revise our test bed shortly to reflect these changes in the marketplace. This change will also allow us to expand our real world multitasking benchmarks in the near future while providing a stable platform for the next few months. We are currently conducting preliminary benchmark testing under Vista with both 2GB and 4GB memory configurations. We will offer real-world Vista benchmarks once the driver situation matures but iPeak results will continue to be in XP as the application is not compatible with Vista.
Test Setup - Software
With the variety of disk drive benchmarks available, we needed a means of comparing the true performance of the hard drives in real world applications. While we will continue to utilize HDTach and PCMark05 for comparative benchmarks our logical choice for application benchmarking is the Intel iPeak Storage Performance Toolkit version 3. We originally started using this storage benchmark application in our
Q2 2004 Desktop Hard Drive Comparison
. The iPeak test can be designed to measure "pure" hard disk performance, and in this case we kept the host adapter consistent while varying the hard drive models. The idea is to measure the performance of individual hard drives with a consistent host adapter.
We utilize the iPeak WinTrace32 program to record precise I/O operations when running real world benchmarks. We then utilize the iPeak AnalyzeTrace program to review the disk trace file for integrity and ensure our trace files have properly captured the activities we required. Intel's RankDisk utility is used to play back the workload of all I/O operations that took place during the recording. RankDisk generates results in a mean service time in milliseconds format; in other words, it gives the average time that each drive took to fulfill each I/O operation. In order to make the data more understandable, we report the scores as an average number of I/O operations per second so that higher scores translate into better performance in all of our iPeak results. While these measurements will provide a score representing "pure" hard drive performance, the actual impact on the real world applications can and will be different.
The drive is formatted before each test run and three tests are completed on each drive in order to ensure consistency in the benchmark results. The high and low scores are removed with the remaining score representing our reported result. We utilize the NVIDIA nF4 SATA ports along with the NVIDIA IDE-SW driver to ensure consistency in our playback results when utilizing NCQ, TCQ, or RAID settings. We will test with AAM and NCQ turned on with our Deskstar 7K1000 unit as AAM does not noticeably impact performance and this drive generally performs better with NCQ on in the majority of tests.
Our iPeak tests represent a fairly extensive cross section of applications and usage patterns for both the general and enthusiast user. We will continually tailor these benchmarks with an eye towards the drive's intended usage and feature set when compared to similar drives. In essence, although we will report results from our test suite for all drives, it is important to realize a drive designed for PVR duty will generate significantly different scores in our gaming benchmarks than a drive designed with gaming in mind such as the WD Raptor. This does not necessarily make the PVR drive a bad choice for those who capture and manipulate video while also gaming. Hopefully our comments in the results sections will offer proper guidance for making a purchasing decision in these situations. Our iPeak Test Suite consists of the following benchmarks.
VeriTest Business Winstone 2004
: trace file of the entire test suite that includes applications such as Microsoft Office XP, WinZip 8.1, and Norton Antivirus 2003.
VeriTest Multimedia Content Creation 2004
: trace file of the entire test suite that includes applications such as Adobe Photoshop 7.01, Macromedia Director MX 9.0, Microsoft Windows Media Encoder 9.0, Newtek Lightwave 3D 7.5b, and others.
AVG Antivirus 7.1.392
: trace file of a complete antivirus scan on our test bed hard drive.
Microsoft Disk Defragmenter
: trace file of the complete defragmentation process after the operating system and all applications were installed on our test bed hard drive.
WinRAR 3.51
: trace file of creating a single compressed file consisting of 444 files in 10 different folders totaling 602MB. The test is split into the time it takes to compress the files and the time it takes to decompress the files.
File Transfer
: individual trace files of transferring the Office Space DVD files to our source drive and transferring the files back to our test drive. The source and test drives are the same make and model for these tests. The content being transferred consists of 29 files with a content size of 7.55GB.
AnyDVD 5.9.6
: trace file of the time it takes to "rip" the Office Space DVD. We first copy the entire DVD over to our source drives, defragment the drive, and then measure the time it takes for AnyDVD to "rip" the contents to our test drive. While this is not ideal, it does remove the optical drive as a potential bottleneck during the extraction process and allows us to track the write performance of the drive.
Nero Recode 2
: trace file of the time it takes to shrink the entire Office Space DVD that was extracted in the AnyDVD process into a single 4.5GB DVD image.
Game Installation
: individual trace files of the time it takes to install Sims 2 and Battlefield 2. We copy each DVD to our secondary test drives, defragment the drive, and then install each game to our source drive.
Game Play
: individual trace files that capture the startup and about 15 minutes of game play in each game. The Sims 2 trace file consists of the time it takes to select a pre-configured character, setup a university, downtown, business from each expansion pack (pre-loaded), and then visit each section before returning home. Our final trace file utilizes Battlefield 2 and we play the Daqing Oilfield map in both single and multiplayer mode.
Hard Disk Performance: HDTune 2.53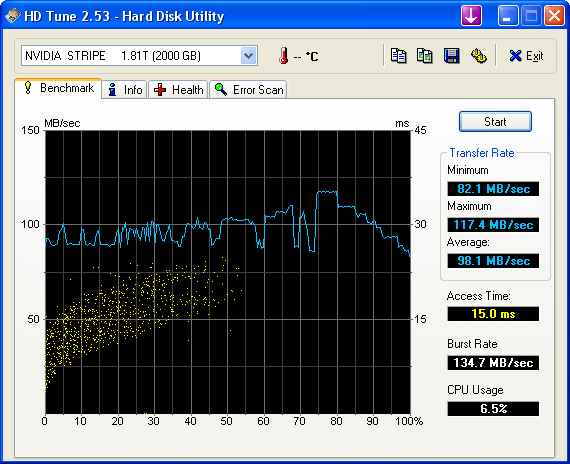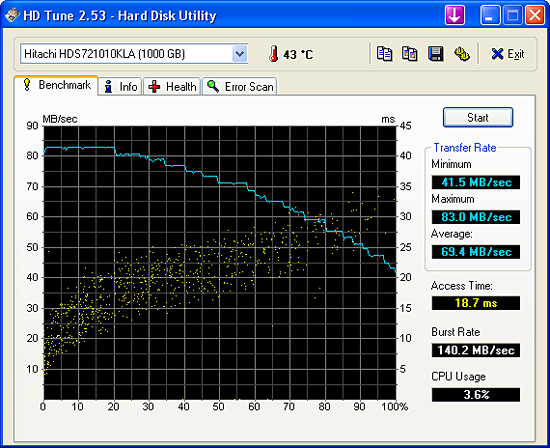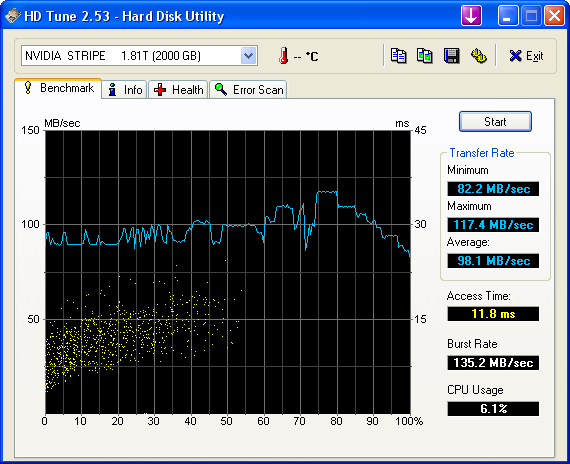 Our first screenshot is the Hitachi drive with Automatic Acoustic Management (AAM) and Native Command Queuing (NCQ) turned on in RAID 0 operation with the second screenshot showing the same configuration with a single drive. The RAID 0 setup shows a 98% increase in the minimum transfer rate and a 41% increase in the average sustained transfer rate. The maximum transfer rate also increases 41% although the burst rate is slightly lower. We believe HD Tune has a bug as the RAID 0 results indicate access times improving slightly when in reality they should not change or perhaps even increase slightly. Our HD Tach results bear this out so we will ignore the reported improvements in RAID 0 access times with this program.
The third screenshot is the RAID 0 results with AAM off and NCQ on. The transfer rates are basically the same with the only difference being a further reduction in access times compared to our first RAID 0 test result. We noticed the same drop in access times when turning off AAM during our single drive testing in the
first article
. Although the access times are improved we believe the benefits in the acoustics department outweigh the slight performance improvements we noticed in our application tests. We found that enabling AAM usually did not alter the test results more than 1% and at times the scores were a tie.
Hard Disk Performance: HD Tach 3.0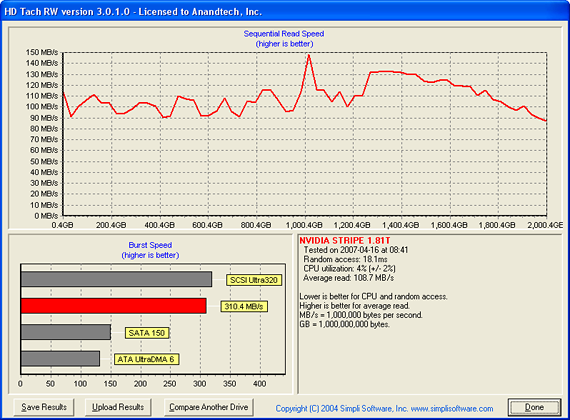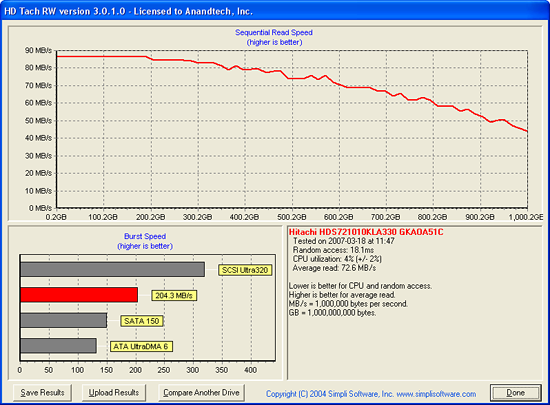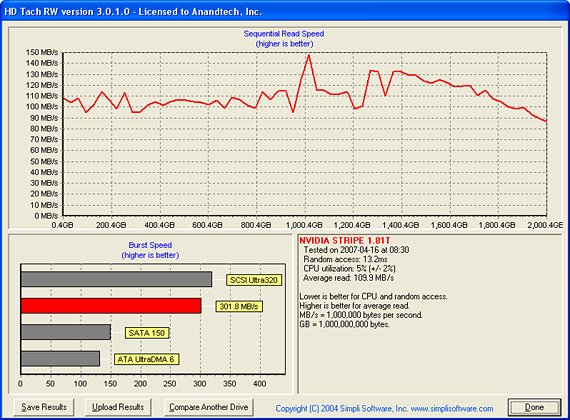 We are also including HD Tach results for review. Once again the order of the screenshots is the same as in our HDTune results. In this benchmark we see a 50% increase in the average read rates and a 52% increase in burst speeds over the single drive configuration with access times remaining the same in the AAM on /NCQ on tests. Our RAID 0 results with AAM off show an improvement in access times and sustained transfer rates while burst rates decline slightly compared to our other RAID 0 test results. While these numbers are impressive, we will have to see if they translate directly to improved application scores.
Hard Disk Performance: PCMark05
We are utilizing the HDD test suite within PCMark05 for further comparative hard disk scores as it provides a mixture of actual application results and specific read/write percentages utilized within these programs. It is also a readily available benchmark that others can use for comparative purposes. The program utilizes the RankDisk application within the Intel iPeak SPT suite of tools to record a trace of disk activity during usage of real world applications. These traces are then replayed to generate performance measurements based upon the actual disk operations within each application. The HDD test suite contains 53% read and 47% write operations with each trace section utilizing varied amounts of read or write operations. Additional information about the test suite can be found in PDF format here
PCMark05 whitepaper
.
The PCMark05 test results are based upon the following trace runs:
Windows XP Startup
: This test consists of 90% reading and 10% writes that tracks XP activities at start-up.
Application Loading
: This test consists of 83% reading and 17% writes that tracks the opening and closing of the following programs.
Microsoft Word
Adobe Acrobat Reader
Windows Media Player
3Dmark 2001SE
Leadtek WinFast DVD
Mozilla Internet Browser
General Hard Disk Drive Usage
: This test consists of 60% reading and 40% writes that tracks application usage utilizing the following settings.
Opening a Microsoft Word document, performing grammar check, saving and closing
Compression and decompression using WinZip
Encrypting and decrypting a file using PowerCrypt
Scanning files for viruses using F-Secure Antivirus
Playing an MP3 file with Winamp
Playing a WAV file with Winamp
Playing a DivX video using the DivX codec and Windows Media Player
Playing a WMV video file using Windows Media Player
Viewing pictures using Windows Picture Viewer
Browsing the Internet using Microsoft Internet Explorer
Loading, playing and exiting a game with Tom Clancy's Ghost Recon
Virus Scanning
: This test consists of 99.5% read operations as the test tracks the scanning activities of 600MB of files for viruses.
File Write
: This test consists of 100% write activities by writing 680MB of files onto the hard disk.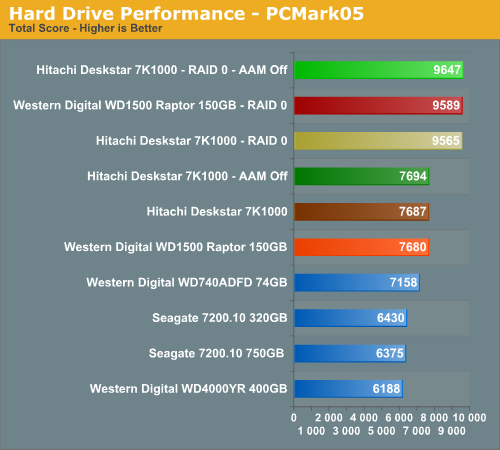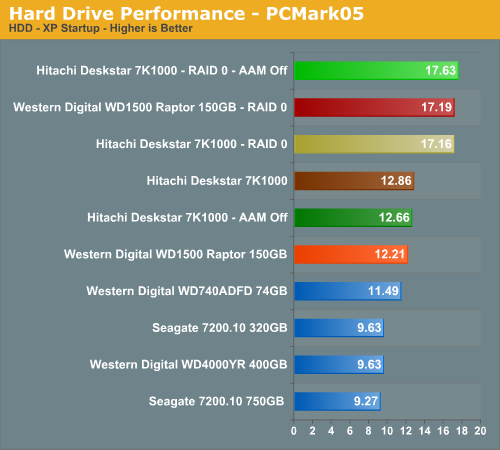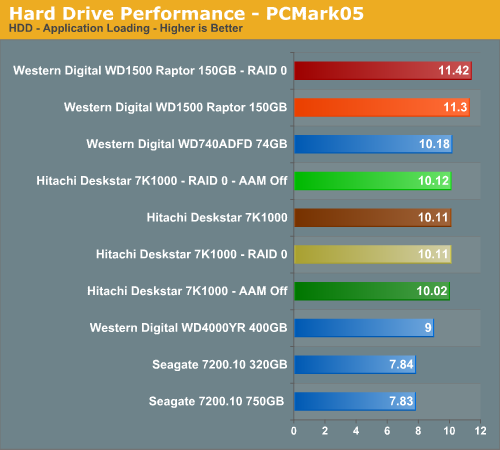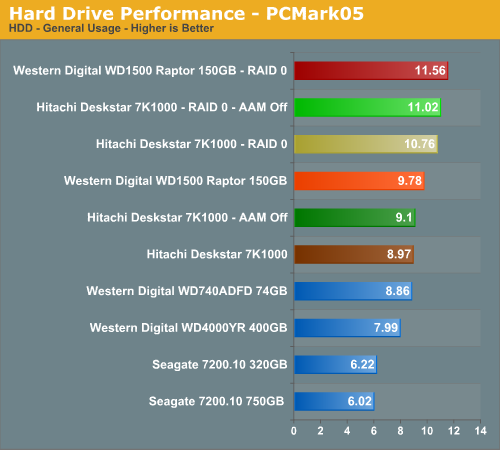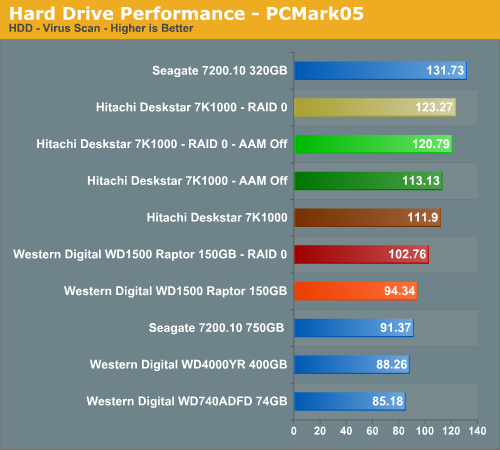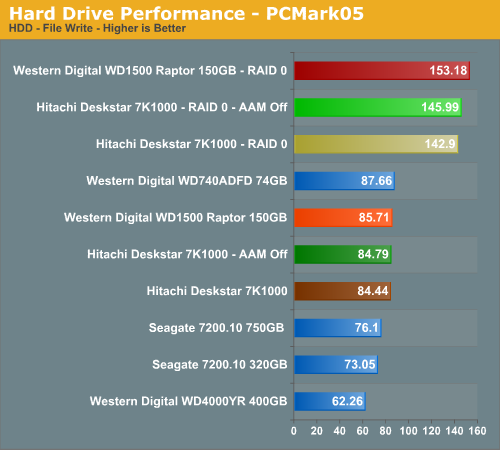 Our PCMark05 RAID 0 results show a 25% improvement over the single Hitachi drive results. The 7K1000 combination still scores better than the WD 150GB Raptor setup in this benchmark provided AAM is turned off, although the differences are minor. The major performance delta between the 7K1000 single and RAID 0 configuration is in the Windows Startup and File Write tests. As a side test that we are still developing, we tracked our actual XP startup times with each configuration. The RAID 0 setups only improved startup times by a few tenths of a second in most cases.
We fully expected the File Write tests to show major improvements as this is an area where RAID 0 will show an advantage. We see minor differences occurring in the General Usage and Application Loading sections of the test where write and read operations are balanced to a certain degree.
The Raptor's superior rotational/access speeds allow it to basically score slightly better than the 7K1000 except in the Virus Scan test where the 7K1000 has exceptional scores, even though it still lags behind the Seagate drive. Overall, if you need to improve your PCMark05 benchmark scores then RAID 0 will certainly do that, but as evidenced in the General Usage and Application results which mimic actual applications there is minimal impact.
iPeak Business Application Tests
Our iPeak Winstone benchmarks offer a glimpse into how well our hard disk drives will handle general office applications, media encoding, and graphics manipulation. While the business applications that are being tested tend to be more CPU bound at times, the performance of the hard drive can and will make a difference in the more disk intensive video and graphics applications where large media files are typically being edited.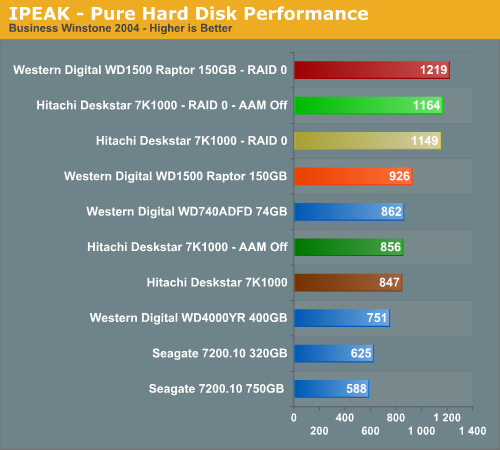 As expected the WD1500 Raptor drives finish at the top in our business application tests as its 10k RPM spindle speed and optimized cache play an important role in its ability to sustain high transfer rates, especially in the Content Creation benchmark where transfer block sizes are significantly larger and more random than in the Business application benchmark. This is true with either a single drive or RAID 0 setup although we see the 7K1000 trailing the WD1500 by less the 5% in these tests. While RAID 0 has the theoretical capability to improve throughput by up to 100% before system overhead, we only see a 31% to 35% improvements in these pure hard disk benchmarks.
iPeak General Task Tests
The iPeak based General Task benchmarks are designed to replicate utility based application tasks that typically are disk intensive and represent common programs utilized on the majority of personal computers. While the WinRAR program is very CPU intensive it will typically stress the storage system in short bursts. Our antivirus benchmark will stress the storage system with continual reads and sporadic write requests while the defragmentation process is split between continual read and write requests.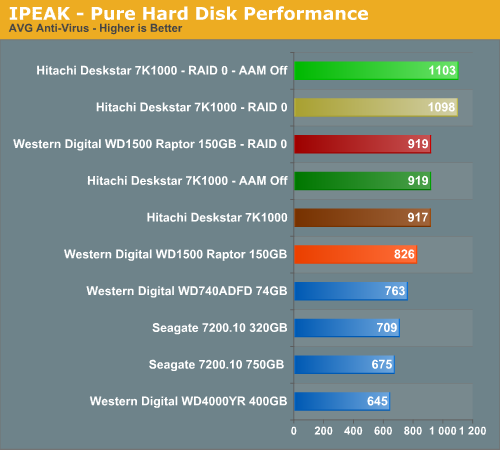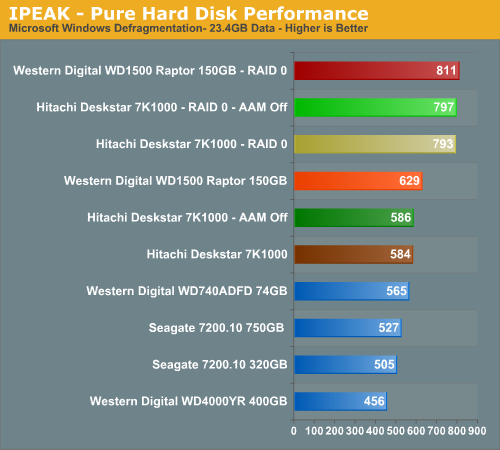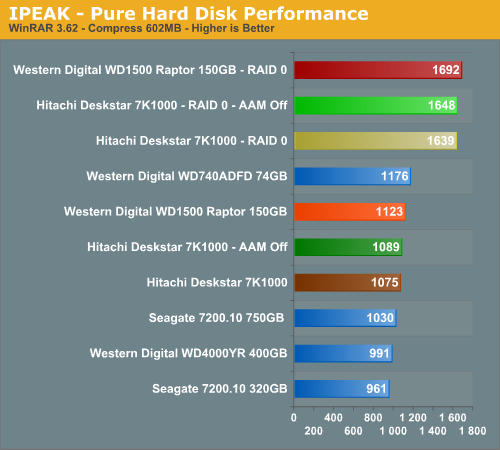 The 7K1000 performs extremely well in the Anti-Virus and Defragmentation test where its 32 MB cache benefits read operations with results that mirror the PCMark 2005 tests. This holds true with the RAID 0 configuration although we only see a 20% improvement in the AVG test results. Also of interest is that in the AVG test we see the Raptor RAID 0 setup score the same as the single drive 7K1000 configuration.
The Raptor holds a small advantage in the Windows defragmentation test in both the RAID 0 and single drive results. The rotational speed of the Raptors just cannot be beat in this test, but the 7K1000s score extremely well due to their cache size.
This is especially true in the WinRAR tests where the rotational and access speeds of the Raptors outperformed the 7K1000 setups in both configurations. In this test, write speeds are very important and we see the RAID 0 setups scoring around 50% better, though we expected better performance based upon the PCMark05 results. However, keep these pure performance results in mind as they will not be repeated in our actual WinRAR tests.
iPeak Video/Audio Tests
The iPeak based Video/Audio benchmarks are designed around simulating media encoding and HTPC activities. These are basic benchmarks at this time but this section will be expanded once we start testing under Vista. Our change to a better performing dual core processor will assist us in maintaining a balance between the CPU and Storage systems during the trace file creation and benchmarking processes. These benchmarks are CPU intensive in nature but also require a balanced storage system with the ability at times to handle read and write requests simultaneously in a very efficient manner.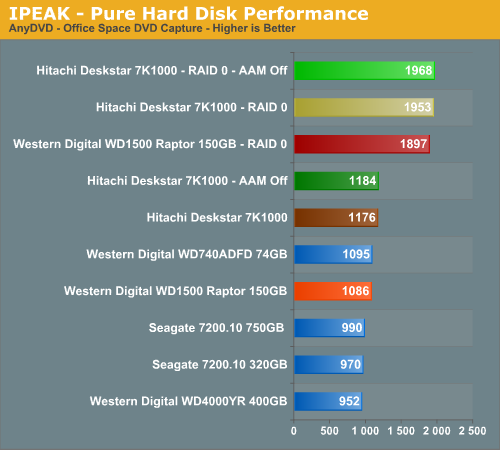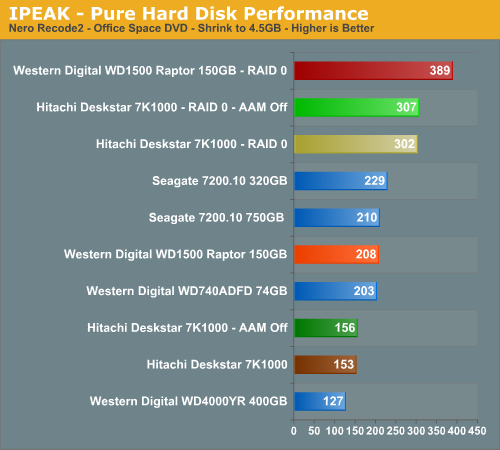 The AnyDVD benchmark is heavily weighted to write requests. The results show a common pattern in write intensive situations with the RAID 0 setups improving about 66% over their single drive counterparts. The 7K1000 scores particularly well in these write intensive benchmarks due to its areal density and large cache design.
The Nero Recode 2 benchmark is weighted to streaming read requests at the start of the test but is balanced by continuous write operations during the encoding process. This benchmark is one of the most demanding ones in our test suite with the disk being active the entire trace file with several 100% utilization peaks. The results show an almost 93% improvement in hard disk performance with RAID 0. We believe this is one of the few tests where RAID 0 on the desktop will make an actual difference in real-world performance.
The individual drive results surprised us as we expected the Hitachi with its 32 MB cache and high sustained transfer rates to score near the Raptors. However, it turns out after reviewing the trace file results it was obvious that the 7K1000 was hampered by its inability to process large data blocks in sequential order efficiently as it had a number of buffer overruns during the read portion of the tests. This indicates to us the drive firmware is probably tuned for non-sequential read/writes as the rest of our tests indicate. The 32 MB cache should have easily compensated for any potential large block issues in this test.
iPeak Game Installation Tests
Our iPeak based Game Installation benchmarks simply show the ability of the hard drive to write data as quickly as possible to the disc based upon the installation software instructions. As detailed in our iPeak setup description we installed the games from our source drive in order to eliminate the optical drive bottleneck. In separate application timing we witnessed basically the same percentage spread when installing the games via our DVD drive so these results are representative of actual installation performance.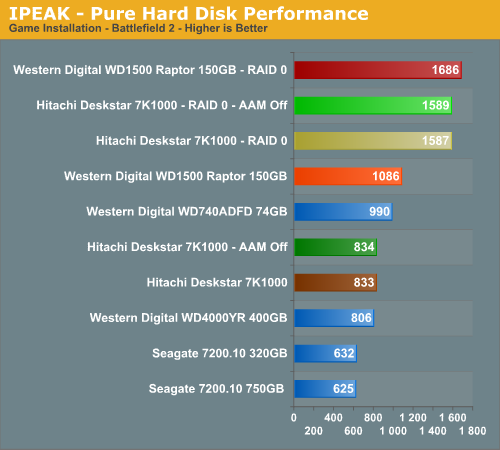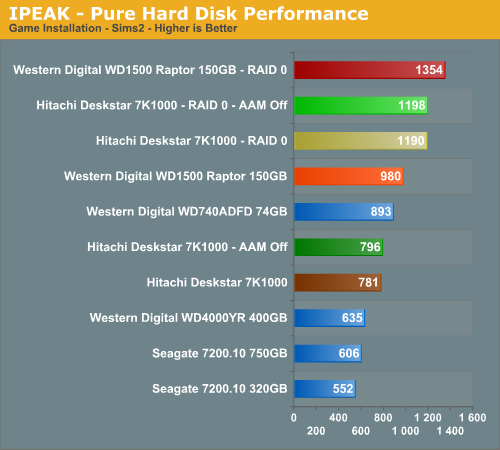 The Raptors once again finish at or near the top in our gaming tests due to their rotational and random access speeds. Our 7K1000 drive finishes ahead of the other 7200rpm drives with a great deal of benefit going to the 32 MB cache and high sustained transfer rates. In the RAID 0 results we see the Raptor scores improving 38% in The Sims2 and 55% in BF2. The 7K1000 benefits greatly from RAID 0 in these tests with improvements of 50% in The Sims2 and 90% in BF2 with the Raptors once again showing their strength in gaming.
We need to remember these tests reflect pure hard drive performance and will be mitigated by the overall system platform as we will see in our application tests. These tests are basically designed around continual read/write requests that favor large cache sizes, properly tuned firmware, and high sustained transfer rates.
iPeak Game Play Tests
The iPeak based Game Play tests are centered on the benefits of having a hard disk that can load non-linear or sequential data files quickly without interrupting the flow of the game.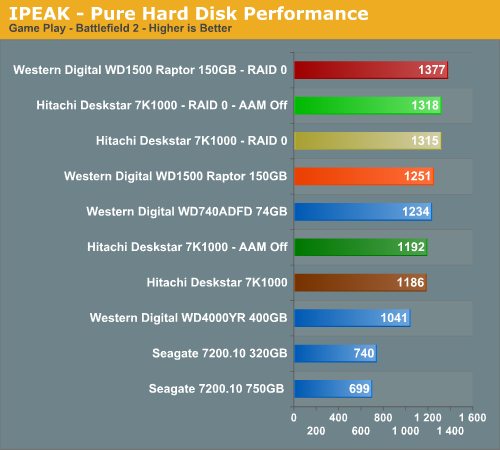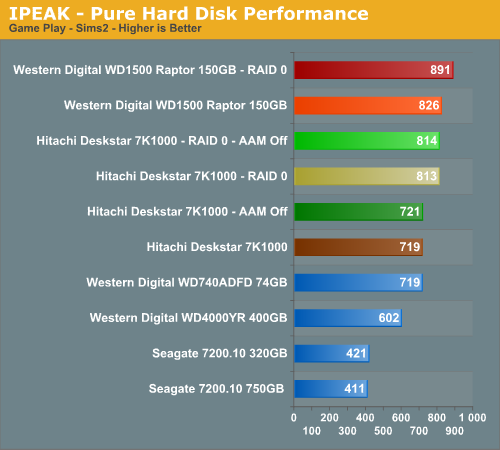 In game play the RAID 0 setups hold a 7% to 12% advantage in these benchmarks. We noticed in the trace files that performance improved only when the game levels changed. The best overall gaming performance with a SATA drive is still provided by the Raptors. However, considering the space, noise levels, and cost per GB advantages of the Hitachi drive, we are willing to change our recommendation for most users (though plenty will feel 1TB is too big and would rather go with a 500GB model).
Actual Application Performance
Our application benchmarks are designed to show application performance results with times being reported in seconds, with lower scores being better. While these tests will show some differences between the drives it is important to understand we are no longer measuring the pure performance of the hard drive but how well our platform performs with each individual drive. In that sense, these are the more real-world tests that show how hard drives and RAID 0 can impact your everyday computer use.
The performance of a hard drive is an integral part of the computer platform but other factors such as memory, CPU, core logic, and even chipset driver choices can play a major role in determining how well the hard drive performs in any given task. Also worth noting is that new features of Windows Vista - specifically SuperFetch - can further reduce the measured performance differences between hard drives.
Game Load Tests
In our Half-Life 2: Lost Coast test we measure the time it takes to load the game with the application timer starting when the play game icon is initiated in the Steam menu until the main game menu appears.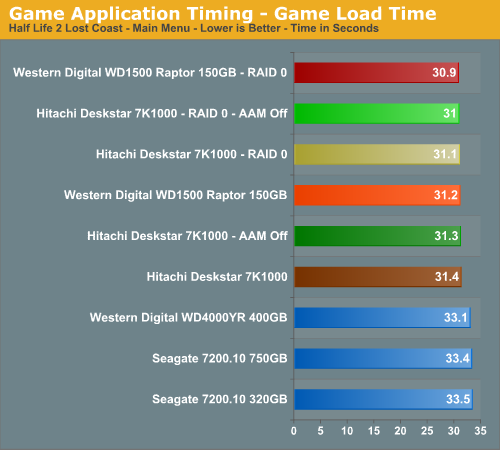 The results speak for themselves with the RAID 0 setups offering extremely minor performance improvements in actual game load testing. You will likely not be able to notice any differences during actual game play with a RAID 0 setup. We know it was impossible for us.
Our Sims 2 - Open for Business test measures the time it takes to load the initial portion of the game. Our application timer starts when the game icon is initiated until the neighborhood menu appears.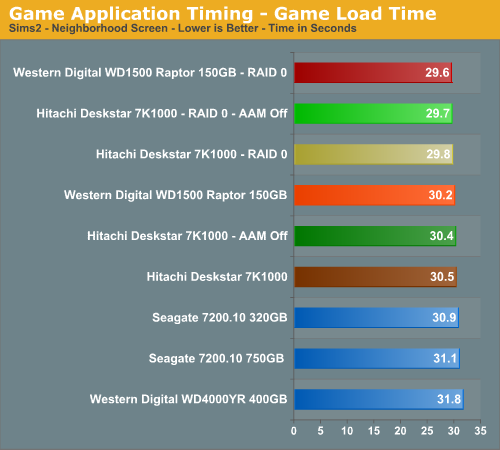 We witnessed 38% to 50% improvements in our iPeak tests in this game but measure less than a 2% difference in actual game load times. Without a benchmark, these differences are impossible to witness during actual game play. Once again, we see the Raptors slightly ahead but the 7K1000 for all intents and purposes is even in our game benchmarks.
Game Level Load
This test centers on the actual loading of a playable level within our game selections. We run Battlefield 2 and measure the time it takes to load the Daqing Oilfields level. Our application timer begins when the start single player icon is initiated and ends when the join game icon is visible.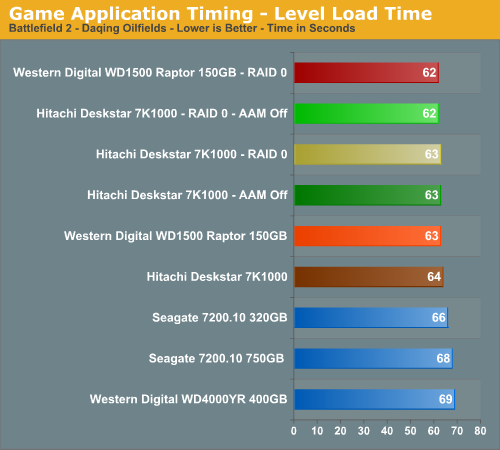 Once again we see a minimal difference between our RAID 0 and single drive configurations in this benchmark with only a one second difference in load times. In repeated testing it was difficult to discern any differences between the RAID 0 and single drive setups. On a side note, we firmly believe the areal density and 32 MB cache advantages of the Hitachi 7K1000 make up for the rotational and random access advantages of the Raptor in our gaming tests.
WinRAR 3.62
Our WinRAR test measures the time it takes to compress our test folder that contains 444 files, 10 folders, and 602MB of data. This is same test folder utilized in our iPeak test suite. This benchmark is extremely CPU/RAM intensive but it may require a fast storage system to keep pace.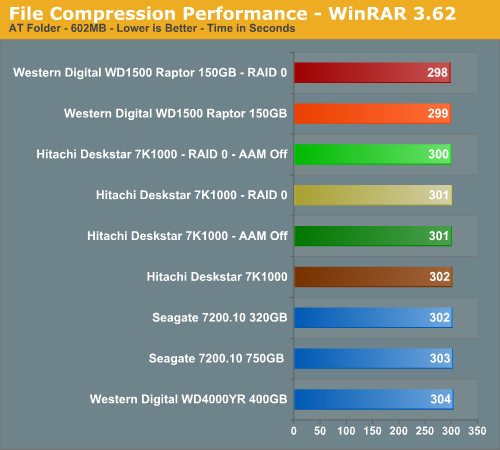 Our iPeak test showed a 50% advantage for the RAID 0 setups but we see an insignificant difference in the actual test results. One would assume the potential write speed advantages of a RAID 0 setup would have a larger impact on performance in this benchmark but in actuality CPU throughput makes a far more significant difference.
Nero Recode
Our encoding test is quite easy - we take our original Office Space DVD and use AnyDVD Ripper to copy the full DVD to the hard drive without compression, thus providing an almost exact duplicate of the DVD. We then fire up Nero Recode 2, select our Office Space copy on the hard drive, and perform a shrink operation to allow the entire movie along with extras to fit on a single 4.5GB DVD disc. We leave all options on their defaults except we turn off the advanced analysis option. The scores reported include the full encoding process and are represented in seconds, with lower numbers indicating better performance.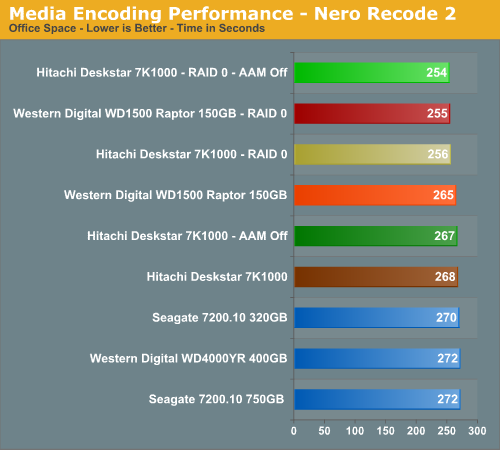 The iPeak results showed a 93% improvement with RAID 0 and we know from previous experience that RAID 0 can make a difference in this particular test. How large the difference would be was anybody's guess, but we figured it was the last chance for RAID 0 to generate any meaningful performance improvements. In the end, we did have measurable differences between the two setups with the RAID 0 configurations performing about 5% better. If you do a lot of video encoding then RAID 0 could end up saving you some precious minutes each day. Is it worth the cost or effort? Probably not, but it is one area besides benchmarking where RAID 0 actually made a difference. Of course, if you don't already have the fastest CPU for encoding available, that would have a far greater impact than RAID 0.
File Copy Performance
Our file copy test measures the time it takes to transfer our test folder that contains 29 files, 1 folder, and transfers 7.55GB of data from our source drive to the target test drive. This is same test folder utilized in our iPeak test suite. This benchmark is disk write intensive and requires a fast storage system.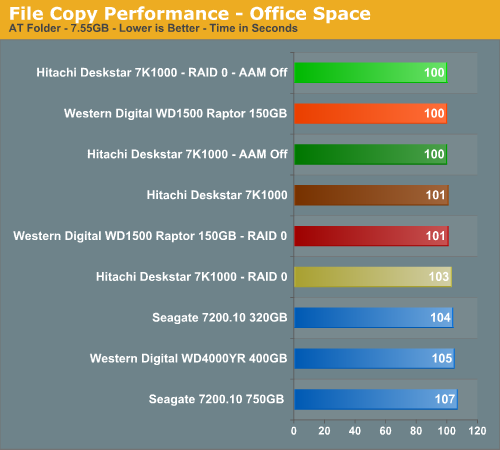 We finish our tests with a benchmark that should have favored the RAID 0 setups due to a pure write scenario. Unlike our iPeak test (and for that matter a similar test in PCMark05) where the largest differences in scores between setups were generated, we have RAID 0 making no difference in this test and actually scoring worse than a single drive setup in two instances.
Final Thoughts
If it is not obvious by now, RAID 0 will provide outstanding results in synthetic benchmarks but really does nothing in actual applications. We should probably clarify that statement in detail. Utilizing the best performing drives in RAID 0 is the setup to have if you are looking to publish top benchmark scores with results in PCMark05 improving by 25% as an example. That same setup will provide you with at best minimal performance improvements in most applications, or sometimes no difference at all.
Our only meaningful application performance improvement with RAID 0 came in the Nero Recode tests where the improved write performance reduced our encoding process by about 5%. What will that 5% cost you? In this case, $399 for the second 7K1000, a halving of the mean time between failure rates on each drive, a data backup nightmare, and increases in noise, thermals, and power consumption. RAID 0 sounds impressive in a system configuration and provides a performance placebo effect when viewing synthetic benchmarks. However, RAID 0 is just not worth the trouble or cost for the average desktop user or gamer, especially with the software RAID capabilities included on most motherboards. We will delve into the RAID world with additional tests and hardware combinations in the coming weeks but for now we again recommend that most desktop users should just stay away from it.
Now that we have answered what happens if two of these impressive drives are operated in RAID 0, we can get back to our conclusions about the performance of this drive. Our experiences over the past few weeks with the Hitachi Deskstar 7K1000 have been terrific. The overall performance of this drive is excellent and close enough to the WD1500ADFD Raptor drive that we consider it a worthy adversary in most situations. The Raptors are still the drives to own for most benchmarking purposes or those simply wanting the best overall performance in a SATA drive regardless of price or capacity, but the reduced capacity and higher noise levels are certainly a drawback.
We consider the Hitachi
Deskstar 7K1000
the best 7200rpm drive we have tested to date. This is quite the accomplishment considering this is Hitachi's first 3.5" form factor drive that utilizes perpendicular recording technology. We found the write performance and sustained transfer rates to be excellent and class leading in several of our test results. The drive also offers a very balanced blend of performance across a wide variety of business and home applications. The 7K1000 even has the best overall thermal and acoustic characteristics of the high performance 7200rpm drives in our tests. For these reasons, we award the Hitachi Deskstar 7K1000 our Gold Editors' Choice award and highly recommend the purchase of this drive if you are currently looking for a high-capacity drive with performance to match.
The Deskstar 7K1000 is not without faults as we stated in our first article. We did find in our Nero Recode tests and to some degree in our Winstone tests that the drive does not perform as expected in handling large block sizes of data in sequential order. Conversely, the Achilles heel of the Seagate 750GB drive was its inability to handle large files in non-sequential order. Hitachi has overcome this for this most part with a large 32MB cache and from all apparent indications firmware that is tuned with operational balance in mind or even favoring non-sequential read/writes. This is a luxury it can afford due to its cache size and areal density advantages over the other drives in our test group.
Hitachi's implementation of their Automatic Acoustic Management technology on the 7K1000 does not hinder performance in a noticeable manner and offers a significant advantage for those needing a spacious drive in a quiet system. While our original acoustic testing shows the drive to be very quiet, it is not totally silent. However, based on conversations with Hitachi we fully expect the CinemaStar version of this drive (designed for DVR operations) to improve upon the Deskstar results. As stated in both articles, we believe leaving AAM and NCQ turned on provides the best user experience with this drive. While there may be a very slight performance advantage in certain benchmarks with AAM off, we feel like the benefit of having a quiet 1TB drive in our system is well worth the price of losing a few benchmark points.