Original Link: http://www.anandtech.com/show/2209


Introduction
Antec has been around a long time in the case industry, and as such they've learned how to do many things exceptionally well. If any sweeping statements could be made about their approach to product design, we would have to say that they always seem to aim right in the middle of marrying current demands for popular aesthetics with pushing the envelope implementing new ideas and features. This approach keeps their cases one step ahead of most of the competition - even at their competitive price points.
This balanced approach has been a great strategy for Antec and a few other case manufacturers for quite some time, but when Antec decided to be a little riskier than normal with their
incredibly monolithic P180
, they hit a sweet spot in the hearts of a lot of enthusiasts. With the themed and windowed cases that used to be so popular really just coming across as gimmicky to many PC builders, the P180's simplistic styling was a breath of fresh air. It was a bit of a stretch designing something
so
void of any character, but the design was combined with a few revolutionary yet fundamentally very simple functional characteristics. In the end, the case's fresh look helped it quickly rise to a level of popularity rarely seen in the computer case market.
Like any good manufacturer, Antec knew when they had something special on their hands. In addition to the regular silver P180, they released a black version of the case to a select few stores shortly after the original's release. Now as a follow up they have made an upgraded version of the case, coated it in a dark gunmetal gray finish, and dubbed it the P182. Additionally, they have simultaneously launched a Special Edition version which literally shines with a stunning mirror finish. Functionally, both P182 cases offer several compelling reasons to make them serious candidates for anyone's next desktop computer, either for their own unique look or their improvements in a few small areas. For our purposes Antec has sent us a Special Edition to review, but it only offers one more feature than the 'stock' P182 other than its shiny paint job, and that's just a special flexible interior spot light, so for all practical purposes this can be considered a review of the standard edition as well.
More information on the Antec P182 and P182SE can be found on
Antec's website
.
Exterior
There is really no point in skirting around the P182 SE's most fantastic selling point. Both side panels and the front door are coated in an incredibly well polished stainless steel finish.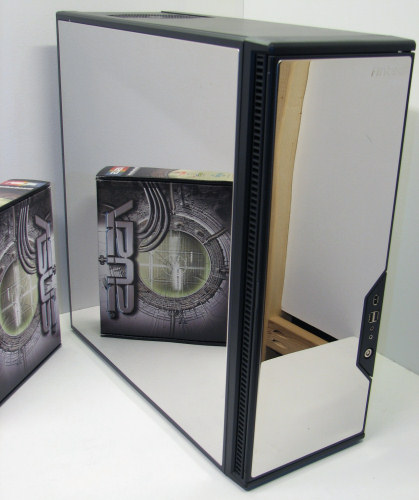 Click to enlarge
The finish is so clean in fact, we found it hard to really take a good picture of the case. Faced with this challenge, we figured it might be best to just take a few pictures of exactly what we saw when photographing the unit.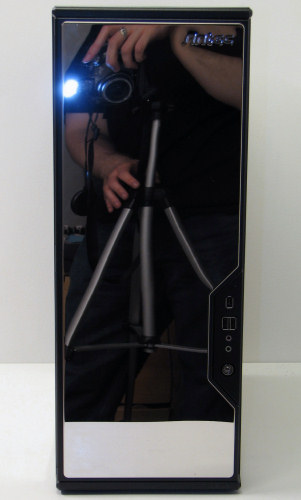 Click to enlarge
Just as the original P180 and all of its siblings, the P182 SE does not have much at all on the front side when the door is closed. "Antec" is embossed in the top right corner, but other than that only the ports and a lock for the panel are visible.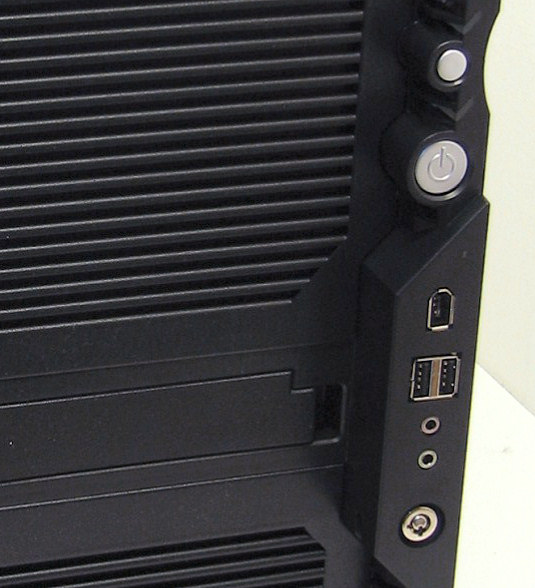 The case comes with two USB ports, a FireWire port, headphone and microphone jacks, as well as power and reset buttons all accessible on the front of the case. When the door is closed, the power and reset buttons are covered -- a good way to keep prying hands away from your system.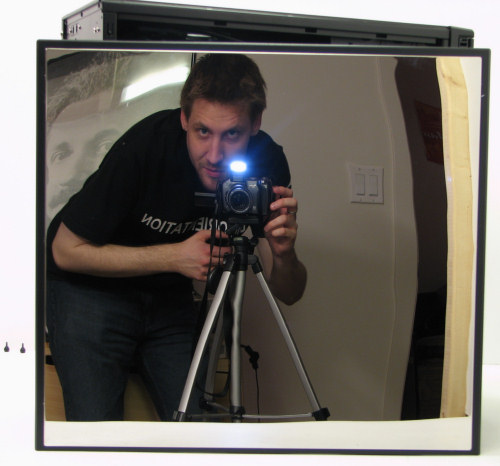 Getting back to the finish and its reflectivity though, the side panel in particular could almost be suitable as a replacement for most bathroom mirrors.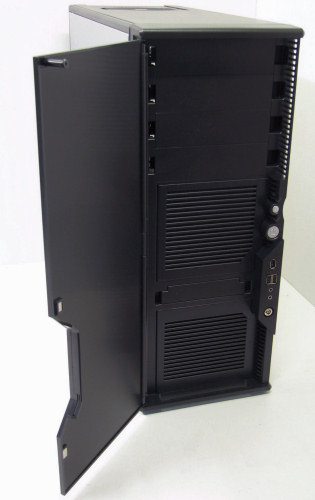 Click to enlarge
As soon as the door is opened, however, we are greeted with the familiar sight of a matte black plastic finish encompassing the power and reset buttons. The door is magnetically latched and it takes just the right amount of effort to open it up. It also hinges back all the way to the side of the case for users who would prefer to have it always open. Like its predecessors, the P182 SE allows for four 5.25" drives, one 3.5" drive, and gives easy access to both 120mm fan filters for cleaning.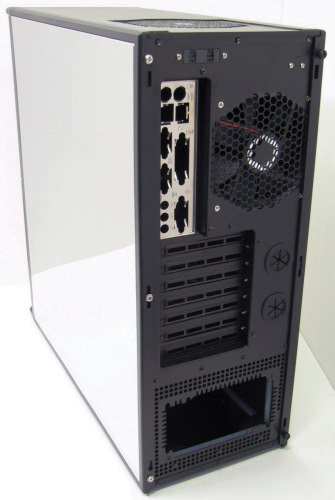 Click to enlarge
One of the bigger additions to the P182 over the P180 is the inclusion of externally accessible switches for the top two fans on the back at the top of the case. This of course makes its way into the special edition as well, which is quite an improvement over having to take off the side panel and find the switch for each tri-cool fan. The soft rubber water tubing ports make their appearance on the back too, for an easier installation of external water cooling kits.
Interior
Inside, not much has changed through the various iterations of Antec's P18x series. Their design places the power supply at the bottom but does not invert the motherboard like other cases with this layout. Although sometimes this can make certain motherboard/power supply combinations impossible fits for the case, Antec believes it is still worthwhile it to have this layout, and for a few reasons it really does make sense.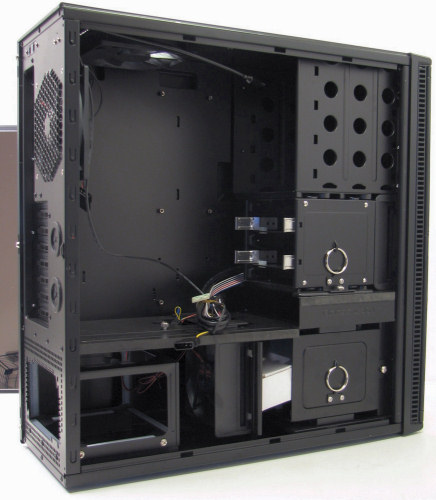 Click to enlarge
Most notably, the design allows for all the hottest air that collects around the CPU and motherboard power regulators to be taken away very quickly by the two large exhaust fans placed at the top-rear of the case.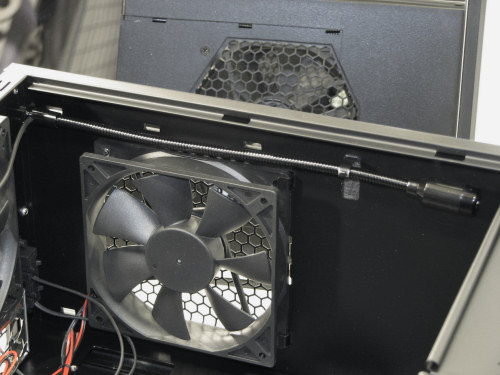 Click to enlarge
In this shot of the fan in the top plate, a USB-powered flexible work light is visible. When not in use, the light stores away in its holder. It's an interesting inclusion, but of course it's only useful if the system is powered on; this is generally not the case when people are working on the interior of their computer.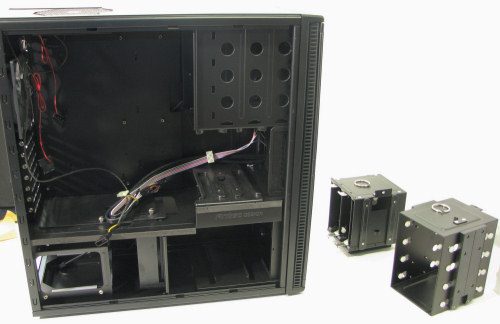 Click to enlarge
Unlike the P180 we reviewed earlier, the entire inside of the P182 SE is black - right down to the drive cages and motherboard mounting tray. To hold the hard drives, two separate removable cages are used. The top unit can contain two drives, each one in its own removable sled, and the bottom cage can hold four with vibration-dampening rubber grommets.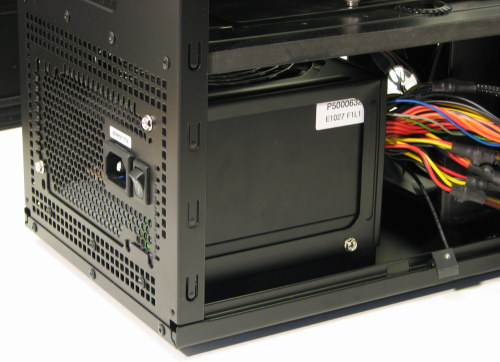 Click to enlarge
Each cage is guided securely in place along rails and held fast with a single thumbscrew. As for the power supply, it's held with a piece of metal with rubber along some of its edges that goes around three sides and then fastens with screws onto a platform underneath. Four more screws can go into the PSU itself in the back, regardless of which way the unit is oriented - a nice touch a lot of cheaper cases still have not implemented.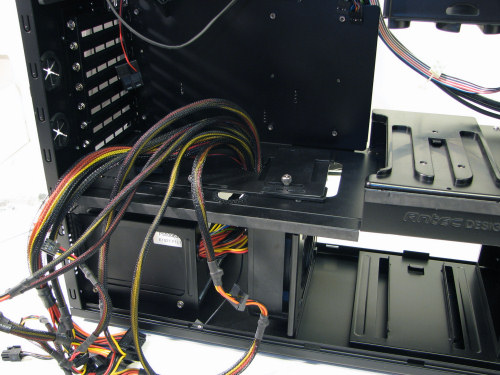 Click to enlarge
Our Zalman PSU's plethora of cables still all fit through the collapsible opening, but longer power supplies might require the removal of the fan in this bottom section. For the longest power supplies, the entire plate that the fan mounts onto can be taken out. The handy sliding cover serves to keep the cabling neat, and simultaneously it segregates the different airflow zones of the case; unfortunately it's still a bit flimsy in its construction and use. There are actually two holes in the cover, one for the power supply cables and one for cabling to go to the lower hard drive cage. Both can be opened and closed individually.
Installation
To finish our look at the special edition of the P182, here are a few pictures from the installation of our new test bed.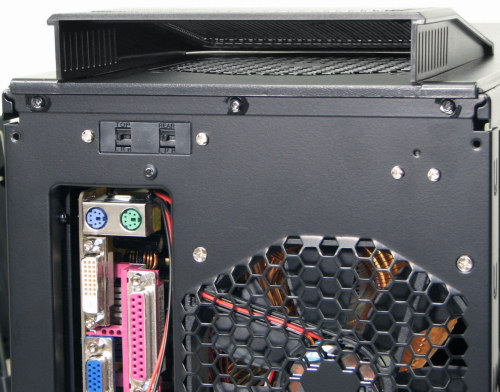 Click to enlarge
A plastic grill is included with the case to prevent objects from covering up the rear top fan and thus render it useless. Also notice the switches for the two fans mentioned earlier.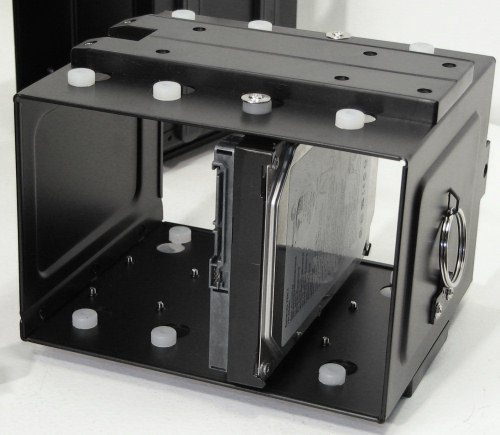 Click to enlarge
The main hard drive cage is simple and easy to use, and plenty of long screws are provided to make installing the drives worry-free.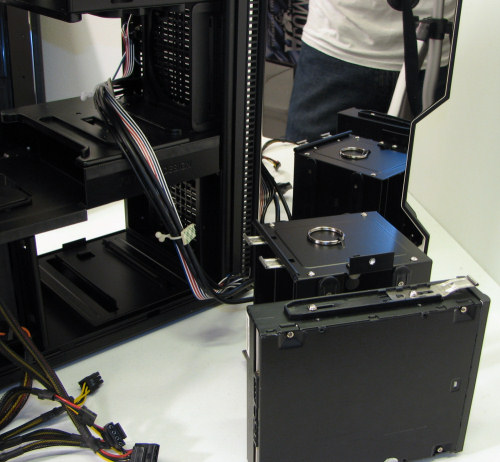 Click to enlarge
Optical drives and other 5.25" drives are installed with rails, which certainly work well. Enough rails are provided for all four bays to be filled.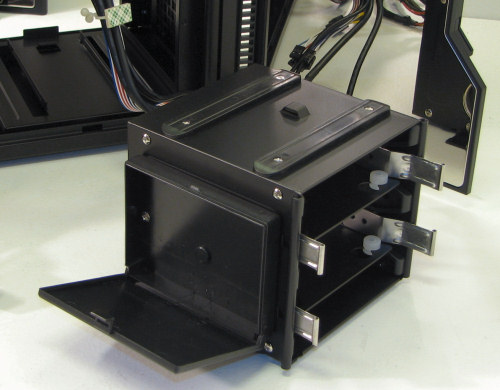 Click to enlarge
In addition to holding two sleds for more hard drives, the other drive cage also has a small accessory box on its backside for storing extra case screws and whatnot. Nice.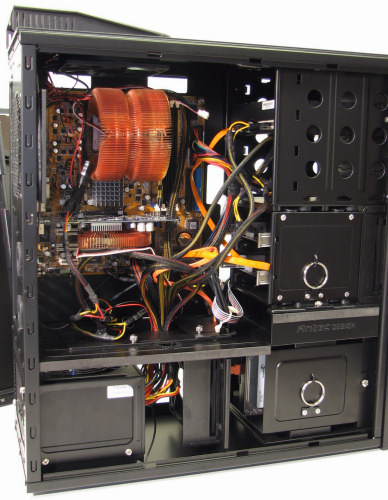 Click to enlarge
A picture of our test bed almost totally installed once again shows the adequate but not really ample room inside the P18x series of cases. It's a case that's really just as big as it needs to be to hold a moderate desktop configuration. Thankfully, it is big enough for large coolers like the popular Zalman CNPS 9500.
Benchmark Setup
Our new mATX test bed offered many advantages over our previous equipment. It provides more reliable temperature figures, more sensors overall, and the dual core CPU does a better job of stressing out a case's cooling ability. In fact, it does such a good job that we feel it is a better solution than our previous ATX test bed - an LGA 775 based motherboard with a Pentium 4 CPU. While the Intel-based DFI motherboard might have offered more typical air-flow patterns for a full sized motherboard in ATX cases, we feel the benefits of more sensors and a higher output CPU outweigh the slightly more standard sized PCB, so we will be testing all cases using this mATX motherboard for the time being.
New ATX Test Bed
Asus A8N-VM nForce 430
AMD 3800+ X2 Dual Core CPU
OCZ 512MB DDR2 x 2
Zalman CNPS 9500 Heatsink
Seagate 120gb SATA Hard Drive
Chaintech GeForce 6600GT
Zalman VF-700 Cu GPU Cooler
MSI DVD-CD/R/RW Combo drive
Zalman ZM460-APS PSU
This new motherboard proved to be an excellent choice for our test bed, as it offered a total of eight temperature sensors - nine including the hard drive. We determined the location of every sensor by trial and error and localized cooling. We found a number of duplicated or at least very similar numbers which we have either averaged out or omitted due to redundancy, and we have tried our best to provide the most intuitive naming of the locations of the sensors, However, with a few - in particular the ones concerning the 6600 GT - we just found three sensors and based on their data and our localized cooling we decided one is truly the core temperature, one is located very close to the core but is probably on the PCB itself, and the third is located further away from the GPU socket but is still on the graphics card.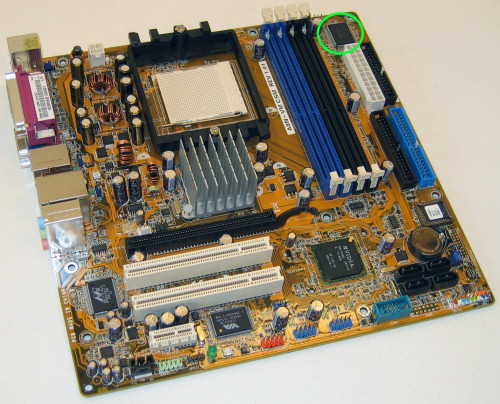 Click to enlarge
We also found a sensor in a Winbond chip in the top right which works nicely as an ambient motherboard temperature indicator, and will be shown simply as "MB" in our temperature results tables. For the sake of getting the most useful comparisons of the performance of this new case to other offerings, we included numbers from our recent micro ATX roundup, one of which used the same CPU cooler. Unfortunately, with Windows Vista on the new test bed we did not have S.M.A.R.T. functionality for our hard drive, and thus we could not include HDD temperatures. We did gain a sensor however that was finally unquestionably located in the Northbridge, and we have labeled that simply NB in this temperature chart.
Heat
With a completely new set of NVIDIA drivers for Vista, we were not surprised to see a change in sensor to name mapping, but we eventually found the locations of all the same sensors we used in previous tests with this motherboard and named them accordingly. Note that ambient room temperatures are slightly different, but even so it's pretty clear the P182 SE is not performing as well as the smaller cases, which certainly surprised us.

There could be a number of factors at play here, but the biggest one is most likely the simple fact that we ran the test with all three system fans set to low. At this setting the computer still performed flawlessly, and noise was reduced to an absolute minimum. The "MB" sensor in particular gives us a clear picture that all the air in the case is hotter with this small amount of air flow, but even so some components are being kept nearly as cool (or even cooler than) a system that is much louder.
With a heavier heatsink like the 9500 Cu, it is also possible that the vertical motherboard orientation causes the heatsink to have less-than-ideal contact with the CPU surface, thus reducing its effectiveness. Taking all this into account we still consider this case a great performer. Turning the fans up to even medium provided numbers significantly better than the micro ATX offerings, but the key is this was not necessary even under full load.
Noise
To put its performance in the auditory arena into perspective, here are the noise levels as determined using our sound meter. On this day of testing we registered an ambient noise floor of right around 20 dB-A.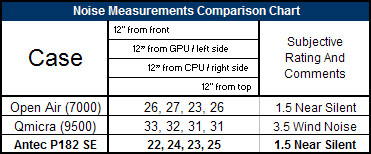 Similarly to its previous versions, the latest offering in the P18x line is an outstanding case for those concerned with noise levels. Amazingly, outfitted with undervolted Zalman gear the P182 SE registered significantly quieter than our open air test bed, which actually had the somewhat quieter Zalman 7000 Cu heatsink installed at the time. Antec's success is owed to its well-made multi-material side panels, a good fitting of parts, and abundant use of vibration dampening techniques, employed everywhere from the hard drives to the power supply bracket itself.
Subjectively, the only way we even noticed a difference between our ambient room noise and the computer being on was a dull hum of all the fans moving their considerably small amounts of air. This noise was so transparent it probably would not even bother most sound technicians in studio work. Even as good as these numbers are though, community users have taken great delight in modding their P180s with various applications of tape, additional dampening materials, more exotic, quieter fans, and even suspended hard drives to achieve truly silent computing. Antec's provided Tri-Cool fans should still be commended for their near-silent operation when set to their lowest setting.
Final Words
Evolution and innovation drive all fronts of technology, and in the computer case business that translates into a constant battle for finding a perfect blend of functional usefulness, aesthetic acceptance, performance in regards to both temperatures and sound levels, and pricing to match competitors' similar offerings. Antec has already found great success with the original P180 and for years to come it will be a desktop case others are measured against. Its creative use of plastic, aluminum, and steel translated into some of the lowest noise levels yet on a desktop PC case without changing it at all from the way it comes out of the box.
At first appearance, there might not be much attracting a potential purchaser of a PC enclosure to the P182 SE over Antec's other offerings aside from the out-of-this-world paint job, but the work/showcase spotlight might be just the kind of accessory which nudges an interested party over the edge to choose it over the normal gunmetal gray P182. Choices are always good though, and in this sense the P182 and P182 SE make great additions to Antec's line.
The "vanilla" P182 is a nice choice; for
around $170 online
one can get almost all the same features as the case we reviewed, with a still very attractive dark gray finish. For the user who demands the "best", the P182 SE's still-killer noise performance - one of the best in its class - is available with the addition of the flexible work light, all black interior, and super-shiny mirror finish for a pretty substantial increase in price.. we've seen the P182 SE available for
around $230 online
. The special edition will be a limited offering, however, so if having the ability to see your reflection on the surface of your case is something you've always wanted, you'll want to jump on it as soon as it's available - but be aware of the fact that it's going to leave a bit of a dent in your wallet.