Original Link: http://www.anandtech.com/show/2177


AMD has been taking a beating lately; when Intel released its Core 2 microprocessor family it was priced and performed aggressively, too aggressively for AMD to adequately compete with at the time. AMD's marketing even went into remission as reviewers weren't even seeded for speed bumps to the Athlon 64 X2 line, the X2 5000+ and FX-62 were the fastest Socket-AM2 parts AMD sent out for review and they were the first ones we'd ever reviewed as well. Sometimes no PR is good PR, and an article around the launch of the Athlon 64 X2 5200+, 5400+ or 5600+ simply proclaiming that Core 2 is once again on top would only work in Intel's favor.
Quad FX came and went with limited interest from the enthusiast community, but the new platform signified a change in AMD's product lineup. Expensive FX series processors would no longer be simply speed bumps of mainstream CPUs with more cache, they would be reserved for a completely different socket as well and sold in bundles of two for Quad FX platforms. It's almost fitting that the FX line has been relegated to a platform that we didn't recommend as it makes the task of encouraging users to stay away from FX-class processors a little easier. And if having to move to a new socket wasn't reason enough to pick an AM2 processor over its FX counterpart, AMD's latest price cuts should seal the deal:
| | | | |
| --- | --- | --- | --- |
| CPU | Clock Speed | L2 Cache | Price |
| AMD Athlon 64 X2 6000+ | 3.0GHz | 1MBx2 | $459 |
| AMD Athlon 64 X2 5600+ | 2.8GHz | 1MBx2 | $326 |
| AMD Athlon 64 X2 5400+ | 2.8GHz | 512KBx2 | $267 |
| AMD Athlon 64 X2 5200+ | 2.6GHz | 1MBx2 | $232 |
| AMD Athlon 64 X2 5000+ | 2.6GHz | 512KBx2 | $222 |
| AMD Athlon 64 X2 4800+ | 2.5GHz | 512KBx2 | $217 |
| AMD Athlon 64 X2 4600+ | 2.4GHz | 512KBx2 | $195 |
| AMD Athlon 64 X2 4400+ | 2.3GHz | 512KBx2 | $170 |
| AMD Athlon 64 X2 4200+ | 2.2GHz | 512KBx2 | $159 |
| AMD Athlon 64 X2 4000+ | 2.1GHz | 512KBx2 | $144 |
| AMD Athlon 64 X2 3800+ | 2.0GHz | 512KBx2 | $113 |
| AMD Athlon 64 X2 3600+ | 1.9GHz | 512KBx2 | $102 |
The most expensive Athlon 64 X2, in fact the one being introduced today, is priced at under $500. Clocked at 3.0GHz with a 1MB L2 cache per core, the Athlon 64 X2 6000+ isn't even the most attractive part of AMD's lineup. Shave 200MHz off the 6000+ and you get the Athlon 64 X2 5600+, priced at $326. Note that the X2 5600+ is simply a FX-62 in disguise, what used to be a $999 processor has been reduced to less than a third of its cost - ain't competition grand?
Of course a price war isn't in AMD's best interest when it comes to making money, but it's the best AMD can do until its new micro-architecture makes its debut later this year. As a reference, below is a table of Intel's Core 2 price list:
| | | | |
| --- | --- | --- | --- |
| CPU | Clock Speed | L2 Cache | Price |
| Intel Core 2 Extreme X6800 | 2.93GHz | 4MB | $999 |
| Intel Core 2 Duo E6700 | 2.66GHz | 4MB | $530 |
| Intel Core 2 Duo E6600 | 2.40GHz | 4MB | $316 |
| Intel Core 2 Duo E6400 | 2.13GHz | 2MB | $224 |
| Intel Core 2 Duo E6300 | 1.86GHz | 2MB | $183 |
| Intel Core 2 Duo E4300 | 1.80GHz | 2MB | $163 |
The Core 2 Duo E6700 is $70 more expensive than the X2 6000+ but it is Intel's closest competition to the new AMD processor. The E6600 lines up pretty well with the Athlon 64 X2 5600+ at a price $10 lower, while the E6400 is only $2 away from the X2 5000+. While we know that Intel's Core 2 processors are faster, the question that remains is whether AMD's aggressive pricing changes the value equation at all.
Still 90nm
Despite AMD's recent move to 65nm, the highest clocked cores are still built on a 90nm process; this is usually the case when a new process isn't mature enough to produce adequate yields at higher clock speeds. There's also the fact that higher volume processors run at lower clock speeds so it makes sense for a capacity constrained company like AMD to move high volume parts to 65nm production before the lower demand SKUs.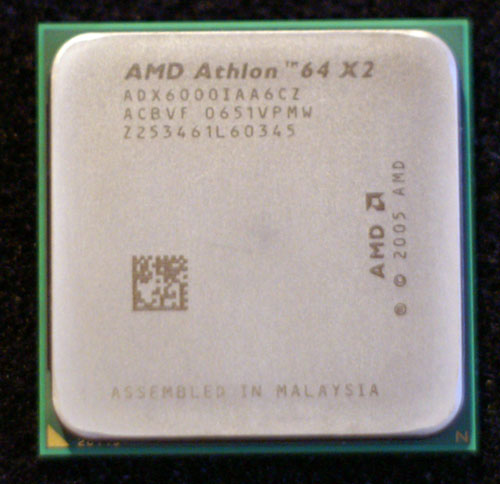 The Test - Windows Vista Ultimate 64-bit
While the major benchmark suites still lack support for the OS, we are trying our hands at testing CPUs under Windows Vista with this review. By now we know not to expect a significant performance difference between Windows Vista and XP, but given Vista's compelling feature set we see it becoming the dominant PC OS for new system builds in the enthusiast community.
With a substantial number of our CPU benchmarks available in 64-bit versions, using the 64-bit version of Vista wasn't a difficult choice. Since we're also using modern components in our testbeds, driver support wasn't an issue either. Given what we saw in our Vista Performance Guide, the ability to use more memory for features like SuperFetch warrants the switch to 64-bit if you don't have any legacy hardware without driver support.
The only other change we've made to our test beds is the use of 4GB of memory; by no means is it necessary (yet) but Vista's added memory requirements coupled with its better use of free memory makes 4GB a good target for enthusiasts.
CPU:
AMD Athlon 64 X2 6000+ (3.0GHz/1MBx2)
AMD Athlon 64 X2 5600+ (2.8GHz/1MBx2)
AMD Athlon 64 X2 5000+ (2.6GHz/512KBx2)
AMD Athlon 64 X2 3800+ (2.0GHz/512KBx2)
Intel Core 2 Duo E6700 (2.66GHz/4MB)
Intel Core 2 Duo E6600 (2.40GHz/4MB)
Intel Core 2 Duo E6300 (1.86GHz/2MB)
Motherboard:
ASUS P5B Deluxe (P965)
ASUS M2N32-SLI Deluxe (nForce 590 SLI)
Chipset:
Intel P965
NVIDIA nForce 590 SLI
Chipset Drivers:
Intel 8.1.1.1010 (Intel)
Integrated Vista Drivers (NVIDIA)
Hard Disk:
Seagate 7200.9 300GB SATA
Memory:
Corsair XMS2 DDR2-800 4-4-4-12 (1GB x 4)
Video Card:
NVIDIA GeForce 8800 GTX
Video Drivers:
NVIDIA ForceWare 100.54
Desktop Resolution:
1600 x 1200
OS:
Windows Vista Ultimate 64-bit
General Performance
Although our usual general performance suites aren't available under Vista, something we often use in our motherboard reviews is: PCMark '05. PCMark is a somewhat unusual benchmark as it is a synthetic performance test that tries really hard to be applicable to the real world.
The tests used by PCMark '05 and the applications they are based off of are listed in the table below: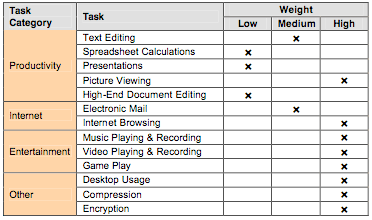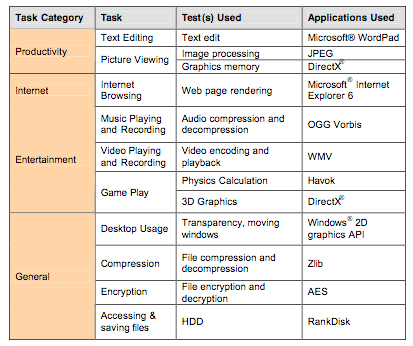 We focused on two of the PCMark tests: the system test suite and the CPU test suite. The system test suite is composed of the following tests: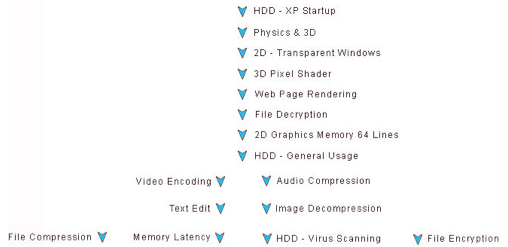 And the CPU test suite consists of the following tests:

We reported the overall PCMark and CPU test scores.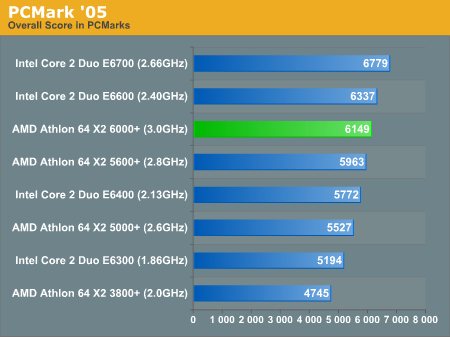 The overall PCMark '05 score indicates a clear victory for Intel, with both the E6700 and E6600 outperforming the Athlon 64 X2 6000+. The advantage is about 10%, but if we look at the CPU score things change a bit: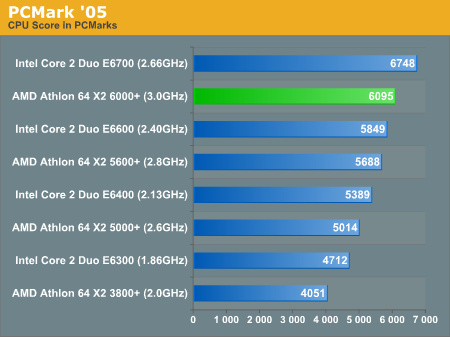 The E6700 is still on top, but the X2 6000+ manages to outperform the E6600. It's not a huge change and the tests are mostly grounded in real world applications, so the question is - will the trend hold up as we test individual applications?
Media Encoding Performance
Although DivX was one of the first areas we saw performance gains with when moving to 64-bit years ago, our codec and encoding front end are both still 32-bit applications. We've moved to DivX 6.5.1 but our test settings remain the same. We use the codec in its unconstrained profile, using a quality present of 5 in 1-pass mode. Enhanced multithreading is enabled and we report encoding frame rate for our 1080p source file.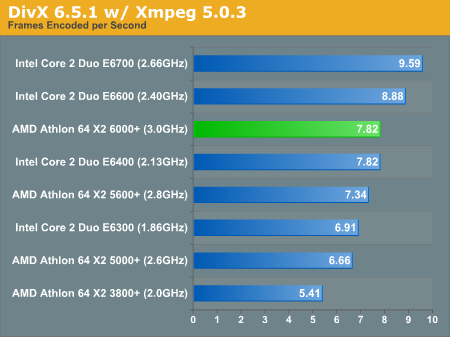 The Core 2 Duo E6700, the closest price competitor to the X2 6000+, delivers significantly better performance in our DivX test. The Core 2's 22% performance advantage more than makes up for its $70 price premium. The E6600 continues the trend by offering better performance at an even closer price to the Athlon 64 X2 5600+. The same is true for the E6400 and the X2 5000+, the clear win goes to the Core 2 processor even when you take into account price.
Windows Media Encoder is available in a 64-bit version and thus we used that here as one of our encoding tests. Our test remains the same as we've run it in the past, only using the 64-bit version of WME instead of the 32-bit version. Performance is reported in frames encoded per second: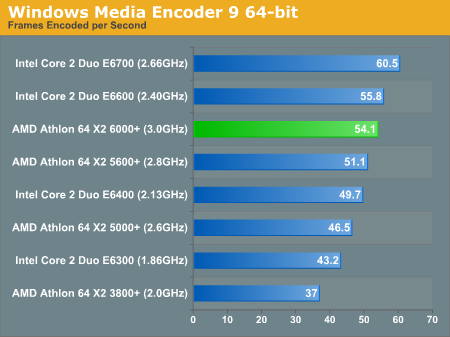 The performance advantages aren't nearly as high as they are under DivX, but our WME tests agree with what we just saw. At equal or similar price points, the Core 2 Duo is a much better performer than the Athlon 64 X2. We've known this to be true ever since the Core 2 launch, but we're re-affirming it after the last round of price cuts.
We also looked at encode time using Windows Movie Maker, a 64-bit application that comes with Windows Vista. We measured the time it took to encode content recorded off of Media Center into a format for posting on YouTube. Encode time was measured in seconds: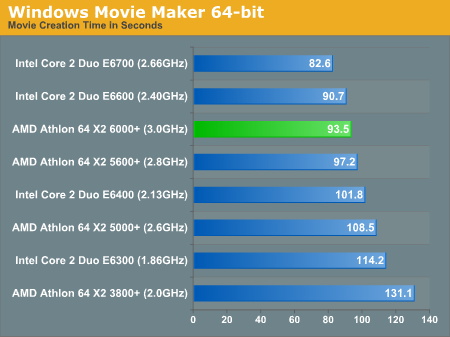 Performance under Windows Movie Maker falls somewhere in between what we saw with DivX and WME; the Core 2 family gets the clean win here.
H.264 encoded content is still not mainstream yet, but the benefits of storing your content in the new format are numerous. We measured H.264 encode performance using Quicktime and report the results in frames encoded per second: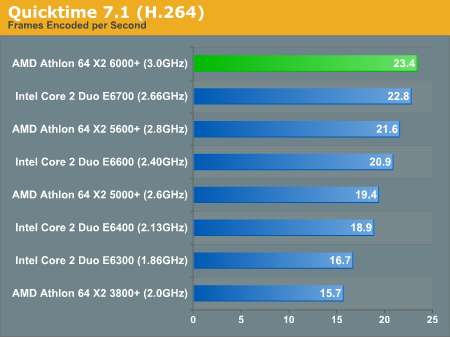 The tables turn a bit under Quicktime, with the Athlon 64 X2 6000+ actually coming out on top. The 5600+ also manages to outperform the E6600 and the 5000+ is faster than the E6400. The results here are a bit different than under Windows XP, but we're unsure of whether that is due to Vista or the 64-bit version of Vista.
We conclude our look at Media Encoding performance with a simple conversion from a 304MB wav file to a 192kbps MP3 using iTunes. The conversion rate is reported in MB/s: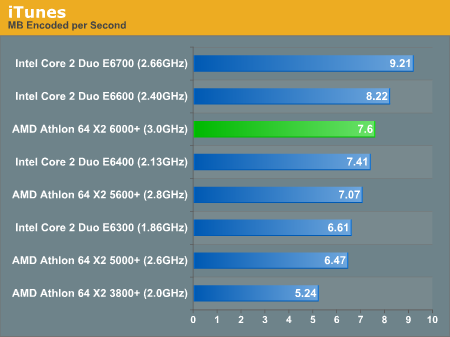 MP3 encoding performance shifts the balance once again over to Intel; the E6700, E6600 and E6400 each hold an advantage over their respective AMD counterparts.
3D Rendering Performance
We've moved on to using 3dsmax 9, which allows us to run a 64-bit version of the program for our tests. The test scenario is still made up of the CPU rendering tests of the SPECapc 3dsmax benchmark. We report the rendering composite, which is simply the geometric mean of render times across seven benchmarks normalized to a set of reference scores. We ran 3dsmax 9 using its Direct3D driver given the poor state of OpenGL performance under Windows Vista.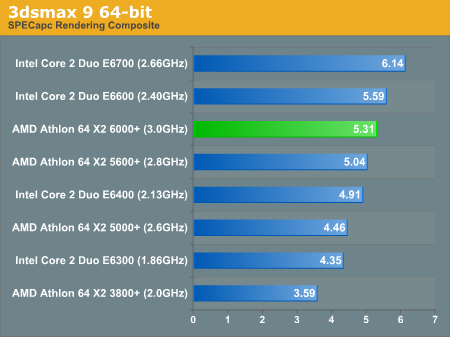 3D rendering performance under 3dsmax has proven to be one of many strong poitns of the Core 2 lineup, and the trend continues here under 64-bit Vista. The E6700 outperforms the newly released 6000+ by just over 15%, with the E6600 and E6400 following suit.
Lightwave 3D 9.0 is available with 64-bit support, giving us another 64-bit 3D rendering test. We looked at performance under two scenes that ship with the program: Dirty_Building and Record_Player. We measured the time it took to render the scene in seconds, lower numbers are obviously better.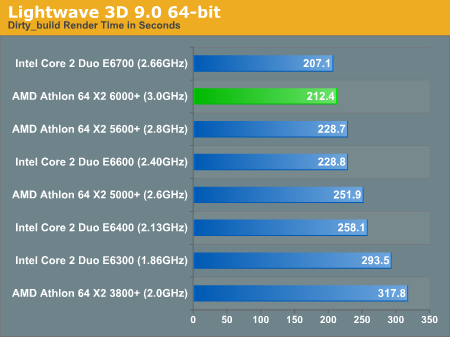 Lightwave performance is far closer between the contenders, as the E6700 and 6000+ are basically tied in our first benchmark. The same is true for the E6600 and the 5600+, while the 5000+ is actually slightly faster than the E6400.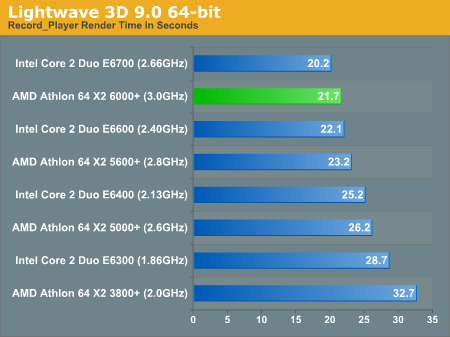 Intel gains a little more of an advantage in our next test scene, but the numbers continue to be quite close. If Lightwave is where you spend most of your time, AMD seems to be quite competitive with Intel here.
POV-Ray's ray tracing benchmark has been a popular CPU test for quite some time, and we turn to its 64-bit SMP beta to stress the CPUs here today:
Performance is extremely close between the Core 2 and Athlon 64 X2 families, there's no clear winner here although once you get down to the E6400 the X2 5000+ becomes a bit better of an option.
Our final 3D benchmark is the 64-bit version of Cinebench 9.5, a fairly popular 3D rendering benchmark due to its ease of use and quick runtimes. We ran the multi-threaded CPU rendering test and reported the final score in CBmarks. Higher numbers are better: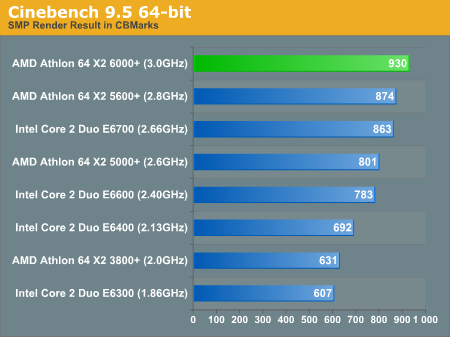 The Cinebench results are further cause for celebration for AMD, performance is higher on the green side of the fence at each price point we targeted for this review.
Photo Processing Performance
We turned to the Retouch Artists Photoshop Speed Test for measuring CPU performance in Adobe's Photoshop CS3 beta. The benchmark applies a number of actions to a test image while we measure the total time elapsed during the active portion of the test. We report results in seconds, with lower scores denoting higher performance.
We set history states to 1 and cache levels to 4; CS3 was configured to make use of all available system memory.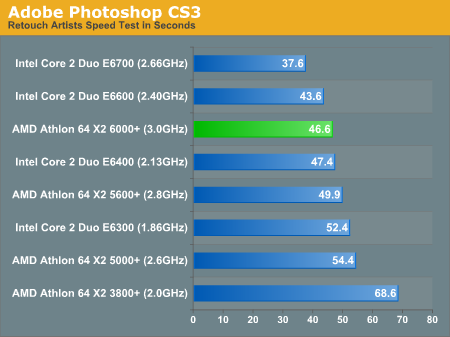 Performance under Adobe Photoshop CS3 is not a strong point for the Athlon 64 X2 lineup as even the X2 6000+ can barely outperform the Core 2 Duo E6400. The rest of the model numbers fall around the speed of Intel's E6300 or slower. If you're a Photoshop user, AMD won't be able to do it for you.
Our next test is one recommended by Intel, but the test itself appears to be fair as it is a simple task using one of Vista's built in applications: Windows Photo Gallery. This test simply measures the amount of time required to print four sheets of thumbnails; of course we don't measure actual printing time, rather the benchmark exports the pictures to an Excel spreadsheet. Time is measured in seconds, with lower times resulting in better performance: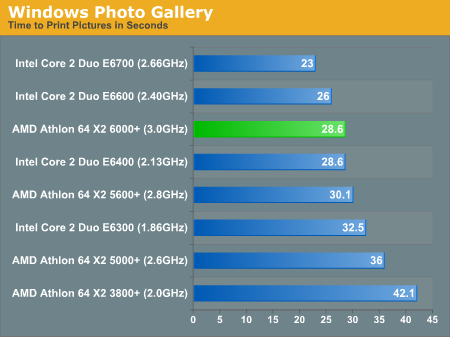 Although vastly different in usage pattern and purpose, the Windows Photo Gallery benchmark actually gave us results very similar to the CS3 benchmark. We suspect that the nature of these benchmarks tends to favor the notably faster SSE performance of the Core 2 processors, but if that's the case we may see the tables turn once AMD introduces Barcelona.
Finally we have a benchmark that was one of the first tests AMD sent around a while back to showcase what 64-bit processors could do for performance. The application is called the Panorama Factory and it is used to stitch together multiple digital pictures in order to make one larger picture, or a panorama. The stitching process can be quite CPU intensive so we used the benchmark to stitch together 10 6MP images of a room and reported the total process time: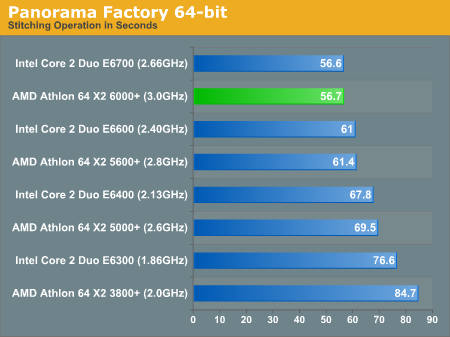 Performance is pretty evenly split here between the two processor families. The E6700 is as fast as the X2 6000+, the E6600 and 5600+ are pretty close as are the E6400 and 5000+.
Archiving Performance
One of our more unusual tests is a benchmark using Quickpar 0.9.1. Quickpar can reconstruct missing parts of an archive with the requisite Par2 files (files storing parity data). The reconstruction process can take some time, especially if you're dealing with a large archive missing many files.
In order to test the impact of CPU performance on reconstructing lost files we created an archive measuring almost 8GB in size and generated 20 Par2 files off of it. We then threw away part of the archive and told Quickpar to regenerate the missing files using only what it had and the Par2 files. We report the recovery rate in MB/s. Note that not only is Quickpar not a 64-bit application, it's also only single threaded, but it is quite dependent on CPU speed.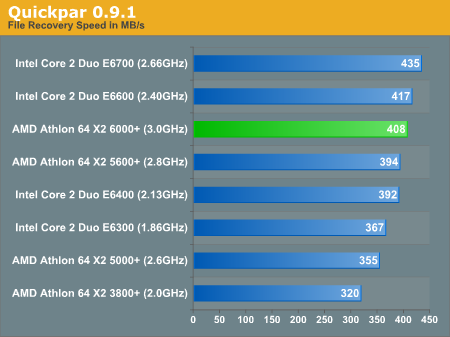 The performance breakdown in our Quickpar test is fairly close, but Intel seems to win out each time. The E6700 is about 6% faster than the X2 6000+ as is the E6600 vs. the 5600+. At the lower end of the price spectrum, the E6400 manages a 10% lead over the X2 5000+.
Gaming Performance
Given that we were running under Windows Vista, we only focused on DirectX gaming performance due to the current state of OpenGL performance in the new OS. All of our game benchmarks are 32-bit.
First up is Oblivion, where we benchmarked a timed FRAPS run through of a savegame within the Bruma town gates. Oblivion has just as many CPU bound situations as it does GPU bound situations, this benchmark is merely one of the CPU bound cases. We tested Oblivion with the 1.1 patch and the game's default Very High quality settings, which can still be CPU bound with an 8800 GTX at 1600 x 1200: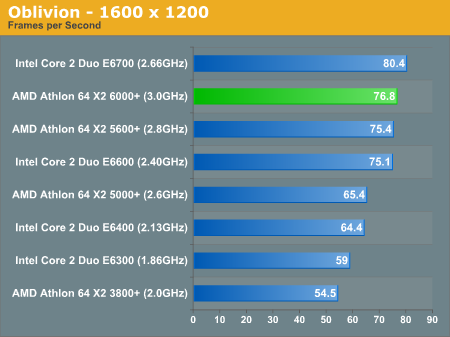 Oblivion performance is actually pretty close between the two processor families. Although the E6700 is a bit faster than the X2 6000+, the 5600+ offers the same performance as the E6600. And the X2 5000+ is virtually tied with the E6400 - you can't go wrong with either processor here.
We measured performance in Half Life 2: Episode One using a custom recorded timedemo, the same benchmark we've used in previous reviews. All quality settings were set to their highest values except for AA and AF which remained disabled.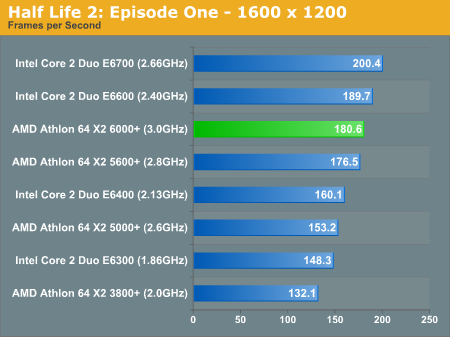 Half Life 2 has been a bit more at home with Intel's Core 2 architecture than AMD's Athlon 64 X2, although both CPUs are more than fast enough to run the game Intel is technically faster at the sort of calculations that the Source engine requires of a CPU.
Company of Heroes is a RTS by Relic and actually makes good use of multi-core CPUs. All of the games quality settings were set to their highest values, except for AA which was disabled. We tested at 1024 x 768 in order to run at a more CPU bound configuration. We benchmarked the game with its 1.04 patch, using its built-in performance test and reported average frame rate: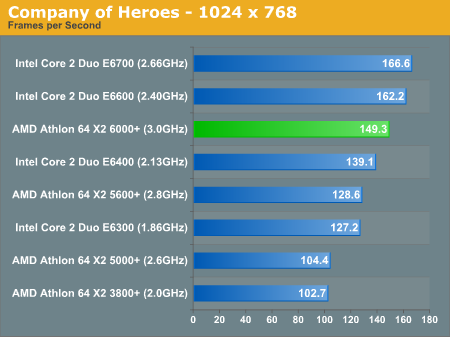 CoH gave us some very odd results, seemingly favoring larger L2 caches over increases in clock speed. Intel manages to take the lead here as well.
Finally we have Battlefield 2 performance, using in game High quality settings and the same benchmark we've used in previous reviews: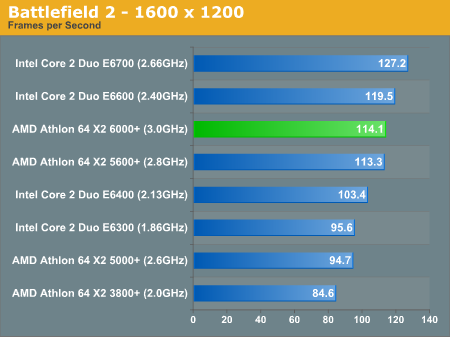 Battlefield 2 echoes what we've seen elsewhere, although the Intel performance advantage has shrunk to only 11% in the case of the E6700 vs. 6000+.
Power Consumption
As always, we measured power consumption at two states: at idle sitting at the Vista desktop and under load while running our WME test. At both settings, Cool 'n Quiet/EIST were enabled to keep power consumption down to a minimum, although the biggest difference is made at idle.
Keep in mind that the X2 5000+ listed here is a 65nm Brisbane core, while the rest are 90nm parts. The X2 3800+ is a low power EE SFF core, although still based on AMD's 90nm process; all of the Intel CPUs are 65nm.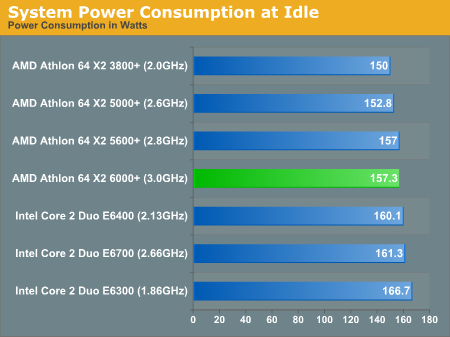 At idle, AMD's power consumption is lower than Intel by a few watts. Keep in mind that our E6300 is a particularly bad sample so it showcases the worst possible power consumption for that particular processor.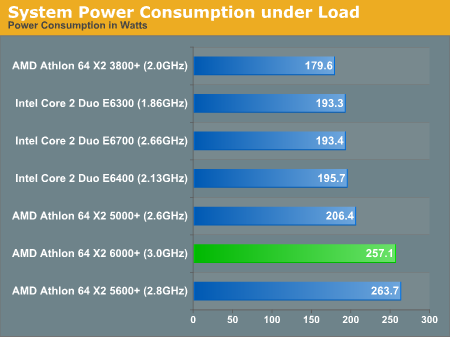 Under load it's clear that AMD needs 65nm to be competitive with Intel as only the 65nm X2 5000+ is able to draw power similar to that of its Intel counterparts. Note that AMD is at a bit of a disadvantage here as it's running on a more power hungry nForce 590 SLI chipset compared to Intel's P965, but the power requirements at 2.8GHz - 3.0GHz on AMD's 90nm process are quite real.
AMD needs 65nm top to bottom in a bad way; not only will it help ease capacity constraints, but it will also keep AMD from turning into the power hungry chip maker that Intel once was.
Final Words
With the latest round of price cuts AMD is far more competitive than at any other point since the release of Intel's Core 2 processors. Unfortunately for AMD, this means that at best, it can offer performance close to that of Intel's Core 2 processors at similar prices.
Overall, the performance advantage still goes to Intel's Core 2 lineup but there are a few situations where the performance between the two families is close enough to be considered a tie. There are also the outlier cases where the Athlon 64 X2 actually ends up faster than the Core 2, but we suspect that they are more isolated incidents than indications of the norm.
We are most happy that the most expensive AM2 processor you can buy now will run you less than $500 as the FX series has been relegated to Socket-1207 only. While AMD won't be winning any performance crowns with this minor speed bump, it does mean that current Socket-AM2 owners have a pretty good upgrade path to look forward to; after all, for $326 you can upgrade to what was once a $999 Athlon 64 FX-62.
As the last Socket-AM2 processor before AMD's new-architecture makes its debut, the Athlon 64 X2 6000+ doesn't set any land speed records, nor does it send off AMD's most successful architecture to date with any sort of a bang. AMD is still relying on its 90nm process for the top bin parts and thus there's no real power efficiency in the X2 6000+ to be impressed by. We still have to wait for Barcelona before we can get really excited about anything AMD is doing, but recent price cuts positioning Socket-AM2 as a more affordable platform have made this an easier pill to swallow.
Our recommendation continues to be for Intel's Core 2 lineup, but it's beginning to seem like competition could be restored when Barcelona arrives...assuming Penryn doesn't happen until 2008.