Original Link: http://www.anandtech.com/show/2169


Introduction
There are a few things that we tend to take for granted in life: death, taxes, and a lack of overclocking support on PCs from major OEMs. Certainly, there are many people that don't need overclocking, and those are exactly the people that tend to purchase name brand PCs in the first place. If your typical computer use doesn't get much more complex than surfing the Internet, the difference between a massively overclocked CPU and the stock configuration is hardly going to be noticeable. What's more, overclocking tends to come with drawbacks. System stability is frequently suspect, and outside of a few boutique computer shops that factory overclock systems, you will generally void your warranty by overclocking.
Conversely, overclocking gives those willing to take a chance the ability to squeeze extra performance out of even the top performing parts. Alternately, consumers can save money by purchasing a cheaper processor and running it at speeds that would normally cost two or three times as much. Intel's latest Core 2 processors have rekindled interest in overclocking, in part simply because they overclock so well. In the past, the benchmark for highly overclockable chips has generally been set at 50% or more, with good overclocking chips achieving a 25% to 50% overclock. Core 2 Duo blows away some of these old conventions, with some chips like the E4300 managing even massive 100% overclocks! And they manage this without breaking a sweat. With chips that overclock so well, it seems a shame to run them at stock speeds.
Over the years, we have seen a few factory overclocked systems, but rarely from a major OEM. The big OEMs like Dell, Gateway, HP, etc. tend to play it safe, but Gateway has broken with tradition by releasing a significantly overclocked Core 2 Extreme QX6700 system. What's more, they have done it at a price that is likely to turn a lot of heads - and yes, the factory warranty remains intact. We talked in the past about the type of people that actually can make use of a quad core system, and the people that are likely to want a quad core processor are often the people that stand to benefit the most from additional performance courtesy of overclocking. With Intel's QX6700 already reigning supreme as the fastest multi-core configuration on the market, why not add another 20% performance? We've seen similar configurations for sale from boutique manufacturers, often with astronomical prices. While the QX6700 certainly won't be cheap no matter how you slice it, Gateway offers their 20% overclock for a modest $100 price increase. Considering the price difference between the Q6600 and the QX6700 is $150 for a 266 MHz speed increase, doubling that speed increase for a mere $100 is a real bargain!
A super fast processor sounds great, especially if it still carries a factory warranty. However, warranties don't mean a lot if the system won't run stable. Besides the processor, however, there are many other components that can affect system performance. The type of work you plan on doing with the computer will also affect how much benefit a fast CPU gets you. We'll assume right now that anyone planning on purchasing a quad core system routinely needs a lot of CPU power, but unfortunately there are still CPU intensive tasks that can't properly utilize multiple processor cores. In order to see just how much faster this Gateway system is compared to other options, we will be comparing performance results with the test systems used in our
AMD Quad FX article
. Before we get to the actual performance, however, let's take a closer look at the FX530.
Features
The system we were sent for review is a nearly maxed out FX530 configuration, the FX530XT. Prices start at $4000, but a few extras increase the system as tested cost to around $4400. For that price, you get not only the overclocked QX6700, but you also get a 24" LCD with speaker attachment and all of the other sundry extras like a keyboard and mouse. (We will be providing a separate review of the LCD in the near future.) Here's a quick look at the test system's features.
Gateway FX530XT
Case:
Gateway custom BTX case
Motherboard:
Intel BTX 975X (custom)
Processor:
Core 2 Extreme QX6700 Overclocked (12x266MHz 3.20 GHz 2x4MB shared L2 cache)
Heatsink/Cooling:
Custom BTX CPU HSF with dual 120mm fans at front and rear of case
RAM:
2x1024MB Hynix PC-5300 5-5-5-15
Graphics:
ATI Radeon X1950 XTX CrossFire (custom)
ATI Radeon X1950 XTX
Hard Drives:
2x150GB Western Digital Raptor 16MB 10000 RPM in RAID 0
Optical Drives:
HL Data Storage GSA-H11N 16X DVD+RW
Lite-On SOHC-4836V 16X DVD-ROM/CD-RW Combo
Expansion Slots:
2 x PCIe X16 (X16 and X4 or dual X8)
1 x PCIe X1
2 x PCI
Expansion Bays:
4 x 3.5" internal bays
2 x 5.25" external
Audio:
Creative Sound Blaster X-Fi
TV Tuner:
ATI Theater 550
Power Supply:
700W Delta Electronics
1 x 24-pin ATX; 1 x EPS12V
5 x SATA
3 x 4-pin Molex
1 x 4-pin mini Molex
2 x PCI-E 6-pin
Operating System:
Windows Media Center Edition 2005 SP2b
Front Ports:
2 X USB2.0
2 X 3.5mm Audio (Headphone and Microphone)
2 x 6-pin Firewire
Rear Ports:
1 x Audio I/O Panel (five jacks)
Optical and Coax S/PDIF Out
1 x RJ45 GbE
4 x USB2.0
1 x 6-pin Firewire
Speakers:
LCD TDX speaker bar
Monitor:
Gateway 24" FPD2485W Widescreen LCD Monitor
Other:
9-in-1 flash reader
Dimensions:
16.5" x 8" x 17.5" (HxWxD)
Weight:
40 pounds
For the most part, the system configuration is an exercise in selecting the best components currently available. Without further overclocking, it is impossible to find a faster CPU on the market today. This processor is backed up by a pair of the fastest hard SATA drives, the Western Digital Raptor 150GB, configured in RAID 0. You also get 2GB of memory and X1950 XTX CrossFire graphics cards. Our particular system added an optional Creative X-Fi soundcard and an ATI Theater 550 TV tuner. Our first impression is that this will be one of the fastest systems currently available, but let's take a closer look at a few areas.
Given the extremely fast processor, 2GB of memory is a good starting point - you can always move to 4GB, but we would recommend a 64-bit operating system in that case. What struck us as slightly off was that Gateway uses somewhat lower performance DDR2-667 memory, rather than going with one of the readily available DDR2-800 modules. We asked about this, and were informed that the Intel BTX motherboard does not support DDR2-800 memory. That seemed a bit hard to believe, so we decided to try installing our own Corsair DDR2-800 DIMMs, which also sport faster 4-4-4 timings.
True to Gateway's word, the system utterly failed to POST, greeting us with beeps from the PC speaker that indicated a memory error. This is most likely a BIOS issue that could be corrected in the future, but basically we have a situation where a manufacturer is using a top performing CPU with less-expensive memory. That's not ideal if maximum performance is your ultimate goal, as performance will be slightly lower (around 2%-5%) than what could have been achieved with better memory. However, faster memory tends to cost quite a bit more than the added performance that it brings, and major OEMs are known for being very cautious when it comes to using higher spec memory modules. In practice, outside of running benchmarks few people are likely to notice the difference between DDR2-800 and DDR2-667 memory. It would be nice to have the option to choose faster memory, but the lack of DDR2-800 support is not the end of the world
All of the other equipment looks to be a good choice for a high-end gaming/workstation PC. You get FireWire 1394a support (three ports), a dedicated X-Fi soundcard, two optical drives, a decent amount of hard drive storage (which can be configured differently should you so desire - maximum hard drive capacity is four 750GB drives, currently allowing up to 3TB of storage), networking (wireless optional), and basically everything you would expect to find in a high-performance enthusiast computer. The one area where Gateway definitely falls short right now, unfortunately, is in the graphics department.
It's no secret that NVIDIA has reclaimed the performance crown with their G80 (GeForce 8800 series) graphics cards. What's more, these are the only currently shipping DirectX 10 offerings on the market. In some cases, a single 8800 GTX is able to match the performance of X1950 XTX CrossFire, but if you want the absolute fastest performance possible in games right now you can run two 8800 cards in SLI mode. The problem is, SLI requires an NVIDIA chipset on the motherboard, and the Gateway system uses an Intel 975X chipset. The net result is that Gateway is charging $900 in graphics upgrades (relative to the 7600 GS graphics card included on the base FX530 models), but for that price we would much rather have a pair of GeForce 8800 GTS cards.
We asked about this, and were informed that Gateway basically had a choice of either preparing for the Windows Vista launch or spending time validating the new 8800 hardware, and they opted for the former. Whether that's actually correct or not is an important. The simple fact is that right now, the FX530 is not going to be the fastest gaming system on the planet - in some cases not even close. What's more, we did verify whether or not a GeForce 8800 GTX could fit into this system. It's a tight fit, and it required a bit of wrangling, but we did manage to install an EVGA 8800 GTX into the lower X16 slot. The top X16 slot cannot be used, because the 8800 GTX is a dual slot design and there's no open mounting bracket at the rear of the case for the second slot cover. The NVIDIA driver control panel reported that the lower X16 slot was operating at X4 speeds, so that's another performance penalty. In essence, if you're serious about gaming, we would either wait and see what Gateway has to offer in the future in the way of updated graphics cards, or else we would look to another system vendor.
Exterior Appearance
From the outside, the Gateway FX530 reminds us a lot of the Dell XPS 410 we looked at a while ago. It won't win any awards for being the most attractive case on the block, but it certainly doesn't look bad. The majority of the case is a metallic silver/gray color, with black accents. The case is also available with slightly modified accents in red, blue, or copper. These color changes primarily affect a small part of the front panel as well as the FX logo on the sides of the case.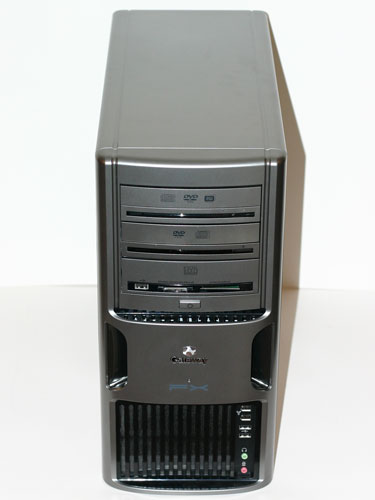 Click to enlarge
The front of the system comes with two externally accessible 5.25" drive bays, both of which are occupied in our test configuration. Note that at present gateway does not give the option of including a Blu-ray or HD-DVD optical drive, so the top bay is occupied by a 16X DVD+/-RW unit and the lower bay has either a second identical optical drive or a DVD-ROM/CD-RW combo drive (or it can be left empty on certain models). Below the optical drives is what appears to be a third 5.25" drive bay, but in reality this is a cover over two internal 3.5" drive bays. One of these bays houses the 9-in-1 flash memory reader, and there is no option to install any other externally accessible 3.5" drives.
(Death to the floppy - Hooray!)
The middle of the front panel is unadorned except for the Gateway logo, with vents on the side for the CPU cooling to draw in fresh air. The bottom of the front panel is dominated by additional ventilation slots that will help to cool the hard drives, and in the bottom right are headphone and microphone jacks, two USB ports, and two FireWire ports.
Click to enlarge
The right and left sides of the case are identical and are the same silver/gray color with the FX logo emblazoned in the middle. As mentioned previously, the color of the FX logo can be customized, but otherwise there's not much to see. The right panel can be removed to access the interior of the case, and the design is such that all of the ventilation comes in the front of the chassis and is expelled at the rear. This sort of design works well for people that put their PCs in desk cabinets, as otherwise the side ventilation is blocked.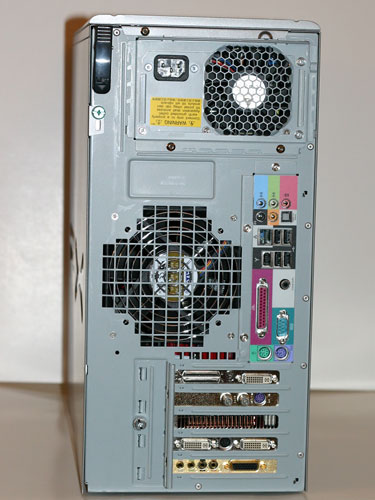 Click to enlarge
As usual, the rear of the case is home to the majority of the external connections. At the top is the power supply, and below this is the I/O panel. Many of the larger system builders are now moving towards legacy free I/O panels, which means no PS/2 ports, and no serial or parallel ports either; instead, you often get additional USB ports. Gateway bucks that trend here by including a parallel port and a COM port as well as PS/2 mouse and keyboard ports, so people will still be able to use most legacy devices. There are four more USB ports, a FireWire port, and a Gigabit Ethernet port. Five audio jacks allow for 7.1 audio along with a microphone, and optical and coaxial S/PDIF output is also provided. For systems with a sound card, of course, that will take priority over the integrated audio.
To the side of the I/O panel is a large 120mm fan exhaust, and the fan is also temperature controlled allowing it to spin at lower speeds and generate less noise when the system is idling. Below the I/O panel and fan are the five expansion slot brackets, all of which are occupied on our test system. At the top is an X1950 XTX CrossFire card, followed by the ATI Theater 550 TV tuner. The second X1950 XTX card is next, and at the bottom is the Creative X-Fi soundcard. A thumbscrew holds a metal plate in place that helps to secure all of the expansion cards. You can also see the single thumbscrew and lever at the top-left of the case that are used to remove the side panel.
One thing that isn't apparent from looking at the case is how heavy it is. This is easily one of the heaviest cases we have picked up in recent memory, particularly when we consider that it's not all that large. Certainly all of the components in the interior contribute to the overall weight, and even though the system is heavier than we expected it's not too heavy. Still, this definitely isn't a lightweight aluminum chassis. If you like to move your PC around a lot, that might be somewhat annoying, but for most people the weight of a PC isn't an important factor. One benefit is that the system also seems to be extremely sturdy (outside of a few plastic parts), and it feels like it could take a lot of abuse. Not that we recommend beating up on your computer, but you don't feel like you have to handle this case with velvet gloves.
Internals and Design
Removing the side panel to get at the interior is quite simple and takes only seconds. With the side out of the way we get our first look at the interior. Everything is relatively tidy, but the wiring standards certainly aren't up to the quality of the elite system builders. Most of the cables are left hanging, but they do not directly block any of the fans so airflow isn't impeded. That's the most important thing when looking at the internals of a case, especially when it comes to a case that holds an overclocked quad core processor.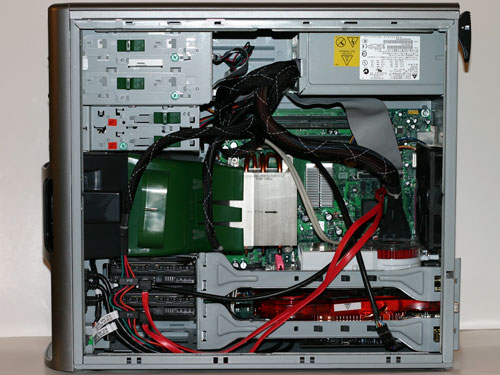 Click to enlarge
Some of the cables could be talked out of the way better, but having clean cables is something of a Catch-22. Having all of the cables tucked out of the way makes things look clean, but the flip side is that if you ever have to do any work on the interior of the PC, all of the tucked away cables are much more likely to cause problems than help out. If you ever have to change out components, nice wiring jobs where everything is zip-tied out of the way can be a real pain to deal with. Given that the Gateway FX530 doesn't have any windows on the side panels, having an exquisite wiring job really isn't necessary.
Gateway could have done a better job, but given the choice between better wiring and a lower price tag, we would typically opt for the cost savings and clean up the cabling ourselves if it ever presents a problem. In a sense the wiring job is a good representation of the system as a whole. It's functional and will get the job done, but it's not going to win any style awards. Some people are interested in getting an exotic PC that will stand out from the crowd, and they are interested in outward appearances rather than the bottom-line performance. The Gateway FX530 eschews form and style and focuses predominantly on functionality.
We mentioned the weight of the system earlier, and after looking at the interior you can start to get an idea of where some of the weight comes from. The two graphics cards along with the CPU heatsink are all pretty large, and additional weight is added in the form of two support bars that help to hold the graphics cards in place. The support bars do make removing your graphics cards - or any other expansion card for that matter - a bit more difficult, but they also contribute to the overall sturdiness of the case.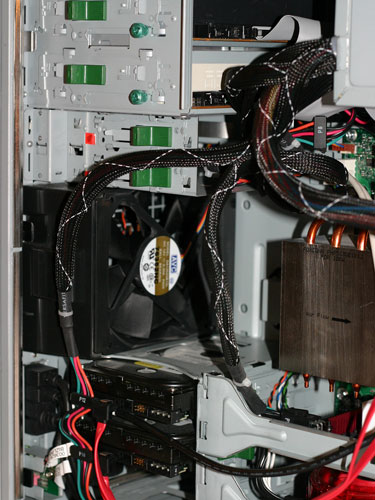 Click to enlarge
At the bottom-front of the case are the three internal hard drive bays. The hard drives slide into place and are then secured by the sliding green latch on the side. This makes installing or removing hard drives simple, although the GPU support bars do make reaching the green lever a bit less convenient. Also, the hard drives tend to fit extremely snugly, so removing them does require more effort than we at first expected. Similarly, the optical drives have a latching mechanism that makes it easier to add or remove drives. Besides the latching mechanism, however, a single thumbscrew is also used to help secure each optical drive. Below the optical drives, it is possible to install a fourth hard drive above the flash memory reader, although there is less ventilation to this area and more cable clutter so it's more difficult to gain access. We would also be hesitant to install some of the warmer HDDs like the Raptors or the 750GB Seagate in such a tight space, as long-term reliability might be compromised.
You can also see in the above picture that the plastic shroud that helps direct ventilation over the CPU heatsink can be removed. Behind the shroud is a large 120mm variable speed fan. When the system is idle, it's pretty quiet all things considered. Once you start to run a few CPU intensive applications, however, the temperature controlled fans rapidly begin to speed up and make more noise.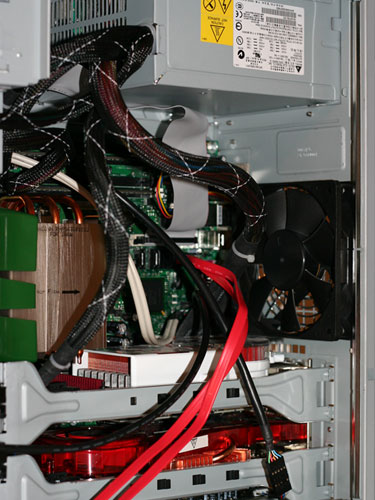 Click to enlarge
Helping out the front fan is a second 120mm fan at the rear of the system. Again, this reminds us of the Dell XPS 410 design, only with more processing power available. The two fans help to create a nice wind tunnel effect over the CPU and chipset area, keeping the system relatively cool without generating a whole lot of noise.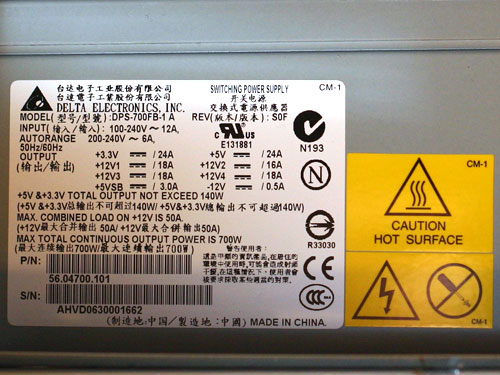 Click to enlarge
With all of the powerful components present in the system, it's not too surprising to find a large 700W power supply feeding the beast. The power supply is manufactured by Delta Electronics, a brand that is present in many OEM desktop and laptop systems. The quality may or may not be up to the level of some of the enthusiast power supplies, but in testing we did not encounter any difficulties. The PSU has four separate 12V lines, with a combined output not to exceed 50A. Likewise, the total output on the 3.3V and 5V lines is not to exceed 140W. The power supply is rated to handle a continuous load of 700W, however, which is far more than the tested configuration is able to use.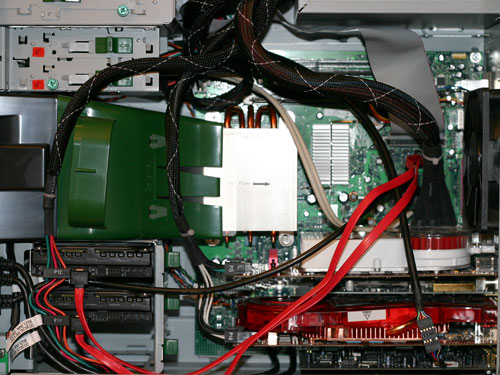 Click to enlarge
Returning to the GPUs, we have removed the support bars to get a better look. With the two large X1950 graphics cards, the TV tuner, and an X-Fi soundcard, the expansion slot area is fully utilized and somewhat cramped. It's interesting to look at the two X1950 GPUs, specifically their heatsinks, as they appear to be specially designed to fit within the system. The top CrossFire card has a heatsink and fan design that blows inward, which allows it to fit next to the large CPU heatsink. Meanwhile, the bottom X1950 XTX is a standard ATI design that vents out the rear of the case. It's also worth noting that the top GPU occupies two slot widths, but it only takes up a single expansion slot bracket, which as we mentioned earlier is part of the reason why a GeForce 8800 GPU can't fit in the top slot. However, even if there were a second expansion bracket mount open, the size of the heatsink on a GeForce 8800 would preclude it from being used, unless similar to the X1950 CrossFire card it was a special design.
Click to enlarge
We took a comparison shot of the two graphics cards alongside an 8800 GTX to give you a better idea of how the CrossFire card has been specifically designed for use in the FX530. You can also see how much larger the 8800 GTX is, and at first we weren't even sure if it would be able to fit within the system at all. With a bit of careful maneuvering, however, we did manage to fit it into the bottom X16 slot. There's not a whole lot of extra room, and the support bars can no longer be used given the location of the PCI-E power connectors. The power supply's PCI-E connectors are also a stretch to get both of them to reach the bottom graphics slot, but we did manage to make it work.
Click to enlarge
We will take a look at performance of the Gateway system with the 8800 GTX installed, along with the included X1950 CrossFire solution. In general, however, even though the CrossFire cards are faster in many situations we would prefer to have a single 8800 GTX instead of two X1950 cards in a CrossFire solution. The launch of Windows Vista has only solidified that recommendation, as both CrossFire and SLI are experiencing difficulties with the new WDDM. There have also been numerous instances since the first appearance of SLI and CrossFire where newer gaming titles weren't able to properly utilize both GPUs. Combine that with the fact that a single 8800 GTX cost less than an X1950 CrossFire solution and it includes DirectX 10 support, and out of the gate the FX530 appears to be a design in need of a graphics upgrade, at least if you're really like playing modern 3D games.
Test Setup
As we tried to determine what sort of systems we should include in our FX530 comparison, the logical choice became the various quad core systems tested in our
AMD Quad FX
article. That will allow us to compare results of the overclocked QX6700 with a base configuration, and we also get to look at how the current AMD quad core (dual socket) solution stacks up. Needless to say, given that QX6700 was already faster in almost every benchmark, the results aren't going to be too favorable towards AMD right now. The fact that a major OEM is willing to release an overclocked QX6700 system, however, is a testament to the excellent design of Intel's Core 2 architecture. The overclocked QX6700 definitely consumes a lot of power compared to many of the Core 2 Duo solutions, but the truth is that it's really not that much more power-hungry than many of the faster Pentium D offerings.
Gateway FX530XT
Motherboard:
Intel BTX 975X (custom)
Processor:
Core 2 Extreme QX6700 Overclocked
(12x266MHz 3.20 GHz 2x4MB shared L2 cache)
Heatsink/Cooling:
Custom BTX CPU HSF with dual 120mm fans at front and rear of case
RAM:
2x1024MB Hynix DDR2-667 5-5-5-15
Graphics:
ATI Radeon X1950 XTX CrossFire with ATI Radeon X1950 XTX
EVGA GeForce 8800 GTX
Hard Drives:
2x150GB Western Digital Raptor 16MB 10000 RPM in RAID 0
Optical Drives:
HL Data Storage GSA-H11N 16X DVD+RW
Lite-On SOHC-4836V 16X DVD-ROM/CD-RW Combo
Audio:
Creative Sound Blaster X-Fi
TV Tuner:
ATI Theater 550
Power Supply:
700W Delta Electronics
Operating System:
Windows Media Center Edition 2005 SP2b
We will be running most of the benchmarks used in the AMD Quad FX article, although we will have to omit the Blu-ray plus video encoding multitasking benchmarks as we did not have a Blu-ray drive on hand for this review. What we're primarily interested in determining is how much of a performance increase we get with the 20% overclock, given that we're also running slightly slower memory than in previous tests. We expect to see an average performance improvement of around 15% in solutions that are CPU limited. We will also include a few additional synthetic benchmarks to further investigate the FX530's performance. In a few instances, we will also provide results from
previously
tested
systems
for comparison.
The system we tested was initially shipped with Windows XP MCE 2005 installed, but recently Vista officially became available. Right now, the choice to get XP MCE is still there, but in the near future the FX530 will likely become a Vista-only solution. Those looking to move to the new OS will not have a problem with this, though we're still not ready to make the switch on most of our PCs. Vista has its good points, but the driver situation still needs work. If you choose to get XP installed, a free upgrade to Vista is currently available. That is set to end in March, after which customers might be forced to get Vista. Most people are eventually going to move to Vista, but waiting for things to settle down a bit more certainly won't hurt.
General Performance
For general system performance, we ran PCMark05 and for synthetic graphics performance we ran the 3DMark benchmarks. We don't have results for these Futuremark applications for all of the other test systems, but we thought it would be interesting to take a quick look at how the two different graphics configurations affect performance of the Gateway system. We'll also include results from a couple other OEM systems.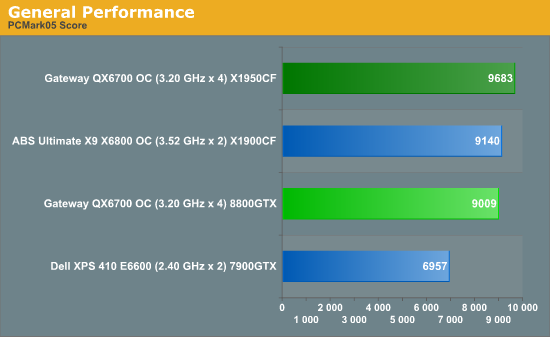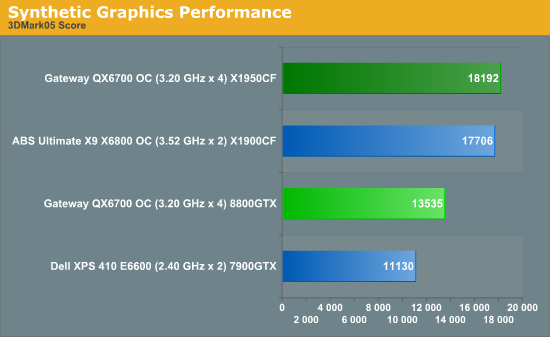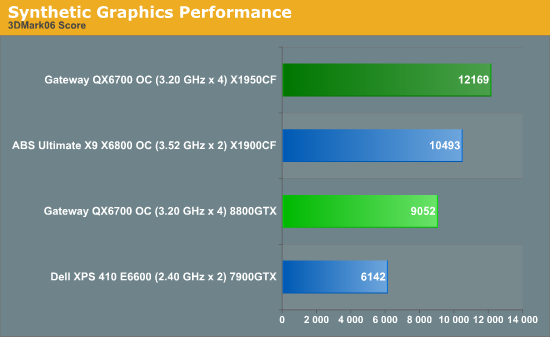 Not surprisingly, the Gateway FX530 places at the top of the charts in all of these synthetic tests. The X1950 CrossFire configuration is often quite a bit faster than a single 8800 GTX, but considering the GeForce card is running in an X4 PCI-E slot the margin of victory isn't all that large. Overall performance is very good, but that's hardly surprising. Most of the Futuremark benchmarks really can't take advantage of a quad core processor.
3D Rendering and Encoding
Going along with the Futuremark application suites, we have some other benchmarks that test general system performance. Unlike Futuremark, 3D rendering and video encoding both stand to benefit a lot from quad core processors, and it is here that we expect the Gateway FX530 to show the largest improvements over the other systems. If the QX6700 is already the fastest solution in these benchmarks, a 20% overclock should only improve upon the already excellent performance.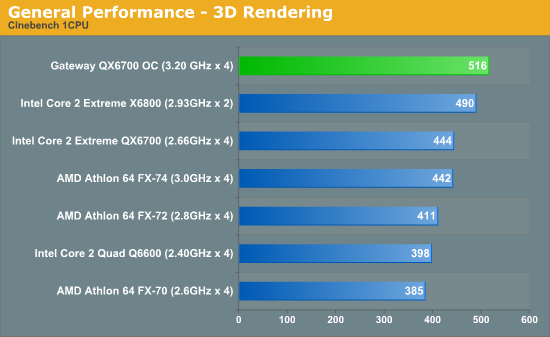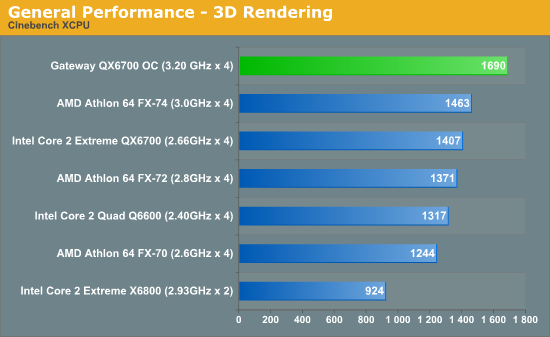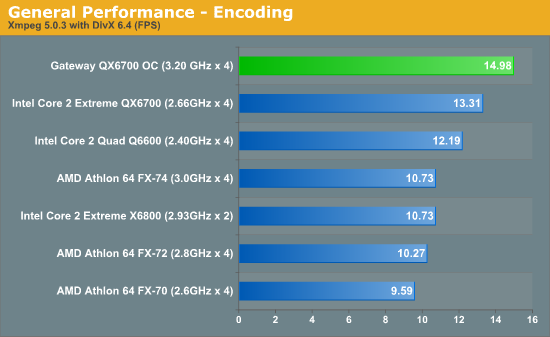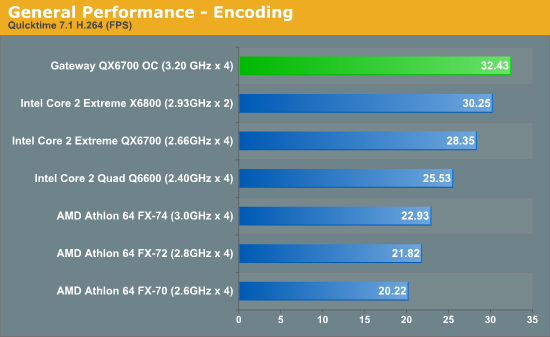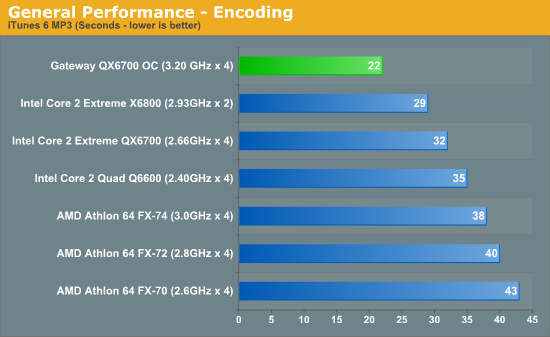 In these particular tasks, the Gateway FX530 excels. As expected, the overclocked processor helps it to place at the top of the charts in every one of these benchmarks. The improvement relative to a stock QX6700 with DDR2-800 memory ranges from 12.5% up to 20%. In the case of the iTunes test, the Gateway system even scores 45% higher than the nearest competitor, and we're not quite sure why. We shouldn't see more than a 20% performance improvement relative to a stock QX6700, so either the encoder settings were different or differing versions of the iTunes improved performance. Either way, a 3.2 GHz Core 2 Quad processor is going to be more than happy doing 3D rendering or video encoding. It's too bad that not many other applications can utilize all four processor cores this well.
Gaming Performance
Quake 4 and Oblivion are two games that ostensibly offer support for more than one CPU core. However, Oblivion does not seem to benefit as much as it is already severely GPU limited, and Quake 4 only supports two processor threads with the majority of the work being handled by a single thread. Half-Life 2: Episode One on the other hand still only supports single core processors, but the improved clock speed relative to an X6800 should help out here. Unfortunately, we're going to be somewhat GPU limited, so even though this is the fastest CPU configuration we have ever officially benchmarked, in terms of gaming performance we don't expect it to do significantly better than the other test systems.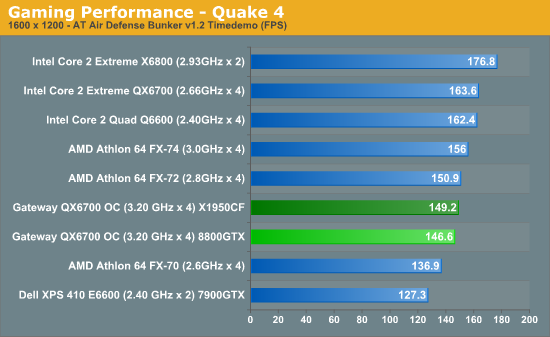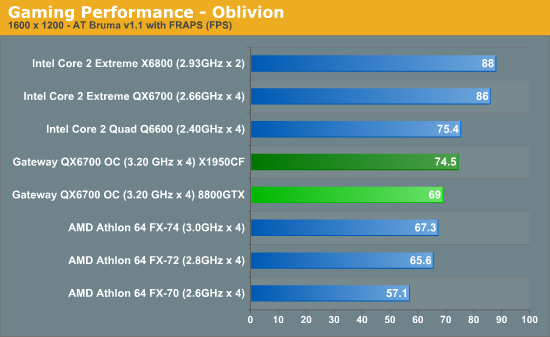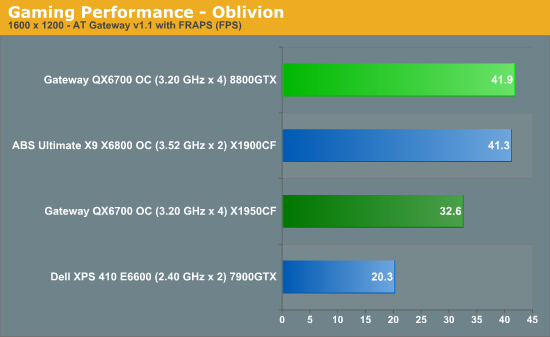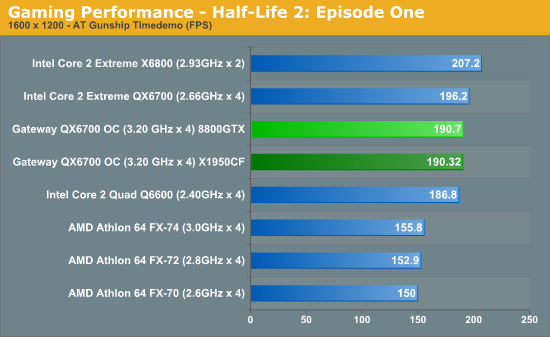 This is our first glimpse of any actual problems with the Gateway FX530. As we have discussed previously, the graphics subsystem simply isn't going to come out on top in various gaming benchmarks. There's no doubt that the X1950 CrossFire configuration is extremely fast, and four months ago it would've been the fastest graphics solution available. These days, however, it often falls just short of the top-performing solutions. Considering that the other systems were tested with a single GeForce 8800 GTX card, the fact that the Gateway can't sweep the gaming benchmarks is really disappointing - at least for gamers. We can also see that the X4 PCI-E connection appears to be hampering the performance of the 8800 GTX card, as otherwise it should at least be as fast as the other 8800 GTX solutions.
Our recommendation remains that if you want best in class graphics performance for games, you should either wait to see what AMD's next graphics chip can do or else look for a solution that uses one or two 8800 GTX cards (depending on how much money you want to spend). Spending this much money on a pair of X1950 CrossFire cards just really isn't the best option right now, except perhaps for a few people that might want to run Folding@Home's GPU client.
Valve SMP Benchmarks
Our final two benchmarks are somewhat synthetic tests that Valve offered us to give us a preview of the impact of multi-core CPUs in future games. We've talked about both of these tests in our
Valve Hardware Day 2006 article
if you're interested in learning more about them and what they do.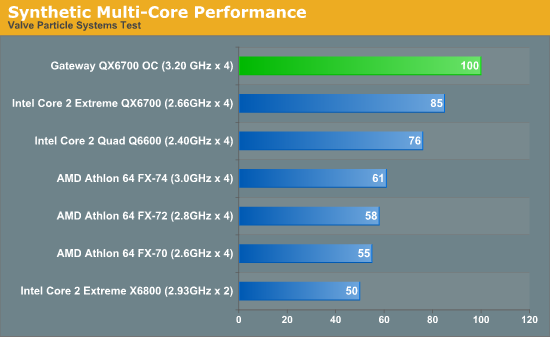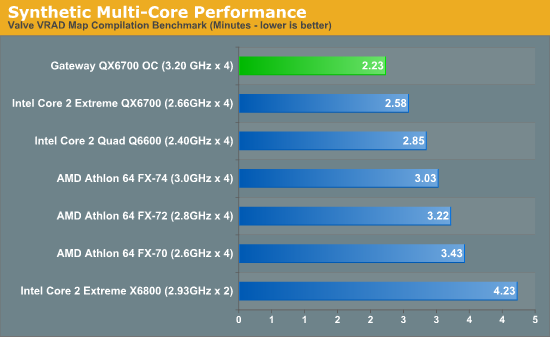 Valve Software's Gabe Newell talked about the importance of quad core processors when he introduced us to these benchmarks. He stated that all future PCs at Valve Software would have at least four processor cores, due to the improved productivity offered. This type of performance improvement is once again the type of stuff you don't see in a lot of applications, but if you do a lot of content creation work that can leverage multi-core CPUs the performance improvements can be substantial. The 20% overclock on the Gateway system improves performance by 16% to 17% in these benchmarks, which isn't bad considering it only adds $100 to the cost of the system relative to a stock QX6700. Relative to an X6800, the overclocked QX6700 is almost twice as fast!
Power Consumption
Getting this much performance usually comes at a cost, not just in the initial expenditure but also in power bills over time. Intel's Kentsfield processor really isn't all that bad when it comes to power requirements, but Gateway had to jack up the CPU voltage in order to get the overclock to be stable, and combined with the higher clock speed we expect to see higher power draw. We don't have identical configurations, but let's see how the Gateway FX530 stacks up against our own Kentsfield testbed as well as AMD's Quad FX. CPU load was achieved by running the Windows Media Encoder benchmark.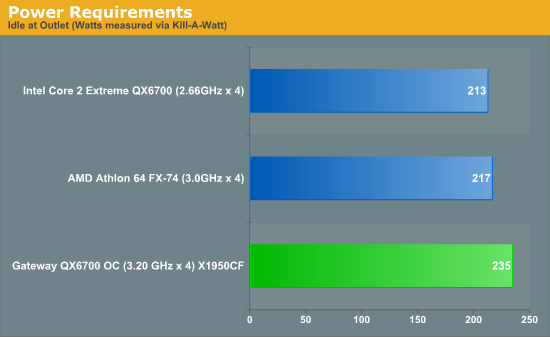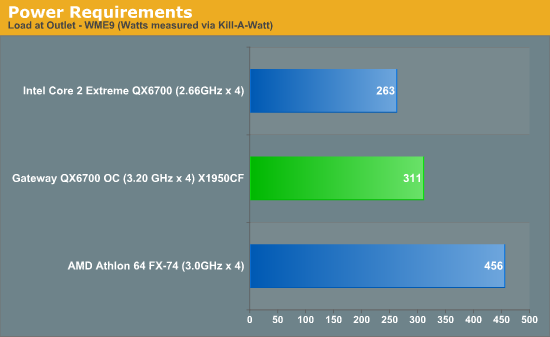 The Gateway FX530 consumes quite a bit more power than our stock Kentsfield configuration, but keep in mind that it has two X1950 XTX graphics cards compared to a single 8800 GTX. Considering the 20% overclock, the power draw a really isn't all that much higher. In comparison to the Quad FX-74 configuration, even an overclocked Kentsfield appears positively thrifty with power use, other than at idle. To make matters worse for Quad FX, the overclocked Gateway system not only uses less power at load, but it also offers significantly better performance. But we already knew that the Quad FX was a difficult platform to justify, so none of this comes as a surprise.
Noise Levels
Given all of the performance being offered, you might expect the Gateway FX530 to be a somewhat noisy computer. While it is by no means silent - particularly when running a CPU intensive task - it's quieter than you might expect. Once again, we tested at idle and load conditions using an SPL meter at a distance of 36".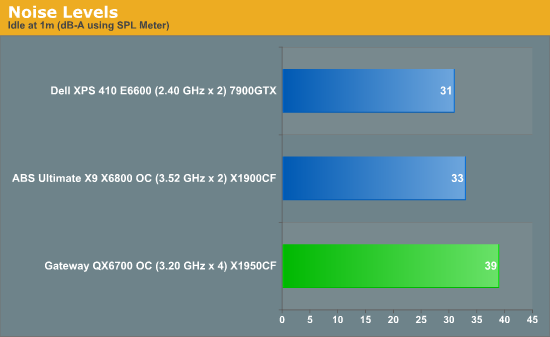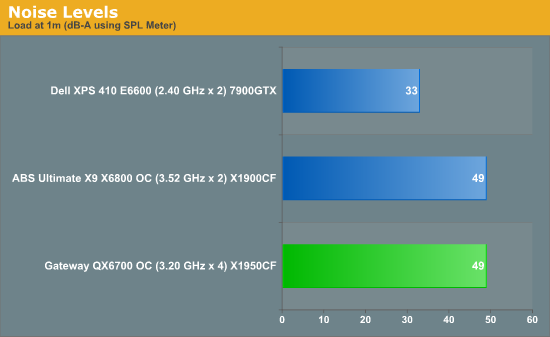 Compared to several of the other systems that we have reviewed, the Gateway is one of the louder offerings. However, there are some other factors at play. First, even under ideal conditions, the Raptor hard drives kept making periodic clicks that noticeably increased the ambient noise level. As we were testing with the system as configured by Gateway, we expect this sort of behavior to be present for end users. Most likely, one of the various included applications is generating periodic hard drive accesses, and while the Raptor drives are very fast they also tend to be quite a bit more audible than other hard drive solutions. Once we begin to place a load on the CPU, the system fans begin to generate a lot more noise. Even a moderate load on one CPU core immediately increases the fan speeds and noise levels, and as loads are placed on more CPU cores the noise increases until the maximum level of 49 dB is reached.
In general, we would rate the noise levels as being tolerable, and considering the performance offered the noise levels are more than acceptable. This isn't the type of system that would be ideal for use as an HTPC, and we wouldn't recommend having it on in the living room or bedroom if you like to have quiet surroundings in those locales. Depending on how frequently the CPU is fully utilized, the noise levels may be more or less noticeable. More often than not, we would expect a high-end system like this to be stressed by CPU intensive applications, which means the typical noise levels are going to hover at around 44 dB. Trying to keep a system like this quiet is very difficult, however, and we are really quite impressed that Gateway managed to keep noise levels as low as they have.
Support and Warranty
If you're interested in purchasing a prebuilt system, particularly a high-end configuration, warranty, service, and support are probably going to be important considerations. As a large OEM, Gateway has a comprehensive set of support solutions available - and they can even support non-Gateway systems for a fee, if you're interested. They offer 24/7 phone support, but we weren't able to test this out as our system did not come with a serial number we could use with their support services. Given that we have a review unit, that's not too surprising, and whether or not our support experience would be representative of what others could expect (unless we purchased the system ourselves) is debatable. Besides phone support, Gateway also offers email and online chat support, and like Dell and some others they give customers the option of letting them take remote control of their PCs to help troubleshoot problems (broadband connection required). The chat service is available between 3 a.m. and midnight PST, and email can be used at any time. Unfortunately, again we weren't really able to test out any of the support options as they all required a serial number.
We were able to use their online chat service to ask some sales questions, however, and while that may not be indicative of the level of support people will get, it's at least a place to start. Our online chat support generally went well, with the support people providing reasonable answers in most cases. One of the items that we brought up several times with different personnel was Windows Vista, and we basically asked for advice on whether we should upgrade now or not. Invariably, the answer was that Windows Vista was the next-generation operating system from Microsoft and we should upgrade, and there was definitely a strong push for Windows Vista. Several of the salespeople indicated that Windows Vista has generated a lot of interest among customers and that they have been getting a lot of new sales in the past week. That's all well and good, but our own experience with
Windows Vista
is a little less enthusiastic. It's not too surprising that their sales department is encouraging people to use Vista, but it would have been nice to see some of the people recommend a more pragmatic approach.
Outside of chatting with the sales staff about Windows Vista, however, our experience was a lot better. They were generally helpful and there wasn't a huge push to get us to upgrade components that we didn't really need. The salespeople asked us what sort of work we wanted to do with our computer, and based on our answers they provided reasonable suggestions. We still wish there were a few more options in some areas, specifically in the graphics subsystem we would like to see GeForce 8800 cards, but that should come in the next month or so. The top FX530 models tend to remove some of the lower end features, so if you're looking to balance price and performance you might be better off starting with either the $1000 or $2000 model and making upgrades rather than starting at the top and trying to downgrade.
As we frequently state, it is difficult to evaluate the level of technical support you get from a company without actually owning a product and testing it for months or even years. This is particularly true when all the support options require you to have a valid serial number. Again, recognizing that we can't be sure the technical support will be the same type of service, the online chat usually put us in contact with someone in about a minute. If you need guaranteed fast support service, Gateway also offers upgraded support contracts at a reasonable price. Finally, Gateway also makes a point that they now offer 100% North America based phone support, so that should generally keep the communication barrier down to a minimum.
The other major factor in the warranty/support equation is how long the warranty lasts. The basic system warranty for all Gateway computers is one year technical support and hardware warranty coverage, without any on-site support. You have to pay for shipping the system to Gateway, but Gateway will pay for the return shipping. However, you can choose a three year "value" (no on-site service) warranty instead for an extra $89, or you can go with up to a four year warranty with on-site coverage at a cost of $70-$170 depending on how long do you want the warranty to last. Accidental damage is available for $50 and lasts as long as your warranty, or for an additional charge you can get the Total Protection Plan. The Total Protection Plan includes improved phone support that eliminates the phone menus prior to talking to a technician (usually cutting a couple minutes off your total phone time), and you are also guaranteed a 30 second response time. Next day on-site support is also guaranteed for calls placed before 5 p.m. The cost of the Total Protection Plan ranges from $120-$270 and is available in one to four year lengths.
Given the cost of the system we are reviewing, we would likely opt for the most expensive warranty coverage and get the four year Total Protection Plan. The warranty coverage appears to cost the same whether you get one of the cheapest Gateway computers or one of their most expensive models, so the more powerful the system you plan on purchasing the better the value you get from the warranty plans. Considering you can get an overclocked quad core processor that is guaranteed to work for at least four years (perhaps with a few component replacements if necessary) starting at around $2400, the Gateway FX530 has a lot to offer, especially for businesses that need good support and performance but don't demand as much from the graphics subsystem. If support and warranty service aren't important to you, the overall value is still quite good, but it is possible to custom build a similarly priced system that would end up performing a bit better.
Final Thoughts
The Gateway FX530 is really a very good system, and considering the performance and features being offered the price is one of the lowest out there. If you're looking at getting a new workstation, it might be worth considering the Gateway FX530 instead, as the overclocked quad core CPU should be more than fast enough for all but the most demanding users. With prices of the 3.2 GHz Core 2 Quad version starting at $2000, businesses that do a lot of content creation or other work that can benefit from multi-core processors should definitely give the system a look. Normally, businesses tend to shy away from PCs that come with enthusiast level features like overclocking, but Gateway is a large corporation with an equally large support department, so some businesses will be very pleased with the performance, support, and warranty being offered.
In terms of stability, we have absolutely no complaints. Throughout testing, the Gateway FX530 performed with aplomb, without any crashes or other unpleasant behavior. Given some of the torture testing we do, the ability to complete the tests without any issues is definitely commendable. That goes double for overclocked systems.
Unfortunately, while the FX530 as it stands will be very good for some uses, there are definitely areas where of falls short of the competition. Gaming enthusiasts will almost certainly want a better graphics subsystem, especially with the official launch of Windows Vista and DirectX 10. In the graphics department, the Gateway FX530 appears to be about four months behind the curve, and the prices of various graphics upgrades are not very competitive either. You could save quite a bit of money by purchasing the system with the stock GeForce 7600 GS and doing any graphics upgrades on your own rather than paying Gateway to do it. Of course, once you're willing to make one upgrade on your own, you have to wonder if you really want to purchase a prebuilt system in the first place.
One other item that we haven't talked about much yet is all of the software that comes preinstalled. Some of the software consists of useful utilities to help you keep your system running smoothly. One such utility is called BigFix, and it helps people stay up-to-date with the latest Windows patches. In our particular case, we didn't see anything other than the critical Windows updates, but BigFix should also help end-users stay up-to-date with their drivers and other software. In standard OEM fashion, however, there's quite a bit of other software installed that's not nearly as useful. Google desktop and the Google toolbar both come preinstalled, along with some AOL and other Internet service provider offers. Many people will want to spend the first 30 minutes or so just clearing out the extra software that they don't want installed/running in the background. On the other hand, Microsoft Works is also included, so if you don't feel like spending the money on Microsoft Office at least you still get a basic set of business applications.
Another aspect of the system that we will cover more in-depth in the future is the 24" LCD. Subjectively, we would say that the display is as good as most of the other 24" LCDs we've used. It's bright, and it worked well when watching movies, playing games, or just doing typical computer work. The current price is around $680, so it is definitely a reasonable alternative to displays such as the Dell 2407WFP. You can also get an optional speaker bar that plugs into the bottom of the display, and while it doesn't sound as good as discrete $75 speakers (which is what the speaker bar costs), it does sound better than any other LCD speakers that we've heard. With the speaker bar, the LCD is more like a combination computer monitor/HDTV, and it does have all of the necessary inputs to function as an HDTV should you so desire.
What it really comes down to is performance, and if you're the type of user that needs a lot of CPU performance for various tasks but you're not as worried about graphics performance, the FX530 is definitely a system worth considering. There are a lot of companies out there currently offering systems built around Intel's Core 2 Duo and Core 2 Quad processors, but without spending $3000 or more it's very difficult to find a system that can match the performance offered by the FX530. It's even more difficult to find anyone willing to factory overclock and provide warranty coverage for a QX6700 without spending $4000 or more. The system we tested did cost $4000, but almost $1000 comes from the graphics subsystem, and another $750 comes from the 24" LCD. Considering that the retail price of the QX6700 is about $1000, being able to get a complete system starting at around $2000 with an overclocked QX6700 is a really good deal. Put another way, on a $2000 system, increasing the price by 5% yielded a 15% or more speed increase in many applications. Basically, there's really no reason to consider purchasing the Gateway system with a stock QX6700. If you don't need a quad core processor, getting one of the lesser Core 2 Duo processors instead would make sense, but if you're already planning on spending close to $1000 on a CPU you will get much better bang for the buck by spending $1100 instead.
With the FX530 Gateway has shown that they can include features that cater to the enthusiasts of the world. Unfortunately, they don't manage to do this in all aspects of the system, but it's a great starting point. All they really need to do now is come up with a configuration that allows customers to purchase graphics cards faster than the X1950 XTX without incurring a performance hit from the bottom X4 PCI-E slot. At the very least, the FX530 appears to require some tweaks to the motherboard design, if not a completely new motherboard, if it's going to fully utilize newer graphics cards. The BTX form factor also means that it won't be easy to upgrade the motherboard on your own in the future should you so desire. At least part of the point in getting a prebuilt system is to avoid having to do that sort of work, however, so anyone looking for a fast PC that they can just go out and buy should definitely give Gateway's FX530 a look. For serious gamers, though, Gateway still needs more cowbell.