Original Link: http://www.anandtech.com/show/2162


Corsair seems determined to hold the record for the highest memory speed in production memory. We recently reviewed the highest speed memory available at the time in
Corsair Dominator DDR2-1111
(PC2-8888). Several other memory makers tried to match or surpass the Corsair speed record and Corsair responded with PC2-10000 (DDR2-1250) which was first demonstrated at CES earlier this month. A few short weeks after CES we have production PC2-10000 fresh from Corsair for testing.
To put memory speed in perspective, consider a few facts. Core 2 Duo provides synchronous support for DDR2-533, which is the DDR (double data rate) match to the base Core 2 Duo bus of 266. The 266 is quad pumped so the "real" processor bus speed is 1067. Intel Core 2 Duo chipsets support faster memory speeds as well - DDR2-667, DDR2-800, and DDR2-1066. AM2 also supports memory speeds to DDR2-800, but the AM2 controller does not support DDR2-1066 at this time.
In a world where you rarely find DDR2 memory rated at even DDR2-1067, Corsair Dominator DDR2-1250 is a very fast speed rating. Considering that many of our readers are searching for good value DDR2-800 when building a new system, the PC2-10000 sounds like it is worlds ahead of anything available. In some ways it is, but it should also be asked what compromises were made to reach this new speed rating?
Where the Corsair PC2-8888 is rated at 4-4-4 timings at DDR2-1111, Dominator 1250 is rated at a higher 5-5-5 latency at its specified 1250 speed. In addition, Corsair was very clear that this PC2-10000 performed best on the NVIDIA 680i chipset. Boards based on the 680i, like the EVGA 680i SLI and the ASUS P5N32-E SLI Plus, certainly have the headroom to support DDR2-1250, but they are also very expensive motherboards. Corsair also told us, just before publishing the review, that new P965 boards designed for massive overclocking, like the ASUS Commando, have been reported to support PC2-10000 at the rated speed.

Corsair PC2-10000 is the new top dog in the Dominator series - a name used for the highest speed memories produced by Corsair. As you can see from the chart below, the Dominator family has grown rapidly, and now includes six high-performance kits.
Some of the kits, including the DDR2-1250 being tested, come standard with a Corsair designed cooling fan. The memory cooling fan attaches to the locking clips of the memory slots.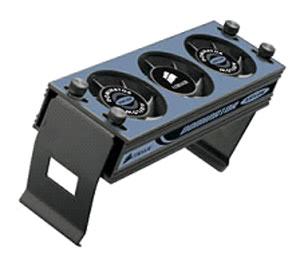 For Dominator kits without the fan, the Dominator Airflow fan kit is available for about $20. The Corsair fan kit also works well with any high-performance memory you choose to install. It is highly recommended for cooling any memory you choose to use in your system.
OCZ Flex 9200 and Corsair Dominator 8800 both approached high performance with an eye to lower latency as well as speed. Dominator 10000 appears to aim for the highest speed with relaxed latencies. Which approach works best? Is the new Dominator 10000 the fastest memory tested so far? Where does the DDR2-1250 Dominator fit in the high performance memory arena? These are questions we will try to answer in benchmarking Corsair Dominator XMS2-10000.
Corsair Dominator Twin2x2048-10000C5DF
Memory from Corsair is widely distributed around the world. This makes the Corsair brand the most recognized brand of enthusiast memory. It is easy to find just about anywhere you might be located. Corsair has been manufacturing high-speed memory since 1994. They maintain an extensive line of memory, ranging from their Value Select brand of low-cost memory to their top-end XMS line.
Corsair is well known as an innovator in the high performance memory market. As a result they enjoy a large and loyal customer base. The new PC2-10000 represents a new record in rated memory speed, but it achieves this with technology introduced with the Dominator series. As the flag ship of the Corsair memory line, the XMS2 Dominator brings many unique innovations in the PCB and memory cooling. One of the most unusual Dominator features is the dual-path cooling, which Corsair calls DHX, or Dual Heat Exchange.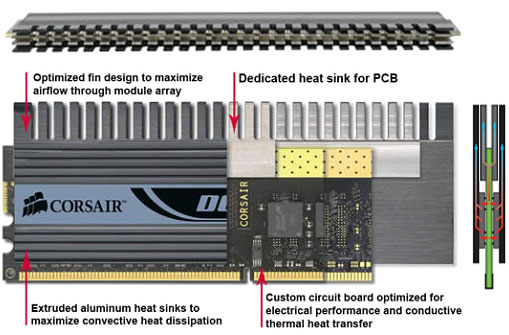 Dominator modules use two paths for memory cooling:
Conventional heat release through the front of the memory chips into a pair of super efficient heat sinks

Additional heat dissipation through the back of the chips and through the circuit board through heat fins integral to the PCB.
This dual heatsink design is best understood when looking at a partially assembled Dominator module.

Here you see the extended Dominator circuit board with a conventional heatsink. The inner fins, which cool the board and the back of the chips, are sealed to the top of the Dominator circuit board. The front Dominator heatsinks also have cooling fins at the top. After they are sealed to the memory chips the Dominator module has four sets of cooling fins - two inner fins and two outer cooling fins. Cooling can be further enhanced with a Dominator Airflow fan. This super-efficient fan is designed to attach to the memory clips and float over the Dominator memory modules.
The Dominator modules with the attached Dominator Airflow fan are an imposing site. The fan module uses three 40mm tachometer controlled fans that run at moderate speed to provide adequate airflow but still remain near silent when operating. The Dominator Airflow fan kit comes standard with the Dominator PC2-10000 2GB memory kit, but it is also an optional accessory that will work with any DDR2 or DDR memory kits to provide additional cooling. The attachment method is universal, since the Airflow fan attaches to the memory clips and plugs into the mother board.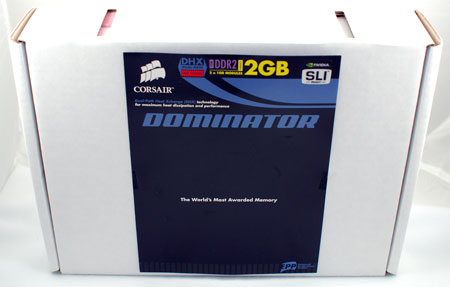 Corsair supplies Dominator DDR2-1250 in a box about the size of a package for a video card. The box contains a matched pair of 1GB Dominator DIMMs and a Dominator Airflow fan unit.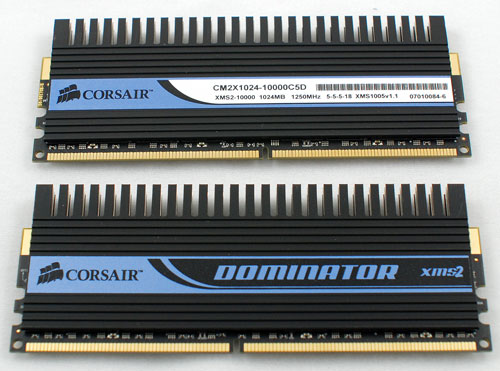 The PC2-10000 Dominator DIMMs are built with specially binned Micron D DDR2 memory chips. This is certainly not a surprise since OCZ Flex XLC and all the other recently tested top-of-the-line memory has used the same memory chips.
Corsair Dominator Twin2x2048-10000C5DF
Memory Specifications
Number of DIMMs & Banks
2 DS
DIMM Size
1GB
Total Memory
2 GB
Rated Timings
5-5-5-18 at DDR2-1250
Rated Voltage
2.4V
The Corsair Dominator RAM fit all of the DDR2 slots on our test motherboards. While it is thicker than most past DDR2 memory, the dual-path heat exchanger still fits fine in standard DDR2 slots. Dominator DIMMs are taller than most other DIMMs, however, due to the four rows of protruding cooling fins at the top. The Dominator Airflow fan makes the complete setup even taller, but we had no trouble fitting the Dominator 10000 kit in any standard case. Since the Airflow fan occupies the same area as the memory module area, fan space requirements are actually less than a large fan resting on top of the DIMMs. We have had no problem at all using a complete Dominator kit with the large Tuniq 120 Tower air cooling system.
Memory Test Configuration
Recent memory testing has used the ASUS P5D-DH Deluxe, which is based on the Intel 975X chipset. We did all initial testing on that platform, to provide results that can be conveniently compared to earlier test results. However, with the evolution of the Intel P965 chipset and the NVIDIA 680i, it is clear that higher memory speeds can be achieved with different memory "straps" used for the highest ratio settings on those chipsets. The P5W-DH Deluxe is very demanding of memory at high speeds and the "looser" base ratios used at the top of most P965 and 680i boards allow higher memory overclocks with some memory modules.
This is another way of saying that some recently released memory is tweaked for and performs best on the Intel P965 platform. This is truer today as the P965 has slowly matured into a chipset providing much better memory compatibility, performance, and flexibility than was seen on early P965 motherboards.
Recently the NVIDIA 680i chipset has demonstrated an even greater range of performance at the top of memory overclocking, with extremely flexible options for squeezing the most performance from almost any memory. A cross-section of Enthusiast memory manufacturers was also asked which motherboard performed best with their top DDR2 memory. In all cases the answer that came back was the NVIDIA 680i motherboard.
For these reasons, we recently revised test procedures in DDR2 memory reviews. In the new procedure standard memory performance and overclocking are first tested on the ASUS P5W-DH Deluxe. This allows valid comparisons to earlier reviews of DDR2 memory on the Core 2 Duo platform. We then run overclocking tests only on the NVIDIA 680i test platform, using the same X6800 Core 2 Duo processor.
The Intel platform was used because the first generation of AM2 on-processor memory controller does not support any memory timings below 3, or memory speeds above DDR2-800. Both these features are supported on the ASUS 975X motherboard. Timings of 2 are available for RAS-to-CAS and RAS Precharge, and DDR2-1067 is an available memory ratio. In addition it was clearly illustrated in
Conroe vs. AM2: Memory & Performance
that DDR2 memory performance, in timings and required voltage, are equivalent on the AM2 and Core 2 Duo platforms.
The memory test bench uses the following components:
Memory Performance Test Configuration
Processor:
Intel Core 2 Duo X6800
(x2, 2.93GHz, 4MB Unified Cache)
RAM:
2x1GB Corsair Dominator PC2-10000C5DF
2x1GB Corsair Dominator PC2-8888C4D
2x1GB OCZ PC2-9200 Flex XLC (DDR2-1150)
2x1GB Patriot DDR2-1066
2x1GB Super Talent DDR2-1000
2x1GB Team DDR2-1000
2 x1GB Corsair CM2X1024-6400C3
2x1GB OCZ Ti Alpha PC2-8000 VX2
Motherboards:
ASUS P5W-DH Deluxe (Intel 975X)
EVGA NVIDIA nForce 680I SLI
Hard Drive:
Hitachi 250GB SATA2 enabled (16MB Buffer)
Video Card:
1 x EVGA 7900GTX - All Standard Tests
Video Drivers:
NVIDIA 91.47
CPU Cooling:
Tuniq Tower 120
Power Supply:
OCZ PowerStream 520W
Operating System:
Windows XP Professional SP2
We will continue this test procedure until we can fully evaluate the NVIDIA 680i and recent Intel P965 boards as a potential replacement for the Intel 975X as our memory test platform. Our testing has shown different straps at high memory speeds can yield memory bandwidth results that may vary as much as 20% at the same memory speed - particularly in the standard buffered Sandra 2007 memory bandwidth test. Variations in Unbuffered Sandra tests, Super Pi, and real-world game tests are much smaller with different straps at the same memory speed, however, with small variations near the accuracy limits of our test procedures.
Test results have also shown with some memory the P965 and/or NVIDIA 680i performed much better than the 975X in memory speed, but where the P965/680i performance was still the same or less than the 975X. The ASUS P5W-DH Deluxe appears the more demanding platform in terms of memory straps, but it also often yields better performance at the same memory speed. Testing will continue to look more closely at the impact of memory straps on performance and memory test platforms will be revised with the move to Vista.
Value DDR2-800 kits from both
G.Skill
and
Super Talent
were recently reviewed. Since those two memories are really a different category than top-line DDR2, results for those two memories are not included in comparisons in this review. For comparisons of performance of those two memories you can refer to the linked reviews.
Stock Memory Performance
Most of today's motherboards that support DDR2 provide a wide range of memory ratios that match available DDR2 memory. End-users can select the memory ratio that matches their DDR2 memory speed. AnandTech memory testing uses the same approach. Benchmarks are run at all of the stock ratios at the fastest stable timings that can be achieved at the given ratio. With ratios,
CPU speed remains the same at 2.93GHz
in the memory test bed, and memory speed is varied by selecting different ratios.
The memory controller for Intel Socket T (Socket 775) motherboards is in the chipset, instead of part of the processor as in AM2 systems. Therefore, there is the potential for some ratio variations in memory performance. There is theoretically a small performance penalty for speeds other than a 1:1 ratio (DDR2-533 in this case) on boards designed for Intel processors. However, the actual performance penalty has been found to be very small with minimal impact on test results. As a result memory scales well through the various speed options.

Click to enlarge
DDR2 memory is then pushed from the highest stock ratio that could be achieved in testing - normally 1067 - to the highest FSB speed at the stock multiplier. Unfortunately, the Corsair Dominator 10000 was not really stable above 1067 on the 975X. Speeds from 1090 to 1311 were attempted at 5-5-5-18 and 5-6-6-18 timings at the highest 2.35V to 2.4V that can be set on the ASUS P5W-DH. None of the settings was completely stable. Since anything below this range could not possibly outperform DDR2-1067 at 4-4-4-11 timings we made no further attempts to find the best performing overclock on this board.
The Corsair Dominator PC2-10000 is clearly not tweaked for the 975X chipset, and it performs much better on the NVIDIA 680i and the more recent P965 chipset motherboards. In the range from DDR2-400 to DDR2-1067 on the 975X board the Corsair Dominator 10000 performed very well - matching in most cases the best timings we have been able to achieve on the ASUS P5W-DH. The only exception was DDR2-1067 where the Dominator 10000 required 4-4-4-11 timings for stability compared to 4-4-3-11 with Dominator 8888 and OCZ Flex XLC9200. The Corsair Dominator 10000 does fine on the 975X at stock settings to 1067, but it was clearly designed for overclocking on the 680i and some P965 chipsets. It cannot be pushed anywhere even close to the rated DDR2-1250 on the ASUS 975X board.
It was time to see where this memory could go on the
NVIDIA nForce 680i chipset
- a chipset that had exhibited some stellar overclocks in our initial chipset launch review and with recent reviews of Dominator PC2-8888 and OCZ Flex XLC. Overclocking on the NVIDIA 680i was much more satisfying, as the Corsair Dominator easily met its rated speed and went far beyond, setting new speed records in several areas.

Click to enlarge
On the nForce 680i the Corsair Dominator 10000 was completely stable at its rated speed of DDR2-1250 at 5-4-4-12 timings at the rated 2.4V. These are much better timings than the rated 5-5-5-18 at this 1250 memory speed. On air cooling, Dominator 10000 reached a stable DDR2-1315, which matches the highest speed we have ever reached with any DDR2 memory. This was only slightly higher than the DDR2-1300 reached by OCZ Flex XLC, and exactly the same 1315 reached with the sister Corsair Dominator PC2-8888. Despite the much higher rated speed of DDR2-1250, the Dominator 10000 topped out at the same DDR2-1315 found with the Dominator DDR2-1111 (PC2-8888). The binning and slightly slower timings certainly support an easy DDRR2-1250 on the NVIDIA 680i, but this higher rated 2GB kit tops out at the same maximum memory speed as the slower rated DDR2-1111, also from Corsair.
Memory Bandwidth Scaling
Memory bandwidth normally improves with increases in memory speed and reductions in memory timings. This is best illustrated using Performance Scaling charts.
Since results for high-end memory were so close at all tested speeds, the scale range was reduced to better show the small differences in these memory benchmark results. Please keep this in mind when viewing the charts, since a normal zero scale would make performance differences appear much smaller than these expanded scale charts. Test values for memory at each speed are included below each chart for reference.
To evaluate memory bandwidth SiSoft Sandra 2007 Professional was used to evaluate standard Buffered performance and Unbuffered memory bandwidth.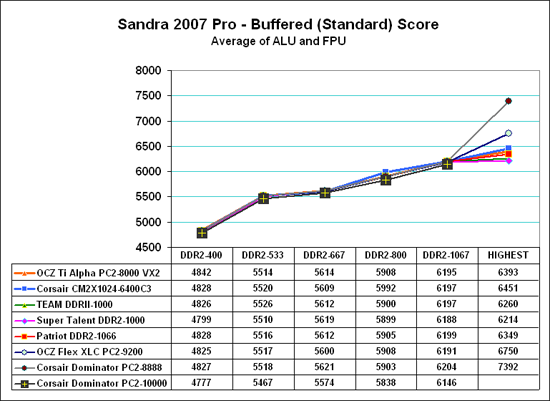 The most widely reported Sandra score is the Standard or Buffered memory score. This benchmark takes into account the buffering schemes like MMX, SSE, SSE2, SSE3, and other buffering tools that are used to improve memory performance. The Buffered benchmark does not correlate well with real performance differences in games, so our memory bandwidth tests have always included an Unbuffered Sandra memory score. The Unbuffered result turns off the buffering schemes, and we have found the difference in Unbuffered results correlate well with real-world performance differences.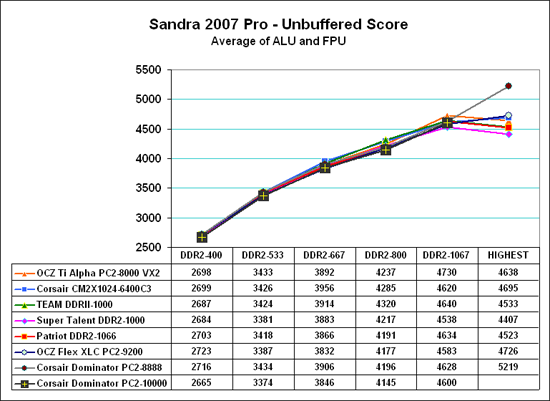 In both Buffered and Unbuffered tests Corsair Dominator 10000 performance curves compare to the best tested to the top tested speed of DDR2-1066 on the ASUS 975X based motherboard. Dominator 10000 requires slightly slower timings at DDR2-1066 than the top OCC Flex and Dominator PC2-8888. This translates into bandwidth that is lower than the other top memories at this speed. While the differences are extremely small, and don't show well in the charts, both Standard and Unbuffered bandwidth is at the low end of tested memory at all speeds. This high-speed memory is binned for top speed and not low latency, and you can see that reflected in slightly lower bandwidth in test results.
Performance with Version 1.5 of Super Pi was also compared. The Super Pi test compared the time to calculate 2 million places of Pi at the different memory speeds. This benchmark measures pure number crunching.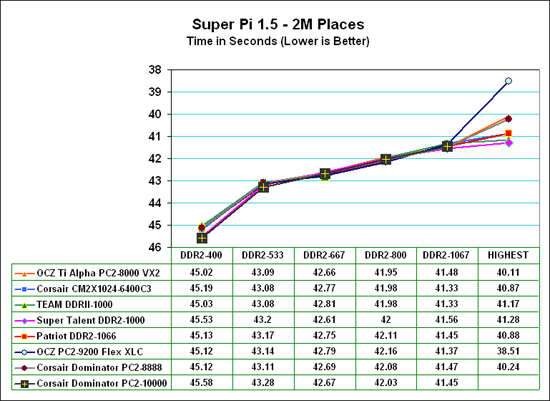 Super Pi results continue to improve to the highest speed that could be reached with stability with Corsair Dominator 10000 and other tested memories. What also stands out is how close the results with all the memories really are from DDR2-400 to DDR2-1066.. This is mainly a reflection of the fact that the compared memories are based on the same base Micron memory chips.
Game Performance Comparison
Real-world benchmarks - specifically gaming benchmarks - provide the most useful measure of memory performance if you keep in mind what they represent. Memory is just one small part of overall gaming performance, and the AnandTech benchmarks keep everything the same except memory speed. Even the CPU speed is kept constant except in the overclocking tests. As a result performance improvements in FPS are very small because the only factor influencing the test results is memory speed. Many factors affect system performance, and memory speed is just one of those factors.
Since results for high-end memory were so close at all tested speeds, the scale range was reduced to better show the small differences in these memory benchmark results. Please keep this in mind when viewing the charts, since a normal zero scale would make performance differences appear much smaller than these expanded scale charts. Test values for memory at each speed are included below each chart for reference.
The AT memory test suite uses Far Cry, Half Life 2 and Quake 4 for memory testing because they are sensitive to memory performance.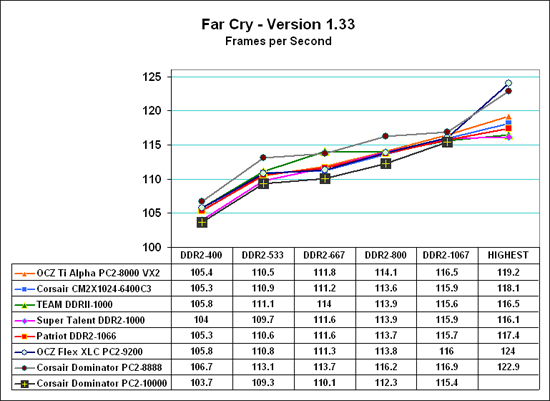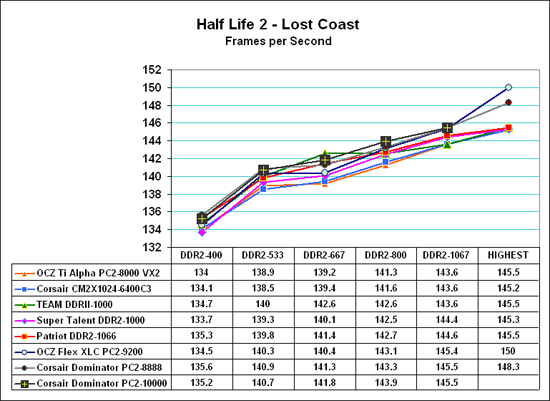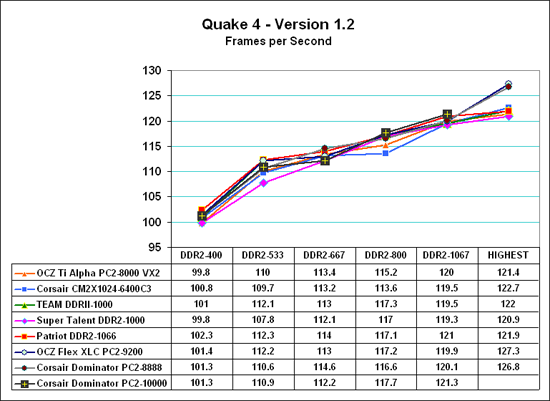 Despite the fact that memory is varying from 3-2-2-6 timings at DDR2-400 all the way to 5-5-5-18 timings at DDR2-1067 all three games continue to show improvement in frame rates as memory speed increases. Put another way, performance continues to improve as memory speed increases. This is the best evidence you will find to prove that increasing memory speed does increase performance - even to DDR2-1067 and beyond.
Corsair Dominator 10000 provided a mixed bag of gaming performance. It was average compared to other top enthusiast memory in Quake 4, one of the fastest we have tested in Half Life 2: Lost Coast, and one of the slowest of the performance memories in Far Cry. These mixed results appear to be related to the SPD programming used to achieve very high memory speeds with lower latency. They are also likely a reflection of the fact that game tests were run on the 975X motherboard, which is clearly not the best match for Corsair Dominator 10000.
Performance was much more predictable on the NVIDIA 680i motherboard, as Corsair told us it would be. If you plan to buy Dominator 10000 pair it with a 680i or recent P965 board and you will get the best results from this memory. The memory performance on the ASUS P5W-DH (975X) is certainly quite good and competitive, but it does not stand out on this platform.
Overclocking Performance (Highest Speed)
The Corsair Dominator PC2-10000 is rated at DDR2-1250 5-5-5-18 at 2.4V. Unfortunately we could not even come close to this memory speed on the ASUS P5W-DH 975X motherboard. The memory topped out at DDR2-1067 at 4-4-4-12 timings on the ASUS. This was certainly not a surprise since Corsair made it very clear the Dominator 10000 should be paired with an NVIDIA 680i motherboard for best performance. We were also told the Dominator 10000 had been reported to perform very well on recent P965 boards designed for overclocking, such as the ASUS Commando.
On the EVGA nForce 680i SLI motherboard the Dominator 10000 performed well beyond specifications and expectations. The rated speed of DDR2-1250 was completely stable at 5-4-4-12 timings at 2.4V - considerably better than the rated 5-5-5-18 timings at that speed. It is important to keep in mind that Dominator 10000 is designed for speed and not low latency. This memory is not happy at CAS 4 at very high speeds - it requires CAS 5 at top speeds. If you are looking for lower latency at top speeds Corsair PC2-8888 or OCZ Flex XLC-9200 are better choices.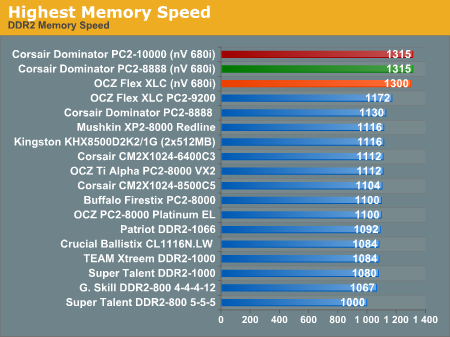 Corsair Dominator PC2-10000 also matched the highest overclock ever reached on the 680i at DDR2-1315. With a rated speed of DDR2-1250, there was hope a new speed record could be reached. Dominator 10000 did not set a new record, but it did match the highest speed in past testing. Two other memories we have tested are in the same performance ball park with Dominator 10000 - the sister Dominator PC2-8888 and OCZ Flex XLC 9200. Both the 8888 and the Flex XLC are a better match to the 975X motherboard, but all three memories are similar speed demons on the NVIDIA 680i.
Final Words
Corsair Dominator PC2-10000 has the highest speed rating of any production DDR2 memory. Rated at a jaw dropping DDR2-1250 (PC2-10000) this Dominator meets and actually exceeds its rated specifications. Corsair specifies 5-5-5-18 at DDR2-1250 at 2.4V. Our benchmarking found the Dominator 10000 to be stable at 5-4-4-12 timings at 2.4V at DDR2-1250. There is even more good news in the fact that Corsair Dominator 10000 reaches speeds of DDR2-1315 at rated timings. This matches the highest speed ever achieved in benchmarking DDR2 memory. These facts alone definitely qualify Corsair Dominator XMS2-10000 as a very desirable memory.
There is more to this story, however. To reach these performance levels you will need to pair the Corsair Dominator 10000 with an NVIDIA 680i motherboard. You cannot achieve this performance using an Intel 975X chipset motherboard. You may be able to perform nearly as well on recent Intel P965 chipset motherboards, but that is still open to verification. In limited testing we did confirm that DDR2-1250 can be achieved on the ASUS Commando P965 motherboard, but we did not explore the highest overclock on that platform. We will be doing more with the Commando board in the near future.
There are two other top enthusiast memories - OCZ Flex XLC-9200 and Corsair Dominator PC2-8888 - that also perform very well in this same configuration. Neither memory is rated at a speed as high as Dominator 10000, but the fact is that both memories perform very well at DDR2-1250 and also reach to DDR2-1300 and DDR2-1315 respectfully on the same 680i platform. They are also both lower latency memories than PC2-10000, which means in the 1066 to 1200 range they are a bit faster than Dominator 10000.
However, at the most important DDR2-800 speed all three memories deliver 3-3-3-9 timings at 2.2V. In fact, while Dominator 10000 may be considered a higher latency memory than Dominator 8888, both these memories behave at extremely low latencies to about DDR2-1066. At that point Dominator 10000 is slightly slower and you will find at DDR2-1100 and higher you must use CAS 5 with 10000 while CAS 4 is still an option with Dominator 8888 and OCZ Flex.
In the final analysis Corsair Dominator 10000 exceeds its specs handily and performs as promised when paired with the right motherboard. If your goal is to buy the highest speed rated memory you can buy the Corsair Dominator PC2-10000 is the right choice. However, if we were doing the choosing we would opt for Corsair Dominator PC2-8888 or OCZ Flex XLC-9200. Both are rated at lower speeds, but both perform just as well or better than Dominator 10000 on the NVIDIA 680i. Both also perform much better than the Dominator 10000 on the 975X-based ASUS P5W-DH, with the OCZ Flex XLC-9200 reaching the highest speed on that platform.
There is also the reality that Core 2 Duo and AM2 really don't need the highest memory speeds to perform best. What they need is low latency DDR2-800 or possibly 4-4-3 DDR2-1067 to get the best performance possible. The unfortunate reality that we see again and again in memory tests is that the super high memory speeds are great for bragging rights and flexible overclocking, but they really don't do much for increasing actual real world performance on either the C2D or AM2 platforms.
Memory companies seem obsessed right now with higher and higher DDR2 memory speeds. There is definitely a market for these products, and Corsair, OCZ, Kingston, Patriot, Team, GeIL, Super Talent, and many other memory companies have delivered some remarkable and extremely innovative high-speed memory in recent months. We wish memory companies would become just as obsessed with producing a moderately priced 2 GB DDR2-800 kit that can perform day in and day out at 3-3-3 timings. It would be a bonus if it also overclocked to DDR2-1067 with 4-4-4 timings. With Vista performing best with 2GB of memory many will be upgrading memory as they move to the new OS. Whoever finally produces a reasonably-priced low latency DDR2-800 2GB kit will sell all they can produce.