Original Link: http://www.anandtech.com/show/2159


CES 2007 will probably be remembered best as a show that concentrated on the refinement of consumer products that already have market acceptance along with the maturation of digital convergence products. We have only looked at a small subsection of products that were available for viewing. At times it felt like we had seen the same product at least a dozen times when walking through the various consumer sites showing row after row of plasma, LCD, or DLP screens. Every once in a while we would notice something that would catch our eye, but overall the show was fairly bland which allowed us to concentrate on actual discussions about the products we were interested in rather than standing in an hour long line to view some hot new item.
NETGEAR: Digital Entertainment
NETGEAR, Inc. is a worldwide provider of technologically advanced networking products for both consumers and small to medium businesses.

The Digital Entertainer HD (EVA8000) was the first product we viewed at NETGEAR's booth, and it's a set-top digital media receiver that can automatically discover HD movies, TV shows, music files, and personal photos on a home network, across multiple PCs. It organizes these into a single media library than can then be displayed on a TV without the need for media server software running on the computer. The unit is expected to ship in late March at a price of $349.
With the included Windows PC software, the Digital Entertainer HD enables users to listen to music from iTunes and view YouTube videos and access their PC desktop from their living room or other areas in the house. Using the included remote, users can search their entire media library by multiple criteria including title, actor, date, genre or thumbnail images (from photos, album art or DVD covers). When the PC has an optional TV tuner installed, users can schedule recordings and pause or rewind live broadcasts using the unit without the need for an additional DVR device. The product also plays internet radio directly and can access RSS news feeds and local and national NOAA Weather and maps.
Multiple receivers can work in concert throughout a home. Using "Follow Me," users can pause a video in one room and resume it in another. Another option is "Party Mode," where users can synchronize video or music playback for whole home listening. They can also plug in their USB flash drives, iPods, or other USB storage devices directly into a Digital Entertainer HD to instantly access and play high-resolution digital media.
The Digital Entertainer HD includes one HDMI port (up to 1080P support) for digital AV connectivity, RCA connectors for composite and component video outputs, stereo RCA audio ports, coaxial and optical digital audio outputs, an S-video port, and a SCART connector for regions requiring it. The digital media receiver decodes most leading audio formats (MP3, WAV, WMA, FLAC, M4A, AAC, AC3), purchased music from iTunes on Windows (M4P), video formats (MPEG1/2/4, WMV, Xvid, H.264) and image formats (JPEG, BMP, PNG, TIFF). It integrates a 10/100Base-T Ethernet controller, support for 802.11g wireless networking (with WEP, WPA-PSK and WPA2-PSK support), and two USB 2.0 ports. It also supports multiple interoperability standards, including Universal Plug-and-Play (UPnP AV), Digital Living Network Alliance (DLNA) and Microsoft Windows Media DRM 10 for Network Devices.
NETGEAR: Communication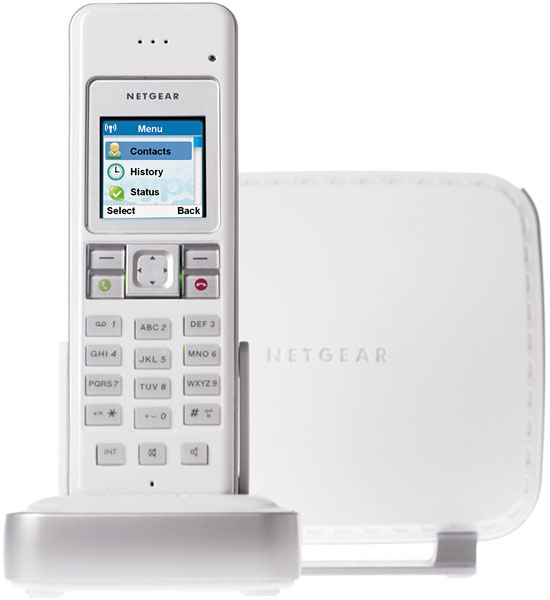 The NETGEAR Dual-Mode Cordless Phone with Skype (SPH200D) is the company's first dual-mode DECT cordless phone to support both landline phone calls and Skype Internet calls. The SPH200D base station simultaneously connects to a user's home network router and phone line wall jack enabling users to place and receive both traditional phone calls and Skype Internet calls from a single cordless handset without the need to be connected to a computer.
The Skype Certified SPH200D incorporates DECT (Digital Enhanced Cordless Telephony) technology which utilizes the 1.9GHz band enabling the cordless phone to avoid interference from WiFi networks, and it should provide longer range and ensure crystal clear voice quality. The Cordless Phone Base Station incorporates an Ethernet (RJ-45) connector which plugs into the home network router and a PSTN (RJ11) connector which plugs into a traditional telephone wall jack. The SPH200D can support up to four cordless handsets per household (additional handsets sold separately) and supports multiple languages.
The fairly small handset incorporates a built-in speakerphone and displays all of the users' contacts on the phone's color display, letting them see at a glance who is online. Access to a broadband Internet connection is required for Skype support. The unit is currently available and selling for around $199. We recently received a unit and will be reviewing it shortly.
Acer: Plunging into the desktop market space
Acer is currently the fourth largest branded PC vendor in the world. They rank number three in notebook sales and number four in LCD sales with double digit year over year growth for the past few years. Acer is determined to reach the number two slot in notebook sales this year while greatly expanding their presence in the desktop market.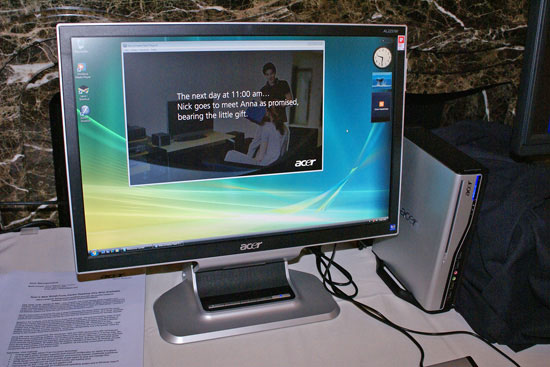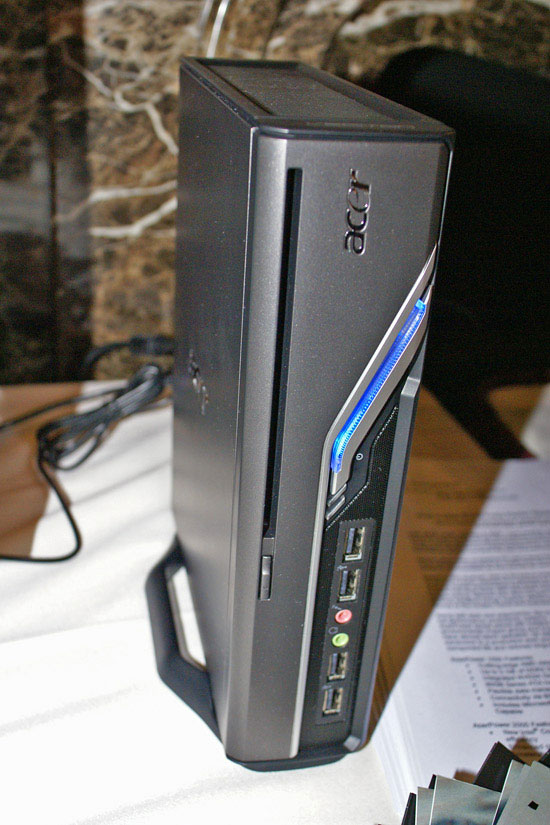 Two of the more interesting desktop products we noticed are the new SFF systems for both the home and general business user with the home version being displayed next to their new 22" widescreen monitor that features 1680x1050 resolution with a street price of around $329.
The new AcerPower 1000 and 2000 series are housed in a case designed for quiet operation, excellent thermals, and featuring a footprint the size of a small text book. The 1000 series features AMD Athlon 64 processors, up to 2GB of DDR2-667, integrated NVIDIA GeForce 6150 graphics, 80GB hard drive, slim line DVD-RW slot loading drive, 802.11b/g WLAN, and Gigabit Ethernet that is Vista capable. The 2000 series features Intel's Core 2 Duo processor, Intel 946GZ chipset with X3000 integrated graphics, up to 2GB of DDR2-667, 160GB hard drive, slot loading Super-Multi DVD drive, and Gigabit Ethernet. Both series are now available with prices starting at $579 for the 1000 and $649 for the 2000 series and feature Acer's unique Empowering Technology software. In our limited time with each system we found them to be very responsive, quiet, and extremely cool after extended periods of running office applications under Vista.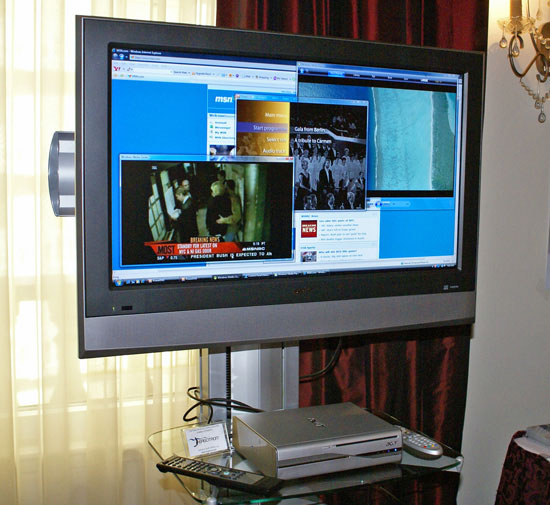 Acer was also showing off a prototype HTPC system based on the 2000 series desktop unit with an enclosed Digital TV tuner card, increased storage options, RF based keyboard and mouse, and HDMI output to one of their new LCD TVs. We expect to see a product launch using this technology in the early summer with prices ranging around $999 for the desktop unit.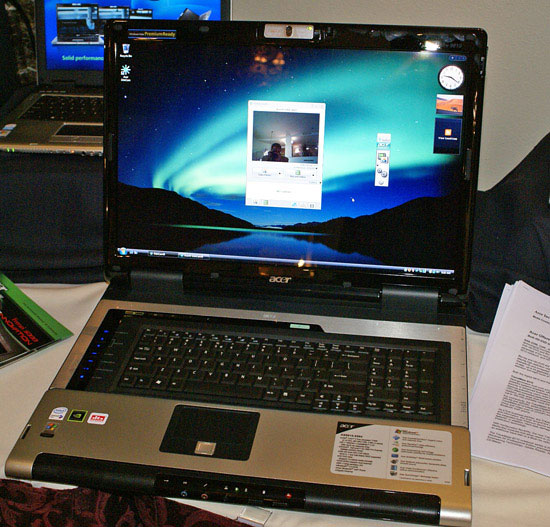 One of the more impressive notebooks (desktop replacement) we viewed was the Acer Aspire 9810. This unit features a widescreen 20.1" LCD with Acer's CrystalBrite technology. The unit uses the Intel Core 2 Duo mobile processor, NVIDIA GeForce Go 7600, up to 4GB of DDR2-667, HD-DVD, and up to 240GB of storage space via two 120GB drives. The unit also provides a built in analog and digital TV tuner, two Acer 3DSonic stereo speakers, BasSonic subwoofer, and a 1.3 megapixel camera with prices starting at $2899.
Antec
Antec
is a leading supplier of computer cases, cooling fans, and power supplies and has one of the most recognized brand names in this market sector. Their
Nine Hundred
series of cases is one of our favorites around the labs and continues to be one of the top cases in the market. They announced several new products at CES that include the P190 case that is a slightly larger version of the P180 but features EATX motherboard support, dual power supply support, a 200mm fan on the side, two 140mm fans on top, and 120mm fan support for the front and rear of the case. The Sonata III will be introduced shortly that is an update to the Sonata line along with new EarthWatts and Neo power supply units.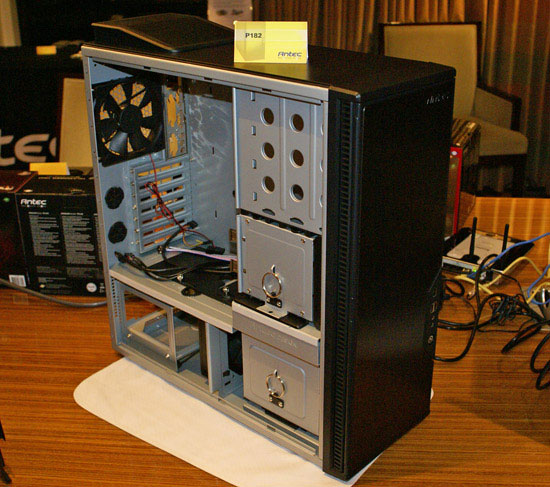 Antec will be releasing an update to their
P180 series
that will be designated the P182. The case features a dual chamber system to isolate the power supply and CPU into separate cooling zones with up to five configurable fans. Three-layer sound-deadening panels dampen noise, something you need to hear in person as it really lowers the system volume even with five fans running. The case also comes with eleven drive bays. The case features improved cable management since the motherboard tray has been offset into the case to allow for cable routing behind the tray. The motherboard tray has also been redesigned to allow easier routing of cables/wiring to and from the motherboard. The rear of the case has two holes that allow you to route your tubes for water cooling and includes a fan control switch to adjust speeds.
Antec will also be releasing new 1000W and 850W power supplies featuring full support for the upcoming PCI Express 2.0 standard that requires an 8-pin connector for video card support. These power supplies feature a unique paint scheme (still under revision) and full specifications will be available shortly with retail availability expected in March.
Cooler Master
Cooler Master
is a leading manufacturer of air coolers, liquid coolers, enclosures, and power supplies in the world. The majority of the products we viewed at the Cooler Master display were products announced at Computex that are now shipping. We will be reviewing several of their cooling products over the next few weeks and their
CM Stacker 830 Revolution
is our standard case for testing motherboards. This case has been updated to the
CM Stacker 832
recently that features improved cooling capabilities.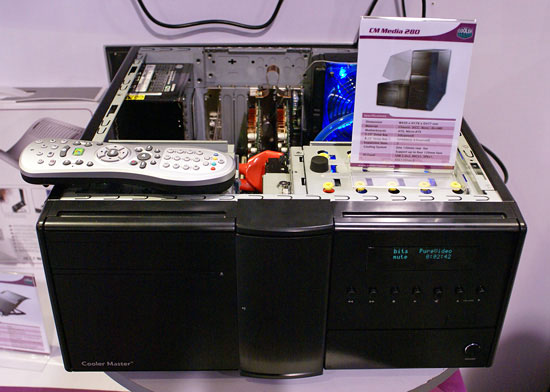 One of the more interesting cases on display was the CM Media 280/281 series that can be converted from a tower to desktop configuration and is designed for the power HTPC user who needs expanded drive bay capability, full length cards, and a SLI/CrossFire configuration.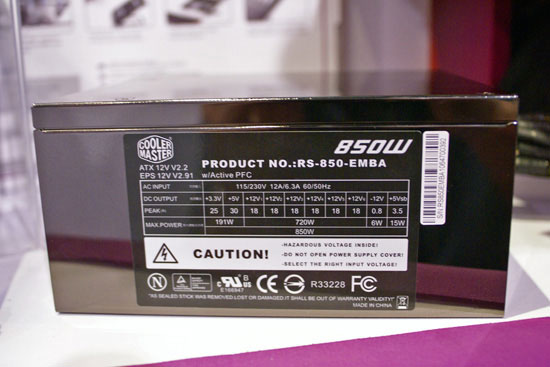 Cooler Master also introduced their new
Real Power Pro
850W power supply with six +12V rails designed for Quad-SLI desktops and 2P server systems. The unit features a 135mm cooling fan with speed control for quiet operation, 85% efficiency, and full support for Intel ATX 2.2 and SSI EPS 2.91 standards.
Thermaltake
Thermaltake
offers some of the more unique cooling products along with some very creative case designs. We visited their
display section
and viewed several products that were introduced at Computex with final designs now shipping. Their Armor Extreme Edition is the only recommended case for the new AMD Quad FX platform.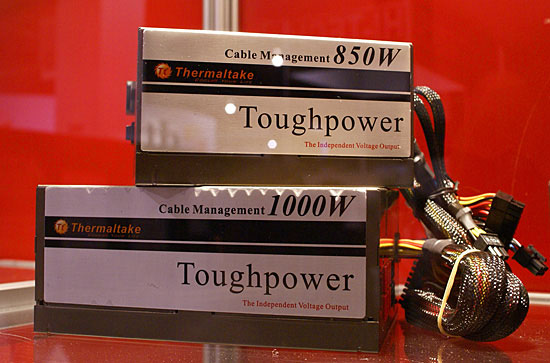 Their new lineup of ToughPower power supplies feature 850W, 1000W, and 1200W units designed for SLI and Crossfire systems and meet the new PCI Express 2.0 connector standard. The units feature 80%+ efficiency and sport a modular cable design.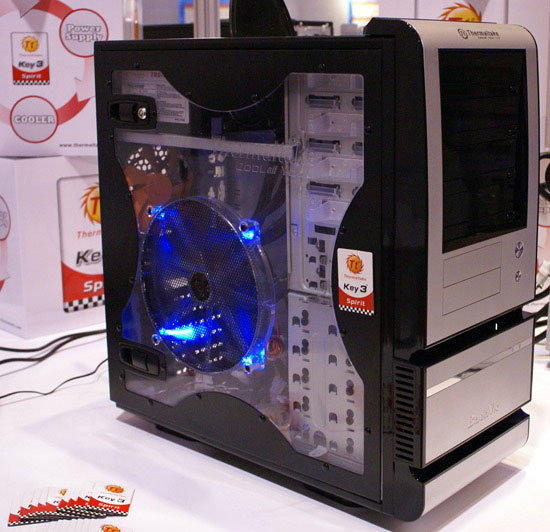 The
BachVx
case features a low profile design, tool-free installation, 140mm front fan, 120mm rear fan, aluminum front bezel, and a new 250mm side fan for additional cooling.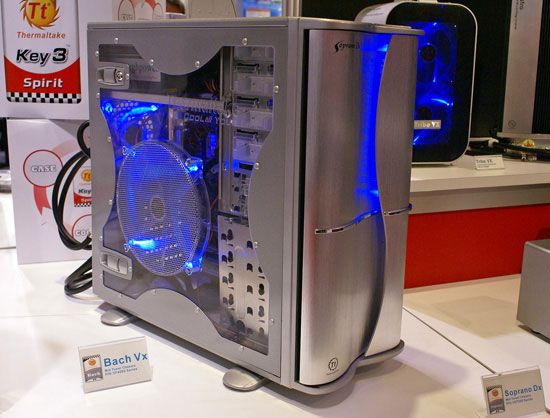 The
Soprano DX
was one of the more elegant cases we viewed in the Thermaltake booth. The case features tool-free installation, 140mm front fan, 120mm rear fan, curved aluminum front bezel, detachable HDD cage, e-SATA connector, as well as a 250mm side fan.
Zalman
Zalman
offers some of the best cooling products around when it comes to performance and quiet operation. They also have some HTPC specific components. We visited their display area and were surprised to see a few products not related to cooling. We found out that Zalman will be expanding into niche areas such as 3D display panels along with expanding their traditional product lineup.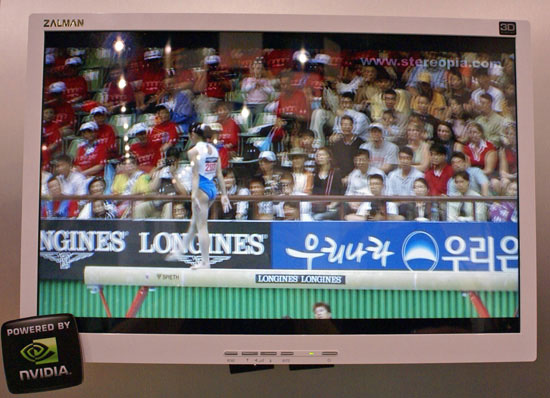 One of the more memorable products we viewed is the new 19" LCD panel that features 3D viewing capability with a special set of glasses. NVIDIA had just provided a new driver that supports the 7800/7900 series cards. While it is impossible to show the actual 3D viewing effects in a picture, we were impressed for the first time with this technology. The picture had a very believable 3D effect without motion blur or stutters.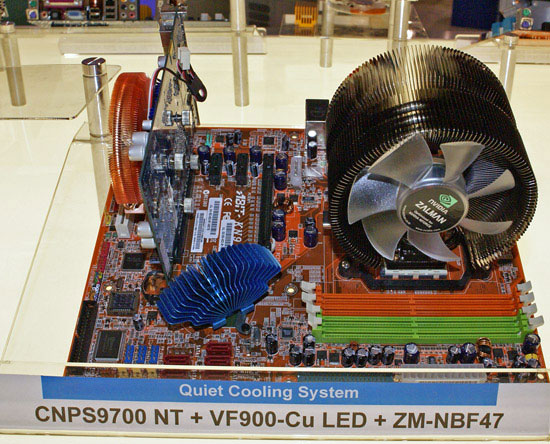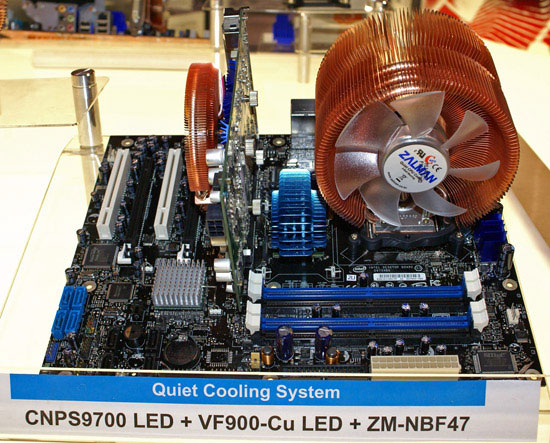 Zalman displayed their latest CNPS9700 coolers for both the AMD and Intel platforms along with their silent chipset coolers.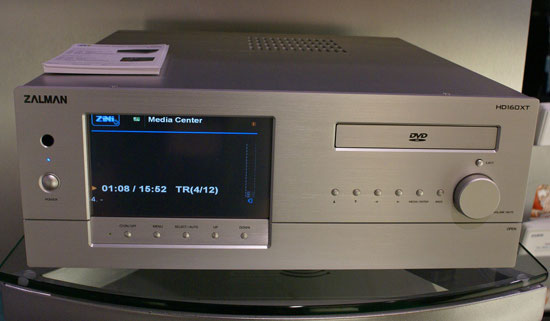 One of our favorite HTPC enclosures is the HD160XT that features a revised display panel, four internal and two external drive bays, ATX and mATX board support, quiet dual 80mm fans, and a very sturdy construction featuring an all aluminum chassis.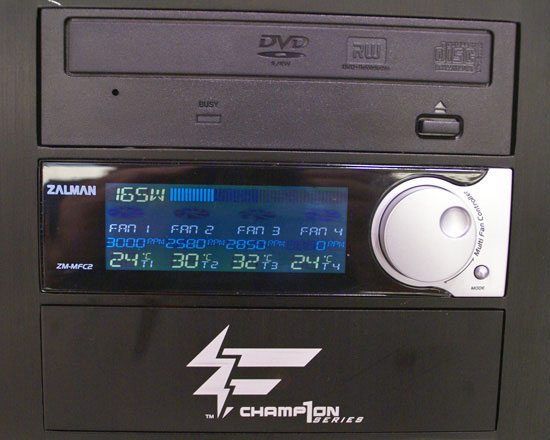 The Zalman ZM-MFC2 is a fan controller unit designed to fit in a 5.25" drive bay. Besides having the capability to control four fans the unit also offers temperature and power consumption monitoring. We found in limited testing that both of these features worked very well and appeared to be fairly accurate. It was very interesting watching the power consumption numbers as the system went from idle to heavy stress test loads. The fan controller worked very well in the test system with our only complaint being the fan setup when utilizing the RPM method instead of voltage. The controller has no idea what the RPM limit is on the fan. You will need to know the RPM specifications on the fan or set it up in real time by dialing in the fan speed adjustment in set mode. This is very minor and we recommend anyone looking for a fan controller should at least take a closer look at this particular unit.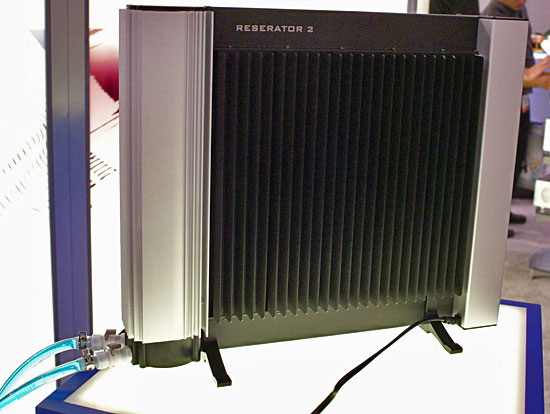 Wrapping things up, the new Reserator 2 is a fanless water cooling system. The unit consists of a high efficiency heatsink case, water tank, high volume water pump, and flow indicator. The system ships with water blocks for the CPU, GPU Memory, and Northbridge components.
Goodbye CES 2007
And that finally draws the curtain on our CES 2007 coverage. As usual, there were literally thousands of products on display at the show, and we have only taken a brief look at a few of the items that we found to be more interesting. True to its name, CES 2007 as usual focused a lot more on general electronic devices rather than on computer specific components, but as computers continue their march towards the living room there's bound to be some overlap between the two markets. Convergence continues to be a hot topic, and thankfully we're starting to see some products that truly warrant the use of the term. Now all that remains is to see which of the products that were shown actually managed to make it to the retail market, in which of those become truly stand out devices. We hope to be able to answer those questions over the coming months.