Original Link: http://www.anandtech.com/show/2151


We have recently returned from the Consumer Electronics Show 2007 with our heads still spinning and legs extremely sore after viewing literally thousands of products from hundreds of suppliers. The International Consumer Electronics Show is the world's largest annual consumer technology tradeshow but PCs and their related components actually comprise a very small portion of the products on display. Several of the larger PC centric companies such as Intel, AMD, HP, Dell, and Microsoft had very large displays in the main exhibition areas but the majority of the floor space belonged to consumer technology companies like Samsung, Sony, Hitachi, Pioneer, LG, Sharp, and the multitude of companies that offer these types of products.
While we visited several PC related companies in the main exhibition halls, just as many were in hotel suites or in smaller exhibition halls at the various hotels located throughout Las Vegas due to the cost of floor space or more likely the relaxed atmosphere for discussing product introductions or technology. Our many visits had us waiting in seemingly endless cab or bus lines, zipping between various hotels in stuffed cabs and then wading through the inevitable casino crowds to get to the hotel suites where a vast number of PC companies were show casing their products. It was great exercise for those of us who typically sit at a desk for the majority of the day and at times it seemed as if the treks through the hotels covered more mileage than the convention center trips.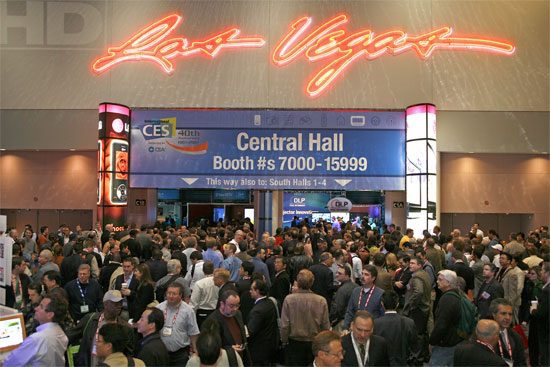 We did not view any revolutionary PC products at this year's show as this type of product announcement is generally released through the web or presented at the computer specific shows such as Computex. One of the more interesting developments we did notice was on the power supply side where the majority of manufacturers were showing the new 8-pin PCI Express 2.0 cables. The majority of these cables featured a 6+2 pin arrangement that allows them to be used with current graphic cards or upcoming products. The first product to utilize this new power standard will be the AMD R600 that will require both an 8-pin and 6-pin PCI Express connector to power the card. We asked about potential cable adapters for current power supplies and were told by most of the suppliers that they did not know if an adapter would work or not until they received final specifications from AMD. Enermax will have an 8-pin cable available for their current Liberty series that will allow the use of a single R600 or future NVIDIA graphics card. Pricing was not set but is expected to be below $10.
We also viewed several shipping products that were announced at and after Computex last year. The general theme from the various PC component or system suppliers seemed to be refinement of current products while waiting for upcoming product releases from Intel or AMD. We still expect to see the upcoming AMD R600 based graphics cards in March and the new Barcelona processor series later in Q2. Intel should have their new Bearlake chipset available in late Q2 2007 that adds official 1333 FSB support along with numerous refinements over the current P965 and 975X chipsets.
The major theme for the PC crowd at this year's event centered on the pending release of Windows Vista along with the continuing saga of convergence with the typical consumer electronics devices. The convergence of the PC into the family living room or as a central control device in the home environment has been discussed for the past decade. However, very little has actually happened in this time span to take this technology from a niche market into the mainstream. Our discussions and own experiences lead us to believe that mainstream market acceptability of the PC in the living room concept could finally come to fruition in 2008. While the hardware and software should finally be at the point of general market acceptance we still have serious doubts if this will be the case due to the ongoing battles over digital rights management and the various proprietary interfaces that several suppliers seem intent on utilizing.
While Vista looks set to make a quick entry into the home market it appears from our discussions with several industry veterans that it will take some time before anyone feels safe in rolling out the new operating system into the corporate markets. This is no surprise as several major corporations are just now completing their move from Windows 2000 to XP in many cases. Vista will also launch a whole new series of opportunities for suppliers that will benefit from component upgrades or new system purchases. We think the memory suppliers will benefit the most with graphics also being an important upgrade item on anyone's checklist. The system integrators and motherboard manufacturers do not expect to see an immediate up tick in sales but fully expect to see Vista making a difference in the market starting in Q3.
Let's take a look at a few interesting products today and we will finish our coverage of CES 2007 this weekend.
Enermax: Power and Case Products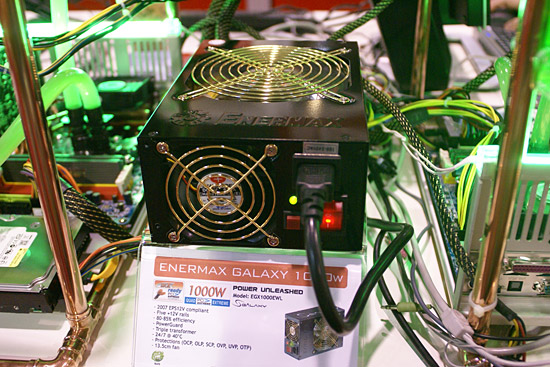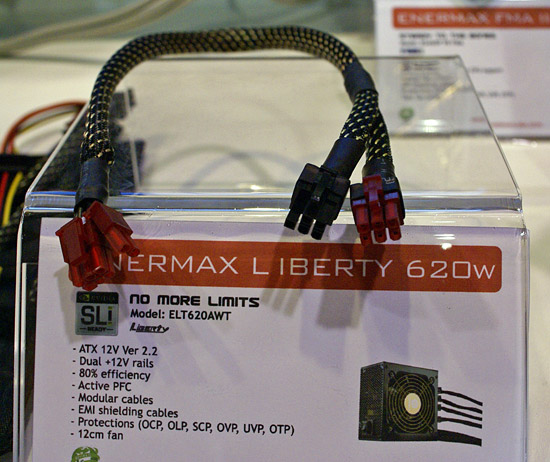 Enermax is releasing an update to their Galaxy product line that features 850W and 1000W power supplies. These power supplies feature the new 8-pin PCI Express 2.0 cable design and will allow the use of two R600 cards. The power supplies feature five dedicated 12V rails with two dedicated to CPU operation and three dedicated to GPU, systems, and storage drives with 17A on each rail. The power supplies are designed with an 80~85% power efficiency from 20% to 100% load along with 6A on the +5Vsb to fully support 2007 Intel requirements and multiple USB devices. The units are designed to operate at full power on a 24/7 basis at up to 50c. Pricing for the 1000W unit is expected to be around $350 with availability shortly.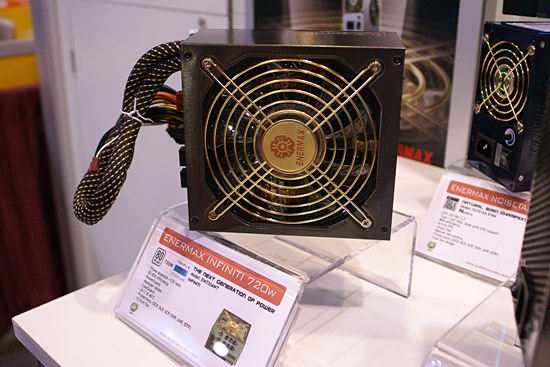 Also due for release shortly is an update to the Infinity series that will feature 650W and 720W units with full support for current SLI or CrossFire systems along with support for the new 8-pin PCI Express 2.0 standard. Both units are designed for 24/7 operation at up to 40c with an 82~85% power efficiency rating at 20~100% load. The units also feature the CoolGuard option that enables the system fans to run for up to 10 seconds after shutdown to help cool your system down.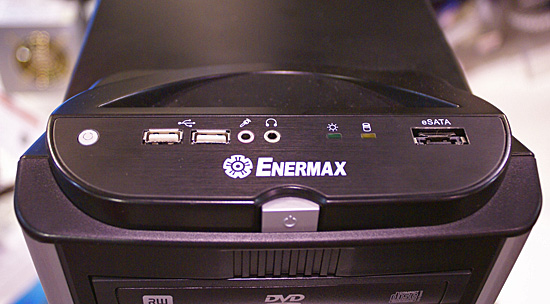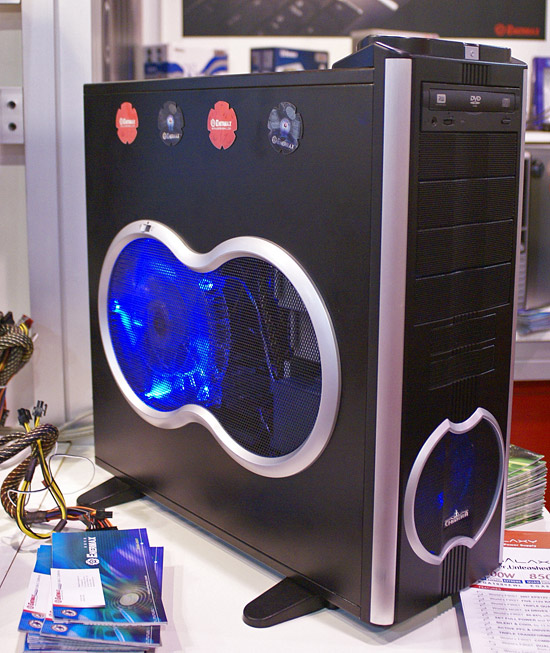 Enermax is also introducing their new Uber Chakra tower case that features 120mm fans on the front and rear of the case along with a 250mm fan on the side of the case that is direction adjustable. The case features an e-SATA port on the brushed aluminum front panel, tool-free design, and retractable foot stands. The case will be available in four colors that include black, red, blue, and silver.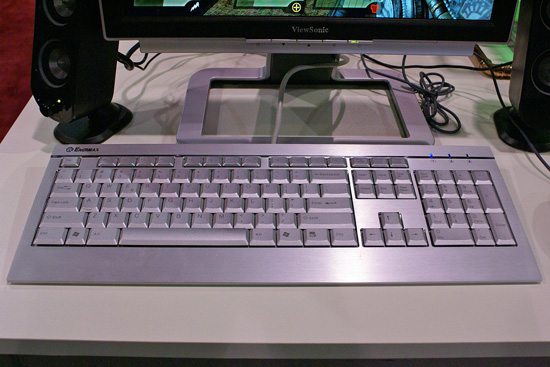 Enermax also features a complete lineup of brushed aluminum keyboards that match their current case lineup. The keyboards are USB based and have diamond cut highlights along with blue LED indicators. We found the keyboards to be very sturdy with a good tactile feel from the keys.
ASUS: Motherboards and More...
ASUS will be launching the M2A-VM HDMI motherboard based upon the upcoming AMD 690G chipset in the near future. The board features integrated Radeon X1250 graphics capability featuring HDMI output with full HDCP support, two IEEE-1394 ports, ten USB 2.0 ports, Realtek ALC884 HD audio, and 8GB memory support.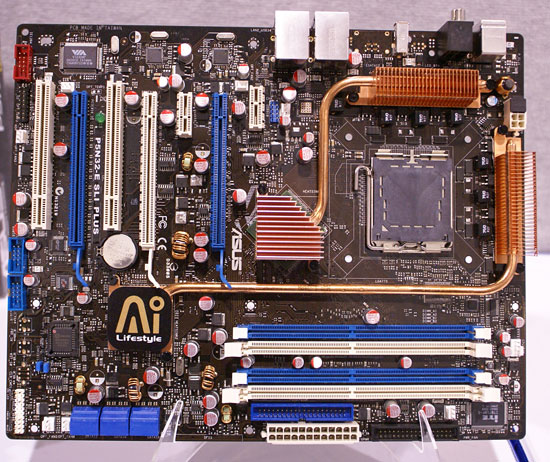 The ASUS P5N32-E SLI is under going an update to the Plus version that features revised electrical components, BIOS changes, and new accessory items. We expect to have a review sample shortly.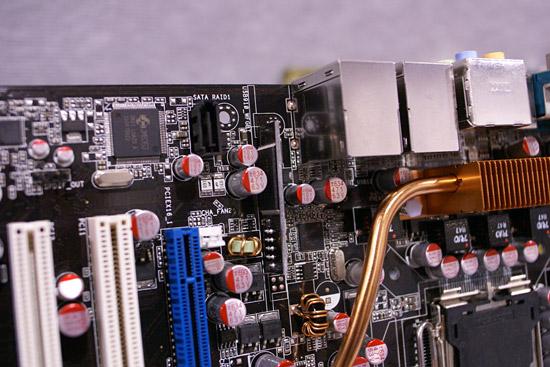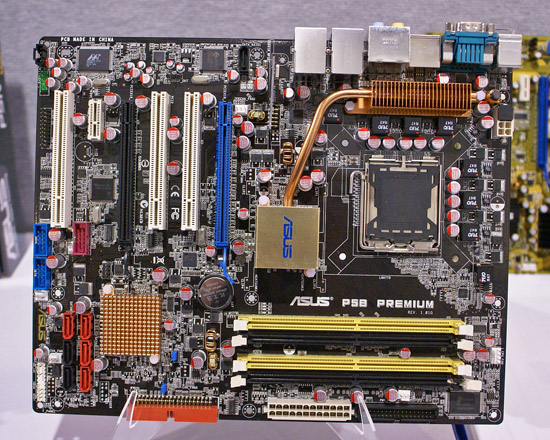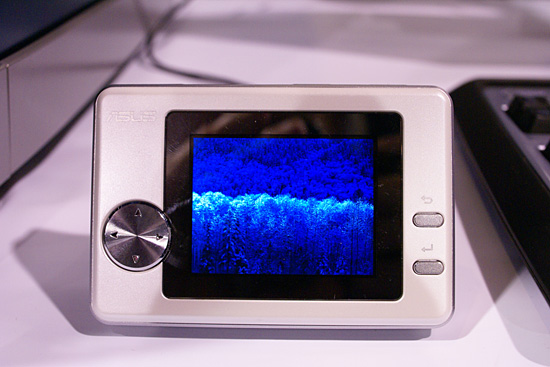 One of our favorite P965 motherboards has been the ASUS P5B-Deluxe and it will be joined by a major revision in the near future. The new board will be called the P5B-Premium and features improved electrical layout, all solid capacitor design, and a new premium suite package that includes several firsts for ASUS. The main design change on the motherboard is the inclusion of a flash memory module that features full support for Vista's ReadyBoost function to dramatically improve boot time from hibernation mode and for improving the response of application launches. The Premium suite will also ship with the new ScreenDUO module pictured above that displays information from the BIOS, websites, RSS feeds, schedules, or other information even if the PC is in sleep mode. The kit also includes the new AI Remote controller that allows you turn the PC on or off, launch specific applications via hot keys, or control features such as your system fans. Another feature that can be included is a Trusted Platform Module that fully supports Vista's BitLocker drive encryption capability.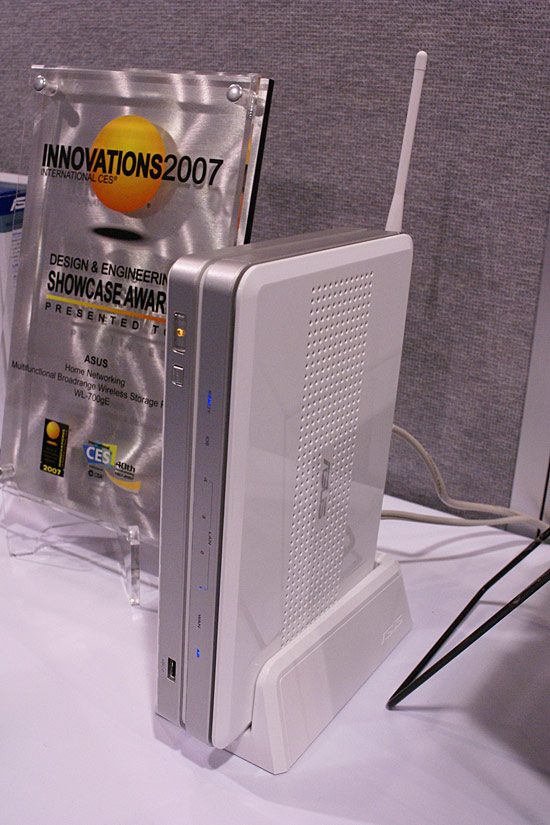 ASUS is aggressively pursuing the consumer network market and just recently released the WL-700gE multifunctional broadrange wireless router. The unit designed to be a wireless router, media server, and NAS product. There is a built-in 250GB SATA drive and three USB 2.0 ports. Support ranges from DDNS/DHCP/Web server, UPnP AV and WMM, to 64/128bit WEP and WPA/WPA2 capability. The wireless capability features 802.11g and 802.11b support along with MAC address filtering, and SPI/NAT firewalls. The included Download Master software allows the user to setup seven BitTorrent streams at once or up to ten FTP/HTTP downloads. The unit is priced around $250 at this time.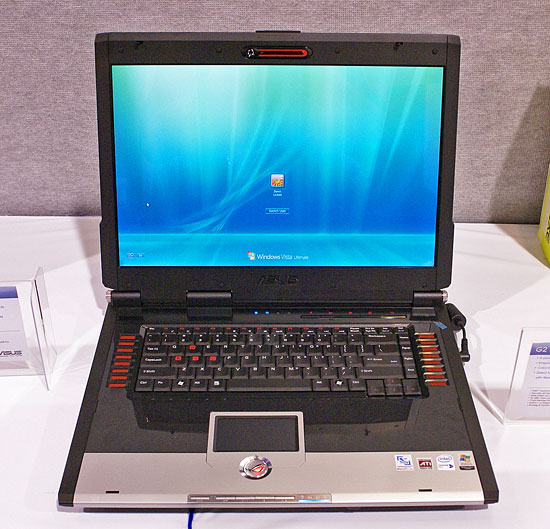 We have already covered some of the ASUS's new notebook products but were able to use the new G2 Extreme Gaming notebook before we left the show. The notebook features the Intel Centrino 2 Duo processor lineup, ATI Mobility Radeon X1700 graphics, DDR2-667 with 2GB support, five USB 2.0 ports, D-Sub and DVI-D output, five in one card reader, Gigabit LAN, and a built-in 1.3 Megapixel webcam. The notebook also features a color hints on heavily used gaming keys and ASUS' new Direct Messenger program that provides real-time monitoring of MSN, e-mail, and other programs within their game system control panel.
SanDisk: Solid State Disk Drive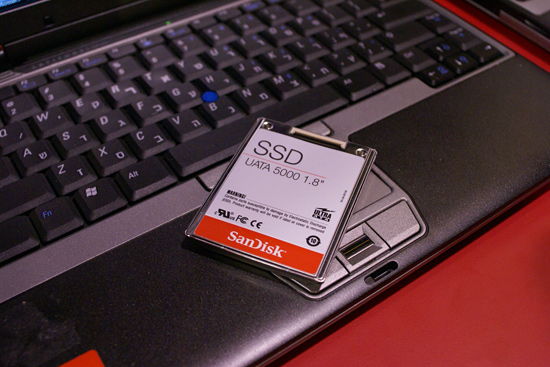 One of the most impressive product demonstrations we witnessed was a comparison between two identically prepared Dell notebooks except for the drive option. One notebook contained a standard 2.5" disk drive while the other one featured the new SanDisk SSD UTAT 5000 1.8" drive with a 32GB capacity. This fifth generation drive features a sustained read rate of 62 megabytes (MB) per second and a random read rate of 7,000 inputs/outputs per second (IOPS) for a 512-byte transfer - up to 100 times faster than most notebook hard disk drives. It also can achieve an average file access rate of 0.12 milliseconds, compared with 19 milliseconds for a typical laptop PC hard disk drive. The SanDisk SSD features an extremely low power consumption rate compared to the laptop hard disk drive: 0.4 watt during active operation versus 1.0 watt which could mean up to 22 minutes or more of additional battery life depending upon usage patterns.
In a demonstration that featured Windows Vista Enterprise edition on each notebook we noticed the SSD equipped system shutdown about 95 seconds faster with four Office applications open at power down . This same configuration booted into Vista and opened the same four Office applications about 115 seconds faster. When resuming from hibernation mode the SSD system took less than five seconds while the hard disk system took close to forty seconds before it was fully functional.
We expect to see these drives to start appearing in OEM systems by the end of Q1 with a price premium around $500 at this time for the 32GB drive. By the end of the year we should expect prices to fall about 40% while drive capacities will increase to 64GB in Q3 and 128GB in Q4. This is a very exciting technology and we should have review samples in the near future.
Pioneer: Blu-ray Combo Drive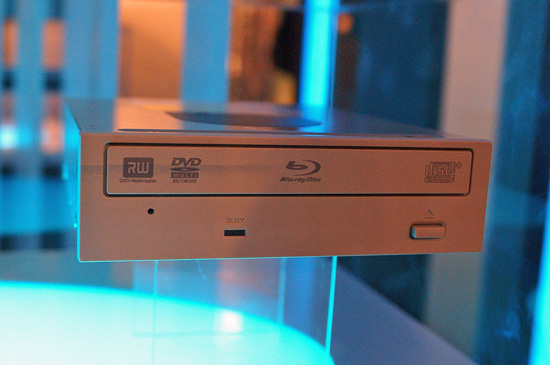 Pioneer's first Blu-ray drive featured full read and write capability for Blu-ray and DVD formats but did not have CD read or write capability. The drive was mainly designed for industrial use in creating or playing back Blu-ray discs. Pioneer will be introducing the new BDC-202 drive that offers full DVD/CD read and write features with Blu-ray BD-ROM, BD-R, and BD-RE playback capability. The drive should be available around the beginning of Q2 with an estimated street price below $399 and features a true SATA interface.
Our next article will feature products from Antec, Zalman, G.Skill, Creative Labs, NetGear, and others as we finish up our CES 2007 coverage.