Original Link: http://www.anandtech.com/show/2145


Mobility Overview
One of the fastest growing areas of the computer market is undoubtedly the mobile sector. There are many reasons for the increasing popularity of laptop and notebook computers: marketing, portability, and decreasing prices to name a few. Perhaps one of the biggest reasons that laptops are becoming more prevalent in the computing sector has to do with performance. For a long time, it simply was not possible to get the same high level of performance in a laptop as it was to get in a desktop computer. Combine that with CPU performance that was doubling every couple of years, and spending a lot of money on a laptop that was going to be outdated in a year or two was something most people could not justify.
Lately, however, performance increases have started to trail off, and more importantly performance requirements have remained largely static for several years. Sure, there are some applications that can still use every ounce of performance you can throw at them, but for typical computer use any system built within the past three years is more than adequate, provided you have enough memory and storage. That is not to say that desktop computers aren't faster than laptop computers, particularly if you spend the same amount of money on both platforms. There are plenty of things you can get in a desktop that you cannot fit into a laptop chassis; quad core CPUs, dual 8800 GTX graphics cards, and three or more hard drives all come to mind. The thing is, there's a huge percentage of the population that doesn't need any of those components, and they will be far better served saving money than blowing thousands of dollars on the absolutely fastest computer parts available.
A lot of people still ask for advice on whether or not they should purchase a laptop computer, and if so what type of laptop they should get. Before you even get to the point of deciding what type of laptop to buy, you need to decide if you really need/want a laptop. Portability is still the biggest benefit of laptop computers, so if you don't plan on moving your computer around much (if at all), the major reason to purchase a laptop is gone. Most people can easily justify the desire for portability, however, so the second factor is whether or not you are willing to spend a bit more money for the privilege. If you put together a desktop and laptop system that are relatively equivalent in terms of performance, the laptop will definitely cost more.
Finally, you need to make sure you are willing to live with what is largely a closed system. You can add a few peripherals to a laptop - USB and FireWire devices, PC Cards or ExpressCards - but it is difficult to fundamentally change a laptop over time. With a few exceptions, whatever parts a laptop has when you purchase it will be there for the life of the laptop. You might be able to increase memory a bit, replace the hard drive with a larger model, upgrade the CPU, and in rare cases you might even be able to change out the graphics module. However, the display, keyboard, motherboard, audio, graphics, and chassis are almost always going to remain the same.
Because of the monetary investment involved, what this means is that you really need to make sure you're getting a laptop you will be happy with. If at all possible, you should try out a laptop model in person before you purchase it. Things like the keyboard layout, display quality, as well as the size and weight can become critical factors in determining whether or not you will appreciate a laptop over the long haul. Some of these areas are going to be a purely personal preference, of course, so what one person may love another person might hate, making it all the more important that you try to test out a laptop yourself rather than merely going by what others say.
Luckily, in some ways at least, figuring out which laptop you should get has become easier. Two laptops from different manufacturers that contain the same components should perform very nearly the same, so if you can determine which components you want and find a laptop that matches up with those requirements, that is often sufficient. Unfortunately, because there are virtually limitless potential configurations and because laptops are as previously stated mostly a closed system, it may not always be possible to find a laptop that matches your specific desires. At that point, compromises need to be made, and we would recommend upgrading your component selections if at all possible rather than settling for something less than you initially wanted.
All of this is good information to have if you're considering purchasing a laptop, and as we look at a couple of ASUS models along with an ABS notebook in this review try to keep this overview in mind. We will naturally look at how these laptops perform, and we will also look at the components and features of each one. The warranty, service, and support offered are also important. All of these factors along with price will ultimately determine whether or not we feel a laptop is worth purchasing, and who might be interested in a particular model.
Feature Comparison
With several different laptops to compare, the easiest way to highlight their differences is to begin by looking at features. Before we do that, however, it is interesting to note how marketing looks at these laptops. The ASUS A8JS is marketed as an all-around multimedia/entertainment laptop suitable for just about any use; although it may not always be the best laptop for a particular job, it does well as a jack of all trades. The ASUS G2P on the other hand is marketed as a "gamer's laptop". The larger display and exterior styling does perhaps fit that market better, and there are a few other areas that make the G2P more suitable for gaming purposes. Oddly enough, perhaps the key component in any gaming computer is going to be the graphics card, and here the G2P definitely falls short. The ABS Mayhem Z5 is also supposed to be a gamer's notebook, only here the component selection seems to justify the categorization, as it comes equipped with NVIDIA's GeForce Go 7900 GTX.
You can almost always guess at some of the basic features and components that are going to go into a laptop with knowledge of only two areas: display size and price. Laptop chassis are almost always built around the display, with the case being slightly larger than the LCD. Depending on how far you want to break things down, there are several classifications of laptop sizes. The smallest models are ultraportables, with LCDs that are 12 inches or smaller and a total laptop weight that's usually under 4 pounds (not including all of the potential accessories). The most common laptops feature 14"-15" displays and weigh somewhere between 4 and 6 pounds, perhaps slightly more. Finally, you have the notebook/desktop replacement models that come with 17" or larger displays and usually weigh 8 pounds or more. Equivalent performance generally becomes more expensive as laptops become smaller, and performance options also become more limited with the smaller units. This makes sense, as the more powerful components that go into desktop replacement models are simply too large and hot to fit into an ultraportable chassis.
The A8JS is a typical 14" widescreen laptop, while the G2P is a 17" widescreen notebook. Despite the various differences we will outline shortly, retail prices on both of these laptop models (as tested) should be about the same - $1900 give or take, although we will have more to say concerning pricing in a moment. The ABS Mayhem Z5 is also a 17" notebook, but the higher-end components bump the price of our particular configuration up to around $2900. Here's a quick overview of the features.
System Configuration Options
ASUS A8JS
ASUS G2P
ABS Mayhem Z5
Processor
Core 2 Duo T7600, T7400, T7200, T5600, T5500
Core 2 Duo T7600, T7400, T7200, T5600, T5500
Core 2 Duo T7600, T7400, T7200, T5600, Core Duo T2600, T2500, T2400
Chipset
Intel 945PM + ICH7M
Intel 945PM 64-bit Dual-Channel
Intel 945PM 64-bit Dual-Channel
FSB Speeds
Up to 667 MHz
Up to 667 MHz
Up to 667 MHz
Memory Speeds
DDR2-400, DDR2-533, DDR2-667
DDR2-533, DDR2-667
DDR2-533, DDR2-667
Memory Slots
(2) x SO-DIMM, up to 2GB, DDR2, Dual Channel supported
(2) x SO-DIMM, up to 2GB, DDR2, Dual Channel supported
(2) x SO-DIMM, up to 2GB, DDR2, Dual Channel supported
Graphics
NVIDIA GeForce Go 7700
512MB Physical VRAM
2D Clocks: 100/270
3D Clocks: 450/800
ATI Mobility Readeon X1700 GPU
512MB Physical VRAM
3D Clocks: 459/990
NVIDIA GeForce Go 7900 GTX
512MB Physical VRAM
2D Clocks: 100/220
3D Clocks: 500/1200
Display
14" WXGA+ (1440x900) ColorShine LCD
17.0" WXGA+ (1440x900) ColorShine TFT LCD
17" WUXGA (1920x1200) SuperClear LCD
Expansion Slots
One ExpressCard 54
One ExpressCard 54
One ExpressCard 54
Hard Drive
80/100/120GB 7200 RPM
80/100/120/160GB 5400 RPM
80/100/120/160GB 5400 RPM or 80/100/120GB 7200 RPM
Optical Drive
8X DVD+/-RW
8X DVD+/-RW
8X DVD+/-RW
Networking / Communications
Integrated 10/100/1000 PCIe Gigabit Ethernet and V.90 56K Modem
Intel 3945ABG (802.11A/B/G) Mini PCI Wireless
Integrated 10/100/1000 PCIe Gigabit Ethernet and V.90 56K Modem
Intel 3945ABG (802.11A/B/G) Mini PCI Wireless
Integrated 10/100/1000 PCIe Gigabit Ethernet and V.90 56K Modem
Intel 3945ABG (802.11A/B/G) Mini PCI Wireless
Audio
SoundMax HD 2.1
Realtek ALC882 5.1 HD
Realtek ALC880 7.1 HD
Left I/O Ports
1 x USB 2.0
1 x Firewire
Microphone
Headphone
Flash reader (SD, CF, MS)
ExpressCard 54
None
None
Right I/O Ports
2 USB2.0, Infrared
1 x RJ45 LAN
1 x RJ11 Modem
1 x USB 2.0
1 x Firewire
1 x e-SATA
1 x TV-In
Headphone
Microphone
Line-In
Flash reader (SD, CF, MS)
ExpressCard 54
2 x USB 2.0
1 x Firewire
Headphone
Microphone
Flash reader (SD, CF, MS)
ExpressCard 54
Back I/O Ports
1 x RJ45 LAN
2 x USB 2.0
1 x RJ11 Modem
1 x DVI-D
1 x VGA
1 x TV-Out
4 x USB 2.0
1 x DVI-D
1 x VGA
1 x TV-Out
Line-In
Line Out
2 x USB 2.0
1 x RJ45 LAN
1 x RJ11 Modem
1 x DVI-D
1 x TV-In
1 x TV-Out
1 x Serial
Keyboard
86 Key QWERTY
88 Key QWERTY
99 Key QWERTY plus Numpad
Battery
6-Cell 53WHr/4800 mAHr Lithium Ion
8-Cell 71WHr/4800 mAHr Lithium Ion
8-Cell 65WHr/4400 mAHr Lithium Ion
Dimensions
1.5"x13.2"x9.6" (HxWxD)
5.3 lbs.
1.8"x16.2"x12.4" (HxWxD)
9.7 lbs.
1.8"x15.6"x11.5" (HxWxD)
9.35 lbs.
Power Adapter
90W
90W
130W
Most of the included components are nearly identical, with the same T7200 CPU in all three laptops, as well as similar DDR2-667 memory. The laptops all list 2GB of RAM as the maximum supported, and while they really should support 2GB SO-DIMM modules, right now such memory is so prohibitively expensive that it's not a major concern for most people. Whether or not a BIOS update will add such support in the future is unknown, so don't count on it - if you need 4GB of RAM in a notebook, get a model that officially supports it and be ready to fork out $1000 or more for 2x2GB of RAM. While all three have different hard drives, that generally won't affect performance except in a few hard disk intensive applications/benchmarks.
The A8JS is obviously a smaller chassis along with the 14" display. Both ASUS models still come with a native resolution of 1440x900 (WXGA+) though, which is a rather low for a 17" laptop display. However, the response time on the G2P display is rated at 8ms, which is better than most other laptop displays. The ABS Z5 goes with a much higher WUXGA (1920x1200) resolution LCD, which is more common on high-end 17" notebooks, although the response time seems to be closer to 16ms and it's not nearly as bright. In practice we found the response times were not a serious factor in choosing between the displays, but the image quality still varied quite a bit.
Going along with the difference in displays is the aforementioned change in graphics chips. As we'll see later the G2P's Radeon Mobility X1700 ends up being quite a bit slower than the A8JS' GeForce Go 7700, and it's hardly surprising that the GeForce Go 7900 GTX is significantly faster than the 7700. The added speed of the 7900 GTX is definitely necessary if you want to game at the native LCD resolution. Besides the chassis and keyboard differences and a few miscellaneous extras that we'll cover in the individual sections, about the only other noteworthy area where the laptops vary is the audio.
The G2P supports 5.1 audio output via three audio jacks, while the A8Js only provides two audio jacks limiting it to 2.1 audio. ASUS does support S/PDIF optical out via the headphone jack on both laptops, so users looking to connect to digital speakers can still get 5.1 audio that way. The ABS Mayhem Z5 does the right thing and includes four audio jacks, allowing the use of 5.1 audio along with a microphone, or 7.1 audio without a microphone. One of the jacks can also support digital audio out, though not via an optical connection. The only problem with the ABS audio implementation is the location of the jacks, as two are on the side and two are on the rear, with about 10 inches between the two; getting many speakers cables to reach all the necessary jacks can be very difficult (i.e. Logitech's Z-640 and X-530 both have to stretch and you end up with taut wires running underneath the laptop). We would like to have all four ports close together, but even more important we want to see ASUS and others add at least a third and preferably a fourth jack, as even on a 14" chassis there is ample room to add a couple extra ports.
As far as first impressions go, all three laptops offer a good set of features and performance. Unfortunately, as we will see later, the choice of graphics chip definitely makes the G2P unworthy of the "gaming laptop" marketing. ATI's X1600 graphics chips have always offered lackluster performance relative to the competition - X1600 XT cards were only slightly faster than GeForce 6600 GTs, and the 7600 GT is easily able to maintain a performance lead. The situation has not changed much when comparing the Radeon Mobility X1700 with the GeForce Go 7700. The X1700 could have other advantages over the 7700, for example it might require less power allowing for increased battery life, or it might provide better multimedia functions. If 3D performance is lower than the competition, however, most gamers aren't going to care about getting more battery life from their laptop.
Immediately then, it appears that the target market of the G2P will not be satisfied; whether or not the G2P can provide compelling performance and features that others might still want remains to be seen. As is typical of true gaming notebooks, the cost of the ABS Mayhem Z5 is quite a bit higher than competing models. Looking at the market pricing, the inclusion of a GeForce Go 7900 GTX appears to add well over $500 to the total cost of a laptop, which isn't surprising considering desktop 7900 GTX cards cost about $400.
Having finished this quick overview, we want to take a closer look at each laptop. Even though many of the features are the same, at least on the surface, there are still some noteworthy differences - and similarities - that a features table glosses over. After we have finished looking at the details of each laptop, we will provide some real-world performance comparisons between these laptops as well as some of the other recently reviewed notebooks.
ASUS A8JS - Exterior and Features
The ASUS A8JS is a reasonably equipped midrange laptop, designed to handle just about any computing task that you could want to perform. The review system we received came equipped with a Core 2 Duo T7200 processor, 14" WXGA+ LCD, 8X DVDRW, 100GB 7200RPM hard drive, GeForce Go 7700 512MB graphics, and 2x1024MB DDR2-667 memory. Unfortunately, it appears that ASUS has decided to downgrade the final shipping versions of this laptop slightly, as we are only able to find 2x512MB DDR2-667 models available online. With Windows Vista ready to launch in the very near future, we would really prefer to see the end of midrange laptops with less than 2GB of memory. Prices are slightly lower than what we were originally quoted, likely due to the reduced amount of memory, but now some users are going to be looking at purchasing a laptop and then immediately spending an additional $200 to upgrade the memory, probably throwing out $100 worth of memory in the process. You can find the 1GB version of the A8JS for about $1600 right now, so our tested configuration would cost closer to $1800.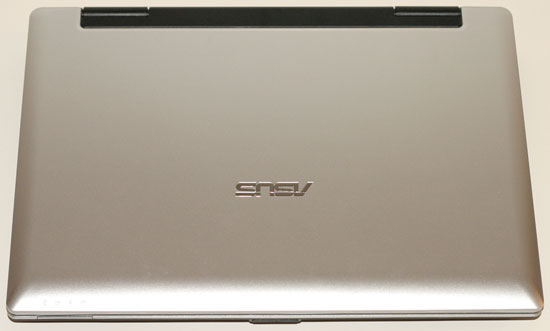 Click to enlarge
Looking at the exterior of the laptop, ASUS has created a reasonably attractive system. The top surfaces of the A8JS are composed of a silver plastic material with a matte finish, accompanied by black trim and a black keyboard. The bottom of the shell is also made of black plastic. Even though the chassis is primarily composed of plastic, it still feels reasonably durable and should hold up well provided you don't plan on beating on your laptop. The silver surfaces are not particularly scratch resistant, and after enduring a couple months of what we would consider light use our unit already has begun to show various scratches and blemishes. If you're like most of us, that's not really a big deal, but the shell will definitely show signs of use over time.

Click to enlarge
Looking at the various interface options, the front of the A8JS doesn't have any ports. There are LED indicators for power, battery, Bluetooth, and WiFi; a button that opens the top latch; and some perforations/designs for the two internal speakers.

Click to enlarge
The right side of the laptop has two USB ports and an infrared interface, along with the CPU HSF exhaust port. During use, particularly when the system is under full load, the right side of the laptop (both the exhaust and the bottom area) can become relatively warm. In the warmer months of the year, some might even say it's uncomfortably warm, although right now in the winter it can be nice having a portable lap warmer around.

Click to enlarge
The left side of the A8JS contains another USB port, an unpowered FireWire port, and the headphone and microphone audio jacks. Above these ports is an ExpressCard 54 expansion slot. The optical drive is also accessed from the left, and in the top-rear left of the laptop is a flash memory reader with support for MultiMediaCard (MMC), SecureDigital (SD), and Memory Stick (MS)/MS Pro flash memory. The included optical drive is an 8X DVD burner with dual layer support as well as DVD-RAM support. One minor complaint about the optical drive is that it is a bit difficult to press the eject button, though on the other hand you won't accidentally eject a disc either.

Click to enlarge
Finishing up with the rear of the unit, and moving left to right, we have the power adapter socket, two more USB ports, TV-out, VGA and DVI ports, Gigabit Ethernet, and a modem jack. At the far right is a security locking mechanism, and we should also mention that the DVI port does not support dual-link cables/resolutions. That's too bad for those users who want to use the ASUS A8JS with a 30" LCD running at 2560x1600, but it's not really unexpected.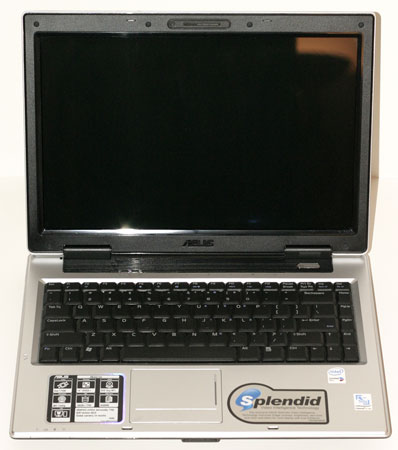 Click to enlarge
Opening up the unit, we get to the major portion of the user experience. Besides the display, which we will cover in a moment, there's the keyboard, trackpad, some additional shortcut keys across the top along with the power button, and finally the integrated webcam above the display. To complement the webcam, there's also a small built-in microphone to the left of the keyboard. The webcam functions pretty well, as far as such things go, and it's a 0.3 megapixel model (640x480).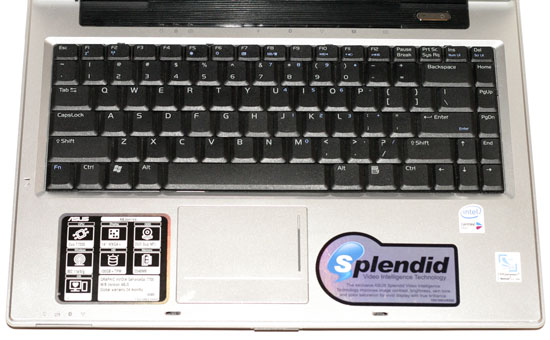 Click to enlarge
Focusing on the keyboard and trackpad, we have to admit that trackpads are not our favorite way of interfacing with Windows. They are more of a necessary evil when you can't afford the luxury of having an actual mouse available. Like nearly all modern notebooks, the trackpad has customizable scroll areas on the bottom and right side. With the limited space available, ASUS wasn't able to include a full-size keyboard and number keypad. The keys are still reasonably sized, however, and all of the most important keys are easily accessible.
Wrapping things up with the display, the overall quality was decent but not spectacular. The maximum brightness level is sufficient for most indoor use, but it can feel a bit dim when used in brighter lighting. Contrast, viewing angle, and response time are all acceptable, and as usual there is a moderate amount of backlight bleed. We didn't have any issues using the display for gaming, viewing movies, or running typical Windows applications, but of the three laptops we're looking at this display is definitely the low man on the totem pole. Being a widescreen display, running at the native resolution can be a bit tricky at times. Most recent games will allow you to make some manual modifications in order to get
widescreen support
, which can be a bit tedious at times but unless you run much older titles you should be fine.
ASUS A8JS - Internals and Usage
Turning to the bottom of the unit, we can see the battery as well as the two main access panels. In the interest of time, we won't bother showing the fully dismantled laptop, as all of the areas you are likely to need access to can be reached through the bottom panels.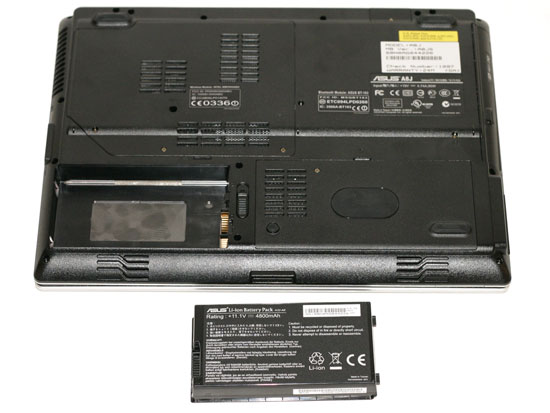 Click to enlarge
The battery is actually quite difficult to remove, as it fits very snugly into place. Besides pressing the release button, we had to use a flat screwdriver to help pop the battery out. On the bright side, it is very unlikely that you will accidentally remove the battery.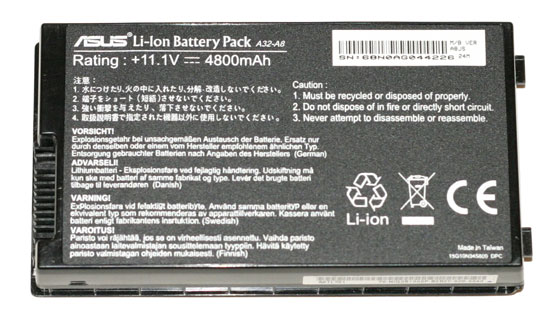 Click to enlarge
The battery itself is a 6-cell model rated at 11.1V and 4800 mAHr (or if you prefer, 11.1V x 4800 mAHr = 53 WHr).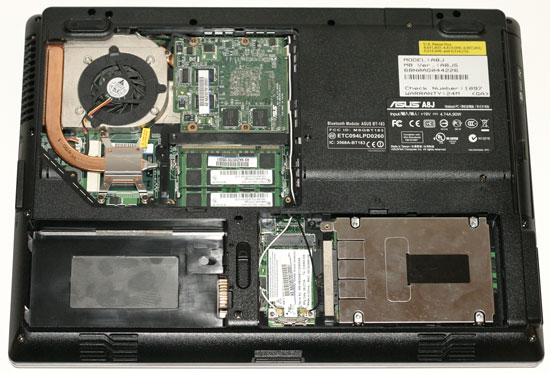 Click to enlarge
The bottom right access panel houses the hard drive as well as the Bluetooth/WiFi card.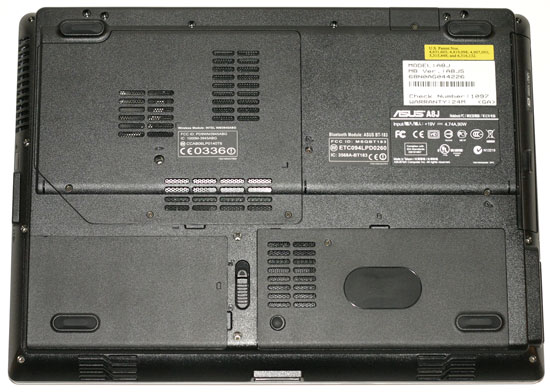 Click to enlarge
The other panel provides access to the two memory slots, the GPU module, and the CPU heatsink and socket. It is possible to upgrade the processor to something faster, although doing so does require a bit of effort and voids your warranty. In order to access the CPU socket, you will need to remove both the graphics module as well as the processor heat sink. All of this can be relatively difficult to do, and for now there really isn't much point as the fastest Core 2 Duo processors aren't significantly better than the T7200. The extra 16% performance boost that you might get from a T7600 generally isn't worth the accompanying price hike; if you need a faster processor, it's probably a lot easier in the long run to get a system that comes with the CPU preinstalled.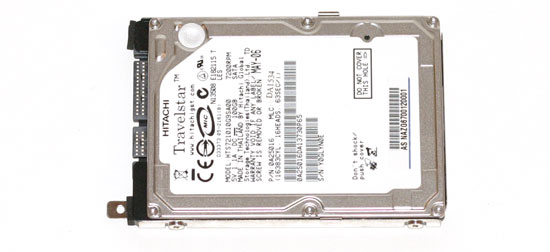 Click to enlarge
ASUS includes a 100GB 7200 RPM SATA hard drive from Hitachi, which matches the highest performance laptop drives currently on offer. Seagate also makes 100GB 7200 RPM laptop drives, but if you want to get a 2.5" hard drive larger than 100GB, you will need to give up the 7200 RPM spindle speed. Luckily, where hard drive performance in the past has often been abysmal on laptops, the latest models typically offer acceptable performance - not as fast as desktop hard drives still, but adequate for the majority of users. Hard drive performance also becomes less of a factor when running on systems with 2GB of memory, as the large memory capacity alleviates the need for the operating system/applications to access the hard drive as often.
Using the ASUS A8JS on a day-to-day basis was a very good experience. Battery life is decent, lasting over two hours for most tasks, and performance was more than acceptable. The graphics chip is capable of powering the display at its native resolution in most games, although there are a few titles that struggle unless you either turn down the resolution or turn down the detail settings. Watching movies, surfing the Internet, or doing other office work also gave us no cause for complaint. It should also be noted that not once during all of our testing have we encountered any problems with this laptop - no crashes, lockups, or any other unexpected behavior. Whether sitting idle or running at maximum capacity, the A8JS has proved itself to be rock solid.
That is not to say that the laptop is perfect, but then few things are. The keyboard layout is decent, providing access to all of the most important keys. The lack of a number keypad might be an issue for some people, but there's not much that can be done about that in a 14" chassis. Switching from a desktop to a laptop keyboard can be a bit disconcerting, so there's definitely a learning period where you need to become acclimated to the new layout. The keys are also slightly smaller than your typical desktop keyboard, but that's to be expected. The function ("Fn") key provides access to additional options that some people might find useful, for example allowing a portion of the keyboard to function as a number keypad temporarily. It also provides access to settings for display brightness, display output, volume, mute, WiFi on/off, trackpad on/off, and sleep/suspend mode. A couple of these functions (Fn + F9 = trackpad on/off) are not labeled, but given that we just listed one of the more useful shortcuts that shouldn't be a problem. We only wish the Fn key and the Ctrl key locations were reversed, as we are accustomed to having the Ctrl key in the bottom-left corner of our keyboards.
If we had to choose just one laptop out of these three as the best option for the most people, it would be the ASUS A8JS. It offers everything people are likely to need in reasonable quantities: good performance, decent battery life, relatively lightweight and compact design, all the important features, and a reasonable price. It is one of the best midrange notebooks that we have ever had the pleasure of using, and we can easily recommend it for anyone looking for a good all-around laptop. About the only people that might not be satisfied are those who would like a larger and/or brighter display or a faster graphics processor.
ASUS G2P - Exterior and Features
We received the ASUS A8JS first, and after our initial experience with it (and experiences with previous ASUS laptops), we had high expectations for the ASUS G2P. The G2P is part of ASUS' gaming laptop series - or their Personal Entertainment Center group - but having looked at the features and specifications of the other laptops in this line (the G1, G2P, G2Pb, and G2Pc) we would have to say that most of these do not really fit the requirements of a "gaming" notebook. They all feature Core 2 Duo processors and a reasonable selection of midrange components.
The problem is, as mentioned previously, that they all come with underpowered graphics chips. Well, perhaps not all - the G1 comes with a GeForce Go 7700, just like the A8JS, although it also comes with a 15.4" LCD with either a 1280x800 or a 1680x1050 native resolution. All of the G2P models on the other hand come with a 17" 1440x900 LCD and a Radeon Mobility X1700 graphics chip. Looking at the specs, the Mobility X1700 probably looks pretty similar to the Go 7700, but in practice it is significantly slower.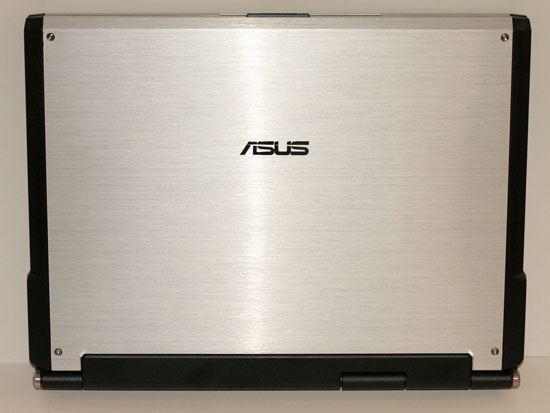 Click to enlarge
We're getting ahead of ourselves though, so let's talk a little bit about the laptop itself. Current prices on the G2P are around $1900, which is a bit more than the A8JS. You do get a larger 160GB hard drive, however, as well as 2GB of RAM standard on all G2P models. The price isn't an excellent bargain, but it isn't that bad either. Similar configurations from other manufacturers end up costing roughly $1800-$2000 as well, although the ability to customize your component selections might make the alternatives more attractive overall. The HP dv9000t for example offers very similar features (when upgraded) for about the same price.
Upon booting up the laptop you are greeted with a red and white logo accompanied by a gong noise and a subtitle proclaiming "ASUS Gaming Series". (The BIOS does allow you the option to disable the startup noise.) The exterior also gives the impression that this might actually be a gaming centric notebook, with red highlights in various locations, a glowing logo beneath the trackpad, and an interesting crosshatched "carbon fiber" pattern in the plastic around the keyboard as well as on the surface of the trackpad. The top of the laptop appears to be made of aluminum with a hard plastic coating to help resist scratching. Strictly in terms of appearance, the ASUS G2P impresses, and there are other good aspects as well.
One of the highlights of the laptop is definitely the LCD, which is easily the brightest and most vibrant laptop LCD we have used to date. The response time figure of 8 ms might be mostly marketing, but there's no denying the fact that this display looks better than the other displays in this notebook roundup. Given that we didn't have any difficulties using the other displays for a large variety of tasks, it's not too surprising that the G2P LCD worked without problems for everything we threw at it. Still, there is definitely a noticeable difference in viewing angle, brightness, contrast, and overall quality that can easily be seen with the naked eye. We would like to see this type of display on more notebooks, with one caveat: for a 17" laptop, we would really prefer to see 1680x1050 resolution at a minimum. Perhaps the lower maximum resolution somehow helps with the other improved characteristics, or it may simply be that this is one of the first of a new series of laptop LCDs and we will begin seeing improvements with higher resolution displays in the near future. The brightness does come at the expense of battery life, unfortunately, but you can always turn down the brightness when going mobile. (Maximum brightness in battery mode is also slightly dimmer than in AC mode.)
Click to enlarge
Moving on from the display, let's take a quick look at the various ports and expansion options offered. Starting with the front of the unit, there are no ports, and the only buttons visible from the exterior are the front latch button along with some multimedia buttons. Just underneath the latch are five buttons that can be used for controlling media playback. The five buttons going left to right provide access to power, previous track, next track, stop, and play/pause functions. The power button will start Windows, but it does not cause Windows to shut down. It also causes the laptop to boot with a slightly different logo screen and without the gong noise (for no apparent reason). These keys work with various media players as expected. LED indicators for power, battery, email, and WiFi are visible to the right of the five multimedia buttons.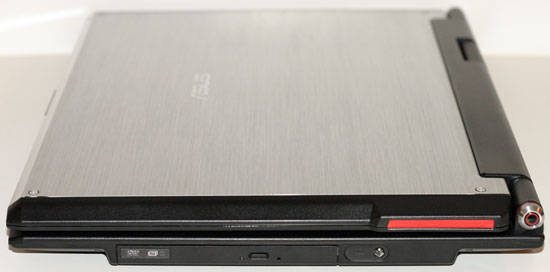 Click to enlarge
The right side of the A8JS is where the optical drive resides, and the only other item present on the right is the power adapter socket. There seems to be a lot of wasted space on the first two edges, and we certainly wouldn't have minded seeing at least a few USB ports on the right side.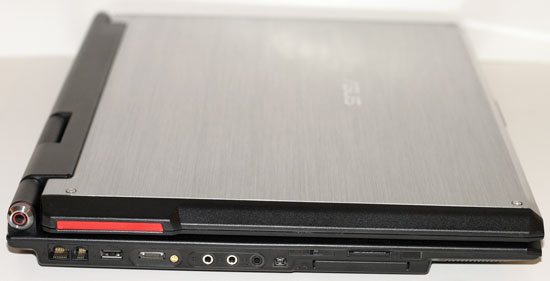 Click to enlarge
The left side of the laptop is where the vast majority of the connections are located. There's one USB port, an unpowered FireWire port, three audio jacks allowing for 5.1 analog speaker connections, and a headphone jack can also function as an optical S/PDIF output. Network and modem ports are available towards the rear of the laptop, while the front has a flash memory socket supporting MMC, SD, and MS/MS Pro. Below the flash slot is the ExpressCard 54 expansion slot. There's also a switch to turn the WiFi connection on or off and an infrared interface at the very front. Between the USB port and audio jacks are a couple of less common options for laptops. The thin port is for external SATA hard drives, while the round socket is the input for the integrated TV tuner.

Click to enlarge
Finishing up with the rear of the unit and starting on the left, the first thing we see is the heat exhaust port. The intake ports are located on the bottom of the laptop, but this is the only exhaust. Given that this laptop is larger than the G2P and also features a less powerful graphics chip, the laptop doesn't get nearly as hot. Next to the exhaust is a security locking mechanism, followed by a TV output connector. The TV connector supports S-Video, component, and composite output. VGA and DVI ports are next, and once again the DVI port does not support dual-link DVI. Finally, at the far right are four USB ports.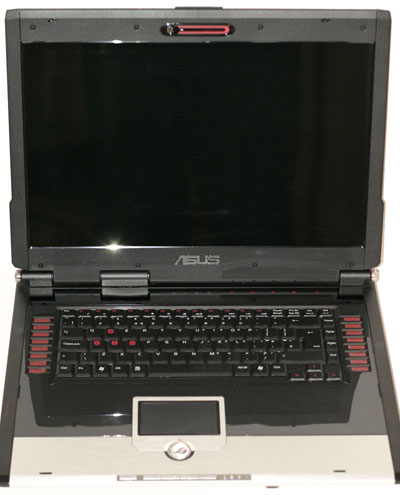 Click to enlarge
Opening up the unit, you can see the crosshatched pattern we were talking about earlier surrounding the keyboard. It looks pretty cool, but otherwise doesn't really serve any purpose. There's also a logo beneath the trackpad that is their purely for appearance, and it glows red when the system is turned on. (This same logo is displayed during the POST sequence.) To the top-left of the keyboard is a small LED display that normally lights up and reads ASUS; we don't know whether or not this display can be programmed to show other information. We've already talked about the display, which is really great, and just below the display are five more buttons: search, email, Internet, trackpad on/off, and the power button. Once again above the display is a webcam and microphone, only this time the webcam is a 1.3 megapixel model. During testing we found it provided a slightly better picture quality than the 0.3 megapixel model on the A8JS, although with four times as many pixels it certainly didn't appear four times as good. However, using Windows Movie Maker we were unable to capture video at a resolution higher than 720x576, which was likely a limitation of the software rather than the camera.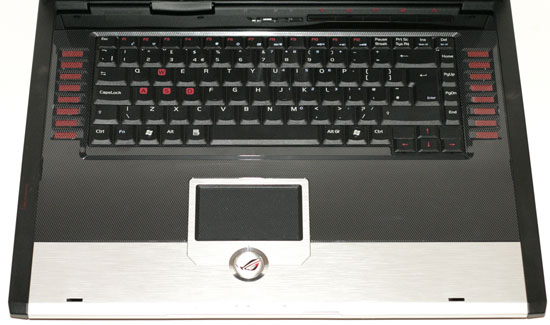 Click to enlarge
Taking a quick look at the keyboard, the layout is nearly identical to that of the keyboard on the A8JS. (We were apparently sent a European version, so the US version may be identical to the A8JS - which would be preferable, as the location of a few keys did cause confusion at times.) The problem is, with a much larger 17" chassis we really expect to see a number keypad on an optimally configured laptop. Rather than using a wider keyboard area, ASUS puts red decorative ventilation to the left and right of the keyboard. We say "decorative" as we couldn't tell that it was actually used for that purpose, and we're pretty sure it's not used for audio either as the speakers are located on the bottom front of the laptop. Such a layout does keep the keyboard centered relative to the display, but we still would have liked to see a number keypad instead. You can also see the red lettering on the WASD keys, once again helping to give the laptop the appearance of being suitable for gaming.
ASUS G2P - Internals and Usage
Looking at the bottom of the laptop, there are three access panels this time instead of just two, along with the battery.
Click to enlarge
This time, we didn't have any problems taking out the battery. There are two latches that hold the battery in place, however, one of which is a locking mechanism that snaps into place rather than the typical spring-loaded lock. This prevents the battery from accidentally being released. Once you unlock the battery latch, the second spring-loaded latch can be used to release the battery.

Click to enlarge
The battery is again an 8-cell model rated at 4800 mAHr, only this time it is a 14.8V battery (14.8V x 4800 = 71 WHr). The larger capacity is likely required because of the 17" LCD, and in testing the G2P requires quite a bit more power than the A8JS. As can be seen in the picture, the battery is also a long, narrow design instead of the rectangle used in the A8JS.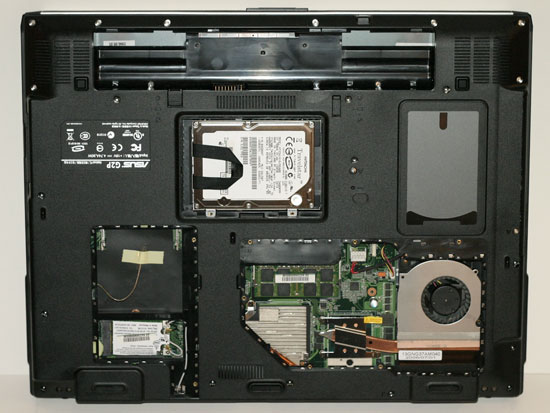 Click to enlarge
Removing the bottom covers grants access to three different areas. At the top is the 2.5" SATA hard drive location. The bottom left holds a mini PCI slot (which was unoccupied on our unit) along with a Bluetooth/WiFi adapter. The third access panel hides the CPU, GPU, and memory. If you actually want to remove the CPU heatsink and swap processors, you will have to remove the rest of the plastic shell in order to expose a few more screws. As with the A8JS, this is not a simple process, and it will void your warranty, but it can be done if necessary. What is somewhat interesting to note is that there's only one SO-DIMM memory socket on the bottom of the laptop. However, the laptop comes equipped with 2GB of memory, so where's the other memory socket?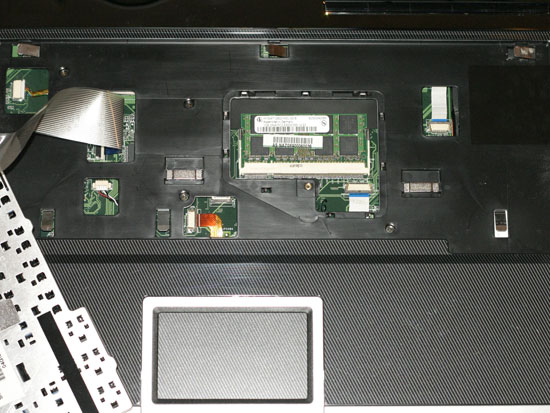 Click to enlarge
In a rather unique twist, ASUS puts the second SO-DIMM slot underneath the keyboard. Perhaps this might help with cooling in some way, but it makes upgrading the memory extremely inconvenient. Luckily, as the laptop already has 2GB of memory, and as that's the maximum supported it won't be a problem.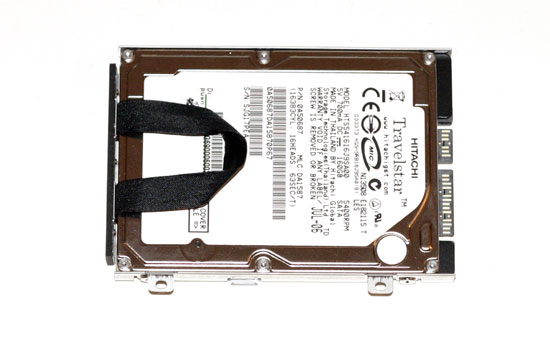 Click to enlarge
The ASUS G2P has the largest hard drive out of these laptops, and it's also the largest 2.5" SATA size currently available: a 160GB Hitachi Travelstar. Just like you don't see 10,000 RPM desktop drives with a ton of storage space, the fastest 7200 RPM 2.5" drives are only 100GB. Some people will prefer slightly faster hard drives and others will prefer having more capacity available. Most of us tend to prefer capacity first, and especially with laptops even the largest hard drives can easily be filled if you start storing movies and install a few games.
In actual use the ASUS G2P provides a very good experience, with one exception that we'll get to in a moment. Battery life is still decent, coming in slightly lower than the A8JS in some cases and essentially tied in others, which is expected given the larger display. Battery life during DVD playback was actually two minutes longer than the A8JS, but given the margin of error we would call that a tie. Viewing movies on the G2P is much better than on the other laptops, simply because of the brighter, more vibrant display. In other applications, performance is basically identical to the A8JS and Mayhem Z5. Stability was excellent as well, and like the A8JS we didn't have any problems there. So what's the big problem? As you might expect from what we've said already, it's gaming performance.
We could overlook gaming performance were it not for the fact that this is so heavily marketed as a "gaming notebook". The highlighted WASD keys, red accents on the side of the display and keyboard, and the bold "ASUS Gaming Series" proclamation that appears when you first boot the laptop all give you the impression that this should be able to run most games without difficulties. Unless you like playing games that were made in 2005 and earlier, for the most part the G2P is inadequate for gaming. The GeForce Go 7700 in the ASUS A8JS already has issues running the latest games at maximum quality at the native LCD resolution, and in our tests it's 20% to 75% faster than the Radeon Mobility X1700. On average, it ends up being about 50% faster, especially at the most reasonable settings. The X1700 usually closes the performance gap as you increase the resolution and enable 4xAA, but at that point average FPS can drop into the low teens or even single digits making any further discussion of performance rather meaningless.
Without having all of the other components identical in the two laptops, it's impossible to say for sure what the specific advantages of the X1700 might be over the 7700. It might use less power and thus generate less heat (you'll see later that this appears to be the case), but long battery life is usually not a critical factor for gaming laptops, as few laptops can manage more than about an hour of battery life when running modern 3D titles. The overall focus of the G2P definitely doesn't appear to be battery life or mobility, so choosing a slower GPU doesn't make much sense.
One final item to note is a small issue with our the keyboard. We said earlier that it is largely the same as the layout used on the A8JS, and that's true. However, the version we were sent for review is a prerelease model, and we noticed that some of the keys were mislabeled. For example, to the left of the Enter key are two keys,
@ '
and
~ #
. On versions of the laptop designed for European countries, those labels are probably correct, but using a standard US Windows XP installation the keys were actually
" '
and
| \
respectively. Also, we really would have liked to see some of the empty space on the top of the laptop put to better use.
If ASUS is serious about their Gaming Series notebooks, they really need to pay more attention to the actual gaming performance that the graphics chip can provide. As it is, the G2P might please casual gamers who are more interested in outward appearances, and it generally offers good multimedia functionality. The larger hard drive will also be good for multimedia purposes. If you don't mind the added weight, the display is easier on your eyes, and the somewhat low native resolution (for a 17" LCD on a notebook) might also be preferable for some people. In short, everything about the G2P design is good and we like the display a lot, but the chosen graphics chip just doesn't make much sense. A GeForce Go 7700 would have been a much better choice, and with the 17" chassis would also like to see models with even faster graphics chips like the GeForce Go 7900 series. As it stands, the G2P merely pays lip service to gaming and is likely to disappoint users looking for something in that niche market. As long as you aren't looking for gaming performance, though, there's still quite a bit to like with the design.
ABS Mayhem Z5 - Exterior and Features
ABS is a relatively well-known computer systems manufacturer, although they are likely far more familiar to our readers as the parent company of Newegg.com and ChiefValue.com. For people that are more interested in getting a prebuilt system rather than building something themselves, ABS is a reasonable option. Not surprisingly, prices are going to be slightly higher for their computers than if you were to purchase all of the individual parts separately from Newegg.com and assemble it yourself. However, while that is a very common activity among enthusiasts when it comes to building a desktop computer, the do-it-yourself notebook market is virtually nonexistent. The amount of work that goes into creating a high-performance laptop involves a lot more research and specific design decisions, so it's not too surprising that we don't have standards for notebook chassis, motherboards, displays, GPUs, keyboards, etc. We ran into a few problems with the last
ABS desktop computer
that we reviewed, but hopefully the Mayhem Z5 will fare better.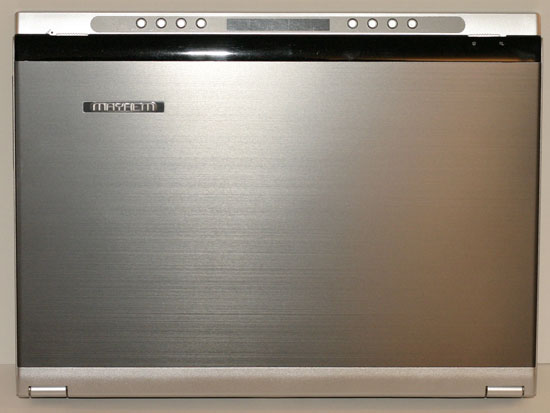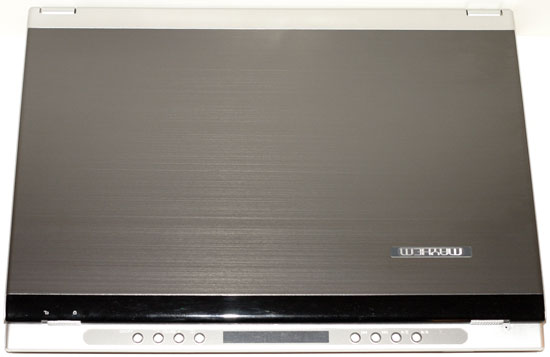 Click to enlarge
Where ASUS went for a lot of bling with their G2P "gaming" laptop and backed it up with lackluster 3D performance, ABS actually packs in the necessary goods to provide serious gaming performance. The model we were sent for review includes the NVIDIA GeForce Go 7900 GTX, and ABS has informed us of plans to provide an update that will include the GeForce Go 7950 GTX. No word yet on final pricing of the upgrade, but the 7950 GTX should be about 15% faster in terms of raw 3D capability. Of course, the faster gaming performance is going to come at a serious penalty to battery life, but there's not much that can be done about that short of packing around a bunch of extra batteries.
The exterior of the Mayhem Z5 is composed of brushed aluminum, with the top cover being charcoal colored anodized aluminum. Silver and black trim provide accents, and there's also the obligatory Mayhem logo on the cover. Somewhat similar to the ASUS G2P, multimedia buttons are visible along the front edge of the laptop in can be accessed even when the laptop cover is closed. The Mayhem Z5 is also pretty hefty in terms of weight, although you would expect that with a 17" gaming notebook. This definitely feels like more of a desktop replacement notebook than the G2P, though their weight is similar. Something else worth mentioning is that there are a lot more options in terms of customization than you get with the ASUS models, so you can decide to put in whatever processor, memory, etc. you might want and ABS will do that for you. That said, the configuration we were sent includes a good selection of components for the target market.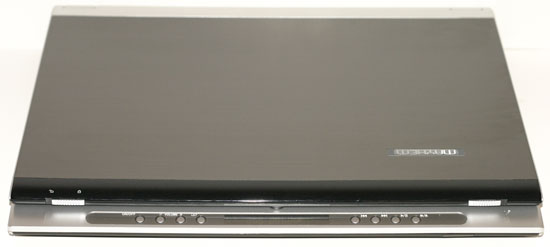 Click to enlarge
Out of these three laptops, the Mayhem Z5 has the most to see on the front of the unit. Of course we have the obligatory latches; the left latch locks into place to prevent you from accidentally opening the laptop and can be useful during transportation, while the right latch is a more traditional spring-loaded mechanism. On the left and right sides are multimedia keys that include a power button (which similar to the G2P will turn the system on but it won't turn it off), volume control, repeat, next and previous track, play/pause, and stop/eject. There's a small LED panel located front and center that shows the time, and track/time during CD playback. The LED panel also has indicators for hard drive activity, power, WiFi, webcam, battery, AC power, keyboard indicators, email, and a couple other items that we're not sure about (because they never lit up).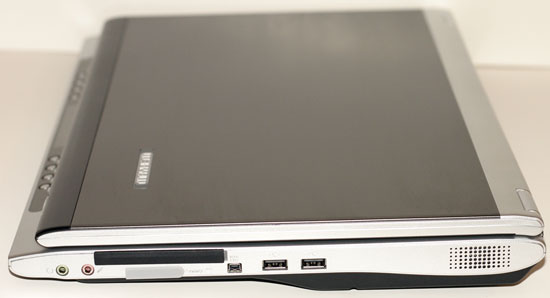 Click to enlarge
The right side is home to a flash memory reader (MS/MS Pro/MS Duo, SD/Mini-SD, MMC/RSMMC) along with an ExpressCard 54 port. Towards the front you have the headphone and microphone audio ports, and along the middle of the right side you get an unpowered FireWire port and two USB ports. At the back of the laptop you can see some ventilation that appears to be for the built-in speakers, but there's still a lot of unused space. It would have been great to have two more audio ports along the side to make it easier to connect 5.1/7.1 speakers.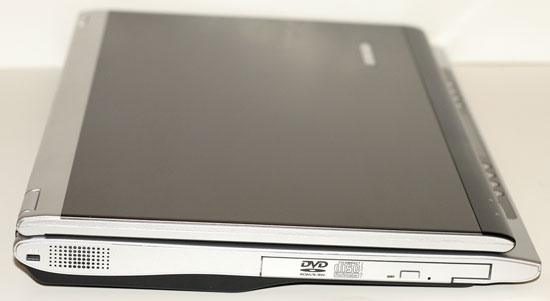 Click to enlarge
The left side of the Mayhem Z5 is almost entirely empty. The optical drive bay is located towards the front, and there's a security locking mechanism at the back. Mirroring the right side there are some perforations at the back of the laptop for the internal speaker. It definitely seems like more ports could have been added to the left side, which would be nice considering it's a bit inconvenient to reach behind your laptop to get to the some of the remaining ports.

Click to enlarge
As usual, the back of the laptop is home to the majority of the connections. At the far left is the primary cooling ventilation, which expels heat generated from both the CPU as well as the GPU. Surprisingly, even during heavy use the vent doesn't get very warm. Just do the right of the ventilation are two more audio ports, which as mentioned are a bit far away from the other audio ports if you're planning on hooking up surround sound speakers. Two more USB ports are next, followed by a DVI port, TV input, modem and network connections, and a TV output port. Once again, the DVI port only works in single-link resolutions, so 2560x1600 output is not possible. The power socket is just to the right of the TV out, and at the far right is a legacy serial port. It's a bit odd to see a serial port on the laptop these days, but some people still need them for various equipment and it's good to see that at least a few high-end laptops continue to support that market.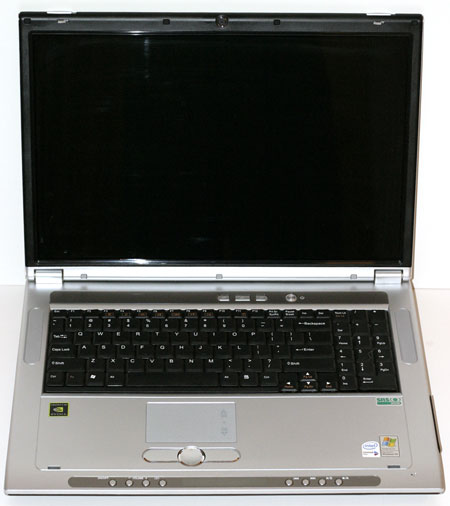 Click to enlarge
Opening up the Mayhem Z5, we're greeted with the large display and keyboard. The latest thing for laptops appears to the inclusion of webcams, and all three laptops in this article have them. The ABS laptop includes a 1.3 megapixel model that seems to be about the same as the G2P webcam. The microphone on the ABS is located on the bottom right of the hand rest, however, which may or may not be the best place for it. The trackpad is as you would expect, only there's also a circular button in the middle that can be used to scroll (left/right/up/down) within applications.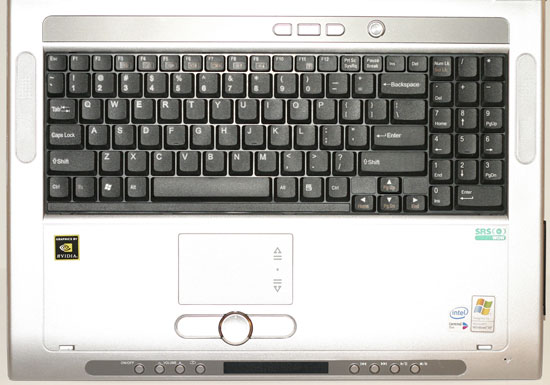 Click to enlarge
Unlike the G2P, ABS has chosen to include a full keyboard as well as number keypad. That's the good news and we commend them for putting a proper keyboard on a 17" laptop. Unfortunately, there are still a few "missing" keys that we found ourselves searching for. Throughout several weeks of testing, we never did get used to the missing Home/End/PgUp/PgDn keys. Of course, I wasn't using the laptop exclusively, so in time we could likely get used to using these keys over on the number keypad (although that would require turning off the Num-Lock option). The other option is to use the Fn key along with the cursor (arrow) keys, but we found that to be less than ideal. Not everyone necessarily uses all of those keys a lot, so some people might not notice that they're even missing, but we most definitely did notice. Another minor keyboard item that we did like is the location of the Ctrl and Fn keys in the bottom left of the keyboard. A lot of laptops put the Fn key in the corner, but we are used to having the Ctrl key in that location, so we prefer the layout used on the G2P and the Mayhem Z5.
The final item to discuss is the display, which is similar to most other high-end 17" laptops we've reviewed in that it has a native resolution of 1920x1200. We would much rather have a higher resolution display than not, as you can still run at a lower resolution at times if necessary, whereas if you have a lower native resolution there's nothing you can do to increase it. We did find that the LCD functions very well in lower resolution modes, so as the laptop gets older it shouldn't be any problem to run next-generation games at settings other than the LCD's native resolution. In terms of display quality, the Mayhem Z5 LCD is falls between the two ASUS offerings: it's slightly brighter and has better colors than the A8JS, but it's not as bright of vibrant as the G2P. We would still rate the G2P's display as having the best overall image quality, but unfortunately we aren't aware of any laptops that combine both options to give people the ideal laptop LCD. Given the choice between the two options right now, we prefer the higher resolution over the better image quality, but that is definitely a personal preference and others might disagree.
ABS Mayhem Z5 - Internals and Usage
The ABS Mayhem Z5 is slightly thicker than the ASUS G2P, particularly towards the rear of the unit. This appears to be a design decision to help accommodate the power-hungry GeForce Go 7900 GTX GPU. Flipping the laptop over and taking a look at the bottom, it's interesting to see that ABS has decided to provide access to all of the internals through one large panel. This can make things easier if you're looking to upgrade several components at the same time, but it does require the removal of more screws if you're just looking at doing a simple hard drive upgrade compared to other designs.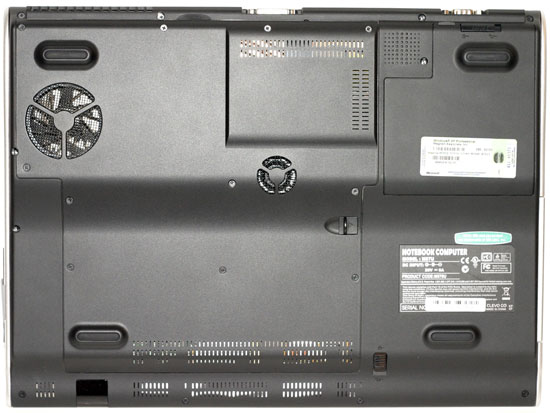 Click to enlarge
Accessing the battery is pretty simple: press the release latch and out comes the battery.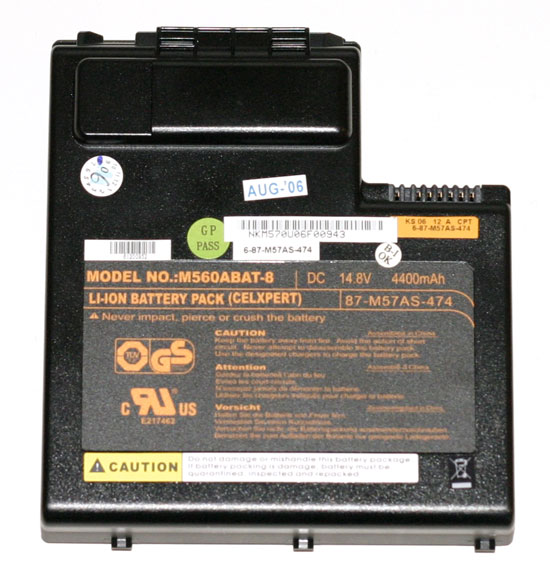 Click to enlarge
ABS also uses an 8-cell battery, but it is a lower powered model than the G2P battery. Both ASUS laptops shipped with a 4800 mAHr rating (though the A8JS is only a 6-cell design), but ABS provides a 4400 mAHr 14.8V battery (65 WHr). The voltage is the same as the G2P, but the total battery capacity is lower, and looking at the components it's pretty obvious that the ABS Mayhem Z5 is usually going to draw more power. Naturally, that means it's also going to have less battery life. While it would be nice to get a laptop that can provide both long battery life for typical computing tasks that could also accommodate all of your gaming desires, we have yet to see such a laptop. Some laptop manufacturers also provide the option to purchase an extended life battery (usually a 12-cell design that offers 50% more battery power), but unfortunately none of these laptops seem to have higher capacity batteries available, or in the case of the A8JS the 53 WHr
is
the higher capacity battery.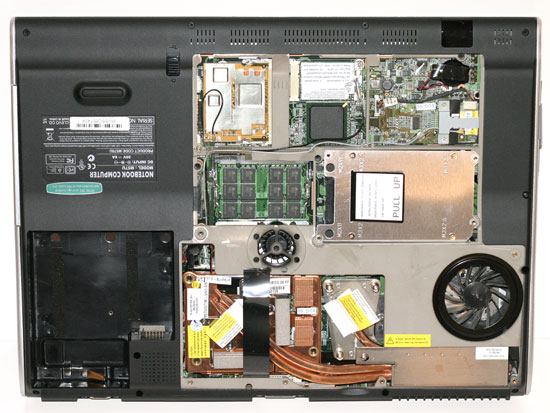 Click to enlarge
Eleven screws secure the main access panel on the bottom of the laptop, and removing them provides access to the interior. The RAM, hard drives, WiFi adapter, mini-PCI slot (occupied by a TV tuner here), CPU, and GPU are all located in this area. If you actually want to pull out the CPU/GPU heatsink, however, you will need to remove the remainder of the bottom shell. The other items could be easily upgraded at any time.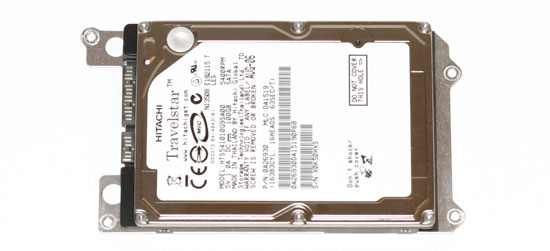 Click to enlarge
Considering all of the other high-end components that go into the ABS Mayhem Z5, the hard drive included on our model is something of a misfit. Capacity wise, the Hitachi 100GB hard drive matches that of the ASUS A8JS. However, where ASUS chose to include a 7200 RPM model, ABS uses a 5400 RPM model. The performance is still acceptable - again, having 2GB of memory helps to minimize the impact of hard drive performance in many instances - but on a laptop costing close to $3000 we would prefer to see either more storage capacity via a 160GB model or else a 7200 RPM drive. Of course the good news is that you can choose to put whatever hard drive you want into your ABS laptop, as it is custom-built to your specifications.
With the high-end parts that are used, it's hardly surprising that the Z5 offers great performance. There are very few applications that would have any difficulties running on the Mayhem Z5. The drawback to all of this performance, of course, is that battery life suffers. Both ASUS laptops are able to provide at least two hours of battery life for most usage scenarios, but even in the least strenuous battery rundown tests the Mayhem Z5 is not able to reach two hours. As long as you plan on using the laptop when it's plugged in, or only for short periods on battery power, this shouldn't be a problem. If you really need mobility away from wall power, however, you definitely won't want to get this type of laptop without investing in an extra battery (or two).
Gaming performance is obviously the highlight of the Mayhem Z5, and it can handle most current games at maximum detail settings. Frame rates are relatively similar to the
Dell XPS M1710
we reviewed a while ago, although with a Core 2 Duo processor and some driver updates it does benchmark somewhat faster. The XPS M1710 has also been updated since we last reviewed it, however, and offers most of the same functionality present in the Mayhem Z5. The primary difference thus comes down to pricing, features, appearance, and support. The price of a similarly equipped Dell XPS laptop is about the same as what ABS offers, and the only major difference in terms of features that we are aware of is the extra two audio ports on the rear of the Mayhem Z5. Outward appearances are really up to the individual to decide what looks best, so some people might be swayed one way or another by that aspect. The support options are the one area where we found ABS is a bit lacking - the customer support was quite good, but the online configuration utility does not allow the selection of more than the standard one-year warranty, and it appears that ABS does not sell warranty extensions. That is definitely a concern, as a lot of people looking at spending ~$3000 on a laptop would like the ability to guarantee everything will continue to function properly for at least three years.
During testing, we did encounter a few minor hiccups. We have already mentioned a couple of these: the lack of Home, End, PgUp, and PgDn keys was a bit of an irritation, and even with four audio jacks we found the placement of these jacks to be less than ideal if you actually want to connect most 5.1 speaker systems. The last issue is one that came up one time during testing, and we aren't entirely sure what caused it. Attempts to re-create the problem were unsuccessful, so for now we consider this something of a random glitch. Basically, what happened is that while playing Neverwinter Nights 2, the system shut off without warning. At the time this occurred, various locations on the bottom of the laptop were very warm, but the hottest spot by far happened to be the battery. The system was plugged in, but after booting into Windows XP we discovered that the battery was only showing a 5% charge. It could be that we partially dislodged the power adapter, or the battery might not have been securely installed. Throughout the remainder of more than a month of testing, this was the only glitch that occurred so we aren't too concerned about stability. ABS did offer to replace the battery or send us a new laptop when we called tech support, so even if you do encounter a problem they appear ready to quickly help out.
As an entire package, the ABS Mayhem Z5 is very good and deserves consideration along with other top-end notebooks. We would like to see the ability to select a three-year extended warranty, and even with the large keyboard we still had some complaints in that area. Battery life is quite lacking, although that is a problem common to gaming laptops in general. It should have been possible to add a larger battery pack as an upgrade to such a large notebook, which could have improved battery life, but for now that is not an option. Beyond those relatively minor issues, the system performed very well, running all of the games we tried at high detail settings. The Z5 comes with a good-looking 17" widescreen display and the necessary graphics card to drive the display at its native 1920x1200 resolution during gaming sessions. If you're in the market for a powerful but somewhat expensive gaming notebook, the ABS Mayhem Z5 definitely warrants a look. It doesn't have as much bling as some of the competing products, but it will still run about as fast and it won't cost nearly as much as some of the "exotic" notebooks that are available.
Test Setup
We've covered all of the features and details about these laptops, and it should be pretty clear what type of performance you can get in various applications at this point. However, we of course like to run some real-world benchmarks and provide the results to help show you exactly what you get. Here's a recap of the basic components used in each laptop during testing.
Tested Configurations
ASUS A8JS
ASUS G2P
ABS Mayhem Z5
Processor
Core 2 Duo T7200
2.0 GHz 4MB L2 667FSB
Core 2 Duo T7200
2.0 GHz 4MB L2 667FSB
Core 2 Duo T7200
2.0 GHz 4MB L2 667FSB
Memory
2x1024MB Infineon DDR2-667
5-5-5-15-21 Timings
2x1024MB Infineon DDR2-667
5-5-5-15-21 Timings
2x1024MB Corsair DDR2-667
5-5-5-15-21 Timings
Graphics
NVIDIA GeForce Go 7700 512MB
3D Clocks: 450/800
ATI Mobility Readeon X1700 512MB
3D Clocks: 459/990
NVIDIA GeForce Go 7900 GTX 512MB
3D Clocks: 500/1200
Hard Drive
Hitachi 100GB 7200 RPM SATA
Hitachi 160GB 5400 RPM
Hitachi 100GB 5400 RPM SATA
Optical Drive
8X DVD+/-RW
8X DVD+/-RW
8X DVD+/-RW
Battery
6-Cell 53WHr/4800 mAHr
8-Cell 71WHr/4800 mAHr
8-Cell 65WHr/4400 mAHr
Operating System
Windows XP Pro SP2
Windows XP Pro SP2
Windows XP Pro SP2
We ran our typical battery of benchmarks, including office, multimedia, 3D, and gaming applications. Given that all three laptops use the same Core 2 Duo processor model and come with 2GB of memory in the tested configurations, performance in many of the benchmarks is going to be nearly identical. The areas where we are likely to see the most separation are of course gaming performance, battery life and power draw, and temperatures. We will also discuss our experience with calling the technical support departments of the manufacturers.
We do have a few results from the
Dell XPS M1710
that we tested
earlier this year
, which uses the same graphics card as the ABS Mayhem Z5 only it's paired with a Core Duo T2600 processor instead. We have updated many of the benchmarks we run, so we can't compare results in the majority of tests, but where we have corresponding results from the Dell XPS system we will include them.
General Performance
For general system performance, we ran PCMark05 and SYSmark 2004. We don't expect to see much difference at all in SYSmark scores, as the memory and processor are going to be the primary factors in that benchmark. The majority of the PCMark05 scores should also be close, but the composite score obfuscates things somewhat as the graphics and hard drive performance results affect the overall standings.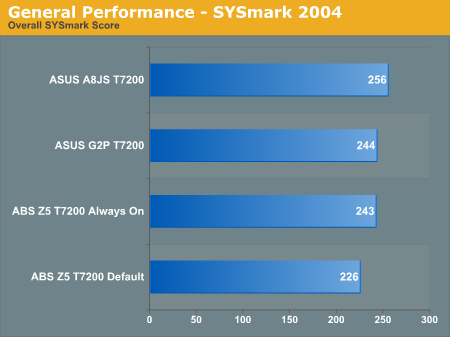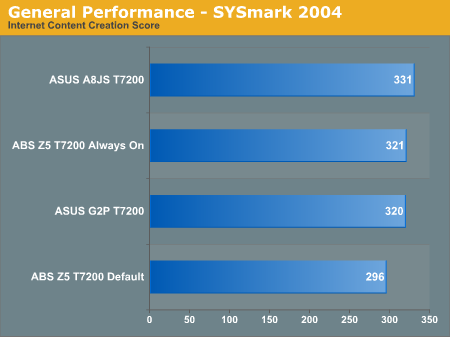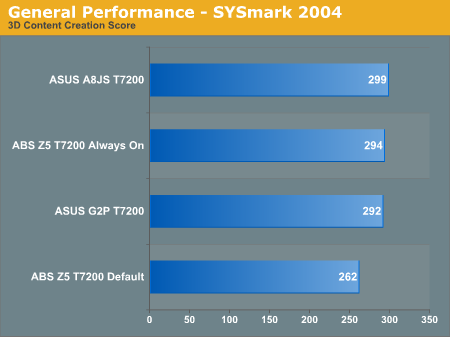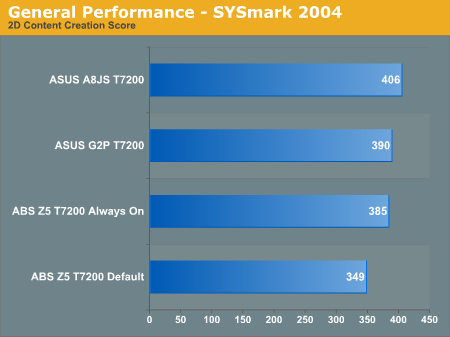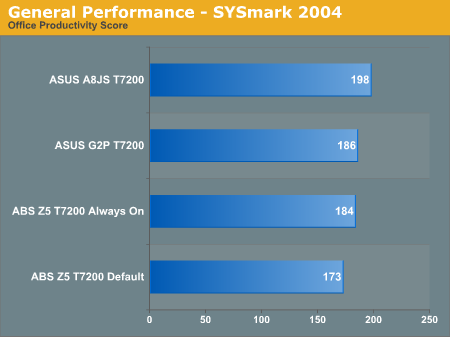 Obviously, things didn't meet up to our expectations here. There are still quite a few variables that could be affecting the results by 5% or more (different hard drives, for example), but at first glance it appears that the ASUS laptops are much better optimized than the ABS laptop. A performance difference of 10% or more is quite significant in SYSmark, especially considering we are using the same processor in all three systems. However, BIOS tuning options are virtually nonexistent on these laptops, so we are running with the manufacturer settings. Power saving features are enabled during testing, as that's the way we expect these laptops to be used.
It turns out that the default power settings in Windows still have a major impact on ABS' performance, and unfortunately we discovered after the fact that the ABS was running at lower clock speeds much of the time during these tests. After retesting, the scores are much closer in performance when we set the Windows power management to "Always On", but at default settings the power saving features can have a relatively significant impact on performance. That said, even though there's a performance deficit in some of the SYSmark test suites, the performance offered by all three laptops is more than adequate for running most applications. In that sense, the SYSmark results are becoming outdated - any reasonable computer built within the past two or three years should offer more than acceptable performance.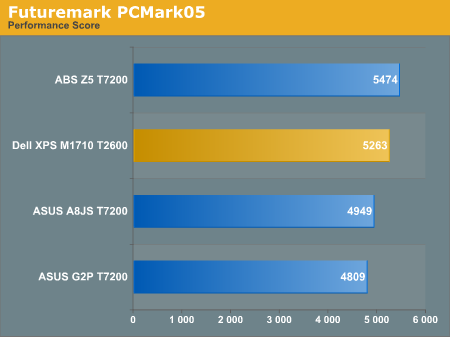 PCMark05 Performance Breakdown
 
ABS Mayhem Z5
ASUS A8JS
ASUS G2P
HDD XP Startup
5.839
6.623
6.183
Physics and 3D
186.04
182.38
194.00
2D Transparency
1078.48
733.55
515.72
3D Pixel Shaders
327.74
132.09
93.84
Web Page Rendering
3.267
3.27
3.18
Decryption
54.602
54.524
54.294
2D 64 Line Redraw
2111.47
1129.12
1326.54
HDD General
4.019
4.332
4.127
Audio Compression
2133.98
2219.17
2142.88
Video Encoding
372.19
363.48
373.53
Text Editing
137.3
139.57
138.75
Image Decompression
28.143
28.277
27.981
File Compression
4.831
4.819
4.577
File Encryption
26.513
26.512
27.54
HDD Virus Scan
32.924
35.32
43.118
Memory Latency
8.011
8.207
8.207
Things change a bit when looking at PCMark05, where the ABS Mayhem Z5 moves to the top of the chart. The primary reason for that is of course the graphics performance offered by the GeForce Go 7900 GTX, but we did make sure to rerun this benchmark with the Windows power saving features set to "Always On". The original scores were much lower in some areas, mimicking what we saw with SYSmark and MobileMark, but the updated scores are much closer and well within the expected range. You can see the scores from the individual categories below the main graph, and it's interesting to note that the two ASUS laptops still outperformed the ABS notebook in a few areas, likely indicating that ASUS has better BIOS optimizations. The choice of hard drive is also clearly in favor of the ASUS laptops.
General Performance (Continued)
Going along with the SYSmark and PCMark application suites, we have some of our own benchmarks that test similar areas. Several of these tests also scored much lower on the ABS then the ASUS laptops initially, but after changing the Windows power settings the scores improved to the point where all of the systems are once again roughly equal - as we would expect in CPU oriented tests.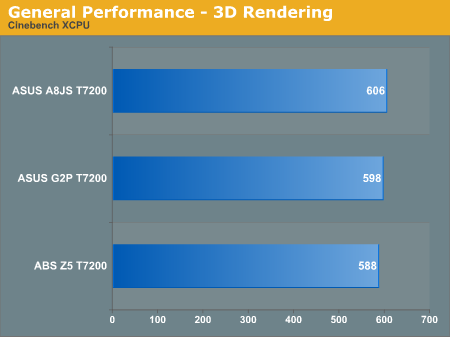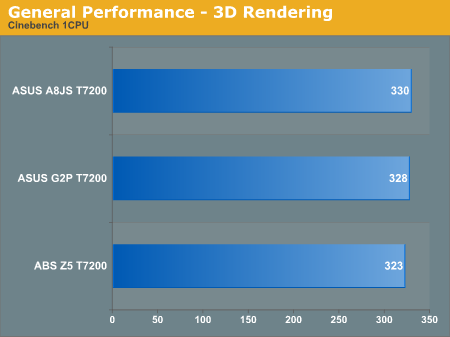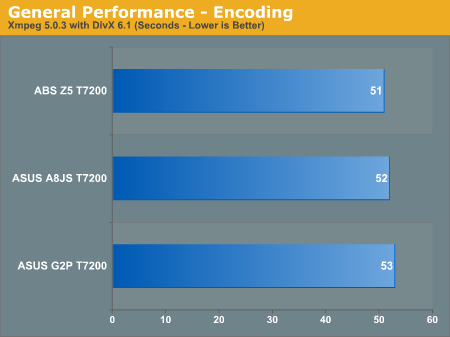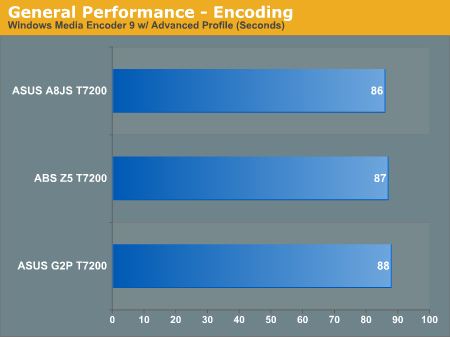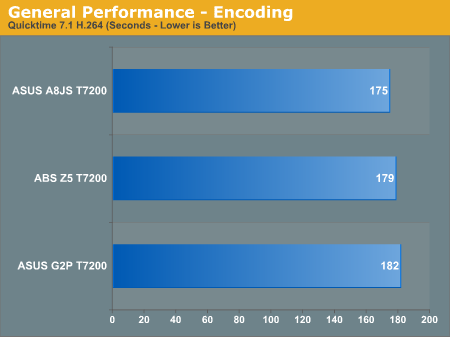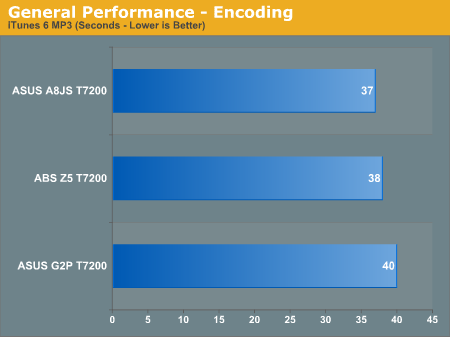 The ABS Mayhem Z5 comes in last in the Cinebench results, but it turns the tables in all of the multimedia benchmarks. Cinebench is actually the benchmark we credit with helping us to realize that the ABS system was truly not running properly, as normally CPU speed is the only major factor in this benchmark. The initial single core result failed to kick the processor into maximum performance mode, as only one core was being stressed, resulting in a score of just over 200. All of the multimedia benchmarks were also 10 to 20% lower than the other two systems until we corrected the power settings. Ideally, when a laptop is on AC power we would like to get maximum performance, and while it isn't always necessary there are definitely times where the reduced performance can be felt. Try to learn from our mistake, or else you may find that the several hundred dollars you spend on an upgraded CPU is going to waste due to power saving features.
Synthetic Graphics Performance
We don't place a lot of stock with the performance results generated by Futuremark's 3DMark applications, but they are relatively consistent and we do have comprehensive results from all of the laptops including the Dell XPS M1710. As 3DMark is typically more graphics limited than anything, we expect to see the Dell and ABS laptops perform nearly the same. That information combined with the results in our gaming benchmarks should allow us to say how much of a performance improvement people might see if they are interested in upgrading from a Core Duo system to a Core 2 Duo system, at least from a gaming perspective.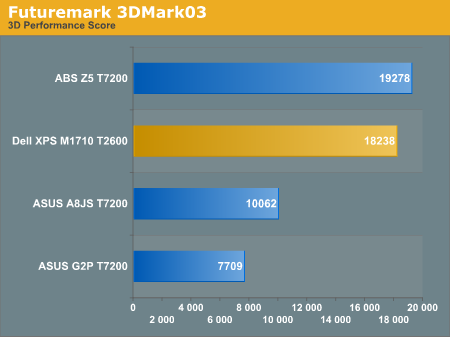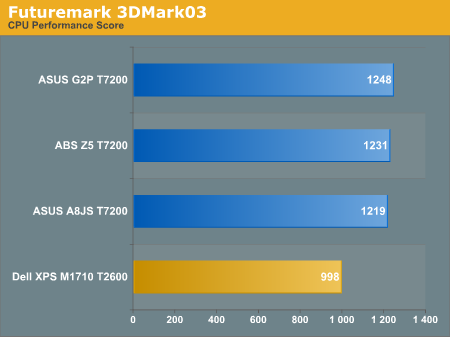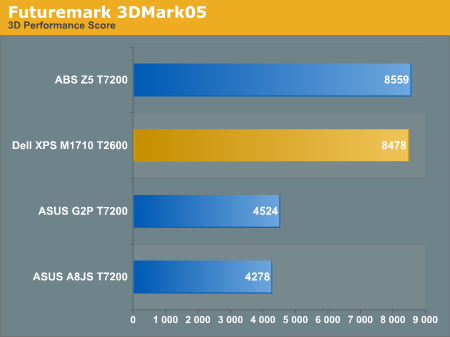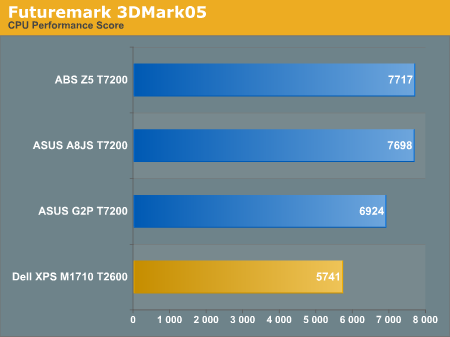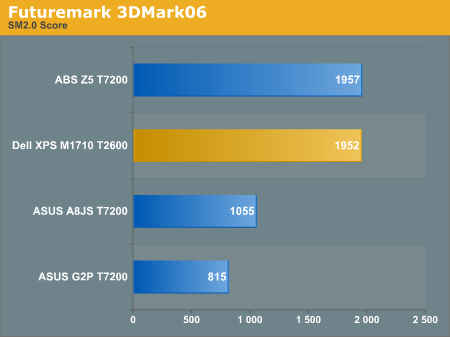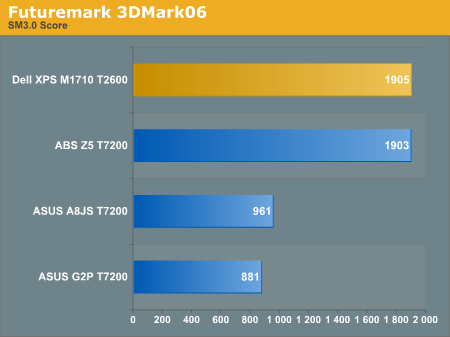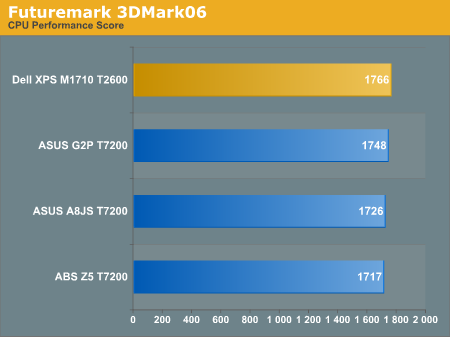 As expected, 3D performance depends almost entirely on the graphics card. The two GeForce Go 7900 GTX laptops easily surpass the performance of the ASUS notebooks, and the GeForce Go 7700 is faster than the Radeon Mobility X1700 in all but one of the tests. Oddly enough, 3DMark05 actually shows the X1700 as being slightly faster, but given the other results we wouldn't put too much faith in that number. We'll see in a moment how the systems compare in actual games. Not surprisingly, the CPU results show that the Core 2 Duo T7200 is faster than the Core Duo T2600. There are few cases where the Dell XPS places ahead of one of the Core 2 Duo laptops in CPU performance, but that is caused by the impact of the faster GPU.
Gaming Performance
We won't spend too much time introducing the gaming benchmarks, as most of you should be familiar with our testing methodology by now. Due to anemic performance in several of the games on the G2P and to a lesser extent the A8JS, we tested in both high-quality and medium quality modes where appropriate, while in other games we enabled 4xAA. Many games still look nearly as good at "medium" settings as they do at high/maximum detail, so don't be afraid to adjust your settings as necessary. However, there are also a few games where at least one of the laptops was unable to provide acceptable performance even at "medium" detail settings; we did verify that further reducing the detail settings allowed us to play these games, but the graphics quality definitely suffered.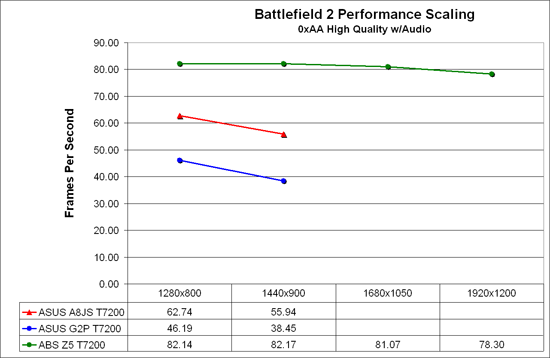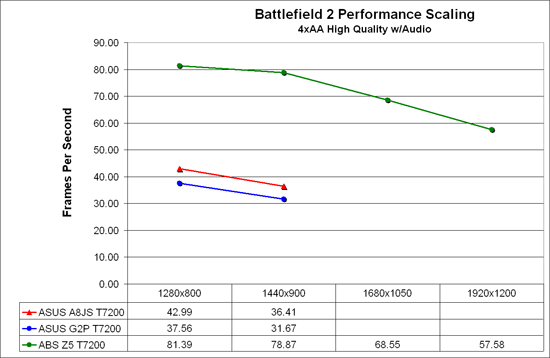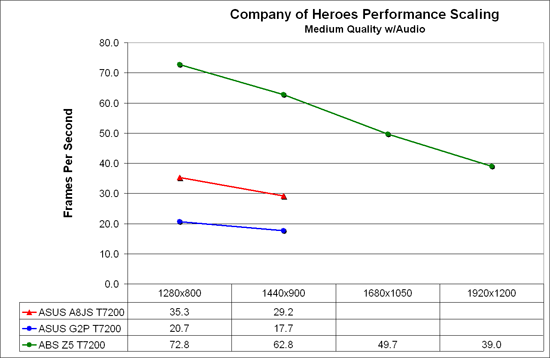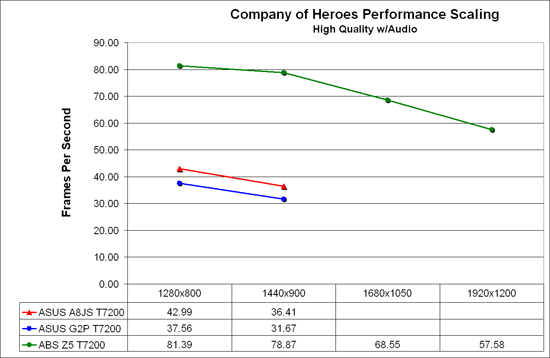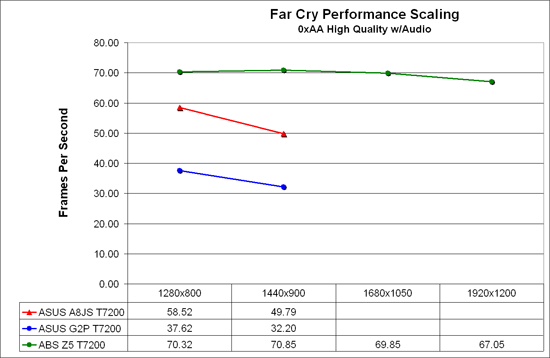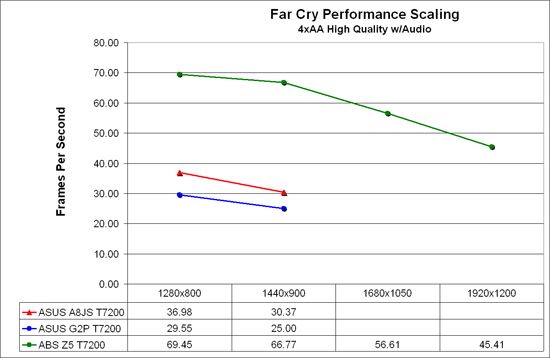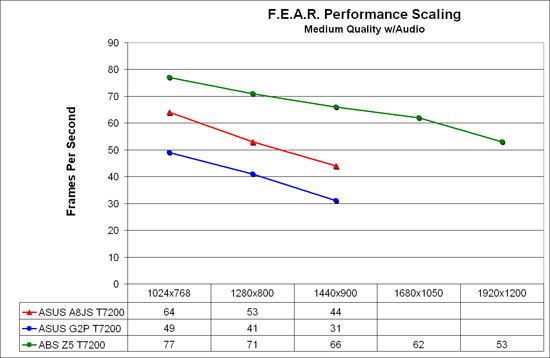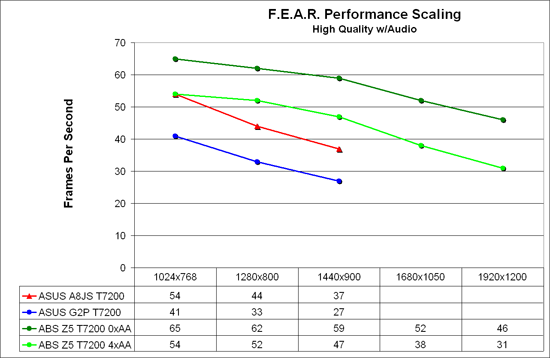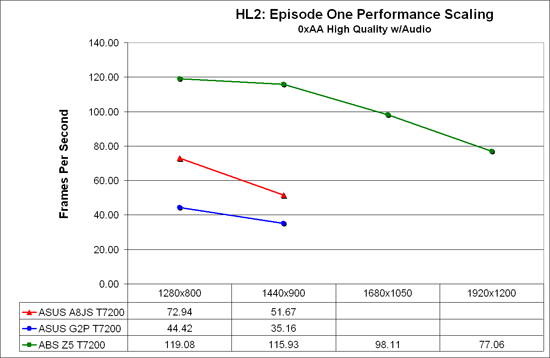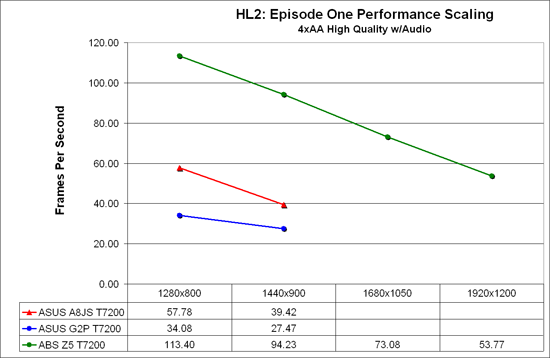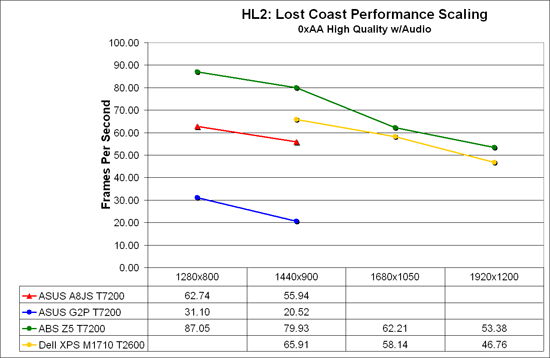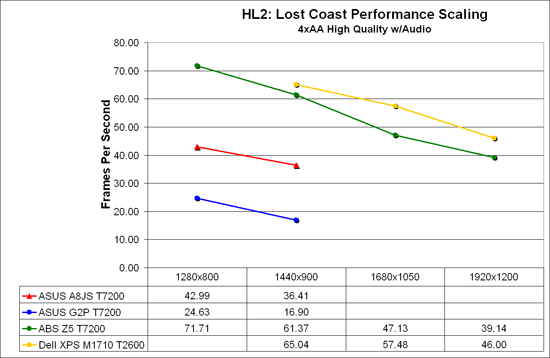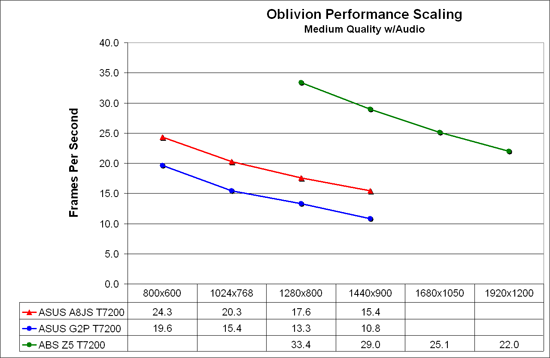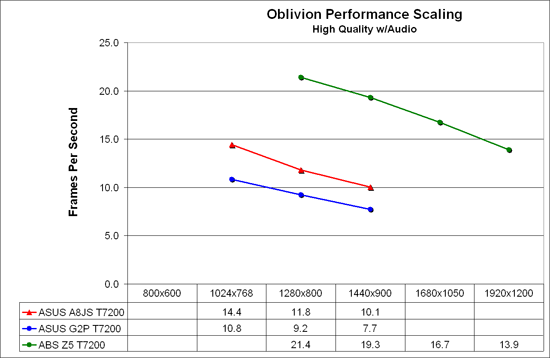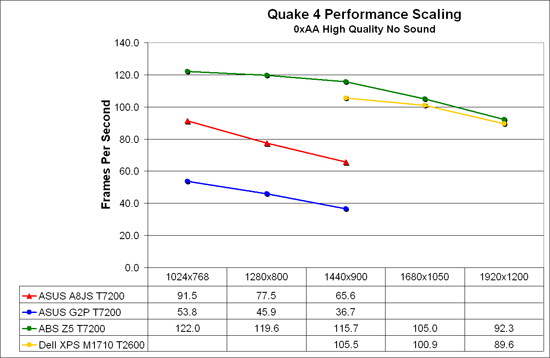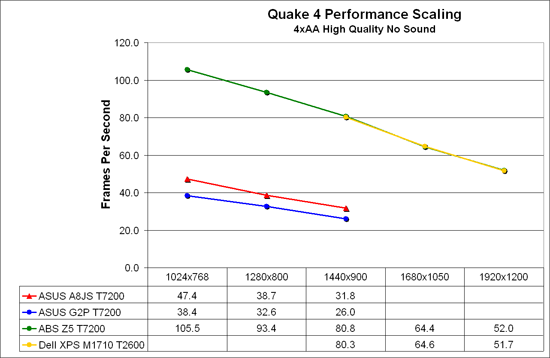 When it comes to gaming performance, the graphics card obviously is the critical factor in determining how well a system can play games. In the case of these laptops, the GeForce Go 7900 GTX is at times more than twice as fast as the other solutions. The GeForce Go 7700 also places ahead of the Radeon Mobility X1700 in every single game at every single tested setting. We truly are at a loss as to why ASUS would choose to put a slower graphics card in their "Gaming Series" notebooks, and we can only hope that they will offer a faster gaming laptop with at least a GeForce Go 7900 GS in the future. It is interesting to note that if you plan on playing at the native LCD resolution, the ABS is generally able to run games at 1920x1200 with high detail settings/4xAA at frame rates the A8JS can only manage at 1440x900 with medium detail settings/0xAA.
Looking at the few results we have from the Dell XPS, anyone already in possession of a Core Duo notebook with a GeForce Go 7900 GTX is not likely to see much of an improvement in gaming performance by upgrading to a Core 2 Duo processor, so if you're one of those we would recommend sticking with your current system for a while longer.
Battery Life
Having easily swept the gaming benchmarks, the ABS Mayhem Z5 now faces its most difficult task: battery life. First, let's take a look at the MobileMark 2005 results. Note that in this case, the power saving features were left enabled and we will not be retesting as few people are willing to sacrifice battery life for a bit more performance on the road.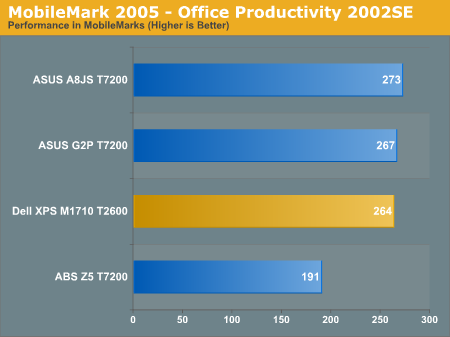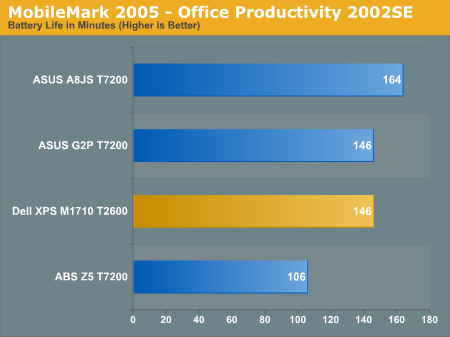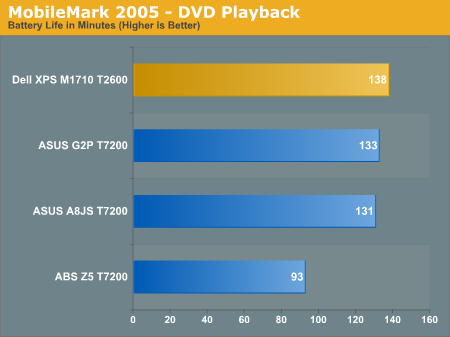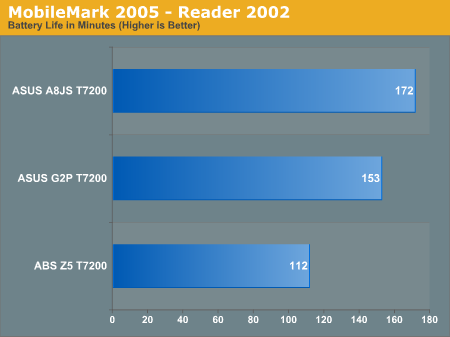 As expected, the ABS laptop - with its smaller battery compared to the G2P - provides rather abysmal battery life. Even if you turn down every performance setting possible, you're not likely to break two hours of battery life. For whatever reason, the default power profile on the ABS laptop results in much lower performance than that of the ASUS laptops. Not only does it provide less battery life, but the performance in the MobileMark 2002 productivity test is 40% lower than the other Core 2 Duo T7200 equipped laptops. It's interesting that even the XPS M1710 with a Core Duo processor is able to post significantly better results, so perhaps ABS and their partners can do some additional performance tuning to help improve performance without sacrificing battery life.
Moving beyond the ABS results, the ASUS G2P and A8JS provide similar performance, but the A8JS clearly provides better battery life. The larger and brighter display definitely takes a toll here, though the ATI X1700 does appear to do quite a bit better when it comes to DVD playback. We have noticed in the past that NVIDIA chipsets appear to consume more power during DVD decoding than roughly equivalent ATI chipsets, so if you are purely interested in a laptop that will be used for watching movies on the road, picking up something with a Radeon Mobility X1300-X1700 chipset is probably the best way to go. Unfortunately, good performance results in DVD playback do not translate to better 3D performance, and at present the fastest ATI Radeon Mobility product is a rather outdated X1800.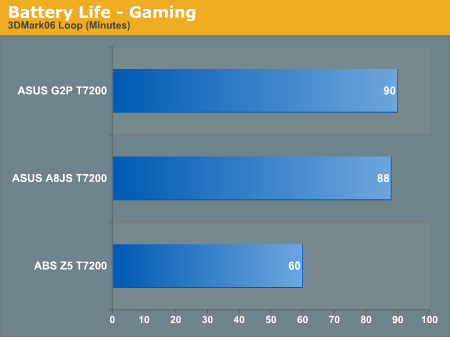 Kicking things up to the next level, we tested how long the laptops could manage to run a reasonably complex 3D gaming title in battery mode with the display set to maximum brightness. (It's really not practical to play games without cranking up the brightness levels on most laptops.) For this test, we looped the three 3DMark05 gaming benchmarks continually until the battery ran out. Informal testing with a few other actual games - Company of Heroes in particular - shows that battery life for a complex 3D game will actually be lower than what we show here, as the CPU and audio subsystems will typically be more involved. We chose to use 3DMark05 because it is easiest to set up a repeatable test that will last more than an hour. As you can see, the ABS system lasted one hour and the other two laptops lasted close to 90 minutes. Keep in mind the performance offered by the various graphics solutions, however, as lasting a bit longer on battery life may not mean much if the overall gaming experience isn't acceptable.
The worst part about the battery life results is that they basically highlight a fundamental issue with laptops: you can't get high-performance and long battery life in the same package, for the most part. That goes doubly when it comes to 3D/gaming performance, as NVIDIA and ATI have been in an arms race where power use has been a secondary or even tertiary concern next to winning the performance crown. ATI's current desktop parts consume so much power that it is basically impractical to consider putting an X1950 type GPU into a laptop (though the X1950 Pro might be able to work with some modifications). GeForce 8800 doesn't do much better these days, and it might be awhile before we see a GeForce Go product based off the G80 chipsets. For now, the fastest laptop GPUs are the GeForce Go 7900/7950 GTX products, although if you want even more performance there are also some SLI laptops available.
Power Consumption
Related to the battery life discussions we've just finished, we have power and temperature results. For power testing, we removed the battery from the laptops and measured system power draw at the wall outlet using a Kill-A-Watt device. All three laptops were configured to run at maximum performance when plugged into AC power. We tested several different scenarios to try to isolate the power draw of the various components. First, we have the baseline measurement when the system is idle and sitting at the desktop. No applications are running for 10 minutes or more and the screensaver and hard drive sleep mode are disabled. As a CPU load test, we run two instances of Folding@Home at 100%. Finally, for maximum power load we leave the two folding instances running and start 3DMark05. In this way, we can see roughly how much power the GPU is using in 3D mode versus 2D mode.
System Power Draw (Watts)
ABS Mayhem Z5
ASUS A8JS
ASUS G2P
Idle
44-49
26-32
43-52
100% CPU
67-71
47-52
71-81
Maximum
100
71
97
A few interesting things become apparent when we look at the power numbers. First, the beautiful, bright display on the G2P definitely contributes a lot to the high power draw. The power ranges listed above are for setting the displays to minimum and maximum brightness. The Mayhem Z5 and A8JS have a 4-6W difference in power draw when going from minimum to maximum brightness, while the G2P difference is 9-10W. Also worth noting is that at minimum brightness levels, the G2P remains brighter than the other two at minimum brightness.
Given the differences in LCDs, it's difficult to say exactly how much power is being used by the LCD and how much is being used by the graphics chips in the various laptops. Obviously, the ASUS A8JS requires the least power, but that makes sense considering it has the smallest chassis/LCD. The GeForce Go 7700 in the A8JS appears to draw a bit more power than the Radeon Mobility X1700 in the G2P, but as the 7700 performs better in games the additional 2W difference at maximum load vs. 100% CPU load could just as well be coming from other areas besides the GPU. What's particularly surprising is that the G2P uses almost as much power as the Mayhem Z5 at maximum load, despite running less than half as fast in most games at comparable settings. With a 100W maximum power draw, however, it's not at all surprising that the battery life during gaming on the Z5 can be less than an hour. Again, note that the maximum brightness of the G2P LCD is reduced when in battery mode, which is why battery life is still quite a bit better than the Z5.
Heat
Similar to the power testing, we checked the temperatures of the laptops. However, as we're more interested in a worst-case scenario, we only recorded temperature results for the maximum load scenario described above (3DMark05 looping for at least 30 minutes with two Folding@Home instances). We measured temperatures across the bottom of the system as well as on the keyboard and palm rests. Graphs don't do a good job of conveying this information, so we've used a table instead.
Surface Temperatures (Min-Max in Celsius)
ABS Mayhem Z5
ASUS A8JS
ASUS G2P
Palm Rest
27-33
25-32
23-31
Keyboard
24-35
31-36
27-39
Bottom
27-43
25-39
24-44
Exhaust
39
46
44
It might be surprising at first that the ASUS A8JS is the warmest of the three laptops. Considering that it packs quite a bit of performance into a smaller chassis, however, the result is not entirely unexpected. We should also note that the ABS system tends to generate slightly more noise than the other two systems, although the fan noise from any of the systems never broke 35 dB at a distance of 24 inches. If you return to the earlier images of the system internals, you can see that the heatpipe and cooling arrangement on the Mayhem Z5 appears to be quite effective in dealing with all of the generated heat. The fan intake is much larger on the Z5, as is the exhaust, and the net result is that it is actually not really any warmer than the other two laptops. We should note that the bottom of the Mayhem Z5 was consistently warmer than the G2P, so while the G2P had a few hotspots and the rest was relatively cool, the Mayhem was 31-35° across most of the bottom.
Support and Warranty
There are only a few things left to discuss before we wrap up this article. While we have saved discussion of the support and warranty service offered by ASUS and ABS for last, it is definitely not less important than the other factors. In fact, warranty and support are in many ways one of the most important factors to consider when purchasing a laptop. Where it is relatively easy to build your own desktop system and repair/replace parts as necessary if anything should break down, laptops are inherently prone to a lot more abuse and they are much more difficult (and expensive) to get repaired. For any moderately expensive laptop, we would strongly encourage buyers to consider getting an extended warranty. If you can get a warranty that covers the replacement of the LCD as well, so much the better, although at that point you may be looking at $400 extra in warranty costs. The alternative is that you risk damaging your laptop and turning it into an expensive paperweight, or at the very least getting stuck with a relatively large repair bill. Of course, getting an extended warranty doesn't do you much good if the service provided is of poor quality.
The good news is that we didn't have any problems with any of the laptops breaking down during testing, but that really isn't all that uncommon, as most laptops will usually last at least a year before they start having problems. In order to test the service department, we placed anonymous calls to the companies and reported hardware issues and asked for a replacement. Both companies were easy to deal with, and in both cases all we needed to do was provide them with our sales order number and they would send us the RMA information. We didn't actually have a sales order, so of course we couldn't test turnaround time for getting something replaced. However, the fact that both ABS and ASUS talked with us for 10-15 minutes without us providing them with an order number is a good sign. In the case of ABS, they also agreed to cross ship a replacement battery when we reported battery problems.
Without owning and testing a laptop from either company for months or perhaps years, it is difficult to gauge the true level of support end-users might receive. Our initial experience however leads us to believe that they will provide warranty coverage with a minimum of hassle. The phone was answered in a prompt manner every time we placed a call, and the technicians we spoke with from both companies seem to be reasonably well informed. ASUS' phone service was actually exceptional, as we were actually speaking with a real person in less than a minute every time we called, and we didn't have to wade through a bunch of computer menus first. ABS took a bit longer to answer at about 3-5 minutes, but that's still a lot better than what we have encountered at a few other companies where hold times can easily be longer than 15 minutes.
Answering the phone promptly and providing reasonable technical support is a good place to start, but not everything is "perfect" in support land. Neither company offers 24/7 technical support, although you can always send an email and wait for a response. ASUS phone support hours for notebooks are from Mon-Fri 6:00AM-6:00PM PST and technical support is available Mon-Fri 5:30AM-9:00PM and Sat.-Sun. 6:00AM-3:00PM. That's really not too bad, as you at least get the opportunity to call technical support every day of the week, but if you predominantly use your notebook at night that could be a bit more difficult, especially for anyone on the East Coast. ABS' support hours are even more limited: Mon-Fri 8:30AM-7:30PM PST, and Sat. 8:30AM-5:30PM PST. If you want 24/7 support, you'll basically need to purchase a laptop from a major OEM or else purchase a separate support contract.
The other factor in the warranty/support equation is how long the warranty lasts. Unfortunately, in the case of ABS the standard warranty is one year only, and as far as we can tell there's no way to get an extended warranty from them. That's a pretty critical flaw, as the first year of use is likely to be the most trouble-free. ASUS does better, offering a standard two-year warranty, and after registering your notebook (within the first 90 days after purchase) you get an additional one-year warranty bringing the total to three years. This two (or three) year global warranty comes standard on all ASUS notebooks starting in 2006, and it's difficult to complain about a three-year standard warranty. The cost of this warranty is already included in the price of any ASUS notebook, so while they may cost a bit more than roughly equivalent models from other companies, once you factor in the need to purchase an extended warranty for most other laptop manufacturers, the final price is about the same as what ASUS is charging. For ABS, we can only recommend that they set up some form of warranty extension package, and give the users the decision on whether or not they want to pay extra to get that service. As it stands, we would be very nervous about purchasing a high-end laptop that could break down any time after the first year and leave us stuck with the repair bill.
Closing Thoughts
Having played around with these laptops for the past month or two, we're happy to report that all of them are good quality products. Each one of them has a potential market, from the multimedia enthusiast to the mobile gamer as well as those just looking for an all-around decent solution. Most people aren't going to be happy with just going out and getting any old laptop, so it is important to make sure you get the type of notebook that will fit your particular needs. Here's a quick summary of our feelings on each of these notebooks.
Starting with the ASUS A8JS, this is the proverbial jack of all trades, capable of handling just about any task you might want it to do. It certainly isn't the fastest notebook on the planet, particularly when it comes to things like playing games, but if you're willing to run at reduced detail settings it can handle gaming without too many difficulties. As a 14" model, the A8JS is lighter and more portable than the other two notebooks we looked at today. If you plan on carrying your computer around a lot, a smaller laptop or even an ultraportable is definitely the way to go, although some people might feel that the smaller keyboards can be a bit cramped. Outside of gaming performance, the A8JS was the fastest laptop we looked at today in running other applications, no doubt helped by the 7200 RPM hard drive. If you can find one that comes with 2GB of memory that would be preferable to the 1GB models we're seeing online, but worst case you can always spend a bit of extra money to upgrade the memory on your own. About the only other complaint we have in regards to the A8JS is that the display is definitely less pleasant to use after sitting down in front of the G2P. We don't mind the 14" size so much, but the LCD is not as bright and the colors appear washed out in comparison to the newer ASUS model. Overall, however, the vast majority of people would be very happy with this laptop, and we can easily give it our recommendation. It is competitively priced and has all of the features most people are likely to need in a modern notebook. With a price of around $1700, this is a good midrange notebook.
The ASUS G2P is a newer offering than the A8JS, but it happens to be a case of one step forward one step back. It comes with a larger 17" chassis, which may be good or bad depending on your personal tastes. The exterior styling is also more eye-catching than a lot of other notebooks, which again could be either good or bad depending on how you see things. Our biggest complaint with the G2P is that ASUS labels it as a "gaming notebook", but it was clearly the slowest of the three units reviewed today when it comes to gaming. ASUS would have been much better off including a faster GPU if they are serious about their notebook "Gaming Series" offerings. We definitely wouldn't recommend this particular notebook to gamers, but it still performs just as well in other tasks as the A8JS. The best part about this notebook is without a doubt the LCD, which is bright and vibrant and makes all the other notebook LCDs we've seen lately pale in comparison. The resolution is a bit low for a 17" laptop, but if that's the price you have to pay in order to get this level of brightness and contrast, quite a few people will definitely be interested. Rather than looking at this as a gaming laptop, we see the best fit being people who are interested in viewing movies on the go. The larger display combined with the brilliant colors makes for a great multimedia setup. Unfortunately, battery life suffers compared to notebooks sporting a smaller LCD. The G2P costs a bit more than the A8JS, but most of the difference almost certainly is going into the improved LCD, so the final price of around $1800 is still quite reasonable, particularly when you consider the three-year warranty that you get.
The ABS Mayhem Z5 is almost the exact opposite of the G2P: it is a true gaming notebook, with one of the most powerful mobile graphics chips currently available stuffed into its chassis. There are a few games that are beginning to tax the GeForce Go 7900 GTX these days, particularly if you want to run games at the native 1920x1200 LCD resolution, so if you really want extreme gaming performance in a laptop you might consider upgrading to a 7950 GTX or else look at some of the SLI offerings on the market. We are very hesitant about actually recommending that anyone look at getting SLI in a laptop, however, as we would much rather have a single fast GPU rather than two slightly slower GPUs in SLI - not to mention the amount of heat two high-end graphics cards can generate. There are two pretty serious drawbacks to powerful gaming notebooks. First is that their battery life is generally poor at best, in some cases not even managing to reach one hour during heavy use. The other drawback is price: you can find laptops that basically have everything the Mayhem Z5 has except for the graphics card and save $600 (possibly more). Mobile gaming definitely doesn't come cheap! With a current price of around $2900, the Mayhem Z5 is worth considering if you are in the market for a gaming laptop, and it is priced competitively with similar models from other manufacturers. Unfortunately, apparently a one-year warranty is all you can get with an ABS system, so unless you're willing to live with a one-year warranty you will want to look elsewhere.
There are definitely other laptops that are worth considering that offer similar performance and features to these models, but we aren't reviewing any of them today. As is often the case, however, determining what laptop to get is a matter of balancing compromises against each other: do you want longer battery life, a more lightweight laptop, more performance, a brighter display, more storage, etc.? For most people, out of these three units the A8JS would get our recommendation, with the caveats mentioned above. It is a well-rounded laptop that will fit the needs of a large number of users. What we would like to see now is more laptops that offer LCDs like the ASUS G2P, preferably with higher resolutions for 17" models. If that can be done without killing battery life, so much the better. ASUS might also want to consider a revision of the G2P that uses the GeForce Go 7700 or a GeForce Go 7900 GS instead of the somewhat feeble Radeon Mobility X1700, at least if they are truly interested in targeting laptop gamers.