Original Link: http://www.anandtech.com/show/2137


It has been over a year since ATI announced CrossFire for Intel. The original reference board that we looked at was code named Stingray and to be quite honest, performance was not up to par at that time even though the feature list was class leading. The main issue that we found with Stingray was its DDR2 memory performance. While the RD480 for AMD was launched amidst a lot of fanfare and was soon followed up with the impressive RD580/SB600 combination for AMD, the ATI Intel chipset design lagged in both development and performance.
ATI was able to overcome most of the early performance concerns that centered on memory throughput performance and had a revised version of the chipset ready for use last spring. However, the merger between AMD and ATI threw a kink into any plans that motherboard manufacturers might have had for this chipset. With the uncertainty of continued Intel support and future product plans, most motherboard manufacturers were content to pass on the RD600 chipset as the well proven and still excellent performing Intel 975X chipset provided CrossFire support for customers needing this functionality.
Although uncertainties abound concerning how Intel will view and eventually react to the AMD/ATI merger regarding licensing approval, DFI persevered in designing a high performance platform based on the RD600 chipset. Other motherboard manufacturers have certainly looked at this chipset with interest. We know of a few engineering samples floating around certain engineering departments but with today's release of the LANParty UT ICFX3200-T2R/G, DFI becomes the first and perhaps only motherboard manufacturer to release product based upon this unique chipset. We first looked at an early beta of this motherboard a few months ago and recognized it had potential - real potential - to compete with the 975X chipset and do so at a lower price point.
Since our first look the motherboard has undergone several design changes and ATI/AMD revised the chipset based upon their close working relationship with DFI. However, in the time it has taken this board to get to market, NVIDIA has released the 680i chipset and 975X based boards such as DFI's own Infinity can now be bought for around $165. Of course, everyone's question is if the performance of this chipset, or more importantly DFI's implementation, lives up to the hype. We look to answer this question with today's performance preview and will provide additional information in an in-depth review of this ballyhooed (we are guilty of this) yet mysterious chipset and motherboard.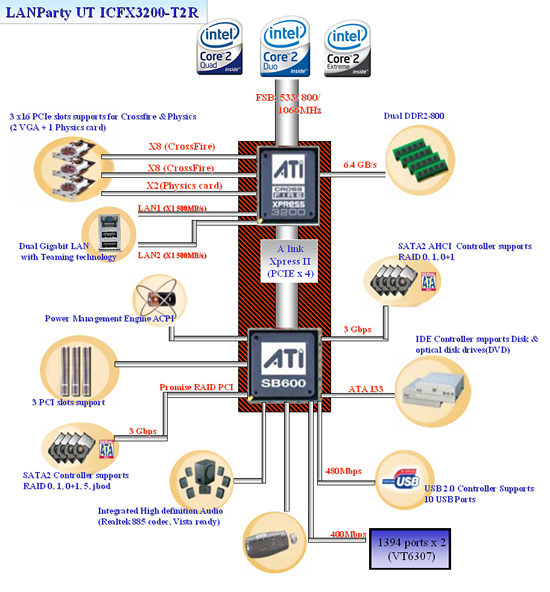 ATI introduced the Radeon Xpress 200 CrossFire for Intel (RD400) in September of 2005 and its successor known as the RD600 is being officially released now. The highlights of the RD600 include independent memory and FSB overclocking capabilities, 1066MHz front side bus support, 1066MHz+ DDR2 memory support, automatic PCIe overclocking, and full support for the entire Core 2 Duo processor lineup. The chipset is officially called the ICFX3200 which is a misnomer in our opinion. The RD580 for AMD series was designated the Radeon Xpress 3200 based upon having true dual x16 PCI Express capability for graphics with the Radeon Xpress 1600 (RD480) nomenclature being used for the dual x8 PCI Express graphics capable motherboards.
The RD600 numbering scheme gives us the impression of it being a new chipset. While true to a certain degree, the original design (RD400) was actually developed alongside the AMD RD480 chipset. The RD600 improves greatly upon the RD400 in several areas but carries over the dual x8 PCI Express design from the RD400/480 series instead of the RD580 dual PCI Express x16 layout. However, the RD600 does share the Xpress II link design with the RD580 as well as sporting additional PCI Express lanes (24) over the RD400/480 series but still not enough for true dual x16 graphics.
In fact, this chipset has been heavily revised over the course of the past year and is on its fourth core revision yet still retains the dual x8 design. However, unlike the RD480 or RD580, this chipset offers an improved PCI Express logic core with enhancements for CrossFire operation along with improved DDR2 memory performance. The performance difference at this time between dual x8 and x16 CrossFire capable boards is minimal at best, but this could potentially change with the upcoming R600 video card release. While the x8/x16 difference might be important to some, for the majority of users we still recommend buying the fastest single card available based on cost to performance ratios.
DFI pairs the RD600 up with the SB600 Southbridge that features four SATA-2 3Gb/s ports featuring NCQ and hot plug support, ten USB 2.0 ports, HD audio interface, and multiple Gigabit Ethernet support depending upon the Northbridge utilized. We have found the performance of the SB600 to be very competitive with other current Southbridge designs and it is a great improvement over the previous SB450 Southbridge.
This leads us into today's performance preview of the DFI LANParty UT ICFX3200-T2R. In our article today we will briefly touch on the performance aspects of this board, present some basic features, and provide our initial opinions after using it for the past few days. We will provide in-depth coverage of the board, additional performance results including multiple RAID, audio, quad core, and memory benchmarks along with some of the best ways to properly configure this board/BIOS in a few days.
DFI LANParty UT ICFX3200-T2R Basic Features
DFI LANParty UT ICFX3200-T2R/G
Market Segment:
High-End Performance - $229.99
CPU Interface:
Socket T (Socket 775)
CPU Support:
LGA775-based Pentium 4, Celeron D, Pentium D, Pentium EE, Core 2 Duo, Core 2 Extreme
Chipset:
AMD RD600 + SB600
Bus Speeds:
Auto, 0 to 511 in 1MHz Increments
Memory Speeds:
Auto, Sync, 133, 166, 200, 266, 333, 400, 533
Memory Frequency:
133MHz~658MHz in various Increments
PCIe Speeds:
Auto, 100MHz~200MHz in 1MHz Increments
NB Strap:
Auto, 100, 133, 166, 200, 266, 300, 333
Core Voltage:
Auto, .44375V to 1.60000V in 0.00625V increments
Core Voltage Add:
Auto, 100.01% ~ 121.25%
CPU VTT Voltage:
1.21V ~ 1.59V
CPU Clock Multiplier:
Auto, 6x-11x in 1X increments if CPU is unlocked, downwards unlocked, Core 2 Duo
DRAM Voltage:
Auto, 1.50V ~ 3.01V in various Increments
DRAM Timing Control:
Auto, 18 DRAM Timing Options
NB Core 1.2V Voltage:
1.30V~2.18V
NB PLL 1.2V:
1.83V ~ 2.51V
NB PLL 1.8V:
1.21V ~ 1.46V
NB PCI-E Voltage:
1.22V ~ 1.60V
SB Core Voltage:
1.23V ~ 1.59V
Memory Slots:
Four 240-pin DDR2 DIMM Slots
Dual-Channel Configuration
Regular Unbuffered Memory to 8GB Total
Expansion Slots:
3 - PCIe X16 (2 - x8 electrical, 1 - x2 electrical)
3 - PCI Slot 2.3
Onboard SATA/RAID:
4 SATA 3Gbps Ports - AMD SB600
(RAID 0,1, 0+1,JBOD)
4 SATA 3Gbps Ports - Promise PDC40719 (PCI Bus)
(RAID 0,1, 0+1, 5, JBOD)
Onboard IDE:
1 ATA133/100/66 Port (2 drives) - AMD SB600
Onboard USB 2.0/IEEE-1394:
10 USB 2.0 Ports - 6 I/O Panel - 4 via Headers
2 Firewire 400 Ports by VIA VT6307 - 1 I/O Panel, 1 via Header
Onboard LAN:
Marvell Ethernet Controllers - PCI Express - 88E8052/88E8053
Onboard Audio:
Karajan Audio Module - Realtek ALC885 - 8-channel HD audio codec
Power Connectors:
ATX 24-pin, 8-pin EATX 12V
I/O Panel:
1 x PS/2 Keyboard
1 x PS/2 Mouse
1 x Serial Port
1 x S/PDIF Coaxial - In
1 x S/PDIF Coaxial - Out
1 x IEEE 1394a
1 x Audio Panel
2 x RJ45
6 x USB 2.0/1.1
BIOS Revision:
Award 12/01, 12/07
Board Revision:
1.01
In typical DFI LANParty UT fashion, the amount of BIOS tweaks available to fine tune the performance of this board is incredible. Our chart does not do justice to all of the BIOS settings available but rest assured the performance enthusiast will think they are in a winter wonderland. On the flip side, the sheer number of options can be overwhelming for some, but we found the majority of auto settings provided a very good level of base performance. This held true in most areas except on the memory side where it was best to switch to manual settings and change the tCAS, tRCD, tRP, tRAS, and the command timing rates at a bare minimum. The performance results generated from this board are directly attributable to your choice of memory and capability to fine tune each individual setting to extract the best performance possible. We will delve into this subject in our full review along with detailed BIOS screenshots of our final setup choices for each memory speed. That said, the best attribute of this chipset and BIOS design is the almost infinite flexibility you have in separately controlling your FSB and memory speeds.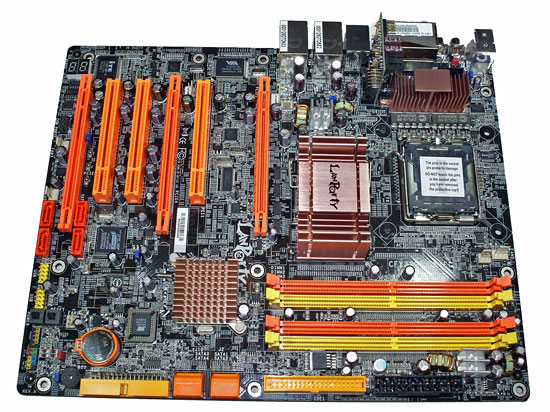 Click to enlarge
The board layout that DFI settled on is very good for the high-end enthusiast who utilizes alternative cooling solutions. The CPU area is clutter free due to the use of a six phase digital PWM power delivery system and offset with the intention that water or phase based cooling solutions will be used. We will include pictures of our case installation and that of several aftermarket heatsinks we utilized during testing shortly. In smaller ATX cases, most large air coolers such as the Scythe Infinity will have trouble fitting. Our Tuniq 120 had the best clearance in the midrange cases of all the large air coolers. The RD600 is cooled by a large passive heatsink that was well suited for the job until we started overclocking the FSB past 450. Due to the Northbridge voltage required to reach the maximum 511 FSB, the stock heatsink will require airflow over it. We would have preferred to replace the heatsink during this type of overclocking but DFI utilized the four hook attachment system that left us very little choice other than to direct airflow over the stock unit with an extra fan at this time.
The PCI Express and PCI slot arrangements are designed with multiple graphics card operation in mind but this layout will mean the removal of your primary graphics card if you need to switch memory. The board includes six fan headers, three of which can be controlled in the BIOS or by the included ITE Guardian utility. Other nice touches include the onboard power and reset buttons along with a diagnostic LED display. You can clear the CMOS by using the jumper or by simultaneously holding down the reset and power buttons for four seconds. If the board is in a case this same procedure can be completed by holding down the front panel reset and power buttons. DFI also includes the new AMD System Manager that allows you to change voltages, memory, and FSB values within Windows.
The Karajan audio module is plugged into a socket located on the motherboard near the I/O panel and features the Realtek ALC885 which we found to offer very good sound, but EAX compatibility is still needs improvement. The board also features two Marvell PCI-E based Gigabit Ethernet controllers that can be teamed together through a new Marvell software utility. We are still testing this capability but overall the Marvell controllers provide good throughput and CPU utilization numbers. Also included are four SATA 3Gb/s ports via the SB600, four additional SATA 3Gb/s ports from the PCI based Promise PDC40719 controller, a single Ultra ATA 133 IDE port supporting two IDE devices, FireWire 400 support from the VIA VT6307, three PCI slots, and three PCI Express x16 slots that are configured dual x8 (x16 for single card in the first slot) and single x2 electrically.
The third x16 slot is designed for the upcoming ATI/AMD physics capability. This slot can be jumpered for PCI Express card operation and we are testing it currently. Unfortunately, at this time it appears the secondary x16 slot can only be used for graphics. Ideally, we would like to be able to use any PCI-E device in any of the PCI-E slots, but it seems many of the chipset designs are taking a limited view of how PCI-E slots should be used - and this isn't just a problem with RD600 boards; most motherboards do not allow the use of non-graphics devices in the x16 slots.
Test Setup
Standard Test Bed
Performance Test Configuration
Processor:
Intel Core 2 Duo E6600
(2.4GHz, 4MB Unified Cache)
RAM:
OCZ Flex XLC (2x1GB), 2.30V
(Micron Memory Chips)
Hard Drive:
Western Digital 150GB 10,000RPM SATA 16MB Buffer
Seagate 750GB 7200.10 7200RPM SATA2 16MB Buffer
System Platform Drivers:
Intel - 8.1.1.1010
NVIDIA - 9.35
ATI - 6.10
Video Cards:
1 x MSI X1950XTX , 1 x ASUS X1950CF for CrossFire testing
Video Drivers:
ATI Catalyst 6.11
CPU Cooling:
Scythe Infinity
Power Supply:
OCZ GameXstream 700W
Optical Drive:
Sony 18X AW-Q170A-B2, Plextor PX-B900A
Case:
Cooler Master CM Stacker 830
Motherboards:
ASUS Striker Extreme (NVIDIA 680i) - BIOS 0505
DFI LANParty UT ICFX3200-T2R/G (AMD RD600) - BIOS 12/01
Intel D975XBX2 (Intel 975X) - BIOS 2333
Operating System:
Windows XP Professional SP2
.
A 2GB memory configuration is now standard in the AT test bed as most enthusiasts are currently purchasing this amount of memory. Our choice of DDR2-800 memory from OCZ offered a very wide range of memory settings during our stock and overclocked test runs. Our memory timings are set based upon determining the best memory bandwidth via MemTest 86 and test application results for each board.
We are utilizing the MSI X1950XTX video card to ensure our 1280x1024 resolutions are not completely GPU bound for our motherboard test results. We did find in testing that applying a 4xAA/8xAF setting in most of today's latest games created a situation where the performance of the system starts becoming GPU limited. Our video tests are run at 1280x1024 resolution for this article at High Quality settings without antialiasing; we test at 1600x1200 4xAA/8xAF for our ATI CrossFire results.
All of our tests are run in an enclosed case with a dual optical/hard drive setup to reflect a moderately loaded system platform. Windows XP SP2 is fully updated and we load a clean drive image for each system to ensure driver conflicts are kept to a minimum.
Overclocking
DFI LANParty UT ICFX3200-T2R/G
Overclocking Testbed
Processor:
Intel Core 2 Duo E6600
Dual Core, 2.4GHz, 4MB Unified Cache
1066FSB, 7x Multiplier
CPU Voltage:
1.5375V (default 1.3250V)
Cooling:
Scythe Infinity Air Cooling
Power Supply:
OCZ GameXStream 700W
Memory:
OCZ Flex XLC (2x1GB) (Micron Memory Chips)
Video Cards:
1 x MSI X1950XTX
Hard Drive:
Western Digital 150GB 10,000RPM SATA 16MB Buffer
Case:
Cooler Master CM Stacker 830
Maximum CPU OC:
432x9 (3-4-3-9 1T, 866MHz, 2.44V), CPU 1.5375V
3893MHz (+62%)
Maximum FSB OC:
511x7 (4-4-4-12 2T, 1068MHz, 2.41V), CPU 1.4875V
3575MHz (+92% FSB)
.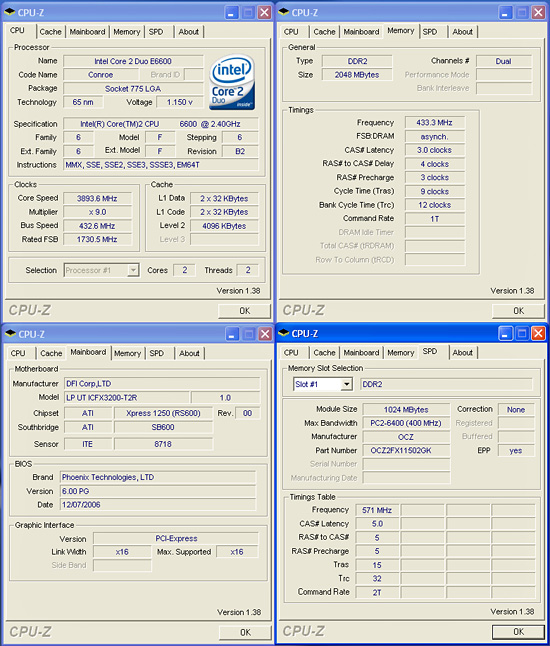 Click to enlarge
We were easily able to reach a final benchmark stable setting of 9x432 FSB resulting in a clock speed of 3893MHz. The board was actually capable of running at 9x451 FSB but would consistently fail our dual Prime95 test along with a few game benchmarks. We attributed this stability issue to the lack of proper cooling for our CPU and Northbridge at the voltages we were running. Vdroop was excellent on this board during overclocking with an average drop of .002~.003V during load testing. We operated our memory at 3-4-3-9 1T with all sub-timings optimized at a final speed of 866MHz. We are currently running our memory up to DDR2-1010 at 5-5-4-15 1T with the new 12/07 BIOS. However, we have found this chipset prefers high memory speeds (1100+) at fairly aggressive latency timings around 4-4-4-15 2T to 1T operation at memory speeds in the 800~900 range unlike the 680i that seems to thrive on 1T operation in this same range. Our initial tests indicate that 4-5-4-12 2T with tight sub-timings at DDR2-1123 performs about two percent better in applications than our 5-5-4-15 1T settings at DDR2-1010. We will have additional benchmarks results in our next article.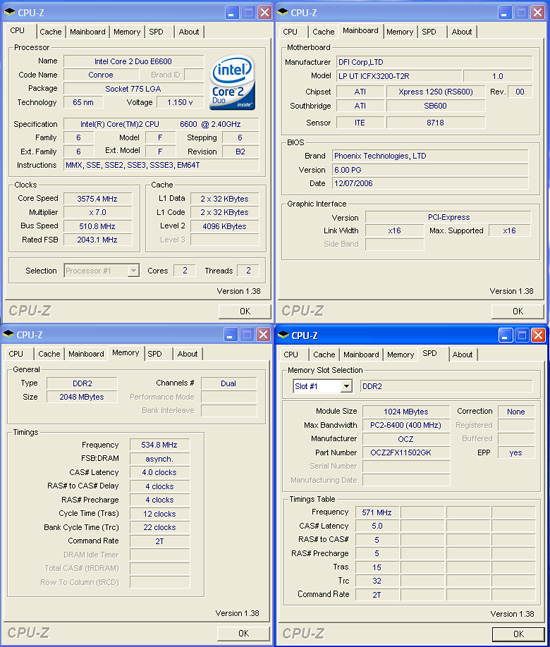 Click to enlarge
We dropped the multiplier on our E6600 to 7 and were able to reach the maximum BIOS allowable FSB of 511 without an issue. Due to the clockgen controller utilized the current BIOS is limited to 511 although the included AMD System Manager allows you to soft overclock the FSB within windows. However, we were never able to go above 518FSB without encountering lockups or system shutdowns. Still, we were extremely impressed with the stability of this board at the maximum FSB level. The system did not behave any differently whether it was at 511 or 266 which is a testament to the engineering effort put forth by DFI into this board. However, to reach these settings we had to run several of the Northbridge voltages near their maximum that resulted in additional air cooling being required for the heatsink along with Northbridge temperatures increasing from 30C to 58C during testing. We will use an alternative Northbridge cooling unit in our follow-up overclocking tests.
We will provide our BIOS settings in the next article but for now this board makes for an excellent overclocking platform due to its stability and flexibility. Achieving high overclocks with stability took some time and effort when dialing in the proper memory and voltage settings. Once that was accomplished the results were certainly impressive, so for users that have the inclination to invest time tweaking their systems for maximum performance, the DFI ICFX3200-T2R won't disappoint.
General Application Performance

Click to enlarge
The performance of the board was very good and usually slotted itself in between the Intel D975XBX2 and ASUS Striker Extreme in our benchmark scores. While not a great SuperPi or Folding@Home number crunching motherboard, we did find the application performance to be very good and consistently near the 975X based Intel motherboard, with 3D performance normally leading both boards as our game benchmarks will reveal shortly. Throughout testing we generally found the AMD RD600 chipset to be slightly faster than the NVIDIA 680i when operating at like settings. We changed the tCAS, tRCD, tRP, tRAS, and the command timing rates (RD600/680i) for each board but left the sub-timings at auto settings for our tests. Once we optimized the sub-timings on both boards, the results improved about two percent when compared to the 975X.
However, neither chipset could match the stock performance of the Intel 975X board. In our Nero Recode test we consistently found the performance of the 680i to be lacking due to disk access issues. The conversion process would consistently slow down while the disk was being accessed. The quality of the video conversion was not affected but it appears under heavy CPU usage that disk performance suffers at this time. NVIDIA is aware of this issue and is working on a driver update currently. We will provide a full suite of benchmarks and include additional chipsets in our upcoming in-depth review.
Synthetic Graphics Performance
The 3DMark series of benchmarks developed and provided by Futuremark are among the most widely used tools for benchmark reporting and comparisons. Although the benchmarks are very useful for providing apple to apple comparisons across a broad array of GPU and CPU configurations they are not a substitute for actual application and gaming benchmarks. In this sense we consider the 3DMark benchmarks to be purely synthetic in nature but still very valuable for providing consistent measurements of performance.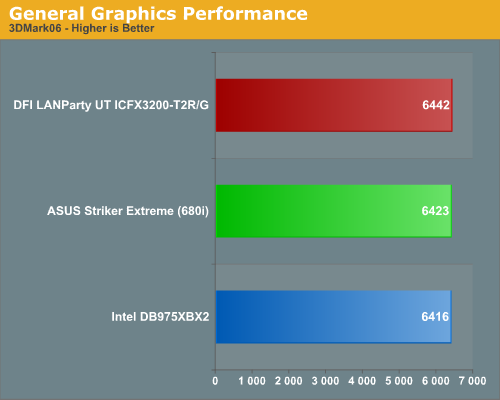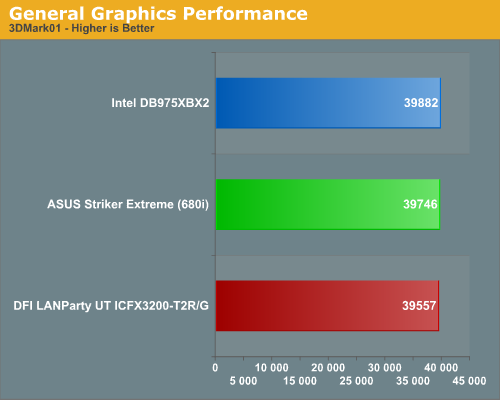 In our 3DMark06 test, each platform score is so close that there is no real winner here. In the more memory and CPU sensitive 3DMark2001 benchmark we see the Intel 975X board pulling away from the 680i and RD600 boards due to its superior memory bandwidth at stock settings. Although our reported Sandra memory bandwidth scores along with Memtest86 testing consistently show the RD600 performing better than the 680i, our 3DMark2001 benchmark is not showing this advantage. While our first thought was to look at lower than expected video throughput performance our gaming scores indicate otherwise. In additional testing with higher memory speeds or optimized memory sub-timings we did find the 3DMark01 scores improved consistently, leading us to believe this board just does not perform as well as the others in this particular benchmark.
General System Performance
The PCMark05 benchmark developed and provided by Futuremark was designed for determining overall system performance for the typical home computing user. This tool provides both system and component level benchmarking results utilizing subsets of real world applications or programs. This benchmark is useful for providing comparative results across a broad array of Graphics subsystems, CPU, Hard Disk, and Memory configurations along with multithreading results. In this sense we consider the PCMark benchmark to be both synthetic and real world in nature while providing consistency in our benchmark results.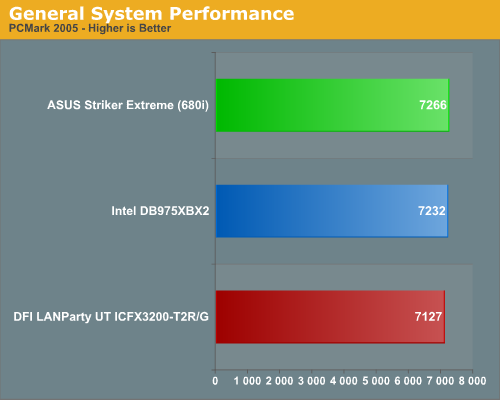 The ASUS 680i based board has a strong showing in this benchmark and finishes ahead of the other two offerings. All three boards actually score very close together and after reviewing the individual test results we noticed the 680i had very competitive disk benchmarks which is unusual considering our Nero Recode tests. The disk performance of the SB600 was slightly better than the ICH7R on the Intel board and both were about two percent faster on average than the 680i. However, the 680i performs best on the graphics subsystem tests with the RD600/975X splitting the three multitasking tests.
Standard Gaming Performance
As usual, gaming performance was tested with a variety of current games. We ran benchmarks with our standard 1280x1024 resolution without antialiasing enabled (and generally without anisotropic filtering, though that varies by game). Given the number of users that run 19 inch LCDs these days, 1280x1024 represents one of the most commonly used resolutions. We could certainly increase the amount of eye candy being displayed in most of the games, but as this is a motherboard benchmark we aren't particularly interested in maxing out the graphics cards for all tests.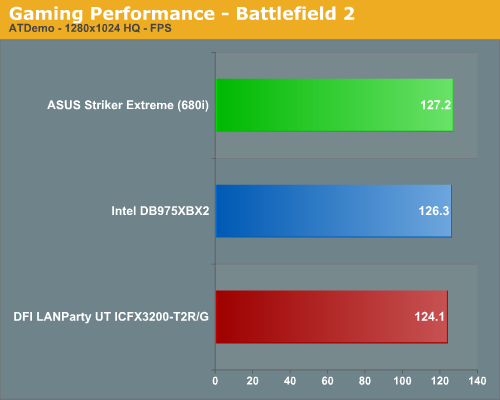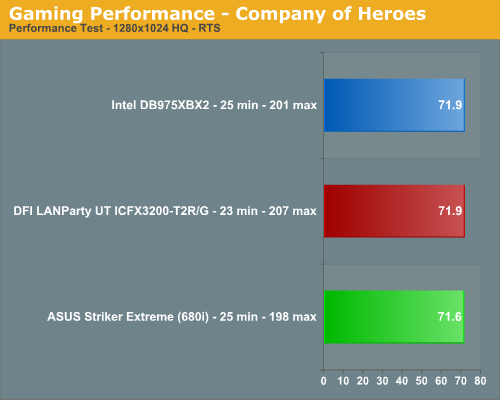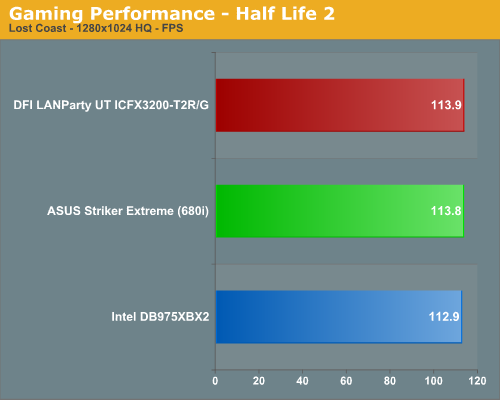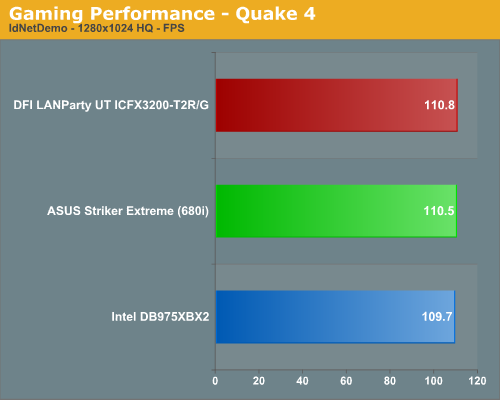 As we commented previously, gaming benchmarks seemed to favor the RD600 although our Battlefield 2 scores are puzzling considering the almost three percent drop in performance at these settings. Battlefield 2 at this time is fairly sensitive to CPU speed and memory timing improvements which did occur as we changed either our CPU speed or optimized our memory settings, but the board never caught the 975X or 680i at the same settings. However, very few people would ever notice a difference between the various motherboards while gaming although Quake 4 seemed more fluid on the DFI board during online game play across our LAN. We will be testing the DFI board with the GeForce 8800GTX to see how well it performs but at this time most games seem to favor the RD600 while Battlefield 2 does not, at least in single card testing.
High-Resolution Gaming Performance
For high-quality gaming performance, we also tested at 1600x1200 with 4xAA/8xAF. As just about anyone familiar with current games can tell you, benchmarking with a single high-end graphics card at those stressful settings will make almost any recent game GPU limited. In fact, several of the most recently released games such as Oblivion can be GPU limited at this setting even with CrossFire or SLI setups. Our test results are limited to two games for now, but we will provide expanded coverage in our next article, including Intel P965 and 1920x1200 results.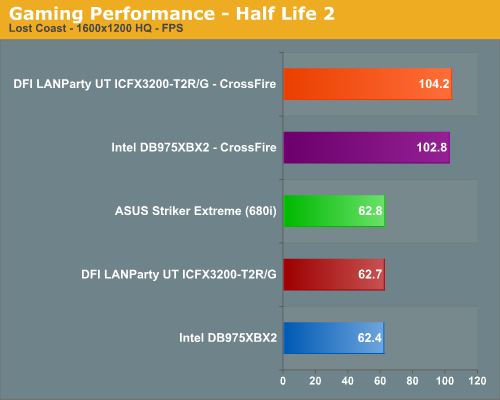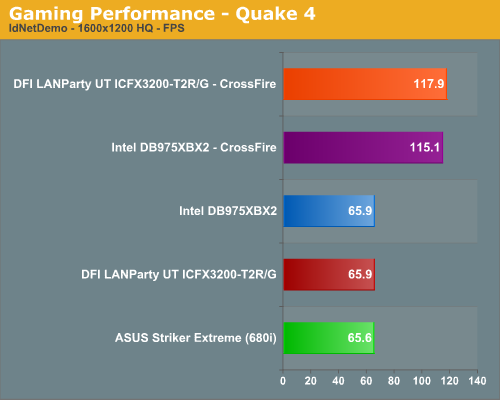 If you're serious about gaming at higher resolutions with all the eye candy enabled, you will most certainly want to run a multi-GPU configuration. Looking specifically at the DFI board, its relative positioning has improved greatly when playing Battlefield 2 under CrossFire along with improvements in Half Life 2: Lost Coast. It appears the optimizations that ATI built into their chipsets for CrossFire performance are indeed noticeable at the higher resolutions. Our 1280x1024 CrossFire testing yielded very few differences but the performance gap between the 975X and RD600 widened as we increased our resolution and AA/AF settings. We also noticed this same behavior in other games that we tested including Company of Heroes and F.E.A.R.
The only issue with X1950 CrossFire now is that NVIDIA's 8800 GTS/GTX cards can provide substantially higher performance, particularly in SLI configurations. As usual, SLI is not officially supported by NVIDIA on non-NVIDIA chipsets, and likewise you can't run CrossFire on NVIDIA chipsets. That means that 8800 GTX SLI and a 680i board would currently be a faster gaming solution, but AMD will counter with R600 early next year. Whether or not they can reclaim the performance crown remains to be seen, so if you're not in any hurry to spend a lot of money on upgrading it might be best to wait and see what happens.
Disk Controller Performance
The AnandTech iPeak test is designed to measure "pure" hard disk controller performance, and in this case we keep the hard drive as consistent as possible while varying the hard drive controller. The idea is to measure the performance of each hard drive controller with the same hard drive.
We test with our raw files that are recorded I/O operations when running a real world benchmark - the entire Winstone 2004 suite. Intel's iPeak utility is used to play back the trace file of all I/O operations that took place during a single run of Business Winstone 2004 and MCC Winstone 2004. To try to isolate performance differences to the controllers that we are testing we are using the Western Digital 74GB Raptor with 16MB cache for both our standard disk controller and RAID performance tests for this article. The drive is formatted before each test run and a composite average of three tests on each controller interface is tabulated in order to ensure consistency in the benchmark.
iPeak gives a mean service time in milliseconds; in other words, the average time that each drive took to fulfill each I/O operation. In order to make the data more understandable, we report the scores as an average number of I/O operations per second so that higher scores translate into better performance. This number is meaningless as far as hard disk performance is concerned, as it is just the number of I/O operations completed in a second. However, the scores are useful for comparing "pure" performance of the storage controllers in this case.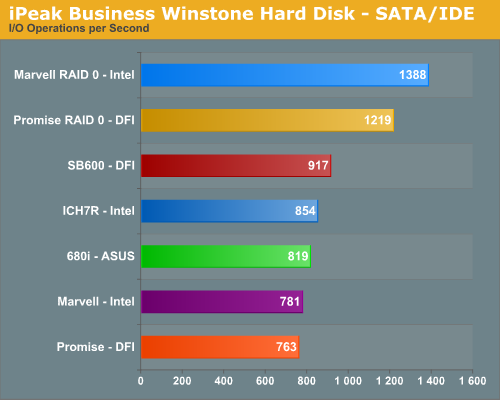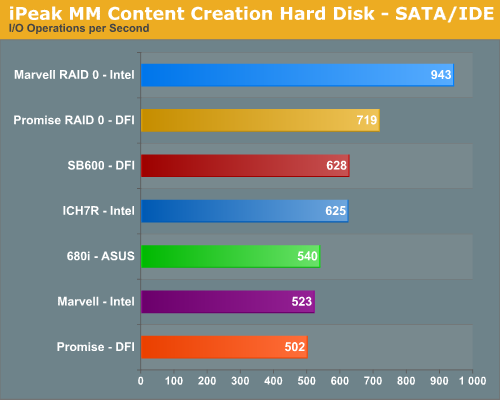 The performance patterns hold steady across both Multimedia Content I/O and Business I/O with the SB600 outperforming the Intel ICH7R and NVIDIA 680i chipsets in our non-RAID tests. The Promise controller on the DFI board is the slowest of all solutions with the Marvell controller on the Intel 975X performing slightly better. In our initial RAID 0 tests with the Promise and Marvell controllers we see the Marvell controller once again finishing ahead of the Promise solution. This probably stems from the fact that we were limited to a 16KB Stripe size on the Promise controller while the Marvell was set at 128KB. Both auxiliary controllers have worked flawlessly to date once set up correctly.
Each controller ships with a web-based application used to set up the drives from Windows if that option is needed. However, DFI still has some BIOS tuning work to complete when utilizing the Promise controller. The manual says to use F4 to enter the controller setup but we had to use Ctrl-F which is the same setting utilized by the SB600 RAID setup. We had to choose which RAID setup to use as both were not available simultaneously, although we preferred the SB600 for daily use. Also, we noticed an issue in setting up either RAID solution on the DFI board with a USB keyboard and had to resort to a PS/2 connection. Finally, if we set the memory burst value to 8, then the board would lock if we had RAID enabled. DFI is working on a solution now, but at this point you need to work around the issues. We will provide full RAID results from the native controllers in our next article along with images of the Promise application.
Power Consumption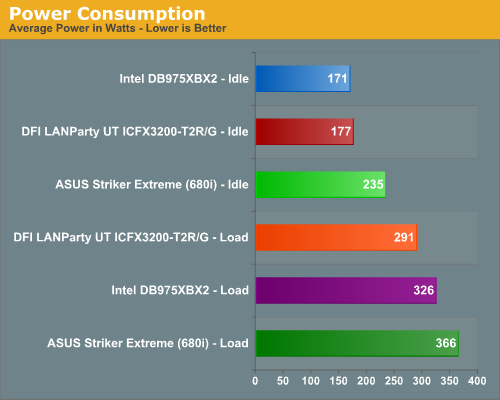 Our power consumption numbers are based on our test setup for this article and with power management turned off. This should come as no real surprise but the 680i is a power hog - or better yet it provides very good competition to the Intel Prescott for best utilization of a computer component as a space heater. The RD600 has slightly higher idle consumption numbers than the Intel 975X but consumes about 12% less power under load than the Intel board and 26% less than the ASUS 680i. Although the 680i consumes about 32% more power at idle than the RD600 or Intel 975X, the load numbers level off quickly when compared to the 975X. The results of the RD600 are very good and mimic the RD480 but are not as impressive as the RD580 from a chipset only level. Our system at stock voltages ran very cool but we did see power consumption increases almost equal the 975X when overclocking both platforms. We will present these numbers along with CrossFire results shortly.
Initial Thoughts
We have been a bit overwhelmed while testing this board over the course of the last week. The sheer number of BIOS settings and tweaks available has sent us into a constant scurrying mode to find the proper settings for improving performance and retaining stability at the same time. This is not to say it has not been fun; it has, but we figure the typical enthusiast is going to need three or four solid days with the board before locking in on a few preferred settings. We say a few preferred settings as this board's personality and performance changes tremendously when swapping out memory or CPUs. Any changes require additional tuning routines to extract the best possible performance from a given set of components.
We found ourselves constantly changing a set of conditions and then testing them non-stop to figure out if what we thought would work actually did. Sometimes we saw tremendous improvements, and other times we witnessed erratic behavior from the board. The most difficult part of the performance tuning has been trying to figure out what happens when you change an obscure setting and how it interrelates with the rest of the BIOS tweaks. During our initial testing phase, we were presented with a beta BIOS build that opened up further memory options in the BIOS that allowed us to improve both overclocking stability and memory performance. It also changed our way of thinking about tuning the board. Although DFI ships an extensive user's manual, there is not a chart that specifies each BIOS setting and how it interrelates with other settings in the same group. This board requires you to get down in the mud with it and work for its performance potential. The potential is certainly there; it just requires a lot of effort on your part and for it you will be rewarded with an extremely stable and excellent performing motherboard.
The board's overall performance falls in the middle when compared to the venerable Intel 975X and the new hotshot (hot in more ways than one) NVIDIA 680i. This is not necessarily bad and not what we initially expected, but considering the performance of the original reference board, ATI (now AMD) has come a long way with it. We doubt they would have progressed this far without the assistance of DFI but we are glad to see another alternative chipset in the performance market for the Intel Core 2 Duo processors. The sheer flexibility of the memory controller and memory tuning options will allow you to tweak this board for your particular usage unlike any other board currently on the market. For once, we believe those of you who have purchased high-end memory will have a motherboard that can actually take advantage of it in several different ways, and at the same time users with lower end memory are still able to extract the best performance possible.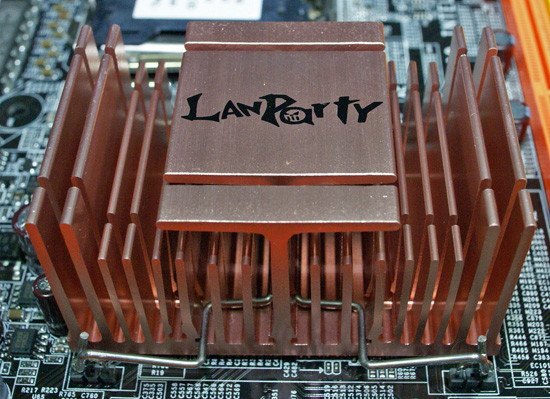 We witnessed very good performance results from the shipping 12/01 BIOS but we did run into a few issues such as the USB keyboard issue during RAID setup (sometimes it worked, other times not), the PC Health section in the BIOS would lock up occasionally depending upon the fans utilized, and we could not always depend on getting an additional couple of percent improvement in memory performance when setting the burst rate to 8 when dropping our latency timings. We have seen worse shipping BIOS releases and even worse mature production BIOS releases, but currently we are totally blown away by the beta 12/07 BIOS when it comes to extracting the best possible performance from this motherboard. However, with the new options comes a penalty: we just could not get into the BIOS during a warm reboot. We had to shutdown and clear the CMOS or cold reboot the board at least three times to even have a chance at entering the BIOS. Fortunately, DFI includes their CMOS reloaded program so our basic profiles are saved for quick retrieval. DFI is working around the clock to address these issues and others so we feel very confident in the future of this motherboard regarding technical support.
We hope our performance preview provided some necessary details and results about this unique motherboard. Our coming in-depth review will go over the BIOS in detail (once we have a non-beta version), provide performance settings for both stock and overclocked conditions, widen the scope of both application and gaming benchmarks, include quad core performance, and introduce the audio, networking, and complete storage options available to users. In the meantime, we would like to say that our audio testing has progressed very well and we did not notice any significant issues with our Creative X-Fi card while operating with or without RAID enabled. This also holds true for the included Karajan audio system although we wish Realtek would get EAX 2.0 working correctly again. The Marvell network controllers have not given us any grief nor have the USB or Firewire controllers with external storage solutions.
We expect to see retail availability of the ICFX3200 very shortly. However, we have no idea what the future brings from AMD/ATI, as the best may be yet to come or this may truly be a one hit wonder for the Intel market. Also, RD600 may not truly provide the most compelling platform for some people until R600 graphics cards become available and BIOS tuning is completed. Final street prices are also going to be important, considering the performance and value available from DFI's own 975X Infinity, but the LANParty UT ICFX3200-T2R/G definitely offers more in the way of tweaking and tuning options for the serious enthusiasts.
It has taken too long for this board to arrive to the market place but the extra time seems to have paid off with a board that while not perfect is very good. Stability and overall performance are very competitive, and overclocking at this point is among the elite; just remember, you will have to work for that performance but the satisfaction of having done so is well worth it - at least for the serious enthusiasts. We highly commend DFI for persevering and bringing a product of this caliber to market. For those of you looking for the ultimate flexibility in an Intel based motherboard along with excellent stability up to the board's limits, then we suggest you seriously consider the DFI LANParty ICFX3200-T2R/G.