Original Link: http://www.anandtech.com/show/2129


As 2006 draws to a close, we can look back at what has arguably been one of the most exciting years in recent history for the computing enthusiast. AMD and Intel both launched new processor platforms, for the desktop as well as the server/workstation markets. After leading in the desktop performance arena for three years, AMD's K8 architecture has finally been surpassed by Intel. Not only did Intel regain the desktop performance crown (the jury is still out on who truly leads in the server/workstation markets), but they also managed to launch the world's first quad core desktop CPU package. AMD has countered with the recent launch of their Quad FX platform. Perhaps more important than improved processor performance, however, is the vigorous price war that has been waged in the latter half of the year, with high-performance dual core CPUs fully entering the mainstream market.
New CPUs and platforms aren't the only excitement that we had this past year. ATI and NVIDIA have been waging their own battles for quite some time, trading blows and the crown for maximum graphics performance on a regular basis. ATI and AMD also managed to shock the world with the announced acquisition of ATI by AMD. So far we haven't really seen any fruits from this merger, other than the new ATI homepage, but that will certainly change in the future -- for better or for worse, but hopefully for the better. NVIDIA hasn't been quiet either, as they just launched their G80/8800 series of graphics cards and regained the GPU performance crown in dramatic fashion.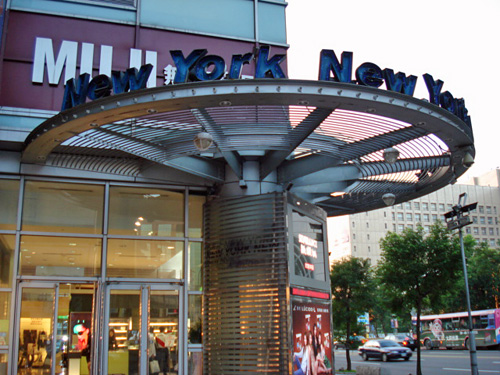 With all the excitement that we've seen, can 2007 possibly hope to top 2006? Only time will tell, but already we have plenty of interesting product launches planned for the next year that should keep the enthusiasts of the world happy. The beginning of each year also brings one of the largest trade shows, the Consumer Electronics Show (CES), where thousands of companies show off their wares and discuss current and emerging technologies. Prior to CES, however, AnandTech has made it a habit of heading over to Taiwan to visit the manufacturers and get the early scoop on the upcoming products. This year, Gary was lucky enough to volunteer to catch a flight to the other side of the world and make the rounds.
He's been sending us a few reports on his visits so far, along with some pictures and information gleaned from the various companies. We will have several updates over the coming week on some of the more interesting products that he has seen. It's not all about products either, as there is some interesting news coming from various companies in Taiwan. Today we will give a quick summary of his visits with three well-known enthusiast companies: ASUS, OCZ, and Shuttle.
OCZ Technology
OCZ originally started out as a memory manufacturer that was dedicated to the enthusiast, and in all honesty it has to be stated that some of their earlier products left us wanting. Several years ago, however, OCZ increased their focus and began to really work on targeting the computer enthusiast memory market with several different classes of memory products ranging from the gamer to hard-core overclocker. They went from offering mostly generic memory products in a couple of market sectors to becoming one of the leading performance RAM companies in a very short time by providing what the customer wanted. Many of their products over the past few years have offered class leading performance and have rightfully earned Editor's Choice awards from AnandTech. After their success in the cutthroat memory market, OCZ began to branch out into other areas. They now offer several lines of high quality power supplies, some interesting cooling solutions, high-performance flash memory, and of course they continue to manufacture a range of system memory products. Not content to rest on their laurels, OCZ plans to branch out into additional component markets over the coming year.
The big news is that OCZ will begin introducing graphics cards to the market after CES. The first cards will be performance tuned NVIDIA GeForce 8800 models, after which they will expand into other GPU lines. The first question that must be asked is, what can OCZ offer in an already crowded market? Looking at their past history, however, many things come to mind. OCZ has spent a lot of time tuning their high-end memory products to eke out every ounce of performance possible. Higher bandwidth isn't the only way to improve memory performance, and OCZ has had quite a few products that focused on improving memory latency in various ways as well. With graphics cards now shipping with 512MB, 768MB, and even 1024MB of memory these days, it certainly seems that a company like OCZ with their extensive memory background should be able to compete. Of course, ASUS, Gigabyte, and many other enthusiast companies are also in this market, so how OCZ will manage to differentiate their graphics products remains to be seen. Still, we look forward to taking a closer look at their new graphics cards when they become available after CES.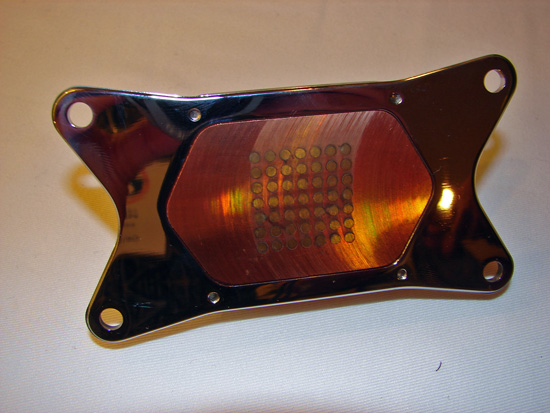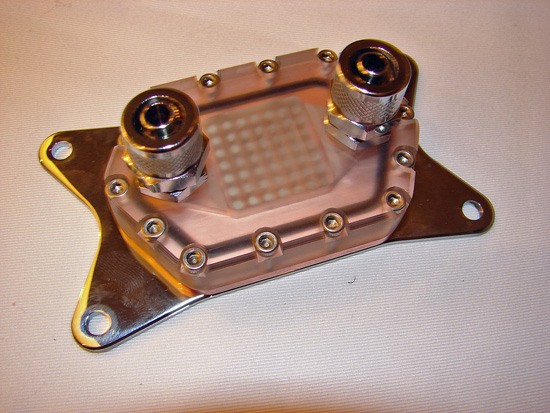 In the CPU cooling market, OCZ will be introducing some high performance water cooling blocks with a unique design in the next month or two. The first of these products will utilize silver rods that contact the CPU heatspreader directly in order to improve heat transfer. The unit we were shown is a prototype block but we expect production samples shortly for review. The production units should be available some time around CES, and OCZ will release an enhanced water block featuring jet spray technology in the spring. Both of these water blocks are targeted at enthusiasts utilizing high end-dual and quad core CPUs. We will also look at their new Phase Change system in our next article.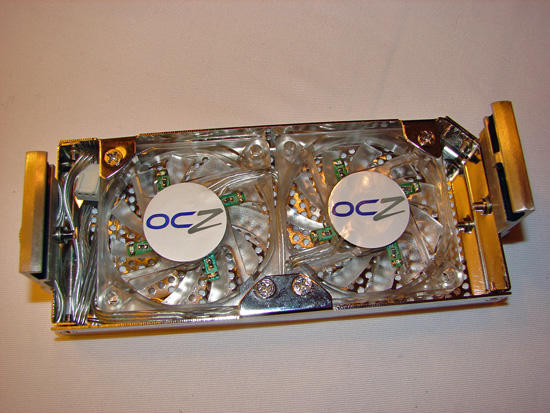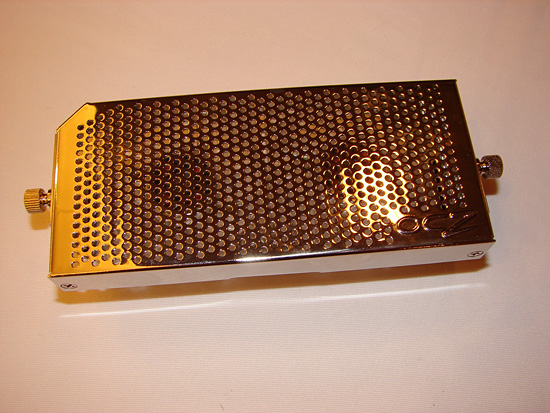 OCZ is also working on some products that will help with cooling in other areas. Above you can see their memory cooler, which ought to be able to help people looking to achieve maximum performance from their RAM. The unit is unique in that it will cool up to four DIMMs instead of the typical single of dual DIMM coolers on the market current. The cooler uses two 60mm fans and they are rated at 29dBA. Unfortunately, it is unlikely that such additions will help your computer run quieter, but such is the price we often pay for top performance.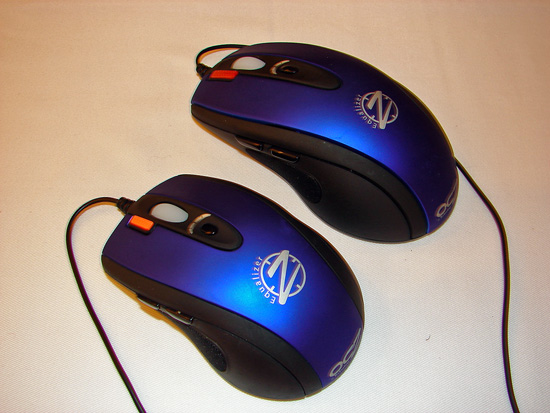 Finally, OCZ looks to cater to the gaming enthusiast by releasing gaming centric mice for notebook and desktop use. These mice will feature dual laser designs, as well as extra programmable buttons that can be customized for individual games including a rapid fire button. These "Equalizer" mice have a nice design and feel and should be available shortly after CES. How well they function over a long gaming session and whether or not they will be able to surpass other gaming mice remains to be seen but we will be reviewing these units once production samples are ready. In a brief test session we were able to confirm the button assignments and the general "feel" of the mice was actually quite good. We also talked with OCZ about a new system kit that involves a partnership with ASUS and Shuttle, which we will cover on the next page.
Shuttle and ASUS
As one of the largest motherboard and computer component manufacturers in the world, ASUS always has a lot of interesting stuff to show off. We will be looking at additional ASUS products tomorrow, as we only had a limited amount of time with them today. We'll start off by talking of it more about the system kit that Shuttle, OCZ, and ASUS are working on.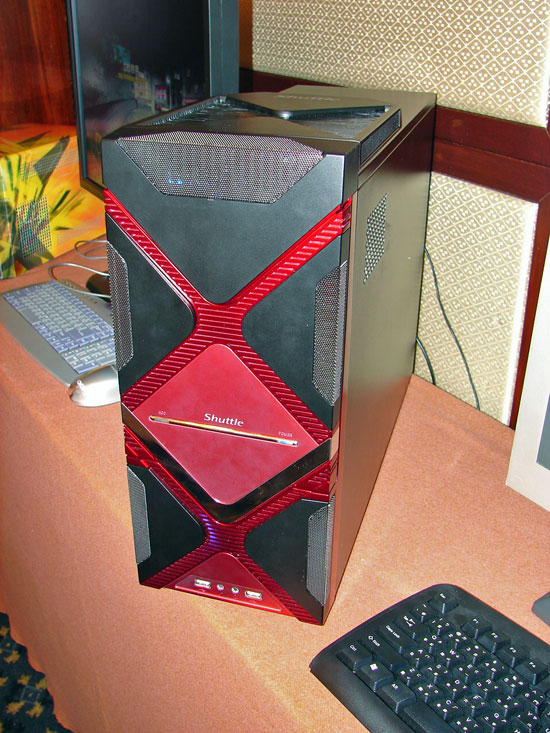 The kit is designed around ASUS' Republic of Gamers board group (the ASUS Striker Extreme will be the first board used in this series), and it is intended to target the extreme performance and overclocking markets, as well as offering everything plus the kitchen sink in terms of features. Shuttle's contribution is the center piece of the kit, at least from an appearance perspective: an interesting case that is slightly larger than a mini-ATX tower, but it is fully capable of handling dual 8800GTXs on a full size ATX board. OCZ will be providing the memory, naturally, and a OCZ power supply could be a potential option depending upon the configuration. Future kits could also include an OCZ branded video card(s) and to complete the high performance system kit the user will only need to add optical and/or hard drives.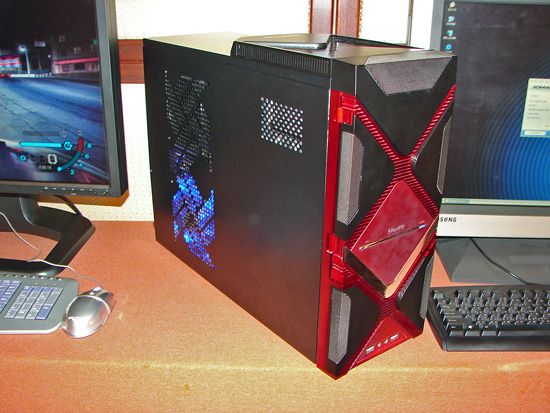 Given that Shuttle has roots as a motherboard manufacturer, this collaboration might seem a little bit odd at first. However, to put it bluntly, Shuttle has not concentrated on building a motherboard that has high-end enthusiast level overclocking and BIOS tuning support. Teaming up with ASUS allows them to focus on designing an attractive, more compact system, while hopefully still offering all of the performance and features that you would find on a typical full-size ATX platform.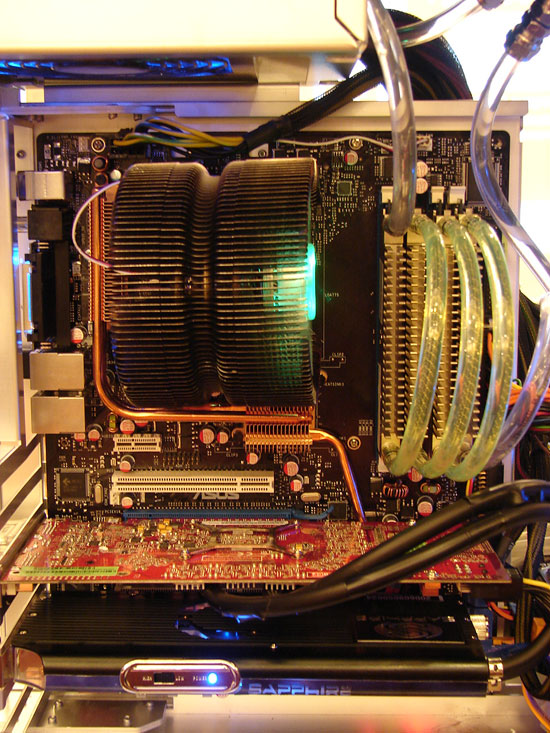 The other item we saw from ASUS today is their new P965 Commando board that is designed for serious overclocking. The sample system has has been able to reach up to 585FSB and in memory testing it was running 4GB of OCZ Flex XLC memory at DDR2-1116 (5-5-5-15) for over 24 hours dual prime stable on 2.15V. This system has hit DDR2-1150 with 4GB while running some game and test benchmarks. In a 2GB configuration the system was capable of running up to DDR2-1350 (5-5-5-18) and should reach DDR2-1400 once BIOS tuning is completed. This speed required 2.5V but that is within the OCZ memory spec for their new Flex-XLC series.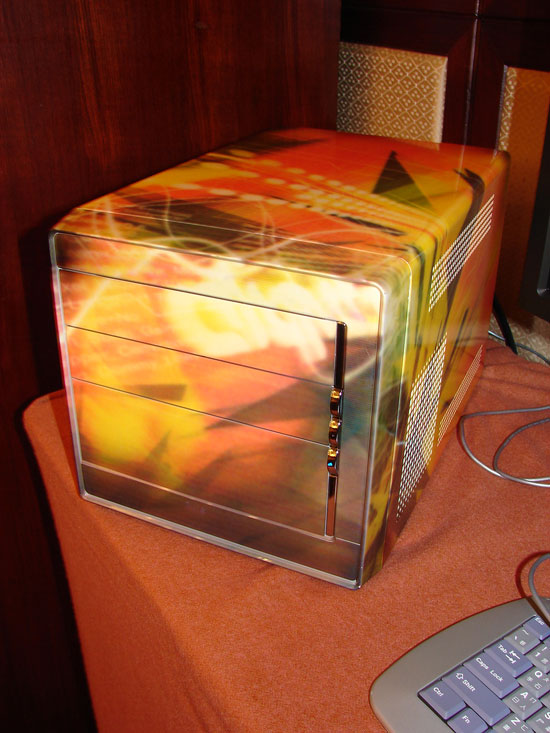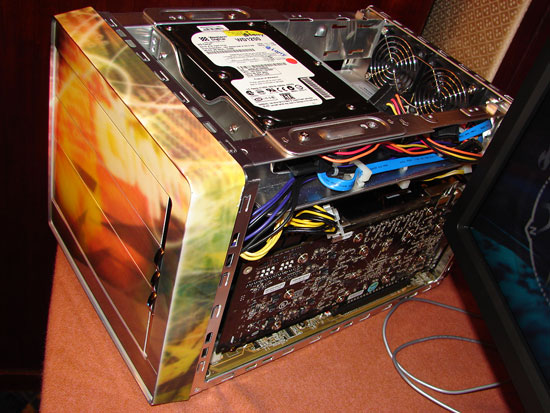 Besides the mini-ATX tower mentioned above, Shuttle also has a new SFF case/power supply design that can handle the GeForce 8800 GTX cards. Given the sheer size of such graphics cards, the XPC chassis was modified, and is now dubbed the "Supertuned" XPC. OCZ and Shuttle have been working closely together on this design and the motherboard will feature improved overclocking features and the case has an advanced thermal dissipation design. It's also not surprising that it will come with a larger power supply, given the requirements of a system sporting a high-end CPU along with a card like the 8800 GTX. The largest PSU we've seen from Shuttle in the past has been 400W, and we expect the new model should come with a 500W PSU or better. The case will be officially launced at CES.
Closing Thoughts
2006 has been a blockbuster year in terms of major product launches, and it will be difficult to top what we've seen in terms of progress during the next year. However, the one thing we can always count on in the world of computer components is change, and as we continue our pre-CES tour we expect to see a lot more in the way of unique products. We have meetings with Gigabyte, DFI, Abit, and others coming up and will report on our findings there.
Compared with the past couple of years, there was definitely a renewed feeling of optimism at the manufacturers we have visited with so far. Intel's struggles during the NetBurst versus K8 era caused a lot of uncertainty over in Taiwan, with a lot of companies unable to understand why their earlier socket 775 products weren't selling well. For better or for worse, many manufacturers are simply happier knowing that Intel once again has a highly competitive product that has brought balance to the market.