Original Link: http://www.anandtech.com/show/2121


We recently returned from a whirlwind trip that had us visiting the majority of motherboard manufacturers, memory and storage suppliers, and a few interesting OEM/ODM manufacturers of personal computer and consumer electronic devices. We will be receiving some really interesting products over the course of the next month but already have several in the labs that are in the final phases of testing. We will follow up with full reviews of these products in the very near future but for now we feel like the performance and features offered makes them worth considering for purchase. Here's a quick look at our storage and media products today with a follow up shortly featuring memory, audio/video, and motherboard items.
External Storage Products:

Sans Digital
We stopped by
Sans Digital
to view their complete line of Mobile Silver products. While they have been marketing their AccuRAID (2U Rackmount), EliteStor (1U Rackmount), and EliteRAID (3U Rackmount) products into the business sector for some time, it is their MobileStor and MobileRAID products they are featuring for the home and small office user that we found to be very interesting.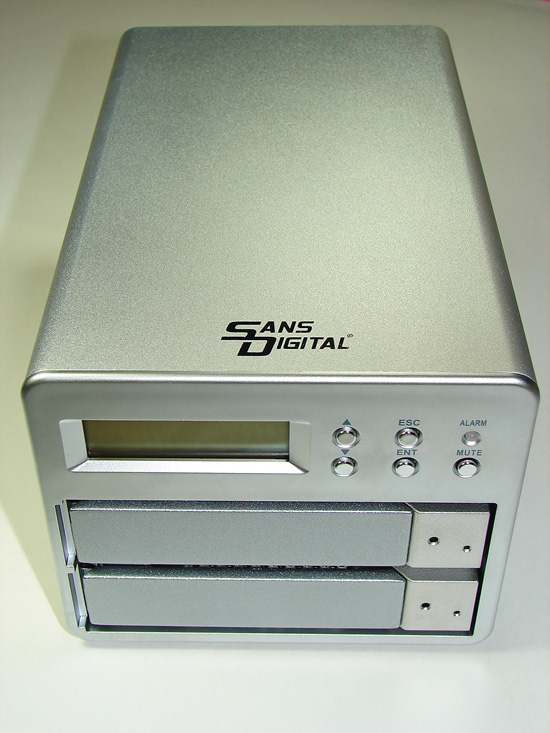 The MobileStor Series MS2UT that we have been testing is a 2-bay external RAID solution primarily designed for personal video editing and data storage. The unit has proven to be very simple to use and offers an excellent software package along with all required interface cables. The MS2UT is equipped with two hotswappable 3.5" lockable drive trays with both USB 2.0 and eSATA host interfaces. The unit supports SATA 1.5Gb/s and SATA 3Gb/s operation with full support for Hot Swap, RAID 0 or RAID 1, along with online data auto-rebuilding capability. The maximum drive capacity supported at this time is 750GB in each slot for a total of 1.5TB in storage capacity. Naturally, when larger SATA drives become available, the MS2UT should support those as well.
The unit is enclosed in a compact aluminum housing and features an LCD display panel. The LCD panel provides the status of the cooling fans, temperatures, and can be used to select the RAID mode or automatic backup scheduling. The two internal fans are temperature controlled and the unit offers full sensor capabilities for the hard disk drives. The power supply is rated at 70W and the entire unit was extremely quiet during operation with our Seagate Barracuda 7200.10 and Western Digital SE16 hard drives.
We found the unit offered excellent performance during testing and the enclosed RAIDGuide GUI software (Windows based) was easy to navigate. The MS2UT fully supports MAC operating system 10 and above, Linux Core 2.4 and above, and Windows ME/2000/XP/Server 2003 without the need for additional hardware level drivers. If you are using Microsoft Windows the unit will also support remote location support and monitoring via the enclosed RS232 cable (provided your PC has the required port).
Thecus
Although
Thecus
was founded in 2004, they have rapidly become a leader in the personal and small business storage sector. We currently have two of their products in our labs for review and in testing to date we have been very impressed with the features, performance, and versatility of the N2100 and N4100 storage devices.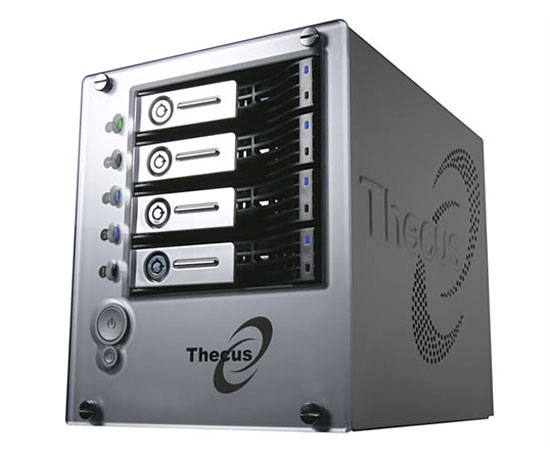 Our first Thecus product review will feature the
N4100
network storage appliance. This device is targeted to the Small Business, Small Office/Home Office, or computer enthusiast looking for a very affordable central data server. The N4100 features terabyte capacity via four drive bays, SATA 1.5Gb/s and 3Gb/s support, and RAID 0, 1, 5 operation. The unit also supports JBOD, Auto Rebuild, Hot Swap under RAID 1 or 5, and Hot Spare support under RAID 5.
The unit also features the Intel XScale 80219 processor, Intel 82541 Gigabit Ethernet controller, optional second 82541 controller or a wireless 802.11 b/g controller, 16MB of flash memory, LED based system status, and a 200W ATX power supply. Client support includes Windows 98/ME/NT/2000/XP, UNIX/Linux/BSD via CIFS, and Apple OS/X via AFP.
The enclosed Web-Based management software was intuitive and fairly simple to use during the unit configuration and ongoing system maintenance. With the latest 1.3.04 firmware the performance of the unit was excellent and we had no issues with the Hot Swap or Hot Spare capability in RAID 5 operation. User authentication support was very good with built-in user account capability for local users and full Windows 2003 Active Directory Support available for external users.
Internal Storage Products:

Western Digital and Seagate/Maxtor
The hard disk market has been in a lull for the past couple of months but we are starting to see additional technologies being rolled out and the upcoming months should be very interesting as Western Digital and Hitachi implement perpendicular recording technology on their desktop products. We will also start seeing the first hybrid mobile drives with NAND flash built-in to take advantage of Vista's ReadyBoost technology.
16GB and 32GB Solid State Disk drives are being launched and utilized in a variety of platforms in the industrial, medical, and military sectors. With costs expected to drop throughout the year we should see the SSD technology on the desktop later in the year, although performance will not be up to par with the latest hard drive technologies. However, performance will be fine for general desktop usage and we might even see the return of the thin client model in the enterprise with these drives.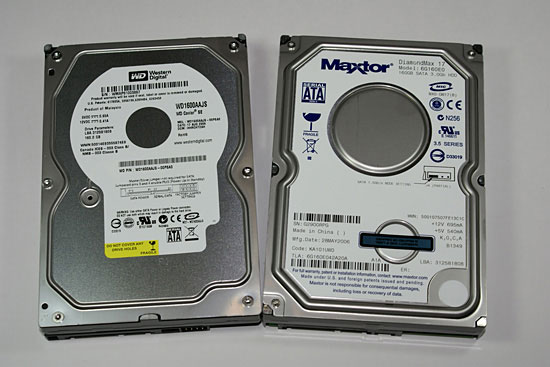 Our next storage review will concentrate on the new 160GB per platter drives from Western Digital, Seagate/Maxtor, and Hitachi. This drive platter capacity offers excellent desktop performance for the price and should spread widely into the value class drive sector. While it does not always offer top performance, for the desktop most users will find the thermals, acoustics, and pricing of these drives to be very compelling for the near future.
Plextor
Plextor
has been providing optical drive products for a number of years now and is usually considered to be one of the true innovators in this market, offering excellent quality. We will be reviewing their
B900A Blu-ray
drive in the near future but to kick off our revised Optical Drive section we will compare the PX-760A to the Sony DRU-830A shortly. In our discussions with the majority of optical drive manufacturers, we can finally expect to see widespread adoption of the SATA interface by Q3 in 2007.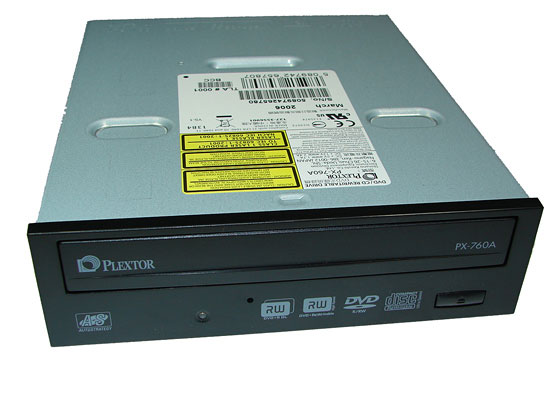 The PX-760A is a DVD±R/RW CD-R/RW internal E-IDE (ATAPI) drive that features Plextor's unique SilentMode, GigaRec, VariRec, PowerRec, Q-Check, SecureRecording, and PlexEraser technologies. The drive offers 18x DVD±R, 10x DVD+R DL, and 8x DVD-R DL capability along with 16x DVD-ROM and 48x CD-ROM speeds among its features. The current retail kit ships with the Roxio CD and DVD burning suite.
The Plextor PX-760A offered very good DVD-R and DVD+R write quality and speeds with most media. The drive took about five and three quarter minutes to write 4.7GB of data. This was not the fastest time in our tests but overall media compatibility was very good across the board. Its P-CAV writing method meant it turned in some above average numbers in our DVD+RW and DVD-RW tests. The drive was a monster in our DVD+R DL writing test as its 10x write speed resulted in a 15 minute session to burn 8.5GB of data.
The PX-760A was able to read both single layer DVD-ROM's and DVD-Videos at 16x with very good seek times. The drive hit a maximum 41x speed in our DAE extraction tests. This drive also read pressed and standard CD-R media at 48x and CD-RW discs at 42X. Of course this drive comes with a significant amount of features pioneered by Plextor along with some of the best support in the industry. The features and capabilities of this drive do not come cheap, but we think the $100 price tag is worth it in the end.
Sony
While Sony does manufacture their own optical drives, they have been providing optical drives based upon some of the better known OEM units for quite some time. They were also a leading pioneer in the development of the first compact disc standards and introduced the first dual format DVD writer. The
Sony DRU-830A
unit is based upon the Samsung SH-S182D drive but offers an extremely elegant faceplate design along with additional features.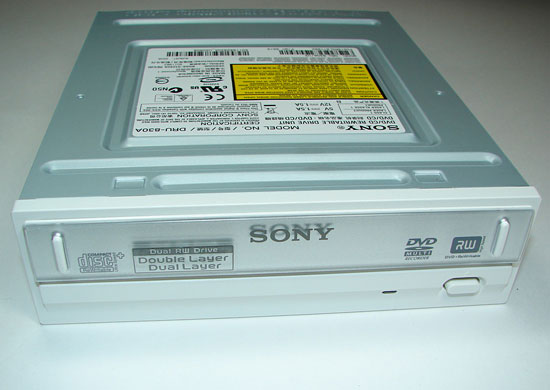 The Sony DRU-830A offers 18x DVD±R, 8x DVD+RW, and 8x DVD±R DL writing speeds with a maximum DVD read speed of 16x. The DRU-830A fully supports DVD-RAM media at 12x read or write speeds and includes 48x CD read/write speeds along with 32x rewrite capability. The drive also features Power-Burn buffer underrun protection and includes the Nero 7 CD and DVD burning suite.
We generally found the drive offered excellent DVD-R and DVD+R write quality and speeds provided we had the correct media. The drive took about five and a half minutes to write 4.7GB of data. However, its Z-CLV writing method meant it was slower than normal in our DVD+RW and DVD-RW tests. The drive performed very well in the DVD±R DL writing tests as its 8x write speed resulted in a 19 minute session to burn 8.5GB of data. Our only issue with the DVD±R DL tests was higher than normal PI/PF error rates that could be fixed in a firmware update.
The Sony DRU-830A was able to read both single layer DVD-ROM's and DVD-Videos at 16x with decent seek times. The drive also proved to be very good at audio extraction with 40x readings in our DAE tests. Overall, the drive performs very well and we would not hesitate to recommend it as one of the better DVD-RW drives on the market; with a current $20 rebate you can pick up the full retail kit for around $70.
abit: Multimedia Products
Universal abit
is the successor to the abit motherboard brand that has partnered with USI for their manufacturing and engineering expertise. The abit name will remain as the main identity for products but expect to hear more from Universal abit as the company transitions itself from strictly IT manufacturing to leading technology design and brand management. abit is entering the growing Media Center PC market with their first products that include the ViiV based IL90-MV motherboard and the iDome digital speaker series.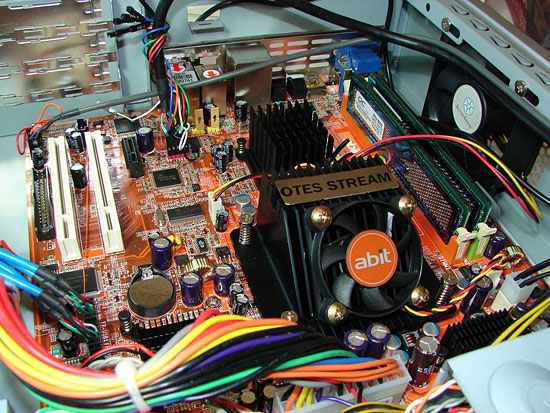 The IL90-MV micro-ATX motherboard is based on the Intel 945GT and ICH7mDH Express chipsets with support for the Core 2 Duo (Merom) and Core Duo/Solo (Yonah) processor range. Note that this is a socket 478 motherboard, supporting the standard mobile Intel CPUs. Audio support from the Realtek 882M includes full Dolby Home Studio certification, 7.1 channel output, and optical S/PDIF in and out connections. HDMI 1.2 output is fully supported by the on-board Intel GMA-950 graphics chipset with 1080P and 1600x1200 UXGA capability. The system is basically silent, thermals are terrific, and in our testing it has offered excellent performance along with very good video output.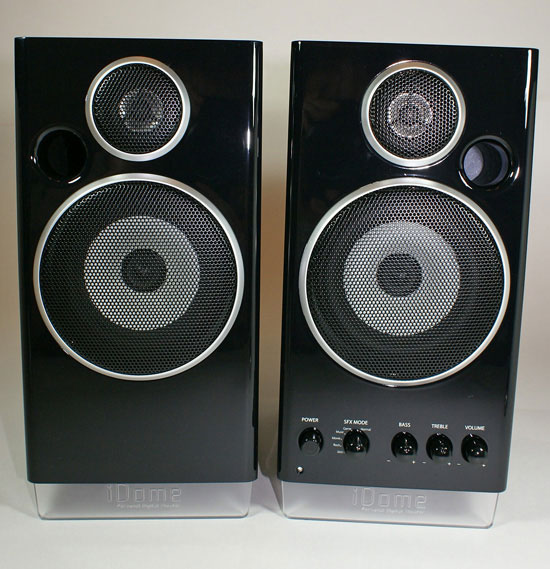 abit is introduced the iDome DS500 speaker and iDome SW510 subwoofer to the market late this summer. The iDome speakers feature a pure digital audio stream process from input to output. The speakers and subwoofer will be sold separately but the 2.1 system on display consisted of two fairly compact speakers, the subwoofer, and an integrated digital amplifier. The cost for the two speakers will be around US $115 and another US $110 will get you the subwoofer. Both units will work other manufacturer's products although for the price we recommend buying the set for best performance.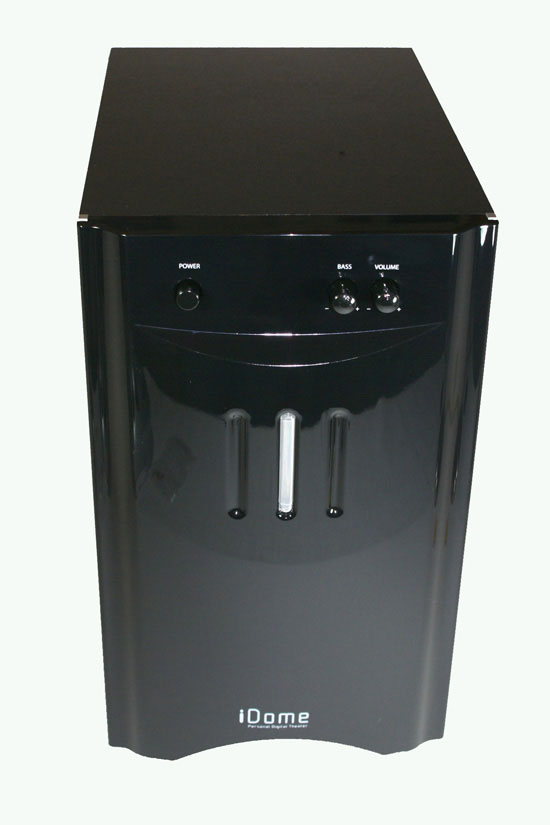 Each satellite offers 25W/per channel with the subwoofer providing 50W. The subwoofer features a 6.5 inch Super Bass driver with DBX technology providing a very deep bass tone with very little distortion in our listening tests, with the result being extremely clear audio. The satellites offer an independent 1 inch dome tweeter and 4 inch Neodymium drivers in a high quality case.
The speakers are controlled by a unique uGuru chip that allows for six different sound environments to be selected by the user dependent upon the audio stream being played. These modes consist of Normal, Game, Music, Movie, Rock, and Jazz. We had the opportunity to listen to these various modes over the course of the last three weeks and were very impressed with the satellites ability to deliver a very clean audio stream in a variety of situations from movie playback to gaming.
The highs are clear and bright with the mids being warm while extending downward to the point where there was noticeable bass response without the subwoofer while listening to music. However, for games and movies we highly recommend the subwoofer. Our only knock on the system at this time is the audio volume output is suited for the desktop or a very small room environment. abit is addressing this issue with the upcoming 5.1 system based on this technology. Otherwise, we highly recommend the abit iDome DS500/SW510 combination at this time as they are clearly one of the best 2.1 speaker sets you can purchase currently.
Final Remarks
This concludes our first piece of tech bits and bytes, and we will take a look at some interesting media products from Bluegears and Compro Technology along with a significant number of motherboards in our next article.