Original Link: http://www.anandtech.com/show/2102


Mobile History
Over the past few months, the enthusiast market has experienced a dramatic shift, as
Core 2 Duo
has proved itself to be the fastest consumer processor currently available. The interesting part about this is that Core 2 Duo as the name implies is based off the Core Duo architecture, which is in turn based off of the Pentium M architecture. While Pentium M chips never did reach the high clock speeds Pentium 4 was known for, the processor was actually very powerful and could compete well in many applications, especially when paired with a more powerful desktop platform. The dual core Yonah/Core Duo was
even more impressive
(and expensive) in Mobile On Desktop platforms, with the architectural enhancements Intel made. Unfortunately, with the exception of a few other
moderately
interesting
attempts
, Pentium M and Core Duo were basically relegated to use inside laptops.
In contrast, AMD's K8 architecture has done extremely well on the desktop during most of its life, and it is only recently that Intel has managed to regain the performance crown. Intel still continued to sell a large number of processors, in a large part due to brand recognition and large OEM connections, but the enthusiast market definitely found everything they wanted in the various AMD offerings, with one exception. Forgetting what might have been on the desktop space, Intel's mobile architecture and Centrino platform became the runaway favorites for anyone looking to purchase a new laptop, and with good reason. Sporting much lower power requirements than any previous mobile offering courtesy of the new architecture (or rather, a modification of the Pentium III architecture), Pentium M and Core Duo provided near-desktop levels of performance along with increased battery life.
Athlon 64 offered better performance per watt than Pentium 4 ever since its introduction, which seems like it should have made for a great mobile platform. While AMD did produce chips for the mobile sector, in general they remained a distant second in terms of popularity compared to the Intel offerings. Part of this may have been due to the amazing success Intel experienced with their Centrino brand name, a brand name that could only be used for laptops that included an Intel Pentium M (and later Core Duo) processor, an Intel chipset, and an Intel wireless networking adapter. In this way, Intel managed to sell three chips for every Centrino laptop, and customers were guaranteed a minimum level of performance and features. Eventually AMD tried to compete better with the Centrino platform by creating a new mobile processor, the Turion.
Turion was really nothing more than a renamed Athlon 64 socket 754 chip with lower power requirements, and while performance was still good the majority of laptop purchases continued to use Intel processors. In fact, performance wasn't merely good; due to the architectural design Banias/Dothan, there were quite a few areas where Turion was able to outperform Pentium M, and it was competitive in terms of performance per watt.
Having a competitive processor isn't enough for a laptop solution, unfortunately, as laptops are purchased as an entire unit. There were plenty of high-end Pentium M mobile offerings available, but most of the Turion designs were targeted more at the value sector, which means they often came equipped with less memory, lower end integrated graphics, slower/smaller hard drives, etc. in an attempt to keep costs down. Turion could hang with Pentium M, but once Intel launched the Core Duo offerings in early 2006 the single core Turion chips clearly became lower end options. Eventually, AMD would release dual core Turion X2 chips, hoping to once again become competitive with the Intel laptop designs.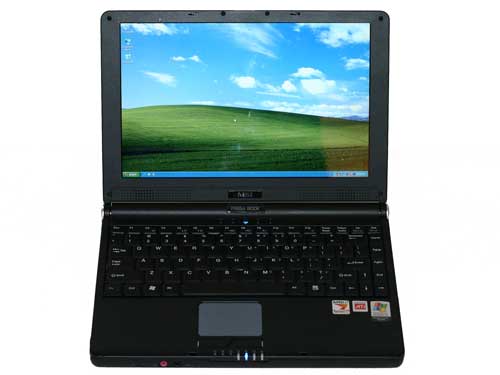 Click to enlarge
We managed to get our hands on an MSI S271 ultraportable laptop equipped with a Turion X2 several months back and planned on doing a head-to-head comparison against Intel's Core Duo. Unfortunately, various issues delayed our article and it is only now that we are finally able to present the results. Of course, Intel has now launched Core 2 Duo (Merom), raising the performance bar in the dual core mobile market.
So what sort of problems did we encounter with the MSI laptop? Once they were resolved how does it perform? In short, does it compete well with Intel's offerings, and should you consider buying one? Let's take a closer look.
Features and Overview
The MSI S271 is definitely not a high-end laptop, even though it supports AMD's fastest Turion X2 processors. However, it is a small laptop and for those users who are more interested in size rather than high-performance features, it includes just about everything you need. The cost for the basic model including a Turion TL-50 processor (1.6 GHz, 2x256K cache), 512MB of RAM, an 80GB 5400 RPM hard drive, and a dual layer DVD-RW burner is $1000. We were initially shipped a similar configuration only with a 60GB hard drive, but we also ran tests on an upgraded version in order to investigate the Turion X2 processor performance. Here's an overview of the basic features.
MSI S271 Manufacturer Specifications
Processor
AMD Turion 64 X2 processor TL-50 (1.60 GHz 2x256K L2)
Chipset
ATi RS485M + SB460 chipset
Graphics
UMA ATI RS485M, 128MB VRAM (ATI Xpress 1100 chipset)
Memory
512MB DDR2-533 SO-DIMM memory
Display
12.1" WXGA (1280x800) widescreen TFT display
PC Card Slot
Express Card x 1
Card Reader
MMC/SD/MS/MS Pro 4-in-1 Card Reader
Hard Disk Drive
80GB Hard Drive (5400RPM)
Optical Drive
8X DVD+/-RW (supports DVD RAM)
LAN/Modem
Built-in 10/100/1000 Mbps Ethernet LAN and modem Module
Wireless LAN
Built-in 802.11 b/g wireless & bluetooth connection
(MSI MS-6855B BT+WLAN miniPCI Combo Card with RALINK chipset)
I/O Ports
15 Pin Mini D-Sub x 1
USB2.0 Port x 3, IEEE1394a Port x 1
Mic-in Port x 1, Headphone Out x 1
Modem Port x 1, LAN Port x 1
Audio
Realtek ALC 882D (headphone + microphone jacks)
Battery
Li-ion 8 cells battery (4400mAHr)
AC Adapter
19V DC, 65W/Input: 100~240V AC, 50/60Hz universal
Dimension
11.93" ( W ) x 8.86" ( D ) x 1.10~1.18" ( H )
Weight
< 4.5 lbs (complete system)
Operation System
Windows XP Home Edition
Considering this is an ultraportable laptop, the feature set is basically what you would expect. It comes with a 12.1 inch widescreen display (1280x800 resolution) and weighs under 5 pounds. MSI lists the weight as 4.5 pounds for the "complete system". We checked the weight of the system alone and with the power adapter and found that their claims appear accurate: we measured 4.6 pounds for just the laptop and 5.2 pounds including the adapter and mouse (on a scale that was only accurate to 0.2 pounds, so the results are within the margin of error).
One of the major problems we have with the basic configuration is the amount of memory included. A primary reason to get a dual core processor is so that you can multitask better, right? Needless to say, better multitasking and 512MB of RAM aren't exactly a match made in heaven. Our initial testing of the platform found it to be extremely sluggish with only 512 MB of RAM -- not necessarily in actual benchmark performance, but in general use we found it to be inadequate. That's one of the problems with benchmarks: they don't always show an accurate picture of real-world use. Opening up a web browser with numerous windows/tabs along with Microsoft Word and Excel quickly uses up all of the available memory. As you begin to push the multitasking capabilities of the processor, you quickly run into a situation where the hard drive is thrashing constantly in order to keep swapping data in and out of virtual memory.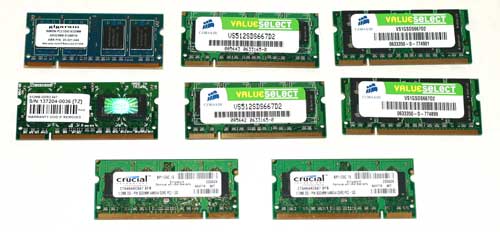 Click to enlarge
The very first recommendation we have for anyone considering this laptop (or any dual core laptop for that matter) is to get at least 1GB of memory, and if you really expect to make use of the multitasking capabilities of the dual core processor going with 2GB of RAM is a good idea, especially with Windows Vista on the horizon. We requested and received some additional memory modules from Corsair and later Crucial in order to test the system with more than 512MB of RAM, and we also requested a faster Turion X2 TL-60 processor from MSI.
Even with the upgraded processor and memory, there's still at least one area where this laptop is glaringly deficient in terms of performance. The integrated ATI Radeon Xpress 1100 graphics (roughly equivalent to the Radeon X300 SE) are at best severely underpowered. We don't have a similar laptop using Intel integrated graphics available, but we have previous results that show the ATI graphics are actually faster than most of Intel's current offerings; however, the difference between extremely sluggish 3D performance and very sluggish 3D performance isn't anything to worry about. Simply put, if you want to run any games other than solitaire, minesweeper, or other casual gaming titles, you will quickly find the included graphics to be unsatisfactory. We don't really find that to be a terrible flaw, as for business and office tasks even slow integrated graphics work fine, and you will still be able to run the Windows Vista Aero Glass interface (although performance will likely suffer compared to discrete graphics solutions).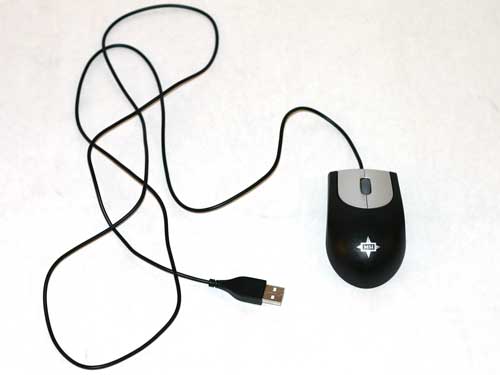 Click to enlarge
One of the nice extras that MSI includes, even if it is a relatively inexpensive item, is a small optical mouse. It probably only costs $10 to manufacture (if that), but it's one less thing you have to worry about purchasing. We are definitely not big fans of using a trackpad if there are any other alternatives available, and although we could complain and say it's not a wireless mouse it's still better than nothing. The laptop also includes other typical features: Gigabit wired Ethernet, 802.11b/g wireless networking, AC'97 audio, and an 8-cell 4400 mAHr battery. Bluetooth networking is also supported.

Click to enlarge
In terms of expansion options, starting on the right you get two USB2.0 ports, modem and LAN ports, and a VGA output. Also on the right is the power connection and the CPU fan vent.

Click to enlarge
Moving to the left is we find an ExpressCard slot, a 4-in-1 flash card reader with support for MMC/SD/MS/MS Pro
(because MS and MS Pro are totally different)
, a third USB2.0 port, and the optical drive.


Click to enlarge
Ending with the front of the unit, you also get the standard headphone and microphone jacks and a min-FireWire port. There are no connections on the rear of the unit.
There are certainly features that are missing relative to other laptops, but if you look at ultraportables the feature set is pretty typical. Unfortunately, cramming all of the necessary computer components into a 12"x9"x1.2" chassis requires some compromises to be made in terms of expansion options and features.
Internals and Construction
We mentioned that the system we originally received was essentially the base model, and since we really wanted to look at Turion X2 performance potential we had to perform some upgrades. That gave us a chance to tear open the system and see how it was put together.
One of the first major issues we have with the design becomes immediately apparent when you decide to make even the simplest upgrade. The vast majority of laptops include a small access panel on the bottom of the system that allows you to upgrade memory. Unfortunately, other than the battery latch and some ventilation, there really isn't much to see on the bottom of the laptop. If you want to add memory, you will have to pop the hood, and as with most laptops this requires removing several screws -- six to be exact. As is typical of most laptops, you will need a small Phillips head screwdriver in order to accomplish this.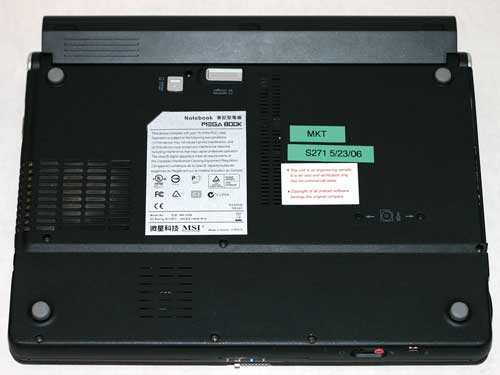 Click to enlarge
With the screws on the bottom removed, you should be able to use your fingers to pry open the front of the case. We found it was easiest to start at the left front corner, and then work your way around to the front right corner. Once this is done, you can carefully lift off the front plastic panel which includes the trackpad.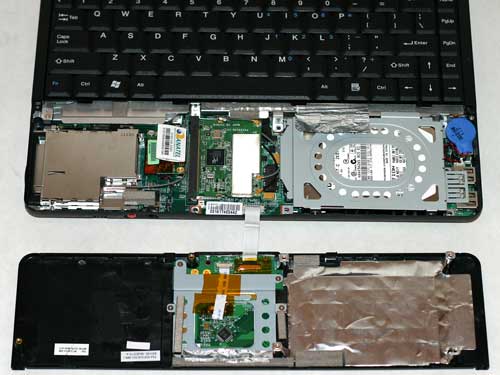 Click to enlarge
This piece is connected to the rest of the system by a ribbon cable, so be careful not to lift/pull it too far until you detach the cable. If you are working on a flat surface, you don't actually need to detach the ribbon cable, which is one less step to worry about if all you're trying to do is upgrade memory or hard drive.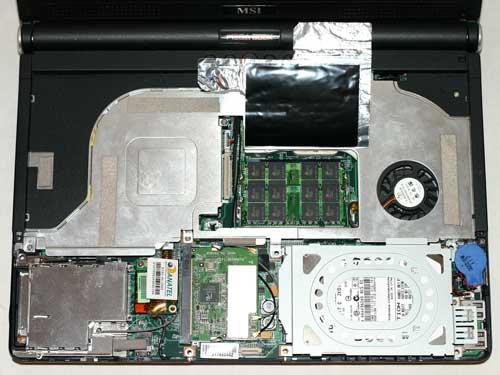 Click to enlarge
At this point, you can lift the keyboard up, exposing access to the memory slots. The keyboard is also attached by a ribbon cable, and if you don't need to do more than swap/add memory you should be able to do this without detaching the cable. Just be careful not to pull on the ribbon cable too much, as they can be damaged. We removed the cable and keyboard completely in order to get a good shot of the memory slots, which are covered by a thin sheet of foil/insulator. In the above picture, we have two Corsair 1GB SO-DIMMs installed. If you wanted to upgrade your hard drive, one more screw secures the drive bay, and once you remove that you can lift the drive out.
Click to enlarge
Getting down to the CPU requires a bit more work. First you have to remove the large plastic and aluminum panel. This is secured by one more screw on the bottom rear of the chassis and seven screws on the top of the panel. You also need to remove the hard drive in order to remove this panel. Once you have all the screws removed, you have to pry up the plastic sides in a manner similar to how you first open the case, and then slide the panel up and out. It takes a bit of effort, but if you find that any portions of the panel seem to be stuck check again and make sure you have removed all of the necessary screws.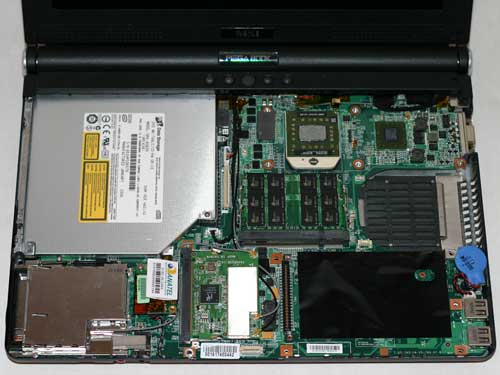 Click to enlarge
With that panel out of the way, you can see the relatively large heatsink, heatpipe, and fan assembly that cools the processor, chipset, and some of the voltage regulators. There are actually only four screws holding the heatsink in place, all in the top left portion in a rectangular arrangement. The screws won't actually come all the way out as they are connected to the heatsink, so all you have to do is loosen them and then carefully lift/pry off the cooling assembly.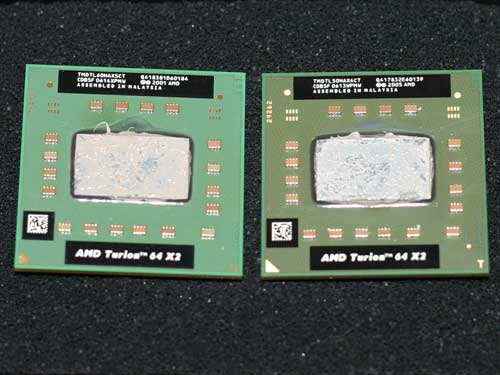 Click to enlarge
When you got all that done, it's pretty easy to remove the old processor and install a new processor. We did have to scrape off the old thermal pad before installing the new processor, as it had become hard and would likely have caused issues with cooling the processor. We used some inexpensive thermal paste when we installed the TL-60 (and later when switching back to the TL-50), and in subsequent testing we didn't notice any substantial difference in temperatures or stability. Once you've installed the new processor, reverse the whole process to put the system back together and you're done.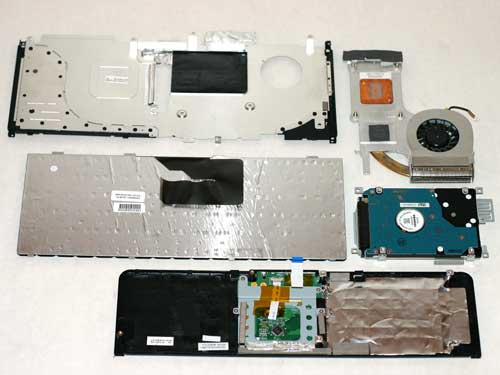 Click to enlarge
Here's a quick shot of all the pieces you will have won the system is completely disassembled. This is a picture of the bottom of all these components, since we already had various images of the tops. All told, the disassembly and upgrade process was one of the more inconvenient laptops we've dealt with, but as most people will only have to do this once or twice during their ownership of the laptop it shouldn't present too big a problem. However, given that we were testing several different configurations and had to disassemble and reassemble the system quite a few times, we grew to be none too fond of the overall design.
Besides the requirement that you take apart the front of the system just to swap memory, we encountered some problems with the wireless mini-PCI card, likely caused by our poking around inside the case. When the laptop first arrived, the wireless networking worked fine (once we got the proper drivers installed). After our first "upgrade", Windows wireless networking could no longer find our network. After a lot of trial and error, we determined that we must have bumped the card or wires in some fashion that affected the ability for the card to receive signals. We checked the connections and everything looked fine, but the WiFi networking still refused to work. We opened up the laptop again and played around with the card and the connections a bit more, turned the system back on, and the wireless network was back.
Unfortunately, it seemed every time we opened the case there was a good chance that the wireless network would fail, and eventually we reached the point where we were unable to get the wireless adapter to function anymore. Windows didn't indicate any problems other than the inability to see any networks, so most likely it was simply some point of failure in the WiFi antenna that runs throughout the chassis or on the card itself. We have used other laptops that also include bottom panel access to the mini-PCI slot, and it certainly seems that there are better locations than MSI chose, although it is also possible that we just got a flaky wireless networking card in our review unit. Our overall impression of the RALINK wireless networking card is lackluster at best, and we also discovered at one point when the card was working that the latest drivers had a severe memory leak. Thankfully, you don't have to use the RALINK networking application.
Compatibility and Stability Testing
When we first received the S271, the system worked fine in all of our tests, although as we mentioned it felt a bit sluggish due to the amount of memory. The first order of business was to upgrade the memory, and after determining that the system came with one 512MB DDR2-667 SO-DIMM from Transcend with 5-5-5-15 timings, we figured we would just pick up another generic SO-DIMM online. We went to Newegg and picked what seemed to be a reasonable choice, a budget module from Gigaram. Unfortunately, it appears that the MSI notebook was totally incompatible with this particular memory. Lesson learned: if you want to upgrade your memory in a laptop, you probably shouldn't get the cheapest memory available.
We contacted Corsair and Crucial to see about getting some sample memory after the bad experience with generic RAM, and they were happy to oblige us. One interesting note is that when we mentioned our memory incompatibility problems to MSI, they told us that the laptop didn't support DDR2-667 memory. This is somewhat interesting, considering that's what the laptop had when it arrived. Corsair sent us both a 1GB (2x512MB) kit and 2GB (2x1024MB) kit of DDR2-667 memory. The laptop did manage to POST with both memory kits, and initially we thought everything was fine. Then we started trying to run benchmarks....
After having zero issues with the included 512MB of Transcend memory, we rapidly discovered that we had severe instability problems once we upgraded to 2x512MB of Corsair memory. The laptop does seem to run a little warm when being fully stress tested, so that might seem like a potential cause, but oddly enough that's not when we had the most problems. The biggest problems seemed to occur when the laptop was idle or at least not under heavy load, and frequently it would just lock up and we would have to remove the battery and unplug the system in order to reboot. After the incompatibility with the Gigaram module, we figured there might be a problem with memory compatibility and the initial BIOS. The original BIOS was also an engineering version with a lot of debugging options and the ability to manually specify timings, although even with many attempts at tweaking the timings and memory speed we were still unable to run the system with full stability using the Corsair RAM.
At this point, we did what any sensible person would do: we updated the BIOS to the latest release. The new v1.17 BIOS release removed a bunch of the options from the CMOS setup screens; for example we no longer had the ability to specify memory speed or timings, and the debugging options were gone. So far so good, and at first the system did seem more stable. As we began to run more benchmarks, however, we eventually determined the laptop was still unstable with this memory configuration.
We contacted MSI about our problems, and eventually they gave us a new test BIOS. This test BIOS doesn't appear to be publicly available right now, but the major change seems to be that support for DDR2-667 memory is removed. Our Corsair memory is now running at DDR2-533 speeds, at 5-4-4 timings. While that is slower than the memory is supposed to run, after all of the stability issues we had encountered we were ready to take anything that would keep the laptop from crashing. We are happy to report that ever since the last BIOS upgrade the MSI S271 has been running perfectly stable in all of our tests.
Late in our testing, we also got some memory from Crucial, only this time we had them send us both DDR2-533 and DDR2-667 modules. We then went back to the latest public BIOS as of this writing. We were particularly interested in determining whether the problem was with the Corsair memory or if it was the laptop's support of DDR2-667. We started with the 1GB DDR2-533 modules, which booted at 4-4-4 timings. During a limited amount of benchmarking and testing, the Crucial memory appears to be fully stable without the beta BIOS, at least when using DDR2-533 SO-DIMMs. Having verified this, we moved on to the 2x512MB DDR2-667 Crucial memory, which has so far been running stable at 5-5-5 timings.
So what exactly is to blame for the poor memory compatibility of the S271 laptop? Given that an updated BIOS was at least able to address the issues we experienced when using the Corsair DDR2-667 memory, it seems likely that further BIOS improvements could solve the problems. If you're interested in getting one of these laptops, the best course of action for now appears to be getting DDR2-533 memory, preferably from one of the more well-known memory manufacturers. Of course, Corsair is a very well-known memory manufacturer, which is why it was particularly surprising that their memory didn't work properly with the MSI notebook.
In terms of performance, the 2GB Corsair kits was slightly slower than the Crucial 2GB kit, due to the slightly better timings which were used with the Crucial memory. The Corsair RAM should have been able to use the same 4-4-4 timings at DDR2-533, but the "compatible" BIOS revision didn't set the timings appropriately according to the SPD values, and there was no option in the BIOS to manually set timings.
In the end, performance and stability was excellent once we had the proper memory/BIOS installed, and we didn't experience any further issues. However, it would have been much better if we could have used any of the memory modules without the need to jump through hoops. This article was delayed for well over a month as we tried to determine why exactly our laptop was having so many problems, and once again we have discovered the importance of having an optimal BIOS.
General Use
So we got everything hammered out in terms of stability problems, we finally got a chance to sit down and used a laptop without having to worry about it crashing randomly. How does the laptop perform, but aspects do we like or dislike, and what should potential buyers know before making a purchase decision? Our biggest complaint is one that is very personal, so where is we didn't like this aspect of the system other people might not have any problems. We're talking about the keyboard.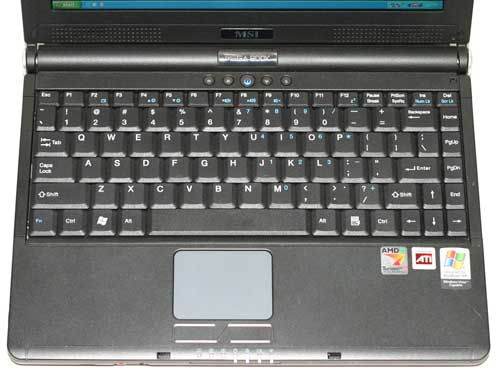 Click to enlarge
There's really not much you can do with an ultraportable laptop to address the situation, but many of us still find to keyboards to be too small and cramped. Long periods of typing became extremely tedious, and it was very easy to accidentally bump the trackpad. Other than the size, though, we really don't have too many complaints about the keyboard layout. All of the most useful keys are readily available, while the function key in the bottom left provides access to some additional keys. The trackpad is pretty typical as far as such items go, with all of the standard features like edge dragging, scrollbar support, corner functions, etc. available for configuration with the utility application. A lot of people dislike trackpads, and again the inclusion of a small mouse was definitely a nice bonus.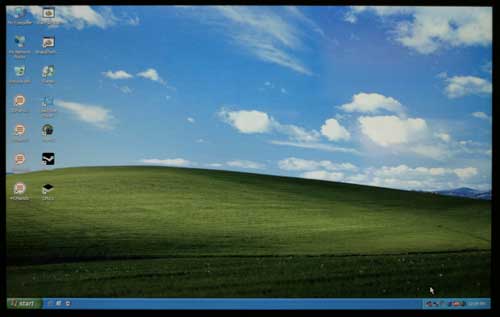 Click to enlarge
The only other feature that we really need to discuss is the display. At maximum brightness, it was fine for use indoors or for watching movies on an airplane. It does however feature a glossy coating that is supposed to enhance the color saturation and make the image look more vivid, and it seems to produce nice colors in typical lighting. However, the glossy coating tends to reflect surroundings in brighter environments, and using the laptop outdoors was difficult -- though we would say the same of nearly every laptop we have used. Response time of the display was never an issue whether we were watching movies or running other applications. Perhaps it might be an issue with some faster paced games, but you're not going to be playing those on the system anyway.
Warranty
With all of the problems we described relating to memory compatibility, one of the questions that is certain to come up is what sort of warranty you get with the MSI S271 laptop. MSI sells the laptop in two versions, the S271 and the MS-1058. The S271 is a complete system and it's supported directly by MSI. It comes with a one-year manufacturer warranty, including technical support, with prices starting at around $1000. You can also purchase the chassis as a barebones whitebook system (sometimes with a manufacturer other than MSI listed) and add your own components, and you can also locate resellers that allow you to custom configure your own laptop. The whitebook is model MS-1058, and it carries no warranty other than from the reseller. Prices start at around $700 for the barebones model.
So which would be better, the S271 or the MS-1058? The answer depends on a few factors, with price certainly being one of them. The standard configuration of the S271 really isn't very impressive, particularly in the memory department. As you can already tell from reading the previous page, purchasing the system with the intent to add your own memory later also has drawbacks, but you should be able to avoid memory issues with the advice we've provided. Those who are interested in getting a higher spec version of the notebook will probably be best off getting the bare-bones MS-1058 and adding their own parts, or going through another system integrator. Before you decide whether or not you want one of these notebooks, however, perhaps we ought to get to the testing and see what sort of performance you get.
Test Setup
For comparison, we have an ASUS A8JS that includes a Core 2 Duo T7200 processor (2.0GHz with 4MB of shared L2 cache). We were hoping to have something more directly comparable to the MSI S271, but unfortunately this was the best we could do for this article. In most areas, the ASUS laptop has better specifications, and it also has a higher base price of roughly $1600 compared to $1000. To provide a more fair comparison, we equipped the S271 with 2GB of memory and a TL-60 Turion X2 processor (2.0 GHz, 2x512K cache), and given the similarity in clock speeds between the AMD Turion X2 lineup and Intel's Core 2 Duo mobile offerings, looking at the two systems with equivalent clock speeds should provide a good point of reference. With the upgraded processor and memory, the MSI MS-1058 should cost close to $1400 (or you could simply get a Compaq laptop with similar performance and a 15" display for $1400).
We will be providing a full review of the ASUS A8JS later this week, so we're only including the comparative results in this article. Here are the test configurations.
MSI S271/MS-1058 Tested Configuration
Processor
AMD Turion 64 X2 processor TL-50 (1.60 GHz 2x256K L2)
AMD Turion 64 X2 processor TL-60 (2.00 GHz 2x512K L2)
Chipset
ATi RS485M + SB460 chipset
Graphics
UMA ATI RS485M, 128MB VRAM (ATI Xpress 1100 chipset)
Memory
2x512MB Corsair DDR2-667 SO-DIMM
2x1024MB Corsair DDR2-667 SO-DIMM
Note: RAM tested at DDR2-533 5-4-4-15 for compatibility reasons.
Display
12.1" WXGA (1280x800) widescreen TFT display
Hard Disk Drive
Toshiba 60GB 5400RPM IDE Hard Drive (MK60340GAX)
Audio
Realtek ALC 882D
Battery
Li-ion 8 cells battery (4400mAHr)
Operation System
Windows XP Professions SP2
BIOS
AMIBIOS v1.17 and beta v1.18
ASUS A8JS Tested Configuration
Processor
Intel Core 2 Duo T7200 (2.00 GHz 4MB shared L2)
Chipset
Intel 945PM Express Chipset
Graphics
NVIDIA GeForce Go 7700 512MB
Memory
2x1024MB Infineon DDR2-667 5-5-5-15 SO-DIMM
Display
14.1" WXGA+ (1440x900) widescreen display
Hard Disk Drive
Hitachi 100GB 7200RPM SATA Hard Drive (HTS721010G9SA00)
Audio
Realtek ALC 882D
Battery
Li-ion 8 cells battery (4400mAHr)
Operation System
Windows XP Professions SP2
BIOS
AMIBIOS v1.17 and beta v1.18
We ran our typical battery of benchmarks, including office, multimedia, 3D, and video rendering applications. One area that we didn't test very much is the gaming performance of the S271. We did run several gaming benchmarks, but after the first several tests we quickly came to the conclusion that the integrated graphics are so slow that there wasn't much point in continuing. 3D games from five or more years ago should run pretty well, but modern titles will struggle at best and fail to run at worst. If you're looking for a very small portable gaming solution, you will definitely want to look elsewhere.
General System Performance
We'll begin with a look at general system performance, using SYSmark 2004 and Winstones 2004 in order to analyze office and content creation performance. Both benchmark suites include a large variety of applications, from those that show no benefit whatsoever for multiple processor cores to applications that can fully utilize dual core processors. First let's took a look at the overall SYSmark 2004 performance results.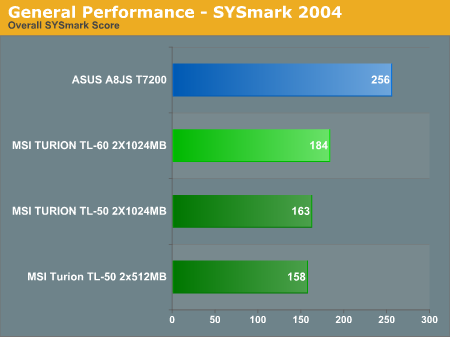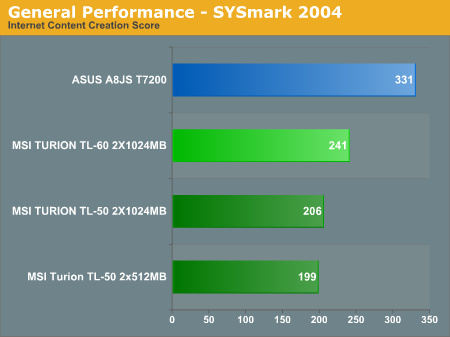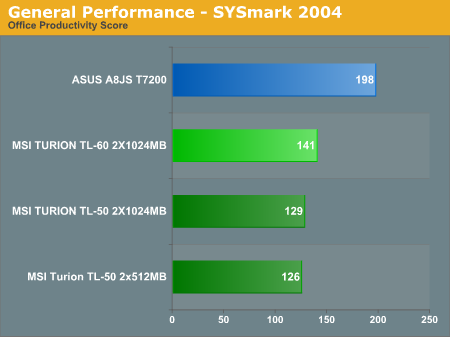 In overall performance, the Core 2 Duo equipped ASUS notebook simply puts the MSI notebook to shame. The approximately equal configurations sporting 2.0 GHz processors and 2 GB of memory still show ASUS leading by nearly 40% on average. If you're running tasks that demand maximum performance, it's pretty clear that the fastest Turion X2 processor currently available has no chance of keeping up with Core 2 Duo. That's not too surprising, considering the big brother desktop variants are in a similar situation, only with higher clock speeds. Having more memory (2GB versus 1GB) also improves performance slightly in SYSmark, though only by 2-4%. Most of the benchmark suites are several years old now, unfortunately, so they may not represent the most accurate picture of modern application performance and memory use. As we mentioned earlier, trying to work with only 512MB of RAM felt painfully slow.
SYSmark tends to be a bit more stressful on systems than other productivity benchmarks, and as such represents something of a worst-case scenario for office/business use. Let's take a look at Winstones 2004 performance to see the picture changes at all.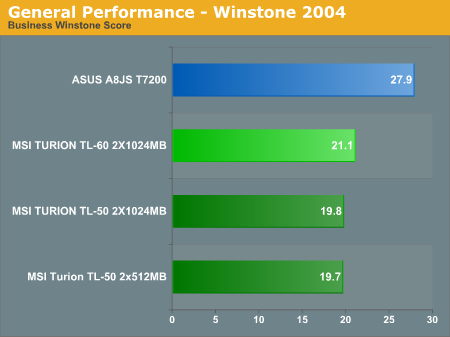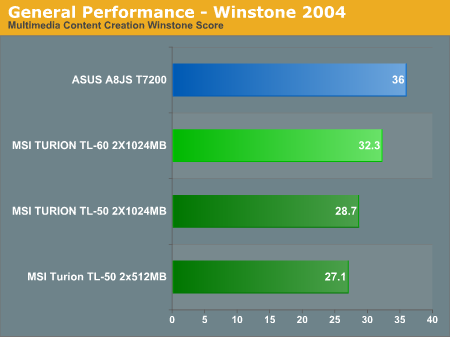 In the Business Winstones performance test, the ASUS lead drops to 32%, while the Content Creation margin is reduced to a mere 11%. Depending on the tasks and applications you are using, the difference between Turion X2 and Core 2 Duo notebooks can range from a relatively small performance advantage up through significantly better performance. Taking a broader view of the general application performance, however, an equivalent clock speed Core 2 Duo processor is clearly faster in every situation. Remember that these are benchmarks where the graphics processor really isn't doing much, and even the hard drive doesn't have a huge impact on performance. We would still like to compare equivalently equipped systems, but at best it looks like Turion X2 might be able to match mobile Core 2 Duo performance.
For those that would like to see individual results from the remaining SYSmark 2004 tests, you can see those below.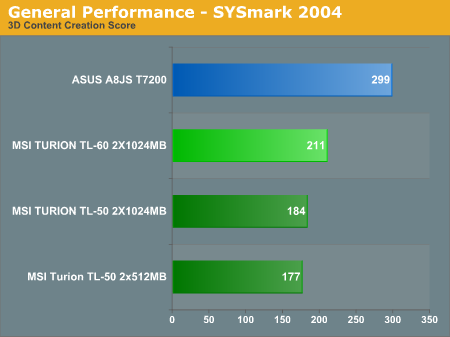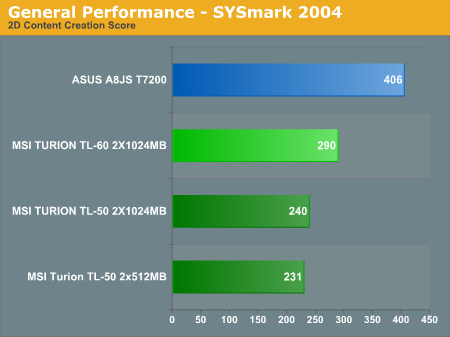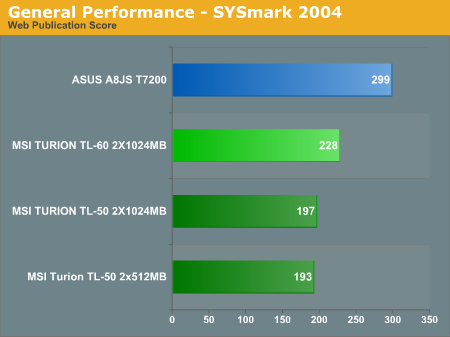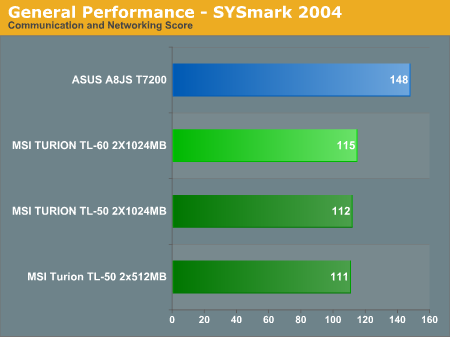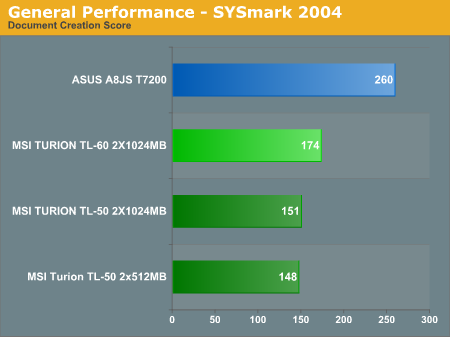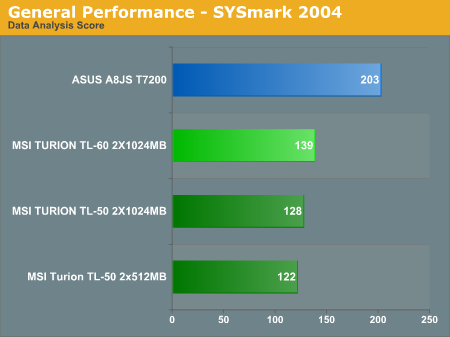 As we've already stated, Core 2 Duo swept all of these benchmarks, even when drilling down to the individual results.
Multimedia and 3D Rendering
We mentioned earlier that there are specific reasons to consider getting a dual core system, with multimedia and 3D rendering applications often showing the most benefit. We ran some video and audio encoding benchmarks on the laptops in order to demonstrate multimedia performance. For 3D rendering, we use Cinebench 9.5 in both single-CPU and multi-CPU modes. We don't have single core performance available for the multimedia benchmarks in this article, although you can get an idea of the performance advantage from
previous articles
on the subject.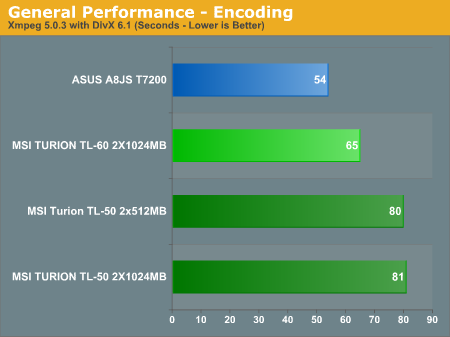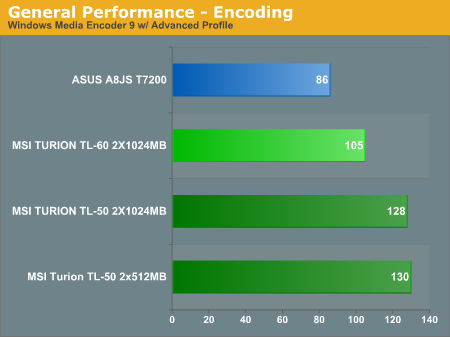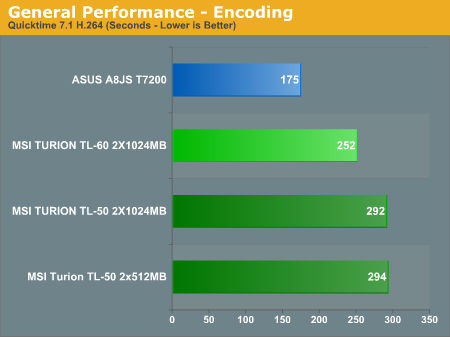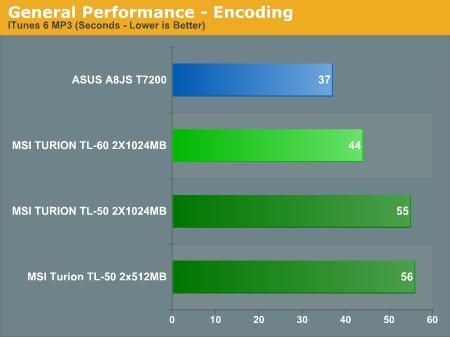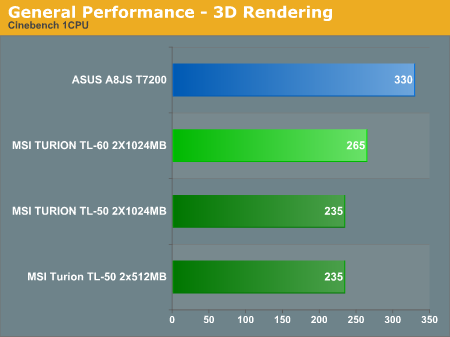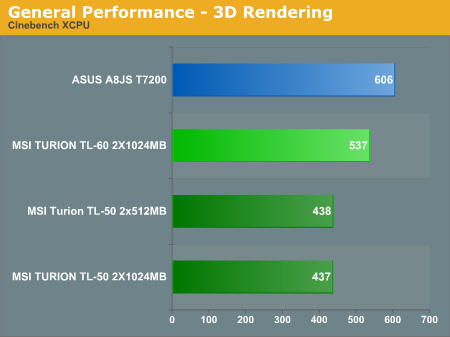 In the multimedia benchmarks, the ASUS Core 2 Duo outperforms the MSI Turion X2 by around 20% in three of the tests, while in the QuickTime H.264 encoding test the performance difference grows to 44%. For single core 3D rendering, the ASUS A8JS once again leads by slightly more than 20%, although it's interesting to note that in the multi-CPU rendering benchmark the performance lead drops to only 13%. Given how long 3D rendering can take, however, even moderate performance improvements can be very important. Of course, you can also purchase a faster Core 2 Duo notebook processor right now, whereas the TL-60 is the fastest Turion X2 currently available. If you need a high-performance dual core processor for a laptop, and you're willing to pay for it, you would probably want a CPU faster than what we have installed in either of the tested notebooks.
Battery Life
So far, we've talked a lot about performance, but one of the major reasons for getting a laptop is mobility. It's difficult to be truly mobile if you find your battery is constantly going dead, requiring you to find a power outlet so you can plug in and recharge. Thus, battery life becomes an important performance metric for any laptop review. It's also worth mentioning that the smaller size of the MSI notebook is going to appeal to some people that are after a truly thin and light notebook, while others will prefer to have a slightly larger display and keyboard at the cost of a bit more weight. Larger displays also draw more power, and of course the various other components play a role in battery life.
All this is a way of saying that we're comparing battery life and power between two very different laptops, with the only similarity being the amount of memory and processor clock speed. A smaller Core 2 Duo notebook with integrated graphics would almost certainly come with longer battery life. Still, given that both these laptops have the same 4800 mAHr battery size, we can at least see how the two systems compare.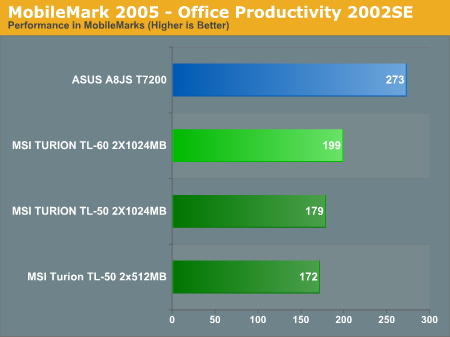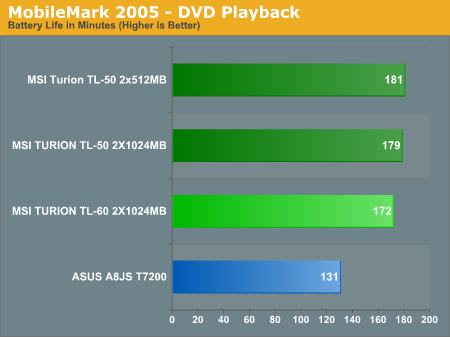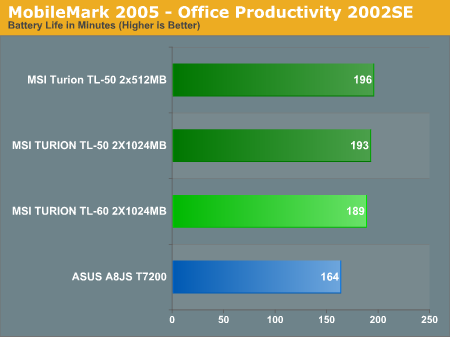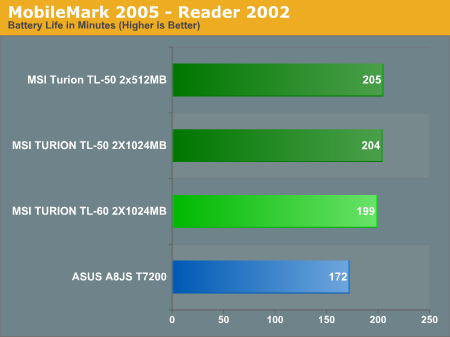 With the exception of office productivity performance, the smaller, slower MSI laptop comes out at the top of our mobility benchmarks. The ASUS notebook may be 37% faster in productivity tasks, but the MSI offers 15% more battery life. When the system is basically idle, which is represented by the Reader benchmark, the MSI system continues to have 15% more battery life. Once we get to DVD playback, things become more interesting, as the MSI offers over 30% more battery life, with just over 2 hours and 40 minutes of playback time. That should be enough to get you through all but the longest DVDs, as well as most continental US flights. Given that the displays are active throughout testing in all of the battery benchmarks, we're not exactly sure why the DVD playback shows such a large discrepancy. It could be that the optical drive on the MSI notebook is simply better at conserving power, or else the MSI system is more efficient when it comes to handling MPEG-2 decoding and video output. Most likely, DVD playback is causing the GeForce Go 7700 GPU in the ASUS system to increase its power use.
If you want longer battery life, you basically end up with a few options. The first option is to simply get a larger battery, which may or may not be possible depending on what notebook you have. Both of these laptops include 4800 mAHr batteries, whereas larger laptops can often be configured with 8000 mAHr or larger batteries, so the second option is to look into getting a larger laptop that comes with a larger battery. The Dell E1705 with X1400 graphics is a good example of this option, and you can see the
battery life we measured in our review
. Of course, larger batteries also mean more weight to carry around, not to mention the weight of the larger laptops. Depending on the laptop model, versions that use IGP instead of discrete graphics will often have longer battery life (as seen in this comparison with the ASUS). A final option is to simply purchase a spare battery (or batteries) so that you can swap batteries when one runs low. This also adds to the weight you carry around, but other than the periodic delay to swap batteries, your total battery life is only limited by how much you're willing to spend and how much you want to carry.
Power
Closely related to battery life is the topic of system power draw. After all, a system that requires more power to run will typically provide less battery life. We used a Kill-A-Watt device with the batteries removed in order to record system power requirements. We also tested with minimum and maximum display brightness to show how that particular setting affects power draw, except on the maximum load where we used the brightest display setting. Please note that these are most definitely not equivalent configurations: the ASUS has a larger LCD, faster GPU, and a larger 7200 RPM hard drive, all of which should increase power use. Here are the results.
System Power Draw (Watts)
Boo! Scared you!
Idle
100% CPU
Maximum
ASUS A8JS
26-32
47-52
71
MSI TL-50 2x512MB
17-21
43-48
58
MSI TL-50 2x1024MB
17-22
45-50
61
MSI TL-60 2x1024MB
19-24
50-56
66
The MSI configuration with the slower TL-50 processor clearly consumes the least power. However, what's interesting is when we get to the "equivalent" configurations. The ASUS laptop still has a faster graphics processor, but what's particularly interesting is that it's the idle power consumption that really seems to affect battery life of the ASUS laptop the most. When the CPU is under full load, the ASUS system actually uses less power than the TL-60 MSI configuration. Adding graphics work to the CPU load results in the ASUS using slightly more power, but considering the higher performance it offers the extra 5W is a reasonable sacrifice. The problem comes in idle power draw, where the ASUS laptop consumes 7-8W more power than the MSI TL-60.
This leads us to an interesting conclusion in regards to battery life and power requirements. First, at maximum load the GeForce Go 7700 really doesn't apprear too bad, all told. At idle, the GPU seems to hurt the ASUS in power draw, although it could also be that the Core 2 Duo chip isn't dropping to as low a power state relative to the Turion X2. The likely explanation has to do with the old topic of AMD's integrated memory controller, along with CPU clock speeds. Both the Core 2 Duo and Turion X2 regulate processor speed by changing the CPU multiplier, but the final result is different.
First, the Turion X2 has a lower minimum multiplier of 4X with a HyperTransport bus speed of 200 MHz, resulting in a CPU speed of 800 MHz. That might seem like a relatively slow processor these days, but if your system is just sitting idle you don't need a lot of unused clock cycles. In contrast, Core 2 Duo has a minimum multiplier of 6X with a bus speed of 166 MHz, resulting in a minimum clock speed of 1000 MHz. Right there, Core 2 Duo is running 25% faster (proportionately) in its lowest sleep state.
Going back to the integrated memory controller, AMD also reduces your memory performance along with the slower CPU speed in order to further conserve power. AMD bases your memory speed off of the CPU speed, and in the case of the TL-60 using DDR2-533, at maximum CPU speed the memory is running at CPU/8 or DDR2-500. When the CPU goes into sleep state, the memory divider is also modified. In the sleep state, the memory runs at CPU/5 or DDR2-320. Memory and CPU voltages are also reduced, so the net result is that AMD is able to use less power when the system is in an idle state.
Does that make the Core 2 Duo worse at power saving than Turion X2? Without equivalent setups (i.e. both using IGP or both using discrete GPUs), we can't say for certain. We can say that an ASUS W5F with a T2300 chip (1.67GHz 2MB cache) that we had at one point bottomed out at 19W in idle mode, so Core Duo and Turion X2 appear close in low power states, with Turion X2 perhaps holding a slight 1-2W advantage. Our
testing of Core Duo vs. Core 2 Duo
showed the CPUs to be nearly equal in power draw, so it appears AMD is equal or slightly better than Intel at minimum power draw. At maximum power draw by the CPU, Turion X2 is definitely using more power than Core 2 Duo, as even with higher performance/power components the ASUS A8JS still uses less power than the MSI TL-60 at 100% CPU load.
Temperatures
So with the information on power requirements and performance, some of you are probably wondering how hot these systems get. Are they truly "laptops", or would they be more at home on the top of a desk or table instead? We checked temperatures over the surfaces of both systems in their maximum configurations at full load. The systems were placed on a flat, hard table surface with an ambient temperature of 23°C.
System Temperatures (Celcius)
Trick or treat?
Palm Rest
Keyboard
Bottom
Exhaust
ASUS A8JS
25-32
31-36
25-39
46
MSI TL-60 2x1024MB
27-31
31-38
29-41
48
There are several factors at play here. First, from the power requirements we know that the ASUS laptop is only consuming slightly more power. This is counteracted by the fact that it has a larger surface area, resulting in overall lower temperatures. We didn't tear apart the ASUS system in this article, but the cooling configuration is also slightly different, and there are more vents on the bottom of the ASUS A8JS. Both systems remained quiet during use even under maximum load (right around 30 dB, which is the limit of our SPL meter), but the ASUS was slightly (< 2 dB) louder during gaming sessions where the GPU and CPU are both active. More fan noise means more cooling power, which can also account for the lower temperatures on the ASUS system.
The surfaces of both laptops range from just slightly higher than room temperature up to moderately warm. Neither gets extremely hot, and most people would be okay with placing these systems on your legs, even with direct skin contact
(don't mind the sweat)
. The only real problem we have with using either system on your lap is that this would tend to block the system fan intake, which could lead to higher temperatures and possibly even stability problems. We did use both systems in less ideal situations where the fan intake was at least partially obstructed, however, and didn't encounter and issues.
A Quick Look at Gaming/Graphics Performance
One area that we've mentioned a couple times but which we haven't actually addressed yet is the graphics performance of the two systems. We ran 3DMark03 and 3DMark05 on both laptops (3DMark06 requires SM3.0 support and as such was not able to fully run on the MSI notebook). We will also include PCMark05 performance here, simply because it fits in well with the rest of the Futuremark benchmarks. Because we are also interested in looking at how the Core 2 Duo compares to an equivalently clocked Turion X2, we would like to include the CPU results from both 3DMark applications, but the graphics chip has such a large impact on those scores that they are basically meaningless unless you have equivalent GPUs.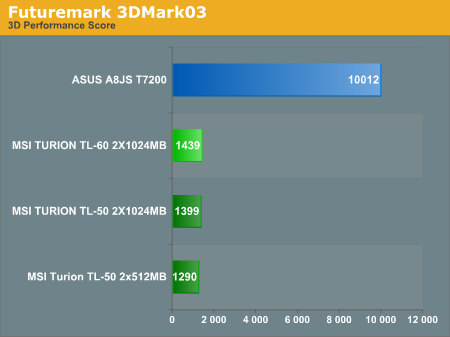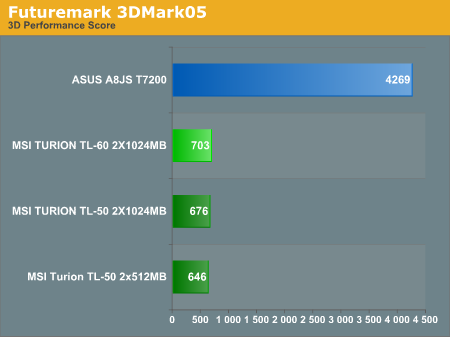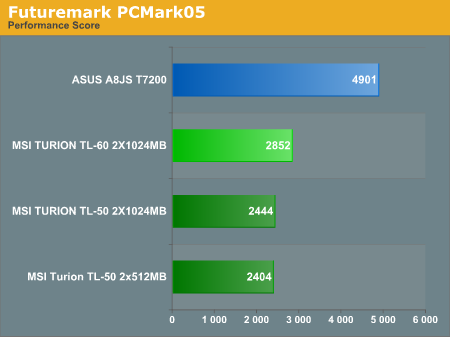 In the 3DMark tests, the MSI system's ATI Xpress 1100 IGP simply gets pummeled by the much more powerful GeForce Go 7700. The ASUS laptop is six times faster in 3DMark05 and seven times faster in 3DMark03, and it is also capable of running 3DMark06. PCMark05 also includes some graphics tests as part of the overall benchmark, and that combined with a faster hard drive accounts for the more than 70% performance advantage that the ASUS holds. As the earlier benchmarks showed, the Core 2 Duo T7200 is also faster than the Turion X2 TL-60, but the largest difference we saw earlier was around 40%, with the average performance advantage being closer to 30%.
As a final indication of how inadequate the ATI Xpress 1100 is when it comes to rendering modern 3D graphics, we ran our Half-Life 2: Lost Coast benchmark in both high quality and low quality graphics modes at 800x600 and 1280x800 resolutions. In the high-quality mode, we turned on all of the quality features, set anisotropic filtering to 8xAF, enabled HDR rendering, but left antialiasing disabled. For low quality graphics, we set all of the graphics options to the minimum, and we set the filtering level to trilinear. (We could have dropped it to bilinear filtering, but the performance difference wasn't noteworthy.)
Half-Life 2: Lost Coast (FPS)
Happy Halloween!
800x600 LQ
1280x800 LQ
800x600 HQ
1280x800 HQ
MSI TL-50 2x512MB
17.49
11.79
8.57
4.34
MSI TL-50 2x1024MB
18.19
12.26
8.94
4.54
MSI TL-60 2x1024MB
19.12
12.56
9.13
4.59
The high-quality graphics mode certainly wasn't going to be playable by any stretch of the imagination, but single digit frame rates even at low resolutions should help give you an idea of how slow the IGP is, and the sad thing is that the Xpress 1100 is almost twice as fast as the Intel GMA950. Dropping to minimum quality graphics, we are still unable to get playable frame rates. 640x480 would be a bit faster, and if we disabled DirectX 9 support Half-Life 2 would probably become playable, at which point you might as well go back and play the original Half-Life -- that can be run on the MSI laptop without any problems.
There are other 3D games available that would actually perform better, but we can say for certain that Quake 4, Doom 3, F.E.A.R., Oblivion, and just about any other 3D game we've used in any recent article would not perform acceptably. Basically, the system provides the bare minimum of 3D graphics support that we would recommend these days and not much else. A lot of people don't need 3D graphics, so that's okay, but there are certainly other options available that include better graphics for a small increase in price. Unlike desktop systems, there's no way to add better graphics to many laptop computers, so just make sure you are absolutely certain you will never need 3D graphics performance (Windows Vista) before you purchase a new laptop that only includes an anemic IGP solution.
Closing Thoughts
So there you have it, our first look at a Turion equipped laptop, which also happens to be a dual core Turion X2. Unfortunately for AMD and MSI, the conclusions we can reach are none too surprising. Intel offers better performance at equivalent clock speeds with Core 2 Duo desktop processors versus AMD Athlon X2 processors, and that performance advantage extends to the mobile sector as well. There are a few points in Turion X2's favor, however.
First, it should be less expensive than any of the Core 2 Duo equipped laptops. Second, AMD's low-power state seems to require a bit less power than Intel's low-power state (we would need "identical" configurations to say for sure). Related to the power draw, battery life appears to be slightly better with Turion X2 than with Core 2 Duo, at least if the system is generally idle. The flipped side is that Turion X2 under full load uses more power than Core 2 Duo, so if you intend to run CPU intensive tasks while on battery power it will have less battery life.
Taking a look at the big picture, the MSI S271 and Turion X2 should be more than fast enough for typical business/office use. If you're just looking for a reasonably priced ultraportable laptop and you like the thought of having the extra processor core available when you need it, the MSI S271 should keep you satisfied. That doesn't mean it's better than other options on the market, but it is at least competitive.
We definitely had problems with memory compatibility during our testing, and that can be a problem with just about any laptop currently available. The name brand memory suppliers are usually a safe bet, but in this case it appears that the MSI S271 BIOS is still in need of compatibility tuning. As we mentioned earlier, the whole point of getting a dual core notebook seems to be improved multitasking performance, so having more than 512MB of memory definitely makes sense. In fact, we wouldn't recommend the purchase of any laptop with less than 1GB of memory these days.
If Turion X2 had become available at the beginning of this year, around the same time that Intel launched the Core Duo platform, it would have been much easier to recommend. There are almost certainly areas where Turion X2 would show a performance improvement over Intel Core Duo. If you're trying to decide between a Core Duo laptop and a Turion X2 laptop, overall we would say it's pretty close to a tie, so you should focus on features and other extras that might be important. If you are more concerned with performance, you will either want a better CPU, GPU, or both.
We mentioned in the beginning that the majority of laptops with AMD processors have often been targeted at the budget sector, so they eliminate many higher performance features that people find useful. Unfortunately, that situation doesn't seem to have changed much with the release of Turion X2. While you can certainly find low-end Core Duo notebooks that feature integrated graphics and few expansion options, there are also many midrange and high-end solutions available. The most powerful Turion X2 laptop we can currently find is a 17 inch widescreen model, also from MSI, which includes GeForce Go 7600 graphics: the MSI MS-171772; Compaq and others make similarly equipped notebooks. The good news is that you can find these starting at around $1300, so the price difference is pretty reasonable, although not everyone wants a larger notebook.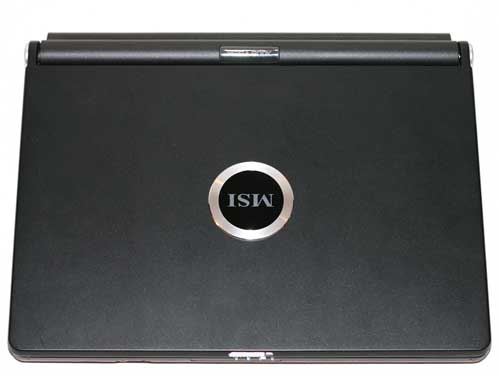 Click to enlarge
In the end, despite the difficulties we initially experienced during benchmarking and testing this laptop, the MSI S271 really isn't that bad. It looks nice, it performs reasonably well, and it's very portable. Battery life is good, and the only real problem we had was memory compatibility. (We also had a problem with the wireless networking, but we would suspect that we caused the issue during our frequent hardware changes.) "Not that bad" is not the same thing as being good, unfortunately.
The internal design could definitely use work, as we don't like having to pry open the system just to install or upgrade memory. The laptop is also clearly a budget dual core model, as most of the components are on the lower end of the performance spectrum. The integrated graphics in particular could present a real performance bottleneck in the next year or so. If you're okay with avoiding 3D applications and sticking with Windows XP rather than upgrading to Windows Vista, then the MSI S271 should suffice. Then again, if you're okay with those limitations, just about any laptop is likely to "suffice". Our overall feeling concerning the MSI S271 is that it is unremarkable.
Taking a look specifically at the Turion X2 lineup, it looks like AMD has a tough road ahead for their mobile sector. They are definitely competitive in terms of battery life and price, but they trail in all our performance benchmarks.
(Note that we're talking about CPU benchmarks like 3D rendering and video encoding, which are pretty consistent regardless of chipset and other factors.)
The problem AMD faces is the same old story of getting manufacturers to build systems based around their platform rather than an Intel platform. If all the offerings are lower-end budget designs, the market perception can become skewed, when in fact it's as much component choice as CPU that's affecting the results.
How do they convince manufacturers to build higher-spec notebooks using Turion X2 CPUs? In the gaming arena, particularly in laptops, the graphics processor is going to be far more important than the CPU choice, so some midrange Turion X2 offerings with better graphics should be able to offer a pricing advantage while offering similar gaming and battery life performance. All other components being equal, the Core 2 Duo should offer more CPU performance than Turion X2, but both will be GPU limited in virtually any modern 3D game.
Finally, it's worth noting that the slowest Core 2 Duo mobile processor is currently the T5500 (1.66GHz 2MB cache), which is only slightly cheaper than the T7200 (2.00GHz 4MB cache) we tested today in the ASUS A8JS; the fastest Core 2 Duo mobile processors already reach 2.33 GHz, albeit at a much higher cost. Meanwhile, the TL-60 is currently the fastest Turion X2 available, and at present it is priced slightly higher than the T7200 while offering less CPU performance. AMD doesn't really have a truly high-end mobile CPU offering that can compete with a Core 2 Duo T7200 or higher, so that market will continue to belong to the top Intel CPUs (for those that are interested in spending $3000+ on a laptop), but we hope to see more midrange and lower configurations that will be worth considering.
If we were looking to get a low cost dual core laptop right now, we would be far more inclined to go with the HP Compaq nx7400 for $60 more, which includes 1GB of memory and an Intel Core 2 Duo T5600 processor. We're also not sold on the need for dual core CPUs in an ultraportable laptop; sure, you can do it, but most of us would rather have a 14" or larger display if we're talking about a higher performance dual core laptop. If you're after an ultraportable with long battery life, it might actually be advantageous to stick with single core offerings and worry less about CPU performance anyway.
If you want a dual core laptop, we would recommend most people spend a bit more money, as we feel the best designs start at closer to $1500 rather than $1000. If you just want a reasonably fast, inexpensive 12.1" laptop, the MSI S271/MS-1058 is an option to consider, but it has some drawbacks that we've covered in this review. We will have a full review of the ASUS A8JS shortly, and other than the shorter battery life we have found it to be a far more desirable laptop than the MSI S271.