Original Link: http://www.anandtech.com/show/2087


Intel's Paul Otellini kicked off this year's Fall IDF with the first keynote of the show and as always, we've got coverage of the event: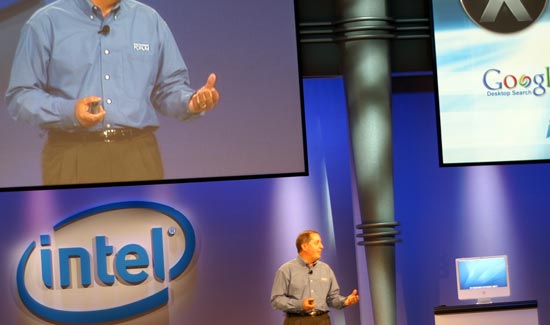 Yes, that's a Mac on stage at an IDF keynote
Paul's keynote marked the first time an Apple representative was on stage at an Intel IDF keynote as Apple's Phil Schiller tooted Apple's horn for completing the Intel processor transition: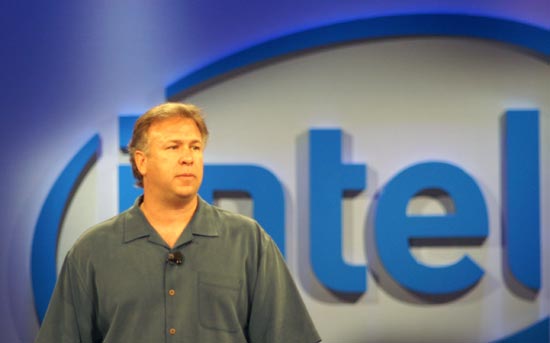 There were no new Apple announcements and the portion of the keynote that covered Apple was relatively useless, but it was an interesting moment to note just for its historical significance as the first real Apple presence at an IDF keynote.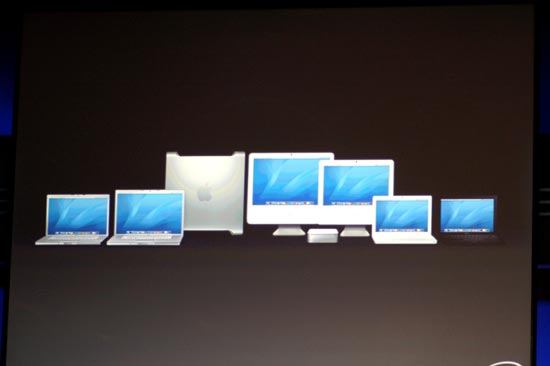 Halfway to 65nm
September is an important month for Intel, as it marks the first month where there will be more 65nm than 90nm processor shipments.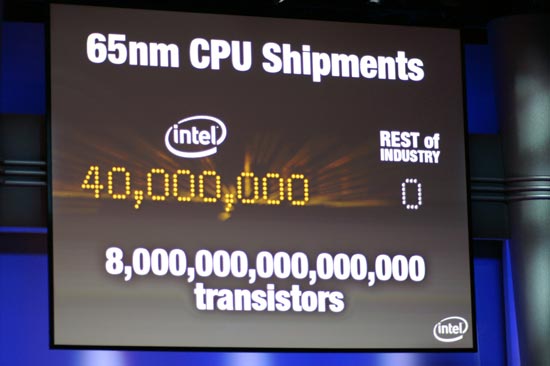 Next week Intel will have shipped its 40 millionth 65nm chip, and it was quick to point out that the rest of the industry has yet to ship a single 65nm chip. Of its 40M 65nm chips, only about 5 million of them have been Core 2 based processors, really putting into perspective the vast number of Intel processors that are still NetBurst or Yonah based.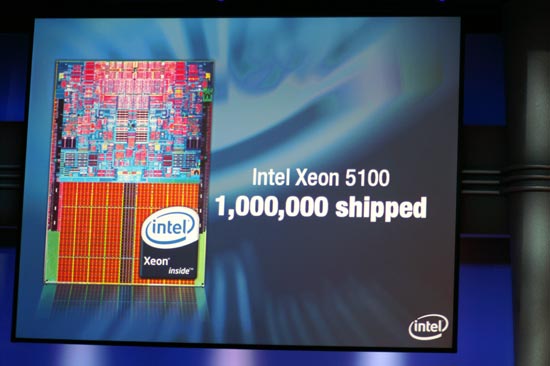 On the server side, Intel has shipped 1M Xeon 5100 series processors based on the new Woodcrest core. Once again if you look at the 40M number from above, it's barely a drop in the pool of shipments.
45nm Awaits
Along with an update on shipments, Otellini's keynote today gave us a small update on Intel's manufacturing processes.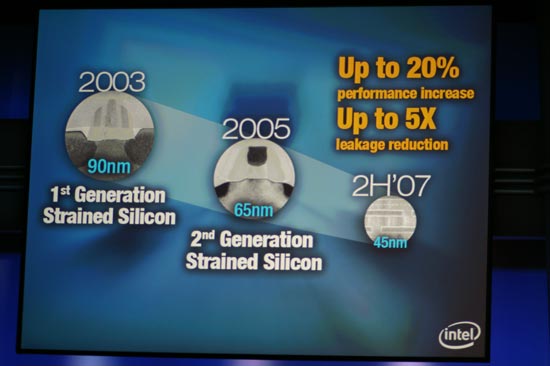 In the 2nd half of 2007, Intel will begin its transition to a 45nm manufacturing process. The 45nm version of today's Core 2 processors is codenamed Penryn and will be among the first chips to use Intel's new 45nm process. In addition to Penryn, there are 15 other 45nm processors that are currently in development, with the first design due to be complete in the next quarter.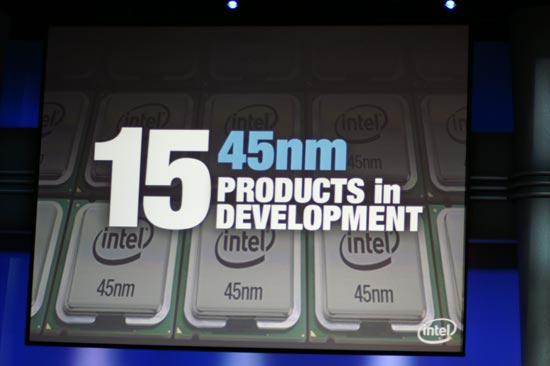 Currently there's one 45nm fab up and running: Fab D1D in Oregon, which is producing test wafers now.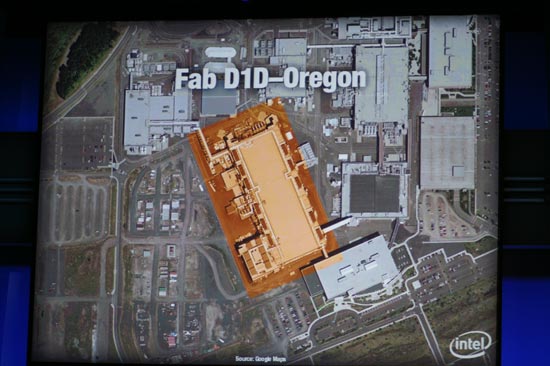 There are two more 45nm fabs under construction that will help the transition once they come online: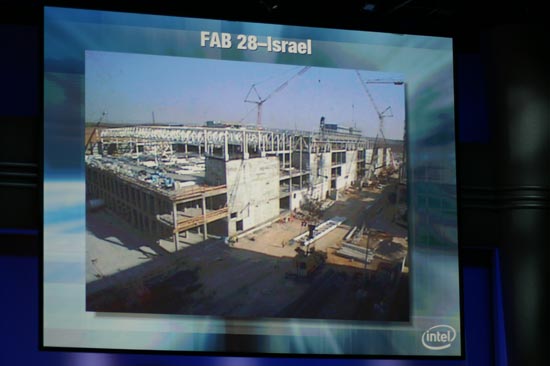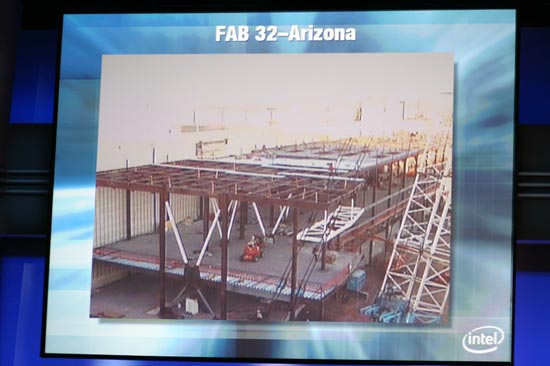 Once all three 45nm fabs are up and running the total investment will have been $9B and provide Intel with 0.5 million square feet of cleanroom.
Looking even further into the future the successor to Intel's Core architecture, codenamed Nehalem, will use its 45nm technology and by 2010 Intel's Gesher microarchitecture will be built on 32nm.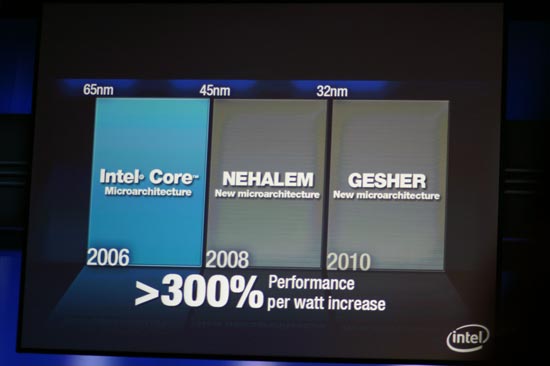 Quad-Core in November
Intel's first quad-core processors will be released in Q4, and thus there's quite a bit of talk at IDF about Kenstfield (desktop) and Clovertown (server).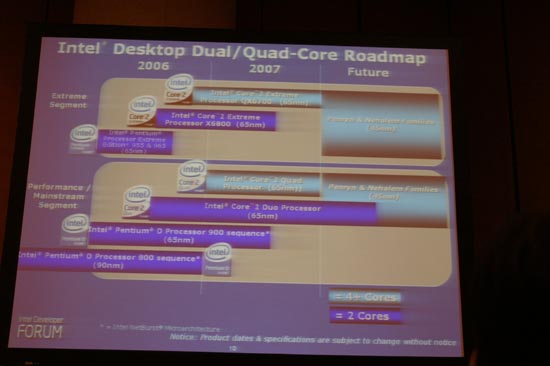 The first desktop quad-core processor will be the Core 2 Extreme QX6700 running at 2.66GHz, shipping in November of this year. Next year, Intel will introduce the Core 2 Quad Q6600 running at 2.40GHz. The transition to quad core CPUs will be much like the transition to dual-core CPUs in that for quite a while, the fastest processors will be offered in dual core flavors with slightly slower models available as quad-core.
Just like Intel's Presler processors, Kentsfield will actually feature two individual die on a single package (two dual-core processors on one package):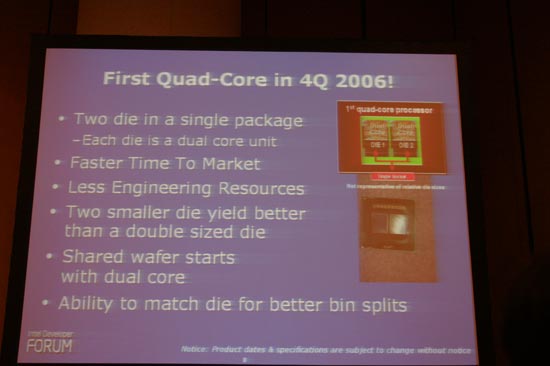 While having two independent dual-core die isn't as fast as a single integrated quad-core die, we expect the performance penalty to be minimal in most applications (just as it was with the first dual core Intel chips). There are some benefits to using two independent dual-core die on a single package, which are highlighted above. They mostly relate to manufacturing and optimizing costs/production and thus won't be directly visible to the end user. If history repeats itself, we should expect Penryn (45nm) to be Intel's first single die quad-core desktop processor.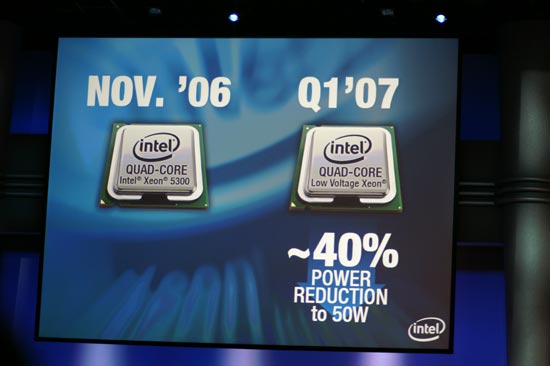 On the server side, Intel will launch its quad-core Xeon 5300 series in November alongside Kentsfield on the desktop. The Xeon 5300 will also be composed of two dual core die on a single package, codenamed Clovertown. Even more interesting is the Low Voltage quad-core Xeon due out in Q1 '07 that will offer four cores in a 50W power envelope.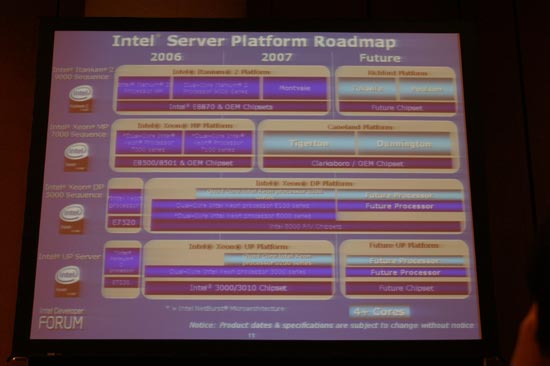 Next year Intel will also introduce its Caneland server platform for four socket servers, updating the Xeon MP platform to include support for Fully Buffered DIMM and four independent FSB interfaces - one for each socket.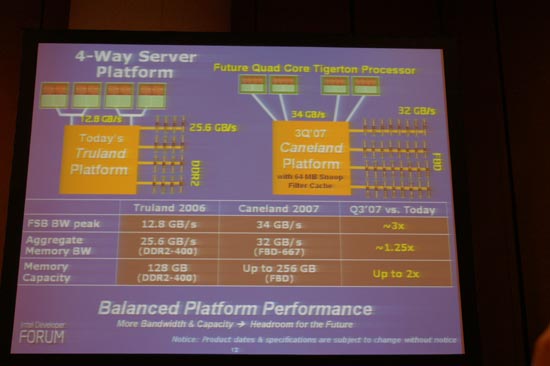 While AMD's Direct Connect architecture is obviously a lot cleaner/simpler than requiring a MCH with four 64-bit FSB interfaces, until Intel eventually embraces an on-die MCH this is the best it can do. In order to help manage the CPU-to-CPU requests in the platform, Intel is also equipping the MCH with a 64MB Snoop Filter cache. Years ago Micron talked about equipping a chipset with an on-die L3 cache to help improve performance, and it's looking like Intel will be doing just that with its Caneland Xeon MP platform in Q3 '07.
Multi-core in Gaming: Alan Wake demoed
Markus Maki, Founder and Chairman of Remedy, came on stage to demonstrate the latest build of Alan Wake on an overclocked Core 2 Quad system. The Kentsfield based CPU was running at 3.73GHz and ran the game just fine without any slowdowns: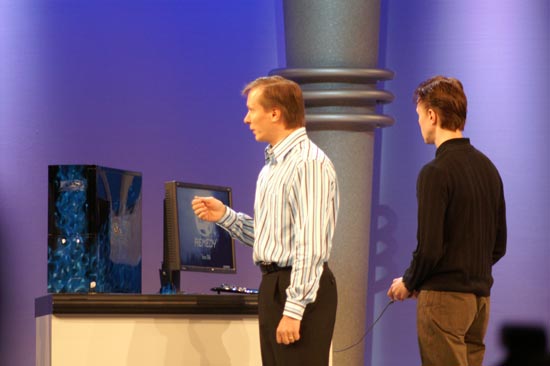 According to Markus, Alan Wake is multithreaded and uses dedicated threads for physics, rendering and data streaming. One of Alan Wake's most unique features is its dynamic weather, and the tornado in action below used an entire core to achieve its effects: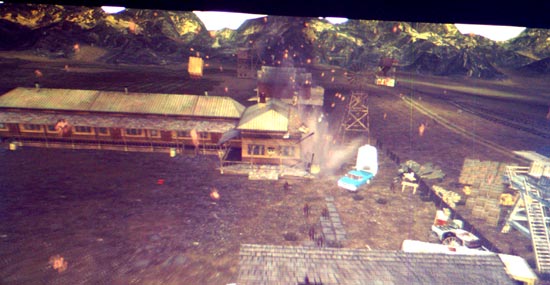 Intel's Answer to Cell: The Teraflop chip
When Sony's Cell architecture was first introduced, everyone looked to Intel for an answer - and the best we got was that the foreseeable future of multi-core computing would be x86 based. When Cell was first announced, a processor with 9 cores was unheard of as we were just being introduced to Intel's dual core offerings and quad core was just a pipedream. By the time the PlayStation 3 launches, dual socket Xeon systems will be able to have the power of 8 very powerful x86 cores and all of the sudden the number of cores in Cell stops being so impressive. But there is quite a bit of merit to Cell's architecture and design, as Intel has alluded to many times in the past, and today Intel showcased a processor that is very similar in design.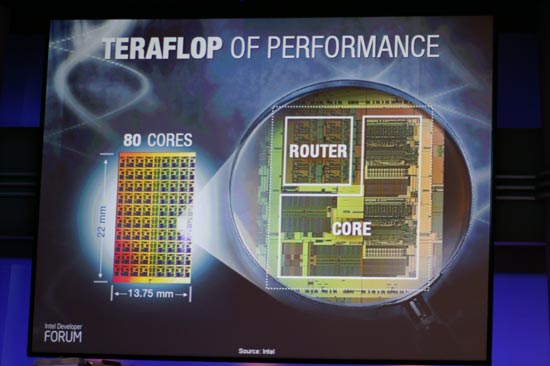 Intel outfitted a single chip with a total of 80 very simply cores, that combined can execute a peak rate of 1 trillion floating point operations per second. Each core uses a very simple instruction set, only capable of executing floating point code, and are individually quite weak. But the combined power of the 80 cores is quite impressive, and it's directly taking a page from the book of Cell. While Cell's SPEs are likely more powerful than each of the cores in the teraflop chip, the design mentality is similar.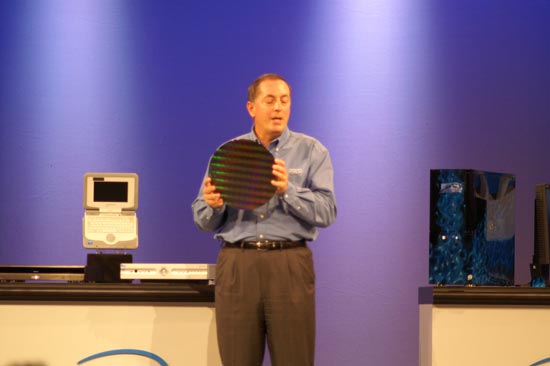 The facial expression is a side effect of holding a wafer of teraflop chips
Intel showed off a wafer of these teraflop chips, with a target clock speed of 3.1GHz and power consumption of about 1W per 10 gigaflops - or 100W for 1 TFLOP. The chip is simply a technology demo and won't be productized in any way, but in the next 5 years don't be too surprised if you end up seeing some hybrid CPUs with a combination of powerful general purpose cores with smaller more specialized cores.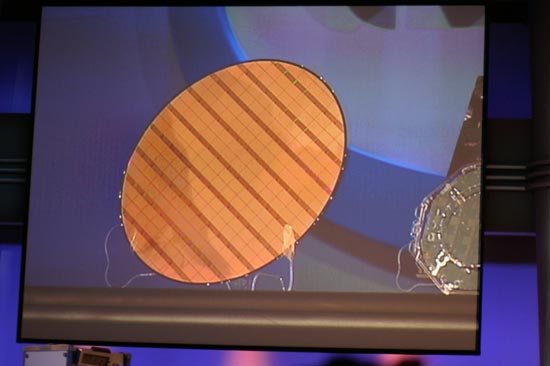 Toshiba's 2nd gen HD-DVD Player
An unexpected gem on stage with Otellini at today's keynote was an early version of Toshiba's 2nd generation HD-DVD player. We're expecting significant improvements to start up time with Toshiba's 2nd gen player, and Otellini confirmed that the player would be available with a sub-$500 price tag.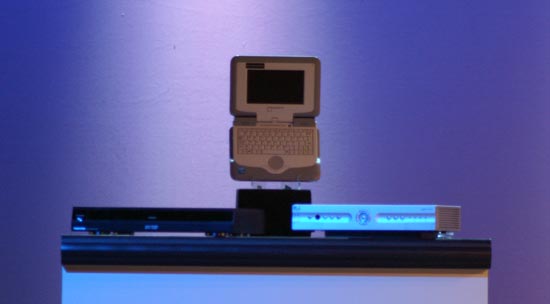 The 2nd generation Toshiba HD-DVD set top player is barely visible in the lower left of the picture
The 2nd generation player does still use Intel silicon and given the reduction in vertical height of the device, we're assuming that Toshiba is now using a Core based processor rather than the NetBurst based Pentium 4 in the first generation player.
The Only Worthwhile Viiv Related Feature
Intel devoted a small portion of the morning's keynotes to an update on Viiv, which honestly wasn't much at all. Viiv's reception has not been anywhere nearly as strong as Centrino, and we don't expect it to get any better until Intel can deliver something that is substantially more than what you can already do with a good MCE PC. Right now Viiv is more marketing and fluff than features and technology, and as such it's not something that's particularly interesting to us. There was however one interesting demo of a feature that is supported by Viiv systems from ClickStar: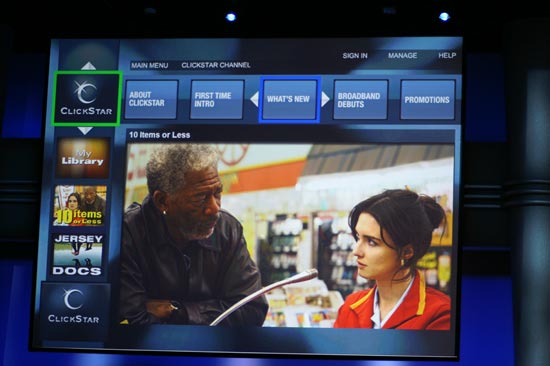 ClickStar has committed to delivering, within two weeks of the film's theatrical release, an online downloadable copy of the movie 10 Items or Less. As we inch towards a broadband delivery model for movies, simultaneous or near simultaneous online and theatrical releases of movies will become reality. We're still a bit away from that reality, but the ClickStar solution is at least a step in the right direction.
UMPC Update
Six months ago at Spring IDF everyone was talking about the Ultra Mobile PC, but with the UMPC launch long gone the world hasn't changed much at all. UMPCs, much like Tablet PCs after their introduction, are little more than toys with little function thanks to size, battery life and display constraints. Despite the lackluster market reception, Intel is still committed to developing processors for the UMPC market and firmly believes that at some point, the issues associated with these devices will be resolved.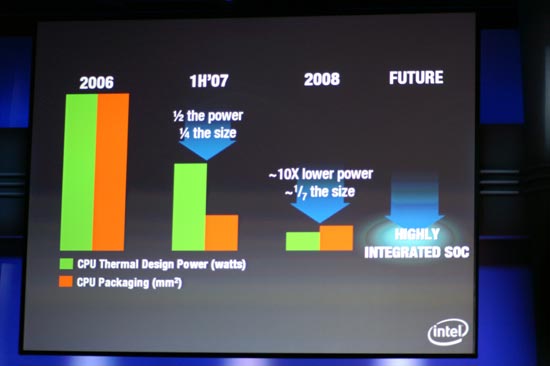 The Core Solo/Pentium M processors used in current UMPCs use approximately 5W of power, and by the 1st half of 2007 Intel is expecting to cut the power of these chips in half. In another year, we'll be looking at 1/10th the power (0.5W) and 1/7th the size of today's UMPC processors, which will hopefully lead to longer battery life and smaller form factors. Intel gave a realistic sounding target of 7 hours of battery life for a UMPC by 2008, much better than the 3 hours of today's best UMPCs.
Anand Chandrasekhar demonstrated a prototype UMPC with WiMAX support during Otellini's opening keynote: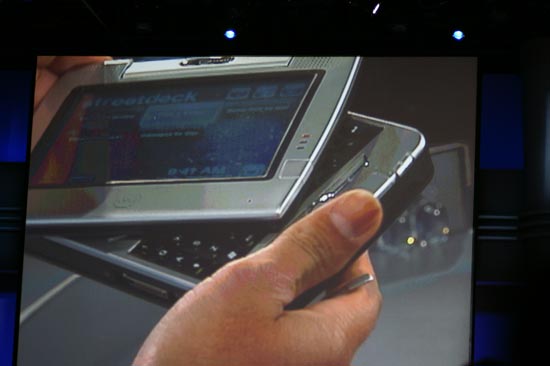 The UI was custom designed by a company called streetdeck, and appeared to be far easier to navigate than the current UMPCs that simply use the default Windows XP UI.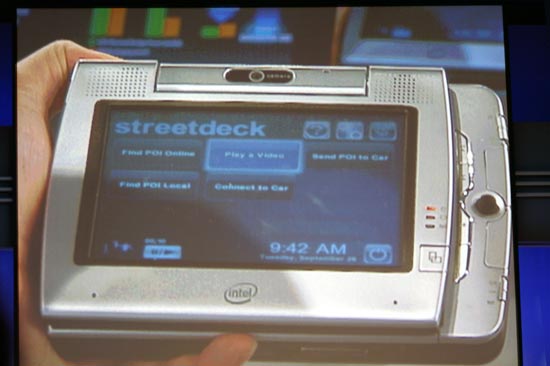 One of the biggest limitations of UMPCs is the fact that they have no custom UI, similar to what things would be like if Media Center didn't have a 10-ft UI. Windows Vista will address some of the issues associated with UMPCs that have small, high resolution displays, but ultimately a UI similar to what streetdeck has put together will be necessary for UMPCs to succeed.
Volkswagon came on stage with a demonstration of an in-car entertainment system that could wirelessly link up with the prototype UMPC: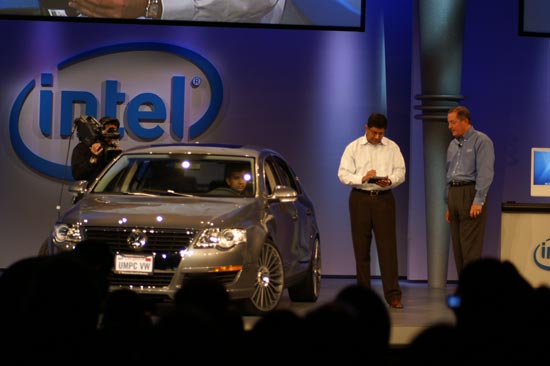 The NAV system in the car could receive locations from the UMPC: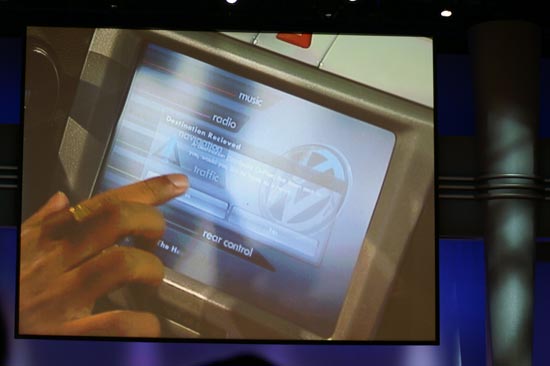 Of course streaming audio/video from the UMPC to the car's entertainment system was a part of the demonstration: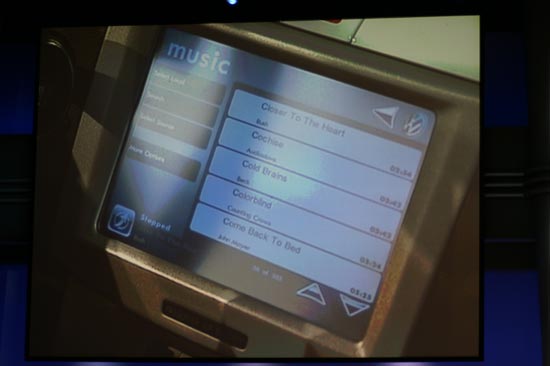 The front two seats featured the ever-popular "TVs in the headrests" feature, and the driver was able to stream a movie to one screen and a commercial to another screen so each rear passenger could have his/her own entertainment. Add in two pairs of IR headphones and you've got the perfect keep-the-kids-quiet entertainment system in a car.
Final Words
We'll have more IDF coverage later today, but for now it's off to another meeting...