Original Link: http://www.anandtech.com/show/2084


We previewed the
ASUS P5B Deluxe
in our Conroe Buyers Guide and were impressed with its features and performance even though we had a very early BIOS release. However, the launch price of near $250 placed it squarely in the middle of the 975X chipset boards that offered equal or better performance along with additional features such as ATI CrossFire support and, more importantly, maturity. Honestly, the entire P965 launch was premature and was fraught with performance and memory compatibility issues. Over the past couple of months ASUS has worked diligently at enhancing the performance of the board along with providing greatly improved memory compatibility. This same situation has held true with the vast majority of Intel P965 based motherboards and we are just now getting to the point of accepting the P965 platform as a logical choice for the entire Core 2 Duo processor range.
One interesting feature of the more performance oriented P965 motherboards has been their ability to overclock up to 550FSB on a regular basis, something the 975X motherboards cannot do at this time. In fact, we expect to see stable 600FSB (2400 MHz quad-pumped) plus levels coming in the near future on the P965 platform. While this is certainly impressive, memory bandwidth suffers in certain FSB ranges as the memory controller strap changes introduce additional latencies along with a reduction in the MCH clock speed. We will delve into this subject matter in our upcoming P965 roundup but additional details can be
located here
.
Overall platform performance generally favors the 975X chipset and it comes at a price, but in most cases you will need a benchmark result to see the differences. The cost, ease of overclocking capability, widespread availability, and now maturing state of the P965 products has generally been an advantage against the 975X products. However, the inability of the P965 chipset to run ATI CrossFire has been viewed as a distinct disadvantage in some circles. Whether this is truly a disadvantage or not is debatable, but for those owners wanting to run CrossFire on a capable P965 platform it has been a drawback. We also feel the inability of the P965 platform to operate in CrossFire mode has been an issue with the motherboard manufacturers who see this as an important feature on their product checklist. However, this perceived shortcoming has now changed.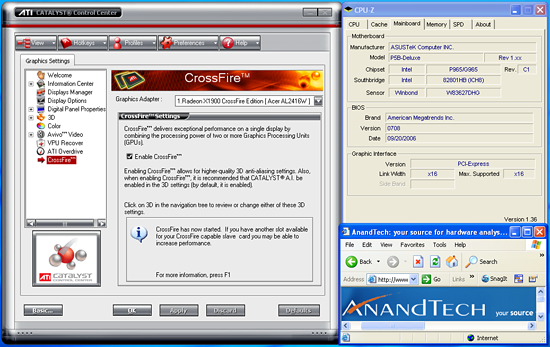 Click to enlarge
As of this week, the ability to use your ATI CrossFire setup on the P965 platform is officially supported by Intel and ATI.
MSI announced
ATI CrossFire capability on their P965 Platinum motherboard earlier this week. We have the board in-house for testing and just received an updated BIOS that should enable CrossFire operation. We fully expect Gigabyte and others to announce full support for ATI CrossFire on their respective P965 offerings shortly.
We digress for moment but it would also be nice to have SLI support. At this time NVIDIA SLI is not officially sanctioned on the Intel platform, although the more industrious users can run SLI with unofficial and unsupported drivers. The only official SLI platforms for Core 2 require NVIDIA chipsets which presently offer extremely poor overclocking support (typically less than 320FSB). In the meantime, can we enjoy our CrossFire experiences without worry on our P965 motherboards? That is the question we set out to answer today.
Part of that question can be answered quickly as ASUS has released the first production level BIOS that fully enables CrossFire compatibility for their P5B Deluxe motherboard. We have been testing BIOS 0706 for the last week with a beta ATI Catalyst 6.9 driver set. We found the performance to be acceptable when compared directly to the 975X based ASUS P5W-DH Deluxe but it was lacking in certain areas. We tested this BIOS with the official
Catalyst 6.9 drivers
and while performance and compatibility improved with the official drivers there were still some issues. The engineers at ASUS continued their round the clock efforts at enhancing the performance and released a beta BIOS to us yesterday. The performance of the 0708 beta BIOS generally resulted in overall performance improvements of 3%~9% in our testing. While both the ATI driver and ASUS BIOS still have room for incremental performance improvements, the initial results we will show today are indicative of this platform combination.
ASUS will release their official performance enhanced CrossFire capable BIOS early next week. The BIOS will be version 0709 and will include their new C.G.I. technology. ASUS C.G.I. stands for ASUS Cross Graphics Impeller and is a feature that if enabled will automatically optimize system performance if a CrossFire configuration is detected. The optimizations occur within the Direct Media Interface between the P965 MCH and ICH8R that is utilized to enable CrossFire operation. The 975X chipset utilizes Peer-to-Peer write capability within the MCH to enable 2x8 PCI Express lane capabilities for CrossFire. This feature is not available in the P965 so ATI enables CrossFire support utilizing the Direct Media Interface (DMI) to link the x16 GPU slot (16 PCI Express Lanes) residing on the MCH and the x4 GPU slot (4 PCI Express Lanes) residing on the ICH.
In theory, you should be able to load the Catalyst 6.9 drivers on any P965 motherboard that contains the required x16/x4 PCI Express slot layout and start using CrossFire. It turns out for the motherboard manufacturers that certain BIOS calls need to be implemented for this to occur properly and these same BIOS settings need to be optimized for improved performance. We have not tried all of our CrossFire capable P965 motherboards at this time but so far the three we have tested require BIOS updates for proper CrossFire operation. This leads us into today's preview, so let's take a closer look at how the Intel P965 compares to the 975X chipset in CrossFire performance.
Test Setup
Our test configurations today consist of the ASUS P5B Deluxe and P5W-DH Deluxe motherboards. Each motherboard has the latest BIOS installed with the P5W-DH sporting the new performance enhanced 1405 release. We will test the P5B Deluxe with the official 0709 BIOS release for our P965 roundup. According to ASUS the performance should be equal but the option for disabling C.G.I. will be implemented. We will also include X1950 CrossFire results in the near future.
CrossFire Test Beds
Performance Test Configuration
Processor:
Intel Core 2 Extreme X6800
(2.93GHz 4MB Unified Cache)
RAM:
2 x 1GB OCZ PC2-9000
Tested at DDR2-800 3-3-3-8 2.3V
Hard Drive:
Seagate 320GB 7200RPM SATA2 16MB Buffer
System Platform Drivers:
Intel - 8.0.1.1002
Video Cards:
1 x Gigabyte 7950GX2
1 x MSI X1900XT plus 1 x MSI X1900 CrossFire Edition
Video Drivers:
NVIDIA 91.47 - ATI Catalyst 6.9
CPU Cooling:
Scythe Infinity
Power Supply:
OCZ GameXstream 700W
Optical Drive:
Pioneer BDR-101A
Case:
Cooler Master CM Stacker 830
Motherboards:
ASUS P5W-DH Deluxe (Intel 975X) - Bios 1405
Asus P5B-Deluxe (Intel P965) - Bios 0708
Operating System:
Windows XP Professional SP2
.
Test conditions were maintained the same, as much as possible, over the platforms tested. Our game tests were run at settings of 1280x1024, 1600x1200, and 1920x1200 with 4xAA/8xAF implemented in games that support this feature. These settings were used on both our Gigabyte 7950GX2 and MSI X1900XT CrossFire setups. We feel like these settings and resolutions will provide accurate benchmark results for the typical user utilizing a CrossFire setup with a high end CPU.
All results are reported in our charts and color-coded for easier identification of results. We utilized new drive images on each board and for each GPU choice in order to minimize any potential driver conflicts. Our 3DMark results are generated utilizing the standard benchmark resolution for each program. We run each benchmark five times, throw out the two low and high scores, and report the remaining (mean) score.
General Graphics Performance
The 3DMark series of benchmarks by Futuremark are among the most widely used tools for benchmark reporting and comparisons. Although the benchmarks are very useful for providing apple to apple comparisons across a broad array of GPU and CPU configurations, they are not a substitute for actual application and gaming benchmarks. In this sense we consider the 3DMark benchmarks to be purely synthetic in nature but still valuable for providing consistent measurements of performance.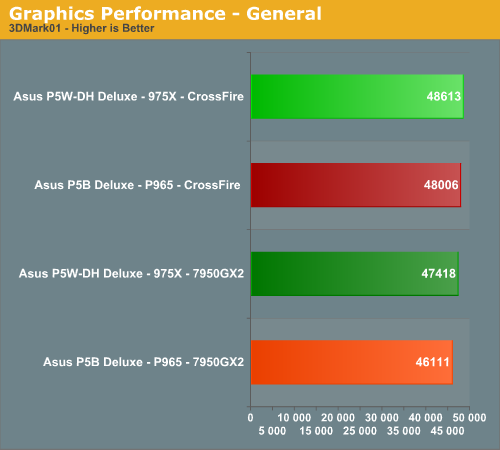 The P965 chipset trails the 975X by 1% in the 3DMark2001 SE CrossFire results and about 3% in the 7950GX2 testing. At first glance this indicates almost equal graphics performance between the two platforms. However, the graphics requirements in 3DMark2001 SE are not that strenuous for our GPU/CPU combination. Instead, this benchmark is currently a better indicator for CPU, chipset, and memory performance when comparing platforms. In this regard, we can see that the P965 trails behind the 975X slightly in platform performance as our previous application benchmark testing has indicated.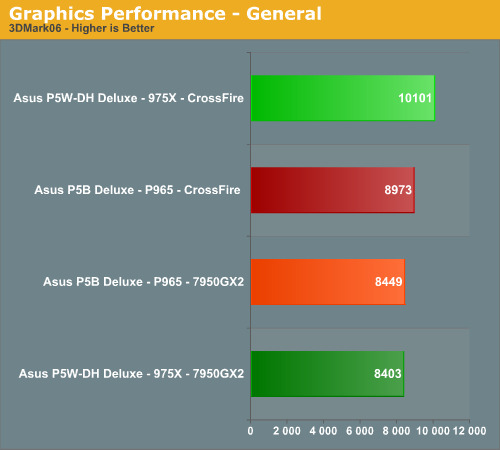 In our more strenuous graphics test utilizing 3DMark06 we find our P965 actually leads the 975X chipset but the margin is negligible. However, in our CrossFire result the P965 trails the 975X by close to 13% which is significant. We looked over the results and found in the SM2.0 tests the P965 solution was about 3% behind the 975X scores, the CPU score favored the P965, but the HDR/SM3.0 tests showed a 12% difference on average. Since the HDR/SM3.0 tests heavily stress both the CPU and graphics bus we figured the x4 PCI Express lane limitation was causing the bottleneck.
Our initial assumptions turned out to be incorrect. After working with ASUS we discovered in their internal testing they noticed the same issue and decided to see what would happen on the 975X if the MCH was programmed at x16/x4 operation between the two GPU slots instead of x8/x8. Their test results revealed a surprise as the differences in all areas of testing was less than 1%. The issue lies in the limited bandwidth and speed of the Direct Media Interface between the P965 MCH and ICH8R. The time required to simultaneously move the data between the two chipsets imposes a significant overhead and bandwidth issue in certain applications.
While ASUS has optimized their bios to improve communications between the MCH and ICH, it appears we are already near the maximum efficiency of this interface. This simply means that as games become increasingly complex and data bandwidth increases then the differences between the P965 and 975X in CrossFire or SLI operation will widen. If the worst case remains around the 13% we see in 3DMark06, that's a compromise some will be willing to live with, depending on motherboard prices and features. Let's see how this potential issue affects our initial gaming benchmarks.
Gaming Performance
As usual, gaming performance was tested with a variety of current games. We ran benchmarks with our standard 1280x1024 resolution with 4x antialiasing and with 8x anisotropic filtering (if the game has support) enabled. Given the number of users that run 19 inch LCDs these days, 1280x1024 represents one of the most commonly used resolutions. We decided to also stress the graphics subsystem since we are benchmark testing the motherboard to compare the performance of ATI CrossFire on the P965 and 975X platforms. In order to do this we were particularly interested in increasing the resolutions and graphic settings so we are including 1600x1200 4xAA/8xAF and 1920x1200 4xAA/8XAF resolutions. We feel these resolutions would be the best indicator of performance for user with a high-end CrossFire and CPU setup. Our review is focused on the capability of the Intel P965 chipset and how well CrossFire works on the ASUS P5B Deluxe with the current Catalyst 6.9 drivers, not on the respective graphics solutions. We will examine graphics card scaling and other GPU attributes in another article.
Battlefield 2
This benchmark is performed using DICE's built-in demo playback functionality with additional capture capabilities designed in house. When using the built-in demo playback features of BF2, frames rendered during the loading screen are counted in the benchmark. In order to get a real idea of performance, we use the instantaneous frame time and frames per second data generated from our benchmark run. We discard the data collected during the loading screen and calculate a result that represents actual game play. While DICE maintains that results over 100fps aren't always reliable, our methods have allowed us to get useful data from high performing systems.
During the benchmark, the camera switches between players and vehicles in order to capture the most action possible. There is a significant amount of smoke, explosions, and vehicle usage as this a very GPU intensive Battlefield 2 benchmark. We run Battlefield 2 using the highest quality graphics settings available in the video options. The game itself is best experienced with average in-game framerates of 35 and up.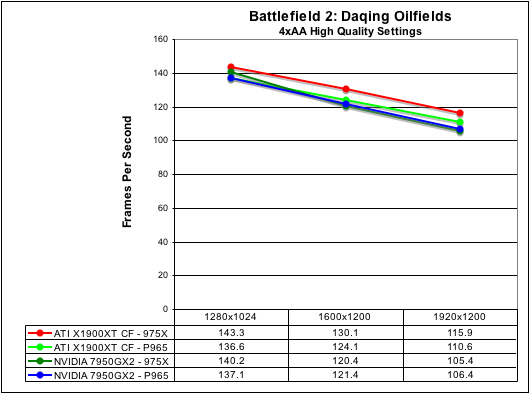 On average we see our 975X CrossFire solution performing about 5% better than the P965 setup. We found the P965 setup to be perfectly playable and did not witness any stutters or graphic anomalies during testing. The P965 7950GX2 configuration actually score slightly better at the higher resolutions than the 975X, although this benchmark is more GPU driven so any potential platform differences will not be clearly evident. However, this does indicate there is not a measureable graphics performance penalty when comparing x16 graphics capability between the two chipsets.
Serious Sam 2
This benchmark is performed using Croteam's built-in demo capability in the Serious Sam 2 engine. We utilize the included Branchester Demo and capture the playback results using the Ctrl-~ function. The benchmark features a large number of combatants, explosions, and general mayhem. The benchmark is primarily GPU sensitive with the actual percentage of GPU/CPU/Audio activity being displayed during the benchmark run. We typically find this game is very playable at average in-game rates of 60 and above. We maximize all settings except antialiasing and anisotropic filtering within the general and advanced video settings.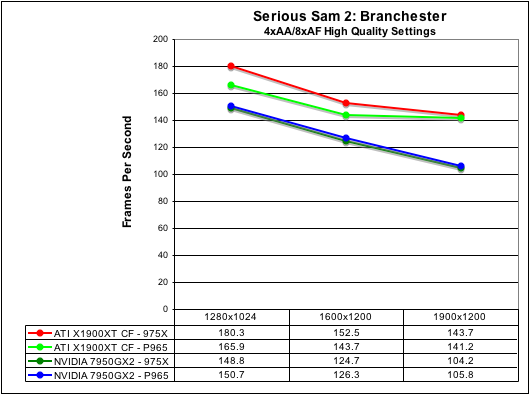 We see our 975X CrossFire setup performing 9% better at 1280x1024, 6% at 1600x1200, and less than 2% higher at 1920x1200 as the game becomes GPU limited. As in the Battlefield 2 testing the game playback showed no problems and generated beautiful visuals. Once again the P965 7950GX2 configuration scores better than the 975X and indicates a nice GPU solution for this platform.
F.E.A.R.
F.E.A.R. uses the built-in performance test that generates graphical test scenes based upon the actual game engine. This test consists of a couple of different action sequences, a stressful water flyby, and heavy use of shadows while traveling through hallways. F.E.A.R. is a very graphics intensive game and we switch all settings to maximum. During our testing of F.E.A.R., we noted that the "soft shadows" don't really look soft. They appear to us as multiple transparent shadows layered on top of each other and then jittered to appear soft. Unfortunately, the performance hit is drastic and the shadows generated do not look realistic so we disable this setting. Average frame rates for F.E.A.R. can dip into the teens without creating major problems; that is not good for most first person shooters, but the game is still playable at around 25 fps with 35 fps or higher being preferred.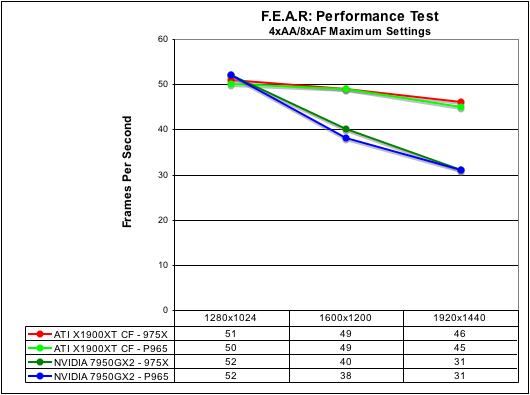 Since this game is basically GPU limited at our settings, both platforms perform equally well. Although not reported in our benchmark chart the minimum frame rate for the P965 CrossFire was 30 at 1280x960, 22 at 1600x1200, and 21 at 1920x1440. The 975X posted slightly better minimum rates with 30 at 1280x960, 25 at 1600x1200, and 23 at 1920x1440. The maximum frame rate for the P965 CrossFire was 194 at 1280x960, 131 at 1600x1200, and 124 at 1920x1440. The 975X posted better maximum rates with 224 at 1280x960, 129 at 1600x1200, and 131 at 1920x1440. We see the 7950GX performing equally at 1280x960/1920x1440 and just a little better at 1600x1200 with the 975X solution.
Gaming Performance (Cont'd)
While our previous tests have shown a minimal impact and excellent compatibility in utilizing ATI CrossFire on the ASUS P5B Deluxe, our next tests will reveal a couple of driver bugs and a complete omission of compatibility within the current Catalyst 6.9 drivers.
Half Life 2: Lost Coast
The Half Life 2: Lost Coast level demonstration first introduced Valve's HDR technology. While certain developers have implemented HDR, there have been several issues with antialiasing (even on ATI cards) being an option. Valve placed a high value on building an HDR implementation that everyone can use with whatever AA/AF settings they want to select.
We use the built-in timedemo feature to benchmark the game. Our timedemo consists of starting at the bottom of the hill near the lake and ending in the old church. The Source engine timedemo feature is similar to the nettimedemo of Id's Doom 3 engine, in that it plays back more than just the graphics. The highest visual quality settings possible were used with HDR turned on. While the Source engine is notorious for giving great frame rates for almost any hardware setup, we find the game isn't as enjoyable if it isn't running at 35fps or above.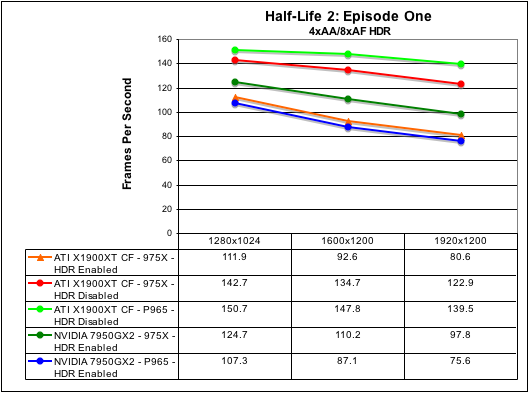 Our first issue with the drivers on P965 appears as HDR is not supported currently in our test benchmarks. The P965 CrossFire solution generated the same results with HDR on or off. We ran the 975X with HDR off and it consistently generated lower numbers than the P965. We turned our attention to viewing the benchmark several times and noted that the 975X CrossFire setup generates slightly better water and sunlight images, although it is difficult to see the difference without resorting to comparing individual screenshots.
At this time it seems that the P965 CrossFire solution is not generating the same amount of detail as the 975X setup. Our other issue is the abysmal performance of the 7950GX2 on the P965 in this demo. This is a total reversal of our earlier testing and considering our benchmark is more sensitive to memory and CPU choices we determined this is probably a driver related issue. We tested with a single X1950 card and the results were almost equal between the two boards in this benchmark. We are doing further driver regression testing and have contacted both ATI and NVIDIA about our issues.
Quake 4
There has always been a lot of debate in the community surrounding pure timedemo benchmarking. We have opted to try the NetTimeDemo option instead of our normal timedemo test for benchmarking Quake 4. This means our test results focus on the capability of each platform to render Quake 4 in a way that one could experience during game play, testing has shown the performance results to be relatively consistent. NetTimeDemo will usually generate lower scores than our normal timedemo. Additionally, Quake 4 limits frame rates to 60 fps during gameplay whether or not VSync is enabled. Remember that the questions we are trying to answer today have only to do with the graphics subsystem performance between the P965 and 975X chipsets.
Our benchmark utilizes the IdNetDemo demo recording. This includes mainly outdoor areas with numerous players trying to kill each other. We tested the game with Ultra Quality settings (uncompressed normal maps), and we enabled all the advanced graphics options except for VSync. Id does a pretty good job of keeping frame rates consistent so in-game frame rates above 30 are acceptable for single player and 60 for multiplayer.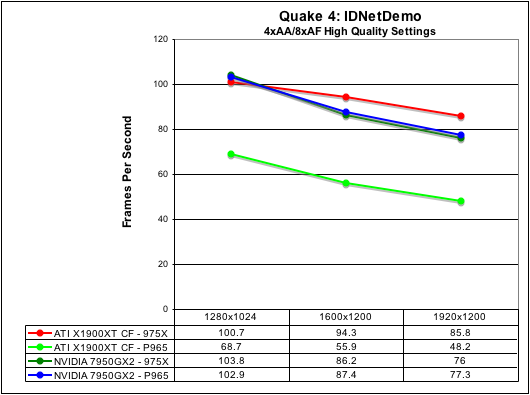 This time our issue is that ATI is not providing P965 specific OpenGL CrossFire compatibility until a later driver release. We understand this driver release will occur early next year. However, although the driver does not have OpenGL capability for CrossFire on the P965 at this time you can still play the game. In fact, the OpenGL driver optimizations that ATI has recently implemented allowed us to comfortably play this game and provided excellent visuals in both outdoor and indoor sections. In a reversal from the Half Life 2: Lost Coast scores our 7950GX2 scores on the P965 are back to normal.
Company of Heroes
Company of Heroes was recently released and is proving to be a very addictive RTS game around the office. The game is extremely GPU intensive and also requires a hefty CPU at times. If this is beginning to sound a lot like Oblivion, it is because CoH is very similar to Oblivion in system requirements. The visuals and audio experience within the game will at times have you believing the game is based more on a First Person Shooter than a traditional Real Time Strategy game. We set all options to high and turned on all additional video options. We have found the ultra settings to be almost unplayable with a single card and barely playable in certain areas with SLI or CrossFire at the higher resolutions.
The game contains a built-in performance test that utilizes the game engine to generate several different action scenes along with an argument about coffee as a sideline distraction before the war starts. We found the performance test gives a good indication of how well your system will perform throughout the game, though we have found some of the in-game action sequences to be more demanding than the performance test. We generally found the game to be very enjoyable with an average frame rate above 35fps.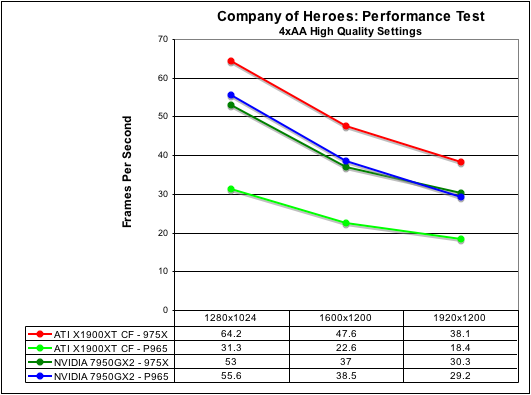 Our final issue with our test results is that from all indications the Catalyst 6.9 drivers have not been optimized for this game yet with the P965. The CrossFire scores on the P965 are equal to our single card scores in compatibility testing. We have contacted ATI about this issue and hopefully will have a response shortly. Even though we could not get CrossFire to work properly on the P965 board we did not notice any further issues during game play and actually found our CrossFire experience on the 975X board to be more enjoyable than the 7950GX2 from both a performance and visual aspect. Our P965 7950GX2 solution continues to generate overall results that are slightly better than the 975X board.
Quick Take
Our experience to date with CrossFire capability on the ASUS P5B Deluxe board has been surprising to us. We expected a lot less performance along with a lot more issues. We are in the middle of doing compatibility testing on over three dozen games at this time and so far the vast majority have worked flawlessly. While not having OpenGL compatibility is disappointing, we can understand why ATI has chosen to remove this feature until they can guarantee performance and stability in OGL games. We are more concerned about the lack of HDR CrossFire capability in an older title like Half Life 2; hopefully this can be corrected quickly, or it might be a system/motherboard specific issue. We are still testing this title along with Episode One and should have a resolution shortly. In regards to the Company of Heroes issue, until we hear back from ATI it will be difficult to determine if it is a driver or game issue. It was not until the 1.02 patch that SLI worked properly with the game so we will give ATI the benefit of doubt at this time, even though CrossFire worked perfectly on the 975X based ASUS P5W-DH Deluxe board.
Overall, a three to nine percent performance hit in our limited testing is not that bad, although the more performance minded enthusiasts will likely consider the 975X boards for CrossFire performance. However, with the recent price reductions on the Asus P5-B Deluxe this board becomes an attractive alternative. We believe ASUS has done a remarkable job in such a short period of time in getting a CrossFire capable BIOS ready for the P5B Deluxe. We have to give extra credit to ASUS as within a couple of days after the initial bios release they were able to enhance performance and implement a CrossFire auto-sensing function to enable DMI optimizations. These optimizations directly led to performance improvements of up to 9% in most of our game titles compared to the previous bios. Hopefully, they will have optimizations ready for CrossFire solutions other than the X1900 and X1950 chipsets shortly although with the lack of peer-to-peer writes in the P965 it may be impossible. Our next comparion will look at the performance of the 6.10 drivers, new 7.10 beta bios, and ATI X1950 CrossFire on this board. We still have a significant amount of testing to complete but at this time it appears ATI CrossFire works as advertised on the P965 platform and maybe just that much better on the ASUS P5B Deluxe.