Original Link: http://www.anandtech.com/show/2081


Introduction
Our latest system review comes from a company that needs no introduction. Dell sent us their XPS 410 desktop system for review, and we are interested to see how a PC designed by the largest system integrator compares to the other offerings on the market. Being number one also makes you the biggest target, both for competitors as well as critics; people love to hate the top dogs. Sometimes those feelings are warranted, other times they stem from jealousy or other sources. We're here to put feelings aside and take a hard look at what Dell has on offer.
We've already reviewed a couple Core 2 Duo prebuilt systems from
ABS computers
and
PC Club
. It would hardly be an exaggeration to say that regardless of what we say in this review, Dell will probably sell more XPS 410 systems in the next month than either of those two companies will sell in a year. In fact, many of the people looking to buy XPS systems will likely never see this review. However, while we cater primarily to the enthusiast community, many enthusiasts have friends and family that need computer systems, and they don't always have sufficient time to build and support systems for those people. That's where prebuilt systems from OEMs like Dell come into play.
We certainly don't expect Dell to set any new performance records relative to other computer configurations we have reviewed, but overall performance is often secondary to other considerations. What sort of support is offered, how easy is it to assemble your system when it arrives, are there any serious problems people should be aware of, and what is the overall value of the package? These are just a few of the questions that are important to consider when looking to purchase a computer for friend or family member. We will provide answers to these questions and others, and we will also test the performance of the Dell XPS 410 in our review.
The configuration that Dell sent us is similar in some ways to the PC Club Enpower Sabre Extreme, and it represents a higher-end configuration that attempts to fulfill the requirements of a large variety of users. Most people have come to associate the XPS brand with "Extreme Performance" that often targets the gaming crowd. While that market is certainly covered with the current offerings, the XPS brand has grown to encompass a larger market segment. Dell's focus with XPS brand computers now is on premium service and quality, with designs that often stand out from the rest of Dell's offerings in appearance and features. Depending on options, XPS systems can range from moderate midrange configurations all the way up to ultra high-end builds that include every top-end part currently available.
The XPS 410 is a step down from the XPS 700 in that it doesn't allow you to use dual graphics cards or the Core 2 Extreme processor, and the chassis is more of a traditional design. The 410 is billed as offering a multimedia experience first and foremost, with configuration options that match that market. For those that don't need absolute maximum performance, it looks set to offer just about anything you could want in a modern system. Let's take a closer look.
Features and Price
Prices on the XPS 410 start at around $800 (not including a monitor) and go up to over $5000 once you add in a 24" monitor, high-quality speakers, printers, etc. There are numerous ways that you can choose to configure your system, focusing on increasing storage capacity, faster or slower graphics, more memory, and various other options. Here are the specifications of the XPS 410 we received for review:
Dell XPS 410 Specifications
Case:
Dell custom BTX case with 375W PSU
Motherboard:
Dell P965 BTX motherboard
Processor:
Core 2 Duo E6600 (2.40 GHz 4MB shared L2 cache)
Heatsink/Cooling:
Custom BTX CPU HSF with 120mm fan
80mm bottom fan near HDDs
RAM:
2x1024MB Nanya PC-5300 5-5-5-15
4x1GB Max supported RAM

Note: A 32-bit OS will only show 3GB; a 64-bit OS is required to properly address the full 4GB.
Graphics:
Dell GeForce 7900 GTX (extra long PCB)
Hard Drives:
2x320GB Western Digital 16MB 7200 RPM
Optical Drives:
Toshiba TS-H553 16X DVD+RW SATA
Philips 16X DVD-ROM SATA
Expansion Slots:
1 x PCIe X16
1 x PCIe X4
1 x PCIe X1
3 x PCI
Expansion Bays:
2 x 3.5" internal bays
2 x 3.5" external
2 x 5.25" external
Audio:
Creative Sound Blaster X-Fi XtremeMusic
TV Tuner:
Lumanate Angel II MPEG Dual-TV Tuner
Power Suply:
Dell 375W
1 x 24-pin ATX; 1 x ATX12V
1 x 4-pin mini Molex
6 x SATA
Operating System:
Windows Media Center Edition 2005 SP2
Front Ports:
2 X USB2.0
2 X 3.5mm Audio (Headphone and Microphone)
1 x 6-pin Firewire (optional - requires expansion card)
Rear Ports:
1 x Audio I/O Panel (six jacks)
1 x Optical S/PDIF Out Port
1 x RJ45 GbE
6 x USB2.0
2 x 6-pin Firewire (via optional expansion card)
Speakers:
2.1 Dell (no longer an option)
Monitor:
Dell 24" 2407WFP Widescreen LCD Monitor
Unlike many other prebuilt systems, the Dell XPS 410 features a P965-based motherboard that is a Dell design. It is undoubtedly manufactured by one of the tier 1 motherboard companies, but it is definitely an original design and layout and not a toned down version of one of the public products. Depending on your perspective, this can be good or bad. For Dell, it means they can strip out all of the stuff that they don't want you to have, like overclocking features and advanced BIOS options. (Overclocking is supported on the Dell XPS 700, we understand, but not on other models.) For the computer enthusiasts, such omissions would be the death knell, but most other people will be more than happy with what they receive.
As we like to do with our system reviews, we priced out a similar home built system for reference to see how Dell's assembly and test costs compare to a DIY setup. Some areas are not directly comparable, but we're looking at ballpark estimates.
Comparative Price List
Case:
INWIN IW-BC583.Q460L Micro-BTX Mini-Tower with 460W PSU
74
Motherboard:
Gigabyte GA-965P-DS3 (Note: Not a BTX board!)
144
Processor:
Core 2 Duo E6600 (2.40 GHz 4MB shared L2 cache)
332
Heatsink/Cooling:
Stock Intel CPU HSF
0
RAM:
Mushkin PC-5300 2x1024MB HP2-5300
200
Graphics:
eVGA GeForce 7900GTX 512MB RoHS HDCP
400
Hard Drives:
2x320GB Western Digital 16MB 7200 RPM
196
Optical Drive:
Plextor PX-716SA/SW SATA
LiteOn SHD-16S1S-05 SATA
122
Audio:
Creative Sound Blaster X-Fi XtremeMusic
128
TV Tuner:
Dual-TV Tuner (Estimated Cost)
125
Speakers:
Generic 2.1 Speakers
20
Monitor:
Dell 24" 2407WFP Widescreen LCD Monitor
800
Keyboard:
Microsoft PS/2 Multimedia Keyboard + Mouse
31
Operating System:
Windows XP Media Center Edition 2005 SP2B
115
Sub Total:
2687
We were given a higher-end configuration that costs about $2900 with the standard 1-year warranty. The base model comes with a Radeon X1300 Pro 256MB, and the upgrade to a GeForce 7900 GS costs another $150. That's a reasonable price, and the 7900 GS is probably the best balance of price and performance. The top-end GPU offered is the GeForce 7900 GTX, which is priced at $500 over the X1300 Pro, or $350 more than the 7900 GS. If you have Dell install a GTX, you'll be paying full MSRP for the product, and that's assuming the X1300 base offering is "free". The 7900 GTX that Dell includes is slightly different from your garden-variety GTX card, however, as it includes an extension at the end of the PCB that helps hold the card in place.

Click to enlarge
Given that you can find GTX cards for closer to $400, that's more than we would recommend paying, and in fact a much better use of nearly $500 would be to opt for a 7950 GX2. Dell has confirmed that the XPS 410 properly supports the GX2, and it should become available as a purchase option in the near future. Some might be concerned that the 375W PSU may prove insufficient for driving a GX2. NVIDIA recommends 425-450W for the GX2, but depending on PSU quality you may be able to get by with less. Our power draw results indicate that there should be more than enough power available for a GX2, as previous testing has shown that a GX2 card doesn't consume substantially more power than a 7900 GTX due to the difference in clock speeds.
Moving on to the CPU, we don't have the base cost Dell uses for the E6300 as that's included in the total price of the system, but the upgrade prices to the other Core 2 Duo processors are all competitive with market prices, with the exception of the top-end E6700. Dell charges $250 more than the E6600 for that upgrade compared to a market price difference of $200, so the E6600 is definitely a better value than the E6700. E6400 is probably the best balance of price and performance if you're willing to go with a smaller L2 cache and lower clock speed, but keep in mind that there are no options to overclock for better performance with Dell.
All of the prices Dell charges in their engine tend to be slightly higher than what you would pay online, but taking into account you're getting a decent preassembled PC and improved support and service, the total cost of around $200 in order to assemble and test the system isn't bad. It's not great either, considering many of the configuration choices are limited. If you're after enthusiast-level performance from Dell, you will need to move up to the XPS 700. For roughly equivalent components, that adds about $400, but you do get SLI support, overclocking support, a larger/better PSU, and a vastly different case design.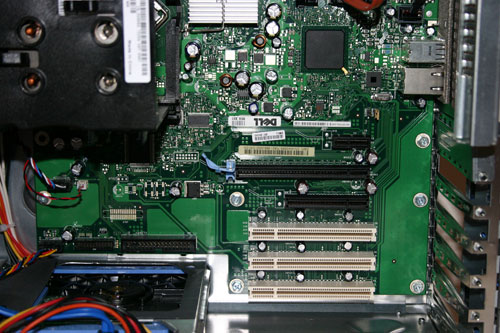 Click to enlarge
We have a few other gripes with the component selection and overall system design. First, expansion options are somewhat limited. While you do get three usable PCI slots, the X1 PCI-E slot can be blocked if you opt for the highest end GPUs. That leaves you with the single X4 PCI-E slot just below the GPU, which might be a tight fit for any expansion cards destined for the X4 slot. FireWire should be pretty much standard on a system of this level, and while Dell does provide the option it comes via a $30 PCI expansion card upgrade, which uses up one of the PCI slots. Higher-quality audio consumes another PCI slot, and a TV tuner uses up the last slot. If you need a modem, you'll have to give up one of the above three devices as there are simply no more PCI slots available. As we will see in a moment, Dell seems to have limited expansion options in favor of the chassis design, which is a reasonable decision.
There are still other concerns. You can't for example select DDR2-800 memory, which would improve performance a bit. Some OEMs seem to feel high-end RAM is "less stable", which is one reasong they often omit such offerings; however, our testing has not shown this to be the case as BIOS support is usually the key for memory compatibility. Using cheaper/slower RAM is a compromise most large OEMs prefer, but it seems out of place on an XPS system. The motherboard is supposed to support DDR2-800 RAM, so it would be nice to see DDR2-800 added as an upgrade option to the online configurator. You will still only get conservative timings, however, regardless of which type of RAM you use.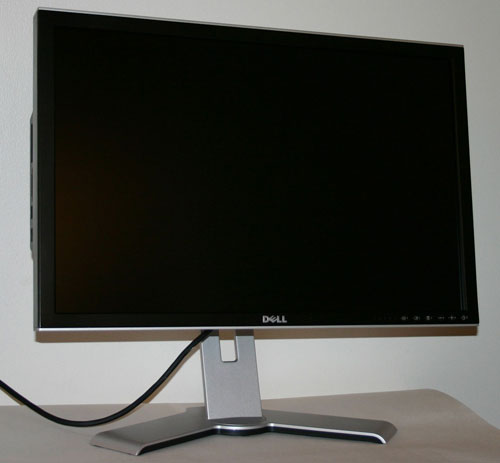 Click to enlarge
If there's one overwhelming bright spot with the XPS 410 configuration, it would have to be the 24" 2407WFP LCD monitor. Simply put, the display is beautiful and works great, although in some areas we still prefer the older 2405FPW. We'll discuss the display more in a separate review. However, the LCD can easily be purchased from Dell separately, and at times (Dell LCD special offers occur frequently) it is actually cheaper to do so. You can currently purchase the 2407WFP for $799 from Dell, while it is an $810 upgrade over no monitor for the XPS 410.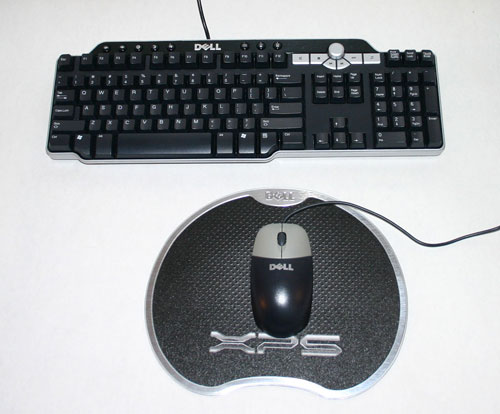 Click to enlarge
Besides everything else, you of course get the standard Dell keyboard and mouse, along with a nice XPS mousepad. We also received a set of 2.1 speakers, though these are no longer listed in the configurator and you will need to go with either 5.1 speakers, cheap monitor speakers, or just leave the speakers out and buy something on your own. The keyboard and mouse are both USB devices, and the keyboard has two USB ports on the back and can serve as a mini USB hub.
If we've given the impression that the XPS 410 is a bad computer, it's not; we merely feel that it is not perfect and that the price/performance offered is more expensive than some people will be willing to pay. There are other good points about the system design, which we will cover throughout the rest of this review. The bottom line is that the price is okay, but don't expect to walk away with an amazing bargain. A large portion of the price goes towards providing improved customer service, however, and we will provide an evaluation of the XPS support shortly.
Externals and Appearance
We said that the 2407WFP display is probably the most impressive part of the configuration we were sent for testing. However, the system design is really good as well. Almost everything is completely tool-less, and accessing the internals and changing components is extremely easy. Let's start with the outward appearance first.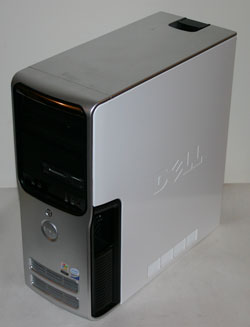 Click to enlarge
In a break from tradition, the case is all white with the Dell logo embossed on the sides. After seeing many beige, black, and varying other colors of cases, the pure white design is a nice change. Some might say that Dell seems to be copying the white appearance of Apple's iMac computers, but if you are looking to copy aesthetics there are far worse choices than Apple.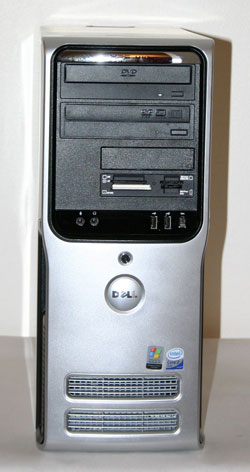 Click to enlarge
The front panel is a more traditional design, with black drive bays set in a silver mold. At the top of the case is a chrome XPS 410 logo, and at the bottom are the air intakes for one of the internal fans. Above the Dell logo, you can see the power switch, and you also have access to the front audio ports, two USB ports, and a FireWire port (provided you get the optional FireWire PCI card).
Click to enlarge
The left and right sides of the case are virtually mirror images of each other. The only difference is that the right side has some ventilation slots at the bottom of the case. If you're wondering about the black cutout towards the front of the case, that is part of the BTX design Dell has used. This provides an air intake for the main 120mm fan that cools the CPU heatsink and also provides ventilation to the inside of the case. Some form of ducting could have been used instead, so the cutout seems to be more for adding visual flair than because it was absolutely required.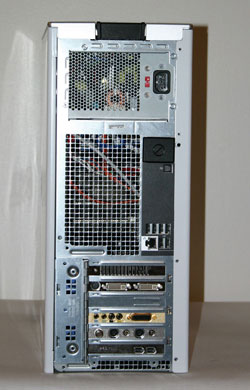 Click to enlarge
Besides the typical connectors you would find at the rear of any PC, there are a few interesting points about the Dell XPS 410. First, note how there's a huge ventilated area in the middle section of the case. This matches up with the 120mm fan located at the front of the case, with the CPU heatsink sitting in the middle. Basically, this provides a great way for getting all of the hot air generated by the CPU and other components out of the system. You can also see that the standard I/O panel is dramatically different from what most people are used to. There are no PS/2 keyboard or mouse ports, nor are there serial or parallel ports. Instead, you get six USB 2.0 ports, a Gigabit Ethernet port, and an S/PDIF optical out connection. Above the S/PDIF port are the audio ports, which are hidden by a small cover by default. If you use the system as an entertainment center PC, the optical out would be the preferred connection, though most people will more than likely use analog speakers.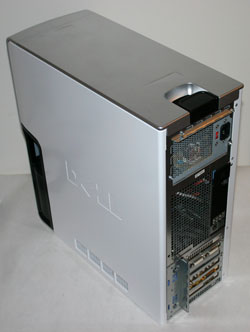 Click to enlarge
The last two items worth noting on the rear of the case are better viewed from a different angle. At the top you can see the latch that pops open the right side of the case. This makes it extremely easy to open up the system for upgrades or maintenance. At the bottom just above the expansion card slots you can see a protruding hinge. We will take a closer look at how this works when we get to the internals next, but basically it's part of the tool-less design that allows you to install or remove expansion cards very easily.
Internals and Construction
The case design of the XPS 410 is really quite excellent, and many of the well-known case manufacturers could learn a thing or two about creating a tool-less case from it. All of the major components can be accessed quickly and easily without the use of a screwdriver, and we have to think that the assembly-line process at Dell factories is greatly enhanced by the design. After pushing the latch at the top-rear of the case back, the right side panel pops out and you gain access to the interior.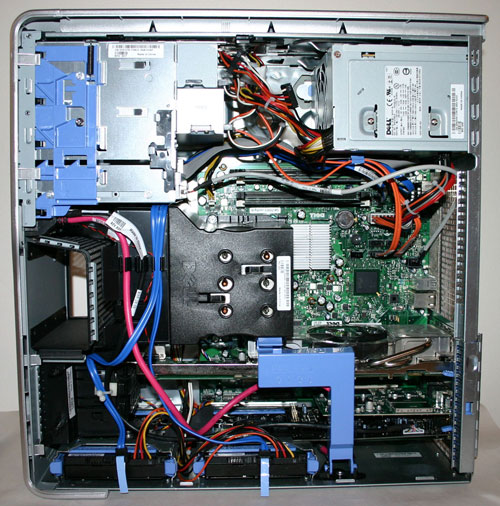 Click to enlarge
We were given a high-end configuration, complete with almost every accessory that most people would want. This has an interesting impact on the interior appearance, as you basically have a wide open middle section while the top and bottom of the case are more packed with components. The wiring isn't absolutely pristine like you might see in some of the higher end system integrator offerings, but most of the wires are secured at various points to keep them out of the way. Without a case window, we aren't too concerned about a few unsightly wires, and there's still plenty of open space allowing for ample air flow to keep your system interior cool.
Click to enlarge
At the bottom of the case are the two internal 3.5" drive bays, which are both occupied by 320GB 16MB cache Western Digital drives in our system. Both drives reside in plastic sleds that can be easily removed, but the drives themselves are secured to the sleds with standard screws. Dell set up our drives in a RAID 1 configuration, which will help protect users from data loss and downtime due to a failed hard drive. RAID 1 is not generally considered a backup solution, as it doesn't protect you from accidentally deleted files, viruses, or data corruption issues that might occur, but as a means of improving uptime it is definitely useful. If you need more storage capacity, you can opt for larger drives and/or omit the RAID 1 configuration (or perhaps go with RAID 0 for enhanced performance at the cost of reliability). If you want to add more than two hard drives, you could use the 3.5" or 5.25" external bays (with an adapter for the 5.25" bays).
The 375W power supply had no problems running our test configuration, which is basically loaded up with most of the high-end features you might want to add. A third or fourth hard drive would use a bit more power, as would larger drives, but even if you filled every available expansion slot it would be difficult to overload the power supply with current components. The story might change in the future with the release of the next-generation video cards from NVIDIA and ATI, unfortunately, so in the long term the PSU may prove insufficient. Most people don't generally buy Dell computers for their extensive upgrade capability, so this probably isn't a major concern for them. On the other hand, those who might want a G80 or R600 could very likely find themselves in need of a higher performance PSU.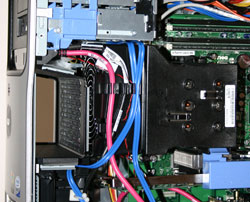 Click to enlarge
That brings up another point that's important to mention. In the past, Dell has been somewhat notorious for including proprietary power connectors and motherboard designs. Starting about a year ago, all motherboards should now be using a standard 24-pin ATX power connector with an additional 4-pin ATX 12V connector. It was possible to get adapters in the past that would allow the use of a generic power supply, but this is now unnecessary. If you decide that you want something better than the standard 375W power supply in the future, it should not be at all difficult to replace the power supply. It would still be better to get a higher capacity power supply in the first place, especially given the price of the system, but as stated the 375W power supply should be sufficient for the vast majority of users.
Click to enlarge
We spoke earlier about the expansion card slots and the tool-less mechanism that is used to secure them. You can see a close-up shot of this area in the above pictures. First, you have the main blue latch that helps hold all of the expansion cards in place, and it also provides for some cable routing. This latch snaps into the bottom of the CPU heatsink duct. At the back of the case, you have a hinged clamp that holds all of the expansion brackets in place, and there are slight protrusions that slip into the screw notches in order to fully secure the cards. Opening the hinge is accomplished by pressing the two small "buttons" and then the whole door swings open. The whole system is extremely slick, and we would really like to see something similar make its way into standard ATX cases. It's almost a shame that most people that purchase an XPS 410 are unlikely to appreciate the ease with which the system can be upgraded.
Click to enlarge
It is extremely easy to access all the components within the XPS 410. The most difficult component to replace is the CPU, and event that task is relatively simple. Two screws are used to secure the plastic duct that also holds the heatsink in place. Loosen those two screws, gently pull back on the CPU duct, and it should come loose giving access to the CPU socket. While the Dell heatsink isn't the largest we have seen, considering that there are no overclocking options on the system and that Dell doesn't ship the XPS 410 with the X6800 processor and the cooling solution should be more than sufficient. Future upgrades to quad core CPUs should also work, provided Dell releases an appropriate BIOS update.
Click to enlarge
One item of interest is the optical drives that Dell includes. The system is entirely legacy free, which means there are no PS/2 ports, no serial ports, no parallel port, and with the use of the ICH8 Southbridge, there are no IDE ports either. There are six SATA ports, four of which are occupied in our configuration. Two of these are used for hard drives, while the other two are used for the optical drives. Dell includes a Toshiba TS-H553 16X DVD-RW for burning/backup duties, while a Philips DVD-ROM (a rebranded BenQ) serves as a second optical drive. Extensive testing of the DVD burner capabilities is beyond the scope of a system review, but we were able to burn and read a couple DVDs without issue. Both optical drives are average in terms of noise levels, which means at maximum speed they are actually louder than anything else inside the system. Luckily, optical drives don't need to run continuously. Unfortunately, SATA optical drives currently cost more than IDE optical drives, which likely adds an extra $50 or so to the system price.
Click to enlarge
Accessing the drive bays is once again an exercise in convenience. All you have to do is press down on the blue locking mechanism, and that will release the front cover and allow you to slide out any of the drives. The drives use screws as a sort of mounting rail, so if you want to replace a drive you will have to break out a screwdriver, but if you just need to temporarily remove the drives the process is very simple.
Multimedia Capabilities
One final item to talk about is the included TV tuner. The card is manufactured by Lumanate, Inc., and it includes a couple of Micronas chips as well as two NEC chips on the PCB. Windows Device Manager lists the dual TV tuner as Angel II MPEG. The card is naturally fully compatible with Windows Media Center Edition 2005. First, here's a shot of the card itself.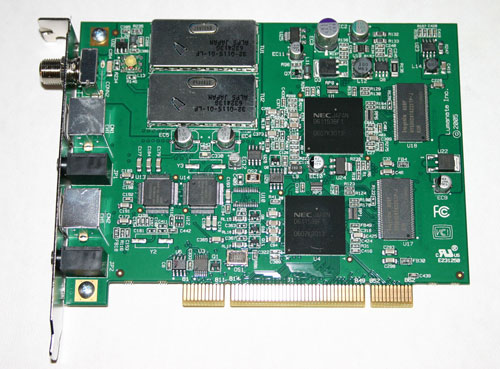 Click to enlarge
We did not try to test the TV tuner with other HTPC applications, but we did conduct some basic quality testing using the standard Windows MCE interface. Once MCE was set up for our location, watching and recording channels was extremely easy. In terms of quality, the picture looks good and subjectively compares to most other dual analog TV tuners. Without extensive testing time with additional cards, we can't say for certain whether it is equal to, better than, or not as good as other TV tuners we have reviewed. We would suspect it has a slightly lower quality image than the top analog tuners, but even the best analog signal pales in comparison to your standard HDTV signals. We captured a few sample videos to demonstrate the quality, seen below.
Note that deinterlacing is handled in part by the software during playback, so the output of Windows Media Center looks slightly different than what you might see in other media players. We chose to capture the unprocessed videos at their native resolution using Windows Media Player 10. You can spot some interlacing artifacts because of our capture methodology.
If you are looking for the absolute best quality analog tuner on the market, you'll probably want to do more research. Of course, if you are purchasing the XPS 410, you don't really get a choice about what TV tuner you want included. You can either get the dual-TV tuner or the single channel tuner, but both offer similar quality. In terms of out-of-the-box experience, the TV tuner left little to be desired. It works, the image quality looks about as good as most other analog TV tuners we have tested, and the Windows MCE interface is very easy to use.
Reliability, Warranty and Support
We have added a section to our system reviews where we attempt to take a look at the support offered, and we will also discuss the reliability and warranty options available. Unfortunately, Dell support requires a service tag number in order to provide support, which can make it difficult to draw any conclusions about the overall quality of support. We managed to work around this by using a service tag from a different XPS computer. This allows us to evaluate the average time it takes to reach a support representative via telephone, and we can also discuss some of the specific details of Dell's XPS support.
Throughout our testing, we only encountered one issue with the XPS 410. Our Quake 4 benchmark would periodically crash with a memory error. (Note that this was a game crash and not a system crash -- windows XP remained completely stable.) Dell shipped the system with the ForceWare 84.40 drivers, which are quite old compared to what NVIDIA currently has on their web site. Upgrading to the latest NVIDIA drivers got rid of our crashing issue, and since we recommend that most people with new hardware install the latest drivers anyway, this isn't a major problem. Before the update, Quake 4 would consistently crash about five minutes into the first level almost every time we ran it.
While we solved this particular problem on our own, we decided to try re-creating the issue with Dell's technical support team. Checking out the support web site, there was a suggestion that some users might get better performance using the latest NVIDIA reference drivers, and a link was provided to NVIDIA's driver section. Dell also provides a "performance driver" which is an updated driver that has undergone limited compatibility testing by Dell. Either driver was able to correct the problem we experienced; however, not everyone wants to browse around a web site, especially when you're paying extra for higher quality technical support.
We mentioned earlier that Dell XPS systems come with a premium level of support. With the system, you get a service tag as well as an express code that you use when calling Dell's support line. You also get a separate telephone number that is to be used for XPS support. When you call, you are prompted for your express code. With an XPS code, your support calls get bumped ahead in the priority queue, and Dell states that average wait times are about five minutes. We were able to verify their claims, and it took just under five minutes for us to reach a support technician on a couple different phone calls. In comparison, wait times for standard Dell support ranged from 10 minutes to nearly 20 minutes depending on call volume.
It did take about 20 minutes of conversing with the support representative before our problem was "solved" (he finally got around to suggesting the use of updated drivers). The troubleshooting process was not unreasonable, however, and he did walk us through various possible solutions. Sometimes, talking on the phone isn't the most effective way of troubleshooting a computer problem, and Dell offers several other types of support. You can chat online with a Dell representative, and if you have a broadband connection the service representatives can even take control of your computer to help fix problems. We asked to have a demonstration of DellConnect so that we could experience it for ourselves.
If you have ever seen Windows Remote Assistance in action, DellConnect is similar. The difference is that you begin either via a phone call to Dell support or through Dell's online chat support. From there, the support representative can offer to help you via DellConnect. Using Internet Explorer (ActiveX is required, so it does have to be Internet Explorer), you visit the main DellConnect web page, and the support representative gives you a ticket number. By entering that number into your browser, a remote connection is established. Initially, you are greeted with a prompt telling you whom you're connected to and you are shown a request to allow them to view your desktop.
In view mode, the support representative cannot control your computer, but they can send you basic graphics to show you where to click. They can draw arrows, circles, boxes, etc. which makes it much easier to explain to computer neophytes what they mean when they say "click on the start button." In some cases, that level of support may still be insufficient, and with your permission the Dell support representative can take full control of your computer. This allows them to easily pull up the event viewer, check your startup items, use the Registry editor, or just about anything else that might be necessary during troubleshooting. There's no need to be nervous either: if you ever see the support representative doing something you don't like for whatever reason, all you have to do is hit the escape key to regain control of the computer.
So what are the most common uses for DellConnect? Lost files and/or file management are a big one, and basic software configuration (for any software that Dell included on your system) and troubleshooting will be provided. Spyware/virus troubleshooting can also be provided, although there are limitations to what can be done with some of the nastier infections. In some cases, it's simply a matter of the user getting frustrated of dealing with phone support, so DellConnect can be used to allow the representative to fix the problem directly. Another big advantage is that communication barriers often arise, so if you can't understand the support representative or they can't understand you, services like DellConnect can often get around the barriers. Basically, most actions that you could do if you were sitting in front of the computer can be done via remote assistance.
For XPS customers, most of the support representatives will put forth a "best effort" to help you with whatever problem you have, although some things are obviously beyond the scope of their support. For example, if you call asking for help in creating a spreadsheet formula in Excel or a macro in Word, that's more of a software training question as opposed to technical support. For issues that are not covered by the standard support service, Dell offers a fee-based On Call service with charges per incident.
As we have said previously, giving a final evaluation on customer support is something of a nebulous process. In the case of Dell, their service representatives were able to properly "solve" the issues that we encountered in a reasonably timely fashion. They'll also provides 24/7 support, so if you're the type of person that's going to want to call technical support over the weekend or late at night, they have you covered. As we discussed, DellConnect gives them the option to take control of your PC remotely, which can certainly be useful for diagnosing and troubleshooting some problems -- especially when the person on the other end of the line doesn't really know what they're doing with the computer. If you've ever tried to talk your computer illiterate relative through even typical maintenance processes over the phone, you know how frustrating that can get. Fixing the problem for someone isn't as good as actually teaching the person how to avoid/fix the problem on their own, but many people forget anyway.
In the end, our experience with Dell's XPS support was very good. There is definitely a premium price associated with XPS computers, but the shorter wait times and higher level of training that is required for XPS technicians certainly showed. Dell offers all of the tools that most people would want for troubleshooting and support questions: telephone, email, forums, online chat, and remote control of your PC. Even that doesn't guarantee that they will always be able to solve your problems, but our subjective analysis is that the XPS support at least seems to be more than capable of handling technical issues.
The standard warranty on all XPS systems is one year, though you can purchase up to a four-year premium warranty for an extra $300. It almost seems like you're already paying $300 extra for the XPS service and support, and it would be nice to see a longer than one year standard warranty given the price. For users interested in XPS due to the improved support, they'll probably also want more than a one year warranty. If you feel like you need a high level of handholding with your next computer purchase, Dell's XPS line certainly appears to offer that and more.
Benchmark Setup
Unlike our motherboard and other component reviews, our system reviews are evaluations of a complete setup, and as such they are not apples-to-apples comparisons. We evaluate computer systems as a package and talk about the entire experience rather than focusing on specific benchmark scores. We have already covered the support and warranty information, and for many people that will be far more important than any other performance metric.
That said, we have had several recent system reviews and we will compare the Dell XPS 410 with the recently reviewed PC Club Sabre Extreme and ABS Ultimate X9. Here is a rundown of the test configurations for the three systems. Note that the ABS system arrived with a factory overclock, but it is also available without the overclock, so we will include both results. (End user overclocking performance with the PC Club can be found in the
PC Club review
.)
Dell XPS 410 Test Configuration
Processor
Intel Core 2 Duo E6600 2.40GHz 4MB Cache
RAM
2x1024MB Nanyo PC2-5300
DDR2-667 1.8V 5-5-5-15 Timings
Hard Drive(s)
2 x Western Digital 320GB WD3200KS SE16
Dives configured in RAID 1
System Platform Drivers
Intel - 8.1.1.1001
Video Card:
1 x Dell 7900 GTX
Sound Card:
Sound Blaster X-Fi XtremeMusic
Video Drivers:
NVIDIA 91.47
CPU Cooling:
Dell BTX HSF
Power Supply:
Dell 375W
Motherboard:
Dell P965 - 1.03 BIOS
Operating System(s):
Windows XP Media Center Edition 2005 SP2
PC Club EN-SE6 Test Configuration
Processor
Intel Core 2 Duo E6600 2.40GHz 4MB Cache
RAM
2x512MB Transcend PC2-5300 JM367Q643A-6
DDR2-667 1.9V 5-5-5-13 Timings
Hard Drive(s)
Western Digital 250GB WD2500KS SE16
System Platform Drivers
Intel - 8.1.1.1001
Video Card:
1 x MSI 7900GT
Video Drivers:
NVIDIA 91.31
CPU Cooling:
Retail Intel HSF
Power Supply:
Allied 350W
Motherboard:
Gigibyte GA-965P-DS3 - F4 BIOS
(Newer builds use MSI P965 board)
Operating System(s):
Windows XP Home SP2
ABS Test Configuration
Processor
Core 2 Extreme X6800 (2.93GHz 4MB Cache)
20% Overclock (3.52GHz - ABS Warranty)
RAM
2 x 1GB Corsair CM2X1024-6400C4
DDR2-960 5-5-5-15 2.2V for Overclock
DDR2-800 4-4-4-12 2.0V Stock
Hard Drive(s)
2 x 150GB WD Raptor RAID 0
System Platform Drivers
Intel - 8.1.1.1001
Video Cards:
2 x ATI X1900XT (Master+Standard)
CrossFire on Intel 975X
Video Drivers:
ATI Catalyst 6.8
CPU Cooling:
Gigabyte GH-WIU01 Liquid Cooling
Power Supply:
Enermax Liberty 620W
Motherboard:
Intel 975XBX (Intel 975X)
Operating System(s):
Windows XP Professional SP2
As we continue to review additional Core 2 Duo systems (and AMD systems), we will include the results from the previously tested systems as long as those results remain relevant. Again, we are looking at the entire package, and it should come as no surprise that higher costs bring higher performance. Design, features, reliability, support, component selection, and price are all factors, and we will do our best to evaluate all of these areas in our system vendor reviews.
Standard Application Benchmarks
We'll start with a look at typical application performance. Results from 3DMark05/06, PCMark05, AutoGK with DivX 6.2.5, and Cinebench 9.5 were collected. As we are comparing different configurations, the results should not be taken as an apples-to-apples comparison but rather as an indication of the performance offered at various price points.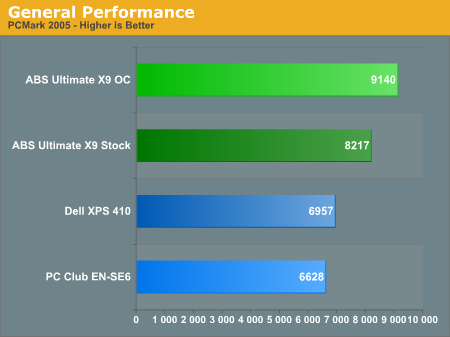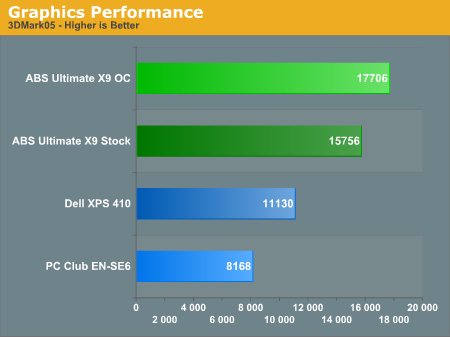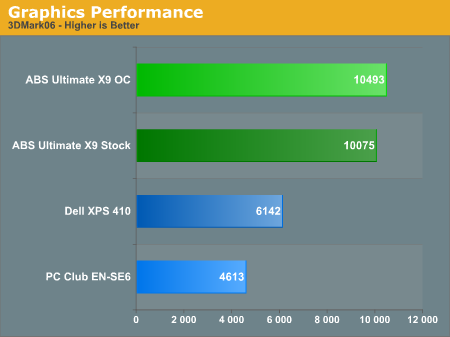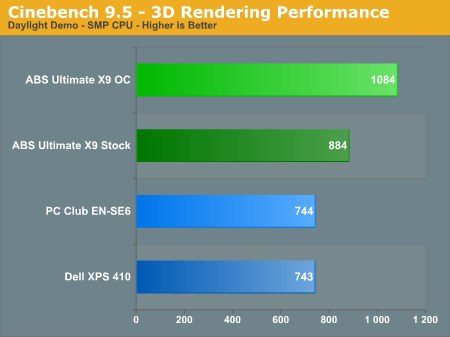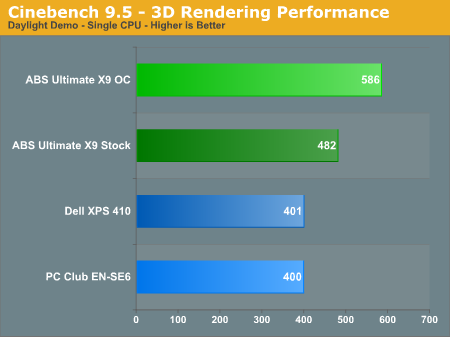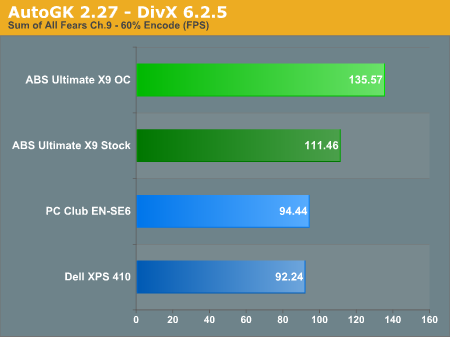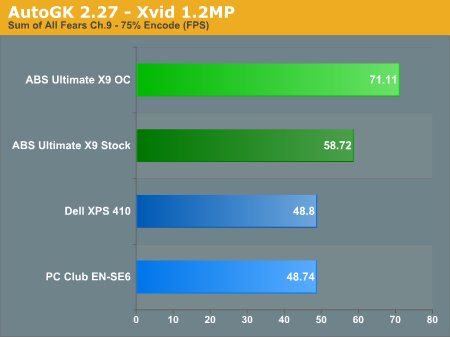 We consider 3DMark to be more of a synthetic benchmark, though it is widely used as a measure of system gaming performance. Even at roughly equivalent clock speeds (Sabre Extreme versus Dell XPS 410), it is not at all surprising to see the higher end GPU win out by a sizeable margin. The real world gaming tests will show what level of performance is really offered. The different graphics cards also have an impact on the PCMark05 results, though in practice all the tested configurations are sufficiently fast for just about any office related task.
In Cinebench and AutoGK performance, the impact of faster CPU speeds is clearly apparent for tasks like video encoding and 3D rendering. If you don't ever do video or 3D rendering or other similar work, a faster CPU may not be terribly important. On the other hand, if you're constantly running CPU limited tasks, spending money on a faster CPU (or overclocking if available) can definitely help out.
Gaming Resolution Scaling
As this is a system review, we will look at the gaming performance that can be achieved using the XPS 410 at lower resolutions and/or detail settings. We tested the five most commonly used resolutions for modern LCD displays at "high" and "medium" settings. We have provided a chart below of the test settings used for "medium quality" and "high quality" in each game. Here are the results from all three tested systems. All of the results are with sound enabled where possible, as this is how most people play games and it reflects testing the performance of the entire package rather than individual components.
Game Settings
Medium Quality
High Quality
Battlefield 2
All settings at high with 0xAA
All settings at high with 4xAA
Far Cry
All settings at Very High with 0xAA/8xAF
Water at Ultra High
All settings at Very High with 4xAA/8xAF
Water at Ultra High
HL2: Episode 1
All settings on high
HDR and color correction enabled
0xAA/8xAF
All settings on high
HDR and color correction enabled
4xAA/8xAF
Oblivion
Ultra High Defaults (Max) except:
Grass: 0%
Interior/Exterior Shadows: 25%
Self Shadows: Off
Shadows on Grass: Off
Tree Canopy Shadows: Off
Shadow Filtering: Off
Specular Distance: 50%
HDR: On (AA: Off)
Ultra High Defaults (Max) except:
Grass: 50%
Interior/Exterior Shadows: 50%
Self Shadows: Off
Shadows on Grass: Off
HDR: On (AA: Off)
Quake 4
High defaults with 0xAA
SMP enabled
High defaults with 4xAA
SMP enabled
Serious Sam 2
High Detail Defaults
High Texture Size
HDR Enabled (AA Off)
Maximum Detail Defaults
HDR Enabled (AA Off)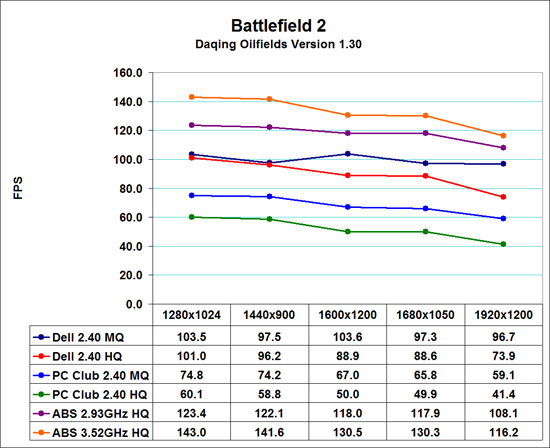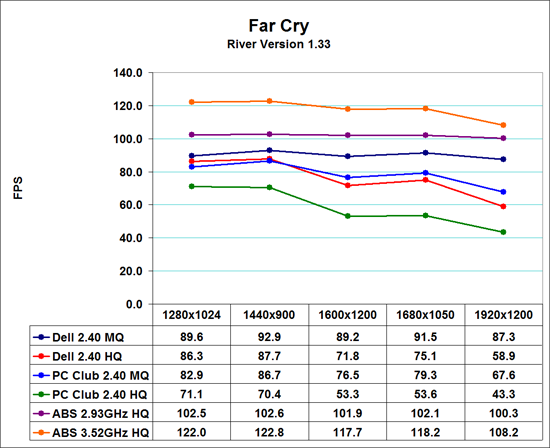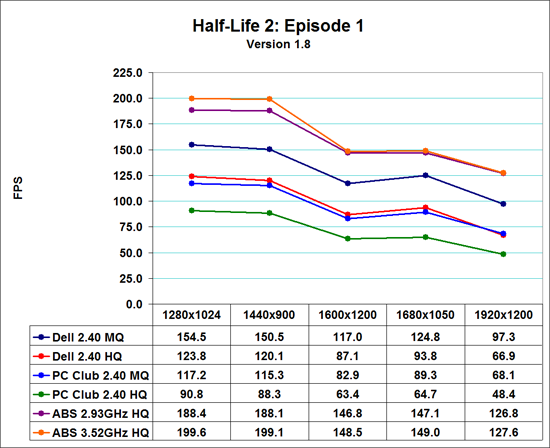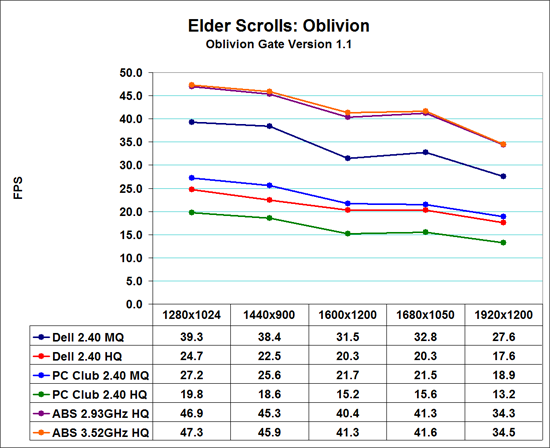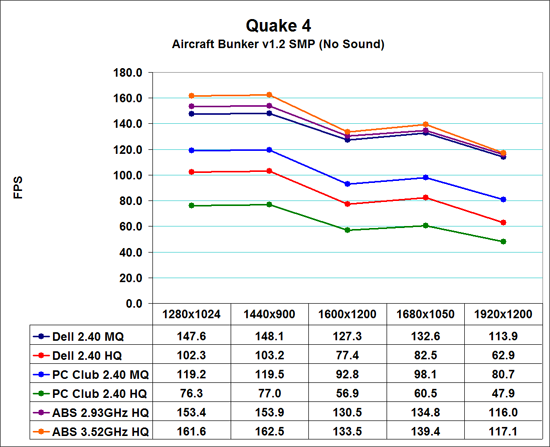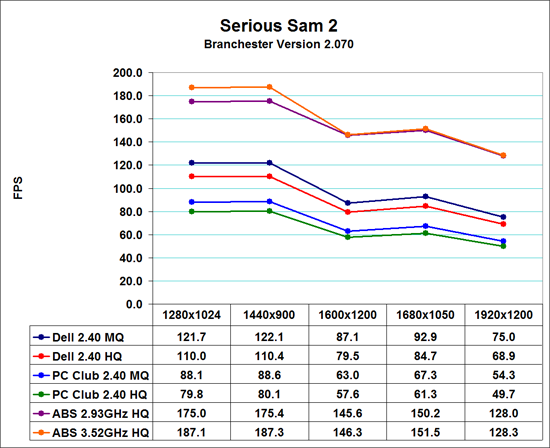 The ABS Ultimate X9 continues to be the fasted tested system that we have reviewed, especially at higher detail settings. The ABS Ultimate X9 was not tested without antialiasing (except in Oblivion and SS2 due to the use of HDR), as performance is more than acceptable so there's no need to drop detail levels. The Sabre Extreme on the other hand can definitely benefit by running at slightly reduced detail settings, especially at higher resolutions. The chief difference between the Sabre Extreme and the XPS 410 is the graphics card, and the fact that the 7900 GTX is faster than the 7900 GT is not at all surprising. If you're wondering how the XPS 410 with a 7900 GS would perform, the reduction in the number of pipelines will reduce performance slightly relative to the 7900 GT in the PC Club Sabre Extreme, but for the most part the two cards would perform very similarly.
Even the fastest system is running into GPU limitations, so the performance benchmarks here essentially amount to comparing different GPUs. At present, the vast majority of games depend more on graphics performance than CPU performance, so with the exception of flight simulators and certain strategy games, GPU performance really does equate to gaming performance. If you need help deciding whether or not you should upgrade the graphics card in a prebuilt system, you can always refer to our
video card reviews
. Perhaps future games will be able to place more of a burden on the CPU, but that doesn't appear too likely, as games like Unreal Tournament 2007 and the recently released Prey appear to be more GPU limited than current titles.
The choice of graphics card is going to depend in a large part on your choice of display. If you plan on getting a standard 19 inch display -- widescreen or not -- a 7900 GT or 7900 GS will be plenty powerful for the majority of games. With larger displays, running at the native LCD resolution will require more graphics power, and you can see the advantage that the Dell XPS 410 holds over the Sabre Extreme due to the faster GPU. Disabling some of the graphical complexity can help improve frame rates on lower end GPUs, but eventually we will reach the point where faster hardware is going to be required.
DirectX 10 and Windows Vista are both due out in early 2007, and we expect them to usher in a new era of GPU performance. Until then, the GeForce 7900 GS strikes a good balance between price and performance (it would score slightly lower than the 7900 GT), while the GTX continues to be a very fast single GPU solution. However, we are certainly hesitant to recommend spending $500 or more on a DirectX 9 graphics card that will become outdated in just a few more months. If you demand more gaming performance now, consider that a GX2 can be had for almost the same amount of money as Dell charges for the 7900 GTX.
Noise and Power
Another aspect of system performance that we like to test is the noise and power requirements. Dell is marketing the XPS 410 as a multimedia computer, and in that case lowered noise levels are even more important. We tested noise and power at three settings: idle, 100% CPU, and maximum CPU + GPU. 100% CPU load is achieved by running two instances of Folding@Home (FAH). For the maximum stress test, we leave FAH running and launch the Splinter Cell: Chaos Theory benchmark at 1600x1200 4xAA/8xAF. Performing video encoding or other CPU intensive tasks while playing a game will achieve a similar CPU load.
Some of our readers have questioned in the past why we even perform such heavy stress test scenarios. After all, there are a lot of people that will never run two CPU intensive tasks along with a game to fully stress their computer, right? The problem is, we don't know what the future holds. Right now, most games and applications will not achieve the same load levels that we are using. In another year, however, newer products and games may actually reach the point where "typical use" scenarios put a similar stress on a system. We consider the maximum load test a worst-case scenario, but provided the systems can run fully stable throughout our testing then we can say with some confidence that they will be okay with future applications and games.
For the ABS system, noise results basically showed no difference between any of the clock speeds, as all of the fans run at a constant RPM. However, the water cooling fan does come with the ability to control fan speed, so we set that to minimum for idle testing and then a middle and maximum speed to show the difference in noise levels.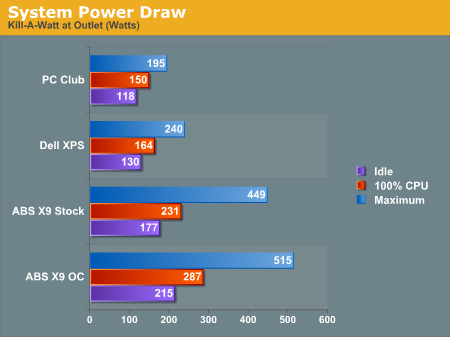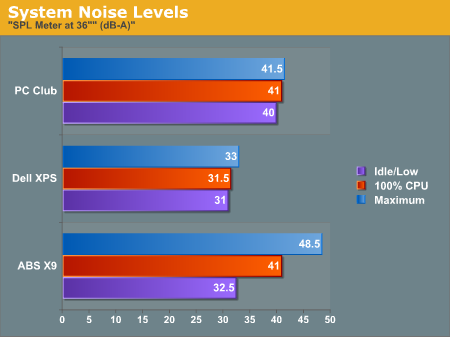 Starting with power requirements, it should come as little surprise that faster CPUs and GPUs require more power. In comparison to the ABS Ultimate X9, the power requirements of the Dell and PC Club computers are extremely low, with the Dell using slightly more power. Using two faster graphics cards, a faster CPU, not to mention the water cooling configuration and hard drives clearly requires a lot more power than a typical midrange computer.
Looking at noise levels, all the tested computers have a relatively consistent noise output. The ABS Ultimate X9 is louder than the others at maximum fan speed and very quiet at minimum fan speed, but again we note that the X9 was not entirely stable during testing in the original configuration, and for high stress situations you will definitely want to increase the fan RPMs.
The Dell XPS 410 does very well in the noise and power benchmarks. If you had any concerns about the 375W power supply, the highest power draw we were able to achieve was 240W, which should leave you plenty of leeway. The noise levels are clearly better than the competition, and only under maximum load were we able to generate slightly more noise than at idle. Of course, if one of the optical drives spins up to maximum speed, the noise readings jump up to about 46 dB, but we're talking about constant system noise and not optical drive noise. Dell's use of a BTX form factor chassis and motherboard certainly appears to have helped them keep noise levels low; now users just need to remember to clean the dust off the fan intakes every now and then.
Final Thoughts
As we said in the introduction, Dell is a big company that a lot of people love to hate. As with any large company that has many products, Dell has certainly had their fair share of lemons, but they have also had a few standout products. Right now, we would argue that it's extremely difficult to find a better LCD than what Dell offers, for example. Similar sure, but better and/or cheaper is a lot harder to come by. So how does the XPS 410 compare to the competition?
As an overall out-of-the-box experience, the system was a real pleasure to use. It could be set up in minutes, it's fast, quiet, and it offers just about everything you could want in a modern high-end computer. It is certainly possible to surpass it in performance, features, or price. It is much more difficult to beat the XPS 410 in all of those areas while also offering high-quality customer service and support. With base models starting at under $1000, the XPS 410 is likely to be very popular. As with any computer system, there are still minor flaws, but most of these can be overlooked.
The chassis design does just about everything right, and that's one area where we have absolutely no complaints. Most of our complaints center on component selections and prices, which are subject to change. We would like to see slightly faster memory (DDR2-800) as an upgrade option, for example. It would also be nice to have the option to upgrade to a more powerful PSU, and a few more options on the graphics card front wouldn't hurt.
We would like to see Dell integrate a few more features directly onto the motherboard in order to free up some expansion slots. There's really no reason for a system in this price range not to have FireWire ports. We would rather see every system cost an extra $10 than to be faced with the decision of either spending $30 on a PCI FireWire card or going without. Not everyone is going to need FireWire support, but if the XPS 410 is truly a multimedia computer, then FireWire should not be optional. Besides, with the elimination of legacy devices, there is a large unused block on the I/O plate that could be filled with a few extras. External SATA would be another good addition, for example.
Some people have had bad experiences with Dell, especially when it comes to customer support. We can't say how well they handle all customer calls, but during our testing and evaluation period all of our interaction with the support department went very well. The system as a whole was extremely stable, and other than an outdated driver that caused periodic instability with one particular game, we didn't experience a single crash throughout weeks of stress testing and benchmarking. If you don't care about getting the fastest computer on the block but just want something that's reasonably fast, very reliable, and you would like some good customer service and support, the Dell XPS 410 looks like a real winner.
Our one minor complaint would have to be price, but we're speaking specifically about the configuration we were sent for evaluation. If you're actually interested in purchasing an XPS 410 and would like our recommendation as to the best component selection for a reasonable price, most of what we were sent for review is a good place to start. One area where you can cut performance a little without too much of an impact on subjective performance is the processor. Core 2 Duo is typically so fast that most people simply don't need anything more than the base model. If you want to pay $50 to upgrade to the E6400, that's a reasonable choice, but anything beyond that and you get greatly diminished return on your investment. Cutting the graphics card to the 7900 GS is also a good compromise, particularly for more casual gamers, and non-gamers should be fine with the default X1300 Pro.
One area where you can cut the price a lot is the LCD, but here we would advise you to go all-out and splurge on the best monitor you can afford. $800 is a lot of money to pay for just a display, but remember that the display is part of the computer you're going to see the most, and for some things bigger is better. For more casual family computer use, or perhaps for systems where the XPS 410 is going to be located near the TV and used as an HTPC, sticking with the included 19 inch monitor won't present any real problems.
So what don't you get with the XPS 410? Enthusiast level features and performance. You won't get overclocking, multiple GPUs, or the fastest CPUs and GPUs. The power supply could prove to be a limiting factor in the future if you want to upgrade to some of the upcoming graphics cards, but we will have to wait and see before we can render a definitive verdict in that regard. For the hard-core hardware junkies, you can certainly get equal to or better performance for less money than Dell is charging. On the other hand, if you simply want a prebuilt system that is easy enough for your parents or grandparents to set up, and you would rather have someone else provide technical support, the Dell XPS 410 is presently one of the best choices on the market. Not everyone needs the equivalent of a turbocharged street racer, and the XPS 410 represents a combination of style, performance, features, reliability, and support that should make a lot of casual users happy.