Original Link: http://www.anandtech.com/show/2074


"If you would be wealthy, think of saving as well as getting."
This quote by noted author, diplomat, physicist, and politician Benjamin Franklin describes our attitude about the
ASRock
ConRoe945G-DVI motherboard. While the Core 2 Duo processor series was launched in late July, the availability of motherboards supporting this impressive CPU has not been stellar. We saw a small wave of Intel 975x and P965 chipset boards at launch that are finally starting to mature from a performance and compatibility standpoint. In the meantime we have seen a few additional boards launch based on these same chipsets, along with others using the NVIDIA nForce 570 SLI and NVIDIA nForce4 SLI X16 for Intel series. We have also witnessed some old now new again chipsets come of age based on the performance potential of Core 2 Duo. The VIA PT880Pro, Intel 945P, and Intel 865 fall into the latter category, and now we add our first look at the Intel 945G chipset with Core 2 Duo.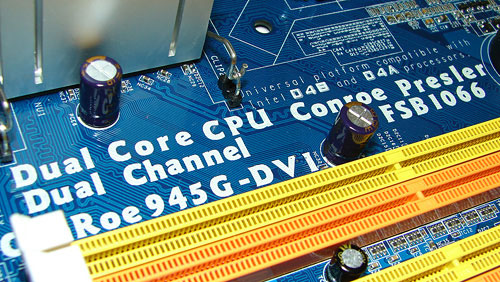 While the
945G
has been around for awhile the performance potential of the chipset is still very good, especially for the budget sector, and provides a solid platform for those interested in a mATX form factor board. The 945G will eventually be replaced by the recently released G965 chipset and we expect there to be an almost $40 difference in price between the two platforms for the time being. Whether the
G965
is truly worth this premium or not we will see in an upcoming article.
In the meantime, ASRock recently shipped us their ConRoe945G-DVI motherboard for evaluation. The ASRock board is expected to sell for around $75 and brings with it a full set of features including a separate DVI card that allows for dual monitor usage with the onboard Intel GMA950 graphics chip. While the onboard video is fine for general desktop usage and surfing the Internet, it is not meant for 3D gaming no matter how many buzzwords Intel throws out in their
GMA950 specification documents
. Our article today is meant as brief review of this chipset's capability as implemented by ASRock when compared to a recent review of other
budget chipsets
. We will have further performance results from this board and others based on the mATX platform in a future roundup.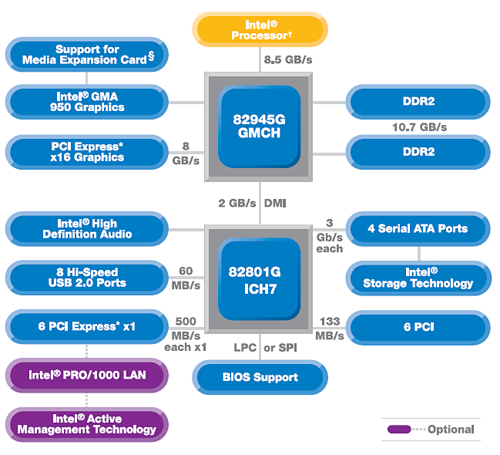 The 945G chipset used by ASRock in their
ConRoe945G-DVI
motherboard is over a year old, and it is paired with the Intel ICH7. Our first impression of the motherboard was very good as the layout of the board is clean and well organized for a mATX design. The chart above lists the standard feature set available when utilizing the Intel 945G (82945G) and ICH7 (82801GB) chipsets. The 945G/ICH7 combination enables full support for a single X16 PCI-E graphics slot or onboard GMA950 graphics configuration, a single HDMR slot, up to six X1 PCI-E devices, 4GB memory addressability, and native DDR2 533/667MHz memory support. This combination also enables support for eight USB 2.0 ports, HD Audio, Gigabit Ethernet support, six PCI slots, four SATA 3.0Gb/s ports, and two IDE devices. The 945G chipset does not support the Pentium EE or XE series of processors.
Now let's take a closer look at the performance this board offers.
Basic Features
ASRock ConRoe945G-DVI Specifications
CPU Interface:
LGA775-based Pentium 4, Celeron D, Pentium D, and
Core 2 Duo processors
Chipset:
Intel 945G - MCH
Intel ICH7 - ICH
Front Side Bus:
1066 / 800 / 533 MHz
Front Side Bus Speeds:
Auto, 140~350MHz in 1MHz increments
Memory Speeds:
Auto, DDR2-400, DDR2-533, DDR2-667
Memory Timings:
Auto, tCAS, tRCD, tRP, tRAS
PCI Bus Speeds:
Fixed
PCI Express Bus Speeds:
Auto, 70MHz ~ 150MHz in 1MHz increments
Set Processor Multiplier:
Auto, (step down available for certain Pentium 4 series)
Core Voltage:
Auto, Fixed
DRAM Voltage:
Auto, High, Middle, Low
Memory Slots:
(4) x DIMM, max. 1GB per DIMM, max. 4GB total system memory,
DDR2 667/533, non-ECC, unbuffered memory
Expansion Slots:
(1) x PCI-E x16
(1) x PCI-E x1
(2) x PCI 2.3
(1) x HDMR
Onboard SATA:
Intel ICH7:
(4) x SATA 3Gbps, Hot Plug not supported
Onboard IDE:
Intel ICH7:
(1) x UltraDMA 100/66/33
Onboard USB2.0:
(8) USB2.0 ports
Onboard LAN:
Realtek RTL8111B PCIE 10/100/1000Mb/s Ethernet LAN
Onboard Audio:
Realtek ALC-888, 8-channel capable HD Audio
Onboard Video:
Intel Graphics Media Accelerator 950
Power Connectors:
20-pin ATX
4-pin ATX 12V
Back Panel I/O Ports:
1 x PS/2 Keyboard
1 x PS/2 Mouse
1 x Parallel (LPT)
1 x VGA
1 x Audio I/O Panel
1 x RJ45
4 x USB
Features:
United Overclocking - Fixed Mode PCI/PCIE modes
BIOS:
AMI 1.10
The BIOS layout and configurable options are representative of a budget performance system. We would like to note that if the X16 PCI Express slot is not utilized for a GPU then it will operate as an X1 PCI Express capable slot. The ConRoe945G-DVI certainly does not offer the same level of BIOS controls as more performance oriented boards but is typical of current ASRock value series boards. However, the options available allow enough control over the memory and subsequent performance of the board as not to hinder the user, except for two settings.
One issue we have with this BIOS -- and those of other ASRock boards -- is the lack of specific memory voltage settings besides High, Middle, and Low. Although this board is targeted to the value performance segment, the lack of specific voltages hindered our ability to overclock the board. The best we can tell with our memory modules is that the High setting added about +.15V to our base 1.8V requirement. The other major issue that could arise for Pentium 4 and possibly Core 2 Duo users is the complete lack of vCore settings. The board will basically set the voltage to the CPU's default voltage.
Features and Layout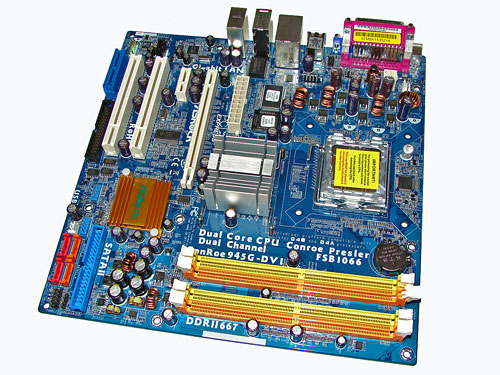 Click to enlarge
ASRock designed a very well laid out board with all major connections easily reached. The layout provides very good clearance for cards and components while being very simple to install in our mid-size ATX case or mATX case. The board features a 4-phase voltage regulator power design that provided very good stability during general usage and light overclocking.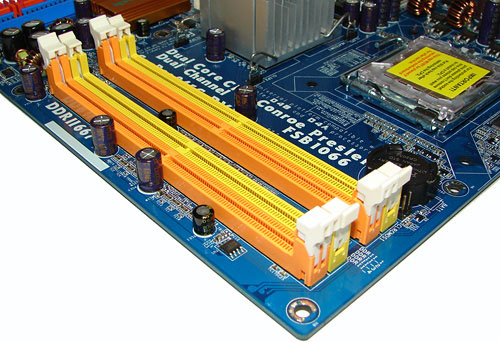 The DIMM module slots' color coordination is correct for dual channel setup. The memory modules are easy to install with a full size video card placed in the PCI Express X16 slot. The battery and clear CMOS jumper are located at the right edge of the number one DIMM slot.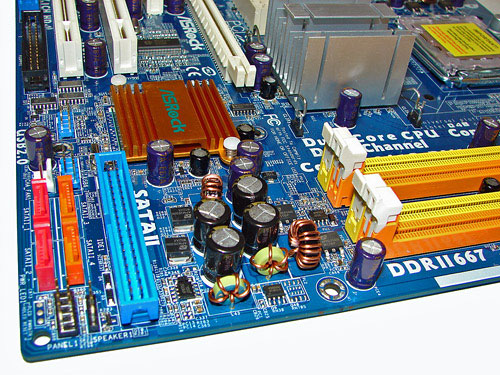 The orange and pink Intel ICH7 SATA ports are conveniently located on the board's left edge and next to the blue IDE port connector. Unlike other recently reviewed boards the SATA ports are color coded for primary and secondary operation if this is important to you. We found the positioning of the SATA ports to be excellent when utilizing the PCI slots or the single IDE port connector. The Intel ICH7 chipset is passively cooled with a low-rise heat sink.
The blue IDE did not present any connection issues in our mid-size ATX case or SFF test case. The location of this connector is very good for most cases and those users still utilizing IDE hard drives. The chassis panel and system fan header are located on the left edge of the board near the SATA ports. The two USB 2.0 headers are located to the left of the Intel ICH7.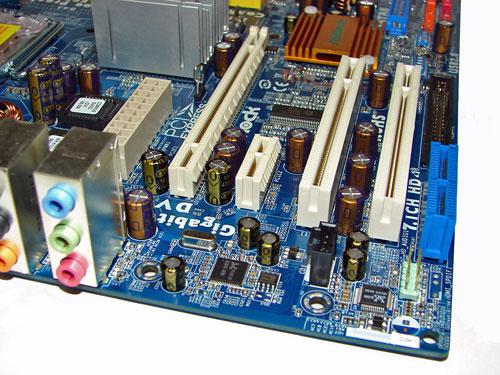 The board comes with one physical PCI Express X16 connector, one PCI Express X1 connector, one HDMR slot, and two PCI 2.3 compliant 32-bit connectors. The layout of this design offers a good balance of expansion slots for a mATX board.
The 20-pin ATX power connector is located in an unusual position in front of the large passive heat sink for the Intel 945G MCH. The PCI Express X16 connector is located next followed by the single X1 PCI Express connector. The location of this PCI Express X1 connector allows installation of most peripheral PCI Express cards and is only blocked by most dual slot video card designs.
The two PCI connectors are located next and followed by the HDMR slot. The black floppy drive connector is located in an inconvenient position behind the HDMR slot. The front audio panel header is located in front of the HDMR slot.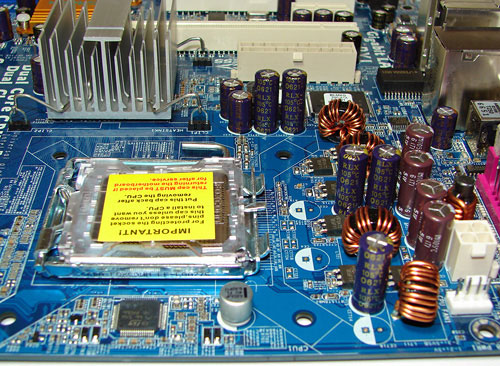 Click to enlarge
Returning to the CPU socket area, we find an ample amount of room for alternative cooling solutions. We utilized the stock Intel heat sink but also verified our Tuniq 120 Tower and Scythe Infinity would fit in this area during our tests, although we doubt most users of the this board would go to that extreme to cool the processor.
The Intel 945G chipset is passively cooled with a large heat sink that did not interfere with any installed peripherals. Our only concern is the location of the 20-pin ATX power connector as the cabling tends to interfere with the CPU heat sink/fan during usage. ASRock places the four-pin ATX power connector at the top of the CPU socket area and next to the CPU fan header.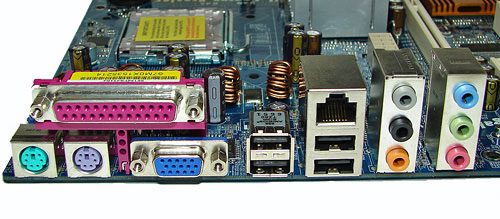 The PS/2 mouse and keyboard ports are located on the bottom of the I/O panel and underneath the LPT parallel port. The VGA port is located to the left of the first two USB ports and below the LPT parallel port. The LAN (RJ-45) port and the second pair of USB 2.0 connectors are located next to the first set of USB ports. The audio panel consists of 6 ports that can be configured for 2, 4, 6, and 8-channel audio connections.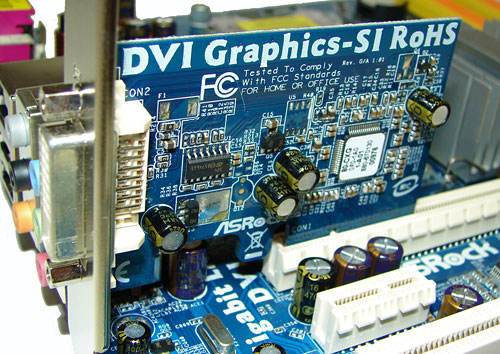 ASRock ships a DVI accessory card that installs into the PCI-Express X16 slot and offers dual monitor capability when utilized with the onboard Intel 950GMA solution. In our testing, this capability worked well with general office applications such as Word or Excel.
FSB Overclocking Results
Front Side Bus Overclocking Testbed
Processor:
Core 2 Duo - E6300 1.86MHz
CPU Voltage:
1.300v
Memory Settings:
3-4-3-10 at 667MHz
Memory Voltage:
1.95V
SPP Voltage:
Default
FSB Voltage:
Default
Cooling:
Scythe Infinity
Power Supply:
OCZ GameXStream 700w
E6300 OverClock
300fsb x 7 (2100MHz) +13%
This board is a decent overclocker for a budget board although we could not help but think the board would easily overclock better with additional memory and processor voltage options. At these settings the system was able to complete our benchmark test suites three consecutive times along with dual Prime95 and SuperPI 32M without issue.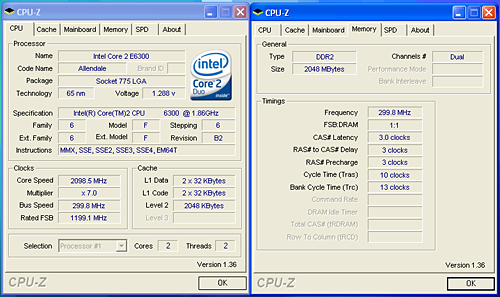 We set our memory to a 4:3 (DDR2-400) ratio and were able to even post at 318FSB but could not get the system stable past 307FSB. Due to the reduced memory speed the performance of the system was decreased across all benchmarks so we left the memory at 1:1 where we achieved our best performance. Our board would boot up to a 305FSB with the 1:1 memory ratio but was not stable at those settings.
When we changed our memory to the 4:5 ratio (DDR2-667) our FSB capability dropped to 291FSB and we had to change our memory timings to 4-4-3-12 for stability. Our benchmark results ended up being slightly better or even with the 1:1 ratio results but with less stability over the course of testing. We tried different memory modules from our
value memory roundup
with the same results. Unlike the ASRock VIA PT880 board our memory was not as overclockable or stable with the lower timings, although performance at DDR2-667 is better with the Intel chipset.
Memory Stress Testing
Memory Tests
Our memory stress tests looks at the ability of the ASRock COnRoe945G-DVI to operate at the officially supported memory frequencies of 533MHz DDR2 at the best performing memory timings the Transcend DDR2-533 JetRam will support. Our DDR2 memory is from Transcend and was utilized in some extensive HTPC testing for our upcoming
Intel DHCAT article
. The memory features average 5-5-5-12 latencies at DDR2-667 but was able to perform at much lower latencies in our testing with increased voltages at DDR2-533 and DDR2-667 while costing around $70 for a 1GB kit.
ASRock ConRoe945G-DVI
Stable DDR2-533 Timings - 2 DIMMs
(2/4 slots populated - 1 Dual-Channel Bank)
Clock Speed:
266MHz (1066FSB)
Timing Mode:
533MHz - Default
CAS Latency:
3
RAS to CAS Delay:
3
RAS Precharge:
3
RAS Cycle Time:
9
Voltage:
1.95V
The ASRock board was very stable with two DDR2 modules in Dual-Channel at the settings of 3-3-3-9 at 2.1v. We were able to hold 3-4-3-10 at 1.95V at DDR2-667 but could not overclock the board at this memory speed without increasing to 4-4-3-12. We will now fill all four available memory slots as that results in more strenuous requirements on the memory subsystem than testing two DDR2 modules on a motherboard.
ASRock ConRoe945G-DVI
Stable DDR2-533 Timings - 4 DIMMs
(4/4 slots populated - 2 Dual-Channel Banks)
Clock Speed:
266MHz (1066FSB)
Timing Mode:
533MHz - Default
CAS Latency:
4
RAS to CAS Delay:
3
RAS Precharge:
3
RAS Cycle Time:
10
Voltage:
1.95V
The ASRock was completely stable with four DDR2 modules in Dual-Channel operation at the settings of 4-3-3-10 at 1.95V. We tried several combinations of memory settings and memory modules at lower timings but the board was not stable enough to complete our test suite. Overall, our recommendation would be to utilize DDR2-533 memory that offers low latency memory timings at reduced voltages on this board.
Test Setup
Our test setup is not our normal configuration due to time constraints for generating this early look review. We are using the test configuration from our recent
Core 2 Duo memory performance
articles since we had a base of information with the E6300 and several competing Intel and VIA based motherboards. Also, this test configuration is well suited for this board's capabilities and would be considered a mainstream solution in regards to the overall system cost. We will have extended test results with this board in our upcoming mATX roundup utilizing additional hardware configurations.
Performance Test Configuration
Processor:
Intel Core 2 Duo - E6300
RAM:
2 x 512mb Transcend JetRam DDR2-533
Hard Drive(s):
1 x Seagate Barracuda 7200.10 320GB
System Platform Drivers:
Intel Chipset Software - 8.0.1.1002
Video Cards:
1 x EVGA 7600GS (PCI Express)
Video Drivers:
NVIDIA nForce 91.31 WHQL
Cooling:
Scythe Infinity
Power Supply:
OCZ GameXStream 700w
Operating System:
Windows XP Professional SP2
Motherboards:
ASRock ConRoe945G-DVI
ASRock 775Dual-VSTA (VIA PT880Pro)
ASRock ConRoeXFire-eSATA2 (Intel 945P)
Biostar TForce 965 Deluxe (Intel P965)
DFI Infinity 975X/G (Intel P975X)
Asus P5NSLI (NVIDIA 570SLI)
Our configuration was operated at a resolution of 1024x768 with high quality settings for each graphics benchmark. We will have onboard graphics test results with this board in an upcoming G965 versus 945G comparison, although we were only able to complete Quake 4 testing with the Intel GMA950.
We are testing our motherboards at the fastest stable timings we can achieve and still pass our benchmark test suite. By increasing the memory voltage on the ASRock board we were able to run our Transcend modules at 3-3-3-9 at DDR2-533 and 3-4-3-10 at DDR2-667. With these set ratios our CPU speed remains the same at 1.86GHz in the test platform with memory speed being varied by selecting the different ratios. Our memory settings were derived from extensive stress testing with a variety of applications. While certain settings that allowed lower latencies worked well with certain applications, the final settings we arrived at had to work with all applications.


Click to enlarge
The Sandra bandwidth Unbuffered memory performance of the Intel 945G chipset is the highest of our group at DDR2-533 (1:1 ratio) and second highest at DDR2-667 (4:5 ratio). The Unbuffered scores of the 945G chipset increase by 10% when going from DDR2-533 to DDR2-667 which equals the same increases found on the ASRock 945P. However, both the P965 and 975X scale at a rate of approximately 15%. The buffered memory scores are very competitive with the other solutions but we usually find these scores do not correlate well with real performance in most applications. The 945G scores very well in our SuperPI 2M tests where it ties the NV 570 SLI in the DDR2-533 results and places second in the DDR2-667 test. The latency results are average but improve upon the 945P board. A very good guide to understanding how the chipset, memory, and CPU relate to each other on Intel chipsets is
located here
.
Application Performance
We decided to test a few real world applications that typically stress the CPU, memory, and storage systems to see if the results from our synthetic memory tests carry over to the desktop.
Our tasks include three activities that are common on the desktop. Our first test was to measure the time it takes to shrink the entire Office Space DVD that was extracted with AnyDVD into a single 4.5GB DVD image utilizing Nero Recode 2. Our second test utilizes WinRAR 3.6 and measures the time it takes to compress our test folder that contains 444 files, 10 folders, and has 602MB of data.
Our third test uses Exact Audio Copy as the front end for our version 3.98a3 of LAME. We set up EAC for variable bit rate encoding, burst mode for extraction, use external program for compression, and to start the external compressor upon extraction. (EAC will read the next track while LAME is working on the previous track, thus removing a potential bottleneck with the optical drive.) Our test CD is INXS Greatest Hits, which contains 16 tracks totaling 606MB of songs. The results of our tests are presented in minutes/seconds with lower numbers being better.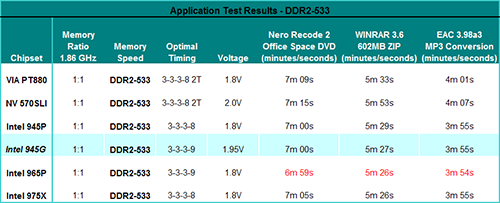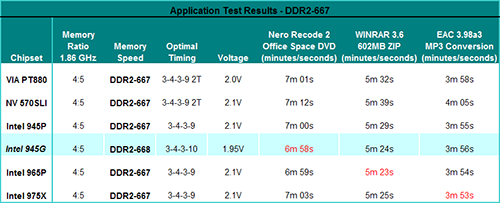 Click to enlarge
Our application test results mirror those of the synthetic results where the ASRock 945G scored well in both the buffered and unbuffered Sandra benchmarks along with the SuperPI 2M test. This chipset scored at the top of the DDR2-533 and DDR2-667 tests. You will want to run this board at either memory setting with low latency memory for best performance, but it will cost less to find DDR2-533 memory that can run at these settings with the memory voltage limitation. We believe the BIOS on this board is tuned better than the ASRock 945P board as in past testing we found the 945P to be a better performing chipset.
Gaming Performance
While Sandra and Super Pi provided useful information on how memory performs without the influence of other components, our first round of real world tests has shown there is not a noticeable difference in performance between DDR2-533 and DDR2-667 operation on this board. However, our next set of real-world benchmarks consists of gaming benchmarks.
Due to the amount of information and the relative closeness of the scores we are not utilizing zero based charts as the line graphs would stack on each other.
However, you can click on the graph for a zero based graph of the presented information. Although the data chart tells the story we felt like there should be some separation in the line graphs to accurately depict the information.
We are utilizing Half-Life 2: Lost Coast and Quake 4 in our testing because they are sensitive to memory bandwidth changes. We added Serious Sam II to our benchmark mix because it is typically very GPU dependent and we will see the effects of our memory/GPU choices on these games. We tested at the 1024x768 resolution with High Quality settings in order to reduce the effects of the video card on testing. We found the 7600GS to be GPU limited at 1280x1024 but it still provided a decent gaming experience with scores dropping off around 30% on average but still remaining around the 60FPS level.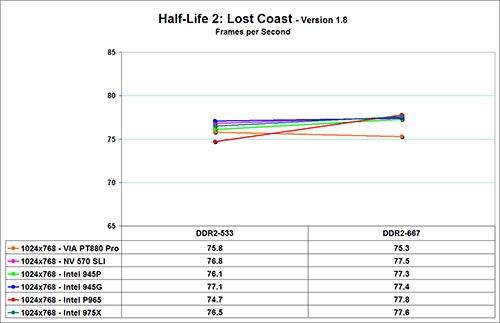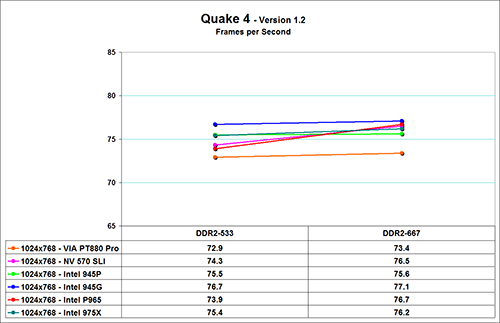 Click for Zero Point Charts
Our two memory sensitive games show a continuing pattern with ASRock ConRoe945G-DVI motherboard performing extremely well at both memory settings in Quake 4 and Half-Life 2: Lost Coast. The board finished with top scores in Quake 4 and very good results in Lost Coast, although at DDR2-667 the board did not scale at the same rate as in the other games. The ASRock 945G board finished second in Serious Sam II where the NV 570 SLI outclassed the other boards in our last tests. The onboard Intel GMA950 solution could not complete the Half Life 2 or Serious Sam II tests. It was able to beautifully create a stunning slideshow effect in Quake 4 with an average FPS rate of 10.9 at 1024x768 and 7.6 at 1280x1024. As we mentioned earlier, this graphics solution is best left running TurboTax and playing Internet Tetris.
Quick Thoughts
The ASRock ConRoe945G-DVI is a very affordable budget board for the Intel market that provides a very good feature set for around US $75. The performance of the board in the majority of the synthetic and game benchmarks was very good if not class leading at times. This is quite a feat for ASRock as our 945P board did not perform as well in previous testing. The stability of the board was excellent in all areas of testing and general usage with the proper memory settings. However, we were frustrated during overclocking with the limited memory voltage options as well as the lack of CPU core voltage settings. With that said, let's move on to our initial performance opinions regarding this board.
In the video area, the inclusion of a PCI-E X16 capable slot provides for a myriad of upgrade possibilities if you chose this route. The X16 slot will operate in X1 mode if the onboard graphics capability is used. The board also features Intel's prior generation GMA950 graphics core. This core actually provides a very clear and color saturated signal to your monitor although it will not be mistaken for an upper end ATI card. The display performance is very good for 2D applications all the way up to its 2048x1536 resolution capability. You can probably play the occasional 3D based game from several years back without issue but most 3D games released in the last three years will have trouble with this video solution. ASRock also includes a DVI output card that is installed in the X16 PCIE slot and provides dual monitor capability, and this worked perfectly in our testing. We also tried it with our Acer 24" LCD monitor without issue as the primary display out device.
In the performance area, the ASRock ConRoe945G-DVI generated very consistent and competitive benchmark scores in the gaming, general application, and synthetic tests. The stability of the board was excellent during testing provided we did not push our memory too far. Although we were able to match the other motherboard settings at DDR2-667, we always had the feeling that the memory was on the verge of not being stable unless we increased the CAS rate to 4. We were able to pass all of our tests at 3-4-3-10 at DDR2-667 but a small bump in the front side bus to 271 would render those settings inoperable. The limited memory voltage selection and lack of vCore settings is a setback for this board as we otherwise feel it has the potential to reach its maximum FSB of 350.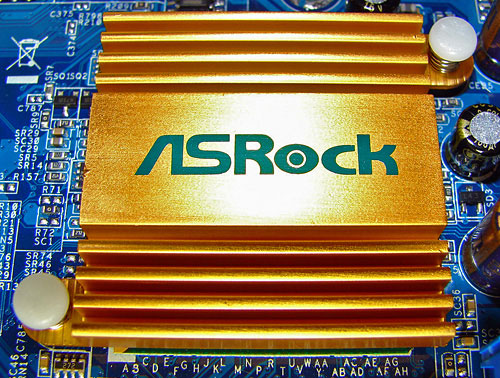 Overall, the board offers a very affordable platform for a small case enclosure and would be an excellent alternative for a HTPC system. In fact, we will be comparing several mATX boards in the near future in just this environment that will include power consumption, thermals, and video out capability. By upgrading the video capability to a lower range card like the NVIDIA 7600GS we found this motherboard to be just as competitive at stock speeds as boards costing over $100 more in gaming and audio/visual work. The board will never be the first choice for the computer enthusiast due to limited overclocking and memory settings along with its pedestrian heritage. However, it would make an excellent second system with the right components for a LAN gaming machine or even a primary gaming machine for those on a limited budget looking to use an E6300 Core 2 Duo.
While not as versatile or inexpensive as the ASRock 775Dual-VSTA in allowing you to upgrade from an older system, we still found ourselves gravitating to the stability, compatibility, and performance of the Intel 945G chipset due to the excellent PCI Express graphics performance. We would not hesitate to recommend this motherboard as the platform for a budget HTPC system or even a small form factor gaming system with the right components. In the end, ASRock once again offers excellent value for the money, enough so that your savings can be used for getting what you really want.