Original Link: http://www.anandtech.com/show/2072


It has been over two and half years since the Institute of Electrical and Electronics Engineers (IEEE) formed a task group to develop and implement a new 802.11 standard for wireless local area networks (WLAN). The proposed standard is known as 802.11n and is designed to
eventually
offer speeds up to 600 Mbps (burst mode, quad spatial streaming in the 5GHz band) with average data transfer rates around 200 Mbps and ranges extending up to 200 Feet indoors. The current shipping Draft N products
advertise
speeds up to 300 Mbps (burst mode, dual channel streaming) with data transfer rates reaching 130 Mbps and indoor distances up to 150 feet. The current 802.11g standard offers speeds up to 54 Mbps with sustained transfer rates around 24 Mbps operating at distances up to 100 feet indoors.
The proposed 802.11n amendment has had a colorful and storied history. This proposed standard does not have the publicity of the continuing HD-DVD/Blu-ray DVD drama. However, it does have similarities in the way two camps consisting of rival competitors have bickered over a next generation standard that should have been ratified by now. During the early creation phase of this project there were two camps jockeying to define 802.11n. These camps included the WWiSE (World-Wide Spectrum Efficiency) whose primary team members consisted of Airgo, Broadcom, and Texas Instruments along with TGNSync that was led by Intel, Atheros, and Marvell.
After months of bickering, these two groups along with the newly formed MITMOT (Mac and Mimo Technologies for More Throughput) team consisting of Motorola and Mitsubishi merged into a single group known as the Joint Proposal Team. This was a short lived alliance as the team fell apart with Intel, Atheros, Marvell, and Broadcom splintering off to create the Enhanced Wireless Consortium (EWC).
The EWC did what the other members and teams could not as they were able to get the IEEE 802.11n task group to approve their specification as the proposed 802.11n standard in January of 2006. In March of 2006, the IEEE committee sent the proposal known internally as
802.11n, Draft 1.0
, to its first letter ballot. The Draft 1.0 proposal failed miserably as it could not even gain a simple majority vote in favor of the proposal much less the required 75 percent majority required for ratification.
Over 12,000 comments were received from various IEEE members citing standards issues, operating frequency conflicts, and an overwhelming list of deficiencies (concerns) that include everything from power saving guidelines for handheld devices to proper streaming techniques for audio and video in media servers. In May of 2006, the IEEE 802.11 committee decided not to forward the Draft 1.0 proposal for a full sponsor vote and instead sent the 802.11n task group back to the drawing board to devise a new standard that would meet the concerns of the IEEE membership.
However, the primary members of the EWC that backed the 802.11n, Draft 1.0, specification started shipping "Draft N" product into the market shortly after the proposal was sent to its first letter ballot. This is a decision that could potentially haunt manufacturers and customers alike depending upon what the next draft proposes in the way of compliance to two main issues. While the current suppliers of Draft N products would like you to think that firmware and driver updates could potentially ensure their product is compatible with the upcoming standard there is no guarantee the products will work with the new standard properly, much less each other.
Out of the 12,000 comments about half of them have been resolved at this point through editorial content changes in the initial draft with a significant amount of the remaining comments being duplicates. However, there are a couple of issues that are at the crux of the current controversy. The two main issues with the 802.11n, Draft 1.0, proposal that are being remedied at this time include proper Clear Channel Assessment (CCA) and power-save multi-polling standards for handheld devices. The most critical issue currently is how to resolve the "bad neighbor" effect of the current Draft N hardware.
In essence, only three of the eleven 20MHz channels in the current 2.4GHz band where 802.11b, 802.11g, and proposed 802.11n standards operate do not overlap in most instances. These channels are currently 1, 6, and 11. The 802.11n Draft 1.0 proposal currently stipulates these 20MHz channels in the same frequency band while allowing for the optional 40MHz channel in the same band. This 40MHz channel capability is due to 802.11n defaulting to the use of two 20MHz channels of bandwidth via a throughput enhancing design known as channel bonding that appeared in the original MIMO (Multiple In, Multiple Out) products. The 40MHz signal can potentially overlap all of the 20MHz channels in the 2.4GHz band which allows for the disruption of any devices operating on the 20MHz channels. This creates the "bad neighbor" effect as you have the Draft N devices stepping on the legacy product signals, and this has been one of the major issues with the current release of products.
In order to solve this issue, the current recommendation is to still permit the use of the 40MHz channels but to "ensure" a method of detecting legacy networks operating on the same channel and then having the 802.11n device fall back, even temporarily, to a single or different 20MHz channel in order to avoid a collision. Current Draft N products do this to a certain degree; ensuring this rule occurs is the preferred solution but it will render most of the current Draft N devices useless with the new standard. This change will require additional hardware capability or a silicon change to properly monitor and then switch channels on the fly to guarantee proper CCA is being performed. Also, 40MHz operation will have to be optional as this channel is not available for use in Japan and sections of Europe at this time.
We currently expect the differences to be resolved in time for a second draft to be completed this November with a letter ballot going out in January of 2007. If this is approved we can expect final ratification in late 2007 or early 2008 although we very well could see a Draft 3.0 in the spring if real progress is not made this winter. However, the products released that meet an
approved
Draft 2.0/3.0 specification are almost certain to be fully compliant with the final 802.11n amendment. Let's see how our first batch of Draft N products performs at this time.
Feature Set and Options: Draft N Routers
Draft N Routers - Features
NetGear
WNR834B
Linksys
WRT300N
Belkin
N1
Chipset:
Broadcom Intensi-fi
Broadcom Intensi-fi
Atheros XSpan
Maximum Data Transfer Rate:
270 Mbps
270 Mbps
300 Mbps
Operating Frequency:
2.4GHz
2.4GHz
2.4GHz
Network Connectivity Protocol:
Ethernet
Fast Ethernet (10/100)
IEEE 802.11b
IEEE 802.11g
IEEE 802.11n Draft 1.0
Ethernet
Fast Ethernet (10/100)
IEEE 802.11b
IEEE 802.11g
IEEE 802.11n Draft 1.0
Ethernet
Fast Ethernet (10/100)
IEEE 802.11b
IEEE 802.11g
IEEE 802.11n Draft 1.0
Router Features:
NAT Support
Stateful Packet Inspection (SPI)
MAC Address Filtering
UPnP
DHCP Support
DMZ and VPN Passthrough
Dynamic DNS
Firmware Upgradeable
Browser Based Management
NAT Support
Stateful Packet Inspection (SPI)
MAC Address Filtering
UPnP
QoS
DHCP Support
DMZ and VPN Passthrough
Dynamic DNS
Firmware Upgradeable
Browser Based Management
NAT Support
Stateful Packet Inspection (SPI)
MAC Address Filtering
UPnP
QoS
DHCP Support
DMZ and VPN Passthrough
Dynamic DNS
Firmware Upgradeable
Browser Based Management
Network Security Protocol:
WEP 64/128 bit
WPA-PSK
WPA2-PSK
WEP 64/128 bit
WPA-PSK
WPA2-PSK
WEP - Radius
WPA/WPA2-Enterprise + (Radius)
WEP 64/128 bit
WPA-PSK
WPA2-PSK
WPA+WPA2 PSK
WPA2-Enterprise + (Radius)
Fast Ethernet Connections:
4
4
4
WAN Connections:
1
1
1
Operating System Support:
Windows 98SE/ME/NT/2000/XP
Linux
MacOS 8/9x
MacOS X 10.x
UNIX
Novell Netware
Windows 2000 or XP
Windows 98SE/ME/NT/2000/XP
Linux
MacOS 8/9x
MacOS X 10.x
Power Adapter:
External A/C
External A/C
External A/C
Warranty:
Linited 1 year
Limited 3 years
Limited Lifetime
Matching Wireless PC Card:
WN511B
WPC300N
N1
Router Firmware:
1.0.2.4
0.93.3
1.01.23
The products that we are testing today are based on the Broadcom Intensi-fi (Linksys/NETGEAR) and Atheros XSpan (Belkin) chipsets. We will be testing other Draft N routers in the near future including the Buffalo AirStation Nfiniti based on the Broadcom Intensi-fi chipset along with the NETGEAR RangeMax Next Gigabit Edition (WNR854T) that sports the Marvell TopDog chipset. We just received the D-Link RangeBooster N 650 router that also carries the Atheros XSpan chipset we found in the Belkin N1.
In our initial testing we have found that our Draft N equipment at times does not interoperate with each other at full speeds or fails to connect at all due to the differing chipsets utilized by the suppliers. While we will be fully exploring this issue in our follow-up article it is also disconcerting that you can purchase different Draft N chipsets from the same vendor.
As an example, NETGEAR, offers a total of three RangeMax Next Wireless Routers. We are testing the WNR834B based on Broadcom's Intensi-fi chipset; the recently released WNR834M and WNR854T routers use Marvell's TopDog chipset. To make matters worse the RangeMax Next Gigabit Edition PC Card (WN511T) is TopDog based and our RangeMax Next PC Card (WN511B) uses the Broadcom Intensi-fi chipset.
These varying selections can be very confusing to the customer when purchasing NETGEAR Draft N equipment. Although each box is labeled with the proper chipset logos to match products it is not the ideal way to market this product to consumers who might not know the difference. We are expecting new firmware from NETGEAR shortly to fix several compatibility issues between their respective products.
While all of the routers supported the vast majority of connectivity and security protocols we did not find one difference that will be important to the home user expecting to use their router for streaming media or VoIP operations. All products except the NETGEAR unit fully supported QoS (Quality of Service) technology that helps to ensure consistent streaming media and clear VoIP transmissions by prioritizing multimedia packets on the network. NETGEAR plans to add this capability in future firmware upgrades although it fully supports UPnP which enables peer-to-peer connectivity of networked computers, external storage devices, and even game consoles. The Linksys unit only supports Microsoft Windows 2000 or XP at this time.
Belkin N1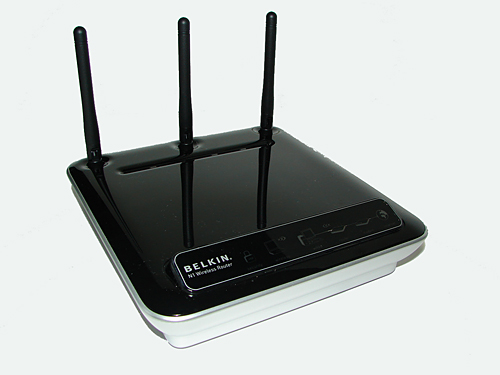 The Belkin N1 wireless router strongly resembles that of its pre-N based companion with the same basic body and three-antenna configuration. However, the previous slate-gray color scheme has been replaced with a silver and lacquer-black exterior with a new control panel faceplate that ditches the old flashing LED status lights for a new LED based icon display.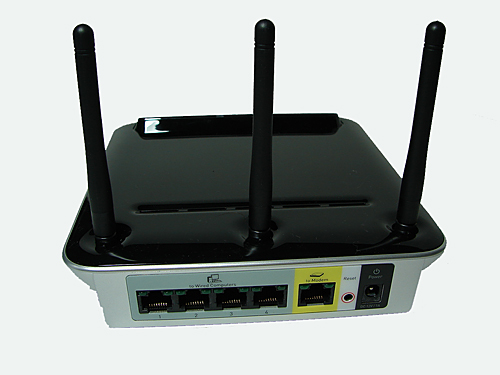 The rear setup consists of the standard connections that are labeled and color coded: four 10/100 LAN ports, a WAN port, 12V power jack, and in cases where your setup goes south a reset button.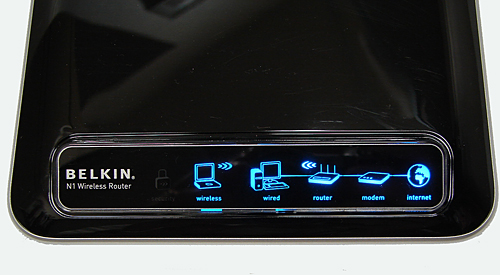 The most interesting design feature of this router is the new top-mounted display panel that uses an icon based display to show the current connection status of the router and attached systems. This LED based panel features an icon for each of the status points in the network chain. There is a globe representing the Internet; a modem for your DSL or Cable connection; the Belkin router; standard desktop PC for the 10/100 wired connection, a laptop for the wireless connection and a standard lock to show wireless security is enabled (shame on us as ours is not). A solid blue icon signifies that all is well while a blinking amber-colored icon indicates an issue with the particular control point. While this feature is very customer friendly on the desktop, it really does not add instant value if the router is kept in a closet or elsewhere.
Speaking of customer friendly, the entire process from opening up the box until the unit is set up is geared towards keeping the customer properly informed and in control. While this may sound trite, in actuality we had two personnel who had never set up a network complete the installation process in under 15 minutes without needing to ask for assistance at any point. Once you open the box the first item you see is a large instruction guide illustrating the physical connection process in detailed order. Each step is lettered with details in plain English along with a peel off sticker on the router that has the corresponding letters. The boxed accessories such as the included power and networking cables are also labeled with the proper letters.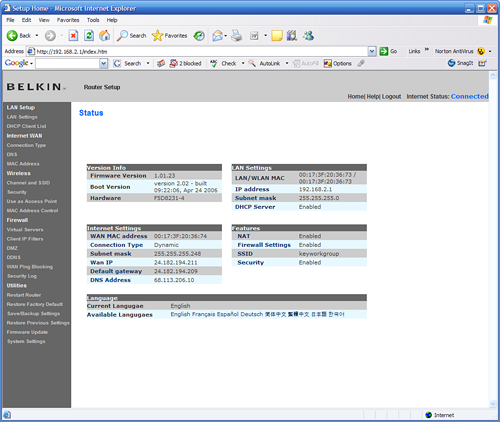 Click to enlarge
After setting the physical connections you simply insert the Setup CD and follow a simple series of steps to configure the router and connect to the internet. The automated setup program was without equal as it detected both our DSL and Cable modem settings correctly and had us connected to the Internet and our network in a matter of minutes. After the initial connection was completed the program led us to the browser based utility to set up our wireless encryption.
If you are more familiar with setting up a network you can bypass the automated setup program by hooking up all of the cables and then entering the enclosed IP address to access the network utility program. The utility program was the most informative of the units tested today with very comprehensive explanations for each setting along with a layout that just seemed right when setting up the router. The same can be said of the 103-page PDF based manual as it was clearly the most informative of the units tested today. Belkin offers a limited lifetime warranty on their product along with superb customer service support.
NETGEAR WNR834B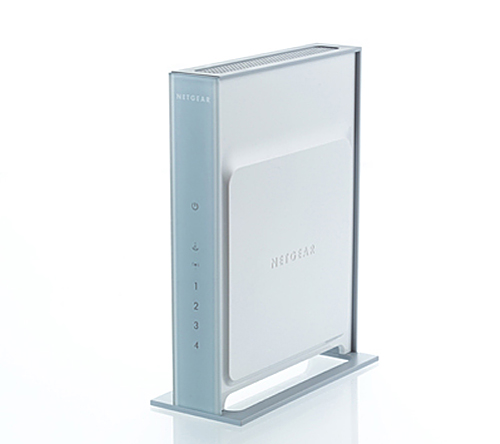 The new RangeMax Next series sports a new case design compared to previous RangeMax units. The RangeMax Next is a slim and sleek design with internal antennas instead of the typical external three antenna design. While having a very elegant design, it does not have a wall-mount option, and needs to be placed upright in order for the antenna to be properly oriented. The unit is very light and we experienced several situations where our cluttered test cable layout would pull the unit over on its side. Unlike the external unit designs, the only way to orient the antenna for better signal strength is to move the actual box around. The front panel has seven status lights that correspond to the LAN/WAN jacks, power status, and communication link with your wireless client.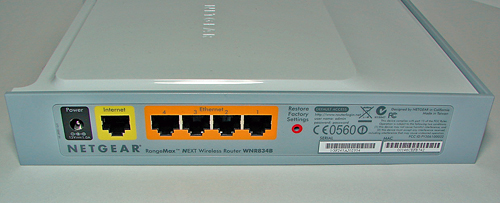 Due to the internal antenna placement the case is actually very thin with the rear panel consisting of the standard four 10/100 LAN jacks, one WAN jack, 12V power jack, and a pinhole reset button with proper color coding on each connection.
The included customer documentation is organized and easy to follow, especially if you have prior router installation experience. Upon opening the box you find a well labeled installation CD that informs you how to start the installation process. After the CD starts up you will come to a web-based menu that offers several options for setting up the router or reviewing the owner's manual.
You have two setup options that consist of a beginner's installation wizard or the option to configure the router manually by connecting directly to the browser based tool. The wizard will instruct the user in setting up the hardware and then offers a simple software setup routine. If you manually set up the router the configuration tool can be reached by entering the enclosed IP address or simply typing www.routerlogin.net.
Our first time network users found the NETGEAR browser tool to be very informative and almost as intuitive as the Belkin N1 while easily exceeding the Linksys documentation. NETGEAR only offers a limited one year warranty on this product and we found their technical support group to be very good at answering our questions.
Linksys WRT-300N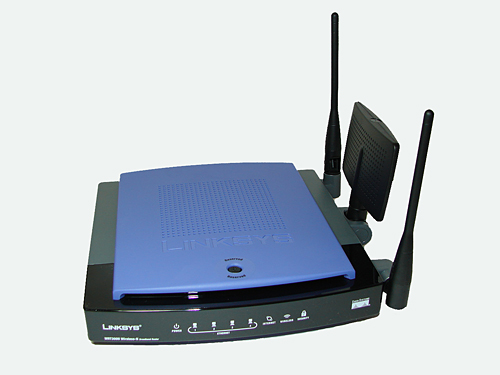 The Linksys unit has the ability to be in either a horizontal or vertical position. There is a flat paddle antenna situated in between two swivel mounted pole antennas that is 360° adjustable. With the unit vertical we thought the antenna layout reminded us of the robot on Lost in Space. We kept expecting the paddle antenna to start spinning with the two pole antennas flopping up and down while the unit beeped, "Danger, Danger, Will Robinson".
Like the other units you cannot mount it on a wall which is actually okay as the unit's performance is very sensitive to antenna adjustments. The case design continues the trademark Linksys purple and black color scheme that is starting to age compared to the recent Belkin and NETGEAR designs. The front panel features a series of clearly labeled status lights that correspond to the rear panel connections. An additional set of lights are offered that show on-line wireless activity and security status. On top is a black button that is "reserved for future use".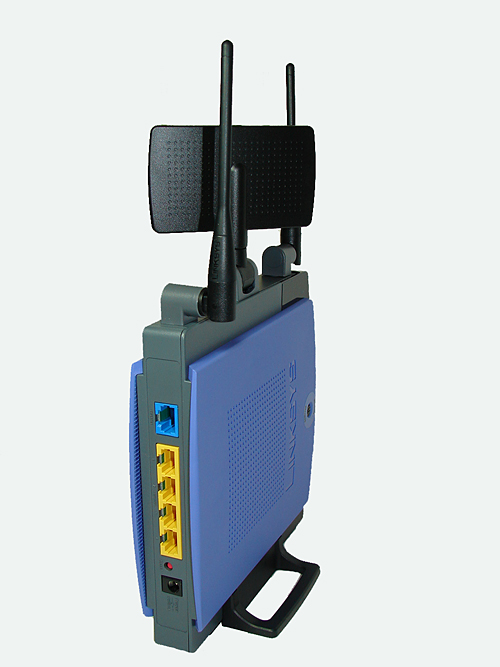 The rear panel consists of the standard connections that are labeled clearly and color coded: four 10/100 LAN ports, a WAN port, 12V power jack, and a reset button.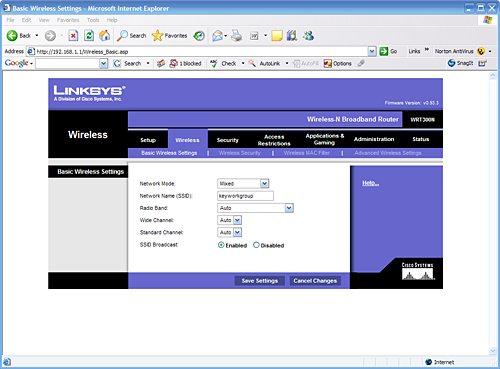 Click to enlarge
Linksys provides the user with a very clear and concise documentation and setup package. While not as consumer friendly as the Belkin N1 documentation, the Linksys user guide is informative and lists the basic steps to install the router and associated software. The installation process is opposite of the Belkin unit as you first install the CD; the installation wizard starts and then guides you through the process of connecting the router to your DSL or Cable modem and computer.
The next process is configuring the router settings via the browser-based configuration tool. More advanced users can simply hook up the hardware and go directly to the configuration tool by entering the router's default IP address into their browser. Our neophyte network users were able to get the Linksys system up and running with minimal assistance.
We found the Linksys configuration tool slightly difficult to use as it was the least informative in our testing. It was accompanied by a PDF based user's guide that contained less information about specific settings compared to our other two products. Linksys provides a limited three year warranty along with providing excellent technical support.
Test Setup
With several network benchmarks available, we needed a consistent means of comparing the throughput of our test components in real world settings. We chose IXIA's IxChariot 6.30 test suite along with their Performance Endpoints software due to their industry wide acceptance as analysis tools. We install the Performance Endpoints software on each client to execute the transactions sent by the test script from the console program. This allows us to capture the performance metrics for test throughput, transaction rates, and response times. We use IxChariot's standard throughput script for our testing with TCP and UDP enabled.
We test throughput and range capability with a two-node network setup consisting of a Intel Pentium D805 based HP m7500y desktop system and a 1.83GHz Core Duo based HP DV8000T notebook. Both systems utilize Windows XP Professional SP2 and have the typical home/office application software loads. Our setup consists of an endpoint pair with the HP notebook having the PC Card wireless network adapter installed and our HP desktop system with the tested router attached to the internal LAN port. The IxChariot console is installed on our notebook and the Performance Endpoint software is installed on our desktop system. The IxChariot console is used to create, run, and monitor tests run between the endpoint pairs. Unless otherwise noted, we test the router with the manufacturer's suggested wireless PC Card to ensure accurate test results for the supplier's products.
Our throughput test results are completed at distances of 10 feet, 40 feet, 80 feet, and 120 feet. Since we believe these products will typically be sold into the home or small office environment our tests are run with the typical appliances, cordless phones, and other devices in the 2.4GHz spectrum operating as they would in a real world environment. While this test scenario is not perfect nor void of RF interference it does place the product in a real world setting where obstructions, interference, and other items can and will affect the capability of the product. Our router remains in the same room attached to the desktop pc while our notebook with the wireless adapter is positioned at specific locations and distances from the router location.
We do not believe having the product located in an RF box, twenty feet underground, or in an empty warehouse void of internal walls is the proper environment to test products that will be located in a closet or on a desktop with clients attaching from various points within the building structure. Since our tests are performed in a true real world environment our results certainly will not match that of the manufacturer's claims or be comparable with other reviews. We firmly believe you will see better results in spacious open wall office settings, large open air buildings with a direct line of sight to the router, or facilities void of 2.4GHz traffic. That may be fine for some businesses, but home users are virtually guaranteed to be in less ideal environments.
Our 10 foot test is run with the router and wireless network adapter in the same room. The 40 foot test is generated in a separate room with two gypsum walls separating the wireless adapter from the router. Our 80 foot test is run with the wireless adapter on the second floor with four gypsum walls and the second level floor separating the two components. Our 120 foot test is generated in a separate building structure on a ground floor with one brick and two gypsum walls separating the wireless adapter from the router.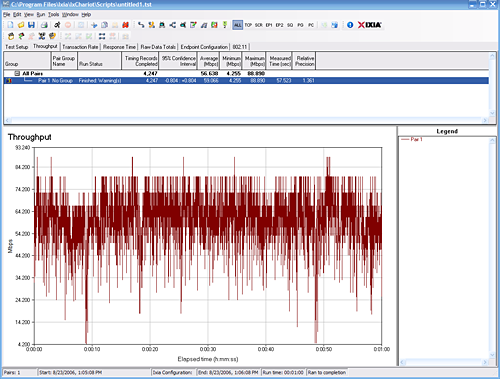 Click to enlarge
All tests are generated with the IxChariot throughput.scr test script. We run three iterations of each test at two different times during the day. We dismiss the low and high results from each test group and report the highest score from the remaining results. All results are reported in megabits per second (Mbps). Our results are based on both unencrypted and encrypted (WPA2-PSK) tests with the maximum, average, and minimum scores being reported for each distance. We will list the percentage differences between the unencrypted and encrypted results after each test section. Our notebook system will be referred to as the "Client" and our desktop system as the "Server" in our reports.
Unencrypted Throughput - Client to Server
Our throughput test compares the performance of our three Draft N routers against the
NETGEAR RangeMax 240
router based upon the Pre-N MIMO technology. This router features the proprietary third generation Airgo chipset and to date this technology has held the lead in wireless throughput and distance. In an interesting turn of events Belkin has chosen not to support 802.11n or 802.11g only transmission modes. We had to test the Belkin N1router with the wireless option set to mixed n/g/b mode. In the test results we are reporting today there are not any 802.11b or 802.11g compliant devices active so the scores should be comparable. In our next series of articles we will look at true mixed mode results along with compatibility between our 802.11n Draft 1.0 devices and other wireless standards.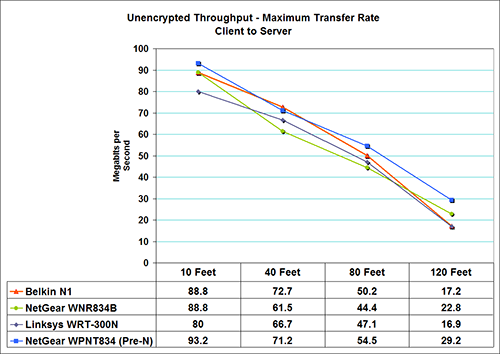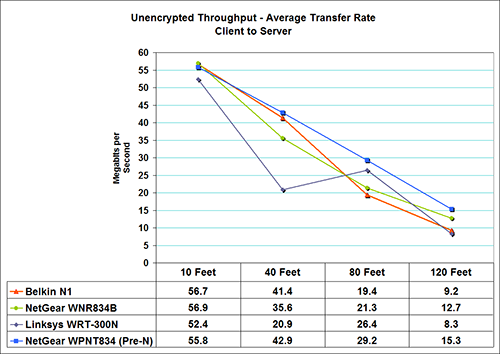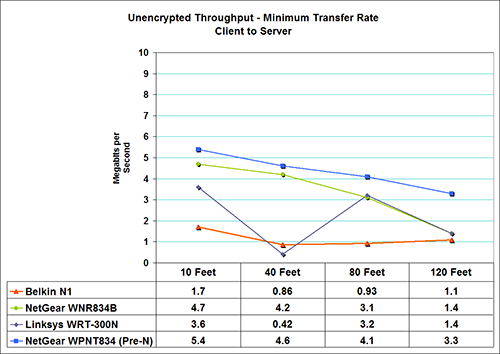 The NETGEAR WPNT834 Pre-N router has the highest throughput overall and shows a very consistent throughput pattern up to 120 feet. The Belkin N1 excels at the 40 and 80 foot levels in maximum throughput compared to our other Draft N routers but its average throughput drops off sharply at the 80 foot range. The NETGEAR WNR834B provides the most consistent throughput across the full test spectrum of the Draft N routers.
In fact, both NETGEAR offerings provided more consistent results, while the transfer rates for the Linksys and Belkin offerings showed a lot more variability. The Belkin provides good average throughput, but the minimums are consistently lower than the other offerings, making it less useful for tasks that demand a consistent connection (i.e. video streaming). The Linksys also showed consistently worse performance at the 40 foot test location than at 80 feet, a result that was unexpected but typical of our testing experiences with the various Draft N equipment.
Encrypted Throughput (WPA2-PSK) - Client to Server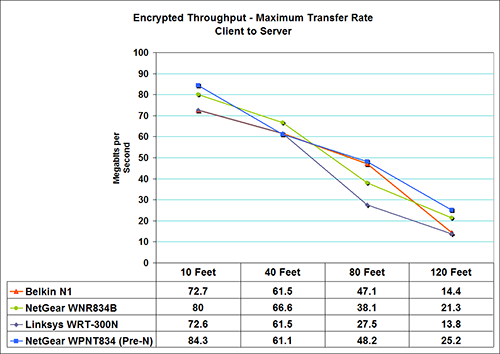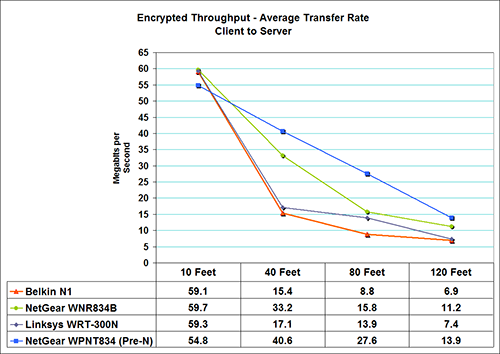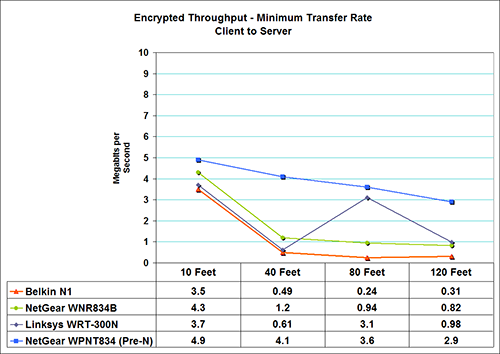 We spent an inordinate amount of time testing our routers and clients with WPA2-PSK security enabled as the test results were not always consistent or complete. After the final firmware and driver updates we were able to consistently achieve the results shown. However, at first glance you will notice that our encrypted results in the average throughput test are higher than the unencrypted results at 10 feet. We ran our tests several different times over the course of the last two weeks with the same results. We already know that 802.11n Draft 1.0 specifies WPA2 security protocol as the preferred method of encrypted transmission and it appears the hardware is optimized for it at close distances.
Unencrypted versus Encrypted Throughput - Maximum Mbps
Percentage Difference - Client to Server
10 Feet
40 Feet
80 Feet
120 Feet
Belkin N1
-18.13%
-15.41%
-6.18%
-16.28%
NetGear WNR834B
-9.91%
8.29%
-14.19%
-6.58%
Linksys WRT-300N
-9.25%
-7.80%
-41.61%
-18.34%
NetGear WPNT834 (Pre-N)
-9.55%
-14.19%
-11.56%
-13.70%
Unencrypted versus Encrypted Throughput - Average Mbps
Percentage Difference - Client to Server
10 Feet
40 Feet
80 Feet
120 Feet
Belkin N1
4.23%
-62.80%
-54.64%
-25.00%
NetGear WNR834B
4.92%
-6.74%
-25.82%
-11.81%
Linksys WRT-300N
13.17%
-18.18%
-47.35%
-10.84%
NetGear WPNT834 (Pre-N)
-1.79%
-5.36%
-5.48%
-9.15%
While the 10 foot distance shows very little loss and actually gains for most of the routers we see an issue with the Belkin N1 suffering an 18% loss with encryption enabled in the maximum throughput results. Even worse is the performance loss of the Belkin router in average throughput at 40 feet and beyond once encryption is enabled. On our 40 foot test we see the Belkin N1 suffering a 62% performance hit in the average throughput numbers and 54% at 80 feet. Our Linksys router also has performance issues with WPA2-PSK enabled at the 80 foot range. Our two NETGEAR routers offer the best results with the Pre-N version once again coming out on top.
Unencrypted Throughput - Server to Client
Our throughput test continues with the performance of our three Draft N routers against the
NETGEAR RangeMax 240
router based upon the Pre-N MIMO technology. These series of tests measure the performance of our clients when receiving information from the desktop server.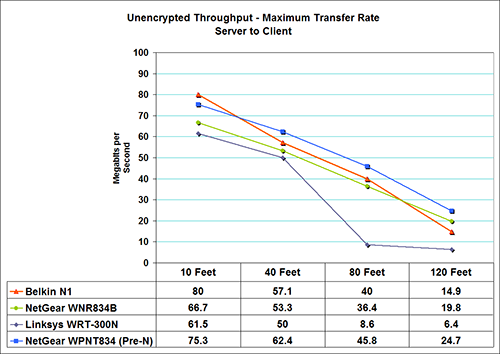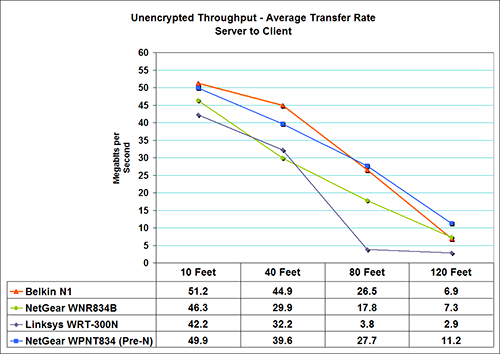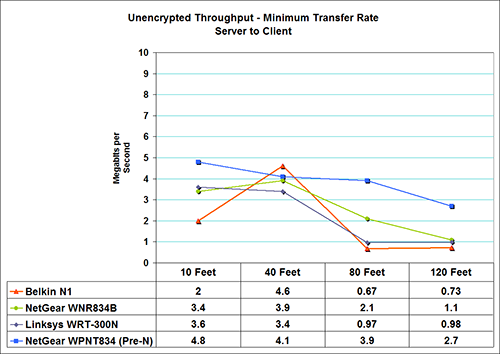 Our Belkin N1 has the best overall scores in the maximum and average throughput test results of our Draft N collection while having average results in minimum minimum. The NETGEAR WPNT834 Pre-N router once again offers the most consistent performance. Our Linksys unit suffers a severe performance drop at the 80 foot range. We tested at this range several times and always had the same result. After reviewing the test script results we noticed the Linksys had very sporadic connection rates during each of the tests. Although we never lost a signal it was obvious that the Linksys was having severe communication issues at this distance.
Encrypted Throughput (WPA2-PSK) - Server to Client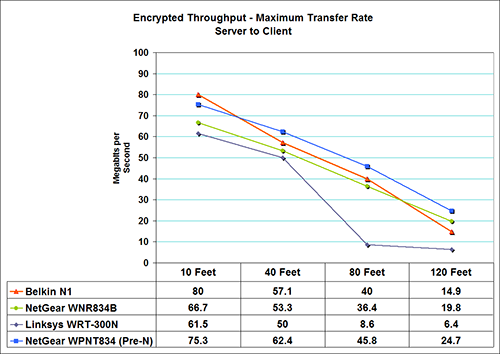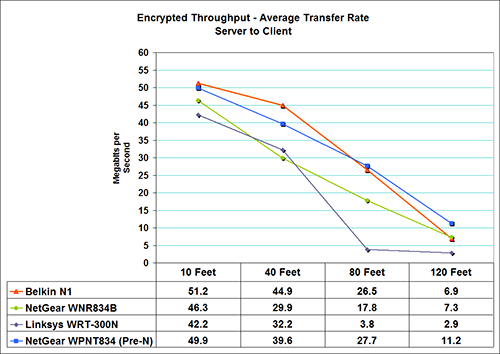 The NETGEAR WPNT834 Pre-N router has the highest throughput overall with results almost doubling the capability of the other routers in the average results test in testing beyond 80 feet ranges. The NETGEAR WNR834B once again provides the most consistent throughput of the Draft N routers in the encrypted tests. The Linksys WRT-300N suffers when encryption is turned on and posts the worst results of the Draft N routers.
Unencrypted versus Encrypted Throughput - Maximum Mbps
Percentage Difference - Server to Client
10 Feet
40 Feet
80 Feet
120 Feet
Belkin N1
-20.88%
-12.26%
-31.25%
-21.48%
NetGear WNR834B
-7.80%
0.00%
-4.67%
-14.65%
Linksys WRT-300N
-13.33%
-33.40%
68.60%
-14.06%
NetGear WPNT834 (Pre-N)
-16.73%
-12.18%
-13.54%
-12.55%
Unencrypted versus Encrypted Throughput - Average Mbps
Percentage Difference - Server to Client
10 Feet
40 Feet
80 Feet
120 Feet
Belkin N1
-40.43%
-65.70%
-57.74%
-31.88%
NetGear WNR834B
-9.07%
10.03%
-25.28%
-27.40%
Linksys WRT-300N
-55.92%
-54.97%
-31.58%
-24.14%
NetGear WPNT834 (Pre-N)
-13.63%
-9.85%
-9.03%
-8.04%
Once again we see the Belkin and Linksys units struggling with encryption enabled in the majority of our distance tests. It appears NETGEAR's firmware and driver implementation are simply optimized better especially considering the NETGEAR and Linksys Draft N routers are based on the same Broadcom Intensi-fi chipset. The NETGEAR WNR834B actually shows no loss and up to a 10% improvement at the 40 foot range in this particular test.
Current Thoughts
We will be reviewing additional Draft N routers from Buffalo, NETGEAR, and D-Link in the near future along with verifying compatibility between not only the Draft N products but also the other wireless standards in mixed mode operations. We do not expect to see any great differences in performance with our new review units. We understand from NETGEAR their Marvell TopDog chipset products should have better overall throughput than the Broadcom Intensi-fi chipset. Both Linksys and NETGEAR now provide Draft N routers with four-port Gigabit Ethernet switches and we expect the other manufacturers to release like products shortly.
After reviewing the performance results we are generally disappointed in the current Draft N technology as it does not exceed the previous generation Pre-N MIMO products powered by the third generation Airgo chipset. While the Airgo based products contain proprietary technology and will never be upgradeable to 802.11n, they perform just as well or better than the current Draft N products whose manufacturers cannot guarantee full compatibility with the eventual 802.11n standard.
Perhaps it's something of a given, but we think it's important to stress that even in the best case scenario current Draft N equipment can only match wired 100 Mb performance, and the theoretical wireless networking performance is nowhere near what you actually get. Perhaps more importantly, any decently wired Fast Ethernet network will offer very consistent performance in all situations without dropping to below 1 Mb speeds due to interference or other conditions. For those that need Gigabit Ethernet levels of performance, wireless networks are still a long way off from coming anywhere close to that kind of sustained throughput.
With this in mind we need to review a few issues before drawing a conclusion. The 802.11n standards process is back in full swing after the initial shock of the Draft 1.0 failure (meltdown) and resulting fallout from the 12,000 plus comments from the IEEE membership. From all indications progress has been made in creating a new draft and most of the bickering between competing suppliers has subsided. It appears voting on Draft 2.0 of 802.11n has been set for January 2007 and could possibly be ratified as a final draft. However, several insiders expect a third and final draft to appear in the spring of 2007, followed by ratification with certified products hitting the shelves in early 2008.
The final 802.11n standard will provide numerous enhancements over the current 802.11g standard with the most noticeable being theoretical data speeds up to 600 Mbps along with full standards support for MIMO (multiple-input, multiple-output) antenna technology that Airgo introduced a couple of years ago. The 802.11n standard will also apply to a wide range of devices from PDAs to dual-band routers so creating a standard has been a very complex task.
In our preliminary mixed mode testing we experienced the "bad neighbor" effect several times. Not only with our own internal 802.11g network but also visits from actual neighbors who were upset with having to constantly reboot their systems during our testing phase. As we stated earlier, the current 802.11n Draft 1.0 products utilize channel bonding to combine two 20MHz channels into a one wide 40MHz channel. Without proper fall-back techniques, this type of channel bonding can basically take over the entire 2.4GHz band that these products utilize. While the current 802.11n draft states that routers should not interfere with other networks in the area there are not any specifics as to how this will occur. At this time it is left up to the individual manufacturers to determine a "good neighbor" policy.
As an example our Broadcom based routers would continually blast our neighbors off the air during testing sequences if we did not manually change our channel selection. While throughput performance was best on auto settings, we typically would receive a phone call or knock on the door during unencrypted testing. We contacted Broadcom and found out that routers based on their Intensi-fi chipset will continuously scan for other networks and will drop down to single channel (channel selection varies) 20MHz as required. That sounds great until you realize
the router will not change bandwidth or channels if a client is attached
. Unless you notice neighboring networks on the same channel in the control panel settings you will potentially be a bad neighbor until you disconnect, change the channels manually, or hope the auto-sensing algorithm corrects the issue when you reconnect. We believe this is the main reason why the Atheros based Belkin N1 only allows mixed mode operation although we are still confirming the process they utilize.
We believe the final 802.11n will provide an actual specification for this issue and it will require additional hardware on the router or a change in silicon. In the meantime, the long term solution will be dual band routers that offer single 20MHz channel compatibility for mixed mode operation while channel bonding (dual or quad) for bandwidth hungry applications such as HD movie streaming will occur on the 5GHz band. The 802.11a standard currently operates on the 5GHz band so suppliers do have prior experience in this area.
While this subject matter will be covered in our next article we need to state that mixed mode performance and compatibility of the current Draft N equipment is currently dismal. We also noticed that using clients in WEP security mode could hamper performance up to twenty percent and compatibility was never a guarantee. We do not recommend using the WEP security protocol but it is still widely used and can be found in everything from NAS devices to phones so there is a great chance you will have to operate in mixed mode settings for some time to come. WPA2-PSK is our preferred security protocol for home and small office environments. This protocol works best with 802.11n Draft 1.0 products and although our testing found some significant performance hits at the longer ranges it was not noticeable at the typical 10 and 40 foot test ranges except on the Belkin N1.
In order to reach the throughput results we reported your network will have to be free of legacy devices and utilizing the recommended wireless adaptor for the router. This requirement also holds true for the Pre-N equipment we tested and will add on average at least $99 per client for the Draft N user. Most of the new adaptors are primarily for notebooks, although desktop PCI based cards are being offered by D-Link, Belkin, and Linksys now.
The Draft N routers we tested today had excellent maximum and very good average throughput in the same room tests and also at the 40 foot mark in a typical home setting without encryption enabled. We are concerned with the minimum throughput capability of the Belkin and Linksys routers in all distances along with their performance hits when enabling encryption. The NETGEAR Draft N router faired better in this area but none of our units could match the overall consistency of the NETGEAR RangeMax 240 based on the third generation Airgo chipset.
During testing we found our Draft N routers to be particularly sensitive to antenna positioning and the wireless adaptor cards to be very sensitive to placement. If we placed our notebook next to a window at the 40 foot range we could expect our signal strength to drop upwards of 15% and watched minimal throughput scores almost hit zero several times.
During general usage we found ourselves constantly repositioning our notebook when sitting on a chair as movement on any axis would create a signal drop. When utilizing a desk, we found it best to position the notebook or adjust the router antenna first before we started working. While we did not lose signal connectivity in these instances we would notice stutters when saving large files to the network or trying to stream compressed (DivX) video from our server. This is something that did not occur with our Pre-N equipment in the same test situations.
Our Draft N products also required numerous firmware and driver upgrades along with replacement hardware from one particular vendor. In fact, it took several weeks of testing and constant technical support questioning before we felt comfortable enough to present our numbers today. We expect future firmware updates to the routers and driver improvements to the PC cards to further improve the performance and compatibility of our test units, but only on a very small scale.
We just cannot help but think this product was rushed to market and for reasons we can only speculate about. We understand there will be issues in the early release of products but all of the suppliers highly touted the benefits of their Draft N products with claims of better performance than previous products. These claims are largely untrue. This Draft N product release and the resulting situation where the customer base would become beta testers for the manufacturers is unacceptable.
However, it appears the marketing of the product has been successful as it is still for sale even though no guarantees can be made about its future compatibility with the final 802.11n standard. We are just now to the point of being able to test the equipment without it failing consistently and can now start discussing mixed mode performance and cross-compatibility with other Draft N equipment. Up until a few weeks ago this was not possible.
If the lure of the short range performance is enticing enough to purchase Draft N equipment then we highly recommend purchasing the router and client cards from the same supplier. If you require added range along with consistent throughput performance, consider the NETGEAR RangeMax 240 series of product or others featuring the third generation Airgo chipset. Although eventually this is a dead end solution, we believe the same is true of the current Draft N products as well. Even though we have not finished our testing, we have to strongly recommend that users wait if possible until 802.11n is ratified and approved.