Original Link: http://www.anandtech.com/show/2071


Introduction
We recently looked at the
ABS Ultimate X9
computer system and found it to be a fast but expensive system, as well as having some niggling stability issues related to the GPU water cooling. Other than the stability concerns, there was one major problem with the system for most of our readers: it's too expensive. If $4000 or more is way out of your league for computer prices, today's review will hopefully return to the realm of the possible.
PC Club has been around for over 14 years, with a retail presence in both the online and brick and mortar markets. They are a system integrator that tends to build systems using off-the-shelf components, and they sell them at a reasonable price. PC Club sent us their Enpower Sabre Extreme EN-SE6 for review, a midrange to high-end (depending on options) system looking to offer all around good performance at a moderate price.

Rather than going all out on every component, PC Club has attempted to build a system that can do everything well without breaking the bank. Their target audience is the college and high school student that needs a system to do homework and research, but it can also function as a multimedia platform or a gaming setup. Families would also be pleased with the options provided, with the only potential drawback being competition for computer time. The tested system comes equipped with a good selection of midrange parts that focus on offering a good price to performance ratio. Including a 19" widescreen monitor, the system retails for about $1600, or you can get it sans monitor for just under $1400. (Note that prices - particularly at the online store - can fluctuate according to the market, and in the past few weeks the cost of the Sabre Extreme has increased over $100.) It definitely won't be the fastest system on the planet, but it should be more than fast enough for the vast majority of people.
As we mentioned in the ABS X9 review, the current market demands for Intel's Core 2 Duo/Extreme processors have led to limited availability and inflated prices for those looking to purchase just a CPU. Larger OEMs like Dell and HP are able to avoid part shortages for the most part, but smaller system vendors will often have to increase prices in response to supply factors as well. There are also plenty of people out there that don't have the time or inclination to build their own systems, and this is where companies like PC Club and larger OEMs are a good solution. Not only do you get a system that can be plugged in and running in a matter of minutes, but you get centralized support from one location, and if you live in an area where you can purchase from a local store it makes getting help that much easier. The PC Club Sabre Extreme does have some other advantages over competing OEM systems, which will get to in a moment.
What exactly do you get for $1400, how does the Enpower Sabre Extreme EN-SE6 perform, and is it something you should consider purchasing? Let's take a closer look.
Features and Price
Prices on the Sabre Extreme start at around $800 and go up to over $3000. As with most vendors, you can configure your system differently, focusing on increasing storage capacity, faster or slower graphics, more memory, and various other options. Here are the specifications of the Sabre Extreme we received:
PC Club Enpower Sabre Extrene EN-SE6
Case:
Apex customized Mid-Tower with 350W PSU
Motherboard:
Gigabyte GA-965P-DS3
Processor:
Core 2 Duo E6600 (2.40 GHz 4MB shared L2 cache)
Heatsink/Cooling:
Stock Intel CPU HSF
80mm front fan
80mm rear fan
RAM:
2x512MB Transcend PC2-5300 JM367Q643A-6 5-5-5-13 Timings
Graphics:
MSI GeForce 7900 GT
Hard Drives:
250GB Western Digital 16MB 7200 RPM
Optical Drives:
LiteOn 16X DVD+/-RW
Expansion Slots:
1 x PCIe X16
3 x PCIe X1
3 x PCI
Expansion Bays:
4 x 3.5" internal bays
2 x 3.5" external
4 x 5.25" external
Audio:
Realtek ALC883 7.1 HD Audio onboard
Power Suply:
Allied AL-C350-ATX
1 x 24-pin ATX; 1 x ATX12V
4 x 4-pin Molex
1 x 4-pin mini Molex
1 x SATA
Operating System:
Windows XP Home SP2
Front Ports:
2 X USB2.0
2 X 3.5mm Audio (Headphone and Microphone)
Rear Ports:
1 x PS/2 Keyboard
1 x PS/2 Mouse
1 x Parallel
1 x Serial
1 x Audio I/O Panel (six jacks)
1 x Optical S/PDIF Out Port
1 x Coaxial S/PDIF Out Port
1 x RJ45
4 x USB2.0
Monitor:
ViewSonic 19" Widescreen LCD Monitor - 5ms 500:1 VA1912WB
There are often drawbacks to purchasing a prebuilt system -- more limited BIOS options, potentially proprietary designs, slightly reduced performance in the name of stability, generic designs, etc. PC Club manages to separate their offerings from those of larger OEMs by going with off-the-shelf components. Rather than using a proprietary motherboard design, or even a standard motherboard but with a special BIOS that removes many of the extras, PC Club includes your garden-variety Gigabyte GA-965P-DS3 motherboard. This may not be the absolute best motherboard for Core 2 Duo processors, but with the latest BIOS it runs very stable, and you even get access to the standard overclocking options.
Overclocking? On a midrange OEM system? Blasphemy! Naturally, all of the standard disclaimers with overclocking apply. PC Club does not condone overclocking, and assuming they can determine you overclocked your system and caused a component to fail, they will certainly void your warranty. Still, if you'd rather just get a system that's all ready to roll out of the box and perhaps do some mild overclocking on your own, we will take a look at what we can achieve. We won't be trying to set any performance records, but given the 68% (and higher) overclocks of Core 2 Duo processors floating around the Internet, it seemed a shame to let the E6600 continue to run a stock speeds.
As we like to do with our system reviews, we priced out a similar home built system for reference to see how much you're paying PC Club to assemble and test everything for you.
Component Price List
Case:
Apex customized Mid-Tower with 350W PSU
63
Motherboard:
Gigabyte GA-965P-DS3
151
Processor:
Core 2 Duo E6600 (2.40 GHz 4MB shared L2 cache)
370
Cooling:
Stock Intel CPU HSF
80mm front fan
80mm rear fan
0
RAM:
2x512MB Transcend PC2-5300 JM367Q643A-6 5-5-5-13 Timings
90
Graphics:
MSI GeForce 7900 GT
275
Hard Drives:
250GB Western Digital 16MB 7200 RPM
84
Optical Drive:
LiteOn 16X DVD+/-RW
32
Audio:
Realtek ALC883 7.1 HD Audio onboard
0
Monitor:
ViewSonic VA1912WB
222
Keyboard:
Logitech Internet Pro
11
Mouse:
Logitech RX1000
28
Operating System:
Windows XP Home SP2
95
Sub Total:
1421
There are currently some added costs with some of the components, chiefly the E6600 processor. Taking that into account you're basically paying PC Club about $200 in order to build the system for you. That is definitely a reasonable offer. About the only drawback is that configuration choices are limited in some areas, so you can't for example select a different motherboard or memory type in the online configurator. That may matter for some people, but for the target market the features and options should be more than adequate. If you'd like to change any of the options, you can call PC Club and custom build a system to your needs, or you can go to a local store and do the same thing.
Speaking of changes, the components used in the Sabre Extreme we're reviewing are subject to change, and at present PC Club has decided to move to an MSI P965 motherboard instead of the Gigabyte DS3. Again, you can custom order a system using the DS3 if you'd like, and the overall features are still going to be similar. As long as the part you want is carried by PC Club, you can order whatever you'd like. Another change in parts is that instead of an MSI 7900GT GPU, the latest configuration uses an EVGA 7900GT card or an MSI 7900GT with HDCP support. The HDCP card costs an extra $20, but once Vista launches you might be glad to have the feature depending on how much you plan to use the system for watching movies.
Obviously, some concessions are made in order to keep costs low. Integrated audio is available on every motherboard these days for free, and while it is sufficient for most uses there is a qualitative difference between onboard and discrete solutions. The case and power supply are also on the lower end of the power and quality spectrum, but they should get the job done. If you are looking for something to compete with the supercharged computers of the world, you'll need to look elsewhere (or spend more money), but if you're just looking for a computer that offers reasonable performance and reliability, the Sabre Extreme is a good place to start. Now let's move on to some the finer details.
Externals and Appearance
The Apex case is certainly not going to win any awards for being the best case ever, but at the same time it doesn't have any serious flaws. It's pretty generic in appearance and features, but it isn't ugly by any means (at least in our opinion). It has a relatively roomy interior, it's reasonably sturdy, and it doesn't weigh too much. During operation, the system remains quiet though not entirely silent. The two 80mm fans inside the case should provide adequate cooling for the typical configuration, and the front fan helps to keep any hard drive(s) cool.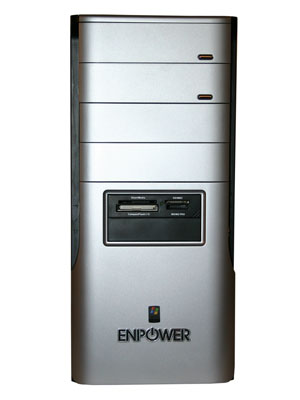 Click to enlarge
The front panel is silver while the rest of the exterior is matte black. The Enpower logo is lit by the front 80 mm fan and glows blue when the system is powered up. The top optical drive bay is occupied with a LiteOn DVD+RW LightScribe drive and has a door that matches the rest of the front. A similar door hides an empty 5.25" bay, so if you want to add a second optical drive you don't need to worry about ruining the uniformity of the front panel.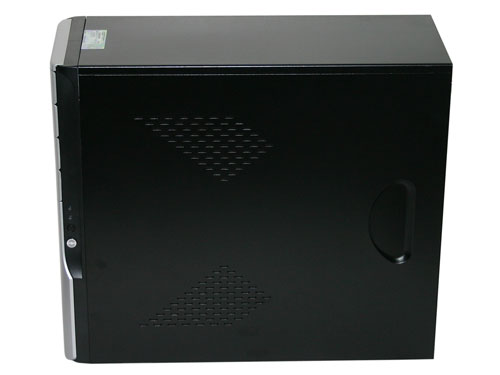 Click to enlarge
There isn't much to see on the right side of the case other than some decorative ventilation, the power/reset buttons, and the LEDs for hard drive activity and system power.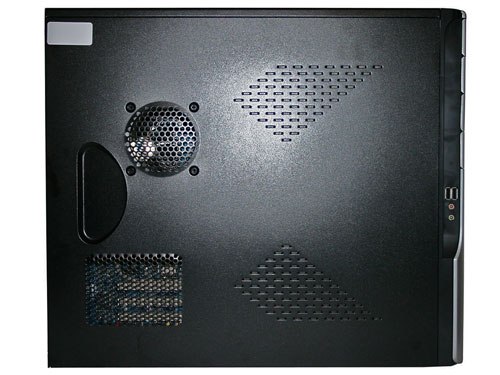 Click to enlarge
Moving to the left side, things are similar in appearance, but here the ventilation is somewhat more useful. A duct helps to channel fresh air down to the CPU fan, and there's additional ventilation over the expansion card slots. At the front of the case you can also see the two USB ports along with the headphone and microphone jacks.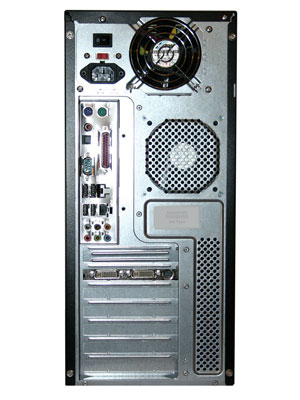 Click to enlarge
At the rear of the system are all of the standard connections. The expansion slot area is empty other than the graphics card, although you could fill at least one slot with a four port USB bracket and use the remaining two onboard USB headers. Unfortunately, such an adapter with the system we were sent, though PC Club does send the motherboard box along with all of the manuals and additional cabling. This can be useful, but there isn't anything that's really required within the box. We've already covered the various ports that are included, so we won't get into further details of that area. Let's take a look at the inside.
Internals and Construction
As this is a midrange system, one wouldn't expect the Enpower Sabre Extreme to be jam-packed with stuff on the inside. Removing the side panel reveals that that is indeed the case.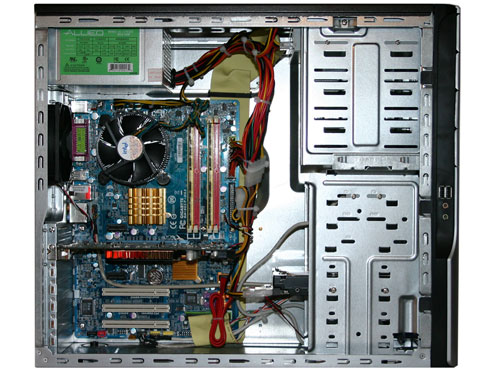 Click to enlarge
The interior is tidy and all the cables are secured and/or tucked out of the way. There's plenty of room to add additional components in the future should you so desire, although the choice of motherboard prevents you from ever installing something like a CrossFire or SLI setup. On the other hand, a sound card, TV tuner(s), or various other expansion cards could be added as necessary. An added benefit of the minimalist configuration is that ample airflow should be available to all of the internal components, keeping noise levels and temperatures low and improving stability.
Given the use of a 350W power supply, we wouldn't recommend installing more than a couple hard drives and maybe a second optical drive along with a couple expansion cards. If you want to do more than that, you may find that you need to replace the default PSU with a beefier unit. For the default configuration, however, everything works well and should be more than sufficient.
In terms of overall design, the case doesn't have most of the convenience features found in more expensive offerings. All of the hard drives, optical drives, expansion cards, 3.5" drives, etc. are secured using standard screws. The side panels are also held in place using standard screws rather than thumbscrews. This probably means that it takes the PC Club technicians a bit longer to assemble computers then, for example, the Dell assembly-line people. However, screws and the screwdriver have been around for a long time, and the simple fact of the matter is that they work well. They may not be the most convenient tool at times, but they aren't difficult to use and they aren't likely to break off like some plastic latches can do.
We want to emphasize that it is entirely possible to get much higher-end cases and power supplies from PC Club if that's what you want. You can also add multiple hard drives, a sound card, a TV tuner card, etc. Depending on your intended use and configuration, upgrading at least the PSU might not be a bad decision. It is possible to spend an additional $300 just on the case and power supply in the PC Club configurator, although we do wish there were additional options especially for choice of case. Some people might like the ASUS 3600 Vento but we are not among them; however, the end decision is left to the individual.
Overclocking
We mentioned earlier that since a standard Gigabyte GA-965P-DS3 motherboard is used, end-user overclocking is entirely possible. (The same should hold true for versions shipping with the MSI P965 boards.) There is risk involved with overclocking, and individual results will vary. After updating to the latest F4 BIOS and finishing the initial benchmarks, we gave overclocking a shot. The installed memory is pretty generic and we didn't want to push things too far, so we set the memory to a 1:1 ratio and decided to see if the CPU and the rest of the system could handle running at 334 MHz front side bus. We did have to increase CPU voltage slightly: we used 1.3875V, and though the system did POST at lower voltages it was not fully stable during stress testing. Other than that the 25% overclock was extremely easy to achieve.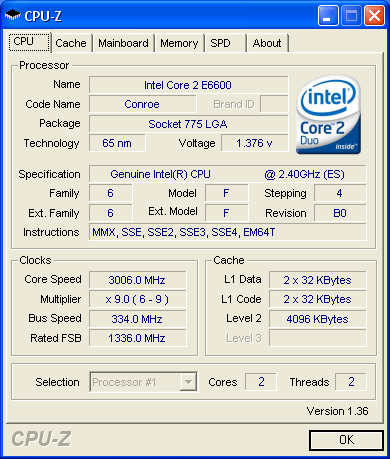 What more is there to say about a $370 CPU that can easily overclock to the performance level of a stock $1150 CPU? This is using the retail processor heatsink and fan, and even under extreme stress testing the system remained stable and the HSF stayed under 45°C. We could have certainly gone farther with the overclock (see below), but most people will be more than happy with a 3 GHz Core 2 Duo processor running inside their computer system.
We will include results from the overclocked system in our benchmarking results for reference. In some instances, the increased clock speed will have a dramatic impact on performance. In other areas, the system bottleneck is elsewhere and the added CPU performance does little to help. Depending on how you plan to use the system, it may not even be worthwhile to overclock it. Perhaps down the road once the warranty has already expired and after adding a faster graphics card, overclocking will become more beneficial.
After fully testing the 25% overclock, we decided to push things a bit further. With a bit more voltage to the CPU, memory, chipset, and FSB (+0.1V), we also managed to run our full set of benchmark tests at 9x350, and then we tried 9x366. The CPU fan was definitely working harder to keep the processor cool, and we don't actually recommend these higher settings unless you're okay with potentially frying a $300 processor. A better CPU heatsink would alleviate our concerns, and we will be sticking with the 9x333 results as a setting that we consider truly stable and attainable by most users. The 9x366 result was "mostly" stable - our gaming benchmarks completed without problems, but 3DMark06 and PCMark05 would periodically crash. Apparently, the limit of the RAM and/or CPU is somewhere between 9x350 and 9x366. We would say the RAM is the more likely culprit, given some voltage and stability issues encountered (see the Reliability, Warranty and Support page for details).
One final comment is that the system we have for testing uses a Core 2 Duo E6600 stepping 4 revision B0 CPU, which is generally not considered one of the best overclocking revisions. This is also an engineering sample (ES) CPU. Final retail systems will not come with anything other than full retail chips, but the lead times required to get system reviews done in a timely fashion account for the processor used. All of the other hardware is stock and retail units should perform at least as well as our test configuration.
Benchmark Setup
At present, we don't really have results from any configurations directly comparable to the PC Club Sabre Extreme. We will be including the results from the ABS Ultimate X9, but keep in mind that it costs about three times as much as the Sabre Extreme. Due to changes in the benchmarks being utilized, we will confine our results to these two systems at present. The overall performance of the Sabre Extreme is actually secondary to the various other points we have already covered, so we're only going to run a selection of the available benchmarks in order to verify that performance is acceptable and in line with what we expect for the components used.
PC Club EN-SE6 Test Configuration
Processor
Intel Core 2 Duo E6600 2.40GHz 4MB Cache
25% Overclock (3.00GHz - voids warranty)
RAM
2x512MB Transcend PC2-5300 JM367Q643A-6
DDR2-667 1.9V 5-5-5-13 Timings
Hard Drive(s)
Western Digital 250GB WD2500KS SE16
System Platform Drivers
Intel - 8.1.1.1001
Video Card:
1 x MSI 7900GT
Video Drivers:
NVIDIA 91.31
CPU Cooling:
Retail Intel HSF
Power Supply:
Allied 350W
Motherboard:
Gigibyte GA-965P-DS3 - F4 BIOS
(Newer builds use MSI P965 board)
Operating System(s):
Windows XP Home SP2
ABS Test Configuration
Processor
Core 2 Extreme X6800 (2.93GHz 4MB Cache)
20% Overclock (3.52GHz - ABS Warranty)
RAM
2 x 1GB Corsair CM2X1024-6400C4
DDR2-960 5-5-5-15 2.2V for Overclock
DDR2-800 4-4-4-12 2.0V Stock
Hard Drive(s)
2 x 150GB WD Raptor RAID 0
System Platform Drivers
Intel - 8.1.1.1001
Video Cards:
2 x ATI X1900XT (Master+Standard)
CrossFire on Intel 975X
Video Drivers:
ATI Catalyst 6.8
CPU Cooling:
Gigabyte GH-WIU01 Liquid Cooling
Power Supply:
Enermax Liberty 620W
Motherboard:
Intel 975XBX (Intel 975X)
Operating System(s):
Windows XP Professional SP2
We will be reviewing additional Core 2 Duo systems (and AMD systems) in the future, and we will continue to include the results from the Sabre Extreme and the Ultimate X9 in those reviews. Unlike individual component testing, we are looking at the entire package, and it should come as no surprise that higher costs bring higher performance. Design, features, reliability, support, component selection, and price are all factors, and we will do our best to evaluate all of these areas in our system vendor reviews.
Standard Application Benchmarks
We'll start with a look at typical application performance. Results from 3DMark05/06, PCMark05, AutoGK with DivX 6.2.5, and Cinebench 9.5 were collected. Given that we are comparing different configurations, the results should not be taken as an apples to apples comparison but rather as performance offered at various price points.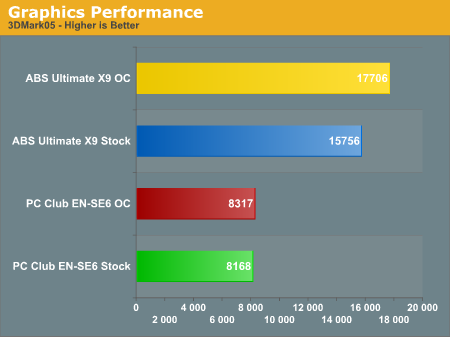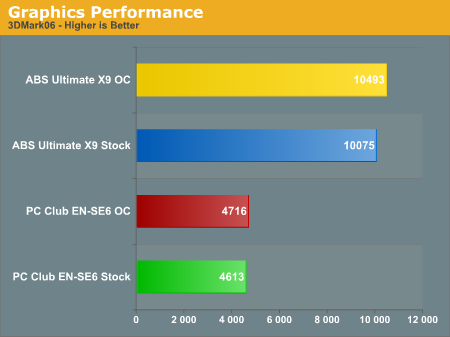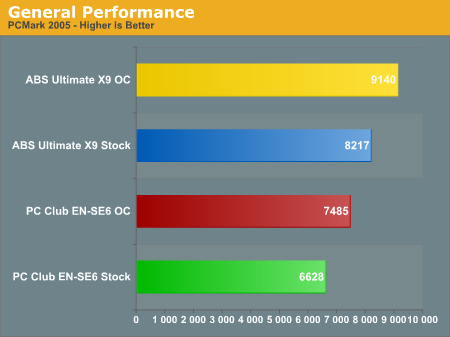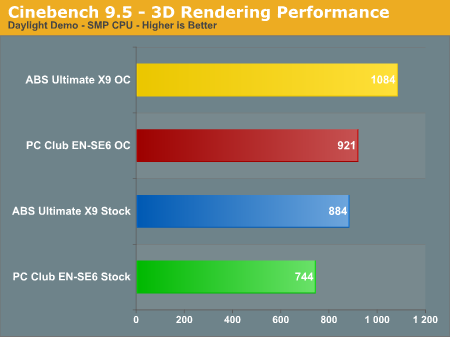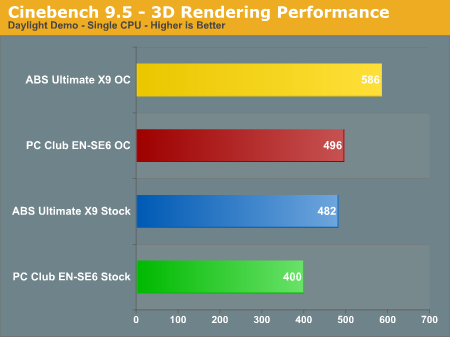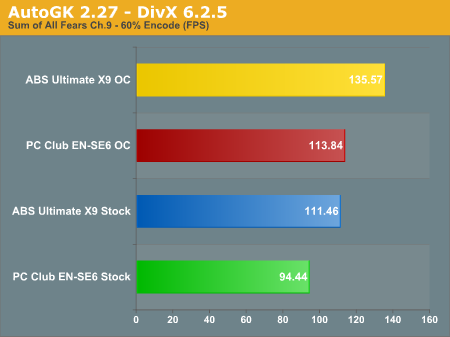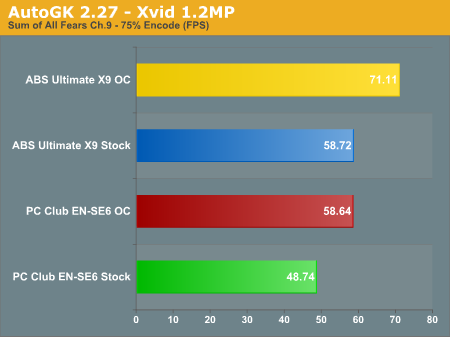 We consider 3DMark to be more of a synthetic benchmark, though it is widely used a measure of system gaming performance. Even at roughly equivalent clock speeds (overclocked Sabre Extreme versus stock clock speed Ultimate X9), it is not at all surprising to see the ABS X9 CrossFire outperform the PC Club configuration. When we get to the actual gaming tests, we will see what level of performance is really offered. The different graphics cards also have an impact on the PCMark05 results, though in practice all the tested configurations are sufficiently fast for just about any office related task.
In Cinebench and AutoGK performance, the impact of faster CPU speeds is clearly apparent for tasks like video encoding and 3D rendering. If you don't ever do video or 3D rendering or other similar work, a faster CPU may not be terribly important. On the other hand, if you're constantly running CPU limited tasks, spending money on a faster CPU (or overclocking) can definitely help out.
AutoGK often benefits from additional memory performance, which can be seen by comparing the 3.0 GHz PC Club results against the 2.93 GHz ABS results. In DivX, the 2.5% increase in clock speed is negated by the better memory timings and bandwidth of the ABS system. Xvid doesn't seem to benefit as much from tighter memory timings or increased bandwidth, as the 2.1% performance advantage the PC Club OC holds over the ABS almost matches the clock speed difference. With DivX encode rates almost doubling that of Xvid for the chosen task, it does makes sense that the DivX encode could use more memory bandwidth. Better memory is also important for improved overclocking, especially if you want to use a cheaper CPU with a lower multiplier. As we showed in our revised look at the
ASUS P5B Deluxe
, the E6400 required RAM capable of at least DDR2-890 operation to reach our maximum overclocks while the E6300 required RAM that could run at DDR2-1050.
Gaming Resolution Scaling
As this is a system review, we wanted to also look at gaming performance that can be achieved using the Sabre Extreme at lower resolutions and/or detail settings. We tested the five most commonly used resolutions for modern LCD displays at "high" and "medium" settings. We have provided a chart below of the test settings used for "midrange" and "high-end" configurations. Here are the results, along with scores from the ABS Ultimate X9. All of the results are with sound enabled where possible, as this is how most people play games and it reflects testing the performance of the entire package rather than individual components.
Game Settings
Medium Quality
High Quality
Battlefield 2
All settings at high with 0xAA
All settings at high with 4xAA
Far Cry
All settings at Very High with 0xAA/8xAF
Water at Ultra High
All settings at Very High with 4xAA/8xAF
Water at Ultra High
HL2: Episode 1
All settings on high
HDR and color correction enabled
0xAA/8xAF
All settings on high
HDR and color correction enabled
4xAA/8xAF
Oblivion
Ultra High Defaults (Max) except:

Grass: 0%
Interior/Exterior Shadows: 25%
Self Shadows: Off
Shadows on Grass: Off
Tree Canopy Shadows: Off
Shadow Filtering: Off
Specular Distance: 50%
HDR: On (AA: Off)
Ultra High Defaults (Max) except:

Grass: 50%
Interior/Exterior Shadows: 50%
Self Shadows: Off
Shadows on Grass: Off
HDR: On (AA: Off)
Quake 4
High defaults with 0xAA
SMP enabled
High defaults with 4xAA
SMP enabled
Serious Sam 2
High Detail Defaults
High Texture Size
HDR Enabled (AA Off)
Maximum Detail Defaults
HDR Enabled (AA Off)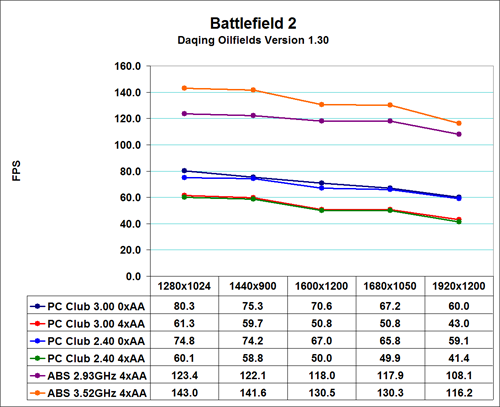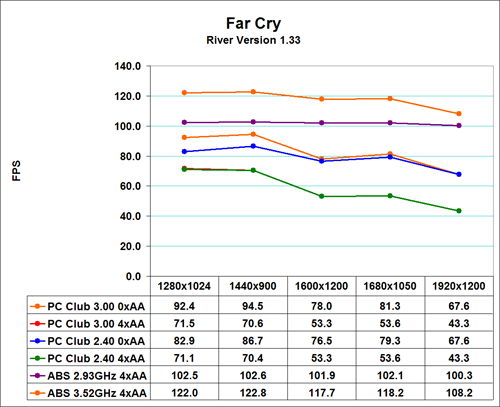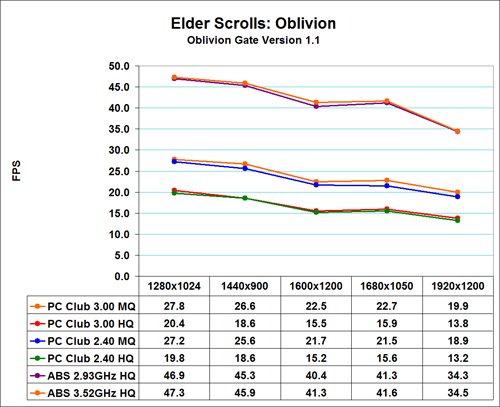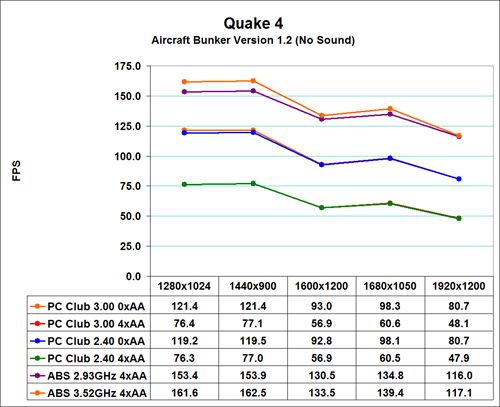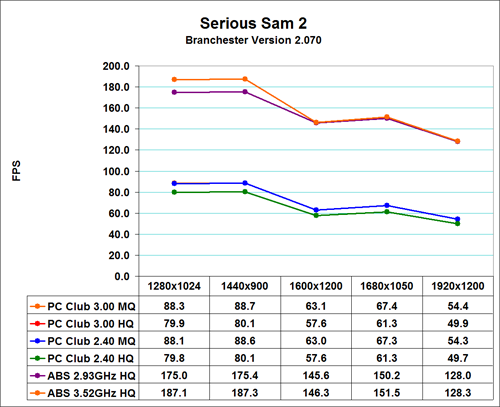 It should come as little surprise that the ABS Ultimate X9 is faster than the PC Club Sabre Extreme in every situation, especially at higher detail settings. Given the graphics configuration of the ABS Ultimate X9, we did not bother testing without antialiasing (except in Oblivion and SS2 due to the use of HDR), as performance is more than acceptable so there's no need to drop detail levels. The Sabre Extreme on the other hand can definitely benefit by running at slightly reduced detail settings, especially at higher resolutions.
Even the ultra high end ABS Ultimate X9 is running into GPU limitations, so the performance comparisons here essentially amount to comparing different GPUs. At present, the vast majority of games depend more on graphics performance than CPU performance, so with the exception of flight simulators and certain strategy games, GPU performance really does equate to gaming performance. That being the case, if you need help deciding whether or not you should upgrade the graphics card in a prebuilt system, you can always refer to our
video card reviews
.
You can see the GPU limited nature of games by looking at the stock vs. overclocked performance of both the ABS and PC Club computers; even with a top-end GPU configuration, CPU performance really only impacts gaming at the lower resolutions, and when you're talking about a 5% or less difference in performance, it really won't matter too much which Core 2 Duo CPU you use for gaming. Perhaps future games will be able to place more of a burden on the CPU, but that doesn't appear too likely, as games like Unreal Tournament 2007 and the recently released Prey are more GPU limited than current titles.
If you choose to go with a 19" widescreen ViewSonic LCD like the one PC Club sent us, the maximum resolution of 1440x900 is playable in nearly all cases at high detail settings. If you would rather use a larger monitor and/or run at higher resolutions, you may find it necessary to drop antialiasing down to 2xAA and/or reduce other settings. Whatever route you go, however, the gaming performance offered is more than acceptable for all present titles; you just may find that you need to tweak settings a bit in order to find the right balance between resolution, detail, and frame rate.
Noise and Power
Another aspect of system performance that would like to test is the noise and power requirements. As this is supposed to be a general use computer, most people aren't going to be interested in turbine engine noise levels or high power bills. We test systems at stock and overclocked (where applicable) speeds in both idle and 100% load situations. We then measured power draw and noise levels created by the system. 100% load is achieved by running two instances of Folding@Home along with the Splinter Cell: Chaos Theory benchmark. Performing video encoding or other CPU intensive tasks while playing a game will achieve a similar CPU load. We also provide a CPU-only stress test to show the difference between 100% CPU load and 100% CPU + GPU load. The CPU load is achieved by running the two Folding@Home instances without starting any games or other tasks.
Some of our readers have questioned in the past why we even perform such heavy stress test scenarios. After all, there are a lot of people that will never run to CPU intensive tasks along with a game to fully stress their computer, right? The problem is, we really don't know for sure what the future holds. Right now, most games and applications will not achieve the same load levels that we are using. In another year, however, with products like Windows Vista shipping and new games on the horizon, we may actually see situations where "typical use" scenarios put a similar stress on a system. We consider these tests a worst-case scenario, but provided the systems can run fully stable throughout our testing then we can say with some confidence that they will be okay with future applications and games.
For the ABS system, noise results basically showed no difference between any of the clock speeds, as all of the fans run at a constant RPM. However, the water cooling fan does come with the ability to control fan speed, so we set that to minimum for idle testing and maximum speed to show the difference in noise levels. The PC Club Sabre Extreme uses variable fan speeds to deal with heat output, so we enabled the appropriate setting in the BIOS for testing.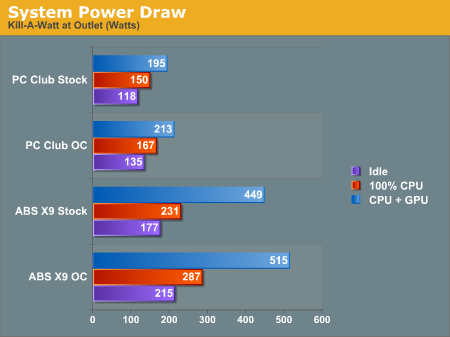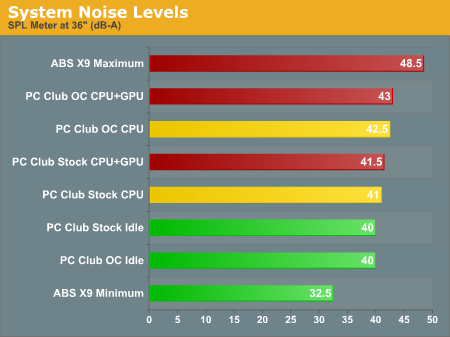 Starting with power requirements, it should come as little surprise that increasing CPU speed and voltage requires more power. The 25% overclock we used on the Sabre Extreme uses an additional ~20W of power. In comparison to an extreme system like the ABS Ultimate X9, the power requirements of the Sabre Extreme are extremely low. Using two faster graphics cards, a faster CPU, not to mention the water cooling configuration and hard drives clearly requires a lot more power than a typical midrange computer.
Looking at noise levels, the charts look relatively constant on the PC Club. At higher overclocks (not shown), noise levels did increase a few more decibels, but it required additional CPU voltage to reach that point. The PC Club Sabre Extreme is not a silent system, but it is relatively quiet. One thing that isn't shown is the variations in noise level that occur with variable fan speeds enabled in the BIOS. We actually found the changing RPMs of the fans to be more annoying than simply leaving them at maximum fan speed all the time. Particularly at lower RPMs, the fans in the PC Club tend to generate a dull hum that resonates with the case. We preferred disabling the CPU fan speed control in order to eliminate this effect, although there's no way to disable the variable fan speed of the PSU.
The ABS Ultimate X9 is louder at maximum fan speed and quieter at minimum fan speed -- nearly silent in the case of the latter -- but we also have to mention that the X9 was not entirely stable during testing in the original configuration, and for high stress situations you would definitely want to increase the fan RPMs.
Reliability, Warranty and Support
One of the items that was requested in our initial system review of the ABS was more discussion of the support and warranties offered. Providing specific details on support can be a bit tricky, as there are many factors involved. For one, you never know if you just happened to get one of the really good or really bad call center people, so we will be placing multiple anonymous calls to system vendors in order to judge the overall support quality. Some system vendors will require an order number or customer number in order to provide support, however, which essentially negates the process. If they pull up an account and find that you are calling in regards to a system review, that would likely result in better treatment. Still, we will do our best to cover this area. We will also take time to discuss some of the issues that we may have encountered during testing in this section of our system reviews.
We will start with a discussion of the issues we encountered during testing. The most significant issue came from the early nature of the hardware that was sent for review. All of the components are final retail samples (other than the engineering sample CPU), but many of the P965 chipset motherboards have been getting frequent BIOS updates. The Gigabyte motherboard was initially flashed with the F2 BIOS, and we did encounter some random errors during testing. Updating to the latest F4 BIOS release fixed many of the problems we had, but complete system stability was still not present. Note that we did record the initial BIOS settings that were used and restored these after loading the defaults for the F4 release.
After extended testing, it was eventually determined that the DDR2 voltage was set too high by PC Club. This was apparently done for the earlier F2 BIOS to improve stability, and our system came with the memory set to 2.1V instead of the stock 1.8V. Here's where things get a bit trickier: dropping the voltage of the memory to the "Normal" (1.8V) setting in the BIOS did not clean up our stability problems, even with the latest BIOS. Various compression/decompression tasks and video encoding still had problems. Our own testing of the Transcend JetRam indicates that it works best at a voltage of around 1.9-2.0V, and once we used this setting everything work properly. 1.9V and 2.0V offered complete stability throughout our testing. We should also note that the instabilities we experienced occurred with or without overclocking, but since the memory was at DDR2-667 in either configuration, that did not really have an impact.
So how did PC Club handle the support calls? First, their call center is only open from 9 AM to 5 PM PST, Monday through Friday. If you would like to have round-the-clock support, you will probably want to go with another system vendor instead. Support is also available online through e-mail, although monitoring of the e-mail accounts is also limited to the same hours. The good news is that when we called the support line during operational hours, the phone was answered promptly and within a minute or so we were speaking to a real person; they understood our descriptions of the issues we had and provided reasonable solutions and advice for several of our "problems". One of them related to a spyware infestation of the system, and they recommended several useful applications as well as preventative measures to take for the future.
As for our memory voltage problems, the people we spoke with were unable to help immediately and said that they would get back in touch with us after conferring with higher-level support. The expected turnaround time for higher-level support is 48-72 hours. We also happened to call on a Friday, which means that we had to wait for the following week before we heard from them. In the mean time, they suggested that we might take the system back to their local store for support. At this point, we ran into the "anonymity" problem, but overall support was helpful and friendly. As mentioned, the 2.1V RAM setting was used to try and improve system stability with the F2 BIOS; as many people with early P965-based Core 2 Duo systems have discovered, the chipset was initially launched before it was really ready for public use. The latest F4 BIOS does remedy the stability issues, though our testing still indicates that 1.9-2.0V for the Transcend memory is required. Due to the fact that the Sabre Extreme is a brand new product, it's safe to say that the support teams have not received many support calls about it yet.
One of their responses is particularly noteworthy: take the system in to a local shop for evaluation. PC Club has 40 retail outlets located primarily in the western United States. If you happen to live near one of those, the hours of support at the local store are more than likely longer than what you would get on the phone, and they can also diagnose and troubleshoot the system in person. Prices at local stores may be different than what you pay online, as the online store reacts to market price changes faster - for better and for worse - but regardless of where you purchase a system, the local stores do provide warranty coverage and support for all PC Club computers. They can also provide support for computers from other manufacturers, though of course you will pay for that service.
The warranty on all PC Club systems is a standard one year limited warranty on parts and labor, with the option to purchase two year extended warranty (three years total). The cost of the extended warranty ranged from $190-$210 on the EN-SE6 depending on options. This price is once again in line with the cost of the rest of the system: about as low as you can reasonably expect without making some compromises.
Other than the initial configuration problems we had, the overall reliability of the PC Club Sabre Extreme was very good. Given our comments in this article, as well as our communication with people at PC Club, we fully expect to see all customer configurations shipping with the latest F4 BIOS and proper RAM settings. Future configurations will also be switching to an MSI motherboard, which should also improve memory compatibility. The switch to the MSI board is being made due to better availability according to PC Club.
Giving a final evaluation on customer support is something of a nebulous process. Anyone who has worked in a computer support department knows how difficult it is to provide troubleshooting support over the phone, and the ability to take a PC to a local brick and mortar shop is often far more convenient. Many companies now provide utilities to take control of your PC directly over the Internet if you have a broadband connection, which allows improved troubleshooting and diagnostic capabilities. PC Club did not mention such an option to us during our conversations, so if that's something you would like to have you may need to look elsewhere.
Call center support during weekends and evenings would also be nice to have for some people. On the other hand, providing additional support costs money, which results in higher prices on the computer systems. The price you pay for the various components is good, providing a cost-effective solution for most people. If high-quality customer service and support is your number one priority, other vendors might be better or perhaps you can even get third-party support. How much you're willing to pay for such support is the real question, and short of paying someone to come by your house and troubleshoot your computer(s) directly you still may not achieve "support nirvana".
Final Thoughts
Some people like to build their own computer systems, and it's not unusual to hear enthusiasts say that it's over half the fun of getting a new computer. Certainly, if you know how to build your own computer and you enjoy the task, there's probably no need to go out and purchase a prebuilt system for yourself. Family members and friends are another story, however, and many "computer experts" often find themselves providing free customer support and/or advice. For enthusiasts looking at getting maximum performance and all of the extra features, the DIY route is still the way to go. In other cases, it is often less of a headache to get a reliable computer from a system vendor and let someone else handle the dirty work.
For those looking to recommend a system to a friend or acquaintance, or anyone looking to purchase a good quality prebuilt system at a reasonable cost, PC Club is definitely worth a look. The Sabre Extreme EN-SE6 offers just about everything you could need in a midrange home computer system. You can also customize a system to your own particular needs as you see fit. We reviewed a $1650 configuration - including OS, software, and a 19" WS monitor - but you can spend more if you want, for example adding a GX2 graphics card if gaming is really important. As we frequently state in buyers guides, purchasing a high-end 20"-24" LCD is also something you might want to look at. $700 for a 24" display is a lot of money initially, but you can use displays through several system upgrades and there is a dramatic difference between using a 19" LCD and a 24" LCD. On the other hand, dropping from the E6600 to an E6400 or E6300 will still provide plenty of CPU power for most people and will reduce cost $100-$225. Get what fits your needs best, but don't be afraid to splurge on the areas that are important to you.
During several weeks of testing, there really were no serious issues that we found with the Sabre Extreme -- at least not once we had the BIOS configured properly. Even our worst-case stress test scenarios ran flawlessly. We would hope that would be the case with any new computer, but sadly it is not. One of the drawbacks of spending thousands of dollars on a system is that you often end up with a bleeding edge configuration, and some people are best off taking a step down in performance rather than dealing with the problems associated with extreme performance. For the vast majority of people, $1000-$1500 is a good amount to spend on a new computer, as it gets you all of the features that you need, most of the features you would want, and it hopefully doesn't break the bank.
We have frequently stated in our buyer's guides that the midrange sector is the most interesting price point, and the same thing applies to midrange prebuilt systems. There are a wide variety of options you can choose in order to build your own dream system. Spending less than $1000 often results in cut corners, and more than $2000 might give you more than you really need, or simply increase cost without dramatically affecting performance or features. Something else to think about is that rather than spending $4500 on a top-of-the-line system all at once, you can end up taking a moderate step back from top performance for one half to one third the cost. Over two or three years, you could even upgrade once or twice to a completely new midrange system and still end up spending the same amount of money. If cost isn't a particular concern and you want the absolute best performance, by all means go ahead and buy a high-end computer, but your typical home or college dormitory will find just about everything they need in midrange offerings such as the PC Club Enpower Sabre Extreme EN-SE6 reviewed here.
Does that mean you should go out and buy a PC Club computer? If you're in the market for a new computer, they are worth checking out. Local computer shops and other system vendors provide similar offerings, with a final cost that should be pretty comparable. If you're something of a budding enthusiast but you don't have the time to spend building your own system right now, you might also appreciate the use of off-the-shelf components from PC Club, as you will find everything you need to try and tweak your system for better performance. Determine what level of support you need and how much you're willing to pay, and then shop around. Right now is a great time to buy computers, with the only major events coming in the near future being DirectX 10 and Windows Vista. If you don't feel a need to upgrade right now, then you shouldn't, but if you've been putting off upgrading until the "right time", this is about as good a time as you're likely to see.
As always, we welcome your feedback and any further suggestions on how to improve our system reviews.