Original Link: http://www.anandtech.com/show/2069


ATI has this nasty habit of introducing way too many GPUs into its lineup, and today is no letdown to tradition as ATI is introducing a total of five new video cards. 
We'll start at the bottom with the Radeon X1300 XT, a new $89 part from ATI.  The X1300 XT is effectively a rebadged X1600 Pro, and thus should offer a significant performance boost over the rest of the X1300 family. 
Since the X1300 XT is the same thing as an X1600 Pro, the X1600 family gets a new member with the introduction of the X1650 Pro.  The X1650 Pro is identical to the X1600 XT except for a 10MHz increase in core clock and memory clock frequency.  Yes, an entirely new product was created out of a 10MHz bump in GPU/memory clocks.  The X1650 Pro will be priced at $99.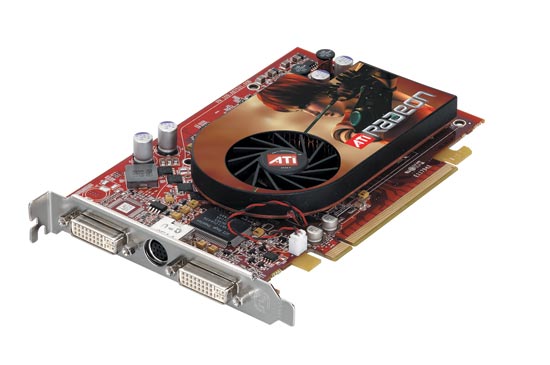 ATI's Radeon X1650 Pro
Last week we took a look at currently available mid-range GPU solutions in the $200 - $300 price range and found that for around $340 you could pick up a 512MB X1900 XT and generally get some very solid performance.  Today ATI is introducing a 256MB version of the X1900 XT at the suggested retail price of $279, which has the potential to give ATI a firm grasp on the performance mainstream GPU market.  The X1900 XT 256MB is no different than its 512MB brother other than memory size, so pipes and clocks are the same.  If you're wondering why the X1900 XT (512MB) noticed such a sharp decline in price over the past couple of weeks, the impending release of the cheaper 256MB version is your answer. 
At the high end we've got the final two cards that round out today's launch: ATI's Radeon X1950 XTX and X1950 CrossFire.  The X1950 XTX is identical to the X1900 XTX except that it uses faster GDDR4 memory, running at 1GHz compared to 775MHz on the X1900 XTX.  With more memory bandwidth, the X1950 XTX could outperform its predecessor, but performance isn't what we're mostly excited about with this card - it's the price.  ATI is hoping to sell the X1950 XTX for $449, a drop in price compared to the introductory price of the X1900 XTX, which is a trend we haven't seen too often among GPU makers.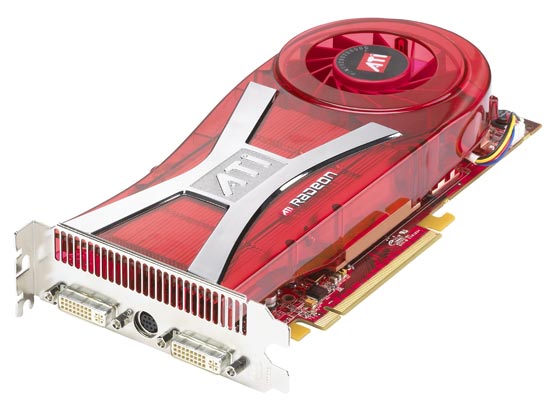 ATI's Radeon X1950 XTX
To make things even better, the CrossFire version, which has identical clocks, is also priced at $449; in other words, there's no reason not to get the CrossFire version.  ATI confirmed to us that you can run a pair of X1950 CrossFire cards in CrossFire mode, further reinforcing the fact that there's no reason to even buy the regular card.  You get the same performance, same features and better flexibility with the CrossFire card so why not?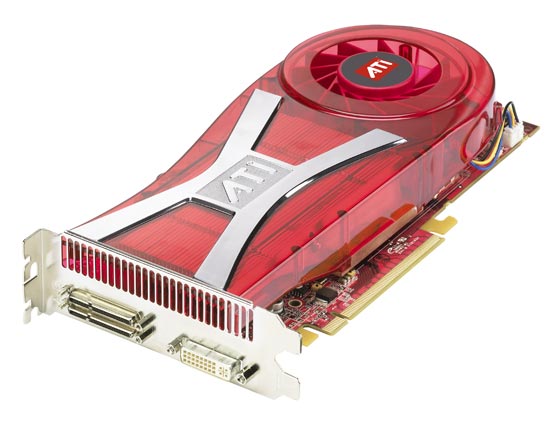 ATI's Radeon X1950 CrossFire
NVIDIA Graphics Card Specifications
 

Vert Pipes

Pixel Pipes

Raster Pipes

Core Clock

Mem Clock

Mem Size (MB)

Mem Bus (bits)

Price

GeForce 7950 GX2

8x2

24x2

16x2

500x2

600x2

512x2

256x2

$600

GeForce 7900 GTX

8

24

16

650

800

512

256

$450

GeForce 7900 GT

8

24

16

450

660

256

256

$280

GeForce 7600 GT

5

12

8

560

700

256

128

$160

GeForce 7600 GS

5

12

8

400

400

256

128

$120

GeForce 7300 GT

4

8

2

350

667

128

128

$100

GeForce 7300 GS

3

4

2

550

400

128

64

$65
ATI Graphics Card Specifications
 

Vert Pipes

Pixel Pipes

Raster Pipes

Core Clock

Mem Clock

Mem Size (MB)

Mem Bus (bits)

Price

Radeon X1950 XTX

8

48

16

650

1000

512

256

$450

Radeon X1900 XTX

8

48

16

650

775

512

256

$375

Radeon X1900 XT

8

48

16

625

725

256/512

256

$280/$350

Radeon X1900 GT

8

36

12

525

600

256

256

$230

Radeon X1650 Pro

5

12

4

600

700

256

128

$99

Radeon X1600 XT

5

12

4

590

690

256

128

$150

Radeon X1600 Pro

5

12

4

500

400

256

128

$100

Radeon X1300 XT

5

12

4

500

400

256

128

$89

Radeon X1300 Pro

2

4

4

450

250

256

128

$79
Today we're able to bring you a look at performance of the mid range and high end solutions, the X1950 cards and 256MB X1900 XT.  We're still waiting for ATI to send us our X1300 XT and X1650 Pro samples, and we will follow up in the coming weeks with a look at the performance of those offerings as well.  Note that although ATI is lifting the veil on its five new products today, you won't actually be able to buy any of them until September 4th (on the high end) with no real availability until the 14th.  Given the pricing that ATI is promising however, these cards are worth waiting for. 
With five new cards being introduced, ATI is hoping to slowly phase out all of its other offerings to simplify its product lineup.  Unfortunately, it will take some time for all inventory to dry up, but when it does ATI hopes to have the following cards in its lineup:
Class
Card

Price

 

Enthusiast
ATI Radeon X1950 XTX

$449

ATI Radeon X1900 XT 256MB

$279

Performance
ATI Radeon X1900 GT

$249

Mainstream
ATI Radeno X1650 Pro

$99

ATI Radeon X1300 XT

$89

Value
ATI Radeon X1300 Pro

$79

ATI Radeon X1300 256

$59

ATI Radeon X1300 64-bit

$49
The performance difference between the X1900 XTX and XT was small enough that it didn't make sense to have two different products, which is why ATI left the X1950 XTX as the only high end GPU on its roster.
As we don't have availability right now, we can't confirm real street prices, but we did speak with a few companies who manufacture ATI cards. HIS has stated that they should be able to meet ATI's pricing on all of these parts, which is promising. We also heard from PowerColor on pricing, and it looks like they will be able to meet the MSRP price on the X1950 XTX. With the X1900 XT and X1900 XT 256MB, PowerColor will be listing them for $400 and $300 respectively. Depending on how the rest of the manufacturers stack up, we could see some good prices next month or be sorely disappointed; at this point it's best to be cautious with a launch so far in advance of availability.
What is GDDR4?
The major advancement that makes the new X1950 series possible is the availability of GDDR4. This really is an incremental step forward from GDDR3 with an eye towards power saving. Of course, in the high end graphics world "power saving" is a euphemism for overclockability. Thus we have a technology designed to run efficiently and to be pushed beyond the limit of reason. Sometimes we can have our cake and eat it too. While the majority of the power savings come in at lower clock speeds, we will see in our tests that there are some power benefits at the high end as well.
We have gotten our hands on some information about GDDR4, and will do our best to extract the most useful data. The major advances of GDDR4 include a lower voltage requirement of 1.5V (or up to 1.9V if overclocking). At the low end, this offers a 30% power savings over GDDR3 clock for clock. We also see a fixed burst length of 8 bits with GDDR4 as opposed to 4 with GDDR3. This allows the RAM to run at half the core frequency while offering the same memory bandwidth as GDDR3, which results in significant power savings (a 2GHz data rate GDDR3 chip would run with a core clock of 500MHz, while GDDR4 can run at 250MHz). Alternately, this can be used to provide higher memory speeds in high end systems.
Data bus inversion (DBI) also makes its way into memory with GDDR4. This technique helps to lower the average power used by the bus by minimizing the number of zeros transmitted. At first glance, this might not make much sense, but it all has to do with how zeros are sent. These days, it's most common to see digital logic use active low signaling. This means that a digital 1 is actually represented by a low power state. This is ostensibly because it is easier to create a sink than a source (it's easier to pull voltage down from a high state than to raise it up from a ground state). This means that we are actually using more power when we are sending a zero because the signal for a zero is a high voltage state.
The way DBI works is that all the data is inverted if the current byte to be transmitted contains more than 4 zeros. A separate control bit (aptly named the DBI flag) is used to indicate whether the data is inverted on the bus or not. Here are a couple examples of what would happen when transmitting data over a bus using DBI.
data to send: 11100000
data on bus: 00011111, DBI Flag = 1

data to send: 11111000
data on bus: 11111000, DBI Flag = 0
Addressing is also done differently with GDDR4. If we are considering the 16Mx32 (this means 16 million address that hold 32bits of data each) 512Mbit GDDR4 modules currently available from Samsung, we will have only 12 address pins. A full address is sent in two consecutive clock cycles (as 24-bits are needed to select between 16 million addresses). This frees pins to use for other things, like power and ground which could increase the capability of the DRAM to run at high speeds. Among the other optimizations, a multi-cycle preamble is used to make sure that timing is accurate when sending and receiving data (allowing for faster speeds), GDDR4 has a lower input capacitance than GDDR3, and memory manufacturers have more control over the properties of the transistors and resistors used in the driver and receiver in order to better tune products to specific needs.
Right now, ATI is using Samsung's 80nm 0.91ns K4U52324QE GDDR4 modules on its X1950 products. This is actually the slowest GDDR4 memory that Samsung sells, clocking in at a max of 1100MHz. Their 0.714ns RAM is capable of hitting 1400MHz which will be able to put future graphics cards beyond the 2.5GHz data rate and up near the 80GB/s range in memory bandwidth. Of course, the X1950 XTX memory bandwidth of 59.6GB/s is pretty impressive in itself. From a clock for clock perspective, GDDR4 can offer advantages, but we shouldn't expect anything revolutionary at this point. We ran a couple tests underclocking the X1950 XTX, and saw performance on par with or slightly faster than the X1900 XTX.
The Test
For the most part, this is a high end article focusing on the faster 3 cards ATI announced today. We will include benchmarks of the X1900 XT 256MB in both our high end tests, and in a comparison with the numbers we ran for our recent summer midrange roundup. Our high end tests will consist of higher resolutions and will use the same high end platform we employed for our midrange article. This time, along with the benefits we see from using the fastest CPU we can get our hands on, this is also the type of system we might recommend for high end gamers to run their cards in. Thus, people interested in these cards can get a glimpse of what actual performance might look like on their personal system using our numbers.
CPU:
Intel Core 2 Extreme X6800 (2.93GHz/4MB)
Motherboard:
Intel D975XBX (LGA-775)
ASUS P5N32SLI SE Deluxe
Chipset:
Intel 975X
NVIDIA nForce4 Intel x16 SLI
Chipset Drivers:
Intel 7.2.2.1007 (Intel)
NVIDIA nForce 6.86
Hard Disk:
Seagate 7200.7 160GB SATA
Memory:
Corsair XMS2 DDR2-800 4-4-4-12 (1GB x 2)
Video Card:
Various
Video Drivers:
ATI Catalyst 6.8
NVIDIA ForceWare 91.33
Desktop Resolution:
1920 x 1440 - 32-bit @ 60Hz
OS:
Windows XP Professional SP2
The games we have chosen to test represent a wide variety of engines and styles. We are testing 7 games today due to the time constraints of this article. As the interest in HDR and advanced visual effects continues to rise, the tradeoff required for antialiasing is often overshadowed by the quality available from other options. This is especially true in games like Splinter Cell: Chaos Theory, Oblivion, and Black & White 2. In every game but Splinter Cell: Chaos Theory and Oblivion, we will be testing with and without 4x antialiasing. These games really shine when HDR is enabled, so we won't bother disabling it. (ATI still offers the "Chuck Patch" to enable both HDR and antialiasing, which can be seen as an advantage for their hardware. However, this doesn't work with all HDR modes and is currently targetted mostly at Oblivion and Splinter Cell: Chaos Theory.)
For all of our tests, the only default driver setting we change is vsync which we set to off. All other settings are left alone, as the default settings from each camp yeild generally comparable image quality. There are a few exceptions to the rule, but none of the test we ran show any shimmering or other problems noted in the past with NVIDIA's default quality.
In reporting our results, in hopes to increase readability, we will be including a snapshot of one resolution using our standard graphing engine graphs along side a resolution scaling line graph.
A Matter of Memory: Revisiting the Mid-Range
When 512MB cards first came along (with the GeForce 7800 GTX 512), we ran some performance tests to try and ascertain the real world performance difference between these cards and ones with 256MB of RAM. We came up empty handed at the time. Today we are able to show that memory sizes above 256MB are actually starting to matter. With ATI's launch of the new X1900 XT 256MB, we have a direct comparison between two cards which are almost identical aside from the amount of memory on board. To be completely fair, X1900 XT 256MB cards built by ATI will also have full HDCP support, keys and all, but the major difference remains RAM.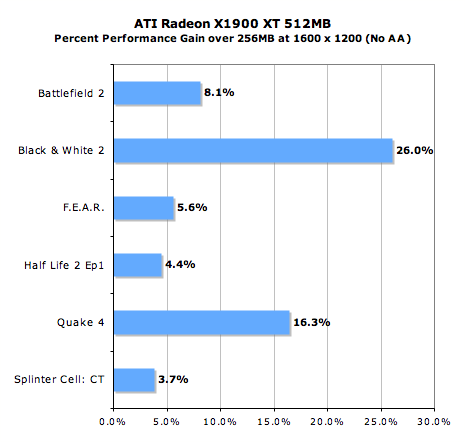 ATI dropped down to eight 8Mx32 as opposed to the eight 16Mx32 GDDR3 modules used on the original X1900 XT. Memory speed, bandwidth, and even layout can remain the same between cards, with only a slight difference in timings due to the different capabilities of each chip type. The result is that the X1900 XT 256MB is a slower solution than the X1900 XT that still offers exceptional performance for a terrific price.
The graphs below compare the new $279 X1900 XT 256MB to the rest of the sub-$300 cards we included in last week's mid-range GPU roundup. Note that the X1900 XT's chief competitor is NVIDIA's GeForce 7900 GT, which itself can be found for around $270. However, for as little as $20 more you can get a factory overclocked 7900 GT such as the eVGA GeForce 7900 GT KO SC clocked at 580/790 that all of the sudden becomes far more competitive. Because of the prevelance of factory overclocked (and warrantied) 7900 GTs, we've included the eVGA card as a reference of what you can get for the same price.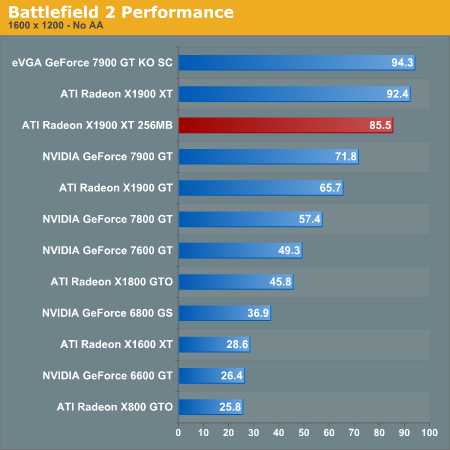 The 256MB drop in memory size doesn't impact BF2 enough to drop performance below the 7900 GT. The overclocked EVGA card does out perform even the 512MB X1900 XT in this test, but the 256MB version doesn't loose much value here as 85 fps is still way more than playable.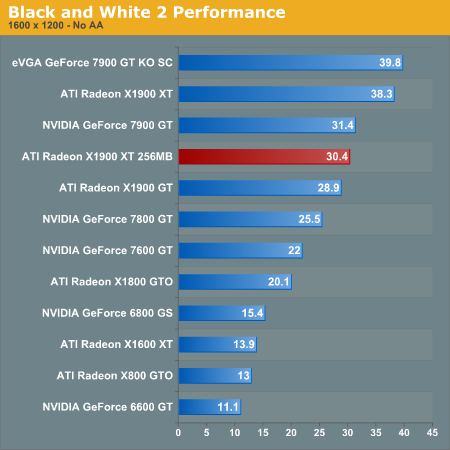 The 256MB X1900 XT falls in performance to just below the level of the stock 7900 GT. The competition is still tight, and we are about on par for the money here.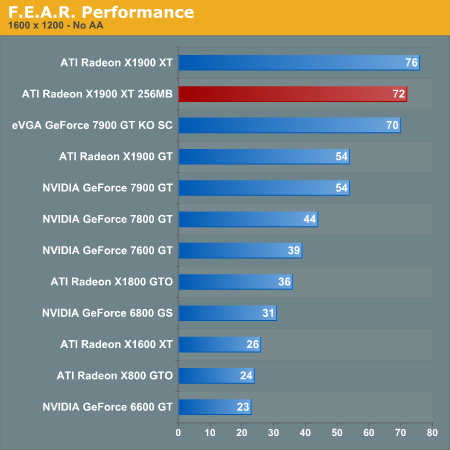 If F.E.A.R. performance is important to you, the X1900 XT 256MB is a better value than even the overclocked 7900 GT. The 512MB card still retains a small 5.5% lead over the 256MB card. This is one of the smaller performance drops we will see.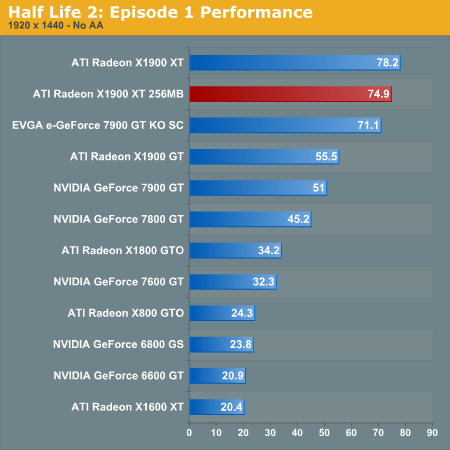 Under HL2:Ep1, performance drops a very small amount, but both X1900 XT cards are in strong competition with the overclocked 7900 GT.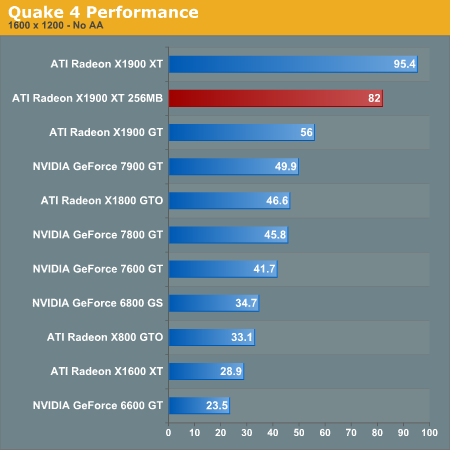 Quake 4 does give the 512MB card a bit of an advantage at 1600 x 1200, but the performance of the 256MB X1900 XT is still quite respectable given its target price of $279. The stock GeForce 7900 GT isn't in the same league as the X1900 XT.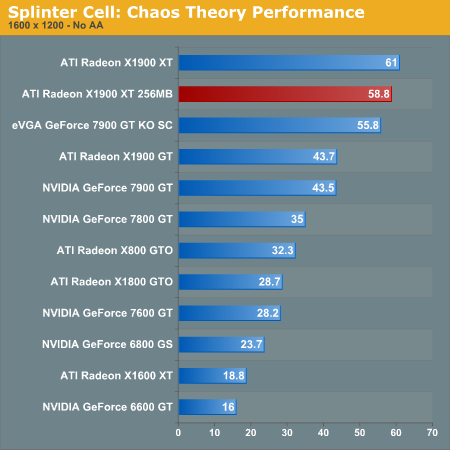 Spinter Cell rounds out our tests as one of those games where the larger frame buffer on the older X1900 XT does not do much. You lose less than 4% of your performance when going to the cheaper 256MB X1900 XT, which is a trade off we can live with. The regular GeForce 7900 GT can't hope to keep up with the 256MB X1900 XT, but if you get one of the factory overclocked cards such like the eVGA GeForce 7900 GT KO SC (more acronyms please) then you'll actually have performance competitive to the X1900 XT 256MB.
If the X1900 XT 256MB actually debuts at the ATI suggested price of $280, there won't be much of a reason to recommend anything but ATI parts from $220 up until we reach the highest end parts at above $400 where the lines start to blur again. While performance can fall very short of the X1900 XT 512MB at times, the X1900 XT 256MB remains competitive with our overclocked 7900 GT in every case but Black & White 2. The reduced memory version of the X1900 XT is just what ATI needed to pull out in order to fight back against the incredible overclockability of the 7900 GT.
A Faster, Cheaper High-End
While the X1900 XTX made its debut at over $600USD, this new product launch sees a card with a bigger, better HSF and faster memory debuting at a much lower "top end" price of $450. Quite a few factors play into this, not the least of which is the relatively small performance improvement over the X1900 XTX. We never recommended the X1900 XTX over the X1900 XT due to the small performance gain, but those small differences add up and with ATI turning their back on the X1900 XTX for its replacement. We can finally say that there is a tangible difference between the top two cards offered by ATI.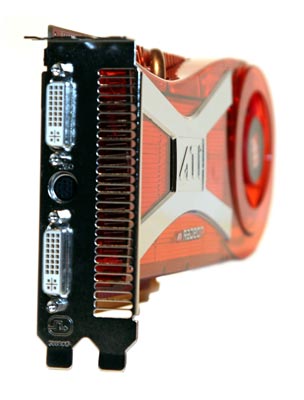 This refresh part isn't as different as other refresh parts, but the price and performance are about right for what we are seeing. Until ATI brings out a new GPU, it will be hard for them to offer any volume of chips that run faster than the X1950 XTX. The R5xx series is a very large 384 million transistor slice of silicon that draws power like its going out of style, but there's nothing wrong with using the brute force method every once in a while. The features ATI packed in the hardware are excellent, and now that the HSF is much less intrusive (and the price is right) we can really enjoy the card.
Speaking of the thermal solution, it is worth noting that ATI has put quite abit of effort into improving the aural impact of its hardware. The X1900 XTX is not only the loudest card around, but it also possesses a shrill and quite annoying sound quality. In contrast, the X1950 XTX is not overly loud even during testing when the fan runs at full speed, and the sound is not as painful to hear. We are also delighted to find that ATI no longer spins the fan at full speed until the drivers load. After the card spins up, it remains quiet until it gets hot. ATI has upgraded their onboard fan header to a 4-pin connection (following in the footsteps of NVIDIA and Intel), allowing them a more fine grained control over their fan speed.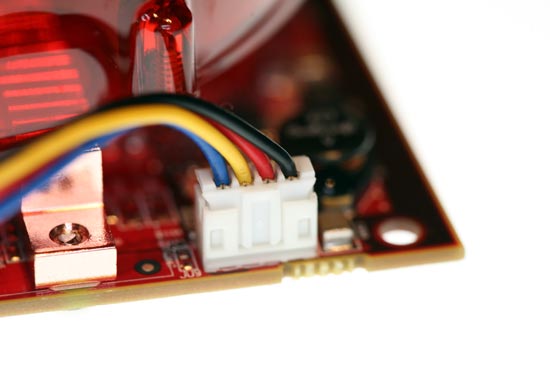 While the X1950 XTX is not as quiet as NVIDIA's 7900 GTX solution, it is absolutely a step in the right direction. That's not to say their aren't some caveats to this high end launch.
Even before the introduction of SLI, every NVIDIA GPU had the necessary components to support multiple GPU configurations in silicon. Adding an "over the top" SLI bridge connector to cards has resulted in the fact that nearly every NVIDIA card sold is capable of operating in multi-GPU mode. While lower end ATI products don't require anything special to work in tandem, the higher end products have needed a special "CrossFire" branded card with an external connector and dongle capable of receiving data from a slave card.
While this isn't necessarily a bad solution to the problem, it is certainly less flexible than NVIDIA's implementation. In the past, in order to run a high end multi-GPU ATI configuration, a lower clocked (compared to the highest speed ATI cards) more expensive card was needed. With the introduction of X1950 CrossFire, we finally have an ATI multi-GPU solution available at the highest available clock speed offered and at the same price as a non-CrossFire card.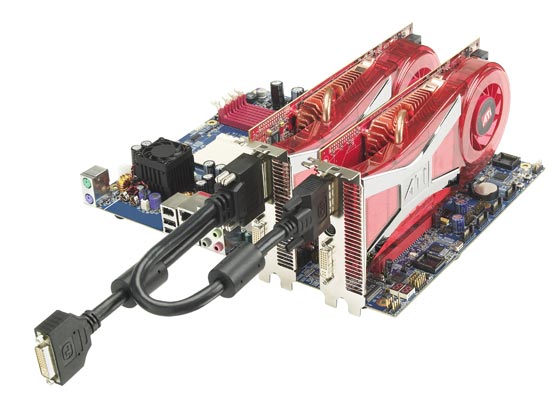 While this may not be a problem for us, it might not end up making sense for ATI in the long run. Presumably, they will see higher margins from the non-CrossFire X1950 card, but the consumer will see no benefit from staying away from CrossFire. (Note that the CrossFire cable still offers a second DVI port.) In fact, the benefits of having a CrossFire version are fairly significant in the long run. As we mentioned, 2 CrossFire cards can be used in CrossFire with no problem, each card could be used as a master in other systems offering greater flexibility and a higher potential resale value in the future.
If the average consumer realizes the situation for what it is, we could see some bumps in the road for ATI. It's very likely that we will see lower availability of CrossFire cards, as the past has shown a lower demand for such cards. Now that ATI has taken the last step in making their current incarnation of multi-GPU technology as attractive and efficient as possible, we wouldn't be surprised if demand for CrossFire cards comes to completely eclipse demand for the XTX. If demand does go up for the CrossFire cards, ATI will either have a supply problem or a pricing problem. It will be very interesting to watch the situation and see which it will be.
Before we move on to the individual game tests, lets take a look at how the X1950 XTX stacks up against its predecessor the X1900 XTX. Mouse over the links below the image to look at the performance difference between the X1950 XTX and the X1900 XTX at that resolution.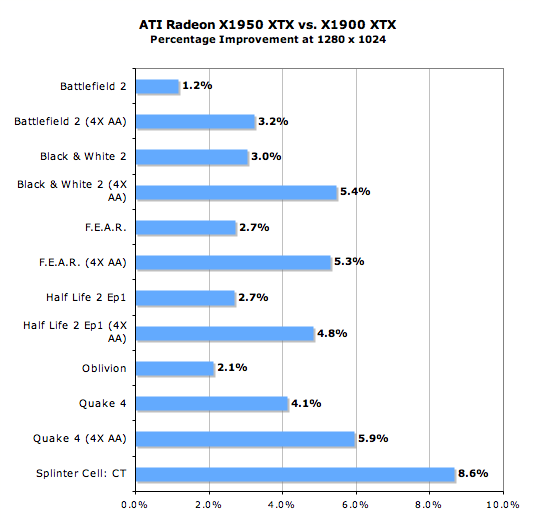 1280 x 1024
1920 x 1440
2048 x 1536
For our 29% increase in memory clock speed, we are able to gain at most an 8.5% performance increase in SC:CT. This actually isn't bad for just a memory clock speed boost. Battlefield 2 without AA took home the least improvement with a maximum of 2.3% at our highest resolution.
Our DirectX games seem to show a consistently higher performance improvement with AA enabled due to memory speed. This is in contrast to our OpenGL games (Quake 4 and F.E.A.R.) which show a pretty constant percent improvement at each resolution with AA enabled while scaling without AA improves as resolution increases. Oblivion improvement seems to vary between 2% and 5%, but this is likely due to the variance of our benchmark between runs.
Battlefield 2 Performance
This benchmark is performed using DICE's built in demo playback functionality with a few added extras built in house. When using the built in demo playback features of BF2, frames rendered during the loading screen are counted in the benchmark. In order to get a real idea of performance, we use the instantaneous frametime and frames per second data generated from a benchmark run. We discard the data collected during the loading screen and calculate a result that represents the actual gameplay that was benchmarked. While DICE maintains that results over 100fps aren't reliable, our methods have allowed us to get useful data from high performing systems.
During the benchmark, the camera switches between players and vehicles in order to capture the most action possible. There is a lot of smoke and explosions, so this is a very GPU intensive Battlefield 2 benchmark. The game itself is best experienced with average in-game framerates of 35 and up.
We ran Battlefield 2 using the highest quality graphics settings we could. Shadows, lighting, and especially view distance are very important in order to best play the game. In our opinion view distance should never be set to less than the max, but other settings can be decreased slightly if a little more performance or a higher resolution is required.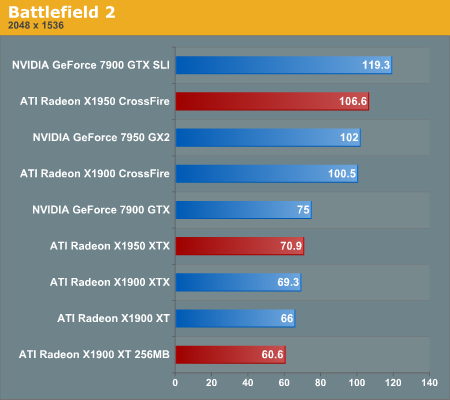 At the very top of the charts the GeForce 7900 GTX SLI manages to maintain just under a 12% advantage over the X1950 CrossFire, indicating to NVIDIA that it may not need to even respond with a new product to combat ATI's launch today at the high end. A single 7950 GX2 offers virtually identical performance to the X1950 CrossFire, showcasing the main strength of the 7950 GX2: its ability to offer dual card performance in a single slot in any platform. The performance advantage the X1950 CrossFire offers over its X1900 predecessor is 6%, definitely not enough to warrant an upgrade.
Single card performance is representative of what we've seen with multi-GPU performance, with the single 7900 GTX outperforming a single X1950 XTX. Note that the 7900 GTX's performance advantage actually grows from one to two cards, thanks to better scaling with NVIDIA's SLI architecture over ATI's CrossFire.
At the very bottom of the chart we've got the X1900 XT 256MB which really puts things into perspective. Being able to deliver 60 fps at 2048 x 1536 itself, most users will be monitor limited before they are GPU limited in games like Battlefield 2; in which case, the clear recommendation here is the $280 X1900 XT (or the similarly priced factory overclocked 7900 GT as we saw earlier in this review).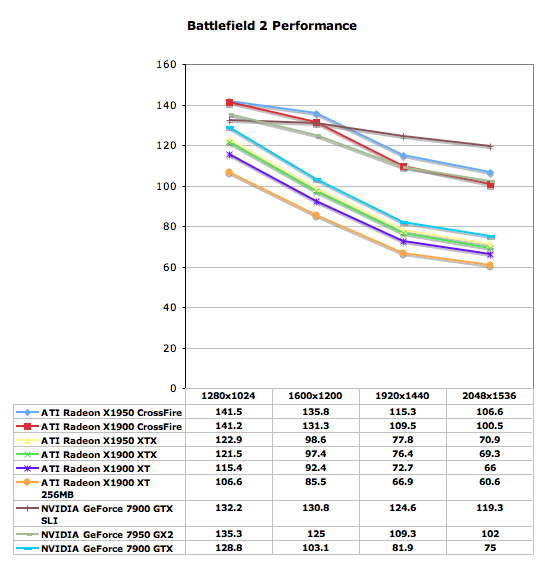 Although the 7900 GTX SLI performs better at higher resolutions, ATI's X1950 and X1900 CrossFire setups actually perform better at lower, more CPU bound resolutions, indicating greater driver overhead with NVIDIA's SLI. CPU limitations are quite evident at lower resolutions with the multi-GPU setups further reinforcing the idea that if you've got a LCD with a 1280 x 1024 maximum resolution, then you may want to think twice about upgrading to a second GPU.
The CPU limitations seen at 1280 x 1024 start to fade away as we move to 1600 x 1200, where the multi-GPU pack separates itself from the single GPU cards. What's interesting is that, with the exception of NVIDIA's 7900 GTX SLI, the remaining multi-GPU cards have similar resolution scaling curves to the single cards, just at higher frame rates.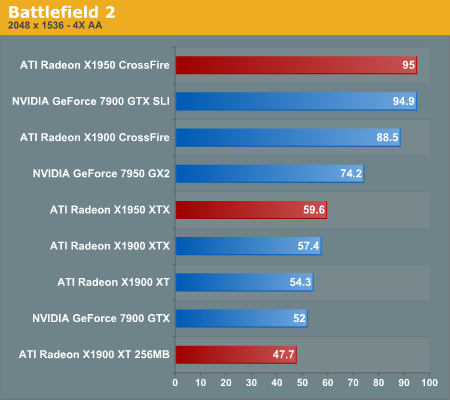 When AA gets kicked on, we see the numbers get shaken up a bit. X1950 CrossFire essentially ties 7900 GTX SLI for the performance lead, and the 7950 GX2 drops to the bottom of the multi-GPU pile. Single GPU performance becomes dominated by ATI cards with the 7900 GTX falling to nearly the level of the 256MB X1900 XT. At the same time, it is a nice treat to realize that even the 256MB X1900 XT is playable at 2048x1536 with all the eye candy cranked up.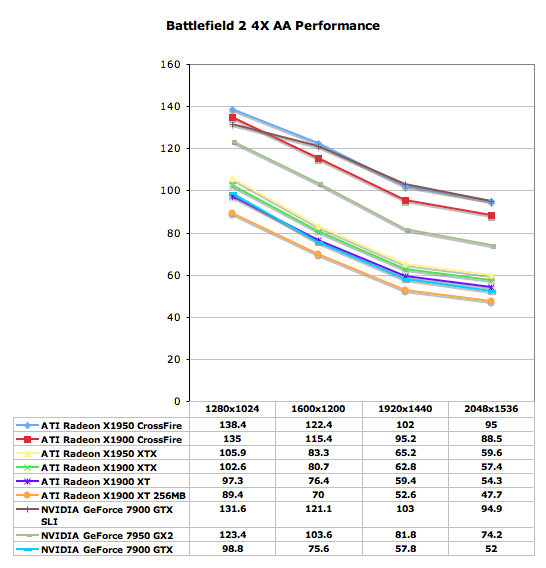 Our scaling graph doesn't show the same CPU limitedness we saw without AA enabled. The 7900 GTX SLI does see a hint of performance loss due to driver overhead here as well, but otherwise all these cards scale similarly as in the previous test.
Black & White 2 Performance
The AnandTech benchmark for Black & White 2 is a FRAPS benchmark. Between the very first tutorial land and the second land there is a pretty well rounded cut scene rendered in-game. This benchmark is indicative of real world performance in Black & White 2. We are able to see many of the commonly rendered objects in action. The most stressful part of the benchmark is a scene where hundreds of soldiers come running over a hill, which really pounds the geometry capabilities of these cards. At launch, ATI cards were severely out matched when it came to B&W2 performance because of this scene, but two patches applied to the game and quite a few Catalyst revisions later give ATI cards a much needed boost in performance over what we first saw.
A desirable average framerate for Black & White 2 is anything over 20 fps. The game does remain playable down to the 17-19 fps range, but we usually start seeing the occasional annoying hiccup during gameplay here. While this isn't always a problem as far as getting things done and playing the game, any jerkiness in frame rate degrades the overall experience.
We did test with all the options on the highest quality settings under the custom menu. Antialiasing has quite a high performance hit in this game, and is generally not worth it at high resolutions unless the game is running on a super powerhouse of a graphics card. If you're the kind of person who just must have AA enabled, you'll have to settle for a little bit lower resolution than we tend to like on reasonably priced graphics card. Black & White 2 is almost not worth playing at low resolutions without AA, depth of field, or bloom enabled. At that point, we tend to get image quality that resembles the original Black & White. While various people believe that the original was a better game, no one doubts the superiority of B&W2's amazing graphics.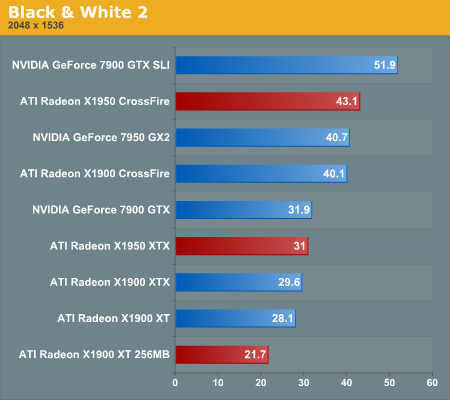 So far things aren't looking good for ATI's multi-GPU solution making its way to the top of the charts, as the 7900 GTX SLI significantly outperforms the X1950 CrossFire setup. Once again, we see that the X1950 CrossFire is barely faster than a single 7950 GX2 but, to ATI's credit, Black & White 2 has never been a strength of the X1000 series.
Single card performance is a bit closer, as the 7900 GTX offers the same performance as the X1950 XTX. Although the 7950 GX2 is technically a single card, its dual GPUs let it perform like a multi-card solution, and its price shows. The 7950 GX2 offers an interesting middle ground between the price and performance of a top of the line single GPU solution like the X1950 XTX or 7900 GTX and a full blown multi-card multi-GPU setup.
Once again it's worth noting that even the $280 X1900 XT 256MB is able to average a playable frame rate at 2048 x 1536, making a case for the value to be had in a sub-$300 graphics card.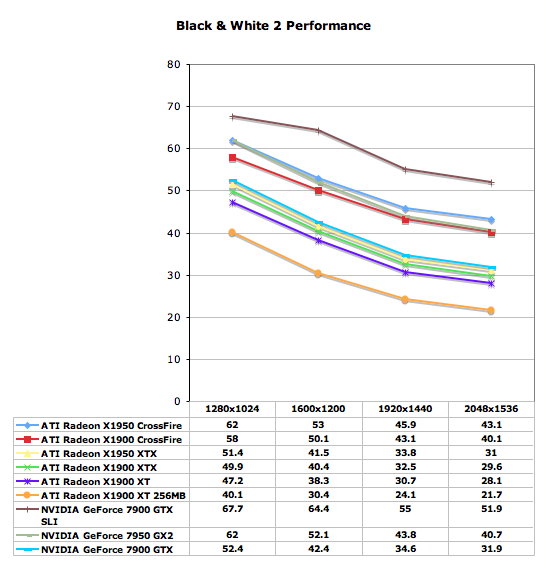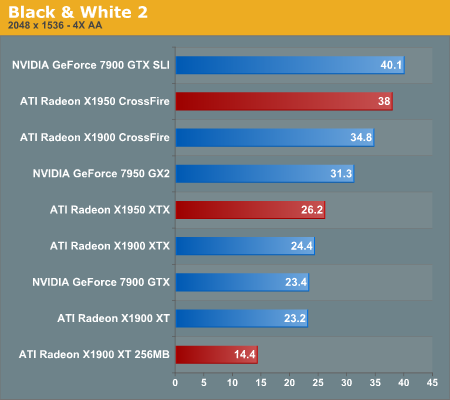 With AA enabled, the X1950 CrossFire vs. 7900 GTX SLI gap narrows considerably, and on the single card side the X1950 XTX manages to outperform the 7900 GTX. Thanks to better scaling with NVIDIA's SLI, the 7900 GTX more than makes up for the gap when you add a second card.
With 4X AA enabled, the X1900 XT 256MB can no longer hang with the big boys. However, it's worth mentioning that at higher resolutions, the visual benefit of anti-aliasing quickly diminishes. As pixel size decreases, visible aliasing becomes much less of a problem and if it's bothering you that much at 2048 x 1536 we may need to sit you down and have a talk about the old days when we didn't have anti-aliasing (and we had to benchmark in the snow).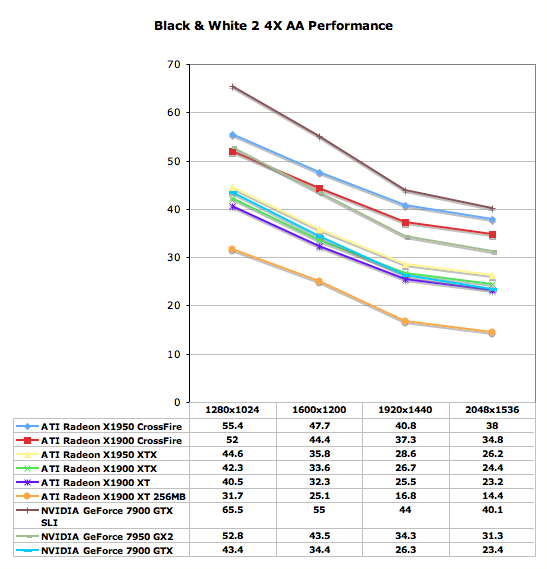 The Elder Scrolls IV: Oblivion Performance
While it is disappointing that Oblivion doesn't have a built in benchmark, our FRAPS tests have proven to be fairly repeatable and very intensive on every part of a system. While these numbers will reflect real world playability of the game, please remember that our test system uses the fastest processor we could get our hands on. If a purchasing decision is to be made using Oblivion performance alone, please check out our two articles on the CPU and GPU performance of Oblivion. We have used the most graphically intensive benchmark in our suite, but the rest of the platform will make a difference. We can still easily demonstrate which graphics card is best for Oblivion even if our numbers don't translate to what our readers will see on their systems.
Running through the forest towards an Oblivion gate while fireballs fly by our head is a very graphically taxing benchmark. In order to run this benchmark, we have a saved game that we load and run through with FRAPS. To start the benchmark, we hit "q" which just runs forward, and start and stop FRAPS at predetermined points in the run. While not 100% identical each run, our benchmark scores are usually fairly close. We run the benchmark a couple times just to be sure there wasn't a one time hiccup.
As for settings, we tested a few different configurations and decided on this group of options:
| | |
| --- | --- |
| Oblivion Performance Settings | |
| Texture Size | Large |
| Tree Fade | 100% |
| Actor Fade | 100% |
| Item Fade | 66% |
| Object Fade | 90% |
| Grass Distance | 50% |
| View Distance | 100% |
| Distant Land | On |
| Distant Buildings | On |
| Distant Trees | On |
| Interior Shadows | 95% |
| Exterior Shadows | 85% |
| Self Shadows | On |
| Shadows on Grass | On |
| Tree Canopy Shadows | On |
| Shadow Filtering | High |
| Specular Distance | 100% |
| HDR Lighting | On |
| Bloom Lighting | Off |
| Water Detail | High |
| Water Reflections | On |
| Water Ripples | On |
| Window Reflections | On |
| Blood Decals | High |
| Anti-aliasing | Off |
Our goal was to get acceptable performance levels under the current generation of cards at 1600x1200. This was fairly easy with the range of cards we tested here. These settings are amazing and very enjoyable. While more is better in this game, no current computer will give you everything at high res. Only the best multi-GPU solution and a great CPU are going to give you settings like the ones we have at high resolutions, but who cares about grass distance, right?
While very graphically intensive, and first person, this isn't a twitch shooter. Our experience leads us to conclude that 20fps gives a good experience. It's playable a little lower, but watch out for some jerkiness that may pop up. Getting down to 16fps and below is a little too low to be acceptable. The main point to bring home is that you really want as much eye candy as possible. While Oblivion is an immersive and awesome game from a gameplay standpoint, the graphics certainly help draw the gamer in.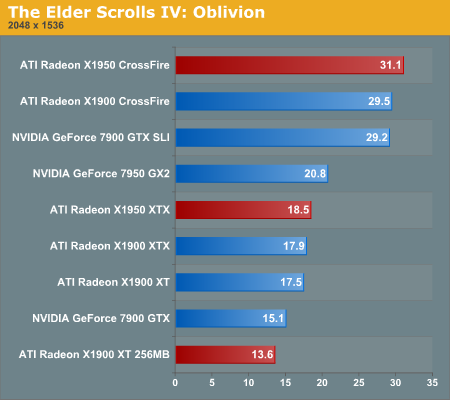 Oblivion is the first game in our suite where ATI's latest and greatest actually ends up on top. The margin of victory for the X1950 CrossFire isn't tremendous, measuring in at 6.5% over the 7900 GTX SLI.
As a single card, the 7950 GX2 does better than anything else, but as a multi-GPU setup it's not so great. The 12% performance advantage at 2048 x 1536 only amounts to a few more fps, but as you'll see in the graphs below, at lower resolutions the GX2 actually manages a much better lead. A single X1950 XTX is on the borderline of where Oblivion performance starts feeling slow, but we're talking about some very aggressive settings at 2048 x 1536 - something that was simply unimaginable for a single card when this game came out. Thanks to updated drivers and a long awaited patch, Oblivion performance is no longer as big of an issue if you've got any of these cards. We may just have to dust off the game ourselves and continue in our quest to steal as much produce from as many unsuspecting characters in the Imperial City as possible.
Oblivion does like having a 512MB frame buffer, and it punishes the X1900 XT 256MB pretty severely for skimping on the memory. If you do enjoy playing Oblivion, you may want to try and pick up one of the 512MB X1900 XTs before they eventually disappear (or start selling for way too much).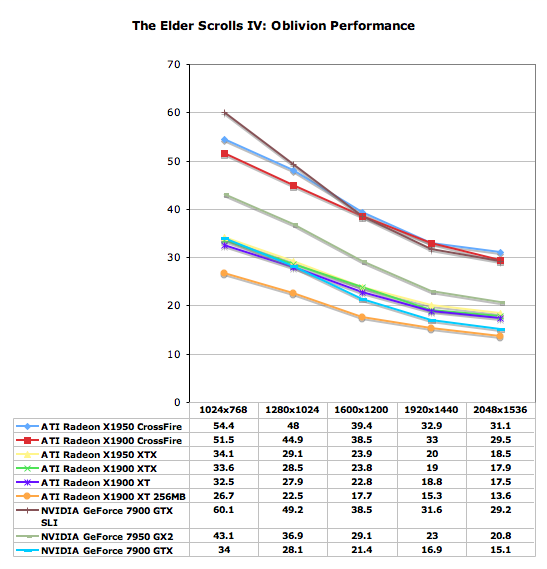 In contrast to Battlefield 2, it seems that NVIDIA's 7900 GTX SLI solution is less CPU limited at low resolution than ATI's CrossFire. Of course, it's the higher resolutions we are really interested in, and each of the multi card options we tested performs essentially the same at 1600x1200 or higher. The 7950 GX2 seems to drop off faster than the X1950 XTX, allowing ATI to close the gap between the two. While the margin does narrow, the X1950 XTX can't quiet catch the NVIDIA multi-GPU single card solution. More interestingly, Oblivion doesn't seem to care much about the differences between the X1950 XTX, X1900 XTX, and X1900 XT. While the game does seem to like a 512MB of onboard memory, large differences in memory speed and small differences in core clock don't seem to impact performance significantly.
F.E.A.R. Performance
F.E.A.R. has a built in test that we make use of in this performance analysis. This test flies through some action as people shoot each other and things blow up. F.E.A.R. is very heavy on the graphics, and we enable most of the high end settings for our test.
During our testing of F.E.A.R., we noted that the "soft shadows" don't really look soft. They jumped out at us as multiple layers of transparent shadows layered on top of each other and jittered to appear soft. Unfortunately, this costs a lot in performance and not nearly enough shadows are used to make this look realistic. Thus, we disable soft shadows in our test even though its one of the large performance drains on the system.
Again we tested with antialiasing on and off and anisotropic filtering at 8x. All options were on their highest quality with the exception of soft shadows which was disabled. Frame rates for F.E.A.R. can get pretty low for a first person shooter, but the game does a good job of staying playable down to about 25 fps.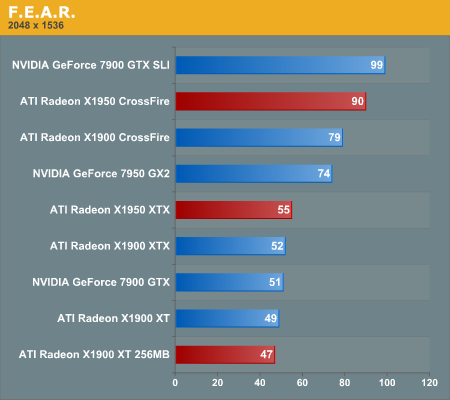 F.E.A.R. returns to NVIDIA's 7900 GTX SLI ruling the top of the charts by 10% over the X1950 CrossFire. What's more noteworthy however is the close to 14% performance boost the X1950 CrossFire gets over the X1900 CrossFire setup, due to its 4% CrossFire card core clock speed boost and faster GDDR4 memory. Once again we see that the 7950 GX2 provides a good middle ground between the price/performance of the fastest single cards and the slowest multi-card multi-GPU setups.
Single card performance, with the exception of the GX2, is pretty close between the top contenders. The X1950 XTX is fastest but its predecessor and the 7900 GTX are not far behind. Even the X1900 XT 256MB puts out a respectable frame rate here, but it's starting to show its limits.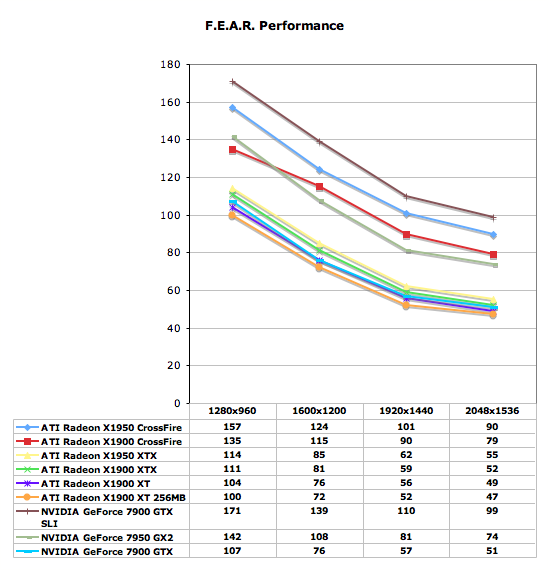 Without AA, nearly every configuration scales exactly the same from low resolution to high. The X1900 CrossFire score at 1280x960 is a little strange, but we confirmed the test a couple different times to make sure nothing was off. It is possible that this scaling issue is due to the lower memory clock, but we really aren't sure why we see the performance we do here. Luckily, there's no need to play at such a low resolution with a $1000 set of graphics cards.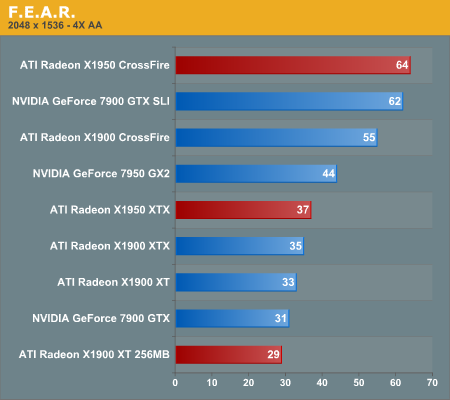 With AA enabled, ATI gains a small advantage over NVIDIA at the very high end with its X1950 CrossFire. The standings mostly remain the same through the rest of the charts, although the 7900 GTX and 512MB X1900 XT swap places in the single card comparisons.
With single cards able to offer playable performance at 2048 x 1536 with 4X AA, we can't wait to see what the next generation of GPUs will bring us in terms of single card performance. Or, alternatively, what game developers are going to be able to do with this much power at their disposal.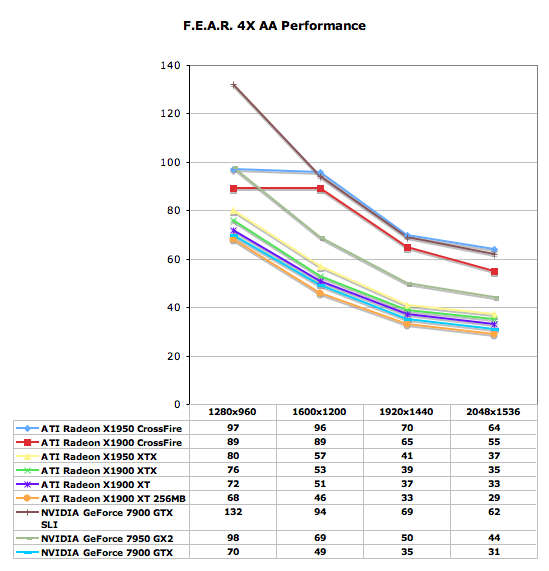 The AA graph looks even stranger than the non-AA graph. Both multi card ATI solutions hit a very strange limitation at 1280x960. This isn't a traditional, easy to explain, CPU limitation. A faster memory clock on the X1950 XTX gives it an advantage at 1280x960, and the 7900 GTX SLI has no problem reaching up over 130 fps. Again, we ran this test multiple times and decided to chalk it up to mysterious and unknown driver issues. Other than these anomalies, everything else scales similarly and nothing really trades places at any point in this test.
Half-Life 2: Episode One Performance
Episode One of the new Half-Life 2 series makes use of recent Source engine updates to include Valve's HDR technology. While some people have done HDR that won't allow antialiasing (even on ATI cards), Valve put a high value on building an HDR implementation that everyone can use with whatever settings they want. Consistency of experience is usually not important enough to developers who care about pushing the bleeding edge of technology, so we are very happy to see Valve going down this path.
We use the built-in timedemo feature to benchmark the game. Our timedemo consists of a protracted rocket launcher fight and features much debris and pyrotechnics. The source engine timedemo feature is more like the nettimedemo of Id's Doom 3 engine, in that it plays back more than just the graphics. In fact, Valve includes some fairly intensive diagnostic tools that will reveal almost everything about every object in a scene. We haven't found a good use for this in the context of reviewing computer hardware, but our options are always open.
The highest visual quality settings possible were used including the "reflect all" setting which is normally not enabled by default. Antialiasing was left disabled for this test, and anisotropic filtering was set at 8x. While the Source engine is notorious for giving great framerates for almost any hardware setup, we find the game isn't as enjoyable if it isn't running at at least 30fps. This is very attainable even at the highest resolution we tested on most cards, and thus our target framerate is a little higher in this game than others.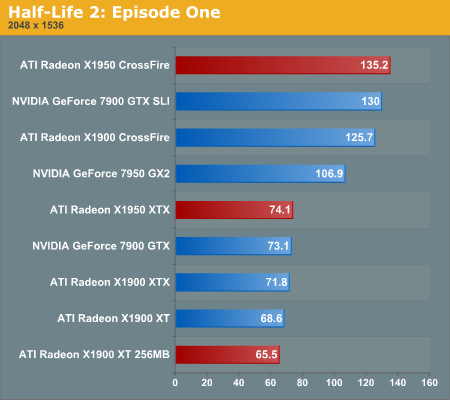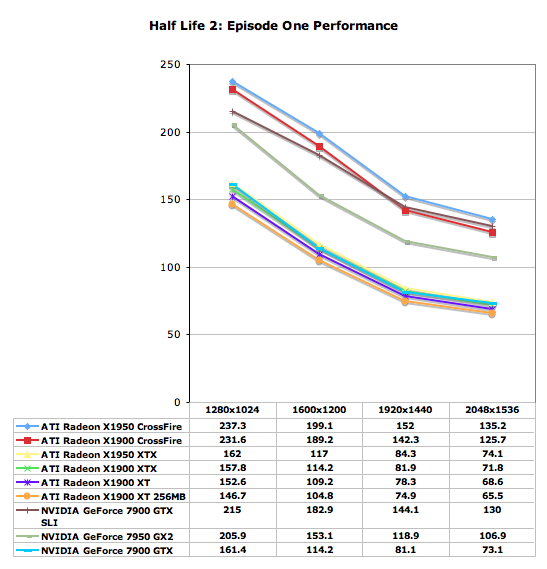 Most of the solutions scale the same in Half-Life 2: Episode 1, with the possible exception of the 7900 GTX SLI setup hitting a bit of an NVIDIA driver inspired CPU limitation at 1280x1024. We can't really complain, as scoring over 200 fps is really an accomplishment in itself. With scores like these across the board, there's no reason not to run with AA enabled.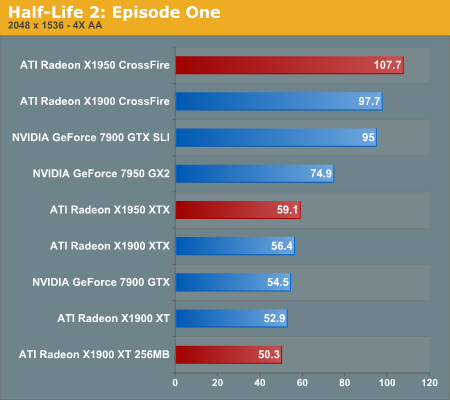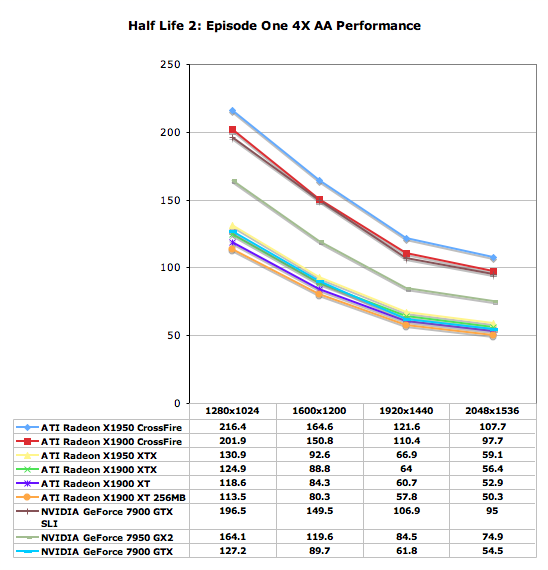 With even the slowest tested solution offering over 50 FPS at 2048x1536 4xAA, gamers playing HL2 variants can run with any of the high-end GPU solutions without problem. ATI does manage to claim a ~10% performance victory with the X1950 CrossFire over the 7900 GTX SLI, so if the pattern holds in future episodes ATI will be a slightly faster solution. The X1900 CrossFire configuration was also slightly faster than the SLI setup, though for all practical purposes that matchup is a tie.
Quake 4 Performance
There has always been a lot of debate in the community surrounding pure timedemo benchmarking. We have opted to stick with the timedemo test rather than the nettimedemo option for benchmarking Quake 4. To be clear, this means our test results focus mostly on the capability of each graphics card to render frames generated by Quake 4. The frame rates we see here don't directly translate into what one would experience during game play.
Additionally, Quake 4 limits frame rate to 60 fps during gameplay whether or not VSync is enabled. Performance characteristics of a timedemo do not reflect actual gameplay. So why do we do them? Because the questions we are trying to answer have only to do with the graphics subsystem. We want to know what graphics card is better at rendering Quake 4 frames. Any graphics card that does better at rendering Quake 4 frames will play Quake 4 better than other slower cards. While that doesn't mean the end user will see higher performance in the game, it does mean that the potential for seeing more performance is there, for instance if the user upgrades a CPU before the next graphics card upgrade.
Timedemos do walk a fine line between synthetic benchmarks and real world benchmarks. While we tend to favor real world data here at AnandTech, this type of benchmark is very capable of using a real world data set to test the maximum capabilities of the graphics cards under its particular work load without bottlenecking at other points in the system. To be sure, even timedemos can see memory and CPU bottlenecks, as data must be transfered to the graphics card some how. But this impact is much lower than the impact of running AI, physics, script management, I/O, and other game code at the same time.
What this means to the end user is that in-game performance will almost always be lower than timedemo performance. It also means that graphics cards that do slightly better than other graphics cards will not always show a tangible performance increase on an end user's system. As long as we keep these things in mind, we can make informed conclusions based on the data we collect.
Our benchmark consists of the first few minutes of the first level. This includes both inside and outdoor sections, with the initial few fire fights. We test the game with Ultra Quality settings, and we enable all the advanced graphics options except for VSync and antialiasing. Anisotropic filtering is manually set to 8x. Id does a pretty good job of keeping framerate very consistent; in-game framerates of 25 are acceptable. While we don't have the ability to make a direct mapping to what that means in the timedemo test, our experience indicates that a timedemo fps of about 35 translates into an enjoyable experience on our system. This will certainly vary on other systems, so take it with a grain of salt. But the important thing to remember is that this is more of a test of relative performance of graphics cards when it comes to rendering Quake 4 frames -- it doesn't directly translate to Quake 4 experience.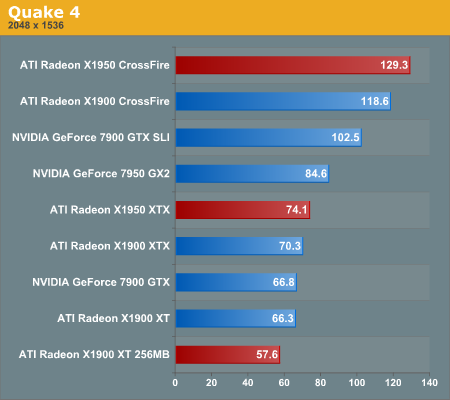 The Doom 3 engine was once NVIDIA's stomping grounds, but Quake 4 performance is now dominated by ATI's Radeon X1900 and X1950 series. The X1950 CrossFire manages a 26% performance advantage over the GeForce 7900 GTX SLI, while the X1900 CF setup pulls ahead by just under 16%.
Among single cards, the X1950 XTX manages about an 11% performance advantage over the 7900 GTX, meaning that CrossFire actually scales much better than SLI in Quake 4 for some reason. The new 256MB X1900 XT is outperformed by its 512MB sibling by a decent 16%. Honestly we were not expecting to see such big differences, especially with AA disabled, between the 256MB and 512MB cards. It's good to see that games are actually using all of this framebuffer being thrown at them.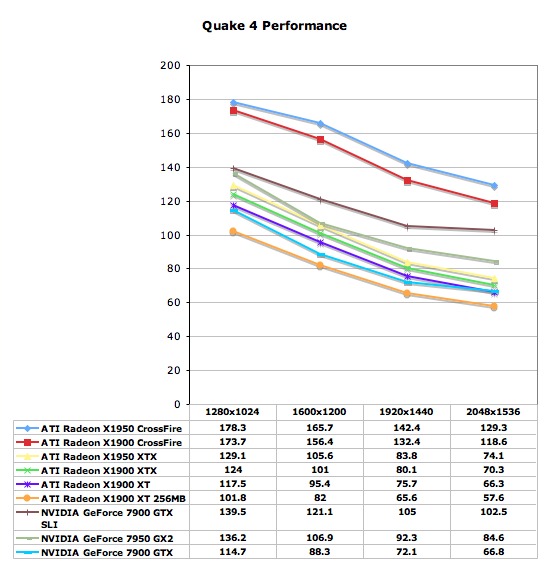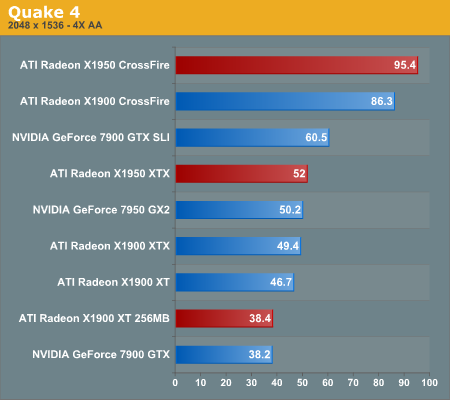 With AA enabled, ATI does even better, with the X1950 CrossFire outperforming the 7900 GTX SLI by over 57%. ATI has done a lot of work on its OpenGL performance lately and we're currently investigating to see if that's the cause for such a stellar showing in Quake 4 here today.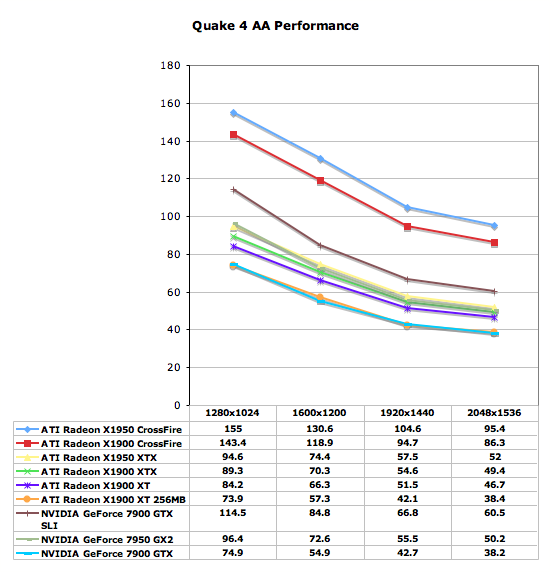 Splinter Cell: Chaos Theory Performance
We make use of the Lighthouse demo for Splinter Cell: Chaos Theory. We have been using this benchmark for quite some time and facilitate automation with the scripts published at Beyond 3D. This benchmark is fairly close to in game performance for our system, but midrange users may see a little lower real world performance when tested with a lower speed processor.
Our settings all used the highest quality level possible including the extra SM3.0 features. As the advanced shaders and antialiasing are mutually exclusive under SC:CT, we left AA disabled and focused on the former. We set anisotropic filtering to 8x for all cards.
For this 3rd person stealth game, ultra high frame rates are not necessary. We have a good playing experience at 25 fps or higher. There may be the framerate junkie out there who likes it a little higher, but our recommendation is based on consistency of experience and ability to play the game without a degraded experience.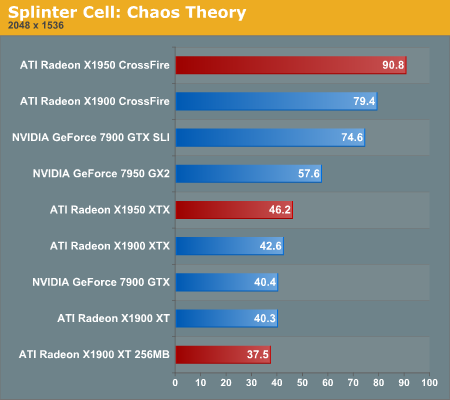 NVIDIA's 7900 GTX SLI does almost as well as X1900 CrossFire, but the 14% advantage X1950 CF has over X1900 CF puts it way out in front. The 7950 GX2 once again splits the difference between the X1950 XTX and the 7900 GTX SLI.

While X1950 XTX leads all the single-GPU single-card solutions, there really isn't that much difference between the playability of the X1900 XTX, 7900 GTX, and X1900 XT. The extra 256MB of RAM the original X1900 XT has does give it a 7.5% advantage over it's baby brother at this resolution.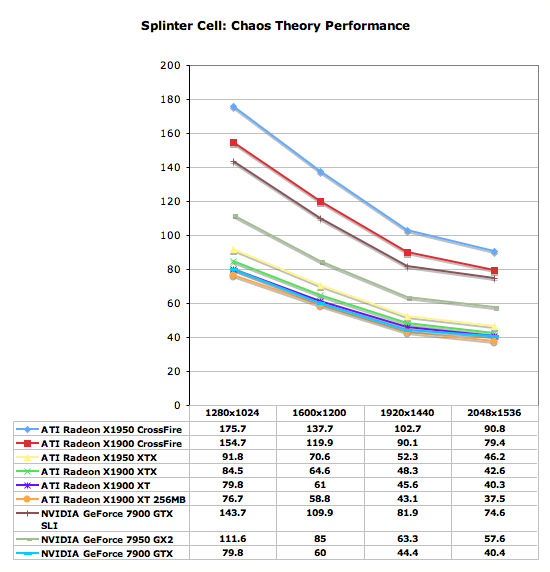 ATI leads again in Splinter Cell: Chaos Theory, both in dual-GPU and single-GPU configurations. Here the GX2 occupies a nice middle ground, and all of the tested cards manage to remain playable up through 2048x1536. Using the "Chuck Patch" it is also possible to enable AA+HDR on ATI hardware, though time constraints and the fact that there is no NVIDIA equivalent caused us to skip this test for now.
Power to the People
The major power hog of this generation is the X1900 XTX, as we have made clear in past articles. Almost disturbingly, a single X1900 XTX draws more power than a 7950 GX2, and X1900 XTX CrossFire is more power hungry than 7950 Quad SLI. While ATI already had the slightly lower clocked X1900 XT available for those who wanted something that acted slightly less as a space heater, they needed something that performed better and fit into the same (or better) power envelope to round out this generation of GPUs for them. What they latched on to has now given graphics cards sporting the R580+ a much needed drop in power: GDDR4.
As we explained in the GDDR4 section, the optimizations made to this generation of graphics memory technology have been designed with both power savings and potential speed in mind. We've already seen how the higher speed memory pulls through in our performance tests, but how does it hold up on the power front?
For this test, used our Kill-A-Watt to measure system power at the wall. Our load numbers are recorded as maximum power draw during a run of 3DMark06's fill rate and pixel shader feature tests.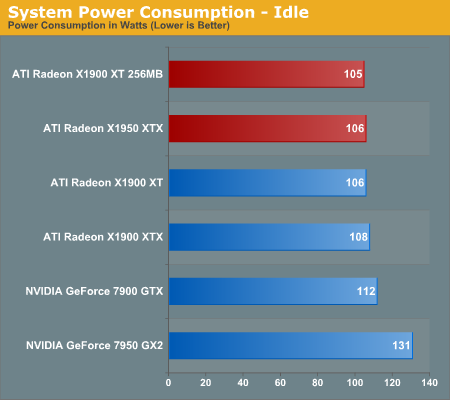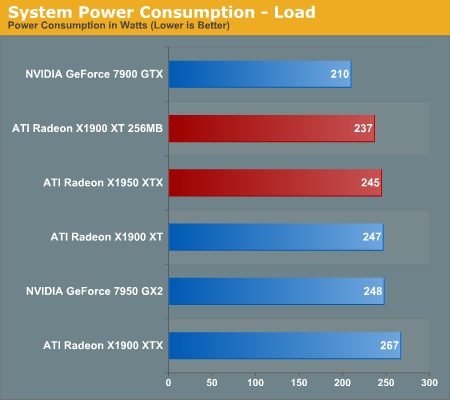 Apparently, JEDEC and ATI did their jobs well when deciding on the features of GDDR4 and making the decision to adopt it so quickly. Not only has ATI been able to improve performance with their X1950 XTX, but they've been able to do so using significantly less power. While the X1950 XTX is still no where near the envelope of the 7900 GTX, drawing the same amount of power as the X1900 XT and 7950 GX2 is a great start.
It will certainly be interesting to see what graphics makers can do with this RAM when focusing on low power implementations like silent or budget products.
Final Words
With very few exceptions, the GeForce 7950 GX2 leads in the single card department. Again with few exceptions, the X1950 XTX leads in the single GPU department. These are the two top performers in the graphics market right now. With the price on the X1950 XTX looking much lower (if ATI is accurate) than the 7950 GX2 right now, whether or not the added performance is worth it will have to be left up to the user, but the 7950 GX2 seems to offer an intriguing middle ground between single card and multi card setups in both performance and cost. At the ultra high end, X1950 CrossFire gets a bigger boost over X1900 CrossFire because the core clock of the CrossFire card is higher in addition to the increased memory bandwidth offered by 2GHz data rate GDDR4. Compared to the 7950 GX2 and 7900 GTX SLI, X1950 CrossFire does very well.
The new X1900 XT 256MB does come in at the bottom of our high end tests, but runs near the top of the heap in our midrange tests. This card will be an excellent value if available for $280, as ATI is suggesting. We know ATI will sell it at stock prices, but we've also heard from at least one vendor indicating they will lead with a higher price. Regardless, the X1900 XT 256MB is a well formed product for its market. We did notice that the overclocked EVGA 7900 GT KO SuperClocked performed nearly the same as the 256MB card for just about the same cost. This puts them on equal footing in our book, and it comes down to personal preference and feature requirements as to which purchase you make. If the X1900 XT 256MB does retail for $280, we can easily recommend it along side overclocked 7900 GT cards at its price point.
On the power front, ATI has reduced the load power significantly on the X1950 XTX from the days of the X1900 XTX, and GDDR4 has officially made its debut. Today's tests really have been all about the memory from size to type and speed. Of course, this is a better method than simply renaming products.
Unfortunately, ATI decided that playing the name game is still a good idea. Maybe from a marketing standpoint it makes sense, but renaming the X1600 Pro to X1300 XT isn't going to make it a better card. And 10Mhz beyond the X1600 XT is barely enough to warrant a different pair of letters following the model number, let alone a whole new series starting with the X1650 Pro. On the bright side, the name game does come with lower prices for the same performance, which is never a bad thing. We should be receiving our X1650 Pro and X1300 XT as this article goes live, so expect a follow up showcasing the latest at the low end in the near future.
We will be revisiting multi-GPU performance with NVIDIA's 7950 GX2 Quad SLI as well. As with most people, we have had some difficulty in getting Quad SLI to behave properly, but hopefully the biggest hurdles are behind us.
Availability is an issue, especially as we had seen quite a few hard launches over the past couple years. It is very difficult for us to make a proper recommendation without real prices to guide us. While ATI is touting some pretty aggressive prices, we just aren't sure people are going to hit the target. While HIS and PowerColor have confirmed that they will at least be in the neighborhood, we are hearing from other sources that prices may be much higher. ATI did try to push this launch back to the 14th of September to wait for availability, so it seems to us that they realize their error, but hopefully they won't repeat the mistake in their next major launch. We really want to hold off making purchasing recommendations until we know what these cards will cost, but ATI's prices would make much of our suggestions turn red.
Before we close, one reminder to people who really want the X1950 XTX: don't buy it. Pick up the X1950 CrossFire instead. For the same price and performance you get a much more versatile solution. If you really need both DVI outputs, the CrossFire dongle supports that as well, so all you're doing is adding a small amount of cable clutter. Basically, there's little point in not getting the CrossFire card -- assuming prices stay equal, of course.