Original Link: http://www.anandtech.com/show/2061


Memory Performance on Core 2 Duo
In our
previous article
we compared the performance of DDR versus DDR2 on the ASRock 775Dual-VSTA motherboard and found there was very little difference between DDR-400 and DDR2-533. Overall system performance remained very close with either memory at their optimized settings on this particular board. Our initial results continued to prove out that running your memory at the highest possible speed at the lowest possible latencies does make a performance difference in applications such as gaming. However, in applications like media encoding or general desktop programs the differences are hardly significant. The single biggest impact you can usually make in improving game performance is upgrading your GPU, and for applications like media encoding and mathematical programming a CPU upgrade would be more beneficial than faster memory. Of course, a memory upgrade to 2GB is starting to show differences in the latest games and other applications where 1GB used to be the sweet spot. If you are purchasing memory at this time, we highly suggest standardizing on 2x1024MB of RAM.
Our article today will continue our investigation into how well DDR and DDR2 will perform with Intel's new Core 2 Duo. Instead of just comparing memory on the ASRock 775Dual-VSTA we will include results from the Intel 945P, Intel P965, Intel 975X, and Intel i865 chipsets. We will use the same benchmark test suite in our first article, and although it's not as extensive as our normal benchmark suite it does provide enough information to come to a clear performance conclusion. We are not comparing various memory suppliers against each other nor are we comparing 2x512MB versus 2x1024MB configurations, yet. We are simply investigating the memory performance of our E6300 Core 2 Duo processor on different chipsets to determine if the ASRock implementation of the VIA PT880 Pro is capable of competing with the best from Intel.
As a recap from our first article, we are seeing 2GB of RAM becoming the standard memory configuration for new purchases with DDR2 being considered primarily due to the recent AMD AM2 and Intel Core 2 Duo platform releases. However, there is still a large majority of computer users who have 1GB of RAM or less. More importantly, due to AMD's great success with the Athlon 64 processor series for the past three years there is an abundance of DDR memory and to a certain degree AGP cards still in use. So, when faced with a limited budget but a desire to have the latest and greatest technology, one usually has to cut corners or live with a previous generation component for a little longer before doing a complete platform upgrade. This might include using your DDR or previous generation DDR2 memory along with your video card solution a little longer than expected.
With this in mind, sometimes the best option is to mix and match components that are still useful with the latest technology. The move from a socket 754, early socket 939, or P4 LGA775 system to the new Core 2 Duo platform can be an expensive undertaking. In order to reduce the overall cost of a platform change several motherboard manufacturers offer combination boards that allow users to mix and match capabilities between memory and GPU interfaces. ASRock has built a reputation on offering these types of solutions. In the case of the ASRock 775Dual-VSTA, this board allows you to move to the new Core 2 Duo platform at a minimum cost. Besides offering very good performance for a great price this board also allows you to utilize your DDR memory or AGP graphics card.
Our next article later this week will look at the performance of our EVGA 7600GS PCI-E card against its sibling 7600GS AGP card on this board with comparative AGP performance on the Intel i865 chipset. We will finish our investigative series with a full comparison of this board against its AM2 counterpart, AM2V890-VSTA, armed with an AMD 3800+ X2 along with results from other ASRock value boards featuring the Intel i865 and 945P chipsets. Let's see if the performance of DDR2 improves on other chipsets with our standard configuration components.
Memory Specifications
We continue to utilize a 2x512MB memory configuration in order to stay consistent with our previous test results. Our choice of memory remained the same for both our DDR and DDR2 base tests. All test results with DDR2-667 at 3-4-4-10 and DDR2-800 at 4-4-4-12 were generated with the voltage increased to 2.1V on the Transcend modules that performed admirably throughout our testing regimen. We would also like to mention that we tested our TwinMos Twister DDR2-667 512MB modules at even lower latencies at DDR2-667/800 with results being provided in our final article.
Our DDR memory is from Patriot Memory and resided in one of our test systems for several weeks. The memory features low latencies at DDR-400 (PC3200) and costs around $100 for a 1GB kit.
Patriot PDC1G3200LLK Memory Specifications
Number of DIMMs & Banks
2 DS
DIMM Size
512MB
Total Memory
1 GB
Rated Timings
2-3-2-5 1T at DDR-400
Rated Voltage
2.6V
Additional Information on these very popular DIMMs is available at the
Patriot website
. We have memory that offers additional headroom for overclocking and also memory that was representative of PC3200 modules shipped a couple of years ago with 2.5 CAS ratings. However, we felt like this memory is a good blend of performance and pricing for our testing.
Our DDR2 memory is from Transcend and was utilized in some extensive HTPC testing for our upcoming
Intel DHCAT article
. The memory features average latencies at DDR2-667 but was able to perform at much lower latencies in our testing with increased voltages at DDR2-667 and DDR2-800 while costing around $70 for a 1GB kit.
Transcend JetRam Memory Specifications
Number of DIMMs & Banks
2 DS
DIMM Size
512MB
Total Memory
1 GB
Rated Timings
5-5-5-12 at DDR2-667
Rated Voltage
1.8V
Transcend has additional specifications for this memory
at their website
. We highly recommend you take a look at Transcend's memory offerings and once again we found our particular test modules to offer the perfect blend of price and performance in our budget ASRock platform.
We also completed testing with 512MB memory modules from TwinMos and Corsair that offer much lower latencies but with costs nearing the 2GB ultra value kits based on
Elpida memory
.
Our ASRock motherboards offer the following options for each memory speed. Although DDR-266 and DDR2-400 is fully supported depending upon board choice we will not be testing at these memory speeds. The current BIOS options from ASRock offer a wide array of memory setting options but are very limited in voltage options with low, normal, and high being the choices.
ASRock 775Dual-VSTA
Auto
DDR2-533
DDR2-667
DDR-266
DDR-333
DDR-400
FSB 1066
X
X
X
X
X
X
FSB 800
X
X
X
X
X
X
FSB 533
X
X
X
X
X
X
ASRock ConRoeXFire-ESATA2
Auto
DDR2-400
DDR2-533
DDR2-667
FSB 1066
X
X
X
X
FSB 800
X
X
X
X
FSB 533
X
X
X
X
ASRock 775i65G
Auto
DDR-266
DDR-333
DDR-400
FSB 1066
X
X
X
X
FSB 800
X
X
X
X
FSB 533
X
X
X
X
Our Biostar TForce P965 Deluxe and DFI Infinity 975X/G motherboards offer full support for DDR2-400, DDR2-533, DDR2-667, and DDR2-800 memory speeds. Additional details on these boards can be found in our
Conroe Buying Guide
.
System Configuration
Our memory benchmark system uses the following components:
Performance Test Configuration
Processor:
Intel Core 2 Duo E6300
(x2, 1.86GHz, 2MB Unified Cache)
RAM:
2 x 512MB Patriot DDR-400
2 x 512MB Transcend JetRam DDR2-667
Hard Drive:
Seagate 320GB 7200.10 (16MB Buffer)
System Platform Drivers:
VIA 5.09a
Intel 8.0.1.1002
Video Card:
1 x EVGA 7600GS PCI-E - All PCI-E Tests
1 x EVGA 7600GS AGP - AGP Tests
Video Drivers:
NVIDIA 91.31
CPU Cooling:
Stock Intel Heatsink
Power Supply:
OCZ PowerStream 520W
Motherboards:
ASRock 775Dual-VSTA (VIA PT880Pro)
ASRock ConRoeXFire-eSATA2 (Intel 945P)
ASRock 775i865G (Intel 865G)
Biostar TForce 965 Deluxe (Intel P965)
DFI Infinity 975X/G (Intel P975X)
Operating System:
Windows XP Professional SP2
BIOS:
AMI 1.50 - ASRock 775Dual-VSTA
AMI 1.20 - ASRock ConRoeXFire-eSATA2
AMI 2.50 - ASRock 775i65G
Award IP96A803 - Biostar TForce 965
Award 0707 - DFI Infinity 975X/G
Our test boards represent a blend of performance and pricing requirements for an E6300 based Core 2 Duo system. While the choice and wattage of the power supply could be varied to less expensive alternatives we believe having a high quality power supply is critical for system stability and overclocking potential. In fact, if you plan on running CrossFire on the 945P or 975X boards we highly recommend a quality 700W power supply such as the
OCZ GameXStream
.
The performance of the
Seagate 320GB
drive is near the top of the performance charts while offering excellent capacity for a cost of around $95. If you are upgrading your hard drive with the rest of the system this drive should be at the top of your list. Our EVGA 7600GS PCI Express or AGP video card choice represents a very good mid-range alternative and ensures you have respectable game performance at resolutions under 1280x1024 for less than $130.
We are introducing into our tests the ASRock ConRoeXFire-eSATA2 that features the Intel 945P Northbridge and ICH7R Southbridge with VRM and BIOS updates that now fully support Core 2 Duo. This motherboard is fully featured with CrossFire support, although the secondary PCI Express slot only supports X4 mode. It also includes IEEE1394, eSATA interface, HD Audio, Gigabit LAN, and should retail for around US $85.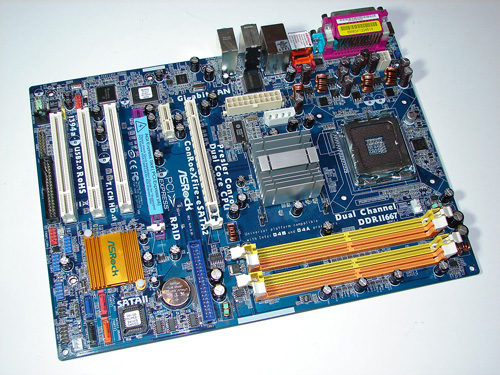 Click to enlarge
This motherboard has a clean layout and certainly caters to those who value their PCI devices. The ICH7R provides for four SATA 3Gb/s ports featuring Intel's excellent Matrix Storage software, dual eSATA2 ports, and a single ATA/100 connector. We will fully review the board in an upcoming article. The overall feature set and performance of the Intel 945P chipset is the same as the 945P boards we
reviewed
a few months back.
Our other ASRock motherboard is the 775i65G based upon the Intel 865G Northbridge and ICH5 Southbridge with board updates that allow full support for the Core 2 Duo processor series. This motherboard also features on-board graphics capability but requires an external AGP card in order to support the 1066FSB requirements of the Core 2 Duo.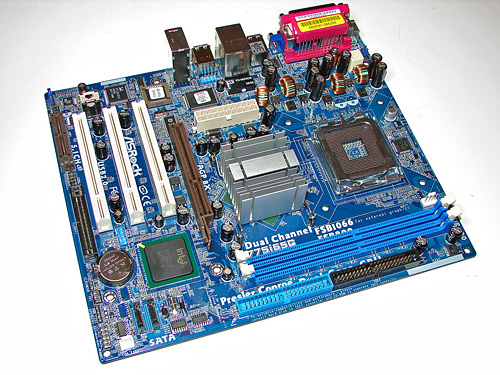 Click to enlarge
The motherboard features a micro ATX form factor, three PCI slots, one AGP 8X slot, one AMR slot, Realtek 10/100 Ethernet LAN, and C-Media 9761a 5.1 Channel audio. The layout is very good and the board is certainly designed for users who want to continue using their AGP video card and DDR memory without the opportunity to upgrade. We expect to see this board retail for around US $50. We will provide a full review of both boards in the coming weeks along with other Core 2 compatible value boards based on the Intel 865, 945P, 946PL, and 945GZ chipsets.
Memory Performance
Our ASRock 775Dual-VSTA motherboard provides two DDR2 and three DDR memory ratios. The ASRock 775i65G provides three DDR memory ratios although we could only get our DDR-400 memory modules to work at DDR-355 due to the front side bus ratios availability within the i865 BIOS. We are only testing this board at DDR-355 due to this issue. Our ASRock ConRoeXFire-eSATA2 board is based on the 945P chipset and features DDR2-400, DDR2-533, and DDR2-667 memory speeds. Our Biostar P965 and DFI 975X motherboards feature the same DDR2 memory speeds as the ASRock 945P board while adding DDR2-800. Even though our ASRock 775Dual-VSTA does not support DDR2-800 we are reporting these scores for comparison.
We are testing our motherboards at the fastest stable timings we can achieve and still pass our benchmark test suite. By increasing the memory voltage on the 775Dual-VSTA board we were able to run our Transcend modules at 3-4-3-9 at DDR2-667. With these set ratios, CPU speed remains the same at 1.86GHz in our test platform with memory speed being varied by selecting the different ratios.
Due to performance reasons we did not test the DDR-266 or DDR2-400 settings as we believe most people will not utilize these ratios. The balance of our comments in the first article about the Intel memory controller design and command rates with the VIA PT880 chipset still hold true. Our memory settings were derived from extensive stress testing with a variety of applications. While certain settings that allowed lower latencies worked well with some applications, the final settings we arrived at had to work with all applications.

Click to enlarge
The Intel 865G chipset offers greater DDR memory performance than the VIA PT880 Pro in our synthetic test results. Although the buffered Intel DDR-355 scores 18% better than the VIA DDR-400 setting, the unbuffered result is only 4% better. The SuperPI test is basically a tie with the memory latency results heavily favoring the Intel chipset. Although the i865 results are well below the DDR2 based chipsets, we will see this chipset perform very well in our application and game tests.


Click to enlarge
The Sandra bandwidth memory performance result of the VIA PT880 Pro at DDR2-533 (1:1 ratio) leads the DDR2-667 (4:5 ratio) by up to 30% although the memory timings are almost equal at both speeds. It is obvious the ASRock 775Dual-VSTA BIOS is tuned for DDR2-533. This particular setting delivered the best raw performance although we will see in our application and game benchmarks this advantage is negated by other platform components.
Overall, the VIA PT880 Pro is very competitive at DDR2-533 memory speeds with the Intel P965 showing a definite advantage at DDR2-667. The Intel 945P based ASRock ConRoeXFire-eSATA2 offers a nice balance of performance at both memory speeds while costing just $20 more than the VIA PT880 Pro board but does not allow you to use your DDR memory or AGP video card.

Click to enlarge
Our Biostar P965 board offers a 12% improvement in the Sandra Unbuffered test, though its buffered scores are less than our DFI 975X board along with higher latencies. As we have been saying for years, however, the Buffered benchmark usually does not correlate well with real performance in applications on the same computer. For that reason, our memory bandwidth tests have always included an Unbuffered Sandra memory score. The Unbuffered result turns off the buffering schemes, and we have found the results correlate well with real-world performance as we will see shortly.
Application Performance
We decided to test some real world applications that typically stress the CPU, memory, and storage systems to see if the results from our synthetic memory tests carry over to the desktop. Based upon those results, our DDR2-533 memory settings should significantly outperform the DDR2-667 and DDR-333/400 configurations, while the DDR2-800 setting available on 965/975 should come in at the top of the performance charts.
Our tasks include three activities that are common on the desktop. Our first test was to measure the time it takes to shrink the entire Office Space DVD that was extracted with AnyDVD into a single 4.5GB DVD image utilizing Nero Recode 2. Our second test utilizes WinRAR 3.6 and measures the time it takes to compress our test folder that contains 444 files, 10 folders, and has 602MB of data.
Our third test consists of utilizing Exact Audio Copy as the front end for our version 3.98a3 of LAME. We set up EAC for variable bit rate encoding, burst mode for extraction, use external program for compression, and to start the external compressor upon extraction (EAC will read the next track while LAME is working on the previous track, thus removing a potential bottleneck with the optical drive). Our test CD is INXS Greatest Hits and contains 16 tracks totaling 606MB of songs. The results of our tests are presented in minutes/seconds with lower numbers being better.

Click to enlarge
The results between our DDR355 settings on the Intel chipset and DDR400 on the VIA chipset are extremely close. If the i865 board was able to operate at a true DDR400 setting we are sure the results would have had a greater spread. Both of the DDR400 and DDR355 settings are very competitive with our DDR2 results, with DDR333 trailing behind.
Unlike the synthetic results, the DDR2-667 results on the VIA PT880 Pro chipset outpace those of the DDR2-533 setting. The Biostar P965 board continues to outperform the other solutions although all results are close to each other. We see that our P965 DDR2-800 memory setting places first in all applications with the largest margin of victory being a 13 second advantage in the WinRAR test. Our DDR-355 results are impressive as they are competitive with the DDR2-533/667 configurations. The effects of the other platform components have basically negated the pure performance advantage of our DDR2 settings in the synthetic memory tests. While our DDR2-800 setting still offers the best overall performance, it would be difficult to tell the actual performance difference between it and our DDR-355 memory without benchmarks.
Game Performance Comparison
While Sandra and Super Pi provided useful information on how memory performs without the influence of other components, our first round of real world tests has shown there is not a large difference in performance between DDR2 and DDR memory nor between DDR2-533 and DDR2-800. However, our next set of real-world benchmarks consists of gaming benchmarks.
Due to the amount of information and the relative closeness of the scores we are not utilizing zero based charts as the line graphs would stack on each other.
Although the data chart tells the story we felt like there should be some separation in the line graphs to accurately depict the information.
We utilize Far Cry, Half Life 2 and Quake 4 in our normal memory testing because they are sensitive to memory changes. We are adding Prey and Serious Sam II to our benchmark mix because they are typically very GPU dependent and we will see the effects of our memory choices on these games.
We originally tested at both 1024x768 and 1280x1024 resolutions at High Quality settings without anti-aliasing or antistrophic filtering enabled. However, we found at 1280x1024 that our results were basically GPU limited. We are only showing 1024x768 results as this resolution is not completely GPU limited with our 7600GS video card. We feel like our 1280x1024 and 1024x768 settings are representative of an i865/945P/VIA PT880 platform and believe most users at this price point would be utilizing a 17" or 19" monitor with this configuration. We will report 1280x1024 settings in our AGP versus PCI Express article.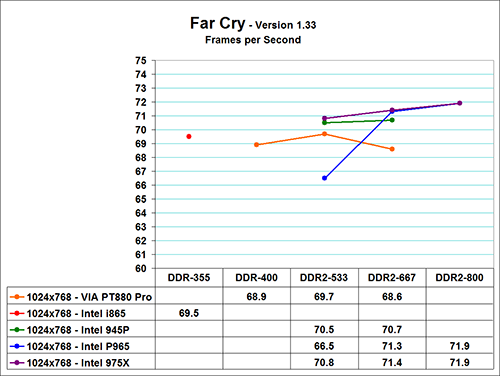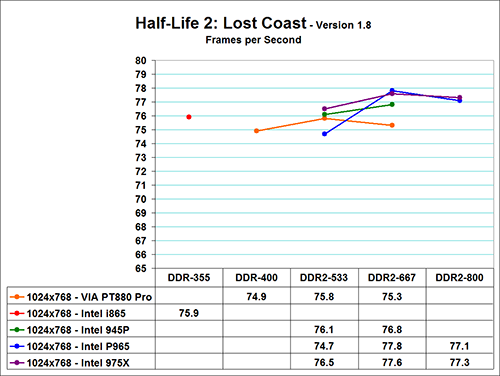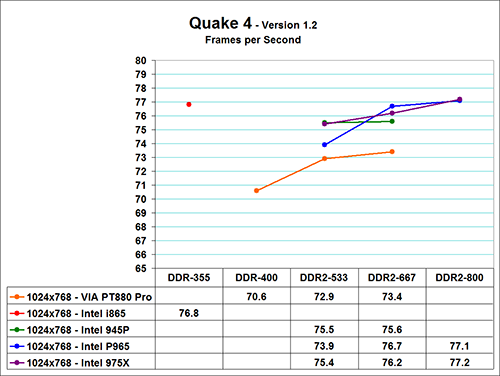 Our three memory sensitive games show a pattern with the Biostar P965 board performing below average at DDR2-533 and then placing in the top section in the DRR2-667 and DDR2-800 results. The P965 results at DDR2-533 are opposite of our synthetic and application benchmarks. It appears the chipset timings are relaxed at this setting and this is affecting our game performance where memory sensitivity is important.
Our i865 based motherboard with the 7600GS AGP card is very competitive with the DDR2 board solutions and pulls away from the VIA PT880 Pro chipset in Quake 4 while performing equally at the VIA DDR2-533 settings. Although AGP is basically dead and the most powerful card available is based on the 7800GS chipset, we can see that it is still a very competitive solution in the mid-range market as is low latency DDR memory with the right chipset.
Game Performance Comparison, Continued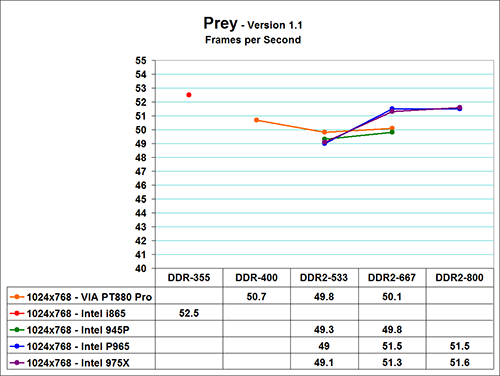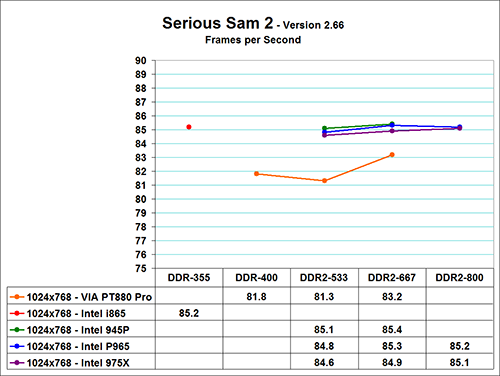 In our two games that tend to be GPU limited we see the i865 AGP/DDR solution scoring a win in Prey and coming in second in Serious Sam II where the Intel 945P pulls out a close victory at DDR2-667 settings. The VIA PT880 Pro performance trails the other solutions in SS2, similar to its Quake 4 performance. The difference is only 3-5%, though, so if the features offered (DDR and DDR2 support, AGP and PCIe support) interest you, it's still not a bad choice.
The sweet spot for gaming with this particular video card seems to be at low latency DDR2-667 settings as DDR2-800 provides negligible benefits. We are sure with lower latencies at DDR2-800 and a more powerful GPU solution that we would see further scaling increases in performance. However, for a value based system having DDR2 memory capable of 3-4-3 operation at DDR2-667 or DDR memory that does 2-2-2 at DDR400 is more than sufficient. Your money is best spent on a higher end GPU solution backed by a stable motherboard and a processor like the E6300/6400 Core 2 Duo for Intel systems or a AMD 3800+ X2 for the S939 or AM2 platforms.
Quick Take
Our conclusion from the first article still holds true. A user's choice of memory on our tested platforms is not going to make a huge difference considering the components and benchmarks utilized. The only difference in our expectations was just how close each chipset performed to the other during testing. We also ran our entire benchmark test suite and had the same overall results between chipsets. We came to a sudden and abrupt realization that features have increased dramatically in recent years but chipset performance has not for most users, certainly not to the degree of CPU or GPU improvements.
We did have a couple of surprises during testing and it caused us to retest the boards involved and also verify the results with different memory. One of these surprises centered on our choice for the Intel P965 and 975X chipsets. Our Biostar and DFI boards were the least expensive in their respective categories. We found out that except for the gaming performance of the Biostar board at DDR2-533, the P965 chipset is very competitive if not better performing than the 975X chipset when utilized with mid-range components. In our lab testing of overclocked boards with high end components we generally find the 975X based boards to be better performers in all areas. Unless you are matching high end components and plan on serious overclocking then a solid P965 or for that matter a 945P motherboard is sufficient for the low-end Core 2 Duo processors. In fact, we highly recommend the ASRock ConRoeXFire-eSATA2 and 775Dual-VSTA at this time for their unbeatable combination of price and performance in the budget sector for Core 2 Duo capable boards.
However, the biggest surprise was the overall performance of the ASRock 775i65G board as it was just as competitive with the other chipsets in our testing and proved to be extremely stable with every benchmark or application we threw at it. Who knew that AGP 8x and DDR would still be this competitive after a myriad of chipset, memory, CPU, and GPU enhancements over the last three years?
[Ed:sarcastic reflection]
While both technologies have come to their end we find it comforting to know that if you own either then you can still upgrade to the fastest processor series currently available and not worry about general system performance. That is unless you want to play the latest games at 1600x1200; in that case we will grudgingly have to advise you to go buy that PCI Express 7950 GX2 or X1900 XT along with the required components to support it. Until you reach the point where you're ready to make such an expenditure, these value based motherboards from ASRock are a wise purchase to extend the life of your current investment.