Original Link: http://www.anandtech.com/show/2057


The Fastest DDR2 from Corsair and OCZ
DDR2 memory has zoomed to the forefront recently, after several years of benign neglect by the enthusiast community. AMD, which has led the enthusiast market for the last couple of years, moved from DDR to DDR2 in late May. Intel Core 2 Duo was recently introduced and finally gave enthusiasts a reason to want to own Intel processors again. Suddenly, no matter what platform you wanted to buy, you found it was fueled by DDR2 memory.
As a result of the increased spotlight on DDR2, memory makers pulled out all the stops in creating new and faster DDR2 memory. The two newest platforms support DDR2-800, and enthusiast memory makers quickly brought DDR2-800, DDR2-1000, and DDR2-1066 modules to market. The new DIMMs, mostly based on Micron memory chips, established memory timings of 3-3-3 as the newest standard for enthusiast memory at DDR2-800. All of these new memories also reached DDR2-1067 and beyond. You can read more about high-performance DDR2 in our
Conroe Buyers Guide
.
Even value DDR2 became faster very quickly. Most of the value sticks are now using Elpida memory. These were rated at DDR2-667 or DDR2-533, but most managed to run at DDR2-800 at 4-3-3 timings at around 2.2V. None of the value RAM tested could reach DDR2-1067, but DDR2-800 at good timings is plenty fast for the majority of users. You will find a recent roundup of value DDR2 in the
Value DDR2 section
of the Conroe Buying Guide.
The enthusiast, by definition, is always looking for more - more speed, more power, more performance. The quest is for the best - performance so good and speeds so fast that no one can touch their results. You may even consider the enthusiast an elitist, but that is no different than the car enthusiast, a photography enthusiast, or any technology area where hobbyists can be found.
Corsair has a long and illustrious history as an innovator in the memory market. For many years the only recognizable brand of enthusiast memory was Corsair. OCZ has firmly established itself in recent years as one of the most creative makers of enthusiast memory with innovations like Extended Latency memory and high-voltage VX DIMMs for extreme overclockers. It was no surprise then, given the history of these two companies, to be contacted for a look at their newest and fastest DDR2 memory.
Both memory companies consider the modules tested here the best DDR2 they currently offer on the market. It is surprising then to see Corsair rate their DDR2 at DDR2-800 with specified 3-4-3 timings. OCZ rates the new Titanium Alpha at DDR2-1000 at 4-4-4 timings. As seen in the past, both OCZ and Corsair are often quite conservative in their ratings of their best memories. We were curious to see what these "best-of-the-best" could really do in our new Core 2 Extreme memory test bed.
Corsair CM2X1024 6400C3 Product Specifications
Corsair is the most widely recognized brand of enthusiast memory in the world. It is widely distributed, making the Corsair brand easy to find just about anywhere you might be located. Corsair has been manufacturing high-speed memory since 1994, and as a result the company has supplier relationships with many computer manufacturers. Corsair maintains an extensive line of memory, ranging from their Value Select brand of low-cost memory to their top-end XMS line.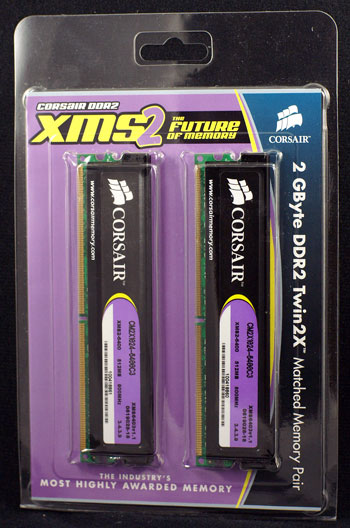 The Corsair 6400C3 is a member of the top-end XMS family, based on specially-binned Micron DDR2 memory modules with Corsair's new EPP (Enhanced Performance Profiles) SPD which can set highest performance timings on NVIDIA motherboards designed to work with EPP. When Corsair first talked with us about this new memory, we were told it was their absolute best DDR2 performer - capable of tighter timings and higher speeds than their other high-end DDR2 products.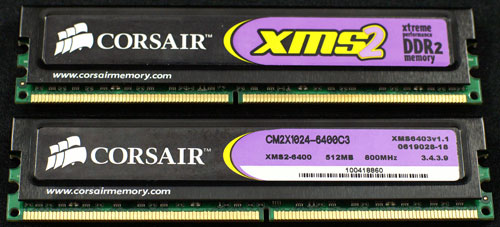 The CM2X1024 6400C3 was supplied as a 2GB kit with a matched pair of 1GB DIMMs. Corsair claims theses modules are 100% tested as a pair at 3-4-3-9 timings at 2.2V. The DIMMs feature black heatspreaders and distinctive purple and yellow XMS2 packaging. Product information shows the 6400C3 only available as a 2GB kit; the Corsair web site does not list a 1GB kit with similar performance.
Corsair CM2X1024 6400C3 Memory Specifications
Number of DIMMs & Banks
2 DS
DIMM Size
1GB
Total Memory
2 GB
Rated Timings
3-4-3-9 at DDR2-800
Rated Voltage
2.2V
Additional Information on these super high-speed DIMMs is available in PDF form
at the Corsair website
. Corsair offers a Lifetime Warranty and support is available in many forums.
OCZ Ti Alpha PC2-8000 VX2 Product Specifications
In recent years OCZ has won respect from enthusiasts as an innovator in memory and power supplies. Those innovations include their EL (Enhanced Latency) memory, their high-voltage VX line, and the very successful line of high-power OCZ power supplies.
OCZ was the first memory manufacturer to produce and ship new memory kits based on the latest Micron memory chips. We reviewed the
OCZ EL PC2-8000 XTC
in early April, and while there are many competing kits based on Micron memory these days, those early OCZ DDR2-1000 DIMMs still compete very well with any memory on the market.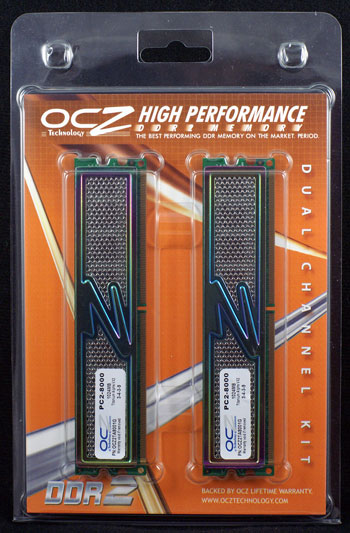 OCZ has also been hard at work with some very unique binning of Micron DDR2 memory chips, but with a very different goal in mind. OCZ manufactured a very well-received DDR memory called VX that was designed to perform at very high DDR voltages to deliver unheard-of memory speed to the DDR market. OCZ has applied a similar binning philosophy to Micron DDR2 memory chips and has recently released the Titanium Alpha VX2 series of memory.
VX2 is guaranteed to operate at 2.4V +/- 5% without stability issues and without voiding the OCZ Lifetime Warranty. That translates into allowed voltages up to 2.525V. This basically equates to running DDR2 at DDR voltage.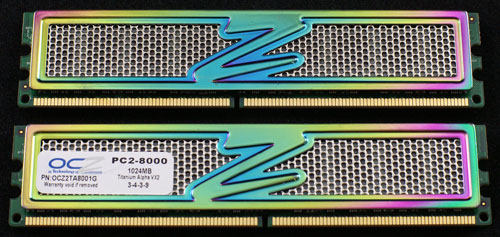 Test DIMMs were a 2GB kit composed of two 1GB DIMMs rated at DDR2-1000. DIMMs have a really unique rainbow colored XTC heatspreader. Ti Alpha VX2 is available only as a 2GB kit or as individual 1GB DIMMs. Ti Alpha is also available as a low latency DDR2-800 kit without the VX2 designation.
OCZ Ti Alpha PC2-8000 VX2 Memory Specifications
Number of DIMMs & Banks
2 DS
DIMM Size
1 GB
Total Memory
2 GB
Rated Timings
4-4-4-15 at DDR2-1000
Rated Voltage
2.3V (Warranted to 2.4V+/-5%)
Both members of the Titanium Alpha family feature the multi-colored heat-spreader.
Memory Test Configuration
In
Conroe vs. AM2: Memory & Performance
it was demonstrated that DDR2 memory performance, in timings and voltage, are equivalent on the AM2 and Core 2 Duo platforms. The first generation of AM2 on-processor memory controller does not support any memory timings below 3, while the Intel platform supports settings of 2 for RAS-to-CAS and RAS Precharge. In addition AM2 boards do not officially support DDR2-1067 as a memory speed option, which makes testing some of the newest DDR2 memories rated at DDR2-1067 very difficult. For all of these reasons, the Intel platform will be the test platform for DDR2 memory testing. Specifically, Core 2 Extreme, which has available memory ratios both up and down, is the platform of choice. When updates are made in the AM2 and Core 2 Duo markets the platform will be examined again.
The ASUS P5W-DH is the latest 975X board in the ASUS family and it fully supports the Core 2 processors. The P5W-DH Deluxe therefore replaces the P5W-D2-E premium used in past DDR2 reviews. A review of the updated ASUS P5W-DH Deluxe is available in the Conroe Buyers Guide
on page three
. The P5W-DH features similar memory options to the earlier versions, but since most of the Core 2 Duo/Extreme processors run at a quad-pumped FSB of 1067, the available options are particularly useful for benchmarking when a Core 2 chip powers the system.
Memory Configuration Options/ASUS P5W-DH Deluxe Motherboard
 
Auto
DDR2-400
DDR2-533
DDR2-667
DDR2-711*
DDR2-800*
DDR2-889*
DDR2-1067*
FSB-1067
X
X
X
X
X
X
X
X
FSB-800
X
X
X
X
 
X
 
 
FSB-533
X
X
X
 
 
 
 
 
Our memory test bench uses the following components:
Memory Performance Test Configuration
Processor
Intel Core 2 Duo X6800
(Dual core, 2.93GHz, 4MB Unified Cache)
RAM
2 x 1GB Corsair CM2X1024-6400C3
2x1GB OCZ Ti Alpha PC2-8000 VX2
Hard Drive(s)
Hitachi 250GB SATA2 enabled (16MB Buffer)
System Platform Drivers
Intel - 8.0.1.1002
Video Card
1 x EVGA 7900GTX - All Standard Tests
Video Drivers
NVIDIA 91.31
CPU Cooling
Tuniq Tower 120
Power Supply
OCZ PowerStream 520W
Motherboard
Asus P5W-DH Deluxe (Intel 975X)
Operating System
Windows XP Professional SP2
BIOS
AMI 903 (August 1, 2006)
We retested several recently reviewed memories on the P5W-DH since it is an updated board. It still uses the 975X chipset so memory bandwidth and timings did not change with the move to the ASUS P5W-DH. We did find, however, that game benchmarks using the same Presler 955 chip from past testing were 1 to 2 FPS faster on the newer board. It is also almost useless to compare benchmarks with Conroe to older results with Presler - since Core 2 Duo is as much as 35% to 40% faster than Presler. Therefore, the only results shown here are the two new memories tested on the X6800 platform. Previously reported timings and voltages are still useful and can be compared to new results, but performance results on Core 2 begin with this review
Corsair CM2X1024-6400C3: Memory Performance
Most top Intel motherboards provide a wide range of memory ratios that match available DDR2 memory. Most end-users select the memory ratio that matches their DDR2 memory speed. For those reasons, we first test all of the stock ratios at the fastest stable timings we can achieve at the given ratio. With ratios, CPU speed remains the same at 2.93GHz in our memory test bed, and memory speed is then changed by selecting different ratios.
There are some downsides to this approach. With the memory controller in the chipset, instead of part of the processor as in AM2 systems, there is a small performance penalty for speeds other than a 1:1 ratio (DDR2-533 in this case). However the penalty is in reality very small and memory scales nicely through the various speed options.

Click to enlarge
The performance of Micron DDR2 memory chips was already impressive in the high-performance DDR2 in the Conroe Buyers Guide, but Corsair takes the DDR2 performance standard even higher with their 6400C3. This memory is clearly the best of the best, allowing 3-2-2 timings to DDR2-533, 3-2-3 at DDR2-667, 3-3-3 at DDR2-800, and an astounding 4-3-4-11 at DDR2-1067. The base chips are from the same manufacturing lines, but Corsair binning and custom SPD programming have squeezed even more from these excellent memory chips. The only real concern, of course, is the very high cost, but that will not likely matter much if the absolute top performance is your system goal.
The fastest possible timings with today's DDR2 are 3-2-2. If you look closely you will see the Corsair 6400C3 works fine at the fastest timings that can be selected at both DDR2-400 and the 1:1 ratio of DDR2-533. Even at DDR2-667 only minor compromises are required, since the Corsair is completely stable at 3-2-3 timings. It is important to keep in mind that the first 5 table rows, from DDR2-400 to DDR2-1067 represent a constant CPU speed of 2.93GHz with memory running at faster speeds through ratios. Any performance increases over this DDR2-400 to DDR2-1067 range is therefore a result of increased memory speed. 1:1 should always have the least overhead in the current Intel universe, but this DDR2 memory still scales well by speed over the full range. Memory bandwidth improves with memory speed, as does raw calculation performance. However, this does not always translate into linear gaming performance. You can see this more clearly in the new performance scaling charts on page 7.
Corsair 6400C3 topped out at DDR2-1112, which is the second highest stable speed ever achieved with our DDR2 memory samples. This is particularly interesting when you consider that this Corsair memory, rated at DDR2-800, actually reaches a slightly higher top speed than we could achieve with Corsair DDR2-1067. Corsair clearly binned this memory for tight timings across the band and at a lower than average voltage in this class range. The 6400C3 achieves that design goal, and always does so with tighter timings than we would expect.
OCZ Ti Alpha PC2-8000 VX2: Memory Performance
The ASUS P5W-DH test platform provides a wide range of memory ratios that match available DDR2 memory. This allows end-users to select the memory ratio that matches their DDR2 memory speed if they wish, or to choose a speed value over or below the rated memory speed. For those reasons, all of the stock ratios are tested at the fastest stable timings that could be achieved at the given ratio. With ratios, CPU speed remains constant at 2.93GHz and memory speed is varied by choosing different ratios.

Click to enlarge
DDR2 memory is then pushed from the highest stock ratio that could be achieved in testing - in this case 1067 - to the highest FSB speed at the stock multiplier. The OCZ reached the same stable speed as the top Corsair - DDR2-1112. While the system could boot at speeds as high as DDR2-1130, the OCZ memory, like the Corsair, could not complete our benchmark tests at higher than DDR2-1112. Those who will use more exotic memory cooling will likely be able to move even higher with OCZ Titanium Alpha, but DDR2-1112 tied the OCZ with Corsair for the second highest DDR2 clock speed achieved in our DDR2 tests with the Mushkin XP2-8000 Redline reaching DDR2-1116.
While OCZ required a bit more voltage at some speeds, in the end the performance was all but identical to the Corsair 6400C3. OCZ and Corsair start with different rated speeds and different approaches to performance, but they have both ended up producing the overall fastest DDR2 memory we have tested thus far.
Memory Bandwidth and Scaling
Everyone should already know that memory bandwidth improves with increases in memory speed and reductions in memory timings. We first used the new Memory Performance Scaling charts in our
comparison of DDR2 memory on AM2 and Core 2 Duo processors
. They were so well-received the scaling charts will be used in future memory reviews to compare both Memory Bandwidth and Memory Performance over a wide range of DDR2 speeds. To evaluate memory bandwidth SiSoft Sandra 2007 Professional was used to provide a closer look at scaling.
Since the Corsair and OCZ results were so close at all tested speeds, the scale range was reduced to better show the small differences in these two memories. Please keep this in mind when viewing the charts, since a normal zero scale would make performance differences appear much smaller than these expanded scale charts. Values for each memory at each speed are included below each chart for reference.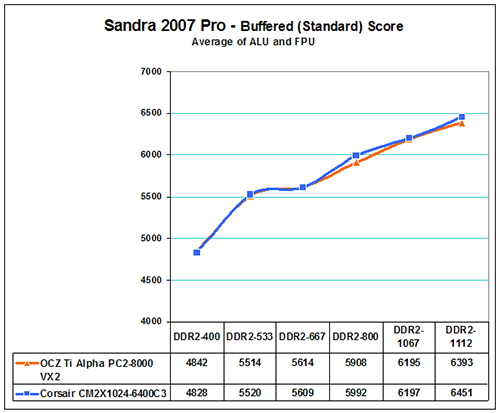 The most widely reported Sandra score is the Standard or Buffered memory score. This benchmark takes into account the buffering schemes like MMX, SSE, SSE2, SSE3, and other buffering tools that are used to improve memory performance. We found in our recent AM2/NetBurst/Conroe comparison that AM2 provides the highest buffered bandwidth available - with leads at DDR2-800 as large as 40% over Conroe and NetBurst. NetBurst is next fastest, and Core 2 Duo provides the poorest Buffered bandwidth. Of course this does not carry through to other performance areas, as Core 2 Duo is normally 10% to 30% faster than AM2 or NetBurst in our system benchmarks.
Performance of the Corsair and OCZ are so close in Buffered bandwidth they could almost be from the same company.
As we have been saying for years, however, the Buffered benchmark does not correlate well with real performance in games on the same computer. For that reason, our memory bandwidth tests have always included an UNBuffered Sandra memory score. The UNBuffered result turns off the buffering schemes, and we have found the results correlate well with real-world performance.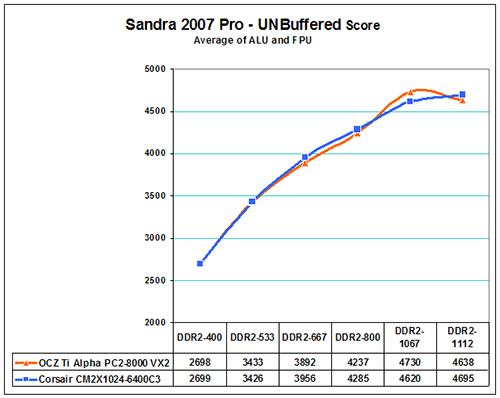 In Unbuffered tests we see the Corsair 6400C3 and OCZ PC2-8000 again looking like they could be two samples off the same production line. Since both are based on specially binned Micron memory chips this should not be a real surprise.
The Sandra memory score is really made up of both read and write operations. It is also a synthetic benchmark that does not always reflect real world performance. We also compared pure number crunching with Version 1.5 of Super Pi - comparing the time to calculate 2 million places of Pi at the different memory speeds.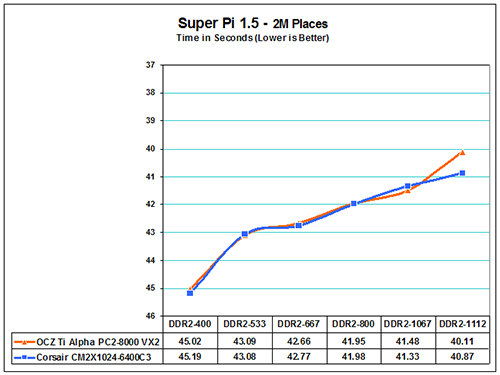 The most striking result in comparing Super Pi results is that performance continues to improve all the way to the highest speed that could be reached with stability - DDR2-1112 on both memories. The performance scaling illustrates how DIMMs with the same memory chips perform about the same. The only real difference between the Corsair and OCZ is the slightly better performance of Corsair at DDR2-1067 and the performance advantage of OCZ at DDR2-1112 - probably a result of the different approaches to SPD programming. Don't make much of these differences, however, as you can see similar difference in DIMMs coming off the same production line.
Performance Comparison
While Sandra and Super Pi provide useful information on how memory performs, the real test is real-world benchmarks - specifically gaming benchmarks. We use Far Cry, Half Life 2 and Quake 4 for memory testing because they are sensitive to memory changes, making them useful for examining memory performance.
Since the Corsair and OCZ results were so close at all tested speeds, the scale range was reduced to better show the small differences in these two memories. Please keep this in mind when viewing the charts, since a normal zero scale would make performance differences appear much smaller than these expanded scale charts. Values for each memory at each speed are included below each chart for reference.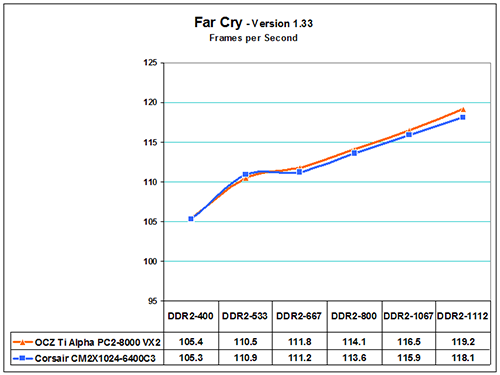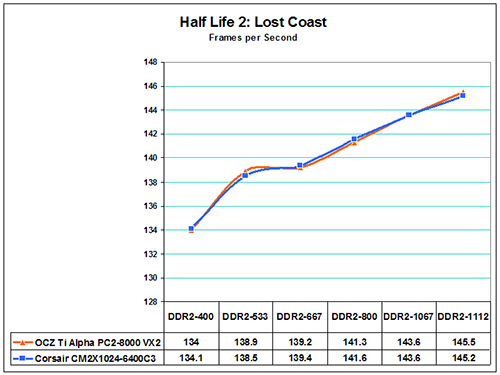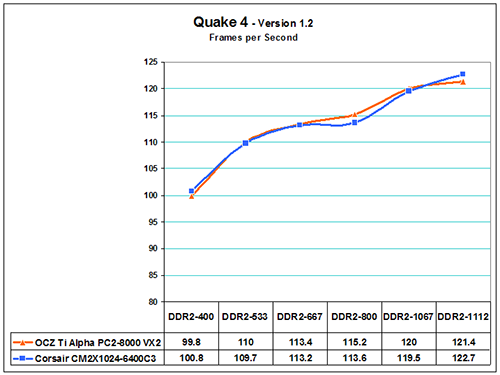 All three games continue to show improvement in frame rates as memory speed increases, even though timings are looser the faster we go. Keep in mind that these two super memories from OCZ and Corsair are still capable of operating at 4-3-4 timings at DDR2-1067. All three game benchmarks show that performance across all speeds is very close between the Corsair and OCZ. If you were expecting one of these two super memories to pull away from the other, you will not find those results here as both of these memories are outstanding performers.
Overclocking (Highest Ratio at Highest Speed) Performance
The Corsair CM2X1024 6400C3 and OCZ TI Alpha PC-8000 VX2 tied for the second highest stable overclock achieved by our DDR2 memory samples. Both reached a stable DDR2-1112, and both were able to run our complete benchmark suite at those speeds. The Corsair booted as high as 1140 and OCZ reached a boot of more than 1130, but neither memory was stable in 3D benchmarks at these speeds.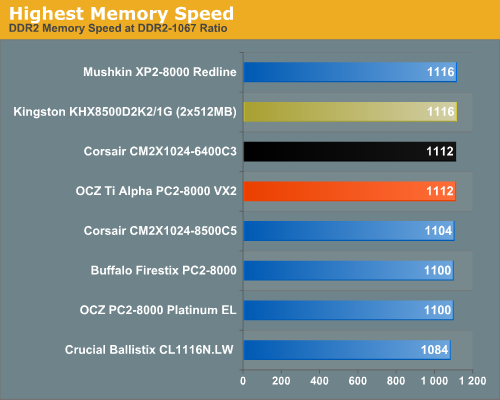 What this overclocking chart cannot show is the timing advantages both Corsair and OCZ enjoyed at almost every memory speed. Both these specially binned memories exhibited the fastest timings seen with any DDR2 at almost every speed we tested. The advantage over other high-performance DDR2 was not huge, but these two were slightly faster at any speed you might choose. That is then reflected in the performance that can be achieved with either the Corsair 6400C3 or the OCZ PC2-8000 Ti Alpha.
Final Words
When OCZ EL PC2-8000 XTC was reviewed in early April the significance of the new Micron D memory chips was apparent. Here was the fastest DDR2 memory ever tested at AnandTech, and it also scaled easily to the new DDR2-800 speed to be supported by AM2 and Conroe, on to the DDR2-1067 future speed, and beyond to DDR2-1100. It reached those levels at the fastest memory timings we had seen with DDR2. This DDR2 memory was clearly the new DDR2 standard and we awarded the OCZ EL PC2-8000 XTC our Gold Editors Choice.
Of course this was before the launch of AM2 on the 23rd of May and the launch of the Core 2 Duo on July 27th. AM2 was not really much of a performance boost, but Core 2 Duo turned out to be one of the largest performance increases we have seen with a new processor in many years. Today, with AM2 and Conroe both using DDR2, everyone is interested in fast, low-latency DDR2. Memory based on the latest Micron D-die chips will meet the bill.
When we looked at High-Performance DDR2 in the Conroe Buying Guide, it was clear that the performance we first saw with the OCZ EL PC2-8000 is now available from a wider group of memory manufacturers. OCZ, Corsair, and Mushkin stood out at the top of the group of six, but frankly any of the six could deliver the kind of performance that could make a difference in a top Core 2 or AM2 system. That included the 2GB kits from Buffalo, Kingston, and Crucial.
Fast forward just a couple of weeks to today and we are seeing even further development in high-performance DDR2 memory. The Corsair 6400C3 and the OCZ Ti Alpha PC2-8000 VX2 both use special binning of these Micron memory chips to push performance up another level. The advantage for the new Corsair and OCZ is not huge, but it is definitely real. Now the best DDR2 memory is capable of DDR2-1067 at 4-3-4-11 timings, and 3-2-2 - the fastest timings you can currently choose in DDR2 - is available at DDR2-400 and DDR2-533, with a close 3-2-3 at DDR2-667. In addition, the new Corsair and OCZ reached some of the highest stable overclocks we have seen so far with DDR2 at DDR2-1112. Our Mushkin XP2-8000 Redline reached
DDR2-1116
but ran at slightly slower memory timings in some of the other speed ranges.
It is fair to ask which is better, the Corsair 6400C3 or the OCZ Ti Alpha PC2-8000? The answer depends on what you are looking for. Performance on both of these top memories is all but identical, and it is equally outstanding. We have to look elsewhere for differences. We find that difference in voltage requirements. The Corsair 6400C3 requires less voltage at almost every speed to reach the same performance level. In fact the Corsair generally requires less voltage at each speed than any of our previously tested High-performance DDR2. Some will see this as a great advantage for Corsair 6400C3 and we would agree.
The other side of the coin is the fact that OCZ binned their VX2 memory for higher voltages, and the fact that a bit more voltage is required at each speed should not be a surprise. Offsetting this is the reassurance from OCZ than you can run their VX2 memory up to 2.525V without affecting your Lifetime Warranty. We could find no case in our testing where higher voltage on VX2 gave us more performance than the Corsair, but we were testing with air cooling and an extra fan. Those who can cool their memory with more effective solutions may find they can squeeze a bit more performance from the OCZ VX2.
It is remarkable to us that Corsair and OCZ took such different approaches when using the same Micron memory chips and yet ended up with such similar performance. The Corsair CM2X1024 6400C3 and the OCZ Ti Alpha PC2-8000 VX2 are currently at the top of the DDR2 performance pyramid. Either can provide results that is the best available in DDR2. Beyond that you will need to compare price and how you will use the memory to reach a decision between the two. Neither of these stellar performers is a good choice in an average system as they are both far too expensive to deliver good value. However, if you demand the best, either of these top-performing memories will deliver the goods.