Original Link: http://www.anandtech.com/show/2049


We recently previewed the
Abit AB9-Pro
and were intrigued with its performance even though we had a very early BIOS release. Abit recently provided us with a production level BIOS that is undergoing final quality assurance and performance testing prior to release. We were hoping to include this board in our
Conroe Buyers Guide
but unfortunately we did not receive this pre-release BIOS in time for testing. However, due to the amount of comments and the number of emails we received asking about the performance of the board with Core 2 Duo, we decided to provide a short update utilizing the Buyers Guide benchmarks.
Although the AB9 Pro went on sale a few days ago, the shipping BIOS does not provide the ability to fully configure the memory timings and ratios. We are very glad to report the current beta BIOS implements full configuration of the memory settings through the excellent µGuru overclocking utility. Although this beta BIOS does allow memory settings we found the included options for changing memory timings are very basic at this time. Abit is still optimizing their BIOS code and we expect to see further options along with additional performance enhancements in the very near future. The board was extremely stable during our benchmarking session with the revised BIOS. During our stress tests we did find a couple of minor issues that have been reported to Abit. We expect to see these issues resolved by Abit before public release.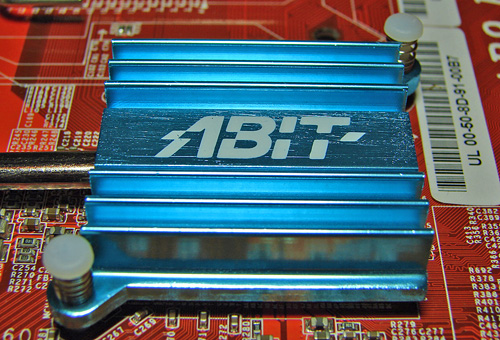 Abit was the top manufacturer of enthusiast level boards just a few short years ago and catered almost exclusively to the overclocking community. However, Abit found itself in serious financial and market troubles as its product portfolio expanded into areas where it did not have the manufacturing expertise or cost advantages to compete with the larger tier one manufacturers. As a result, Abit lost focus on its core competence, the enthusiast and overclocking market, and allowed DFI and others to become the preferred enthusiast brands. Abit was close to ceasing business operations as their product lines did not offer any real price, performance, or product differentiation from others except for their µGuru technology.
Fortunately, Abit entered into a long-term partnership with USI this past January that ensures their financial health for the future and a change in the company name. Universal Abit is the successor to the Abit motherboard brand and has partnered with USI for their manufacturing and engineering expertise. The Abit name will remain as the main identity for products but expect to hear more from Universal Abit as the company transitions itself from strictly IT manufacturing to leading technology design and brand management. This strategic partnership also signals a return of Abit to their roots as a company driven to provide the computer enthusiast and extreme overclocker with the highest performance solutions available.
Intel P965 Express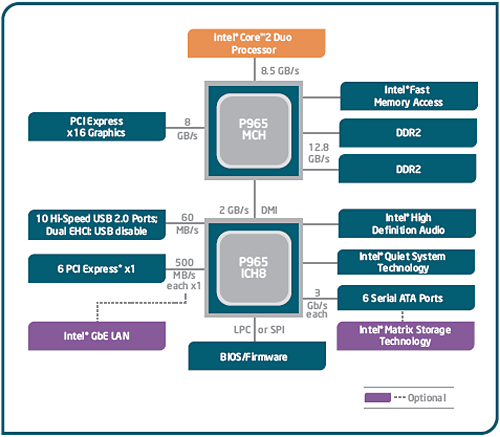 Intel released the P965 Express MCH and ICH8/R chipsets in June of this year. The highlights of the P965 MCH include Intel's new Fast Memory Access technology, 1066MHz front side bus support, 800MHz DDR-2 memory support, and full support for the new Core 2 Duo processor lineup. The integrated graphics versions, G965 and Q965, will ship with the new GMA X3000 graphics engine for the ViiV and Corporate markets respectively in September. While the P965 is still undergoing growing pains from a BIOS viewpoint, we are finally starting to see these boards in retail channels now with full product releases by all of the major motherboard suppliers by early August. At present the P965 boards only officially support multi-GPU operations through a combination of a X16 PCIe and X4 PCIe slot. This leaves ATI CrossFire support to the older 975X chipset. Those looking for NVIDIA SLI support will have to wait a couple of more weeks before the NVIDIA Intel Edition chipsets are released (or go with the nForce4 ASUS P5N32-SLI SE).
The new ICH8/R chipsets offer ten USB 2.0 ports, up to six 3GB/s SATA ports, Intel's new Quiet System Technology, and the removal of Parallel ATA support. While one could argue this is a needed step forward in technology, we firmly believe that Intel should have waited until the next generation ICH for this change. The Optical Drive market is still about 98% PATA based and does not seem to be changing anytime soon. While this development might spur the optical drive suppliers into offering additional SATA drives in the near future it does not address the requirements of the current PATA installed base. What this means is additional cost and complexity as the motherboard manufacturers will have to add an additional chipset such as the JMicron JMB363 for PATA support.
Now let's take a revised look at the Abit AB9-Pro, this time using a Core 2 Duo processor. We have updated the charts as appropriate.
Abit AB9-Pro: Basic Features
Abit AB9-Pro
Market Segment:
Mid-Range/Performance
CPU Interface:
Socket T (Socket 775)
CPU Support:
LGA775-based Pentium 4, Celeron D, Pentium D, Core 2 Duo
Chipset:
Intel P965 + ICH8R
Bus Speeds:
133 to 600 in 1MHz Increments
Memory Speeds:
Auto, 533, 667, 800
PCIe Speeds:
Auto, 100MHz~200MHz
PCI:
Fixed at 33
Core Voltage:
Auto, Base CPU V to 1.7250V in 0.0250V increments
CPU Clock Multiplier:
Auto, 6x-11x in 1X increments if CPU is unlocked
DRAM Voltage:
1.75V ~ 2.30V in .05V or .10V increments
DRAM Timing Control:
SPD, 4 Options
NB Voltage:
1.25V ~1.45 in .05V increments
SB Voltage:
1.50V ~1.70 in .05V increments
Memory Slots:
Four 240-pin DDR2 DIMM Slots
Dual-Channel Configuration
Regular Unbuffered Memory to 8GB Total
Expansion Slots:
1 - PCIe X16
2 - PCIe X1
2 - PCI Slots 2.3
Onboard SATA/RAID:
6 SATA 3Gbps Ports - Intel ICH8R
(RAID 0,1,1+0,5,JBOD)
2 SATA 3Gbps Ports - JMicron JM363
(RAID 0,1,JBOD)
2 SATA 3Gbps Ports - Silicon Image 3132
Onboard IDE:
1 Standard ATA133/100/66/33 Port (2 drives)
JMicron JMB363
Onboard USB 2.0/IEEE-1394:
10 USB 2.0 Ports - 4 I/O Panel 6 Headers
2 Firewire 400 Ports by TI TSB43AB23
Onboard LAN:
Gigabit Ethernet Controller
Realtek RTL 8168
Onboard Audio:
Realtek ALC882D HD-Audio 8-channel CODEC
Power Connectors:
ATX 24-pin, 4-pin EATX 12V, 4-pin 12V Molex
I/O Panel:
1 x Serial
1 x PS/2 Keyboard
1 x PS/2 Mouse
2 x RJ45
1 x eSATA
4 x USB 2.0/1.1
2 x S/PDIF (1 optical in, 1 optical out)
8-Channel Audio I/O
BIOS Revision:
AWARD M516A-11
Abit has delivered a well optioned but performance oriented P965 board that should sell for around US $142 or under. While our BIOS is still beta and now includes full memory configuration capability, we were surprised at the stability of the BIOS during our benchmarking. We certainly believe that future BIOS releases will extract additional performance from this board, but it basically works as advertised now.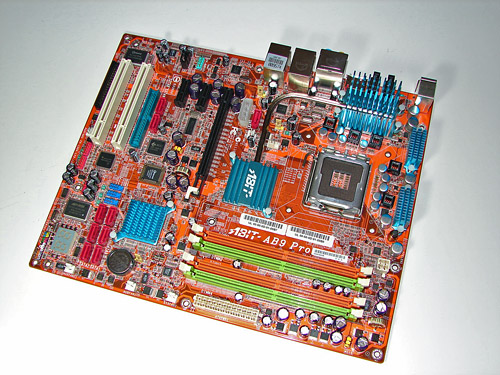 Click to enlarge
Abit designed a board that has one of the more interesting layouts we have seen in the labs in a long time. While the board was very easy to install in our mid-size ATX case we did have some issues with utilizing our optical drive in the top bay due to the location of the JMicron powered IDE port that is located in between the number two PCI Express X1 slot and the number one PCI slot.
The Abit board features an excellent voltage regulator power design with high quality capacitors located in each major component section of the board that yielded superb stability during our testing with the latest beta BIOS. The Intel P965 MCH chipset is passively cooled with a low rise heatsink unit that did not interfere with any installed peripherals. This heatsink is part of the Abit Silent OTES technology that includes a heatpipe system and additional passive cooling for the VRM components. This system kept the MCH cool enough that additional chipset voltage was not a factor in our overclocking tests.
Overall, the layout is acceptable, but certainly not perfect. Abit has stated that the layout was created in part to provide better quality power signals to the various areas of the motherboard. They appear to have succeeded in this endeavor, as this is the most stable 965 motherboard we have tested so far, but routing cables to the appropriate ports can be a bit trickier than usual.
Basic Performance
The performance of the board was at times in the upper segment of our roundup but mainly stayed near its performance twin, the Biostar TForce 965 Deluxe. We found the board to be a very consistent performer and extremely stable up to its current limit. We cannot say that we have reached the true limit of this board, and we await further BIOS optimizations. As with recent Abit boards we expect to see significant BIOS tuning for the performance oriented crowd
after
stability and/or incompatibility issues have been resolved.
This board supports up to 2.3V on the memory, which allows a fair amount of overclocking headroom with most DDR2 memory. However, we would like to see 2.4V or higher in a board of this caliber. The BIOS we tested only allows changes to four memory timing settings (the typical CAS, tRCD, tRP, tRAS values). We expect to see additional options as the BIOS matures. We believe overall that this board is a great value currently and offers what appears to be a great blend of performance and options when compared to our roundup boards. We expect great things out of Abit if they are able to release a stable yet performance oriented BIOS for this board quickly.
Overclocking
Abit AB9-Pro
Overclocking Testbed
Processor:
Intel Core 2 Duo E6700
Dual Core, 2.67GHz, 4MB Unified Cache
1066FSB, 10x Multiplier
CPU Voltage:
1.525V (default 1.2V)
Cooling:
Tuniq Tower 120 Air Cooling
Power Supply:
OCZ GameXStream 700W
Memory:
Corsair Twin2X2048-PC2-8500C5 (2x1GB)
(Micron Memory Chips)
Hard Drive
Hitachi 250GB 7200RPM SATA2 16MB Cache
Maximum OC:
(Standard Ratio)
366x10 (3-3-3-9, 1:1)
3660MHz (+37%)
We were pleasantly surprised by our overclocking results on this board, but just like some of our other P965 boards we had to gradually increase the FSB speeds in order to reach this level. Abit has informed us they are near a 400 FSB in their internal testing and expect to exceed this level shortly with targets set to reaching 450+ FSB speeds. When we installed our X6800 and started testing for maximum FSB overclocking we were treated with a 9x369 result that indicates our board is at is limits currently. Hopefully the next BIOS will reward us with higher overclocks, though we might simply discover that the FSB ceiling on our particular board is about 370.
Test Setup
Performance Test Configuration
Processor:
Intel Core 2 Duo E6700
(X2, 2.67GHz, 4MB Unified Cache)
RAM:
2 x 1GB Corsair Twin2X2048-8500C5
Tested at DDR2-800 3-3-3-9 2.2V
Hard Drive:
Hitachi 250GB SATA2 enabled (16MB Buffer)
System Platform Drivers
Intel - 8.0.1.1002
NVIDIA - 6.86
Video Cards:
1 x EVGA 7900GTX - All Standard Tests
Video Drivers:
NVIDIA 91.31
CPU Cooling:
Tuniq Tower 120
Power Supply:
OCZ GameXstream 700W
Motherboards:
ASUS P5W-DH Deluxe (Intel 975X)
Intel 975XBX (Intel 975X)
Abit AB9-Pro (Intel P965)
ASUS P5B Deluxe (Intel P965)
ASUS P5N32-SLI (nF4 SLIX16 Intel)
Biostar TForce P965 Deluxe (Intel P965)
Gigabyte GA-965P-DQ6 (Intel P965)
DFI Infinity 975X/G (Intel 975X)
ASRock 775Dual-VSTA (VIA PT880 PRO)
Operating System:
Windows XP Professional SP2
Test conditions were maintained the same, as much as possible, over the platforms tested. For better comparison
standard
test results (1280x1024) were run with a single NVIDIA 7900GTX on all platforms. Our high resolution game tests were run at settings of 1600x1200 4xAA/8xAF with our 7900GTX card. All results are reported in our charts and color-coded for easier identification of results. All Core 2 Duo benchmarking used Corsair PC-8500 (DDR2-1066) 2GB kit at 3-3-3 timings at 2.2V. In recent months the memory market has moved from a 1GB kit to a 2BG kit being the common memory configuration. Our new DDR2 test standard is 2GB.
General Performance
The PCMark05 benchmark, developed by Futuremark, was designed for determining overall system performance for the typical home computing user. This tool provides both system and component level benchmarking results utilizing subsets of real world applications or programs. This benchmark is useful for providing comparative results across a broad array of graphics cards, CPUs, hard disks, and memory configurations and it also includes some multithreading results.
PCMark 2005 results for our test group are fairly close between the Intel chipset boards with the NVIDIA based ASUS P5N32-SLI SE taking a solid lead here due to excellent hard drive performance and multi-tasking scores within the benchmark. Looking specifically at the Abit board, it places second overall but is currently the fastest Intel chipset offering for Core 2 Duo.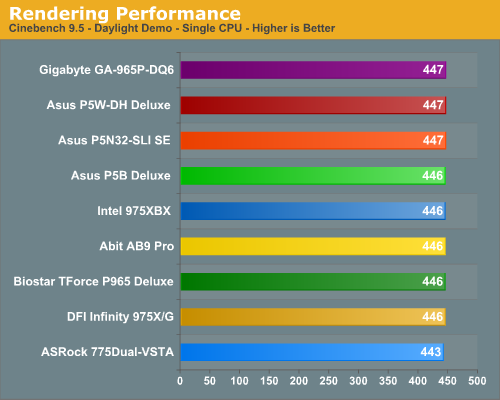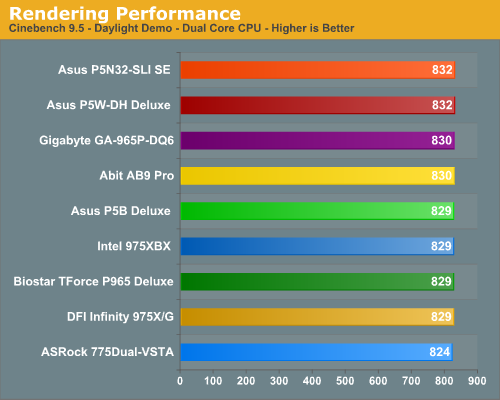 Moving on to the Cinebench results, realistically we have to declare a tie between most of the motherboards. While there are slight differences in score, it is not uncommon to see variations of a few points between benchmark runs. 3D rendering also places most of the burden on the CPU, so minor variations in CPU clock speed (i.e. a motherboard manufacturer running the front side bus at 267 MHz instead of 266 MHz) can easily account for the 1% performance spread.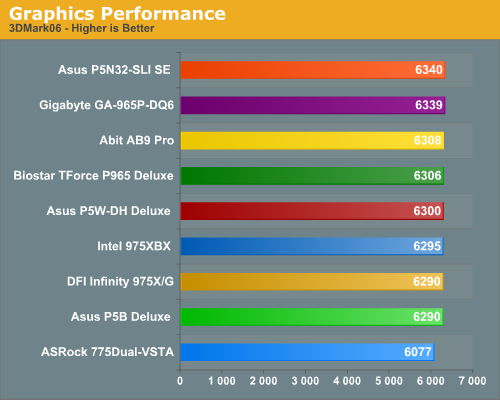 Rounding out our general performance results, the Abit board also has a strong showing in 3DMark06, placing third overall. Of course, the spread among the Intel chipset boards is a whopping 0.7%, so for all intents and purposes all of the boards are equal (except the budget oriented ASRock, which still packs a lot of performance into a $55 motherboard).
Overclocking Comparison
The overclocking capabilities we have measured thus far are with our standard E6700 CPU using a 10X multiplier. While this will not show the true FSB potential of some boards, it does show a board's capability with the second highest performing Core 2 Duo and what can be expected with the fixed multiplier CPUs on average. At present, the only board in our testing that has exceeded a 400FSB is the ASUS P5W-DH. It reached 400 MHz using this E6700 CPU, so any board that fails to reach that level with this CPU is at least being partially limited by the motherboard.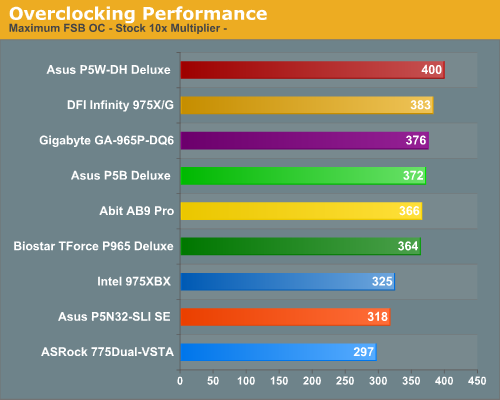 The Abit AB9-Pro comes up with average overclocking results, and as can be seen all of the P965 boards are currently topping out at 360-380 MHz FSB. If you are serious about overclocking, the best board we've currently tested is clearly the ASUS P5W-DH Deluxe. We managed to reach 445 MHz FSB with our amazing little at E6600 before running out of MCH voltage on that board. Of course, the extra $100+ it would cost to upgrade from the Abit to the ASUS board might be more than and people are willing to pay, especially among the budget overclocking crowd.
Standard Gaming Performance
As usual, gaming performance was tested with a variety of current games. We ran benchmarks with our standard 1280x1024 resolution without antialiasing enabled (and generally without anisotropic filtering, though that varies by game). Given the number of users that run 19 inch LCDs these days, 1280x1024 represents one of the most commonly used resolutions. We could certainly increase the amount of eye candy being displayed in most of the games, but as this is a motherboard benchmark we aren't particularly interested in maxing out the graphics cards for all tests.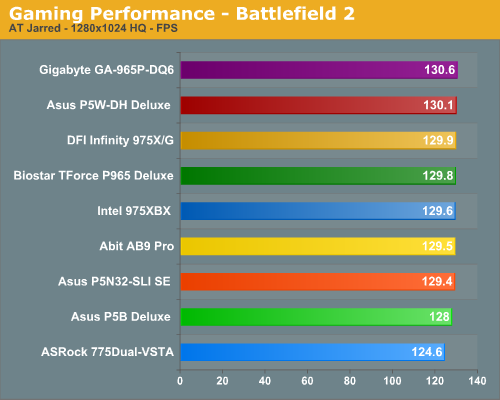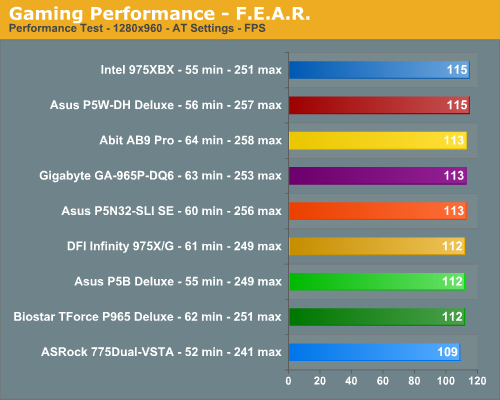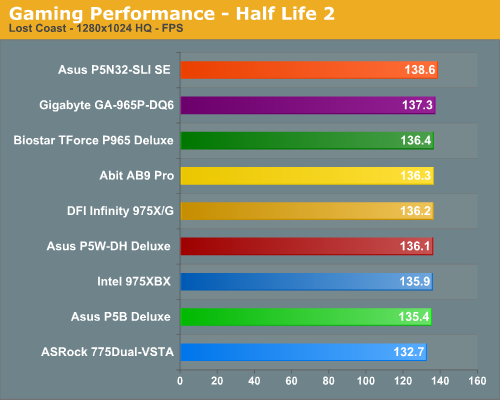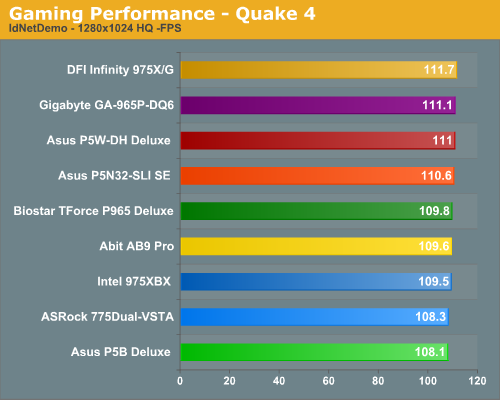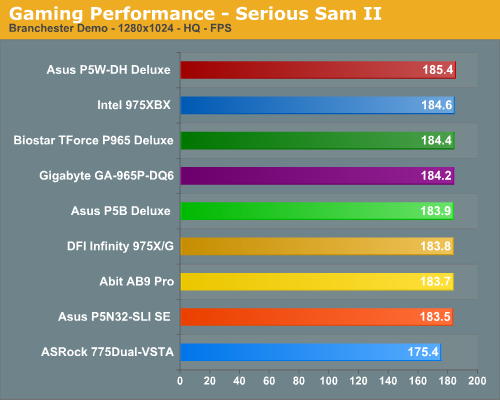 As we commented in our previous Conroe Buyers Guide, gaming benchmarks at these settings are generally very close together, and few people would notice a difference between the various motherboards. With the latest BIOS, the Abit board places pretty consistently right in the middle of all the results. Discounting the ASRock board - which is in a completely different price category and is usually at the bottom of our performance charts - the spread between the fastest and slowest motherboards is only 1%-3%. Basically, your purchase decision should be based on price, features, availability, and manufacturer more than gaming performance.
High-Resolution Gaming Performance
For high-quality gaming performance, we also tested at 1600x1200 with 4xAA /8xAF. As just about anyone familiar with current games can tell you, benchmarking with a single high-end graphics card at those stressful settings will make just about any recent game GPU limited. That brings up one of the critical flaws with Intel's 965 chipset: as it only supports a single PEG slot with full X16 bandwidth, anyone looking for maximum gaming performance by running two cards in SLI/CrossFire will have to look elsewhere. The charts below only include single GPU performance using a 7900 GTX, but you can refer to our
Conroe Buyers Guide results
to see the performance improvements that SLI/CrossFire bring to the table.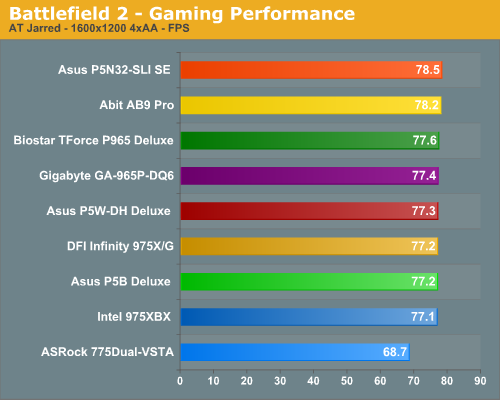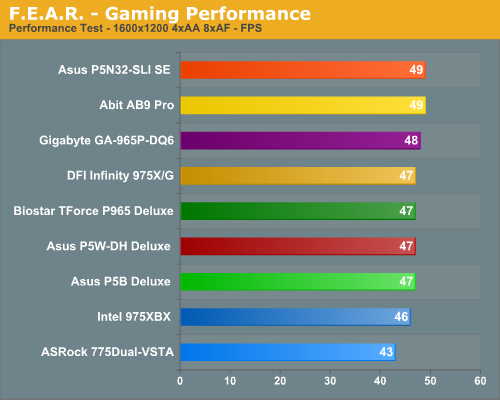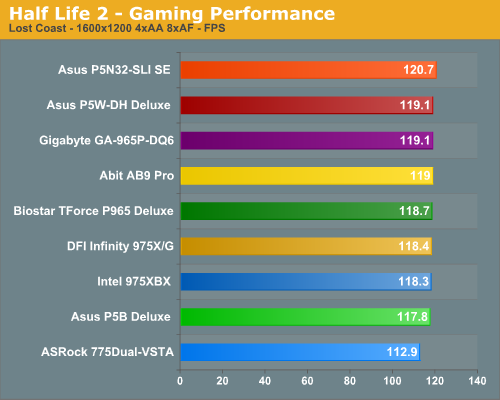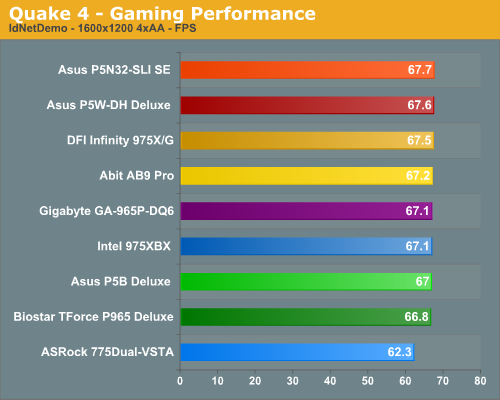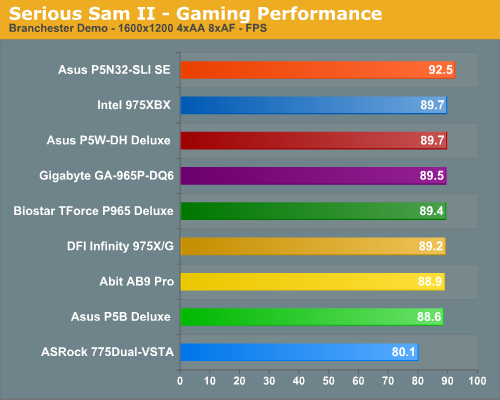 If you're serious about gaming at a high resolution with all the eye candy enabled, you will most certainly want to run a multi-GPU configuration (with NVIDIA's 7950 GX2 counting in our book as a multi-GPU solution; unfortunately,
the 7950 GX2 is not supported on the P965 chipset yet
. That means you should go with either a 975X motherboard for CrossFire, the nForce4 based P5N32-SLI SE for SLI, or wait for the nForce 500 series boards to show up on the Intel side of things.
Looking specifically at the Abit board, its relative positioning has improved somewhat at the higher quality gaming settings. With the exception of Serious Sam 2, performance is typically close to the top in the charts. The spread among these motherboards is also larger this time, ranging from 1%-6%, although a couple results in F.E.A.R. and Serious Sam 2 are the primary reason for the change. Really, you would still be hard pressed to tell the difference between any of these boards in gaming performance (again with the exception of the ASRock budget board).
Quick Take, Core 2 Version
Our latest preview of the Abit AB9 Pro now shows a motherboard capable of living up to its full performance capability. While we only noticed a couple of minor issues with the BIOS during a rigorous test schedule, we have to state once again that the overall board layout is unusual if not chaotic. This may appeal to some, but we found the location of the IDE and floppy port connectors to be very difficult to work with in our test case. These port locations ensured the use of long cables and the partial blockage of airflow over the CPU and Memory locations - certainly not what you want with a Pentium D processor, but perhaps a less critical flaw for Core 2 Duo users. Our other issue is the lack of a secondary PCI-E X16 physical slot that could provide PCI-E X4 capability for an additional graphics card or other PCI-E peripherals. We feel like this would have been a better option than providing two PCI-E X1 slots.
We do commend Abit on providing Dolby Digital support via the Realtek ALC-882D, dual Gigabit Ethernet controllers that use the PCI-E interface, an e-SATA port, Silent OTES system, and their impressive µGuru technology for overclocking and full system monitoring/control capabilities. Abit has made great strides with the latest BIOS release and ensures us we will have an improved public release BIOS shortly. However, in the future, we would prefer seeing a BIOS that's more feature complete before retail availability begins. We have been assured by Abit that this situation will not occur again.
We expect continued refinement of the BIOS along with additional performance improvements. Our main concern at this time is trying to figure out what the true overclock capability will be with Abit's current BIOS implementation. We know it has great potential; let's see if Abit can take advantage of it. We look forward to testing the board
[Ed: one last time!]
with the released BIOS and will post full results in the near future in our P965 shootout article.