Original Link: http://www.anandtech.com/show/2040


DDR2-1000+ Memory
DDR2 is a subject whose time has finally come. AMD made the transition to AM2 on May 23
rd
, so the two main processor makers - AMD and Intel - are now both firmly in the DDR2 camp. While Intel moved to DDR2 with the introduction of Socket 775 (Socket T) almost two years ago, the average enthusiast has not really been too concerned with what Intel was using. AMD was clearly the performance leader and they used DDR. That means many enthusiasts have not paid much attention to DDR2, which has grown up quite a lot since it was first introduced. Now, of course, even AMD is using DDR2 and the Enthusiast world is getting ready to change again with the introduction of Core 2 Duo (or Conroe). Conroe is shaping up as the most significant processor introduction since Athlon64, and - you guessed it - we are still talking DDR2.
No matter what brand you choose or flavor you roll these days, DDR2 is the memory everyone is using in their top platforms. That means your next memory purchase will be DDR2. Whether AM2 or Conroe, you should be looking for the magic combination that produces the best-performing DDR2 memory that you can find (or afford).
If you haven't looked at DDR2 memory in a while, you will definitely need to reeducate yourself. DDR2 no longer means more expensive. DDR2-533 is now priced roughly the same as DDR400 in the same capacity. This is also the rough equivalent in performance, with DDR2-533 performing about the same as fast DDR400. Not only is there parity in current market pricing, there is good news on the horizon. With the market unified around DDR2, and memory manufacturers no longer forced to split resources between DDR and DDR2, there will likely be even further DDR2 price reductions in the future.
As you move up from DDR2-533 you will generally see real performance improvements with faster memory, up to and including the DDR2-800 standard. For more information on how DDR400 performance compares to DDR2 take a look at
our AM2 DDR2 vs. 939 DDR Performance article
. DDR2-800 is the fastest current standard - supported by both the new AMD AM2 processors and the upcoming Intel Core 2 Duo (Conroe). There are no industry-approved standards above DDR2-800, just as there were no JEDEC standards above DDR400, so memory speeds above DDR2-800 should be considered overclocking. We have not yet seen an AM2 motherboard with support for DDR2-1067, which will be the next standard speed, but we have seen a number of Intel motherboards that support the DDR2-1067 speed. With DDR2-800 an approved speed on the new processors and chipsets, it is likely just a matter of time until official DDR2-1067 support arrives.
Two trends are clear in today's DDR2 memory. First, memory speed is rising, and second, memory timings are getting tighter. When DDR2 was first introduced you were hard-pressed to find a module with tighter timings than 5-5-5. Today we are even seeing DDR2-800 that can run as fast as 3-3-3 timings, and some DDR2-533 memory, which is 1:1 with the 1067 quad-pumped bus of Intel Core 2 duo, can commonly operate at 3-2-2 timings with additional voltage. DDR2 is getting cheaper, faster, and with tighter timings.
Into this evolving market we are starting to see many enthusiast memory manufacturers delivering new parts that boast memory speeds for DDR2-1000 and higher. We first examined a DDR2-1000 part in
our OCZ EL PC2-8000 XTC: Low Latency PLUS DDR2-1100 review
. That first DDR2-1000 memory based on the latest Micron memory chips proved to be the fastest DDR2 memory we had ever tested. Other manufacturers have been developing their own DDR2-1000 and faster memory based on these same Micron chips. Today we take a closer look at two of those memories rated at DDR2-1000 CAS 5 - Buffalo FireStix PC2-8500 C5 in a 2GB kit (2x1GB DIMMs) and Crucial Ballistix PC-8500 2GB kit (2x1GB). These new memories use the same base Micron chips, but we have seen in the past that binning (sorting by speed grade), SPD programming, and the PCB used for mounting chips can all influence performance. The question then is how do the new Buffalo and Crucial DDR2-1000 compare to the excellent OCZ EL PC2-8000 XTC?
High-speed DDR2 is appearing quickly in the marketplace, just in time for the new demands for better DDR2 performance. We have recently received DDR2-1066 rated (PC2-8500) memory from both Corsair and Kingston. These two new memories are also based on Micron memory chips that have been binned for even higher rated speed. We will be reviewing these new DDR2-1066 2GB kits in the near future.
Buffalo FireStix Product Specifications and Information
Buffalo Technology has become a well known manufacturer of memory, wired and wireless network products, and storage solutions. You will find a full range of Buffalo memory products available from many on-line resellers, including regular DIMMs, SO-DIMMs, and Registered memory for servers, desktop computers, and notebooks. Buffalo may not be the first name that comes to mind when Enthusiasts are looking for high-performance memory, but Buffalo has a successful line of Enthusiast products marketed under the FireStix name.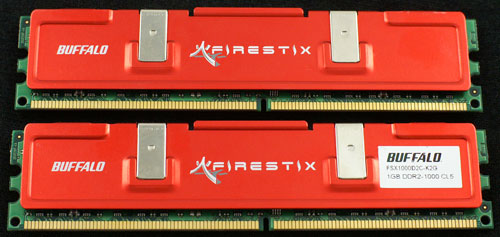 Typical of the FireStix line, the PC2-8000 kits feature bright red heatspreaders. The DIMMs stand out in your installation, and they also carry the extra protection of a lifetime warranty. Rated performance is at 2.1V compared to the DDR2 standard voltage of 1.8V, with DDR2-1000 timings specified as 5-5-5. Both 1GB (2x512MB) and 2GB (2x1GB) kits are available in the DDR2-1000 (PC2-8000) speed. The Part Number for the tested 2GB kit is FSX1000D2C-K2G.
Buffalo FireStix PC2-8000 Memory Specifications
Number of DIMMs and Banks
2 DS
DIMM Size
Total Memory
1GB
2GB
Rated Timings
5-5-5 at DDR2-1000
Rated Voltage
2.1V
Additional Information is available
at the Buffalo website
. There are also instructions on the website for returning memory for repair or replacement under the Lifetime Memory Warranty
Crucial Ballistix Product Specifications and Information
The DDR2 market enjoyed some incredible DDR2 performance early in its life with a Micron DDR2 chip that we have since come to know as Fat Body D9. Everyone who made DDR2 used these chips because the performance was so outstanding, and when Micron decided to discontinue them last year, memory makers began scrambling for a replacement. Thus far, they haven't found a new DDR2 chip with the same low latency and high frequency capabilities of the now legendary Micron chips.
Earlier this year a new buzz began that Micron and their Crucial direct sales arm would be introducing a new and even better DDR2 memory chip. In early April we tested OCZ PC2-8000, the first memory to use the new Micron DDR2 memory chips. Now, almost 3 months later, with the AM2 launch behind and the Core 2 Duo launch around the corner, we get our first glimpse of the Crucial modules based on the new DDR2 chips.
Crucial is the retail arm of Micron - the huge US memory maker located in Boise, Idaho. Crucial is primarily a direct sales arm, providing Internet and telephone sales to memory buyers looking for almost any kind of memory for their computers, laptops, and servers. Crucial calls their performance memory Ballistix, and reserves the name for just a small percentage of their top-performing memory.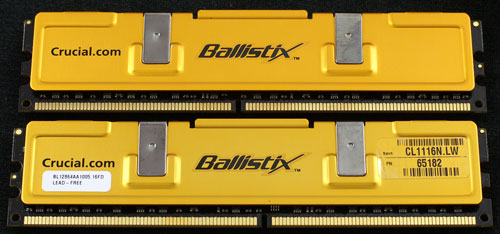 Test DIMMs were a 2GB kit composed of two 1GB DIMMs. DIMMs were supplied with the distinctive copper/mustard colored Ballistix heatspreaders. The Ballistix 2GB Kit carries a Part Number of BL2KIT12864AA1005. Crucial Ballistix products carry a Lifetime replacement warranty. They are also guaranteed to meet the specifications published on the Crucial website for that specific Ballistix product.
Crucial Ballistix PC2-8000 Memory Specifications
Number of DIMMs and Banks
2 DS
DIMM Size
Total Memory
1GB
2GB
Rated Timings
5-5-5-15 at DDR2-1000
Rated Voltage
2.2V
The Ballistix line of DDR2 Memory is extensive, ranging from single 256MB to 1GB DIMMs all the way to 512MB, 1GB, and 2GB kits of matched pairs of DIMMs. DDR2 memory speeds available in the Ballistix line include PC2-4200, PC2-5300, PC2-6400,and PC2-8000 (DDR2-533 to DDR2-1000). Orders may be placed directly at the
Crucial website
.
Memory Test Configuration
The new AM2 platform offers several significant advantages as a DDR2 memory testbed. Unlike our Intel 955EE Presler, which has ratios of just 12x and 13x, the AM2 platform provides a full range of multipliers below the rated speed. Offsetting this advantage, however, is the first generation of AM2 on-processor memory controller, which does not support any memory timings below 3, where the Intel platform supports 2 settings for RAS-to-CAS and RAS Precharge. In addition, we have yet to examine an AM2 board that supports DDR2-1067 as a memory speed option and some of the newest DDR2 memories coming to market are rated at DDR2-1067. The upcoming Core 2 Duo also needs to be examined in the mix, since the Extreme version is expected to offer a wide range of available ratios, as well as continued support for 2 memory timings and DDR2-1067 and possibly even higher memory ratios.
After looking at all available options, the decision was made to stay with the Intel platform for testing memory, substituting the updated Asus P5W-DH board for the earlier P5W-D2. The most recent P5W board fully supports Core 2 Duo (Conroe) as well as the current Presler chip.
The decision was also made to drop overclocking tests at 1:1 DDR2 memory until Conroe is available. Testing with the 955EE (3.46GHz) was limited by the low overclocking wall of this Presler based chip in our standard setup. With more ratios and the reported excellent overclocking of Core 2 Duo we do not expect an overclocking wall to be a hindrance with a Conroe chip driving the test bed. The Intel Pentium 955 Extreme Edition CPU, a 1066MHz FSB dual core solution containing 2MB of L2 cache onboard, was continued as our standard memory test CPU until Core 2 Duo is launched. The EE chips have the advantage of operating at 1066FSB, or 266 base, which raises the 1:1 memory to DDR2-533 instead of the DDR2-400 that is the 1:1 match for 800FSB. Conroe will also operate at 1066FSB
The Asus P5W-DH supports the same wide range of memory speeds and FSB options as the earlier model. A full review of the updated Asus P5W-DH Deluxe is in the works and will be appearing at Conroe launch.
ASUS P5WD2-E Premium Motherboard
Memory Configuration Options
Auto
DDR2-400
DDR2-533
DDR2-667
DDR2-711*
DDR2-800*
DDR2-889*
DDR2-1067*
FSB 1066
X
X
X
X
X
X
X
X
FSB 800
X
X
X
X
X
FSB 533
X
X
X
Our memory test bench uses the following components:
Memory Testbed
Processor:
Intel 955 Extreme Edition at 13X Ratio
(3.46 GHZ dual core 65nm CPU)
RAM:
Buffalo FireStix PC2-8000C5
Crucial Ballistix PC2-8000
OCZ EL PC2-8000 XTC
Hard Drives:
Hitachi 250GB SATA2
Seagate 7200.9 ST3500641AS SATA NCQ - 16 MB Cache
Video Card:
EVGA 7900GTX
Video Drivers:
NVIDIA ForceWare 91.31
Power Supply:
OCZ PowerStream 520W
PC Power and Cooling Turbo-Cool 850-SSI
Operating System(s):
Windows XP Professional SP2
Motherboard:
ASUS P5W-DH Deluxe
BIOS:
AMI version 0504 June 30, 2006
Since the P5W-DH is an updated board, OCZ EL PC2-8000 was retested. Memory bandwidth and timings did not change with the move to the Asus P5W-DH, but we did find game benchmarks were 1 to 2 FPS faster on the newer board. Only results from memory reviewed or retested in the new memory platform is included in the comparison charts. The Buffalo FireStix DDR2-1000 and Crucial Ballistix DDR2-1000 are both based on the newest variant of the Micron D die. So is OCZ EL PC2-8000. All three memories are rated at DDR2-1000.
Buffalo PC2-8000 C5: Stock Memory Performance
The current Intel platform, based on NetBurst technology, does not really allow for easily testing different memory speeds at the same CPU speed. Instead most top motherboards provide a wide range of memory ratios that match available DDR2 memory. Most end-users select the memory ratio that matches their DDR2 memory speed. For those reasons, we first test all of the stock ratios at the fastest stable timings we can achieve at the given ratio. With ratios, CPU speed remains the same at 3.46GHz in our memory test bed, and memory speed is varied by selecting different ratios.
There are some downsides to this approach. With the memory controller in the chipset, instead of part of the processor as in AM2 systems, there is a small performance penalty for speeds other than a 1:1 ratio (DDR2-533 in this case). However the penalty is in reality very small and memory scales nicely through the various speed options.
Buffalo (Stock Memory Ratios) - 2x1GB Double-Bank
CPU Ratio
at 3.47 GHz
Memory
Speed
Best
Timings
(Voltage)
Far Cry
(fps)
Sandra
Unbuffered
Sandra
Buffered
SuperPI 2M Mod 1.5
(seconds)
HL2 Lost Coast
(fps)
Quake 4 (fps)
(4:3)
400 DDR2
3-2-2-5
1.8V
62.1
INT 2816
FLT 2847
INT 5546
FLT 5523
88.6
84.8
68.7
(1:1)
533 DDR2
3-2-3-8
2.1V
63.8
INT 3489
FLT 3508
INT 6476
FLT 6476
86.3
87.2
74.3
(4:5)
667 DDR2
3-3-3-9
2.1V
64.2
INT 3980
FLT 4014
INT 6589
FLT 6626
85.2
88.7
76
(2:3)
800 DDR2
3-3-4-10
2.1V
64.6
INT 4298
FLT 4368
INT 6744
FLT 6714
84.2
89.3
75.7
(1:2)
1067 DDR2
4-4-5-14
2.3V
65.7
INT 4559
FLT 4620
INT 6829
FLT 6826
83.5
90.9
78.9
(3:5)
OC 300x13
1000 DDR2*
*Rated Speed
4-4-5-12
2.2V
69.9
INT 4886
FLT 4937
INT 7651
FLT 7635
75.3
99.9
86.8
Highest Mem Speed (1:2)
OC 275x13
1100 DDR2
5-5-5-15
2.35V
67.3
INT 4614
FLT 4678
INT 7034
FLT 7031
81.3
92.8
81.2
The Buffalo PC2-8000 is rated at DDR2-1000, so the 1000 speed was also tested. To achieve that speed the 889 memory speed was selected at the standard 1066 FSB (266 setting quad pumped). The FSB was then overclocked to 300 (1200 FSB) resulting in a memory speed of DDR2-1000. The Buffalo FireStix clearly performed much better at DDR2-1000 than the rated timings of 5-5-5-15. Our testing found complete stability at DDR2-1000 at 4-4-5-12 timings. This is not quite as good as OCZ at 4-3-4 but it is still very fast for memory running at DDR2-1000.
The fastest possible timings with today's DDR2 are 3-2-2. If you look closely you will see the Buffalo FireStix work fine at the fastest timings that can be selected at both DDR2-400 and is nearly as fast at the stable 1:1 memory setting of DDR2-533 with 3-2-3 timings. Despite the fact that CPU multipliers cannot be dropped below 12X on the Intel platform, it is important to keep in mind that the first 5 table rows, from DDR2-400 to DDR2-1066 represent a constant CPU speed of 3.46GHz with memory running at faster speeds through ratios. 1:1 should always have the least overhead in the current Intel universe, but the DDR2 memory still scales well by speed over the full range. Memory bandwidth improves with memory speed, as does raw calculation performance. However, this does not always translate into linear gaming performance curves in Half Life 2: Lost Coast and Far Cry.
The Buffalo FireStix topped out at DDR2-1100, which is the same top speed achieved with our OCZ PC2-8000 EL. Timings were at the rated 5-5-5-15. Performance was excellent at DDR2-1100, but it was not the fastest performance found in our testing. However the FireStix matched the OCZ as being a memory that can reach the DDR2-1100 plateau.
The distinction for fastest overall performance goes to the rated DDR2 speed of 1000. At that speed the CPU is running at 13x300 or a 1200FSB, which is faster than the stock FSB of 266 or the 100 overclock from 1067 at 275 FSB. No doubt the DDR2-1000 performance was partly the result of faster memory timings and partly the result of the higher CPU frequency. 300x13 is 3.9GHz, which is certainly a good deal faster than the stock 3.46GHz.
There are other possible approaches to overclocking DDR2 memory on the Intel platform. Probably the most logical, given the memory controller resides on the Intel chipset rather than the processor, is to look at overclocking at a 1:1 ratio. For our test setup that means a DDR2-533 base setting. With the added ratio flexibility of Core 2 Duo Extreme we plan to adjust memory testing to better examine overclocking capabilities of DDR2 memory.
Crucial PC2-8000 C5: Stock Memory Performance
While the Intel platform does not really allow for easily testing different memory speeds at the same CPU speed, our test Asus motherboard does provide a wide range of memory ratios that match available DDR2 memory. This allows end-users to select the memory ratio that matches their DDR2 memory speed if they wish, or to choose a speed value over or below the rated memory speed. For those reasons, we first tested all of the stock ratios at the fastest stable timings we could achieve at the given ratio. With ratios, processor speed remains constant at 3.46GHz and memory speed is varied by choosing different ratios.
Crucial (Stock Memory Ratios) - 2x1GB Double-Bank
CPU Ratio
at 3.47 GHz
Memory
Speed
Best
Timings
(Voltage)
Far Cry
(fps)
Sandra
Unbuffered
Sandra
Buffered
SuperPI 2M Mod 1.5
(seconds)
HL2 Lost Coast
(fps)
Quake 4 (fps)
(4:3)
400 DDR2
3-2-2-5
1.8V
60.8
INT 2820
FLT 2827
INT 5519
FLT 5548
88.6
82.6
68.8
(1:1)
533 DDR2
3-2-3-8
2.0V
61.4
INT 3494
FLT 3521
INT 6459
FLT 6467
86.2
87.9
73.4
(4:5)
667 DDR2
3-3-3-10
2.1V
62.2
INT 3961
FLT 4004
INT 6571
FLT 6565
85.5
88.7
75.7
(2:3)
800 DDR2
4-3-4-11
2.1V
62.6
INT 4211
FLT 4252
INT 6722
FLT 6702
84.9
89.5
76.5
(1:2)
1067 DDR2
4-4-5-14
2.35V
65.7
INT 4560
FLT 4632
INT 6836
FLT 6843
83.9
91.6
79.6
(3:5)
OC 300x13
1000 DDR2*
*Rated Speed
4-3-4-12
2.2V
73.3
INT 4989
FLT 5064
INT 7671
FLT 7658
74.9
101.3
87.8
Highest Mem Speed (1:2)
OC 271x13
1084 DDR2
5-4-5-15
2.35V
66.2
INT 4521
FLT 4587
INT 6905
FLT 6898
83
91.8
80.3
Since the Crucial Ballistix is also rated at DDR2-1000, the 1000 speed was tested for performance. To achieve that speed the 889 memory speed was selected at the standard 1066 FSB (266 setting quad pumped). The FSB was then overclocked to 300 (1200 FSB) resulting in a memory speed of DDR2-1000. The Ballistix performed much better than the rated timings of 5-5-5-15. The Ballistix memory was completely stable at DDR2-1000 at 4-3-4-12 timings. This matches the best memory timings we have found with DDR2-1000 as the timings are the same as OCZ EL PC2-8000 XTC.
While the Crucial generally matched the wide memory speed range of OCZ EL, the required memory timings at most memory speeds were a bit slower than those required by OCZ. This resulted in performance that was slightly slower than OCZ at most speeds. While Crucial, Buffalo, and OCZ all use the same Micron memory chips, each manufacturer "speed-bins" the chips using their own internal procedures. They also choose the PCB to use with the memory chips, and program the SPD for best performance. These additional steps result in some differences in performance with a given chip such as you are seeing in this review. Apparently OCZ squeezes a bit more performance out of these chips, although the performance advantage for OCZ is small.
The Crucial PC2-8000 topped out at DDR2-1084, which is slightly below DDR2-1100 achieved with the Buffalo and OCZ. However, the slower memory timings required at the top of the performance range make the speed around 800 to 1000 the best-performing range with any of these three DDR2-1000 rated memories. In that range the Crucial Ballistix is very competitive.
At the rated speed of DDR2-1000 the CPU is running at 13x300 or a 1200FSB. The CPU overclock and higher bus speed certainly contribute to the higher performance at DDR2-1000. Comparing non-overclocked CPU and bus speeds, the memory performance curve is linear, generally improving as speed increases. Where faster memory timings are possible (lower memory timing settings) there is a comparable improvement in memory performance.
DDR2 400 (4:3) Performance
With a CPU rated at 1066 FSB (Quad 266), DDR2-400 is an underclock ratio for memory. It is not likely users would want to run at this speed unless they have very old DDR2 memory that cannot run at faster speeds at tight timings. This speed is included mainly for reference - to compare tested memory to past DDR2 memory performance.
All three DDR2-1000 memories can handle DDR2-400 at the fastest timings you can select in memory at 3-2-2. This low-latency performance is reflected in PC2-8000 outperforming all the previous DDR2-400 performance charts. You can compare to earlier DDR2-400 test results
here
.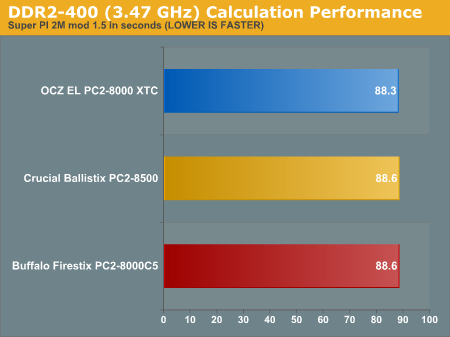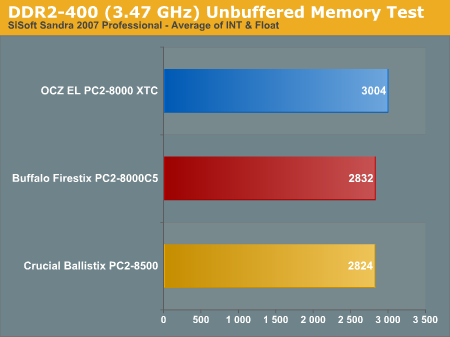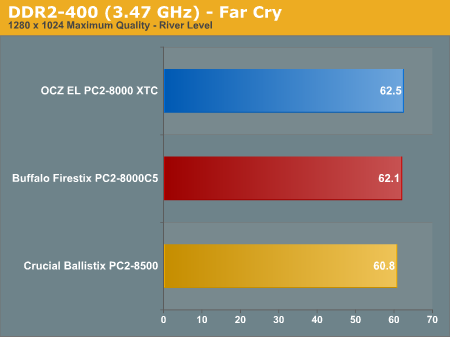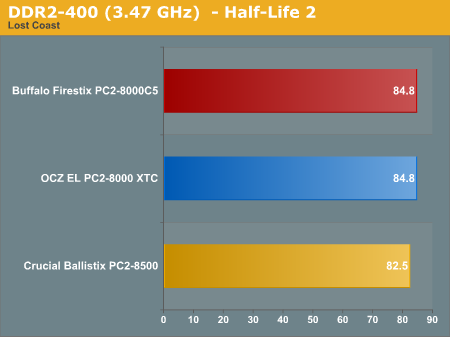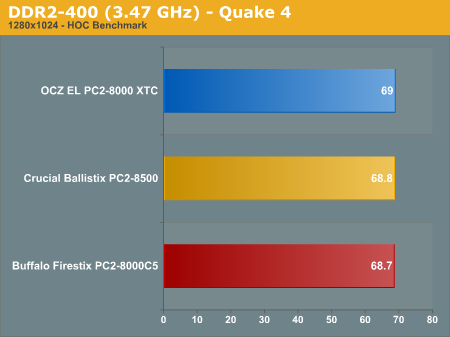 DDR2 533 (1:1) Performance
The DDR2-533 memory speed is important with a 1066 FSB CPU because it represents 1:1 memory performance. On Intel platforms the memory controller is still a part of the chipset and not on-processor as it is on the AM2. As a result you would generally expect the fastest relative memory performance possible on an Intel board by running the memory at a 1:1 ratio.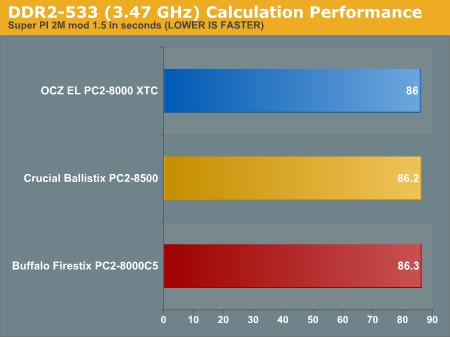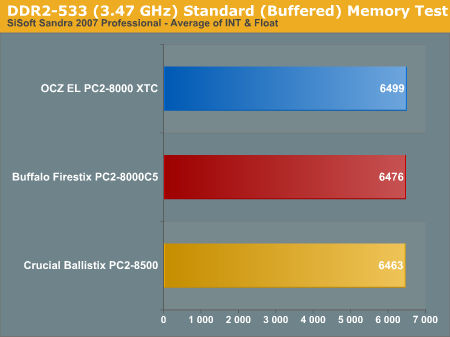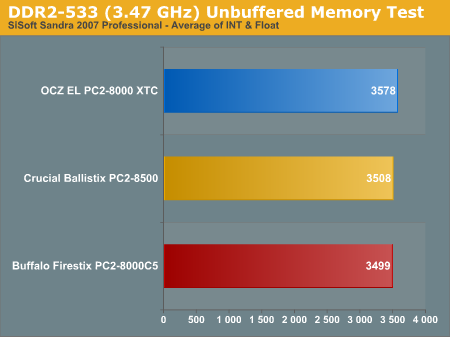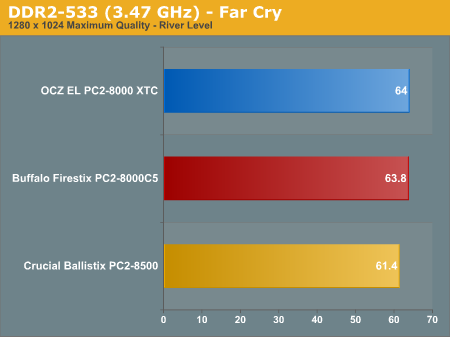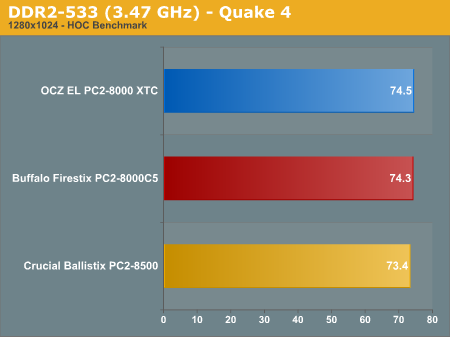 The OCZ EL PC2-8000 is able to run the important 1:1 memory ratio at the fastest settings possible on the Asus board. The ability to run 3-2-2 timings at this speed is reflected in chart-topping DDR2-533 performance. The Crucial and Buffalo DDR2-1000 are nearly as fast at 3-2-3 timings at DDR2-533.
DDR2 667 (4:5) Performance
The incredible timings possible with new Micron DDR2 memory chips are well-illustrated in performance at DDR2-667. While the differences in performance compared to past DDR2 are not huge, all 3 DDR2-1000 parts are stable at 3-2-3 to 3-3-3 timings, and all three outperform other tested DDR2 2GB kits in every benchmark.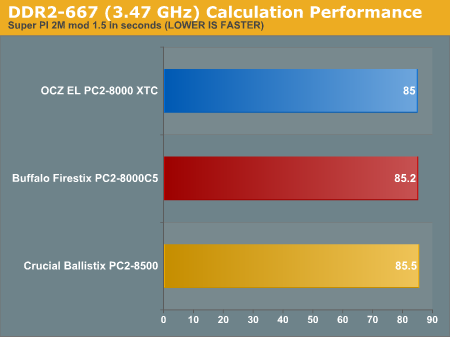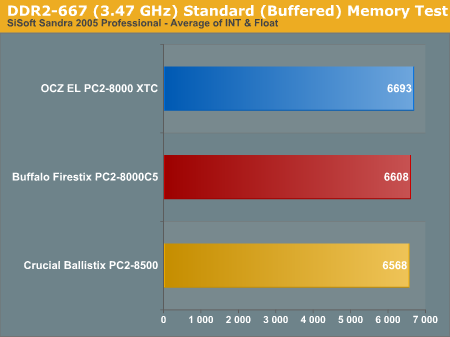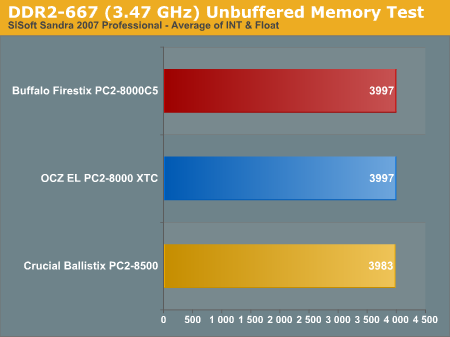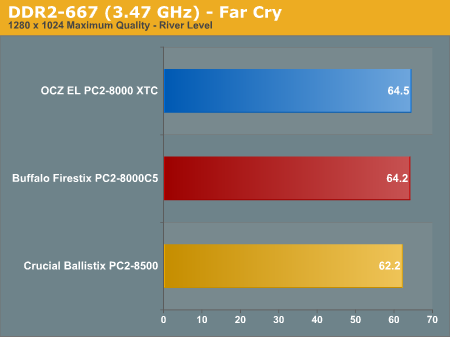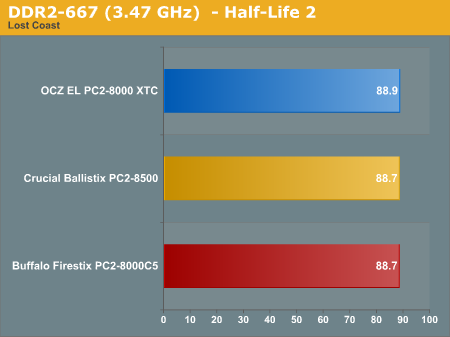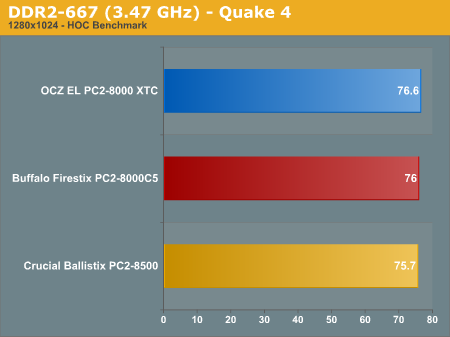 DDR2 800 (2:3) Performance
DDR2-800 is the new standard officially supported by AM2 and the soon-to-be-released Core 2 Duo (Conroe). OCZ handles DDR2-800 at 3-3-3 timings, while Buffalo requires 3-3-4 and Crucial 4-3-4. It is important, however, that all 3 memories perform very well at DDR2-800, and these timings are all the fastest we have seen at the DDR2-800 speed. Mushkin DDR2 based on Elpida chips is the only other memory we have tested that managed 3-3-3 timings at DDR2-800. You can see the full review of the Mushkin memory in
Mushkin XP2 PC2-5300 DDR2 - Xtreme Performance Memory
.
OCZ EL PC2-8000 was the first memory we tested that performed at the DDR2-1067 memory speed, but all three of these DDR2-1000 rated memories managed DDR2-1067 with ease. You will find comparative DDR2-1067 performance on the next page.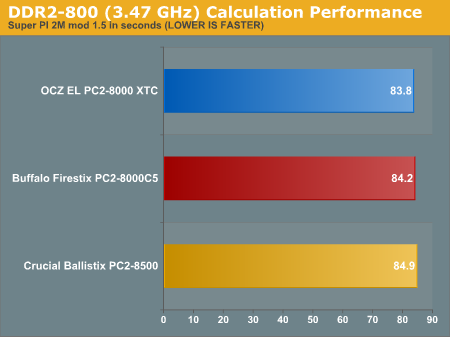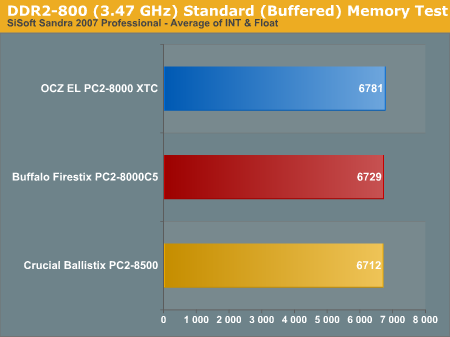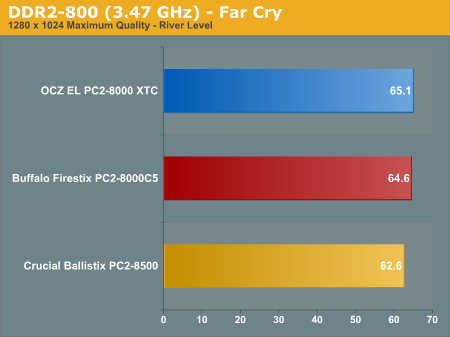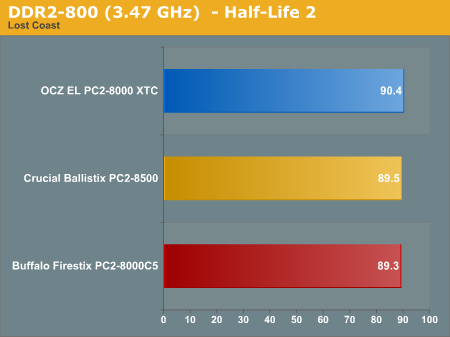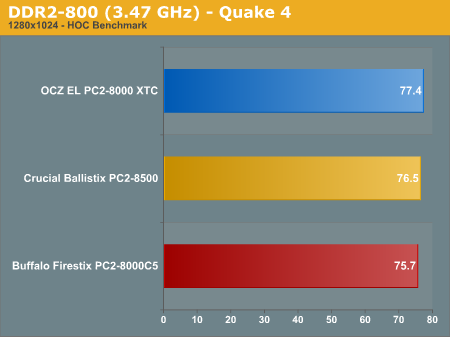 DDR2 1067 (1:2) Performance
Performance does improve a bit with the added speed of DDR2-1067, but much of the speed increase is lost to the slower memory timings required at DDR2-1067. All three DDR2-1000 memories based on Micron chips reached this next performance level and beyond with ease.
It is worth carefully comparing the DDR2-1000 results provided in the charts for each memory with the DDR2-1067 results. Performance is generally better at DDR2-1000 with all 3 memories tested here. This is partly the result of the modest overclock to a clock setting of 300 and a FSB of 1200. However, required timings are also lower with memory at DDR2-1000 and that also contributes to improved performance. With the future Core 2 Duo test bed providing added multipliers, we should be able to more closely compare DDR2-1000 performance to other values without having to overclock the bus to reach this memory speed.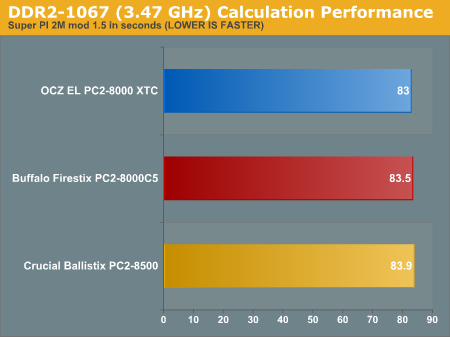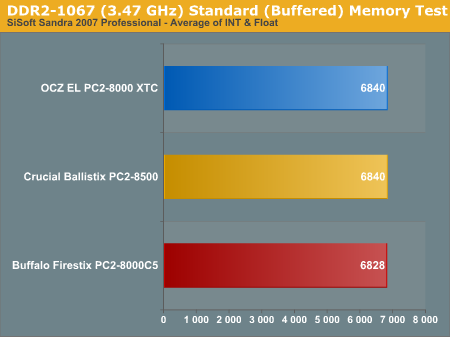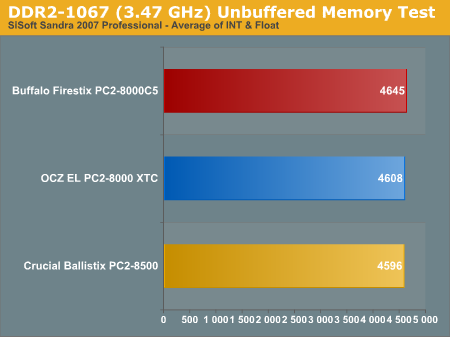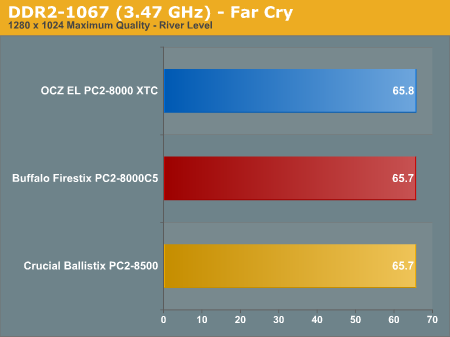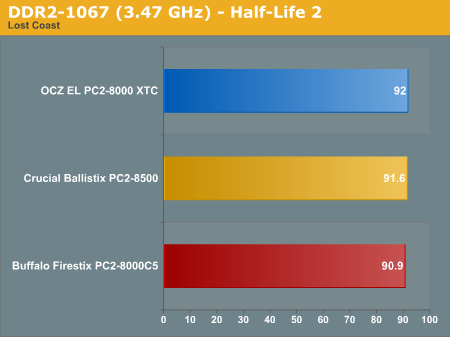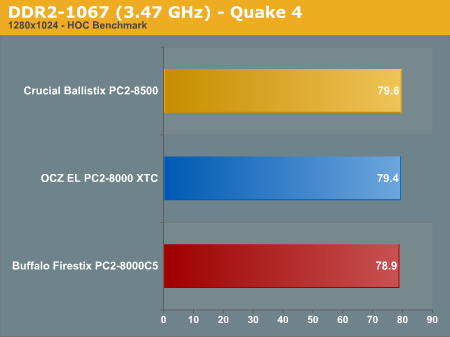 Highest Memory Speed (Highest Ratio) Performance
Memory performance continues to scale to the Highest Ratio Memory Speeds we could achieve with each memory. The Buffalo and OCZ reached DDR2-1100, while the Crucial Ballistix topped out at a similar DDR2-1084. At the top speed all three memories were near 5-5-5 timings, which made the DDR2-1100 advantage very thin in most instances.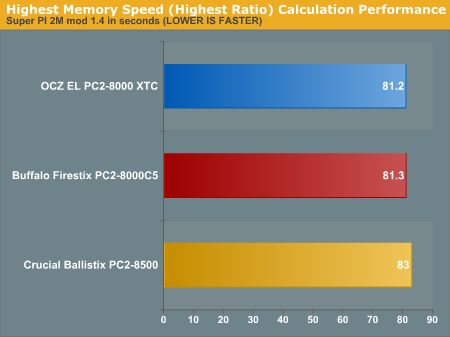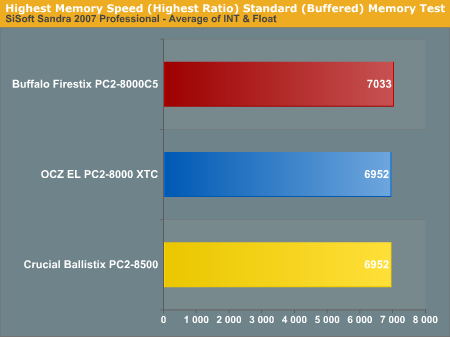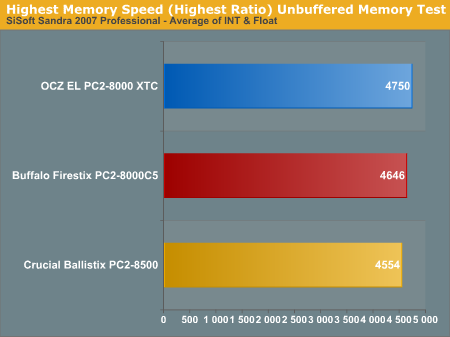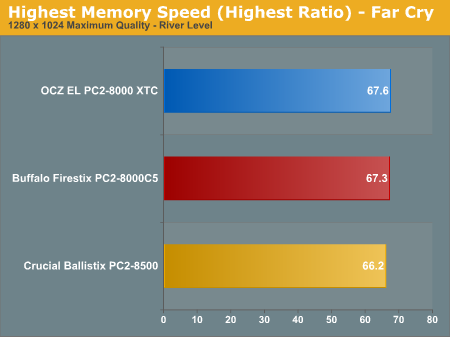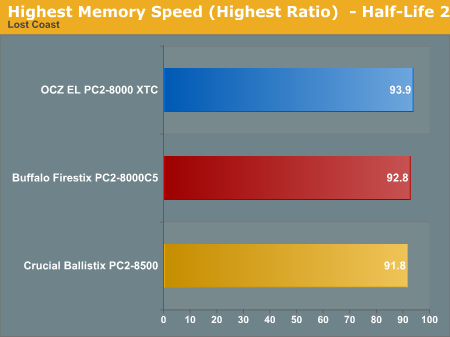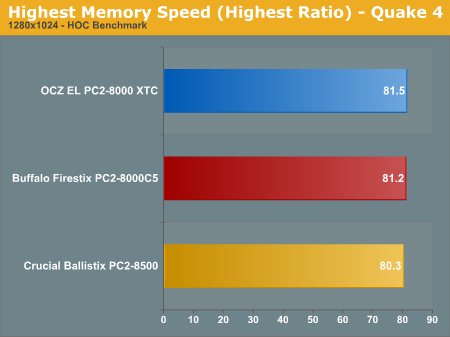 Final Words
When OCZ EL PC2-8000 XTC was reviewed in early April the significance of the new Micron D memory chips was apparent. Here was the fastest DDR2 memory ever tested at AnandTech, and it also scaled easily to the new DDR2-800 speed to be supported by AM2 and Conroe, on to the DDR2-1067 future speed, and beyond to DDR2-1100. It reached those levels at the fastest memory timings we had seen with DDR2. This DDR2 memory was clearly the new DDR2 standard and we awarded the OCZ EL PC2-8000 XTC our Gold Editors Choice.
Of course this was before the launch of AM2 on the 23rd of May and the launch of the Core 2 Duo which is expected soon. AM2 was not really much of a performance boost, but Core 2 Duo is shaping up as one of the largest performance increases we have seen with a new processor in many years. Today, with AM2 and Conroe both using DDR2, everyone is interested in fast, low-latency DDR2. Memory based on the latest Micron D-die chips will meet the bill.
Buffalo FireStix PC2-8000C5 and Crucial Ballistix PC2-8000 are two new DDR2 memories based on Micron chips that are also rated at DDR2-1000. Performance of both is similar to OCZ EL PC2-8000 XTC. All three scale to around DDR2-1100 and provide excellent performance across the DDR2-667 to DDR2-1067 speeds that will appeal to new Core 2 Duo buyers. Neither one is quite as fast as OCZ EL PC2-8000 XTC but they are very close. Required timings for stable performance are generally the same to slightly slower than the OCZ.
If you want the top performer we have tested it is still the OCZ EL PC2-8000 XTC, but the Buffalo and Crucial are so close in performance that you can select among the 3 based on price. We also have two more Micron-based memories in for testing - both rated at DDR2-1066. In the near future we will see if the new Corsair PC2-8500 or Kingston HyperX PC2-8500 can challenge OCZ for the DDR2 memory throne. One thing is certain: with 5 top-performing memories that can easily reach DDR2-1067 you will have some real choices for memory in the Conroe/AM2 market.
We were able to test DDR2 memory using the DDR2-533, DDR2-667, DDR2-711, DDR2-800, DDR2-889, or DDR2-1067 memory straps available on the Asus P5W-DH motherboard. Since the Presler 955 Extreme Edition processor utilizes a 1066 MHz bus speed it allows us to use the 1:1 memory to FSB clock ratio when the front side bus speed is set to 266 MHz. Keep in mind that the Intel FSB is quad-pumped, which is why a setting of 266 yields a FSB of 1066 (4x266). DDR2 Memory on the Intel platform, however, is by definition Double Data Rate, so a 266 base setting is 533 (2x266).
To put current DDR2 performance into perspective, we were working with expensive DDR2-400 and DDR2-533 rated at 5-5-5-15 just 2 years ago. Today, using those same timings, we can reach DDR2-1100. Prices are also much cheaper for comparable speed grades. As we said in the introduction DDR2 has certainly been advancing despite the fact enthusiasts have largely ignored DDR2 memory. Enthusiasts are fortunate, however, that Intel and memory makers have not ignored DDR2 in the interim. Now that the top enthusiast platforms from both Intel and AMD will benefit from fast, low-latency DDR2 memory we have memories like these DDR2-1000 to DDR2-1066 rated 2GB kits to fuel our new Core 2 Duo and AM2 platforms.
Of the three DDR2 -1000 memories tested, it is clear that OCZ does provide value in their binning, PCB development and SPD programming. The OCZ remains top performer. Buffalo also did an excellent job, with their FireStix only slightly slower than OCZ. Crucial should have had the advantage in this round. As the retail arm of Micron, Crucial likely has preferred access to the excellent Micron DDR2 chips. However, while performance of the Crucial is very close to the other two, particularly in the DDR2-667 to DDR2-1000 range, Crucial Ballistix will likely benefit from more aggressive speed-binning or a bit more tweaking in the SPD.
Compared to any other DDR2 we have tested, however, these three DDR2-1000 memories (or the Corsair or Kingston DDR2-1066) are clearly at the top of the DDR2 market. Combining any of these excellent DDR2 performers with a new Conroe or AM2 would be a great purchase decision for enthusiasts, overclockers, and anyone else interested in realizing the full performance potential of their system.