Original Link: http://www.anandtech.com/show/2027


We have already covered numerous topics in our
Computex Preview
and first
Computex Review
articles, but we've still only scratched the surface of what was shown at Computex. Today we will be looking at a few of the memory and multimedia products we located in our travels throughout the various show halls.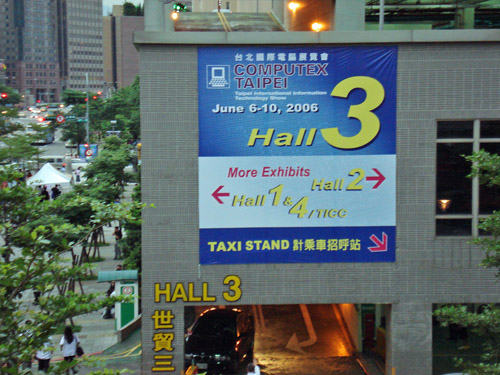 With the majority of the show focus on Core 2 Duo and its related peripherals, it was difficult not to be swayed into strictly reporting about what is looking to be a very impressive product rollout by Intel this summer. However, in the majority of our talks with the various motherboard manufacturers, all of them were discussing the upcoming marketing campaign for Intel's ViiV initiative. Armed with incentives from Intel and a growing interest by consumers for Media PCs, expect to see a flood of ViiV certified systems launching later this summer and into the holiday season. We will be looking in depth at these products along with the AMD LIVE! Program starting in July, with several upcoming articles centered on PC based digital entertainment products for your home.
We'll begin with a look at some of the many multimedia products we saw on display.
Multimedia Products:
ACER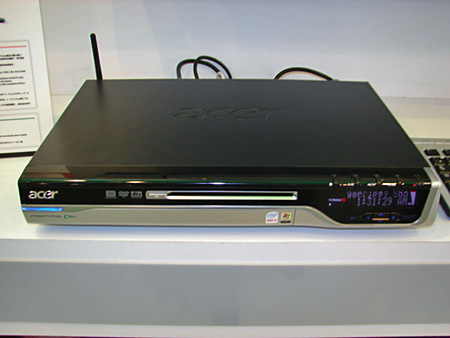 One of the more interesting ViiV media center products we saw in our travels was the Acer iDea 500 multimedia gateway system. The product is powered by an Intel Core Duo (Yonah) processor sitting in an Intel 945GT based motherboard. The system features digital or analog audio (Dolby Digital Live / DTS Connect) with up to 7.1 HD output along with DVI-I, HDMI, component video, composite video, S-video, and SCART output ports. We will be taking a closer look at Acer's other products and discussions with Mr. Jackson Lin, V.P. of Digital Display & Peripherals, in a follow up article.
ECS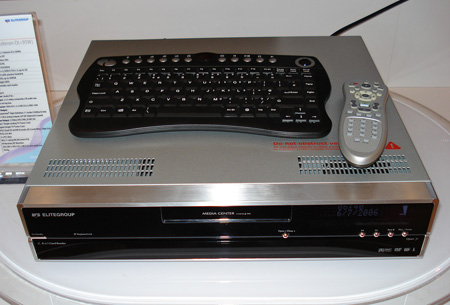 ECS is currently shipping their EOR2 home media center that is powered by an Intel P4 or Celeron D based processor in an Intel 915P/G or Intel 945P/G based motherboard. The system features all of the standard media center options including 7.1 HD audio output with Dolby surround sound, video output to 720p or 1080i, and 802.11 a/b/g mini PCI WLAN with infrared and RF receivers for streaming and sharing. However, the system does not support HDMI output at this time, though it does support all other major video outputs.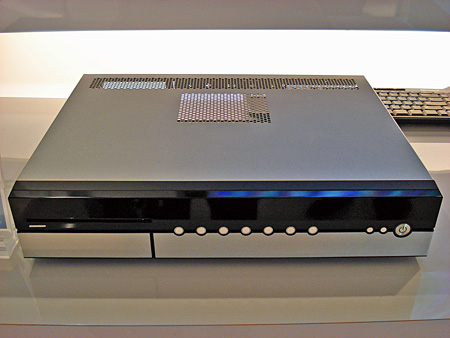 The ECS EDH-04 media center will be a follow up to the EOR2 later this year and will feature the Intel G965 chipset, Core Duo support, and will be HDMI capable.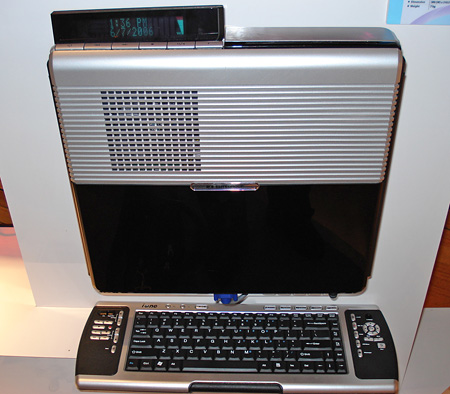 ECS was displaying a working model of their EKT media center that is based on the Intel Core 2 Duo (Conroe) installed in an Intel G965 based motherboard. The unit supports all of the latest video outputs including HDMI, 7.1 HD audio output with Dolby surround sound along with coaxial/optical output, a Dual TV tuner, and remote receiver with a wireless keyboard. The unit itself can be wall mounted or placed in the traditional horizontal position.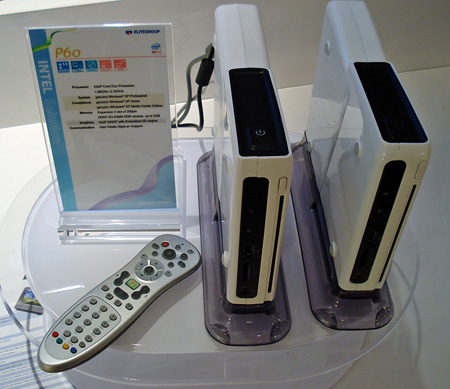 Another model in the ECS media center lineup is the very compact P60 based on the Intel 945GT platform with an available Intel Core Duo processor. The system contains a MINI PCI TV tuner with a coaxial connector. The system is ViiV approved, designed for Windows Media Center 2005, and also contains built-in Bluetooth technology.
AOpen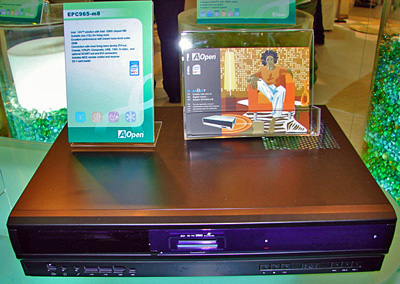 AOpen was showing an upcoming media center unit that is based on the Pentium 4 or Celeron D series installed in an Intel G965 based motherboard. The unit supports all of the latest video outputs including HDMI, and allows up to 7.1 HD audio output with Dolby surround sound along with coaxial/optical output.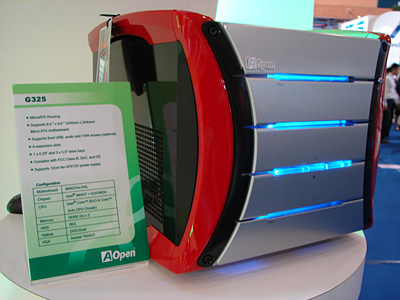 AOpen was also showcasing their G-325 mATX case for use with their MoDT (Mobile on Desktop Technology)
motherboards
.
Compro

We stopped by to visit with the very friendly staff at the
Compro booth
to see what new and exciting products they are releasing this year. Compro is a company many of you may not have heard of, but they're looking to increase their presence in the North American market.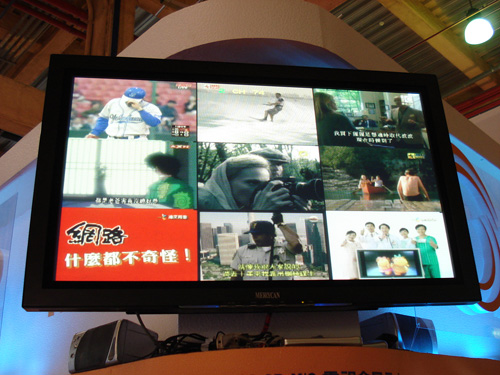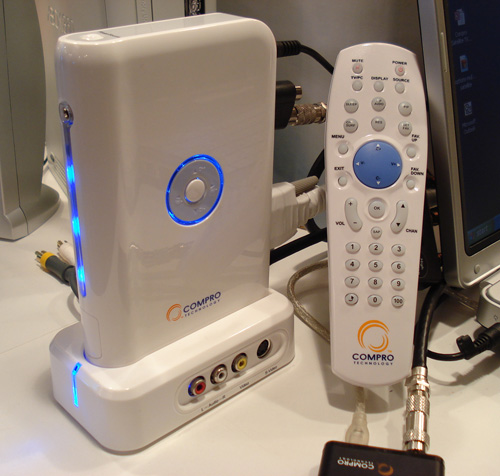 One of the more interesting products we noticed is the VideoMate V550 Standalone TV box. The V550 will let you turn your computer monitor into a TV. It is designed to allow watching of analog TV shows on your CRT/LCD/PDP monitor. Simply connect your TV antenna or cable feed to the box and then connect your monitor. The system does not require software driver installation for your PC. The VideoMate V550 provides up to 1600 x 1200 screen resolutions and standard 4:3, 16:9 /16:10 wide-screen LCD monitor support. The box has built-in 2D/3D Y/C separation, enhanced noise reduction, and 3D motion adaptive de-interlacing along with PIP that allows you to watch live TV and use other Windows applications at the same time. You can also preview 9 channels on one screen and connect the TV box with a DVD player, or Xbox/PS 2 game console to watch DVD movies or play games on your monitor. After using the unit, our current request to Compro is to add DVI support in the next upgrade.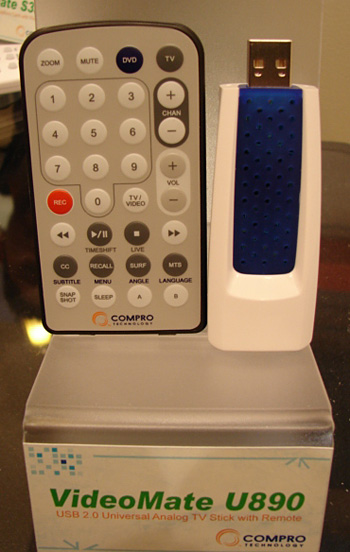 The VideoMate U890 is a USB 2.0 TV Tuner stick with remote control. This very portable device allows you to watch TV on your notebook or PC by just plugging it into an available USB 2.0 capable port and attaching your TV antenna or cable feed. The unit supports universal TV standards and with the included ComproPVR 2 software, you can watch TV shows in a window or full screen mode. The software also allows recording into MPEG- 1/2/4 formats and DVD/VCD, timeshifting, channel surfing, and still frames capture with hotkey/mouse.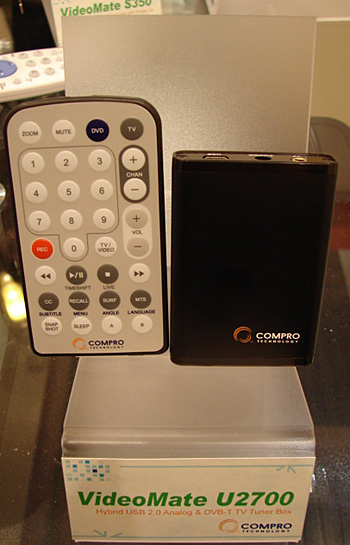 The VideoMate U2700 is a Hybrid USB 2.0 Analog and DVB-T TV tuner box with full support for all DVB-T audio formats.
Leadtek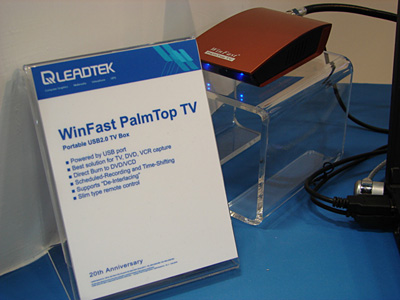 Leadtek's WinFast PalmTop TV box is a portable USB 2.0 device designed for TV, DVD, and VCR capture activities while offering scheduled recording and time-shifting capabilities.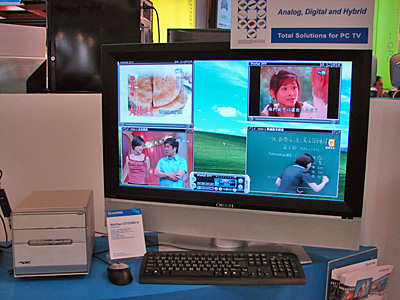 Leadtek was also showing off the capabilities of their
DTV2000H
analog/digital TV tuner card. The digital portion of the card requires DVB-T input and offers HDTV/AC3 support in full screen or a scalable window.
ASUS
While not exactly multimedia products, Asus was showing several interesting consumer products.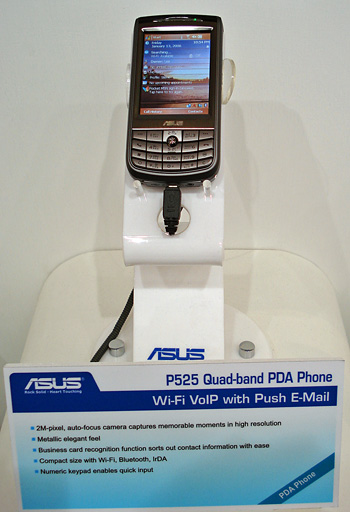 This is the Asus P525 Quad-Band PDA phone featuring VoIP, business card recognition, and a 2M-pixel camera. Considering the amount of business cards we exchanged during our visit, this unit would have come in handy.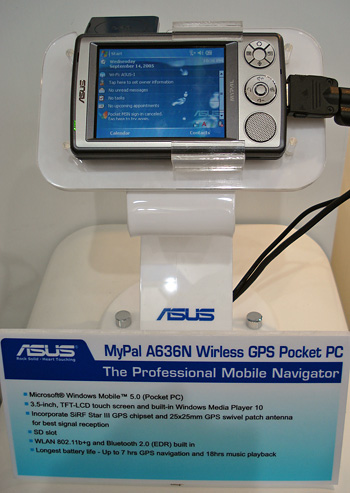 Another interesting item was the Asus MyPal A636N Wireless GPS Navigator unit, for those of us who get lost often but also enjoy viewing Windows Media 10 content while searching for directions.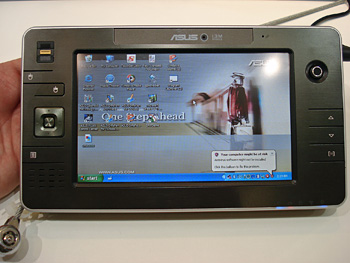 The Asus R2 is based on a 7 inch WXGA LCD platform that is powered by a Celeron M ULV 900MHz CPU with up to a 60GB 1.8" hard drive. It features a GPS unit, full digital video and audio functions, Bluetooth V2.0, 1.3M-Pixel camera, and a RF Biometric Fingerprint reader for security.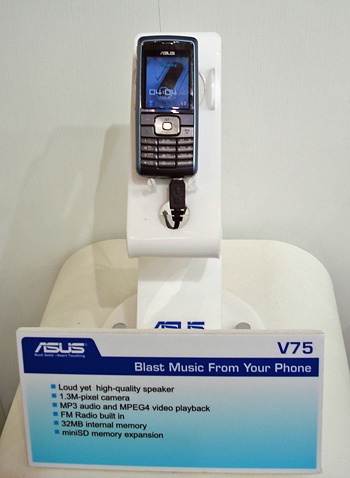 If you want to listen to music or FM radio while also having the ability to talk to your friends or family then the Asus V75 is an option. The MPEG4 playback was actually decent on this unit. The phone also includes a 1.3MP camera and allows for memory expansion via a miniSD slot.
Memory Products:
That takes care the multimedia portion of this article, so now we'll take a look at some memory manufacturers and the products they had on display.
A-DATA
A-Data
is the leading memory application provider in the world and dropped by to see us while bringing along some interesting products for us to review.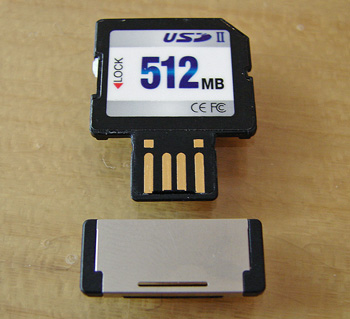 This unique item is the SD Duo card that converts to a USB 2.0 device. The unit will be available later this month in capacities from 128MB to 2GB.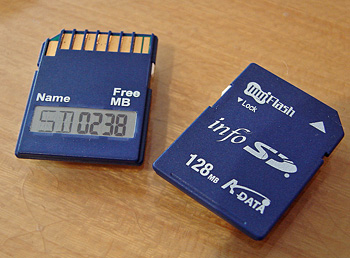 The Info SD series allows you to input two unique characters and also tracks the remaining memory usage left on the card. A very handy feature for those of us who have numerous SD cards and have lost track of what is left on them.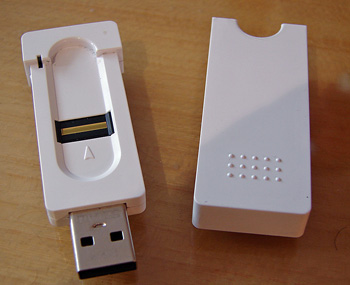 The FP1 fingerprint disk allows for the data to be secured by, let's have a drum roll... your fingerprint! Scanning is done via the embedded sweep-type sensor. The USB 2.0 unit is available in capacities from 256MB to 4GB.
One of the more interesting products we noticed in the catalog of components that A-DATA brought with them is the VD1 USB 2.0 drive. This upcoming product is VoIP capable with several applications being loaded on the drive, such as Skype. This allows you to use your VoIP application and associated data on various machines.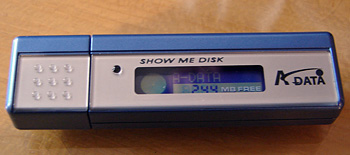 The BC2 (Show Me Disk) is a USB 2.0 device that displays the remaining memory on the stick and is available in capacities from 256MB to 2GB.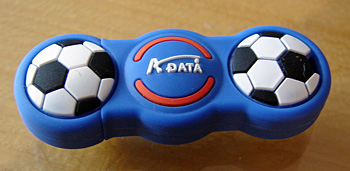 The RB16 football USB 2.0 disk is both waterproof and shockproof with a rubber based coating that is very wear-resistant. The drive comes in capacities from 128mb to 2GB.
A-Data also supplies several different memory types ranging from DDR to DDR2 under the Vitesta branding. Look for us to review their new DDR2-1000 Extreme Series shortly.
G.Skill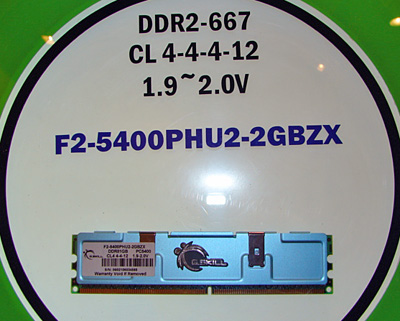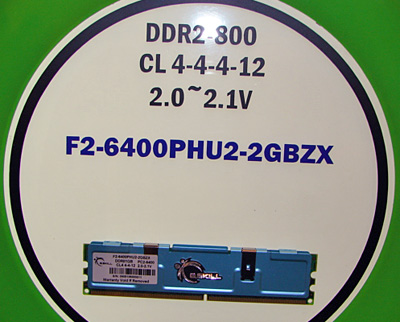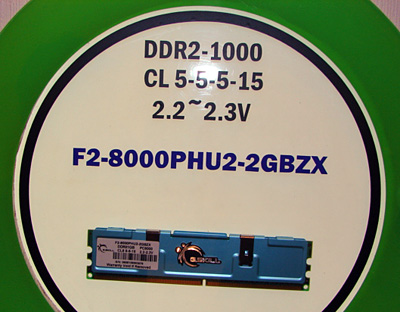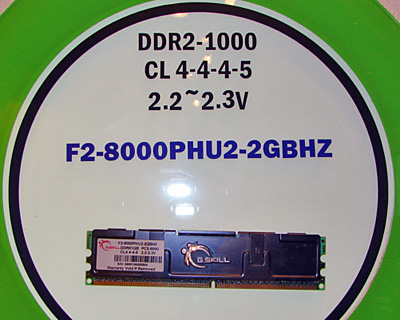 G.Skill launched their new DDR2 product line recently and at Computex revealed the first available DDR2-1000
memory
at the low latency timings of 4-4-4-5 2T. This memory was running on their demonstration system at DDR2-1180 at these same timings. Whether or not the lower tRAS setting improves performance remains to be seen, but 4-4-4 timings at speeds above 1000 MHz is certainly useful.
Kingston
Kingston
was displaying their new HyperX DDR2 memory modules with speed grades from DDR2-533 (3-3-3-10) up to DDR2-1066 (5-5-5-15) with immediate availability.
PQI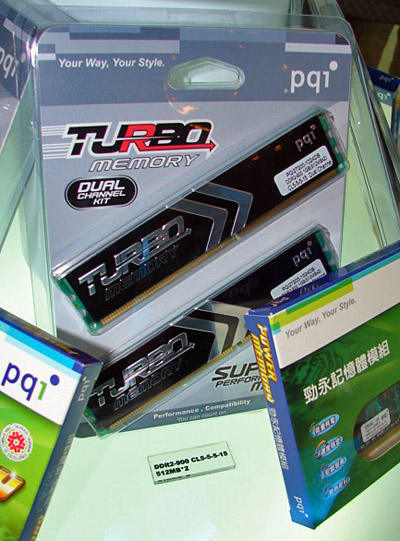 PQI
introduced their new DDR2-900 1GB memory modules with timings of 4-4-4-12. This memory was validated on MSI's latest P4N Diamond motherboard. The PQI Turbo series is available in speed grades from DDR2-533 (3-3-3-8) up to DDR2-1000 (5-5-5-15) in module sizes of 512MB or 1GB.
Geil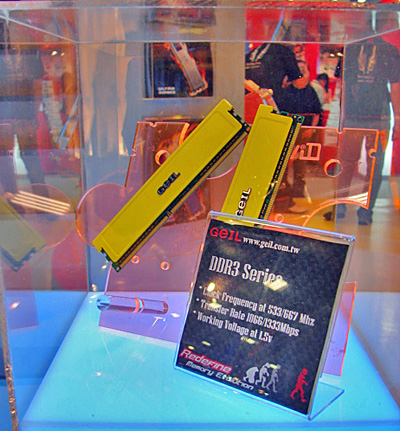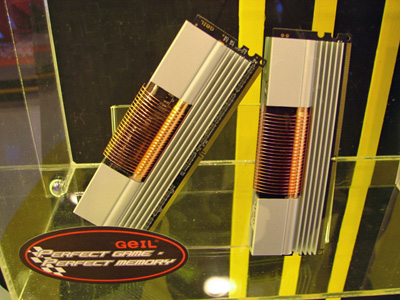 Geil
introduced their new BlackDragon series of DDR2 memory at Computex. This memory will be available in DDR2-667 up to DDR2-1066 with module capacities reaching 2GB. The BlackDragon series was demonstrated running at DDR2-1200 without issue. Geil also showed their upcoming DDR3 modules. Although DDR3 capable motherboards are not available at this time, the majority of memory suppliers will have DDR3 capable modules ready for sale by Q4 of this year. In our discussions with Intel, they indicated certain chipsets will utilize this memory starting in 2007.
TwinMOS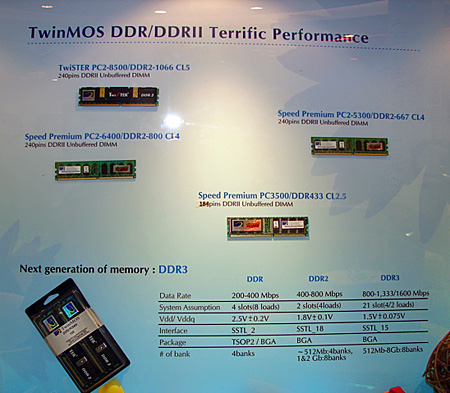 TwinMOS
introduced their new TwiSTER and Speed Premium series of DDR2 memory. The TwiSTER series should be available in both DDR2-800 (4-4-4-12) and DDR2-1066 (5-5-5-5-15). The Speed Premium series will be available in speed grades from DDR2-533 to DDR2-800.
Parting Shots
We hope you've enjoyed the Computex 2006 coverage so far. There's still more to see, and we'll get to it as soon as we can finish sorting through our images. We will conclude tomorrow with a final article taking a look at additional motherboards, cooling, and storage products.