Original Link: http://www.anandtech.com/show/2017


ATI made it clear at the launch of their CrossFire Xpress 3200 in March that it would be more than just a Socket 939 chipset. The new ATI dual X16 chipset would be launched for Socket 939, but it was designed from the ground up for AMD Socket AM2. ATI is now showing how well the CrossFire Xpress 3200 performs on the new AM2 socket with DDR2 memory.
The AM2 launch for ATI is also an important launch of new technology for ATI. AM2 is the first time we have seen the new ATI SB600 Southbridge, and it's coming to market none too soon. ATI's Rx480 and RD580 for Socket 939 were somewhat hampered by the outdated feature set of their SB400/SB450 Southbridges. Both were excellent in IDE and standard SATA performance, but they lacked SATA2 3.0Gb/s support featured in competing chipsets; SB450 also was criticized for lackluster USB 2.0 performance compared to the competition.
Most manufacturers who went to market with ATI's SB400 or SB450 were penalized with low sales, so much so that most manufacturers in the RD580 launch this past March went with the compatible and up-to-date ULi M1575 Southbridge. This solution worked well, but NVIDIA purchased ULi and ULi M1575 Southbridge chips have become scarcer in the marketplace. ATI has been promising for almost a year that SB600 was coming and would fix the Southbridge concerns. With today's launch SB600 is finally a reality. This is important for ATI since manufacturers can now use a full ATI chipset solution that should be well-received in the marketplace.
Through development the latest ATI chipset was called RD580. When ATI launched their dual X16 Northbridge for Socket 939 in March the official name became CrossFire Xpress 3200. RD580 for AM2 carries the same name - CrossFire Xpress 3200 - with the addition of AM2 to identify the board socket. This is in contrast to NVIDIA's launch of nForce5 which uses a die-shrink "Northbridge" MCP with added features and an existing "Southbridge" C51 to provide the second X16 PCIe video slot.
With the introduction of the SB600 Southbridge with the RD580 AM2, ATI has made revisions to their chipset lineup. The features listed in the chart below are not all provided by the RD580/SB600 chipset, but are ATI recommended configurations for the target market segments. The top-end recommendation is also the configuration of the RD580 AM2 Reference board. Page 2 provides details of the features you will find in the SB600 compared to competing chipsets.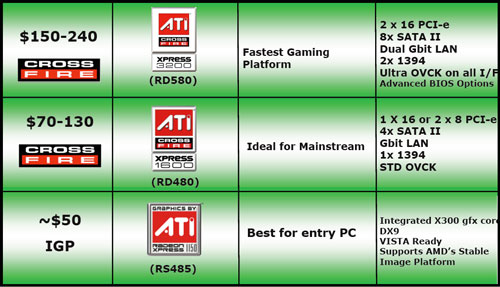 Xpress 3200 now covers RD580 Socket 939 and AM2. RD480 is now combined with SB600 with the new name Xpress 1600. The integrated graphics solution, based on RS485, is now marketed as Radeon Xpress 1150.
At launch, ATI was hesitant to provide reference boards for testing since it will still be several weeks until retail 3200 AM2 boards will appear in the marketplace. ATI was preparing for the original AM2 launch date of 6/06/06 at Computex. Several weeks ago AMD decided to move the AM2 launch back to May 23
rd
, and directions could not be changed that quickly. Considering the date changes were by AMD, it is understandable why ATI will have a slight delay before retail AM2 boards appear on the shelves.
CrossFire Xpress 3200 for socket 939 brought dual X16 PCIe slots to the ATI chipset. This made the ATI RD580 fully competitive with the top NVIDIA chipsets for AMD with the exception of a few I/O features. Socket 939 RD580 was still paired with SB450, which had the disadvantage of no SATA II support and lackluster USB2 performance.
CrossFire Xpress 3200 AM2 aims to make ATI fully competitive in features with the top NVIDIA offerings for AMD. With AM2 comes the long-awaited SB600, with support for SATA2 and much improved USB performance. ATI would tell you, however, that RD580 is more than just competitive with the best from NVIDIA.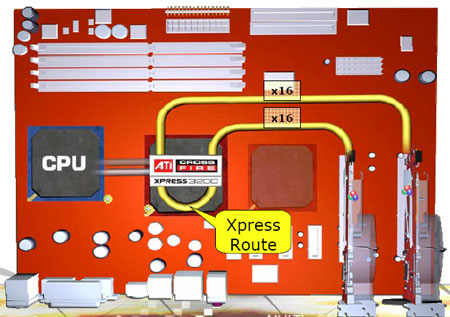 The new ATI dual X16 is the first of the type to implement dual X16 with a single chip. The NVIDIA solution uses two chips with a potential communications roadblock between the two chips that were really developed for other applications. NVIDIA states there is no performance loss in their design. However, NVIDIA is also planning to move to a single chipset supporting dual X16 PCIe video lanes later this year. NVIDIA states that move is for cost savings.
ATI SB600
SB600 has finally arrived with the ATI CrossFire Xpress 3200 AM2. This new Southbridge is here just in time to offset the disappearing ULi M1575 Southbridge chips. The SB600 introduction gives manufacturers the option to uses a full and up-to-date ATI chipset for AM2 and earlier Athlon64 processors.
Feature
ATI SB450
ATI SB600
NVIDIA nForce4
NVIDIA 590
SATA Type
SATA
No NCQ
SATA2
NCQ, AHCI
SATA2
NCQ
SATA2
NCQ
Maximum SATA Speed
1.5Gb/s
3Gb/s
3Gb/s
3Gb/s
SATA Ports
4
4
4
6
RAID Support
0, 1, 0+1, JBOD
0, 1, 0+1, 5, 10, JBOD
0, 1, 0+1, JBOD
0, 1, 0+1, 5, JBOD
USB Ports
8 USB 2.0
10 USB 2.0
10 USB 2.0
10 USB 2.0
LAN
10/100 PCI
1Gb Ethernet
PCIe for PHY
1Gb Ethernet
PCIe for PHY
2x1Gb Ethernet
PCIe for PHY
(Can be Combined)
IDE
4 devices
(2 Channels)
2 devices
(1 Channels)
4 devices
(2 Channels)
2 devices
(1 Channels)
AUDIO
HD Azalia
HD Azalia
AC'97
HD Azalia
PCIe Lanes
40
40 Total
2 x16
4 lanes for x1,x2,x4
4 for NB/SB links
44
46 Total
7 links
SB600 provides the features users want, and our testing found USB 2.0 performance to be competitive. SATA and IDE performance are also excellent. Unfortunately for ATI, the standard for features in the industry is a moving target, and NVIDIA now offers 6 SATA2 ports vs.4 on their new Southbridge. NVIDIA also implements 2x1Gb PCIe Ethernet ports which can be combined to provide 2Gb/s Ethernet.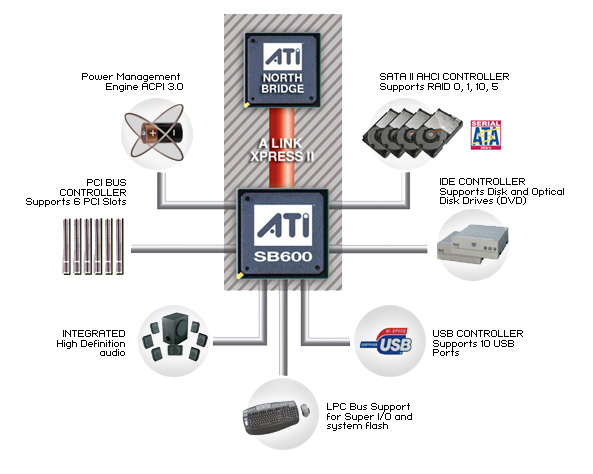 The good news for ATI is that unlike SB450, the new SB600 really does not give up any important performance or check list features. Manufacturers can then add whatever they wish to SB600 to target certain segments. To demonstrate this ATI included two Silicon Image 3132 SATA2 disk controllers on the reference board to bring the total to 8 SATA2 ports. ATI no longer has to apologize for their Southbridge, but the latest NVIDIA offering does provide more ports in the chipset. It is also worth noting that the NVIDIA 500 family fully supports High Definition audio now - a feature long supported by ATI but absent in the NVIDIA nForce4 chipsets.
It will be several weeks until ATI AM2 retail motherboards are available. As a result ATI AM2 testing is confined to the ATI "Sturgeon" reference board. Somebody at ATI Engineering is apparently a fisherman, since all the recent ATI reference boards have carried fish names during development.
Whatever the reasons for ATI's delay in launching chipsets for retail ATI AM2 boards, ATI is not in a very good market position at AM2 launch. With the RD580 arriving months later than expected, at the end of socket 939 development, we really expected RD580 AM2 to be quickly out the gate. Instead NVIDIA has retail AM2 boards available from a host of manufacturers at AM2 launch and ATI is sampling a reference board.
As discussed in past reviews, reference boards are a breed apart. They are designed for manufacturer qualification, and rarely see the light of day in the retail market. The ATI reference boards are a bit different since Sapphire has marketed reference boards under their own brand name in the past. They are expected to do the same with Sturgeon.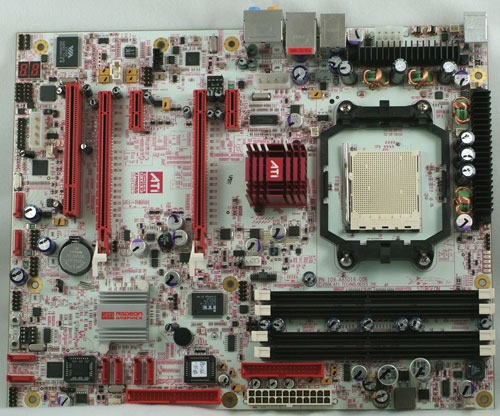 Click to enlarge
Since the ATI CrossFire Xpress 3200 AM2 was designed for qualification, not much time will be spent on layout. Features, other than integrated chipset features, will not be an overriding concern. Additional features can be selected by manufacturers based on their intended market and price point.
Some notes from using the reference board. Loaded with X1900 CrossFire, there are still 2 usable PCIe x1 slots. However, there is no usable PCI slot if CrossFire is installed. Since users who spend over $1000 for video will likely want to use a standalone audio card, this would be a real issue in a retail board. Similarly, with CrossFire installed, the CMOS jumper is hidden under a video card with X1900 XT cards. ATI did users a great service in making dual-channel memory occupy alternate DIMM slots. This provides for much easier cooling of DDR2 DIMMs, which can become very hot when pushing for fastest memory timings.
Basic Features
ATI CrossFire Xpress 3200 AM2
CPU Interface
Socket AM2
Chipset
ATI RD580 Northbridge - ATI SB600 Southbridge
Bus Speeds
200 to 400 in 1MHz Increments
Memory Speeds
DDR2 at 400, 533, 667, 800
PCIe Speeds
100 to 200 in 1MHz Increments
PCI/AGP
Fixed at 33/66
Core Voltage
Auto, 0.8V to 1.45V in 0.025V increments
CPU PWM Level
1 to 25 in 1 increments
VTT PWM Level
0.807v to 1.149v in .007v to .014v increments
CPU Clock Multiplier
4x-25x in 1X increments
DRAM Voltage
1.541V to 2.804V in .05v increments
HyperTransport Frequency
1000MHz (1GHz)
(Stable in overclocking to 1500+ HT)
HyperTransport Multiplier
Auto, 1X to 5X
RD580 HT Drive Strength
Auto, Optimal
HT Receiver Comp. Ctrl
Auto, Optimal
RD580 HT PLL Speed
Auto, High Speed, Low Speed
Radeon Xpress (NB) Voltage
1.143v, 1.201v, 1.260v, 1.299v, 1.348v, 1.406v, 1.455v, 1.504v
HT Link Voltage
1.143v, 1.201v, 1.260v, 1.299v, 1.348v, 1.406v, 1.455v, 1.504v
PCIe 1.2 Voltage
1.143v, 1.201v, 1.260v, 1.299v, 1.348v, 1.406v, 1.455v, 1.504v
SB Voltage
1.143v, 1.201v, 1.260v, 1.299v, 1.348v, 1.406v, 1.455v, 1.504v
GFX1/2 (PCIe) Link Width
X16, X8, X4, X2, X1
GFX and/or SB Payload
64, 32, or 16 Bytes
GFX PCIe Link ASPM
Disabled, L0, L1, L0 & L1
GPP PCIe Link ASPM
Disabled, L0, L1, L0 & L1
GFX 0 and/or 1 Slot Power Limit
0 to 255 watts in 1 watt increments
GPP Slot Power Limit
0 to 255 watts in 1 watt increments
AHCP 2.0 (AMD Cool'n'Quiet)
Enabled, Disabled
DDR Drive Strength (N) and/or (P)
0 to 8 in 1 increments
DQS Signal Training
Enabled, Disabled
Memory Slots
Four 184-pin DDR2 DIMM Slots
Dual-Channel Configuration
Regular Unbuffered Memory to 4GB Total
Expansion Slots
2 PCIe X16
2 PCIe X1
1 PCI
Onboard SATA/RAID
4 SATA2 Drives by SB600
(RAID 0, 1, 1+0, 10, JBOD) PLUS
4 SATA Drives by 2 Silicon Image 3132
(RAID 0, 1, 0+1, JBOD)
Onboard IDE/IDE RAID
One Standard ATA133/100/66 (2 drives)
Onboard USB 2.0/IEEE-1394
10 USB 2.0 ports supported by SB600
2 Firewire by VIA VT6307
Onboard LAN
PCIe Gigabit by Marvel Yukon 88E8052 PHY
Onboard Audio
Azalia HD Audio by Realtek ALC880 codec
BIOS Revision
AMI Build 15 - May 30, 2006
Reference boards are used mainly for qualification and development by board partners. As a result you will generally see very extensive BIOS options that may or may not appear on retail motherboards. An option of particular interest is the DQS Signal Training option which replaces a wide range of manual DQS skewing options for both memory channels. This worked well in our testing, and made it much simpler to accomodate different memory on this board than the manual skewing controls seen on some other Enthusiast boards.
ATI has aimed their discrete chipset AMD boards squarely at the computer enthusiast. This clearly continues with the CrossFire Xpress 3200 AM2. The range of options and features is the best so far on any ATI motherboard for AMD. This pays off in the tweaking options and performance of the new ATI RD580 AM2.
Overclocking
ATI CrossFire Xpress 3200 AM2
Overclocking Testbed
Processor:
AM2 X2 4800+
(2.4GHz, 1MB Cache per core)
CPU Voltage:
1.4V (default 1.3V)
Cooling:
AMD Stock Heatpipe FX62 Cooler
Power Supply:
OCZ Power Stream 520W
Memory:
Corsair Twin2x2048-PC2-8500C5 (2x1GB)
(Micron Memory Chips)
2 DIMMs in dual-channel mode
Hard Drive:
Hitachi 250GB 7200RPM SATA2 8MB Cache
Maximum OC:
(Standard Ratio)
255x12 (5x HT, 3-3-3-13)
3060MHz (+28% CPU Overclock)
Maximum FSB:
(Lower Ratio)
338 x 9 (4x HT, 3-3-3-13)
3042MHz (+69% Bus Overclock)
The initial reference BIOS supplied by ATI was plagued with several issues that limited overclocking. Since RD580 is known to be an excellent overclocker, ATI looked into the issues and supplied a new 5/30/2006 BIOS which corrected the timing issues that had limited overclocking in the first BIOS.
With the Build 15 BIOS, the ATI CrossFire Xpress 3200 AM2 is an outstanding overclocker - the best we have seen at both stock and reduced multiplier overclocking. We made no attempt to maintain memory speed, but instead selected memory ratios that would allow the Corsair test memory to run at the optimal 3-3-3 timings at around DDR2-800. With the DDR2 memory controller on the processor with the AMD AM2, ratios should not really carry performance penalties as they do on chipset based memory controllers.
No attempt was made to run at x8 or x7 multipliers, which theoretically could yield 380x8 or 400 (highest bus speed option) x7 if the processor speed could be maintained. ATI was absolutely correct in their assessment of our early BIOS bug issues. Overclocking with the updated Build 15 BIOS was effortless, with almost no special OC skills required. Most settings were left on auto, except for a slight boost in HTT voltage and a drop to 4X HT. 5x HTT reached to just over 1500 HTT (302) before requiring a drop to 4x. In all cases base memory speed was reduced to a setting that would yield somewhere around DDR2-800 at OC and timings were left at 3-3-3-13 at 2.147v. We did not even need to boost processor voltage until we reached just over 3.0GHz. The AM2 CPU handled the 3.0 GHz speed at stock voltage. These overclocking results are superb.
Power Usage
It has been reported that the ATI RD580 chipset consumes up to 40 watts less power than the feature-comparable nForce590. We attempted to verify these results with our standard Model P4400 Kill-a-watt meter. The Kill-a-watt plugs into the wall and measures wattage of the entire system. We compared near identically configured Foxconn NVIDIA 590 and ATI CrossFire Xpress 3200 AM2 systems at idle and under stress.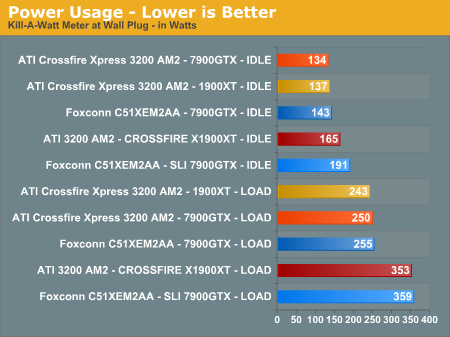 While the ATI system used less power at idle and when stressed, we could not match the 40W difference some others have reported. We did find the ATI system a bit more power efficient running the NVIDIA 7900GTX or the ATI X1900 XT. Even full CrossFire X1900 XT consumed less power in the ATI AM2 board than NVIDIA SLI 7900GTX required in the NVIDIA 590 board.
Power consumption goes up dramatically during overclocking. At the standard 12X multiplier and 255 clock speed (3.06GHz), running X1900 XT Crossfire, power consumption measured over 500 Watts during load conditions. Whether SLI or Crossfire, ATI or NVIDIA, please keep in mind that two top video cards and overclocking require tremendous amounts of power for stable operation.
Test Setup
Performance Test Configuration - ATI CrossFire Xpress 3200 AM2
Processor:
AMD Athlon 64 X2 4800+ (AM2)
(2.4GHz, 1MB Cache per core)
RAM:
2 x 1GB Corsair Twin2x2048-8500C5
DDR2-800 at (CL3-3-3-13 2T)
Hard Drive(s):
1 x Hitachi 250GB SATA2 enabled (8MB Buffer)
System Platform Drivers:
None - LAN, Audio, SMBus drivers as required
Video Cards:
1 x ATI X1900XT - All Standard Tests
1 x EVGA 7900GTX - All Standard Tests
2 x ATI x1900XT (Master+Standard) - CrossFire
Video Drivers:
ATI Catalyst 6.4
Cooling:
AMD FX62 Heatpipe AM2 Cooler
Power Supply:
OCZ PowerStream 520W
Operating System(s):
Windows XP Professional SP2
 
Performance Test Configuration - Foxconn C51XEM2AA
Processor:
AMD Athlon 64 X2 4800+ (AM2)
(2.4GHz, 1MB Cache per core)
RAM:
2 x 1GB Corsair Twin2x2048-8500C5
DDR2-800 at (CL3-3-3-13 2T)
Hard Drive(s):
1 x Maxtor 300GB SATA2 (16MB Buffer)
System Platform Drivers:
NVIDIA 9.34
Video Cards:
1 x EVGA 7900GTX - All Tests
2 x EVGA 7900GTX for SLI Tests
Video Drivers:
NVIDIA 91.27
Cooling:
Zalman CNPS9500 AM2
Power Supply:
OCZ GameXStream 700W
Operating System(s):
Windows XP Professional SP2
 
Performance Test Configuration - Asus A8N32-SLI Deluxe
Processor:
AMD Athlon 64 X2 4800+ (S939)
(2.4GHz, 1MB Cache per core)
RAM:
2 x 1GB Crucial DDR500 at DDR-400 2-2-2-7 1T
Hard Drive(s):
1 x Hitachi 250GB SATA2 enabled (8MB Buffer)
System Platform Drivers:
NVIDIA 6.85
Video Cards:
1 x EVGA 7900GTX - All Tests
2 x EVGA 7900GTX for SLI Tests
Video Drivers:
NVIDIA 84.21
Cooling:
AMD FX-60 Heatpipe Cooler
Power Supply:
OCZ PowerStream 520W
Operating System(s):
Windows XP Professional SP2
 
To the extent possible, test conditions were maintained the same over the platforms tested. For better comparison
standard
test results (1280x1024) were run with both the ATI X1900 XT and the NVIDIA 7900 GTX. Since SLI and CrossFire are not yet interchangeable, 1600x1200 4xAA/8xAF single and SLI were run on the NVIDIA-based boards with 7900 GTX. 1600X1200 4xAA/8xAF were run on the ATI using an X1900 XT and X1900 CrossFire. All results are reported in our charts and color-coded for easier identification of results.
AM2 benchmarking used Corsair PC-8500 (DDR2-1066) 2GB kit at 3-3-3-13 timings at 2.2V. DDR benchmarks used a Crucial 2GB kit at the fastest available DDR400 2-2-2-7 timings. In recent months the memory market has moved from a 1GB kit to a 2BG kit being the common memory configuration. Our new DDR2 test standard will therefore be 2GB and we used the 2GB DDR memory for best comparison.
General Performance
With the Memory Controller on the Athlon 64 Processor, Winstone benchmarks are no longer very revealing of motherboard performance. With the same CPU (and the same memory controller on that CPU) Winstones, both Business and Multimedia Content Creation, are tightly clustered. The only deviation from that is that boards that are tweaked for best gaming performance are often near the bottom of a tight range of benchmark performance numbers. The Winstone tests themselves are rapidly becoming dated, and are no longer supported by PC Magazine. While Winstones are still useful in providing real world performance data we are dropping Winstones from our standard motherboard test suite.
PCMark 2005 results with the ATI AM2 show the CrossFire Xpress 3200 AM2 with a 40 point lead. The nForce 590 and ATI AM2 should be considered equivalent in performance. Both show a 200+ point lead over the DDR-based Asus A8N32-SLI, consistent across both AM2 platforms.
Despite the close results in these tests, PCMark05 is proving to be a useful overall performance benchmark. It is generally more sensitive than the older Winstones and PCM04 to recent improvements in PC architecture. PCMark 05 results in general relate well to the other performance results we find in our board tests - providing a quick and reliable snapshot of board performance compared to other motherboards.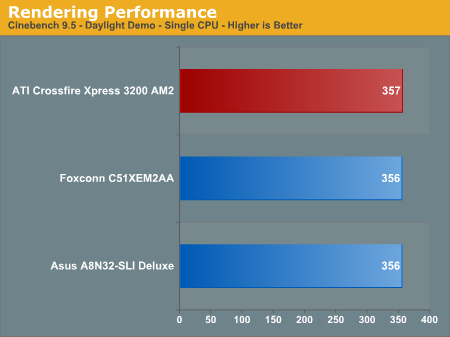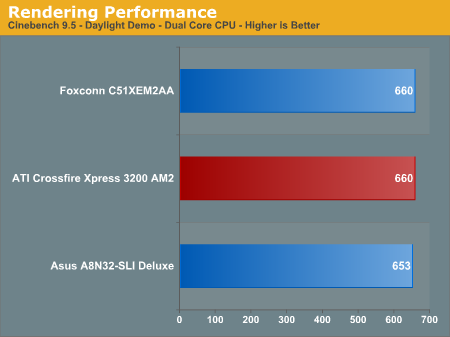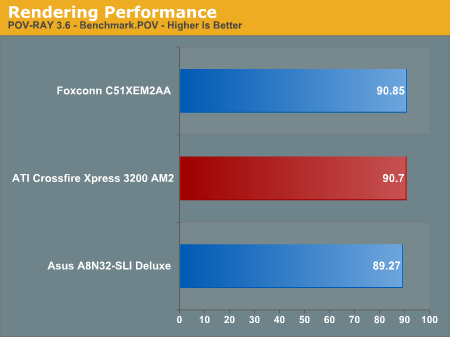 We have replaced Winstones with 2 benchmarks that use rendering to test system performance. Cinebench 9.5 and POV-RAY 3.6 benchmarks both heavily stress the CPU subsystem while performing graphics modeling and rendering. We utilize the standard benchmark demos in each program along with the default settings. Cinebench 9.5 features two different benchmarks with one test utilizing a single core and the second test showcasing the power of multiple cores in rendering the benchmark image.
Single-Core and POV-Ray results are extremely close across DDR and DDR2 platforms. However, Dual-Core Cinebench results show both NVIDIA and ATI AM2 chipsets with a larger lead over the DDR platform. Since all 3 systems were tested with a dual-core CPU at the same speed, this provides a bit of evidence that dual-core (and quad core potentially) can make better use of the extra DDR2 memory bandwidth.
3D Graphics
The 3DMark benchmarks, published by Futuremark, are probably the most widely quoted gaming performance benchmarks available. While the benchmarks are based on game sequences written by Futuremark to reveal subtle differences in gaming performance, they still have to be considered synthetic benchmarks. They are useful for broad graphics comparisons, but they are no substitute for benchmarks with real gaming engines that are currently being played.
SLI and CrossFire are also generally supported in 3DMark, but we ran 3DMark2005 and 2006 in standard mode only as we are not comparing SLI and CrossFire in this chipset review. Please take a closer look at CrossFire benchmarks later in this review for comparisons of CrossFire and SLI performance in several current games. 3DMark06 was recently introduced and you can find more in-depth information about this new 3DMark in the AnandTech article
Futuremark's Latest Attempt: 3DMark06 Tested
.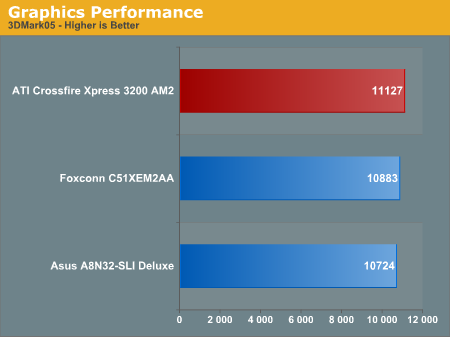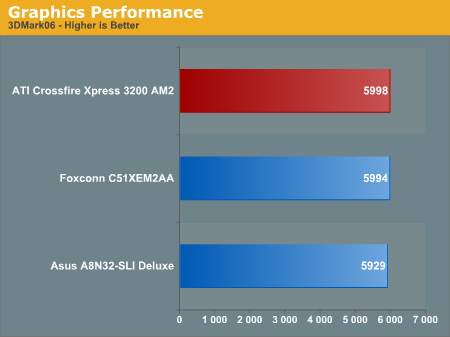 The 05 and 06 results both show the ATI AM2 in the lead, but the margin is small enough to be within the margin of error. Again, both AM2 boards outperform the DDR platform by several hundred points. The ATI and NVIDIA AM2 boards can be considered a dead heat in 3D Graphics performance.
Encoding
We have found encoding results are not affected by the graphics card used during the encoding benchmarks. This is demonstrated again and again by archive test results for AutoGK using an AMD 4000+ processor with a wide assortment of video cards. The performance range of those encoding tests is just 48.1 to 49.1 - a difference form high to low of just 1.0 frame. Clearly the biggest influence on this encoding benchmark is the CPU used for testing. Because encoding test results vary so little on the same standardized motherboard test platform, they have been dropped from this review and future reviews. Encoding tests are very useful in CPU testing, but they have been shown to be poor motherboard tests - particularly on the AMD platform with the memory controller on the CPU.
Standard Gaming Performance
We tested with our recently revised group of game tests, which includes Call of Duty 2, Serious Sam 2, Half Life 2: Lost Coast, F.E.A.R, Far Cry, and Splinter Cell: Chaos Theory. All boards were tested with the ATI X1900 XT with Catalyst 6.4 drivers and the NVIDIA 7900 GTX to allow direct comparison to other motherboard gaming results.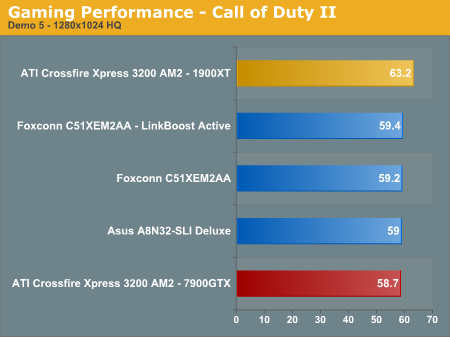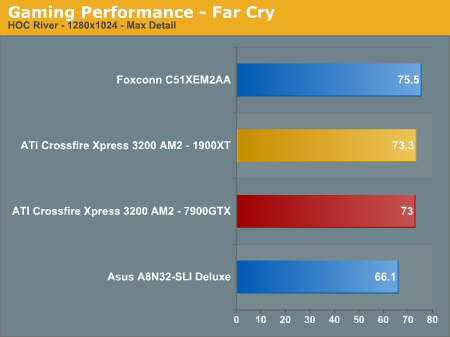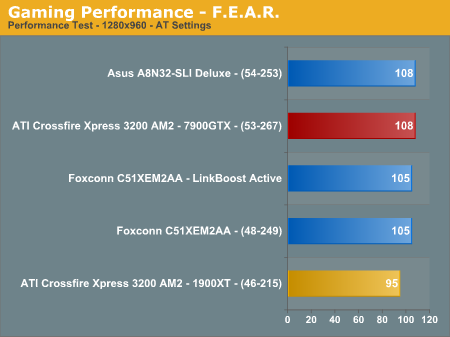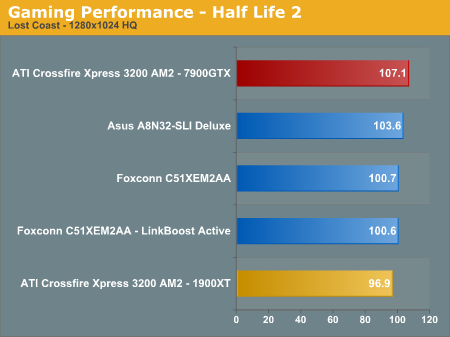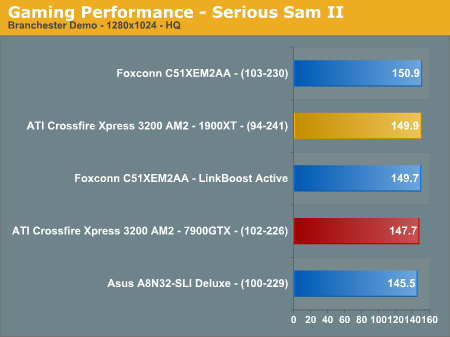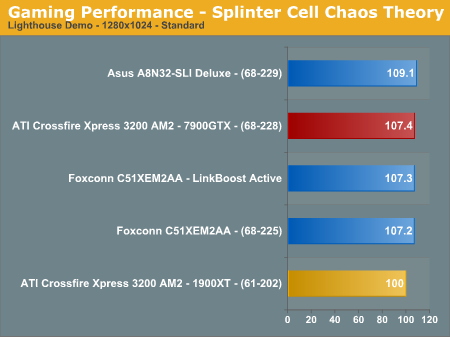 X1900 XT standard results are in gold, while NVIDIA 7900 GTX results on the ATI CrossFire Xpress 3200 AM2 are in red. Top performance was generally split among the games between the ATI board running X1900 XT and the Foxconn 590 running NVIDIA 7900 GTX. There was no knockout winner in standard gaming performance.
CrossFire Gaming Performance
Both major players in the Video Market now have flagship Dual X16 solutions. SLI and CrossFire are about gaming, so CrossFire tests were confined to gaming benchmarks, and the test suite is heavily slanted to recent and popular titles where SLI and CrossFire make the biggest difference. All CrossFire testing was at 1600x1200, 4X AA, and 8X AF. Tests were also run with a single X1900 XT at this same resolution. The single video high-res results on the ATI AM2 are in Orange and the CrossFire results are in Red.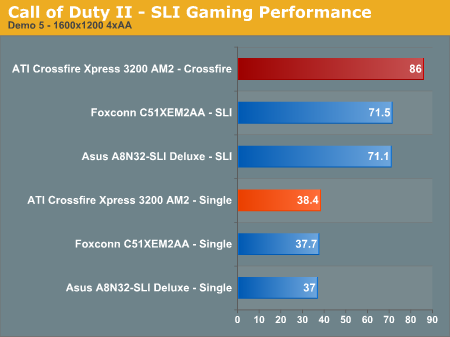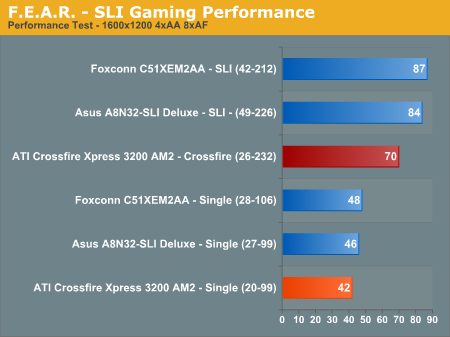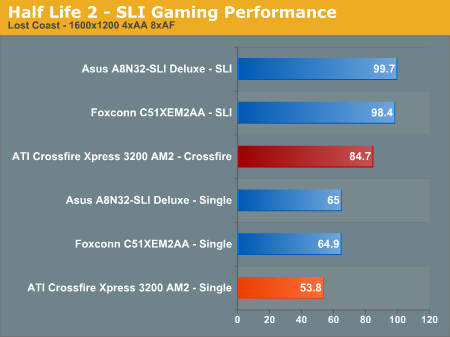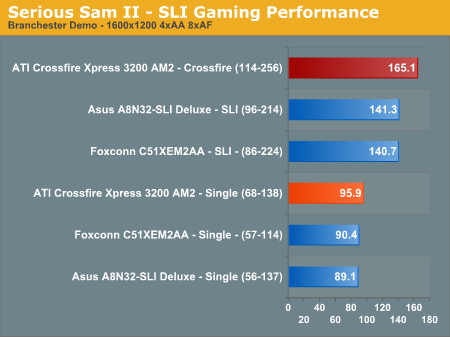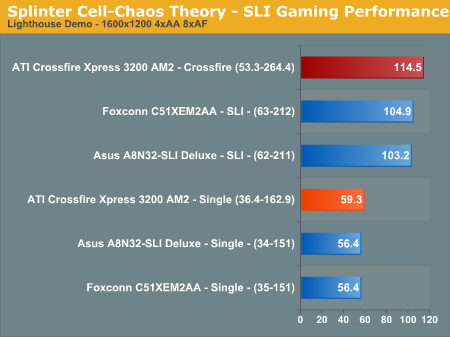 You might think you are looking at results from different video cards in CrossFire/SLI performance. Here leads are larger and positions are often switched from results at standard resolution without the eye candy. ATI CrossFire is the clear winner in Serous Sam 2, COD2, and Splinter Cell: Chaos Theory, while NVIDIA SLI owns Half Life 2 and F.E.A.R. We suspect part of these multi-GPU results revolve around which card has the best optimized drivers available.
We complained about ATI's CrossFire interface in our last two CrossFire reviews, and it still remains clumsy and anything but intuitive. To use CrossFire you MUST install Catalyst Control Center. If CCC is not installed CrossFire will not work. Since many users don't install CCC this is anything but an intuitive solution for CrossFire. Once installed, you must go into CCC, select the CrossFire tab and enable the feature. This is a MANUAL procedure - there is no warning at all that you have a CrossFire capable board or that you have to go into CCC to enable CrossFire. NVIDIA warns you that an SLI-capable system is installed and prompts you to enable SLI. There is no warning at all with ATI. The only clue you will have that CrossFire is NOT turned in is the poor performance results. THEN you start looking for what's wrong. ATI really needs to fix this issue. CrossFire performance is very good, but it would be much nicer if ATI made it easier to turn on CrossFire.
Network
The Windows 2000 Driver Development Kit (DDK) includes a useful LAN testing utility called NTttcp. We used the NTttcp tool to test Ethernet throughput and the CPU utilization of the various Ethernet Controllers used on the AMD motherboards.
We set up one machine as the server; in this case, an Intel box with an Intel CSA Gigabit LAN connection. Intel CSA has a reputation for providing fast throughput and this seemed a reasonable choice to serve our Gigabit LAN clients. At the server side, we used the following Command Line as suggested by the VIA whitepaper on LAN testing:
NTttcps -m 4, 0, ‹client IP› -a 4 -l 256000 -n 30000
On the client side (the motherboard under test), we used the following Command Line:
NTttcpr -m 4, 0, ‹server IP› -a 4 -l 256000 -n 30000
At the conclusion of the test, we captured the throughput and CPU utilization figures from the client screen.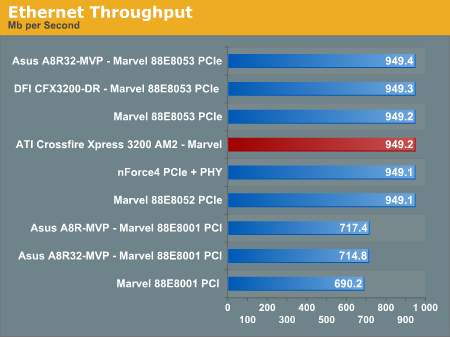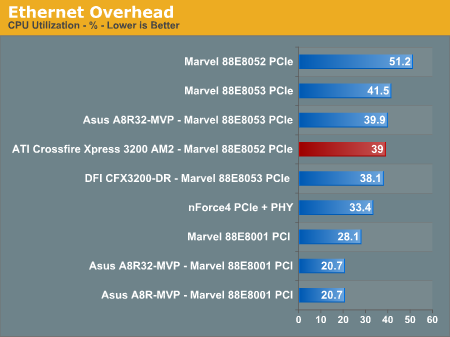 The PCIe Gigabit LAN on the ATI is capable of about 35% faster speed than the performance we have measured with PCI Gigabit LAN used on some motherboards. ATI provides a single Marvell PCIe Gigabit controller, compared to dual Gigabit LAN on the competing NVIDIA 590 chipset. All of the on-board PCIe Ethernet controllers seem to exhibit high CPU utilization, but you should keep in mind that the CPU usage we measure is an extremely artificial number which measures the worst case of a continuous Gb transmission. With broad-band connections needing no more than 100Mb Ethernet, the real-world CPU usage will be much lower than these test results. Throughput and CPU utilization for the ATI AM2 were competitive with results from other boards.
USB and Firewire Performance
USB has been a problem area for the ATI SB450 chipset, but it has not been a major issue with the ULi M1575 Southbridge. To test performance of USB and Firewire on the ATI CrossFire Xpress 3200 AM2 we ran our standard USB throughput test using an external USB hard drive. For Firewire tests an external Firewire 400 or 800 hard disk is used for testing
Our test method uses a RAM disk as our "server" since memory removes almost all overhead from the serving end. We also turn off disk caching on the USB and Firewire side by setting up the drives for "quick disconnect". Our results are then consistent over many test runs.
We used 2GB of fast system memory, set up as a 450MB RAM disk and the balance as system memory. Our stock file is the SPECviewPerf 8.01 install file which is 432, 533, 504 bytes (412.4961MB). After copying this file to our RAM disk, we measure the time for writing from the RAM disk to our external USB 2.0 or Firewire 400 or Firewire 800 drive using an internally developed Windows timing program. The copy times are then converted into Megabits per second (Mb) to provide a convenient means of comparing throughput. Higher rates therefore mean better performance.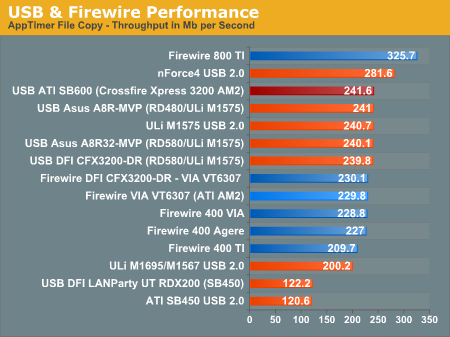 A red bar is used for SB600 USB performance and orange bars represent competing chipsets. Blue bars represent Firewire performance.
SB600 lived up to its promise, scoring in the same performance range as competing USB solutions. That is, ATI SB600 is a bit faster than the Uli M1575 in USB 2.0 performance and slightly slower than NVIDIA USB 2.0 performance. At current SB600 performance levels you should see no difference in USB 2.0 performance between NVIDIA and ATI SB600.
ATI chose the excellent VIA VT6307 for Firewire on the reference board. Firewire 400 performance is excellent compared to competing Firewire chips. Keep in mind that the manufacturer can choose whatever Firewire chip they choose to use on NVIDIA and ATI AM2 motherboards. Neither chipset includes native Firewire support.
Disk Controller Performance
With the variety of disk drive benchmarks available, we needed a means of comparing the true performance of the wide selection of controllers. The logical choice was Anand's storage benchmark first described in
Q2 2004 Desktop Hard Drive Comparison: WD Raptor vs. the World
. The iPEAK test was designed to measure "pure" hard disk performance. The hard drive is kept as consistent as possible while varying the hard drive controller; The idea is to measure the performance of a hard drive controller with a consistent hard drive.
We played back Anand's raw files that recorded I/O operations when running a real world benchmark - the entire Winstone 2004 suite. Intel's iPEAK utility was then used to play back the trace file of all IO operations that took place during a single run of Business Winstone 2004 and MCC Winstone 2004. To try to isolate performance differences to the controllers that we were testing, we used the Maxtor 120GB 7200 RPM 8MB cache IDE drive in all IDE tests. SATA1 tests used the 60GB 7200RPM 8MB DiamondMax Plus 9, and SATA2 was tested with the Hitachi 250GB SATA2 drive with SATA2 enabled with the Hitachi utility. The drive was formatted before each test run and a composite average of 5 tests on each controller interface was tabulated in order to ensure consistency in the benchmark.
iPEAK gives a mean service time in milliseconds; in other words, the average time that each drive took to fulfill each IO operation. In order to make the data more understandable, we report the scores as an average number of IO operations per second so that higher scores translate into better performance.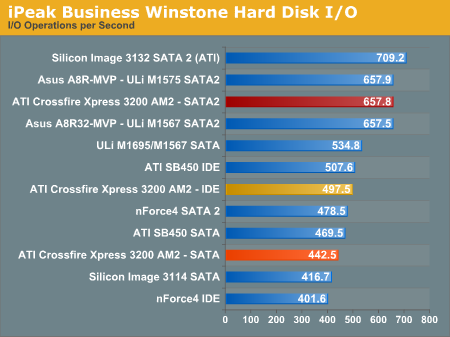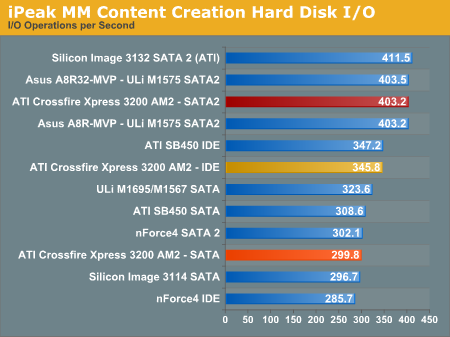 Any concerns about SB600 should be put to rest with these tests. IDE, SATA and SATA2 test results are very competitive with NVIDIA, ULi, and Silicon Image. The performance patterns hold steady across both Multimedia Content IO and Business IO, with the ULi, ATI, and Silicon Image based disk controllers providing the fastest IO operations followed by the on-board NVIDIA nForce4 SATA controllers. The performance generated by the ULi and ATI IDE controller logic is particularly excellent, while the SATA performance of both is up to 12% better when compared to the nForce4 chipset. The SATA performance of the Silicon Image 3132 is very competitive with the core logic chipsets in our tests.
Memory Testing - Optimum tRAS
As expected, DDR2 memory behaves quite differently than DDR in tRAS testing. As you can see from the standard chart below, a 2GB kit of Corsair 8500 (DDR2-1066) experienced steadily increasing bandwidth until the maximum tRAS setting of 18 was reached.
Memtest86 Bandwidth
ATI CrossFire Xpress 3200 AM2
with Athlon X2 4800+
6 tRAS
2047
7 tRAS
2047
8 tRAS
2047
9 tRAS
2047
10 tRAS
2047
11 tRAS
2140
12 tRAS
2140
13 tRAS
2191
14 tRAS
2191
15 tRAS
2242
16 tRAS
2242
17 tRAS
2298
18 tRAS
2298
This is a very different pattern than DDR tRAS testing, where maximum bandwidth was reached at some intermediate tRAS setting and bandwidth decreased as tRAS was decreased or increased from this optimum value. In fact, at tRAS 18 we did get the highest bandwidth with all else equal, but the tRAS 18 setting was unstable - causing memory failures and random reboots.
We did further memory testing using Sandra 2007 unbuffered test results and found the optimum combination of bandwidth and stability was achieved at a tRAS setting of 13. Similar results were achieved with the DDR2 8500 Corsair memory on the nForce 590 chipset. We have shared our test results with Corsair and asked for more information on tRAS settings, performance, and stability with high-speed DDR2 memory.
All stock benchmarking was performed with Corsair 8500 settings of DDR2-800 at 3-3-3-13 settings at 2.147V.
Memory Bandwidth
Memory bandwidth performance was verified using Sandra 2007. Both buffered and unbuffered tests were run with the stock 4800+ at DDR2-800 3-3-3-13 at 2.147V.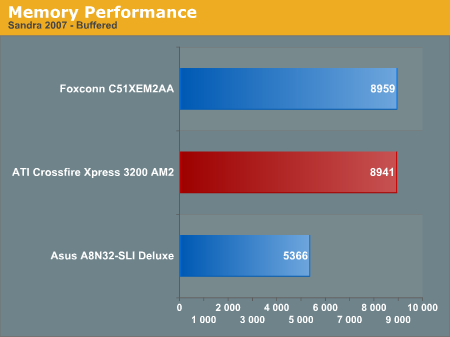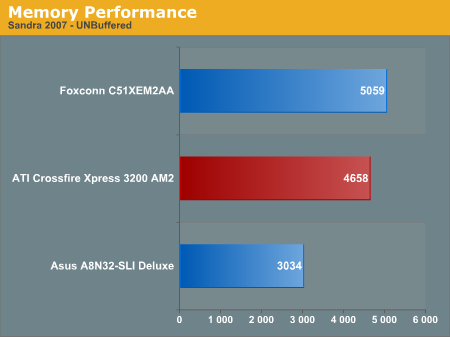 Both standard Buffered Sandra 2007 Memory Performance and Unbuffered Performance are almost identical in the ATI RD580 AMD and the NVIDIA 590 chipsets. This clearly demonstrates that both architectures perform about the same using the same memory and the same CPU with on-board AM2 memory controller. Any differences between the ATI and NVIDIA AM2 memory scores are likely the result of memory tweaking.
You can clearly see the AM2 processor exhibits dramatically higher memory bandwidth than the Athlon64 in Socket 939 running DDR memory. Unfortunately, that much improved memory bandwidth does not currently translate into similarly improved performance.
Audio Performance
Audio testing used the latest version 2.2 of the Rightmark 3D Sound CPU utilization test. This benchmark measures the overhead or CPU utilization required by a codec or hardware audio chip. Versions earlier than 2.2 would not work properly on the RD580 chipset .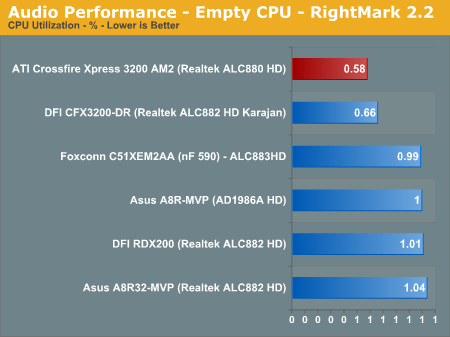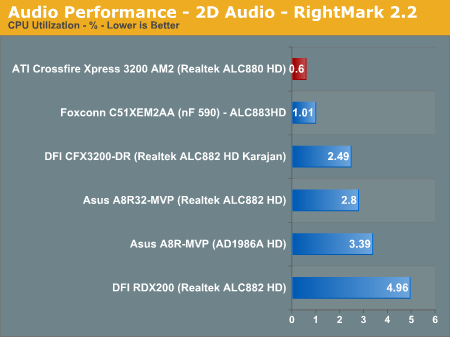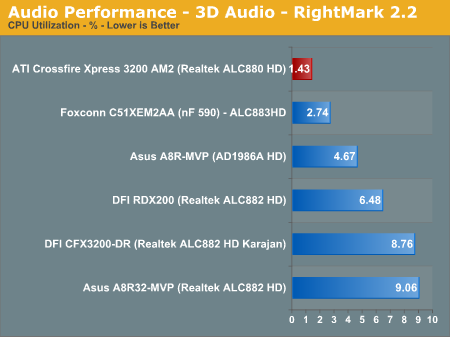 All benchmarks used Realtek Driver Version 1.36. CPU utilization across the board were the lowest we have ever measured with this utility, ranging from around 0.6% in Empty CPU and 2D tests to 1.4% in 3D and 3D+EAX tests. These utilization numbers are the result of the dual-core CPU as Realtek uses load sharing to drive the audio codec. Unfortunately, as we first described in
Intel Core Duo: AOpen i975Xa-YDG to the Rescue
, these low test results do not consistently translate into better FPS results in gaming. Results with HD audio on dual-core showed a similar loss of FPS whether run with a single or dual-core CPU.
Realtek has been very consistent in recent months in releasing regular updates to their HD audio drivers, and we suspect that trend will continue with ATI, Intel, and NVIDIA all now firmly committed to HD Azalia audio. Each new Realtek update has lowered CPU utilization and we also hope that will continue.
Final Words
ATI was late to the AMD chipset wars. When they arrived the market was already owned by NVIDIA. The early ATI Rx400 and Rx480 chipsets were promising, but they really didn't grab the attention of manufacturers and consumers. Finally in RD580, for both Socket 939 and AM2, ATI seems to have reached the level of maturity where their chipsets are providing the kind of compelling AMD performance that can't be ignored.
The only real roadblock from the past has been the ATI SB450 Southbridge, which with AM2 is finally replaced with the long-awaited and much improved SB600. It is also good that SB600 is just in time, since the ULi M1575 Southbridge most manufacturers used with 939 RD580 has been in shorter supply since NVIDIA bought ULi. We like the ULi Southbridge, but frankly the SB600 strikes us as better integrated. Everything about the RD580/SB600 combo worked very smoothly. The complete ATI chipset is a nice combination that provides enough features that there is no longer any reason to choose ULi instead.
The puzzle with ATI AM2 then, is why they couldn't capitalize on what appears on the surface to be a very strong position. When RD580 was launched several months ago, ATI told anyone who would listen that RD580 was also for AM2. ATI did not need to develop a new chipset for the new Socket AM2. Why then has it been so difficult for ATI to have AM2 chipsets ready for launch? It seems once again ATI has missed a golden opportunity while NVIDIA has their new 500 family chipsets coming at the market from all directions. Time will provide answers, but with such a short life for AM2 dominance before the launch of Conroe, we wonder why someone at ATI was not lighting fires.
ATI and NVIDIA are worthy competitors in the AM2 market. NVIDIA has added many new features, auto overclocking, some slick LAN features, and a few more bells and whistles, but in the end enthusiasts care about performance. Nothing NVIDIA has added really improves performance, and that is an important point. ATI has a superb overclocker in their CrossFire Xpress 3200 AM2, even better than RD580 939, and the chipset has every option an enthusiast can dream of. NVIDIA also has readdressed the enthusiast in this round of nForce, with boards that perform just as well overall as the ATI. So which is better - ATI or NVIDIA AM2?
The answer depends on what you want in a motherboard. Both are excellent choices. If you really need killer LAN built-in then you may tilt to NVIDIA, which features two Gigabit LAN on-board that can be "teamed". Since you can't really utilize 1Gb on your broadest broadband connection you may find the feature is more about bragging rights, but it is there if that is an important concern in your buying decision. If you're new you might also choose the NVIDIA "LinkBoost" - overclocking for the common man - but just be aware that the items LinkBoost overclocks have almost no effect on performance at all. In fact, we find it just as easy to get great overclocks on the ATI leaving most choices at "Auto" as we do on the fanciest NVIDIA 590 chipset AM2.
On the other hand if you admire simplicity you may be attracted to the ATI AM2 chipset where the Northbridge controls both X16 PCIe video slots and there is no worry about the communication speed between the two chips used to provide the same capabilities to NVIDIA 590. We could not measure any real difference in our tests between ATI or NVIDIA, but we do know NVIDIA is combining their own chips into one for later this year. NVIDIA was very clear, however, that this was in the interest of economy and not performance. The ATI AM2 has all anyone needs and everything worked exactly as it should in our tests. The NVIDIA has more features, but most of them are of questionable usefulness to general desktop users.
In the end, if you want ATI CrossFire video you must choose ATI AM2 and if you want NVIDIA SLI you must choose NVIDIA nForce5. We hope that will change in the near future, but that is the current state. Whatever you choose you will win, by having a choice between two really excellent AM2 chipsets. For that reason alone we would tilt a bit to ATI. NVIDIA owns most of the AMD chipset market, and without choice features and prices tend to stagnate. We like having ATI and NVIDIA competing and providing compelling solutions for the new AM2 processors.