Original Link: http://www.anandtech.com/show/2016


Introduction
Several weeks ago, we reviewed the
Dell XPS M1710 laptop
. The overall performance and features are impressive, but not everyone wants a laptop with a glowing XPS logo. There are also plenty of people out there that would like a large desktop replacement notebook, but they really don't care that much about gaming performance. Even the lowest end XPS laptop still packs quite a bit of gaming power, and while Windows Vista will benefit from having a faster 3D accelerator, it's not due until early 2007, and it still isn't clear which currently available graphics solutions will truly allow you to get the most out of Vista.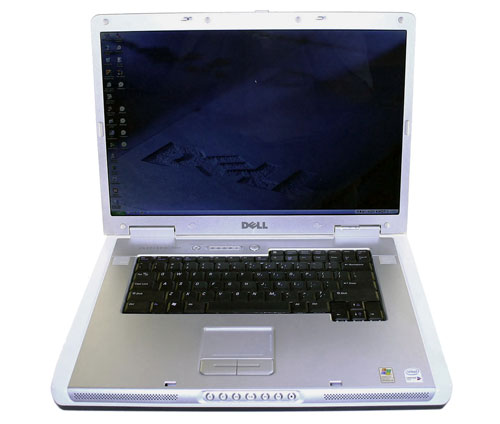 Click to enlarge
So what happens if you start with the XPS M1710, drop the fancy paint job, get rid of the glowing lights, downgrade the graphics a bit, but keep everything else the same? The answer is the Dell Inspiron E1705, and quite a few of you have already asked how they compare. The simple answer is that the two are basically identical, other than the bling-bling and graphics card options. The M1710 is essentially the E1705 with most of the high-end component choices. The XPS line also adds the option of choosing a GeForce Go 7900 GTX 512MB graphics card, whereas the Inspiron E1705 tops out with the GeForce Go 7900 GS 256MB.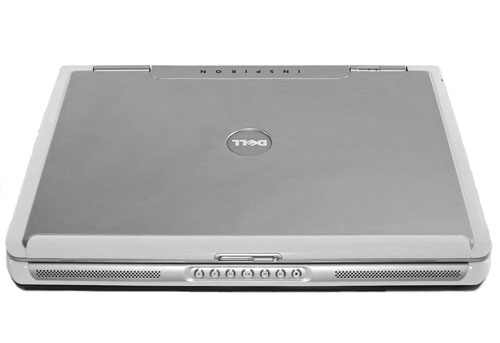 Click to enlarge
While that quick explanation of things does summarize the situation nicely, it glazes over many of the details. For example, how does the faster graphics card affect gaming performance? Which one has better battery life? Does the XPS get noticeably hotter than the E1705? These are all important questions, and we will do our best to provide answers in this follow-up article to the initial M1710 review. We also have two versions of the E1705, one with a GeForce Go 7800 GPU and the other with ATI's Radeon Mobility X1400.
Besides comparing the E1705 and the M1710, we will also take a closer look at the construction of both systems, and we will provide more information on the included components and overall system design. Naturally, both of these laptops are still in the desktop replacement (DTR) category, so if you're looking for a thin and light notebook computer, you will want to look elsewhere. (Dell also has the Inspiron E1505, which reduces the size by going with a 15 inch display.) There are also bigger, faster DTR computers available, so if you want performance and portability above all else, there are perhaps better options. However, the E1705 in particular strikes a good balance between performance, size, and battery life while maintaining a price that, while not cheap, is far more palatable than most of the alternatives.
Features
We've already stated that the M1710 and the E1705 are very similar, and the primary difference comes at the lower end of the spectrum. Here's a quick rundown of the available features for both systems.
System Configuration Options
Dell XPS M1710
Dell Inspiron E1705
Processor
Intel Core Duo T2400/T2500/T2600 (1.83/2.00/2.16 GHz)
Intel Core Duo T2300/T2400/T2600 (1.66/1.83/2.16 GHz)
Intel Core Solo T1300 (1.66GHz)
Chipset
Intel 945PM 64-bit Dual-Channel
Intel 945PM or Intel 945GM 64-bit Dual-Channel
FSB Speeds
Up to 667 MHz
Up to 667 MHz
Memory Speeds
DDR2-533, DDR2-667
DDR2-533, DDR2-667
Memory Slots
(2) x SO-DIMM, max. 4GB, DDR2, Dual Channel supported
(2) x SO-DIMM, max. 4GB, DDR2, Dual Channel supported
Graphics
NVIDIA GeForce Go 7900 GS 256MB or
7900 GTX 512MB GDDR3
Intel 950GM 128MB Shared (512MB System Memory) or 224MB Shared (1GB+ System Memory)
(Optional) ATI Mobility X1400 256MB
(Optional) NVIDIA GeForce Go 7800 256MB
(Optional) NVIDIA GeForce Go 7900 GS 256MB
Display
17" WUXGA (1920x1200) UltraSharp with TrueLife
17" Wide Screen WXGA+ (1440x900) or
(Optional) 17" Ultrasharp Wide Screen WUXGA (1920x1200) with TrueLife
Expansion Slots
One ExpressCard 54mm slot supporting 1.5V and 3.3V, ExpressCard/34 and ExpressCard/54, 26 pins
One ExpressCard 54mm slot supporting 1.5V and 3.3V, ExpressCard/34 and ExpressCard/54, 26 pins
Hard Drive
60/80/100 7200 RPM
60/80/100/120GB 5400 RPM or 60/80/100GB 7200 RPM
Optical Drive
DVD+/-RW with Dual-Layer DVD+R Write Support
24X CD Burner/8xDVD Combo Drive or 8x DVD+/-RW with Dual-Layer DVD+R Write Support
Networking/
Communications
Integrated 10/100/1000 PCIe Gigabit Ethernet and V.92 56K Modem
(Optional) Dell Wireless 1390 802.11g Mini Card
(Optional) Dell Wireless 1490 802.11a/g Mini Card
(Optional) Intel Pro/Wireless 3945 802.11a/b/g Mini Card
(Optional) Dell Wireless 350 Bluetooth Internal (2.0 + Enhanced Data Rate)
Integrated 10/100 Ethernet and V.92 56K Modem
(Optional) Dell Wireless 1390 802.11g Mini Card
(Optional) Dell Wireless 1490 802.11a/g Mini Card
(Optional) Intel Pro/Wireless 3945 802.11a/b/g Mini Card
(Optional) Dell Wireless 350 Bluetooth Internal (2.0 + Enhanced Data Rate)
Audio
24-bit High Definition Audio with 2.1 Speakers
Integrated Sigmatel HD 24-bit Audio or (Optional) Sound Blaster Audigy ADVANCED HD 24-Bit Audio
Left I/O Ports
2 x USB 2.0
2 x USB 2.0
Right I/O Ports
4-pin Unpowered IEEE 1394A, 5-in-1 Flash Reader (MS, MS Pro, SSD/SDIO, MMC, xD, CD Type I/II, IBM MicroDrive), Headphone and Microphone connectors
4-pin Unpowered IEEE 1394A, 5-in-1 Flash Reader (MS, MS Pro, SSD/SDIO, MMC, xD, CD Type I/II, IBM MicroDrive), Headphone and Microphone connectors
Back I/O Ports
1 x RJ45 LAN
4 x USB 2.0
1 x RJ11 Modem
1 x DVI-D
1 x VGA
1 x S-VIDEO Out
1 x RJ45 LAN
4 x USB 2.0
1 x RJ11 Modem
1 x DVI-D
1 x VGA
1 x S-VIDEO Out
Keyboard
87 Key QWERTY (US)
87 Key QWERTY (US)
Battery
9-Cell 80WHr "Smart" Lithium Ion
6-Cell 53WHr "Smart" Lithium Ion or 9-Cell 80WHr "Smart" Lithium Ion
Dimensions
1.7"x15.5"x11.3" (HxWxD)
8.8 lbs. (Display, 9-Cell battery, DVD-Combo drive)
1.7"x15.5"x11.3" (HxWxD)
7.61+ lbs. (Display, 9-Cell battery, DVD-Combo drive increase weight)
Power Adapter
130W 1.42"x2.56"x6.67" (HxWxD), 1.68 lbs. with cables
Ac Adapter - 90W 1.35"x2.39"x6.04" (HxWxD), 1.19 lbs. with cables
Chassis
Metallic Black Dell XPS M1710 or
Special Edition Formula Red Dell XPS M1710
Dell Inspiron E1705
Other Features
XPS 16 Color Configurable Accent Lighting
Trackpad with scroll bars
Trackpad with scroll bars
The first difference comes in terms of supported processors. The M1710 can naturally support the same processors, but Dell doesn't offer anything lower than the Core Duo T2400 (1.83 GHz) processor in the XPS systems. The E1705 in contrast can be purchased with the Core Duo T2300 (1.66 GHz), or you can even opt for the Core Solo T1300. The price difference between the Core Solo and Core Duo isn't enough that we would actually recommend going that route, however.

Click to enlarge
The next major difference comes with the default LCDs. The XPS systems come with a WUXGA UltraSharp LCD (1920x1200), while the Inspiron E1705 defaults to WXGA+ (1440x900). You can get the same display with the E1705, but it's a $150 upgrade. Some people might actually prefer the WXGA+ display anyway, as 1920x1200 resolution on a 17 inch LCD can result in small text on many applications. We would like the option of getting a WSXGA+ (1680x1050) as well.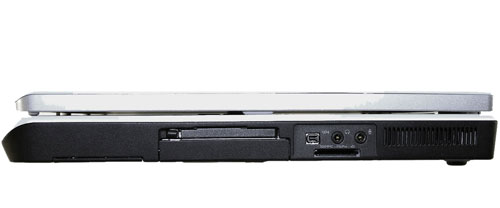 Click to enlarge
The memory and storage offerings follow a similar pattern. The XPS only comes with 7200RPM hard drives, ranging from 60GB to 100GB. The E1705 includes those three hard drives, but it also adds four 5400RPM drives to the list of available choices, ranging from 60GB to 120GB. On the memory front, XPS laptops come with a minimum of 1GB of RAM, and all of the memory offerings are DDR2-667 (other than the insanely expensive 2x2GB configurations: $1800 for DDR2-533, or $3000 for DDR2-667 - not that we would actually recommend either upgrade at those prices). The Inspiron E1705 adds a low-end 512MB option, DDR2-533 as a choice at every memory configuration, and drops the 4GB upgrades. The low-end Core Solo E1705 gives you the choice of either a DVD burner or a CD-RW/DVD-ROM combo drive, while all of the other models come with a DVD burner by default.

Click to enlarge
Video card choices on the XPS are limited to the 7900 GS or the 7900 GTX. The E1705 also offers the 7900 GS now ($349 upgrade), but you can also choose to go with integrated GMA950 graphics, ATI Mobility Radeon X1400 HyperMemory ($149 upgrade), or GeForce Go 7800 ($199 upgrade). Of the various graphics card offerings, we have to say that there's little point in getting the X1400 HyperMemory given the cost, at least if you're interested in playing games. If you need more graphics power than the integrated graphics provide, the extra $50 to get the GeForce Go 7800 will more than double graphics performance.
The 7900 GS is the fastest of the graphics options for the Inspiron models, and with the 90 nm manufacturing process it may actually produce less heat than the GeForce Go 7800. It's difficult to recommend spending almost twice as much money, but it should come with a decent increase in performance. The GeForce Go 7800 only has 16 pixel pipelines, whereas the GeForce Go 7900 GS comes with 20 as well as higher clock speeds. If you're really interested in high-powered graphics performance, you can of course upgrade to the XPS and get the GeForce Go 7900 GTX instead. We'll have more to say later on the graphics card choices, and while the X1400 isn't great for games, it does have other benefits.
The remaining differences are generally minor. Of course there's the aforementioned difference in appearance. The XPS comes with an 80 WHr (9 cell) battery by default, and the Inspiron comes with a 53 WHr (6 cell) and offers the 80 WHr battery as an upgrade. Somewhat interesting is that the external power brick is a 130W model for the XPS and only 90W for the Inspiron. The 7900 GTX configuration is likely the reason for the different power brick, as otherwise the two laptops are basically the same. The XPS power brick does weigh a bit more as well, but given the total system weight it's unlikely that you would notice the extra couple of ounces.
That takes care of the general overview, but before we get to the benchmarks we want to look at some of the specific shared components. We'll also take a look at how the laptops are put together.
Internal Construction
Dismantling your laptop is something that may void your warranty (especially if you break something), and we don't recommend it unless you have a specific need to do so. However, we find it interesting to see how these computers are put together, so we couldn't resist the urge to "pop the hood". One thing that becomes immediately clear is that these systems are not designed to be serviced by your typical home user. Cramming this much performance into a small case requires a lot of effort, so taking apart and assembling a laptop is generally far more difficult than working with your typical desktop computer. Difficult does not mean impossible, but you will need smaller screwdrivers and you will be working in a more restricted space.
The first step in taking apart either of these laptops is to remove the plastic panel at the top of the keyboard area. This can be pried off using a flathead screwdriver, though you'll want to be careful that you don't scratch the finish. (Dell recommends using a plastic tool to pry this off, but we didn't have one available.) Remove a couple of screws at the top of the keyboard and you can lift it out of the way. Before you actually remove the keyboard completely, you will have to disconnect the ribbon cable. Flip up the plastic clamp and the ribbon cable can easily be removed.
Before you get any further into the internals, you need to remove the LCD. The first thing to do is disconnect the integrated WiFi antenna, which is found on the bottom beneath a small hatch. Color-coded wires (one black and one white) are attached to the mini-PCI WiFi card, and after prying these loose (carefully), return to the top of the system, disconnect the main display cable, and remove the four screws that hold the display panel in place.
The final step before removing the remainder of the cover is to take out the 12 screws on the bottom of the case and six more screws on the top. There are also three cables connecting the cover to the motherboard that you will need to disconnect. Once all of the screws are removed, the plastic cover and trackpad can be removed. Plastic latches help hold the panel in place, so you will need to carefully pry the panel loose, after which you will have access to the CPU and graphics module.
In theory, it is possible to upgrade to graphics module with something faster, but you will need a Dell specific upgrade, and those are not generally available for retail purchase. You might be able to get an upgraded graphics card through Dell Spare Parts, though normally they only send out parts to replace faulty hardware. Perhaps if you have a friend with a better graphics chip that calls in for a replacement GPU....
One area that you can upgrade is the processor, which requires the removal of the heatsink, heat pipes, and fan in the top left of the system. There's not much point in performing this upgrade yourself right now, and we're also not sure how many new processors will be created that can run in these laptops. If it's possible to run Core Duo 2 (Merom) chips in these laptops in the future, that would definitely be interesting, but we have not received any official confirmation from Dell on the matter. You will definitely be able to use Core Solo/Duo chips from the Yonah family, and potentially Merom chips after a BIOS update. Whether such a BIOS update will be released or not is still a matter of speculation.
User Upgrades
Getting a look at the motherboard may be interesting for the hardware geeks, but realistically most people won't be opening up their systems to upgrade the processor. Quite a few areas can be upgraded without going through nearly as much effort, however. Most of the user upgradeable areas can be accessed via the bottom of the laptop.
Click to enlarge
The most likely - and easiest - upgrade would be to increase the amount of memory in your system. The center cover is secured by two screws and hides access to the two SO-DIMM slots. It's worth mentioning once again that the 945GM/PM chipset only has a 64-bit front side bus, so while it can support dual channel memory, there is little advantage in running dual channel over a single channel - at least if you use DDR2-667 memory. If you're looking for a high-performance laptop, we definitely recommend going with 2GB of memory these days, especially if you're running a dual core processor. However, paying Dell for your memory upgrade may not be the most cost-effective way of getting more RAM. If you're willing to do the upgrade yourself, you might be able to save a few bucks, and just about anyone with a screwdriver should be able to swap out memory modules. The only caveat is that you need to make sure you get Dell compatible RAM, which generally means RAM that strictly adheres to the JEDEC standards (i.e. 5-5-5-15 timings at DDR2-667).
Click to enlarge
Next up in terms of simplicity would be an upgrade to your optical drive. On the bottom of the laptop, you remove one screw, insert the screwdriver into the vacated hole, and pry the DVD drive loose. Of course, as long as you get one of the models with a dual layer DVD-RW drive, you're not likely to need to upgrade your optical drive any time soon. Blu-Ray and HD-DVD will both likely become available in laptop drive format in the future, but until that standards war calms down and we can declare a winner, 8X DVD-RW will get the job done.
Click to enlarge
Upgrading the hard drive is done in a similar manner: remove the two screws and slide out the hard drive cage. Note that these laptops are among the newer models that use 2.5 inch SATA hard drives. You'll probably want to use some drive imaging software to clone your original hard drive as well, in order to keep the Dell system restore utility and partition present. (We'll have the bit more to say on that later.)
Click to enlarge
The last area that you might want to upgrade at some point is the WiFi support. One option is to remove the included mini-PCI card and install an upgraded card. However, not all mini-PCI cards are compatible with all systems, so you'll want to make sure that the card will work in advance. The alternative is to find an upgraded WiFi card that will work in the ExpressCard slot. There are no ExpressCard modules on the market right now, but availability is anticipated late this year. We should also start seeing some faster WiFi offerings hit the market later this year, with 802.11N making an appearance very soon. Going with ExpressCard instead of sticking with PC Card is another interesting compromise; Dell has sacrificed support for a wide variety of current offerings in order to provide future functionality. Long-term, ExpressCard should be the better solution, but whether it will reach its potential during the life of the laptop remains to be seen.
System Design
As a whole, these laptops have a reasonable design. They are not meant to be incredibly small, which is essentially impossible once you add a 17 inch widescreen display. They target a market where people want a large display, very good CPU performance, and potentially a graphics solution that is excellent at gaming as well. Our opinion of the overall design is generally favorable, with some good points as well as a few areas that could have been improved.
The case has an aluminum exterior, which adds durability while also keeping the weight down. If you've ever used a laptop with a plastic shell, you've probably noticed how pressure on the back of the display/lid can transfer to the screen itself. Some people have even broken LCDs when they accidentally dropped something on top of the case while the lid was closed. Obviously, if you drop something really heavy on the laptop, you're still going to break it. However, the aluminum backing to the display is definitely more durable than a plastic shell.
Speaking of the display, many of you are probably wondering how it performs. Unfortunately, laptop LCDs still fall behind their desktop counterparts in terms of performance. If you buy into all of the latest marketing hype (low response times, super high contrast ratios, etc.), the included LCD doesn't seem particularly impressive. It boasts a 25 ms TrTf response time (12 to 16 ms GTG), so if you have very sensitive eyes you will be able to notice motion blur when playing games. Personally, we never found it to present a serious problem, and at least in the case of the XPS M1710 the ability to play just about any current game at high detail settings more than outweighed any concerns we have with pixel response times.
Other aspects of the display could also be improved, however. Color uniformity was at best mediocre; the top and bottom of the display are definitely brighter than the center section, and even the center area shows some hot spots. Backlight leakage was also present, though honestly that is a problem on most notebook LCD panels we have seen recently. Even with all these comments about the display not being perfect, though, it's actually far better than most laptop displays that we have used or tested. Brightness levels are quite good, and Dell states that they've improved brightness levels by 30% over previous models (like the XPS M170). The maximum intensity is actually almost too bright for indoor use, but once you step outside into a natural sunlight setting it is definitely appreciated.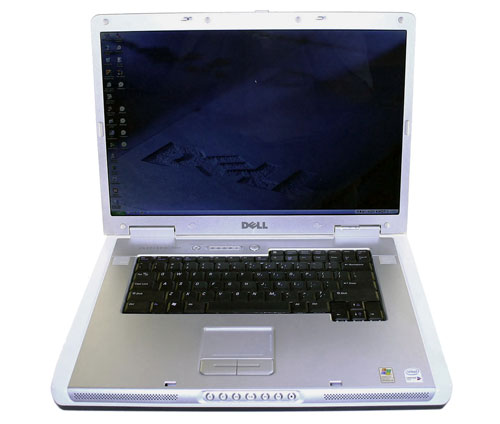 Click to enlarge
Another area to discuss is the input devices - the keyboard and trackpad. Some of us really don't do well with small keyboards, so we were hoping to get much closer to a desktop-sized keyboard given that this has a 17 inch widescreen display. Unfortunately, the keyboard is the exact same as what Dell uses on their 15 inch laptops, and probably 14 inch models as well. You can see from the above image that there's a good 2 inches on each side of the keyboard that could have been used to increase the size as well as add a numeric keypad. It would have required moving the vents up slightly from their current position, and perhaps a few changes in the internals, but it's definitely possible. Did Dell stick with a uniform keyboard design in order to make transitioning from one model to another easier on their users, or did they merely try to cut costs? Perhaps there was a little of both, but cost was almost certainly a factor.
We discussed the integrated audio in the first M1710 article. I erroneously reported that you could configure both the headphone and microphone outputs for use with four speakers. While it is most likely a driver issue more than hardware, it turns out that you can only run headphones or 2.1 speakers along with the microphone. Given the size of the laptop, not to mention Dell touting the HD audio support, it really should have been simple to add a third audio jack so that people could use 5.1 speakers. An optical out connection would also be nice, for those that want to hook up the laptop to a properly equipped home theater system. If digital output were included, you could have a portable movie player that could easily become part of a larger home theater setup as needed. The $25 Audigy HD upgrade is also interesting, as it appears to be a simple software addition. Since you can't really take full advantage of the audio as is, we see no reason for anyone to spend the extra $25.
One final area to comment on is the default software configuration. Having received the M1710 first, it was actually a pleasurable experience. There was some extra software that we didn't really need, but overall there was very little "junk" that you normally see on OEM systems. If you look at the online configurator, there's even an option on the XPS systems that specifically says you don't want any extra software installed. Unfortunately, the Inspiron models do not come with that "luxury". The amount of pre-installed software that most people will never use is more than a little irritating for the typical computer power user that would purchase one of these systems. AOL, EarthLink, and a couple other Internet connection options are provided; the Google Toolbar as well as Google Desktop are also present, along with Wild Tangent (for a few games), and various other software.
Not all of the software is useless - the McAfee/PC-Cillin Internet Security software suites can certainly be useful - but you definitely get the impression that Dell is helping subsidize system costs by pre-installing all this software. (Probably because they are.) At the very least, users really deserve the ability to select a "clean" configuration when building their computer. Plenty of people would probably even pay $25-$50 extra for that right, but they really shouldn't have to. If you've been around computers for a while, you've probably already heard about the people who buy OEM systems and promptly wipe the hard drive once they arrive in order to get a clean OS installation. If you pay an extra $10, you can get a Windows XP CD with your system, which can be used for exactly that purpose. However, you then need to deal with downloading drivers, installing the operating system, and all of the other various tasks involved in properly configuring a system. On the bright side, it isn't actually necessary to format the hard drive in order to get rid of most of the software - all of the included programs can be uninstalled via the Add/Remove Programs function in the Control Panel.
While we're on the subject, it is important to note that some of our benchmarks required us to uninstall the vast majority of the included software. If you have never run BAPCo benchmarks, just trust us when we say that they really like to be run on a clean OS installation. Getting rid of all of the extras also helps to improve performance by as much as 15%. In other words, if you go out and purchase one of these laptops from Dell, we definitely recommend that you clean out anything that you have no intention of using.
We mentioned spending $10 extra above in order to get a genuine Windows XP/MCE disc with your computer. If you don't get one, you get a restore CD, but all Dell laptops also come with a recovery partition. Boot up the system, press Control + F11 when the blue www.Dell.com logo appears at the top of the screen, and you're presented with a Symantec Ghost restore utility. It only takes about 10 minutes to return the PC to its original shipping state, though of course you lose any data you've stored on the hard drive in the meantime. You will also end up downloading and patching your OS again did you go this route, but that's generally required whenever you reinstall Windows anyway. Some people might dislike giving up 5GB of their hard drive space for the recovery partition, but overall we find it to be a useful option.
Benchmark Test Configurations
There are many choices that you can make when configuring any of these laptops, and some of the decisions will impact performance to varying degrees. We have three laptops, and all of them are on the higher end of the performance spectrum. The E1705 with X1400 graphics is definitely going to struggle in gaming performance, and the other E1705 is only running with 1GB of RAM which will also have a smaller impact. Beyond that, though, all three systems come with the WUXGA displays, 100 GB 7200 RPM hard drives, and DDR2-667 memory. Here are the specific configurations tested.
Dell XPS M1710
Processor
Intel Core Duo T2600 (2.16 GHz 2x2MB)
Chipset
Intel 945PM 64-bit Dual-Channel
Memory
2 x 1024MB DDR2-667
Graphics
NVIDIA GeForce Go 7900 GTX 512MB (500/1200)
Hard Drive
Hitachi Travelstar 100GB 7200 RPM
Dell Inspiron E1705 "7800"
Processor
Intel Core Duo T2600 (2.16 GHz 2x2MB)
Chipset
Intel 945PM 64-bit Dual-Channel
Memory
2 x 512MB DDR2-667
Graphics
NVIDIA GeForce Go 7800 256MB (250/658)
Hard Drive
Hitachi Travelstar 100GB 7200 RPM
Dell Inspiron E1705 "X1400"
Processor
Intel Core Duo T2600 (2.16 GHz 2x2MB)
Chipset
Intel 945PM 64-bit Dual-Channel
Memory
2 x 1024MB DDR2-667
Graphics
ATI Radeon Mobility X1400 256MB
Hard Drive
Hitachi Travelstar 100GB 7200 RPM
We did our best to include a variety of benchmarks that will prove useful in determining how these laptops perform. For the gaming tests, we ran all games with and without anti-aliasing. The M1710 can generally handle 4xAA in most games, but the other two laptops have difficulty with that setting. We won't bother including the results from the X1400 configuration with 4xAA, as there's little point in even thinking about it given the single-digit frame rates we experienced. The GeForce Go 7800 does better, but the M1710 is still in an entirely different league when it comes to graphics performance. The flipside is that battery life can be severely impacted with the faster graphics chips, and we'll find out just how much shortly.
One area that is quite surprising is the clock speeds Dell has chosen for the GeForce Go 7800: 250 MHz on the core and 658 MHz on the RAM, with 16 pixel pipelines and 6 vertex pipelines. NVIDIA lists the 7800 Go has having up to a 400 MHz core and 1100 MHz RAM, which would nearly double performance of the E1705 default speeds. However, running at those speeds would likely require more power than even the Go 7900 GTX. Since the XPS line is geared as the gaming option and the E1705 is more for multimedia, sacrificing battery life and temperatures for added gaming power might not be the best way to go. If you search around the Internet, you can find information on trying to volt mod and overclock your Go 7800, though obviously Dell doesn't encourage that sort of behavior.
Application Performance
We'll start out with the typical office application benchmarks. We've run PCMark05 as well as Winstones 2004. We don't expect to see much in the way of performance differences in Winstones, since all of the systems are essentially the same other than the graphics card. The system with 1 GB of RAM might also perform a bit slower, but generally speaking Winstones doesn't require more than 1GB of RAM (if that).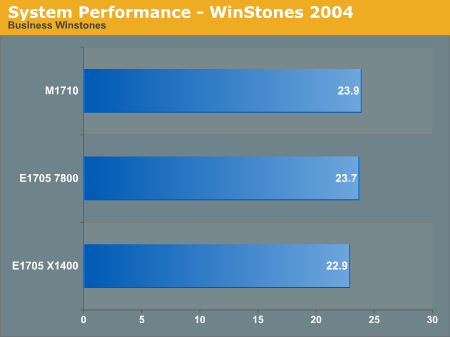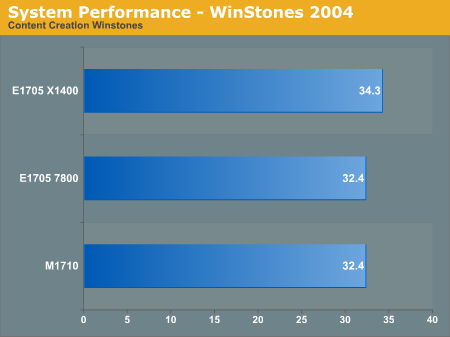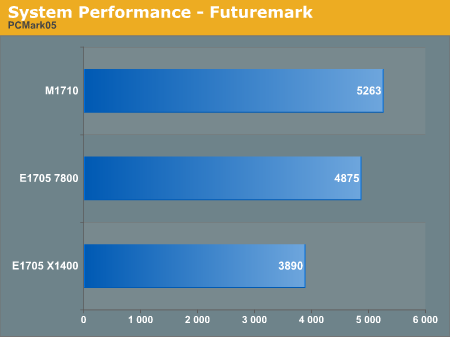 The results are pretty much as we would expect. All three systems perform similarly in Winstones, though the ATI X1400 system is slightly slower in the business section and slightly faster in the content creation portion. PCMark05 shows a larger difference between the systems, since it includes some graphics tests. If you don't plan on doing 3D work, we wouldn't put too much weight in the PCMark05 results.
We won't bother running any encoding benchmarks, as those basically depend on CPU and memory performance more than anything else, so they would essentially show identical encoding results. You can refer to some of our
initial M1710 article
if you'd like to get a better idea of how the systems compared to others.
Gaming Performance: Battlefield 2
Moving on to the games, first up, we have results from Battlefield 2. We're still using the 1.22 patch, but we hope to upgrade to the 1.30 version in the near future. Performance shouldn't be radically different, however. Testing was done on the Operation Clean Sweep map, with 16 players.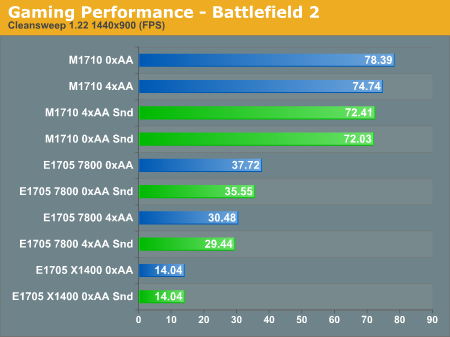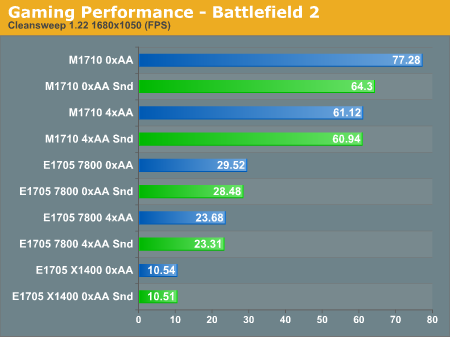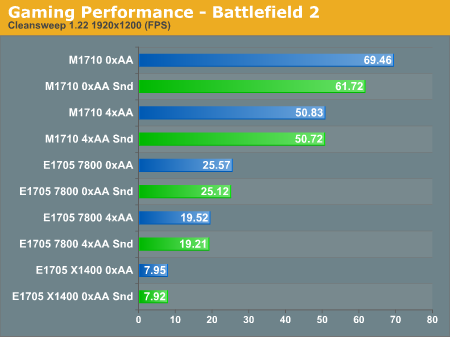 Already, the difference between the XPS M1710 and the other two laptops is clear. Battlefield 2 is generally more CPU limited than many other games, but it still requires a reasonably fast graphics card when running at high detail settings and high resolution. The X1400 does not provide a playable experience at any of the tested resolutions, and even reducing the details to low quality doesn't help much. Your best bet would be to run at 960x600 resolution with reduced detail settings, but a better recommendation would be to get a faster GPU if you actually want a laptop that can handle 3D games.
We have also provided benchmarks with sound enabled, shown in green. Only the XPS M1710 is really impacted by enabling sound, as the other configurations are entirely GPU limited. We won't comment much on the sound results on the remaining games, as they basically continue this pattern. Unless your CPU is the performance bottleneck, decoding the sound effects in games will rarely affect frame rates.
Gaming Performance: Call of Duty 2
Call of Duty 2 is interesting because it's one of the few games touted as supporting SMP. (We will get to Quake 4 later, and we don't have results from Oblivion for this article. Without seriously reducing graphics quality, Oblivion is only playable on the M1710.) We're running with the official version 1.2 patch, with high-quality lighting, anisotropic filtering, and maximum (Extra) texture sizes on everything but the specular highlights, which are set to high detail. We also enabled "Optimize for SLI" on all three systems, and it appears that the setting might actually be better labeled as "Optimize for SMP". We aren't entirely sure how the game and driver settings are changed at this time, but CPU usage on dual core systems definitely increases when it is enabled, and frame rates are improved quite a bit as well - at least in situations where we're not GPU limited.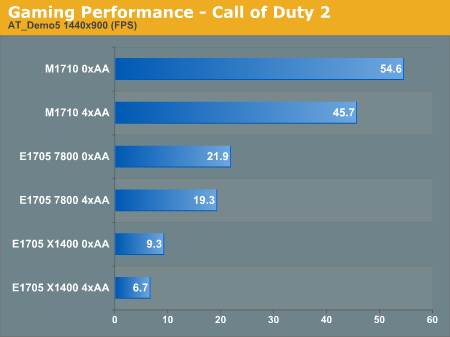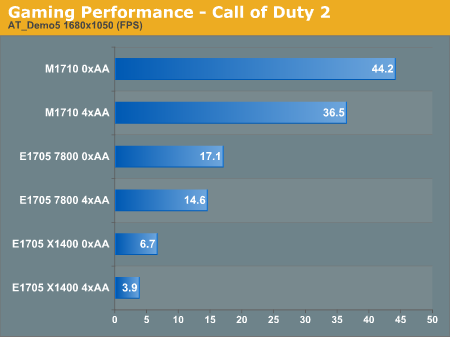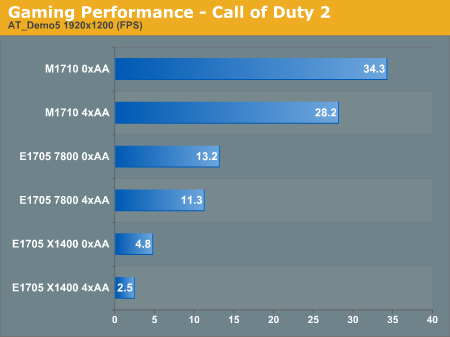 As before, the X1400 configuration makes a dismal showing. (After finishing the Call of Duty 2 benchmarks, we decided it was pointless to continue benchmarking 4xAA on the X1400.) You can also see that while the GeForce Go 7800 is at least twice as fast as the X1400, it struggles with the latest games on high-quality settings as well. The clock speeds of the GeForce Go 7800 are quite low relative to desktop 7800 cards (it's clocked at 250/658 instead of the 425/1000 clock speeds that desktop models carry), and combined with the fact that it has 12 pixel pipelines versus 24 on the GeForce Go 7900 GTX and it's easy to see why it's less than half as fast. Of course, it also costs about one fourth as much. (The GeForce Go 7800 is a $200 upgrade from Dell, and the GeForce Go 7900 GTX is a $400 upgrade from the 7800 GS, which is already a $350 upgrade.)
Gaming Performance: Far Cry
While we eagerly await Crytek's next-generation shooter Crysis, we will have to make do with benchmarking Far Cry for a while longer. The graphics settings were set to Very High Quality, as was the machine spec. Results are from the HOC River demo file, though benchmarking was performed manually in order to avoid the overhead associated with the HardwareOC Far Cry Benchmark utility.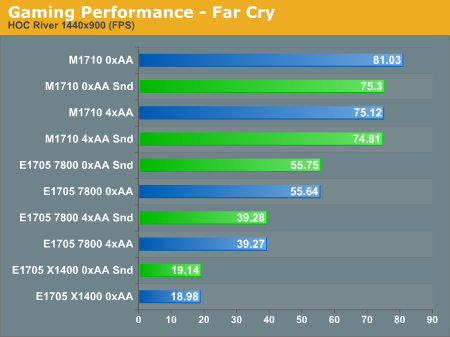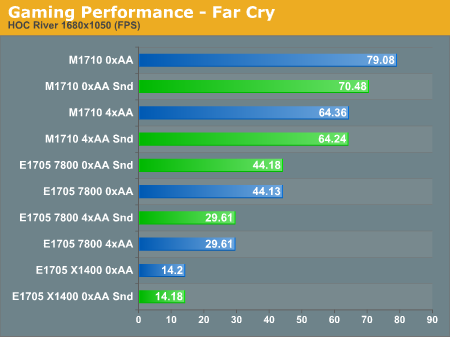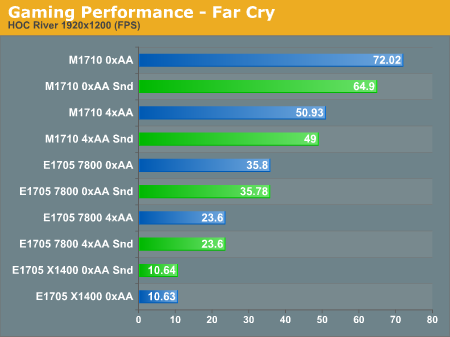 There's nothing new to report here. Lower detail settings and perhaps a 1280x800 resolution should produce playable results on the X1400. The E1705 with 7800 performs adequately, and the M1710 continues to offer desktop performance levels. Clearly, if you want a high-quality gaming laptop, only one of these configurations is worth considering.
Gaming Performance: Source Engine
With Half-Life 2: Episode One ready for launch in the next week, Lost Coast performance may become far more important. Episode One will also make use of the new HDR lighting and improved graphics along with game play being more than one short level. We tested with HDR enabled, all detail settings at high, and 8xAF. We also ran benchmarks at identical settings using Day of Defeat: Source.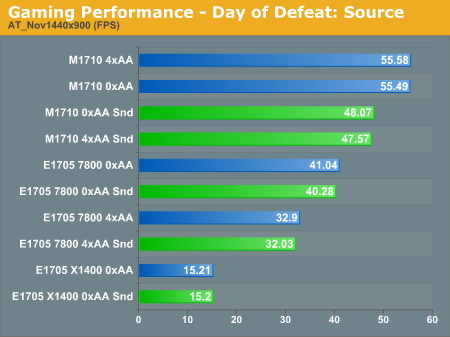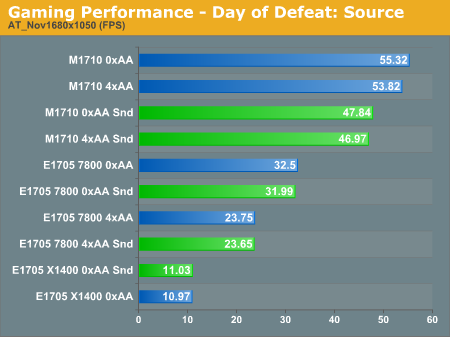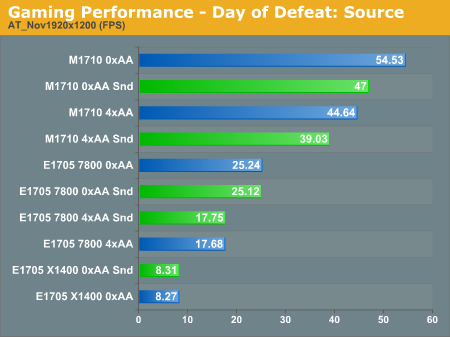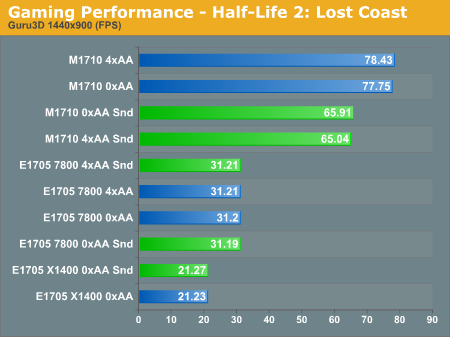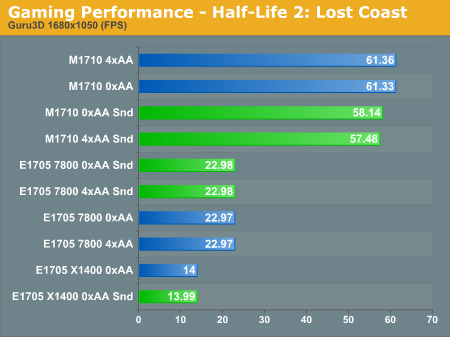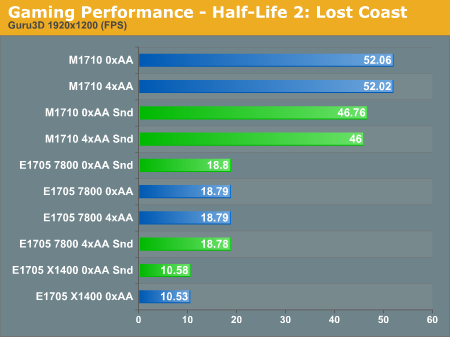 The X1400 almost manages to reach playable frame rates... almost. Meanwhile, the M1710 has become CPU limited at the lower resolutions when we don't have 4xAA enabled. Unlike some of the other games, the 7800 chip struggles to provide reasonable frame rates in this game, barely breaking the 30 FPS mark. On the other hand, the bottleneck is clearly the GPU core itself and not the memory bandwidth, as enabling 4xAA is essentially free. 1280x800 would be required in order to get truly playable frame rates with the 7800 chip.
Day of Defeat: Source is more CPU limited than Lost Coast, and different map content allows the 7800 to run at 1440x900 with basically acceptable frame rates. It's interesting that where the slower graphics cards actually do better on DODS, the M1710 is able to scale to higher frame rates with the lower resolutions in Lost Coast. The 2.16 GHz Core Duo CPU appears to max out at about 47 FPS in DODS, at least on 945PM chipsets.
Gaming Performance: Quake 4
We've dropped Doom 3 from our benchmark list, considering Quake 4 has SMP optimizations but is otherwise similar to Doom 3 in performance. Of course, the SMP optimizations won't really help in situations where we're GPU limited (like the X1400), but this will also let the M1710 strut its stuff. Testing was performed at high-quality settings.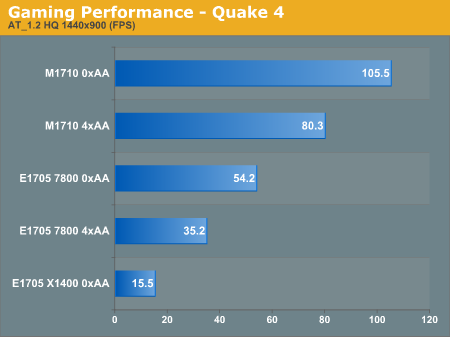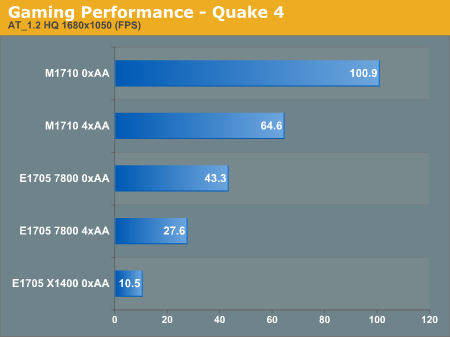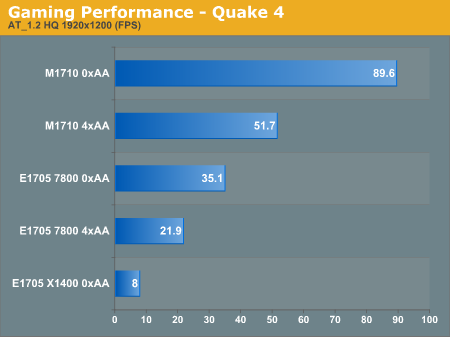 At lower resolutions, the M1710 is able to break 100 FPS. It could probably go higher if we lowered the resolution further, but there's no real purpose in doing so considering the LCD refresh rate is only 60 Hz. The 7800 is able to exercise its NVIDIA GPU in this particular benchmark, posting scores 2.5 to 3.5 times faster than the X1400. As we've repeated on nearly every gaming benchmark, the X1400 despite being part of ATI's X1000 series is completely inadequate for running modern 3D games.
Synthetic 3D Performance
Now that we've gotten results from all of the real world games, we'll throw in the standard 3DMark scores as well. They really don't tell us anything new, and the real world gaming performance is far more important, of course. All of the 3DMark applications were run with their default settings.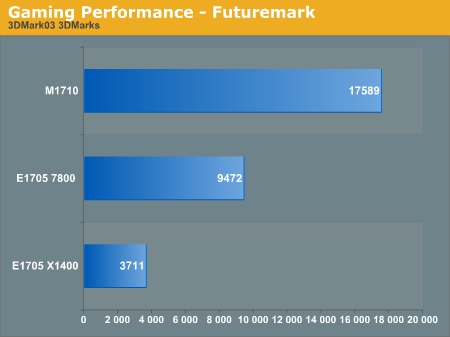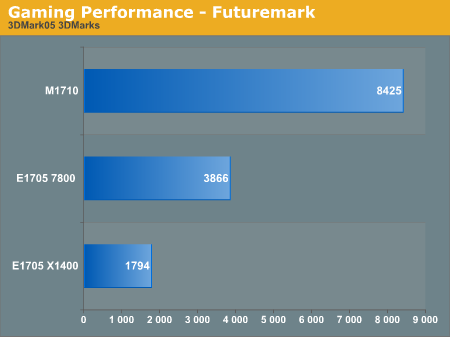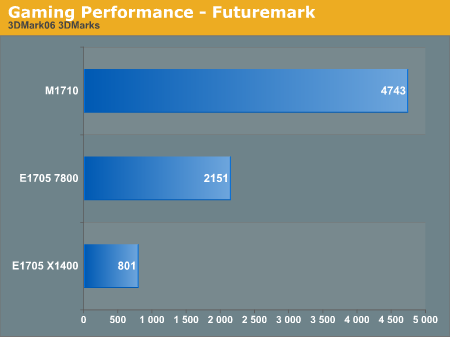 Depending on which game results you want to look at, the 3DMark performance more or less echoes what we've already seen. In terms of GPU power, the GeForce Go 7800 is two to three times as fast as the X1400. Meanwhile, the GeForce Go 7900 GTX is twice as fast (and sometimes more) as the 7800.
Noise and Heat
If you've been wondering why we even bothered to include the X1400 configuration in this article - since it's completely outclassed by either of its big brothers - we're finally getting to some benchmarks where it can turn the tables. We'll start with the more mundane noise levels and temperatures before we get to power draw. In order to provide full load situations, we ran two instances of Folding@Home on the CPU and looped 3DMark05 in the foreground.
Noise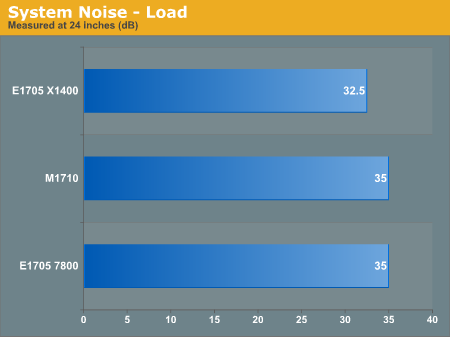 Despite having substantially different graphics processors, the noise levels on all three systems are pretty comparable. The two GeForce configurations get slightly louder at full load, but when idling all three computers drop below 30 dB. (We didn't bother to create a graph showing all three at <30 dB when idle.) Our SPL meter can't reliably measure anything below 30 dB, so we essentially have to declare a tie. The slight noise of the hard drive can be clearly heard over anything else, and if you allow the hard drive to power off when it's not in use the systems become about as silent as possible. Of course, the instant you actually do any work, the hard drive has to spin back up, but only extended use of CPU or GPU intensive applications will raise the noise level above 30 dB.
Heat
We measured temperatures across the bottom of the system as well as on the keyboard and palm rests. Graphs don't do a good job of conveying this information, so we've used a table instead. We broke down the temperatures into five primary areas: left-hand, right hand, left leg, right leg, and bottom center. The bottom center area of the laptop houses the memory, and while this area would generally not be touching your legs with the system sitting on your lap, it did generate enough heat that we felt this hotspot needed to be pointed out.
Laptop Temperatures (°C)
M1710 Load
M1710 Idle
7800 Load
7800 Idle
X1400 Load
X1400 Idle
Bottom Left
32-38
30-37
32-38
30-37
28-37
29-34
Bottom Right
40-44
39-42
37-41
39-42
31-35
34-38
Bottom Center
47-48
39-40
40-41
39-40
38-39
35-36
Top Left
32-35
31-34
30-33
31-34
27-31
27-31
Top Right
36-41
35-38
35-39
35-38
27-31
30-35
One of the interesting items that you almost immediately notice is that the temperatures under idle conditions aren't substantially cooler than temperatures under load conditions. The reason is quite simple: unless the CPU and/or GPU are generating a lot of heat, most of the fans are shut off. We never experienced any heat related crashes during our testing, and the temperatures are all low enough that we don't expect problems for most people. All testing was conducted in a 22°C environment; however, in a hotter climate the M1710 could potentially get too hot.
A temperature of 40+ °C might be considered uncomfortably warm for many people, especially if the laptop is resting directly against the skin. If you were outside on a warm summer day, surface temperatures would almost certainly be hotter than you would want in your lap. We didn't find it to be too bad while wearing jeans in more moderate conditions, but these systems are definitely more at home sitting on a table rather than your lap, which is typical of desktop replacement notebooks.
Power Consumption
For power testing, we removed the battery from the laptop and measured system power draw at the wall outlet using a Kill-A-Watt device. All three laptops were configured to run at maximum performance when plugged into AC power. We tested under stress conditions as with the noise and temperature benchmarks, but we also added a couple more results. First, we have peak power draw, which is often quite a bit higher than the typical average maximum power. We then got a rough estimate of the average power draw under full load, as well as a maximum power draw when only the CPU is placed under full load using two instances of Folding@Home. Finally, we have idle power draw, where the system has been sitting with no applications running for 10 minutes or more. The screensaver is disabled, as is the hard drive sleep mode.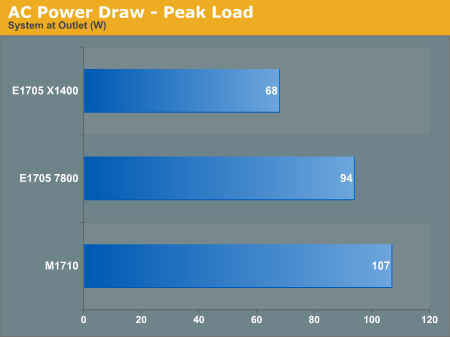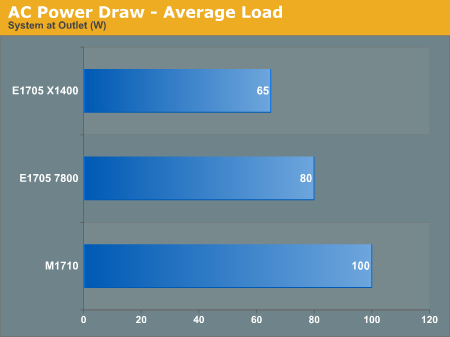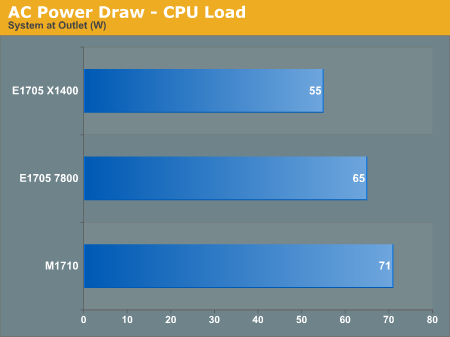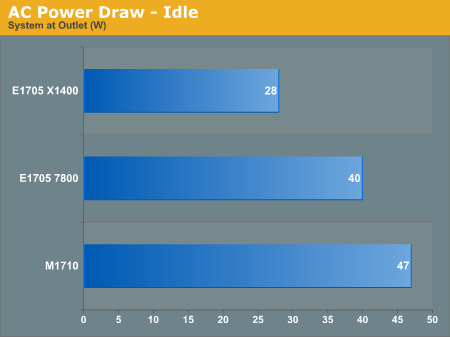 Why would anyone want to get the X1400 in such a laptop? Obviously, because it uses far less power than even the GeForce Go 7800. While 10 to 12 W might not seem like a big deal, that represents 25 to 30% more power draw. Considering that the battery is rated as 80 WHr, a load of 20 Watts will last roughly 4 hours while 30 Watts will only last 2 1/2 hours. That's the theory anyway, so we'll turn to our battery tests to find out exactly how long the systems can run under typical usage.
We also tested power draw with the LCD at maximum brightness and minimum brightness. The total difference was only 6 W, indicating that the LCD manages to be very power efficient. There are eight brightness levels on the LCD, and power draw scales pretty much linearly as you go from level 1 to level 8. The default brightness when running on battery power is 3, although if you use the system in direct sunlight you will definitely need to crank that up. Going with the maximum setting will reduce your battery life somewhat, but you shouldn't lose more than 30 minutes of battery life at worst by setting it at maximum intensity.
Battery Life
We used MobileMark 2005 to test battery life. We limited testing to the productivity and DVD playback tests, as the Reader 2002SE and Wireless results are generally very close to the productivity results. Screen brightness was set to 3/8 on all three laptops, which represents a value relatively close to 70 nits.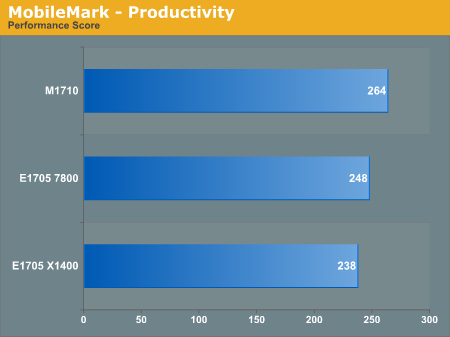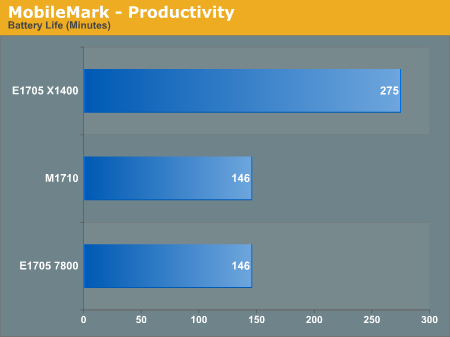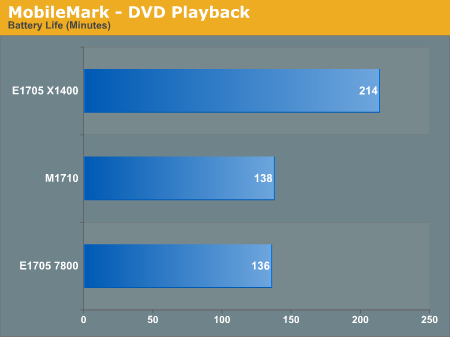 While it's true that power draw can be reduced relative to our AC power tests, the end result is that the X1400 configuration continues to lead by a large margin. The GeForce Go 7800 and 7900 GTX both apparently power down to a similar level when running off the battery, as battery life is nearly identical. Meanwhile, the E1705 with Radeon Mobility X1400 offers 57- 88% more battery life.
The productivity result in particular, lasting over 4.5 hours, is extremely impressive. Three hours of DVD playback is also nothing to scoff at, especially on those longer flights. Sure, productivity performance is slightly lower than the other systems, but it is doubtful most people will notice the difference. An extra hour or two of battery life on the other hand....
Closing Thoughts
We started with three different systems, and while they all look similar they end up targeting different markets. For the mobile gaming warriors among you, the M1710 is still clearly the best option. Yes, it's very expensive, but your only other choices for getting this level of performance in a laptop will likely cost just as much if not more. The R&D costs associated with creating laptops and laptop components - especially high performance parts - help to account for the higher prices.
The E1705 represents the best value in terms of price and performance. If you want good gaming performance without going all-out crazy, the GeForce Go 7900 GS should provide performance falling roughly in between the 7900 GTX and the 7800 we tested here. It can also be had for substantially less money than the XPS, and if you're willing to wait for one of Dell's Inspiron laptop sales that they have so frequently, you might even be able to get one for less than $2000. You can also find them on eBay frequently, which is where our X1400 equipped laptop was purchased.
So what's the target market for the E1705 with X1400 graphics? It just so happens that a friend was in the market for a new laptop, and this particular model fit his needs exactly. He has no interest in gaming - at all - so the higher powered GPUs are superfluous. He generally works with his laptop plugged in (either to a wall outlet or into his truck's cigarette lighter), and he uses it more as a portable workstation. Because he wants transportable more than thin and light, size and weight aren't a big concern. The ability to do photo editing on the road is important to him, and a dual core processor comes in handy for that sort of work. He also likes to watch DVDs, which is one of the reasons he wanted a 17 inch display.
That last point is important, as it explains why people would want to upgrade from the Intel GMA950 integrated graphics to the X1400. The X1400 fully supports ATI's AVIVO technology, so you get improved DVD playback and some of the decoding work can be offloaded from the CPU. Judging from our battery life results, the X1400 does a great job at providing high-quality video decoding without draining your battery.
We recommended this laptop as fitting his needs, and if you have similar wants, the E1705 with X1400 graphics is a good business/multimedia solution. If you're looking to get more gaming performance at the cost of battery life, upgrading to the 7900 GS graphics card is one option, though truly demanding types will be better off splurging on the XPS with the GeForce Go 7900 GTX.
Not everyone wants a really large laptop, and obviously the E1705/M1710 target those that prefer performance and screen size over portability and weight. If that's what you're after, there's a very good chance that you can configure a model that will meet your specific needs. Hopefully, in the future we can get a DTR laptop from Dell that includes a larger keyboard as well as better audio connections, as those are about the only areas that are truly lacking. Perhaps when the Core Duo 2 laptops launch, we will be able to get such a design.