Original Link: http://www.anandtech.com/show/2006


Introduction
Every so often we come across graphics solutions that are somewhat specialized and are designed differently than the average card. These are often times made to fit a certain niche within the hardware community, such as space-saving designs or alternative cooling methods. We like looking at these because these cards often yield very different or interesting results from your average graphics card.
Though the average gamer might not care about how cool their GPU runs or how much power the card draws from his system, there are those out there who are interested in such topics, and they want to find a graphics card to fit a certain need. One good example of this would be people looking for cooler-running GPUs to use in hot or desert climates. In these areas, the outside temperatures can cause computer hardware to run excessively hot, and cards with greater-than-usual cooling methods are needed.
One of the most popular and useful design types we've looked at in graphics cards before are those modified for silent or near-silent operation. Quiet systems would be important to many users, for example those who use their computer for audio recording in a home or commercial studio. In the past, we've looked at cards like the NVIDIA 6600 GT Silent, which while modest in performance, had a brilliant and completely silent heat sink design. Today we will be looking at two NVIDIA cards with silent heat sink designs, the ASUS EN7800 GT TOP Silent, and the ASUS 7600 GS Silent.
In one of our more recent video articles, we looked at a water-cooled solution from Sapphire (Blizzard X1900 XTX) which was very intricate and somewhat bulky, but performed on par with the other X1900 XTXs with slightly lower noise. With these two completely silent NVIDIA cards from ASUS, however, the designs are much more simple and effective at reducing noise while still saving space in your computer case. Of course, these two cards aren't looking to offer the same performance as the Blizzard X1900 XTX.
We've not looked much at overclocking silent cards before, but we will be for this article, as well as our usual performance breakdowns for these cards. With some of the recent monster GPUs from ATI and NVIDIA making so much racket, it's refreshing to see cards that make no noise at all, especially with the kind of performance you get with a 7800 GT. Now without further ado, let's take a look at the cards.
The Cards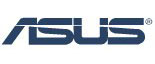 ASUS EN7800 GT TOP Silent
The EN7800 GT TOP Silent follows the same design of the earlier released 6600 GT Silent for the most part. The card and heat sink are scaled up to accommodate the more powerful architecture, but the heat sink is basically the same with an odd-looking metal arm protruding from the top that swivels out 90 degrees. The 90 degree angle on the protruding sink positions it squarely over the CPU fan on our system, ingeniously using the air from the fan to aid in the card's cooling.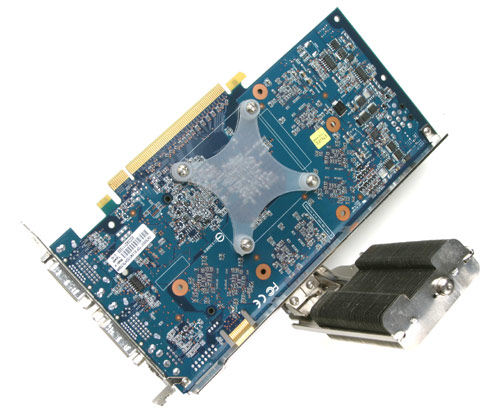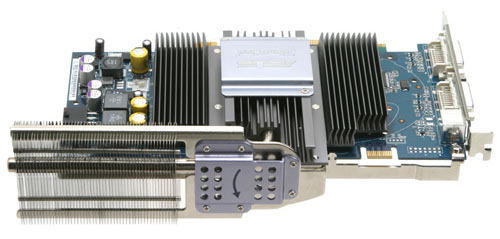 While one of the strangest looking designs we've ever seen, the heat sink appears to be very effective at keeping the GPU cool, and we haven't experienced any problems at all with performance out-of-the-box. Something else worth mentioning about the ASUS EN7800 GT TOP Silent package is the game bundle included is fairly large, and includes King Kong, as well as several other older games like Savage and Second Sight. There are an impressive seven games included in all, as well as ASUS DVD, CyberLink MediaShow, CyberLink PowerDirector, and a small black CD pouch to carry them in. These additions make an already nice package even better, and it was nice for ASUS to include them in the bundle.
Another nice thing about this silent version of the 7800 GT is that it comes with an GPU core factory overclock of 420 MHz instead of the standard 400 MHz. The memory is also factory overclocked to 1.24GHz versus the normal 1.0GHz memory clock. This factory overclock is interesting considering the heat issues that silent cards like this tend to have, but as we said we have experienced no problems during testing.
ASUS EN7600 GS Silent
The more recent silent card of these two from ASUS is closer to budget/mid-range in terms of performance, and also has a much more modest heat sink design. The 7600 GS is a less powerful variation of the recently introduced 7600 GT. Since this card won't run nearly as hot as the 7800 GT version, ASUS, and ultimately the consumer, saves money due to the cost-saving design. This is good news for those on a budget looking for a silent graphics solution.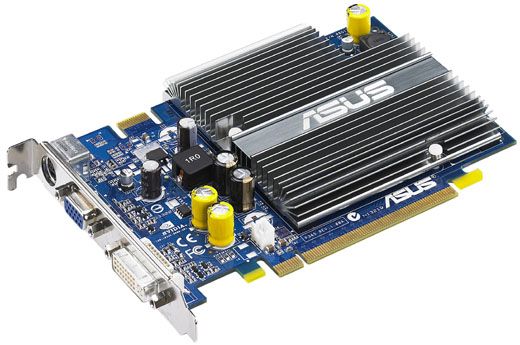 The card is small, and so is the heat sink which covers a portion of the front of the card, then curls over and onto the back, wrapping around and keeping the card very compact. Unlike the silent 7800 GT, which uses the 6-pin PCI-E power connection, the EN7600 GS Silent doesn't require the extra power. There is a game bundle included with this card which is similar to the EN7800 GT TOP Silent bundle, but not as sizable with a game pack of some older games.
Overclocking, Heat & Power
We approached overclocking these cards with some caution because of what we mentioned before about heat issues. Since faster clock speeds equal higher temperatures on the GPU, more heat dissipation is needed, which can be a problem for cards with fan-less heat sinks. We found that the 7600 GS Silent did actually have trouble with overclocking, but interestingly, the Silent 7800 GT managed to achieve quite a high core and memory clock. Here are the clock speeds we achieved.
Overclocking Results
Core Clock
Memory Clock
ASUS EN7800 GT TOP Silent
Default
420
1240
Overclocked
481
1290
% Increase
14.5%
4.0%
ASUS EN7600 GS Silent
Default
400
800
Overclocked
442
874
% Increase
10.5%
9.3%
We tested these clock speeds by running the Splinter Cell Chaos Theory benchmark stress tests to verify stability. One thing to note is that these cards tended to get incredibly hot to the touch after several minutes of testing. Here are the performance results in Splinter Cell of the overclocked cards.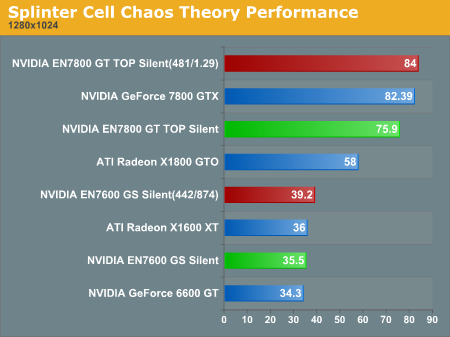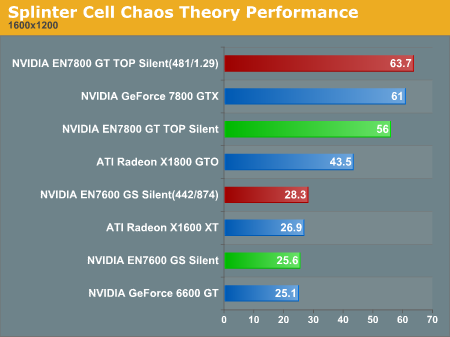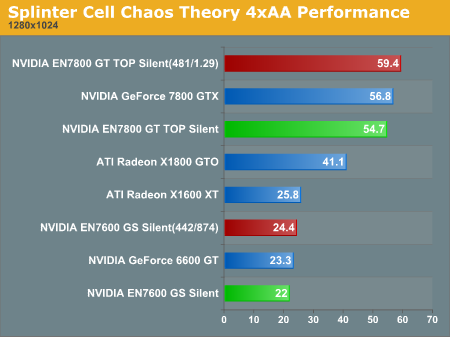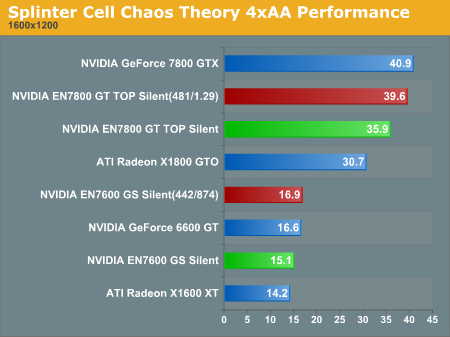 There's not much difference at all between the factory and user overclocked silent 7600 GS. This card was the worst of the two at overclocking and had a lot of trouble running stable (i.e. without graphical artifacts) during our stress tests. However, once we established the overclock of 442MHz/874MHz, the artifacts left and our tests ran cleanly. With the silent 7800 GT, the difference our overclocking makes is fairly significant. It did manage to boost performance by several fps, which may be a noticeable improvement during gameplay.
Power Consumption
We also tested the power consumption of these cards to see how much power they drew and if there was anything out of the ordinary. We acquired our power numbers by measuring the wattage of the total system at the wall outlet while idle and under load (stress tests). These are the results we recorded.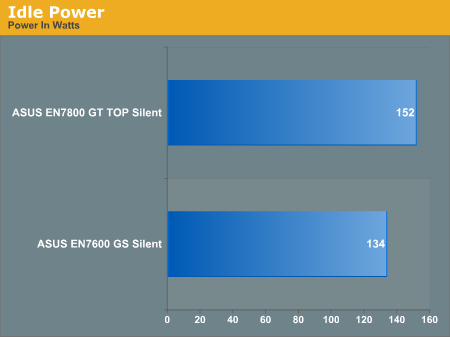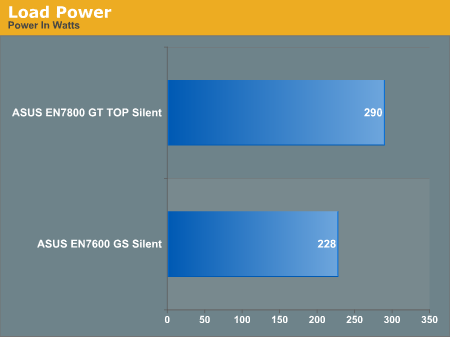 As expected, the EN7600 GS Silent drew much less power than the EN7800 GT TOP Silent. Neither of these cards are really power-hungry, but the fact that the EN7800 GT TOP Silent requires a 6 pin power connection reflects that its consumption is on par more with other cards of this type. The EN7600 GS Silent requires no external power connection, and its consumption is fairly low, which is good for those concerned with power draw.
Heat
We tested the temperatures of these cards as well to get a good idea of their heat levels generated during operation. We acquired the results here similarly to the power test, by taking the temperature of the GPU (in Celsius) while the system was idle and under stress testing. Here are the results.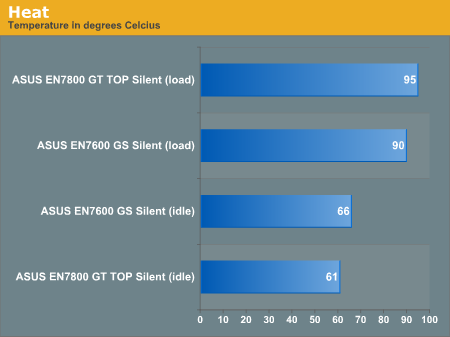 As we mentioned above, both cards do get very hot to the touch after running any 3D application for a bit. Something interesting here is that the EN7800 GT TOP Silent runs cooler at idle than the smaller EN7600 GS Silent. At load however, the 7800 GT gets about 5 degrees C hotter than the 7600 GS. The EN7800GT cooler is obviously larger and better at dissipating heat, yet the card still gets hotter because it is a much more powerful part.
Test Setup/Performance
Now that we've talked about the cards and their overclocking abilities, let's look at their performance. We've included a few other cards for comparison to get an idea of how these cards rank in a general way. Included on the graphs we have the NVIDIA 7800 GTX, 6600 GT, and the ATI X1800 GTO and X1600 XT (along with our two silent ASUS cards). The games we are testing are Half-Life 2: Lost Coast, Battlefield 2 and Quake 4, at 1280x1024 and 1600x1200 resolutions. Here is the test system we used:
NVIDIA nForce 4 motherboard
AMD Athlon 64 FX-55 2.6 GHz Processor
1 GB OCZ 2:2:2:6 DDR400 RAM
Seagate 7200.7 120 GB Hard Drive
OCZ 600 W PowerStream Power Supply
*Note that sound was disabled for these tests.
Battlefield 2 Performance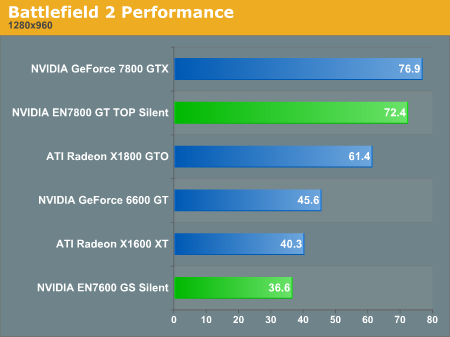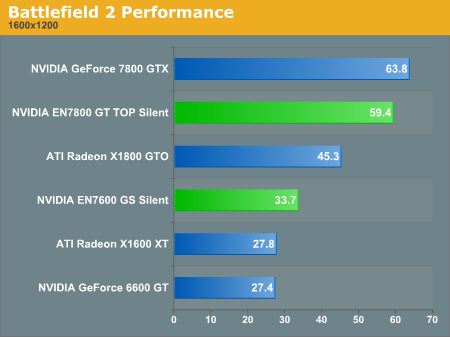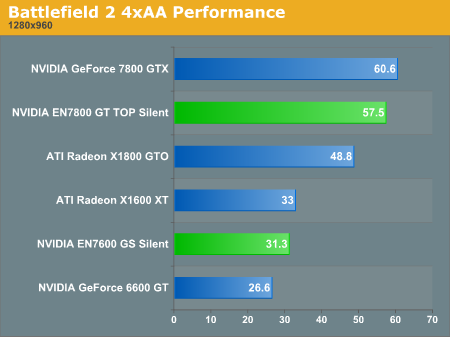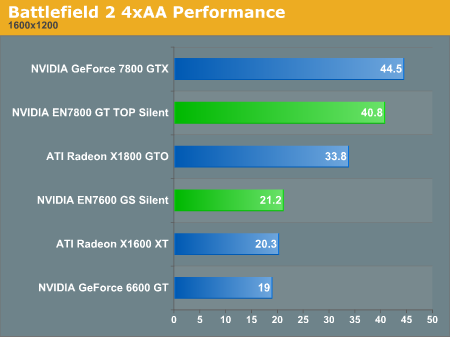 Halflife 2: Lost Coast Performance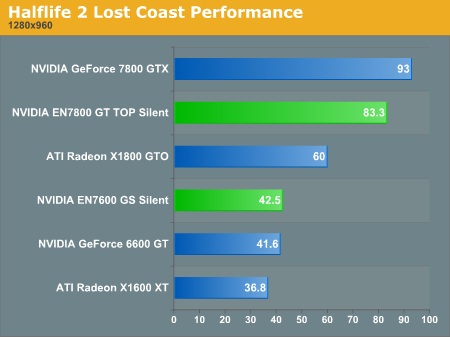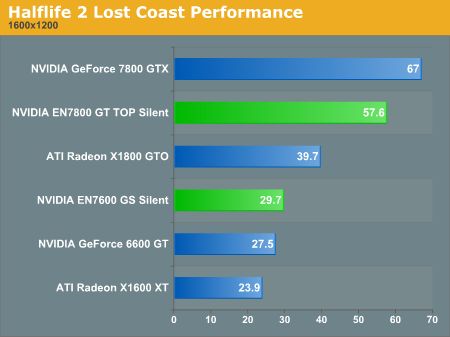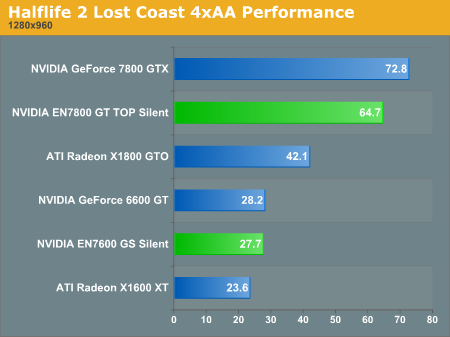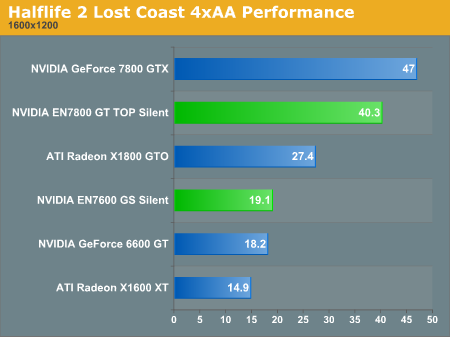 Quake 4 Performance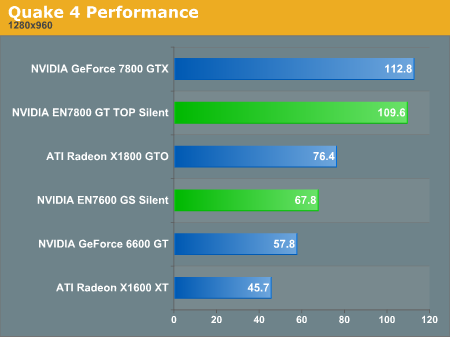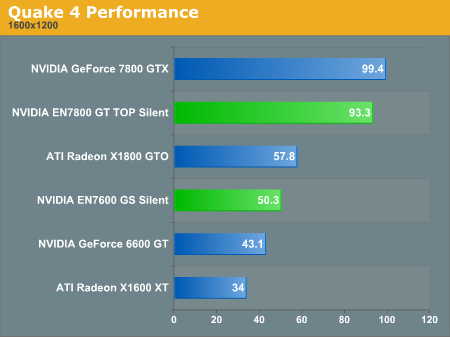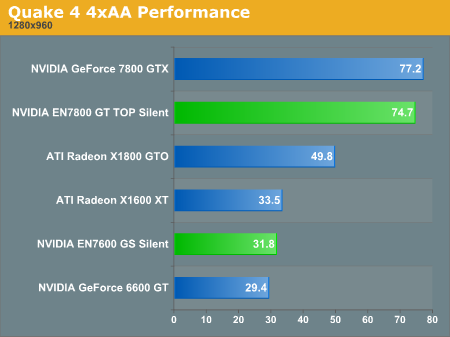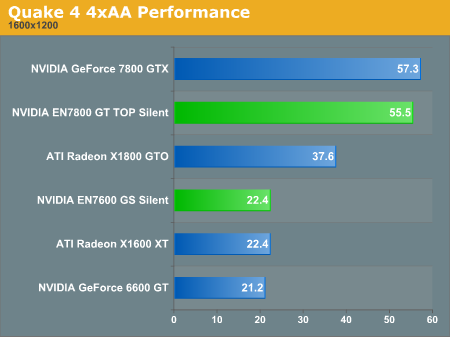 Of course these two silent cards are in a different league from each other in terms of performance. We mentioned that the EN7600 GS is more of a budget/mid range card and the EN7800 GT TOP Silent more on the high-end. The numbers here reflect this, and we can see that the 7600 GS has a little trouble running games very smoothly with high resolutions, particularly with Anti-aliasing enabled. It still does very well and (arguably) gets playable framerates in almost all of the games and settings.
Final Words
While it might be nearly impossible to make a PC run completely silent, there are lots of ways for those concerned about noise to deal with the problem. And for those who want a quiet system for recording or whatever else, but also to play games every once in a while, a silent graphics card will help keep the noise down while still allowing you to game. Still, silent graphics solutions are specialized, so the average gamer won't mind that their card adds a few db to their computer noise. These cards are made to fit a specific need, and both the EN7600 GS Silent and the EN7800 GT TOP Silent meet this need very well.
Both of these cards are identical when it comes to noise level, but obviously there's a large difference in terms of gaming performance. It's difficult making fast cards run quiet because higher power requires more cooling and eventually you will need fans or other moving parts to cool down the processor, which in turn will generate noise. The 7800 GT is fairly high on the performance ladder, and the fact that ASUS managed to make a silent version of this card is nice. What is even nicer is the fact that the EN7800 GT TOP Silent was able to achieve a fairly high user-overclock over the already decent factory overclock. (Note that overclocking ability varies between cards of the same type.) It's fairly safe to say that those looking for both the most powerful and quiet graphics card available need look no further than the ASUS EN7800 GT TOP Silent. However, the price for this card is a bit higher than a normal 7800 GT, so the silent operation will cost you extra.
As far as pricing goes, it makes sense that a slower card like the 7600 GS would likely be easier for a manufacturer to modify to silent operation over a fast card like the 7800 GT, thus saving on costs. Currently, the ASUS EN7600 GS Silent can be bought for about $147 on Newegg, which is relatively inexpensive for what you get. It is still a budget/midrange card though, so it won't be able to give you the kind of performance you would need to run the latest games at high settings. The ASUS EN7800 GT TOP Silent lists for a much higher price of $399, and at the time of this writing we weren't able to find any of these cards for sale. Normal 7800 GTs can be found now for as low as $280, so having one of these cards that runs noiseless will be more of a luxury item for most gamers.
Overall these cards adequately fulfill their job of providing a level of graphics acceleration while making no sound at all, so for those interested in this aspect of the cards, you won't be disappointed. Which one is better for you depends mostly on your budget, and most likely the ASUS EN7600 GS Silent will be a more reasonable purchase for the consumer in the market for a card of this type. There are other low-noise solutions available, but none quite as fast as the EN7800 GT TOP Silent which makes it unique, and the likely choice for those interested in maximum performance with lowest noise levels. With NVIDIA's "slimming-down" of their most recent line of cards, we can imagine more powerful silent-operation will be easier and cheaper to achieve in the future, and we'll be interested to see what advancements are in store for us in this area.