Original Link: http://www.anandtech.com/show/2000


"L'imagination est la seule arme dans la guerre contre la réalité."
For those of us who have not fully embraced the French language, this quote by the French philosopher Jules de Gaultier translates into, "
Imagination is the one weapon in the war against reality.
" A very fitting quote when realizing the imagination involved on AOpen's behalf in designing and then bringing to market a performance oriented desktop board that utilizes the current star of Intel's microprocessor lineup, the Core Duo. Our reality has been living with the minimalist number of Mobile on Desktop products available for Intel users wishing to break free of the NetBurst architecture since the introduction of the Pentium-M product line.
While the Intel Pentium-M series started off with a bang in the notebook sector with the release of the Banias (130nm) product family a few years ago, this processor series did not fare well against its Pentium 4 and AMD Athlon64 competitors when utilized in desktop boards based upon the Intel 855GME chipset, an i865/875 derivative, which featured a single-channel DDR333 memory controller, AGP4x, and PATA drive support. However, the chips did bring the promise of a low noise and low power consumption processor to the desktop and was an HTPC builder's dream choice for a silent PC, a total reversal of the Prescott family traits. The Banias based processors just did not have the clock speeds, chipset support, memory bandwidth, or architecture improvements at the time to effectively compete on the desktop even with their considerable noise level and power consumption advantages. In fact, Intel was dead set against the idea of utilizing mobile processors on the desktop so the availability of boards was further limited, a very misguided idea as it turns out.
Intel continued development on the Pentium-M series and released its second generation product family called Dothan a couple of years ago. Dothan represented the move to the 90nm process, L2 cache increased from 1MB to 2MB, clock speeds increased up to 33%, and minor architecture improvements in the areas of Micro Ops Fusion, Local Branch Prediction, Integer Division, and Register Accesses were included. Although the Dothan series were still limited in overall system performance by the Intel 855GME equipped boards at launch, Asus released a unique socket 479 to socket 478 adapter in early 2005 that allowed the use of non-low voltage Banias and Dothan processors in certain socket 478 motherboards based upon the Intel 865/875 chipset family. This adaptor card allowed the Pentium-M series to take advantage of a mature desktop platform, increased memory bandwidth, and allowed the user to overclock the processor.
The test results with the adapter card were impressive at the time with certain benchmark scores equaling or surpassing the Pentium 4 and Athlon64 competition, but floating point and SSE performance continued to be an issue in video encoding and some 3D rendering tasks. The availability of the Intel 915GM chipset later in the year featuring PCI Express, SATA support, HD Audio, Dual-Channel 533MHz DDR2 support or Single-Channel DDR333, and Gigabit LAN meant the Dothan finally had a fairly competitive platform to showcase its performance enhancements and abilities against the desktop processors. However, Pentium-M desktop board availability continued to be limited with the focus being on micro-ATX designs designed for HTPC or SFF users, certainly nothing targeted to the performance oriented enthusiast crowd. Further information about the Pentium-M along with test results using the ASUS adapter can be found in our
Intel's Pentium M on the Desktop
and
Intel's Pentium M Desktop Part II
.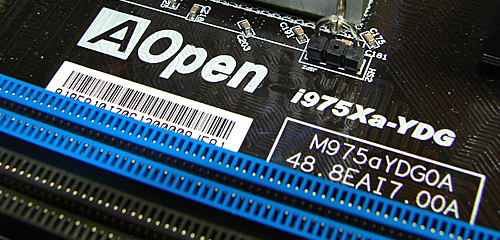 Intel's development cycles continued in earnest on the Pentium-M series resulting in the Yonah family of products and a name change to the Core Duo/Solo series. These Core series processors include a move to the 65nm process, dual-core capability in the Duo models, thermal enhancements, Smart Cache implementation on the Duo, and architectural improvements that include improved floating point performance, SSE/SSE2 Micro Ops Fusion tweaks, support for SSE3 instructions, and SSE decoder throughput enhancements. These changes and additions addressed the floating point, media encoding, and 3D gaming weaknesses of the prior Pentium-M product family while maintaining near equal thermal characteristics. Note that the Core Duo/Solo series, like the Pentium-M series before it, does not support 64-bit extensions.
Intel released the Core Duo and Core Solo products earlier this year with a splash that included almost immediate availability in the revised Apple iMac and MacBook Pro product lines while widespread availability in the Intel PC market space is just now occurring. Along with this impressive rollout comes another core logic update in the form of the Intel 945GM chipset family. This update to the 915GM chipset includes improved power consumption, a move to 667MHz DDR2 memory and front side bus support, improved integrated graphics, a modified 479-pin socket, and the addition of the ICH7MDH Southbridge featuring SATA 3Gb/s support and increased PCI-Express lanes when compared to the previous ICH6M. While the core logic chipset improvement tweaks are certainly welcome, including the 25% increase in front side bus bandwidth, the mobile desktop boards based on this chipset are still mainly targeted at the HTPC and general office application user.
The support and general interest of the motherboard manufacturers in releasing a wider variety of Mobile on Desktop products has greatly increased with the roll out of the current Core series processors. We expect a few of the upcoming 945GM based boards will be more performance oriented for the enthusiast user, but from all indications their roots will still be firmly planted in the mobile design sector. Additional information on Core Duo can be located found in
Intel Core Duo (Yonah) Performance Preview - Part II
.
This leads us into the main star of today's discussion, the AOpen i975Xa-YDG, so let's take a closer look at its features and performance.
Basic Features
This board is designed around Intel's flagship i975X chipset with one purpose in mind, the ability to let your Core Duo or Solo processor reach its maximum potential while still maintaining the low noise and power consumption benefits of this impressive processor series. It is the only true ATX size board on the market at this time featuring a non-mobile chipset for the Intel Core Duo/Solo series processors.
If our test results are a true indication of the performance potential of the upcoming Conroe and Merom processors, then we foresee a sizable interest within the AMD community for taking another look at Intel based products in the near future. The Conroe/Merom processors should realize a performance improvement of around 15% above the current AMD lineup. An excellent overview of the Core architecture and comparison to the current AMD offerings is located here - Intel Core versus AMD K8 by Johan De Gelas.
If nothing else, the overall platform performance of the Intel Core Duo and AOpen i975Xa-YDG should convince anyone seriously considering building an ultra quiet performance oriented game or HTPC system to think at length about purchasing this combination.
AOpen i975Xa-YDG
Component
Description
CPU Interface
Socket 479 - Intel Core Duo or Core Solo
Chipset
Intel 975X - Northbridge
Intel ICH7 - Southbridge
Front Side Bus
667 / 533 MHz
CPU Clock
166MHz ~ 199MHz in 1MHz increments
Jumper change allows 200MHz ~ 320MHz in 1MHz increments
Memory Speeds
Auto, 533MHz, 667MHz, standard multipliers apply to overclocks
PCI Bus Speeds
Locked
PCI Express Bus Speeds
Auto, 100MHz ~ 160MHz in 1Mhz increments
Set Processor Multiplier
Locked to CPU
Core Voltage
Auto, .7375V to 1.5000V in 0.0125V increments
DRAM Voltage
Auto, 1.80V to 2.15V in .05V increments
Northbridge Voltage
Auto, 1.525V, 1.575V, 1.625V, 1.675V
PCI-E Voltage
Auto, 1.500V ~ 1.700V in various increments
Memory Slots
(4) x DIMM, max. 4GB, DDR2 667/533, non-ECC or ECC support
Expansion Slots
(2) x PCI-E x16
(operates in 2x8 mode in dual graphics or CrossFire mode)
(2) x PCI-E x1
(2) x PCI 2.3
Onboard SATA
Intel ICH7 - Southbridge
(4) x SATA 3Gb/s
JMicron- JMB360
(1) x External SATA 3Gb/s
Onboard IDE
Intel ICH7 - Southbridge
(1) x 100/66/33
ITE IT8212 IDE
(1) x 133/100/66/33
IDE RAID
ITE IT8212 IDE
(2) x 133/100/66/33
RAID 0, RAID 1, RAID 0+1
Onboard USB2.0
(8) USB2.0 ports
Onboard IEEE-1394
Agere 1394A - FW3226-100
Onboard LAN
Marvell 88E8053 PCI-Express x1
Onboard Audio
Realtek ALC-880, 8-channel capable High Definition Audio
Power Connectors
24-pin ATX
4-pin 12V
4-pin ATX 12V
Back Panel I/O Ports
1 x PS/2 Keyboard
1 x PS/2 Mouse
1 x IEEE-1394
1 x External SATA 3Gb/s
1 x Optical S/PDIF - In
1 x Optical S/PDIF -Out
1 x Audio I/O Panel
1 x RJ45
4 x USB
Other Features
(C.O.O.) - Code of Overclocking System
AOConfig - Windows based System Information Utility
EZ Skin - Windows based Jukebox Player
C.O.O. Paradise Utility - Windows based utility for Remote Control, real time information
Remote Control - I.R. based remoter control unit for basic media player, on/off, and FSB overclocking control
EZWin Flash - Windows Based Bios Update Program
BIOS
1.03b
The AOpen i975Xa-YDG is a member of AOpen's Mobile on Desktop Technology Series product family and as such is a board targeted towards both the HTPC and enthusiast user. The board ships with an accessory package that includes the standard assortment of IDE/SATA cables, power connectors, CPU heatsink/fan, and a unique Remote Control unit. AOpen also includes a driver CD along with several desktop utilities for Windows based monitoring and tuning of your system.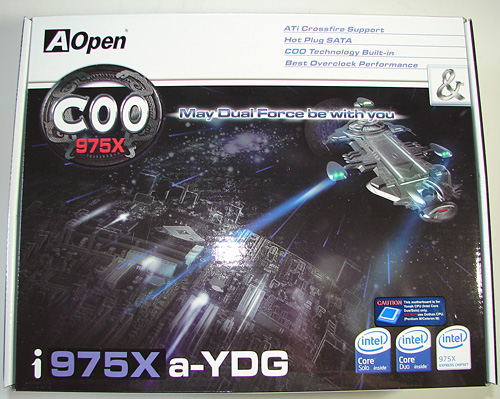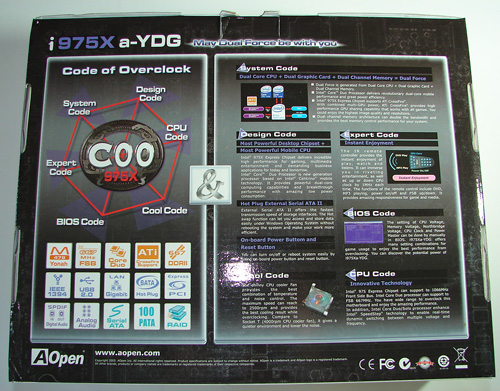 AOpen ships the motherboard and related components in an eye catching box that certainly plays on the Star Wars theme. We will find out shortly if this board is truly worthy of Darth Maul status or if we have another Jar Jar Binks wannabe in the labs.
Board Layout
AOpen designed a very well laid out board with all major connections easily reached. The board is lacking most clearance issues and was very easy to install in a mid-size ATX case. The board features an excellent voltage regulator power design along with Rubycon capacitors that yielded superb stability and overclocking results. Here's an
enhanced close-up
of the capacitors area.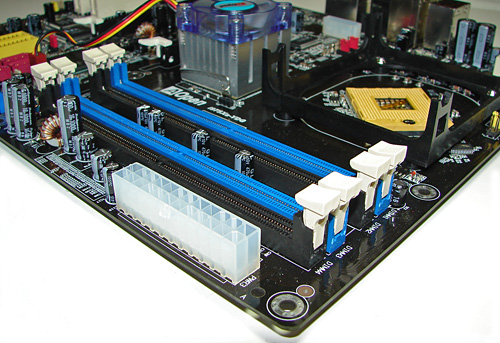 The DIMM module slots' color coordination is correct for dual channel setup based upon the premise of utilizing different colors for each memory bank. The memory modules are easy to install with a full size video card placed in the first PCI Express X16 slot. The 24-pin ATX power connector is located along the upper edge of the board and below the memory modules.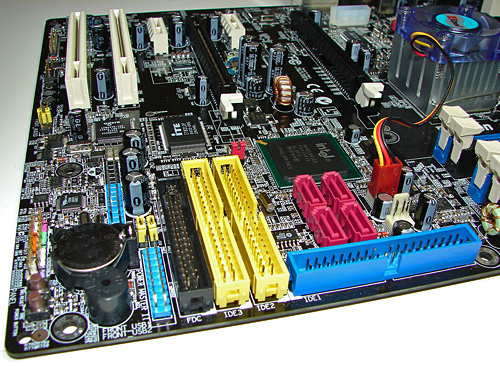 The Intel IDE port connector is the blue IDE socket located along the edge of the board and to the right of the memory modules. This port did not present any connection issues in our mid-size ATX case. The system and Northbridge fan headers are located above the IDE1 port and to the left of the Intel SATA ports.
The four Intel SATA ports are a reddish-pink color and are conveniently located below the Intel ICH7 Southbridge. The SATA ports feature the newer clamp and latch design. We found the positioning of the SATA ports to be excellent when utilizing the PCI-E slots or the Intel IDE port connector. The Intel ICH7 Southbridge does not require a heatsink in this application.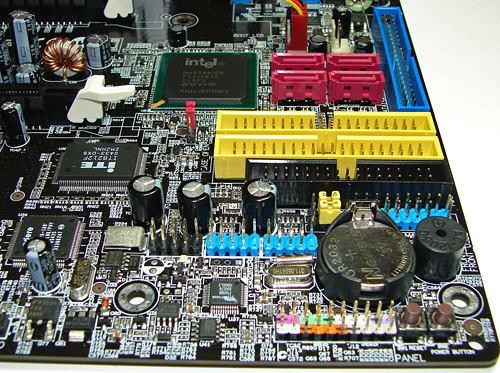 The two yellow IDE port connectors are provide by the ITE chip and are located below the Intel SATA ports. These ports did not present any connection issues in our mid-size ATX case although they could potentially interfere with the SATA ports or might cause a cable length issue in full size ATX cases.
The black floppy drive connector is positioned below the ITE IDE ports. The location of this connector is not ideal and actually the whole point of having a floppy drive connector is becoming moot with the wide spread availability of USB floppy or flash drives along with BIOS support for boot purposes.
The blue IR port is located below the floppy drive connector and above the battery. This connector is required for the Remote Control unit. Take note of the yellow jumpers; if they are not installed correctly the Remote Control unit will not operate correctly. The jumper configuration is not mentioned in the manual.
The nine pins on the black plastic base provide an additional IEEE-1394 connector; this connection is located to the left of the two additional blue USB connectors - not to be confused with the blue IR connection. The chassis panel connections are located at the bottom edge of the board below the battery. AOpen also provides onboard reset and power buttons, a feature that is greatly appreciated and very useful for boards not in a case. Last and actually least used is the clear CMOS jumper block that is a traditional jumper design located below the Intel ICH7 and to the left of the ITE IDE connectors. We did not utilize this jumper throughout our two weeks of testing this board and AOpen should be commended for their BIOS self recovery system and general board stability.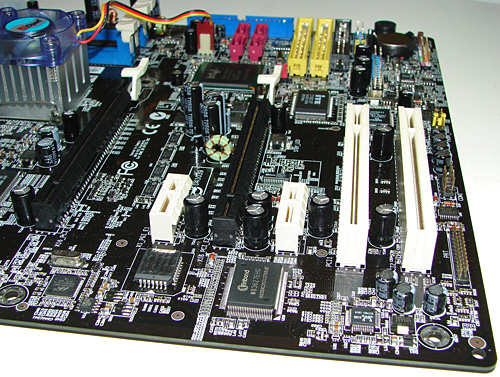 The board comes with (2) physical PCI Express X16 connectors, (2) PCI Express X1 connectors, and (2) PCI 2.3 connectors. The layout of this design offers a good balance of expansion slots for a mainstream board while providing excellent clearance space for card utilization. AOpen designed a two slot opening between the first X16 PCI-E connector and the first X1 PCI-E connector, allowing you to utilize the X1 connector with a dual slot cooling system.
The primary PCI Express X16 connector is located to the far left of the slot areas. The first PCI Express X1 connector is located next, followed by the secondary PCI Express X16 connector. The second PCE Express X1 connector is next, and then last are the (2) PCI slots. Although there are two physical X16 connectors available on the board, they operate in X8 PCI-E mode in multi-GPU or CrossFire mode.
We did not have any issues installing our EVGA 7900GTX 512MB or ATI X1900XTX video cards in the first or second X16 PCI Express slots. A dual slot card located in the second X16 connector will physically render the second PCI Express X1 slot useless. There were no issues utilizing this slot with video cards containing single slot cooling systems.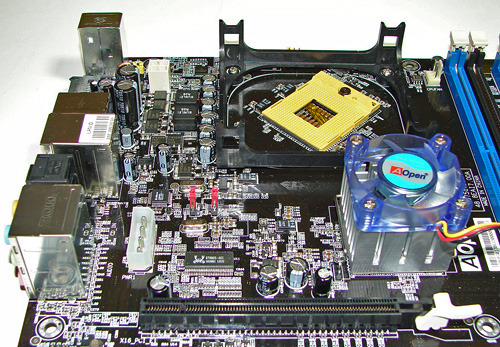 Returning to the CPU socket area, we find an ample amount of room for alternative cooling solutions. We utilized the supplied AOpen heatsink/fan but also verified a couple of Socket-478/9 cooling solutions would fit in this area during our tests. However, due to the low voltages utilized and resulting thermal output, the supplied AOpen heatsink/fan worked fine throughout our testing. The CPU socket is rotated at a 45 degree angle, which we have seen in past Pentium-M configurations.
The Intel 975X Northbridge is actively cooled with a medium sized heatsink/fan unit that did not interfere with any installed peripherals. In fact this unit kept the chipset cool enough that additional chipset voltage was not a factor in our overclocking tests. Our only concern is the lifespan of the fan but it is very quiet during operation. Our advice to AOpen is to install a more effective passive heatsink design and drop the fan as our overclock testing showed no differences between the fan operating or not.
AOpen places the four-pin 12v auxiliary power connector at the top of the CPU socket area but out of the way of aftermarket cooling solutions. The four-pin Molex power connector is located above the first X16 PCI-E connector and must be utilized for multi-GPU or CrossFire operation. This connector is located in a position that can hamper airflow with cabling that crosses directly over the CPU heatsink/fan, though power supplies with longer cables will usually allow you to route cables around the CPU.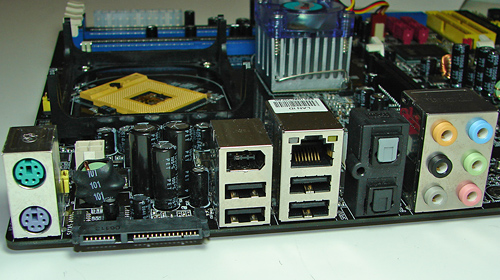 The rear panel contains the standard PS/2 mouse and keyboard ports, LAN port, and 4 USB ports. The LAN (RJ-45) port has two LED indicators representing Activity and Speed of the connection. The audio panel consists of 6 ports that can be configured for 2, 4, 6, and 8-channel audio connections. The rear panel also has two S/PDIF optical ports (In/Out), IEEE-1394 port, and a powered external SATA 3Gb/s port.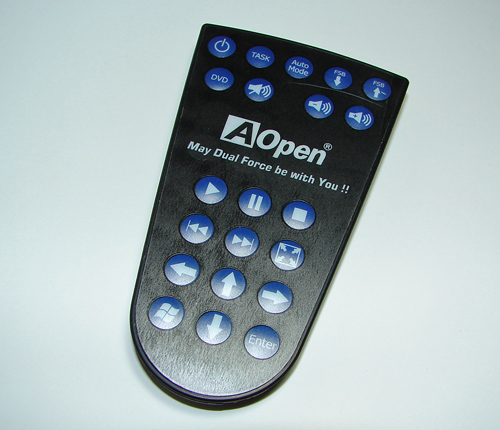 One of the more interesting options we have seen in a motherboard kit is this remote control unit from AOpen. Its main purpose is to control Windows Media Player functions but AOpen designed system on/off and FSB overclocking capability into the mix. Both of these functions proved valuable during the course of our testing, especially the FSB settings as we explored the overclocking limits of our board. (Just don't let your toddler have too much fun pressing buttons on the remote!)
FSB Overclocking Results
Front Side Bus Overclocking Testbed
Processor:
Intel Core Duo
T2400 -1.83GHz
CPU Voltage:
1.400v (1.250V default)
Memory Settings:
4-4-4-15 at 667MHz
Memory Voltage:
2.15v
NB Voltage:
1.575V
PCI-E Voltage:
1.525V
Cooling:
AOpen Supplied Cooler
Power Supply:
FPS FX700-GLN
Maximum CPU OverClock:
255fsb x 11 (2805MHz) +54%
Maximum FSB OverClock:
255fsb x 11 (2805MHz) +54%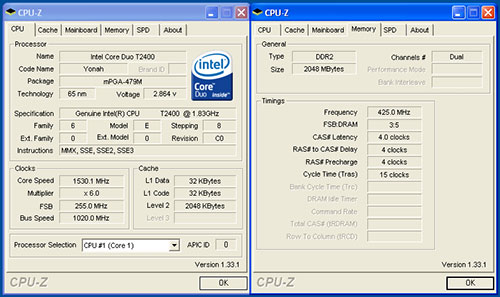 Click to enlarge
This board is a very good overclocker although it does have a couple of quirks. The BIOS allows you to overclock the front side bus by 1MHz increments but you are limited at both the minimum and maximum levels by a set of jumpers. If the JP4 and JP5 jumpers are enabled the board defaults to a 166MHz minimum and a 199MHz maximum. If these jumpers are disabled the board defaults to a 200MHz minimum and a 320MHz maximum.
The Core Duo processor does not allow a change to the CPU multiplier so keep this in mind when deciding what CPU to purchase. We were able to take our retail CPU to a setting of 11x262 before we hit a ceiling with either the board or the CPU utilizing the stock cooling. We are reporting our maximum numbers at 11x255, not because of the board or CPU not being stable at 11x262, but due to our comparative Opteron 175 only reaching this level and remaining stable. This board series has reached the 274FSB level based upon user experiences, so we either reached the limit of our CPU or possibly our board does not overclock quite as well as retail samples.
Considering the maximum official Core Duo CPU is currently running at 2.16 GHz, an overclock to 2.882 GHz (using the relatively inexpensive T2400 CPU) is nothing to complain about! We might even add that our retail CPU stayed in the 36c to 39c range under load at the overclocked settings with the AOpen supplied heatsink/fan. Additional testing with a watercooling unit brought our temperatures down to the 26c range under full load as we reached a 267FSB level (required 1.675V on the Nortbridge, 5-5-5-15 memory timings) before the board would not post.
Memory Stress Testing
Memory stress tests look at the ability of the AOpen i975xa-YDG to operate at the officially supported memory frequencies of 667MHz DDR2 at the best performing memory timings the Corsair CM2X1024-6400PRO revision 1.4 will support.
AOpen i975Xa- YDG
Stable DDR2-667 Timings - 2 DIMMs
(2/4 slots populated - 1 Dual-Channel Bank)
Clock Speed:
166MHz (667FSB)
Timing Mode:
667MHz - Default
CAS Latency:
3
RAS to CAS Delay:
3
RAS Precharge:
3
RAS Cycle Time:
8
Voltage:
1.9V
The AOpen board was very stable with two (1GB) DDR2 modules in Dual-Channel mode at the settings of 3-3-3-8 at 1.9V. The board would set tRAS to 12 if the memory selection was left on auto. We did not notice any issues throughout our testing with a tRAS setting of 8 at the stock 11x166 setting. We will now install our Corsair modules into all four available memory slots, which results in more strenuous requirements on the memory subsystem than testing just two DDR2 modules.
AOpen i975Xa- YDG
Stable DDR2-667 Timings - 4 DIMMs
(4/4 slots populated - 2 Dual-Channel Banks)
Clock Speed:
166MHz (667FSB)
Timing Mode:
667MHz - Default
CAS Latency:
3
RAS to CAS Delay:
3
RAS Precharge:
3
RAS Cycle Time:
12
Voltage:
1.95V
The AOpen was completely stable with four (1GB) DDR2 modules in Dual-Channel operation at the settings of 3-3-3-12. Note that tRAS had to be changed from 8 to 12 along with a slight memory increase to 1.95V. These are excellent results as the board performed superbly throughout our memory testing regimen that included eight to twenty four hour runs of MemTest86 and Prime95 along with numerous iterations of SuperPI set at 32M. This board along with the Intel 975X core logic is about as solid as it gets.
Test Setup
The AOpen i975Xa-YDG fully supports all Intel Core Duo or Core Solo processors. Dual core really makes a difference in certain multi-tasking scenarios, as was demonstrated in the
dual core performance preview
. If you are interested in how the various chipsets perform in a real world multitasking setup please take another look at that review or visit our
Yonah performance preview
for benchmarks specific to the Intel Core Duo.
Performance Test Configuration - AOpen i975Xa-YDG
Processor:
Intel Core Duo - T2400 - 1.83GHz
RAM:
2 x 1GB Corsair CM2X1024-6400PRO
DDR2-667 at (CL3-3-3-8)
Hard Drive(s):
2 x Maxtor MaXLine III 7L300S0 300GB 7200 RPM SATA (16MB Buffer)
1 x Maxtor MaXLine III 7L300R0 300GB 7200 RPM IDE (16MB Buffer)
Optical Drive:
BenQ DW1655
System Platform Drivers:
Intel Chipset Software - 7.2.2.1006
Video Cards:
1 x ATI X1900 CrossFire Edition - All Tests
Additional ATI X1900XT used for CrossFire Tests
Video Drivers:
ATI Catalyst 6.4
Cooling:
AOpen Stock Cooler
Power Supply:
FPS FX700-GLN
Operating System(s):
Windows XP Professional SP2
Performance Test Configuration - Asus A8R32-MVP
Processor:
AMD Opteron 165
AMD Opteron 175
RAM:
2 x 1GB OCZ EB DDR PC-4000 Platnium Edition
DDR-400 at (CL3-3-3-8-1T)
Hard Drive(s):
2 x Maxtor MaXLine III 7L300S0 300GB 7200 RPM SATA (16MB Buffer)
1 x Maxtor MaXLine III 7L300R0 300GB 7200 RPM IDE (16MB Buffer)
Optical Drive:
BenQ DW1655
System Platform Drivers:
ULi Unified Driver - 2.20
Video Cards:
1 x ATI X1900 CrossFire Edition - All Tests
Additional ATI X1900XT used for CrossFire Tests
Video Drivers:
ATI Catalyst 6.4
Cooling:
Tuniq 120
Power Supply:
FPS FX700-GLN
Operating System(s):
Windows XP Professional SP2
We anxiously awaited the arrival of the AOpen board into our labs as we wanted to see how well an Intel Core Duo would perform on a board designed with the computer enthusiast in mind instead of the HTPC user. Our quandary began as the only other Socket-479 board we had capable of running the Core Duo is the Asus N4L-VM DH that is based on the Intel 945GM chipset. The Asus board is targeted to the HTPC user and has extremely limited BIOS options for overclocking. We knew at stock speeds a comparison would be acceptable but anyone spending around $290 for the AOpen board is not going to operate it at stock speeds.
There was no real incentive to compare the AOpen board and our processor to other Intel offerings as the entire lineup will be changing shortly, not to mention it would have been an embarrassment for the NetBurst based processors - especially during the thermal and power testing. We did not have the entire Core Duo product line in house yet so this option was off the table in doing cost comparative analysis against other Intel or AMD products. However, we will be providing a full platform comparison in an upcoming HTPC article centered on the Core Duo, Pentium D 805/920, and AMD X2 processors.
Our last option and one that we typically do not do in our motherboard reviews was to test the board against a similar board offering, only utilizing a different CPU manufacturer. Since our Core Duo operates at 1.83GHz along with 2MB of L2 cache we determined the best match up from both a CPU rating and cost would be the AMD Opteron 165. Our AOpen board is CrossFire certified so we needed a CrossFire board and seeing our Asus A8R32-MVP was still on the test bench we chose it.
We also switched to a 2GB memory configuration as most enthusiasts are currently purchasing this amount of memory. We did not have an AM2 board available with the proper processor at the time of testing so we will be utilizing DDR2 and DDR in our test results. We chose memory from Corsair and OCZ that would have comparable timings at the stock FSB and HTT settings respectively. All other components in our test configurations are exactly the same with the boards being setup in their default configurations.
Another quandary developed: should we run our Opteron 165 at its maximum HTT/CPU speed or try to match our Core Duo's 11x262 setting. We had already determined the best match up from a CPU and cost viewpoint was the Opteron 165 which could be allowed to run at its maximum attainable speed. But then again, we asked ourselves if we should explore the boundaries of each processor at the overclocked settings or match the overclocked settings in order to maintain equality across the platforms.
In the end, since this review was not meant as direct CPU comparison, we decided to match the 11x262 setting in order to maintain platform equality. This decision required an Opteron 175 for the correct CPU multiplier. It turns out our Opteron 175 was not capable of passing our benchmark tests at 11x262 so we reduced our HTT settings to a stable 11x255 that our overclock results are based on. We also increased the HTT setting on the Opteron 165 to 204 that results in a CPU speed of 1836MHz matching our Core Duo. We believe any increased memory bandwidth from this setting would have a minimal effect on the performance benchmarks. While this test is not a perfect 1:1 matchup it should provide an overview of the AOpen board's capability until we receive additional Core Duo capable boards for analysis.
Synthetic Graphics Performance
The 3DMark series of benchmarks developed and provided by Futuremark are among the most widely used tools for benchmark reporting and comparisons. Although the benchmarks are very useful for providing apple to apple comparisons across a broad array of GPU and CPU configurations they are not a substitute for actual application and gaming benchmarks. In this sense we consider the 3DMark benchmarks to be purely synthetic in nature but still valuable for providing consistent measurements of performance.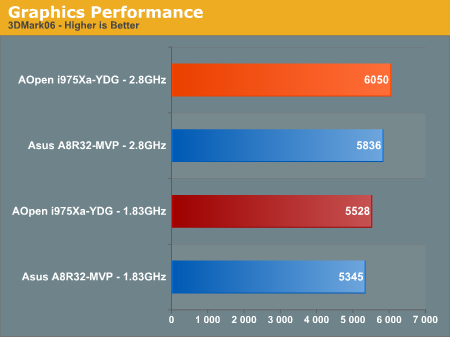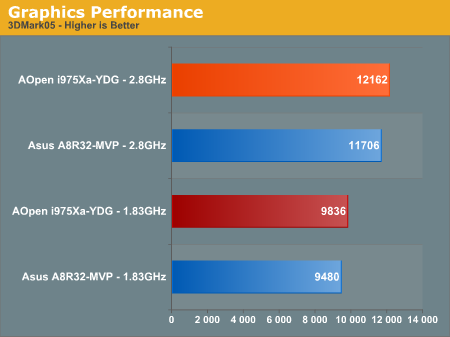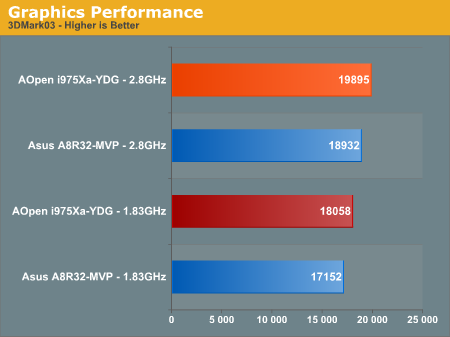 In our first tests, the combination of the Intel Core Duo and AOpen i975Xa-YDG makes for an impressive showing against the AMD Opteron 165/175 and Asus A8R32-MVP setup at both stock and overclocked settings. The Intel platform had no issues running the full 3DMark series when overclocked but our AMD platform struggled at first until we dialed in the right mix of voltages and memory settings.
General System Performance
The PCMark05 benchmark developed and provided by Futuremark was designed for determining overall system performance for the typical home computing user. This tool provides both system and component level benchmarking results utilizing subsets of real world applications or programs. This benchmark is useful for providing comparative results across a broad array of Graphics subsystems, CPU, Hard Disk, and Memory configurations along with multithreading results. In this sense we consider the PCMark benchmark to be both synthetic and real world in nature while providing consistency in our benchmark results.
The margins are closer in the PCMark05 results but the Intel platform continues to show an advantage over the AMD platform at stock and overclocked settings. It is obvious from our test results that we can expect even greater results from the Conroe and Merom processor series.
Rendering Performance
We have added the Cinebench 9.5 and POV-RAY 3.6 benchmarks as they heavily stress the CPU subsystem while performing graphics modeling and rendering. We utilize the standard benchmark demos in each program along with the default settings. Cinebench 9.5 features two different benchmarks with one test utilizing a single core and the second test showcasing the power of multiple cores in rendering the benchmark image. We had planned on generating 3dsmax 7 benchmarks but our AMD platform would not complete the underwater benchmark. We are still investigating this issue.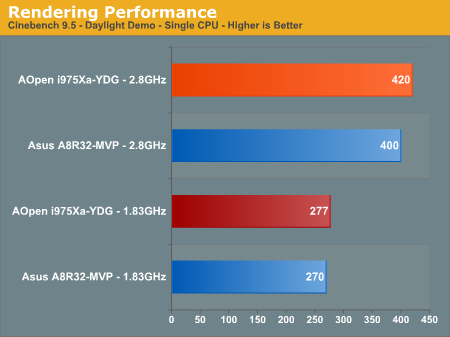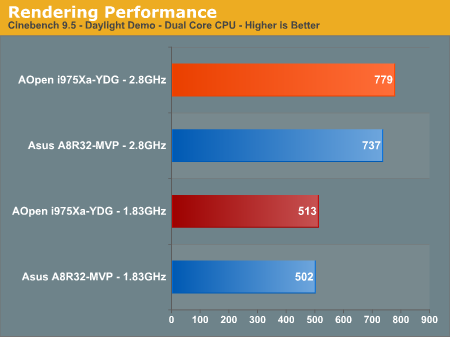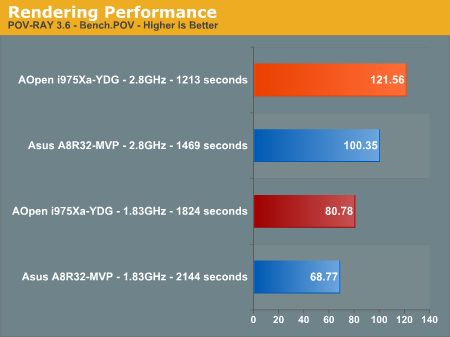 The Intel Core Duo desktop platform showed its strength in the extremely demanding POV-RAY benchmark, bettering the AMD platform by 18%. In our limited testing with the Asus N4L-VM featuring the 945GM mobile chipset our stock Intel Core Duo numbers were slightly better than the AMD platform in the Cinebench 9.5 benchmark and only about 6% greater in the POV-RAY benchmark indicating AOpen's choice of the i975x chipset certainly makes a difference in the performance ability of the Core Duo.
Video Encoding Performance
A traditional weak spot of the current Intel mobile processor offerings has been in the media encoding area when compared to AMD. Considering the main optimizations for the Core Duo centered on media encoding performance, we were very interested in seeing how this platform compared to current AMD lineups. We are utilizing an updated video encoding test suite for this article that includes AnyDVD, Nero Recode 2, Videora, Windows Media Encoder 9, and DivX 6.2.1. One video application missing is QuickTime PRO 7; we utilized it extensively on both test platforms but we ran into issues transcoding our sample video files during the overclocking testing. This is an issue we are currently addressing and hopefully we will be able to post results shortly.
Our first test is quite easy - we take our original The Sum of All Fears DVD and use AnyDVD Ripper to copy the full DVD to the hard drive without compression, thus providing an almost exact duplicate of the DVD. We then fired up Nero Recode 2, selected our Sum of All Fears copy on the hard drive, and performed a shrink operation to allow the entire movie along with extras to fit on a single 4.5GB DVD disc. We left all options on their defaults except we checked off the advanced analysis option. The scores reported include the full encoding process and are represented in minutes, with lower numbers indicating better performance.
The results are very interesting as we did not expect the Intel system to perform this well. We were so surprised that we ran the test several times and verified our settings before accepting the test results. We guess the last few years of NetBurst results have tainted our cognitive abilities.
Our next test has us extracting Chapter 9 of our movie which will be used extensively in the rest of our benchmarks. After extraction we utilize AutoGK version 2.27 and DivX 6.2.1 to convert our .VOB file into a more accessible .AVI file. We utilize our standard settings and then let this program combination do its magic. We are reporting the numbers in two charts with frames per second and the time in minutes/seconds to complete the conversion.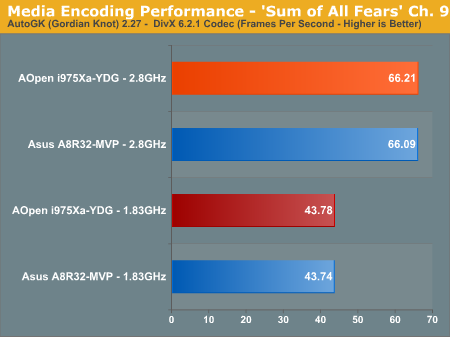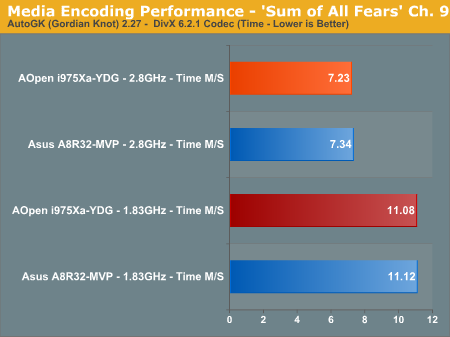 Unlike our Nero Recode 2 test results, this exercise has both systems performing equally. It either means this software is not optimized for a particular platform or the process is equally demanding on both systems.
Next on the list is the Windows Media Encoder 9 test that will convert our newly created .AVI file into a plasma screen pleasing WMV-HD format. We ensured our quality settings were set to High Definition. The values reported are in minutes/seconds for the conversion time, with lower numbers being better.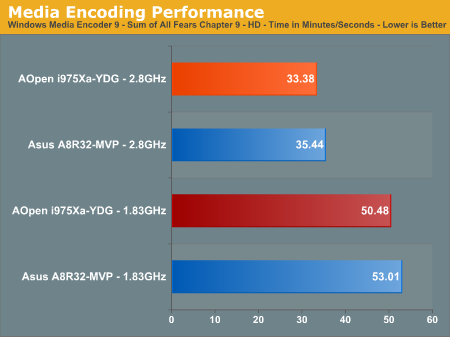 Once again, the Core Duo and the Opteron are close in the benchmark scores with the Intel platform performing up to 6% better in this benchmark. While both platforms are extremely competitive in this benchmark, the AOpen board clearly has the advantage in our scores.
Our final video tests utilize the
Videora Converter
products to perform a conversion of our Sum of All Fears Chapter 9 .VOB into the proper video format that our Xbox360, iPod, and Sony Playstation Portable can understand. We utilized the default settings for each program and have reported the results in minutes/seconds with the lower numbers being better. The final results show the transcoding process times for converting our standard 327MB file into a 43.2MB file for iPod, 111MB file for Xbox 360, and a 66MB file for PSP.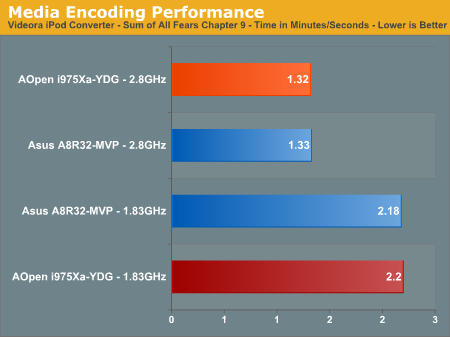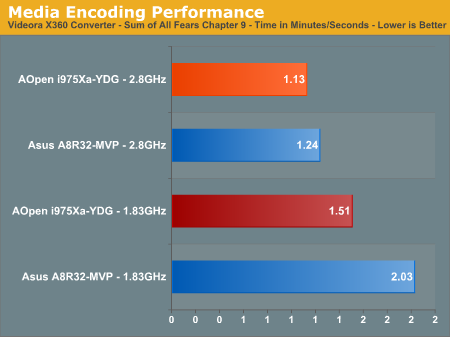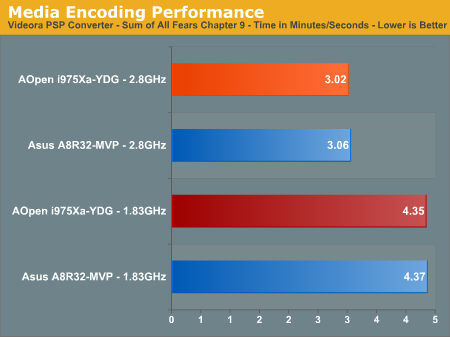 In these particular benchmarks both platforms are basically even with a minimal advantage going to the Intel platform in the more demanding Xbox 360 conversion. These results continue the pattern of the Intel Core Duo platform not being at a distinct disadvantage when compared to the current AMD offerings and actually having an advantage in most instances. Intel users can begin to rejoice now - just no dancing in the streets until the next product release please.
Audio Encoding Performance
While the media encoding prowess of the Intel processors has been lacking at times, they have generally faired a little better on the audio side. Our audio test suite consists of Exact Audio Copy v095.b4, LAME 3.98a3, LAME MT 3.97a-MS Compiler, Windows Media Player 10, and Nero Digital Audio.
Our first task was to figure out what test CD to utilize. We needed one that contained a significant number of tracks and had over 600MB of data in order to properly stress our platforms. After rummaging around the lab and discounting the Burl Ives Greatest Christmas Hits album, we happened upon a CD that would work for our purposes as it was not working for anyone else, INXS Greatest Hits. This one time '80s glory masterpiece contains 16 tracks totaling 606MB of songs that was instantly whisked into our anxiously awaiting optical drive.
Our first test consists of utilizing Exact Audio Copy as the front end for our differing versions of LAME. We setup EAC for variable bit rate encoding, burst mode for extraction, use external program for compression, and to start the external compressor upon extraction (EAC will read the next track while LAME is working on the previous track, thus removing a potential bottleneck with the drive).
Our two versions of LAME consist of the recently released 3.98a3 and LAME MT 3.97a, which is a multi-threaded version of the LAME MP3 encoder. LAME MT was originally designed as a demonstration to show the advantages of multi-threading on the Pentium 4 with Hyper-Threading enabled. Instead of running multiple parallel threads, LAME MT generates the encoder's psycho-acoustic analysis function in a separate thread from the rest of the encoder using a simple linear pipeline and then caches it in the second thread for processing. Further details about the program and its creation can be
found here
. The results are presented in minutes/seconds for the encoding process, with lower numbers being better.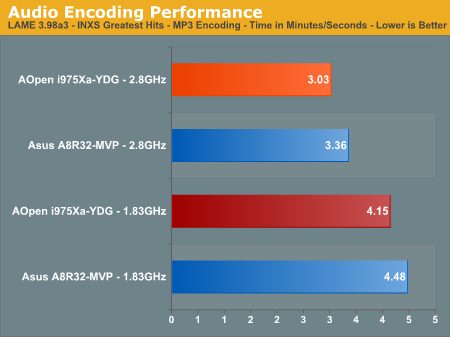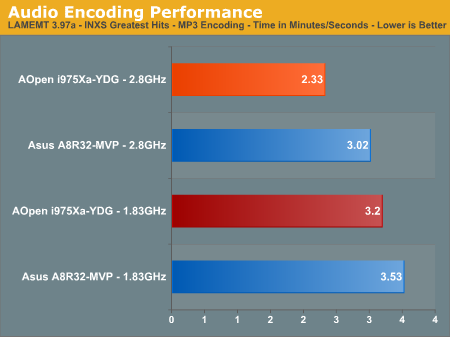 As in the media encoding section, the more CPU intensive operations seem to favor the Intel platform. We ran these tests several times with the results all being within one second of each other. If we shortened the test to 6 tracks then the AMD platform was within a couple of percent of the Intel platform. As we extended the size of our test samples the performance margin between the two platforms lengthened from a 2% advantage for the Intel platform to almost 11%. It concerned us to the point that we changed our drive image and then our board. We were rewarded with the same results. Running this same test on our 945GM based board resulted in a performance difference around 4% in favor of the Intel platform.
When utilizing LAME MT we see upwards of a 29% improvement in encoding times resulting in scores near that of our overclocked results. This once again shows the advantages programs can gain when they're written to take advantage of multiple-core processors or platforms.
Our next test consists of utilizing the INXS Greatest Hits CD and ripping all 16 tracks with Windows Media Player 10. We set WMP10 to rip the tracks in Widows Media Audio variable bit rate format and moved the slider all the way to the right resulting in a Best Quality request.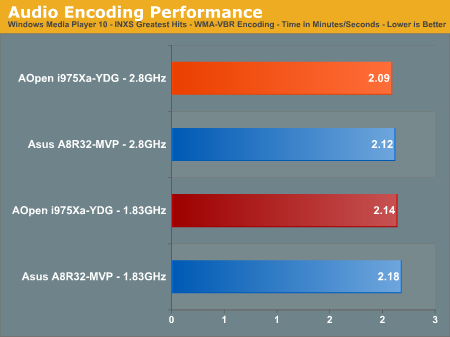 The results are very close for both platforms and the only comment here is that a fast optical drive is probably more important than your choice of CPU in this benchmark.
Our last audio test - and we are sure our INXS Greatest Hits CD is ecstatic about this - utilizes Nero Digital Audio to extract all 16 tracks and convert them into an mp4 format. We changed the default quality settings to transcoder-ultra, variable bit rate, encoder quality to high, and the AAC profile to LC. We were determined to give our platforms a workout with this test.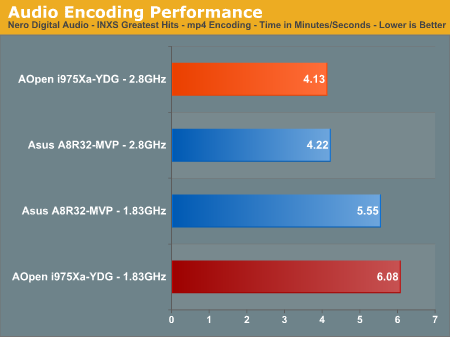 These results invoked the burning of the midnight oil along with some late night phone calls to Nero. In the end, after numerous retests and a run to Best Buy to purchase another copy of the INXS Greatest Hits CD - just to make sure CD scratches weren't causing problems - we have a situation where the AMD platform has a clear advantage at the stock settings in a program that heavily stresses the CPU subsystem. However, the Intel platform shines at the overclocked settings resulting in scores that do not follow any previous patterns in our test results.
We ran these tests over a dozen times with the same results. We noticed that on the last four tracks the Intel system would encode these files quicker than the AMD system, even though the track speed of our optical drive did not change. We thought perhaps our Opteron system was encountering some form of thermal throttling, but our temperature readings showed very little change, and adding active cooling to our OCZ memory still generated the same results.
File Compression Performance
In order to save space on our hard drives and ensure we had another CPU crunching utility, we will be reporting our file compression results with two different versions of WinRAR. Our first file compression test utilizes WinRAR 3.51 to compress our Sum of All Fears Chapter 9 test file and our INXS Greatest Hits wma extraction tracks. All default settings in WinRAR are utilized along with our hard drive being defragmented before each test.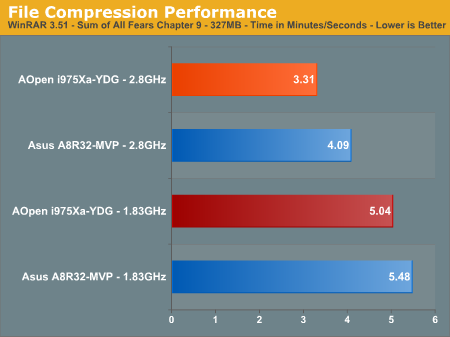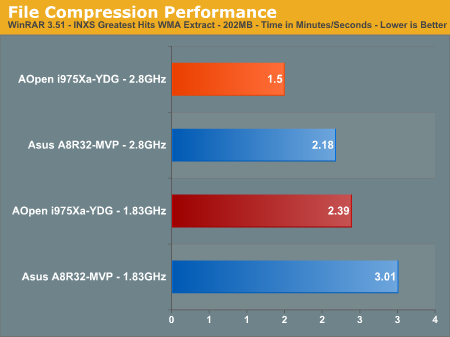 The Intel platform basically zips away from the AMD platform in our tests. File compression is a very CPU intensive application and also stresses the memory subsystem heavily. The added cache of Core Duo certainly helps in this particular test. The other interesting result is that our performance results scaled almost 1:1 with the increase in CPU speed, again indicative of a benchmark that makes good use of CPU cache. As an example, our Intel system has a 53% increase in CPU speed while the file compression numbers improved 52% in the Sum of All Fears benchmark and 59% in our INXS Greatest Hits compression test.
Our second series of file compression tests utilizes WinRAR 3.60b2 to compress the same files as before. All default settings are once again utilized in WinRAR along with our hard drive being defragmented before each test. This particular version of WinRAR fully supports multi-threading operations and should be of particular interest for those users with dual core or multi-processor systems.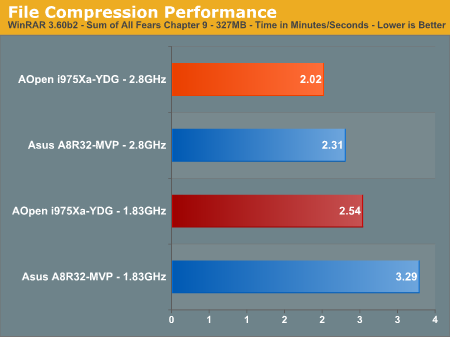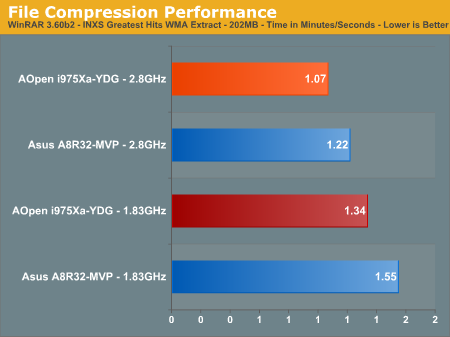 The program update to WinRAR produces stunning results as we see drops of up to 66% in our Sum of All Fears results and 48% in the INXS Greatest Hits benchmark due to the multi-threading support. We also see the gap close up to 11% between the two platforms indicating our AMD Opteron has improved performance under this application. Basically, the multi-threading support in this version of WinRAR has negated the need for an additional 1GHz of CPU speed.
Gaming Performance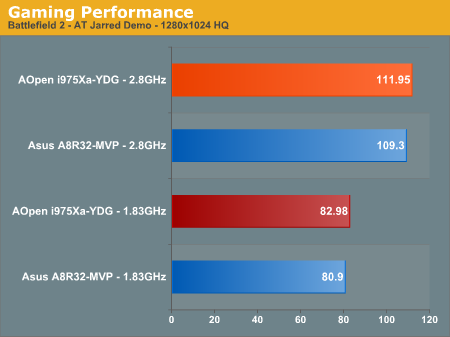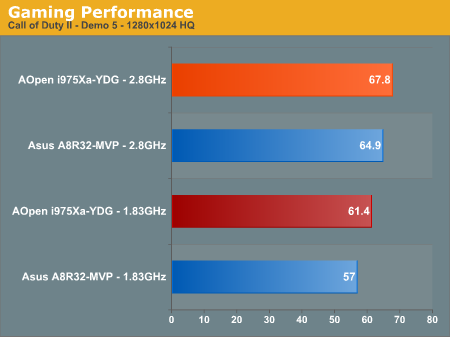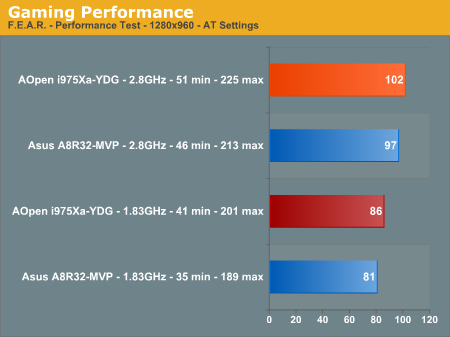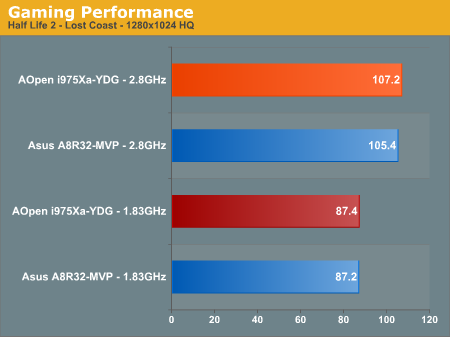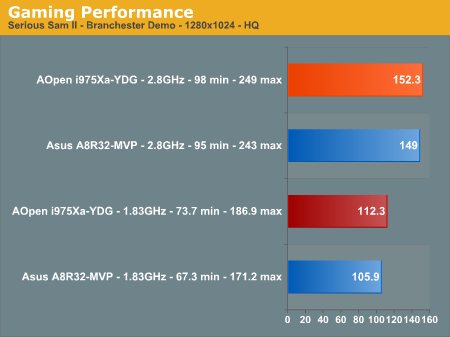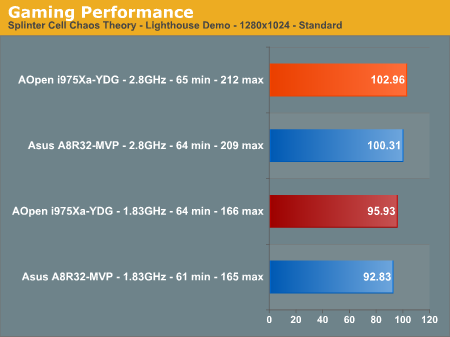 The overall gaming performance of an Intel platform for the first time in recent memory is equal to or better than the AMD based platform. These results are indicative of an optimized system as the Intel Core Duo responds very well to the i975X chipset with results from our 945GM platform performing equal to or worse than the AMD system. Considering the additional benefits of lower thermals and power consumption, a compelling case for Intel users can be made for purchasing this platform for gaming. It's worth noting that gaming code these days consists of a lot of integer instructions with much of the floating point work being offloaded to the GPU, and micro-ops fusion certainly appears to be playing a role in the stellar gaming performance of Core Duo.
CrossFire Performance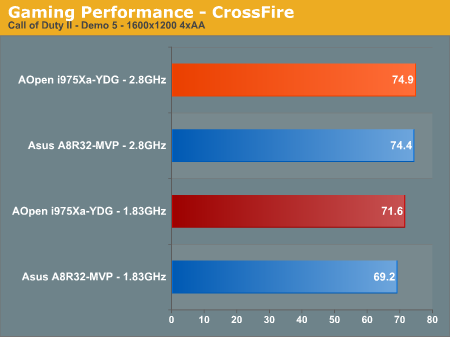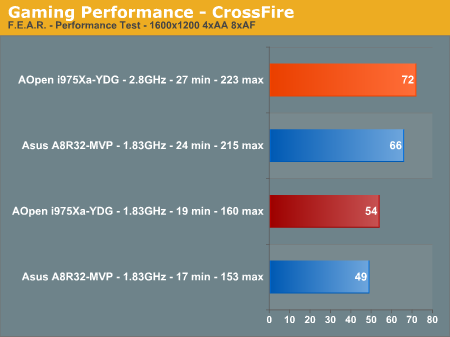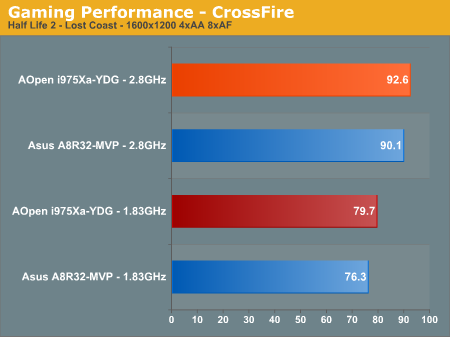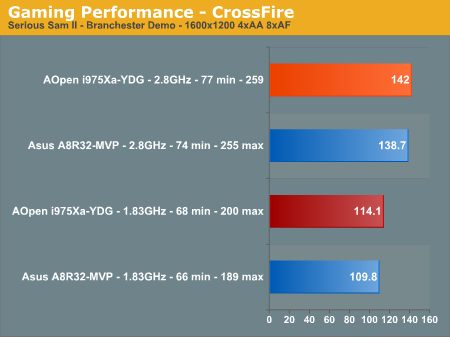 The performance pattern continues in our CrossFire benchmarks with the Intel platform slightly outperforming our AMD system in the stock settings and overclocked settings. We did note in our test results that CrossFire works extremely well on the Intel 975X platform and on our board once we figured out how to enable it. The instructions for enabling CrossFire on this particular board can be found in our final words sections. Needless to say, it was difficult to figure out, but once set up correctly we were rewarded with excellent scores.
Disk Controller Performance
The AnandTech iPeak test is designed to measure "pure" hard disk performance, and in this case, we kept the hard drive as consistent as possible while varying the hard drive controller. The idea is to measure the performance of a hard drive controller with a consistent hard drive.
We played back our raw files that are recorded I/O operations when running a real world benchmark - the entire Winstone 2004 suite. Intel's iPEAK utility was then used to play back the trace file of all I/O operations that took place during a single run of Business Winstone 2004 and MCC Winstone 2004. To try to isolate performance differences to the controllers that we were testing, we used the Maxtor MaXLine III 7L300S0 300GB 7200 RPM SATA drive in all tests. The drive was formatted before each test run and a composite average of 5 tests on each controller interface was tabulated in order to ensure consistency in the benchmark.
iPeak gives a mean service time in milliseconds; in other words, the average time that each drive took to fulfill each I/O operation. In order to make the data more understandable, we report the scores as an average number of I/O operations per second so that higher scores translate into better performance. This number is meaningless as far as hard disk performance is concerned, as it is just the number of I/O operations completed in a second. However, the scores are useful for comparing "pure" performance of the storage controllers in this case.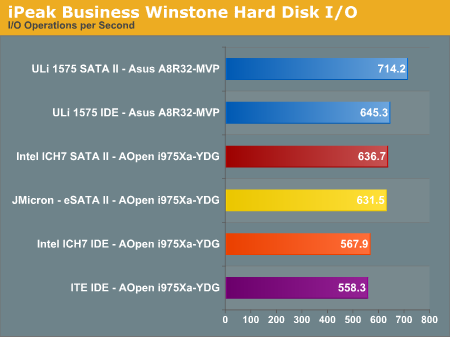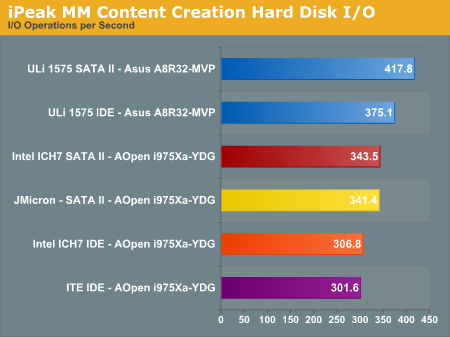 The performance patterns hold steady across both Multimedia Content I/O and Business I/O, with the ULi based SATA controller providing the a 12% improvement in I/O operations over the Intel and JMicron SATA controllers. The ULi IDE controller logic continues to be one of the best IDE solutions, posting scores that are higher than the Intel SATA controller and over 13% better than the Intel and ITE IDE controller.
Firewire and USB Performance
After looking at many options for Firewire and USB testing, we finally determined that an external USB 2.0, Firewire 400, and Firewire 800 hard disk would be a sensible way to look at USB and Firewire throughput. We utilize a RAM disk as our "server", since memory removes almost all overhead from the serving end. We turn off disk caching on the USB and Firewire side by setting up the drives for "quick disconnect" so our results are consistent.
We use 2GB of fast 3-3-3-8 system memory set up as a 450MB RAM disk and 1550MB of system memory. Our standard file is the SPECviewPerf install file, which measures 432,533,504 bytes (412.4961MB). After copying this file to our RAM disk, we measured the time for writing from the RAM disk to our external USB 2.0, Firewire 400, or Firewire 800 drive utilizing our internal Windows based timing program. The copy times in seconds were then converted into Megabits per second (Mb) to provide a convenient means of comparing throughput. Higher Rates therefore mean better performance in this particular test.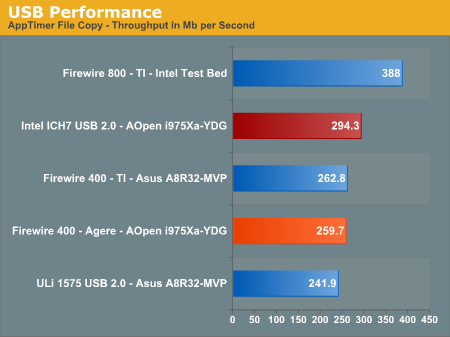 Possibly the most interesting finding in our Firewire and USB throughput tests is the outstanding performance of an external hard drive connected to Firewire 800. Our benchmarks show Firewire 800 is up to 48% faster than a drive connected to the more common Firewire 400, and about 32% faster than the fastest USB 2.0 solution.
The AOpen board offers the Agere based IEEE 1394 Firewire option that provides very competitive performance with the more common TI chipset solutions. The Intel USB 2.0 performance offers 22% better performance than the ULi based controller in throughput.
Ethernet Performance
The current motherboard test suite includes LAN performance measurements. All of these boards utilize PCI or PCI Express based controllers with the only difference being the supplier of the core logic.
The Windows 2000 Driver Development Kit (DDK) includes a useful LAN testing utility called NTttcp. We used the NTttcp tool to test Ethernet throughput and the CPU utilization of the various Ethernet Controllers used on the Intel motherboards.
We set up one machine as the server; in this test, an Intel system with an Intel CSA Gigabit LAN connection. Intel CSA has a reputation for providing fast throughput and is a logical choice for our Gigabit LAN server.
On the server side, we used the following Command Line as suggested by the VIA whitepaper on LAN testing:
Ntttcpr -m 4,0,‹server IP› -a 4 -l 256000 -n 30000
On the client side (the motherboard under test), we used the following Command Line:
Ntttcps -m 4,0,‹client IP› -a 4 -l 256000 -n 30000
At the conclusion of the test, we captured the throughput and CPU utilization figures from the client screen.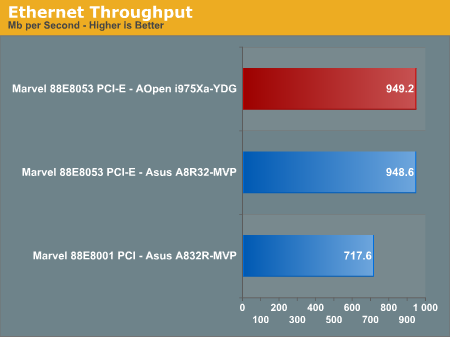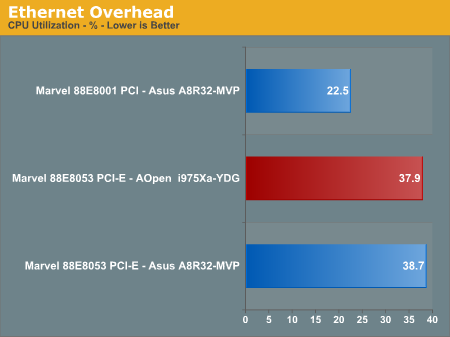 AOpen's choice of the Marvell 88E8053 10/100/1000Mb/s Ethernet controller is an excellent addition to this board. The performance is basically equal to that of the same Marvell 88E8053 controller utilized on the Asus board. The lower CPU utilization rate on the Marvel 88E8001 PCI controller is directly attributable to the lower throughput numbers generated in our tests.
Audio Performance
We limited audio testing to the Rightmark 3D Sound version 2.2 CPU utilization test and tested with sound enabled to show the performance effects on several games. The Rightmark 3D Sound benchmark measures the overhead or CPU utilization required by a codec or hardware audio chip.
The Realtek ALC-880 HD audio codec on the AOpen board was tested with the recently released 1.36 driver set. The Realtek DirectSound audio drivers do not support more than 32 hardware buffers and the OpenAL 1.1 drivers do not support more than 30 hardware buffers at this time so the scores cannot be directly compared to the Creative Labs Sound Blaster X-Fi cards in the benchmarks.
It is interesting to note the reduced CPU utilization with the Core Duo or Opteron 165 as the load is balanced between each processor with the Realtek 1.36 drivers and the Creative drivers to a certain extent. However, these CPU utilization rate improvements with the dual-core setup does not have any bearing on actual game benchmarks as the reduction in frame rate percentages are the same as our single core score.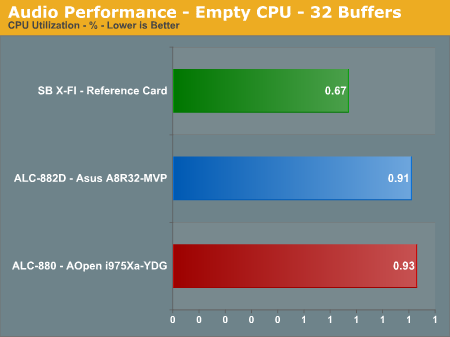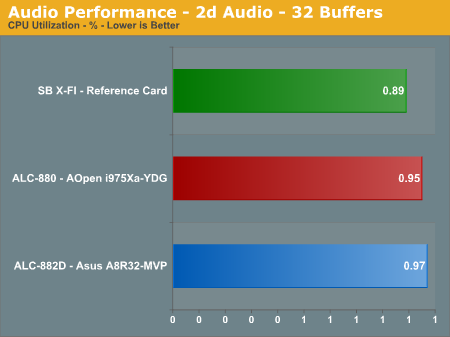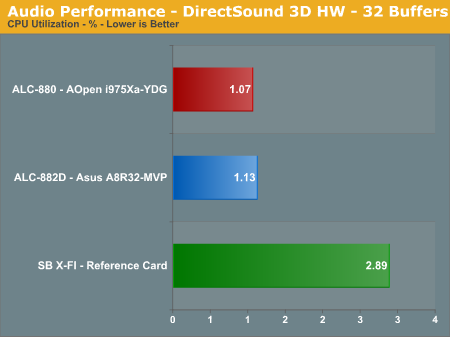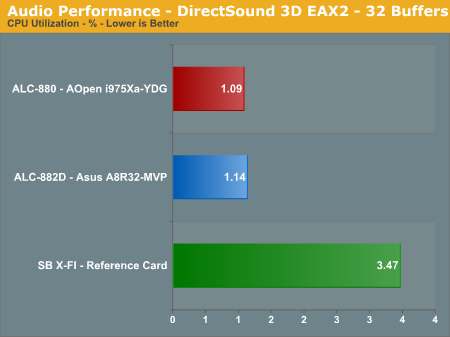 The Realtek ALC-880 codec offers very competitive CPU utilization rates when compared to the Realtek ALC-882 on the Asus board. The ALC-880 generates significantly better audio quality than the AC97 based systems and very similar audio quality to the ALC-882 solution. The ALC-880 was released before the ALC-882 but has nearly the same audio quality and performance in our testing. Our subjective headphone testing revealed a slight difference between the two codecs, with the output from the ALC-882 sounding clearer in the treble and mid-range tones. However, the difference was negligible when utilizing our 4, 5.1, or 7.1 speaker setup in a typical room environment. The Sound Blaster X-Fi has the lowest overall CPU utilization (single core systems) with the ALC-880 and the ALC-882 following closely. Let's find out how these results translate into real world numbers.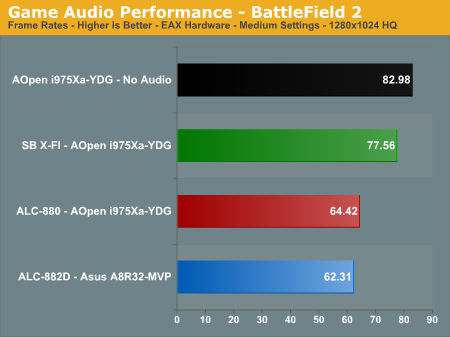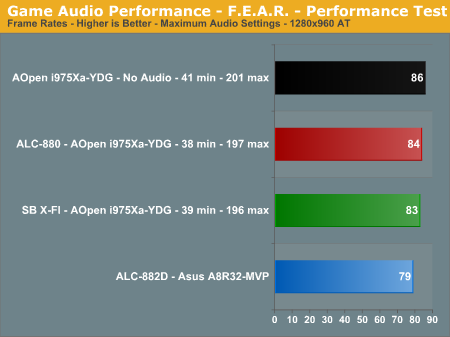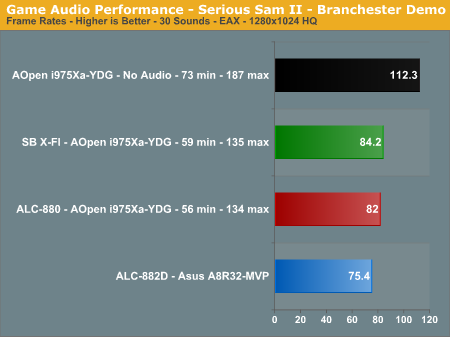 The audio performance numbers remain consistent as the Realtek ALC-880 consistently finishes near the SoundBlaster X-Fi in the benchmarks. Serious Sam II has an average loss of 37%, Battlefield 2 at 28%, and F.E.A.R. at 2%. F.E.A.R. is extremely GPU limited so the CPU has additional cycles to generate the audio streams required by the Realtek drivers.
The overall output quality of audio with the Realtek ALC-880 ranks with the ALC-882/883 series as the best of the on-board HD audio solutions we have heard to date, while performance continues to improve with each driver release. The vast majority of users should have no issues utilizing the ALC-880 as their primary audio solution considering the quality of audio and performance at this time in most applications.
Obviously, if you are a serious gamer, then a dedicated sound card is still useful to ensure consistent frame rate averages across a wide variety of games, and in the case of the Sound Blaster X-Fi, you also get improved audio quality and EAX3/4/5 support. If you'd like more details on the Realtek solution, you can refer to the
Realtek ALC-880 Specifications
.
Final Words
The AOpen i975Xa-YDG offers a significant set of features and impressive performance for an eye popping US $290. The performance of the board was stellar in our testing while providing excellent overclocking capabilities. In fact, the overclocking aspect of this board and the Intel Core Duo required so little effort to reach 50%+ overclock levels that we are still surprised by how easy it was. The stability of the board was superb in our benchmark, gaming sessions, and general application testing whether the board was at stock or overclocked settings. The AOpen i975Xa-YDG is certainly the most stable board we have tested in recent memory and never once winced throughout a grueling two week test schedule.
However, the board is not without its flaws... well, more like shortcomings. We certainly had issues enabling CrossFire support that almost had us returning the board. The install procedure is not documented in the manual but AOpen has generated a report listing the proper settings in their Tech Support Forum area. You must install the CrossFire Edition card first, load the ATI video drivers, disable Write Combining within Windows Display Properties (advanced button, troubleshoot tab), shutdown, install the secondary video card, attach the dongle cable, startup, and then enable CrossFire once the system has recognized the secondary video card properly. We also had to ensure the two undocumented jumpers next to the IR port were set correctly.
The process of having to enable or disable jumpers on the board to go over a 200FSB setting is a bit perplexing when the BIOS has full support for increasing the FSB settings in 1MHz increments. Finally, the lack of memory voltages past 2.15V could be an issue for those wanting to reach the upper level of overclocks with the newer DDR2 memory modules that respond very well to voltage settings in the 2.2V~2.3V range as reported in our latest
DDR2 memory review
. With that said, let's move on to our performance opinions regarding this board.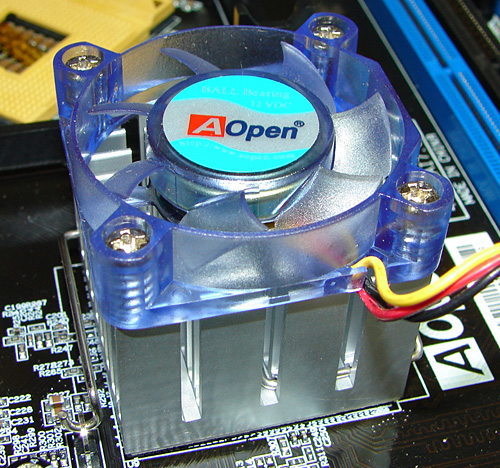 In the video area, the inclusion of dual PCI Express X16 connector provides full CrossFire support with eight PCI Express lanes per graphics connector. The performance of the board under CrossFire testing was excellent once we had it operating correctly. The performance and stability with the current range of NVIDIA graphics cards was very good in both stock and overclocked settings.
In the on-board audio area, the AOpen board offers the Realtek ALC-880 HD audio codec. While we would have preferred the ALC-882D codec offering Dolby Digital Live support at this price point, the ALC-880 is a good compromise. (Actually, at this price point AOpen could have easily integrated Audigy HD but obviously they chose not to go that route.) The audio output of this codec in the music, video, and DVD areas is very good for an on-board solution. The inclusion of optical S/PDIF ports on the I/O panel was a nice touch by AOpen and should please HTPC users. The audio quality in gaming was more than acceptable but did not match the output of the Sound Blaster X-Fi. If you plan on utilizing this board for online gaming, you might want to purchase an X-Fi card to get the best quality gaming audio and features as well as consistency in frame rates across a wide range of games. However, the Realtek ALC-880 is sufficient for the majority of users.
In the storage area, the AOpen board offers the full compliment of storage options afforded by the Intel ICH7, ITE IT8212, and JMicron JMB360 chipsets. The board offers SATA 3Gb/s support along with a single port UDMA ATA100 capability via the Intel ICH7. SATA 3Gb/s, NCQ, and Hot Plug capability is provided on the external SATA port by the JMicron JMB360 chipset. The ITE IT8212 supplies dual port UDMA ATA133 performance along with RAID 0, 1, and 0+1 capability for PATA drives. Again, at this price point we certainly would have preferred the Intel ICH7R Southbridge offering SATA RAID capabilities along with Intel's Matrix Storage Technology, but we can live with the omission. The performance of the on-board controllers was very competitive throughout our testing and the ability to power a SATA drive from the external port is a huge bonus for those with external drives.
In the connectivity area, the AOpen board offers IEEE 1394 capability via the Agere 1394A FW3226-100 chipset that performed equally with the TI chipset. The board has eight Intel USB 2.0 ports available when utilizing the two USB 2.0 headers. The performance of the Intel USB 2.0 solution is excellent and consistently leads other solutions in our benchmark tests. We never witnessed any incompatibilities with the USB or FireWire ports during testing with several different peripherals. The Marvell 88E8053 Gigabit Ethernet controller is supplied for network duties and generated very good throughput numbers along with decent CPU utilization rates.
The Intel Pentium-M series has always been an interesting processor lineup as it shows Intel has the capability to produce an elegant solution that relies more on the efficiency of the chip design for performance than in sheer clock speed, power consumption, and the resulting CPU barbeque that we have with the NetBurst technology. The utilization of this processor series on the desktop never really took off, probably not so much from the capability of the processor, but from the performance of the mobile chipsets and costs associated in producing motherboards for a very niche market. Intel's reluctance to support this program - more like their total displeasure - also limited the acceptance of Mobile on Desktop products.
The Core Duo series (along with the upcoming Conroe/Merom/Woodcrest processors) changes all of this as the upgrades to the Pentium-M have greatly improved its media capabilities along with providing excellent gaming performance. The cost of a Core Duo processor is very competitive considering their performance per watt levels, although the motherboards are still costly. The one shortcoming of this CPU is the lack of 64-bit extensions, if this feature is important to you or is a requirement, then wait for the upcoming Conroe or Merom processors. Intel is now fully supporting Core Duo on the desktop through their ViiV initiative and seems to be embracing this change in philosophy. We continue to hear about and see new motherboards being introduced to support this technology. With extremely low power and heat production levels along with performance equal to similar AMD offerings the Core Duo is an impressive product.
AOpen has been at the forefront of offering Mobile on Desktop products and continues to be a technology leader in this market sector. Their ability to design and produce a board based upon a desktop chipset that fully extracts the performance potential of the Core Duo processor is nothing short of exceptional. We are very impressed with the AOpen i975Xa-YDG as it offers the perfect blend of performance and stability in a motherboard. If you are considering a change in systems at this time, do not want to wait for Conroe or Merom, and can live with the feature set and pricing, then we seriously recommend pairing a Core Duo processor with the AOpen i975Xa-YDG. You will not regret it.