Original Link: http://www.anandtech.com/show/1992


Introduction
There's been a mantra associated with laptops pretty much since they came into being: if you're looking to build the fastest computer possible, get a desktop; the only reason to get a laptop is if you want mobility more than anything else, because laptops are always slower than equivalent desktops. While that statement is still true for the most part, the difference between top-performing desktop systems and top-performing laptops has been diminishing for many years. With NVIDIA working on mobile SLI solutions, we are nearing the point where the major difference between desktop systems and laptops is going to be price. Today marks the launch of NVIDIA's GeForce Go 7900 offerings, ranging from the 7900 256MB GPUs up through 7900 GTX 512MB configurations.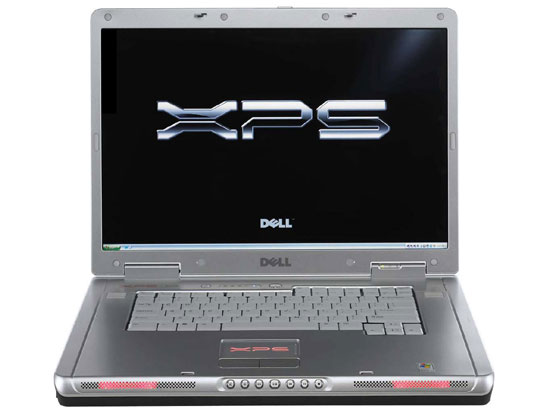 Click to enlarge
Unlike the desktop market, it is extremely difficult (actually impossible at present) to review a mobile graphics offering without getting a laptop built around the new GPU. The good news is that Dell sent us their new XPS M1710 with the top-end 7900 GTX 512MB chip, so we have a chance to see exactly what the new mobile graphics "king" brings to the table. Dell didn't stop with stuffing in the fastest mobile graphics chip either; they've decked out the system with a flashy appearance, Intel's fastest mobile processor, 2GB of DDR2 memory, and a huge 17 inch widescreen display with a native 1920x1200 resolution. Clearly, this isn't a notebook targeting the Thin and Light market, but rather it's going after the Desktop Replacement (DTR) segment.
When it comes to computers, just about every person in the world has heard of Dell. Some people love them, some people hate them, and many of their competitors likely fear them. Dell is much maligned in the hardware enthusiast community, and though they have certainly deserved it at times, it's important not to lose sight of the bigger picture. Dell manufactures and sells literally millions of computers per year, and when you deal in that sort of volume, with product markets targeting everything from the value segment up through the high-end servers, there are bound to be better products and worse products. Most knowledgeable people realize that there's no such thing as a perfect system that will fill the needs of every individual; a system needs to be tailored to fit the usage requirements of the user, and as often as not that is where people run into problems when dealing with large OEMs.
It is extremely unlikely that any hardware enthusiast would be thrilled to get the latest value desktop system from Dell, just like a classic car buff probably isn't going to be happy fixing up a 1970 Ford Pinto. In fact, there are plenty of people that would never want any form of Dell computer -- for example, overclocking enthusiasts will find that Dell simply chooses not to cater to them at all. We need to keep things in perspective, though, because not everyone wants to overclock; many people will be perfectly happy with an inexpensive, reasonably performing, reliable computer.
Getting back to the topic at hand, laptops are a market that's quite different from the world of desktop enthusiasts. Balancing performance and features against weight, size, and battery life gives manufacturers plenty of opportunities to configure their laptops to fit specific needs. It doesn't require much deductive reasoning to determine that this particular laptop focuses more on improving performance and offering higher end features than on longer battery life or size, so what we're primarily interested in determining is how this system fares as a mobile gaming platform.
In order to keep the document size manageable and bring you the latest reviews in a timely fashion, we're going to review this laptop in two parts. This first part will focus primarily on the external appearance, overall system performance, features, and battery life. We'll be following up with a second article that will spend more time looking at the included software, construction, and some additional benchmarks.
Basic Features
We've already stated that this laptop comes equipped with some of the most powerful mobile components on the market. Even within the high-end mobile gaming segment, though, there are still options for customizing performance. Dell allows the end user to select parts for their M1710 from a variety of components in all the key areas. The basic platform -- motherboard, keyboard, chassis, and display -- is standardized, but the processor, GPU, memory, hard drive, optical drive, and some networking features can be tweaked to fit your needs.
Dell XPS M1710 Specifications
Processor
Intel Core Duo T2400/T2500/T2600 (1.83/2.00/2.16 GHz)
Chipset
Intel 945PM 64-bit Dual-Channel
FSB Speeds
Up to 667 MHz
Memory Speeds
DDR2-400, DDR2-533, DDR2-667
Memory Slots
(2) x SO-DIMM, max. 4GB, DDR2, Dual Channel supported
Graphics
NVIDIA GeForce Go 7900 256MB or 7900 GTX 512MB GDDR3
Display
17" WUXGA (1920x1200) UltraSharp with TrueLife
Expansion Slots
One ExpressCard 54mm slot supporting 1.5V and 3.3V, ExpressCard/34 and ExpressCard/54, 26 pins
Hard Drive
80/100/120GB 5400 RPM or 60/80/100 7200 RPM
Optical Drive
DVD-ROM/CD-RW or DVD+/-RW with Dual-Layer DVD+R Write Support
USB2.0
(6) USB2.0 ports (four rear ports, two ports on left)
Networking/Communications
Integrated 10/100/1000 PCIe Gigabit Ethernet and 56K Modem
(Optional) Dell Wireless 1390 802.11g Mini Card
(Optional) Dell Wireless 1490 802.11a/g Mini Card
(Optional) Intel Pro/Wireless 3945 802.11a/b/g Mini Card
Audio
24-bit High Definition Audio with 2.1 Speakers
Firewire
4-pin Unpowered IEEE 1394A (right side)
Back I/O Ports
1 x RJ45 LAN
4 x USB 2.0
1 x RJ11 Modem
1 x DVI-D
1 x VGA
1 x S-VIDEO Out
Keyboard
87 Key QWERTY (US)
Battery
9-Cell 80WHr "Smart" Lithium Ion
Dimensions
1.7"x15.5"x11.3" (HxWxD)
8.8 lbs. (Display, 9-Cell battery, DVD-Combo drive)
Power Adapter
130W 1.42"x2.56"x6.67" (HxWxD), 1.68 lbs. with cables
Chassis
Metallic Black Dell XPS M1710 or
Special Edition Formula Red Dell XPS M1710
Other Features
5-in-1 Flash Reader (MS, MS Pro, SSD/SDIO, MMC, xD
Headphone/Speakers and Microphone connectors
XPS 16 Color Configurable Accent Lighting
Trackpad with scroll bars
Starting with the standard features, the laptop comes with everything most people will need. About the only things that could be added are CompactFlash support and a 6-pin powered FireWire connection, neither of which are really required. Counting the power adapter, the entire system weighs in at just over 10 pounds, and while that's a bit heavy for someone that's carrying their computer around a lot, it's far less bulky than any SFF + LCD + keyboard + mouse setup (let alone a typical desktop computer). If you're looking for a high-powered system that you can easily take to LAN parties, or perhaps a mobile workstation you can take to and from work, this laptop should fit the bill.
Click to enlarge
The minimum configuration starts at $2600, and comes with the black chassis, 80GB 5400 RPM hard drive, Core Duo T2400, GeForce Go 7900 256MB graphics chip, and 1GB of RAM. (There's absolutely no sense in thinking about building a system with a 256MB GPU coupled and only 512MB of system memory, and we're glad to see that's not an option.) The Special Edition Ferrari Red has a higher base configuration and starts at $3400. The minimum components are upgraded to a Core Duo T2500, GeForce Go 7900 GTX 512MB, and an 80GB 7200 RPM hard drive. While the price difference is pretty sizable, the relative performance increase is also noticeable, and it's doubtful that anyone seriously considering such a high-powered laptop is going to be ultra concerned about price. These are luxury laptops, and they have the performance and features to match the price. Naturally, a $3500 desktop system should easily smoke a $3500 laptop in performance, but miniaturization is a costly process.
Features, Continued
The system that Dell shipped us is essentially maxed out -- the only upgrade you could still make would be to move to 4GB of RAM, but without a 64-bit Operating System you really wouldn't gain much (at least if you're planning on running Windows XP). Since Core Duo processors don't support 64-bit instructions, we'd recommend sticking with 2GB of RAM. Here's the configuration of the system we received for review, with a price of $4200.
Dell XPS M1710 System As Tested
Processor
Intel Core Duo T2600 (2.16 GHz 2x2MB)
Chipset
Intel 945PM 64-bit Dual-Channel
FSB Speeds
667 MHz
Memory
2 x 1024MB DDR2-667 SO-DIMM (5-5-5-15 timings)
Graphics
NVIDIA GeForce Go 7900 GTX 512MB GDDR3
Display
17" WUXGA (1920x1200) UltraSharp with TrueLife
Hard Drive
100GB 7200RPM 8MB
Optical Drive
DVD+/-RW with Dual-Layer DVD+R Write Support
Networking
Integrated 10/100/1000 PCIe Gigabit Ethernet and 56K Modem
Intel Pro/Wireless 3945 802.11a/b/g Mini Card
Bluetooth Module
To give you a better idea of the layout, we've included labeled images from various angles.

Starting with the front of the unit, you can see the buttons used to control volume and media playback. You can also see the lights behind the speaker grilles, glowing red in this image. The lights on the speakers as well as several other locations around the case can be set to one of 16 colors, or if you prefer you can also turn them off. A glowing XPS logo is also present on the trackpad, but it is limited to a red light. It too can be turned off.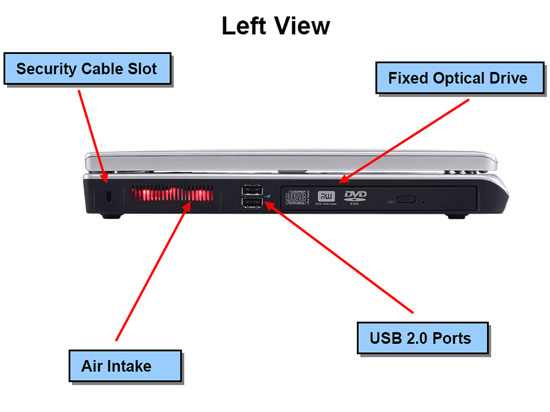 The left side of the unit houses the optical drive, along with two USB ports. The glowing air intake can once again be set to any of 16 colors.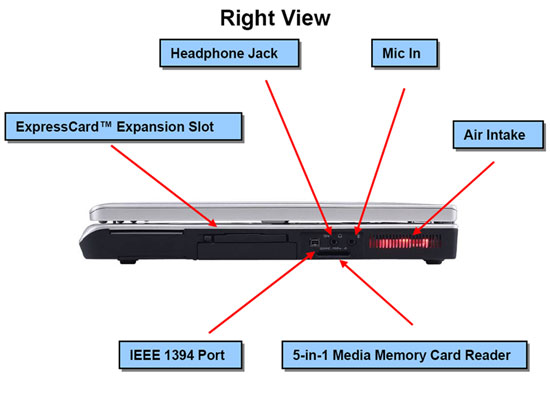 The right side has a 4-pin FireWire port, ExpressCard slot, 5-in-1 flash card reader, and the microphone/headphone audio jacks. Unfortunately, you cannot reconfigure the microphone port as anything but a line-in port, so you're stuck with either 2.1 audio or headphone support. Dell really should have included three audio ports in order to support 5.1 surround sound gaming; maybe next time. The air intake here matches the left side air intake, and both are set to the same color inside the BIOS.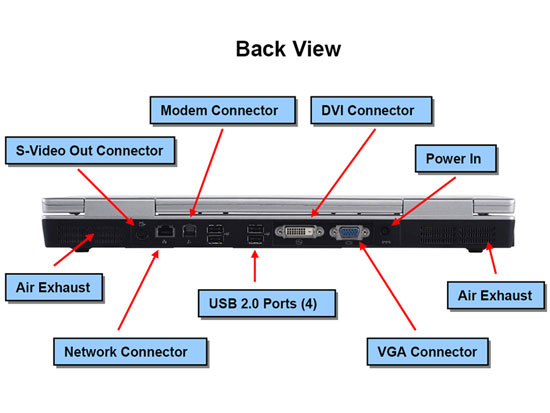 Finishing up with the rear of the unit, we have the majority of the connections. Note that both DVI and VGA display connections are present, which is good considering that most new LCDs use DVI ports. Also present on the rear is an S-VIDEO out port, Gigabit Ethernet, modem, and four more USB ports.
While the above images may help you understand where all of the ports and features are located, their size doesn't do a whole lot for conveying how the system actually looks. This is really a nice looking system, and at least in the notebook market Dell XPS systems are nothing to scoff at. We've included a few more higher resolution images of the system to give you a better idea of what it looks like. (Yes, the trackpad is located slightly left of center.)
Test Setup
Since this is the very first notebook that I've had the opportunity to review, and it's also the first notebook we've received with the new GeForce Go 7900 GTX GPU, I felt it would be better to compare this against a couple of similarly equipped desktop computers for starters. Most of our readers are more familiar with desktop performance, and since this is a DTR notebook it seems fair to compare it with a couple relatively current desktop computers. The two desktop computers are also equipped with a 7900 GTX graphics card, at both stock clock speeds (650/800) as well as clock speeds matching the laptop's GPU (500/600).
All three systems have 2GB of RAM and dual core CPUs, helping to keep things "fair". Of course, the T2600 processor in the laptop costs about twice as much as either of the desktop processors, and if you were to overclock the desktop CPUs you could likely get another 30-40% in clock speed. Basically, this is not an apples to apples comparison, but the two desktop systems are thrown into give you a better frame of reference.
Dell XPS M1710
Processor
Intel Core Duo T2600 (2.16 GHz 2x2MB)
Chipset
Intel 945PM 64-bit Dual-Channel
Memory
2 x 1024MB DDR2-667
Graphics
NVIDIA GeForce Go 7900 GTX 512MB (500/1200)
Hard Drive
100GB 7200 RPM
Intel Socket 775: ASUS P5LD2-E Deluxe
Processor
Intel Pentium D 920 (2.80 GHz 2x2MB)
Chipset
Intel 945P
Memory
2 x 1024MB DDR2-533 4-4-4-12
Graphics
NVIDIA GeForce 7900 GTX 512MB (650/1600)
Hard Drive
Western Digital SATA-2 250GB 16MB 7200 RPM
AMD Socket 939: DFI Infinity
Processor
AMD Athlon X2 3800+ (2.0 GHz 2x512KB)
Chipset
NVIDIA nForce4
Memory
2 x 1024MB DDR-400 (2-3-2-7 1T)
Graphics
NVIDIA GeForce 7900 GTX 512MB (650/1600)
Hard Drive
Western Digital SATA-2 250GB 16MB 7200 RPM
We ran a typical battery of tests, including games, applications, and a couple other areas. Time constraints limited the amount of testing we could get done before the NDA lift (and it's already a few hours late), but we will be providing a follow-up article with further testing and information. That said, if there are any specific areas that you'd like to see tested, feel free to e-mail me or leave a comment.
General System Performance
Winstones 2004 and the PCMark products provide a reasonable look at overall system performance (minus games). Honestly, any modern dual core system is basically "fast enough" when it comes to these tasks. Anyone looking to buy an XPS system would have to be interested in gaming, or at least some more graphics intensive applications, or else they would be far better off ditching the high-powered graphics chip. Still, let's see how the systems compare.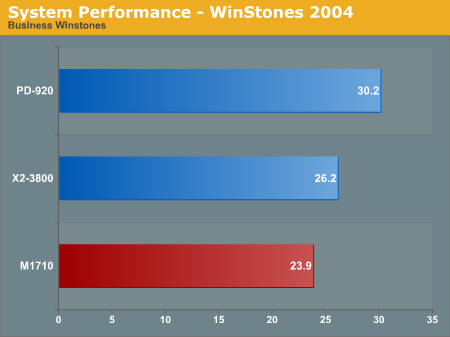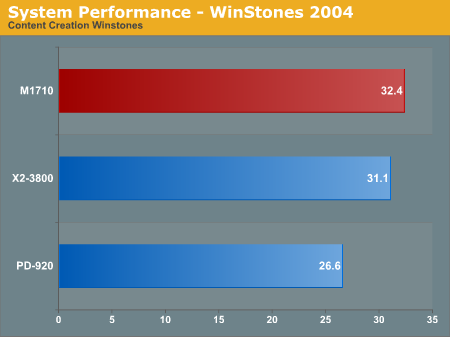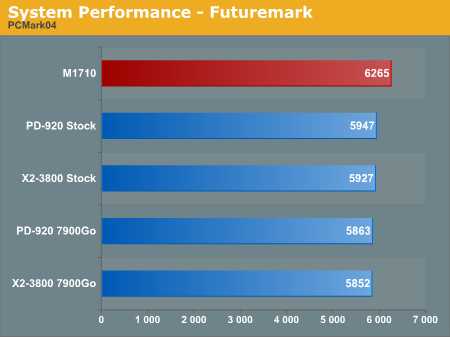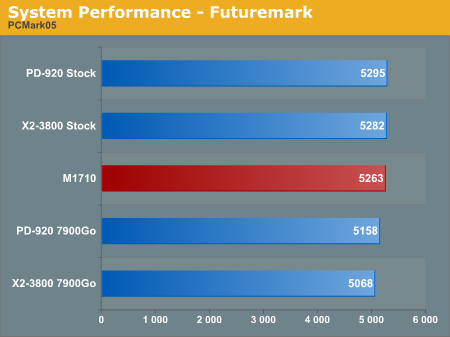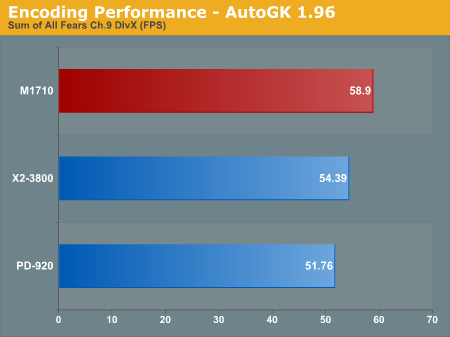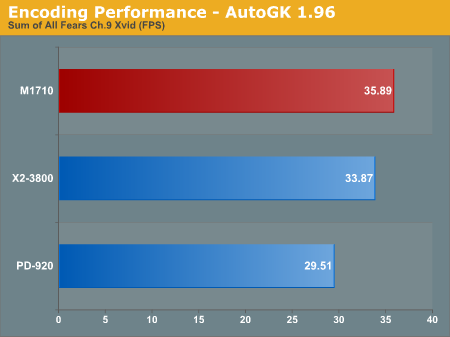 The M1710 delivers an impressive start, basically winning five of the six tests. The only benchmark that it doesn't win is Business Winstones, where it finishes last place. That particular test has very little that will take advantage of multiple processors, and of all the tests we'll run today, it represents applications that are most dependent on user input. PCMark05 has the M1710 in the middle of the pack, but the faster graphics cards of the desktop systems are the only thing keeping it from a first-place finish.
Synthetic Gaming Performance
Everyone is basically familiar with the 3DMark benchmarks, and while they aren't games per se, they provide a relatively consistent way of comparing system performance.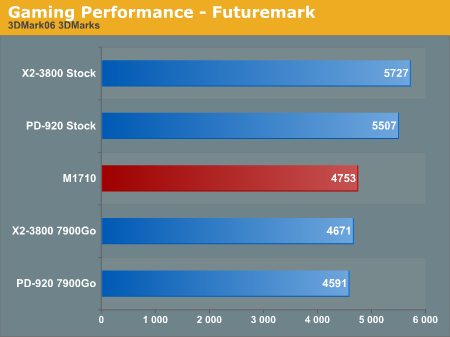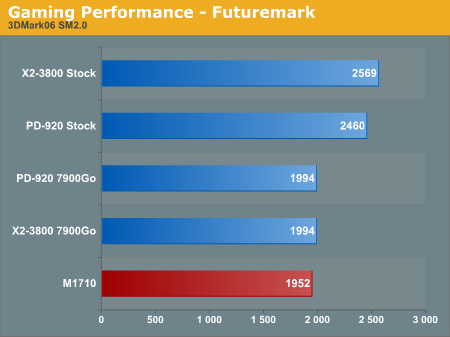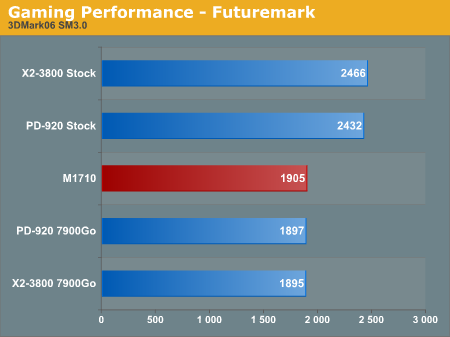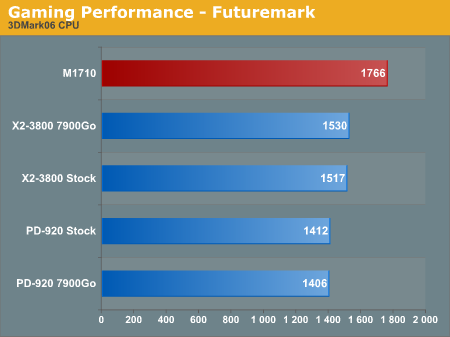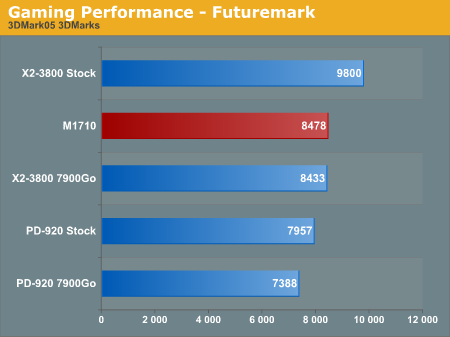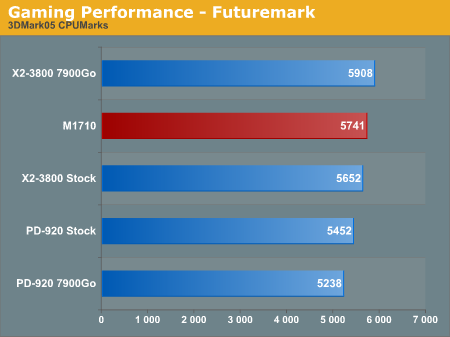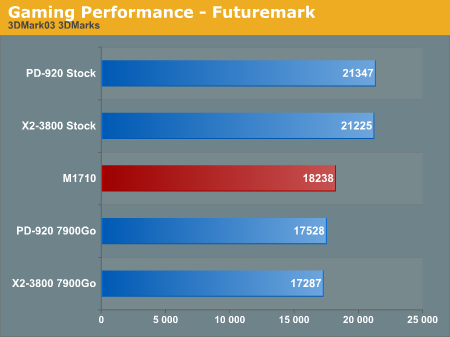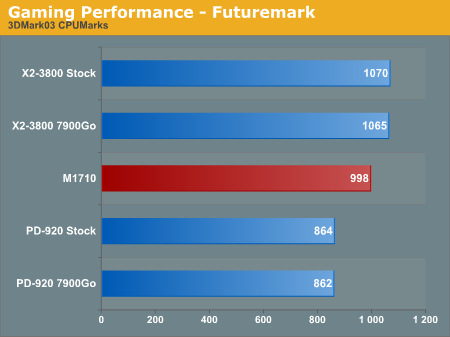 The results from the 3DMark test suite again demonstrate the power of the M1710. The faster desktop graphics cards keep them ahead in many instances, but when running equivalently clocked GPUs the M1710 matches or exceeds the other two systems. Naturally, upgrading processors in the other systems would help, but particularly in the case of the X2 3800+, we're not talking about a slouch of a CPU. Matching or exceeding that level of performance, especially in a lower power processor, is impressive.
Doom 3 Benchmarks
We'll start the real gaming benchmarks with the three oldest games we still use in testing. The good news is that all three properly support widescreen gaming resolutions, but unfortunately Doom 3 requires you to modify your configuration file directly in order to specify a custom resolution, and depending on whether you want a 16:9 or 16:10 aspect ratio you need to set that as well (seta r_aspectRatio 1 or 2, respectively).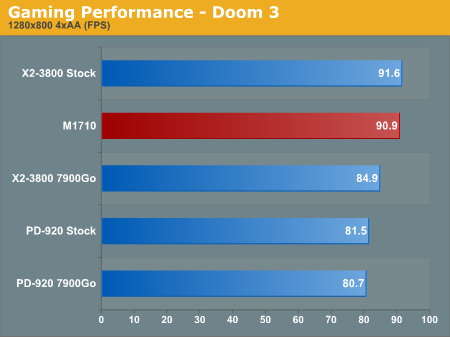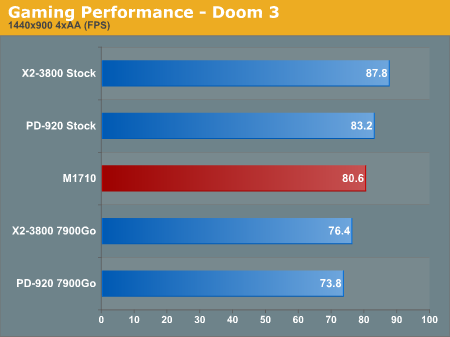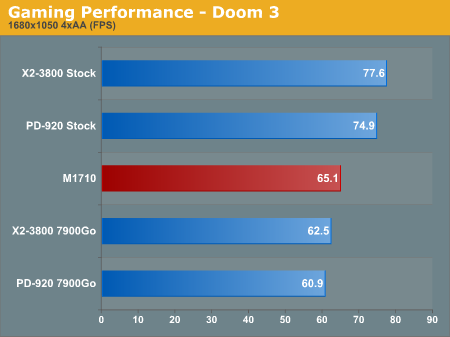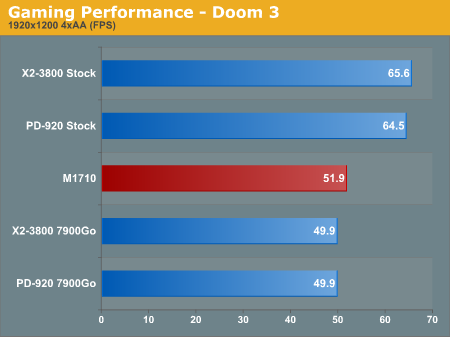 The lower resolutions are clearly CPU limited, while at higher resolutions the faster clock speeds of the desktop cards help keep them ahead of the M1710. As with 3DMarks, giving the desktop systems equivalent GPU power helps the Core Duo T2600 to pull ahead.
Far Cry Benchmarks
Despite the fact that it's the oldest of the games that we're testing with by several months, Far Cry offers a great user interface for setting graphics resolution and details. We maxed out all of the settings, including putting the water detail on Ultra, and we once again ran our benchmarks. We've also included tests with and without sound enabled, using the integrated audio on the motherboards (all systems were set to 5.1 audio).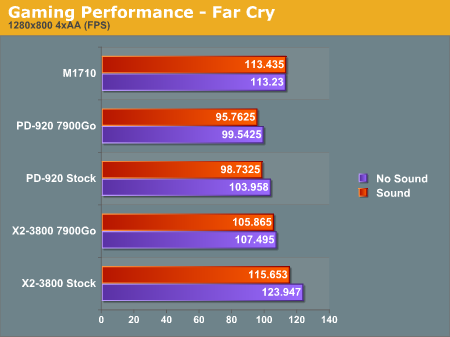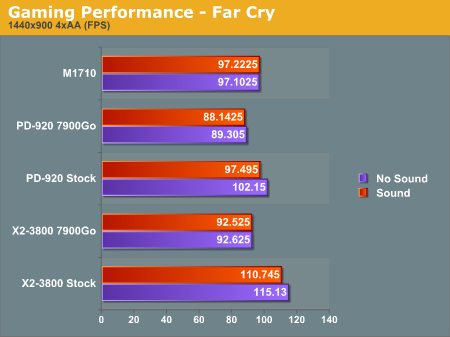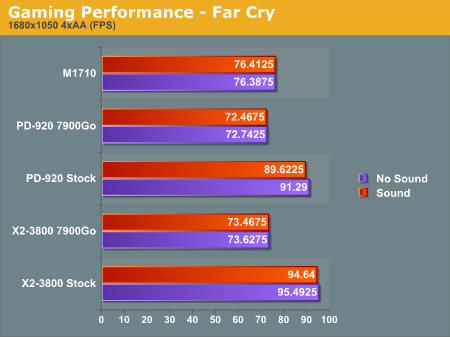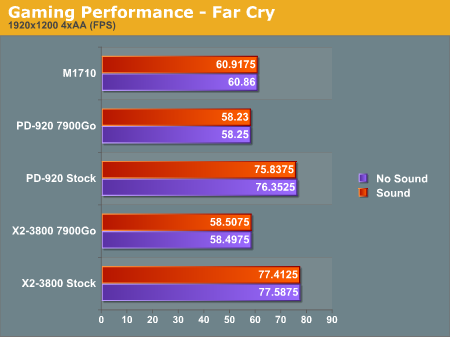 The performance picture remains the same, with the "7900 Go" desktop systems losing to the M1710, though not by a huge margin. The M1710 also seems to suffer less of a performance impact by enabling audio, though whether that's because audio subsystem is efficient or because it's simply not rendering all of the audio detail is difficult to say.
Half-Life 2 Benchmarks
Valve's Source engine arguably has the best interface for selecting widescreen resolutions -- or any other resolution for that matter. Here we're looking at the original Half-Life 2 performance, but we'll take a look at Lost Coast (HDR) performance in the follow-up article. Again, we tested with and without audio enabled.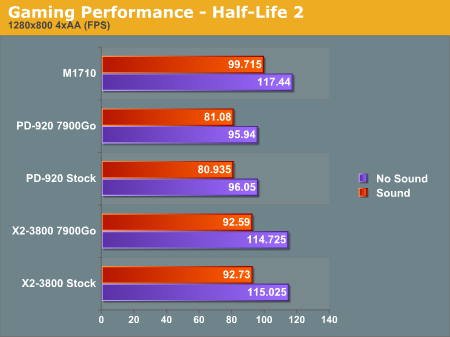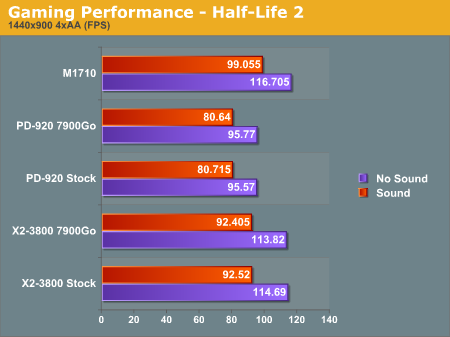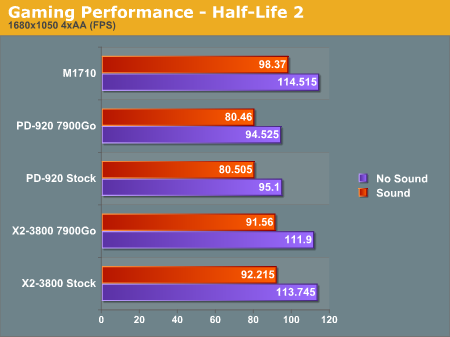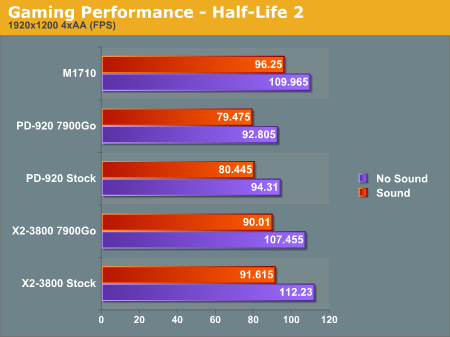 Turning on the sound effects clearly has a major impact on performance in the Source engine. As with Far Cry, the M1710 seems to not be affected as much. In fact, with audio enabled, the M1710 is able to lead all contenders. Looking at the numbers, though, HL2 is clearly CPU limited with this level of graphics card, and testing so far has indicated that the T2600 is faster than the other two processors.
Day of Defeat: Source Benchmarks
Day of Defeat: Source is similar in many aspects to HL2, but as you'll see it's even more CPU dependent.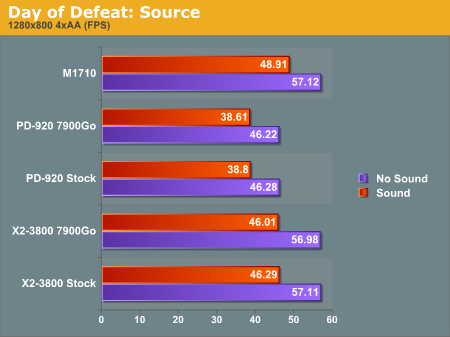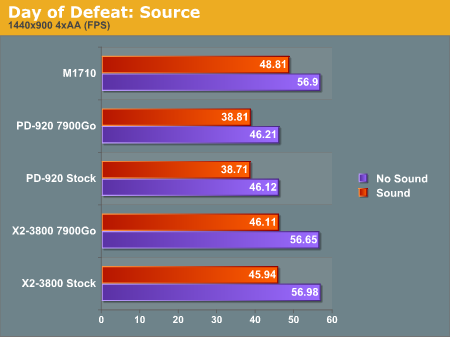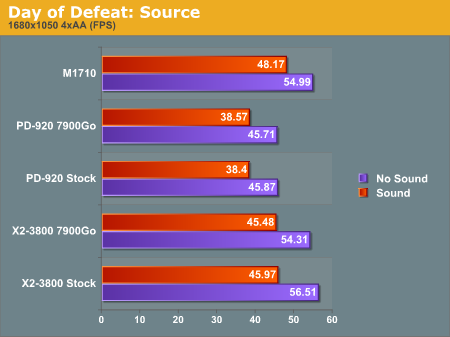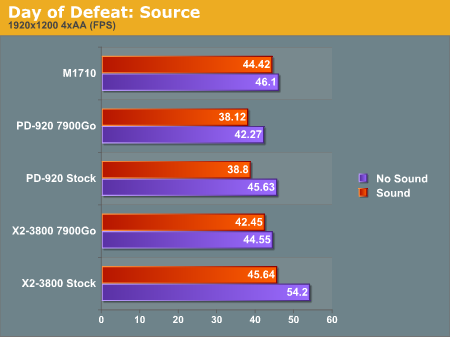 We only see a slight drop in performance when we reach the LCD panel's native resolution, and with sound enabled we hardly even see that. The Pentium D 920 has a particularly poor showing in this game, and it's CPU limited to only 45 frames per second. That's fast enough to make the game playable, but if you're running a high-end graphics card, you would certainly want a faster CPU to go with it.
Battlefield 2 Benchmarks
The final game we'll test in part 1 is Battlefield 2, and like DODS it's fairly CPU limited. While it is entirely possible to run BF2 in widescreen resolutions, there are a couple of issues. First, there's no way to select widescreen resolutions in the GUI, so you have to pass the resolution via command line parameters. Unfortunately, there's no way to adjust aspect ratio in Battlefield 2, so you basically end up with a stretched image. (If you look at what should be a circular map in the top right corner of the screen while playing, you'll find that it's an ellipse, clearly showing that widescreen resolutions are running with the wrong field of view.)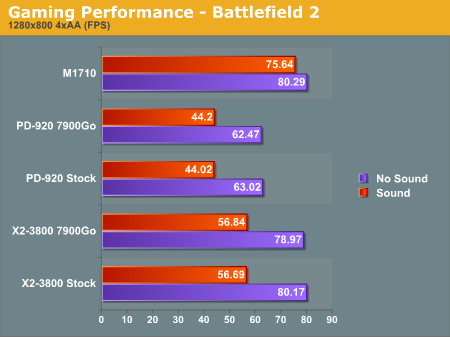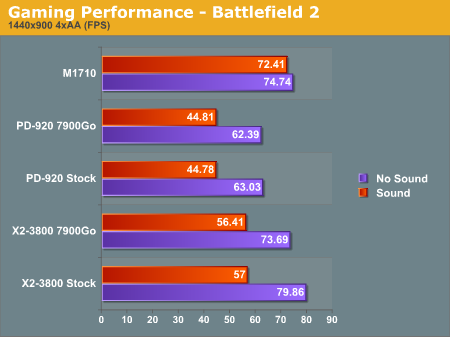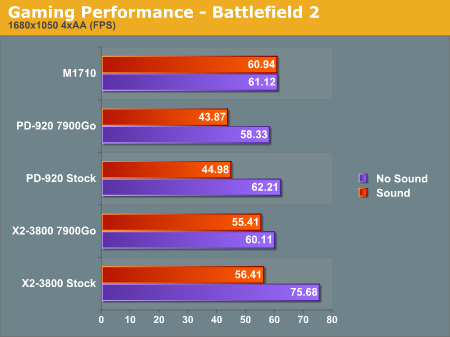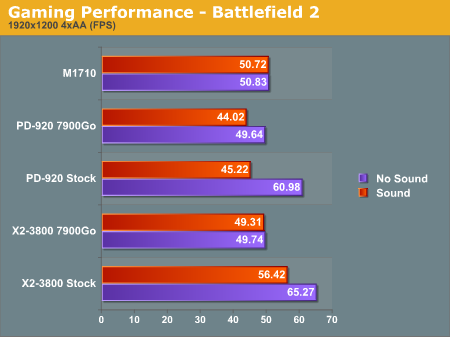 A clear indication that the game is becoming CPU limited can be found in the fact that the sound enabled tests significantly impact performance. FEAR, for example, generally shows little to no performance impact when you turn on sound, because it's almost completely GPU limited. Once again, the audio subsystem in the M1710 appears to be the least demanding of the processor. Note that the laptop was set to 5.1 audio, even though there's no way to connect five speakers, so for now it simply appears to be more efficient. Only the X2 3800+ is able to come out ahead of the M1710, and then only with a faster graphics card.
Battery Life
We don't have any comparison results for this section, though we hope to flesh out our laptop comparisons in the future with additional products. While it would be nice to get eight hours of battery life and high-performance gaming in a laptop, that won't be possible without much larger battery capacities (at least for now). We left everything set up with the default settings, which means the CPU can range from 1.0 GHz to 2.16 GHz depending on demand. NVIDIA's PowerMizer technology is listed among the features as well, and that should help to keep battery life up when you're not running 3D applications. Once you fire up a game, however, you shouldn't expect to get several hours of gaming from the 80 WHr battery.
For battery testing we plugged in the laptop until it showed 100% battery power and then ran three different applications until the system entered hibernation mode (3% battery life). DVD playback is pretty straightforward, and we started playing back a DVD with headphones plugged in to simulate typical use. Similar to DVD playback with a twist, we timed battery life while watching a DivX encoded movie, again using headphones. (The movie was the same as the DVD, encoded at full WS resolution.) We wanted to see if constant access to the DVD drive had a noticeable impact on battery life. Finally, to simulate gaming, we ran a continuous loop of 3DMark05 (the three game demos, not the CPU tests). We found that 3DMark05 generally uses a bit more power than most real games, so it should serve as a worst-case scenario.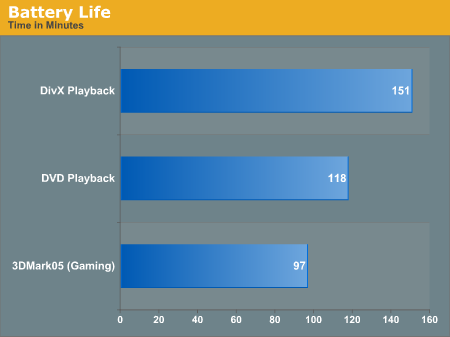 Our suspicion that the DVD-ROM drive consumes a reasonable amount of power is proved true with the DivX playback result. If you're the type to encode your DVDs to DivX and leave them on your hard drive for easy retrieval, you can potentially increase battery life by as much as 28% according to our results. That also means you should have enough battery life to get through most current films, whereas the two hours of battery life may not quite make it to the end of some DVDs.
As for gaming performance, an hour and a half isn't terrible, but it's not that great either. You'll definitely want to keep the system plugged in if you plan on a lengthy gaming session. Although perhaps it's a good way to keep your gaming limited to 90 minutes or less at a time?
Closing Thoughts
As far as portable gaming goes, the XPS M1710 is currently one of the best options available -- certainly the best I've ever used. SLI gaming laptops are on the horizon, but as our benchmarks show there are quite a few titles that don't really need multiple graphics cards to be perfectly playable. In fact, personally I think multiple GPUs in desktops is already getting a bit carried away, and while I don't generally want a thin and light notebook, anything larger than the XPS M1710 starts to get into the "luggable" category as opposed to being a truly mobile computer. A single fast graphics chip at present seems the best way to balance performance against heat and power requirements.
As for how the XPS M1710 compares with other laptops, we don't have anything in-house faster right now, but there will almost certainly be competitors in the near future. For now, this is an extremely powerful mobile gaming platform, and it deserves serious consideration if you're in the market for such a system. The system also looks great, and the 17" LCD feels huge -- you generally sit with the laptop very close to your face, so a 17" laptop display feels about the same as my 24" desktop display. This is by no means a complete review, and we will have a follow-up article looking at some specific details, but our first impression is definitely favorable.
Would we recommend you go out and purchase such a laptop? Yes, provided you're willing to spend the money. If you're looking to save money, you almost certainly won't be able to afford a laptop this fast and powerful. If you want maximum battery life, there are better options out there as well. You can probably even find faster laptops if you're willing to spend more money and go with a larger, heavier system. As we mentioned at the beginning of this article, there are many ways to build a laptop, and no one design will be right for every person out there. The Dell XPS M1710 manages to strike a good balance between cost, performance, and size, though obviously at the higher end of the spectrum in all three categories.
Compared to the two desktop systems, it manages to hold its own, and the Pentium D 920 in particular often struggles to keep up. The end result is that you're basically looking at a $1000 "mobility tax" if you want to have all of the performance of a desktop system in a mobile platform. The laptop even manages to handle running nearly every current game at the LCD panel's native 1920x1200 resolution (FEAR being one of the few exceptions).
We will have a second article looking at the finer details of the XPS M1710 and the GeForce Go 7900 within a couple weeks, including a closer look at the internals and construction as well as a few attempts to further increase performance. The good news is that so far we haven't encountered any serious problems -- in fact, the only problems during testing can basically be attributed to user error. If you have any comments or questions in the meantime, send them my way.