Original Link: http://www.anandtech.com/show/1987


Introduction
Every once in a while we see some very unique approaches to graphics card designs, even more so than just a slightly modified or fan-less heat sink (like ASUS's silent 6600 GT). Many times, HSF alterations on reference designs are to cut down on heat or noise that's generated during the card's operation, but some solutions are a bit more dramatic than others.
Liquid cooling with GPUs has been around for a while now and there is a lot of debate over how practical and effective it really is. It can definitely be impressive to see a gaming setup with its processors massively overclocked and cooled with liquid nitrogen systems, but for most people this type of system is very much out of their reach. Water cooling is a little more practical, but in order for it to be anything more than a novelty (i.e. used only be a small number of enthusiasts), it has to yield practical benefits without a lot of extra cost and trouble.
In principle, water cooling has some very nice benefits. For one, there is potential for these cards to run much cooler than air cooled cards, which would allow for high overclocks. Fan noise could also be cut down drastically, as water moving through small tubes is generally far quieter than a fan blowing air. However, one thing water can't get you is temperatures lower than the ambient room, but for most people that means 25 C or less, so that should be sufficient.
Today we are looking at two cards using ATI's current top-performing solution, the X1900 XTX. One of the cards is made by Sapphire, a company known for its innovative graphics card designs. This card features a slightly different take on water cooled graphics solution, and it aims to address the address the issues many people have with assembling water cooling systems. The second card is a more traditional design from Connect3D, using the same X1900 XTX chipset. It will also as something of a baseline performance metric, since absent special cooling configurations most X1900 XTX cards will perform similarly.
These two X1900 XTXs are very different from each other and show how much variation there can be between two versions of the same graphics card, and that should make things interesting. While the Blizzard X1900 XTX may overshadow its Connect3D competitor in terms of design, performance will still be similar in many areas, provided clock speeds are the same. We'll look at overclocking potential as well as noise levels, though, and there at least we should see some more substantial differences.
Connect3D Radeon X1900 XTX
Connect3D is no stranger to graphics hardware, and we've seen many good solutions from them in the past. We have for this review one of their X1900 XTXs and while not nearly as radical in design as the other card we're testing, it still represents the excellent performance associated with these cards.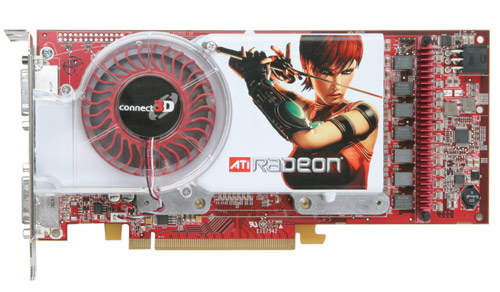 The Connect3D X1900 XTX looks identical to the reference X1900 XTX in every way, except for the Connect3D logo on the card's fan. This is essentially another no-frills X1900 XTX package, with stock core and memory clock speeds and no games included in the bundle. While the package may be modest for this card, keep in mind you are still getting the highest level of graphics performance available right now, and it comes with a price tag significantly cheaper than some fancier X1900 XTX packages.
Blizzard Radeon X1900 XTX
The Blizzard Radeon X1900 XTX is a unique water cooled version of the X1900 XTX made by Sapphire. The design of this card is quite different than most that we've reviewed in that it is basically two separate units. It has a single-slot GPU, but there's a second water reservoir that takes a second slot and the two pieces are connected by two flexible hoses. The GPU is basically stripped of it's HSF, and the hoses run from the processor to the water block. The reservoir portion also circulates water via a quiet 12 volt "mini pump."
The Blizzard comes completely assembled and already filled with coolant, so it's fairly simple to install and get running. An extra 4-pin Molex power connection is required for the cooling solution in addition to the graphics card's standard 6-pin connection, and this will add to the power load on you PSU. Of course, if the GPU runs cooler it should draw less power, so we will have to wait for the empirical tests to find out which design actually requires less total power.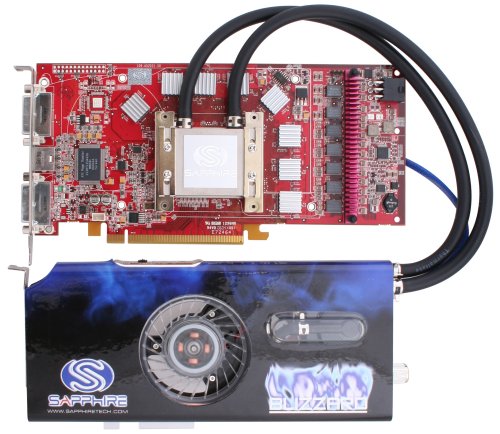 The Blizzard X1900 XTX comes with a factory overclock, which is something we've not seen with X1900 XTXs that we've tested in the past. The core clock comes set at 675 MHz as opposed to the standard 650MHz, and the memory clock is 800MHz versus the stock speed of 775MHz (1600 MHz effective vs. the default 1550 MHz). This overclock will give a slight boost in performance and makes for an attractive solution for those looking for something a little faster than the standard X1900 XTXs out there.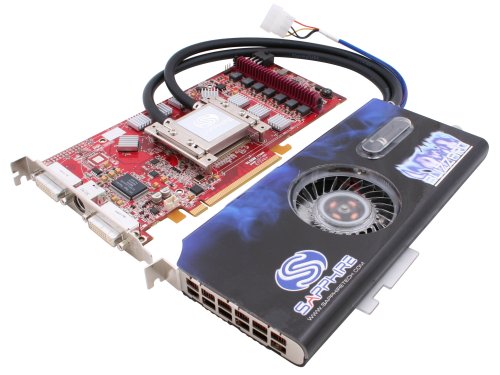 The Blizzard also comes with a familiar software bundle along with two Sapphire Select unlock keys. This allows you to choose two games from a selection of four: Tony Hawk's Underground 2, Prince of Persia: The Warrior Within, Brothers in Arms: Road to Hill 30, or Richard Burns Rally. None of the titles are really new, but all four are at least reasonable offerings. At least you have a reasonable chance of getting two new games this way, rather than getting a second copy of a game you already own.
Overclocking, Power, Heat & Noise
As usual, we wanted to see how well these cards overclocked over the factory speeds, particularly with the water cooled Blizzard X1900 XTX. We've done enough overclocking in the past to know that no matter how a particular card may look, there's no guarantee that it will achieve a high overclock, so we weren't sure what to expect with this card.
As with our last X1900 article, our usual ATI overclocking tool (Powerstrip) didn't work so we used ATITool to get our overclocks. As we explained before, we found that the clock speeds indicated by ATITool weren't quite accurate, with performance being slightly lower than the numbers represent. We were still able get an idea of how well these cards overclock, and these are the clock speeds we achieved.
Overclocking Speeds
Graphics Card
Core (in MHz)
Memory (MHz)
Sapphire Blizzard X1900 XTX
698
823
Connect 3D X1900 XTX
685
810WS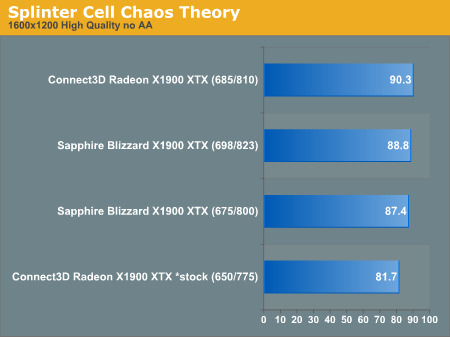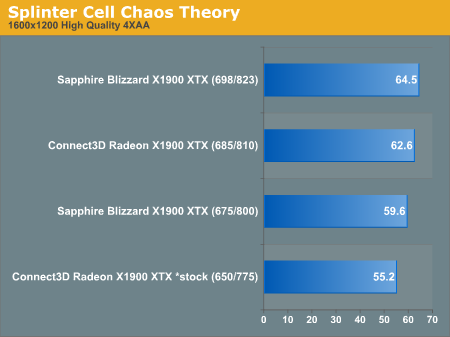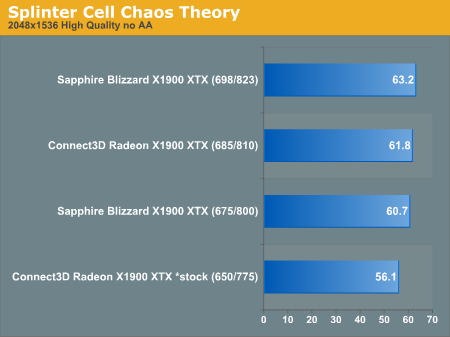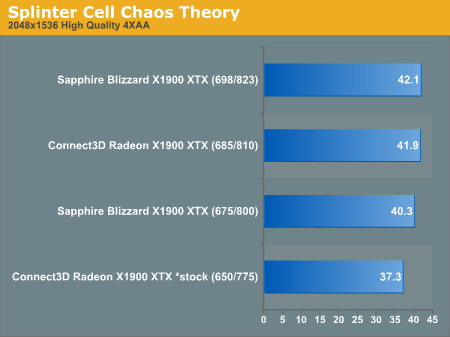 * Keep in mind that the clock speeds shown are actually a little higher than the real clock speeds.
Power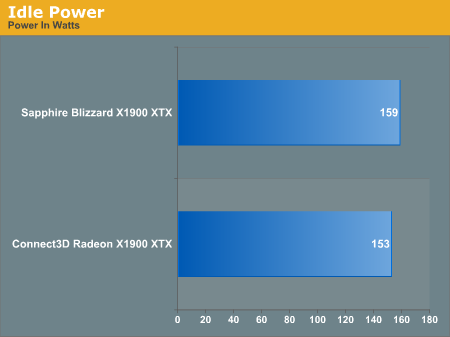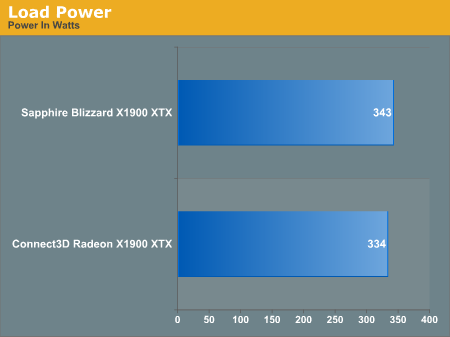 It makes sense that the Blizzard X1900 XTX setup would have a higher power draw than the Connect3D, or any of the standard X1900s around, because the water block requires an extra power connection to run the pump, especially considering the results of our heat tests which follow. This is something that will probably dissuade those who are concerned with the power load on their system from considering this card.
Heat
We were also able to get an idea of how much heat these two cards generated with ATITool.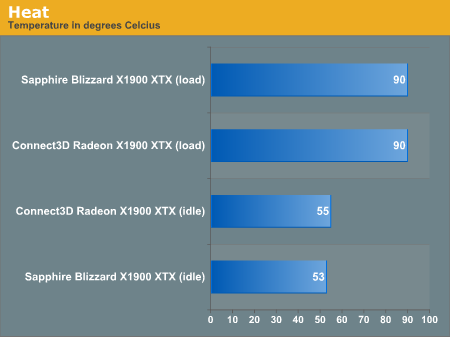 The Connect3D X1900 XTX quickly came up to temperature and ran without any problems under stress testing, but we found that the Blizzard X1900 XTX acted a little differently. The Blizzard would come up to peak temperature much more slowly than the Connect3D, no doubt due to the water cooling system, but under testing with this card using ATITool there was some slight trouble keeping it stable for long periods of stress. Water has a much higher thermal capacity than air, allowing the coolant to absorb quite a bit of heat; however, the radiator doesn't appear sufficient to keep the card at a lower temperature under extended testing, so eventually it reaches higher temperatures than you might expect. We aren't sure if this is the case for all Blizzard X1900 XTXs, but we did find that it ran extended stress tests with Splinter Cell Chaos Theory without any trouble, so we concluded that there most likely wouldn't be any issues with this card and long periods of actual gaming (as opposed to synthetic benchmark stressing).
Noise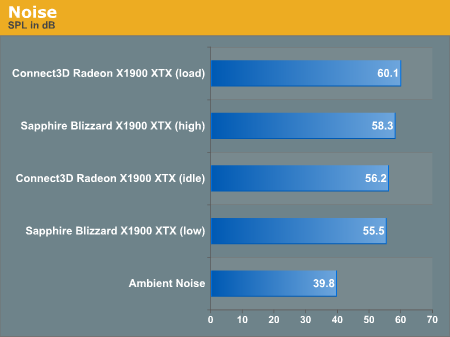 One of the purported benefits of the Blizzard water cooled X1900 XTX is that it will supposedly generate significantly less noise than an air cooled solution. We measured the sound levels of both cards and found that this is in fact the case. While the Blizzard isn't exactly "silent" like Sapphire suggests, we are impressed by how quiet the card is during operation, especially considering how noisy X1900 cards tend to be.
Test Setup/Performance
Now we're taking a look at the overall performance of these two cards at both factory clock speeds (out of the box) and overclocked speeds in a few standard games. This is our typical performance setup and should look pretty familiar. Our single-core FX-55 may be holding back performance in Quake 4 a bit with the latest SMP patch, but we're running at resolutions that should be GPU-limited anyway.
System Configuration
Motherboard
NVIDIA nForce 4 motherboard
CPU
AMD Athlon 64 FX-55 2.6 GHz Processor
RAM
1 GB OCZ 2:2:2:6 DDR400 RAM
HDD
Seagate 7200.7 120 GB Hard Drive
PSU
OCZ 600 W PowerStream Power Supply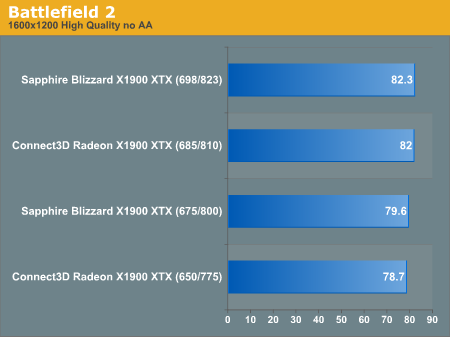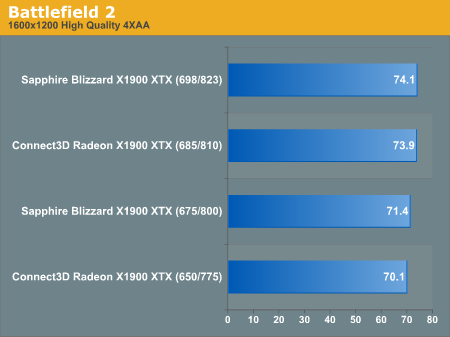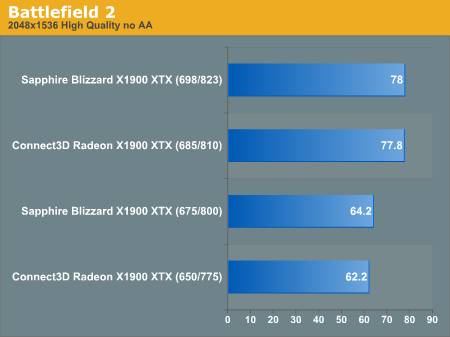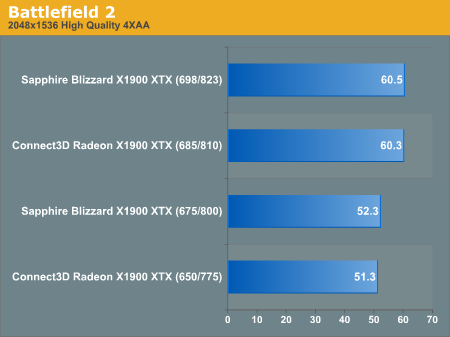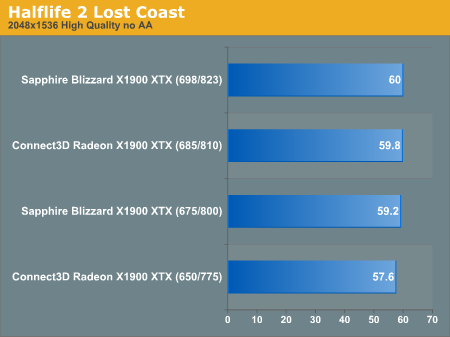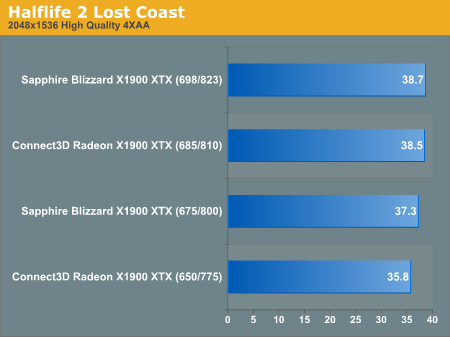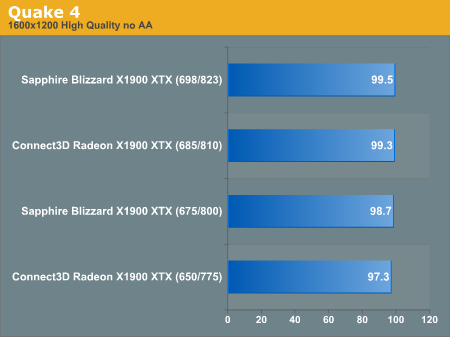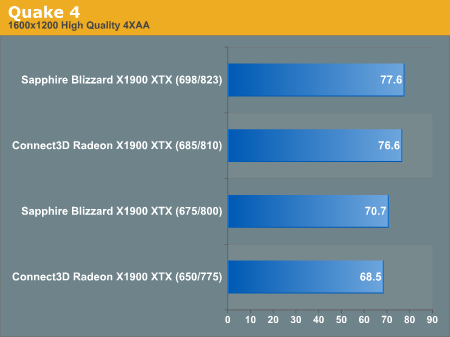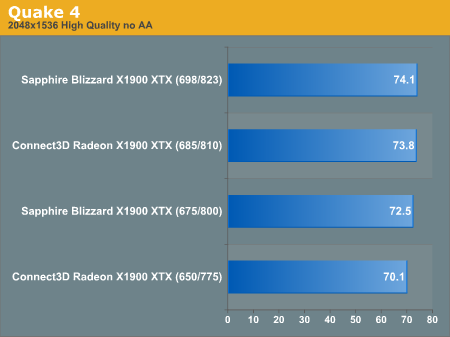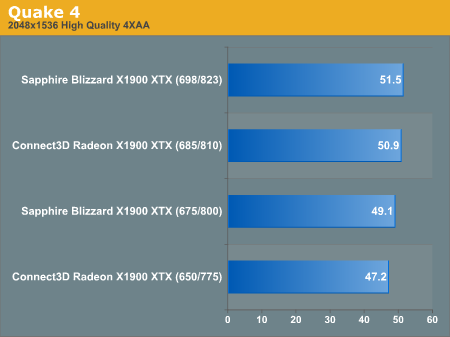 Of course we notice right away here that due to the higher factory overclock, the Blizzard X1900 XTX performs slightly better than the Connect3D. There isn't a huge difference though, and whether or not the performance increase is worth the higher price is debatable. Higher clock speeds aren't the Blizzard's only benefits, of course, as it provides better performance with lower noise levels.
Final Words
We've talked a lot about ATI's X1900 series lately, and it just happens to be the kind of graphics card that people like hearing about. The X1900 XTX is one of the most powerful cards available at the time of this writing, and it's going to be impressive no matter how it comes from the manufacturer. For those interested in a reliable, good quality X1900 XTX Connect3D's version will certainly do the job, but the Blizzard X1900 XTX arguably does it a little better and with a bit more panache.
Whether or not water cooled cards like this will be more than a novelty is yet to be seen, but this one manages to work well, install easily, and look good doing it. It does have its drawbacks though. We already mentioned that it is a bit of a power hog, which is a red flag for many PC users. Also, while we didn't find any specific problems with heat, the water reservoir and radiator of the Blizzard are likely less effective than other solutions due to their location and size. A larger reservoir with a radiator external to the case can do a better job, first because more water means the ability to store more heat, and second because eventually the air flowing over the radiator would be warmer inside the case than out. We also found that care had to be taken when installing the card, as the hoses were somewhat fragile and space may be an issue as it tends to fill up the inside of the case (though not a lot more than any other X1900 XTX).
There area few other concerns with water cooling as well. First, water and electronics are not good bedfellows, so anyone that moves their computer around a lot will want to exercise extra caution. We also wouldn't mind seeing a water cooling solution that did something for the GPU RAM as well as the GPU core. That second point leads us into our final comment: while the detached radiator connected to the GPU via two hoses does offer a bit more flexibility in terms of where you locate the radiator, it might be better overall to simply go with an attached water radiator and a traditional two-slot design. That way you eliminate the possibility of damaging or crimping the hoses, there's less chance for developing a leak, and you can easily cover the RAM as well as the GPU core.
The Blizzard isn't perfect, but few products are. While we weren't able to overclock it higher than some of the other X1900 XTXs in the past, we still got a fairly high overclock, and the factory overclock alone is a plus to this package. Other positive things are the fact that it does run much more quietly than other X1900 XTXs, it comes completely assembled so you won't have to worry about voiding any warranties in your quest for water cooling, and it's quite easy to install. It didn't show any breakthroughs in terms of heat dissipated and temperatures, but there weren't any heat problems either so by all accounts the water cooling system seems to do its job.
Price wise, we understand that the Blizzard X1900 XTX will be selling for $570 with a $30 mail in rebate when it's released, which should be about the third or fourth week in April. The Connect3D X1900 XTX is selling for about $495 at the time of this writing. Currently, the X1900 XTX is available for about $50 or $60 less than the NVIDIA 7900 GTX which is good news for ATI considering performance between the two is so similar. If you're interested in the games offered by Sapphire, you also have to consider that you're getting an extra $60-$80 in value there, but that only really applies if you would otherwise purchase two of the offered games separately.
We realize the X1900 XTX has been in the spotlight lately, but we felt that these cards and particularly the Blizzard X1900 XTX warranted a look. We know that these aren't the most affordable cards on the market right now, and it can be frustrating hearing about the kind of gaming power available without it being financially within reach. However, the stakes are higher with these high-end cards for both ATI and NVIDIA since they help to drive perceptions and create market share, so we want to keep a close eye on what's happening with them. For those that want more economical offerings, we will be looking at some more moderately-priced cards range in the near future.