Original Link: http://www.anandtech.com/show/1976


"Strive for excellence, not perfection."
This quote by noted author H. Jackson Brown Jr. describes our feelings about the ECS C19-A SLI motherboard. Elitegroup Computer Systems (ECS) was formed in 1987 and has since become one of the largest motherboard and notebook manufacturers in the world. ECS currently has around 20% of the global motherboard market while manufacturing over 2.5 million units per month for OEM customers and under the ECS brand name. ECS has concentrated on designing and producing low-cost products with feature sets that are attractive to the mass market.
Recently, ECS has been branching out into the enthusiast/gamer market with their Extreme series of product. While this product line is not to be mistaken for the top products offered in this grouping by DFI or others, it is a refreshing change to see one of the largest OEM manufacturers addressing this market segment with affordable enthusiast/gaming level products. While the ECS C19-A SLI motherboard that we are reviewing today is not part of their Extreme series, it does offer a very good feature set and performance level for the casual enthusiast/gamer in the Intel market space. More information about the entire line of ECS products can be found
here
.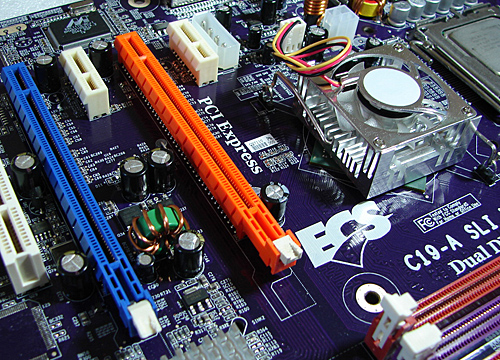 The ECS C19-A SLI motherboard is based on the recently announced nForce4 SLI XE SPP (C19XE) and nForce4 SLI XE MCP (MCP51) chipsets. Our first impression of the motherboard was very good as the layout of the board is very clean and well organized for an SLI capable system. The performance of the board was very competitive with the Intel 975x and 945P solutions while offering a price target under US $90.
While we did not notice the same initial performance issues with the recently tested Biostar TForce4 U 775, the board did generate some of the same frustrations.
This board was not forgiving if we made a mistake in our performance evaluation testing. The system would perform well in our general applications and benchmarks at a given setting and then completely refuse to boot or go into a reboot loop if we increased the FSB or especially the Memory speeds by a few MHz past a stable threshold. We quickly found out the limits of the board and if nothing else, the board's ability to fail at certain settings was consistent.
The Self Recovery System (S.R.S.) within the BIOS would allow the system to recover from most configuration issues consistently except for errant memory settings. The inability of the system to recover from these memory miscues would require the usage of the clear CMOS jumper. Unfortunately, we ran into an issue with this process as the clear CMOS process sometimes required the removal of the battery for the jumper process to work. This process is not acceptable, considering how well other BIOS recovery systems work. As with the recent Biostar BIOS update, we feel this issue can be diminished greatly with additional BIOS tuning.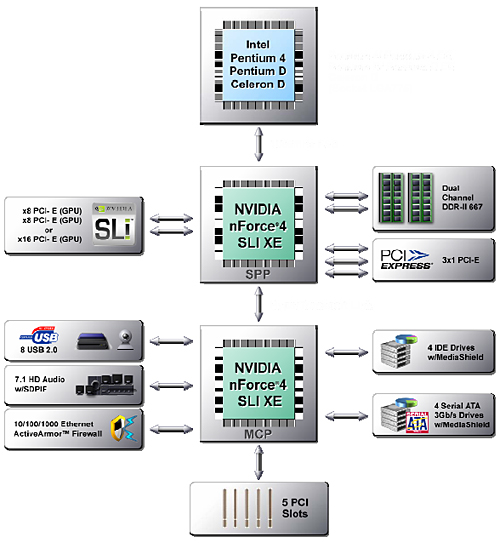 The nForce4 SLI XE is a newly released design for the mainstream performance market and will compete directly against the Intel 945P and Intel 975x chipsets. The nForce SLI XE configuration is being offered and marketed as an affordable entry level product with enthusiast features and performance. Unlike the Intel 945P chipset, the nForce4 SLI XE offers full support for all Socket 775 processors, including the Extreme Edition units. Further details on the release of this product can be found in our preview article located
here
.
The chart above lists the standard feature set available when utilizing the NVIDIA nForce4 SLI XE SPP and MCP chipsets. The nForce4 SLI XE SPP enables full support for single x16 PCI-E or dual x8 PCI-E video card configurations , up to three x1 PCI-E devices, 16GB memory addressability, and native DDR-2 667MHz memory support along with Quad SLI capability. The nForce4 SLI XE MCP enables support for 8 USB 2.0 ports, HD Audio with S/PDIF connectors, Gigabit Ethernet with ActiveArmor Firewall support, 5 PCI slots, 4 SATA 3.0Gb/s ports, and 4 IDE devices.
Now, let's take a closer look at the features and performance that this board offers.
Basic Features: ECS C19-A SLI
Specification
ECS C19-A SLI
CPU Interface
LGA775-based Pentium 4, Pentium 4 XE, Celeron D, and Pentium D processors.
Chipset
NVIDIA nForce4 SLI XE - SPP (C19XE)
NVIDIA nForce4 SLI XE - MCP (MCP51)
Pentium D Support
805D, 820D, 830D, 840D, 840EE, 920D, 930D, 940D, 950D, 955EE, 965EE
Front Side Bus
1066 / 800 / 533 MHz
Front Side Bus Speeds
Default, 450MHz ~ 1300MHz in 1MHz increments
Memory Speeds
Default, 400MHz ~ 1300MHz in 1MHz increments
PCI Bus Speeds
Default
PCI Express Bus Speeds
Default, 100MHz ~ 148.4375MHz in various increments
Set Processor Multiplier
12X to 60X, (in 1X step increments)
LDT Multipliers
1x, 2x, 3x, 4x
Core Voltage
Default, 1.1000V to 1.6000V (in 0.0125V increments)
DRAM Voltage
Default, 1.8V to 2.2V (in 0.05V increments)
SPP Chipset Voltage
Default
FSB Voltage
Default
Memory Slots
(4) x DIMM, max. 4GB per DIMM, max. 16GB total system memory, DDR2 667/533, non-ECC, un-buffered memory
Expansion Slots
(2) x PCI-E x16 (operates in x8,x8 mode for SLI)
(2) x PCI-E x1
(3) x PCI 2.3
Onboard SATA
NVIDIA nForce 430:
(4) x SATA II
Onboard IDE
NVIDIA nForce 430:
(2) x UltraDMA 133/100/66/33
SATA/IDE RAID
NVIDIA nForce 430:
(4) x SATA II
RAID 0, RAID 1, RAID 0+1, RAID 5
Onboard USB 2.0
(8) USB2.0 ports
Onboard LAN
Marvell 88E1115 PCI 10/100/1000Mb/s Ethernet LAN - PHY
Onboard Audio
Realtek ALC-883, 8-channel capable Audio, 95dB S/N ratio
Power Connectors
24-pin ATX
4-pin ATX 12V
4-pin 12V (required for SLI operation)
Back Panel I/O Ports
1 x PS/2 Keyboard
1 x PS/2 Mouse
1 x Parallel (LPT)
1 x Serial (COM 1)
1 x S/PDIF Optical Out
1 x S/PDIF Coaxial Out
1 x Audio I/O Panel
1 x RJ45
4 x USB
BIOS
AMI 1.0D (2/7/06)
When compared to the Biostar TForce4 U 775 nForce4 Ultra based chipset, the BIOS is lacking such options as SPP and FSB voltages along with lower VCore and DIMM voltage settings. Also, the HyperTransport design provides x4/x8 up and down links at a maximum limit of 800MHz.
The board ships with an accessory package that includes the standard assortment of IDE/SATA cables and power connectors. ECS includes a driver CD and software utilities for your system. The board fully supports NVIDIA's nTune performance tuning application with version 3.0 being supplied by ECS.
ECS C19-A SLI: Features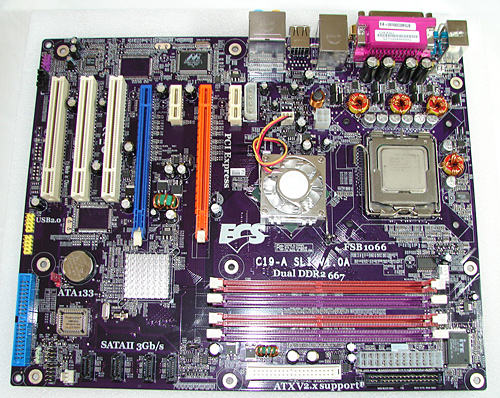 ECS designed an extremely well laid out board with all major connections easily reached. The ECS layout provides very good clearance for cards and components while being simple to install in a mid-size ATX case. The board features a 4-phase voltage regulator power design that provided very good stability during general usage and overclocking.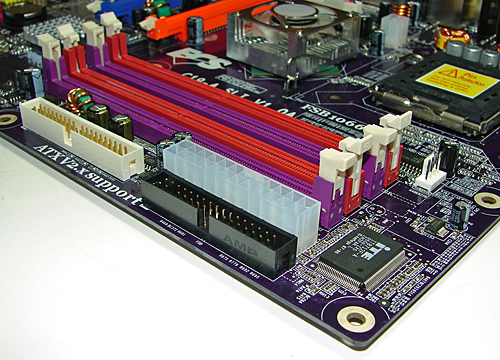 The DIMM module slots' color coordination is correct for dual channel setup. The memory modules are slightly difficult to install with a full size video card placed in the first PCI Express x16 slot. The black floppy drive port connector is conveniently located on the edge of the board with the 24-pin ATC connector located between it and the number four DIMM slot. The secondary nForce4 IDE connector is located to the left of the floppy driver connector and is color-coded white. This location is ideal for most cases as the optical drives are generally located at the top of the case.
The black NVIDIA nForce4 SATA ports are conveniently located on the board's edge and below the MCP chipset. Unlike other recently reviewed boards, the SATA ports are not color-coded for primary and secondary operation, though that is a minor concern. We found the positioning of the SATA ports to be excellent when utilizing the PCI slots or the primary IDE port connector. The NVIDIA nForce4 SLI XE MCP chipset is passively cooled with a low rise heat sink that did not interfere with cards installed into the PCI slots.
The blue primary NVIDIA nForce4 IDE port connector is located on the left edge of the board and did not present any connection issues in our mid-size ATX case. The location of this connector is very good for most cases and those users still utilizing IDE hard drives. The chassis panel and fan header is located between the primary IDE connector and the nForce4 SATA ports. The BIOS chip is located directly above the chassis panel and fan header.
The yellow NVIDIA nForce4 USB connectors are located above the primary IDE connector and along the edge of the board. The battery and CMOS jumper block is located above the BIOS and to the left of the MCP chipset. The clear CMOS jumper block is a traditional jumper design and is easily accessed.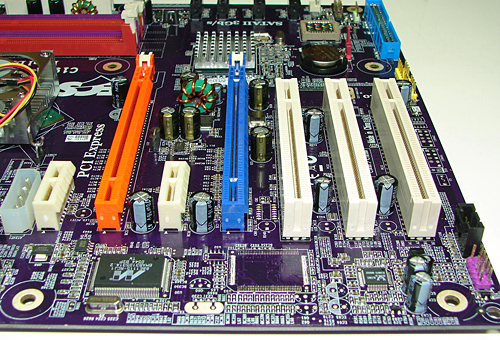 The board comes with (2) physical PCI Express x16 connectors, (2) PCI Express x1 connectors, and (3) PCI 2.3 compliant 32-bit connectors. The layout of this design offers an exceptional balance of expansion slots for a mainstream board.
The first PCI Express x1 connector is located to the right of the 4-pin 12V connector. This 4-pin 12V connector is required for dual graphic card or SLI operation. The location of this PCI Express x1 connector allows installation of most peripheral PCI Express cards and is not blocked by most video card designs.
The first physical x16 connector (orange) is located next, followed by the second PCI Express x1 connector. When utilizing a dual slot video card, this PCI Express x1 connector will be physically rendered useless. We did not have any issues utilizing this slot with video cards containing single slot cooling systems.
The second physical x16 connector (blue) is located next, followed by the three PCI 2.3 compliant 32-bit connectors. When utilizing a dual slot video card, the first PCI connector will be rendered physically useless. There were no issues utilizing this slot with video cards containing single slot cooling systems.
The Marvell 88E1115 Gigabit Ethernet LAN PHY is located in front of the first x16 connector. The Realtek ALC-883 HD audio codec is located in front of the number two PCI connector. The front panel audio header is color-coded purple and located at the edge of the board with the black analog audio input connector situated behind it.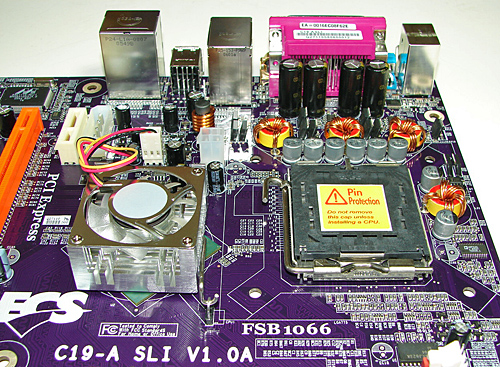 Returning to the CPU socket area, we find ample room for alternative cooling solutions. We utilized the stock Intel heat sink, but we also verified that several aftermarket cooling systems such as the Thermaltake Big Typhoon and Zalman CNPS 9500 would fit in this area during our tests. However, due to the size of the SPP heat sink/fan, installation of larger air or water-cooling solutions could be problematic.
The NVIDIA nForce4 SLI XE SPP chipset is actively cooled with a large heat sink/fan unit that did not interfere with any installed peripherals. Our only concern is the lifespan of the fan and it does generate a slight whirling sound during operation.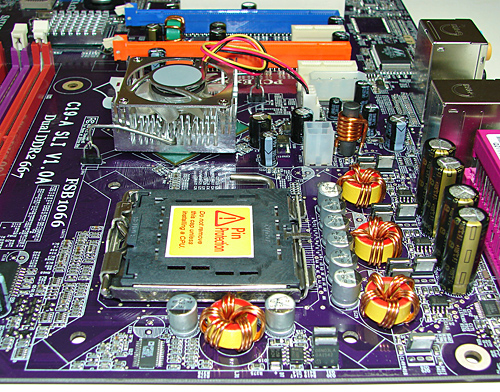 ECS places the four-pin 12v auxiliary power connector at the top of the CPU socket area and near the SPP heat sink/fan. This 12-pin connector is located in a difficult position and can hamper airflow with cabling that crosses directly over the CPU heat sink/fan. During our testing with the Zalman CNPS 9500, we had to bend our 4-pin connector and run the cable over the heat sink fins in order to connect it. This is our lone issue with the general layout and usage of peripherals on this board.
The PS/2 mouse and keyboard ports are located to the far left on the i/o panel. The serial port (COM1) is located to the right of the PS/2 ports and below the parallel port. The S/PDIF optical out connector is located to the right of serial port and left of the S/PDIF coaxial out connector. The LAN (RJ-45) port and the first pair of USB 2.0 connectors are positioned next. The LAN (RJ-45) port has two LED indicators representing Activity and Speed of the connection. The second pair of USB 2.0 connectors are located to the left of the audio panel. The audio panel consists of 6 ports that can be configured for 2, 4, 6, and 8-channel audio connections.
FSB Overclocking Results
Front Side Bus Overclocking Testbed
Processor:
Pentium 4 Smithfield LGA 775
840EE Dual Core 3.2GHz
CPU Voltage:
1.4750V (1.4000V default)
Memory Settings:
3-2-2-8 at 667MHz
Memory Voltage:
2.2V
SPP Voltage:
Default
FSB Voltage:
Default
Cooling:
Zalman CNPS 9500
Power Supply:
PC Power and Cooling 850 SSI
Maximum CPU OverClock:
254fsb x 17 (4318MHz) +35%
Maximum FSB OverClock:
268fsb x 16 (4288MHz) +34%
This board is a competitve overclocker when comparing it to the Intel 975X boards for maximum CPU speeds, but it still trails the 975X boards in FSB speeds as our Asus and Gigabyte boards can reach a 340FSB level for performance testing although their application stable FSB levels are slightly above 300. At these settings, the system is able to complete all of our benchmark test suites three consecutive times along with SuperPI and run Prime95 for a minimum of four hours. We lowered the CPU multiplier to 14, but it could not overclock past a 268FSB setting with our test CPU. We changed the LDT ratio to several different settings without success. These results continue the pattern that we see in the nForce4 Intel Edition chipsets not reaching high FSB speeds, yet being very successful in overclocking the CPU at standard FSB settings.
We installed our 955EE CPU and were able to reach the highest CPU overclock recorded for our sample unit. The board performed flawlessly at this setting, and reaching 4.62GHz on air with this chip is impressive. However, all attempts at lowering the multiplier and extending the bus speed past 1100Mhz resulted in failure within our benchmark test suite.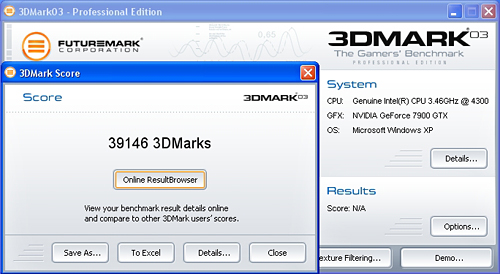 In limited SLI testing with our recently received EVGA 7900GTX card, the board posted excellent results in the synthetic and game benchmarks. The
scores generated in the Pentium D category for 3DMark03
are class leading as of this writing.
Memory Stress Testing
This memory stress test looks at the ability of the ECS C19-A SLI to operate at the officially supported memory frequencies of 533MHz DDR2, at the best performing memory timings that the Corsair CM2X512A-5400UL revision 1.3 will support. Note that this memory is rated at 3-2-2-8 timings for 667MHz operation.
ECS C19-A SLI
Stable DDR2-667 Timings - 2 DIMMs
(2/4 slots populated - 1 Dual-Channel Bank)
Clock Speed:
200MHz (800FSB)
Timing Mode:
667MHz - Default
CAS Latency:
3
RAS to CAS Delay:
2
RAS Precharge:
2
RAS Cycle Time:
8
Command Rate:
1T
Voltage:
2.1V
The ECS C19-A SLI was very stable with 2 DDR2 modules in Dual-Channel at the settings of 3-2-2-8 at 2.1V. We will now install all four available memory slots that result in more strenuous requirements on the memory subsystem than testing 2 DDR2 modules on a motherboard.
ECS C19-A SLI
Stable DDR2-667 Timings - 4 DIMMs
(4/4 slots populated - 2 Dual-Channel Banks)
Clock Speed:
200MHz (800FSB)
Timing Mode:
667MHz - Default
CAS Latency:
3
RAS to CAS Delay:
3
RAS Precharge:
3
RAS Cycle Time:
8
Command Rate:
2T
Voltage:
2.1V
The ECS C19-A SLI was completely stable with 4 DDR2 modules in Dual-Channel operation at the settings of 3-3-3-8, but it required the command rate to be increased to 2T.
Test Setup
The NVIDIA nForce4 SLI XE chipset fully supports all dual core Pentium D processors in both stock and overclocked conditions. Dual core really makes a difference in certain multi-tasking scenarios, as was demonstrated in the
dual core performance preview
. If you are interested in how the various chipsets perform in a real world multitasking setup, please take another look at that review.
Performance Test Configuration
Processor(s):
Intel Pentium 840EE (3.2GHz, 800FSB, Dual-Core, 2x1MB L2, HT) utilized for all tests
RAM:
2 x 512mb Corsair CM2X512A-5400UL revision 1.3 Settings- DDR2-667 as noted at (CL3-2-2-8, 1T)
Hard Drive(s):
2 x Maxtor MaXLine III 7L300S0 300GB 7200 RPM SATA (16MB Buffer), 1 x Maxtor MaXLine III 7L300R0 300GB 7200 RPM IDE (16MB Buffer)
System Platform Drivers:
Intel Chipset Software - 7.2.2.1006
NVIDIA Platform Driver - 8.22
Video Cards:
1 x XFX 7800GTX OC (PCI Express) for base tests
2 x XFX 7800GTX OC (PCI Express) for SLI tests
Video Drivers:
NVIDIA nForce 81.98 WHQL
Cooling:
Thermaltake Big Typhoon
Power Supply:
Fortron Source FX700-GLN
Operating System(s):
Windows XP Professional SP2
Motherboards:
Biostar TForce4 U 775
Asus P5LD2 Deluxe
Intel D975XBX
Asus P5WD2-E
Asus P5N32-SLI Deluxe
Gigabyte GA-G1 975X
We tested our XFX 7800GTX video cards using NVIDIA 81.98 WHQL drivers to provide recent performance results. (Testing began before the recent 84.21 driver release.) Resolution in all benchmarks is 1280x1024x32, except for 3DMark03 and 3DMark05, which use a "Standard Score" setup at the 1024x768 video resolution for testing. Our SLI game test resolution is set to 1600x1200 with 4xAA and 8xAF where applicable. Our Asus P5N32-SLI and Biostar TForce U 775 motherboards were retested with the latest available bios and platform drivers.
General Performance & Encoding
The 3DMark series of benchmarks developed and provided by FutureMark are among the most widely used tools for benchmark reporting and comparisons. Although the benchmarks are very useful for providing apple to apple comparisons across a broad array of GPU and CPU configurations they are not a substitute for actual application and gaming benchmarks. In this sense we consider the 3DMark benchmarks to be purely synthetic in nature but still valuable for providing consistent measurements of performance.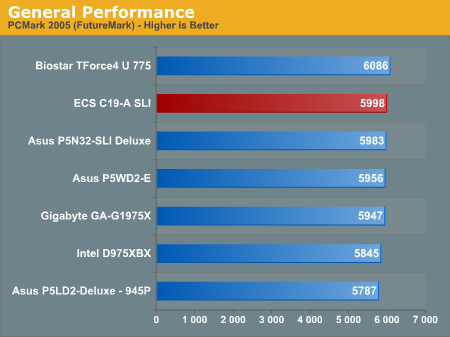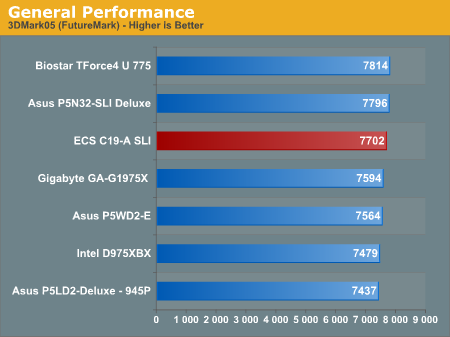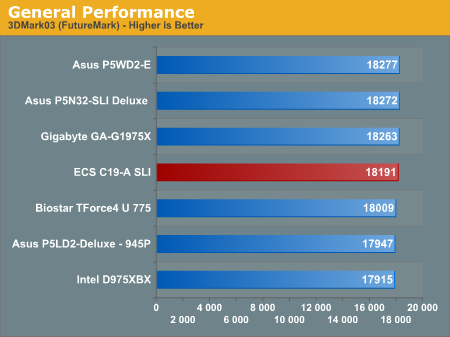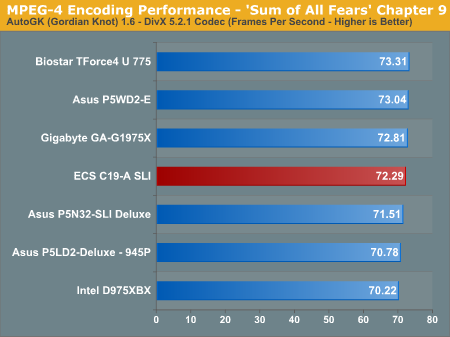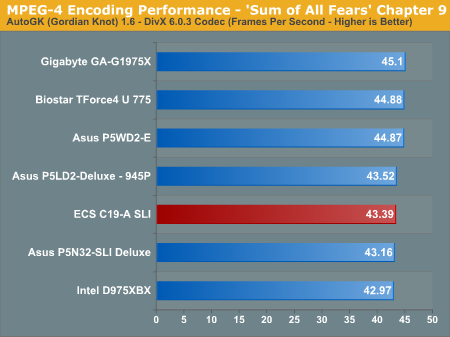 The ECS C19-A SLI is very competitive with the Intel 975X and 945P based boards while scoring consistently near the NVIDIA based boards in our testing. The ECS board also performs very well in the encoding tests, which traditionally have favored the Intel based chipset solutions.
Memory Performance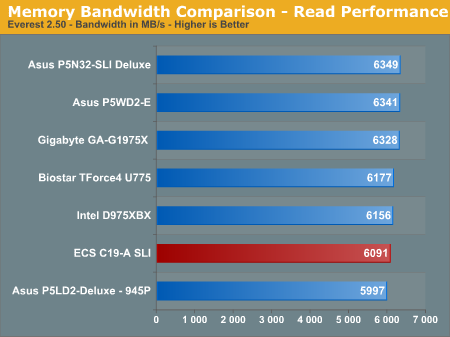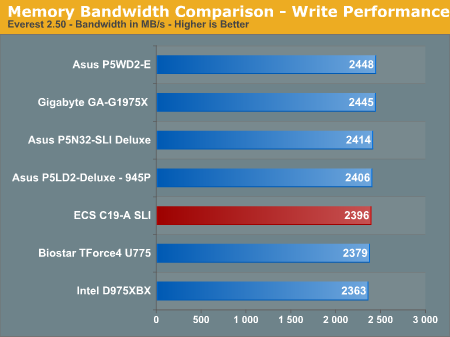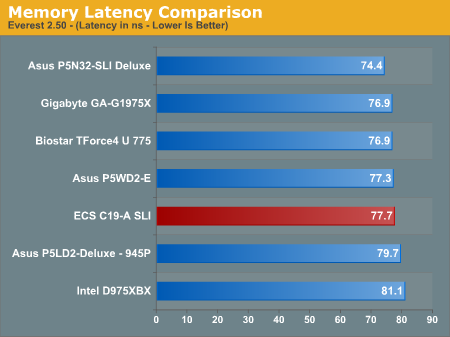 The memory latency test continues to show a 3% advantage for the nForce4's memory controller on the Asus P5N32-SLI over the Intel 975X chipset solutions. The ECS board's performance was competitive with the other boards in the write and latency benchmarks.
The ECS board does not officially support DDR2-800 unlike several of the other boards in the test group. In our testing, we could never get the board to run reliably at DDR2-800 with several different memory modules at various settings. In fact, the board had issues with memory performance and stability when exceeding a DDR2 rate of 720MHz.
Overclocking Performance
The overclocking performance graphs have been added to the standard benchmark test suite and should allow for a better comparison on the overclocking capabilities of tested boards. For more details on the specific overclocking abilities of this board, please refer to the Overclocking and Memory Stress Test section in the Basic Features page.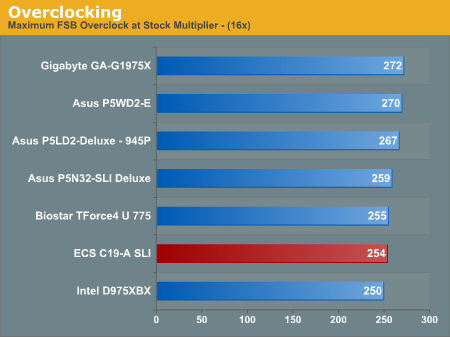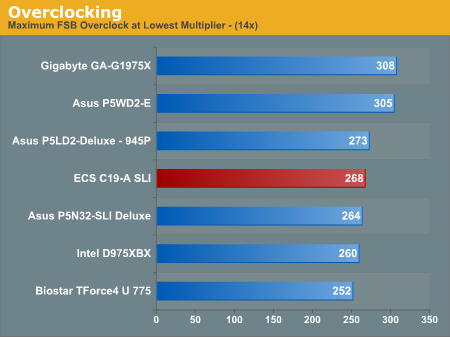 The ECS C19-A SLI is a very good overclocker at stock or near stock FSB speeds when raising the CPU multiplier, but it falls short against the Intel 975x boards when raising the FSB speeds. Overall, the board matched or improved upon the other NVIDIA based offerings even with limited BIOS tweaking options.
Gaming Performance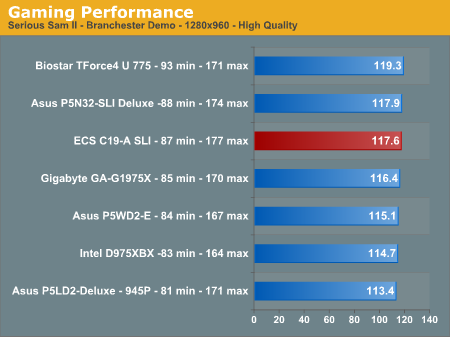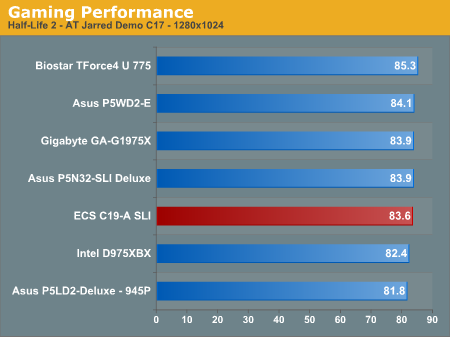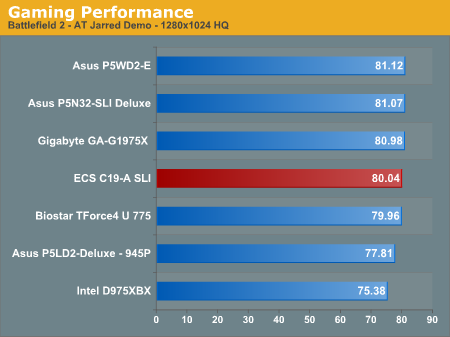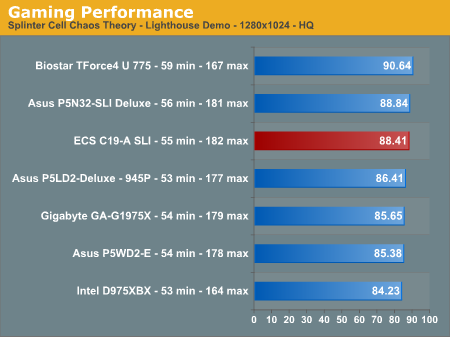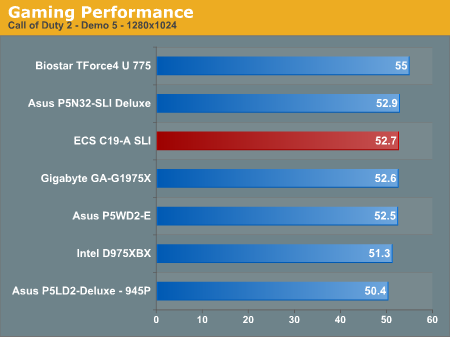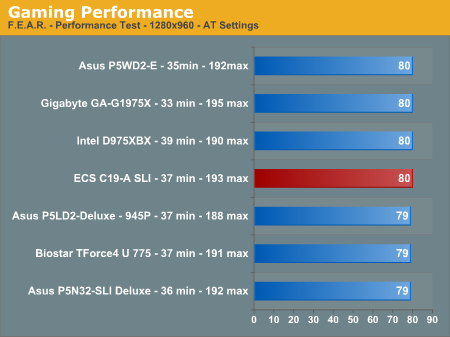 The overall gaming performance of the ECS C19-A SLI is very competitive when compared to our recent Intel based test results. The ECS board remained very stable in our game benchmark testing and during extended game-play testing over the course of several continuous hours. While the ECS board is not a leader, it offers a great performance to price ratio for those on budget.
SLI Performance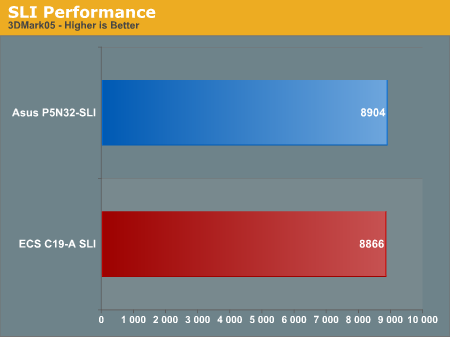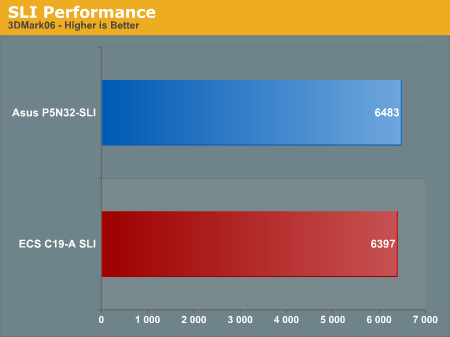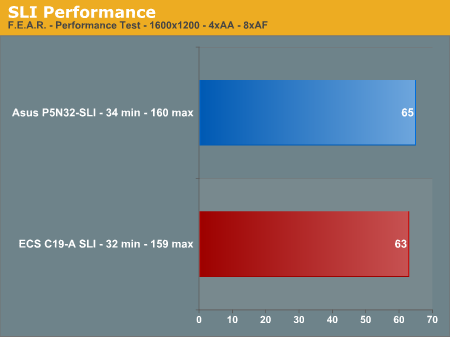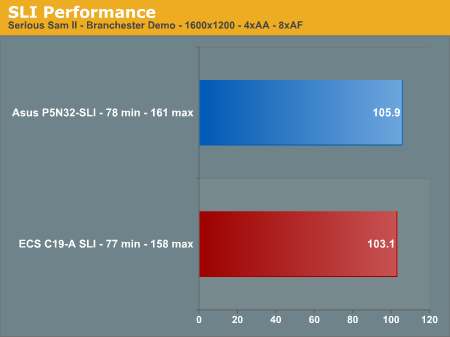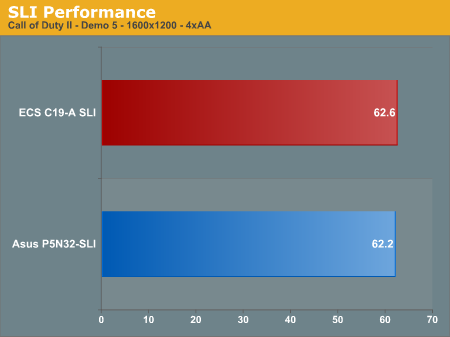 The performance of the ECS C19-A SLI was surprising in our SLI testing against the Asus P5N32-SLI. Its ability to remain competitively close in the benchmarks while placing first in the GPU intensive Call of Duty II test was impressive. We certainly believe NVIDIA's continual improvements in their chipset designs accounted for the excellent performance of the ECS board.
Disk Controller Performance
With the variety of disk drive benchmarks available, we needed a means of comparing the true performance of the wide selection of controllers. The logical choice was Anand's storage benchmark first described in
Q2 2004 Desktop Hard Drive Comparison: WD Raptor vs. the World
. The iPeak test was designed to measure "pure" hard disk performance, and in this case, we kept the
hard drive
as consistent as possible while varying the hard drive controller. The idea is to measure the performance of a hard drive controller with a consistent hard drive.
We played back Anand's raw files that recorded I/O operations when running a real world benchmark - the entire Winstone 2004 suite. Intel's iPEAK utility was then used to play back the trace file of all IO operations that took place during a single run of Business Winstone 2004 and MCC Winstone 2004. To try to isolate performance differences to the controllers that we were testing, we used the Maxtor MaXLine III 7L300S0 300GB 7200 RPM SATA drive in all tests . The drive was formatted before each test run and a composite average of five tests on each controller interface was tabulated in order to ensure consistency in the benchmark.
iPeak gives a mean service time in milliseconds; in other words, the average time that each drive took to fulfill each IO operation. In order to make the data more understandable, we report the scores as an average number of IO operations per second so that higher scores translate into better performance. This number is meaningless as far as hard disk performance is concerned, as it is just the number of IO operations completed in a second. However, the scores are useful for comparing "pure" performance of the storage controllers in this case.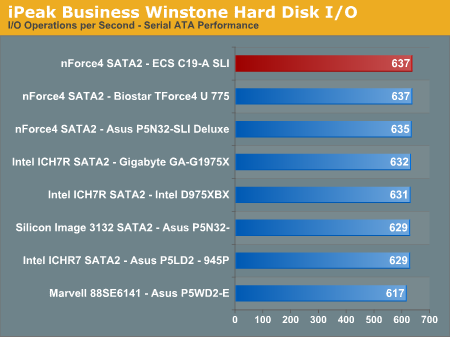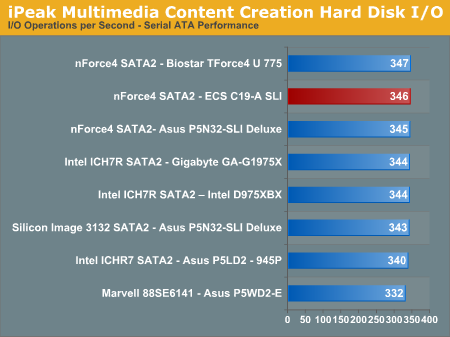 The performance patterns hold steady across both Multimedia Content IO and Business IO, with the on-board NVIDIA nForce4 SATA 2 still providing the fastest IO, followed closely by the Intel ICH7R, Silicon Image 3132, and Marvell 88SE6141 SATA 2 controllers.
Firewire and USB Performance
After looking at many options for Firewire and USB testing, we finally determined that an
external USB
2.0, Firewire 400, and
Firewire 800
hard disk would be a sensible way to look at
USB and Firewire
throughput. We utilize a RAM disk as our "server", since memory removes almost all overhead from the serving end. We turn off disk caching on the USB and Firewire side by setting up the drives for "quick disconnect" so that our results are consistent.
We use 1GB of fast 3-2-2-8 system memory set up as a 450MB RAM disk and 550MB of system memory. Our standard file is the SPECviewPerf install file, which measures 432,533,504 bytes (412.4961MB). After copying this file to our RAM disk, we measured the time for writing from the RAM disk to our external USB 2.0, Firewire 400, or Firewire 800 drive utilizing our internal Windows based timing program. The copy times in seconds were then converted into Megabits per second (Mb) to provide a convenient means of comparing throughput. Higher rates, therefore, mean better performance in this particular test.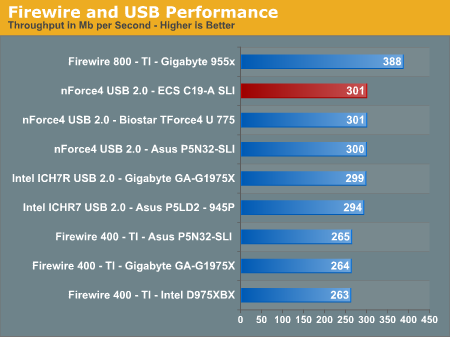 Possibly the most interesting aspect in our Firewire and USB throughput tests is the performance of an external hard drive connected to Firewire 800. Our benchmarks show that Firewire 800 is up to 46% faster than a drive connected to the more common Firewire 400, and about 29% faster than USB 2.0.
The ECS C19-A SLI board does not offer a Firewire option, although ECS lists it as an upgrade option. The USB 2.0 performance is consistent with other NVIDIA based boards and continues to lead the Intel chipset solutions in throughput.
Ethernet Performance
The current motherboard test suite includes
LAN
performance measurements. All of these boards utilize PCI or PCI Express controllers with the only difference being the supplier of the core logic.
The Windows 2000 Driver Development Kit (DDK) includes a useful LAN testing utility called NTttcp. We use the NTttcp tool to test Ethernet throughput and the CPU utilization of the various Ethernet Controllers used on the motherboards.
We set up one machine as the server; in this test, an Intel system with an Intel CSA Gigabit LAN connection. Intel CSA has a reputation for providing fast and consistent throughput, so this seemed to be a reasonable choice to utilize for our testing.
At the server side, we used the following Command Line as suggested by the VIA whitepaper on LAN testing:
Ntttcpr -m 4 ,0,‹server IP› -a 4 -l 256000 -n 30000
On the client side (the motherboard under test), we used the following Command Line:
Ntttcps -m 4 ,0,‹client IP› -a 4 -l 256000 -n 30000
At the conclusion of the test, we capture the throughput and CPU utilization figures from the client screen.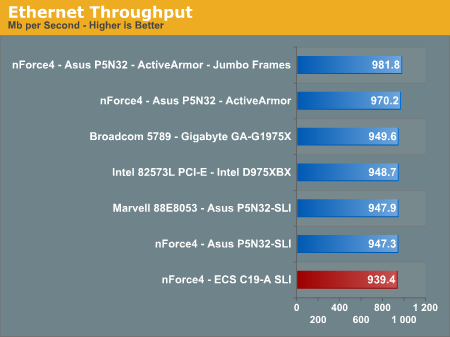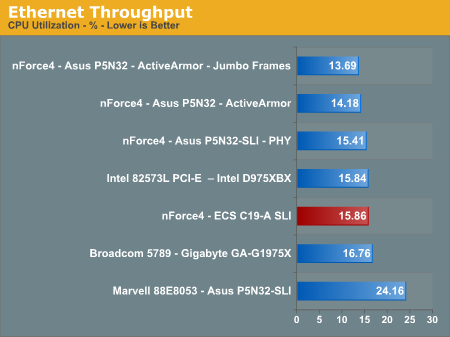 The choice of the Marvell 88E1115 10/100/1000Mb/s Ethernet PHY is an excellent move by ECS in this market segment compared to our disappointment with Biostar's choice of a 10/100Mb/s Ethernet solution on a similarly-priced board. The throughput performance of the Marvell 88E1115 is competitive along with very good CPU utilization rates compared to the other solutions.
All standard Ethernet tests were performed with standard frames and the NVIDIA Active Armor suite disabled unless otherwise noted. Gigabit Ethernet supports Jumbo frames as well and provides a further reduction in CPU overhead. We included an additional test scenario in which ActiveArmor and Jumbo frames were enabled on the Asus P5N32-SLI Deluxe board via the 6.85 WHQL platform driver set. This is shown for illustrative purposes and demonstrates the favorable impact of this technology.
Audio Performance
We limited audio testing to the Rightmark
3D Sound
version 2.2
CPU
utilization test and tested with sound enabled to show the performance effects on several games. The Rightmark 3D Sound benchmark measures the overhead or CPU utilization required by a codec or hardware audio chip.
The Realtek ALC-883 was tested with the recently released 1.33 driver set. The Realtek audio drivers do not support more than 32 3D buffers at this time, so the scores cannot be directly compared to the Creative Labs Sound Blaster X-FI card in the benchmarks.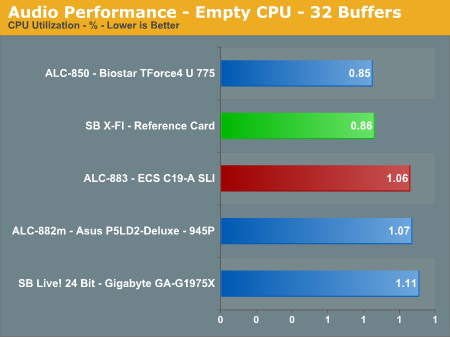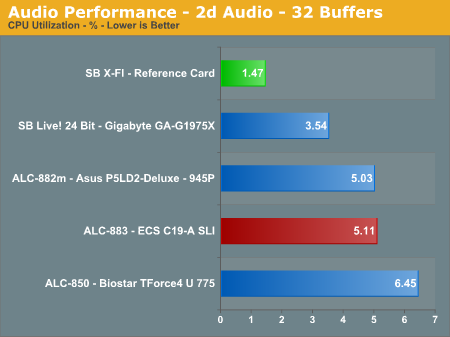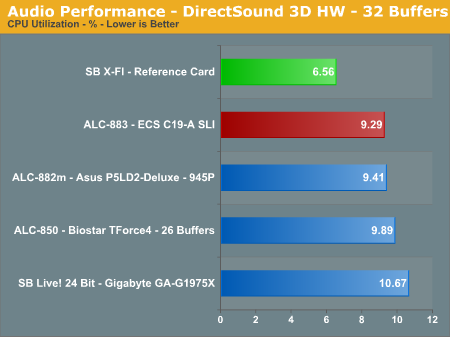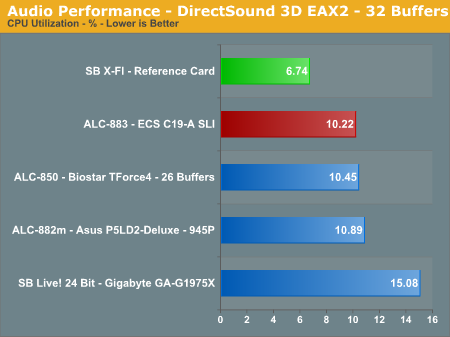 The Realtek ALC-883 codec has competitive CPU utilization rates when compared to the Realtek ALC-882 and ALC-850 codecs. The ALC-883 offers significantly better audio quality than the ALC-850 based systems and very similar audio quality to the ALC-882. The ALC-883 is actually a value based design of the ALC-882 while offering nearly the same audio quality and performance. In our subjective headphone testing, we noticed a slight difference between the two codecs with the output from the ALC-883 sounding clearer in the mid-range tones. However, the difference was negligible when utilizing our 5.1 or 7.1 speaker setup in a typical room environment. The Sound Blaster X-FI has the lowest overall rates with the ALC-883 solution following closely. Let's find out how these results translate into real world numbers.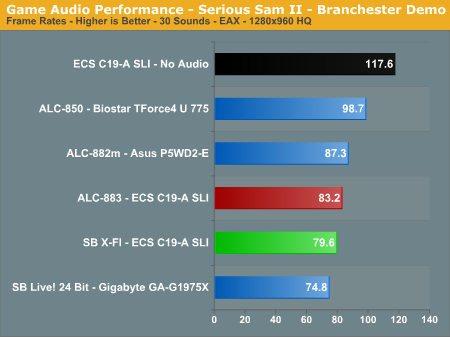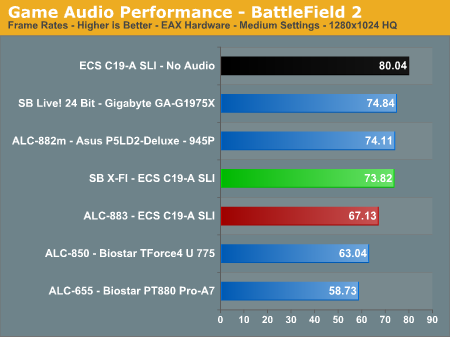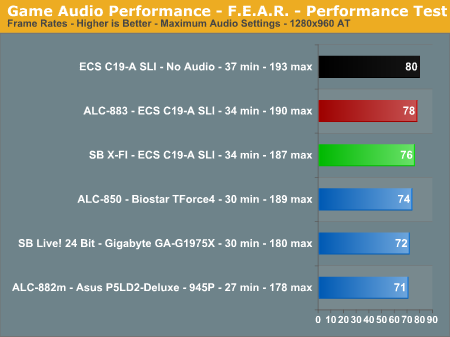 The audio performance numbers remain consistent as the Realtek ALC-883 consistently finishes near the SoundBlaster X-FI in our benchmarks. Serious Sam II has an average loss of 41%, Battlefield 2 at 19%, and F.E.A.R. at 3%.
The output quality of audio with the Realtek ALC-883 ranks with the ALC-882 as the best of the on-board HD audio solutions that we have heard and continues to improve with each driver release. The vast majority of users should have no issues utilizing the ALC-883 as their primary audio solution, considering the overall quality of audio and performance at this time.
Obviously, if you are a serious gamer, then a dedicated sound card is still a requirement to ensure consistent frame rate averages across a wide variety of games and, in the case of the Sound Blaster X-FI, improved audio quality. The audio specifications for the ALC-883 can be located
here
.
Final Words
The ECS C19-A SLI is a very affordable entry level enthusiast board for the Intel market that provides an excellent feature set for around US $90. The performance of the board in the majority of the synthetic and game benchmarks was very good, but not class leading. However, the board was consistently competitive with the Intel chipset offerings while including the added bonus of certified SLI operation. The stability of the board was excellent in all areas of benchmark testing and general application/game usage. However, we were frustrated that upon exploring the limits of the board, we ended up in a clear CMOS activity that became annoying at times. The layout of the board is superb, save for the 4-pin ATX connector being too close to the CPU socket area for those wanting to utilize an upgraded CPU cooling solution.
With that said, let's move on to our performance opinions regarding this board.
In the video area, the inclusion of dual
PCI Express x16
slots provides certified SLI capability. The x16 slots will operate in x8 mode if dual card graphic cards or SLI is utilized. The secondary x16 slot can be utilized as an x1, x4, or x8 slot for PCI Express peripherals. This board and chipset will fully support Quad SLI operation once the technology is released. The performance of the board in SLI operation was similar to the Asus P5N32-SLI while performing better in the Call of Duty II benchmark. The board fully supported our ATI X1900XTX video card in limited testing.
In the on-board audio area, the ECS board offers the Realtek ALC-883 HD audio codec with full support for optical or coaxial S/PDIF output . The audio output of this codec in the music, video, and DVD areas is excellent for an on-board solution. The audio quality in gaming was very good, but it did not match the output of the Sound Blaster X-FI. If you plan on utilizing this board for online gaming, then our recommendation is to purchase an appropriate sound card for consistency in frame rates across a wide range of games. However, the Realtek ALC-883 is recommended for the majority of users and is perfectly acceptable at home in a HTPC system.
In the storage and network area, the ECS board offers the standard storage options afforded by the NVIDIA nForce4 SLI XE MCP. The board fully supports NVIDIA's Media Shield technology and offers RAID 0, 1, 0+1, 5 capability, NCQ, Hot Plug, and 3Gb/s support. The board also offers the standard eight NVIDIA USB 2.0 ports, but it does not come with Firewire capability as configured. Gigabit Ethernet is provided via the Marvell 88E1115 PHY and offered very good throughput along with excellent CPU utilization rates. Full support for NVIDIA's ActiveArmor Firewall application is also included.
In the performance area, the ECS C19-A SLI generated very good benchmark scores in the gaming, media encoding, and synthetic tests. The overall performance of the board in general application and actual game play was solid. The stability of the board was excellent during testing, provided we did not go beyond DDR2-720 settings with our memory.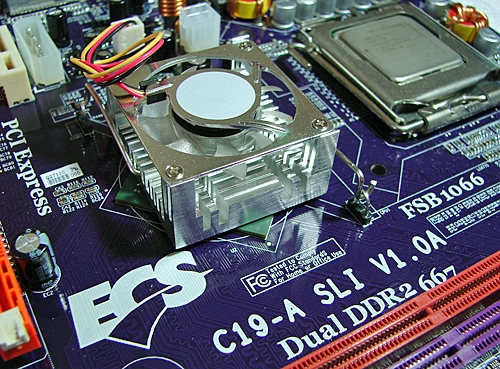 The ECS C19-A SLI is a motherboard for the Intel user on a budget and offers a very solid performance oriented platform for general usage and gaming. ECS has done a thorough job in designing and quickly delivering a cost-effective solution based upon the NVIDIA nForce4 SLI XE chipset. We are excited about the performance potential of this chipset and believe that it has the capability of being worthy competition to the Intel 975X and 945P chipsets, if not the performance leader when utilized in a board designed specifically for enthusiast level performance.
We believe that with additional BIOS tuning, the performance of the ECS board can be marginally improved, but the overclocking potential is probably at the limit due to the BIOS options, board design, and components utilized. This is a trade-off made by ECS in order to offer an extensive feature set at a price point of US $90. A trade-off that the majority of users will be more than satisfied with accepting at this time. At times, it is better to strive for overall excellence than perfection.