Original Link: http://www.anandtech.com/show/1974


"Nothing endures but change."
This quote by Greek philosopher Heraclitus describes our thoughts about the Biostar PT880 Pro-A7 Combo motherboard. Biostar started operations in 1986 and has a history of providing the latest products at inexpensive price points. More information about the entire line of Biostar's products can be found
here
.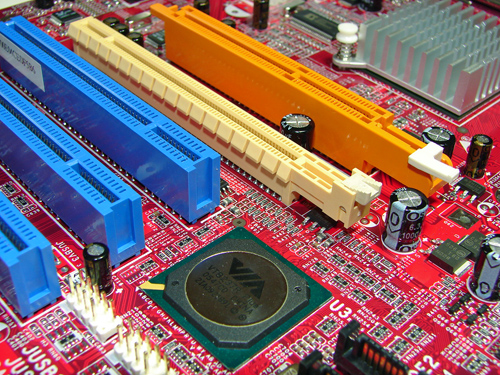 The PT880 Pro-A7 Combo motherboard is based on the VIA PT880 PRO and VT8237R chipsets. Our initial impression of the Biostar PT880 Pro-A7 Combo upon opening the box was one of piqued interest. The board supports both AGP and PCI Express slots for graphic cards along with support for both DDR and DDR2 memory. The layout of the board is decent, although we disagree with the placement of the 20-pin ATX power connector and IDE connectors. We were also disappointed with the omission of the excellent VIA Envy24PT audio controller and Gigabit Ethernet, but we understood the absence of these features based upon a retail price of US $65.
During our testing and general usage of the Biostar PT880 Pro-A7 Combo, we found the board's stability to be very good at stock settings, although it delivered lower than expected results in the latest synthetic and game benchmarks. However, the board continually generated random lock-ups if we tried to exceed the SPD settings of our DDR memory modules. We did not experience these same issues with our DDR2 memory modules.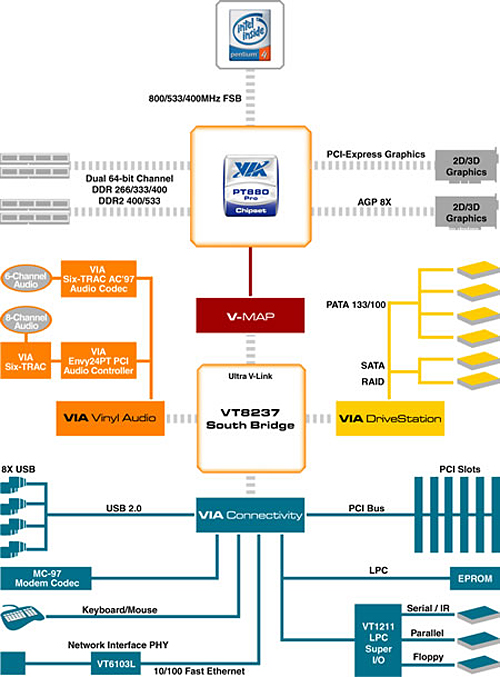 While the VIA PT880 PRO chipset was released about a year ago, boards based on this chipset have been slow to market. The VIA PT880 PRO is targeted for the mainstream value market and was originally designed to compete directly against the Intel 915 and 925x chipsets. Unlike the original PT880 PRO specifications, the current iteration does not offer support for a 1066MHz FSB, 667MHz DDR2, or PCI Express X8 operation for the graphics port. The VIA PT880 PRO now supports a maximum 800MHz FSB, 533MHz DDR2, and the PCI Express graphics port only supports X4 operations.
The chart above lists the standard feature set available when utilizing the VIA PT880 PRO and VT8237R chipsets . The PT880 PRO Northbridge enables support for X4 PCI-E and AGP 3.0 (8X) graphics capability, 4GB memory addressability, along with DDR2 400/533 and DDR 266/333/400 memory support. The VT8237R Southbridge enables support for 8 USB 2.0 ports, up to six 32 bit PCI devices , AC97 6-channel audio, 10/100Mb/s Ethernet, 2 SATA 1.5Gb/s ports, and 4 IDE devices. This southbridge design is starting to look very antiquated when compared to recent offerings from NVIDIA, Intel, and ULi.
VIA Velocity Gigabit Ethernet and VIA Gold 8-channel audio are fully supported through the utilization of PCI companion controllers. Unfortunately, Biostar utilizes AC-97 audio via the Realtek ALC-655 and 10/100Mb/s PCI Ethernet via the Realtek 8201CL PHY. Also, while the chipset will technically support up to 4GB of RAM, Biostar's decision to provide two DDR and two DDR2 slots limits the maximum amount of RAM to 2GB.
The VIA PT880 Pro features a high bandwidth Ultra V-Link bus to allow communication between the chipset's North and South bridges at 1GB/s. VIA's DualGFX Express allows running both AGP and PCI-Express graphics cards simultaneously, providing the ability to connect up to four separate displays. In our limited testing of this feature, it did allow multi-monitor support of up to four displays while offering 3D graphics acceleration for both cards. However, during testing only the primary display card offered full 3D graphics acceleration with the secondary display card operating at near or non-accelerated speeds the majority of time.
Now, let's take a closer look at the features and performance that this board offers.
Basic Features: Biostar PT880 Pro-A7 Combo
Specification
Biostar PT880 Pro-A7 Combo
CPU Interface
LGA775-based Pentium 4, Celeron D, and Pentium D processors
Chipset
VIA PT880 PRO
VIA VT8237R
Front Side Bus
800 / 533 MHz
Front Side Bus Speeds
Default, 200MHz ~ 265MHz in 1MHz increments
Memory Speeds
Default SPD, 100MHz, 133MHz, 166MHz, 200MHz, 266MHz, (333MHz- not operable in our testing)
PCI Bus Speeds
Default
PCI Express Bus Speeds
Default
Set Processor Multiplier
Default, 14x to 16x (840EE testing)
Core Voltage
Default, +5%, +10%, +15%
DRAM Voltage
DDR - 2.6V ~ 2.9V in .1MHz increments
DDR2 - 1.8V ~ 2.1V in .1MHz increments
DRAM Timing
Manual, Auto by SPD, Turbo, Ultra
Memory Slots
(2) x DIMM, max. 2GB, DDR2 533/400, non-ECC, un-buffered memory
(2) x DIMM, max. 2GB, DDR 200/266/333/400, non-ECC, un-buffered memory
Cannot run DDR2 and DDR simultaneously
Expansion Slots
(1) x PCI-E X16 (operates in X4 mode)
(1) x AGP 3.0 (operates in either 4X or 8X mode)
(4) x PCI 2.2
Onboard SATA
VIA 8237R:
(2) x SATA I only
Onboard IDE
VIA 8237R:
(2) x UltraDMA 133/100/66/33
SATA/IDE RAID
VIA 8237R:
(2) x SATA I only
RAID 0, RAID 1
Onboard USB 2.0
(8) USB2.0 ports
Onboard LAN
Realtek 8201CL PCI 10/100Mb/s LAN - PHY
Onboard Audio
Realtek ALC-655, 6-channel capable Audio
Power Connectors
20-pin ATX
4-pin ATX 12V
Back Panel I/O Ports
1 x PS/2 Keyboard
1 x PS/2 Mouse
1 x Parallel
1 x Serial
1 x Audio I/O Panel
1 x RJ45
4 x USB
Other Features
WinFlasher - Windows based Flash Utility
WatchDog - Overclocking Recovery Program
9th Touch - Boot Disk Option during System Post
Flasher - Integrated BIOS Flash Program
WarpSpeeder - Windows Based Overclocking System
BIOS
PT8PA103bs (2/06/06)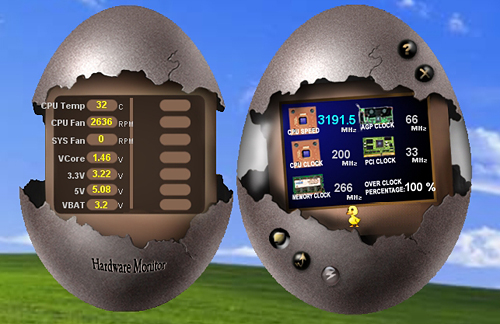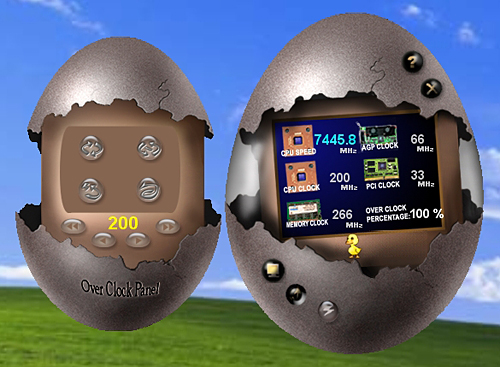 Biostar includes their Windows based utility program called WarpSpeeder that allows real time hardware monitoring and FSB based overclocking ability along with recovery features. The application worked well in our testing, though the board's performance and overclocking abilities were not as enjoyable as viewing the Biostar Duck trotting across our screen.
Biostar PT880 Pro-A7 Combo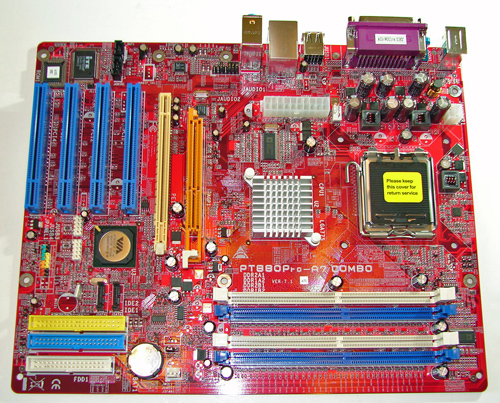 Biostar designed a decently laid out board with all major connections easily reached except for the floppy drive and IDE connectors. The Biostar layout provides very good clearance for cards and components while being easy to install in a mid-size ATX case. We were also impressed with Biostar utilizing a red PCB for this board design.
The DIMM module slots' color coordination is based upon DDR2 or DDR operation. The white slots are designed for DDR2 modules and the blue slots for DDR modules. The memory modules are slightly difficult to install with a full size video card placed in the AGP graphics slot.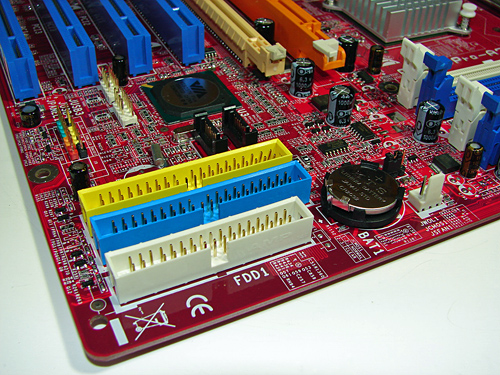 The VIA VT8237R floppy drive and IDE port connectors are located to the left of the battery and did not present any connection issues in our mid-size ATX case, but having these ports at the bottom of the board could present cabling and cooling issues in larger cases. The chassis fan header is located to the right of the battery.
The VIA VT8237R SATA ports are located above the IDE connectors. The SATA ports feature the newer clamp-and-latch design. Unlike other recently reviewed boards, the SATA ports are not color-coded for primary and secondary operation, though that is a minor concern. We found the positioning of the SATA ports to be very good when utilizing the PCI slots or IDE port connectors.
The VIA VT8237R chipset is not passively or actively cooled while being located above the SATA ports. The VIA USB connectors and chassis panel are located to the left of the VT8237R chipset.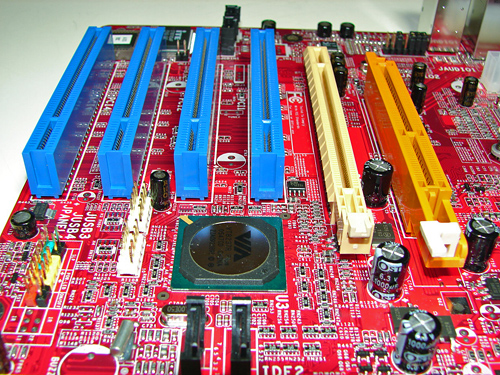 The board comes with (1) AGP 3.0 connector, (1) physical PCI Express x16 connector, and (4) PCI 2.2 connectors. The layout of this design offers a very good balance of expansion slots for a value board.
The orange AGP 3.0 connector is located first, the yellow physical X16 connector is located next, and these are followed by the (4) 32-bit PCI slots. We did not have any issues installing our NVIDIA 6800 Ultra in the AGP 3.0 slot, though this configuration will physically render the X16 PCI Express slot useless. We did not have any issues utilizing this slot with video cards containing single slot cooling systems.
On the PCI Express side, we were also able to install our EVGA 7800GTX 512MB or ATI X1900XTX video cards in the X16 slot without difficulty. This configuration will physically render the first PCI slot useless. Naturally, utilizing this slot with video cards containing single slot cooling systems did not pose any problems.
Returning to the CPU socket area, we find ample room for alternative cooling solutions. We utilized the stock Intel heat sink, but we also verified that several aftermarket cooling systems such as the Thermaltake Big Typhoon would fit in this area during our tests.
The VIA PT880 PRO chipset is passively cooled with a low rise heat sink unit that did not interfere with any installed peripherals. In fact, this unit kept the chipset cool enough that additional chipset voltage was not a factor in our overclocking tests.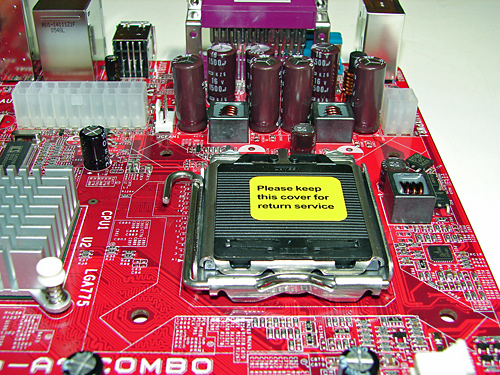 Biostar places the four-pin 12v auxiliary power connector at the top of the CPU socket area, but out of the way of most aftermarket cooling solutions. The 20-pin ATX power connector is located above the PT880 PRO chipset and next to CPU fan header. This 20-pin connector is located in a difficult position and can hamper airflow with cabling that crosses over the CPU heat sink/fan.
Due to the location of the CPU fan header, users with 24-pin ATX connectors that cannot be split apart (i.e. detach the extra 4-pin connector) will not be able to use their power supplies without an adapter. Biostar utilizes a 3-phase power regulation system that did not create issues in our testing, but we notice V-core voltage fluctuations when trying to overclock the board.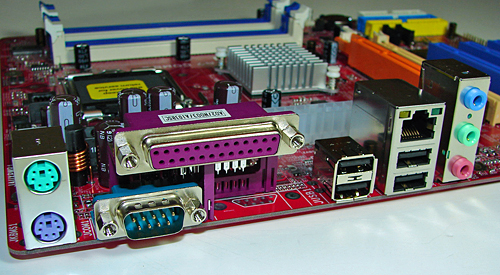 The rear panel contains the standard PS/2 mouse and keyboard ports, parallel port, serial port, LAN port, and 4 USB ports. The LAN (RJ-45) port has two LED indicators representing Activity and Speed of the connection. The audio panel consists of 3 ports that can be configured for 2, 4, and 6-channel audio connections.
FSB Overclocking Results
Front Side Bus Overclocking Testbed
Processor:
Pentium 4 Smithfield LGA 775
840EE Dual Core 3.2GHz
CPU Voltage:
1.450V (1.4000v default)
Memory Settings:
3-2-2-8 at 533MHz
Memory Voltage:
2.1V
SPP Voltage:
1.58V
FSB Voltage:
1.40V
Cooling:
Zalman CNPS 9500
Power Supply:
OCZ Power Stream 520
Maximum CPU OverClock:
222fsb x 16 (3553MHz) +11%
Maximum FSB OverClock:
205fsb x 14 (2870MHz) +2%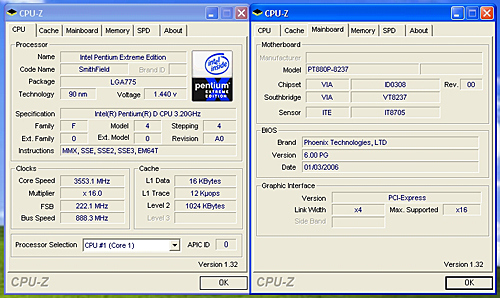 This board is a dismal overclocker when comparing it to the Intel or NVIDIA based chipsets. At these overclock settings, the system was able to complete all of our benchmark test suites three consecutive times and run Prime95 and SuperPI without issue. We lowered the CPU multiplier to 14, but we could not overclock past a 205MHz FSB setting with either DDR2 or DDR memory. We strongly recommend that anyone interested in this board leaves the system at stock settings and to forget any thoughts of overclocking.
Memory Stress Testing
This memory stress test looks at the ability of the Biostar PT880 Pro-A7to operate at the officially supported memory frequencies of 533MHz DDR2, at the best performing memory timings that the Corsair CM2X512A-5400UL revision 1.3 will support. Note that this memory is rated at 3-2-2-8 timings.
Biostar PT880 Pro-A7 Combo
Stable DDR2-533 Timings - 2 DIMMs
(2/2 slots populated - 1 Dual-Channel Bank)
Clock Speed:
200MHz (800FSB)
Timing Mode:
533MHz - Default
CAS Latency:
3
RAS to CAS Delay:
2
RAS Precharge:
2
RAS Cycle Time:
8
Voltage:
2.1V
The Biostar TForce4 was very stable with 2 DDR2 modules in Dual-Channel at the settings of 3-2-2-8 at 2.1V. We will now test 2 DDR modules to determine our best performance settings.
This memory stress test looks at the ability of the Biostar PT880 Pro-A7 to operate at the officially supported memory frequencies of 400MHz DDR, at the best performing memory timings that the OCZ PC4800 Platinum Edition will support. This memory is rated for 2-2-2-5 timings.
Biostar PT880 Pro-A7 Combo
Stable DDR-400 Timings - 2 DIMMs
(2/2 slots populated - 2 Dual-Channel Banks)
Clock Speed:
200MHz
Timing Mode:
400MHz - Default
CAS Latency:
2.5
RAS to CAS Delay:
3
RAS Precharge:
2
RAS Cycle Time:
7
Command Rate:
1T
Voltage:
2.8V
The Biostar PT880 Pro-A7 was completely stable with 2 DDR modules in Dual-Channel operation at the settings of 2.5-3-2-7, but it required the memory to be operated at 2.8V. We tried several combinations of memory settings at CAS Latency settings of 2, but the board was not stable enough to complete our test suite.
Given the budget nature of this motherboard, it is unlikely that potential buyers would actually purchase top-quality memory. It is not uncommon to see value boards that are tuned for value components, and this appears to be the case with this Biostar board. Our recommendation is that you plan to run more typical memory timings, so unless you already have some better RAM, don't spend extra money getting high performance RAM for this motherboard.
Test Setup
The VIA PT880 PRO chipset fully supports all 800MHz dual core Pentium D processors in both stock and overclocked conditions, though we use the term "overclocked" loosely here. Dual core really makes a difference in certain multi-tasking scenarios, as was demonstrated in the
dual core performance preview
. If you are interested in how the various chipsets perform in a real world multitasking setup, please take another look at that review.
Performance Test Configuration
Processor(s):
Intel Pentium 840EE (3.2GHz, 800FSB, Dual-Core, 2x1MB L2, HT) utilized for all tests
RAM:
2 x 512mb Corsair CM2X512A-5400UL revision 1.3 Settings- DDR2-533 as noted at (CL 3-2-2-8)
2 x 512mb OCZ PC4800 Platinum Edition
Settings- DDR-400 as noted at (CL 2.5-3-2-7, CR1)
Hard Drive(s):
2 x Maxtor MaXLine III 7L300S0 300GB 7200 RPM SATA (16MB Buffer)
1 x Maxtor MaXLine III 7L300R0 300GB 7200 RPM IDE (16MB Buffer)
System Platform Drivers:
VIA Platform Software - 5.07A
Video Cards:
1 x XFX 7800GTX OC (PCI Express) for standard tests
1 x NVIDIA 6800 Ultra AGP for AGP tests
1 x NVIDIA 6800 Ultra PCI-E for AGP comparison tests
Video Drivers:
NVIDIA nForce 81.98 WHQL
Cooling:
Zalman CNPS 9500
Power Supply:
OCZ Power Stream 520
Operating System(s):
Windows XP Professional SP2
Motherboards:
Biostar TForce4 U 775
Intel D975XBX
Asus P5WD2-E
Asus P5N32-SLI Deluxe
Gigabyte GA-G1 975X
Asus P5WDG2-WS
We tested our XFX 7800GTX and NVIDIA 6800 Ultra video cards using NVIDIA 81.98 WHQL drivers to provide recent performance results. (Testing began long before the recent 84.21 driver release.) Resolution in all benchmarks is 1280x1024x32, except for 3DMark03/05 and Aquamark3, which use a "Standard Score" setup at the 1024x768 video resolution for testing.
General Performance & Encoding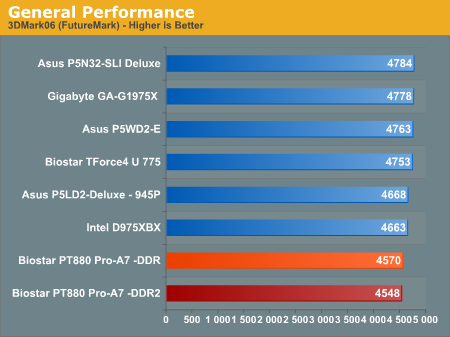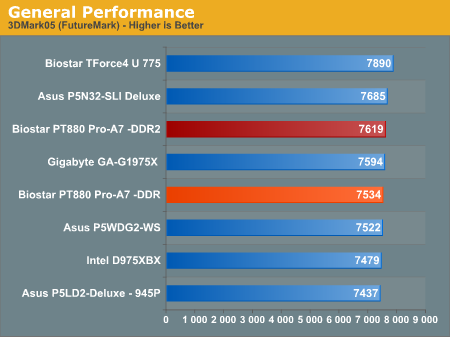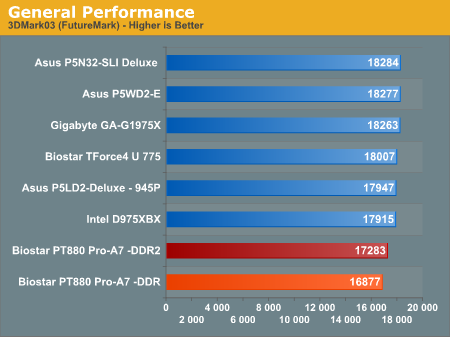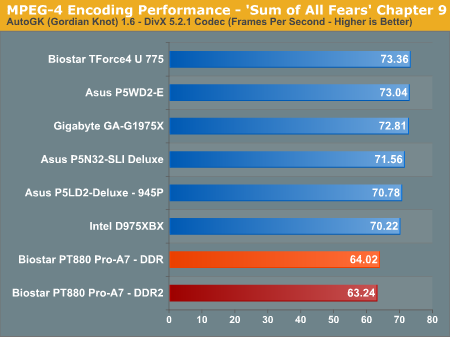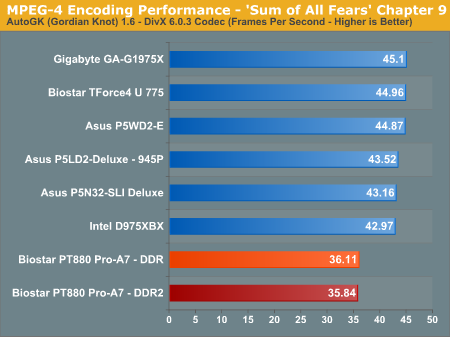 We have listed the individual results of the Biostar PT880 board with each memory type. We ran our DDR2 memory at 533MHz with 3-2-2-8 settings and our DDR memory at 400MHz at 2.5-3-2-7-1T as we found these settings to be absolutely stable on this board. We tried several benchmarks with a variety of DDR400 modules, but we could not get absolute stability with a CAS Latency setting of 2.
The Biostar PT880 Pro-A7 Combo trails all of the other boards significantly at times, except in 3Dmark05 where it scores in the middle of the pack. We ran our tests several times with each memory type resulting in the same outcome: DDR2 scoring better in the 3DMark03 and 05 benchmarks, but losing to DDR in the 3DMark06 and PCMark 2005 benchmarks.
It is obvious that the PT880 PRO is not competitive with the latest generation of chipsets from Intel and NVIDIA. The Biostar board performed miserably in the encoding tests. The system displayed significant slowdowns at various times in the encoding process that led us to believe we had issues with the drive controller interface due to the abnormal amount of hard drive thrashing. We tried the Microsoft and VIA IDE/SATA drivers with the same results.
Memory Performance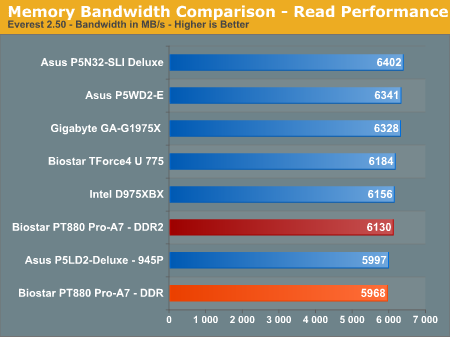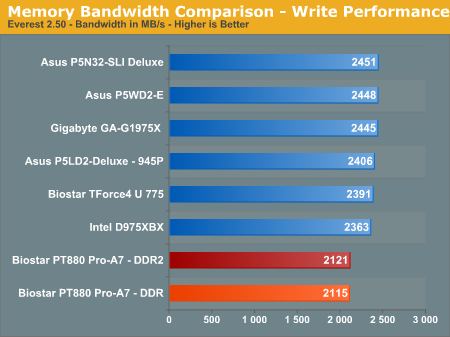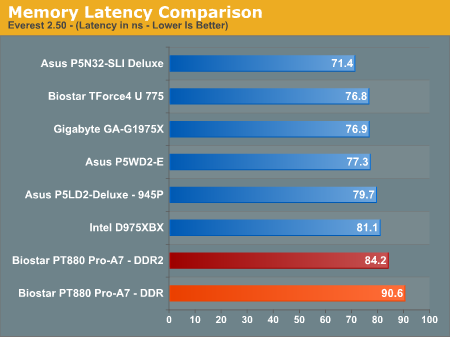 The read and write performance of DDR2 and DDR on this board are very close with the latency test showing a 7% advantage for DDR2 over DDR on this board. The Biostar board's performance was at the bottom of the field and mirrors the results in our synthetic and game benchmarks.
Gaming Performance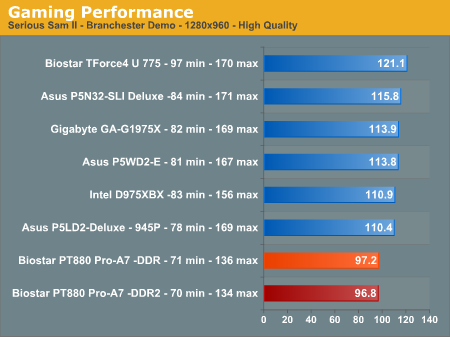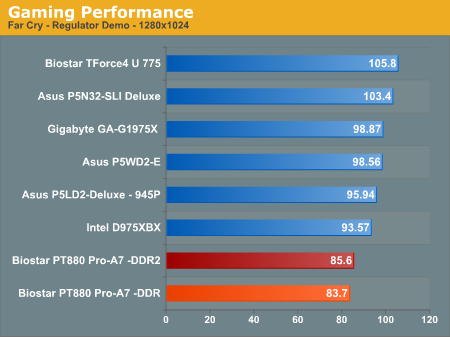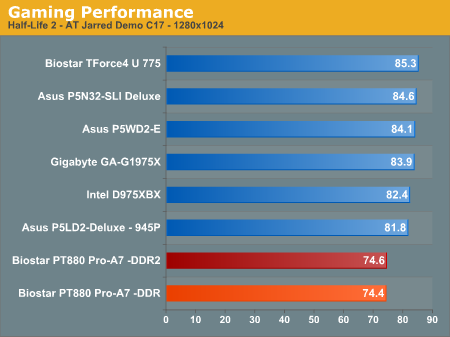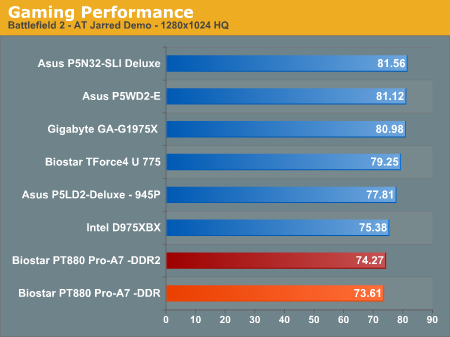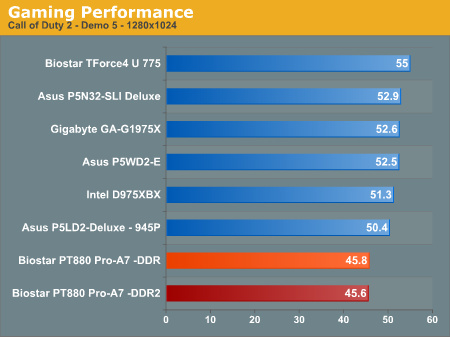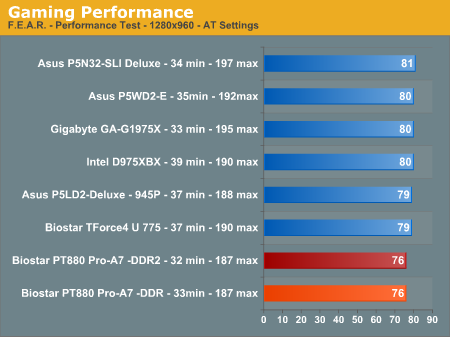 As with the other benchmarks, the overall gaming performance of the Biostar PT880 Pro-A7 Combo is lacking compared to our recent Intel and NVIDIA chipset test results. The Biostar board took last place in all of our benchmarks. We believe that our XFX 7800GTX was hampered by the PCI Express slot running in X4 mode on this board. We noted that several of the benchmarks would generate slight stuttering during intensive graphics scenes, and this stuttering only increased when we raised the resolution to 1600x1200 or higher.
Again, we have listed performance scores with the various RAM types. We could not get DDR memory to run at better timings. However, our gaming benchmarks show a different pattern from the synthetic test results with our DDR scores equaling or exceeding DDR2 in most results.
AGP 3.0 Performance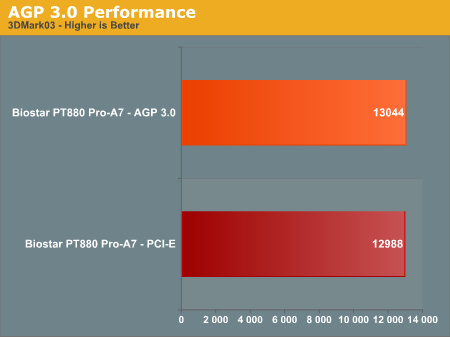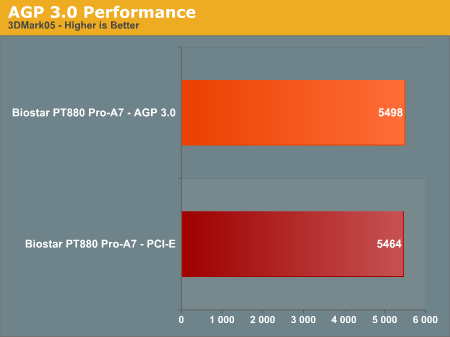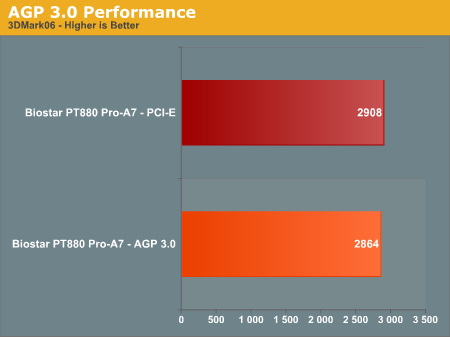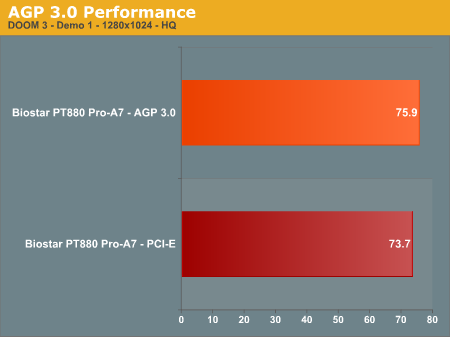 >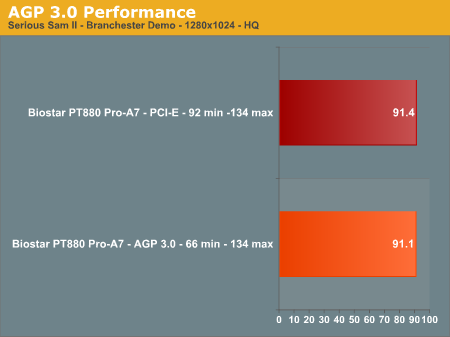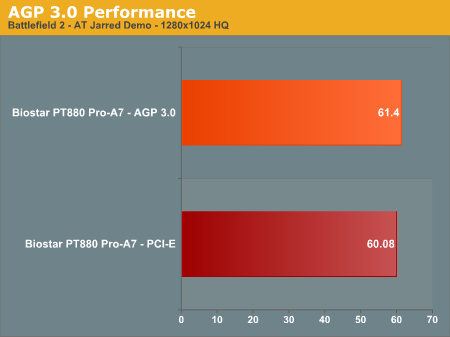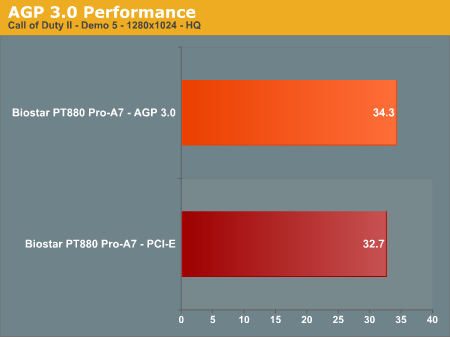 We tested the performance of the AGP 3.0 (8X) graphics slot against the hobbled PCI Express X4 mode graphics slot with our NVIDIA 6800 Ultra video cards.
In the majority of the benchmarks, the AGP 3.0 solution performed better than the PCI Express X4 solution. This chipset was designed primarily as an AGP 3.0 solution with the PCI Express slot as a potential upgrade path so VIA's PCI Express implementation could be an issue with the performance numbers. However, VIA's inability to include X16 or X8 operation for the PCI Express slot has delivered sub-par performance for this feature as X4 mode is starting to be a limiting factor in our tests compared to other boards utilizing X8 or X16 mode.
Audio Performance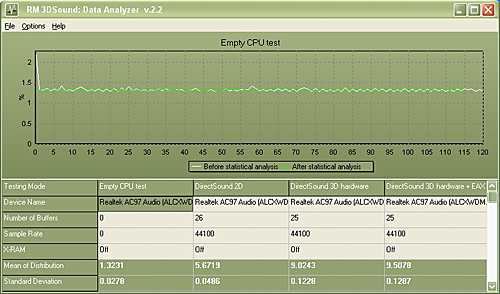 We limited audio testing to the Rightmark
3D Sound
version 2.2
CPU
utilization test and tested with sound enabled to show the performance effects on several games. The Rightmark 3D Sound benchmark measures the overhead or CPU utilization required by a codec or hardware audio chip.
The Realtek ALC-655 AC97 audio codec was tested with the recently released 3.84 driver set. The Realtek DirectSound audio drivers do not support more than 26 hardware buffers and the OpenAL 1.1 drivers do not support more than 23 hardware buffers at this time, so the scores cannot be directly compared to the Realtek ALC-882, HDA Mystique 7.1, and Creative Labs Sound Blaster X-FI solutions in the benchmarks.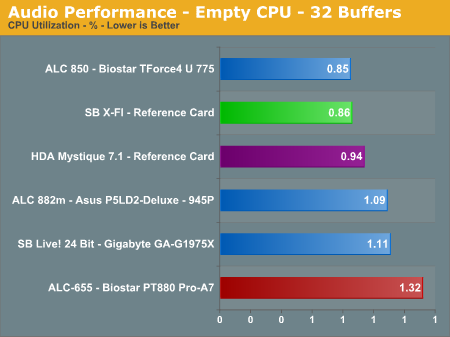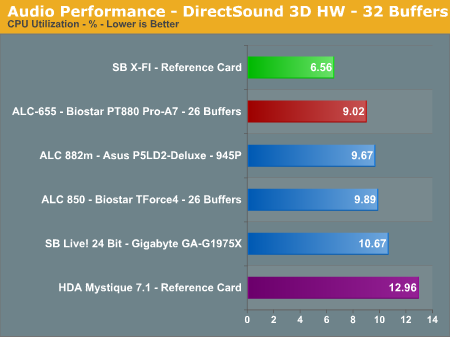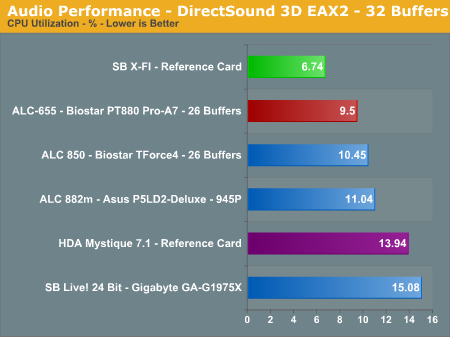 The Realtek ALC-655 AC97 audio codec has average CPU utilization rates with reductions of up to 4% in the 3D tests compared to the previous driver release. The HDA Mystique 7.1 Gold has the highest overall utilization rates of the audio solutions tested, though the audio quality of the Mystique is definitely better when watching movies or listening to music. The Realtek ALC-655 performance is decent, but it does not match the audio quality of the ALC-882 HD audio codec. The Sound Blaster X-FI has the lowest overall rates as expected. Let's find out how these results translate into real world numbers.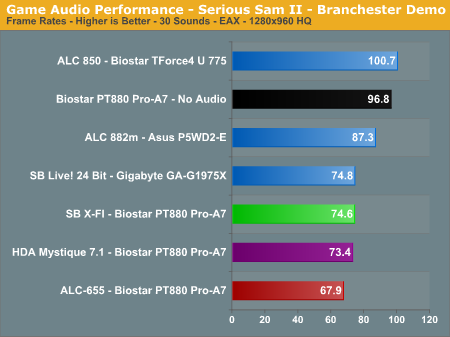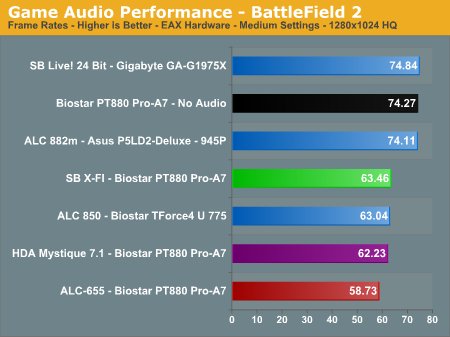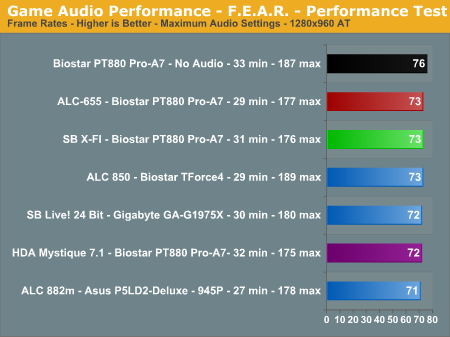 The audio performance numbers remain consistent as the Realtek ALC-655 continues to finish near the HDA Mystique 7.1 and SoundBlaster X-FI. Serious Sam II suffers a loss of 43%, Battlefield 2 at 21%, and F.E.A.R. at 4%. The output quality of audio with the Realtek ALC-655 is decent, but in no way compares to the HD audio codec's or most discreet audio solutions. The majority of home/office users should have no issues utilizing the ALC-655, but we would not recommend it as the primary audio solution for serious gaming or in an HTPC system, considering the overall quality of audio. Then again, we would not recommend this board as a gaming or HTPC solution anyway due to its performance.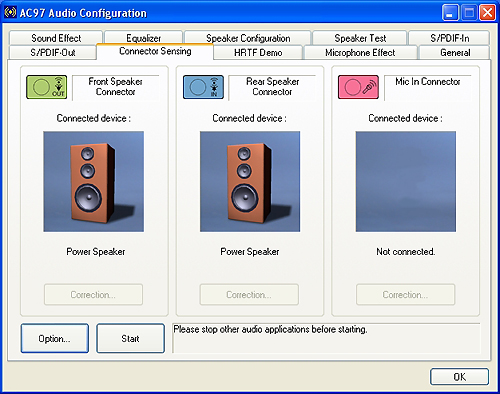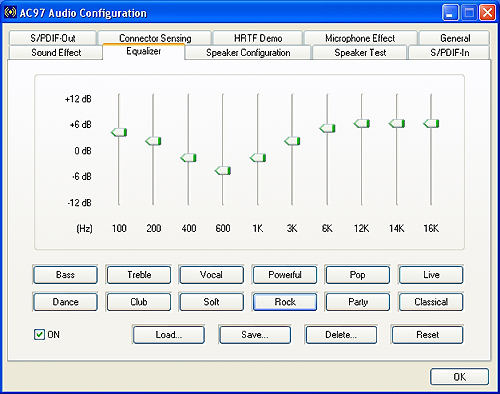 The Realtek 3.84 driver installation installs a basic control panel that features a built-in 10-band equalizer along with the standard mixer and speaker controls. We found the control panel to be user friendly and a definite improvement over the standard windows audio properties application.
Final Words
The Biostar PT880 Pro-A7 Combo is certainly an interesting board due to its ability to bridge the upgrade path from AGP to PCI Express graphics or from DDR to DDR2 memory technology. However, the performance of the board was dismal at best in our benchmarks compared to the more recent Intel and NVIDIA chipsets. The stability of the board with the varying combinations of AGP, PCI, DDR, and DDR2 peripherals was very good at stock or auto settings, but it is definitely not made for enthusiasts.
With that said, let's move on to our performance opinions regarding this board.
In the video area, the inclusion of both a single PCI Express X4 mode slot and an AGP 3.0 slot provides an upgrade path or the ability to use an older AGP based card with your Pentium 4 LGA socket 775 CPU. This setup also allows for dual card operation and provides the ability to operate up to four monitors. While in theory each graphics card should be able to run at full 3D acceleration simultaneously, our limited testing showed that only the primary display adapter chosen in Windows XP was capable of this while the secondary display seemed to run at near or non-3D acceleration the majority of time.
In the on-board audio area, the Biostar board offers the Realtek ALC-655 AC97 audio codec. While the VIA VT8237R chipset fully supports 7.1 audio via the excellent VIA Envy24PT audio controller, Biostar only provided 5.1 AC97 capabilities. The audio output of this codec in the music, video, and DVD areas is decent for an on-board solution. The audio quality in gaming was fair, but it did not match the output of the Sound Blaster X-FI or even the Realtek ALC-882. If you plan on utilizing this board for gaming, and we do not, then our recommendation is to purchase an appropriate sound card for consistency in frame rates and improved audio quality. However, the Realtek ALC-655 should suffice for the majority of home/office users.
In the storage area, the Biostar board offers the standard storage options afforded by the VIA VT8237R. The board offers SATA RAID 0, 1, and 1.5Gb/s support along with dual channel ATA133 Ultra DMA capability. The board also offers eight VIA USB 2.0 ports when utilizing the two USB 2.0 headers. The performance of the VIA SATA and IDE controllers is average and finished near the nForce4 and Intel solutions, though we did not report these results. If you have purchased a SATA 3Gb/s capable drive you will need to be sure to jumper the drive for 1.5Gb/s operation as the VIA VT8237R is not upwardly compatible with the newer SATA 3Gb/s drive designs.
In the performance area, the Biostar PT880 Pro-A7 Combo generated abysmal benchmark scores in the gaming and media encoding areas. The overall performance of the board in other areas was below average at best. The stability of the board was very good during testing. At stock speeds, there were no reported issues, but once we started overclocking the board, it became very easy to crash our system past the 222MHz FSB limit.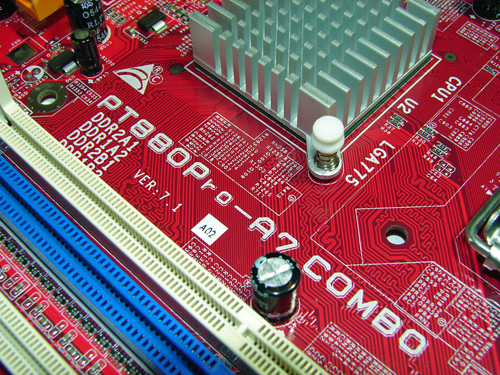 The Biostar PT880 Pro-A7 Combo is a board designed and marketed for the Intel user on a very limited budget. Biostar is one of the few manufacturers to market a board with the VIA PT880 PRO solution and as such, it retails for around US $65, which is competitive for the feature set available for a user looking to piece-meal upgrade an older system. The question is, is it really worth considering? We would have to say "no". The PCI Express graphics slot on this board really isn't fast enough to make it a long-term solution.
We feel that Biostar made the following errors in the design and execution of the board. The choice of the Realtek 8201CL 10/100Mb/s PCI Ethernet PHY is a mistake when a PCI Gigabit Ethernet controller is available. Although most home network users might not exceed 100Mb/s operations, the lack of Gigabit Ethernet capability in a board today is a mistake.
The use of the Realtek ALC-655 audio codec is an error when VIA's own Envy24PT solution is readily available at this time. Although the ALC-655 is fine for most users purchasing this board, an upgraded audio solution could not hurt.
We believe that Biostar has done a good job in designing a board based upon the VIA PT880 PRO chipset. At this time, we feel like this is a board that was released for a market that is no longer around. The feature set and performance of the board would have been very good when the 925x and 915 chipsets were released almost two years ago. The ability to run AGP graphics and to utilize existing DDR memory technology with a built-in upgrade path to PCI Express graphics and DDR2 would have been a feature set that most people would have seriously considered or purchased at that time. We believe that anyone currently considering an LGA socket 775 CPU is probably looking for better overall system performance via an upgrade to a recent PCI Express graphics card and performance oriented DDR2 memory.
Sometimes, it is best to endure change.