Original Link: http://www.anandtech.com/show/1971


Introduction
While Anand and Derek were covering IDF and
Intel Conroe Core benchmarking
, and
Wesley already previewing hardware
in Taiwan, the European branch of AnandTech (that is, me) went to Cebit 2006 in Hannover. The main focus of this article is server and related IT subjects, but there were a few cool things that I couldn't resist, so they ended up in the same report.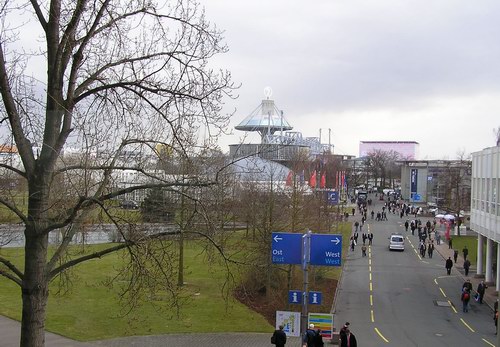 Cebit may not be the big "launch event" trade show anymore, but it is still by far the biggest ICT trade show in the world. "Die Hannover Messe AG" claims that almost 6,300 exhibitors from 70 countries were present at CeBIT 2006. A total of 300,000 square meters is filled with IT related stands, which welcome more than 500,000 visitors.
Intel
Intel had a very big stand on Cebit, and the showpiece of the booth was one of the Formula one cars of the Intel sponsored BMW Sauber F1 Team. Unless you were the "Bundeskanzlerin" of Germany, you couldn't enter the supercar.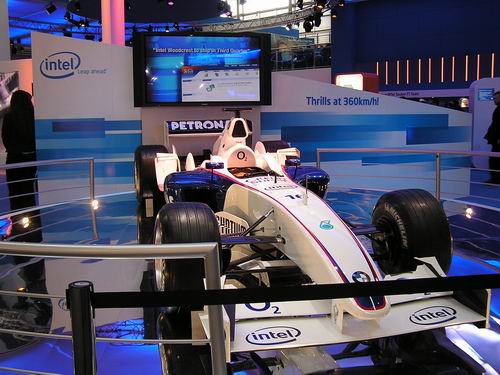 Most of the Intel news was already reported in our IDF report. Woodcrest, the server version of Conroe, will have a TDP of 80 Watt. No hyperthreading is available, which is a bit weird considering that the Core architecture is an architecture that depends on extracting high levels of Instruction Level parallelism. Database applications have a much lower IPC than SPEC CPU Integer 2000 and games. Hyperthreading could probably have done more for Woodcrest than it ever could for the Nocona and Irwindale Xeons.
Woodcrest (Core architecture) and Dempsey (Netburst) are pin compatible and it should be possible to replace a Dempsey CPU with a Woodcrest CPU. However, most server manufactures to whom we spoke, are not so sure. Some said that a new PCB of their motherboard will be necessary, while others said it will be possible only on motherboards that have been validated for Woodcrest (not the current Bensley platforms). But who is going to buy Dempsey when Woodcrest is out?
Virtualisation
Many IT people are looking into virtualisation as a way to make better use of the available server power. However, our own tests in the lab show that software virtualisation is not really easy; it is our experience that guest OS crashes more often on virtualised servers than on real hardware servers. We definitely would advise against running anything mission critical on the current batch of software virtualisation solutions. And Microsoft's virtual server is not even a real virtual layer - it runs on top of a Windows 2003 server OS. In a nutshell, we are rather sceptical about software virtualisation, and rather have set our hope on hardware virtualisation.
Christian Anderka of Intel confirmed that the current Xeon Paxville and all Xeons (Dempsey, Woodcrest) on the Bensley platform feature hardware virtualisation of the CPU. The CPU gives the "hypervisor" or "virtual layer" a separate and higher privileged mode than the kernel mode in which the current OS run. That should increase the stability of virtualised servers greatly.
Intel announced the next generation of Intel Virtualization Technology (Intel VT) for enterprise servers: Intel Virtualization for Directed I/O (Intel VT-d). VT-d adds support for hardware supported virtualisation of disks and others, but it is very unclear when this technology will be really ready. VT-d includes technology such as hardware DMA remapping and works also on the interrupts level. We will discuss virtualisation later in more detail, but it is clear that VT-D will also need to be supported in PCIe, the chipset components and peripherals.
The quad core Clovertown, which is little more than two (dual core) Woodcrests in the same CPU package, will include this VT-d technology somewhere in 2007. Clovertown is socket-compatible with the Bensley (Dempsey, Woodcrest) platform and is slated to ship in early 2007.
It is, however, also clear that the new instructions that are available in the new highly privileged mode for virtual layers will not be used to their full potential at first. We expect that it will take many releases of newer and improved virtual layers ("hypervisors") before the new virtual layer instructions are used to their full potential.
Itanium ready to take on the RISC competition
Most of the press seemed to have given the Itanium family an early burial. "Itanic" would die out, but this perception might change quickly.
Intel cited an IDC report, which reported that the Itanium already achieves 30% of the revenue of the IBM RISC space, and 48% of Sun's RISC revenue. Considering that the single threaded "Madison" (1.6 GHz, 3-9 MB L3-cache) is hardly interesting for servers compared to the quad (and much more) threaded IBM Power family, it is quite an achievement. Itanium must be quite a success in the HPC space, a market which is about 6 billion dollars worth.
A completely new and ambitious Engineering team in Colorado is up and running and will help develop the future generation of Itanium.
Montecito was on display on Cebit, but besides a few vague benchmarks, little performance data was available.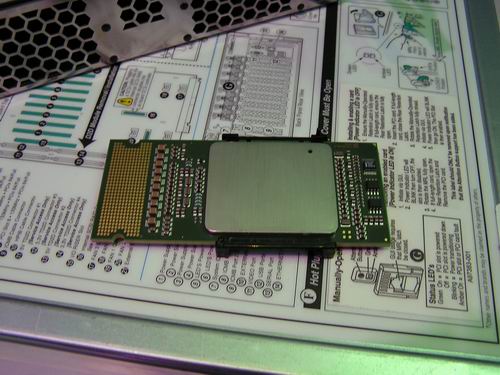 Interesting was the way the Itanium server with Montecito was designed. Take a look at the photo below. It looks like a rather gigantic 3U case for a two-way dual core Itanium, but….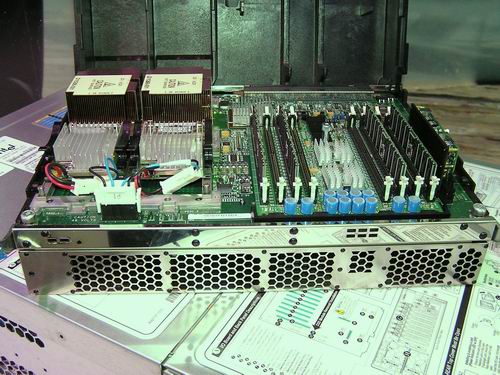 … it is in fact a 3 u case that can open like two clamshells, with the middle plate having two CPUs at each side. So, you have 4 CPUs, 8 Itanium cores and 16 threads in the same package where there used to be 2-4 Madison CPUs and 2-4 threads.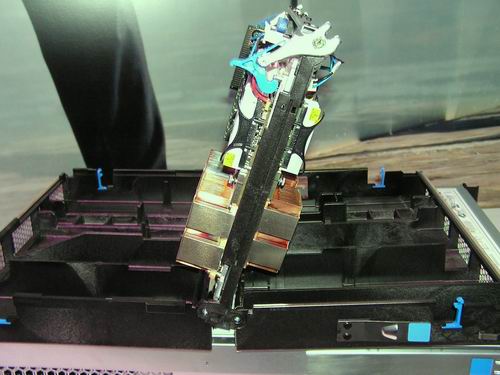 Each of the two CPUs has access to 8 DIMMs. Montecito is not only a vast improvement compared to Madison when it comes to running typical database applications, but also the platform has simplified quite a bit too.
AMD
AMD showed the new socket-F Opteron, a CPU with a 1207-pin Organic Land Grid Array (LGA) interface. The socket-F Opteron will support DDR-2 667. The maximum power consumption of these CPUs seems to go up to 95 Watt (Standard) instead of 89 Watt, and 68 instead of 55 Watt for HE low voltage Opterons. On the positive side, the quad core Opterons will not exceed these power requirements. A low voltage (65 nm) quad core Opteron, due in 2007, will consume the same 68 Watt maximum.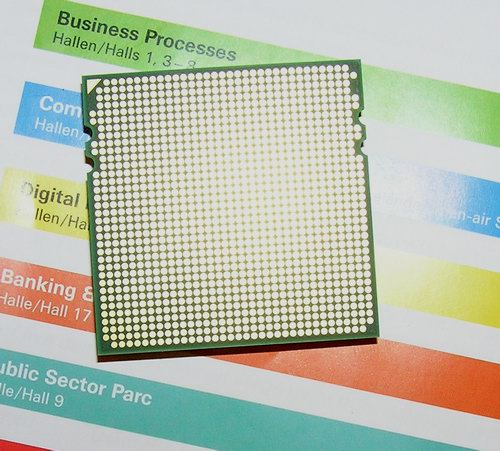 All 2xx and 8xx Opterons will make the move to socket-F and registered DDR-2 667 in Q3 of 2006. The Athlon 64 X2 and Opteron 1xx will use the AM2 socket in Q2 of 2006.
AMD also took a stab at Intel's FB-DIMMs strategy. One of the biggest advantages that the Opteron has is the fact that each CPU has its own memory. This allowed a dual Opteron to use 8 DIMMs while the Xeons were limited to 4. Intel's Nocona platform supported DDR-2, which allowed also 8 DIMMs.
Now that AMD moves to Socket-F and DDR-2, the Opteron can use up to 8 DIMMs per CPU. Intel Counters with FB-DIMMs, which uses full duplex serial point-to-point technology.
This technology enables 16 DIMM slots on one board. However AMD points out that the Advanced Memory Buffer (where the serialisation takes place) consumes up to 6 Watt. AMD then claims that this means that Intel systems will consume almost 200 Watt more when equipped with 32 DIMMs of FB-DIMM instead of standard DDR-II.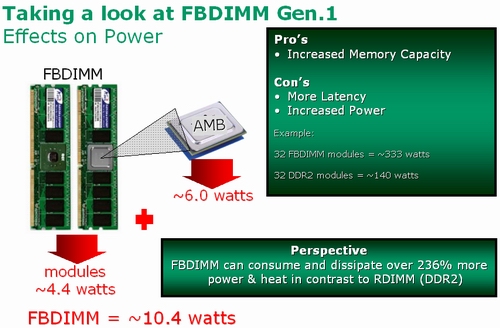 AMD does have a point, but conveniently forgets that DDR-II for servers will be ECC buffered and thus will have an address buffer too. This buffer consumes probably a few watt too. And the current FB-DIMM's AMB power consumption is probably more like 5 Watt.
In a more realistic situation, the memory subsystem of the Intel server with 8 to 16 DIMMs will consume about 24 to 64 Watt more than an Opteron based server and not 100 Watt as AMD's slide seems to indicate.
SAS Everywhere
Serial Attached SCSI (SAS) is definitely the hottest storage technology of 2006. A SAS host adapter can connect both SAS as SATA disks, so it gives some flexibility and choice between pure performance and/or cheaper and more storage space.
Promise Technology showed the Vtrak J300s, a 12-disk JBOD system, which is an alternative for slow tape backups.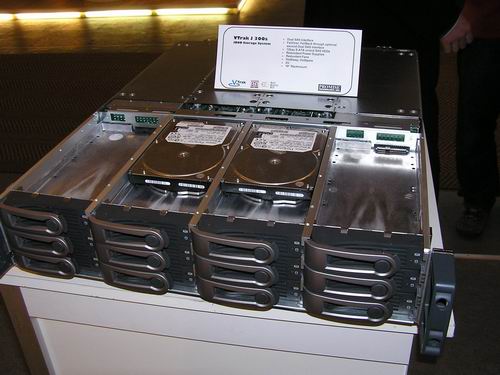 At LSI, I was shown an internal SAS RAID storage rack, but no external SAS storage rack.
What is still missing is the ability to attach a SAS RAID storage rack externally via SAS cables. Right now, you still have to use SCSI 320, which creates a bit of an overhead and limits the maximum bandwidth slightly. Or, you use iSCSI via gigabit Ethernet, but that only creates overhead, and also limits bandwidth even more (gigabit Ethernet = 125 MB/s). The third option is fibre channel, which is still quite expensive. Promise has assured SAS externally attached devices in Q4, and LSI told us that external SAS attached storage racks might be possibly ready in Q3 of this year.
Aimée Boerrigerter (Promise Technology) also drew the attention to the new hardware assisted Fastrack RAID controllers of Promise.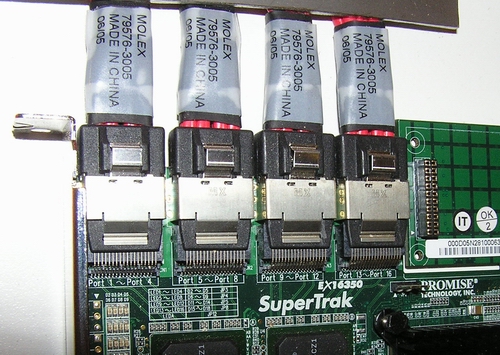 Supporting RAID 0, 1, 1+0, 5 and 6 (double the parity and thus, safety of RAID 5), this card allows you to use up to 16 SATA disks with only four connectors on the adapter.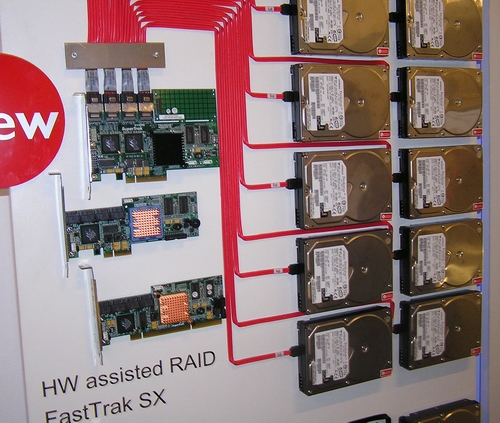 ASUS
Asus, like Intel and AMD, also believed that a fast car at the booth would subconsciously associate their products with speed and performance.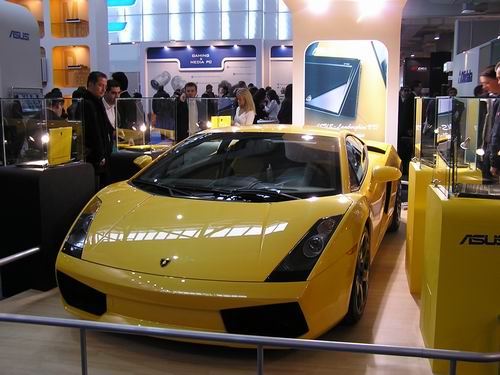 Remarkable was the fact that ASUS, just like MSI and Gigabyte, is giving more and more attention to the low end and mid-range server market. Kate Chou showed me proudly ASUS' first Dempsey server with support for SAS disks.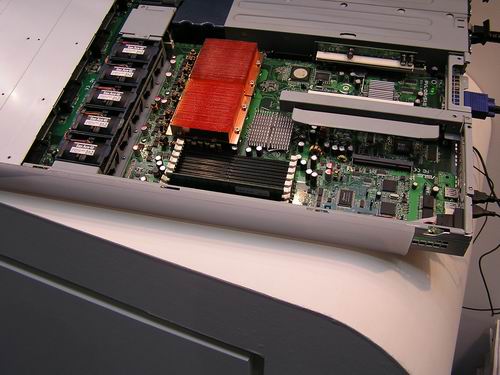 Note that this server is cable-less, which optimises airflow. Asus also had their Socket F KFN5 SLI board ready.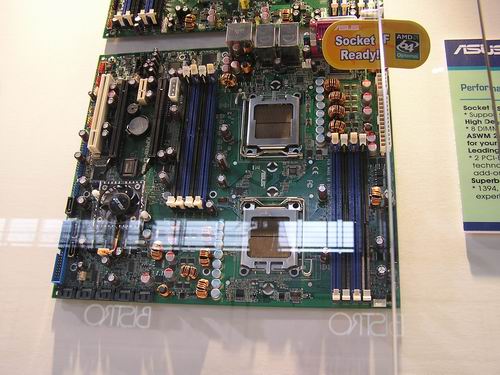 This is a workstation oriented board, capable of running two dual core Opterons and two OpenGL workstation cards in SLI. Notice the extra molex connector for extra power.
MSI
The people at MSI showed the MSI K9SDMaster, the newest Opteron Socket-F server board.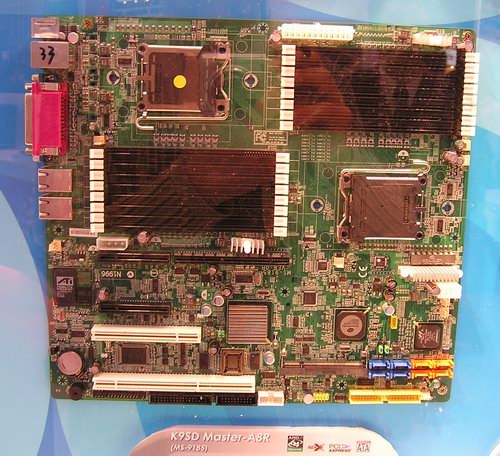 Thanks to the use of registered DDR-II, no less than 16 DIMMs can be used on this board.
MSI also displayed the first fully working Socket-F based Opteron server, but we were not allowed to boot up the machine and run some benchmarking. Several MSI servers are currently running in our lab, so this is probably just a small postponement. Expect some hard numbers soon…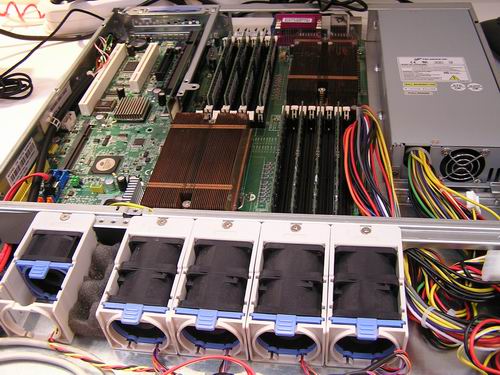 This new Socket-F server will also get completely new server management software (I-console KVM), which has built-in support for not only remote management, but also remote GUI access (like VNC).
MSI had also several servers for the Bensley platform available, with SAS support. MSI has quite a unique product with the P1-104A2M server (which will be reviewed soon), a P-m Dothan based server, which is small enough that you can fit two of them back-to-back in a 1U rack space. The next release will feature a Core Duo CPU, making the small, relatively silent and power-saving server even more attractive.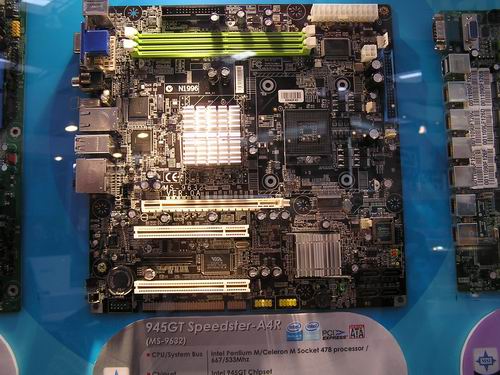 It is a pity that we are still limited to two DIMMs. Another application of the Core Duo CPU is turning it into the nerve centre of a hardware firewall.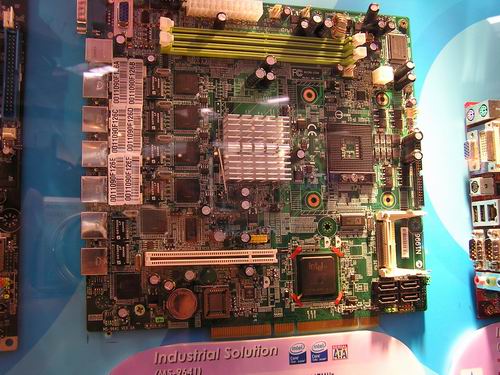 MSI also showed an experimental notebook on solar cells.
The lightweight coiled photovoltaic panel turns solar power into 12-19V electricity and stores this energy in a standalone separate battery bank. When the portable needs to recharge, you insert that power battery.
Iwill
Matt Chang of Iwill showed me their newest 8-way AMD Opteron monster. The H8502 can power 16 AMD Opteron cores and can accommodate no less than 128 GB of RAM.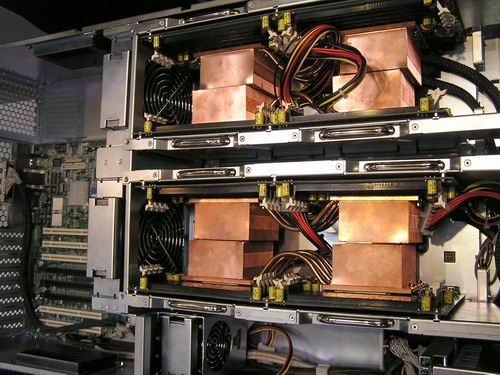 It is a massive server machine, of course, but a system administrator can take this server to a LAN party if he wants; two SLI capable PCI Express x16 slot are available. That is, if he can carry the 80 Kg heavy chassis…
All joking aside, the H8502 I/O board is pretty impressive: 2 x16, one x4 PCI express slot, courtesy of the NVIDIA nForce Pro chipset, and 5 PCI-X slots, thanks to the AMD 8132 PCI-X tunnel.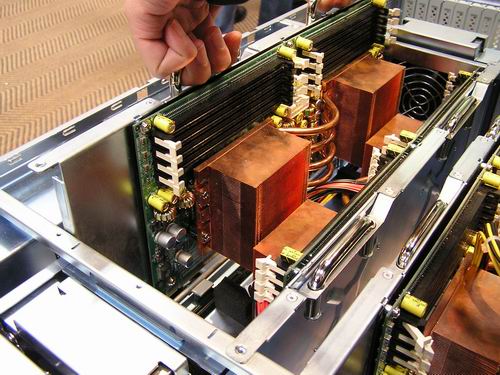 This monster is powered by a redundant 1350 Watt power supply.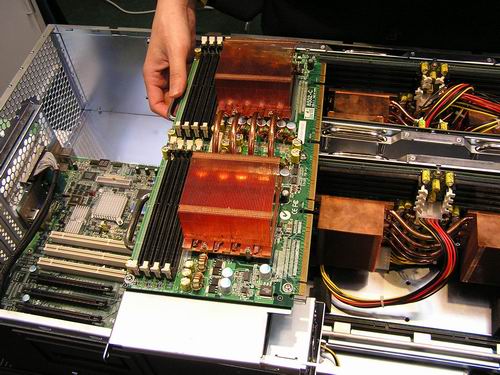 Iwill also showed a very impressive DPK66-S Socket 771 board for Dempsey with no less than 16 DIMM slots for FB-DIMMs, capable of offering 64 GB of RAM space. Most boards are limited to 12 FB-DIMMs.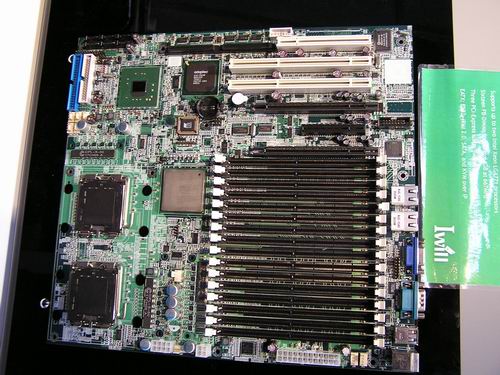 A Socket-F Opteron solution was also on display.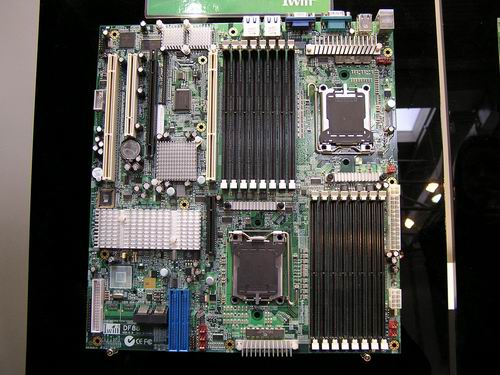 Iwill told us that ECC buffered DDR-II at 800 MHz will be supported on this board.
However, our sources tell us that the available engineering samples of the socket-F Opteron are not capable of working together with DDR-II 800. So right now, boards that were made to support DDR-II 800 cannot be validated.
A new revision, which is expected to be available to the motherboard manufacturers around mid-April, should solve that. With DDR-II 800, only 4 DIMMs per CPU can be used. Once you lower the memory speed to DDR-II 667, you can use all 8 DIMMs per CPU.
Supermicro
Supermicro had a whole range of SAS capable servers available, but the few pictures that I took were too blurry. Angela D. Rosario and Alex Hsu gave me some interesting facts about their company: Supermicro is now the 5 th largest x86 server manufacturer (in volume) and has more than 40% of the white server box market. Supermicro sells more than 700,000 servers each year, and has more than 150 different motherboards available.
We'll probably test some of Supermicro's servers in the near future.
Conclusion
The servers of the near future contain multi-core 64 bit CPUs, SAS storage and massive amounts of memory. What kind of memory is not so clear. Of the ones to whom we spoke, most manufacturers feel that normal DDR-2 will be more attractive than FB-DIMMs in 2006. This might change, of course, in 2007.
Socket-F and AM2 gives us a déjà-vu. On Cebit 2003, the socket 940 and 754 boards were there, but few Athlon 64 and Opterons were available. On Cebit 2006, all motherboard manufacturers are ready with their socket-F and AM2 boards, but AMD seems a bit late to the party again. Intel launches the new Xeon Dempsey, but draws little attention to it. The spotlight is clearly on the Woodcrest successor.