Original Link: http://www.anandtech.com/show/1968


Cebit will begin today with a major announcement by nVidia - the launch of the 7900GTX and 7900GT video cards. At launch every 7900GTX you see will be based on the nVidia Reference Design. Later manufacturers will introduce some of their own unique designs to the 7900GTX market. For that reason we didn't try to get pictures of every 7900GTX or 7900GT we saw.
The 7900GTX is a dual-slot design with 512MB of memory. In fact, it is surprisingly the only 512MB part in the new nVidia lineup. The cooling design is just like the earlier, and impossible to find, 7800GTX 512MB. Basically the 7900GTX is a die-shrink to 90nm with the clocks increased to 650/1600MHz.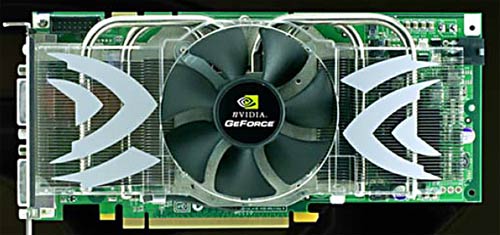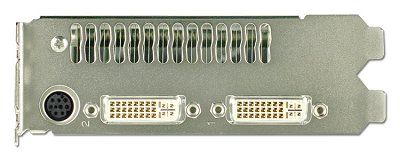 The 7900GT is a very interesting card - single slot, 256MB memory, the same 24 pipes, but 450/1320MHz clocks instead of the 650/1600MHz of the 7900GTX. We grabbed some images of the front and back of the 7900GT, and you can find more information about the 7900GT in our launch review.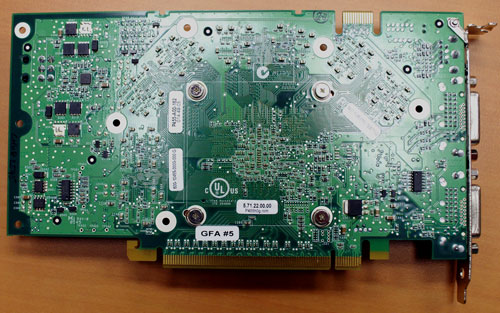 Every major nVidia partner will be showing the 7900GTX and GT at Cebit, which feature a die-shrink to 90nm, which allows faster clock speeds than the 7800 series. One thing we don't yet know Is if the 7800GTX will remain a real part, or whether it will disappear into "limited availability" as the 7800GTX 512MB did. We should all have answers to this question soon enough.
The launch is expected to be a hard launch, like recent nVidia and ATI introductions, with product available for sale on launch day. MSI and Gigabyte are two tier 1 manufacturers that will definitely have 7900GTX/GT cards available at launch. The usual nVidia partners will also be stocked up for 7900GTX/GT sales.
With ATI's recent price cuts a very interesting battle is shaping up at the $299 price point. The ATI X1800XT 256MB is now $299, which is the same price as the nVidia 7900GT. The head-to-head performance battle between these two should definitely have some performance sparks flying.
nVidia 7600GT
nVidia also announced lower priced updates in the 7xxx series. The 7600GT main-stream/performance family will be announced with the 7900GTX and GT. In a few weeks the 7300GT value family will be added. Every nVidia partner we spoke with will be showing one of these cards - even those who do not market the top-of-the-line 7900GTX.
The entire 7xxx lineup looks very interested after the shrinks and reworks.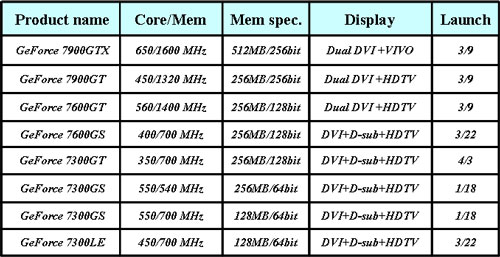 Two of the more interesting mainstream battles shaping up are between the 7600GT and the newly announced X1800GTO at the $230-250 price point and the 7300GT/GS and the ATI X1300/X1600XT/PRO at the $100-$175 price point. The new price reductions from ATI and the introduction of the X1800GTO make these some very interesting graphics card battles.
AOpen CoreDuo 975x & Mini
AOpen is another tier 2 manufacturer that decided their key to survive and flourish was to specialize in the motherboard market. As a result AOpen has had several desktop motherboards for the Pentium M and now the Yonah/CoreDuo mobile processors that are much like the upcoming Conroe.
AOpen's latest desktop board for mobile is based on the recent Intel 975X chipset.
AOpen is also showing their second generation Mini PC.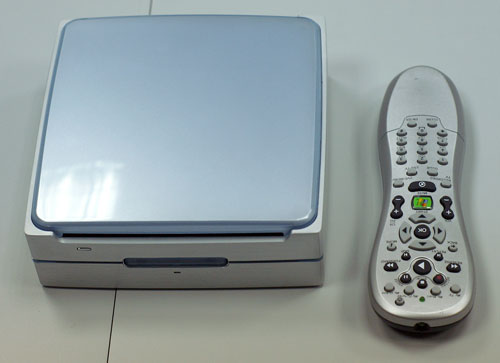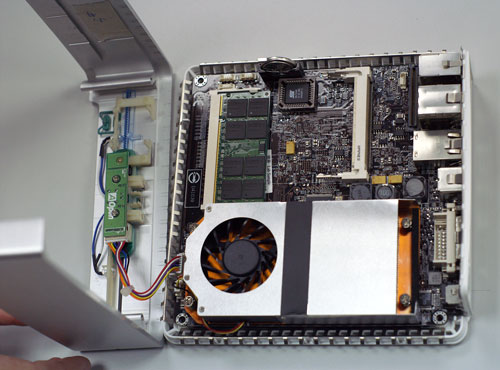 As you can see in the internals photo, AOpen has been hard at work finding ways to deal with the heat that can become a significant problem in tiny enclosures like the miniPC.
If you are searching for a computer designed as a set-top box that looks like an audio or video component, AOpen has a "cube" to fit your needs.

You'll notice the only conventional-looking desktop component in the AOpen line is a motherboard for the mobile CoreDuo, which is certainly a unique product. That is by design. AOpen's new philosophy is to concentrate on super-small computers and niche products, like desktop boards for mobile processors.
Transcend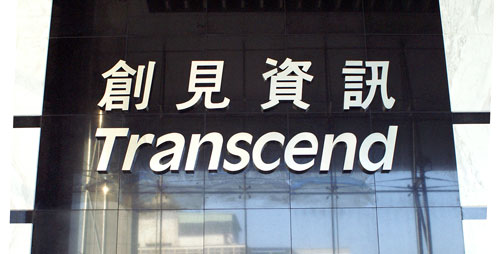 Transcend is well-known in the Asian market, but is probably best recognized in the US Market as a manufacturer of flash memory.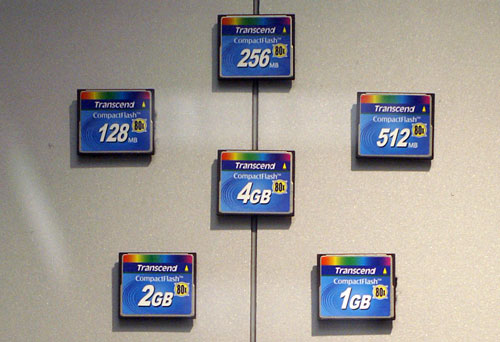 Transcend is now active in the US Market with their full product line, which is on display at Cebit. This ranges from conventional memory products like DDR and DDR2 dimms . . .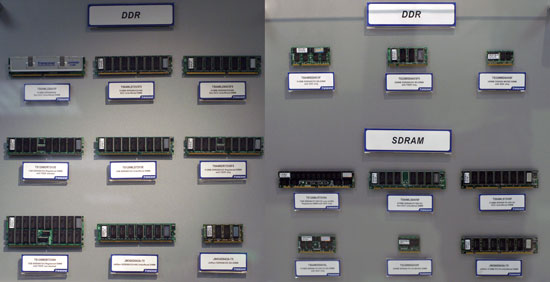 . . . to a complete line of USB JefFlash products and MP3 players sold under the T. Sonic name.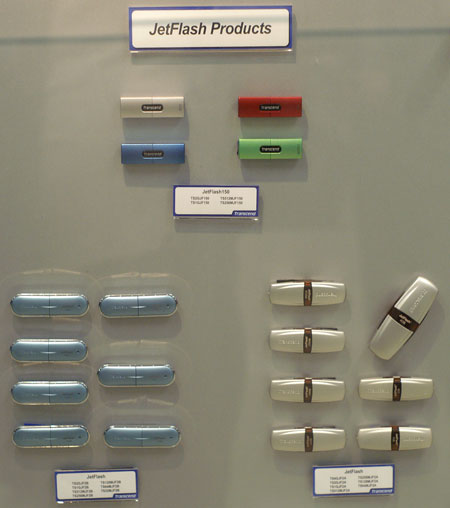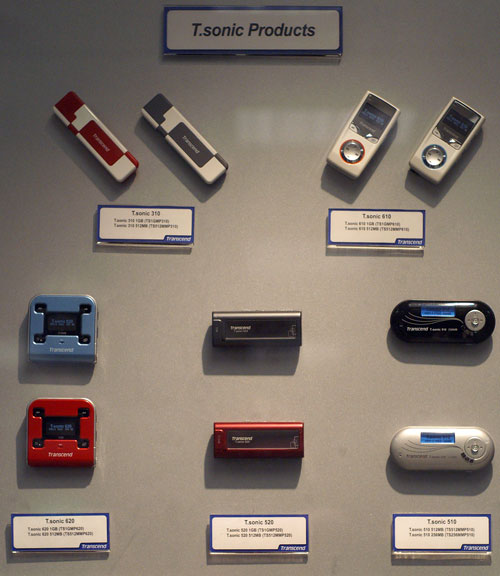 Broadwater Almost Invisible
With Intel so active in promoting Conroe at IDF, we really thougth everyone would have a Broadwater, or Intel 965, motherboard for display at Cebit. In fact there were very few Broadwater boards being shown by any vendors. This is very surprising for a chipset due to launch this quarter.
Abit was the only vendor with an Intel 965 that was photo-ready during our pre-Cebit visit to Taiwan.
Final Words
There is no doubt that IDF has stolen a lot of the Cebit thunder with the first Conroe benchmarks. The fact that the first Conroe performance numbers were so very impressive made the IDF coverage even more gripping. However, the launch of the new nVidia 7900GTX/GT and 7600 series at Cebit today will make for an exciting kick-off. It will also shift the focus away from IDF, as it ends in San Francisco, and back to Cebit, as it kicks off in Hanover.
We hope you enjoyed our Cebit preview "Live from Taiwan". Not everything computer is "Made in Taiwan" or "Made in China", but there is no doubt that many of the most significant products are born there. Consider this your insiders overview to sift through the Cebit coverage for additional items that will light the computer landscape in 2006.
It appears the nVidia shrink to 90nm in the 7000 series, which allows higher clock frequencies, is certainly enough to proclaim that the 7900GTX and X1900XTX are at least on the same playing field. With ATI and nVidia so competitive again, you will likely see price competition in this video round that will bring you more performance for your video dollar. Competition is good for buyers.
The contrast between AMD and Intel in all these events is very interesting. AM2 motherboards are everywhere, but the AM2 processor is "Missing-in-Action" in benchmarks. AM2 launches at Computex in early June, but we are still a ways to go until final AM2 silicon.
Intel, on the other hand, is demoing Conroe at IDF, but the chipsets and boards to support the new Intel chip are basically nowhere to be found. Broadwater is due to launch this quarter, and final spins are still in the works.
Time will bring all the parts together later this year and we will finally get to see the results of all these new directions. We've seen round 1 of Conroe vs. AMD at IDF this year, Cebit will put a face on AM2 motherboards, but it is still a while before Conroe versus AM2 will be a real event.