Original Link: http://www.anandtech.com/show/1966


At Fall IDF 2005 Intel briefly mentioned to us that we might be able to benchmark Conroe at this year's Spring IDF. We took the comment very light heartedly and honestly didn't expect good ol' conservative Intel to let us benchmark and preview a platform a several months before its release. We didn't believe that Intel was going to let us do it, once again because of their very conservative history, even as we were walking to our Conroe performance meeting. Even after we ran the benchmarks we expected there to be a catch or something, but no, it looked like Intel had done the unimaginable. Not only had they officially sanctioned the benchmarking of Conroe but they let us publish the numbers.
Obviously we were skeptical going into the meeting, after all Intel had never been this open in the past. But looking back at recent history, AMD's competitive pressure has forced Intel's hands to disclose more information than they ever have before. There was a time where Intel was extremely tight lipped about all future plans and where they would never admit to not being the leader in performance; the Athlon 64 chiseled away at Intel's confidence and truly humbled a giant. The result was a very different Intel, a more open Intel. This new Intel is very eager to talk about the future, mainly because the future doesn't include the Pentium 4 but rather its new Core architecture.
So we benchmarked Conroe; we previewed it, under the only circumstances we could. Intel setup the systems, Intel installed the benchmarks and Intel only let us run what it had installed. Given those circumstances we did our best to make sure the comparison was as legitimate as possible. We checked driver revisions, we checked hardware configurations, BIOS settings, and memory timings; we consulted device manager to make sure nothing strange was limiting performance. We did everything we could think of to make sure that the comparison we would present to the world was as transparent as it could be. But the one thing I 've come to understand and appreciate is that the AnandTech reader will always keep us honest; many of you came to us with questions and we spent all evening answering them.
Detailed Test Specifications
First, some insight into how the whole situation went down. Intel offered all of its press contacts a chance to spend 1 hour with the Conroe and Athlon 64 FX-60 systems it had setup. Although it doesn't seem like a lot of benchmarking given that we only tested four games (at one resolution) and three applications, keep in mind that we ran each test at least three times and spent a good deal of time checking the configuration of the systems.
Intel had two systems setup, side-by-side, and claimed to do its best to make them comparable. We did our best to confirm those claims, and from what we could tell they were legitimate.
Each system used two 512MB DIMMs and were both running in dual-channel mode. The AMD system featured two DDR400 DIMMs running at 2-2-2-5 with a 1T command rate. The Intel system featured two DDR2-667 DIMMs which actually ran at 5-5-5-15 timings during our tests, not the 4-4-4-15 timings we originally thought (we have since re-ran those numbers which you will see later).
Intel also made it a point to mention that by the time Conroe ships DDR2-800 will be the memory of choice, however dual channel DDR2-667 already offers more memory bandwidth than Conroe's 1066MHz FSB can use so the fact is meaningless.
The AMD system utilized a DFI LANPARTY UT RDX200 motherboard, based on ATI's RD480 chipset. Intel claimed that the RD580 chipset was not readily available over 2 weeks ago when the parts for this system were purchased, and thus RD480 was the platform of choice to use with a pair of X1900s in CrossFire. The Intel system used Intel's currently shipping BadAxe 975X based motherboard.
Each system also used a pair of Radeon X1900 XT graphics cards in CrossFire mode, the drivers and settings were identical across both machines.
We tested on two Hyundai LCD monitors, each with a maximum resolution of 1280 x 1024.
Cool'n'Quiet was disabled on the Athlon 64 FX-60 system. The FX-60 was overclocked to 2.8GHz at a 1.5V core voltage using a 14.0x multiplier, everything else remained at their defaults.
| | | |
| --- | --- | --- |
| | AMD | Intel |
| Processor | AMD Athlon 64 FX-60 @ 2.8GHz | Intel Conroe E6700 @ 2.66GHz |
| Motherboard | DFI LANPARTY UT RDX200 | Intel D975XBX "BadAxe" |
| Chipset | ATI RD480 | Intel 975X |
| Chipset Drivers | ATI Catalyst 6.2 | Intel INF 7.2.2.1006 |
| Video Cards | ATI Radeon X1900 XT CrossFire (2 Cards) | ATI Radeon X1900 XT CrossFire (2 Cards) |
| Video Drivers | ATI Catalyst 6.2 | ATI Catalyst 6.2 |
| Memory Size and Configuration | 2 x 512MB DDR400 DIMMs | 2 x 512MB DDR2-667 DIMMs |
| Memory Timings | 2-2-2-5/1T | 4-4-4-15 |
Some have tried to compare the results from these benchmarks to other results, using similar applications but different workloads. For example, our iTunes 6.0.1.3 test uses an input file that's around 1/2 the size of the one Intel supplied us for these tests. The results in the game and encoding benchmarks are simply not comparable to anything outside of the two systems we have here. These results are not meant to be definitive indicators of performance, but rather a preview of what is to come.
The BIOS Issue
The one item that a number of you pointed out was that the BIOS used on the DFI LANPARTY UT RDX200 (RD480) motherboard was in fact the first version released for this particular motherboard. Intel told us that the motherboard was purchased a little over two weeks ago and the BIOS used on it was what came with the motherboard, but we still agreed with you all that the system should be tested with the latest BIOS to remove all doubt of wrong doing.
There are only two BIOS files publicly available for this motherboard, one being the first release that was loaded on the system and the other being a file dated 12/23/2005. The 12/23 BIOS offers the following fixes according to DFI:
1. Fix memory Set 2-1-1-1-1 and 4-1-1 mode wrong.
2. Set Cool'n'Quiet default disable.
3. Change the description of DQDRV.
4. Fix Read Preamble Table Error.
5. Shorten the delay time during clock programming loop.
6. Add over clocks step by step.
7. Fix fill 3114 SVID&SSID under Cross fire mode.
8. Fix soft-reset hang on POST code F2h if enable USB mouse support.
9. Change CMOS used to fix some control item can't save.
10. Add support K8 FX60 CPU.
11. Update SiI3112 Raid ROM.
12. Fix some SATA(DiamondMax 10 (6B160M0) HDD ) HDD detect fail at first time cool boot.
That's a pretty long list of changes, which could definitely be responsible for a change in performance. We were able to test the impact of the new BIOS, and our results are below:
| | | |
| --- | --- | --- |
| DFI LANPARTY UT RDX200 | 10/11/2005 BIOS | 12/23/2005 BIOS |
| Quake 4 - 1280 x 960 (Avg Frame Rate) | 207.5 fps | 207.6 fps |
| F.E.A.R. - 1024 x 768 (Avg Frame Rate) | 151.0 fps | 158.0 fps |
| Windows Media Encoder 9 (Encode Time) | 75 seconds | 75 seconds |
| DivX 6.1 (Encode Time) | 44 seconds | 44 seconds |
| iTunes 6.0.1.3 (Encode Time) | 73 seconds | 72 seconds |
UT2004 and Half Life 2 were absent from our testing, simply because we didn't have the time to get them installed, but the rest of the scores here should be indicative of the full impact of the BIOS update. In the media encoding tests we saw absolutely no performance impact other than a 1 second reduction in iTunes encoding time. F.E.AR. at 1024 x 768 saw a reasonable gain of 4%. Quake 4 remained virtually unchanged.
With the new BIOS installed we confirmed that Cool'n'Quiet was disabled, so that was not impacting the performance results at all. The new BIOS also correctly identified the Athlon 64 FX-60 processor, although as you can see from the results above, the proper detection of the CPU didn't translate into greater performance.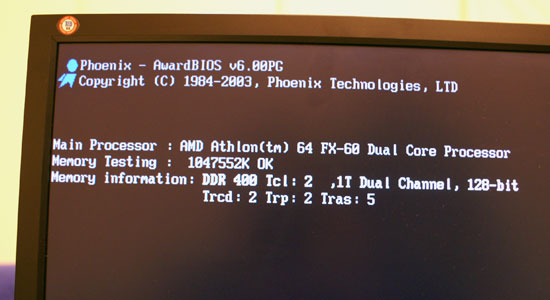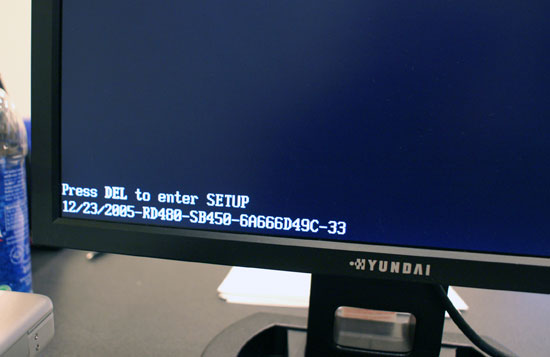 The new BIOS in action
The Benchmark Issue
Although we mentioned that there's not much you can do to make a timedemo really favor one CPU architecture over another, you all demanded that we try with one of our demos. We put our Quake 4 demo file on a USB drive and copied it over to the Conroe and Athlon 64 FX-60 systems that Intel had setup. Note that the version of Quake 4 installed was 1.0.5.0 which is newer than what we test with in our CPU reviews, so you can't directly compare the numbers to previous AnandTech results but at least we'd be able to see if Intel's Quake 4 demo was somehow giving Conroe the unfair advantage.
We re-ran Intel's Quake 4 demo to confirm our initial results. Much to our surprise, we actually short-changed Intel the first time around. We noted that Conroe held a 28% performance advantage over the 2.8GHz Athlon 64 FX-60 with SMP disabled, but with it enabled the performance advantage shrunk to 15%. We re-tested and confirmed our suspicions that Conroe's Quake 4 performance with SMP enabled was more in line at a 24% advantage: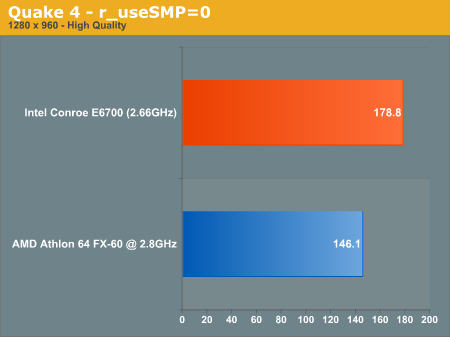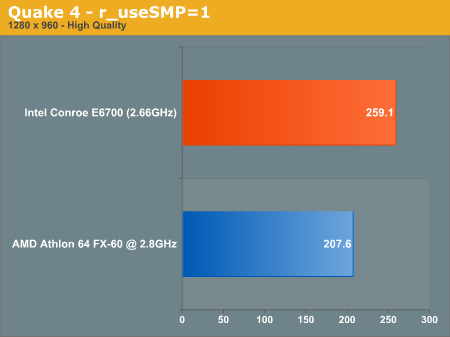 But what we're really interested in is how Conroe performed in the very same Quake 4 demo that has been favoring AMD processors in all of our CPU reviews. We loaded up our Quake 4 demo and had at it: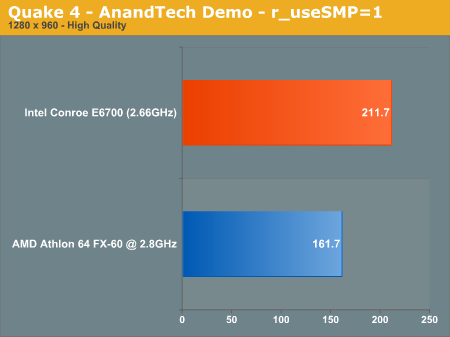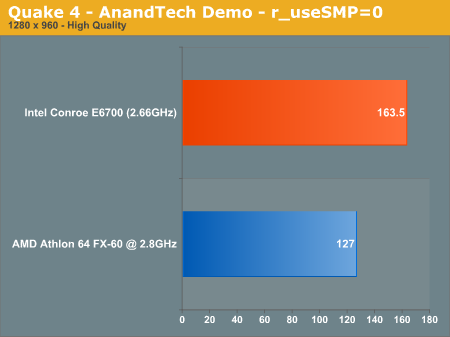 With SMP enabled we see that Conroe holds an even larger 31% performance advantage and with it disabled, the unreleased CPU was 29% faster. If anything, Intel's own demo was a little more conservative on Conroe and definitely not optimized to make AMD look bad.
The F.E.A.R. Issue
To the readers that pointed out our F.E.A.R. results as being unusually high, we owe you a sincere apology. When we went back to test Conroe for the second time we re-ran all of our tests to make sure that no mistakes were made. We caught the Quake 4 issue where Conroe's SMP performance was understated, and we also discovered a problem in our F.E.A.R. testing.
While our intention was to test both the AMD and Intel systems at the "Maximum" Computer settings and "High" Graphics settings, only the Conroe system was configured as such. We inadvertently left the AMD system at a higher resolution (1280 x 960) instead of the default resolution (1024 x 768) when you select the "High" Graphics defaults. The oversight was entirely our own doing as Intel was not running the benchmarks or configuring them, it simply happened while we were setting up both systems at the same time. We played with different resolution settings and while deciding that we would go with one, managed to configure the two boxes differently.
Of course this means that our initial F.E.A.R. tests were incorrect, and below we have the correct results with the settings we intended to run both systems on: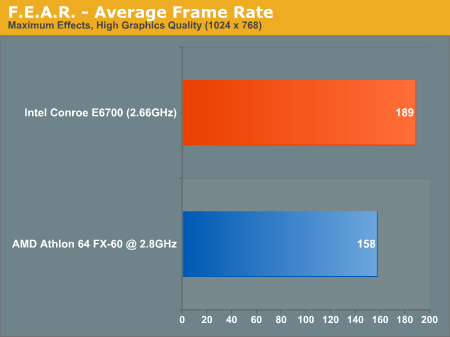 The performance advantage of Conroe makes a lot more sense now, at 20% instead of 41%. With performance in Quake 4, UT2004 and HL2 in the 20 - 30% faster range on Conroe, the F.E.A.R. results now make a lot more sense.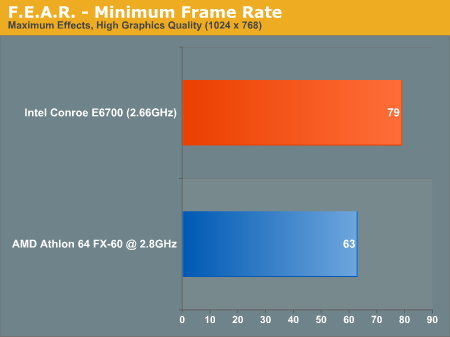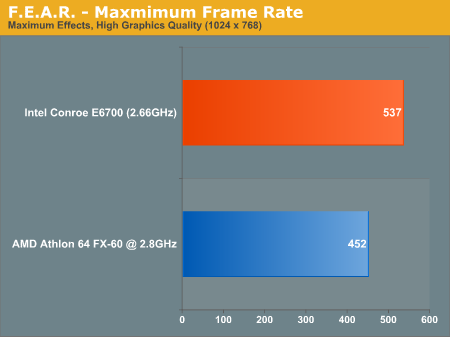 To those who pointed out that even the CrossFire X1900 setup would be more GPU bound at 1280 x 960, you were very correct, our original results were inaccurate. We do strive for accuracy and reliability in our results here at AnandTech, which is why we went back and retested/confirmed all of our initial findings before bringing you this update. Aside from the F.E.A.R. and Quake 4 issues that we've since corrected, we found no other performance anomalies in our initial results.
The DDR2 Issue
As we mentioned earlier, the Conroe system was supposed to be running at 4-4-4-15 timings but was instead configured at 5-5-5-15, giving Conroe a bit of a disadvantage. We re-ran all of our tests with the timings correctly set to 4-4-4-15, the results are below:
| | | |
| --- | --- | --- |
| Intel Conroe Platform | 5-5-5-15 | 4-4-4-15 |
| Quake 4 - 1280 x 960 (Avg Frame Rate) | 257.8 fps | 259.1 fps |
| F.E.A.R. - 1024 x 768 (Avg Frame Rate) | 186.0 fps | 189.0 fps |
| Windows Media Encoder 9 (Encode Time) | 66 seconds | 66 seconds |
| DivX 6.1 (Encode Time) | 31 seconds | 31 seconds |
| iTunes 6.0.1.3 (Encode Time) | 65 seconds | 65 seconds |
While the faster timings gave Intel a small performance boost in the games, it's nothing to write home about.
Updated Performance Charts
With Intel running at better timings and with AMD running on the latest BIOS, here are the updated results from our runs: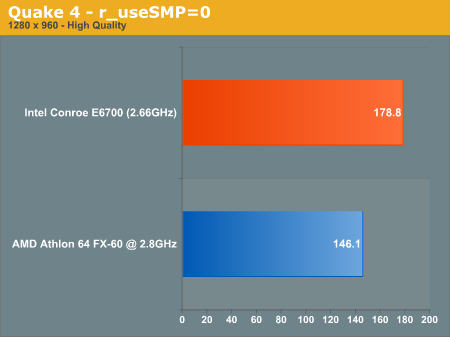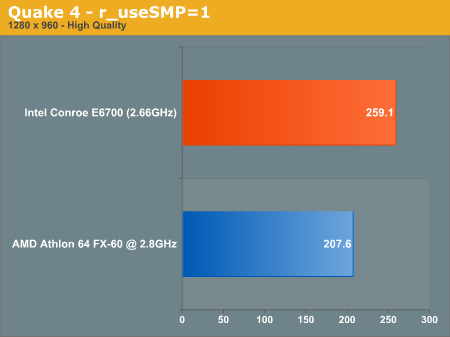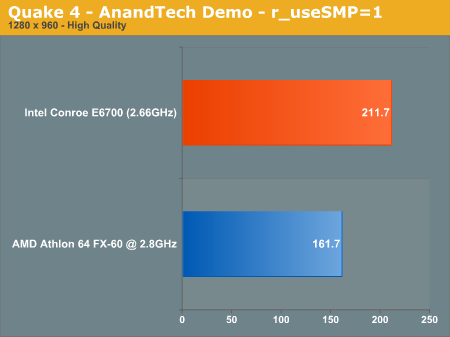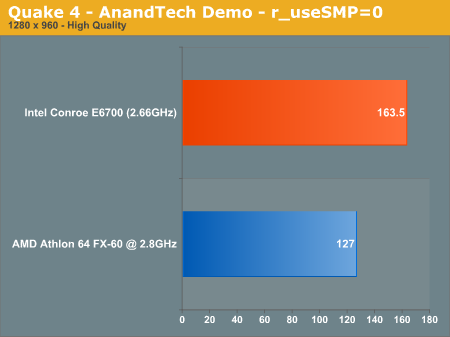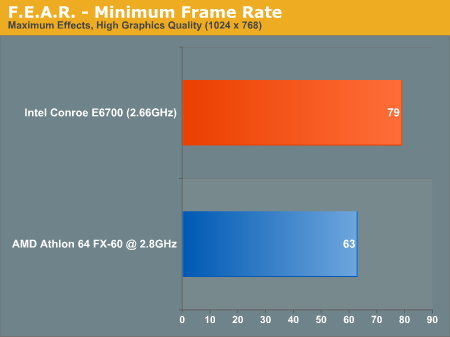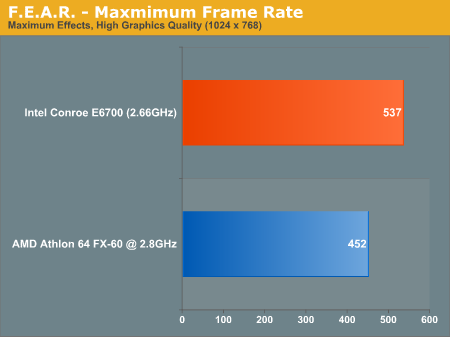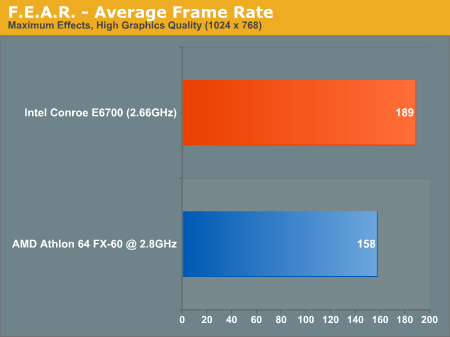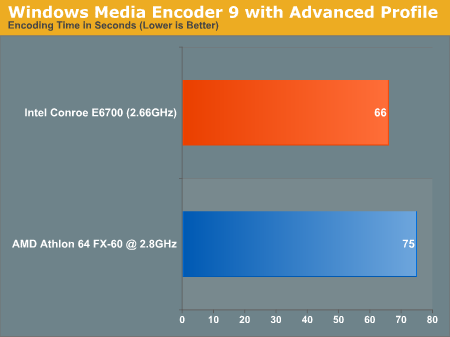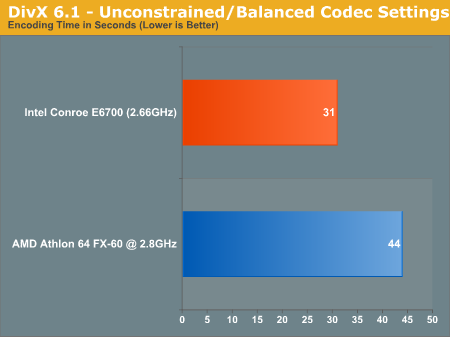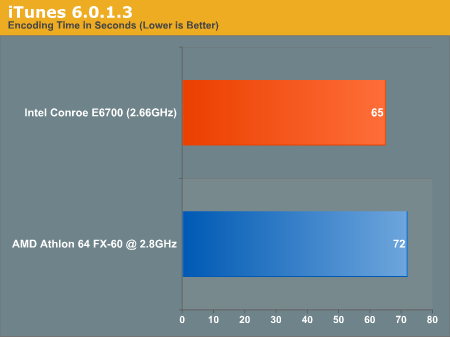 Final Words
The performance picture with regards to Conroe hasn't really changed all that much - on average we're still seeing a bit over a 20% increase in performance over an overclocked Athlon 64 FX-60. While it's worth noting that these results should be taken with a grain of salt, we really were not able to determine any cause for suspicion based on Intel's setups. The machines were as clean as they could get, with the BIOS oversight having no tangible impact on most performance.
Believe it or not, Intel doesn't seem malicious in their intent. The AMD system could be better configured by using a RD580 based motherboard instead of a RD480 platform, but other than that there's not much else that can be done to improve the performance of the system Intel used. Obviously we're not going to rely on these initial benchmarks for our final take on Conroe, but the scores are extremely interesting to say the least.
Conroe is supposed to launch in Q3 of this year, and here we are at the end of Q1 with some fairly impressive performance numbers. What could happen over the next quarter or so?
AMD will be launching Socket-AM2 in Q2 of this year, which will bring about more memory bandwidth as well as lower power consumption thanks to the Energy Efficient CPUs that will ship on the platform. We have yet to see whether or not real world performance will go up as a result of the move to DDR2, but it very well may.
On the Intel front, there is a lot of time for performance optimization with regards to Conroe and its platforms. It's also worth noting that the 2.66GHz E6700 we previewed here is simply a high end mainstream part, it is not an Extreme Edition flavor of Conroe. At 2.8 or 3.0GHz, a Conroe EE would offer even stronger performance than what we've seen here.