Original Link: http://www.anandtech.com/show/1951


The DDR2 market enjoyed some incredible DDR2 performance early in its life with a Micron DDR2 chip that we have since come to know as Fat Body D9. Everyone who made DDR2 used these chips because the performance was so outstanding, and when Micron decided to discontinue them last year, memory makers began scrambling for a replacement. Thus far, they haven't found a new DDR2 chip with the same low latency and high frequency capabilities of the now legendary Micron chips.
Two months ago, a new buzz began that Micron and their Crucial direct sales arm would be introducing a new and even better DDR2 memory chip. Every enthusiast memory maker with whom we talked about DDR2 was saying to wait until March when we have new high performance chips. Those chips, of course, are to be based on these new Micron DDR2 memory chips. When Crucial offered to send us their newest and top-performing DDR2 memory in early February, we couldn't wait to take a closer look. Were these the new Micron wonder DDR2?
In this review of two of the new Crucial Ballistix DDR2 kits, the biggest question on everyone's mind is: how will it compare to the legendary Fat Body D9 chips? Does it maintain tight timings at higher clock speeds? Is it still responsive to increased voltage like prior iterations of the Fat Body D9 made by Micron?
Crucial Technology's PC2-6400 has memory timings specified at 4-4-4-12 at speeds of DDR2-800. The other memory kit that Crucial sent along for testing was their PC2-5300, rated at DDR2-667 speeds with lower latency timings of 3-3-3-12.
What lies under the copper-colored, aluminum heat spreaders? Crucial Technology continues to use their trademark black PCB.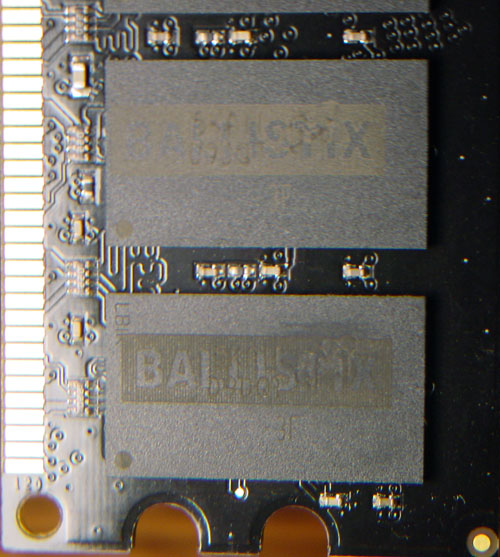 After careful removal of the heat spreader, we scanned the PCB itself below:
Closer examination of the IC's showed some distinctive markings, which can be used to help identify the integrated circuits that were used in construction of this particular memory module.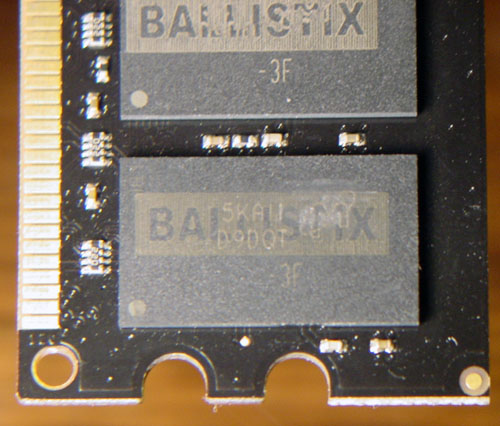 On the top row, beneath the Ballistix stamping on the IC, the first row is marked 5KAH.
The 2
nd
row shows markings of D9DQT. Please note that the D9 is indicative of Micron's Fat Body integrated circuit. At the very bottom of the IC, there is a -3F marking, which is usually used for speed grading.
By entering the FBGA code into Micron's Part Marking Decoder, the search output was rather inconclusive. This part appears not to be in the Micron database yet. The restamping and lack of information from Micron keeps us wondering about the real speed of the new DDR2 Chips. Does this new die revision of the D9 IC's still contain 3.7ns chips as we saw with past D9?
With limited specifications and no memory ID that tells us anything, memory benchmarking is the only way to find out if the new memory from Crucial Technology can produce the widely anticipated results?
here
.
Asus advertises this particular motherboard in their February 2006 product information spreadsheet, claiming it as their flagship 975X motherboard with native DDR2 800 support. The chart below shows the myriad of memory options at different front side bus speeds available with this particular mainboard. The asterisks indicate settings provided for overclocking purposes only.
 FSB
 Memory Configuration Options/ASUS P5WD2-E Premium Motherboard
 
 Auto
 DDR2-400
 DDR2-533
 DDR2-667
 DDR2-711*
 DDR2-800*
 DDR2-889*
 DDR2-1067*
FSB 1066
*
*
*
*
*
*
*
*
FSB 800
*
*
*
*
-
*
-
-
FSB 533
*
*
*
-
-
-
-
-
Intel 975X Memory Test Configuration
Processor:
Intel 955 Extreme Edition at 13X Ratio
(3.46 GHZ dual core 65nm CPU)
RAM:
Crucial Ballistix DDR2 PC2-5300 (2 x 1024 MB)
Crucial Ballistix DDR2 PC2-6400 (2 x 1024 MB)
Hard Drives:
Maxtor DiamondMax Plus 9 160 GB ATA/133 - 8 MB Cache
Seagate 7200.9 ST3500641AS SATA NCQ - 16 MB Cache
Video Card:
EVGA 7800 GTX KO 256MB
Video Drivers:
NVIDIA ForceWare Release 80/Version: 81.98
Power Supply:
PC Power and Cooling Turbo-Cool 850-SSI
Operating System(s):
Windows XP Professional SP2
Windows XP Professional x64 Edition
Motherboard:
ASUS P5WD2-Premium
BIOS:
AMI version 0302 January 17, 2006
Test Settings
All hard drives were completely formatted with a fresh OS installation. Four partitions were made, with one for the operating system, a small partition containing the paging file, an applications partition, and finally a storage partition. Using standard benchmark practice, all drives were defragmented after installation of programs and before any tests were run. Diskeeper 10 Professional Premier was the defragmentation program of choice.
Memory Module Information:
Crucial DDR2 PC2-6400
Part Number: BL2KIT12864AA804
Module Size: 2GB kit (1GBx2)
Package: Ballistix 240-pin DIMM
Feature: DDR2 PC2-6400
Configuration: 128Meg x 64
DIMM Type: UNBUFFERED
Error Checking: NON-ECC
Speed: DDR2-800
Voltage: 2.2V
Memory Timings: 4-4-4-12
Specs: DDR2 PC2-6400 (2.2V)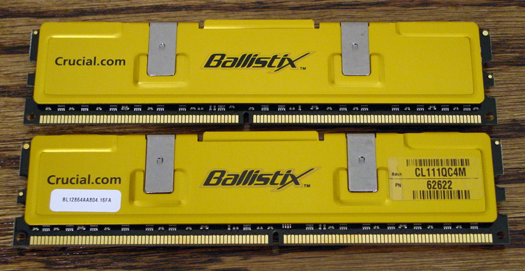 Crucial DDR2 PC2-5300
Part Number: BL2KIT12864AA663
Module Size: 2GB kit (1GBx2)
Package: Ballistix 240-pin DIMM
Feature: DDR2 PC2-5300
Configuration: 128Meg x 64
DIMM Type: UNBUFFERED
Error Checking: NON-ECC
Speed: DDR2-667
Voltage: 2.2V
Memory Timings: 3-3-3-12
Specs: DDR2 PC2-5300 (2.2V)
All AMD Athlon 64 processors have the ability to unlock the multipliers downward, while the FX processors are unlocked in both directions, up and down. In this way, memory testing can be performed by testing at close to the specified clock speed of the individual processor. The CPU speed and (thus) memory speed can be increased at the lower multipliers to reach the targeted processor speed for testing, allowing for a precise method of determining the impact of higher memory speed and timings on actual memory performance. This method allows a tester to focus on the memory performance, as the CPU speeds can be fixed to the same speed, with variable memory speeds.
DDR2 testing on an Intel based platform proves to be a different beast entirely. Most enthusiasts know well the effects of brute force front side bus clocks, as the memory frequency produces a bigger effect on performance than does latency. It presents a bit of a conundrum as you can use different multipliers and memory ratios, either at a 1:1 ratio or up-clocked via the chipset memory strap. Ideally, a phase changed or water cooled solution might be best for testing, as one could use a 12X multiplier on the 955 EE, ramp the front side bus speeds up to 400 MHz, effectively running at DDR 800 in this manner. By maintaining this same strap during a review of DDR2 products on an Intel based platform, you would be able to see results more comparable to DDR memory testing on an Athlon 64 platform.
A remaining issue with Intel's 955 Extreme Edition processor is that the P4 Netburst architecture is still bottlenecked by its front side bus. Until Intel comes around to an integrated memory controller-type solution favored currently by AMD, it will be hard for them to be competitive on the memory latency front, as current generations of AMD processors have shown in a gaming or multi-tasked environment.
Tools of the Trade
The Intel Pentium 955 EE CPU used in this review was cooled by a Thermaltake Big Typhoon heat sink and fan assembly. This massive HSF assembly did a good job of keeping the 955 EE processor cooled during our benchmark testing.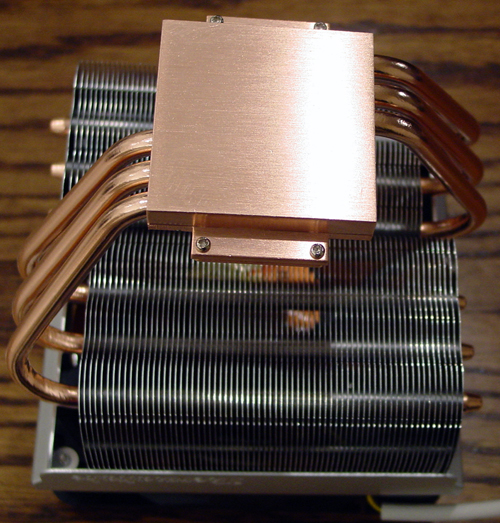 Note the picture below of the Intel 955 Extreme Edition CPU in socket, ready for the Thermaltake HSF assembly to be mounted.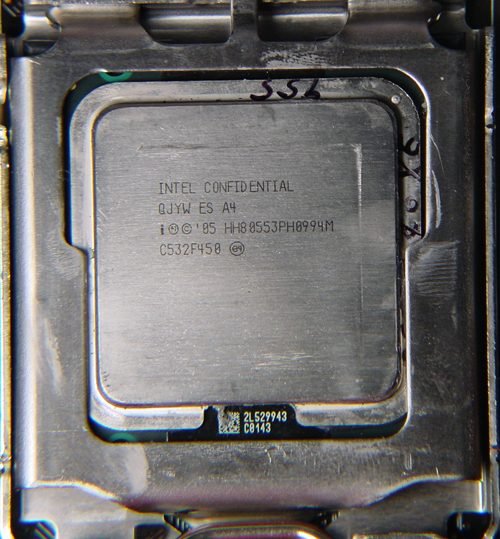 Finally, let's take a brief look at the actual test bench in operation in the picture below.
To measure the actual temperature of the memory modules in operation, we used a Fluke 52 digital thermometer, and inserted a thermocouple inside the top of the heat spreader. 2 differing scenarios were depicted by these images as the first image shows the measured module temperature with no ambient airflow (40.5 degrees C). The second image with airflow provided by an auxiliary fan dropped the temperature of the memory modules accordingly (to 31.4 degrees C).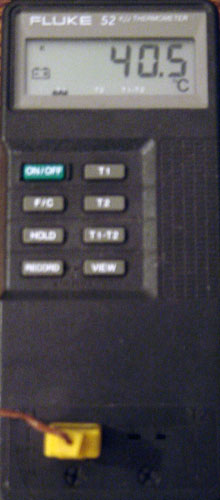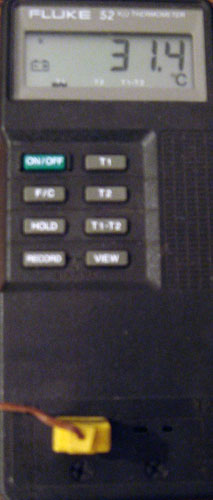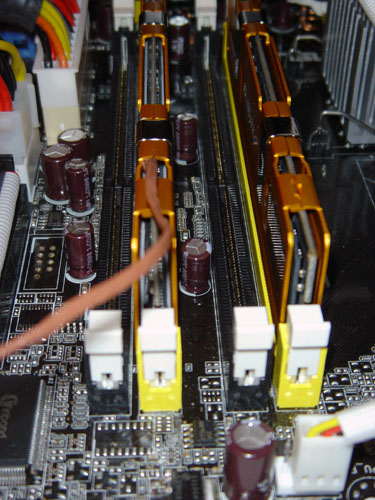 Crucial DDR2 PC2-6400 (DDR2-800)
A default screen shot using CPU-Z shows the Crucial PC2-6400 running at 1066 MHz bus speed at stock settings on the Presler 955 EE processor. Please note the default memory timings of 4-4-4-12.
SiSoftware Sandra Professional 2005 screenshots were taken at the default settings, both buffered and unbuffered in order for comparative purposes.
Default Sisoft Sandra Buffered: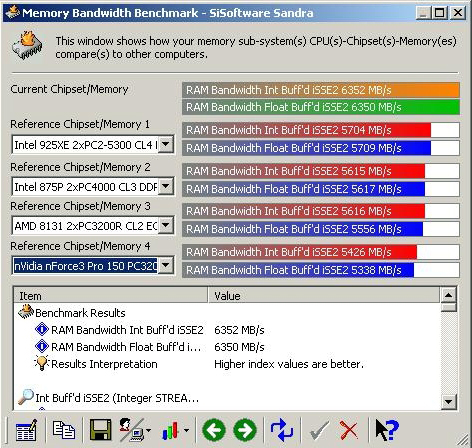 Default SiSoft Sandra Unbuffered: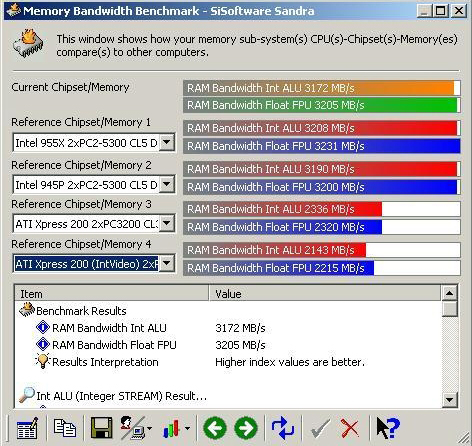 The biggest questions facing consumers purchasing dual channel DDR2 memory kits are how well this memory will perform, the price point, and the stability of the memory at stock and overclocked settings. The voltage requirements of specific memory modules are also important, along with customer service and warranty replacement concerns. Enthusiasts chasing the Holy Grail are apt to chase down the hottest IC's as they become available in the market place, and word of mouth drives these sales upwards significantly in the niche overclocking market.
Using Everest's Ultimate Edition 2006 to peer at the programmed SPD timings on these modules provided a brief glimpse at some information that can be seen in the image below. This version of Everest did not recognize the newer 975X chipset well, but some results will be given as a reference later in this review.
Crucial PC2-6400 (DDR2-800): Performance
The PC2-6400 DDR2 Ballistix sticks performed quite well. They did not need much voltage to reach above their specified timings and ran rather cool to the touch.
Here is a result from SiSoft Sandra 2005 Professional (buffered bandwidth):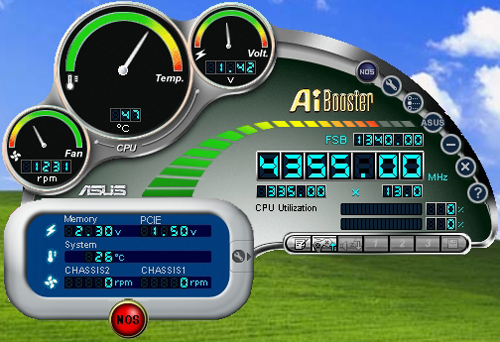 You can click on the
CPU-Z Validator Database
to see verified results from these particular settings.
How else did we assess stability, other than just raw synthetic benchmarks? SuperPi with mod 1.4 was run to 32M places, to see if the settings were stable. Current genre games were used to assess performance as well.
Here is a snapshot of a SuperPi 32M run: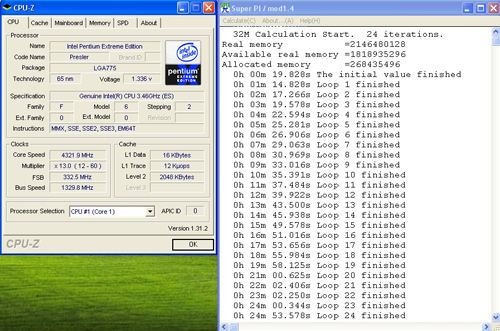 Crucial PC2-6400: Gaming Performance
Several games were chosen to help determine the stability of Crucial's Ballistix DDR2-800 memory:
Quake 4 was used, set to ultra quality, and benchmarked with results in frames per second (FPS) at 1024x768, 1280x1024, and 1600x1200 resolutions. Comparisons were made between stock, default settings, and using a front side bus speed of 335 times a multiplier of 13. The EVGA 7800 GTX KO video card was not overclocked during these tests, as memory stability was the main key.
Valve Software's HL2 Lost Coast turned out to be an effective memory test, and it was set to maximum quality, with HDR effects on, at 1024x768 and 1280x1024 resolutions. The old standby, Doom 3, is more sensitive to memory, thus it was benchmarked in game at 1024x768 resolutions. Finally, Far Cry was configured with max quality settings. Our benchmark test utilized 1024x768 and 1280x1024 resolutions.
The results are in the table below. No glitches, hitching or artifacts occurred during game testing at these settings.
| | | |
| --- | --- | --- |
| Quake 4 | Default settings | 335 x 13 = 4361 MHz |
| 1024 x 768 | 145.0 FPS | 171.5 FPS |
| 1280 x 1024 | 123.7 FPS | 152.7 FPS |
| 1600 x 1200 | 117.1 FPS | 122.5 FPS |
| | | |
| --- | --- | --- |
| Lost Coast | Default settings | 335 x 13 = 4361 MHz |
| 1024 x 768 | 73.0 FPS | 85.3 FPS |
| 1280 x 1024 | 56.9 FPS | 61.0 FPS |
| | | |
| --- | --- | --- |
| Far Cry | Default settings | 335 x 13 = 4361 MHz |
| 1024 x 768 | 70.65 FPS | 76.66 FPS |
| 1280 x 1024 | 66.32 FPS | 70.76 FPS |
| | | |
| --- | --- | --- |
| Doom 3 | Default settings | 335 x 13 = 4361 MHz |
| 1024 x 768 | 83.1 FPS | 127.3 FPS |
Futuremark's PCMark05 was configured to run with the full test suite option and delivered an overall score of 7432 PCMarks. The memory test suite score was 5897. These tests were also run at a front side bus speed of 335 with a 13x multiplier as used in the gaming tests above. The entire test results can be seen
here
.
| | |
| --- | --- |
| PCMark05 | 335 x 13 = 4361 MHz |
| Memory Read 16 MB | 9274.5 Mb/s |
| Memory Read 8 MB | 9573.61 Mb/s |
| Memory Write 16 MB | 6768.83 Mb/s |
| Memory Write 8 MB | 6734.91 Mb/s |
Synthetic 3D benchmarking programs such as 3DMark06, 3DMark05, 3DMark03, and 3DMark 2001 SE were run, with no problems even at high clock speeds using this memory.
Crucial DDR2 PC2-5300 (DDR2-667): Performance
Examining the specifications for Crucial Technology's Ballistix DDR2 PC2-5300 2GB memory pair, we see that the memory timings specify lower latency than the higher speed DDR2-800 parts. They are specified to operate at CL-TRCD-TRP-TRAS timings of 3-3-3-12 at 2.2 volts. Here is a screen capture of the timings from CPU-Z: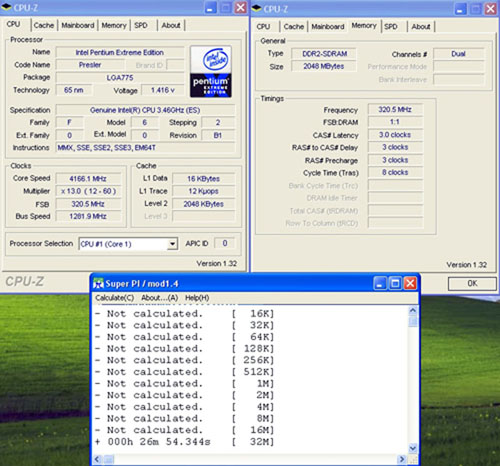 By slightly relaxing the timings to 4-4-4-8, performance is shown below of buffered bandwidth from SiSoft Sandra 2005 Professional, of nearly 8Mb/s.
Windows XP Professional x64 Performance
To top off this review, here are some brief results on Windows XP Professional x64 Edition.
First, we will peek again at the default timings from CPU-Z v1.32 below. Note the variable timings associated with the differing SPD tables at 266 MHz and 333 MHz.
Comparison of Memory Timings and Ratios to Performance
One of the goals of this review was to compare performance of the new Ballistix PC2-6400 and PC2-5300 modules to the legendary Micron Fat Body D9 memory. Performance tests were run on both new Ballistix memories and compared to tests run on the earlier OCZ DDR2 PC2-4200 Platinum EB 1GB (2x512MB) kit. The OCZ modules were known to include an early version of the Micron Fat Body D9 chips. Test results below are grouped by the memory under test, with best bandwidth and lowest Super Pi 2M times shown.
Crucial Ballistix DDR2 PC2-6400
Timings
SiSoft Sandra Professional 2005 Buffered Results
SiSoft Sandra Professional 2005 Unbuffered Results
Super PI 2M Time
DDR 533
(350x13@1402MHz)
3-3-3-8 (1:1)
8470 Mb/s
4558 Mb/s
1 minute 5.813 seconds
DDR 667
(350x13@1402MHz)
4-4-4-8 (4:5)
8601 Mb/s
5030 Mb/s
1 minute 5.047 seconds
DDR 800
(323x13@1290MHz)
5-5-5-15(2:3)
8103 Mb/s
4806 Mb/s
1 minute 10.453 seconds
Crucial Ballistix DDR2 PC2-5300
Timings
SiSoft Sandra Professional 2005 Buffered Results
SiSoft Sandra Professional 2005 Unbuffered Results
Super PI 2M Time
DDR 533
(350x13@1402MHz)
3-2-3-8 (1:1)
8542 Mb/s
4648 Mb/s
1 minute 5.078 seconds
DDR 667
(340x13@1362MHz)
4-3-2-8 (4:5)
8467 Mb/s
5127 Mb/s
1 minute 6.547 seconds
DDR 800
(313x13@1254 MHz)
5-5-5-15 (2:3)
8179 Mb/s
4807 Mb/s
1 minute 12.391 seconds
OCZ DDR2 PC2-4200 Platinum EB
Timings
SiSoft Sandra Professional 2005 Buffered Results
SiSoft Sandra Professional 2005 Unbuffered Results
Super PI 2M Time
DDR 533
(345x13@1380MHz)
3-2-2-8 (1:1)
8496 Mb/s
4401 Mb/s
1 minute 6.375 seconds
DDR 667
(350x13@1402 MHz)
4-2-3-8 (4:5)
8592 Mb/s
4893 Mb/s
1 minute 5.000 seconds
DDR 800
(315x13@1262 MHz)
4-2-3-8 (3:5)
7867 Mb/s
4613 Mb/s
1 minute 12.454 seconds
The tightest timings were maintained on the PC2-5300 kit, which held 3-2-2-8 timings up to an FSB of 345 (13X multiplier producing 1382.5 MHz set at DDR533 memory strap). This produced buffered bandwidth of 8455 Mb/s on Sisoft Sandra Professional 2005, and 4616 Mb/s unbuffered bandwidth. At 350 FSB, this particular memory held timings of 3-2-3-8, producing 8542 Mb/s buffered bandwidth and 4648 Mb/s unbuffered bandwidth. At DDR667, timings set at 3-2-2-8 held only to 275FSB (X13). However, a slight relaxation to 290x13 at 3-2-3-8 timings worked well to 7241 Mb/s buffered and 4452 Mb/s unbuffered results. More relaxed timings had to be used when the DDR800 memory strap was invoked.
The PC2-6400 modules, tested at the DDR533 memory strap at 1:1, were good up to 327 FSB (X13) or 1310 MHz at 3-2-3-8 timings, which produced 7980 Mb/s buffered and 4334 Mb/s unbuffered bandwidth scores via SiSoft Sandra. Super Pi 2M clocked 1 minute, 10.313 seconds at these settings. We were able to tweak timings further, at 3-3-3-8 at a front side bus speed of 350 (X13), at 1402 MHz to reach buffered numbers of 8470 Mb/s, and unbuffered bandwidth of 4558 Mb/s. Everest Ultimate Edition V2.50.480 showed a memory read speed of 9678 Mb/s while extended to 350x13, with memory write speeds at 3212 Mb/s according to the Everest synthetic benchmarks. While testing at the DDR667 memory strap, we were able to maintain timings of 3-3-3-8 up to only a front side bus speed of 280x13. Beyond that, timings had to be relaxed to 4-4-4-8 to be stable. The best numbers that we saw at the DDR667 strap were at 350x13 yielding 1402 MHz, at 4-4-4-8 timings. This gave us 8601 Mb/s buffered, and 5030 Mb/s unbuffered bandwidth numbers, and Super Pi 2M ran at 1 minute, 5.047 seconds. Running at DDR800 proved somewhat ineffective, since the timings had to be very relaxed for stability. Scaling to 310x13 (effectively 1242 MHz) at 4-4-4-8 timings worked fine, but beyond that point, we used 5-5-5-15 and weren't able to produce much of an improvement.
Test results show that the new Crucial Ballistix, using Micron's latest DDR2 chips, is competitive with any DDR2 memory that we have tested in the recent past. The performance appears to be better than early versions of Micron's Fat Body D chips - at least on the latest Intel 975X platform. It will be interesting to see how the new Crucial Ballistix memory modules will perform on the upcoming AM2.
It is very interesting that our very early OCZ memory, rated at DDR2-533 and based on Micron Fat Body D chips, actually performed well, since it contained an early version of the first Fat Body D chips. This leads one to believe in the promise of the new die version of Micron's Fat Body D IC's, based on the performance that we saw in our testing.
Comparison Graphs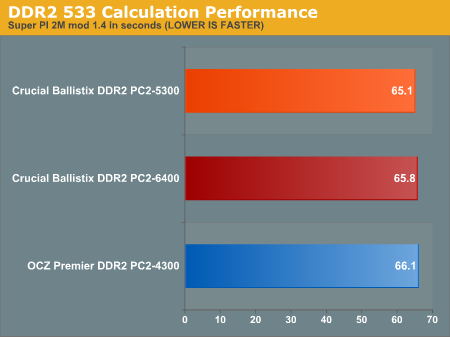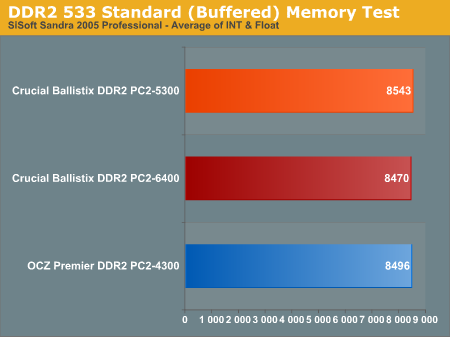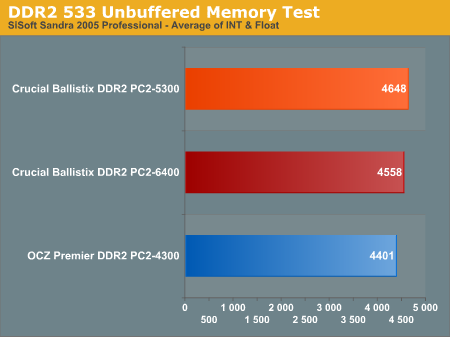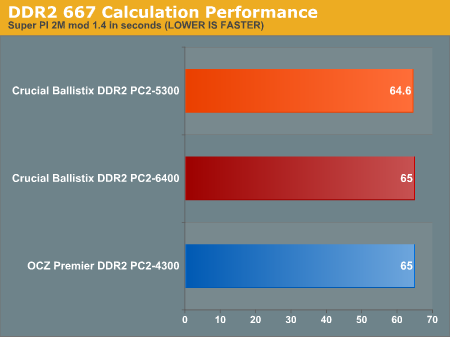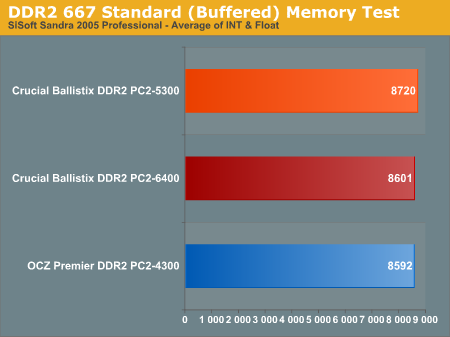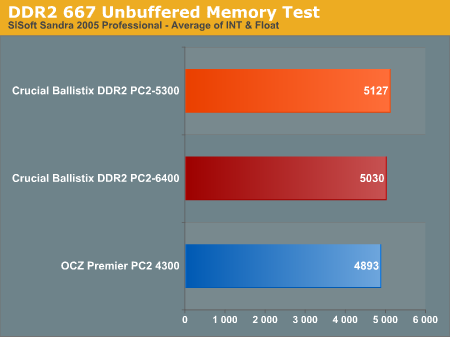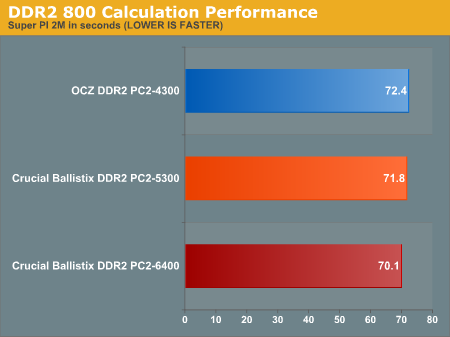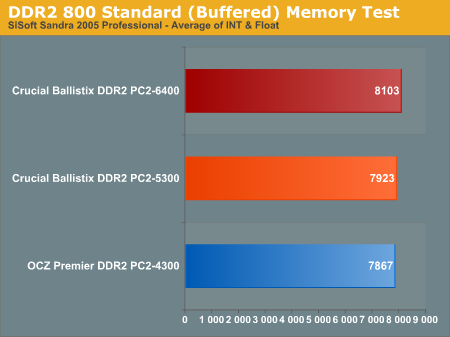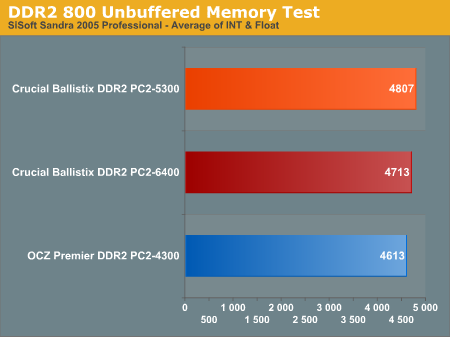 The above comparison graphics indicate the stellar performance of the new Micron Fat Body D9 chips contained in the pair of Ballistic modules that we tested. If you are seeking low latency timings on a DDR2 platform, these are the modules for you. Not only will they produce very good bandwidth numbers and stability, but they will provide cross-platform compatibility and longevity, with the AM2 chipset available fairly soon.
Please note some final images of performance from the PC2-5300 modules below:
Final Words
Crucial Technology and Micron have introduced some new and very competitive low-latency DDR2 memory chips and DIMMs. They are certainly competitive with the best DDR2 in the current market and deserve to be on your shopping list for DDR2 memory.
We have heard that the new Crucial DIMMs fare better on the upcoming AM2 platform, but until AM2 launches and we can test for ourselves, this is just speculation. AMD's new AM2 Athlon 64 memory controller will finally allow the use of DDR2 memory on the A64 platform, and the hope is the integrated DDR2 memory controller will finally allow DDR2 to run at the low latencies that will make DDR2 a compelling choice compared to DDR memory. In due time, we will have answers to these questions.
With AMD entering into the DDR2 fray, this will finally provide some apt competition to Intel DDR2 solutions, which have been on the market well over a year already. Will AMD's new AM2 engineering provide enough impetus to spur the DDR2 market further? Will there be enough DRAM manufacturing capacity to support future demands? The memory market is already behaving as if this will be the case. Most memory makers are no longer putting development work in new DDR products with most of the current R&D directed towards DDR2 improvements.
After torture-testing both the Crucial PC2-5300 DDR2 and the PC2-6400 DDR2 2GB memory kits, this reviewer was quite pleased. Not only did the memory run below specified voltages (2.2v), but stress testing such as dual instances of Prime95, SuperPi, or Memtest86 barely budged these modules. Both of these Ballistix parts are using the same IC's, albeit with slightly different Serial Presence Detect (SPD) programming. The retail pricing is $389.99 for the DDR2-800 2GB kit, and $360.99 for the DDR2-667 kit from Crucial Technology. The price for these 2GB DDR2 memory kits are not cheap, but the quality is high with performance as good as you will find in DDR2 availability today.
Those able to scale their processors high enough to ramp to sufficient front side bus speeds will see some very beneficial bandwidth and efficiency numbers produced by this pair of quality DDR2 modules. Enthusiasts using water cooling or phase changed solutions will be most apt to reap the benefits from this new Crucial memory.
More information about the new Micron memory chips will be available shortly. Other competing manufacturers such as Corsair and OCZ Technology will be able to source the same IC's and be competitive in the DDR2 marketplace. Look for this to occur by early March. We extend our personal thanks to Crucial, and Sam Harmer, in particular, for providing AnandTech with these new DDR2 modules as soon as they hit the market. Crucial/Micron, as always, was very helpful in providing information for this review.