Original Link: http://www.anandtech.com/show/1950


Introduction
Cards like the GeForce 7800 GTX and Radeon X1900 XT-X may be getting a lot of press lately, and while these cards are impressive to say the least, they don't represent what the majority of users are buying for their PC gaming systems. Gamers on a budget are always interested in advancements in the mid and lower price-range of graphics cards, and efficiency is generally more desirable to users than sheer power when looking for an upgrade. An example of this would be the popularity that we've seen of quality mid-range cards like the X800 GTO and 6800 GS, given their performance and reasonable price tags. Thankfully, NVIDIA has been continuing to make advancements on the budget side of things as well, and one such advancement is their recently released GeForce 7300 GS.
The 7300 GS is graphics card in the $100 or less price range, which offers a lot of the same features available in much more expensive parts for a fraction of the cost. This is a budget card, however, so it will see gaming performance similar to parts like NVIDIA's 6200 and ATI's X300. The 7300 GS that we have for this review is made by EVGA, a company with a good reputation for providing quality graphics hardware at competitive prices.
We've been looking at high end cards quite a bit lately, and it's easy to overlook some of the more humble graphics solutions available from ATI and NVIDIA as such powerful cards take center stage. Most PC users don't need the kind of performance that a card like the X1900 provides, and depending on the types of applications that different users are running, a far less powerful (and thus, inexpensive) card may be the wiser choice. Office computers and home theater systems might only require the most basic hardware acceleration, which is why this category of video cards exist.
Of course, for an avid gamer, a card like the 7300 GS might not cut it, but for those on a budget, this card is worth a look. Today, we take a look at EVGA's version of the 7300 GS and we will talk about the performance and features of this newest budget card from NVIDIA.
The Card
We've already taken a first look at NVIDIA's 7300 GS and you can read the article
here
. For this review, we will offer a brief recap of the card's features for reference, and look at some performance tests with our EVGA e-Geforce 7300 GS.
The GeForce 7300 GS was introduced by NVIDIA to take the place of the 6200 TurboCache on their budget end of graphics cards, and it does the job well, we've found. As the name implies, the 7300 GS is based on the GeForce 7 architecture, but it's been stripped down quite a bit.
There is a half-size version of the card which only has DVI and TV-out connections, but the EVGA 7300 GS that we have is full size and includes a VGA D-sub as well. The card is quite small and light, which makes sense given its budget classification. There are no external power connectors, and there is a very small fan on the GPU to keep it cool, with the EVGA logo in the center of it.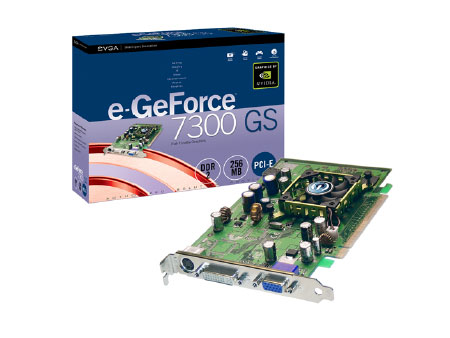 Like the 6200, the 7300 GS uses TurboCache technology, which basically allows the card to "page" memory into system RAM in order to extend the card's memory. The 7300 GS also has higher clock speeds than the 6200 (550MHz/350MHz vs 350MHz/350MHz), which will give it a boost in performance over this card.
The 7300 GS also has 3 vertex and 4 pixel pipelines, the same as the 6200, but our EVGA 7300 GS has a larger memory size of 256 MB verses 16-64 MB of the 6200TC. Currently, SLI with this part is not supported, but we would be surprised if we don't see this feature enabled at some point later on. DVD decoding is another feature of this card, and it will likely include high definition video capabilities in future driver updates.
As we mentioned earlier, EVGA is a company with which we've had good experiences in the past, as their prices and warranty policy set them apart from the others. For those not familiar with their warranty policy, EVGA provides a lifetime warranty and will replace your card for any reason other than physical damage (this means damage due to things like power surges, and user-overclocking is covered). If you are looking for a 7300 GS, the EVGA version would be a good part to consider.
Test Setup/High Quality Performance
Now that we've talked about the card, let's look at the performance. We've included a few other budget cards for comparison to get an idea of how the 7800 GS fits into the market. Included on the graphs, we have the Radeon X1300 (450MHz/500GHz), and X300, as well as NVIDIA's 6200 TC. The games that we are testing are Halflife2 Lost Coast, Battlefield2 and Quake4, at 800X600, 1024x768, and 1280x1024 resolutions. Here is the test system that we used:
Testbed
Processor:
AMD Athlon 64 FX-55 2.6 GHz Processor
Memory:
1 GB OCZ 2:2:2:6 DDR400 RAM
Motherboard:
NVIDIA nForce 4
Hard Drive:
Seagate 7200.7 120 GB
Power Supply:
OCZ 600 W PowerStream
*Note that sound was disabled for these tests.
Battlefield 2 Performance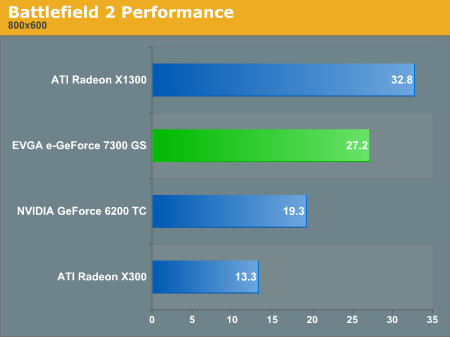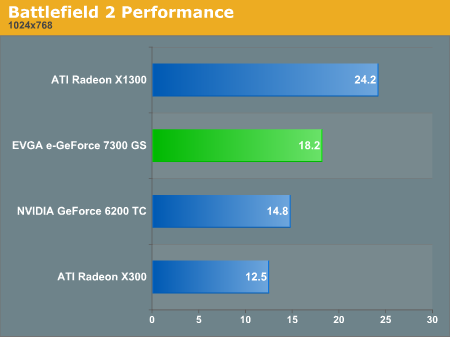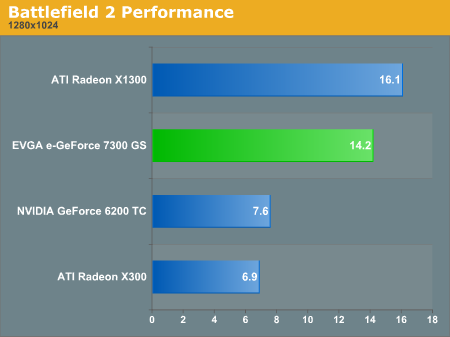 Halflife 2 Lost Coast Performance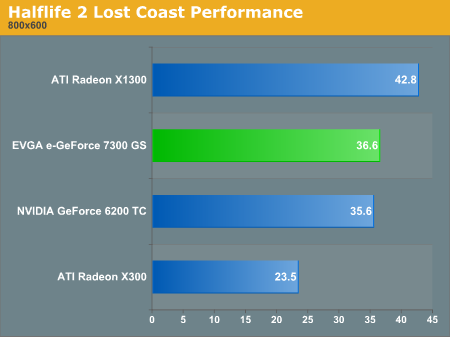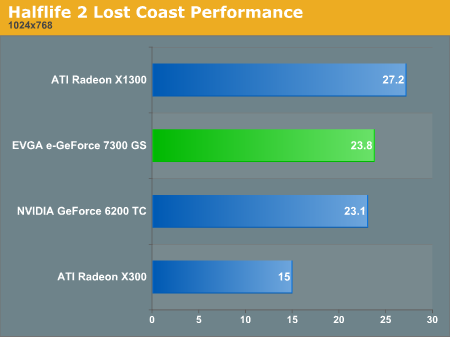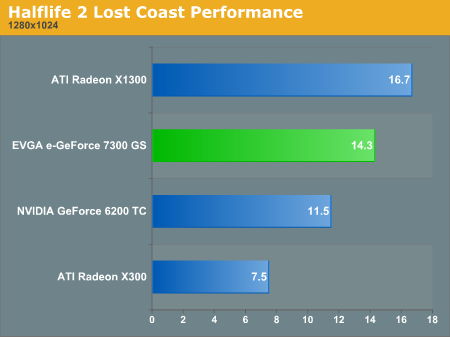 Quake 4 Performance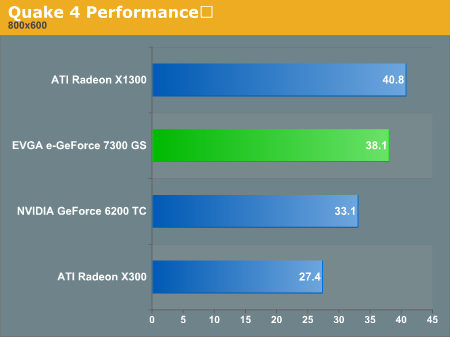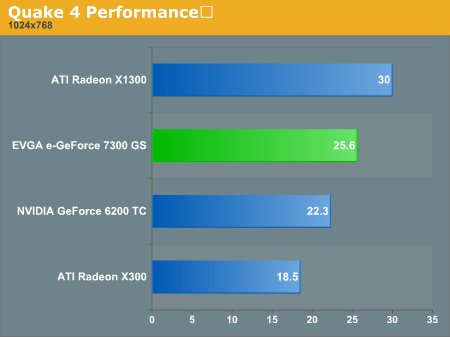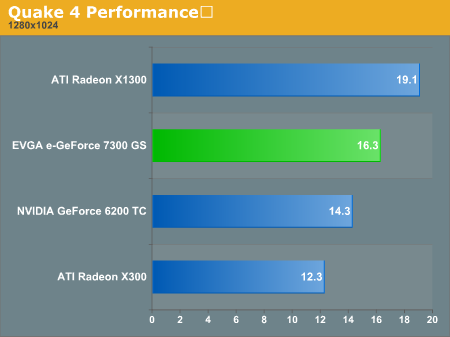 As these graphs show, with high quality settings enabled, the framerates we see with these cards aren't quite playable for the most part over 800X600 resolution. If you don't mind playing at 800X600, then Halflife2 Lost Coast and Quake 4 will run fine on the 7300 GS at high quality, but you will have to bump down the quality settings if you want smooth game play at higher resolutions. We can see how the 7300 GS performs more similarly to the X1300 than to the 6200 TC, which confirms our suspicions and shows this card to be a good replacement to the 6200.
Performance Continued (Medium Quality)
Because the performance that we saw on these games at high quality settings were so low, we ran a second set of benchmarks with the graphic settings at medium for each of these games at the same resolutions. This should give us a better idea of performance, as these games can still be enjoyable with certain effects like full dynamic range (in HL2LC) disabled. For Battlefield 2 and Quake 4, we simply used the overall medium graphics setting that these games both provide, and with Halflife 2 Lost Coast, we simply turned model and texture detail to medium, and set the shadow detail to low. We also set the HDR effects to "bloom" only and water reflections to "simple".
Battlefield 2 Performance (medium quality)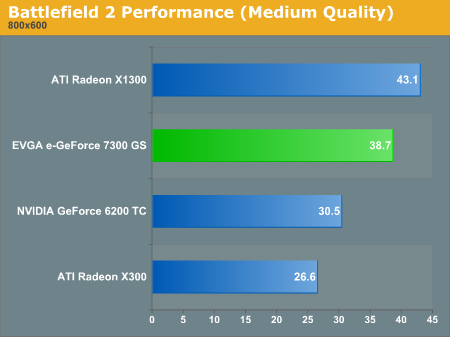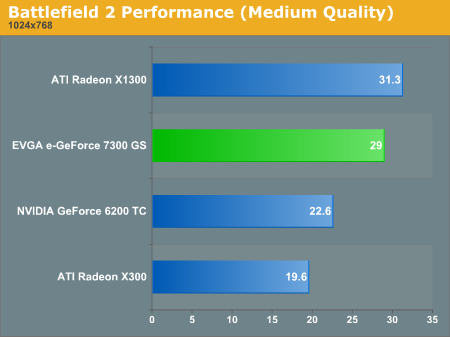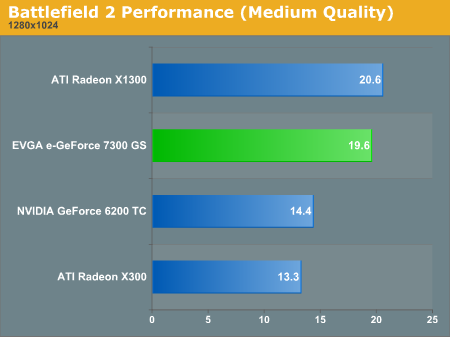 Halflife 2 Lost Coast Performance (medium quality)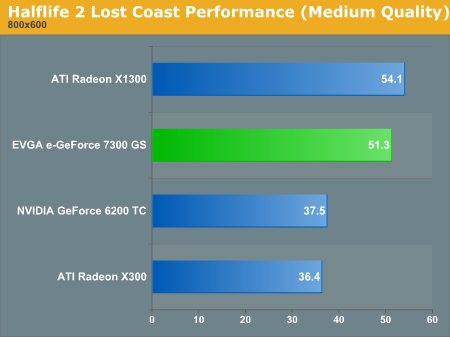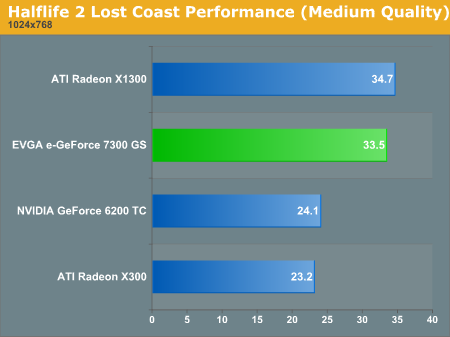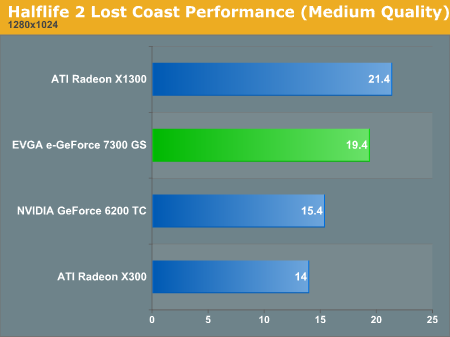 Quake 4 Performance (medium quality)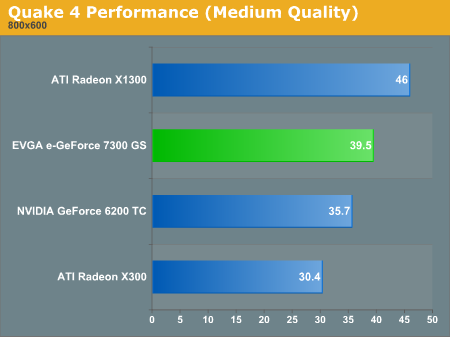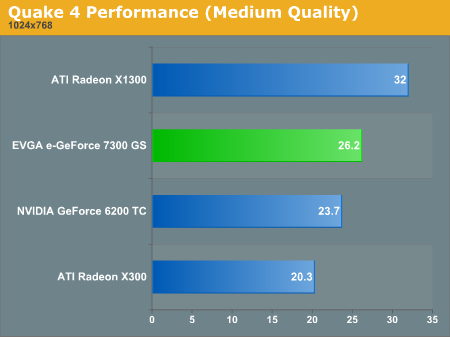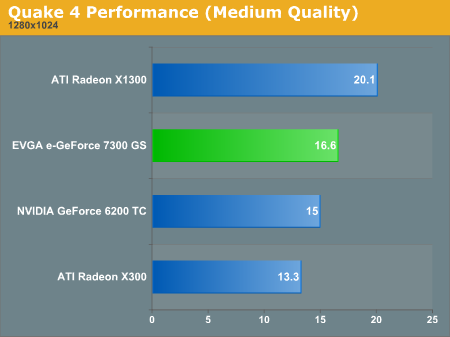 We can see that while these cards generally get much better framerates, the cards still tend to slow down quite a bit when they get up to 1280x1024. This makes sense though, given that all of these cards have very limited memory. We see that in Battlefield 2, the 7300 GS does much better at medium quality, as high quality isn't really playable at any of these resolutions. Overall, these cards perform adequately in these games at lower resolutions and with low or medium quality settings, which is not quite ideal, but also not surprising given the nature of the cards. The 7300 GS does, however, perform admirably among them, and given that it's a little cheaper than an X1300, it looks to be a good competitor to this and the other cards here.
Final Words
We've seen that although the 7300 GS performs well compared to other cards in its price range, it has trouble running games like Battlefield 2 at resolutions higher than 800x600 with the quality settings on high. If you are a hardcore fps gamer and you want to get the most out of a game graphically, then this card is not going to fit the bill. However, with lower quality settings enabled, it could prove to be a passable graphics solution, and the video features as well as the low price tag would make this card attractive for some. Right now, the EVGA 7300 GS can be found for about $80, which is definitely easy on the wallet.
While the 7300 GS might not work for many PC gamers, the fact that it is small and almost silent will probably make it desirable for those very concerned about power consumption or noise. This card might be a perfect solution for those interested in a card for their home theater system, given the low noise and the PureVideo decoding features. The 7300 GS will support HDV in the next driver, which will enable H.264 video decoding in hardware. Also, the 7300 GS could be a good upgrade for those who simply want a card for their office that would be dx9 compatible for Windows Vista.
The fact that this is a budget card will make it somewhat specialized, but parts like these are always necessary for some. While many gamers will find the card unappealing because of its limitations, it does have the ability to play games at lower quality settings and resolutions quite well, and for those who only dabble in gaming and don't feel like spending much money on an upgrade, this card might be a good choice.
The 7300 GS will most likely raise the bar for budget cards in the future, and while the card may not be the most exciting piece of hardware from NVIDIA, the EVGA version that we tested performs just how we'd expect and without any problems. These types of cards are important to game design, if not as much so as the extremely high end, but they also affect the kinds of games that developers create. Ultimately, games designed with efficiency in mind will benefit everyone, and not just budget gamers. Whether for the gamer on a budget, or the home theater enthusiast, the EVGA e-Geforce 7300 GS in the right place will prove useful.