Original Link: http://www.anandtech.com/show/1940


Introduction
The life of the CD-R has hit its peak with many users moving on to higher capacity DVD writeable media for data storage and backup. Whether the use of writeable optical media is for data storage, media, or personal backup, many turn to 3rd party utilities to perform all of these operations.
Over the years as organizations, large and small, began migration of their paper data to electronic media, there came a need to provide protection to their sensitive information. Many used third party software from companies like EMC, Veritas (now merged with Symantec), and newer companies such as Idealstor and Novastor to encrypt and archive their most valuable data. However, all of these 3
rd
party vendors catered mainly to the enterprise level.
Only recently has desktop storage called on the need for data encryption with those same companies releasing software with both compression and encryption algorithms for the end user. Nowadays, we can all download a copy of WinZip or WinRAR, or purchase a copy of EMC's Retrospect backup software and see a fully functional suite that lets us shrink and protect our data without the enterprise level costs. But what is the next step?
Hybrid Optical Media
Hybrid media is an old idea from the stone age (late 90's), which showed us that a CD could contain more than one type of file system. For example, from information found on the Optical Storage Technology Association's website, the first type of hybrid media was able to store two types of file systems, a PC compatible session and a Mac compatible session. This type of media has been distributed for years by vendors who want to provide compatibility for their products to both types of users.
The second type of hybrid media came to us, which combined on-disc software with the ability to reach out to other sources such as a PC or the internet to retrieve the information that it required to operate.
The newest type of hybrid media is one where there is a stamped session at the beginning of the media and the rest of the disc is free, writeable disc space for additional sessions. This type of media is similar to the first type (where PC/Mac software coexists), in that the physical media is split into the different types of sessions.
How Is This Third Type of Hybrid Media Utilized?
Ricoh Co., LTD. announced their EncryptEase CD-R media in December 2005, which boasted 600MB disc space to store encrypted data with no additional software requirements except for the application located and run off of the disc. Ricoh takes the old hybrid CD idea and pushes it a step further by including a stamped first track occupied by their data encryption/compression software. Take a look at how it works.
Click to enlarge.
EncryptEase Hybrid Media
Physically, the EncryptEase media looks like a regular CD-R with its label side showing some standard graphics as we see in the image below.
ROM
section that contains the runtime application suite with a writeable CD-
R/RW
section; CD-R in this case.

Ricoh EncryptEase System Requirements and Recommendations
OS:
Windows 98SE/Me
Windows 2000 Professional SP4
Windows XP Home/Professional SP1/SP2
CPU/Memory:
Windows 98SE/Me
150MHz or higher, 64MB or more
Windows 2000
133MHz or higher, 128MB or more
Windows XP
300MHz or higher, 128MB or more
HDD:
Encryption (write)
Free capacity of 1.5GB or more
Decryption (read)
Free capacity of 800MB or more
* When you try to encrypt (write) data to the disc, its free capacity must be at least about twice the size of the data.
Drive:
Any drive that supports CD-R disc write and read operations
* Note that you cannot use an NEC ND-5100A.
Recording capacity:
600MB
Write Speed:
40x Max
*Data from Ricoh EncryptEase Disc Specification at http://www.ricoh.com
Unfortunately, we did not have any older systems with which to test the media, but we can assure everyone that the EncryptEase software works well under Windows 2000/XP. We worked with the media on our Plextor PX-740A, NEC's ND-3540, and Pioneer's DVR-110D successfully to give everyone a good idea of compatibility across chipsets.
EncryptEase Complete Software - First Run
Each disc comes with the EncryptEase software stamped to the first track as we discussed earlier. Upon insertion of the media, the CD/DVD drive will pick up the Autorun function (if it is enabled in the OS) and begin the application.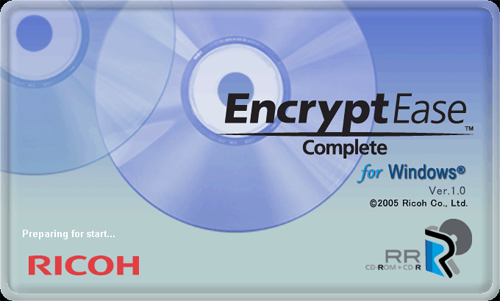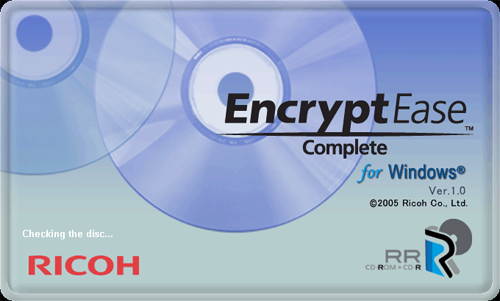 Upon first run, the application will ask to install a driver, which is required to run the software any further. Clicking on "Install a Driver" will begin the installation process that, as the warning message states, will then reboot the system automatically, so be sure to save your work and exit all other applications before you go ahead and follow through, for you trigger-happy enthusiasts.
EncryptEase Complete Software - Create a New Session
After the system reboot, the EncryptEase software will restart, bringing us to the main menu. We have three options here: CreateDisc, SelectFiles, and Exit. There are also descriptions of each task if the simple names seem a bit vague as they may.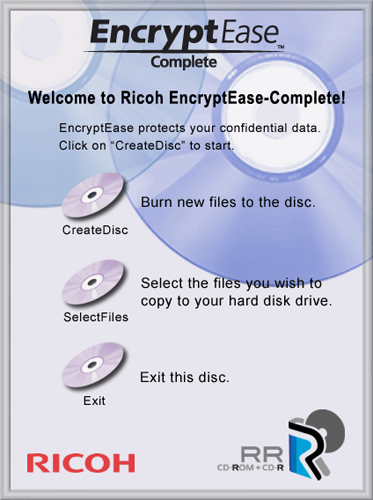 Clicking on "CreatDisc" brings up a "Create Password" dialog box, which allows us to enter and confirm a password of up to 255 alpha-numeric characters long. There is also a warning displayed that let's us know that passwords written to this CD-R media cannot be changed.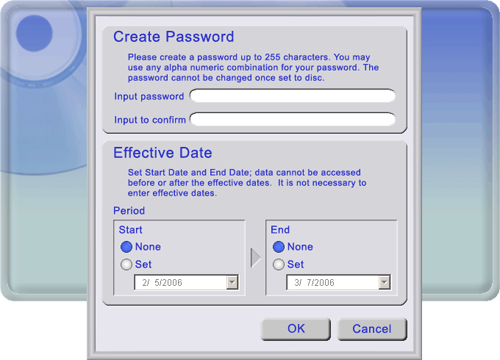 The bottom section of this dialog box lets us choose a time period in which the particular session can be accessible; otherwise, selecting "None" allows for access to the session without any date restrictions. Once we click on "OK", a new window is shown, which allows us to drag and drop files and folders that we want to add to the new session.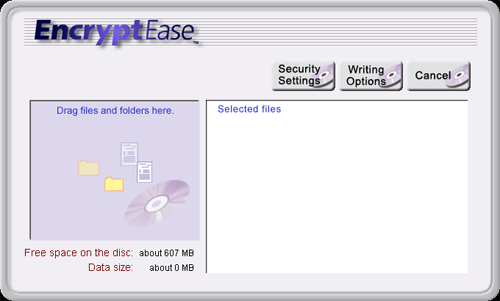 We see here that the free space shows 607MB as well as a "Data size" gauge, which helps us monitor the amount of data that we are including in this particular session. Once we have the files that we want to add in the window, we have a couple of different options. Clicking on the "Security Settings" button will bring up the password box again, which will allow us to change the password and date restrictions of the session one last time. Clicking on "Writing options" will take us to the following dialog box, which allows us to select the HDD drive to work with.
After the drive has been selected, we will see the list of files to be added with an additional "Burn To Disc" button, which will do what it says.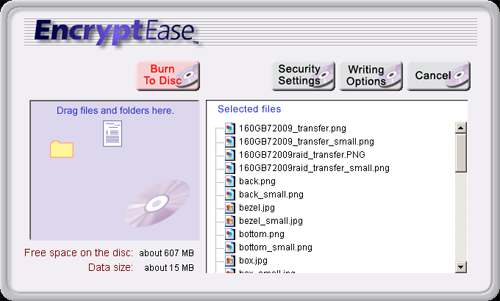 Finally, after clicking on the "Burn to Disc" button, a dialog box will appear, allowing us to enter a volume label as well as the write speed of the disc. We are also presented with the options to compare the data after it has been written as well as to close the disc. After making the changes, clicking "OK" will begin the compression/encryption/write process.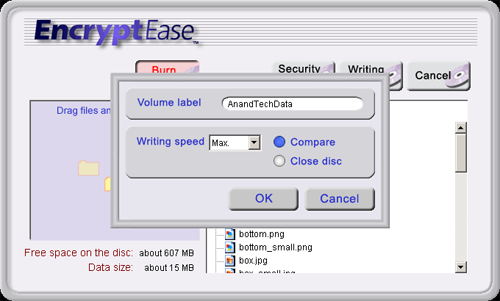 EncryptEase Complete Software - The Burn Process
The burn process is more than just writing the data to the disc. There are a total of 4 or 5 steps, depending on what we select for comparing data. In the first step, the data is prepared for the entire process. The second step involves encrypting the data followed by creating an image file on the hard drive selected. These first three tasks finished fairly quickly because of our Athlon 64 based test bed. We're assuming that it will take much longer on a 133MHz processor, which is the minimum requirement for a Windows 2000 system.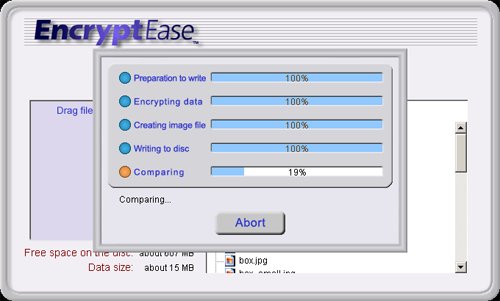 The fourth step in the entire process is writing the prepared image to the disc. The length of this step depends on the optical writer that is used. Obviously, a drive that can't write to a CD-R faster than 24x will not be able to take full advantage of the 40x maximum speed of the media. The final step compares the written data to the original, which, again, is an optional step.
Once all of the steps have finished, the EncryptEase software will present us with a simple "Write process complete." dialog box. After clicking on "OK", we can see the session and the files on the disc. If there are multiple sessions on the disc, we will be able to see each session by clicking on the associated tab. The tabs themselves are labeled with numbers, which make it difficult to differentiate the session that you want to access if there are more than just a couple of sessions on the disc. Actual descriptive text labels would have been much more helpful. Hopefully, Ricoh incorporates something like that into their DVD based EncryptEase media.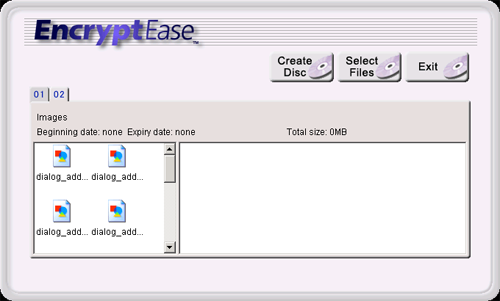 EncryptEase Complete Software - Extracting Encrypted Files
Copying encrypted files back to the hard disk drive is even more simple than encrypting and burning to the media. Once a prerecorded disc has been inserted into a drive, the EncryptEase software will list the files automatically and allow us to select and copy the files back to the hard drive.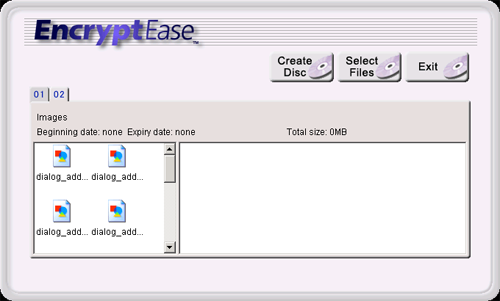 Once we select the files that we want to extract and click on "Copy to hard disk drive", a dialog box will come up prompting us for the session password.
Clicking on "OK" will begin the file extraction process.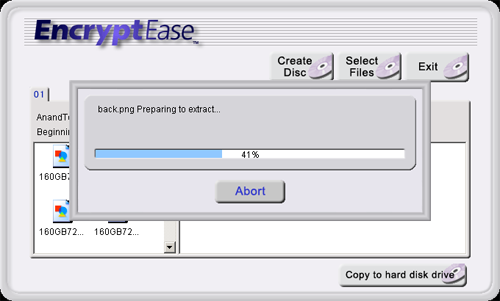 The process is now complete. The files that we selected to be encrypted on Ricoh's EncryptEase media is now back on the hard disk drive intact and ready to be worked with. The final result is a hybrid disc where all we can see is the file listing of the EncryptEase software when browsing.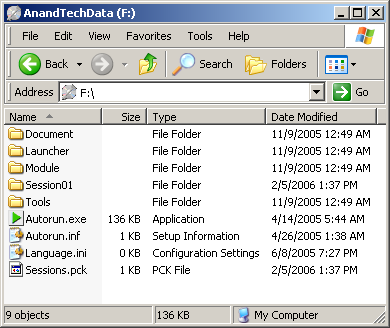 To access any of the protected sessions, we are required to use the included software and to enter the password that we decided. To any normal optical drive, the hidden sessions are just that, completely hidden from view.
Many of you will ask: is this encryption method crackable? We are hoping not, but too often, we have seen systems hacked and copy protection and encryption cracked to allow hackers to retrieve sensitive data. Since this is a new release, we may have some time before the system is broken, or we may never see the system broken at all. We will work with Ricoh to bring the latest in this type of news as data protection is a very critical business.