Original Link: http://www.anandtech.com/show/1934


Introduction
NVIDIA's 6800 GS has been available for over two months now, and it seems to be doing a nice job of providing users with quality performance. Now that the holidays are over, many new 6800 GS owners have settled in and are happily putting their new card to good use with their favorite games. Both ATI and NVIDIA did a decent job of getting out some new parts in time for the Christmas rush, offering a good selection to those gamers in the market for a new card. ATI's recent X800 GTO was, and still is, a no-slouch mid-range graphics card with a decent price tag (about $150), and a nice addition to their product line.
That being said, the 6800 GS is NVIDIA's answer to the X800 GTO, and they managed to slip it onto the market just before ATI's X1600. The X1600 is still pretty new, and it looks promising, but the NVIDIA 6800 GS has already proven to be a top contender for best performance at the most reasonable price.

Today, we'll be looking at four different manufacturers' versions of the 6800 GS, and seeing what each has to offer. The cards that we have are from Leadtek, PNY Technologies, EverTop, and EVGA. We've already talked about how the 6800 GS compares to the current NVIDIA lineup, but we'll offer a recap and hopefully provide a good overview of how this and other available graphics cards rank in terms of performance in the next section. When comparing multiple cards of the same type to one another, it can be easy to lose sight of how these parts fit into the ranks of graphics cards that are available by both NVIDIA and ATI. One of our goals in this review is to shed some light on the "big picture" of graphics card performance in general, and in particular, how the 6800 GS fits into it.
Usually, after the holidays, there tends to be a lull in parts being released, but this doesn't look to be the case, as we have been hearing murmurs about something interesting coming from ATI very soon. There has been a kind of shift in ATI's schedule lately, so we may see parts trickling out from them over the next few months. NVIDIA might have some surprises for us as well, but for now, the 6800 GS has enough clout to be one of their key parts until then. This card looks like it will be a great value part for those looking to upgrade anytime soon.
General Overview
There's no denying that there are a lot of different graphics cards out there from which to choose. We know how confusing it can be when trying to figure out how a particular card compares to another or what card would be best suited for a particular gaming setup. There are cards by both ATI and NVIDIA - two companies that often take different approaches to graphics hardware design, and each company offering a wide range of performance in their cards. What's more, many cards are made to compete with each other, and perform so closely to one another as to be nearly indistinguishable performance-wise. This fact, as well as the fact that prices for all of these parts are subject to a fluctuating market and can change significantly from day to day, can indeed make things confusing.
It is because of this that we've decided to give a brief overview of some cards available by both NVIDIA and ATI, as well as a rundown of how each family of cards (and many of their variants) fit into a kind of performance-spectrum of cards, ranking from lowest to highest performance. This is by no means an extensive list of cards and their place on an exact performance scale, but more of a guideline to help visualize the kinds of graphics solutions available and their performance right now. Many will already be very familiar with these parts and where they stand, but hopefully, this will give other people a better understanding. *Note: on ATI's side, we are focusing on the X1000 series, as they represent the newer generation for ATI and take advantage of newer technology (i.e. Shader model 3, etc.).

For both ATI and NVIDIA cards, generally the higher the number, the greater the performance - a fairly straightforward concept. The confusion mostly begins when you start to look at the different variations of the cards and compare the NVIDIA and ATI cards to each other. As the above shows, there are many overlaps, particularly with ATI, as each family of cards can contain a number of separate cards with a wide range of performance in-between them.
On the extreme low end of things, you have cards like NVIDIA's 6200 and some of ATI's older cards like the X300. These cards run in the $50 to $75 price range, and are generally suitable for your grandparents or businesses where some basic hardware acceleration is needed. The opposite end of the spectrum is the ultra-high end cards like ATI's X1800 XT and NVIDIA's 7800 GTX 512. These cards are mostly only affordable to a small percentage of people, and offer more gaming power than what any application would actually require (without the special monitors required to display very high resolutions). Everything available in-between shows a little more flexibility. For instance, you can pay anywhere between $100 and $200 for an X1300 card depending on the clock speeds and memory layout. X1600 parts can go for between $130 and $300 depending on which of the four configurations you are looking at (there is a low and high speed grade, each available with either 256MB or 512MB).
With prices and products overlapping as we show here, it's tough to always know what cards are really worth their price and which aren't. The problem is a little bit more pronounced with ATI cards, as older generation chips like the R480 packaged into a neat little X800 GTO is still an excellent deal. We also have more naming variety on the NVIDIA side and there is less of a chance of buying two vastly different performing parts with the same name.
Of course, different types of gamers will require parts with different levels of performance. For instance, someone who plays strategy games like Civ 4 or Warcraft 3 won't need as powerful a graphics card as someone who likes to play pretty twitch shooters like F.E.A.R. or Battlefield 2. Likewise, a gamer's budget will greatly affect the best choice of card for that person, so the goal is to find a good compromise between good performance and a decent price. The 6800 GS just happens to fit very well into this "sweet spot" of graphics cards, which will be a good choice for the average gamer. At around $200, the price for this card is very reasonable given the performance that it provides. For this article, we will also be looking at the X800 GTO as it is still the best competitive value offered by ATI at the price point for which we are aiming. But before we get ahead of ourselves, let's take a look at the different 6800 GSs that we have.
The Cards
We've talked about the 6800 GS before, but just to review, the 6800 GS is very similar in design to the 6800 GT, except that it has four fewer pipelines, and a higher core clock (425MHz as opposed to 350MHz). Basically, the 6800 GS offers nearly identical performance to the 6800 GT at a lower cost. With the 6800 GS, NVIDIA plans to phase out the 6800 GT and let the GS take its place as the next NVIDIA card below the 7800 GT.
Leadtek WinFast PX6800 GS Extreme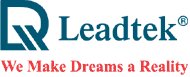 The first card that we'll be looking at is by Leadtek, and it's called the Leadtek WinFast PX6800 GS Extreme. The "Extreme" in the title refers to the fact that this card comes out of the box with a factory overclock. While the reference 6800 GS comes with a core clock of 425MHz and memory clock of 1.0GHz, Leadtek's Extreme 6800 GS's core and memory clocks are set at 485MHz and 1.1GHz, giving it a small boost in performance over the standard GS.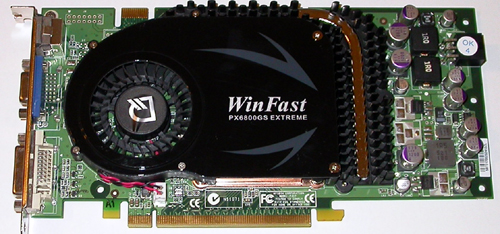 The Leadtek 6800 GS has a sleek look, with a glossy black cover on the heat sink and the WinFast logo centered in italics. Other than the sticker, the card looks the same as NVIDIA's reference 6800 GS. Also, an important thing to note is that the PX6800 GS Extreme comes bundled with games: Prince of Persia, Warrior Within, and Splinter Cell Chaos Theory. These games, as well as the factory overclock, make this card one of the nicer 6800 GSs for sale right now at about $213.
PNY GeForce 6800 GS Overclocked

Our next card is the GeForce 6800 GS Overclocked by PNY Technologies. PNY is a respected graphics card manufacturer and their 6800 GS looks to be of good quality. This GS also features a factory overclock, but it's slightly different with a core clock of 470MHz, and a memory clock of 1.1GHz.
The design of the card itself looks basically the same as the Leadtek and reference 6800 GS, with the exception of the cool blue and black design on the sticker with the cyborg head sticking out just underneath the Verto logo. The box has a similar design, with the increasingly disturbing cyborg head with its insides exposed poking out of a black lake, just underneath the PNY and Verto logos. Note that there are no games included with this card's software bundle.
EverTop GeForce 6800 GS

The next 6800 GS that we have is somewhat unique by a company called EverTop. EverTop is a Korean company and currently these 6800 GSs are only available for sale in Korea and Hong Kong. We've included the card in this review regardless of the fact that it's not available in the US at this time, in part because of the fact that it may become available here in the US sometime in the future (especially if there is interest), and also because AnandTech is a global site, and we're interested in testing parts from any country.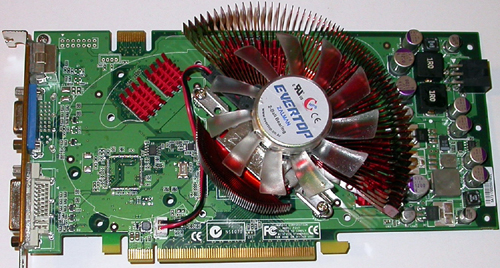 As you can see, the card looks a bit different from the other 6800 GSs that we have for this review. The card looks somewhat stripped down, with a very unique looking fan/heat sink combo. The HSF design is by Zalman who are well known for their quality cooling solutions. If anything else, this card looks like it could be the most easily damaged of the three, as the HSF seems particularly delicate. EverTop seems proud of it though, as the box allows a clear view of the front of the card (weird HSF and all) through a see-through plastic oval on the face of the box. The EverTop 6800 GS is the only one of these four cards that does not come with a factory overclock.
EVGA e-GeForce 6800 GS

The last card that we'll be looking at in this review is by EVGA, a company that we've had lots of good experience with here at AnandTech. They have consistently provided users with quality parts, impressive factory-overclocks, and an excellent warranty policy. Their card is the EVGA e-GeForce 6800 GS.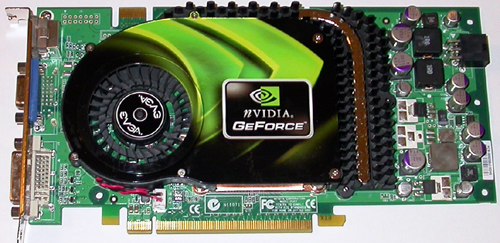 The EVGA 6800 GS sports the more conventional design of the PNY and Leadtek GSs, again with the exception of the sticker on the HSF. It has a glossy black cover, with some dark and bright green highlights and the NVIDIA GeForce logo on the front, as well as the EVGA logo printed twice around the center of the fan. The EVGA 6800 GS does come factory overclocked (450MHz/1.05GHz), but it doesn't come with any games bundled. Now, let's look at how these four cards overclocked.
Test Setup/Overclocking
The test setup that we used is designed to focus the stress of the game tests on the GPU. We therefore use very high end components in our test system in order to determine the maximum impact that a graphics card could have on a game. We also disable sound for testing and disable as many background tasks as possible. Since the 6800 GS is a mid-range part, we would expect people who purchase the card to be running a more mid-range system altogether. Performance may end up actually being a little lower in the real world, but for analysis purposes, it's easier to pinpoint the advantages of a specific part (if any) when you eliminate (or at least minimize) other bottlenecks that could be a factor in performance.
NVIDIA nForce 4 motherboard
AMD Athlon 64 FX-57 2.8 GHz Processor
2 GB OCZ 3:3:2:8 DDR400 RAM
Seagate 7200.7 120 GB Hard Drive
OCZ 600 W PowerStream Power Supply
User-overclocking is an important part of our testing, and it gives us an idea of how well these cards overclock above their factory settings. It's interesting to see that sometimes a card with a high factory overclock won't necessarily overclock as high as another lower clocked card of the same type. This can be useful information for those who prefer to overclock their own cards. At the same time, factory overclocked parts can be more attractive to users who just want to plug in the part and forget it (or who don't want to worry about voiding any warranties). In any case, here's what we ended up with when we overclocked these 6800 GS offerings.
| | | |
| --- | --- | --- |
| Graphics Card | Factory Speed | Overclocked |
| Leadtek WinFast PX6800 GS Extreme | 485/1.1 | 520/1.15 |
| PNY GeForce 6800 GS Overclocked | 470/1.1 | 490/1.15 |
| EverTop GeForce 6800 GS | 425/1.0 | 525/1.2 |
| EVGA e-GeForce 6800 GS | 450/1.05 | 510/1.15 |
So, we can see that the slowest card out of the box actually overclocks higher than any other card that we tested here. All of the cards do see a pretty decent speed bump over the stock 6800 GS, though.
Battlefield 2 Performance
We tested Battlefield 2 with the 1.03 patch and our own custom demo. The demo makes use of multiple vehicles and is very heavy on the GPU. Our tests were performed with all the settings on high and 4xAA enabled.
The good news is that it is almost playable at 1600x1200 with 4xAA enabled. Performance of the stock speed 6800 GS (same as the Evertop out-of-box speed) is much better than that of the X800 GTO without any overclocking or unlocking done to it. This game performs very nicely at 1280x1024 and is more than playable at 1600x1200 without AA enabled.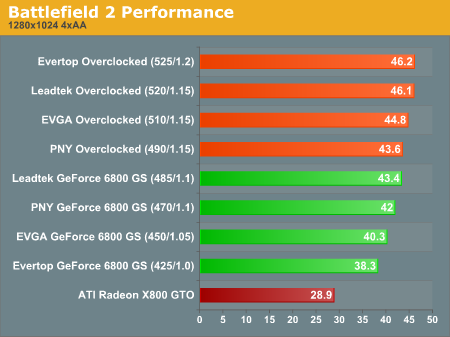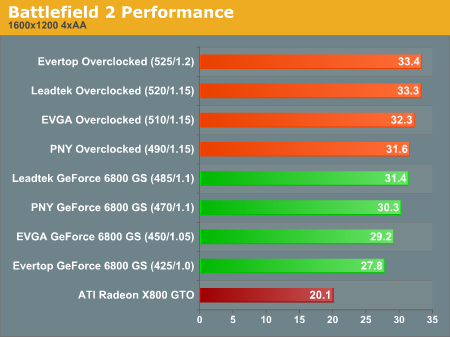 FarCry Performance
For our FarCry test, we went back to our tried and true built-in Regulator demo. This test hits indoor and outdoor scenes and is fairly taxing on graphics hardware. We can see from the tests that the X800 GTO is on par with the stock 6800 GS, but overclocking the 6800 GS can net us up to about 20% (plus or minus) more performance at the very high end. Even if your 6800 GS doesn't clock up to 525/1.2, scaling per clock is still pretty good in FarCry.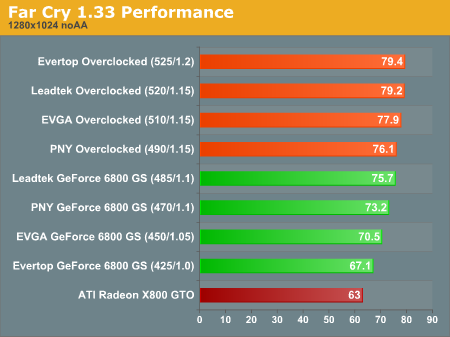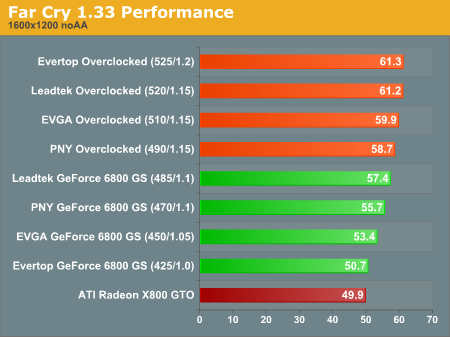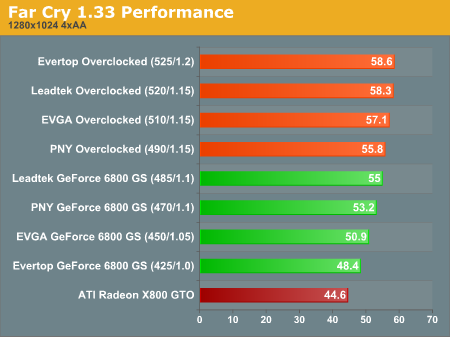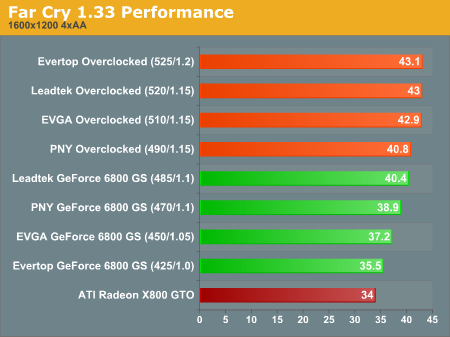 Splinter Cell: Chaos Theory Performance
All the SM3.0 options were enabled to test the 6800 GS, so the numbers aren't directly comparable to the X800 GTO. We see that performance of the ATI part is higher than the NVIDIA card, but image quality of the game running on SM3.0 hardware is vastly improved. You do get a trade-off, but if you want the eye candy, the 6800 GS is the way to go in the mid-range.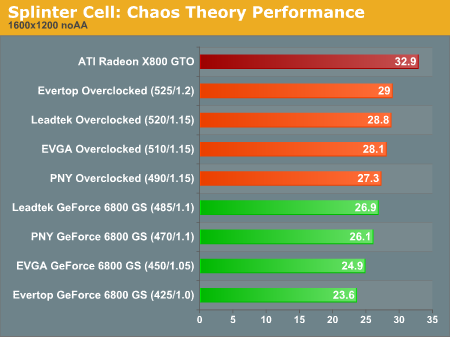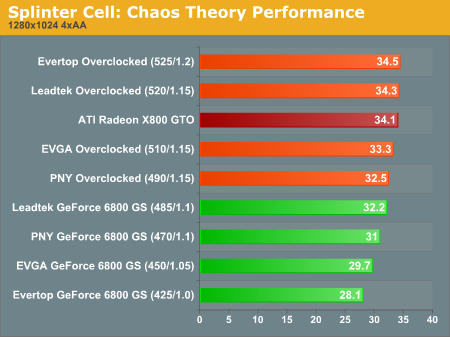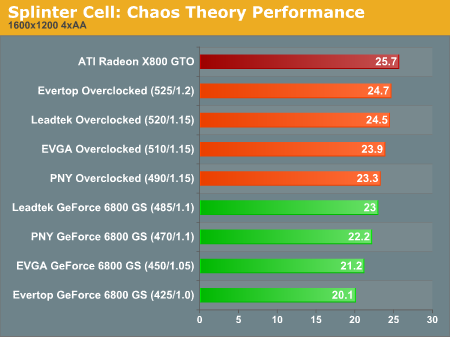 Quake 4 Performance
Quake 4 is an OpenGL based game built from a modified version of the Doom 3 engine. The game is beautiful and runs at good framerates across the board. As OpenGL software tends to favor NVIDIA hardware (especially with AA disabled), it isn't a surprise that the 6800 GS leads the competition in this test. This game remains just playable even at 1600x1200 with 4xAA enabled. The environments and gameplay of Quake 4 are well suited to moderate framerates in the same way that Doom 3 was playable at lower framerates than most other FPS games. This can be attributed to excellent game design and very smooth framerates during gameplay.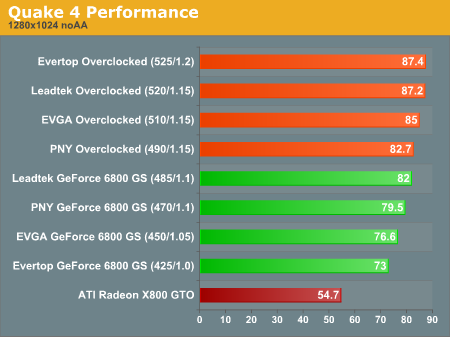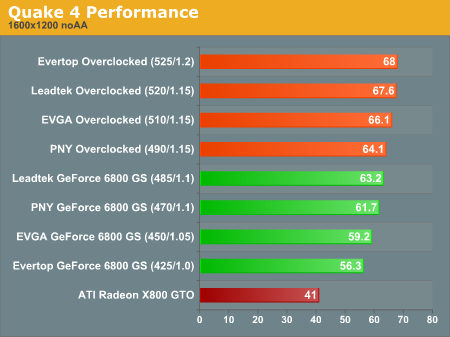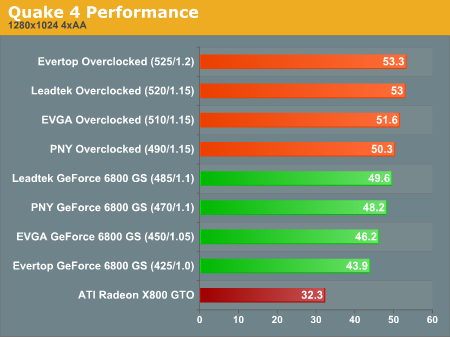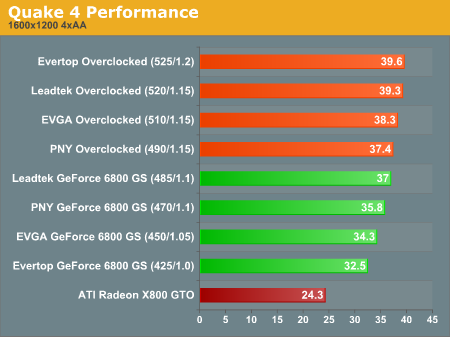 Power, Heat and Noise
Power Load
To test the power load of the card, we measure the total watt usage of our test computer at the wall outlet, recording the power usage of our system in two different states. The first state is with the card installed and the computer is idle, and the second is during intensive performance tests (looped Splinter Cell benchmarks). This way, we are able to get a general idea of how the power usage varies between cards.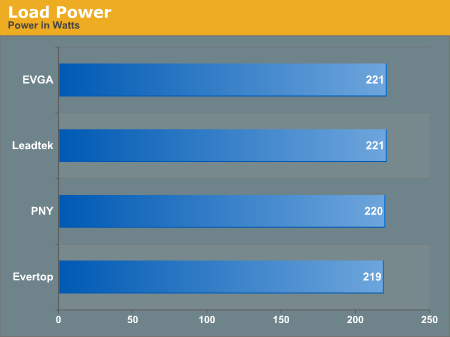 Heat
We also wanted to see how much heat these cards generated. We found that the EverTop 6800 GS generated the least amount of heat by a wide margin compared to the other three. The unique HSF design of this card may contribute to its low level of heat.
| | |
| --- | --- |
| Graphics Card | Temperature |
| EverTop GeForce 6800 GS | 56 C |
| EVGA e-GeForce 6800 GS | 64 C |
| PNY GeForce 6800 GS Overclocked | 67 C |
| Leadtek WinFast PX6800 GS Extreme | 69 C |
Noise
We were curious to see what kind of noise these cards generated as well. What is interesting here is that, similar to our heat tests, one card stood out among the rest. The EverTop GS was by far the most quiet of these cards, again perhaps due in part to the radical HSF design. The fact that it is the lowest clocked of these cards also plays a part here. The EverTop is the only card to use a non-reference HSF. Obviously, the Zalman fan, though bulky, does a better job of cooling the card while it keeps quiet. Below are the noise levels for each card.
| | |
| --- | --- |
| Graphics Card | Noise Level |
| EverTop GeForce 6800 GS | 45.9 |
| PNY GeForce 6800 GS Overclocked | 50.1 |
| EVGA e-GeForce 6800 GS | 50.5 |
| Leadtek WinFast PX6800 GS Extreme | 50.7 |
For reference, the noise level of the room with the system off was 39.1.
Final Words
The introduction of NVIDIA's 6800 GS marks a shift for NVIDIA (and ATI) parts. With the 6800 GT starting to fade away, we are seeing more emphasis on value, with a card just as good as the GT, yet significantly cheaper. ATI scored points with the X800 GTO, and we saw in the performance tests that game choice makes a big difference on whether ATI or NVIDIA come out on top near the $200 price point. The 6800 GS definitely hits the earlier mentioned "sweet-spot" in terms of performance per price and is a persuasive answer to those looking for a smart purchase of an all-around good card, especially since the 6800 GS has the advantage over the X800 GTO in features. When the 6600 GT first came around, the high value that it offered at this price earned it excellent acclaim, and we've now essentially seen the shift of a 6800 GT class part down to the original 6600 GT price point.
We here at AnandTech have available to us a wide variety of graphics solutions that we use for work and recreation, and the types of games that we test and play are varied. This reviewer's game of choice is currently Battlefield 2, a graphically intensive game that offers fast and intense gameplay, and the 6800 GS happens to be the card that he's been using in the system. The game runs beautifully and is very enjoyable at 1600X1200 with all the settings on high (no AA). Those who have to have AA enabled or have a monitor that can display higher resolutions might find this card lacking, but for most Battlefield 2 players, the 6800 GS is more than powerful enough to get in lots of kills. This reviewer doesn't claim to be an expert at this particular game, but rest assured, it's his skill and not the hardware that's lacking. Benchmark tests give a very accurate picture of how well a game performs on any given system, but for the casual gamer, the real test is how enjoyable the game play is.
We've established that the 6800 GS performs well, but let's talk a bit about the other aspect of these cards - the price. Because the EverTop 6800 GS is only sold in Korea and Hong Kong at this time, we aren't able to provide a price for this card right now. (We will try to update this information when we can.) At the time of this writing, EVGA's e-GeForce 6800 GS is listed at $190, the lowest price of the three. The PNY GeForce 6800 GS Overclocked is a close second at $200, and it's a bit of a toss-up between these two cards, considering that the PNY is clocked slightly higher, but EVGA still has the exceptional lifetime warranty policy (EVGA will replace your card for any reason except physical damage; this includes damage due to overclocking. Check the EVGA website for details). The Leadtek WinFast PX6800 GS Extreme is a little more expensive than these two, but the high factory/user overclock and game bundle make it a pretty good deal. But if you don't want the games, it might be wiser to buy one of the other cards (especially if you plan on overclocking), as they offer nearly the same performance for a little less cash.
Here, again, is a listing of the cards as well as their clock speeds and price:
| | | |
| --- | --- | --- |
| Graphics Card | Factory Speed | Price |
| Leadtek WinFast PX6800 GS Extreme | 485/1.1 | $213 |
| PNY GeForce 6800 GS Overclocked | 470/1.1 | $200 |
| EverTop GeForce 6800 GS | 425/1.0 | N/A |
| EVGA e-GeForce 6800 GS | 450/1.05 | $190 |
NVIDIA's 6800 GS does in fact seem like the card that most gamers will be looking to aim for a solid mid-range upgrade, especially if unlocking the pipelines of the X800 GTO isn't something that sounds like fun to you. As the rest of the 6800 series is phased out, we're now looking ahead in anticipation as to what NVIDIA has in store for us next, and in the meantime, we're sure that many gamers (us included) will be putting their 6800 GSs to good use. We're also looking forward to seeing how things play out in the mid-range category on ATI's side, particularly with their X1600 series, which looks to provide some competition for the 6800 GS as a solid mid-range part (depending on the flavor and where prices stabilize). As always, we will keep you posted.