Original Link: http://www.anandtech.com/show/1921


We've already had a lot of coverage from this year's CES, with most of that focusing on the true consumer portion of the show. That's a broad market, which covers just about every conceivable electronics device, but so far, we haven't focused a lot on the computer enthusiast segment. With our wrap-up coverage of CES, we have some information from many of the more familiar names in the computing industry, along with a few miscellaneous tidbits that we haven't mentioned so far.
Memory & Cooling
Corsair
Corsair was showing their first water cooling solution at last year's CES, and this year's offering incorporates what Corsair has learned in the past year about water cooling.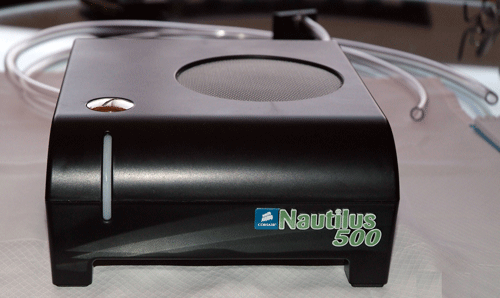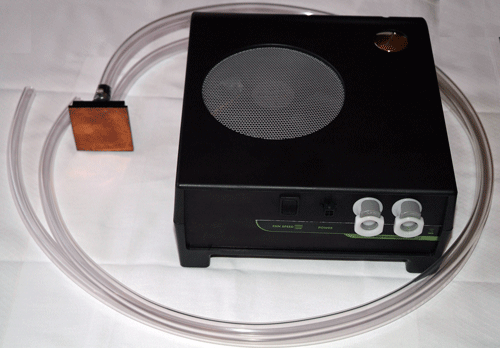 The Nautilus is a standalone self-contained water-cooling appliance powered by the 12V line in a 4-pin Molex connector from the motherboard. You definitely do not need an external plug and setup is said to be a fast 10 minutes or less. The Nautilus gives new users a fast, easy choice for efficient overclocking of the CPU and the added advantage of almost silent water cooling. One of the best features is the price - Corsair expects the Nautilus to sell for about $150.
Kingston
Flash Memory seems to shrink in size with every new announcement, and Kingston launched their Micro SD memory at CES.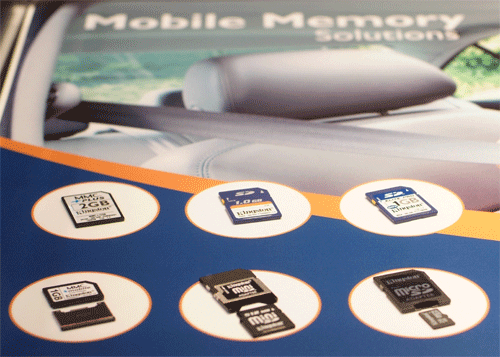 The tiny Micro SD (lower right) joins Kingston's extensive line of mobile phone flash memory designed for ultra-low power consumption and a small size that makes transfer between phones an easy task. Kingston Micro SD is available as a 256MB card weighing just over a gram - targeted for use in the new smart phones.
Kingston also was promoting its own 15-in-1 flash reader that will retail for $19.95. With so many cheap readers around, you might wonder why Kingston decided to enter the market. They tell us that many readers are extremely slow and make high-speed flash perform very poorly in read operations when attached to a computer. The Kingston unit was designed to read at high-speed with no performance compromises. A fast, low-cost, flexible reader from a company like Kingston is certainly a welcome choice in today's market.
OCZ
OCZ recently went beyond their memory roots with power supplies aimed at the enthusiast. That move was a huge success for OCZ, so this year, OCZ is taking aim at a new product line for the Enthusiast.
When computer hobbyists get the overclocking bug, it isn't long until they discover that the key to pushing the performance envelope is cooling the CPU. The first stop is improved air-cooling, and OCZ has been a supplier of air-cooling solutions for many years. The next logical performance jump is water cooling, which cools better than air with the added advantage of near silent operation. The ultimate is phase-change cooling, which operates much like a freezer with a compressor. Phase-change allows insane CPU overclocks, but the cost of admission has been $800 to $1500 or higher - which makes it out of reach for all but the most dedicated, and well-heeled, enthusiast.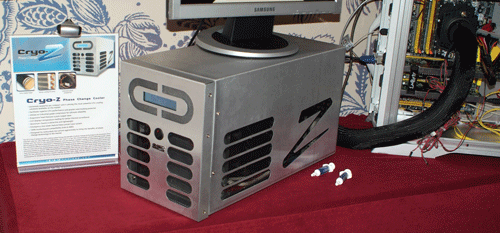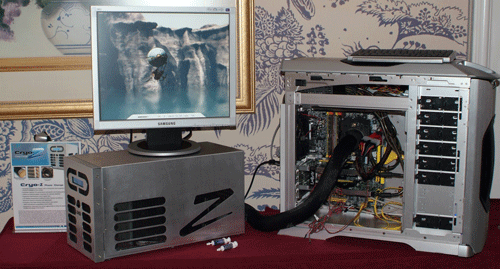 OCZ hopes to make phase-change a real choice for more buyers with the introduction of a $299 MSRP Phase Change cooling system. Shipments should begin in about 30 days, and OCZ tells us that once sales volume picks up, they are hopeful that prices can drop even further to the $200 range. This will make OCZ phase-change about the same price as some of the better water-cooling kits.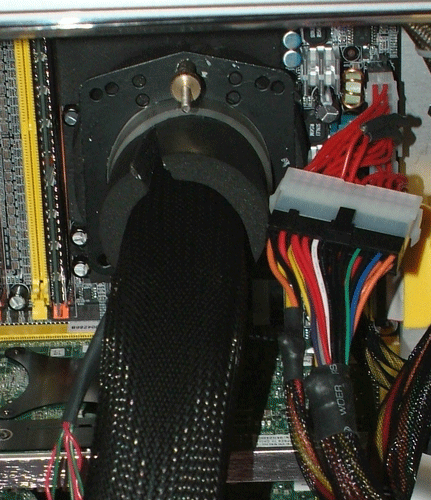 That $299 will include a copper head for the processor. The OCZ design is not a full case, but a compressor with a phase-change head. OCZ tells us that the shipping design will have the head cable coming from the top of the compressor box - which will allow modders to use the compressor case as the base of an existing case if they choose.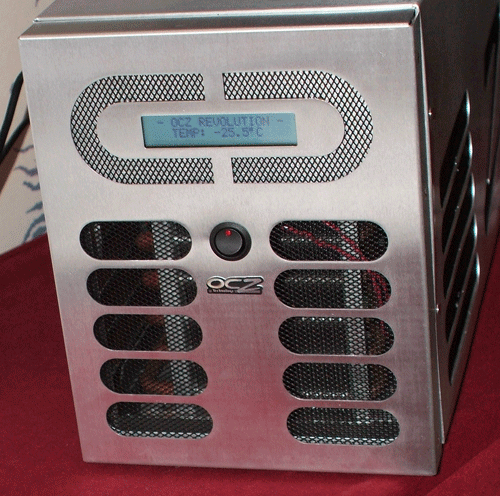 The front of the unit reports operating temperatures at the CPU. The demo unit was reporting -25 to -27C driving an AMD FX57 processor at 3.2 GHz through loops of FutureMark 3DMark2005.
A-Data
A-Data is another RAM manufacturer, probably best known for their value-oriented RAM. They did have a new product that
sounds
interesting. They list a CL1.5/2 DDR600 Viteste DIMM set. We would wager that's CL1.5/2 on select motherboards at stock DDR400 speeds, with relaxed timings allowing speeds up to DDR600. That's not much different from what TCCD DIMMs have already offered, but if we do find higher speeds with CL2 timings, we'll be the first to let you know. There's nothing wrong with having another enthusiast memory choice, of course, but as we've said before: calling a product "Extreme" doesn't necessarily make it so.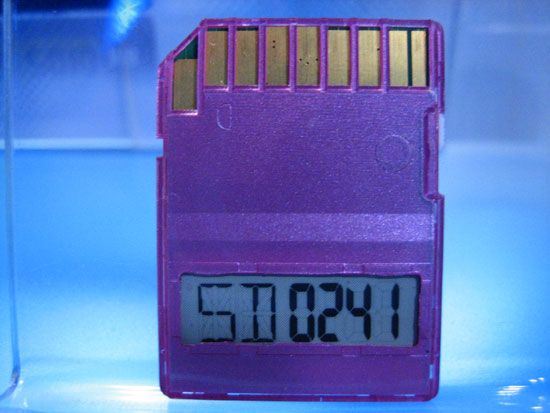 Flash memory is also a major part of most memory manufacturer portfolios. One unique item - which may or may not be useful, depending on your perspective - was an SD chip that would show the remaining available free space on an LCD readout. Yes, you can get that same information from most cameras, but there are certainly some PDA users and other people who will find the feature useful.
Wintec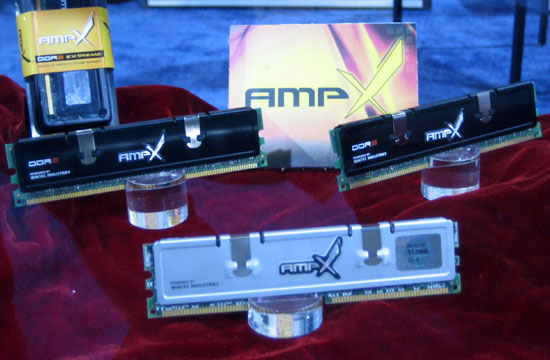 Wintec had similar offerings to A-Data and other RAM manufacturers: plenty of value and mainstream parts, some performance parts, and a wide selection of DDR and DDR2 DIMMs. Their AmpX line is another enthusiast brand, with both DDR and DDR2 DIMMs available.
TEAM
The Taiwan manufacturer TEAM Group Inc. has entered the US Market with a full line of flash memory ( microSD, SD, microMMC, MMC, mini SD, Compact Flash).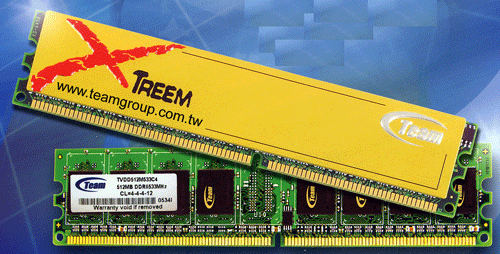 They also offer a complete line of DDR and DDR2 memory ranging from value lines to their top-performing XTreem line aimed at the computer enthusiast. We will be testing XTreem memory in an upcoming 2GB DDR roundup.
Asetek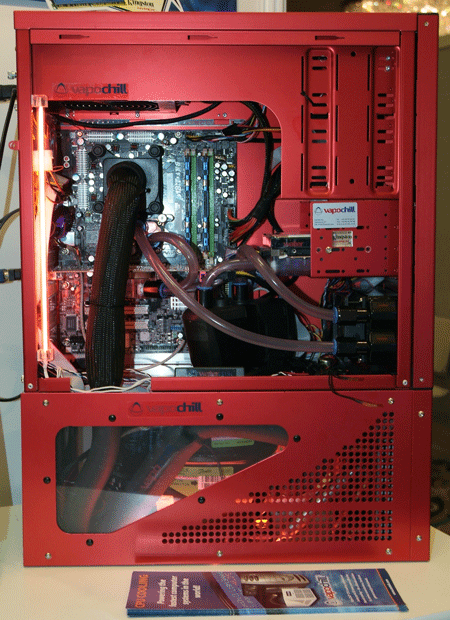 VapoChill has made quite a name for Danish manufacturer Asetek. VapoChill is still king of phase-change cooling and Asetek was showing several of their beautiful phase-change cases that sell for $800 and up. The Vapochill display featured an Intel dual core processor running at 5150Mhz with the aid of phase-change cooling.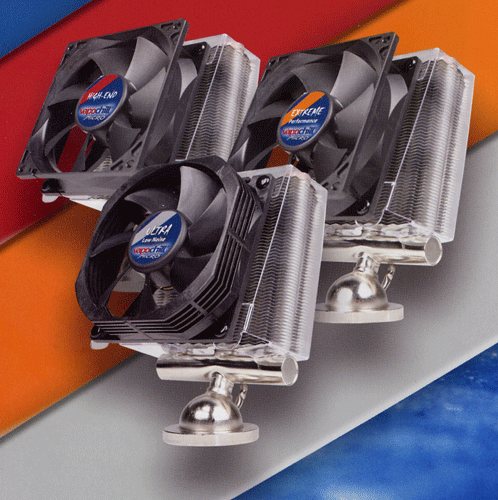 Asetek was showing a full line of CPU cooling products. These ranged from the $40 to $50 air-cooling MicroChill with Freon filled heatpipes and a radiator producing a phase-change like effect . . .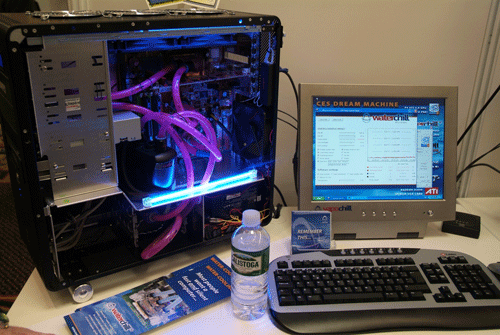 . . . to the newest Waterchill water-cooling kit designed for great overclocking in a silent computer.

Asetek also introduced a new external water-cooling system at CES 2006. As with the Nautilus at Corsair, the external system is designed for a quick install and silent cooling.
AOpen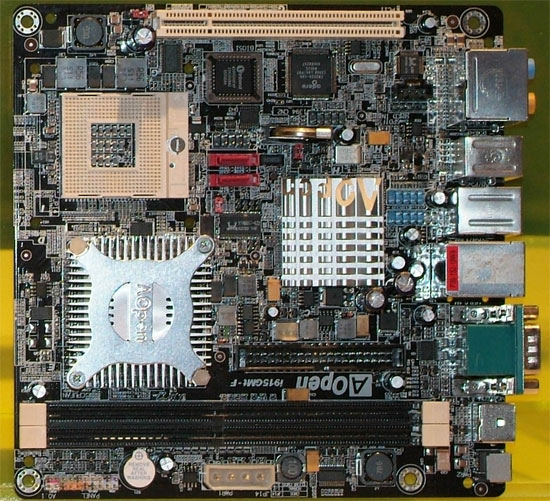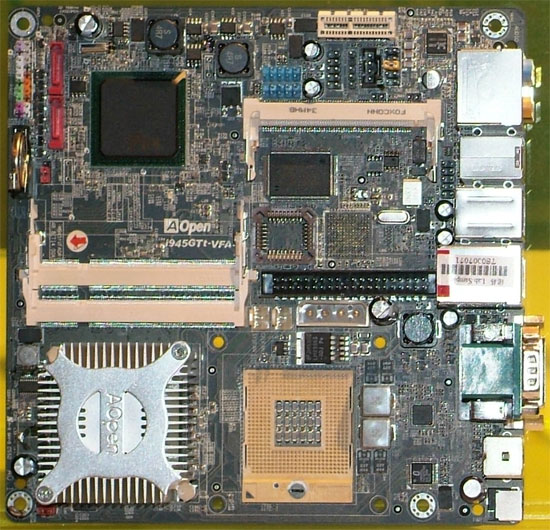 Aopen has not been focusing much on the high-end motherboard scene lately, but they have numerous other products besides motherboards. That's not to say that they weren't showing any new motherboards, as they have several updates coming out. A 975X chipset motherboard was on display, and we hope to have a roundup of some of the 975X based boards done as soon as we can. Core Duo support is another addition, and Aopen has a Mobile on Desktop ( MoDT) uATX board for that market. Performance of such a solution should be competitive, but more importantly for the target market is that the performance can be achieved with very low heat output, which means low noise as well. The design will be used in some of Aopen's SFF/ MiniPC and HTPC barebones cases and should be available very soon. We took pictures of several such systems, which you can see below, and we hope to take a closer look at some of them in the future.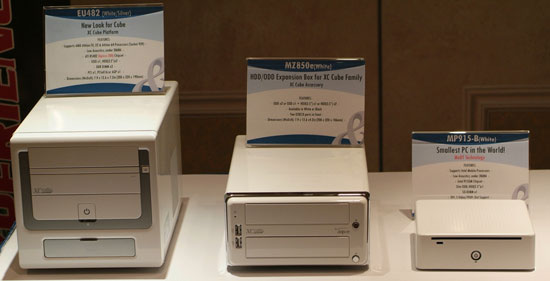 Aopen also makes a full range of cases, from the "smallest PC in the world" - a blatant knock-off of the Mac Mini called the PC Mini - through full size ATX cases. We're working on a review of the PC Mini already and will have that done in the near future. The one concern we have is that it is being sold as a barebones system rather than a complete unit, and working within such a confined space can be difficult. Some of Aopen's partners may offer units pre-configured with HDD, RAM, and CPU at a price that will hopefully be competitive with the Mac Mini. For more typical computer use like office applications, email, and web browsing, there's really no need for high-end graphics and processor upgrades. A DVI port provides a great fit for LCD users, and component out as well as S-VIDEO support also allow the unit to function as a basic HTPC. If you don't want a Mac and you want a small PC that isn't a notebook, it's a very interesting package. Those who want a bit more in the way of expansion options can look towards some of the larger SFF designs.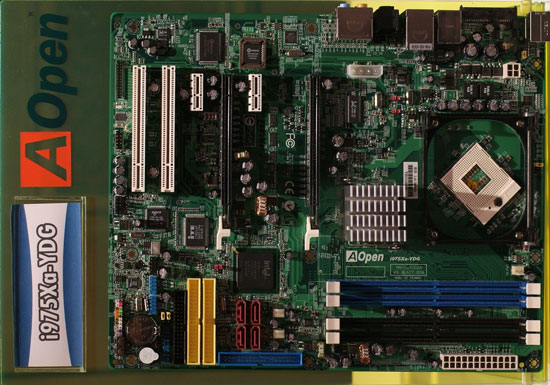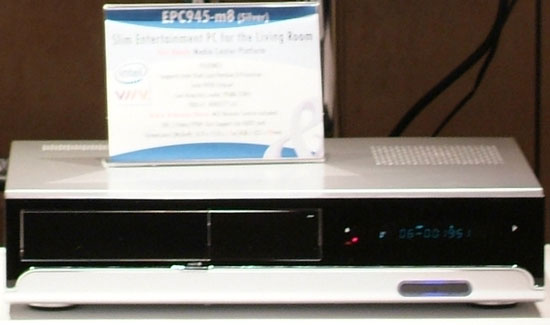 One unit using the Core Duo motherboard and Viiv certified is the Aopen EPC945-m8. Viiv units were on display at numerous places, and there is a clear goal of getting Intel-based systems into the living room. Whether or not consumers are ready to purchase such computers is still a matter of debate, but the sleeker appearance and lower heat output of the upcoming designs is certainly a step in the right direction.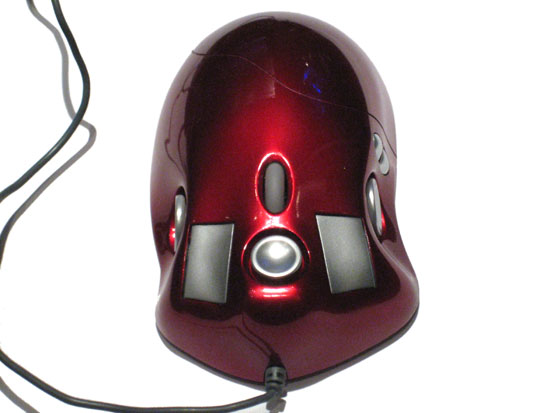 One final item shown at the Aopen booth was a "3D Mouse". The optical mouse has the standard left and right buttons, but besides those are three directional buttons (sort of like a gamepad controller) that can be used to manipulate objects in 3D environments. A cube was on display, and you could twist, rotate, shove, etc. the cube by manipulating the buttons. There is definitely a learning curve to the process, and whether or not the product will actually see full-scale production is anyone's guess. The closest comparison that I can come up with is that using the device is something like a cross between a mouse and the old SpaceOrb controller from the Quake/Decent era. One problem with such devices is application/game support, and really, it seems more of a gimmick than something truly useful, but it's at least something different from the norm.
ASUS
The bread and butter of ASUS has always been motherboards, and it comes as little surprise that they have products using just about every conceivable chipset and for every market segment.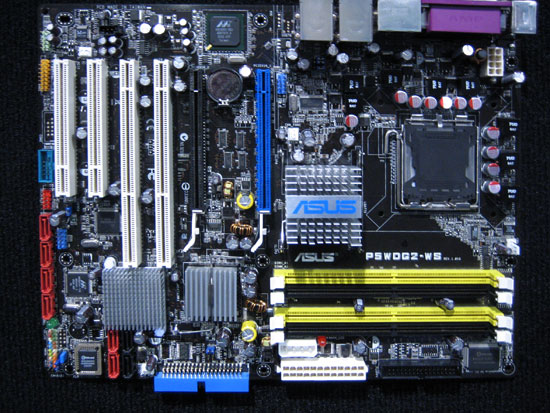 At the high-end, they have the workstation class P5WDG2-WS motherboard using the 975X chipset and sporting dual PCI-X slots as well as dual PCIe X16 (with X8 data connections) slots for CrossFire.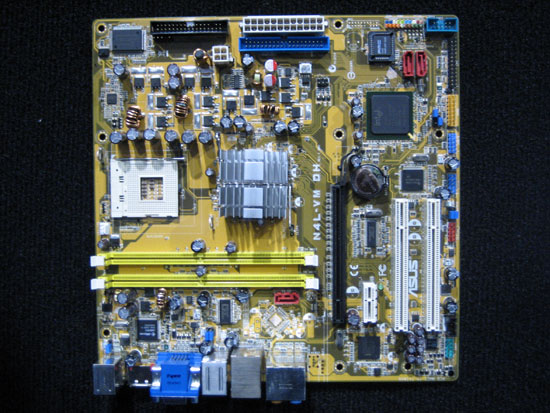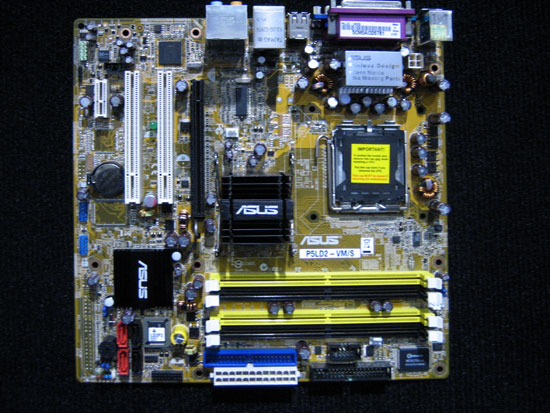 They're also working on "Digital Home" uATX boards for Pentium D (P5LD2-VM DH) and Core Duo (N4L-VM DH), which naturally means that they're Intel Viiv ready. Viiv has been a major point at most of the motherboard locations, and it appears to be the HTPC equivalent of Centrino: a mostly pre-existing set of technologies that are now being grouped and branded under a single name. Like Centrino, the Viiv name will require the use of an Intel processor (dual core Pentium D or Yonah/Core Duo) and chipset. The push into the consumer space is often more about marketing than technological prowess, and Viiv will be leading the way. Don't get us wrong - it's not a terrible platform, but honestly, it doesn't appear to add anything new to the market; it's just Intel's take on HTPC.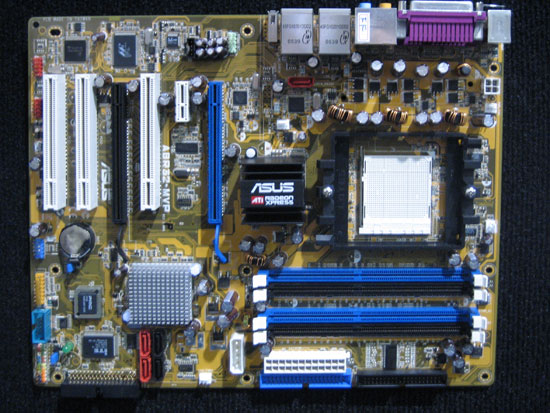 We found their
Asus A8R-MVP
to be a good quality ATI CrossFire solution at a great price, and they're looking to improve on the design with the RD580-based follow-up, the A8R32-MVP. The RD580 chipset will be the first major chipset to support true dual X16 slots off of the Northbridge, and it looks to be one of the more exciting chipsets of the coming year. The layout has also been modified from the original MVP to improve the support for running two large GPUs, with two slots separating the X16 slots. Overclocking should be even better than the already impressive RD480-based boards. It's a bit surprising that the design is still targeting the mainstream market rather than the high-end, since in every other way, this appears to be a great high-end board.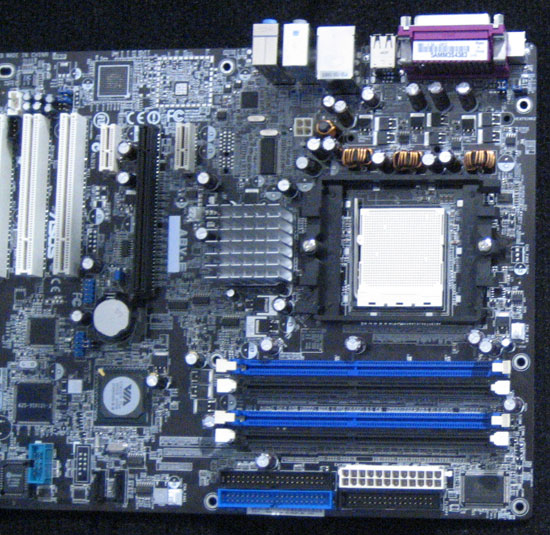 ASUS was also one of the few locations to have a K8T890 board on display, their A8V-E SE. While the features and specifications on the board appear decent, it's difficult to find a place for the board in an already crowded market. Compared to nForce4 Ultra boards, the lack of SATA 3.0 Gbps support or any other standout features seems to indicate that this is largely a value-oriented board. As long as the price and performance are right, though, there will likely be a few willing buyers.
DFI
The most significant new item at DFI could not be photographed, since it is still under NDA. We can, however, tell you that DFI will be producing a top-end ATI RD580 Socket 939 motherboard for dual x16 Crossfire. This time around, DFI is using the excellent ULi M1575 south bridge with competitive USB performance and SATA2 3Gb/sec with full support for NCQ. DFI expects to ship the new RD580 at the time of the ATI launch in mid to late February.
On display at DFI were two new microATX boards based on the ATI and nVidia integrated graphics chipsets.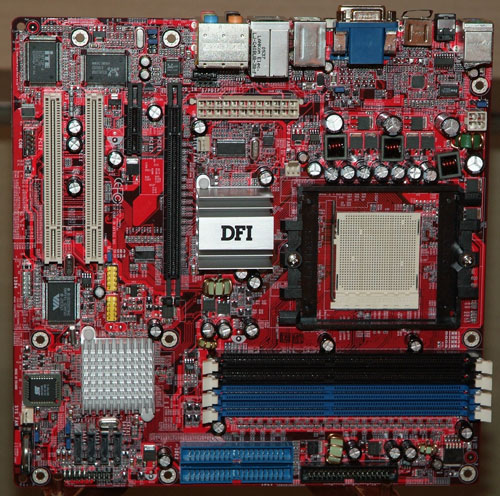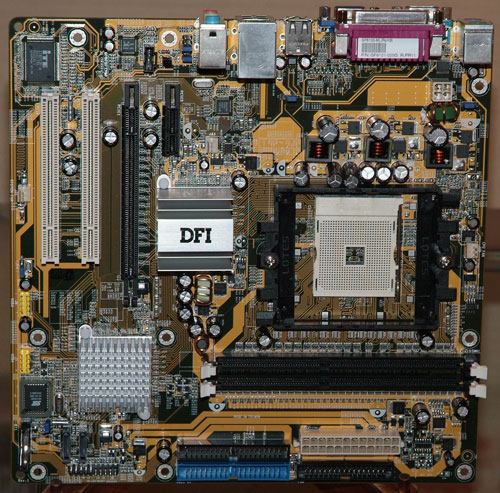 At the top is the DFI Socket 939 board based on the ATI RS482 (Xpress 200) chipset. The bottom board is Socket 754 featuring the nVidia 6100 chipset.
DFI also plans one more revision to their just-released nF4 Expert. The new board will provide further improvements to the overclocking capabilities of their nF4 Expert.
MSI
MSI has been relatively quiet of late, so we were curious to find out whether they had anything interesting to show us.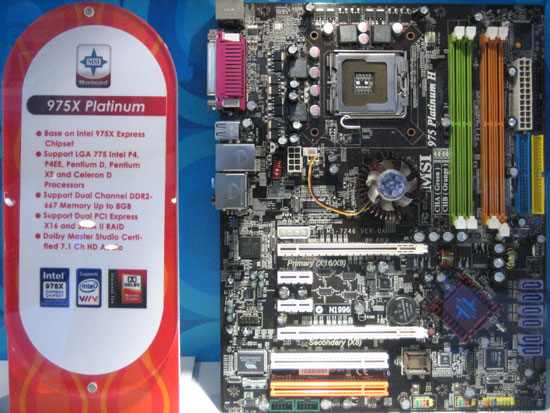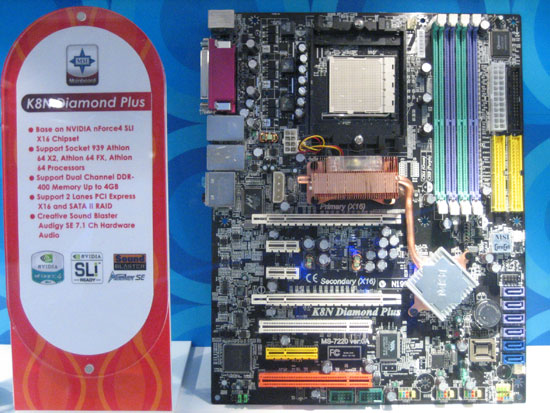 Like most other Tier 1 manufacturers, MSI is working on a 975X motherboard, the 975X Platinum. Features are comparable to what most other 975X boards are including, with the only noteworthy addition being Dolby Master Studio certification for the audio. The socket 939 based K8N Diamond Plus is similar in many ways to the 975X board: it's a dual X16 SLI board, and once again, special attention has been given to the integrated audio. A Creative Audigy SE 7.1 chip is integrated onto the motherboard, which should be better than most other onboard solutions. MSI has also used a heatpipe cooling arrangement for the chipset, which should help to accommodate longer graphics cards.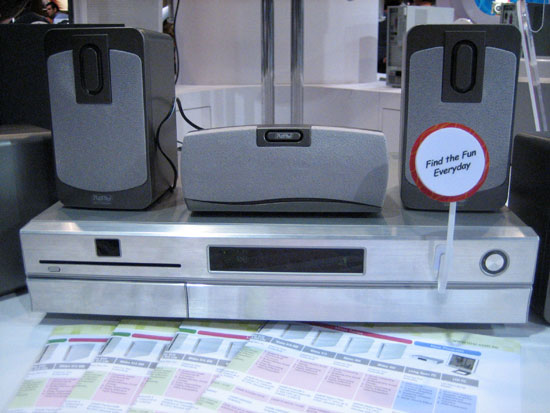 MSI was also showing products other than motherboards, including a variety of ATI and NVIDIA based graphics cards, but there wasn't much new in that area. We know that both ATI and NVIDIA are working on their next generation products, but we don't have anything that we can discuss or any images to show at this time. We did get a picture of MSI's HTPC barebones unit, pictured above. Since this is the
Consumer
Electronics Show, it should come as little surprise that virtually every motherboard-related company was showing some form of home theater device.
ECS
ECS has had a few interesting designs lately. First is their hybrid motherboard platform, the PF88 Extreme Hybrid, which allows you to convert to most other CPU/RAM platforms with the purchase of the appropriate daughtercard.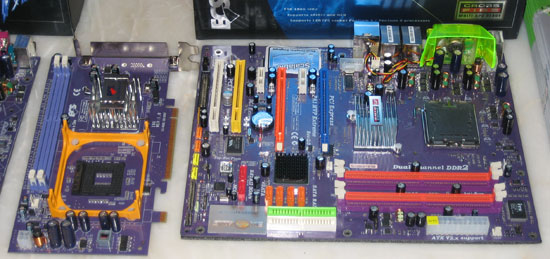 Presently supported are socket 754, 939, and 479. This product has apparently done quite well in Europe and Asia, but honestly, it doesn't impress us too much. By the time you spend $40 for the daughtercard and buy a new CPU and RAM, you've spent nearly as much as what you would pay for a new platform. We would prefer to keep the old system as a secondary unit or sell it off rather than worry about plugging in a new CPU, RAM, and daughtercard and leaving the existing components in place. Some of you might still find it worthy of consideration; we would say it's
interesting
, but we simply don't find it particularly useful.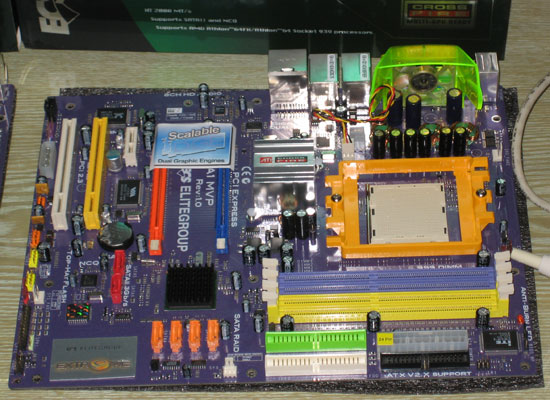 Multi-GPU motherboards were a major theme at ECS, with some choices that we will have to test before recommending. Every possible official option is present or in development, along with a couple of unofficial configurations. ECS was one of the few places with an RD400X based system in development, and they actually have two: The PA1 MVP and the PA1 MVP Lite. The major difference is that the Lite model omits Gigabit Ethernet support and Firewire. Both are CrossFire platforms for Intel systems.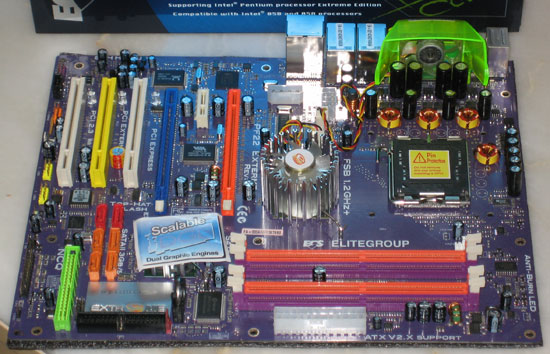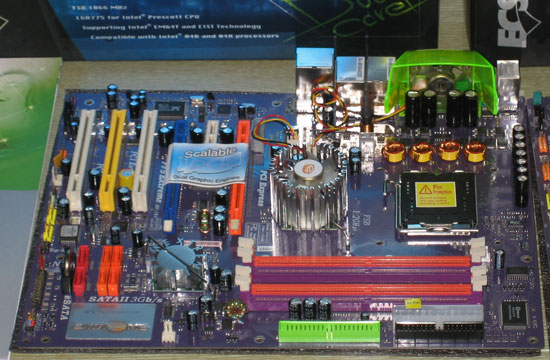 Even more unusual are the next two multi-GPU boards, both also for socket 775. The first is the PF22, a 955X-based motherboard with two X16 slots, one with only a 4X data connection, which is nevertheless listed as being CrossFire ready. The PF5 goes one step further, sporting a 945P chipset with the same X16 slot configuration, only with the claim that it is SLI hardware ready. Both are Extreme series boards, though whether they're truly geared towards the enthusiast or not remains to be seen. ECS does have a 975X board in development as well, with dual X16 slots (both with X8 data connections). Like Aopen, their 975X board will support the Core Duo ( Yonah) chips and socket 479 as opposed to 775. All three of these boards are unusual in some form or another, and we're curious to see how they actually work in practice.
What we would really like to see is for ATI and NVIDIA to both quit arguing about chipset superiority and simply allow their cards to run on any available platform. We've seen SLI on 975X and Xpress 200, and we've seen CrossFire on all the dual-X16 slot boards. While selling both the graphics cards and the motherboard chipset brings in more money, it's better to at least sell the graphics cards than to not sell anything at all.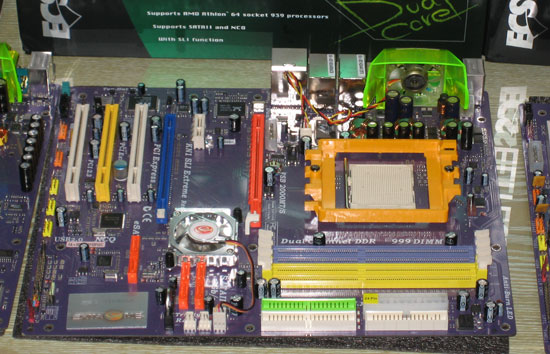 In the more typical areas, ECS has a dual X16 SLI board in development for socket 939, the KN2 SLI. A standard dual X8 SLI board is also available, the KN1 SLI Lite. CrossFire isn't being neglected either for AMD systems, as both the RD480 and RD580 chipsets will be supported. However, the RD580 solution will be for socket M2 (now AM2) rather than socket 939, so it's still about six months out.
There are also plenty of boards that don't include support for multiple GPUs in the works or already shipping, but these weren't as attention-grabbing as the above options. Then again, there's something to be said for sticking with the guidelines of Intel, ATI, NVIDIA, and AMD. Going against the grain is a good way to stand out, but we can only hope that it will be standing out in a good way rather than serving as an example of what not to do. Time will tell whether ECS is being creative or merely insane.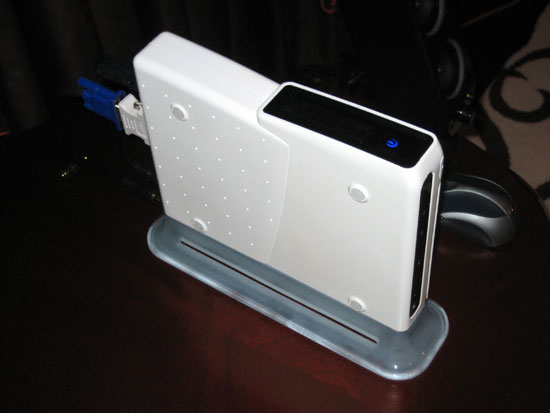 ECS also had a Viiv ready solution on display, the P60. The unit is sleek and relatively attractive, and it includes a Mini-PCI TV tuner. It remains to be seen whether ECS will be selling the P60 directly or sourcing it for other interested parties. How many of these Viiv systems will reach market and how they'll perform is still up in the air, but clearly, Intel's current direction is to push that market. Hopefully, we'll get some units in-house for further testing in the not-too-distant future.
Sapphire
Sapphire was showing several interesting new products under NDA. We couldn't provide pictures, but the new ATI video card will be launching soon. Vendors tell us that they already have GPUs and completed cards this time around and therefore, product will be on the shelves at launch. Specifications hint that this may well be the new top-end video card, outperforming even the 7800GTX 512, which appeared in small quantities in what nVidia is now calling "limited release", and which has now disappeared from the market.
Sapphire was also showing several new motherboards based on the new ATI RD480 and the upcoming RD580 chipsets. While it took Sapphire quite a while to get 480 motherboards to market, they appear committed to providing ATI chipset motherboards looking ahead. Their RD580 boards look to be very competitive with the best products expected at the RD580 launch next month.
Since RD580 is also Socket AM2 compliant, you will see even more RD580 motherboards at the AMD M2 launch. We have also been told that the M2 launch is the likely time frame for release of the ATI SB600 south bridge.
Shuttle
Shuttle has updated several of their recent products, and we visited their suite to get a look at their latest offerings.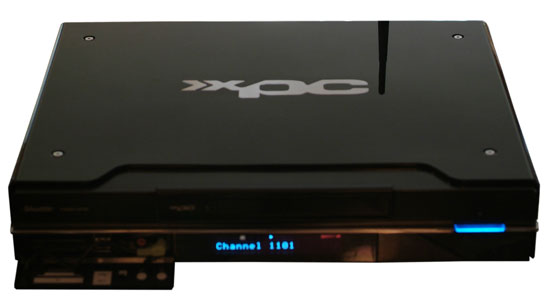 One of the more interesting items was their updated version of the M1000 HTPC system, the M2000. The original included a Pentium M 1.83 GHz chip and two analog AverMedia tuners. The M2000 has upgraded the chipset to the 945GM, and with the new chipset comes the Intel Core Duo processor (T1400 1.83 GHz 2MB L2 at present). The added processing power should help out quite a bit with video encoding/ transcoding, and it doesn't change the thermal characteristics much. A new chipset and processor aren't the only changes, though: they have added a hybrid HDTV/Analog tuner along with a second analog-only tuner. These changes address most of the concerns that we had with the M1000; all that really remains is proper CableCARD, which of course won't come until Windows Vista ships.
As expected, Shuttle is also working on various SFF updates. They have everything from a socket 754 update through socket 775 with Pentium D support and a socket 939 unit with SLI, the SN26P. If SFF designs interest you, Shuttle remains one of the top picks for any platform, and all of their designs are aesthetically pleasing.
Brightside
Those of you looking for a truly high-end HDTV may get your wish in the near future. A company called Brightside located in Vancouver , B.C., was demonstrating their LED-based LCD at an OCZ party. Taking a picture in a dark room of a bright display is an iffy proposition already, but the important distinction between a standard LCD and the Brightside model is still apparent. The bloom effect is caused by the camera, and your eyes will experience something similar with highly contrasting brightness levels - imagine looking into a street lamp at night, for example. The following image shows the same LCD panel used in displays with and without the Brightside technology.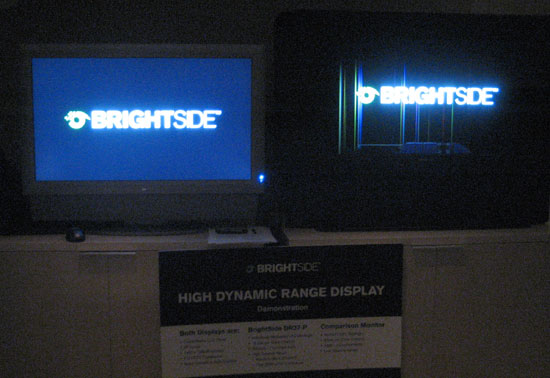 Images simply cannot convey what the display looks like in person, but the idea is rather innovative. Instead of standard backlights, Brightside uses an array of "around 1400" LEDs in a hex grid that are modulated in intensity based on what is being shown. This allows them to actually get true black as well as bright whites, and the result is extremely impressive. In the above image, the left screen should have a black background with the "Brightside" text in white; backlight leakage leads to the bluish result instead, and you can see that the right display actually has a true black.
The display is being marketed as a "High Dynamic Range Display", and while HDR is currently something of a marketing buzzword, even skeptics will notice a clear difference in quality. Unfortunately, the effect was marred by the fact that the Brightside display had been damaged in transit to the show: the bottom of the LCD panel had been shattered and there were vertical streaks as well.
There are a few drawbacks with the technology, but Brightside and their partners are working to overcome them. One is the power draw that the LED array requires, and the current model is clamped down at a maximum draw of 12 Amps. 1400 LEDs all at maximum intensity levels could use even more power, but few home power circuits could support it. The LED array also outputs quite a bit of heat, which is currently being addressed using liquid cooling on the rear of the unit. Not surprisingly, heat means noise as well, with the maximum noise level listed as 50 dB at 1 meter. Note that the current maximum brightness is around 3000 nits, which is almost painfully bright. Reducing the maximum brightness to more moderate levels results in a display that has a true 0 nit black level with a meaningless "infinity" contrast ratio. With more reasonable brightness levels, power and heat also drop to more typical levels.
The prototype designs are extremely expensive right now, costing close to $50,000; however, economies of scale come into play when mass production begins, and Brightside hopes to have retail product available within the next year at under $10,000. That's a lot of money, but true high-end home theater enthusiasts will definitely be amazed by the result. We likely won't see this technology on the desktop any time soon due to size issues, but the design scales quite well from the 37" display pictured above up to 65" models.
Long-term, the goal is to reduce the power requirements and size, thereby reducing price. Brightside is certainly one of the more promising prospects for improving display quality in the near future. The idea of zoned lighting to get LCD black levels corrected makes sense, but it also requires a lot of extra components and circuitry. The development of a crystal matrix that can block 100% the backlight is something of a Holy Grail for LCD panel manufacturers, so unless they can figure that out, the industry will be looking for alternatives such as those that Brightside is working on.
DualCor
With Intel launching dual core "Core Duo" mobile chips, we were more than a little intrigued by a company operating under the trademarked name of DualCor.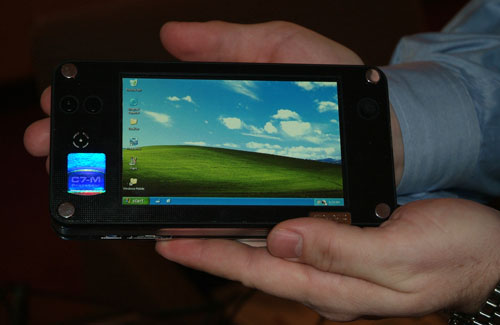 The company is now shipping a tiny computer that is more dual-board than dual core, since it marries a VIA C7-M 1.5GHz running Windows XP Tablet and an Intel PXA263 400MHz running Windows Mobile 5. The dual computer shares a full GB of DDR2 memory, 1GB Flash memory, and a 40GB hard drive between the two OS. The rear of the unit is currently something of a large heatsink, complete with metal fins. Under full load, the unit can get up to a warm 40+ C, but it wasn't too hot to handle.
The 3.3" by 6.5" dual PC is only a little over an inch thick, but still features an 800x480 262k color touch screen display, 300 hours of standby power, and 3 to 8 hours of continuous use computing with the 3.6AH lithium-ion battery. Ports include 3 USB 2.0 and a mini VGA output. There are controls for the speaker, microphone, and mouse. Communications are 802.11, Bluetooth, and the unit is 3G enabled.
A phone module is "under development" and will be available when the updated DualCor ships in March, adding cell-phone capabilities to the powerful little computer. Current pricing is about $1500, but this tiny computer has to be one of the most flexible "working" PCs that we've ever seen.
Closing Thoughts
If six articles from CES seems like a lot, we still didn't scratch the surface of everything that was shown. The Las Vegas strip seems like a relatively compact place when viewed on a map, but trying to get from one appointment to another while battling for right-of-way with 150,000 other invaders is anything but easy. The Las Vegas Convention Center alone provides over 3.2 million square feet of convention space, and between that and the numerous hotel suites and other locations, it would take a moderately sized task force to provide coverage of its entirety. However, there are many companies present that really don't have anything noteworthy, so while we didn't get pictures of everything at the show, we did our best to capture the highlights. Hopefully, many of these products will make it into the retail market in the next year, as opposed to showing up again as "new" ideas at CES 2007.