Original Link: http://www.anandtech.com/show/1918


There's no getting around the fact that this year's CES was absolutely huge. While we have yet to hear the official numbers, it does seem that attendence may be slightly down from last year. It is also possible that CES has gotten so wide and spread out that it is starting to look smaller than it is. But regardless of appearances, the show was a true playground for the tech enthusiast - both PC and Consumer Electronics varieties.
If you thought our Day 2 coverage was a bit on the long side, you should keep in mind that we wanted to include much more than we actually did. Our Day 3 coverage is no different, we saw everything from Canon's SED technology to a 0.85" 4GB hard drive.
So our coverage continues, with our first stop being a little company called Sony.
Sony at CES
We looked at Sony's set-top Blu-ray players in our Day 2 coverage but they also had two PC drives on display. There was nothing really separating these drives from others like them at the show, other than the fact that with Sony's styling they looked a bit better.
First up was an internal Blu-ray recorder:

and then an external unit: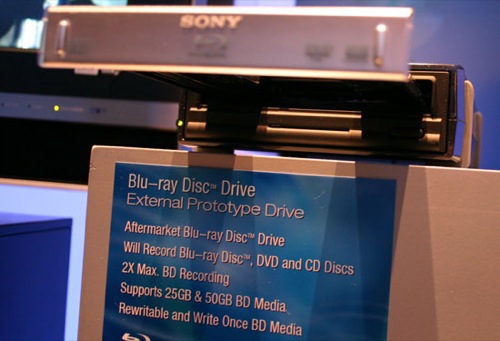 Sony's Micro Vault Tiny drives were on display, at sizes ranging from 256MB all the way up to 4GB. These drives reminded us a lot of the PQI i-Stick we reviewed in our last USB drive roundup.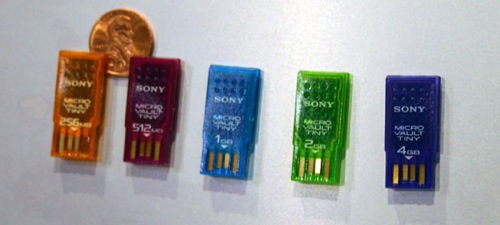 Sony had a more normal sized Micro Vault drive on display, but this one featured a fingerprint scanner for security: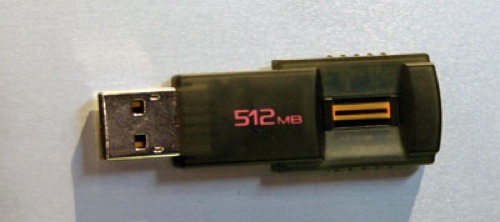 Next up were more normal storage devices, with a Sony 1" micro drive: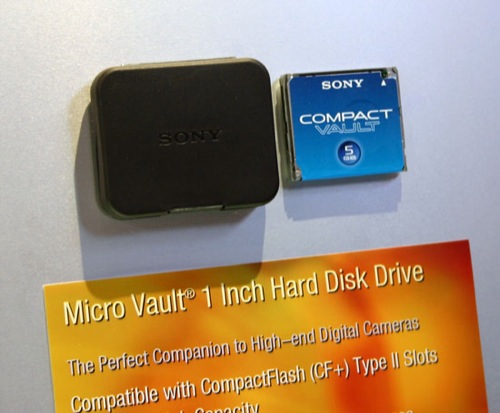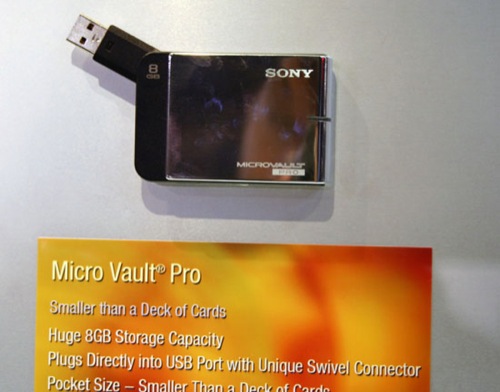 Playstation 3 at CES
The closest you could get to a Playstation 3 at CES was behind a revolving glass case that showed off the unit in all three colors (silver, white and black).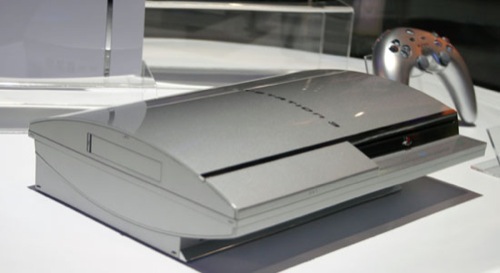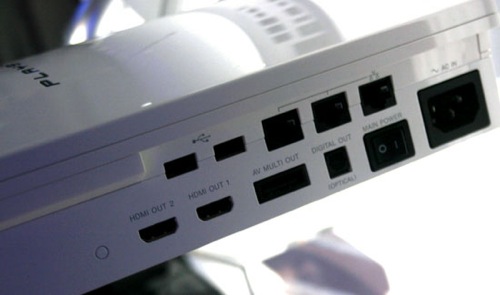 The design doesn't seem to have changed at all since we first saw it back at E3.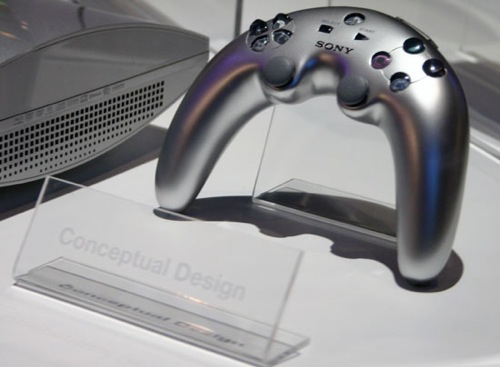 It's not too surprising to see that Sony now explicitly mentions that the controller is a conceptual design only, given the incredible amount of backlash its unveiling generated.
A video very similar to what was played at E3 was running nearby, but nothing in the video particularly caught our eye as something new.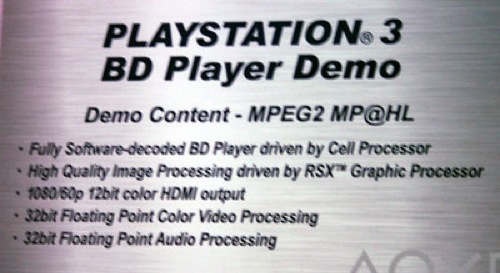 The one demo that was new however was a Blu-ray demonstration using the PS3. The demo was of software decoded Blu-ray playback driven by the PS3's Cell processor. However the content was MPEG-2 encoded and not H.264, which means that the task of decoding is not nearly as CPU intensive as it could be. One thing we have been very curious about is how well the PS3's Cell processor will be able to handle full bitrate H.264 decoding. Without a doubt NVIDIA's RSX GPU will offload some of the decoding, however it remains to be seen if Cell is enough to decode a full 40Mbps Blu-ray stream without dropping frames.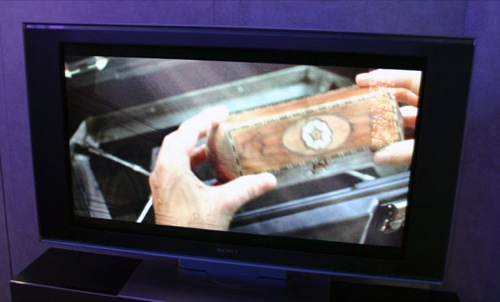 To put things in perspective, NVIDIA told us that with their current H.264 decode acceleration coupled with the fastest CPUs today they can handle around a 25Mbps H.264 stream.
Sony's 4K Digital Projector
Although not a consumer level product at all, Sony did have a 4096 x 2160 digital projector on display that looked like a small airplane engine.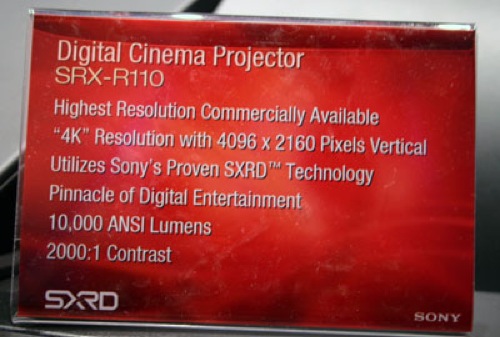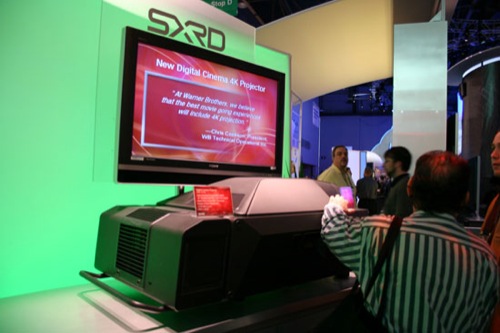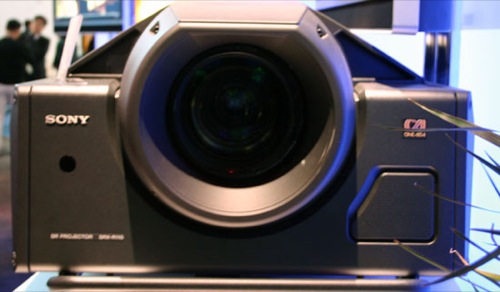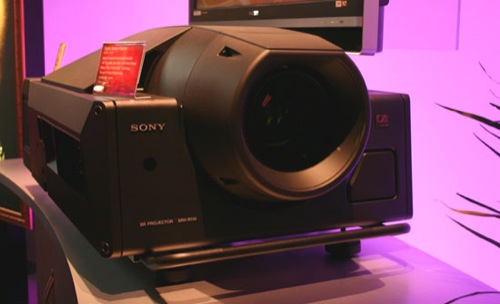 A Hard Drive smaller than a Quarter
Toshiba showed off the world's smallest hard drive with a 0.85" form factor. The 4GB drive featured a spindle speed of 3600RPM and weighed less than 10 grams.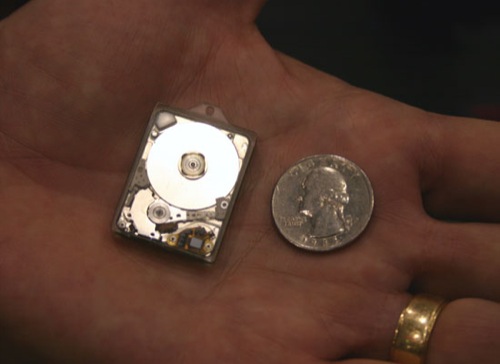 Toshiba expects the drive to be used in cell phones and other portable devices later this year.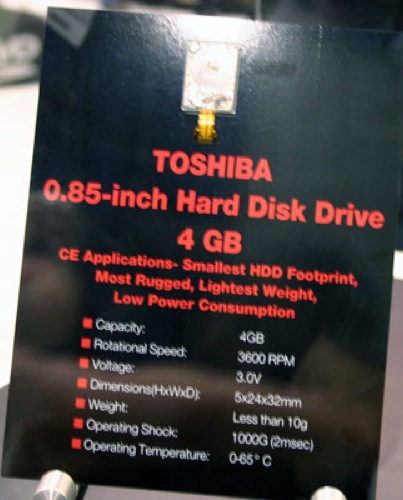 Although Toshiba says the drive features a "rugged" design we are still wary of putting a storage device with moving parts in something as frequently abused as a cell phone.
On display next to the 4GB 0.85" hard drive was a 1.8" perpendicular recording drive with a capacity of up to 80GB.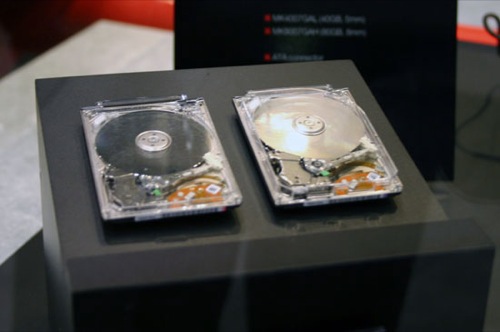 We explained the benefits of perpendicular recording here. To recap from our article: "What perpendicular recording does is it records, or magnetizes, bits vertically through the platter instead of horizontally which efficiently conserves surface area which, in turn, results in the effective doubling of the areal density of the platter." The end result in this case is a very small 80GB drive.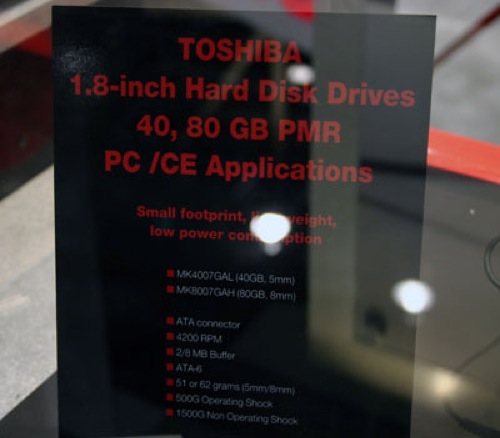 ATI's OCUR in Action
Despite being extremely excited about the product and expecting to see it just about everywhere, the only other place we've seen ATI's OCUR has been at Toshiba's booth plugged into one of their notebooks.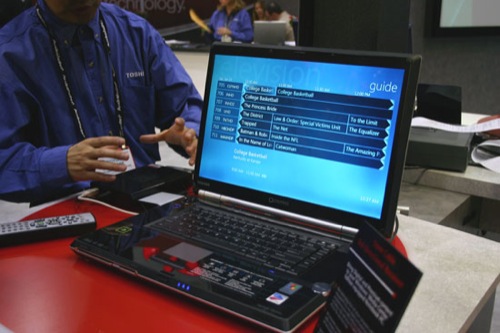 We may have just missed it elsewhere but we did look long and hard for it. Despite not making much of an appearance at CES, we still can't wait for it to officially launch alongside Windows Vista.
If you haven't read our original article on it from earlier in the week, ATI's OCUR basically brings CableCard and HD support to Media Center in Windows Vista - meaning you'll be able to finally watch and record all programming (except for on-demand and pay-per-view) that your cable company provides using Microsoft's Media Center in Vista.
HD-DVD - Twin Format Disc
Nothing more than a disc behind a glass case, Toshiba did at least have a disc that was labeled as hybrid DVD/HD-DVD media. The single sided dual layer disc has one 5GB DVD layer and one 15GB HD-DVD layer.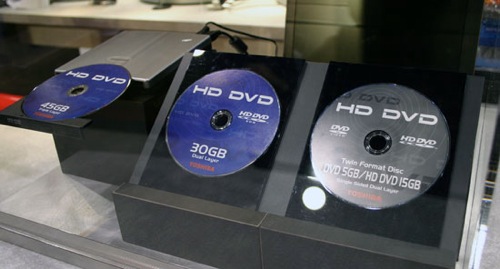 At the far left there's also a triple layer disc with a 45GB stated capacity, but once again, these may be no more than non-functioning samples.
A Truly Wireless Tablet PC
A great idea in concept (and in science fiction TV shows/movies), the Tablet PC has just never taken off. A major cause is that the hardware has been too bulky to be used as a true paper tablet replacement, but thankfully some companies still haven't given up on the platform.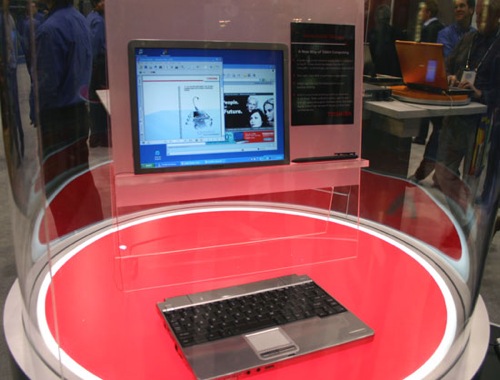 Toshiba demonstrated a notebook that allowed you to physically detach the monitor and carry it around with you, effectively using it as the tablet. The tablet received all screen data wirelessly over 802.11g from the base of the system (where the keyboard, CPU and HDD are located). The demonstration obviously worked, but we didn't get a feel for whether or not there was any perceivable lag when using the tablet.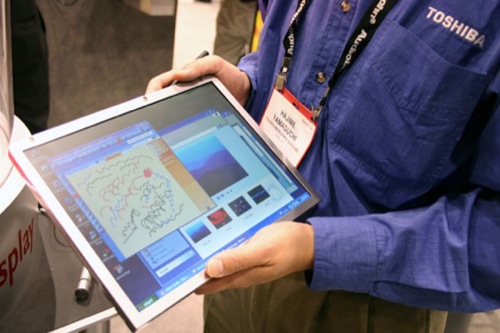 The idea of a detachable monitor tablet makes a lot of sense as it addresses the form factor issue of tablet PCs.
Similar to the Seagate demo we saw earlier on at CES, Toshiba also had a Wireless USB/Ultra Wideband demo at their booth. The demo this time around was of a DV camera plugged into a base station rigged with a WUSB antenna. The DV camera then wirelessly streamed the video on its DV tape to a Toshiba notebook, also outfitted with a WUSB antenna.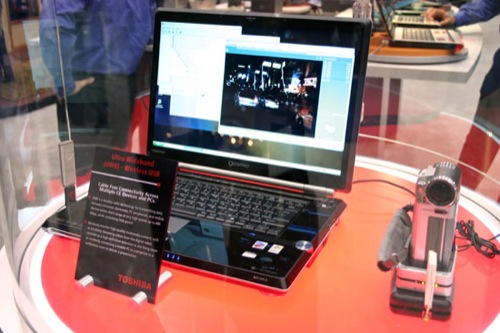 Once again we have no idea what transfer rate was being achieved and although WUSB has a theoretical maximum of 480Mbps we would expect the real world transfer rate to be far slower in this case since it is streaming off of a DV tape.
Canon and Toshiba Demonstrate SED TVs
Canon and Toshiba have been working on yet another display technology called SED (Surface-conduction Electron-emitter Display). The goal of SED is to bring some of the good qualities of CRT displays (response time, brightness, black levels) to a fixed pixel, very thin, low power display.
The technology works very similarly to older CRT displays, except on a much smaller scale. In a CRT display a Cathode Ray Tube (CRT) would shoot electrons at phosphors behind the viewing glass to effectively paint the picture you see on your monitor. In a SED display, individual electron emitters shoot electrons on phosphors behind the viewing screen to create the pixels on your screen.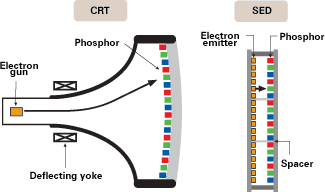 CRT vs. SED - provided by Canon Technology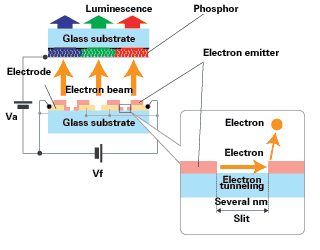 How SED Works - provided by Canon Technology
Since a large CRT isn't necessary, SED TVs can be several centimeters thick rather than tens of inches. But with the response time, brightness, color reproduction and black levels comparable to CRT displays, SED technology has the potential to be the best of both worlds.
Like LCD and DLP technologies, SED displays are fixed pixel displays and there are three electron emitters per pixel. The downside to a fixed pixel display of course is that you end up sacrificing quality if you display content isn't at the same resolution as the native resolution of your display. In other words, there should be a 1:1 mapping of content pixels to each group of RGB electron emitters to obtain the absolute best image quality. However, as hardware scalers become more and more powerful the 1:1 pixel mapping problem becomes less important.
About six years ago Canon and Toshiba started working on developing SED technology for consumer TVs, and they are supposed to start shipping the first SED panels later this year. At the show both companies had demos of SED TVs (they looked to be around 30" diagonally). The conditions weren't perfect to truly evaluate the technology since they were in extremely dark rooms and with no other displays available for direct comparison. That being said, the image produced looked very nice. With no other types of TVs in the room we can't really say how it compared to LCD or Plasma TVs (SED's closest competitors), but it did look very good.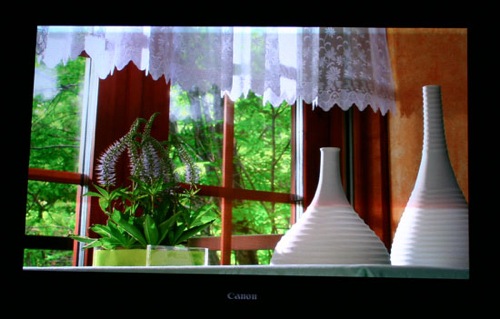 One thing we did notice was that the displays looked like they had extremely low refresh rates. You could see the screen refreshing much like a CRT set to 60Hz. Granted the technology is still pre-production so that could explain the issue.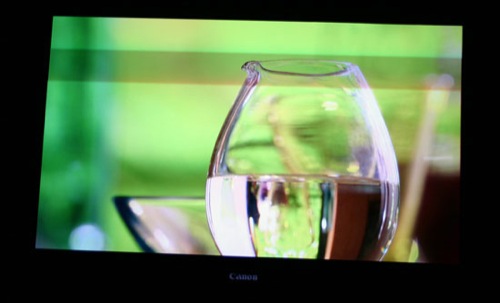 The dark bar across the screen is our camera capturing the visible refresh rate on the display
Samsung and MSI - iPod nano clones
As you can expect, portable MP3 players were popular the show. The most common theme of all the MP3 players we saw? A number of them looked very similar in design to Apple's iPod nano. We took pictures of two such examples, one from Samsung and one from MSI: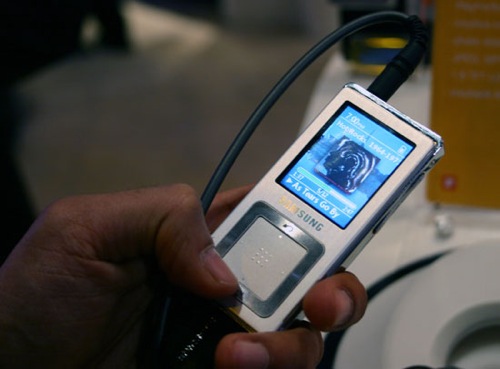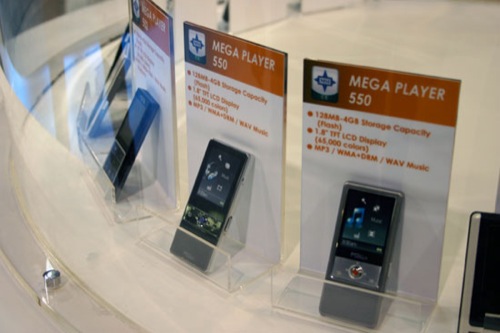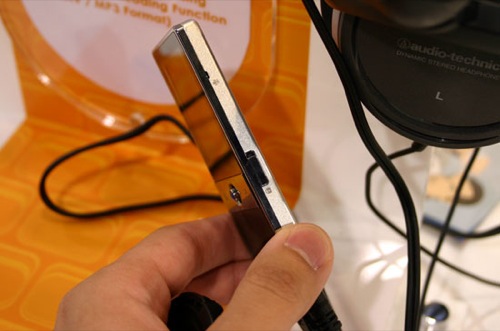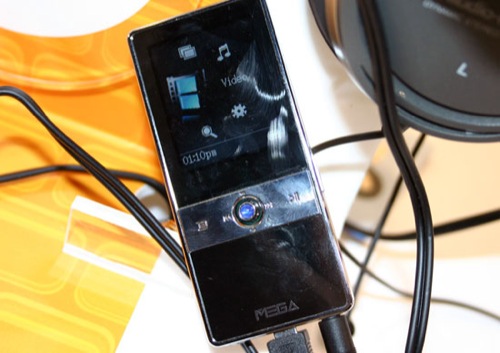 Although the looks were there, the user interface wasn't. The Creative Labs players were pretty much the closest to a true iPod competitor that we've seen, the rest just have the right looks on the outside but that's usually where the similarity ends.
82" LCD TVs
Samsung had absolutely massive direct-view 82" 1080p LCD TV on display: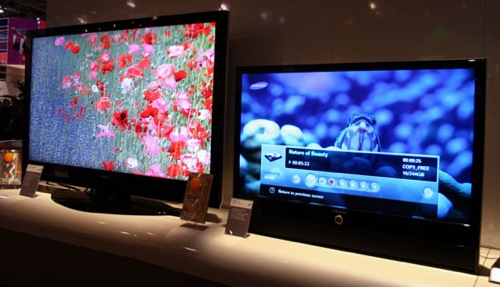 The 82" LCD TV is to the left, and to the right is a 56" unit that it is absolutely dwarfing.
Samsung also had the only LED backlit 82" LCD TV at the show: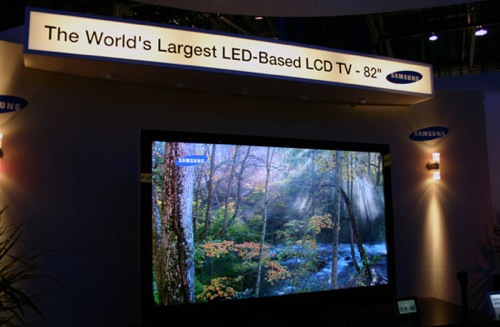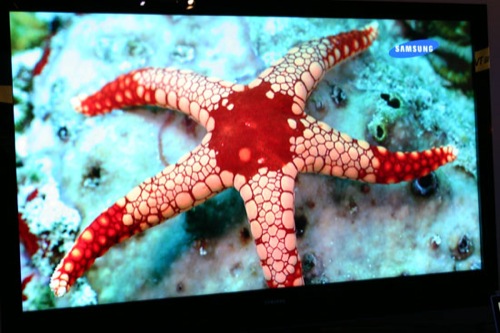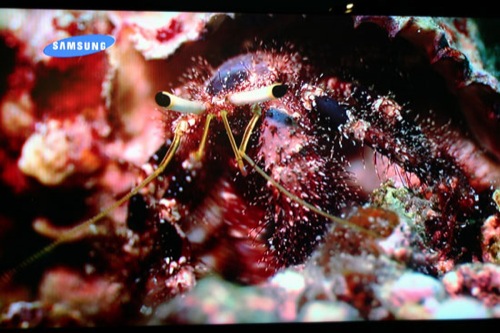 We don't even want to think about how much an 82" 1080p panel would cost.
Samsung's Tiny DLP Projector
Samsung had a neat DLP projector at their booth; the 800x600 projector was extremely tiny, making it quite easy to carry around with you.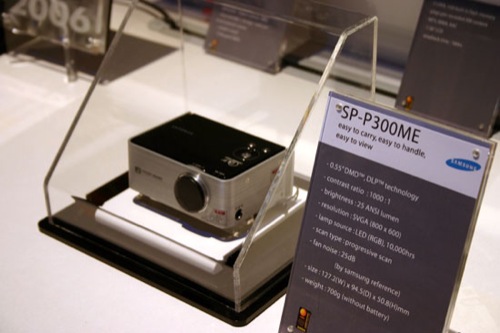 Samsung's "Hyper" DVD Player does 1080p
While the majority of companies were focused on Blu-ray or HD-DVD players, Samsung did have one regular DVD player on display that was of particular interest to us.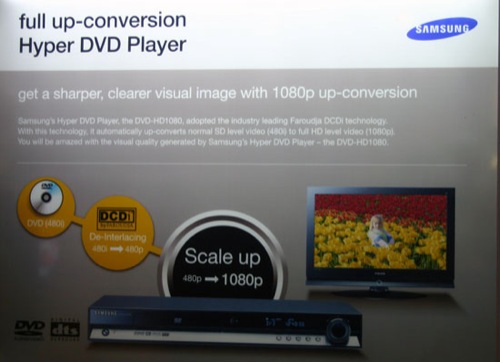 The HD-1080 has a 1080p scaler built in so all 480i DVD content can be upscaled to 1080p and then outputted over HDMI.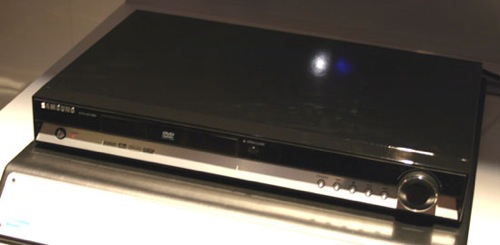 Blu-ray vs. DVD Image Quality
One thing we did get a good chance to see at the show was a number of live Blu-ray and HD-DVD demonstrations with real high-definition content, and honestly, we weren't all that impressed. Don't get us wrong, it looked good, just not breathtaking or anything like that.
The problem is that the jump from progressive scan DVD (480p) to Blu-ray and HD-DVD at 720p or 1080p just isn't that great, even on a 46" display. When viewed side by side with DVD content, the picture looks quite comparable, it's just that the Blu-ray/HD-DVD content is noticeably sharper (which makes sense since it is much higher resolution).
The other thing to keep in mind is that the move to HDTV from standard analog cable was so dramatic because of the very poor quality of most cable feeds. With Blu-ray/HD-DVD, the quality of DVD is already pretty high, so it's really tough to achieve the same wow-factor with just an increase in resolution and bitrate.
The larger your TV the more you will notice the difference and of course the quality and compression of the content itself is going to determine how different Blu-ray/HD-DVD look from present day DVD.
Pioneer actually had a display comparing Blu-ray and DVD with the exact same content that illustrated our point pretty well. The Blu-ray content on the left was playing back at 1080p, while the DVD content on the right was 480p upscaled to 1080p: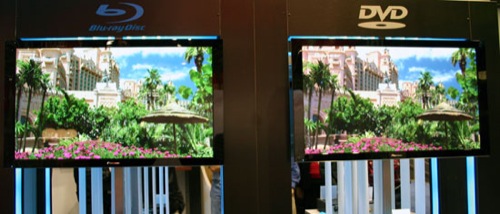 Click to Enlarge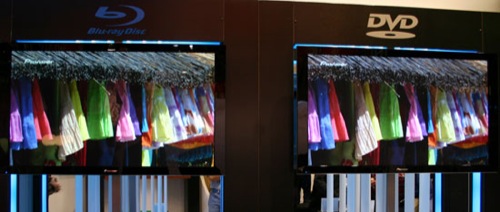 Click to Enlarge
The Blu-ray player used in the demo was the BDP-HD1 from Pioneer's Elite line: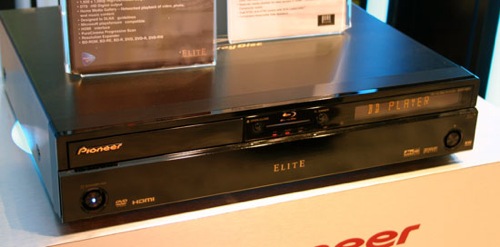 Again, the image quality of the Blu-ray player/content was top notch and definitely sharper than what was outputted from the upscaling DVD player, but the impact wasn't absolutely mindblowing. You will obviously have to find out for yourself, but we just wanted to aid in setting your expectations for both Blu-ray and HD-DVD.
The Evolution of Plasma Displays
Another interesting display at the Pioneer booth was a look at the evolution of picture quality and power consumption of Plasma displays over the past several years.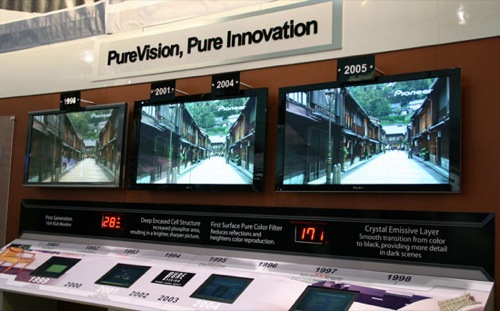 Click to Enlarge
The two number displays indicate instantaneous power consumption, with the older panel from 1998 consuming 283W and the latest panel from 2005 consuming only 171W in comparison.
Although you can't really tell from a still picture, the image quality of plasma displays has improved tremendously over the years.
Western Digital's Raptor X
Earlier this week Western Digital announced the availability of their latest Raptor drive, with a capacity of 150GB thanks to its two 74GB platters. The 150GB Raptor is available today with a MSRP of $299.
At CES, Western Digital announced a second version of the 150GB drive called the Raptor X. Mechanically the Raptor X is identical to the first 150GB drive, the only difference is that the Raptor X features a window letting you see the spinning platters, read/write heads and actuator arm in action.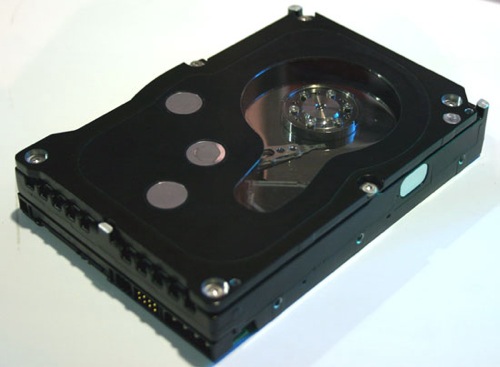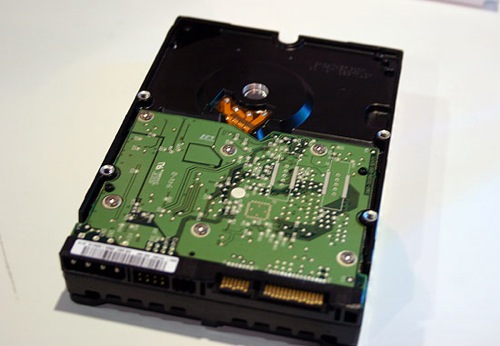 Other than the window, the rest of the specs of the drive are identical to its non-flashy brother. You get a 16MB buffer, 5 year warranty and of course, a 10,000RPM spindle speed. The Raptor X should be available in about 2 weeks for $349 while the normal 150GB version is available now for $299.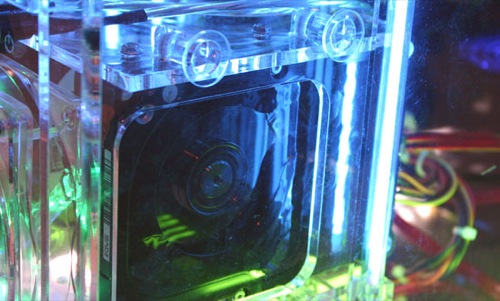 You can see a picture of the drive in action above, although for better pictures and more information on the new Raptor X you should head over to WD's site dedicated to the drive - www.wdraptorx.com.
WLAN Enabled Nokia N80 Phone
One feature we've been waiting to hit more smartphones is WiFi. With the high price of data plans in the US and the increasing number of 802.11 hotspots popping up, the inclusion of WiFi in cell phones makes perfect sense. Nokia's N80 is catering to the power user looking to stay connected anywhere in the world. This phone offers a plethora of network support including quad-band GSM, dual-band WCDMA (3G), EDGE, GPRS, 802.11g, Bluetooth 2.0 and IrDA. The N80 also supports UPnP to allow streaming media between the phone and compatible devices. Along with the third generation of the S60 interface on top of the Symbian operating system, third-party application support is already a given.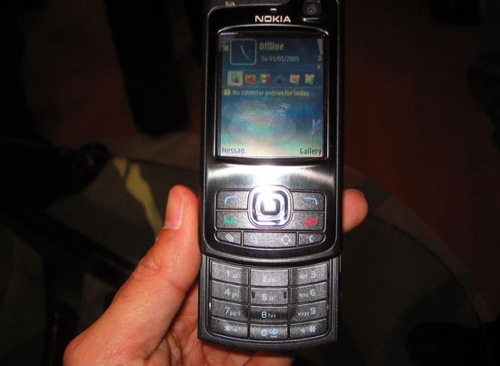 The N80 also includes several multimedia features including a 3MP camera, MPEG-4 decoding support, an FM radio, A2DP support for stereo headsets, and miniSD memory card expansion.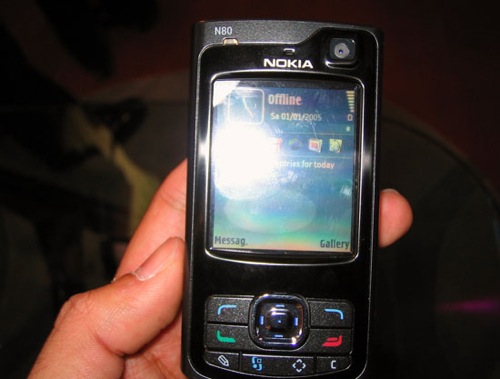 Although the phone may seem bulky from the pictures, it actually fits quite nicely in the palm of your hand. Nokia expects this phone to appear in US retailers by mid-2006. Cingular was rumored to carry this phone however the representatives at CES have told us that deal did not go through. Expect this phone to retail for around $600.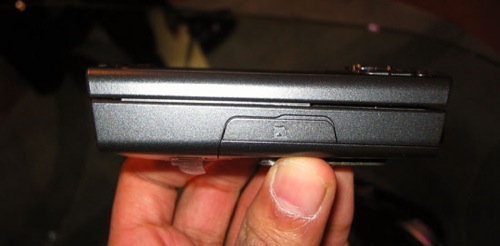 Stereo Bluetooth Headsets
Another cool new item displayed on the show floor was the Bluetooth stereo headset. Both Motorola and Jabra showed off their implementation at their booths. The Motorola HT820 and Jabra BT620s are actually very similar in design and features. These units take advantage of Advanced Audio Distribution Profile (A2DP) in Bluetooth to support stereo wireless streaming audio.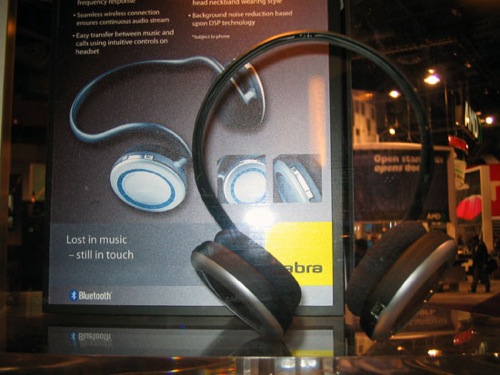 The headsets support up to two simultaneous connections. For example, you can listen to music via your laptop's Bluetooth connection and still be synced with your cellular phone. If you receive a call, you will hear an audible indication in the headset. You can answer the call by tapping the side of the headset. When you answer, your music player will automatically pause and the headset will communicate with the cell phone. Once you're done with the call, simply tap the headset again and you will switch back to your laptop's music player. You can also control both calling functionality and music playback from buttons on the headset. Features such as play/pause, next/previous track, answer/end call, call hold and voice dialing are available from the buttons on top of each headphone.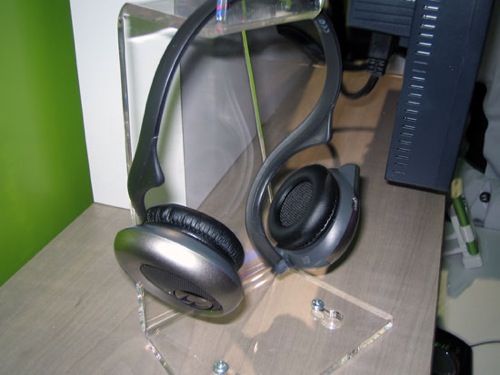 Kodak V570 Dual Lens Digital Camera
Kodak's latest innovation in digital cameras is the V570 Dual Lens. This camera features two Kodak Schneider-Kreuznach lenses each with their own 5MP CCDs. The first lens is a standard issue 3x optical zoom lens (39-117 mm); however the second lens is a fixed 23 mm ultra wide-angle lens. Zooming out to the maximum position on the camera switches to the ultra wide lens.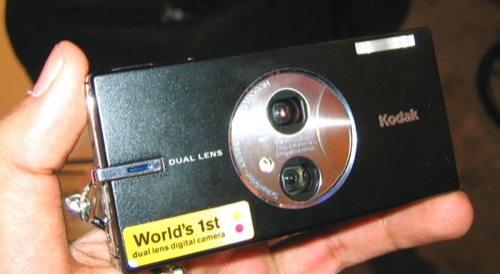 The combination of the wide angle lens and the 3x optical zoom lens creates the effective 5x optical zoom figure Kodak advertises. The ultra wide-angle lens allows the photographer to take wide, panoramic shots without having to use an SLR with a special wide angle lens. This allows for a very robust, easy to use point and shoot camera.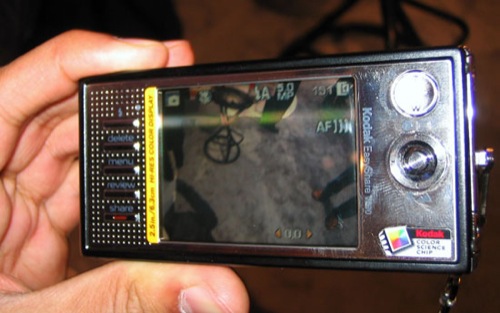 1080p Plasmas Galore
Plasma display technology has improved by leaps and bounds over the past few years. Once only available for the ultra-wealthy, you can now purchase a very respectable unit for around $2000. Now that High Definition television has become more mainstream the market for these displays has grown significantly. Last year plasma took a back seat to other display technologies like LCD, DLP, and LCOS when 1080p version of said sets started shipping and plasma 1080p sets were nowhere to be found. However at this years CES almost every plasma panel maker is showing off their 1080p displays.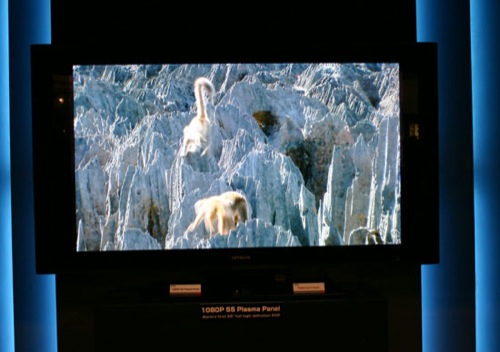 Hitachi's "modest" 55" 1080p Plasma
The latest 1080p pets from Pioneer, Panasonic, LG, Hitachi, and Samsung were being displayed with sizes ranging from 50" all the way up to 103". One interesting to note is the number of "Worlds Largest" plasma displays we saw on the floor. We saw a 102" sets from LG and Samsung, and a 103" from Panasonic - all claiming to be the worlds largest.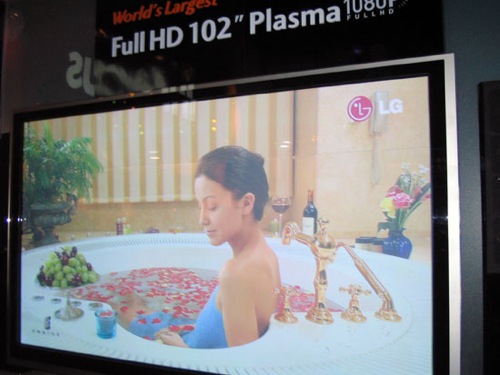 It's the world's largest 102" plasma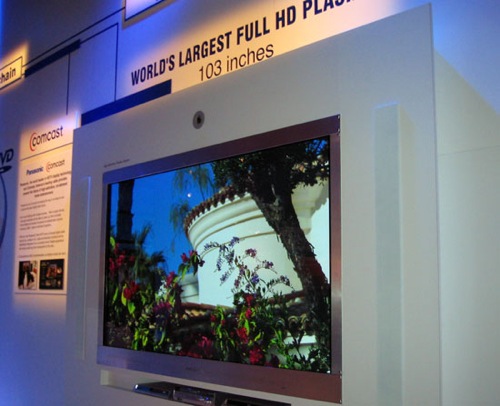 ...and the world's largest 103" plasma
The sets we saw were stunning to say the least.
Digital TV Broadcast to Analog Broadcast Converter
An interesting technology we saw displayed at LG's booth was the DTV converter box. This device will convert the digital TV broadcasts to analog. LG's Vestigial Side Band (VSG) technology includes the ability to both receive ATSC broadcasts and convert them to analog NTSC signals.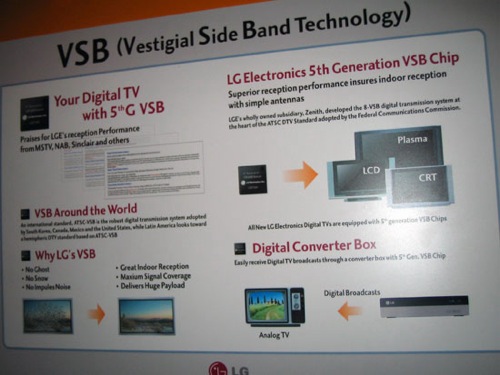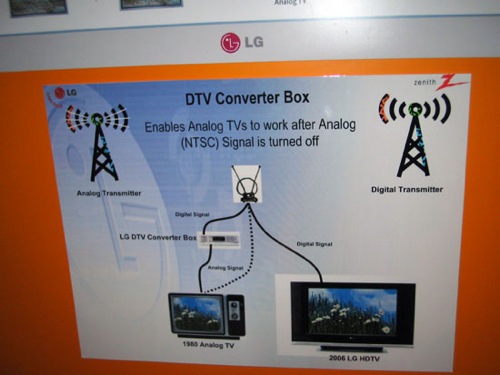 LG's set top box was small and sleek. The demo showed an ATSC broadcast being split and sent to two different displays; one LCD television via composite video and one older analog set via an RF adapter. The analog quality was inferior to the digital, as expected, but still quite viewable.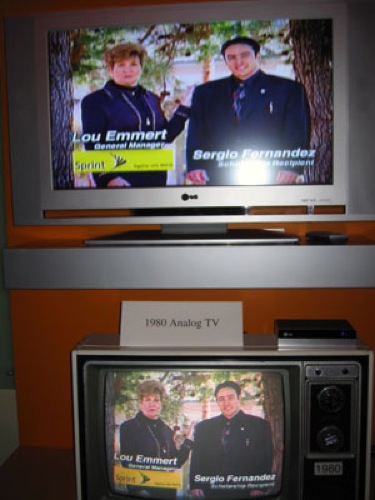 We are quite pleased to see this technology already in action. With the analog TV spectrum set to be terminated by mid-2009, this will hopefully bring some peace of mind to those still holding on to their older analog sets.